A few years back, and still today, my edible cookie dough remains one of my most popular recipes. I put making a brownie in a mug on my to-do list and four years later I am just getting around to making it.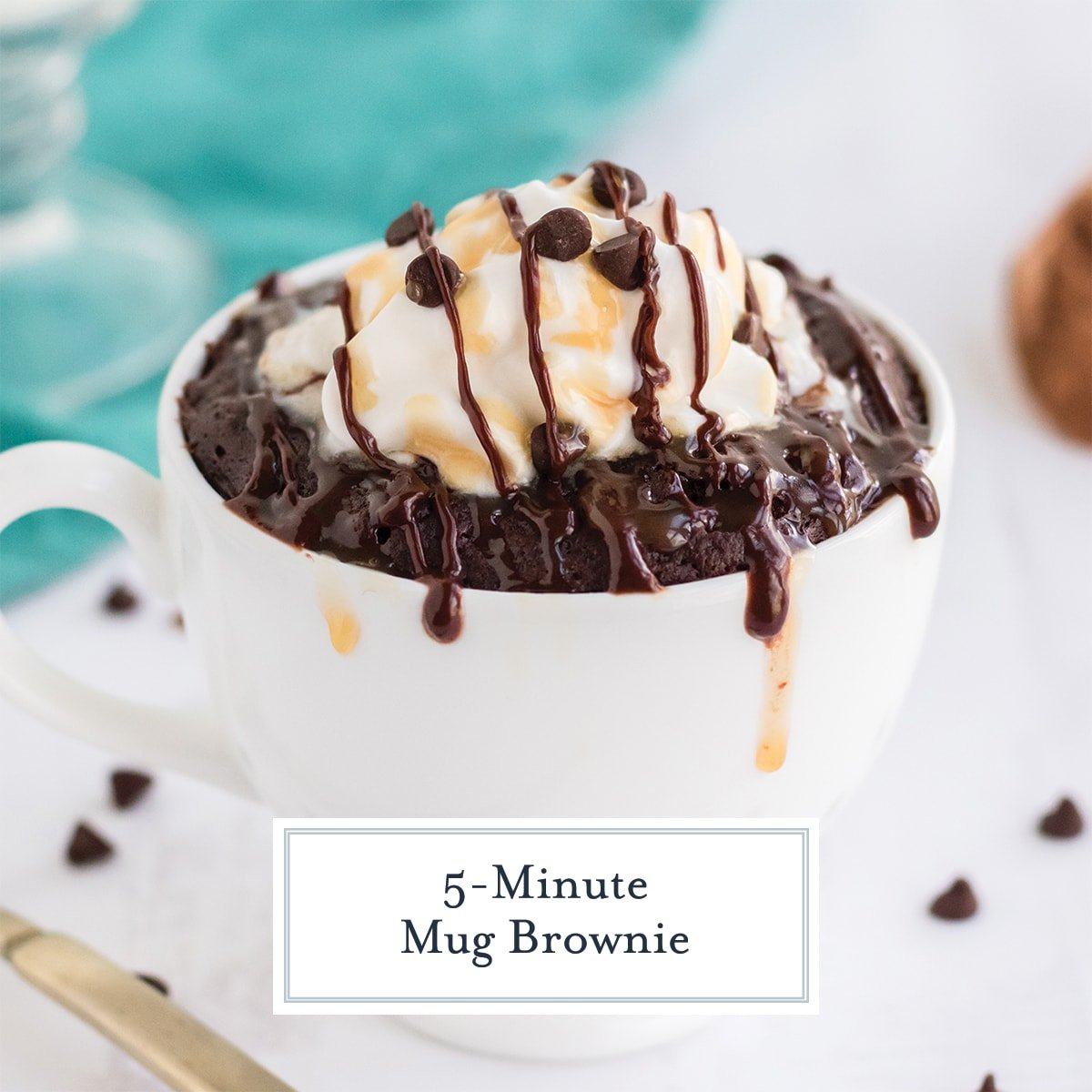 I like a fudgy brownie (versus cake-like) so expect a little gooiness here. It is a cross between a cooked brownie and brownie batter. Pure deliciousness.
Brownie in a Mug
The challenge here is that the mixture is cooked and to get the right texture, but not too dry and not too fudgy, you still can't really use an egg. One yolk or white and it is still too much.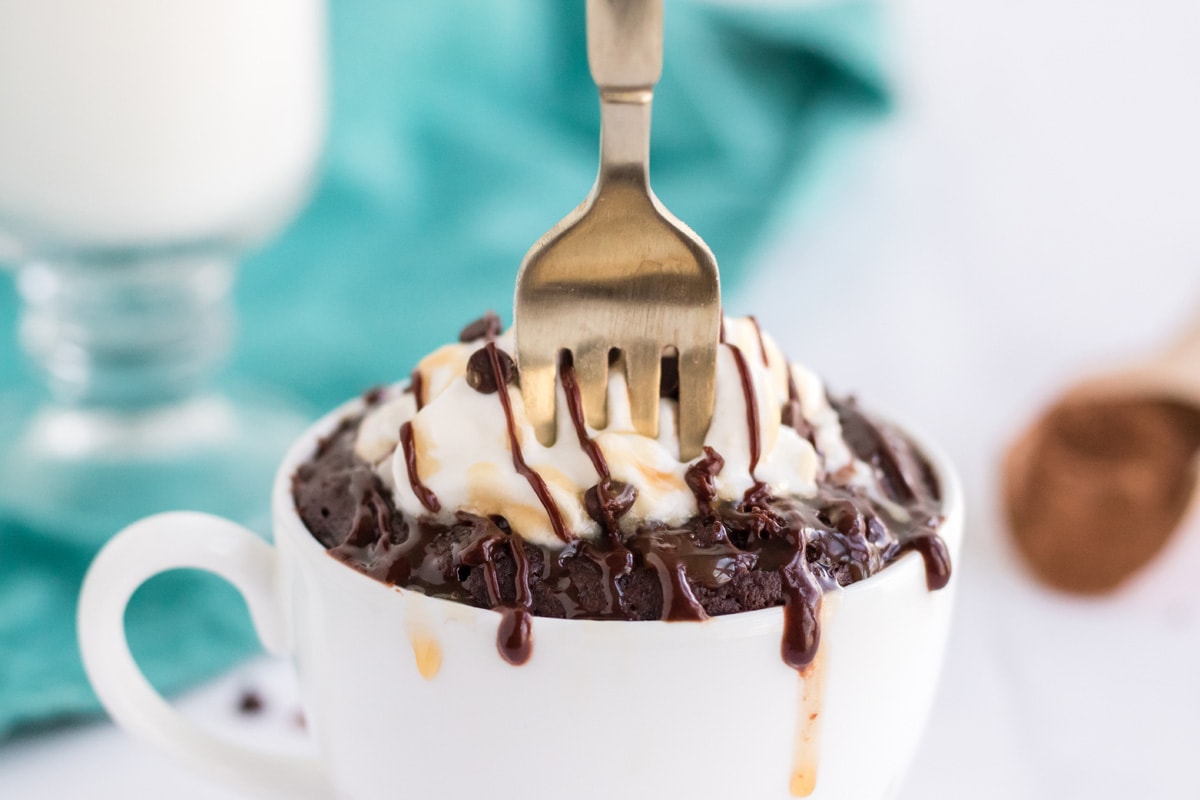 I really took one for the team recipe testing and tasting over 5 mug brownie recipes. Yes, 5.
Some didn't make enough, others left you wanting more, I didn't like having to mix the dry ingredients, melt butter in another and then mix. I just wanted to basically have a dump cake in a coffee mug.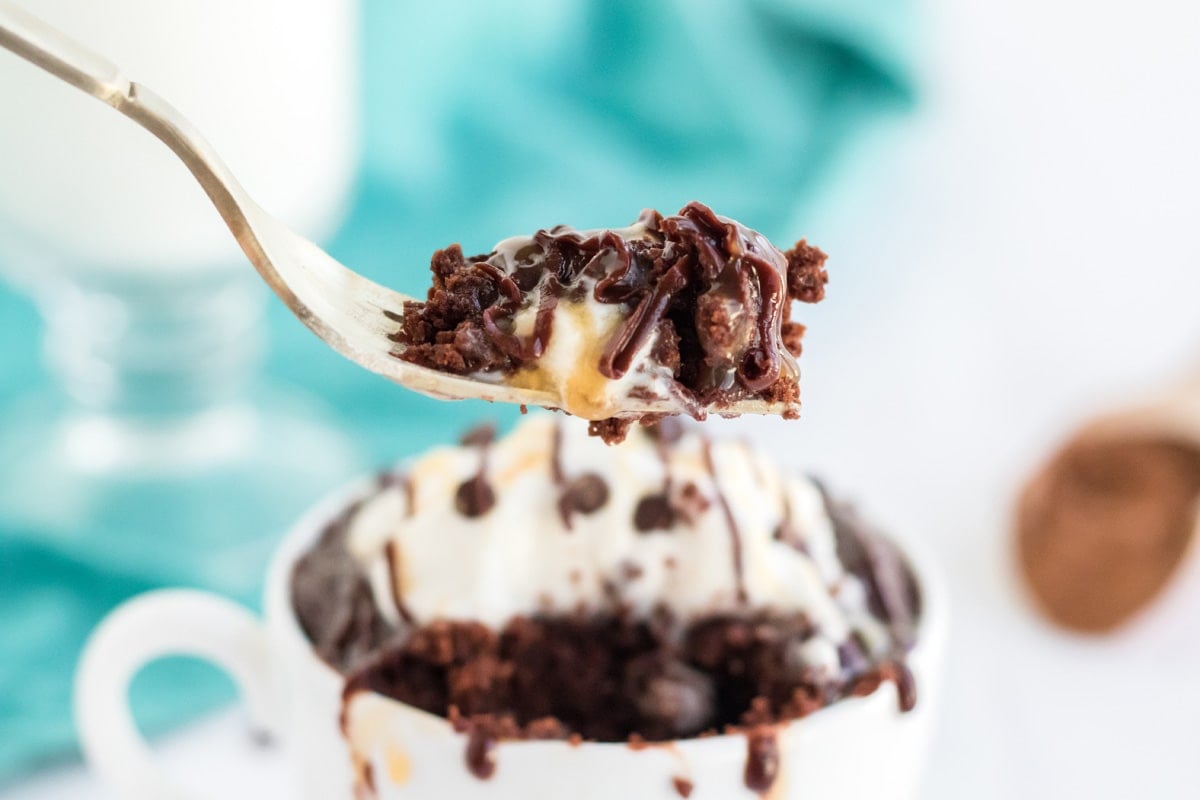 The Mug
Don't use a standard coffee mug. You'll want something oversized around 14 or 16 ounce should work.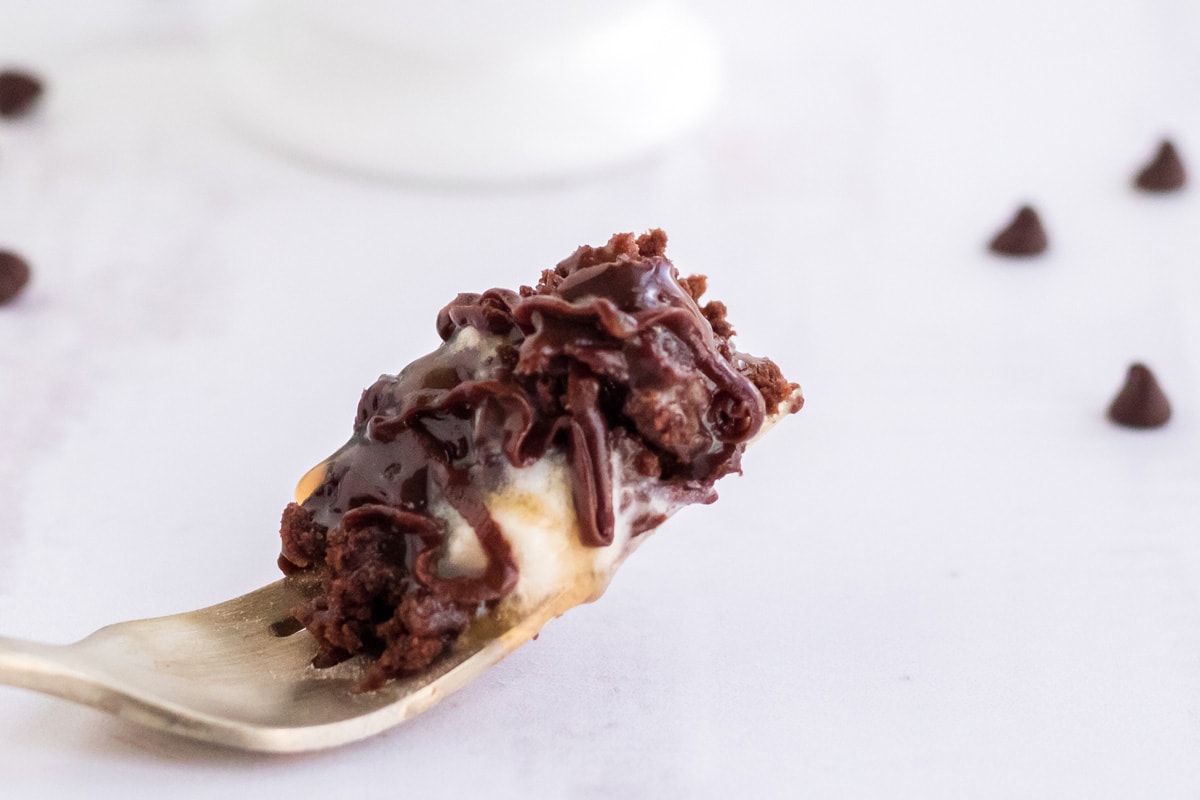 Also note that that they get super hot in the microwave. Be mindful that if it has metallics on it, it could spark or get even hotter. Stay away from those.
Cooking Times
Cooking times are going to vary. I know I'll get a billion comments about how theirs didn't cook right so I am going to talk about this issue here and also in the recipe notes.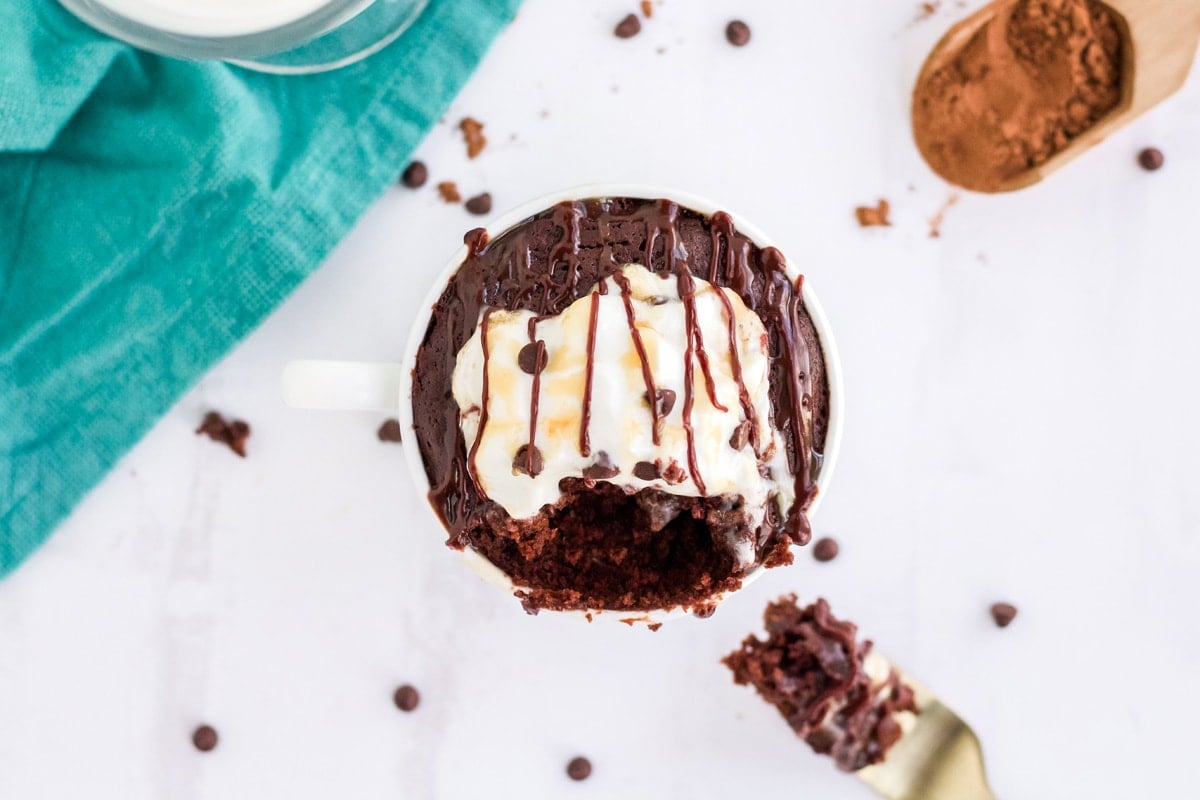 You can two variables (three if you count altitude): the wattage of your microwave and the shape of your mug. A higher wattage will cook faster. A squattier, wide mug will cook faster.
I recommend testing the time in 15 second increments until you find your sweet spot.
Add Ins
You had no idea there were so many things to consider when making a mug brownie, did you? Now to the fun stuff…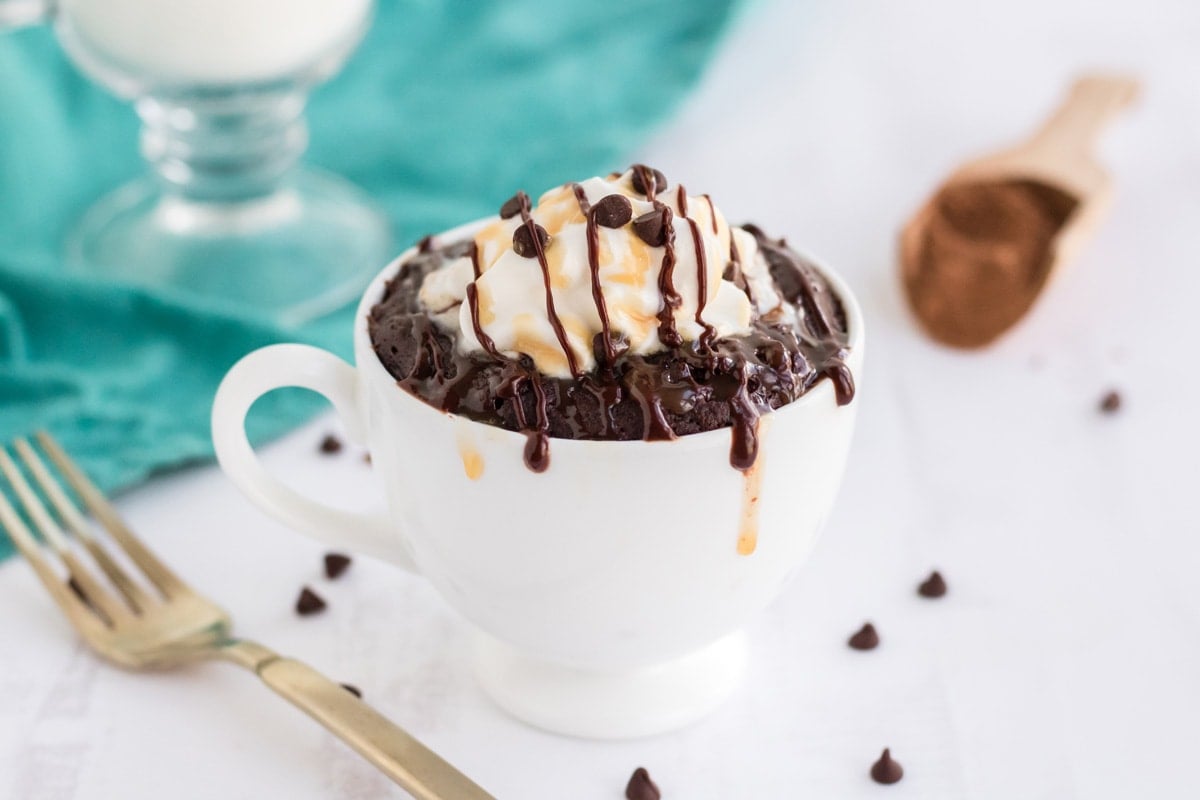 What to mix in! Here are some of my favorite toppings and mix ins. Keep in mind that some of the candies might also require a little longer cook time (only by 15 seconds or so), but they are still quick and easy.
Peanut butter, butterscotch or chocolate chips
Sprinkles
Fresh fruit
Chopped candy
Vanilla ice cream (any flavor, really)
Cinnamon
Instant espresso or coffee
Substitute flavored coffee creamer for milk
Substitute oat or almond milk for milk
How to Make a Brownie in a Mug
So here is my version (the BEST version) of a mug brownie.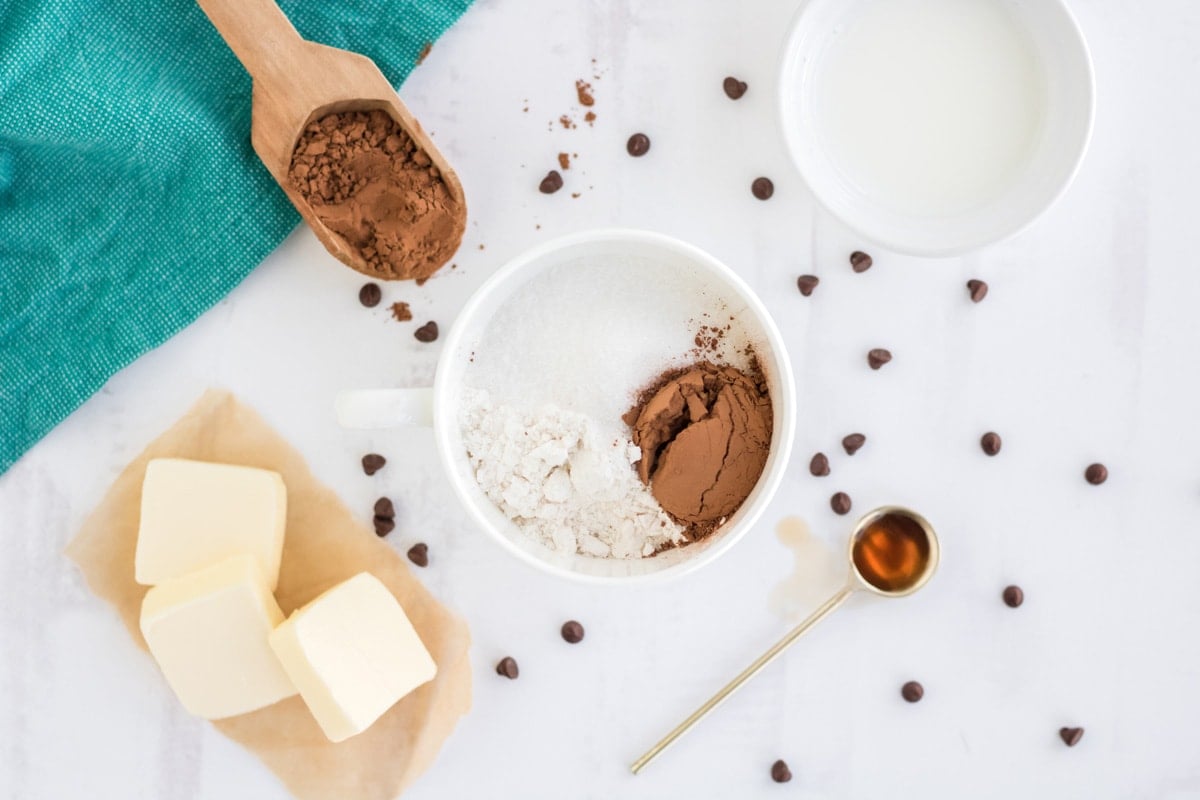 Gather your ingredients:
Flour
Sugar
Unsweetened cocoa powder
Coarse Kosher Salt
Unsalted butter– some people substitute this with coconut oil or vegetable oil
Milk
Vanilla
ONE. Stir together dry ingredients, sugar, flour, cocoa powder and a pinch of salt.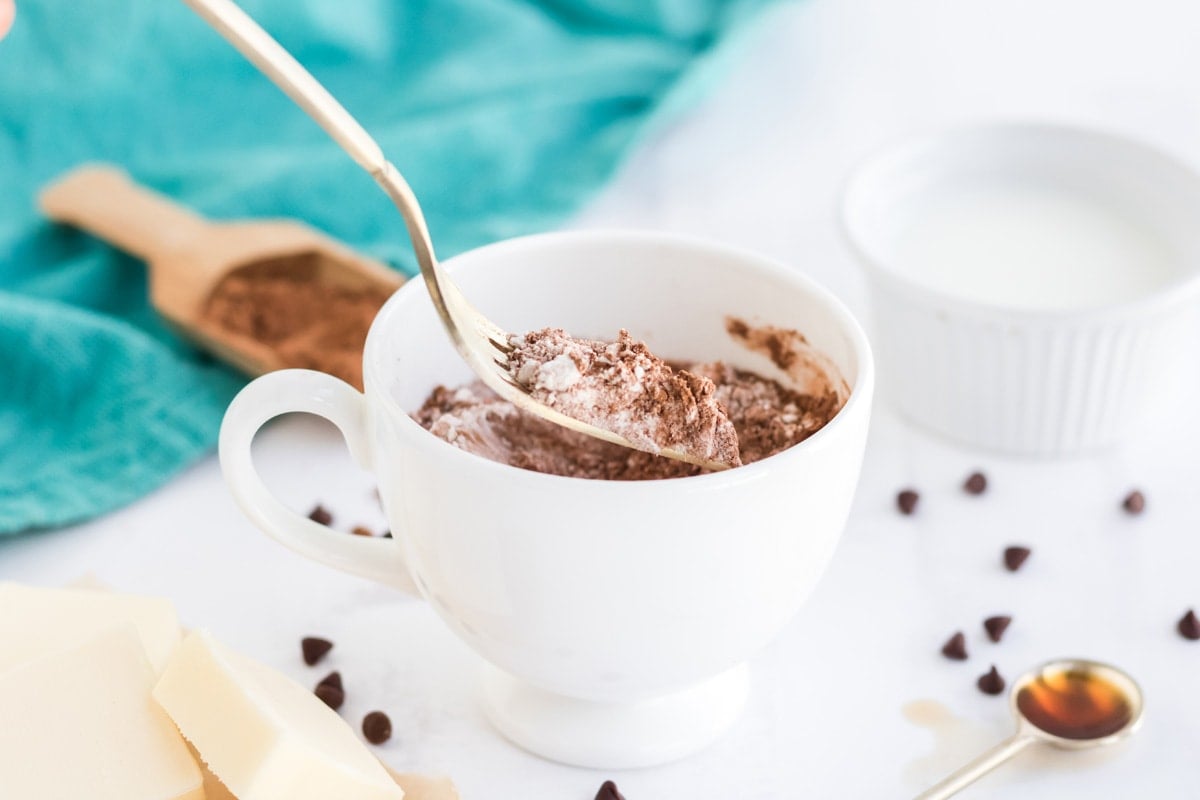 TWO. Add wet ingredients including milk, cubed butter and vanilla extract. Make sure the butter is in small cubes so it melts evenly.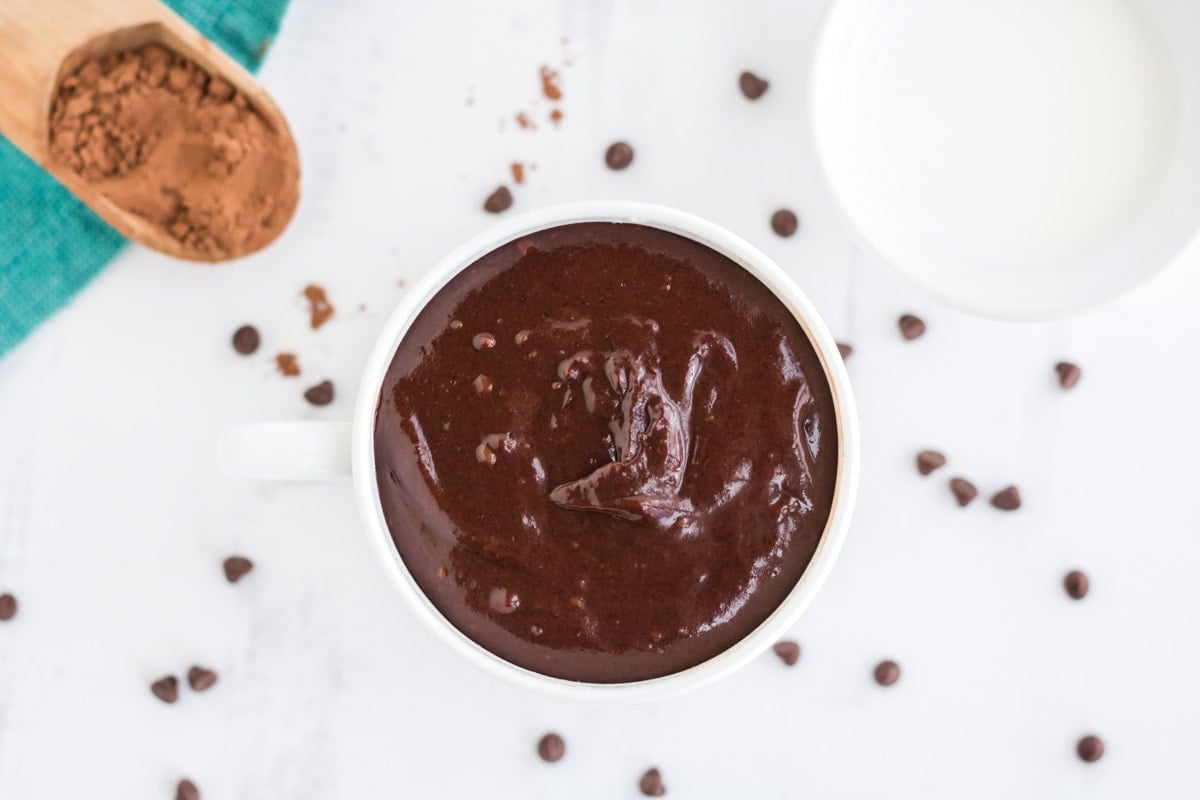 THREE. Stir until all dry mixture is slightly damp. There will clumps of butter.
FOUR. Microwave mug brownie for 20 seconds on high. Remove and stir well. The butter should be melted.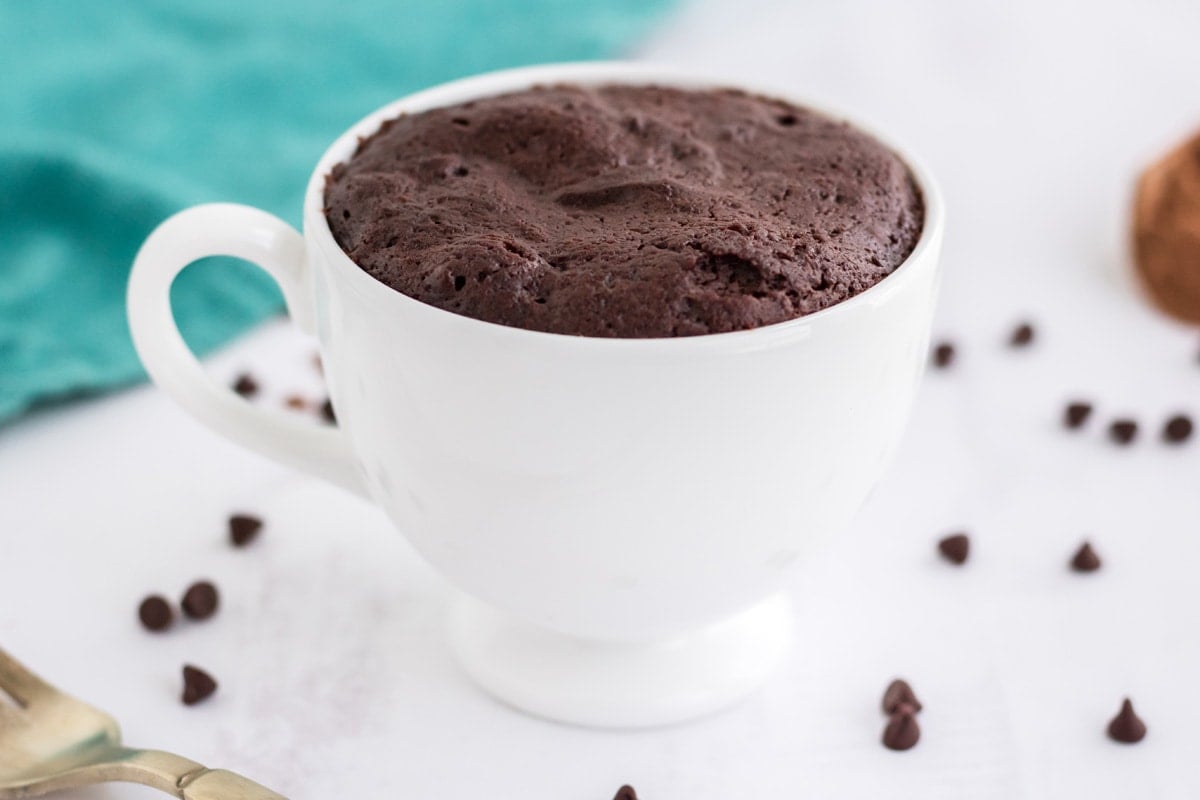 FIVE. Heat for another 1 minute 15 seconds on high heat. Check and if center is still wet, heat for 15 second intervals until your brownie in a mug is fully cooked.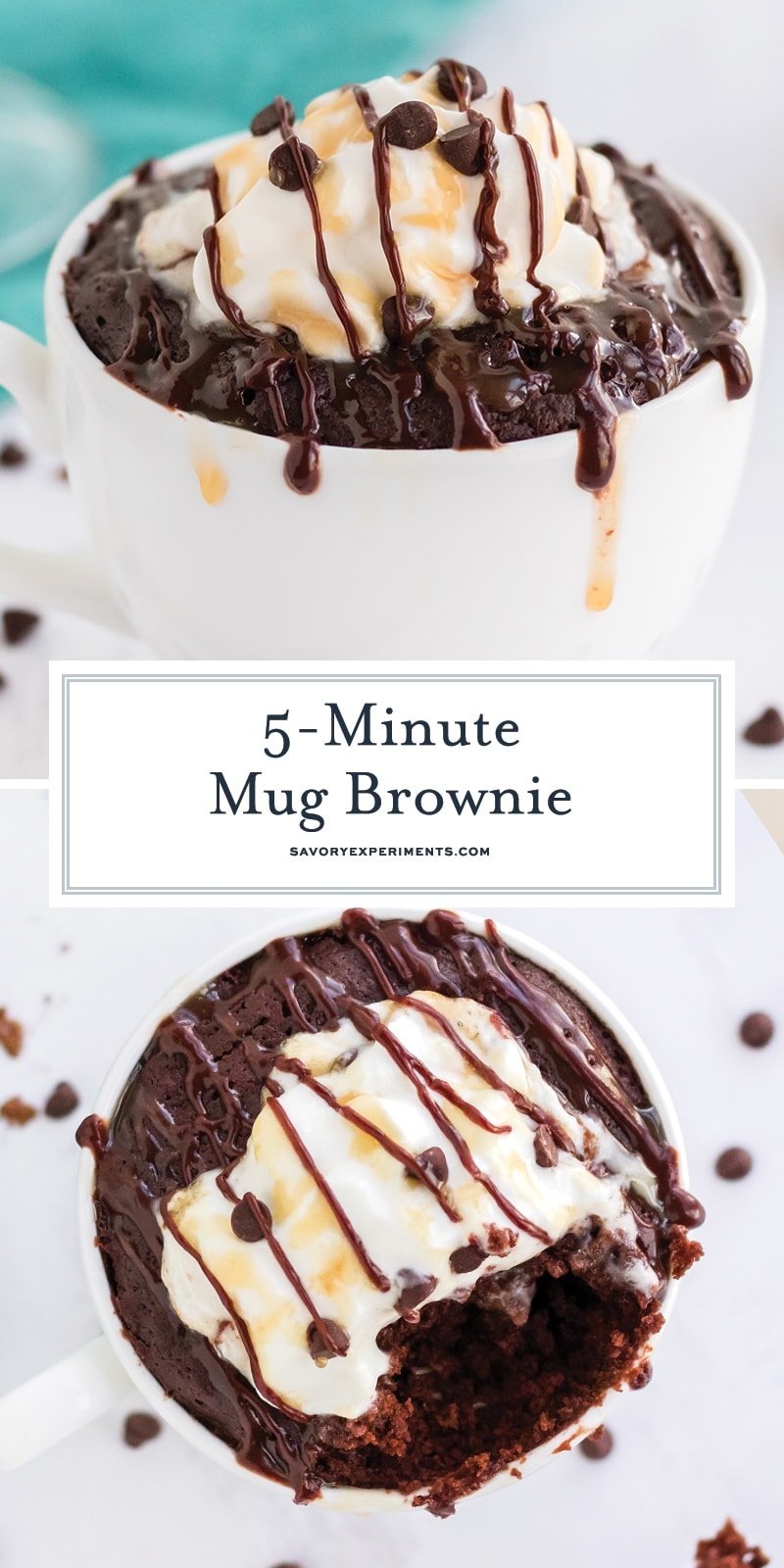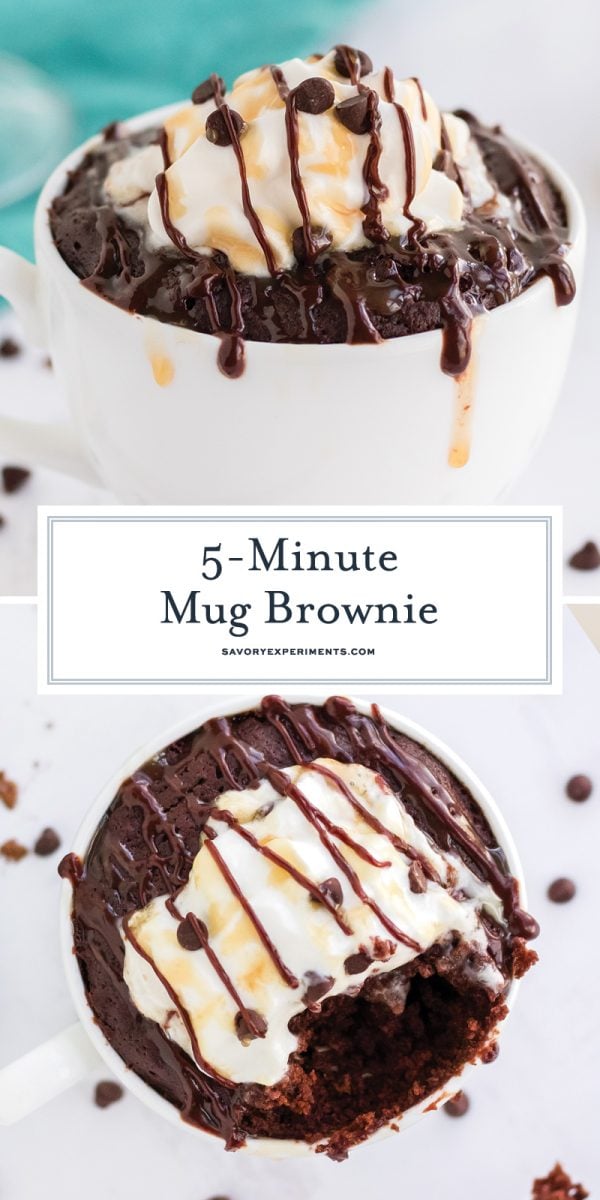 A few more recipes you might enjoy…