A light yet decadent cake topped with a velvety cream cheese frosting makes these Red Velvet Cupcakes the BEST! Chocolate, vanilla and tang!
Red Velvet happens to be my cake weakness. A little vanilla, a little chocolate and a whole lotta cream cheese frosting makes them the ultimate win in my book.
And while I'd love a perfectly beautiful and decadent three layer red velvet cake, we all know that cakes aren't my forte, so I'll be just as happy with the cheaters version: a cupcake.
What is Red Velvet?
The most frequently asked question is what flavor is red velvet, anyways? And the answer: it is RED VELVET. It is its own flavor. A blend of chocolate and vanilla with a little bit o tang.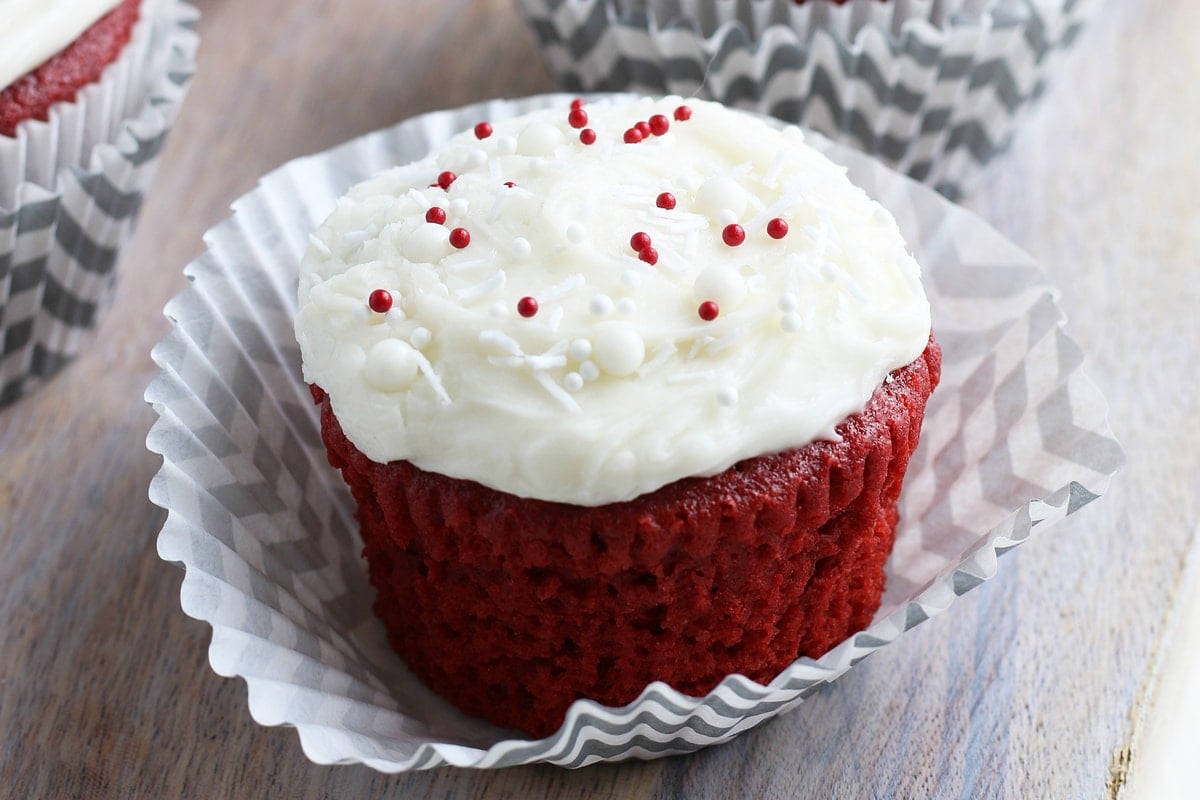 The tang in red velvet cupcakes comes from buttermilk and vinegar, which not only helps keep them moist, but also adds a bit of unmai flavor to otherwise sinfully sweet cupcakes.
Red velvet cake should be so moist, the sponge is almost tacky to the touch and should spring back when poked.
Why is it Called Red Velvet Cake?
A hundred or so years ago when this cake was developed, the acidic reaction between vinegar and buttermilk revealed the red undertones of cocoa powder. That's where the red part of the name red velvet cupcakes came from.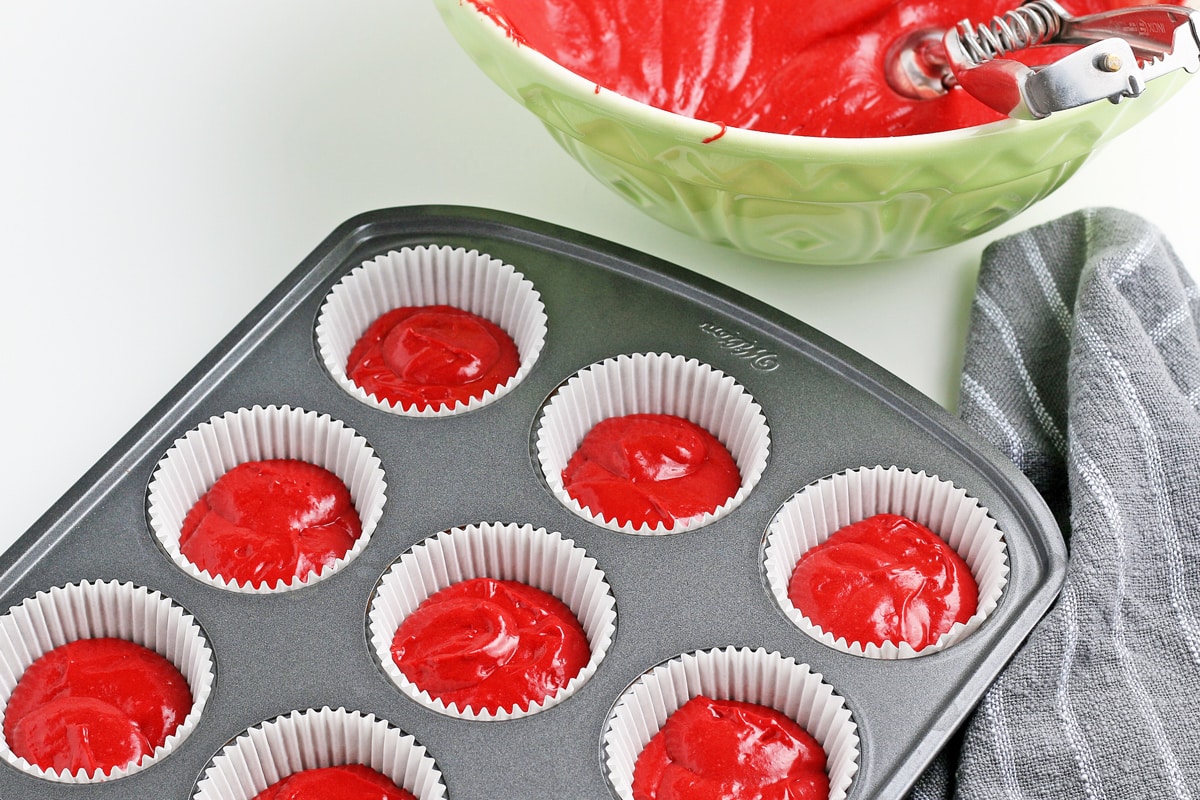 And the "velvet" doesn't refer to the color of a piece of red velvet, but rather the texture. The crumb of this cake is generally smoother and finer than most other cakes.
Now days you can find red velvet pancakes, cookies and anything else you can dream up past just cake.
What Makes Red Velvet Red?
The red coloring was subtle and slight, but people liked the idea so as years passed, red coloring was added to accentuate it. Before the use of processed red food coloring, beets and beet juice was used. I still use beets in my beet chocolate cake.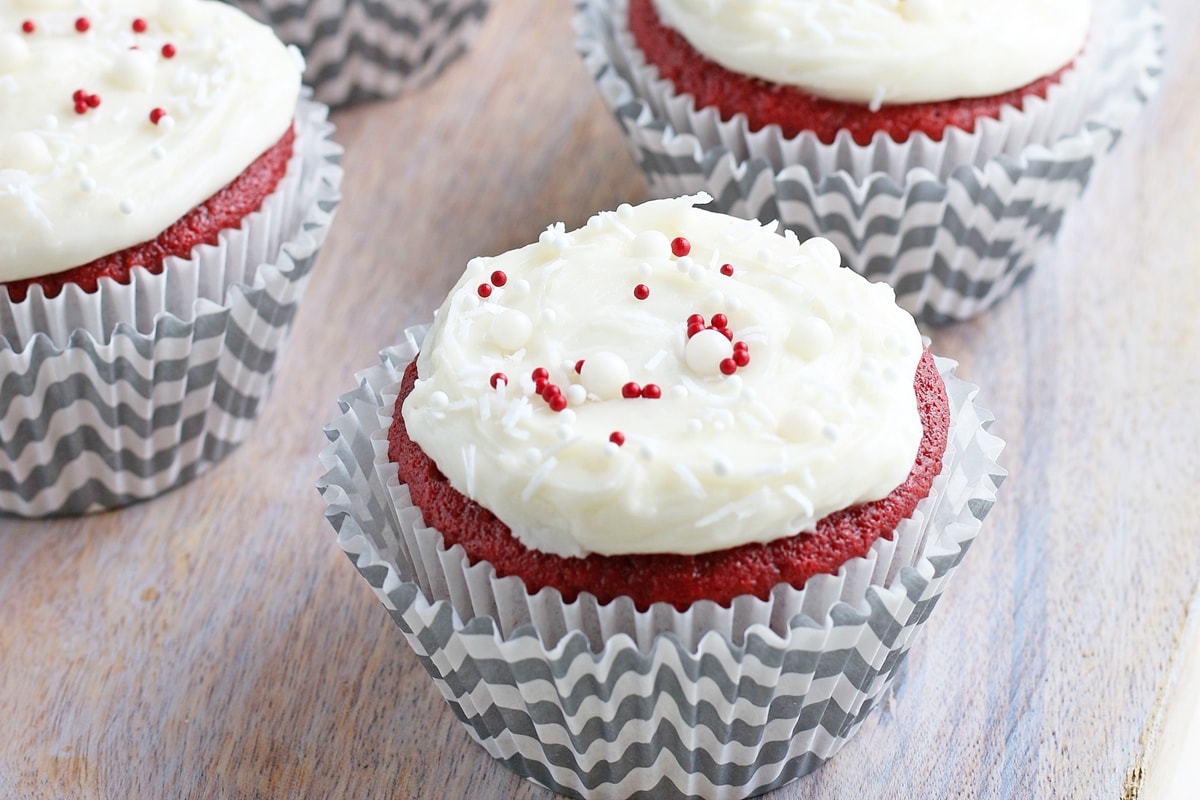 Nowadays most people use a store bought food coloring, which is totally acceptable for these red velvet cupcakes. The amount will be based on the saturation of red you want to achieve. Overall, gel or paste tints will work better than a liquid or dropper.
Try to find one labeled "no taste" otherwise it tends to have a bitter aftertaste. Sometimes you can find one that says "red velvet" and this tends to also have little to no flavor.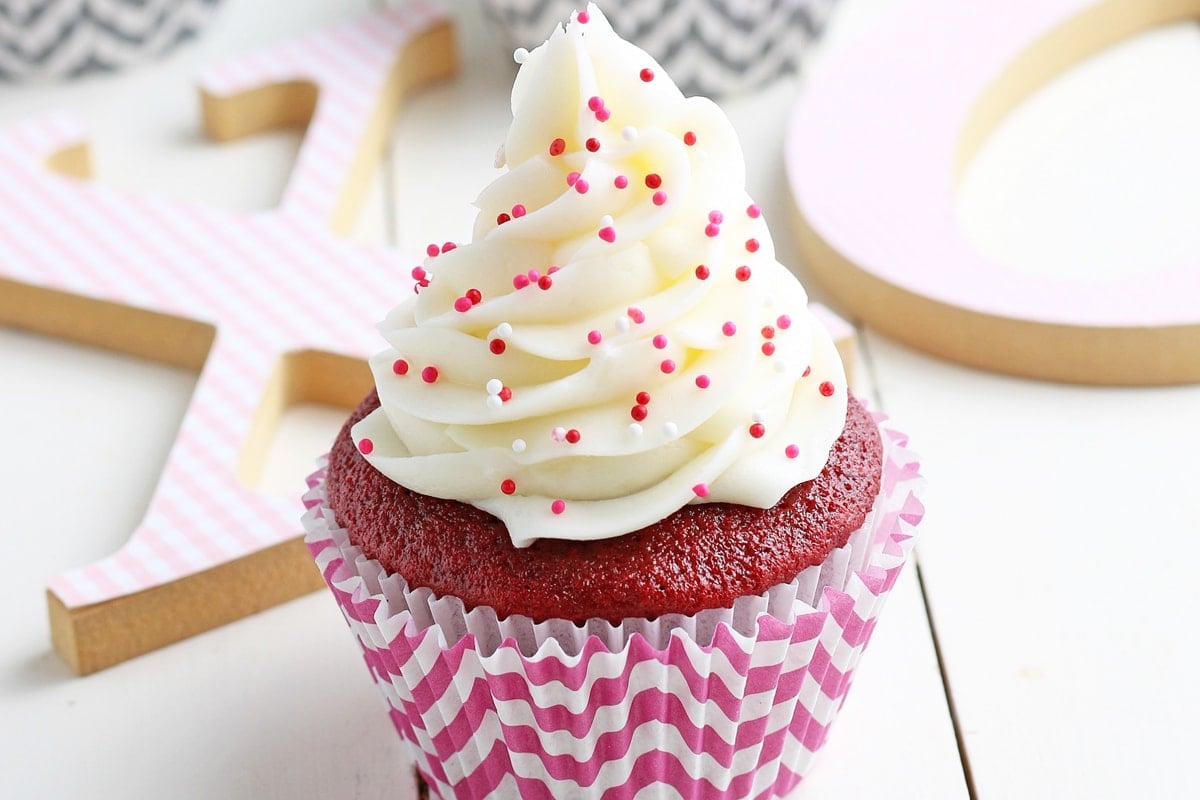 Cocoa Powder
Chocolate isn't the predominant flavored in these red velvet cupcakes, but instead shares the spotlight with vanilla and buttermilk. I like to use a Dutch processed cocoa powder, but people often ask me what is the difference between natural cocoa and Dutch processed?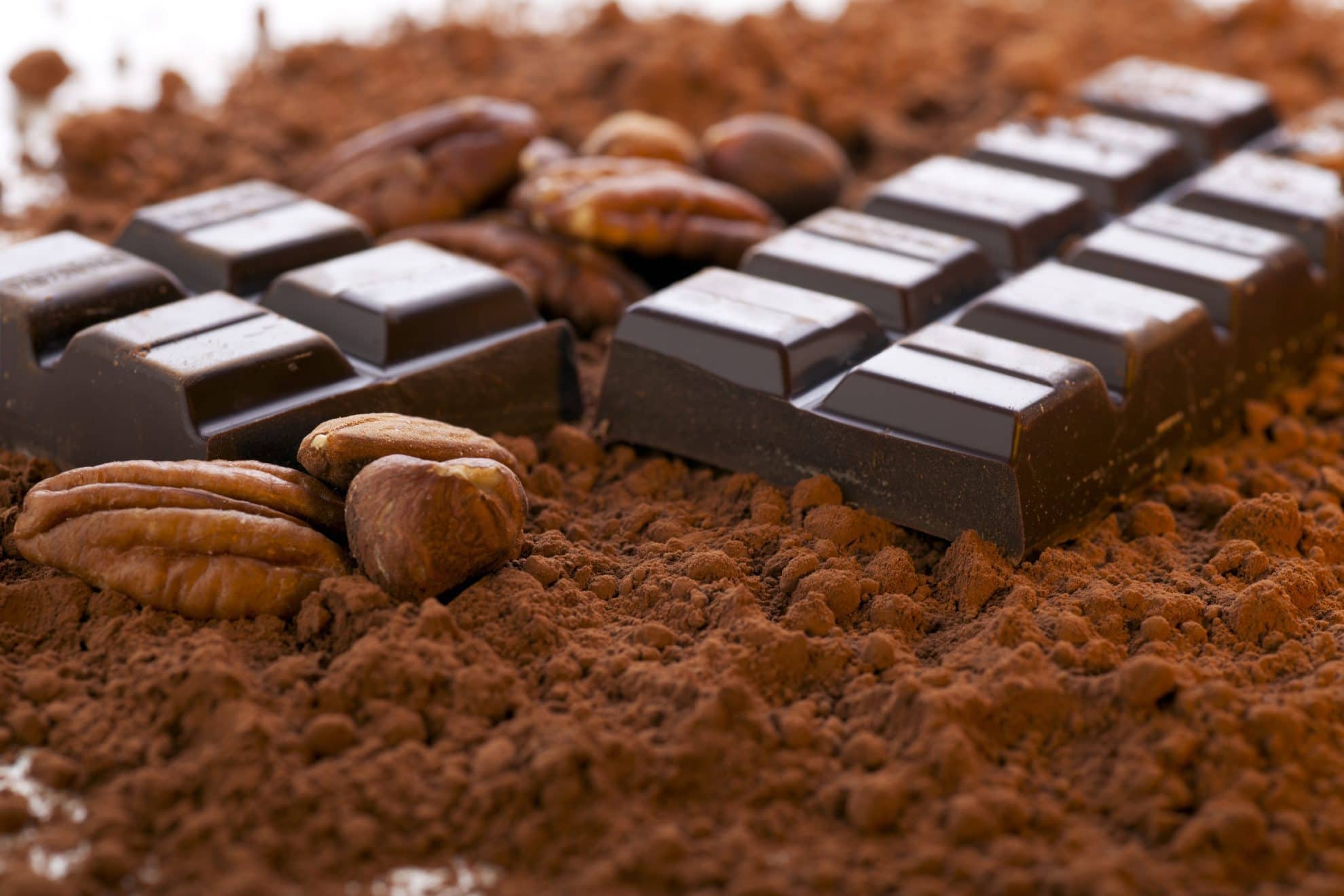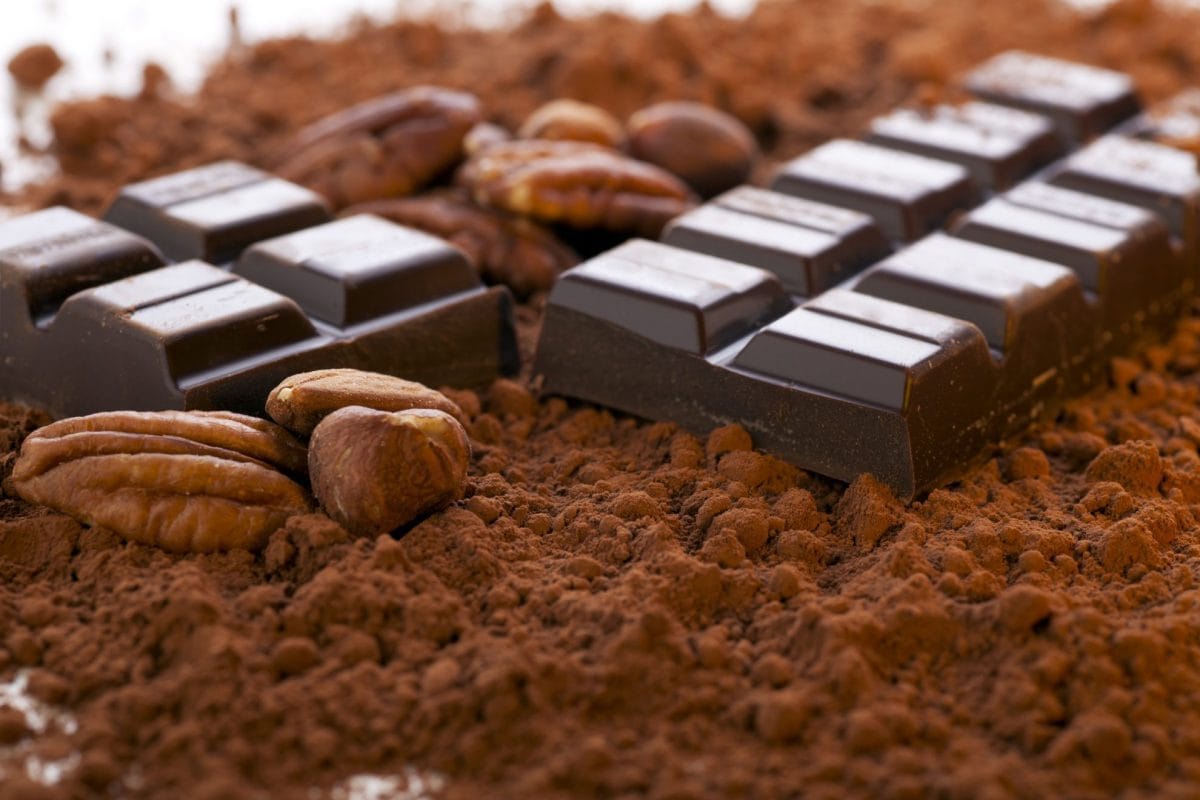 Regular, unsweetened cocoa will have a much more intense chocolate flavor. It is rich and delicious, perfect for heavy, fudgy flavors. It is acidic, which was partially what made the old school cake so red.
Dutch processed is treated with a an alkali to neutralize its acidity, but this also mellows the chocolate flavor. It is nice in recipes that need a hint of chocolate flavor without being overwhelming.
Generally speaking, both are unsweetened and can be used interchangeably in your red velvet cupcakes.
Ingredients
The ingredient list is pretty typical of cakes and cupcakes, but you will need a red food coloring and vinegar, for the unique tangy flavor. If you don't have vinegar on hand you can also use lemon juice.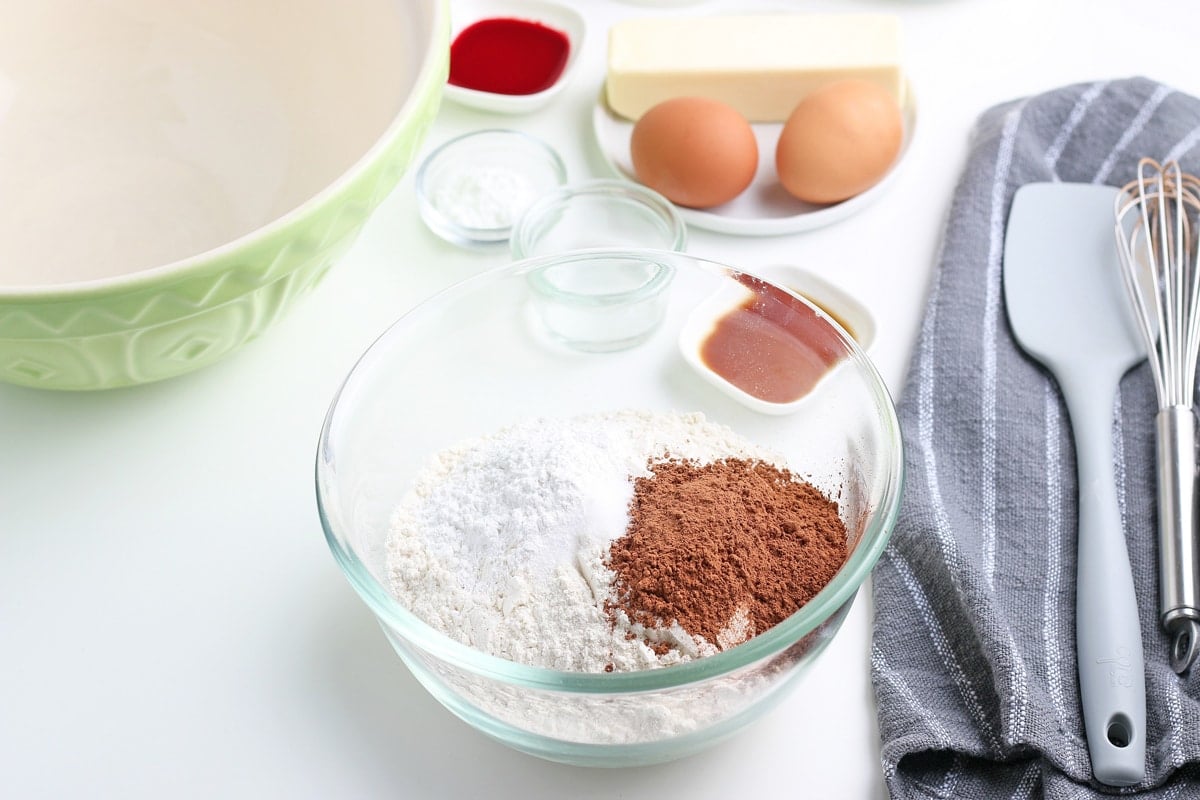 For this red velvet cupcake recipe, you'll need:
flour
Dutch processed cocoa powder
fine sea salt
baking powder
unsalted butter
sugar
eggs
red food coloring, see below
vanilla extract
buttermilk
white vinegar
baking soda
Find "not taste" red food coloring or "red velvet" food coloring, both of which has virtually no taste. Regular red food coloring, whether liquid or gel, has a bitter aftertaste.
You can make your own cream cheese frosting or grab a tub at the store, up to you. If you plan to make big, fun cupcakes like these, double the recipe for frosting.
How to Make Red Velvet Cupcakes
Sift together dry ingredients. Cream butter and sugar, then add other wet ingredients, including the red food coloring.
Alternating, add dry mix along with buttermilk and water, to the wet ingredients.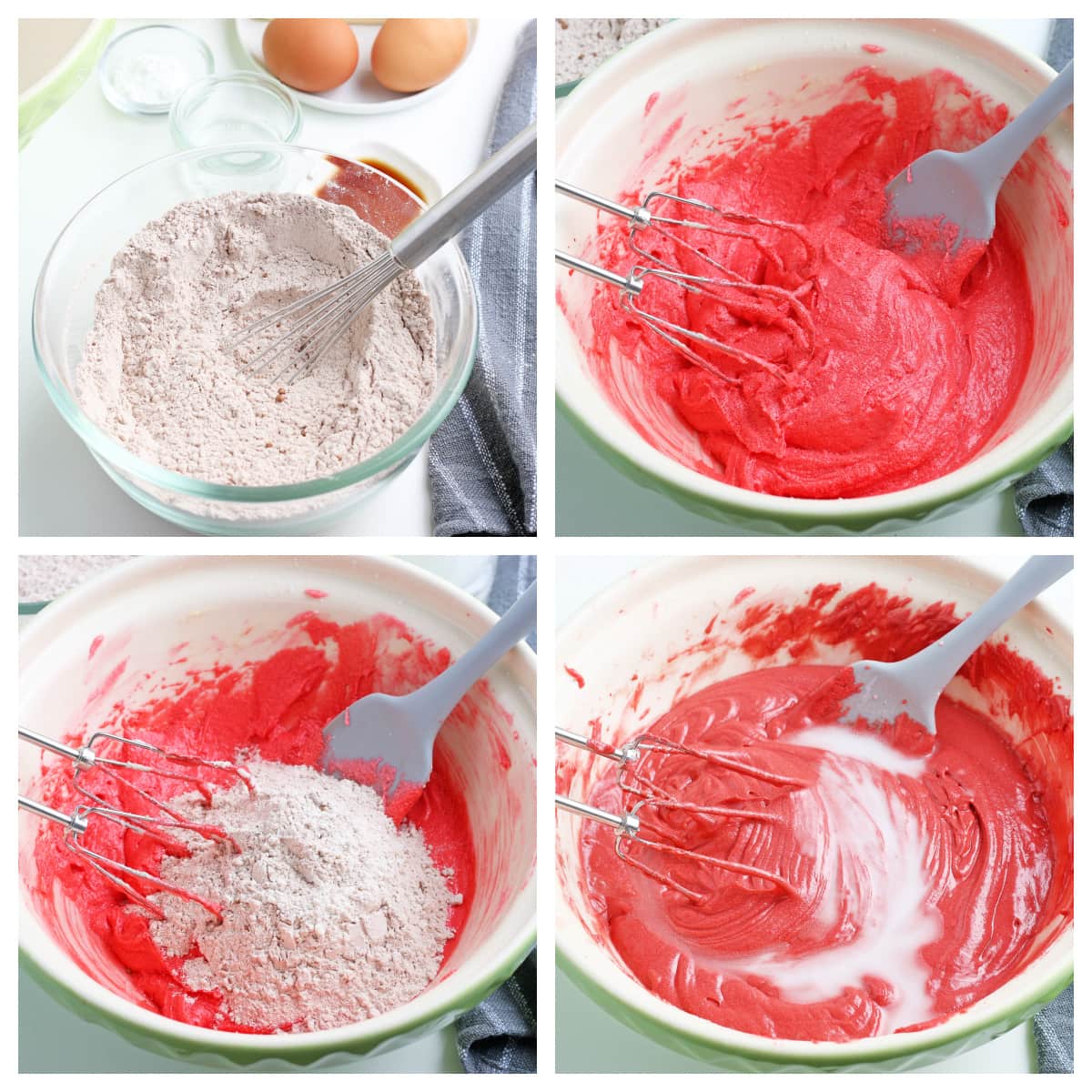 Lastly, combine vinegar and baking soda (if will be a little frothy) and add to the batter for the tang.
Transfer evely to muffin tins lined with cupcake liners and bake until light and fluffy or it passes the toothpick test.
Wait until the cool fully and then frost. Cream cheese is the usual frosting of choice, but don't feel limited. Chocolate, vanilla, funfetti or even just a dusting of powdered sugar will also do just fine.
Storage & Freezing
Since red velvet cupcakes have dairy in the frosting, they best kept in the fridge until ready to enjoy, but you can leave them out at room temperature for up to 2 hours.
If you plan to freeze them, I highly suggest freezing just the cupcake and frosting after they have been thawed.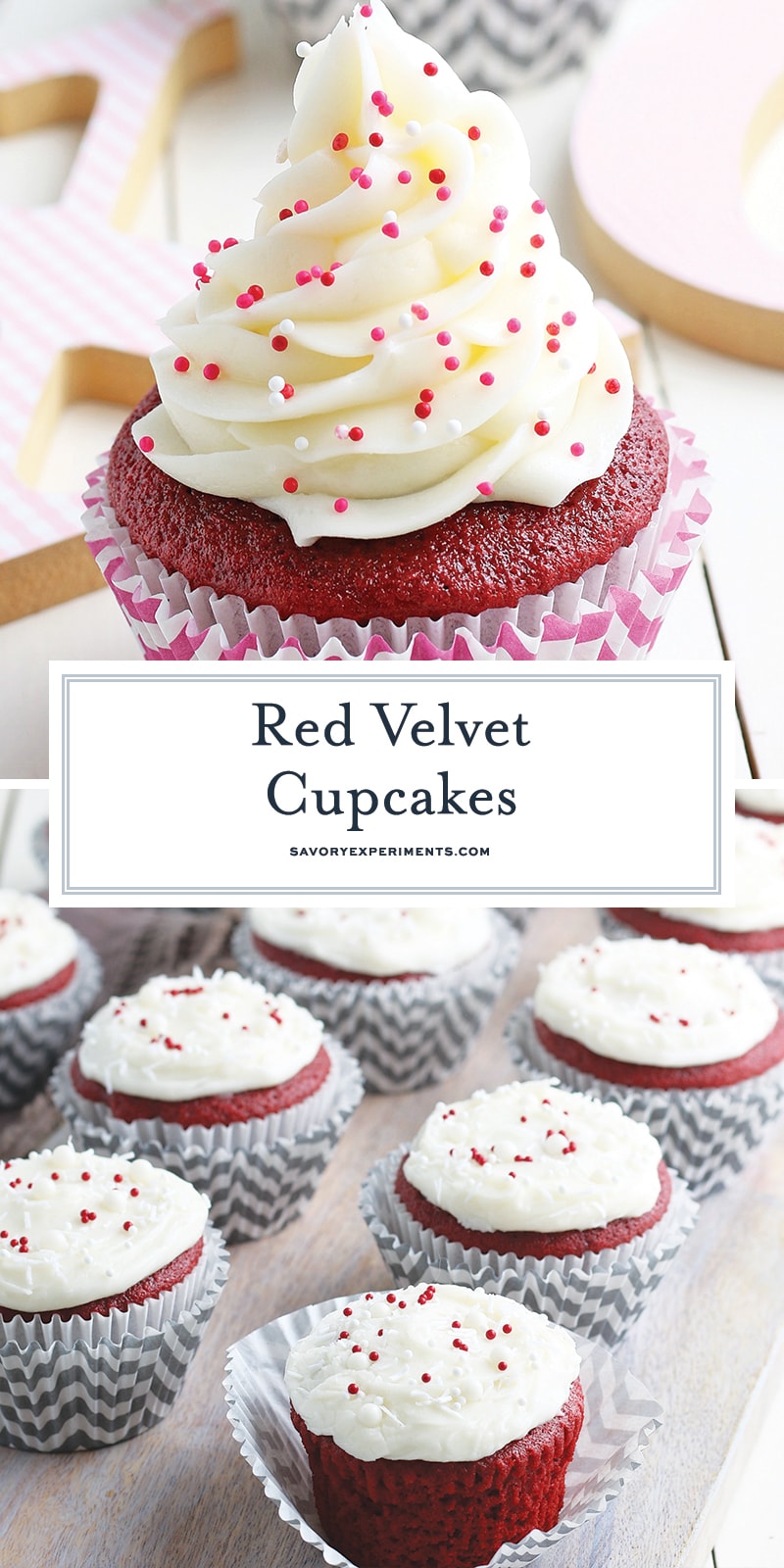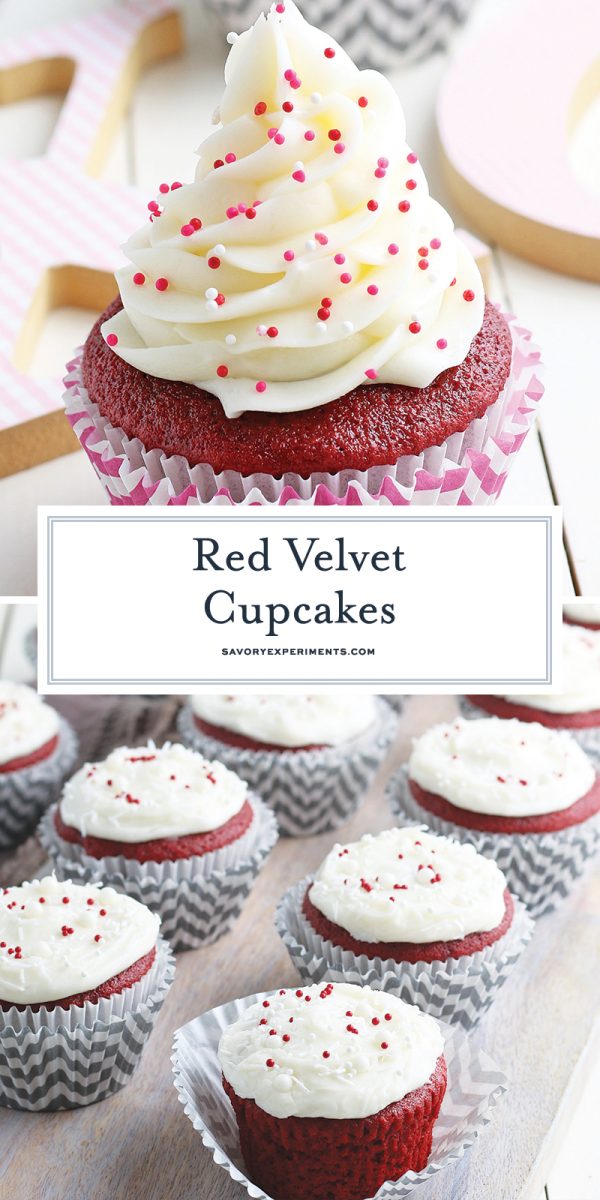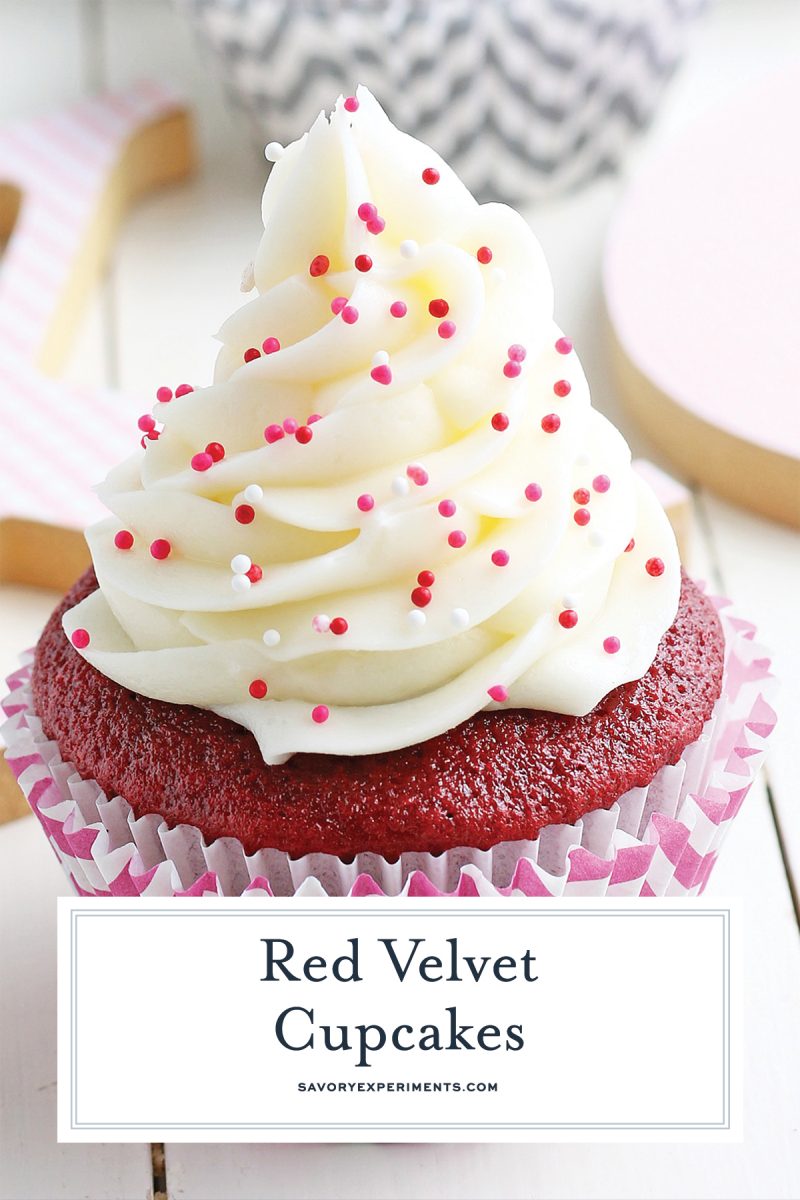 CONNECT WITH SAVORY EXPERIMENTS!

Be sure to follow me on social media, so you never miss a post!

Facebook | Twitter | Youtube
Pinterest | Instagram

Get our FREE 8 Day E-Course on How to Be a Better Home Cook. Sign up HERE!