This Cosmic Brownie recipe just channels childhood. It's inspired by the Little Debbie Cosmic Brownies, with their two layers of chocolate and fun rainbow chips.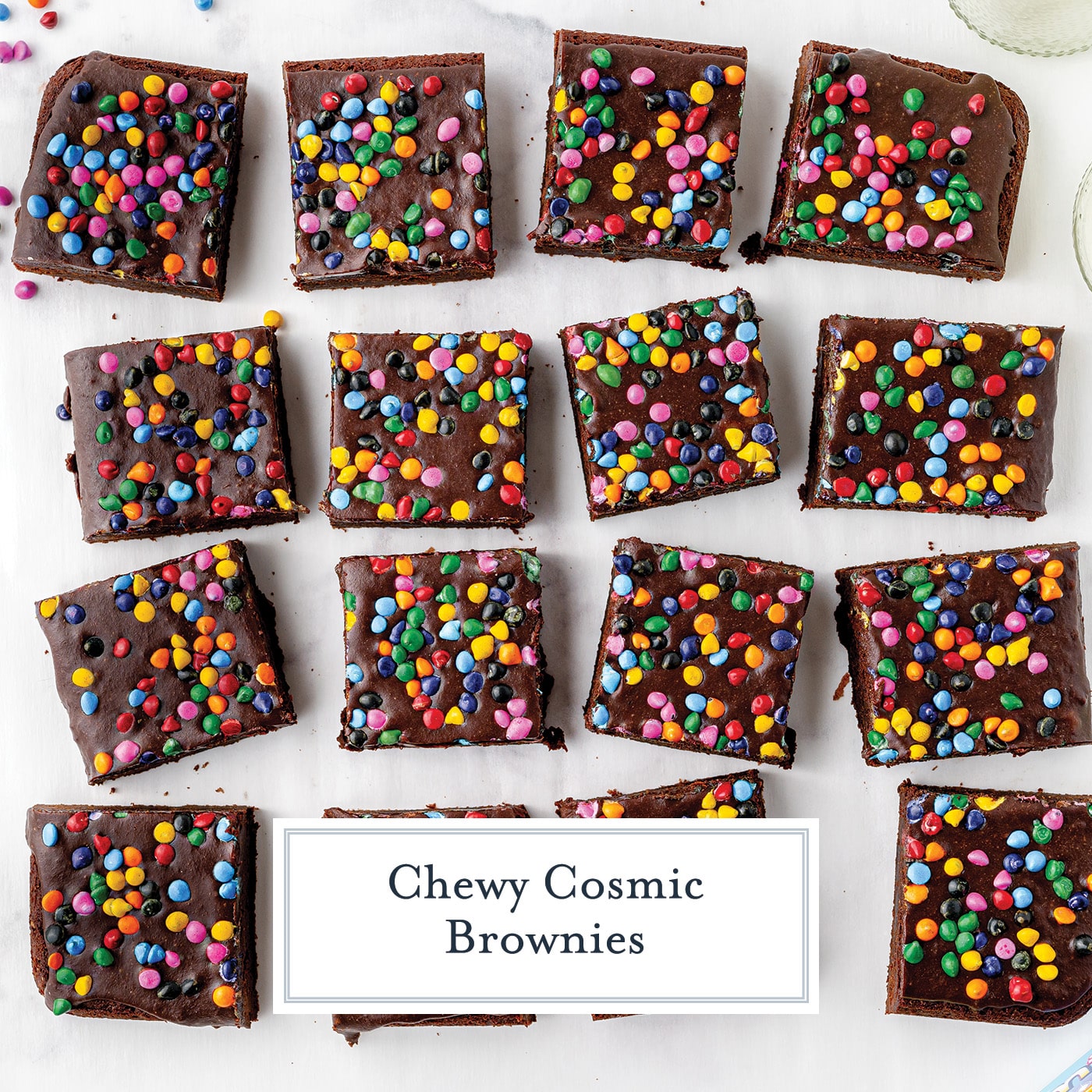 The brownies themselves have a fudgy texture and are full of chocolate flavor while the topping is a simple ganache that you can make in minutes. Then, they're topped with small rainbow chocolate chips that make it feel like it's a party.
The next time you're looking for a fun treat that's decadent, too, try making these easy homemade brownies.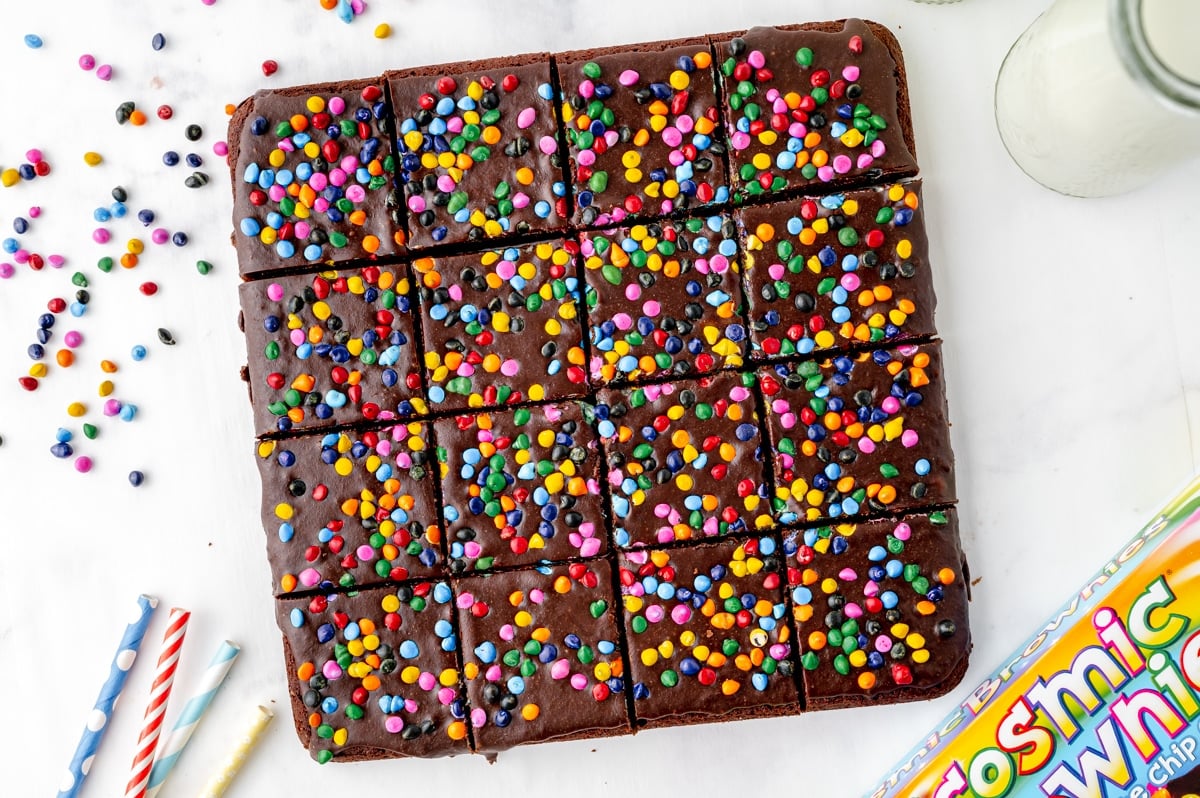 Why You'll Love This Cosmic Brownies Recipe
What's not to love about these delicious, chocolatey brownies?
Pretty – With their rich chocolate topping and colorful candies, these brownies are eye-catching on any dessert table.
Convenient – You can find most of these ingredients in the baking aisle.
Easy – Who needs a boxed mix with a recipe this easy?
Childhood Favorite- There was nothing more exciting than seeing this rainbow of chocolate in your lunchbox. Bring that joy back to you and your family!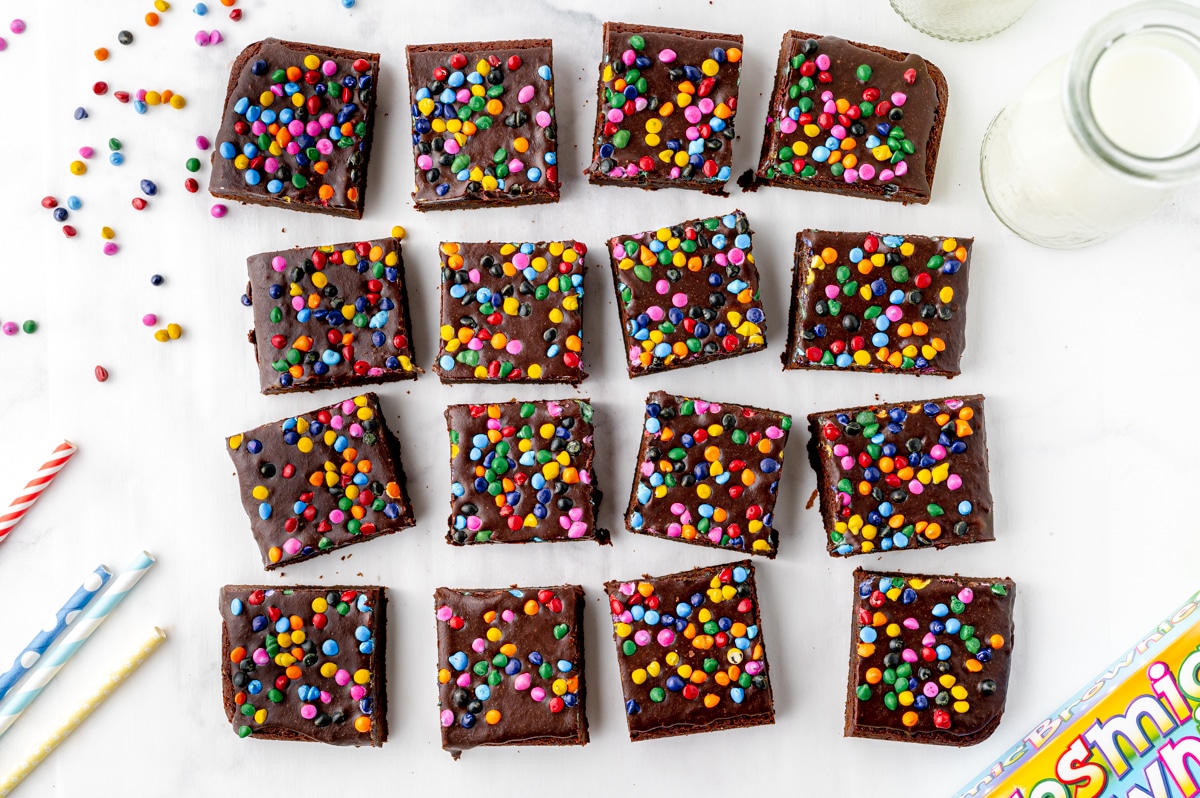 Ingredients
You may already have most of these ingredients but if not, they're easy to find at the grocery store.
For the Brownies
Vegetable oil – Oil helps to make the brownies moist.
Unsalted butter – Melt the butter before adding it to the batter.
Sugar – Granulated sugar works well for this recipe.
Light brown sugar – Make sure to pack the brown sugar to get the right amount.
Eggs – Large eggs are best for this brownie recipe.
Light corn syrup – Be sure to use the light variety. Dark corn syrup will add too much molasses flavor.
Vanilla extract – You can use any brand from the store or make your own homemade vanilla extract.
Flour – All-purpose flour is the way to go for these cosmic brownies.
Cocoa powder – Be sure to use unsweetened cocoa powder.
Coarse kosher salt – Salt helps to bring out the sweetness of the other ingredients.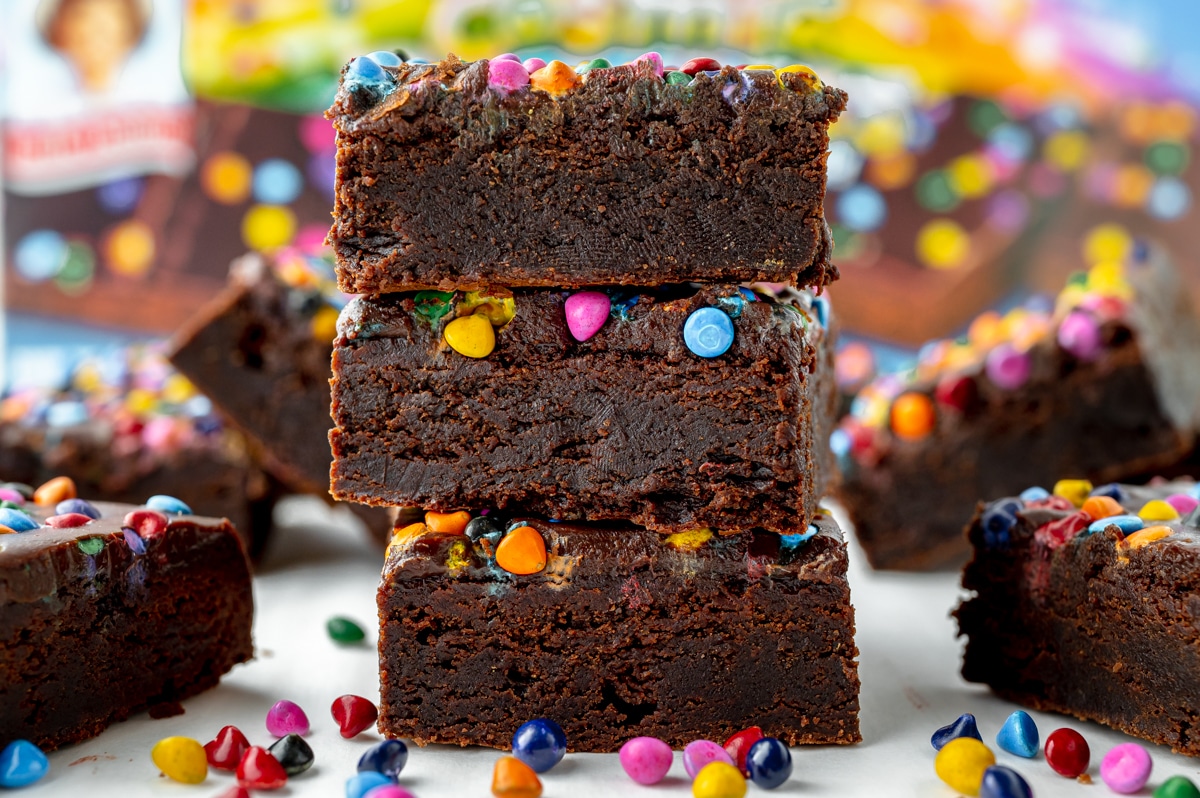 For the Chocolate Ganache
Heavy cream – To ensure that you have a rich ganache, be sure to use heavy cream instead of light.
Light corn syrup – This gives a light sweetness to the ganache.
Vanilla extract – Vanilla helps to bring out the chocolate and sweet flavors.
Coarse kosher salt – Salt balances the ingredients.
Semi-sweet chocolate – Be sure to chop the chocolate finely so that it melts easily.
Candy-coated chocolate chips – These will go on top of the ganache. If you have leftovers, make some potato chip marshmallow bars!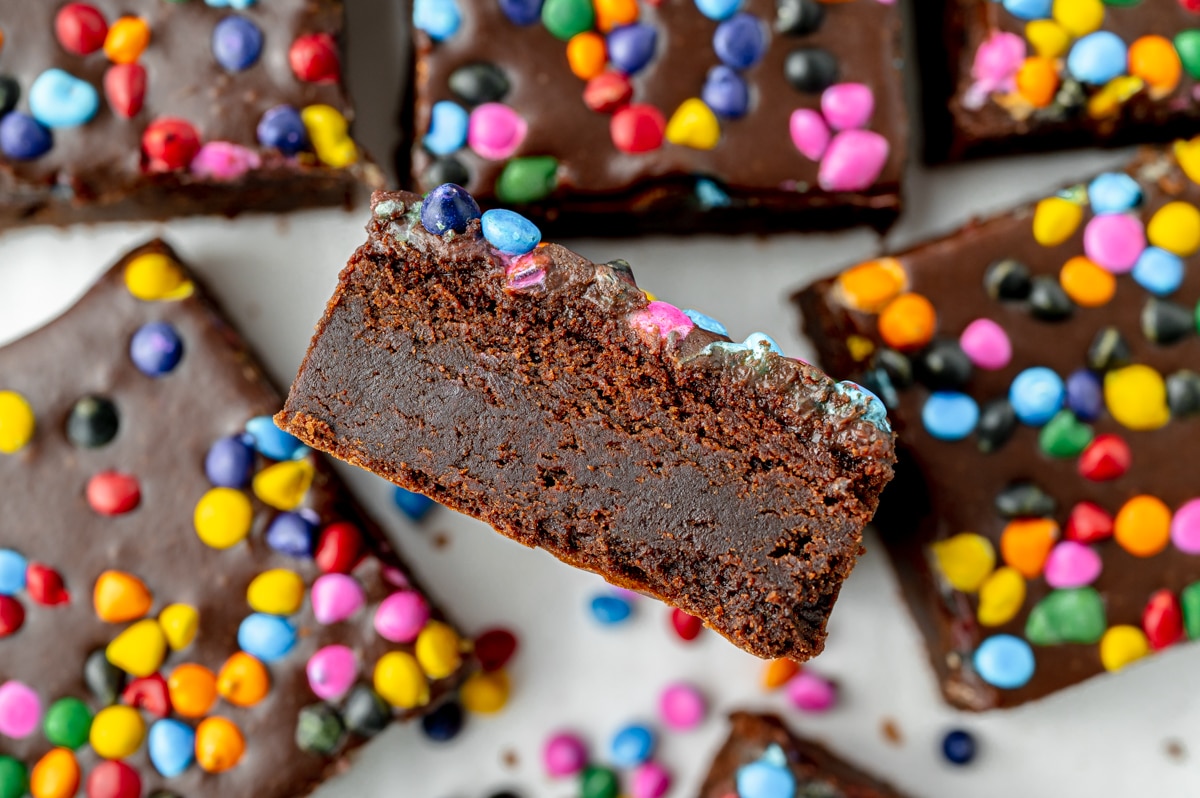 How to Make Cosmic Brownies
You are going to love how easy these colorful, chocolate-topped brownies are to make.
Combine wet ingredients. Add butter, vegetable oil, sugar and brown sugar to the bowl of a stand mixer with a paddle attachment and beat until fully mixed. Whisk in the whole eggs, extra egg yolk, corn syrup and vanilla.
Add to dry ingredients. Sift the cocoa powder, flour, and salt into a separate bowl. Pour the dry ingredients into the bowl with the wet ingredients. Using a rubber spatula, mix until just combined, being careful not to overmix.
Add to pan and bake. Next, add the brownie batter to the prepared pan with cooking spray and smooth it with an offset spatula. Bake until an inserted toothpick comes out clean and the top is shiny.
Cool. Allow brownies to cool in pan briefly. Then, transfer brownies to a wire rack to come to room temperature.
Make ganache. Add corn syrup, vanilla, and salt to a preheated saucepan. Mix together until completely combined. Remove the mixture from the heat and add chocolate chips. Mix until smooth.
Pour over brownies. Pour the chocolate onto the brownies, spreading to the edges. Add candy coated chocolate pieces on top.
Refrigerate. Once the chocolate topping is set, slice the brownies.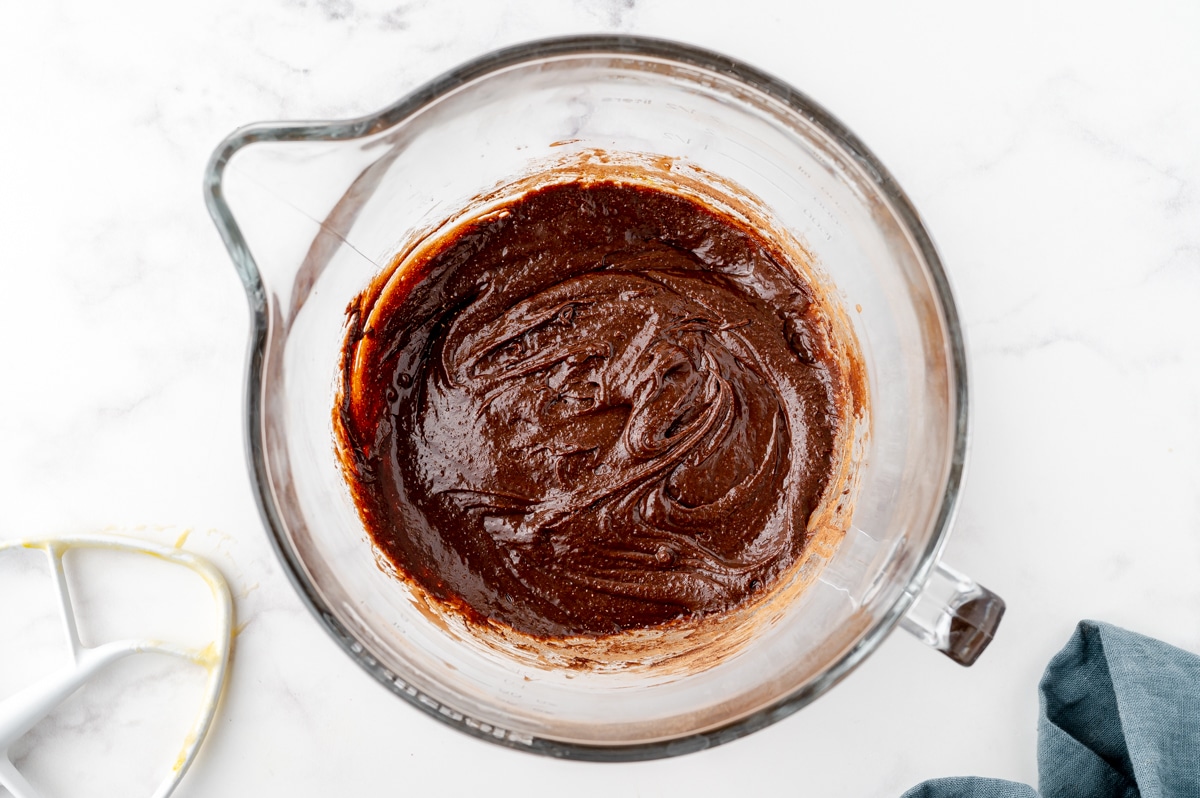 What to Serve with Cosmic Brownies
At our house, we love serving brownies with a big glass of cold milk or chocolate milk but they're also good with whipped hot chocolate, white hot chocolate, or whipped coffee. When it's just us adults, we also like to serve these alongside grown-up drinks like an espresso martini, white chocolate martini, or hot buttered rum.
You can also simply serve the with a big scoop of ice cream. Choose your favorite flavor from the store or make your own vanilla ice cream or strawberry ice cream.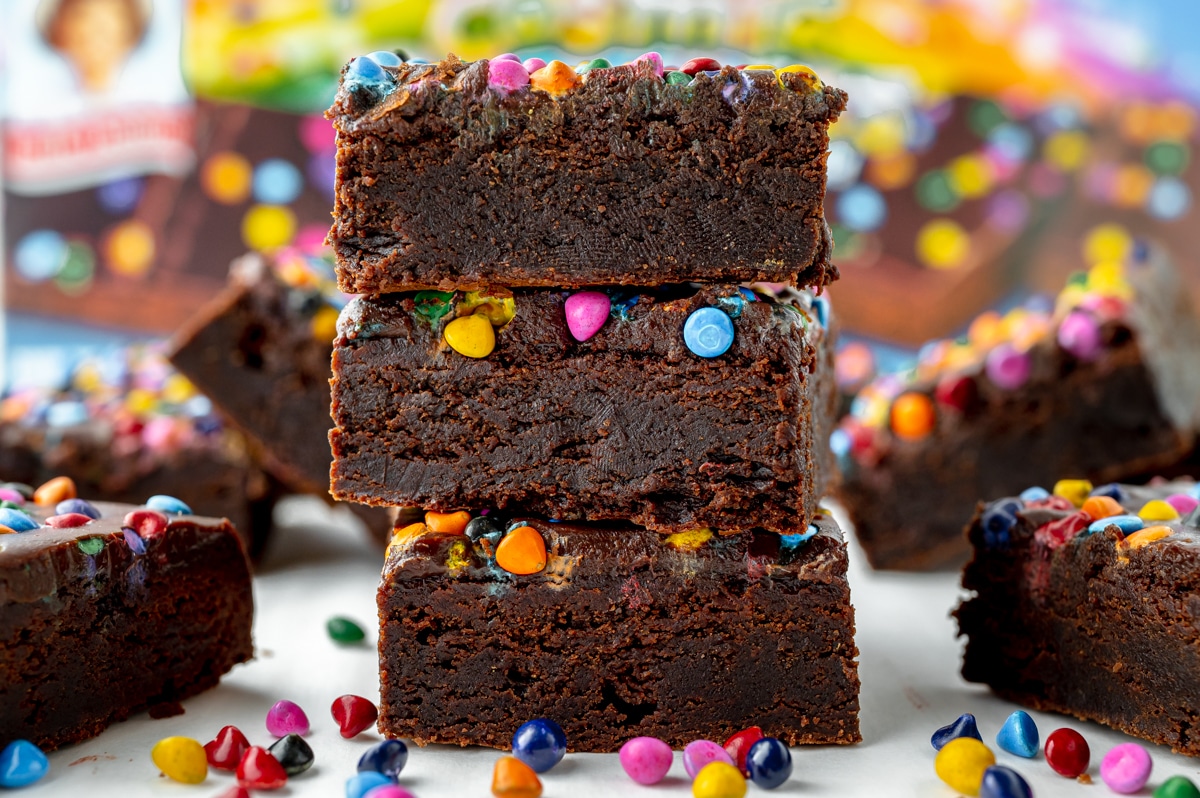 Variations
We love these cosmic brownies as they are but you can add or swap ingredients, too.
Nuts – Fold nuts into the brownie batter or sprinkle them on top.
Sugar – To reduce the sugar, try using your favorite alternative.
Candies – Choose another colorful candy or rainbow sprinkles to sprinkle on top or fold the color coated candies into the batter.
Extract – Replace some or all of the vanilla extract with another flavor. Coffee extract and almond extract are both good options.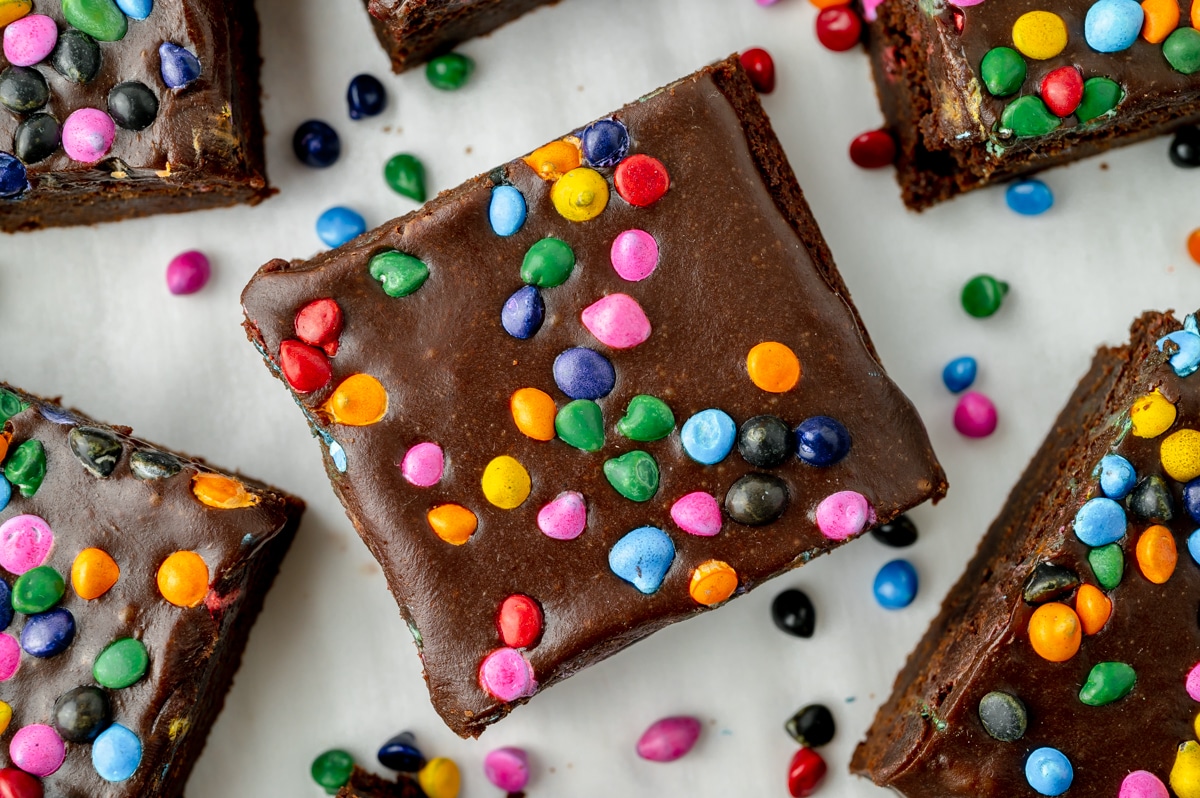 Storage, Make Ahead and Freezing
You can store cosmic brownies on the counter for 3-4 days or place them in the refrigerator or freezer.
Storage: Store brownies in the refrigerator in an airtight container or resealable bag for up to 1 week. You can also wrap them individually in aluminum foil.
Make-Ahead: Make the batter ahead and refrigerate it in a baking dish for up to 3 days before baking.
Freezer: Freeze brownies for up to 3 months. Store them in a single layer in a freezer bag or freezer-safe container or wrap them in plastic wrap.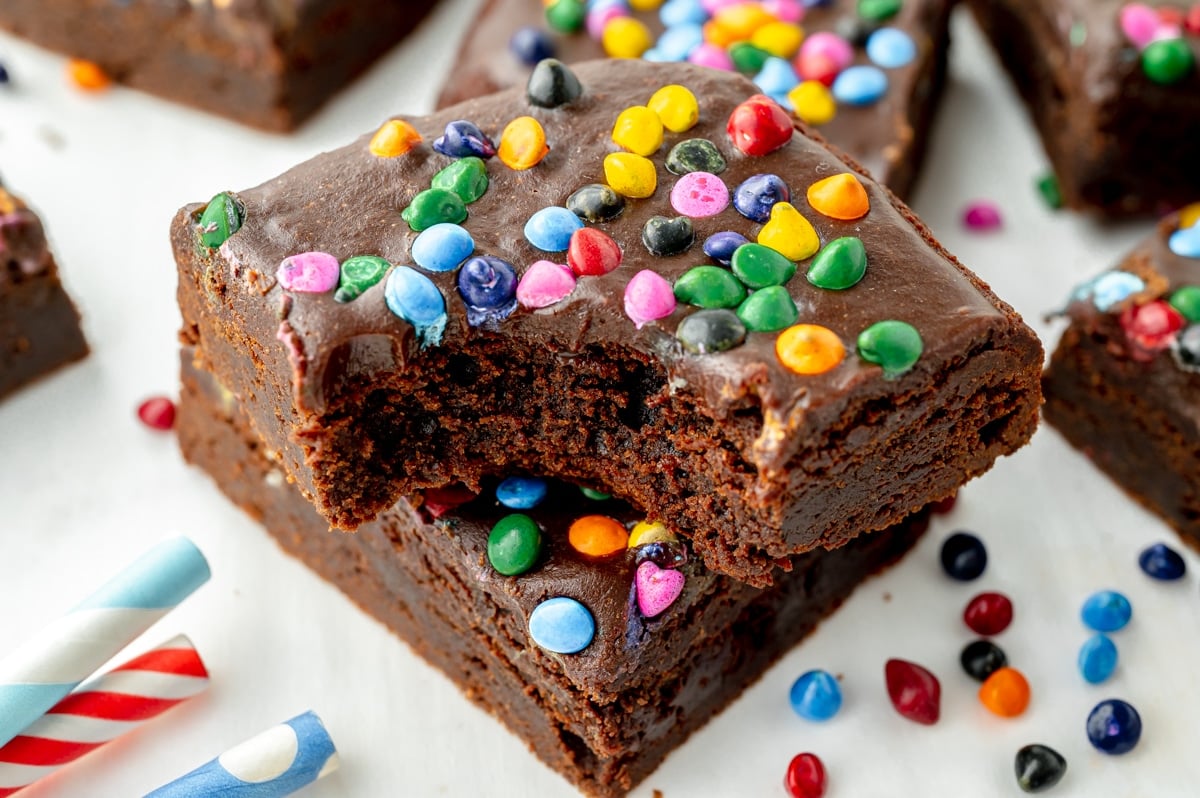 Frequently Asked Questions
Why is it called a Cosmic Brownie?
Little Debbie says that the Cosmic Brownies were inspired by the Cosmic bowling trend of the 1990s.
Why are Cosmic Brownies so good?
Cosmic Brownies are fudgy brownies so they're dense and moist and the delicious fudge icing is heavenly. The colorful candies make it fun and add texture.
What do Cosmic Brownies taste like?
Cosmic Brownies are rich and chocolatey with a smooth, soft chocolatey topping.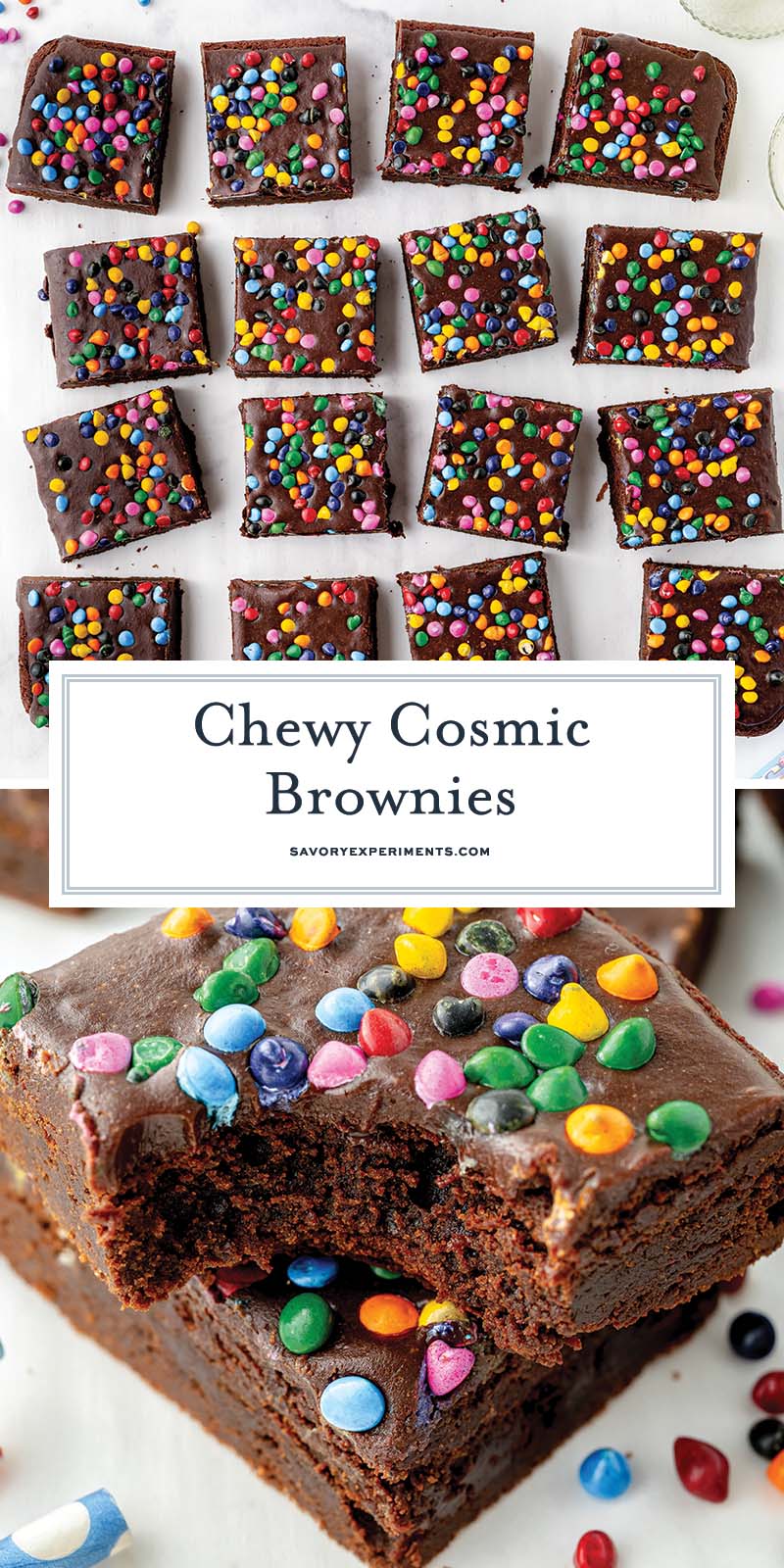 More Homemade Brownies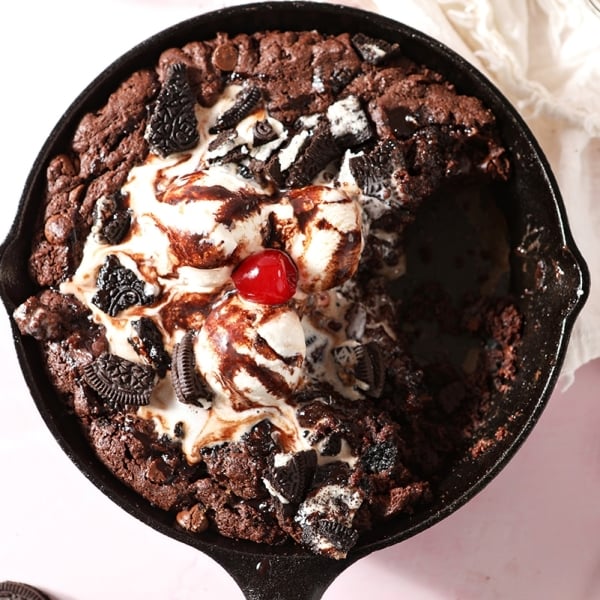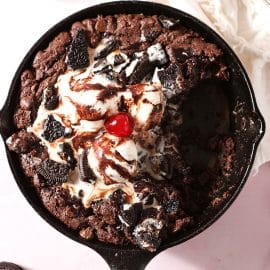 Nutella Brownies
Homemade Nutella brownies are made in one bowl. With 7 simple ingredients and in less than 1 hour you can enjoy a piece of this delicious brownie recipe!
See The Recipe!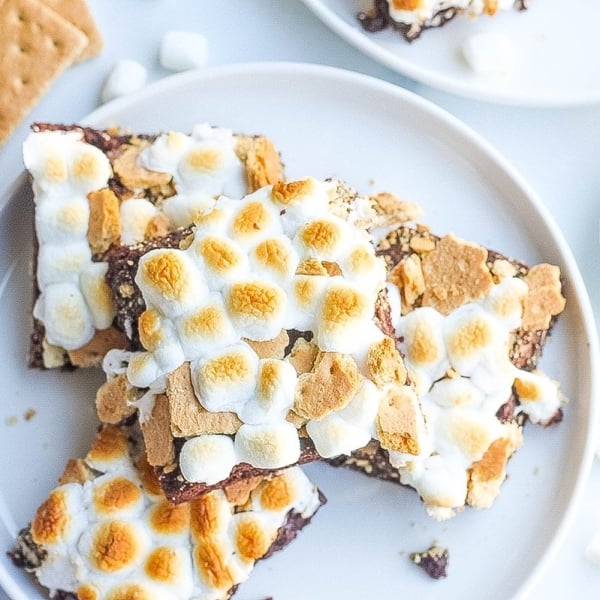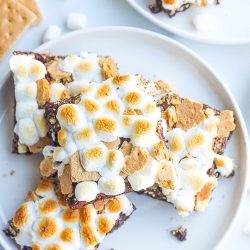 S'More Brownies
S'more Brownies is a delicious homemade brownie recipe made from double chocolate brownies, a layer of crunchy, salty pretzels and gooey melted marshmallows!
See The Recipe!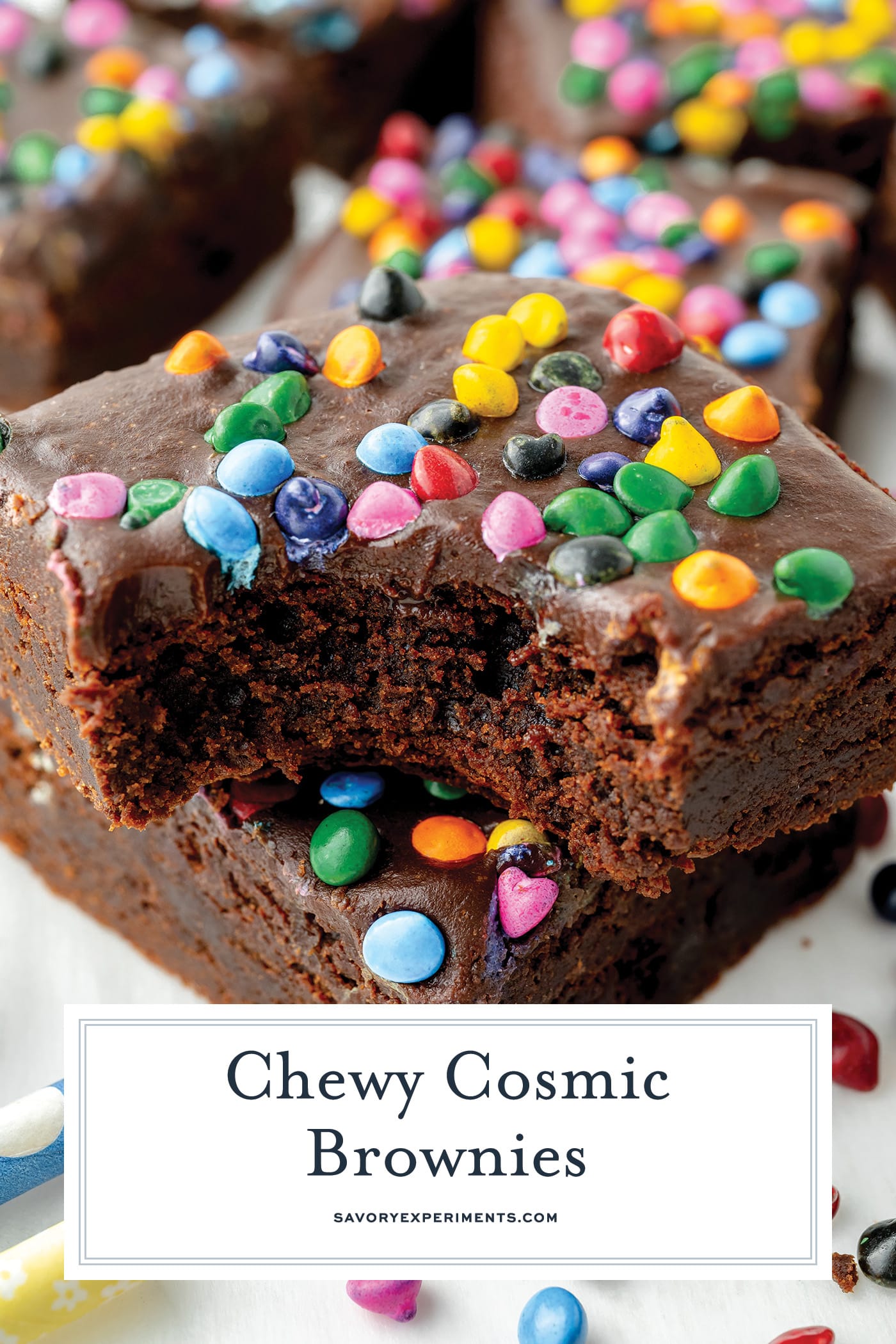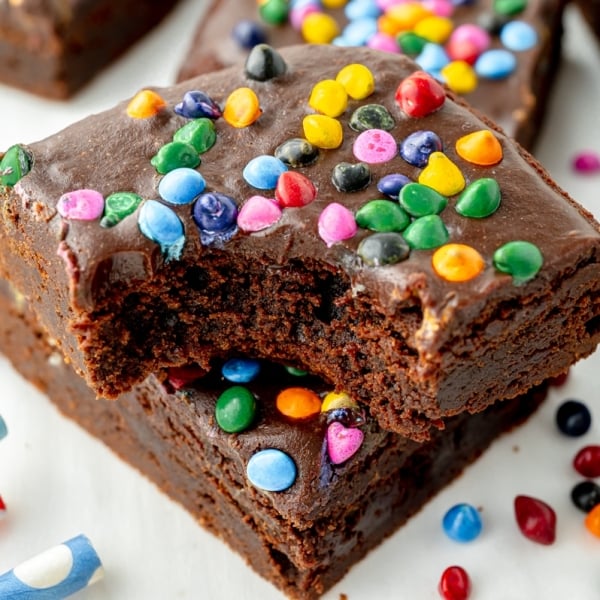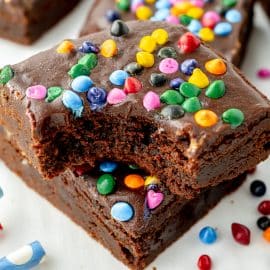 Cosmic Brownies
This Cosmic Brownies recipe channels childhood. Inspired by the Little Debbie classic, with two layers of chocolate and fun rainbow chips!
Equipment
Heat Resistant Rubber Spatula
Instructions
Preheat the oven to 350°F. Coat the bottom and sides of an 8-x 8-inch baking pan with cooking spray and line the bottom with parchment paper. Set aside.

In the bowl of stand mixer fitted with a paddle attachment or in a large mixing bowl, cream together the butter, vegetable oil, sugar and brown sugar until fully mixed.

Add the whole eggs, egg yolk, corn syrup, and vanilla, whisking until sugars dissolved and mixture is smooth, approximately 5 minutes.

In a small bowl, sift or whisk together the cocoa powder, flour, and salt.

Add the dry mixture to the wet ingredients, until just combined. Do not overmix.

Pour the batter into the prepared baking pan. Use an offset spatula to smooth the batter. Tap on the counter a few times to level.

Bake for 20-25 minutes or until they pass the toothpick test. Tops will be shiny.

Remove and cool on a wire rack for 15 minutes.

Arrange a wire rack over a rimmed baking sheet. Set aside. Run an offset spatula or butter knife around the edges of the pan and then invert the brownies onto the wire rack and let cool completely.

In a small saucepan over medium-low heat, heat the cream . Stir in the corn syrup, vanilla, and salt until fully mixed.

Remove from the heat and stir in the chocolate chips until melted.

Pour the ganache over the brownies, using an offset spatula to spread to the edges. Sprinkle liberally with candy coated chocolate chips while ganache is still tacky.

Refrigerate until ganache is set and then cut into 16 small squares, wiping the knife between each cut.

If you've tried this recipe, come back and let us know how they were in the comments or star ratings !
Nutrition
Calories:
236
kcal
,
Carbohydrates:
28
g
,
Protein:
3
g
,
Fat:
14
g
,
Saturated Fat:
7
g
,
Polyunsaturated Fat:
2
g
,
Monounsaturated Fat:
4
g
,
Trans Fat:
0.2
g
,
Cholesterol:
40
mg
,
Sodium:
162
mg
,
Potassium:
120
mg
,
Fiber:
2
g
,
Sugar:
21
g
,
Vitamin A:
268
IU
,
Vitamin C:
0.03
mg
,
Calcium:
22
mg
,
Iron:
1
mg