This chocolate chip mug cookie is absolutely incredible. Perfectly moist with rich vanilla and chocolate chips, this cookie is the perfect single-serving dessert recipe. Ready in about one minute!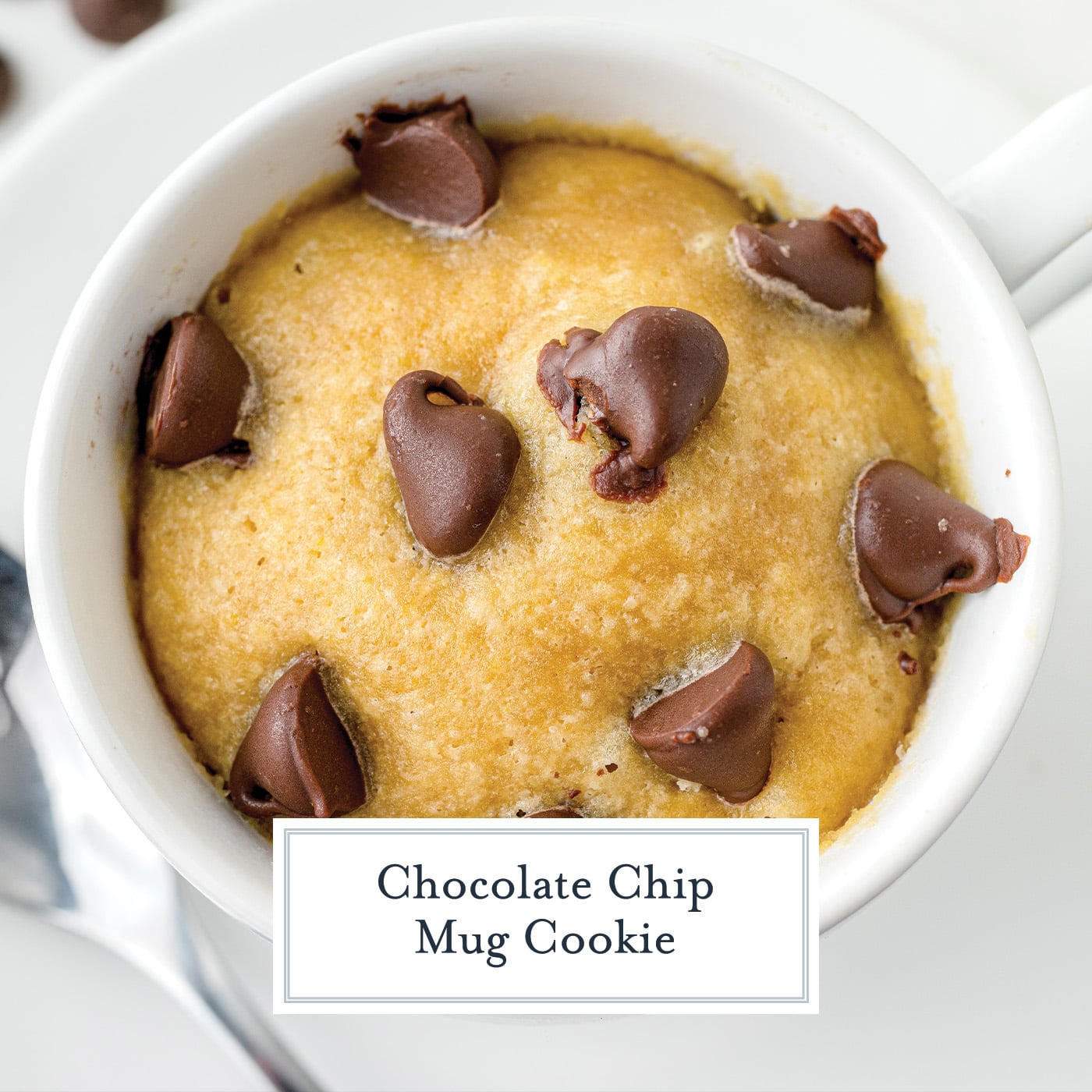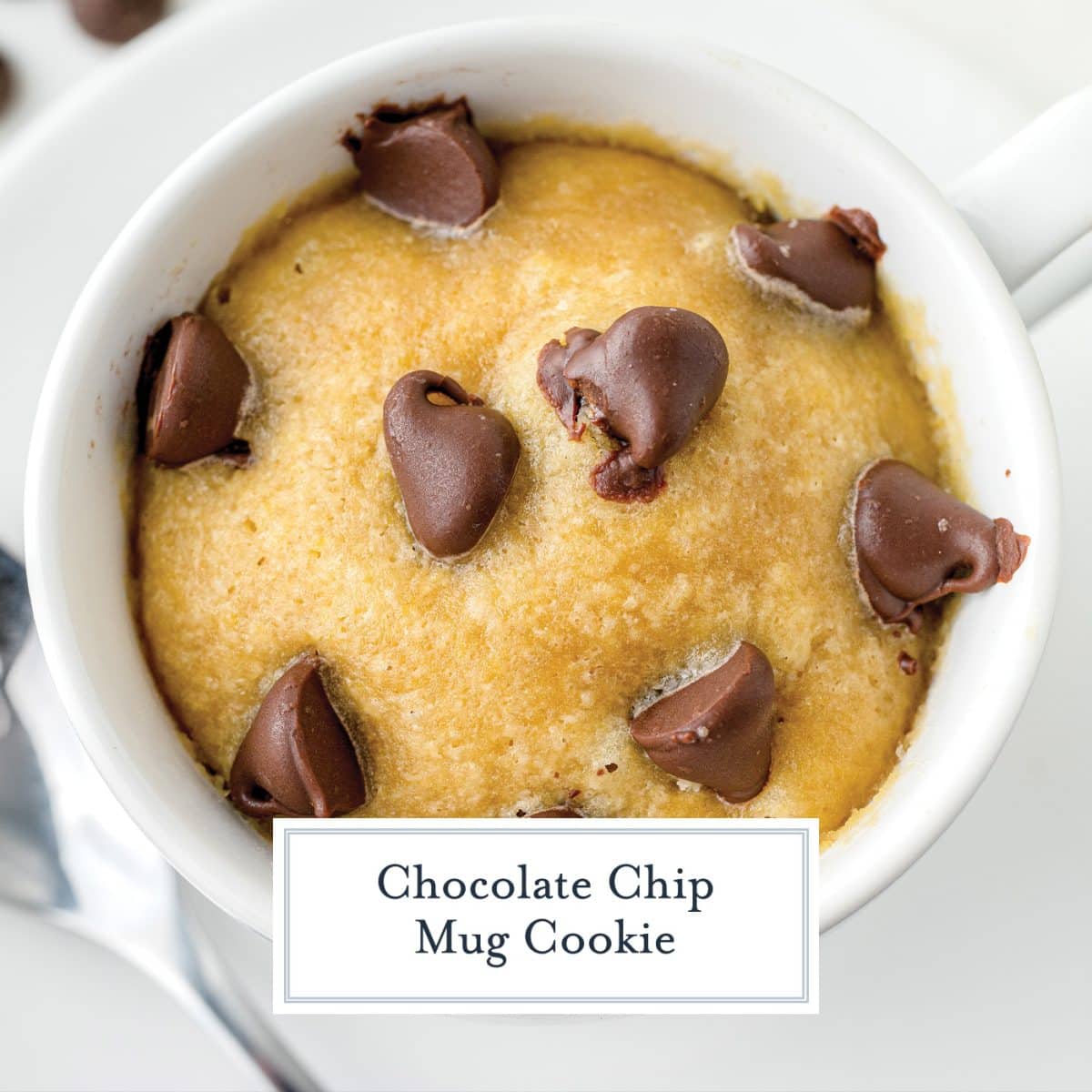 Do you ever just get a craving for warm and gooey chocolate chip cookie? Mug cookies taste just like cake and are an easy way to get your cookie fix–without all the extra cookies to put away!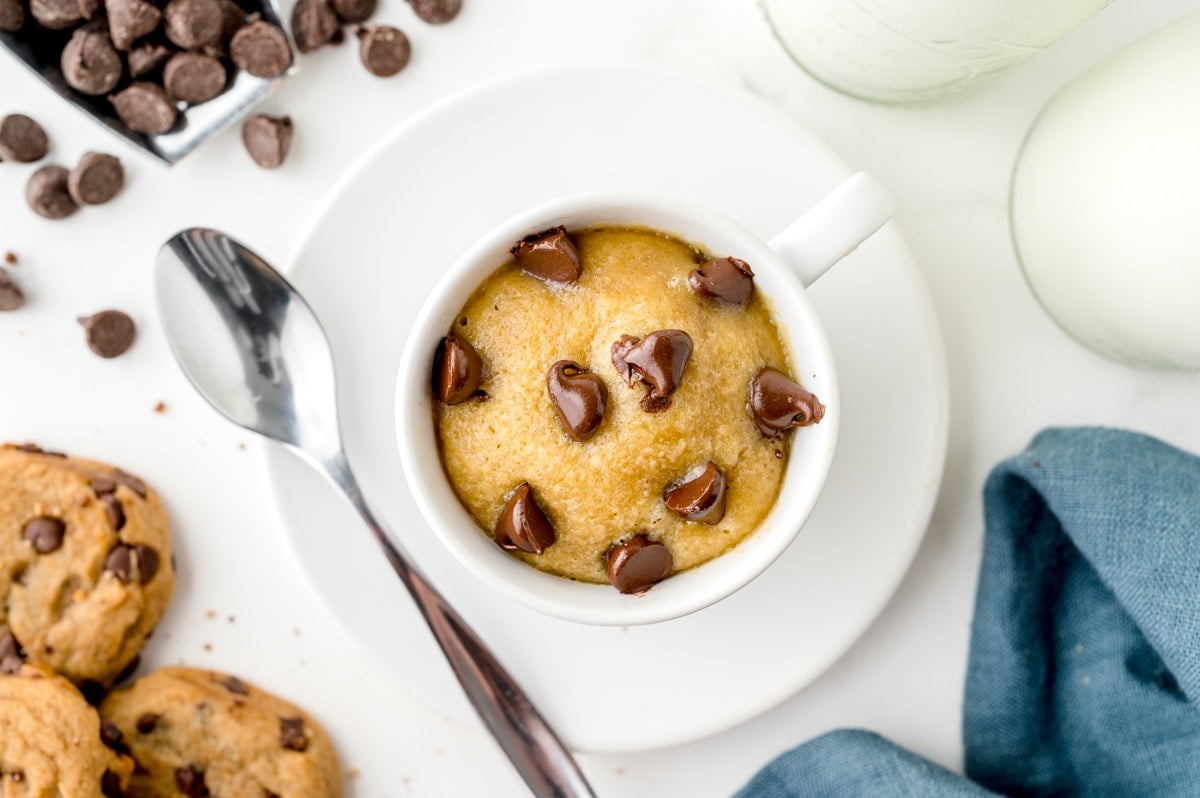 Why It's So Good!
Sweet brown sugar gives this cookie just the right amount of sweetness that will be hard to say no to. Prepare this recipe whenever that late night sweet-tooth hits and you need a soft mug cookie ASAP!
When it comes to chocolate chips, I'm a little obsessed. My single serve edible cookie dough is made with crunchy chocolate chips and makes my mouth water. Every. Single. Time.
Both are great options for whenever you need to treat yourself to a sweet treat. And if you aren't in the mood for brown sugar, check out my sugar cookie version. These single serve recipes are perfect when you don't want to make a whole batch of cookies.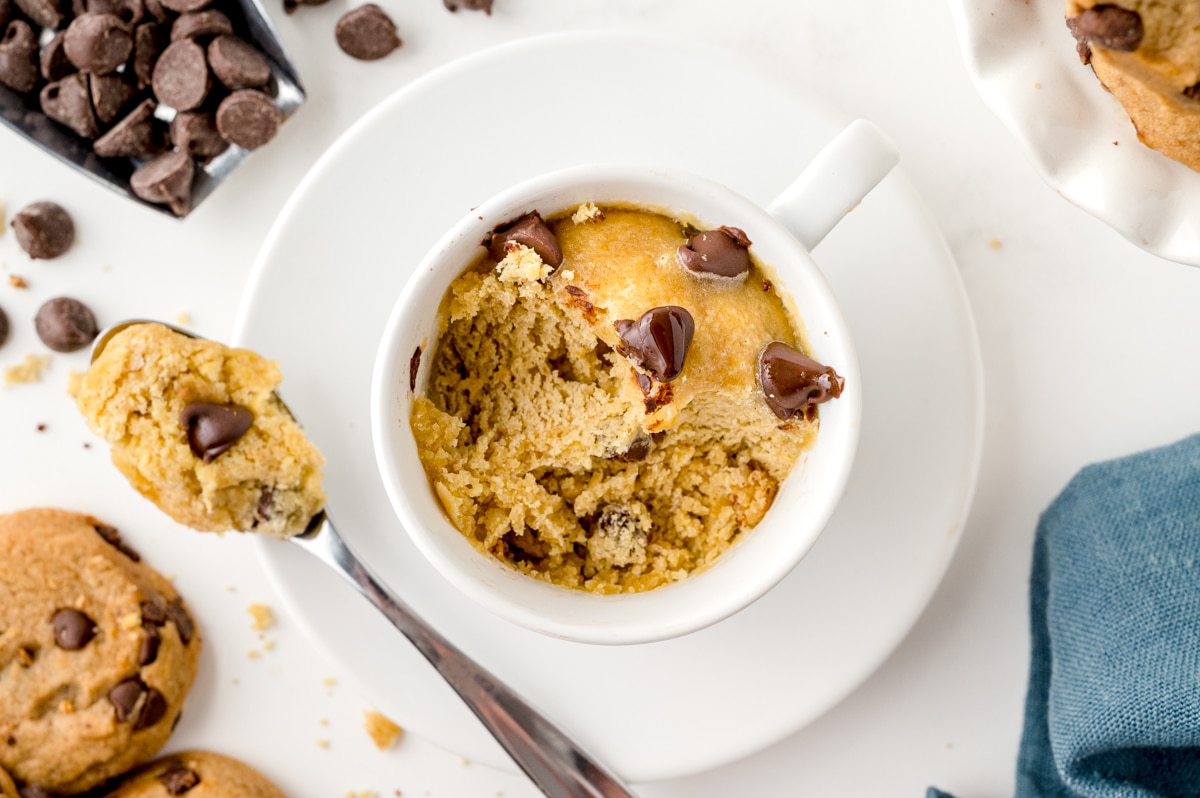 Mug Cookie Ingredients
This simple ingredient list is made up of pantry essentials so you can always enjoy a warm chocolate chip cookie.
Butter: Use either salted or unsalted butter for this recipe. If you're using salted butter, keep this in mind as you add the salt as it could make it too salty. For a dairy-free option, use dairy-free butter.
Brown Sugar: Dark or light brown sugar will work for this cookie and allow it to be moist and sweet. Of course, you can use regular white sugar in its place but it will lose that molassey flavor.
Vanilla: Pure vanilla extract is a classic ingredient for cookies, but you can experiment with different other types of extracts such as almond.
Salt: A little bit of salt balances this cookie out and makes sure the recipe is filled with plenty of flavor.
Egg Yolk: One single egg yolk makes the consistency of this dessert cakey and rich.
Flour: We like to use all-purpose flour for baking because it works so well. For a gluten-free version, use a 1:1 gluten-free flour with xanthan gum added to it.
Chocolate Chips: Milk chocolate or dark chocolate chips can be used! Want to switch things up even more? Use white chocolate chips.
Pro Tip: Vanilla extract is an essential ingredient for cookies! Pure vanilla enhances all of the flavors of this mug recipe and creates the perfect balance of a little bit of savory with sweet.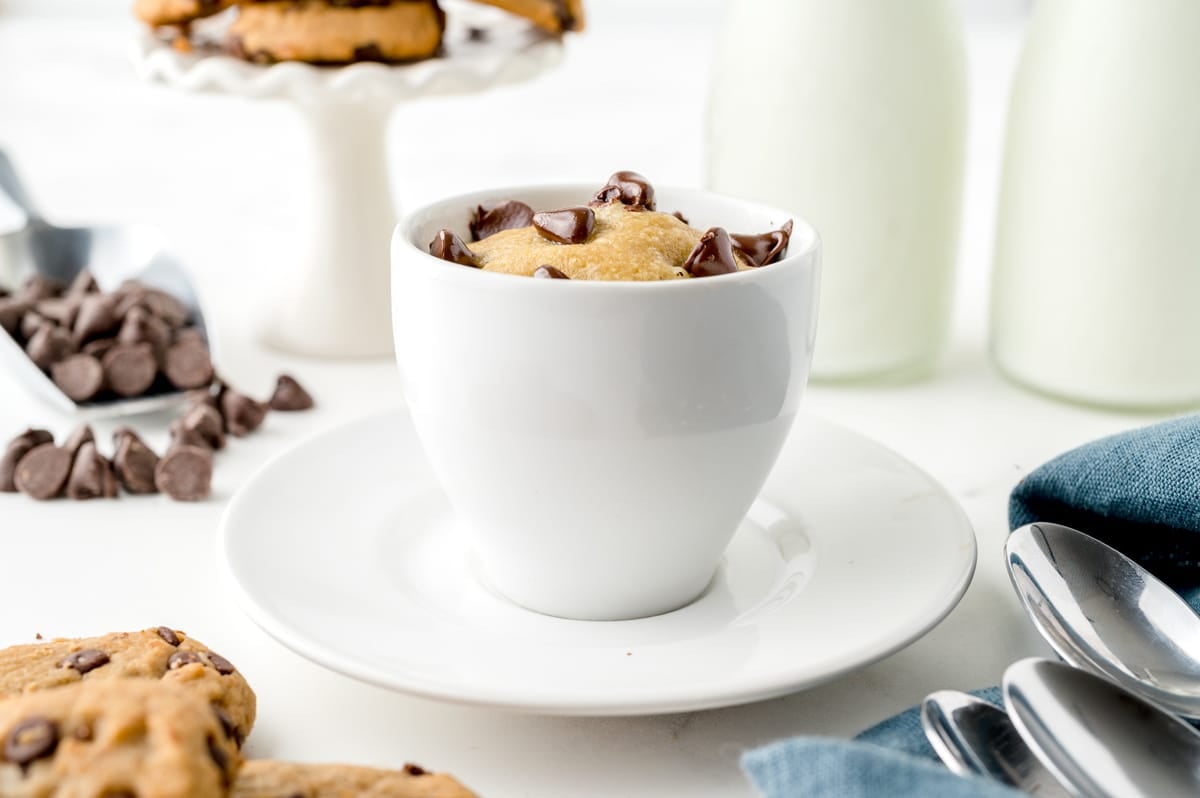 How to Make a Chocolate Chip Mug Cookie
Melt the Butter: First, place the butter in a microwaveable safe eight-ounce mug and place in the microwave for about ten seconds or until the butter is melted.
Mix: Next, gently place some brown sugar into the mug with the melted butter and gently stir with a spoon. Add the egg yolk and vanilla extract and mix until smooth.
Combine: Add the salt to the sugar and butter mixture, then add some flour to the mug. With a spoon or rubber spatula, mix all of the ingredients until just combined, but do not overmix!
Chocolate Chips and Microwave: Finally, fold the chocolate chips into the batter. Place the mug cake into the microwave and cook for thirty-five to forty seconds until the cookie has expanded and fluffed up.
Enjoy! Enjoy your warm cookie with a drizzle of sauce or vanilla ice cream.
Be careful not to over cook the cookie. Different microwaves will yield different results so be sure to check after the thirty second mark and every seven seconds after that.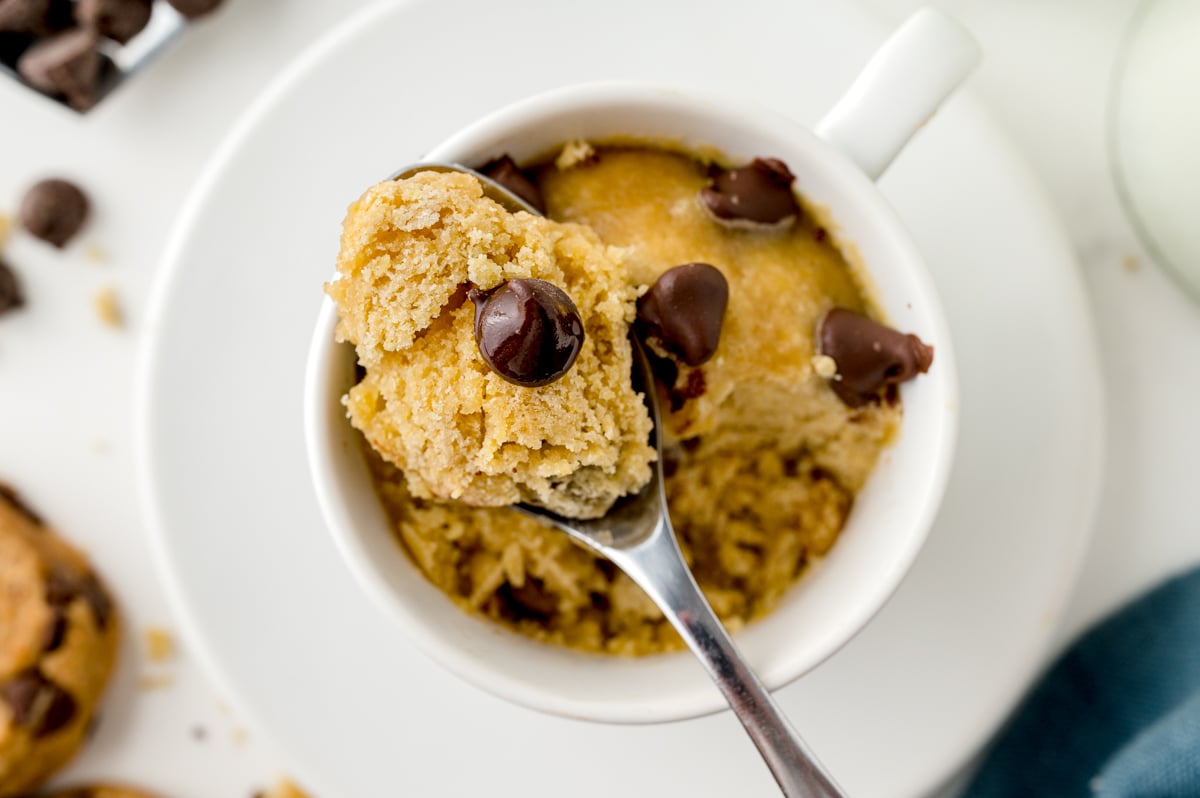 Serving & Storage
If you manage to have any of this recipe leftover, just top the mug with aluminum foil or place the cookie in an airtight container. Store in the refrigerator for three days.
Serve this classic recipe with a scoop of ice cream like cookies and cream or vanilla. A glass of chilled milk would also taste incredible with this dessert in addition to a cup of hot tea or coffee.
You could also drizzle some homemade caramel sauce over this treat depending on how far you want to go.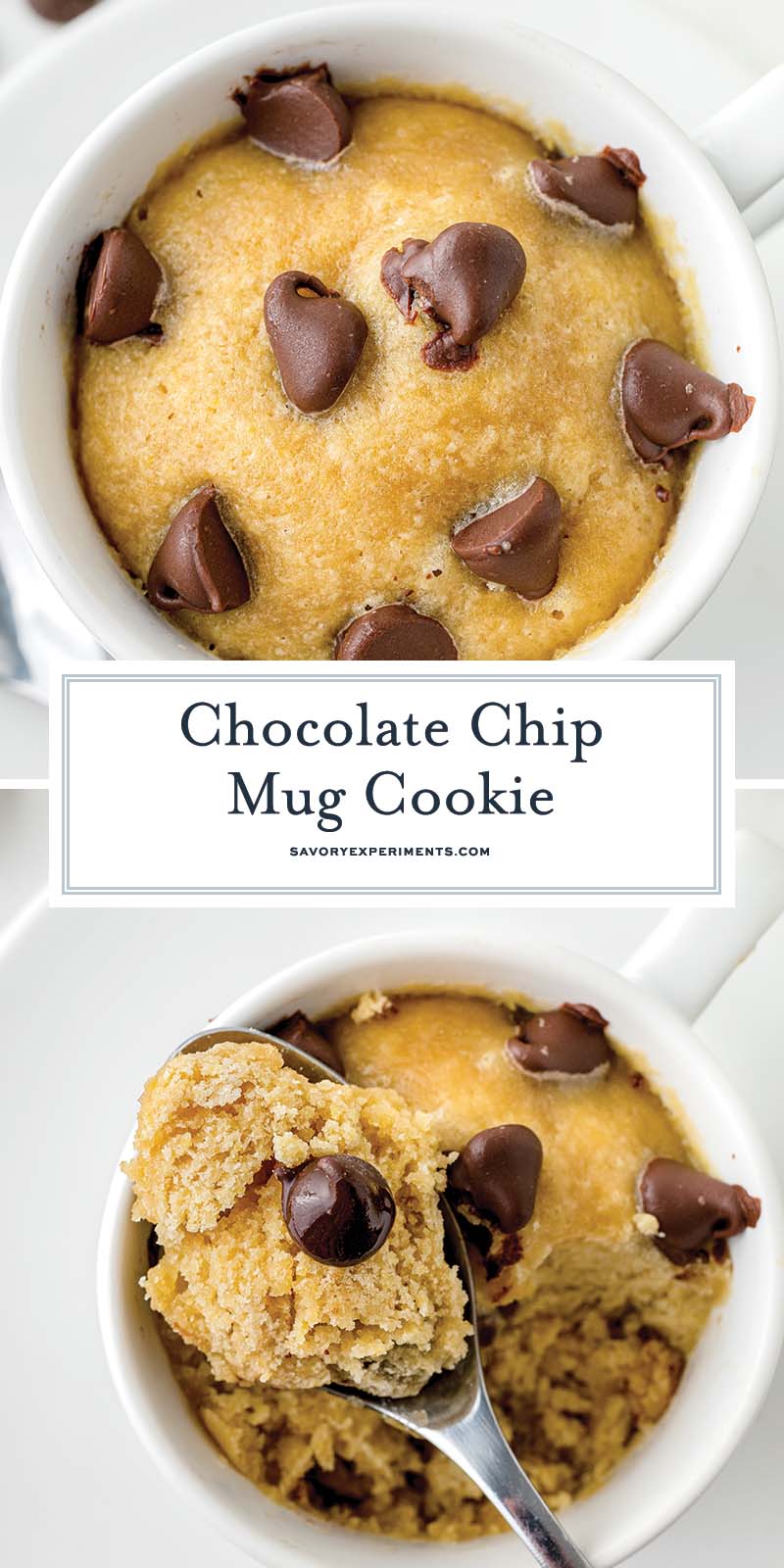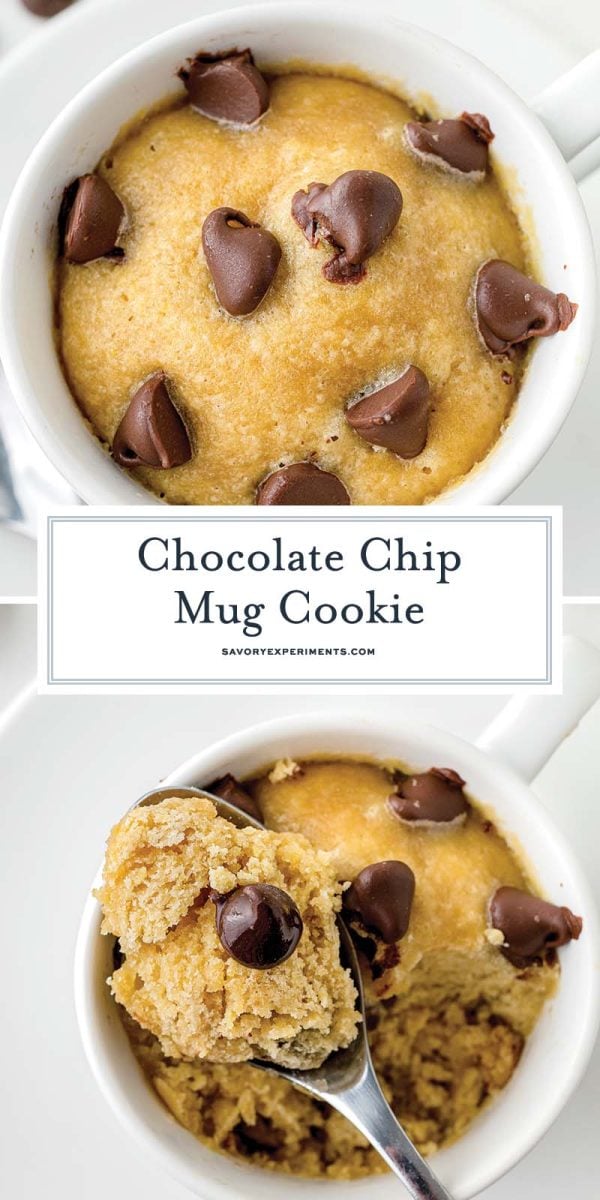 More Decadent Desserts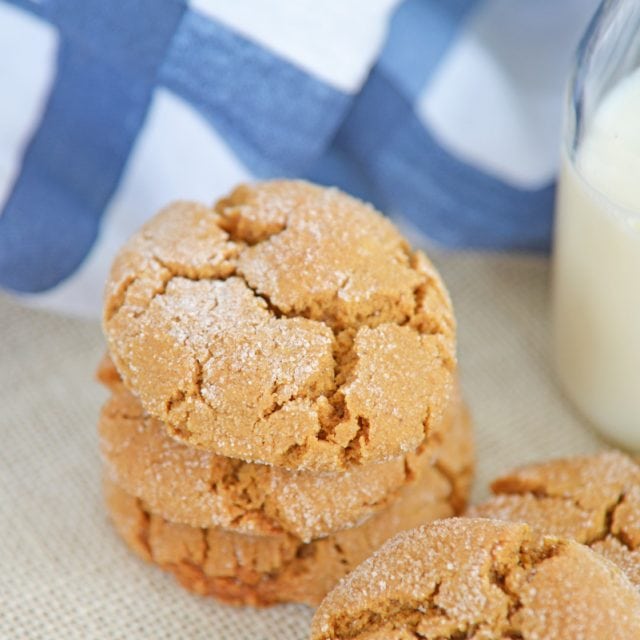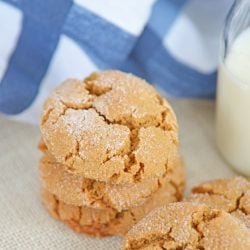 Soft Ginger Molasses Cookies
Ginger Molasses cookies, sometimes known as spice cookies, are one of my favorite Christmas cookies. Soft and spicy without being overly sweet.
View this recipe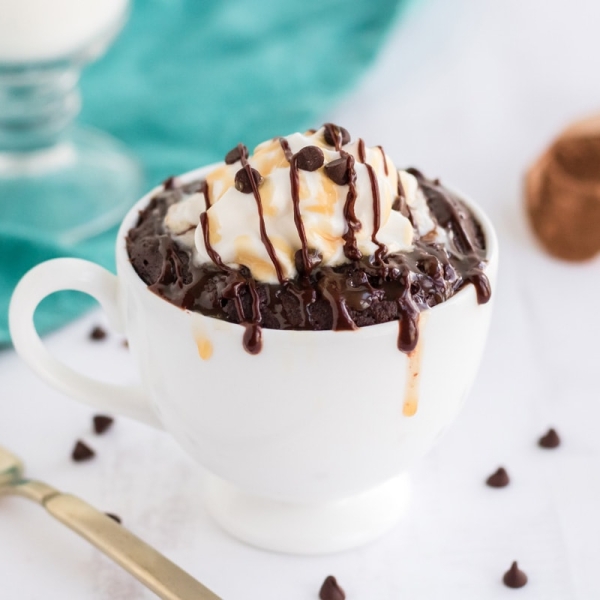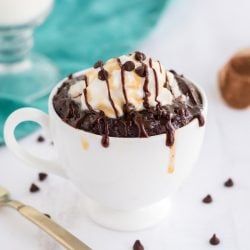 Mug Brownie Recipe
A delicious, fudgy brownie in a mug made in just 5 minutes from start to finish. The perfect way to indulge.
View this recipe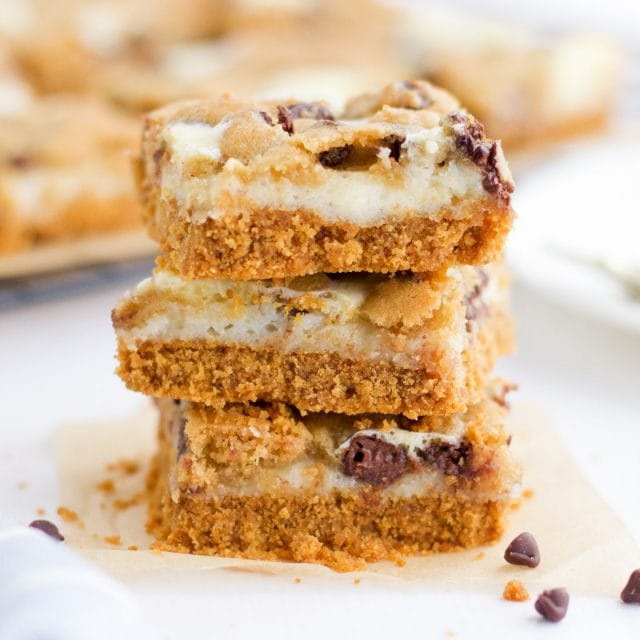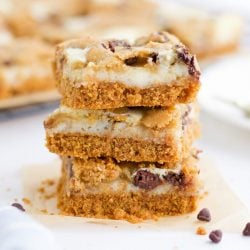 Chocolate Chip Cookie Cheesecake Bars
These Chocolate Chip Cookie Cheesecake Bars are the perfect crowd pleasing dessert with a classic cheesecake crust, decadent middle cheesecake layer and a golden chocolate chip cookie dough top!
View this recipe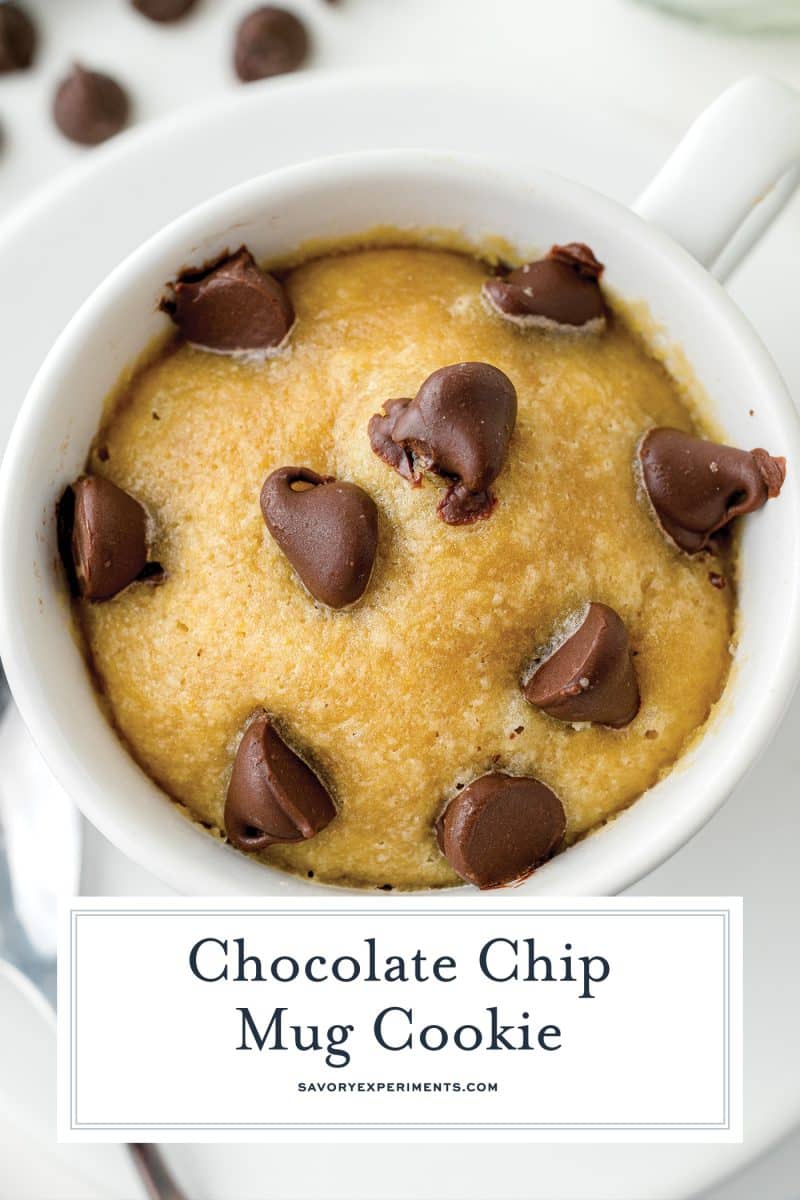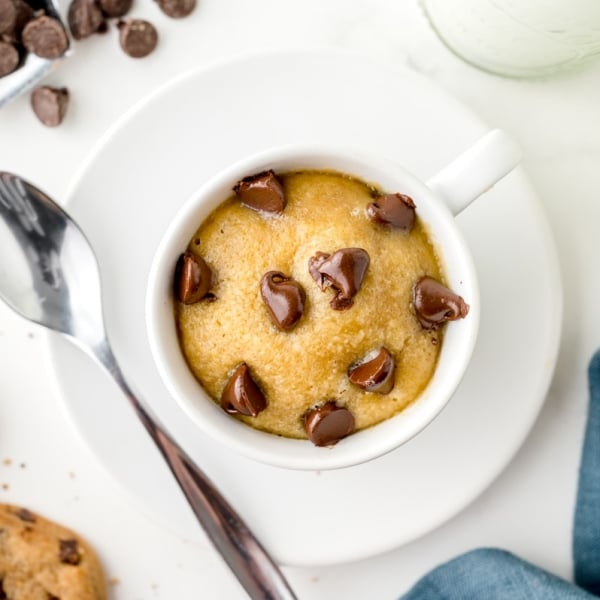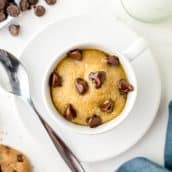 Chocolate Chip Mug Cookie Recipe
A Chocolate Chip Mug Cookie is the perfect single-serving dessert! Ready in 1 minute, it's perfectly moist with rich vanilla and chocolate chips.
Instructions
In the microwave, melt the butter in an eight-ounce mug for 8-10 seconds. Carefully remove.

Mix in the brown sugar and salt (if using salted butter, you will not need as much salt).

Add the egg yolk to the sugar mixture and whisk until fully combined. Lastly, add the flour until no dry patches remain, being careful to not overmix.

Fold in the chocolate chips. Add more chocolate chips to the top of the batter if you would like.

Microwave for 35 – 40 seconds until the cake has risen and becomes fluffy. If the cookie is underdone, microwave it for 5-7 more seconds. It is better to undercook the cookie than overcook it. The texture should be soft and gooey in the center.

Serve with ice cream, caramel sauce, chocolate sauce, and much more!

If you've tried this recipe, come back and let us know how it was in the comments or ratings!
Nutrition
Calories:
520
kcal
,
Carbohydrates:
69
g
,
Protein:
8
g
,
Fat:
23
g
,
Saturated Fat:
13
g
,
Polyunsaturated Fat:
1
g
,
Monounsaturated Fat:
5
g
,
Trans Fat:
1
g
,
Cholesterol:
230
mg
,
Sodium:
427
mg
,
Potassium:
91
mg
,
Fiber:
2
g
,
Sugar:
42
g
,
Vitamin A:
677
IU
,
Vitamin C:
1
mg
,
Calcium:
86
mg
,
Iron:
2
mg