I have admitted it before, I love cookie dough. I might even enjoy cookie dough more than I do baked cookies. Actually, not might, I do. I often judge the deliciousness of a baked good purely on the batter or dough alone.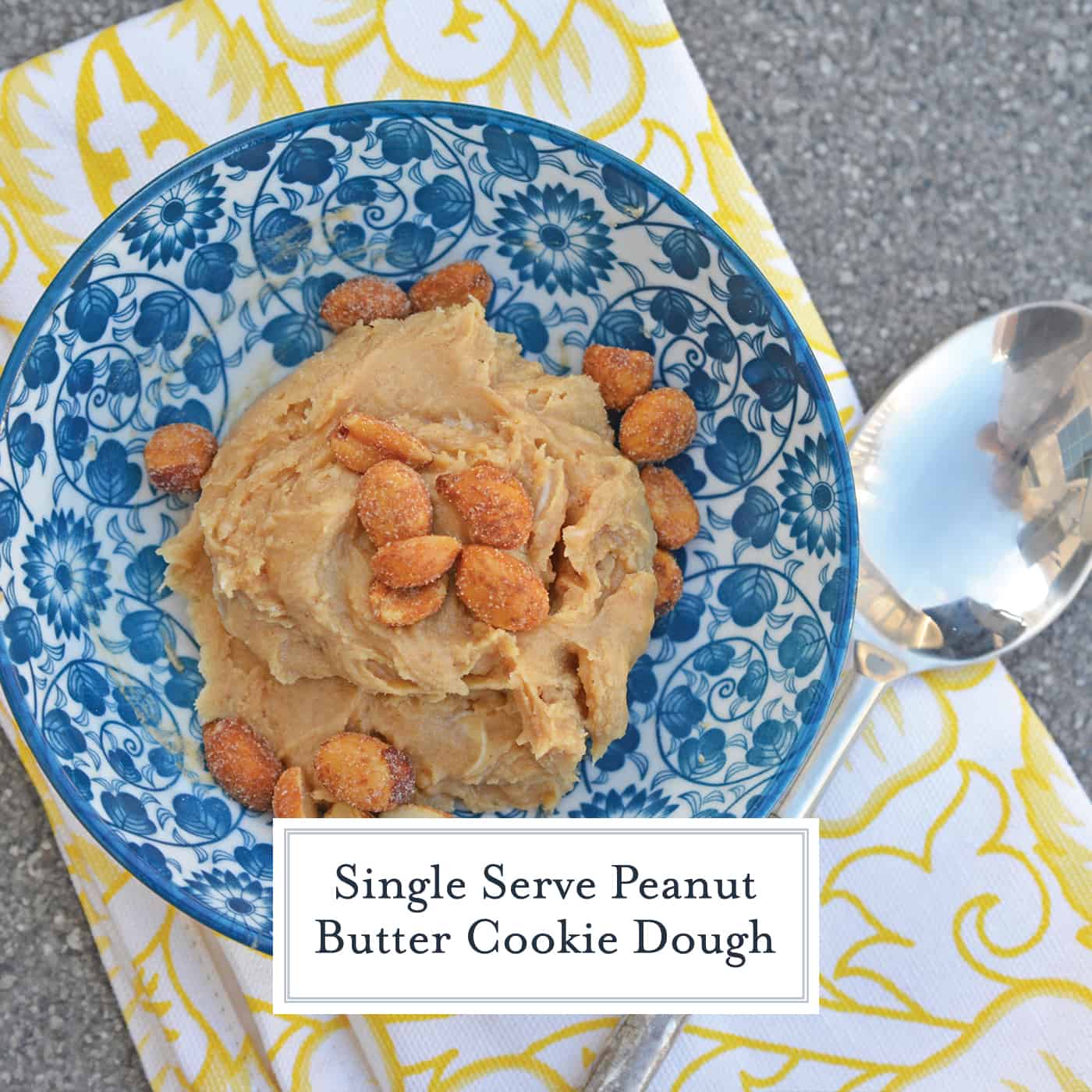 Indulge in small bowl of heaven: eggless single serve Peanut Butter Cookie Dough. You know you want some.
And I even eat it raw. *Gasp* Listen, for my nearly 40 years, no raw eggs or flour has killed me yet. And quite frankly, I don't understand why a drippy egg yolk mounted on Eggs Benedict is any better than raw cookie dough.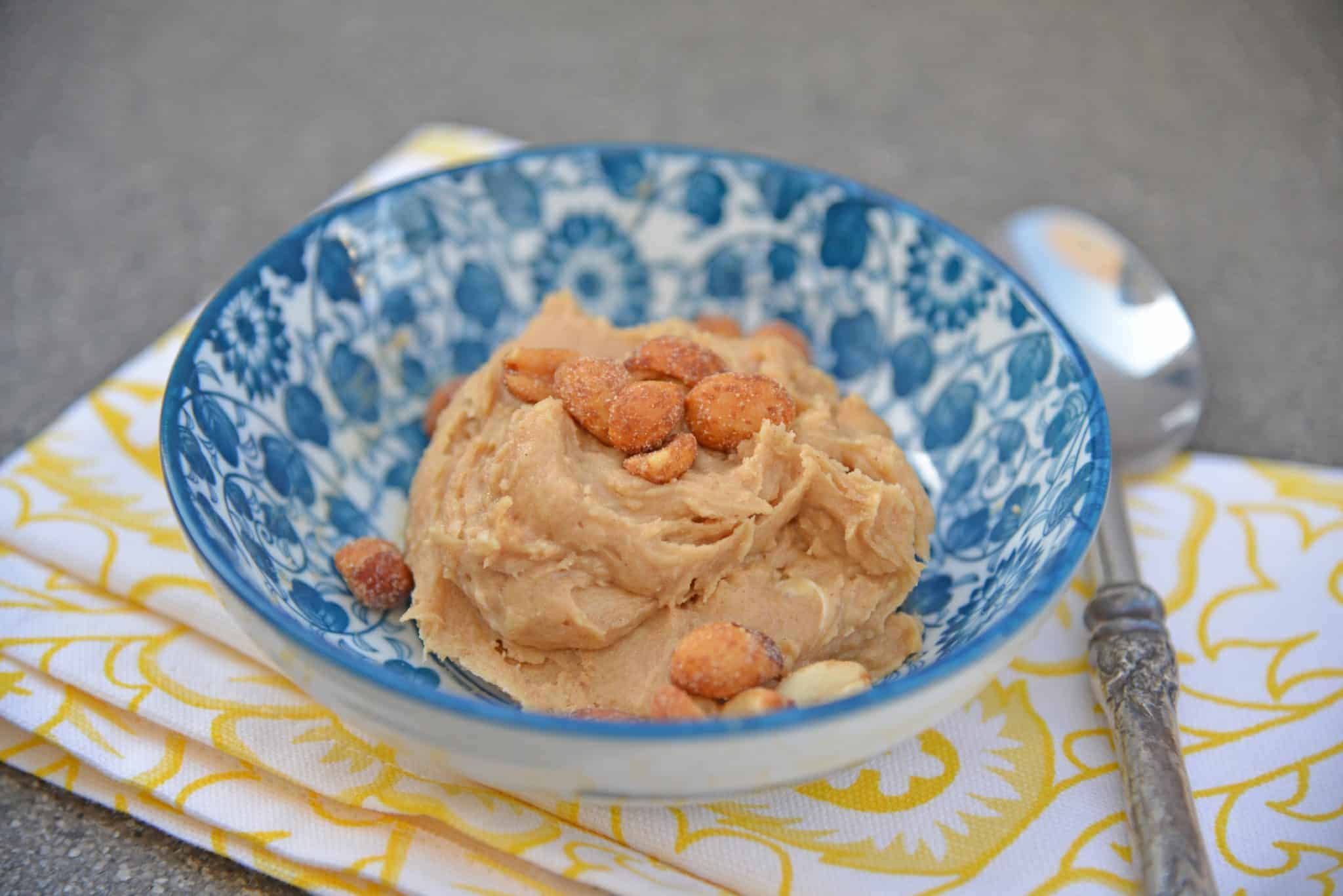 It is only slight warmer and certianly not to the extent that it needs to be to kill germs. The moral of this tangent: raw cookie dough has a very low chance of harming you.
However, when you want a single serving, it is hard to split an egg into 1/12. I dare you to try!
Sometimes when I want a sweet treat, I make myself a little bowl of single serve eggless cookie dough. After I realized I wasn't alone when my Single Serve Chocolate Chip Cookie Dough went viral, I decided to also share my beloved Eggless Single Serve Peanut Butter Cookie Dough recipe.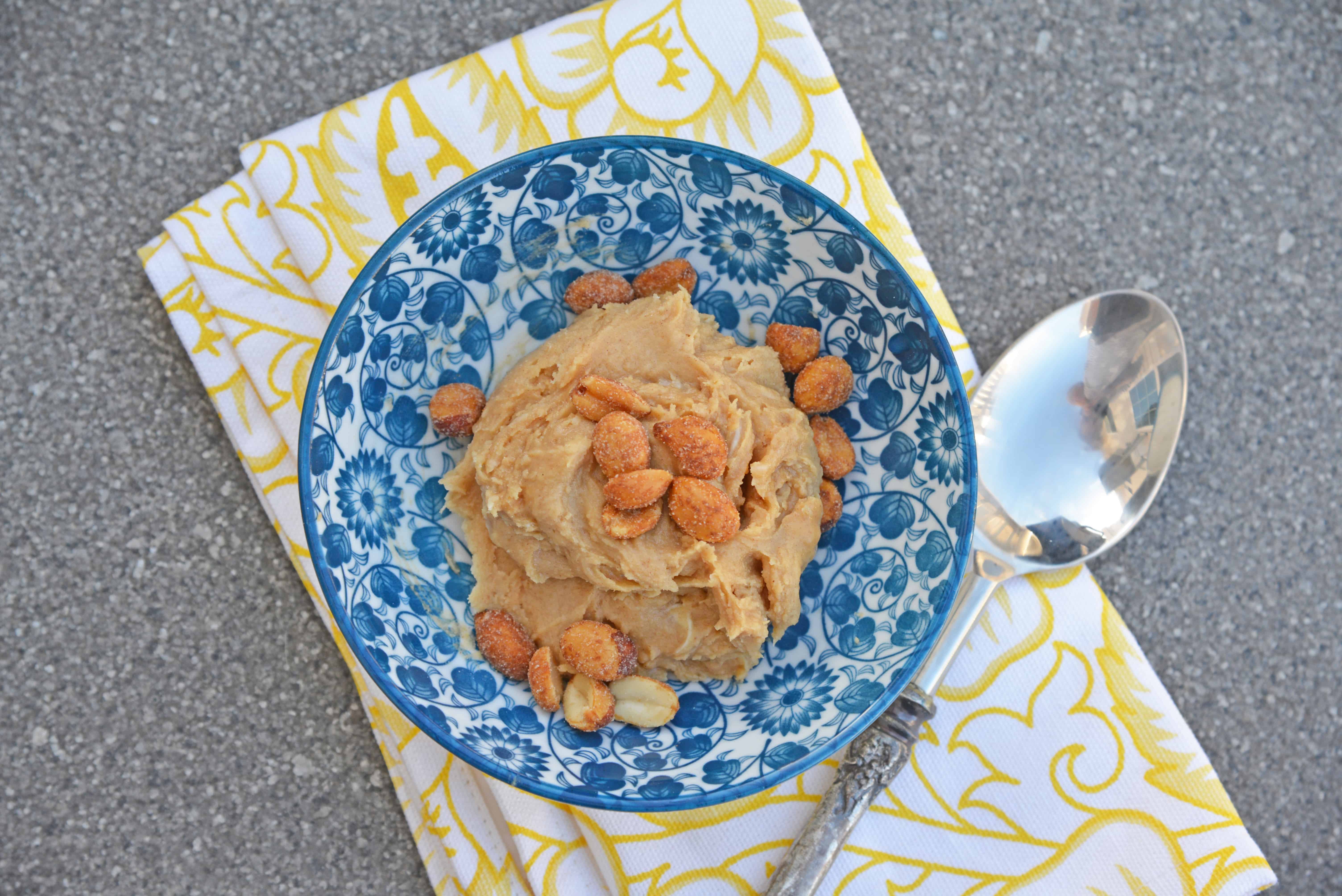 And now I have a few more ideas up my sleeve because apparently I am not the only one that loves to indulge in a dish of forbidden cookie dough. Don't worry, your secret is safe with me.
We all have those nights when we want to put on our PJ's, watch guilty pleasure TV, chill and indulge in tasty treats. I like to rationalize that Single Serve Peanut Butter Cookie Dough is actually semi good for you because it has peanut butter and peanut butter is loaded with protein.
Protein is good for you. Makes perfect sense, right?
A few notes on making this edible cookie dough at home…
Raw flour can contain E. Coli, to prevent this, pasteurize it at home. Microwaving is the quickest way. Place raw flour into the microwave (flour alone, not the dough) and heat on high for 20- 45 seconds.

Please be mindful that all microwaves are different. Watch the flour closely so it doesn't burn. You can also put it in the oven on 350 for 5ish minutes.
After you get done making your fabulous single serve edible cookie dough, enjoy it straight up or add your favorite candy or chocolate chips. Yummy!
And if you love peanut butter as much as I do, make sure you check out these favorite dessert recipes too!
Cookie Dough Stuffed Cupcakes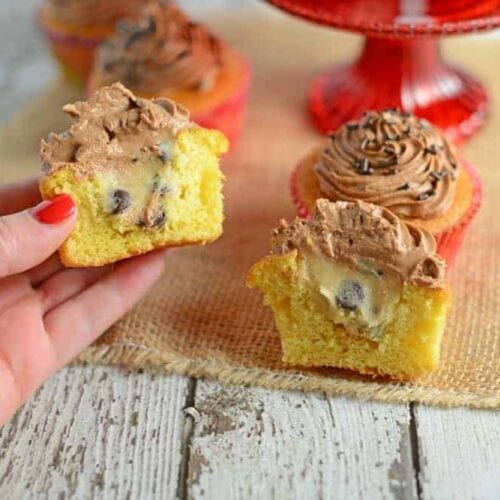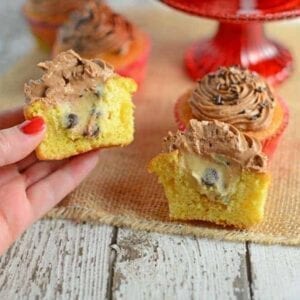 Cookie Dough Stuffed Cupcakes are vanilla cupcakes stuffed with edible cookie dough and topped with whipped chocolate frosting. You won't beleive how easy these are to make!
Chocolate Chip Cheese Ball
With soft flavored cream cheese, this Chocolate Chip Cheese Ball is so delicious, you'd think it was actual cookie dough!
Tools for making Edible Cookie Dough:
Mixing Bowls– make sure to check out my article on Using the Right Mixing Bowl, you'd be surprised how many people aren't!
Measuring Spoons – Every kitchen needs them, might as well have cut ones!
Spatulas– we all need a variety of spatulas from hard to soft and small to large!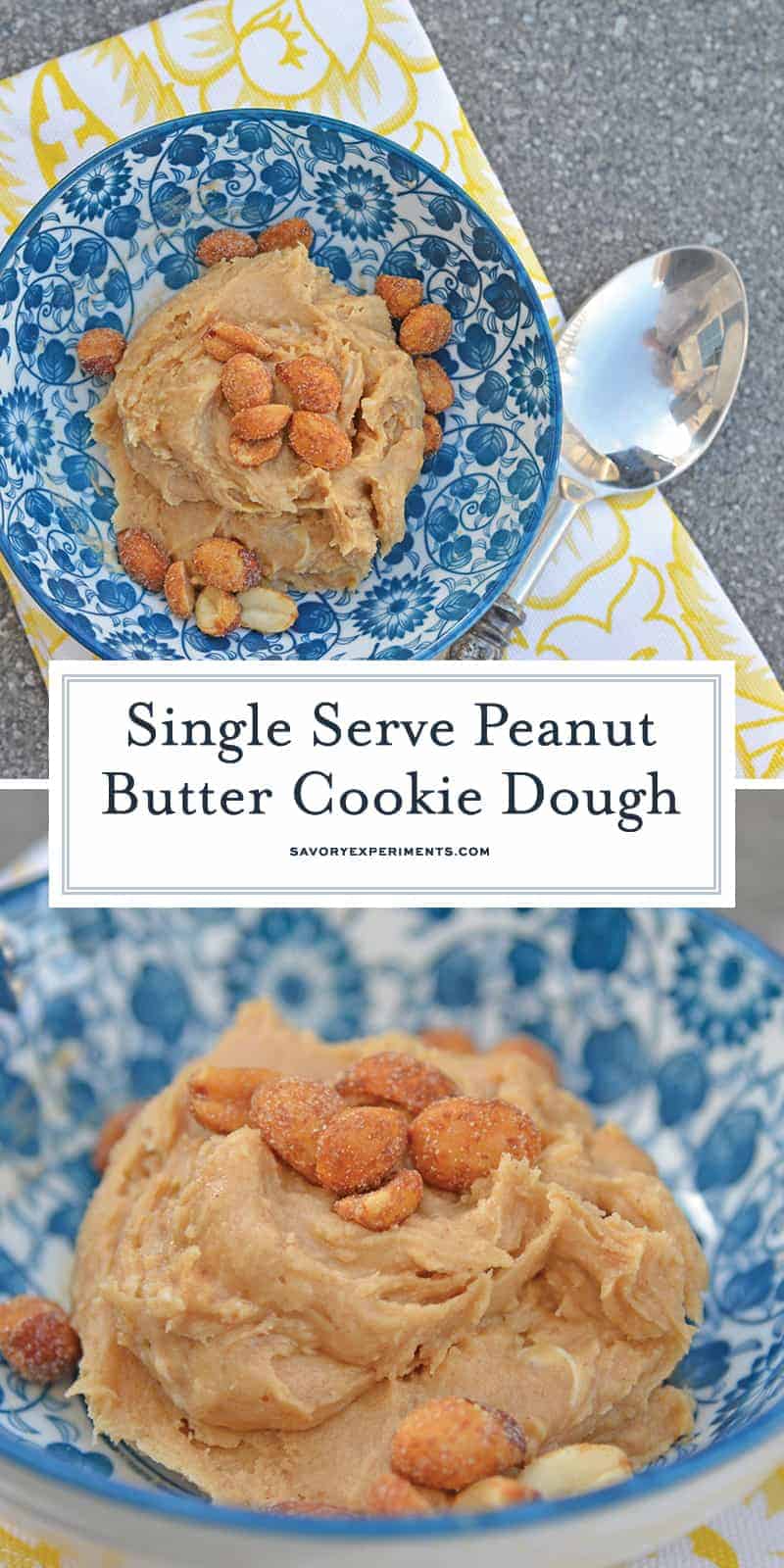 Questions you might have about Homemade Cookie Dough:
Is raw cookie dough safe during pregnancy? I am not a medical physician, so this is not medical advice, however since this is cookie dough is egg free and if you treat the flour, it should be okay to eat. I ate it while pregnant if that helps you out at all.
Is edible cookie dough vegan? Some recipes for edible cookie dough may be, but since mine contains butter, it is not.
Is no-bake cookie dough healthy? I am going out on a limb here and telling you no, edible cookie dough is not healthy by any standard, however I beleive that you are fine eating anything in moderation.
But… peanut butter had protein. You like that rationalization? Hahahaha!
Can edible cookie dough be baked? You can bake it all you want, but since there aren't eggs or leviners, it won't amount to much.
Does raw cookie dough need to be refrigerated? Yes, please refrigerate until ready to eat. Keep your cookie dough covered.
How long does edible cookie dough last? My peanut butter cookie dough recipe doesn't contain any preservatives or additives, so it doesn't last long, but since it also doesn't make much, I'm not sure how much will be left over. I'd say about 1-2 days, covered, in the fridge.
How to make edible cookie dough without butter? My edible cookie dough recipe calls for butter. I suppose you can use a vegan butter, but quite frankly, it is a pinnable of the recipe and I am not sure how good it will be without it.
Can I make this recipe with crunchy peanut butter? Sure! Use whatever texture peanut butter you prefer.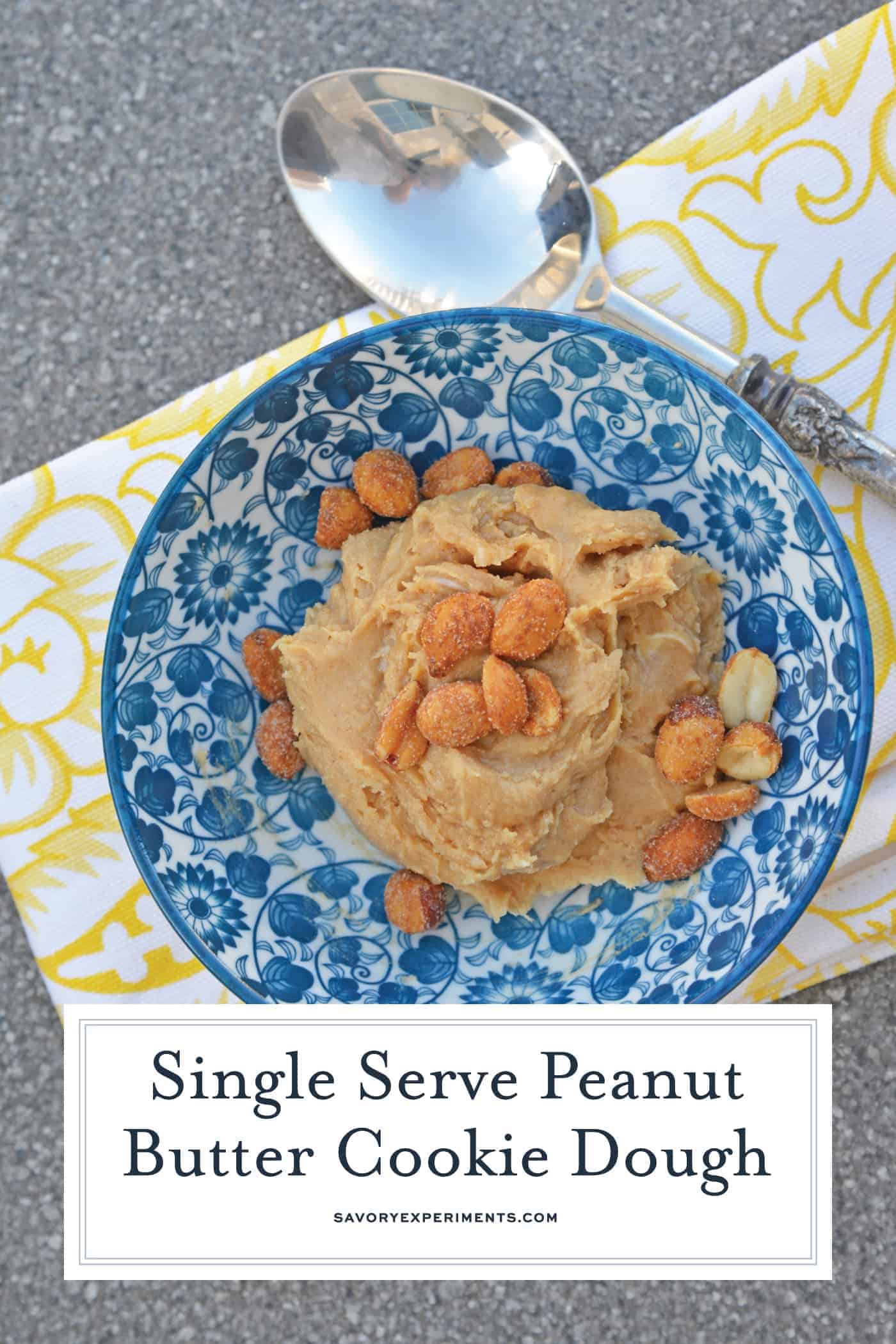 Indulge in small bowl of heaven: eggless single serve Peanut Butter Cookie Dough. You know you want some.
---
---
Single Serve Peanut Butter Cookie Dough
Indulge in small bowl of heaven: eggless single serve peanut butter cookie dough. You know you want some.
Instructions
Combine all ingredients in a small bowl and stir.

If you've tried this recipe, come back and let us know how it was!
Nutrition
Calories:
597
kcal
|
Carbohydrates:
54
g
|
Protein:
11
g
|
Fat:
39
g
|
Saturated Fat:
17
g
|
Cholesterol:
60
mg
|
Sodium:
735
mg
|
Potassium:
207
mg
|
Fiber:
2
g
|
Sugar:
26
g
|
Vitamin A:
700
IU
|
Calcium:
14
mg
|
Iron:
2.1
mg