Sure you can buy a box of chocolate pudding mix at the store, but you can make it homemade just as easily. Homemade chocolate pudding is easy to whip up and it a velvety treat to satisfy that chocolate craving.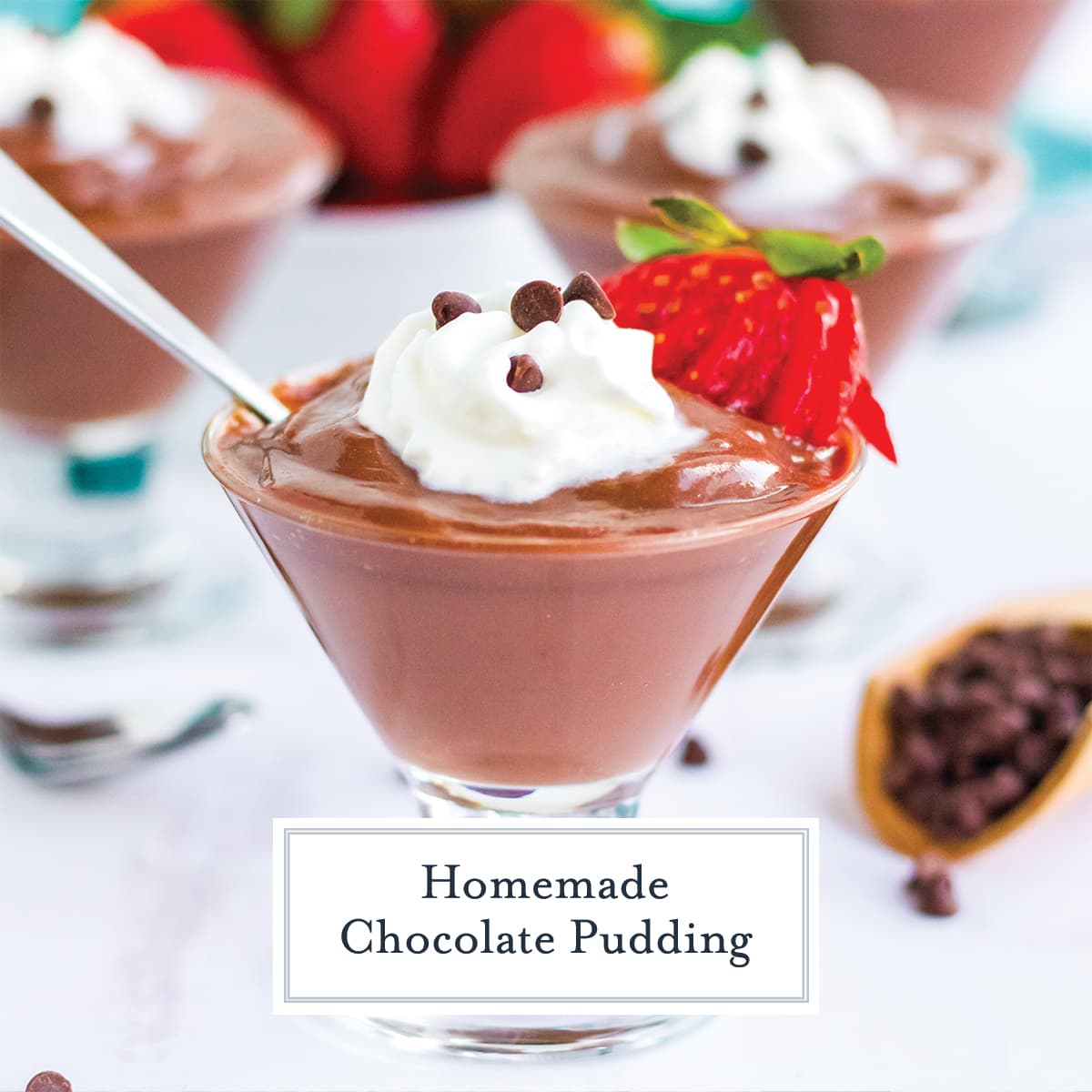 Homemade Chocolate Pudding
For goodness knows how long, it never occured to me that I could make my own pudding. It was just so easy get a store bought box. But after trying it once, I never went back.
And if we are being really honest, a chocolate pudding recipe is something every home cook should have in their back pocket. Throw it into a bowl, make a pie or even use it as a filling for cakes and pastries.
The benefits far outweigh the negatives on this one. Homemade pudding takes maybe 4 more minutes to prepare and is SO much more delicious. I use a high quality chocolate cocoa which make my pudding rich, creamy and oh, so dreamy.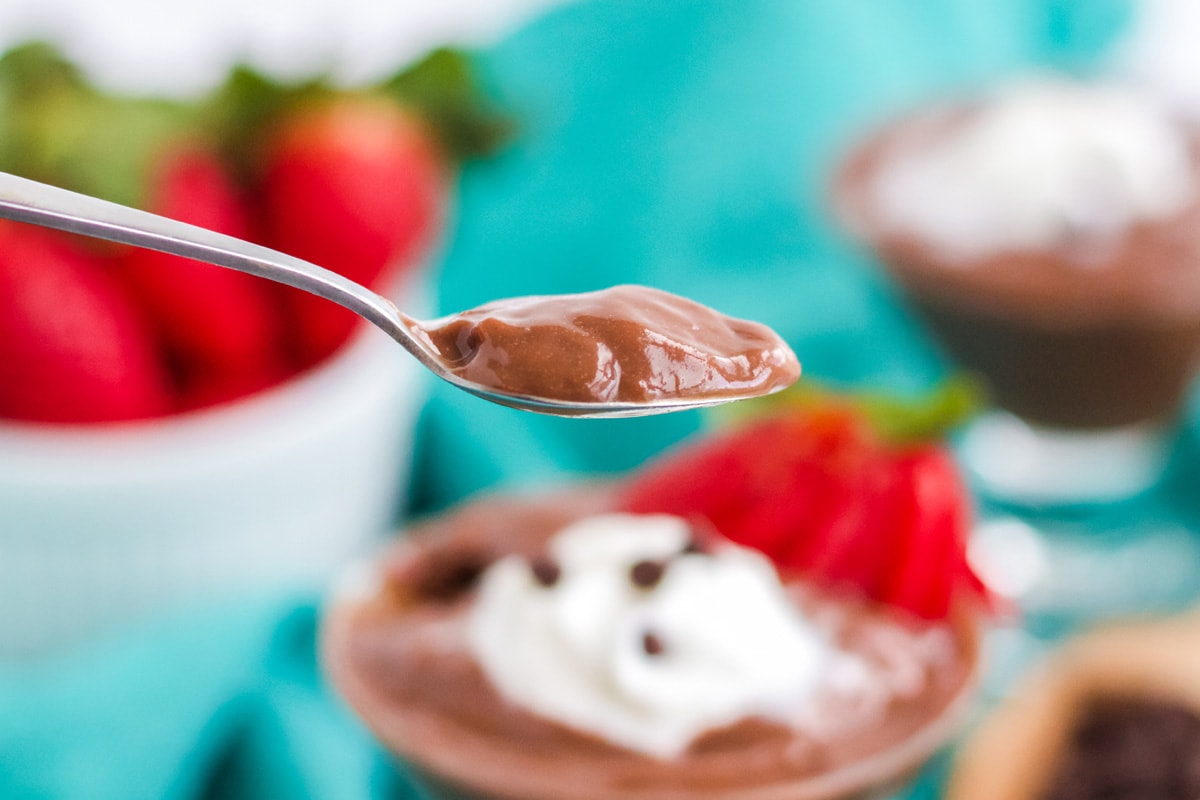 Pudding vs. Custard
I get this question a lot and honestly, my vanilla custard is one of my most popular recipes!
The short version is that custard is egg based and pudding is a dairy base with some sort of starch to thicken. The best puddings use whole milk and also butter. You can use a lower fat content milk, but whole milk will give the most luxurious and thick of mixtures.
Texturally, the two feel similar and are both boiled and then chilled. Chocolate pudding in other geographic locations is steamed or baked and when set, is more like a sponge cake.
Picking Your Cocoa
Cocoas can be confusing when you stop to look at the labels. I honestly just grabbed one a went prior to realizing there are subtle differences. About 95% of the world's cocoa powder is Forastero, but from there is processed differently.
Here are a few of the buzzwords:
Dutch Processed/Dutch Cocoa- This cocoa has been treated with an alkalizing agent making it darker in color and more mild in flavor. It is the most common and used in making chocolate ice cream, many types of milk chocolate and cakes. It is generally unsweetened.
Natural Cocoa Powder– This can be used interchangeably with Dutch, but is more rich in flavor and lighter in color. It is also unsweetened.
Sweetened- Unsweetened cocoa powder already has sugar added to it. You might use this for some baked goods or making hot chocolate, but be mindful of the recipe you are using it in and adding more sugar. It might not be necessary.
From there you can use the regular old Nestle or Hershey version or get fancy and get a high end cocoa powder like Droste, Guittard or Valrhona. They will all produce great flavor, but some will be fudgier and more rich.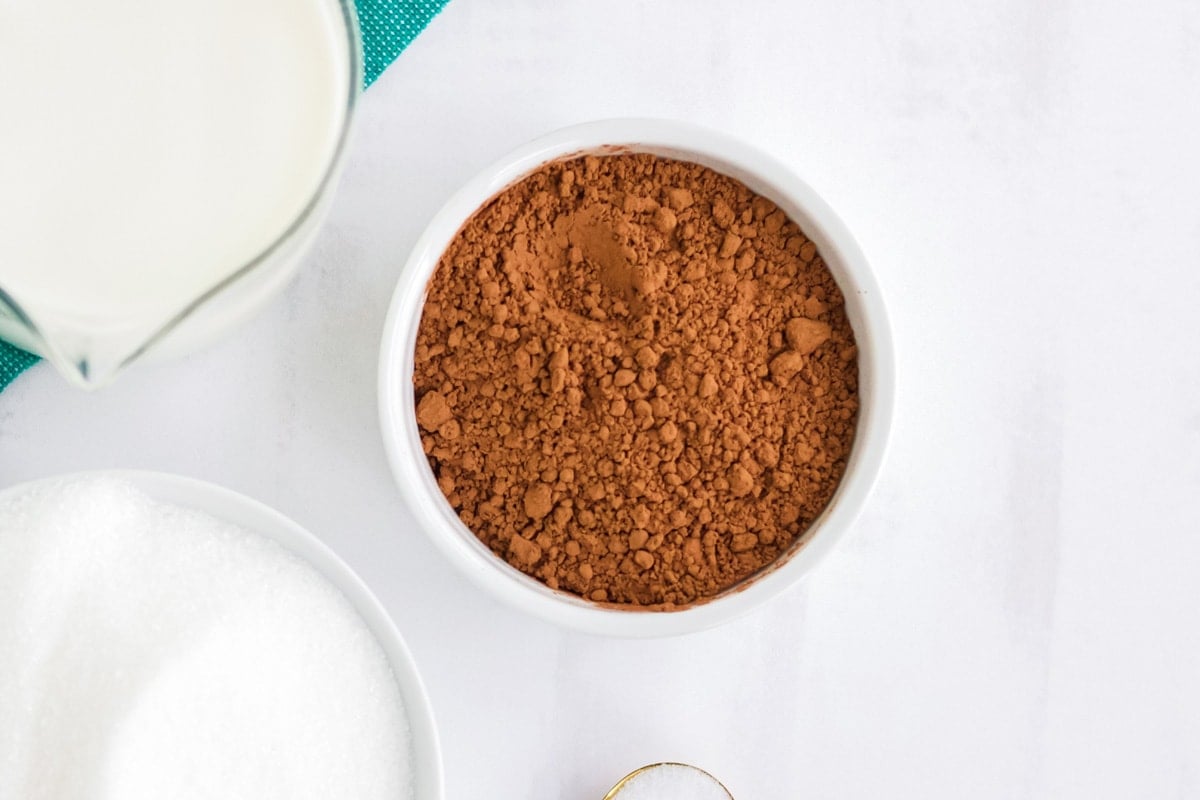 How to Use Chocolate Pudding
First inclination is just eat it! Of course you can top it with whipped cream, berries, chocolate shavings or semisweet chocolate chips, but even standalone it is fabulous. Add to individual serving dishes and allow guests to add toppings of their choice.
Chocolate pudding can also be used in pies, ice creams and for trifles. Rice pudding, dirt cups, ice box cakes, poke cakes and stuffing for cupcakes and more!
You can use it in Halloween recipes, to make those super fun dirt cups with the gummy worms, or any chocolate dessert that calls for a creamy pudding.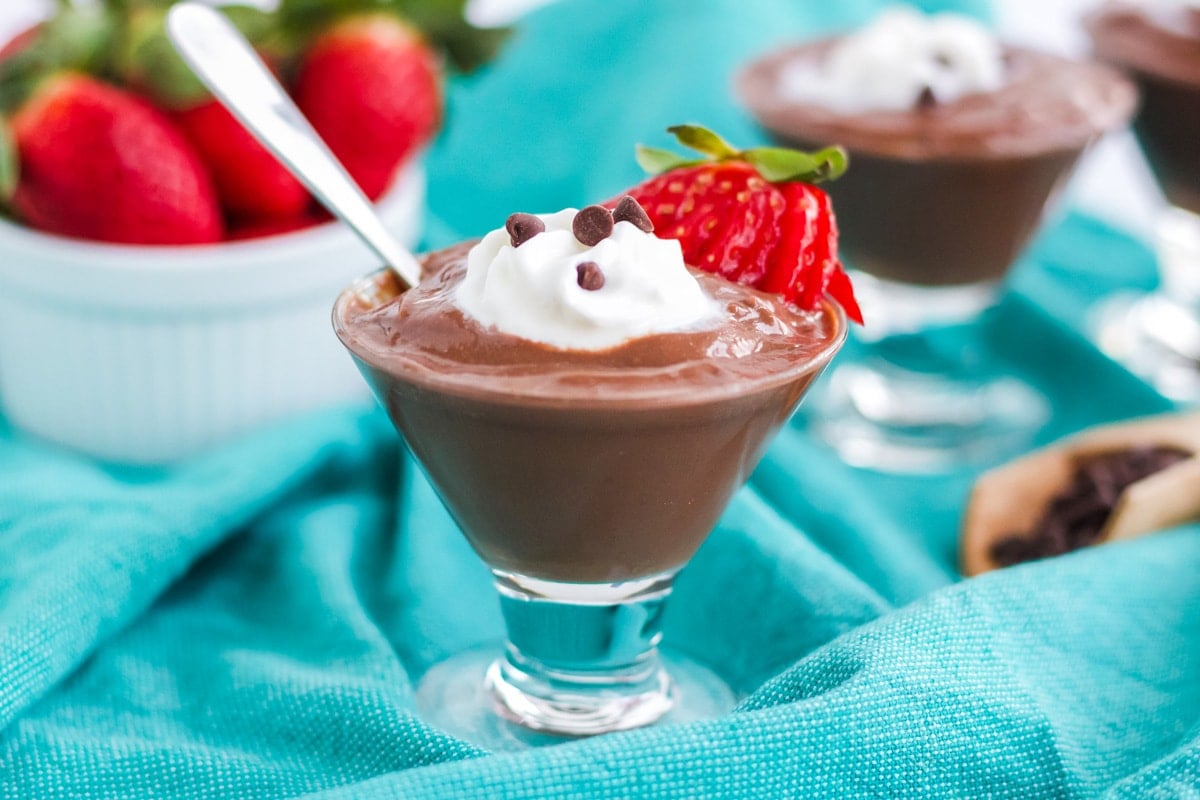 Chocolate Pudding Ingredients
The ingredient list for this pudding is simple. But simple ingredients doesn't mean it's not delicious!
Sugar – We need something to sweeten this creamy chocolate pudding, and white granulated sugar will do the job here.
Cocoa powder – It can be natural or Dutch processed, but check the section above for more info on choosing the right cocoa.
Cornstarch – The cornstarch mixture helps to thicken our pudding.
Salt – I like to use fine sea salt. If using salted butter, be sure to omit this ingredient altogether.
Whole milk – It's key to use whole milk for this recipe. I haven't used coconut milk, almond milk or any of the nondairy milks, but let us know in the comments if you do!
Vanilla extract – A splash of vanilla is a great complement and balance to the rich chocolate flavor of this pudding.
Butter – Always use unsalted butter when cooking or baking. That way you are able to control the amount of salt that goes into the recipe.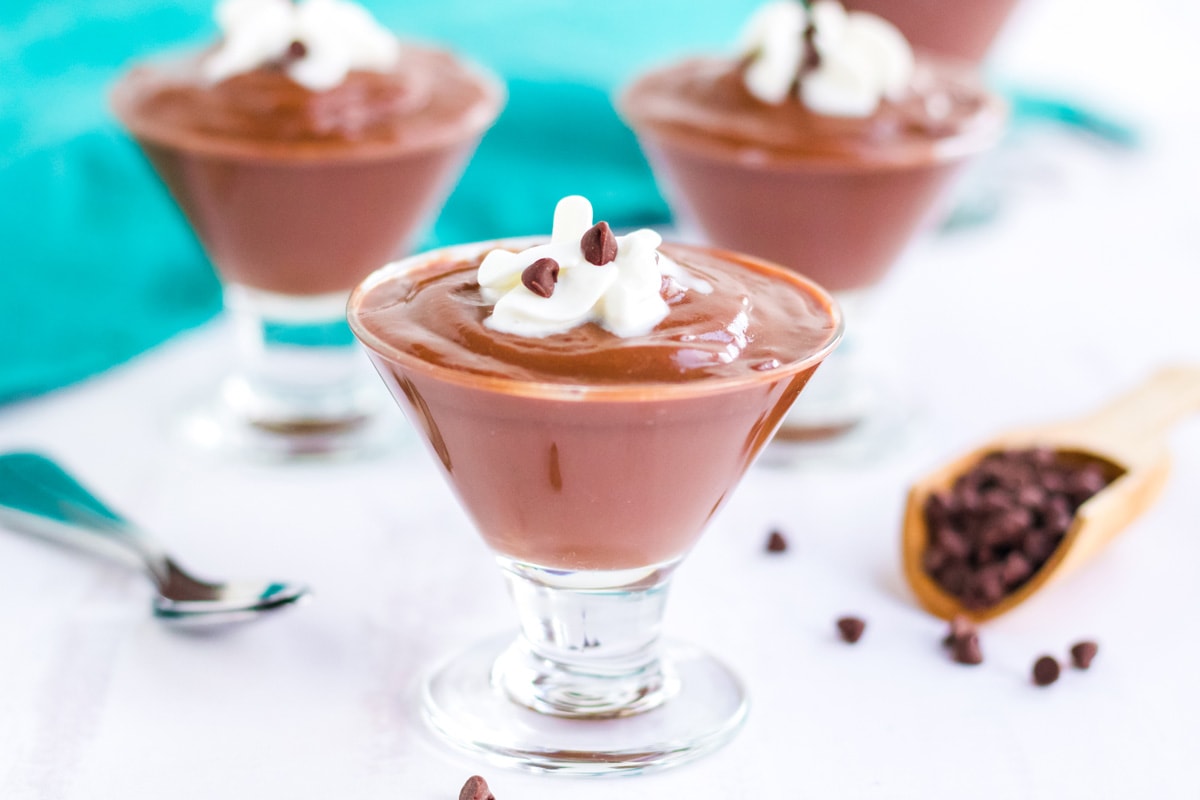 How to Make
Making a homemade chocolate pudding recipe is a relatively easy process. Instead of the boxed stuff that just calls for whisking, you will need to bring the mixture to a boil. This helps to bring out natural flavors and achieve the most excellent of velvety texture.
Whisk together the dry ingredients in a medium saucepan, which are similar to those in a boxed pudding mix and include sugar, cocoa powder, cornstarch and salt.
Add part of the milk, whisking until smooth. Increase to medium heat, which essentially scalds the milk. It will steam and thicken at this point.
While in its way to a boil, add the remaining milk, whisking constantly. It will boil and thicken for about a minute.
When it gets super thick, you'll remove it from the heat and stir in butter and vanilla. It will thin just slightly and take on a sheen.
Transfer to serving bowls and allow to cool slightly before chilling. You want to prevent having steam produce under the topping.
You'll also want to use plastic wrap and pat it right down on the top. This prevents a skin from forming on the top of your pudding.
Chill fully, which takes 2-12 hours, because no one likes warm pudding.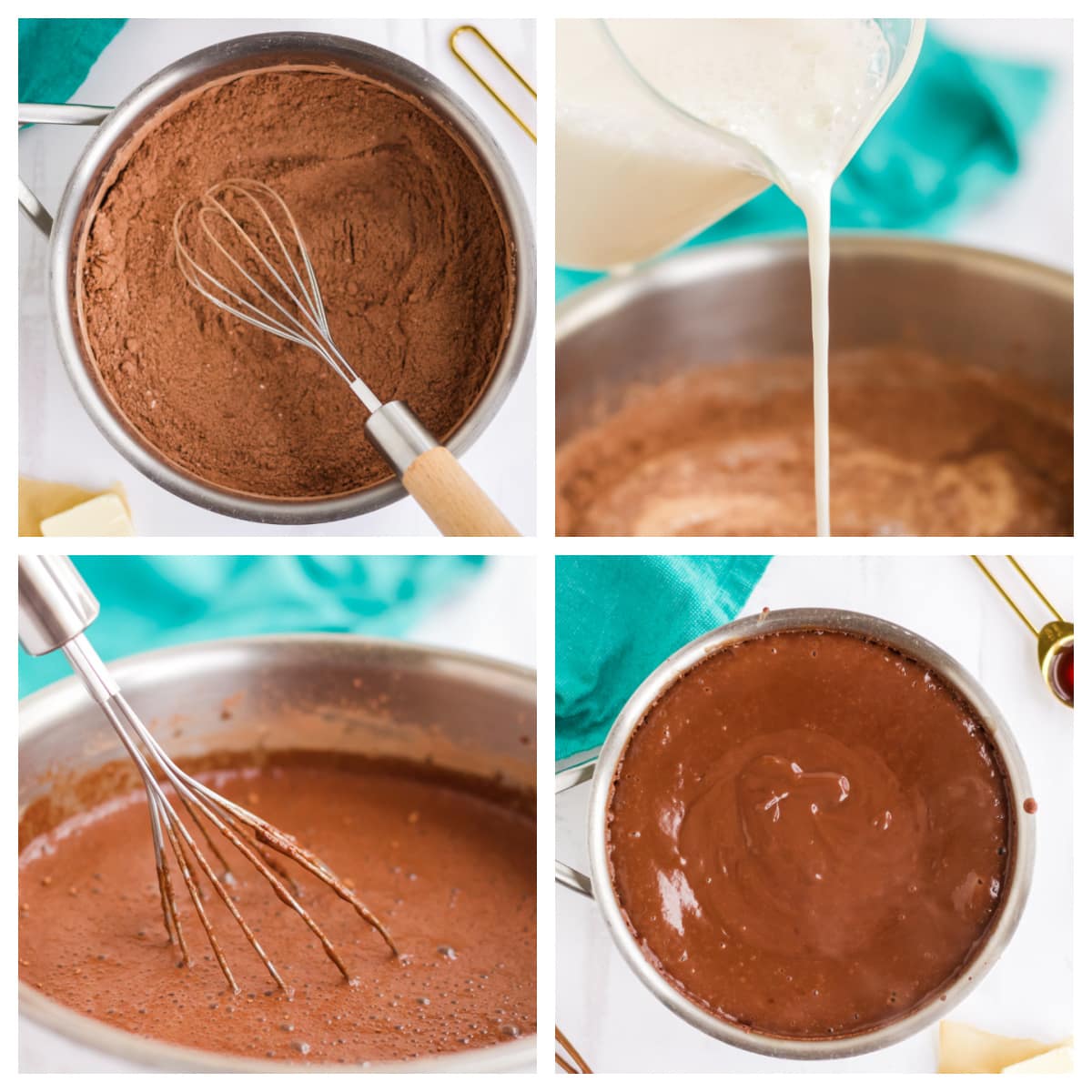 Storage & Freezing
Storage: As mentioned above, this easy chocolate pudding recipe should be made ahead of time in order to chill fully. When storing pudding, put a piece of plastic wrap on the surface of the pudding to prevent a film from forming on top of the pudding.
Make ahead: Pudding can be made up 1-2 days in advance and kept cold until ready to serve. It should be enjoyed within 5 days of making.
Freezing: Technically you can freeze it and it is safe to eat, however the texture is altered quite dramatically so we don't suggest it. However, if you plan to eat it cold and frozen, like a pudding pop, it is totally fine to do so. I freeze mine in ice cube trays for my kids to eat.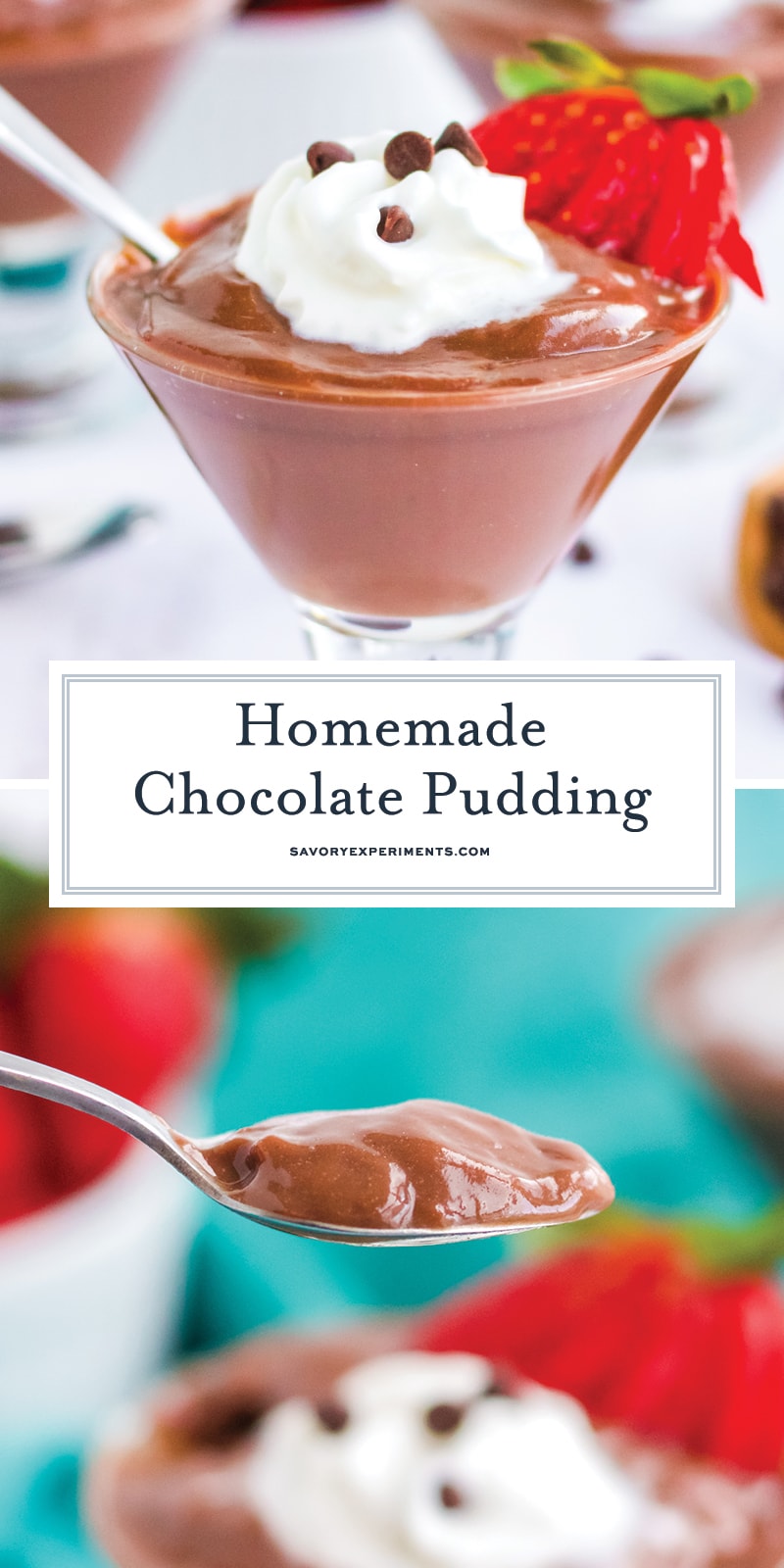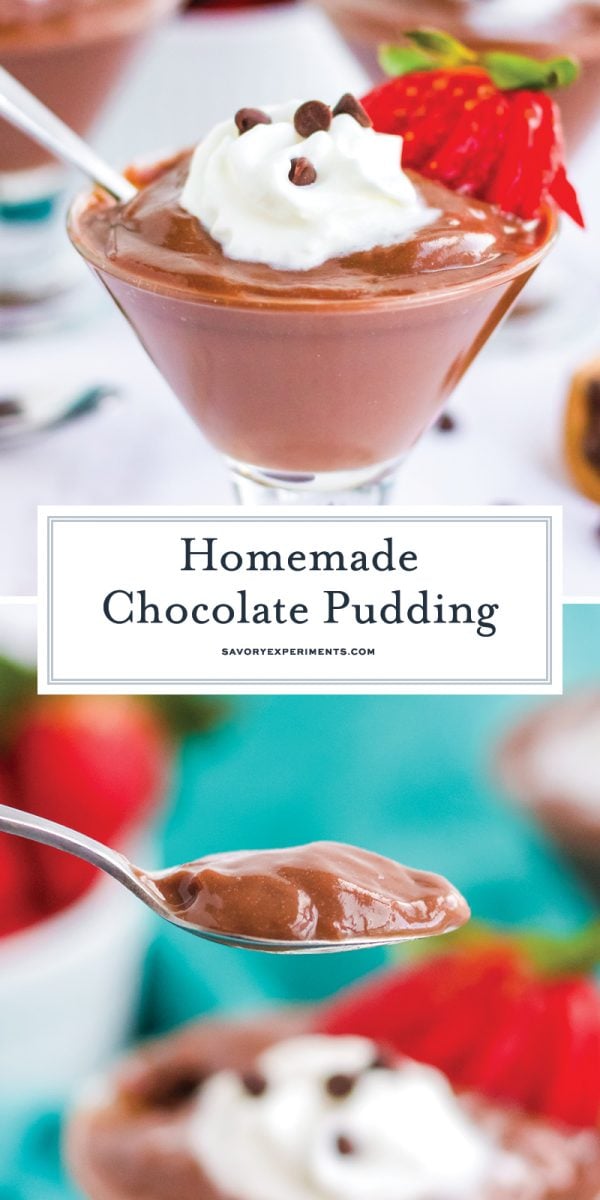 More Chocolate Lovers Desserts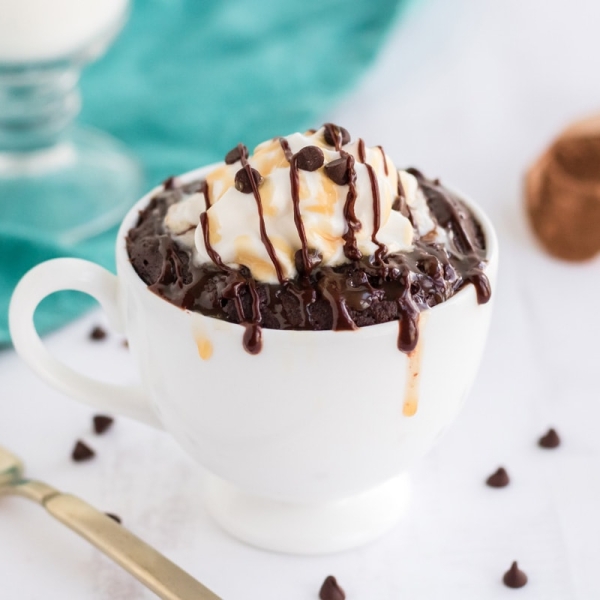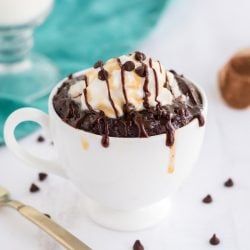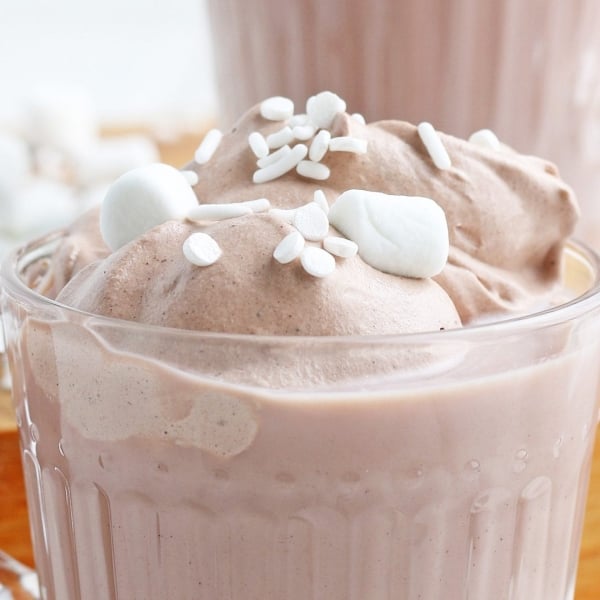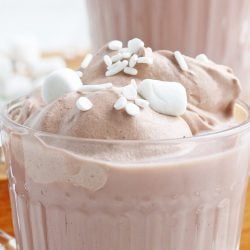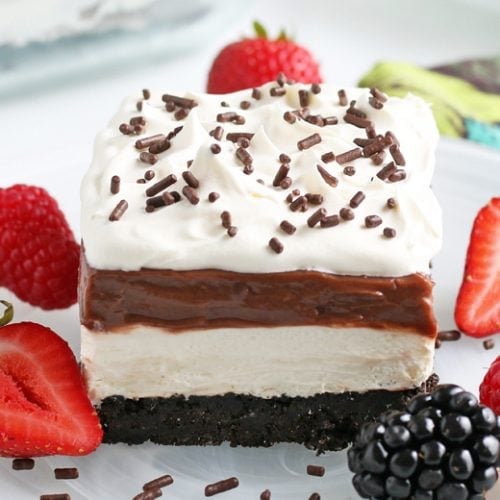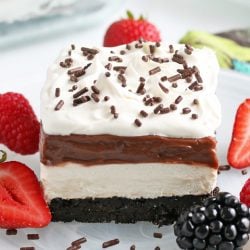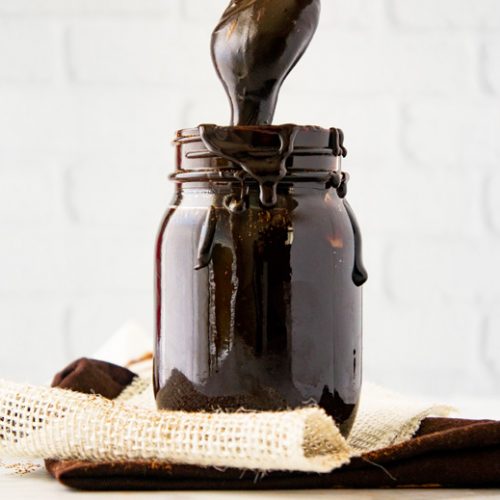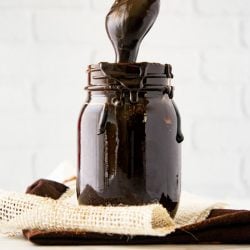 Homemade Fudge Sauce
Making EASY Homemade Fudge Sauce is easier & quicker than buying it! With only 6 ingredients, you can have thick, warm fudge sauce ready to drizzle and dip!
See The Recipe!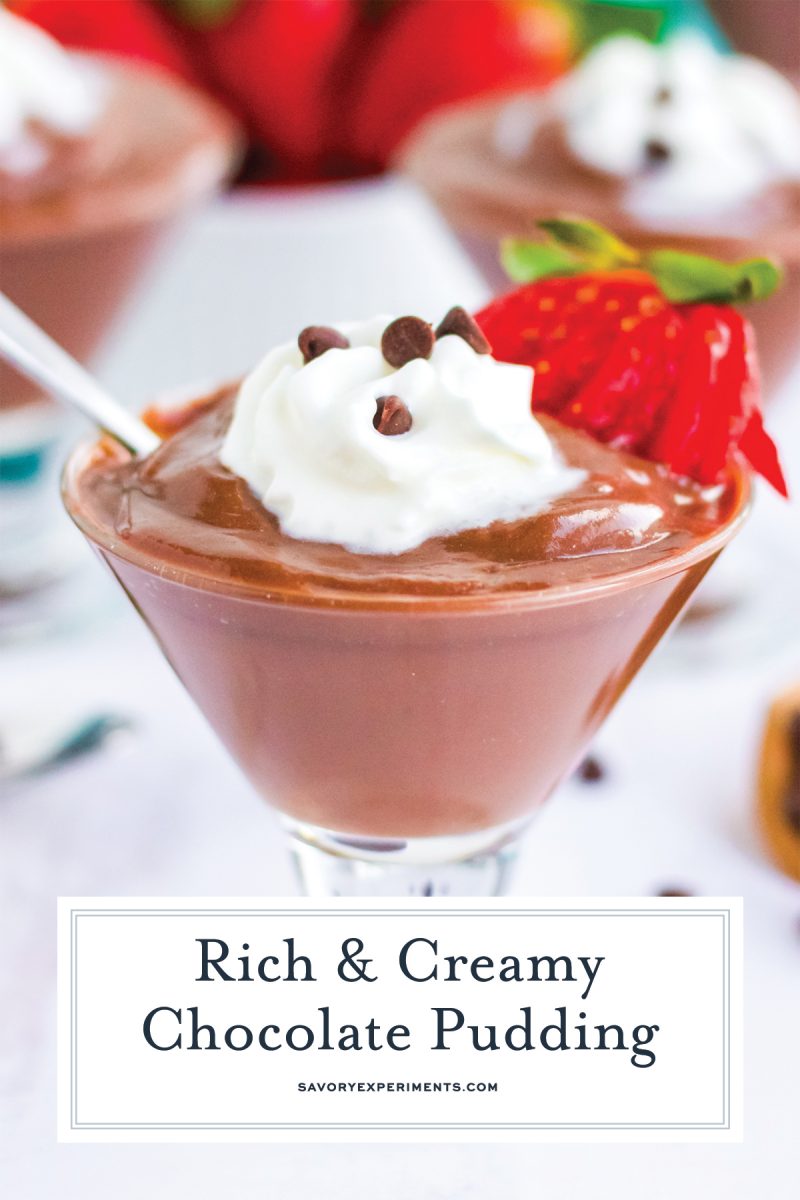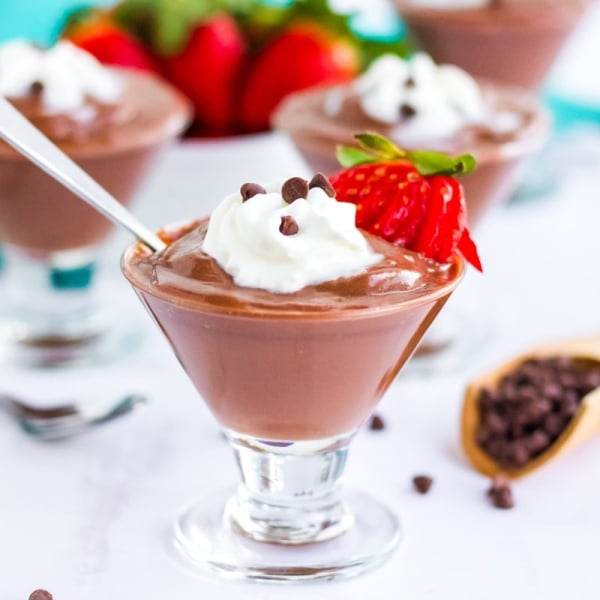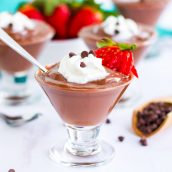 Homemade Chocolate Pudding
Homemade Chocolate Pudding is probably easier to make than you think. Only 10 minutes and 7 ingredients to chocolate, silky goodness!
Instructions
Add two cups of milk, and whisk until combined.

Slowly add the remaining milk, stirring constantly until the mixture reaches a boil.

Allow the mixture to boil for one minute or until it is very thick. Then remove from heat and stir in butter and vanilla extract until fully combined.

Cover with plastic wrap, pressing it down to the top to avoid a skin from forming. Chill for a minimum of 2 hours, but up to 2 days.

Garnish and serve.

If you've tried this recipe, come back and let us know how it was in the comments or ratings!
Notes
Servings are a little over 1/2 cup each.
Nutrition
Calories:
260
kcal
,
Carbohydrates:
39
g
,
Protein:
6
g
,
Fat:
10
g
,
Saturated Fat:
6
g
,
Cholesterol:
27
mg
,
Sodium:
141
mg
,
Potassium:
283
mg
,
Fiber:
2
g
,
Sugar:
33
g
,
Vitamin A:
378
IU
,
Calcium:
180
mg
,
Iron:
1
mg