I've never met a cookie dough I didn't like.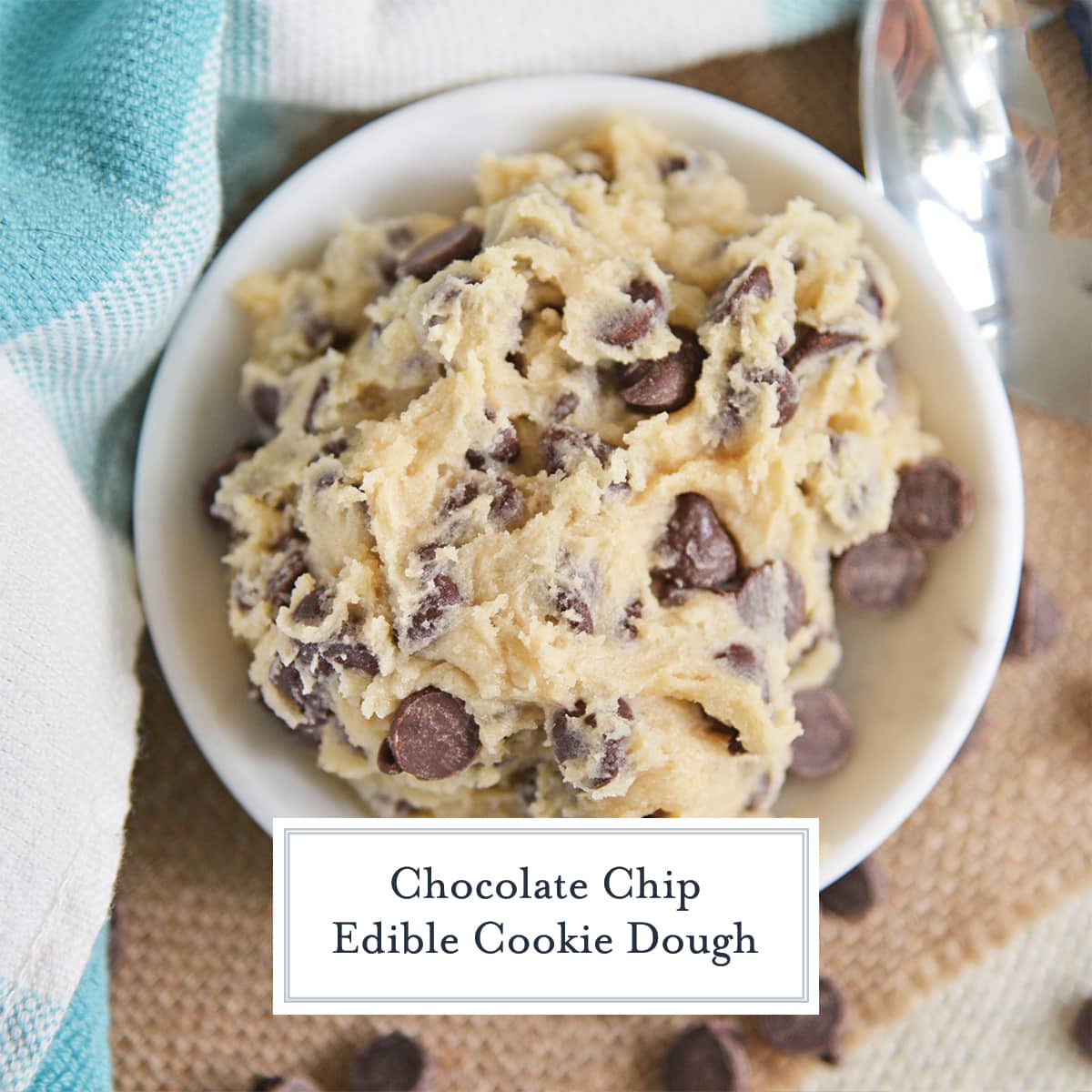 In fact, I might enjoy cookie dough more than actual baked cookies and I always judge a dessert on the deliciousness of the batter or dough long before the final version is complete.
I am totally guilty of a spoonful or licking the beaters for just about any dessert recipe.
Eggless Cookie Dough For One
It comes as no surprise that instead of craving a cookie or two after dinner, I want a scoop of edible cookie dough. Don't lie, we've all wished we had a spoonful from time to time.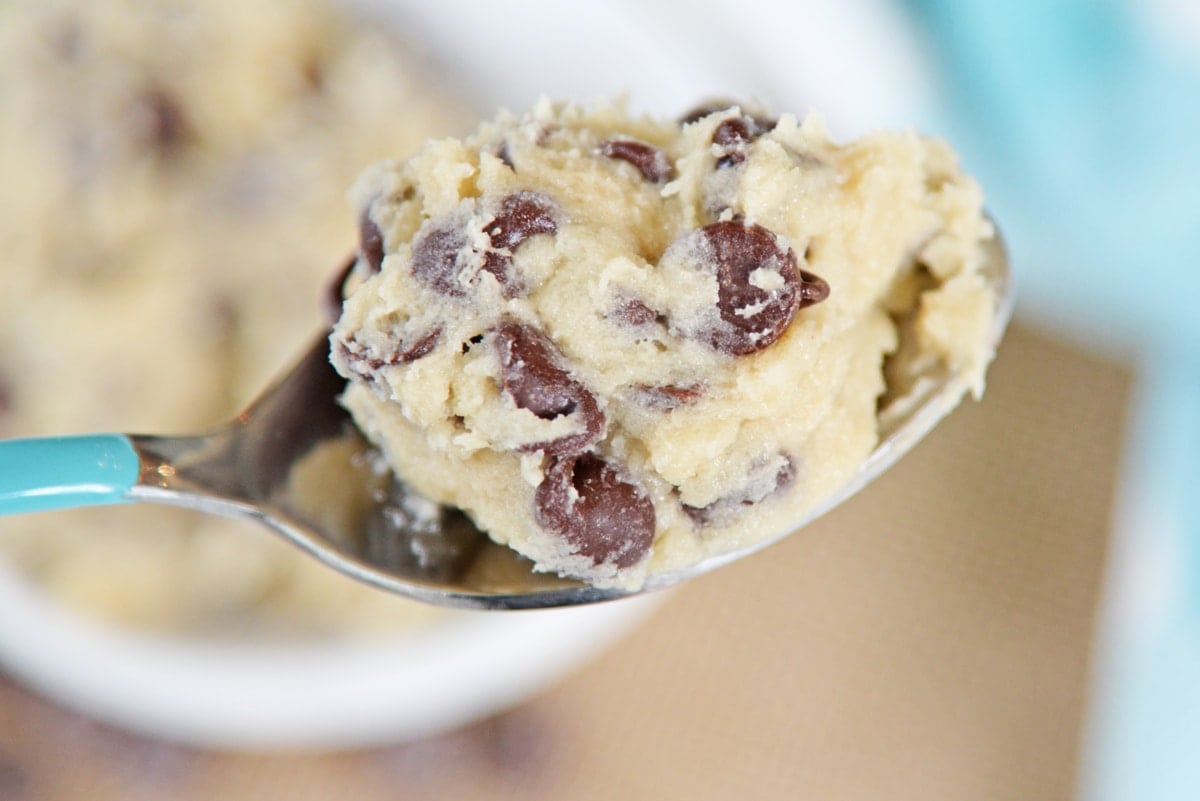 It is funny to me that some folks refer to it as "edible cookie dough"… isn't it all edible cookie dough?
This was the part of the baking process I most looked forward too. And total jackpot if my sister wasn't around; I could sometimes talk her into letting me have both beaters!
I know there this isn't popular and all that jazz, but I guess I have a raw cookie dough inferiority complex thinking it will never happen to me and luckily, it hasn't.
Heat Treated Flour
Nowadays we know how to treat the flour and also make eggless cookie dough so that we can guiltlessly indulge.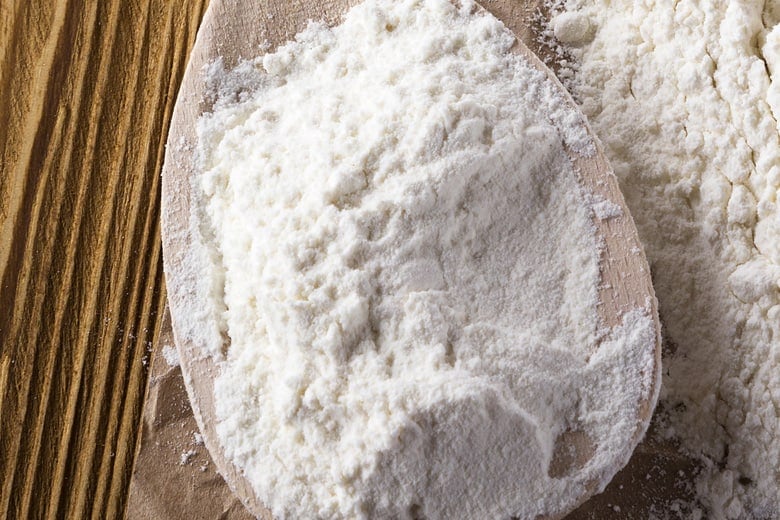 Raw flour can contain some yucky things, so to prevent this, pasteurize it at home. Microwaving is the quickest way. Place raw flour into the microwave (flour alone, not the dough) and heat on high for 20- 45 seconds.
Please be mindful that all microwaves are different. Watch the flour closely so it doesn't burn. You can also put it in the oven on 350°F for 5ish minutes.
Ingredients
You don't need much, in fact most folks have all the ingredients in their pantry.
Sugar
Brown Sugar
Softened Butter
Chocolate Chips or Mix-Ins
Milk or water
Fine salt
Flour
How to Make Edible Cookie Dough
Step #1: Soften your butter. This step is the most commonly messed up step and I can no stress enough that your butter must be soft, but not melted.
Here are a few ways to soften butter fast.
Step #2: Cream together brown sugar, butter and white sugar.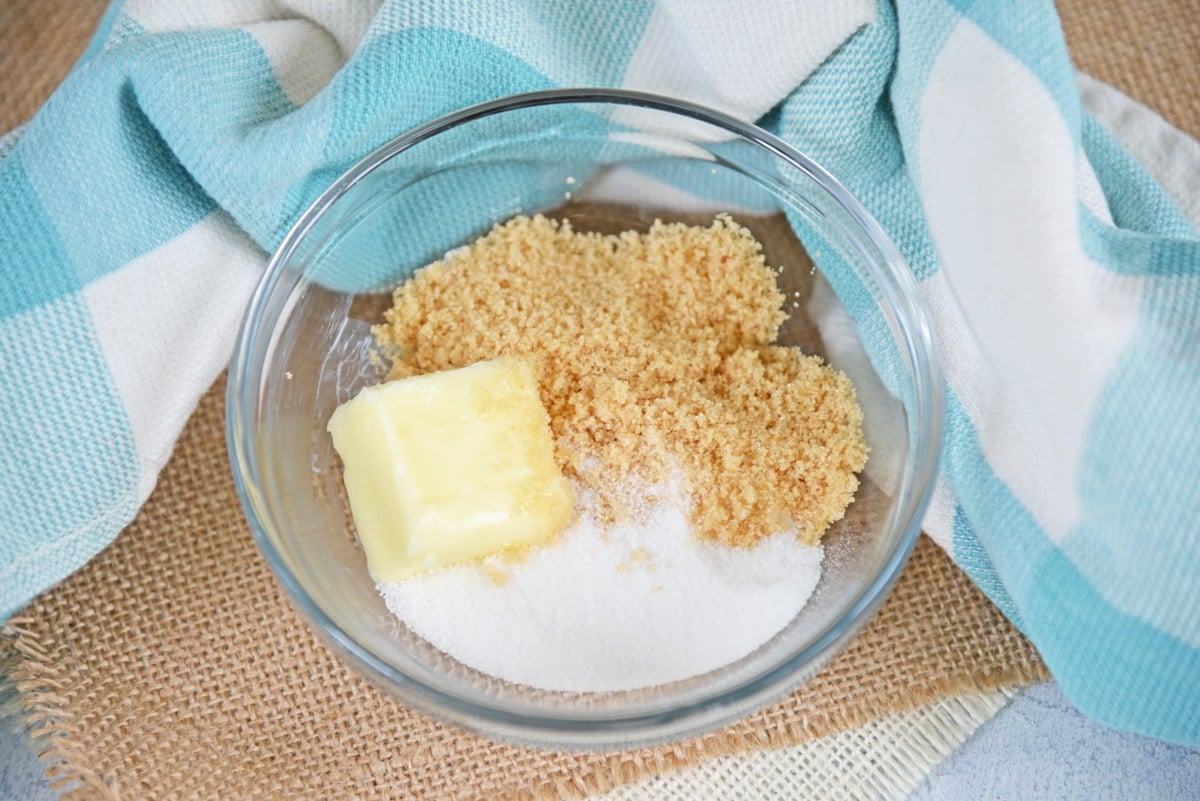 Step #3: Add wet ingredients, so milk or water and vanilla extract. I like to use milk, but don't always have it, so water will do.
You can also use almond milk or oat milk. Vanilla flavored milk gives you an added bonus!
Some folks have also substituted the vanilla for other flavors of extract like almond, lemon or even rum. It is a fun way to make cookie dough variations!
Step #4: Add the flour. If your butter was soft and not melted, this should be plenty of flour.
If your butter was liquidy, you might need to add a little more, but still, this depends on a lot of things. The main one being that everything was measured correctly.
With such small volumes, even a little extra splash of milk can throw off how much flour you require.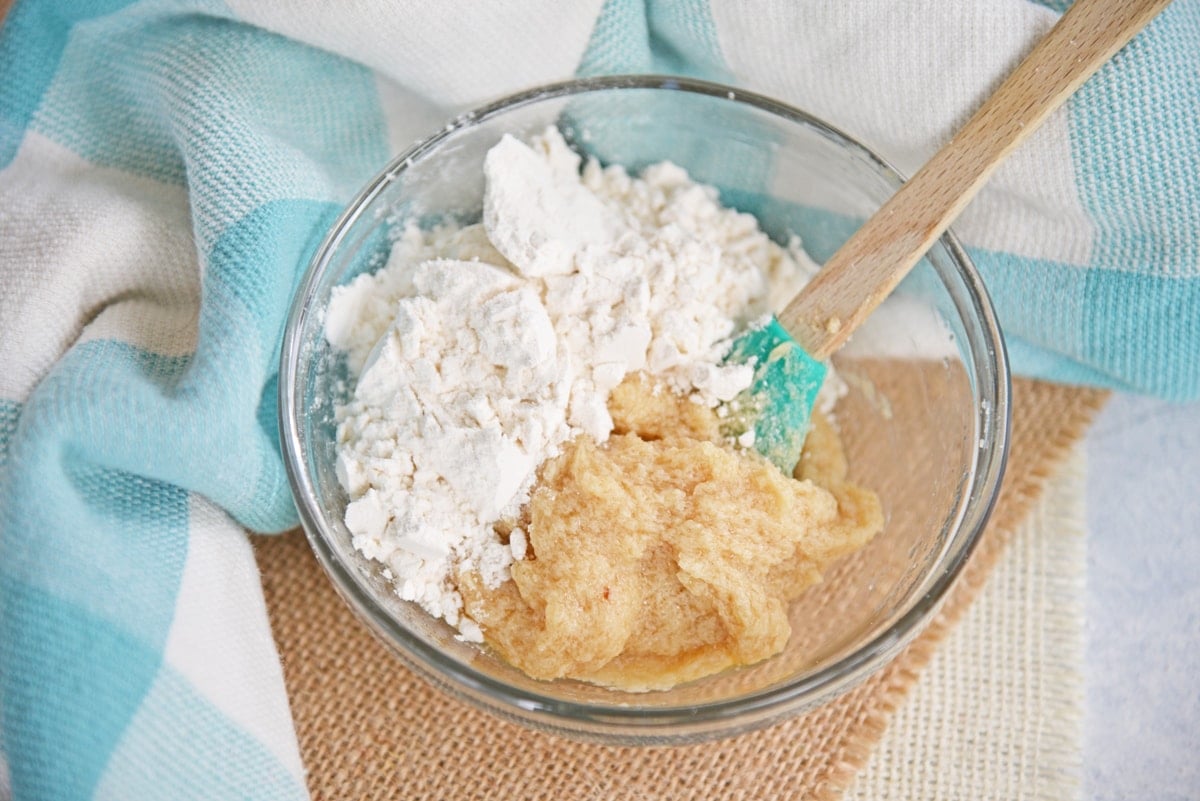 Step #5: Add chocolate chips. Chips are totally optional. I would be lying if I said I hadn't made just the cookie dough without chips before. Some prefer to use mini chocolate chips for a better dough to chip ratio.
If you don't have chocolate chips or want another variation, try using these:
Crushed candy bar pieces like Twix or Snickers
Whole Candy like Reeses Pieces or M&Ms
Butterscotch or peanut butter chips
Chopped nuts
Crushed cookies like Oreos or chocolate chip cookies
Dried fruit like cranberries or raisins
Oatmeal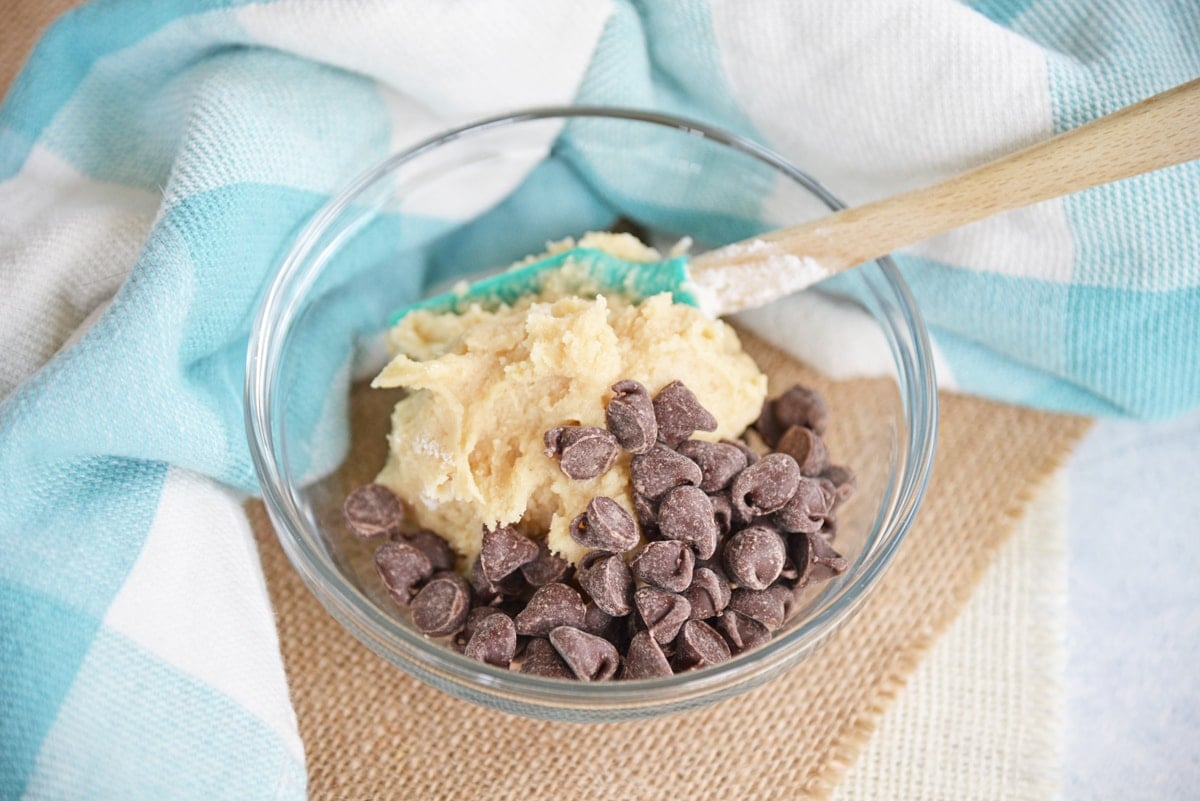 Step #6: Sit back and enjoy!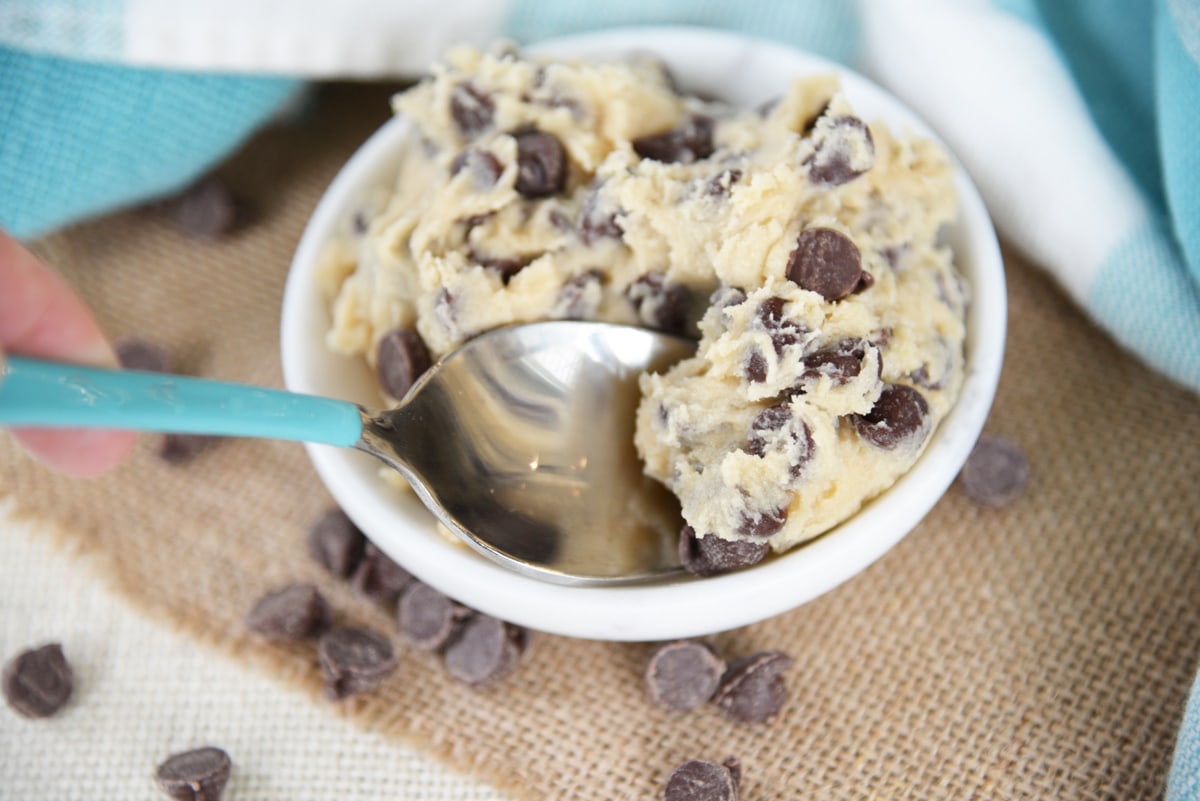 Common Substitutions
Flour– If you don't have heat treated flour or have a flour or gluten sensitivity, feel free to use almond meal or almond flour, gluten free flour or some folks have even used pancake mix and buckwheat flour. Some folks have also substituted 1 tablespoon of flour with cocoa powder to make a chocolate cookie dough.
Butter– Butter is best since it is the base. Margarine is acceptable and vegan butter can also be used. All of these will impact the flavor. Ghee is also an option. I like to use unsalted butter so I can control the salt levels. If you use salted butter, you might want to omit additional salt.
Vanilla– Use any type of extract you'd like, but I do suggest using some extract. Omitting this ingredient will result in a near flavorless cookie dough. You can use homemade which will really blow your mind!
Brown Sugar– You can use all white sugar, but brown sugar has molasses in it which is why it is softer and has more flavor. You can add a dab of molasses or even dark agave nectar. If you use all white sugar, it is fine, but it will be more like sugar cookie dough.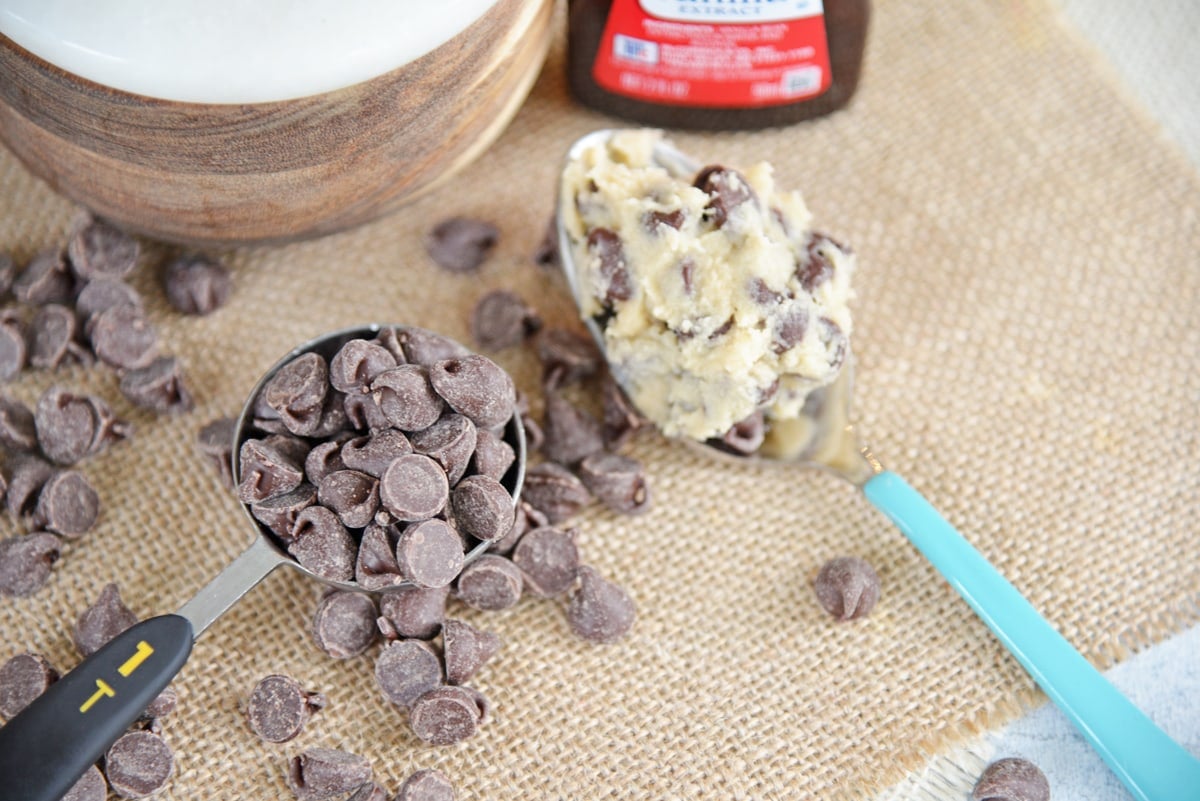 Storage and Freezing
Edible cookie dough is best consumed right after you make it, but can be made ahead or even stored for another bite later. I wouldn't make it more than 24 hours in advance.
Refrigerate and store any leftovers in an airtight container or covered tightly with plastic wrap so it doesn't dry out. It should stay good for about 2 days. Keep in mind that this version doesn't have any preservatives or additives.
You can freeze this cookie dough for up to 6 months. If you want to make them into little balls or add it to ice cream, add an additional tablespoon of flour so it holds its shape.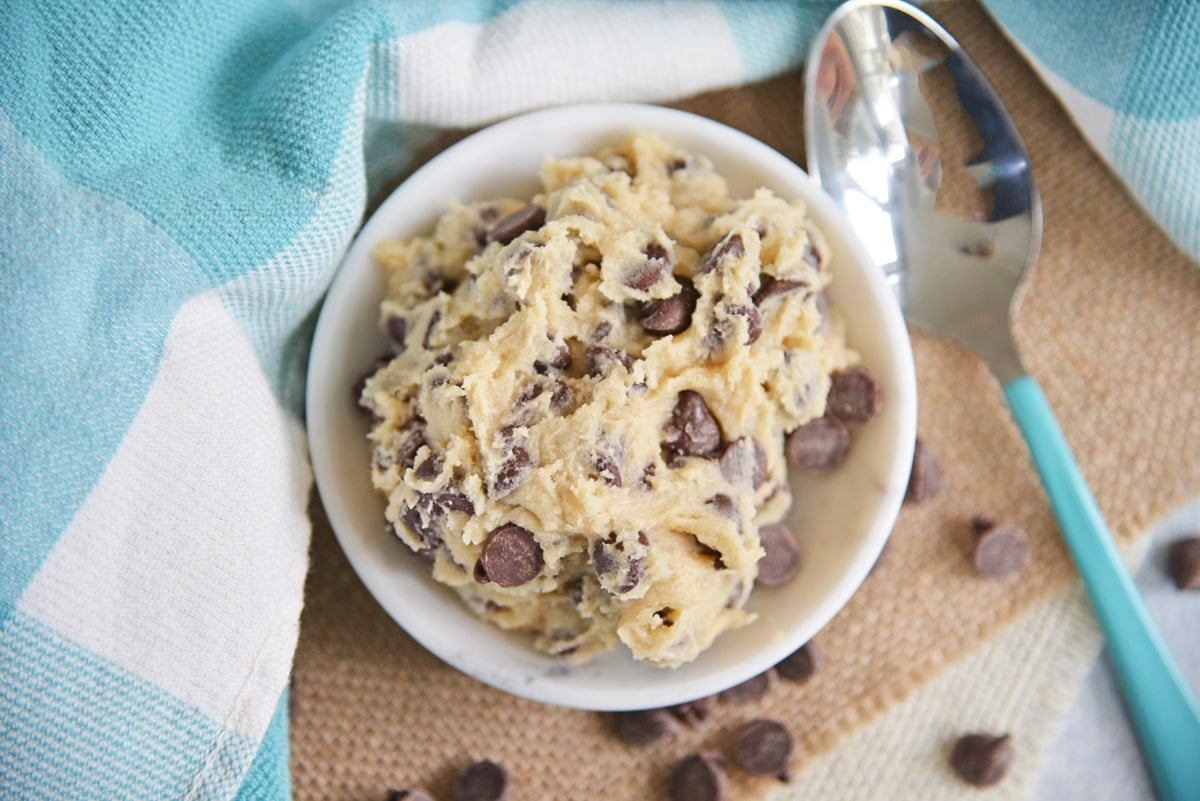 Soupy Cookie Dough
I'm going out on a limb to say you melted the butter. Melted butter is the number one cause of yucky cookie dough.
It changes the texture and consistency and forces you to add more flour to avoid cookie dough soup, only this makes the texture gritty and well, flour-y.
Cookie Dough for Ice Cream
You can totally use this cookie dough recipe for ice cream. Add 1 tablespoon extra flour so it holds its shape better.
Simply freeze little nuggets of the prepare cookie dough and fold them into your ice cream after they are set.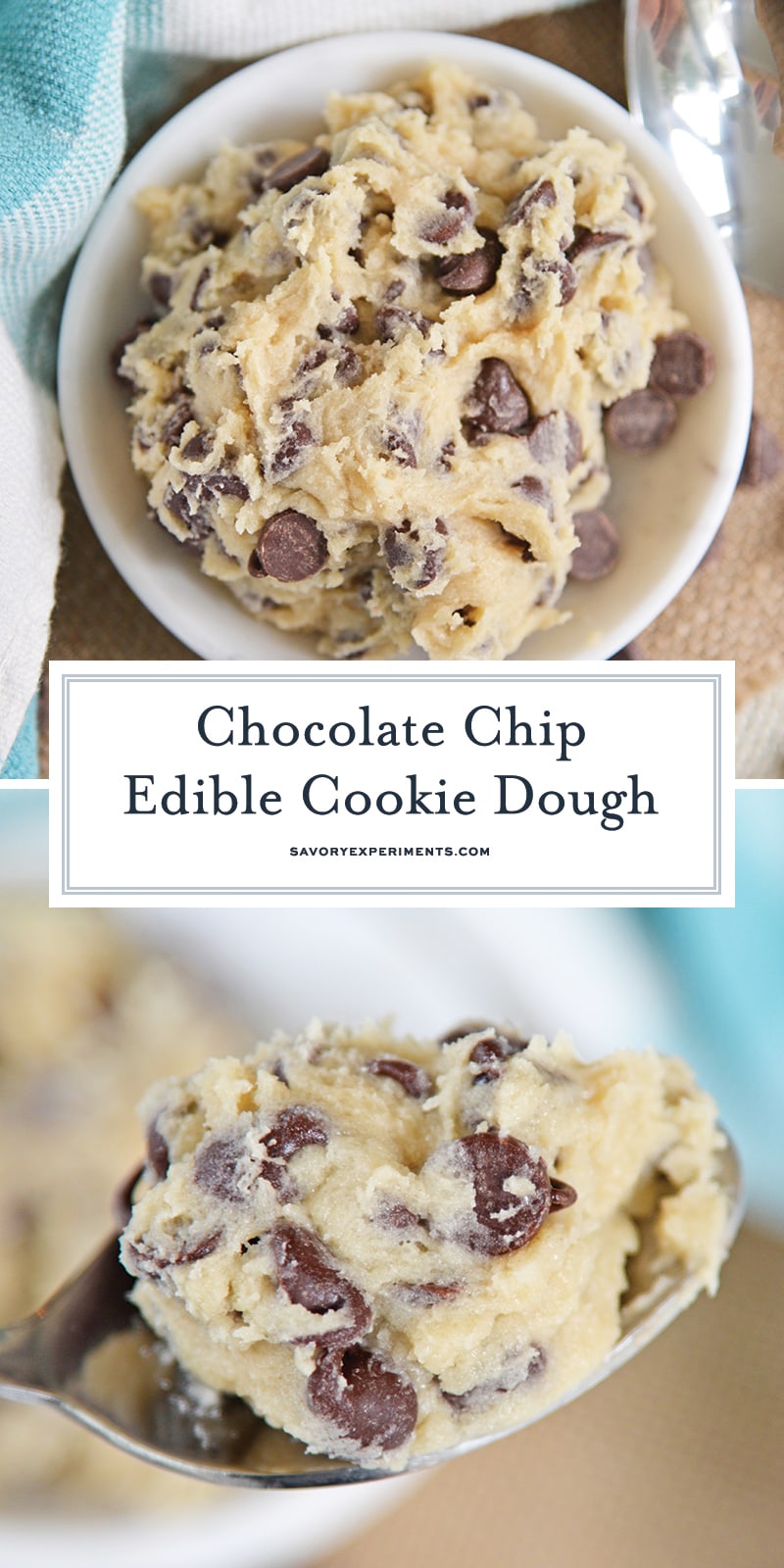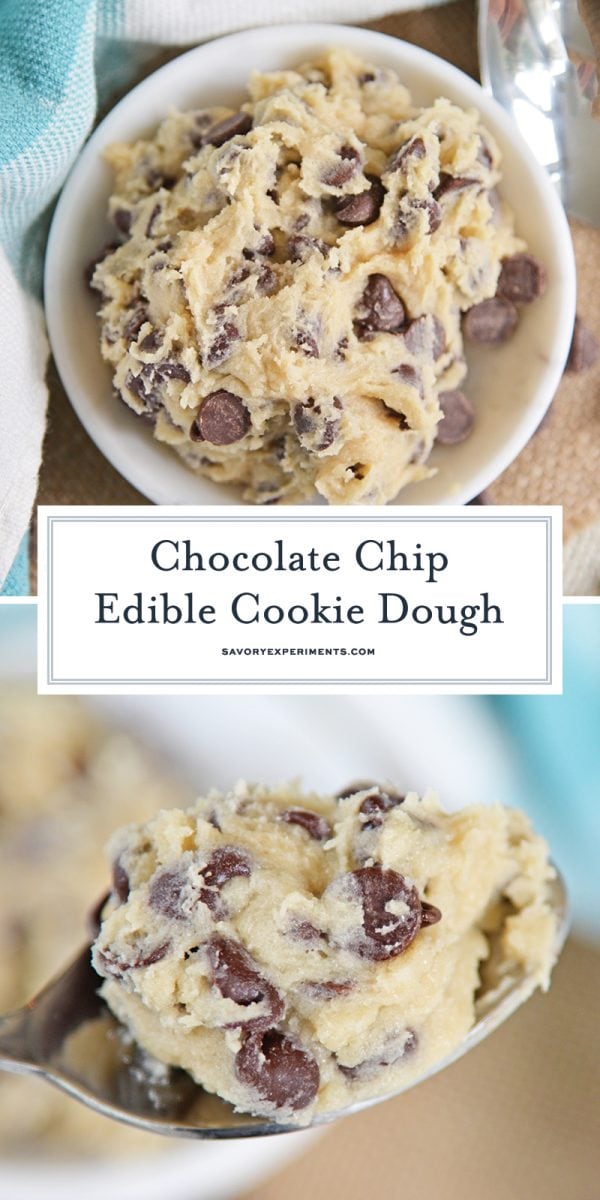 Baked Cookie Dough
This recipe is meant to be a single serving edible cookie dough, not to be baked.
Since it is eggless and contains no other leaveners, even if you tried to bake it, it wouldn't amount to much. You can also try our Mug Brownie.
But if you want some freshly baked cookies you can use one of these recipes!
Chewy Chocolate Chip Cookies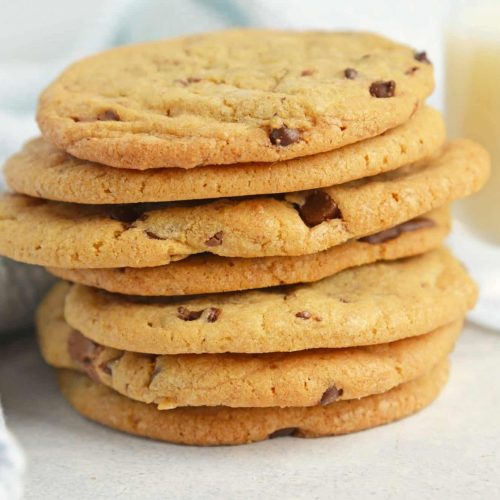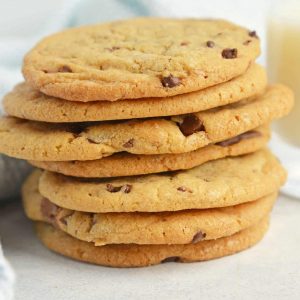 These Chewy Chocolate Chip Cookies are the ultimate homemade chocolate chip cookie recipe. With no chilling time, they are ready in a jiffy!
Lemon White Chocolate Chip Cookies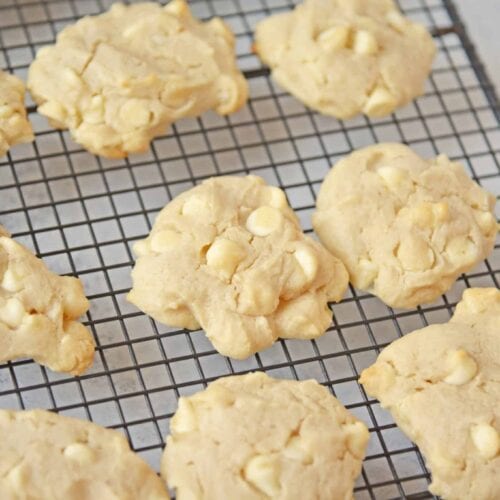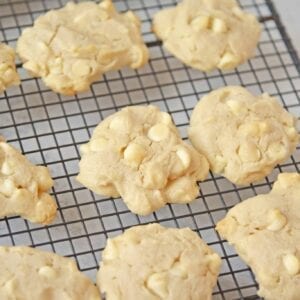 These Lemon White Chocolate Chip Cookies are a cross between a chocolate chip cookie & a lemon sugar cookie! A perfectly fluffy & mouth watering combination!
Cream Cheese Chocolate Chip Cookies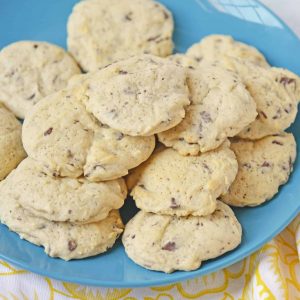 Cream Cheese Chocolate Chunk Cookies are a soft chocolate chip cookie recipe using rich cream cheese and rustic chunky chocolate.
What You'll Need:
Mixing Bowls– make sure to check out my article on Using the Right Mixing Bowl, you'd be surprised how many people aren't!
Measuring Spoons – Every kitchen needs them, might as well have cut ones!
Spatulas– we all need a variety of spatulas from hard to soft and small to large!
Chocolate Chip Cheese Ball
With soft flavored cream cheese, this Chocolate Chip Cheese Ball is so delicious, you'd think it was actual cookie dough!
Cookie Dough Stuffed Cupcakes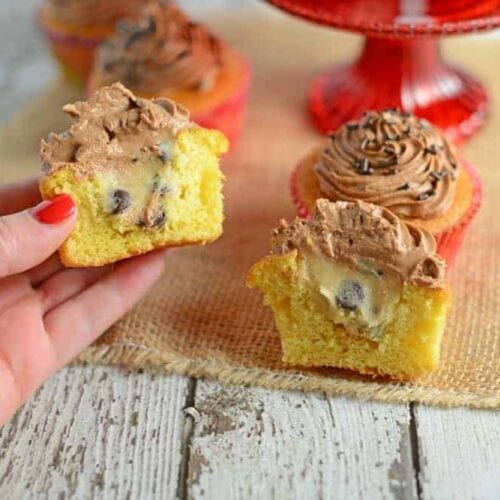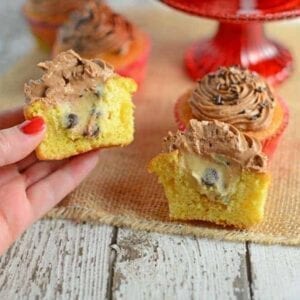 Cookie Dough Stuffed Cupcakes are vanilla cupcakes stuffed with edible cookie dough and topped with whipped chocolate frosting. You won't beleive how easy these are to make!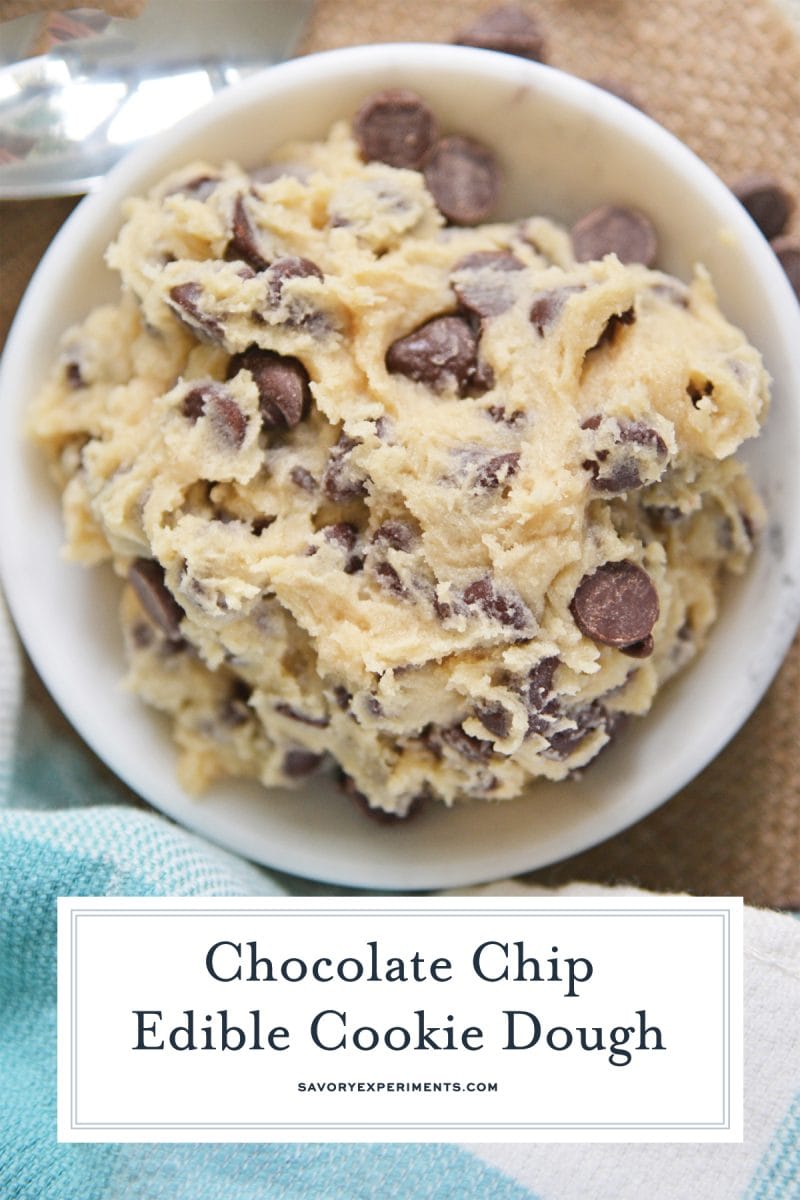 Edible Cookie Dough is quite the treat. While some still might think you are crazy, we all know it is delicious and they secretly make a bowl at night too.
Edible Cookie Dough with Chocolate Chips
Edible Cookie Dough is the perfect single serving cookie dough to satisfy your cravings without using eggs.
Instructions
Mix in salt and flour with a spatula.

If you've tried this recipe, come back and let us know how it was in the comments or ratings.
Notes
* Pasteurize your raw flour! Microwaving is the quickest way. Place raw flour into the microwave (flour alone, not the dough) and heat on high for 20- 45 seconds.  Microwaves are different and this is a small amount of flour. Watch carefully to make sure it doesn't burn. 
Nutrition
Calories:
252
kcal
|
Carbohydrates:
18
g
|
Protein:
2
g
|
Fat:
12
g
|
Saturated Fat:
1
g
|
Cholesterol:
3
mg
|
Sodium:
12
mg
|
Sugar:
1
g
|
Iron:
1
mg