Chocolate Chip Edible Cookie Dough for One Recipe
I've never met a cookie dough I didn't like. I LOVE COOKIE DOUGH!
In fact, I might enjoy raw cookie dough more than actually baked cookies and I always judge a dessert on the deliciousness of the no-bake version of edible cookie dough for one.

Single Serving Chocolate Chip Cookie Dough is an edible cookie dough recipe that is eggless and makes just enough for one person.
It comes as no surprise that instead of craving a cookie or two after dinner, I want a scoop of cookie dough. Don't lie, we've all wished we had a spoonful from time to time. I am totally guilty of a spoonful or licking the beaters for just about any dessert recipe.
DISCLAIMER: Do not eat raw flour or raw eggs. See notes below on heat treated flour…
It is funny to me that some folks refer to it as "edible cookie dough"… isn't it all edible cookie dough? Just some forms are safer than others?
Abbey says: "Fantastic recipe, I use this all the time when I need a little pick-me-up!"
And we've all eaten raw cookie dough with uncooked eggs. We also ALL SURVIVED! (Although I am not condoning this or saying you will be fine… just merely making an observation…)
I know there is salmonella and all that jazz, but I guess I have a raw cookie dough inferiority complex thinking it will never happen to me and luckily, it hasn't.
There is something nostalgic about licking the beaters from my mother's electric hand mixer when I was young that makes me smile.
This was the part of the baking process I most looked forward too. And total jackpot if my sister wasn't around; I could sometimes talk her into letting me have both beaters!
Sage says: "This was so great! TotAlly hit the spot for period cravings and the perfect size To avoid binging which is so easy when you buy Cookie dough from the store and sooo easy took two minutes!! Thank you so much!"
Although I've never had any complications from raw cookie dough I figured I'd be on the safe side and to figure out how to make just a little bit of homemade cookie dough instead of a whole batch.
And I wanted an eggless cookie dough recipe that was actually safe to eat.
I created my no bake cookie dough. Just a small bowl of deliciousness. Truth be told, this edible cookie dough recipe will actually feed about two, unless you are really in the mood.
Learning how to make edible cookie dough takes just a few minutes to prepare and you can indulge in yummy cookie dough amazingness.
You don't need to buy one of those giant tubs of edible cookie dough at the store.
Or overpay for a giant cone at the mall. Eggless cookie dough is just so easy to make at home!
No chocolate chips on hand? No worries. You can use anything you want to add-in… or nothing at all. Reese's Peanut Butter Cups, chopped Twix, Butterfinger or Snickers all work well.
Raw flour can contain E. Coli, to prevent this, pasteurize it at home. Microwaving is the quickest way. Place raw flour into the microwave (flour alone, not the dough) and heat on high for 20- 45 seconds.

Please be mindful that all microwaves are different. Watch the flour closely so it doesn't burn. You can also put it in the oven on 350 for 5ish minutes.
Sometimes I even add nuts. And other days, I just eat the dough straight. It still hits the spot!
This makes it sound like I eat no-bake cookie dough on a regular basis. I can assure you, I don't, but when I do, I enjoy it. Just talking about it makes me want some!
I also use this edible cookie dough recipe to make my award winning Cookie Dough Stuffed Cupcakes! Can you imagine? The kids go nuts for these!
Who am I kidding? Adults go nuts for these too.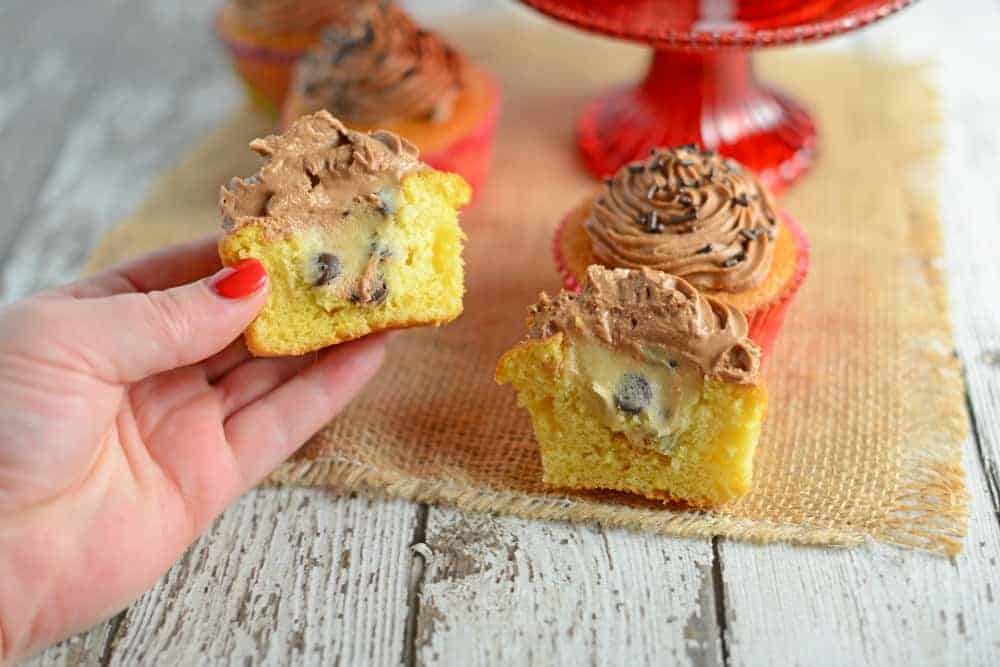 Soft cupcakes filled with edible cookie dough and topped with light and fluffy buttercream. Pure heaven!
Orianna says: "I have tried many other edible cookie dough recipes and they were either to much or not good. But this recipe is AMAZING. It was so yummy and the texture and size was just right! thank you so much for this recipe!

I will make sure to tell all of my friends about this recipe! thank you again!!!!!!!!!!!!!"
If you are in love with homemade cookie dough like I am, check out my Edible Peanut Butter Cookie Dough! Another eggless cookie dough for one that will hit the spot.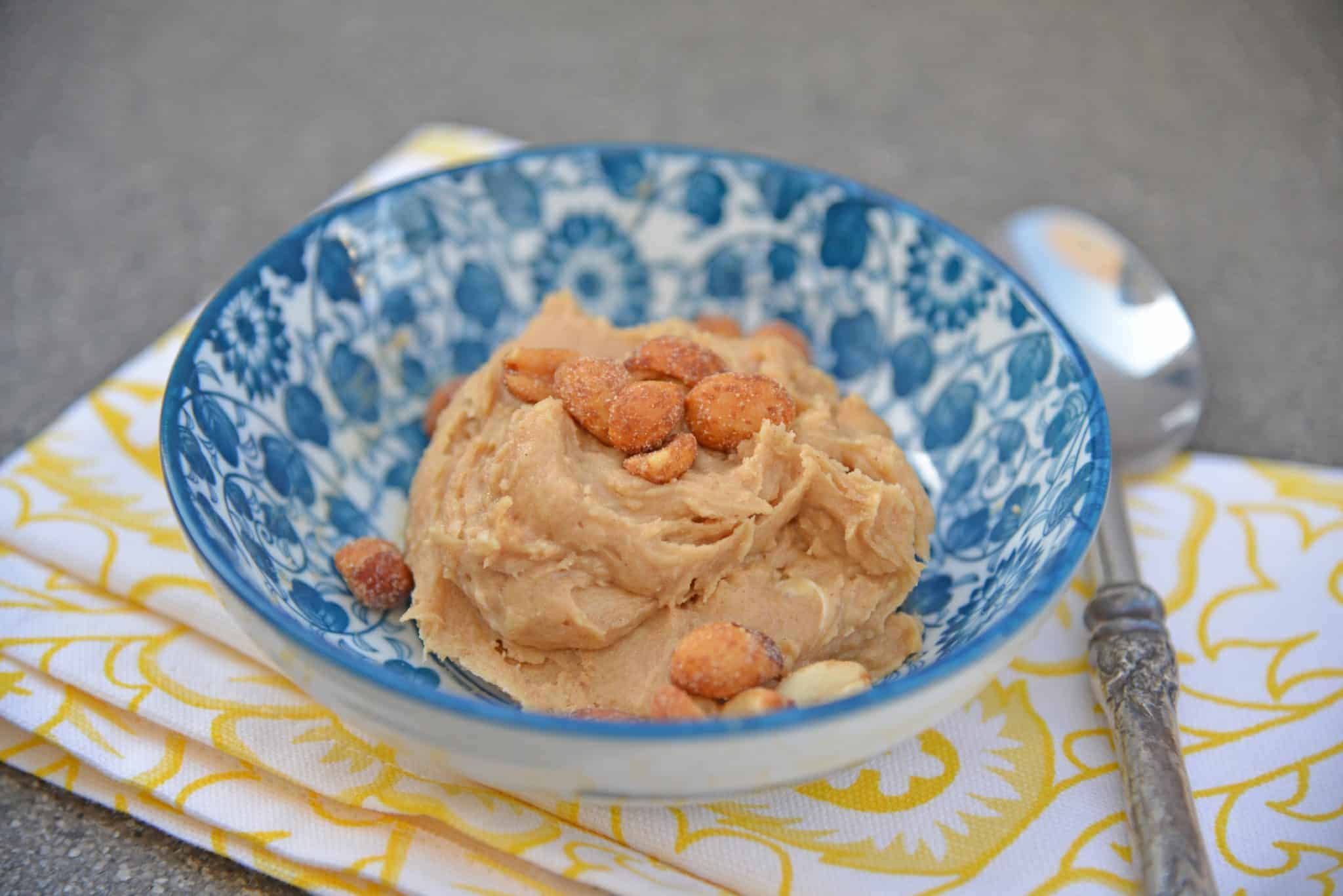 And lastly, my newest addition to the eggless single serve cookie dough family, Edible Sugar Cookie Dough! Don't knock until you try it.
You are here checking out this post… so something tells me you love raw cookie dough like I do.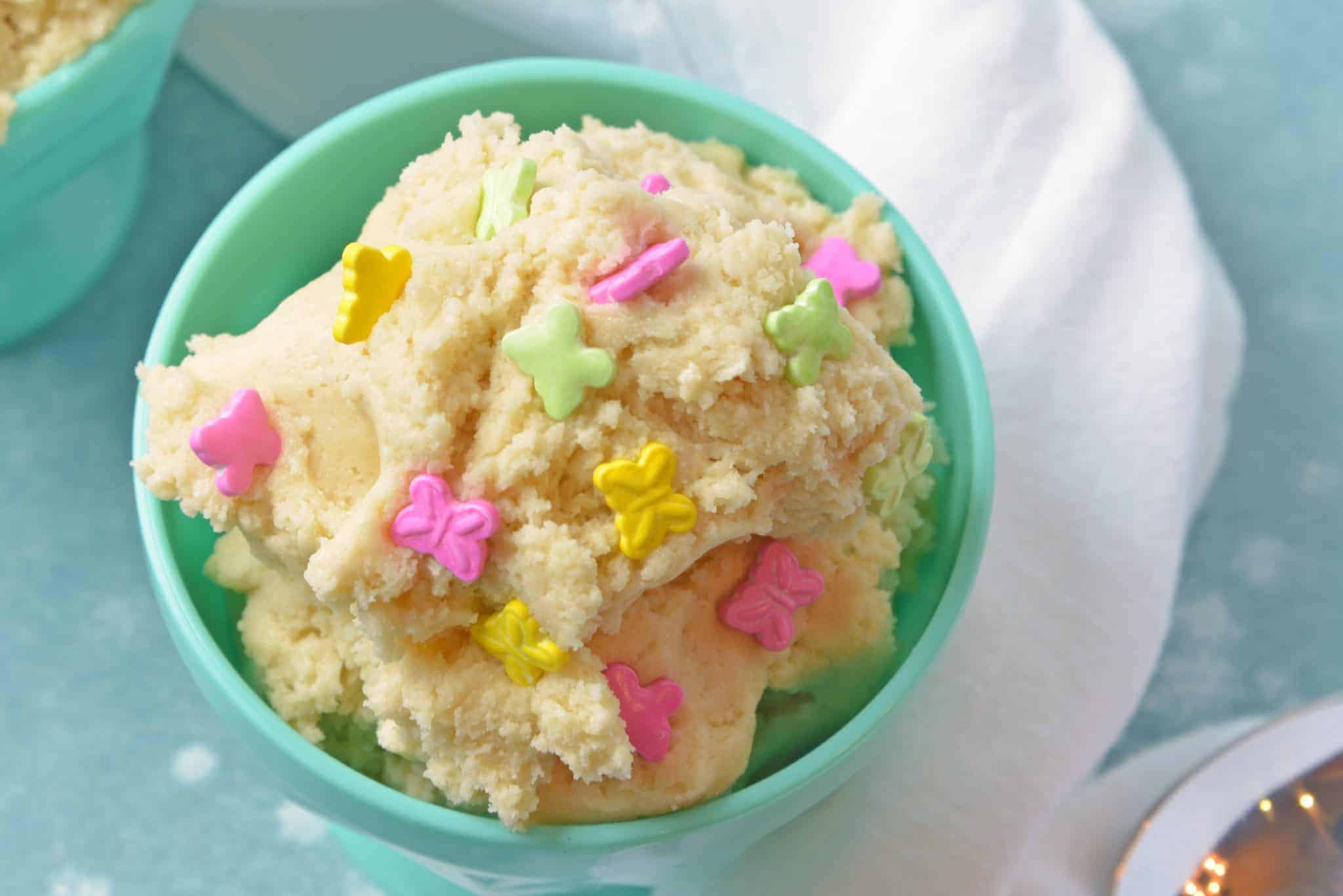 Tools for making Edible Cookie Dough:
Mixing Bowls– make sure to check out my article on Using the Right Mixing Bowl, you'd be surprised how many people aren't!
Measuring Spoons
– Every kitchen needs them, might as well have cut ones!
Spatulas– we all need a variety of spatulas from hard to soft and small to large!
Single Serving Chocolate Chip Cookie Dough is an eggless cookie dough recipe that makes just enough for one person. Great for a cozy night on the couch or after a long, stressful day.
And here are a few more easy dessert recipes you might enjoy!
Questions you might have about Homemade Cookie Dough:
Is raw cookie dough safe during pregnancy? I am not a medical physician, so this is not medical advice, however since this is cookie dough is egg free and if you treat the flour, it should be okay to eat. I ate it while pregnant if that helps you out at all.
Is edible cookie dough vegan? Some recipes for edible cookie dough may be, but since mine contains butter, it is not.
Is no-bake cookie dough healthy? I am going out on a limb here and telling you no, edible cookie dough is not healthy by any standard, however I beleive that you are fine eating anything in moderation.
Meredith says: "I love this recipe, I normally eat raw cookie dough no matter what. I made a batch of this then I bought store made cookie dough and this on tastes so much more fresh."
Can edible cookie dough be baked? You can bake it all you want, but since there aren't eggs or leviners, it won't amount to much.
Does raw cookie dough need to be refrigerated? Yes, please refrigerate until ready to eat. Keep your cookie dough covered.
How long does edible cookie dough last? Mine cookie dough recipe doesn't contain any preservatives or additives, so it doesn't last long, but since it also doesn't make much, I'm not sure how much will be left over. I'd say about 1-2 days, covered, in the fridge.
How to make edible cookie dough without butter? My edible cookie dough recipe calls for butter. I suppose you can use a vegan butter, but quite frankly, it is a pinnable of the recipe and I am not sure how good it will be without it.
Can you freeze eggless cookie dough? This is more of a cookie dough truffle and the answer is yes, but you might need to add slightly more flour in order to roll them into balls.
Roll them into balls and then place them in an airtight plastic bag. They should be good for up to 6 months. Check out more information on how to freeze food properly HERE!
My cookie dough is soupy, why? I'm going out on a limb to say you melted the butter. Melted butter is the number one cause of yucky cookie dough. It changes the texture and consistency and forces you to add more flour to avoid cookie dough soup, only this makes the texture gritty and well, flour-y.
What is the difference between vanilla extract and vanilla flavoring? Pure vanilla extract comes from pure vanilla beans whereas vanilla flavoring is just flavored water. Vanilla extract is typically much more expensive because vanilla pods are pricey. You can use either in this recipe.
I don't have brown sugar, what do I do? You can use all white sugar, but it will be more like a sugar cookie dough, not a bad thing, but not chocolate chip.
Can I use this eggless cookie dough for ice cream? You can totally use this cookie dough recipe for ice cream. Simply freeze little nuggets of the prepare cookie dough and fold them into your ice cream after they are set.
If you are looking for even more dessert recipes, snag a copy of my Easy Dessert Recipes Mini-Cookbook. Available here for only $0.99, these easy dessert recipes are ready with less than 30 minutes hands-on time and are sure to please all your family friends. From no-bake to make-ahead, you are sure to find something you love!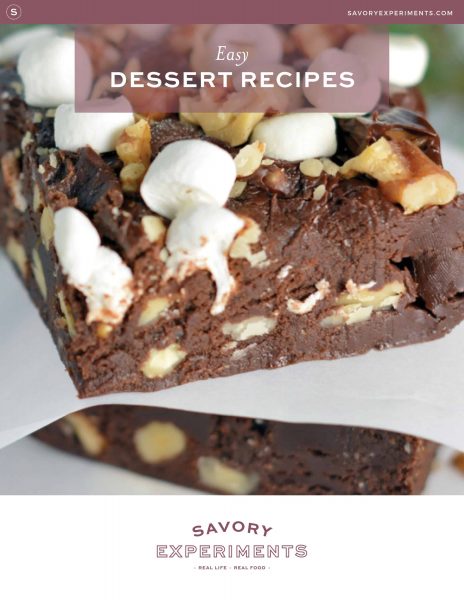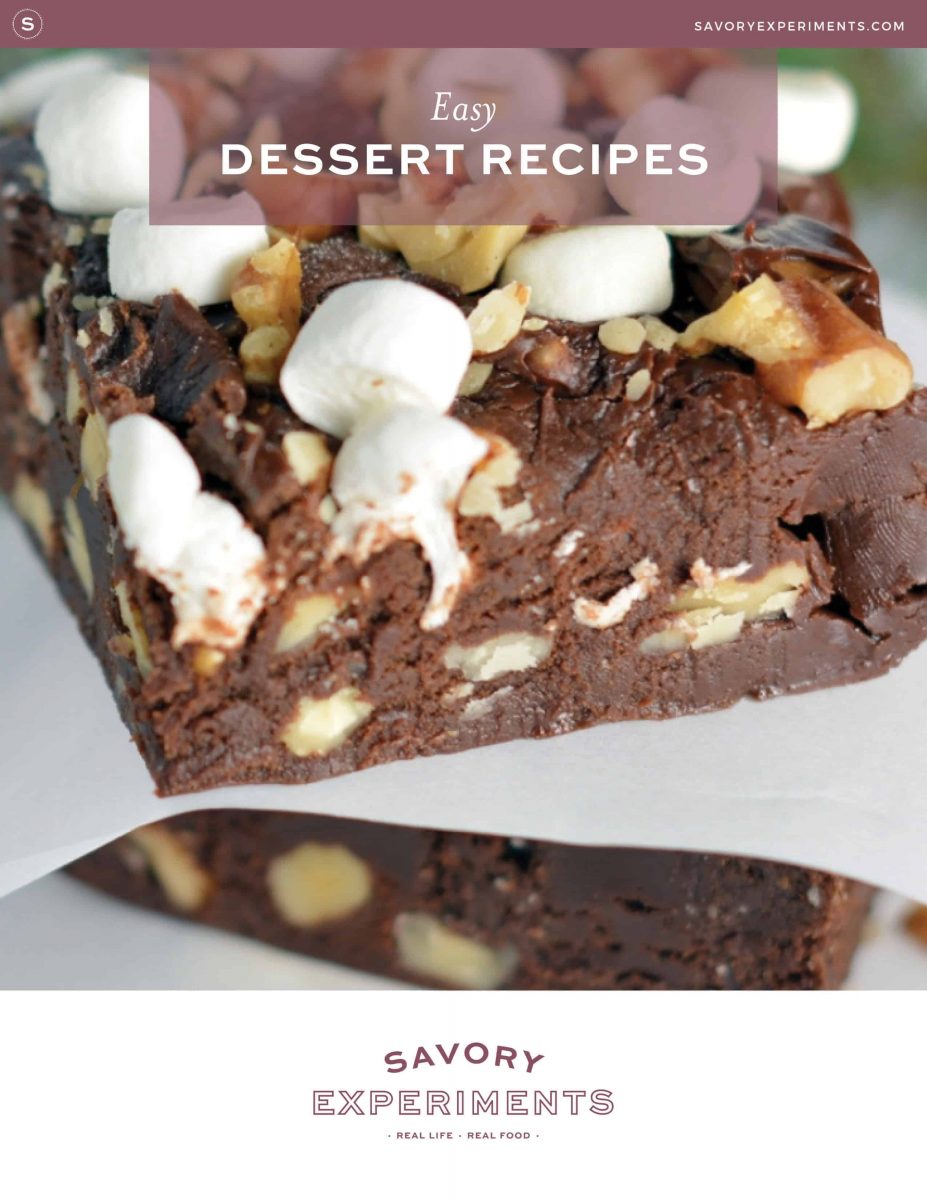 Miranda says: "I've tried countless recipes over the years and this is by far the best! Thank you for satisfying my cravings."
Chocolate Chip Edible Cookie Dough
Single Serving Chocolate Chip Cookie Dough is an edible cookie dough recipe using no eggs that makes just enough for one person.
Keyword:
chocolate chip cookie dough, edible cookie dough, eggless cookie dough, single serving cookie dough
Ingredients
1

tablespoon

sugar

1

heaping tablespoon

brown sugar

1-1 1/2

tablespoon(s)

butter

softened

1-2

tablespoon(s)

Chocolate chips

or other add-ins

1

tablespoon

water

1/8

teaspoon

vanilla extract

Pinch of salt

3

tablespoons

flour*

more if your butter is melted
Instructions
Combine sugar, brown sugar, softened butter, chocolate chips, water, vanilla extract, salt and flour in a small bowl and mix well with a spatula.

Enjoy!

If you've tried this recipe, come back and let us know how it was!
Recipe Video
Recipe Notes
* Raw flour can contain E. Coli, to prevent this, pasteurize it at home. Microwaving is the quickest way. Place raw flour into the microwave (flour alone, not the dough) and heat on high for 20- 45 seconds.  Microwaves are different and this is a small amount of flour. Watch carefully to make sure it doesn't burn. 
Nutrition Facts
Chocolate Chip Edible Cookie Dough
Amount Per Serving
Calories 252
Calories from Fat 108
% Daily Value*
Total Fat 12g 18%
Cholesterol 3mg 1%
Sodium 12mg 1%
Total Carbohydrates 18g 6%
Protein 2g 4%
* Percent Daily Values are based on a 2000 calorie diet.