I've never met a cookie dough I didn't like.  In fact, I might enjoy cookie dough more than actually baked cookies and I always judge a dessert on the deliciousness of the un-cooked version.
It comes as no surprise that instead of craving a cookie or two after dinner, I want a scoop of cookie dough.  Don't lie, we've all wished we had a spoonful from time to time. And we've all eaten the kind with uncooked eggs. We also ALL SURVIVED! I know there is salmonella and all that jazz, but I guess I have a raw cookie dough inferiority complex thinking it will never happen to me.
It hasn't, but just to be on the safe side, and to figure out how to make just a little bit of cookie dough instead of a whole batch, I created my eggless single serve chocolate chip cookie dough. Just a small bowl of deliciousness. Truth be told, it actually will feed about two, unless you are really in the mood.
Well here is the answer: single serving, egg-free cookie dough.  It takes just a few minutes to prepare and you can indulge in yummy cookie dough amazingness.  No chocolate chips on hand? No worries, you can use anything you want to add-in, or nothing at all. Reese's Peanut Butter Cups, chopped Twix, Butterfinger or Snickers works well too. Sometimes I even add nuts. And others, I just eat the dough straight. It still hits the spot!
I also use this same recipe to make my award winning Cookie Dough Stuffed Cupcakes! Can you imagine? The kids go nuts for these!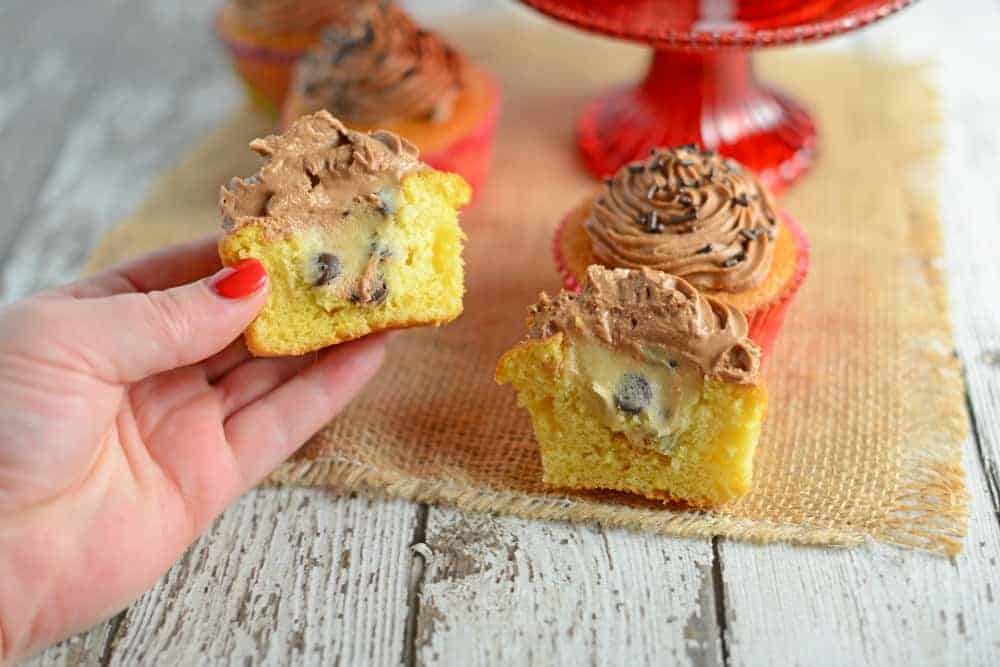 If you are in love with cookie dough like I am, check out my Single Serve Peanut Butter Cookie Dough!
And here are a few more easy dessert recipes you might enjoy!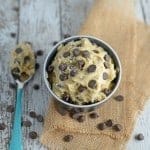 Single Serve Chocolate Chip Cookie Dough
A perfect single size serving of cookie dough just for you!
Ingredients
1

tablespoon

sugar

1

tablespoon

brown sugar

1-1 1/2

tablespoon(s)

butter

softened

1-2

tablespoon(s)

Chocolate chips

or other add-ins

1

tablespoon

water

1/8

teaspoon

vanilla extract

Pinch of salt

4

tablespoons

flour*

more if your butter is melted
Instructions
Combine all ingredients into a small bowl and mix well.

Enjoy!
Recipe Notes
* Raw flour can contain E. Coli, to prevent this, pasteurize it at home. Microwaving is the quickest way. Place raw flour into the microwave (flour alone, not the dough) and heat on high for 60 seconds. 
Nutrition Facts
Single Serve Chocolate Chip Cookie Dough
Amount Per Serving
Calories 218
Calories from Fat 9
% Daily Value*
Total Fat 1g 2%
Cholesterol 3mg 1%
Sodium 153mg 6%
Total Carbohydrates 47g 16%
Protein 3g 6%
* Percent Daily Values are based on a 2000 calorie diet.