This Edible Sugar Cookie Dough recipe is the perfect quick and easy dessert! Cookie dough that you're allowed to eat?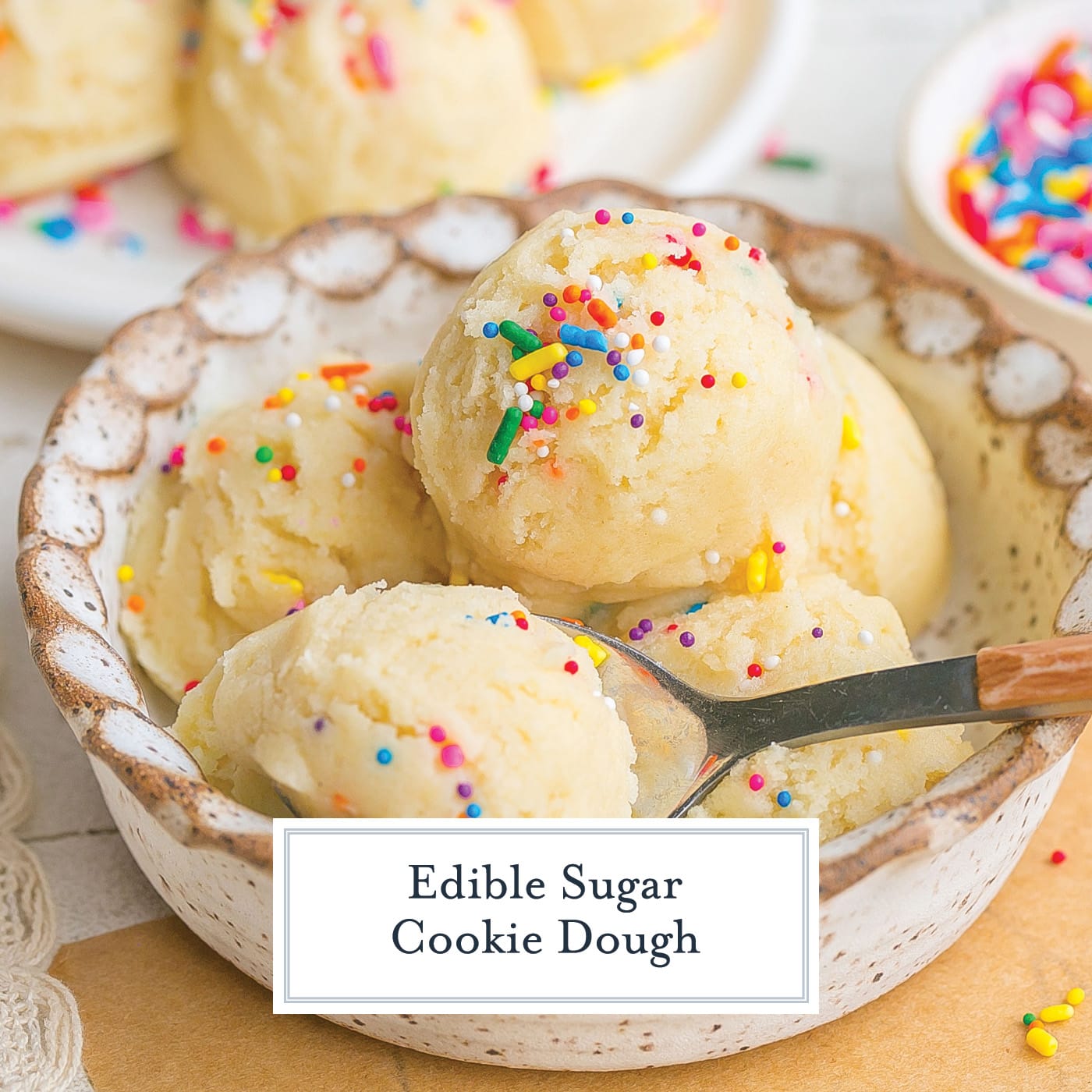 What's not to love!
When I was growing up, making cookies with mom was my favorite. It didn't matter what kind of cookies we made: chocolate chip cookies, peanut butter cookies, cut out cookies.
Not only was it a bonding experience for the two of us, but something about the smell of fresh baked cookies right out of the oven was heartwarming to me.
But do you want to know the best part of making cookies? Sneaking some (or, if I'm being honest, more than some) of the cookie dough.
We're told over and over again how we shouldn't eat raw dough; but it is just OH so good!
So, in heeding the warning labels on the packages of cookie dough, I decided to come up with my own eggless sugar cookie dough recipe.
It has all the same flavor you love in the packaged dough, just without the eggs, making it safer to eat.
Of course, you can make a big batch of dough to snack on whenever you'd like. But if you're like me and have no self control when delicious treats are around, this single serve recipe is perfect for you.
The next time you are craving something sweet, but only want a little something, this single serve sugar cookie dough is for you! Cookie dough that you're allowed to eat? Yes, please!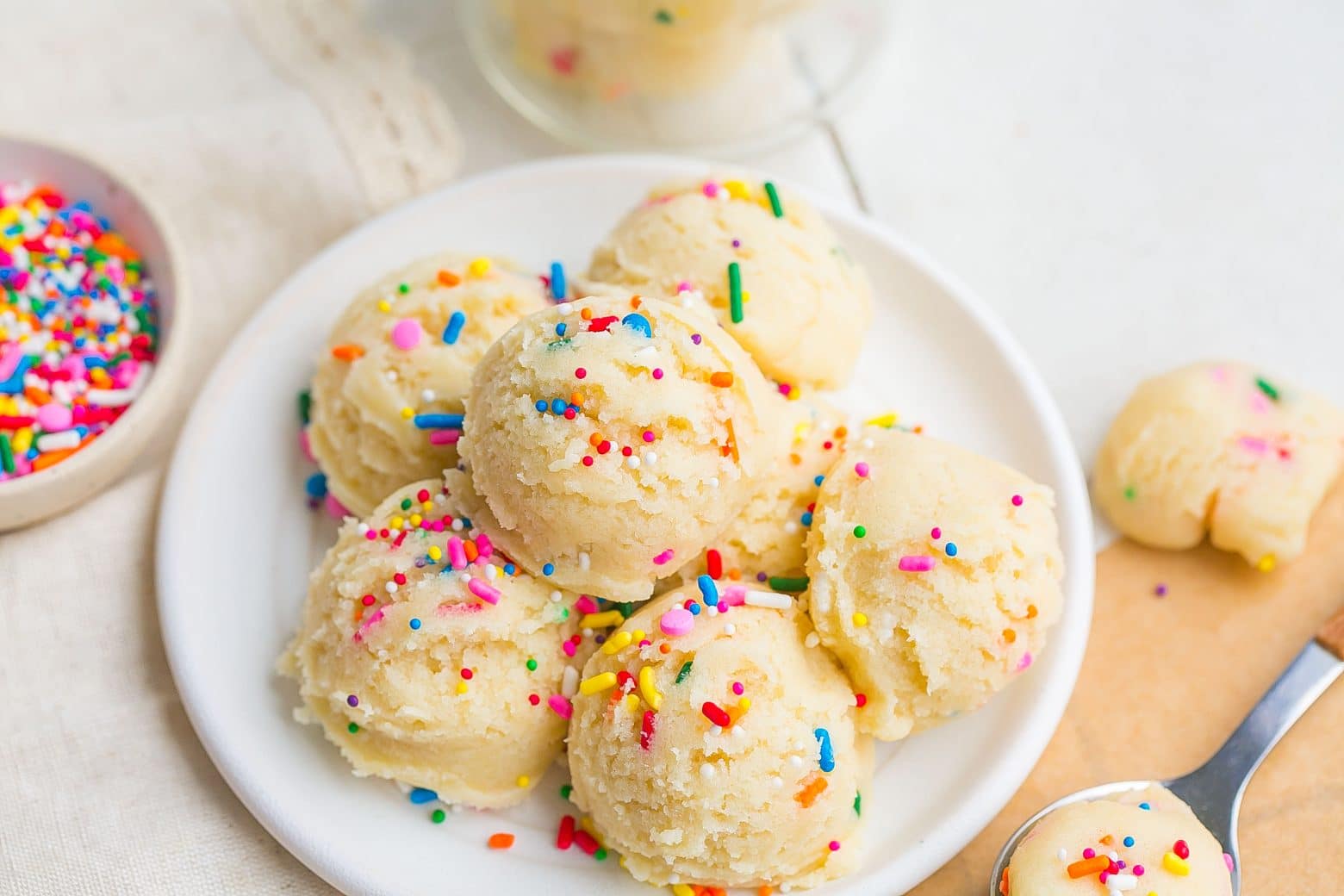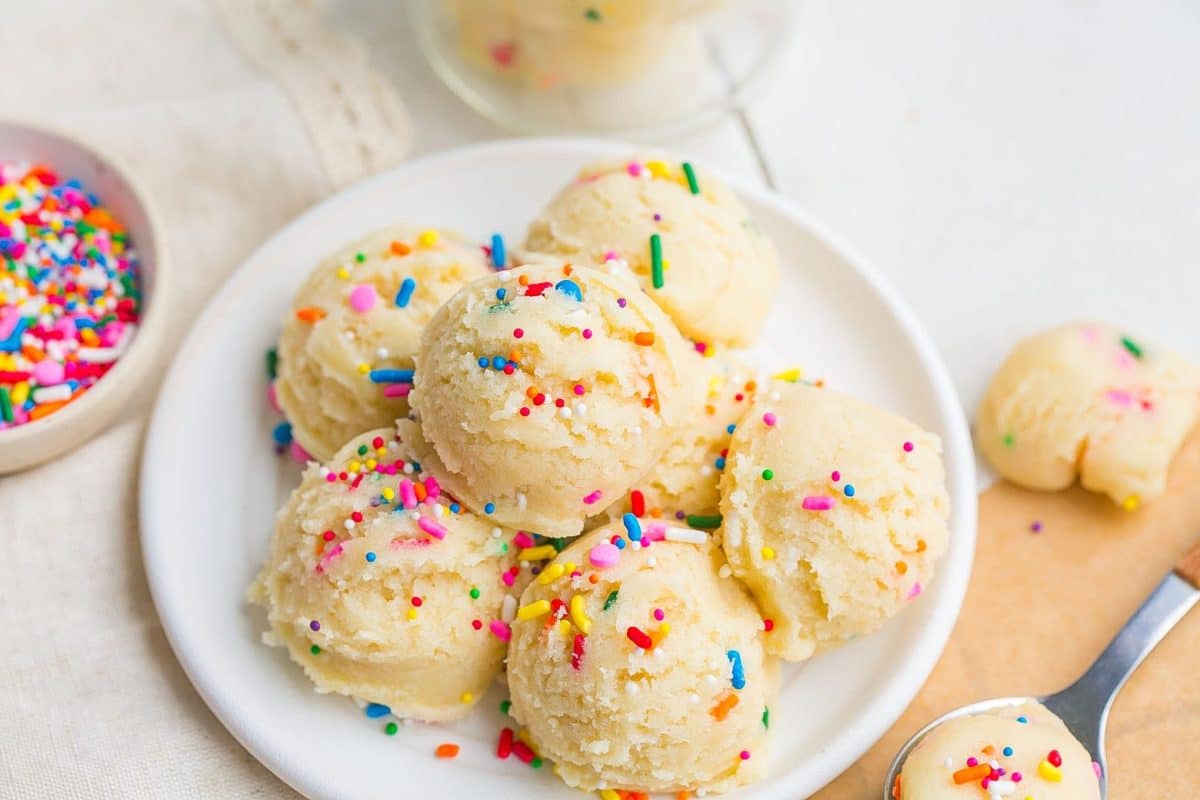 Why You'll Love This Sugar Cookie Dough
I mean, what's not to love about cookie dough that you're allowed to eat? Here are a few reasons why we love it:
Quick and easy – This is a dessert that you can literally have ready to go in only 5 minutes, maybe even less.
Simple ingredients – This recipe is made with all pantry ingredients, plus butter. I bet you already have them all!
Loved by all – With the fun sprinkles and endless add in options, this recipe is sure to be a winner with everyone.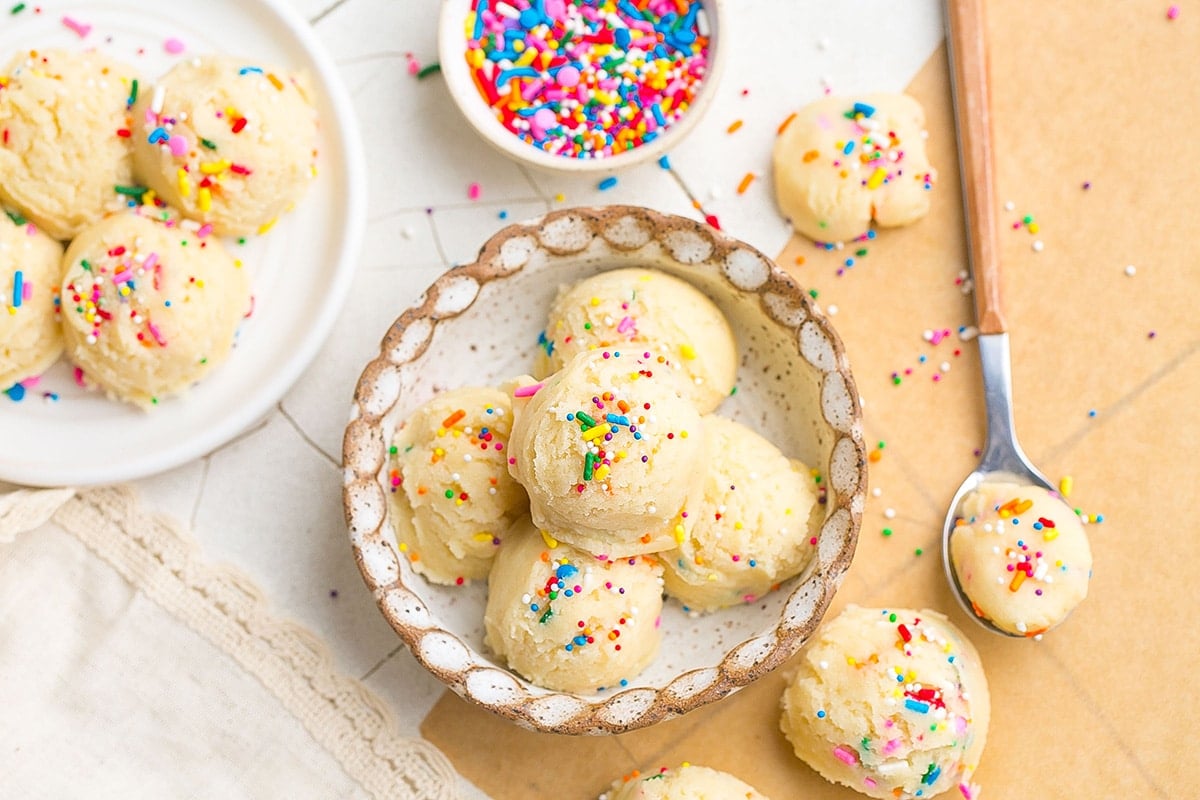 Heat-Treated Flour
Uncooked flour has a small chance of containing some yucky things, so to prevent this, pasteurize it at home. Microwaving is the quickest way. Place raw flour into the microwave (flour alone, not the dough) and heat on high for 20- 45 seconds.
Please be mindful that all microwaves are different. Watch the flour closely so it doesn't burn.
The oven is another good option, simply place it in a thin layer on a baking sheet at 350°F for 5ish minutes. Just make sure it doesn't burn. This should be plenty to kill off any harmful bacteria.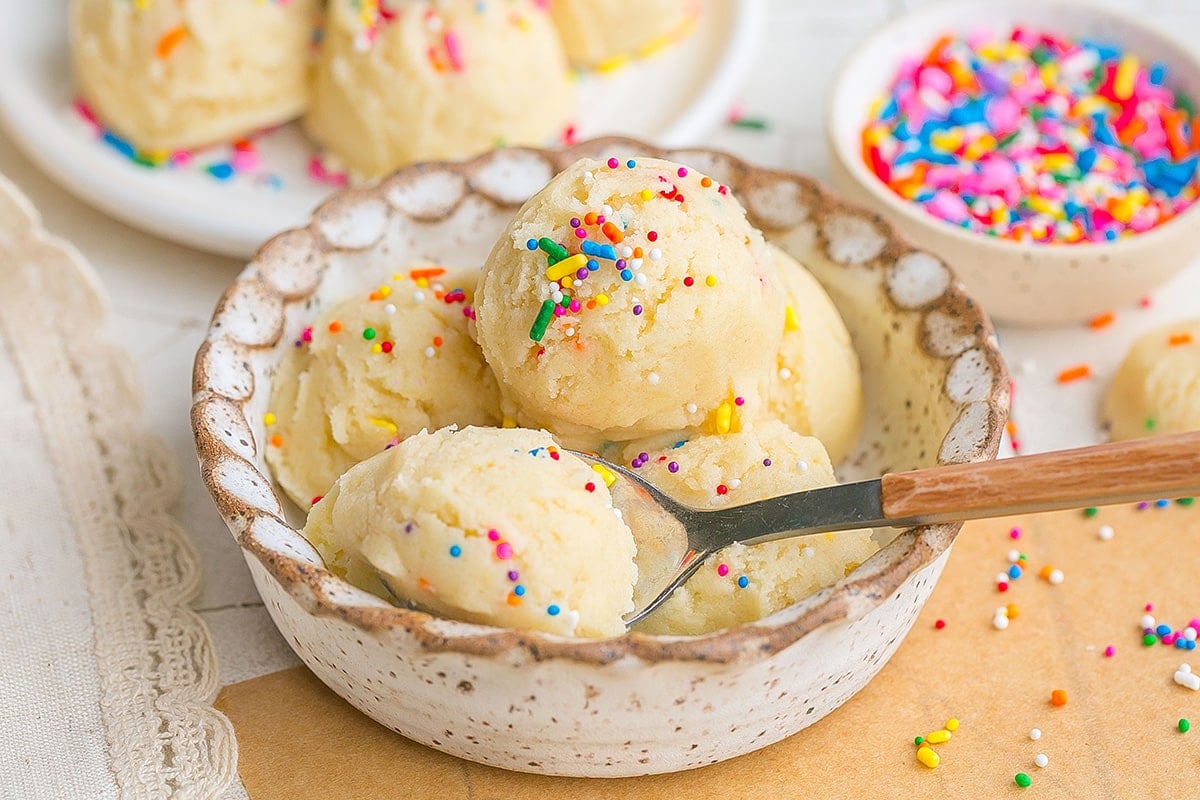 Sugar Cookie Dough Ingredients
I can almost guarantee that you have most, if not all of these simple ingredients already on hand. If not, they're super easily found at the grocery store.
Butter – I always like to use unsalted butter. Different brands have different amounts of salt. Using unsalted softened butter allows me to control the salt content.
Sugar – Granulated white sugar is what we will use for this sweet treat.
Vanilla – Pure vanilla extract is what gives this easy edible sugar cookie dough the classic taste of sugar cookies.
Flour – All purpose flour is what we need here. Check the section above for how to heat treat it to ensure it's safe to eat.
Salt – We just need a pinch. If you are using salted butter, you can totally omit this all together.
Add-ins – These are optional but can be fun to add. Some of my favorite mix-ins are chocolate chips, sprinkles, Jimmies, crushed candy or white chocolate chips.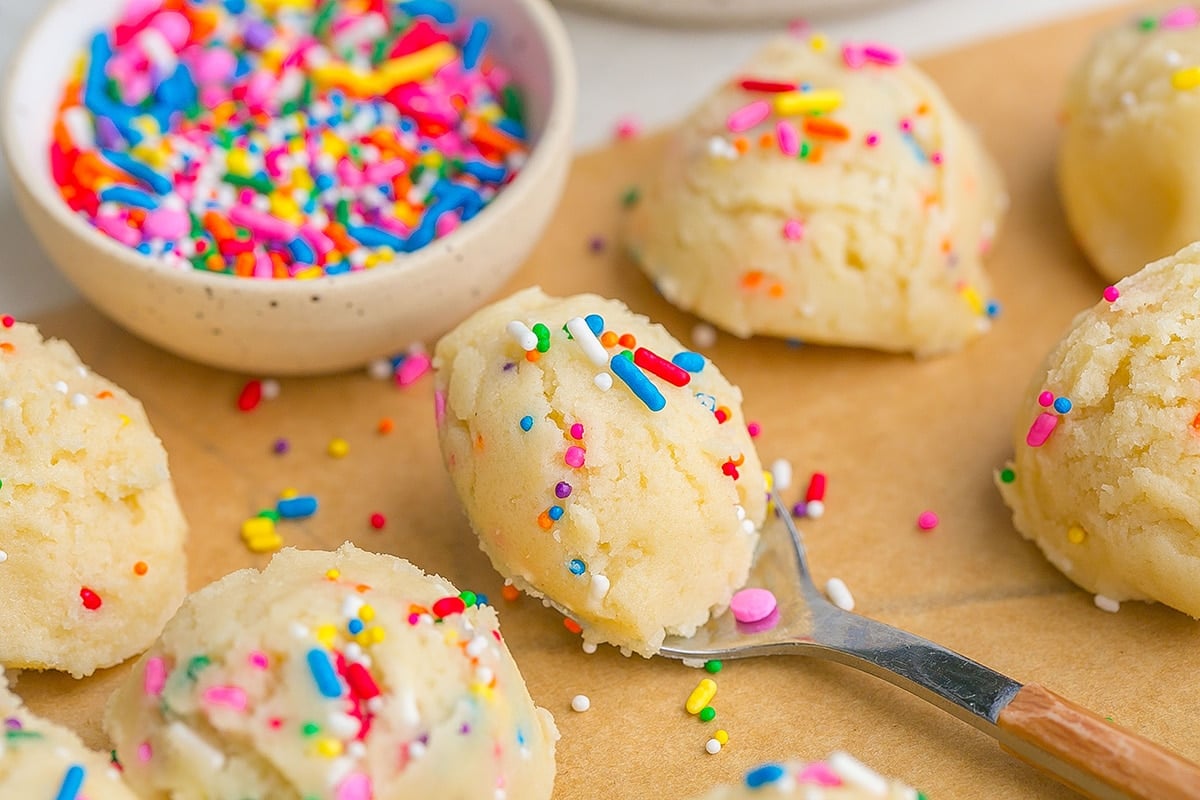 How to Make Edible Sugar Cookie Dough
Check out the two easy steps to making the perfect treat for your sweet tooth craving.
Soften butter. This step is the most commonly messed up step and I can no stress enough that your butter must be soft, but not melted. Here are a few ways to soften butter fast. This is also the number one reason you won't achieve the desired cookie dough texture. After you melt it, it is hard to get back.
Combine. Combine unsalted butter, sugar, vanilla, flour, salt and what ever other add-ins you desired. Mix well.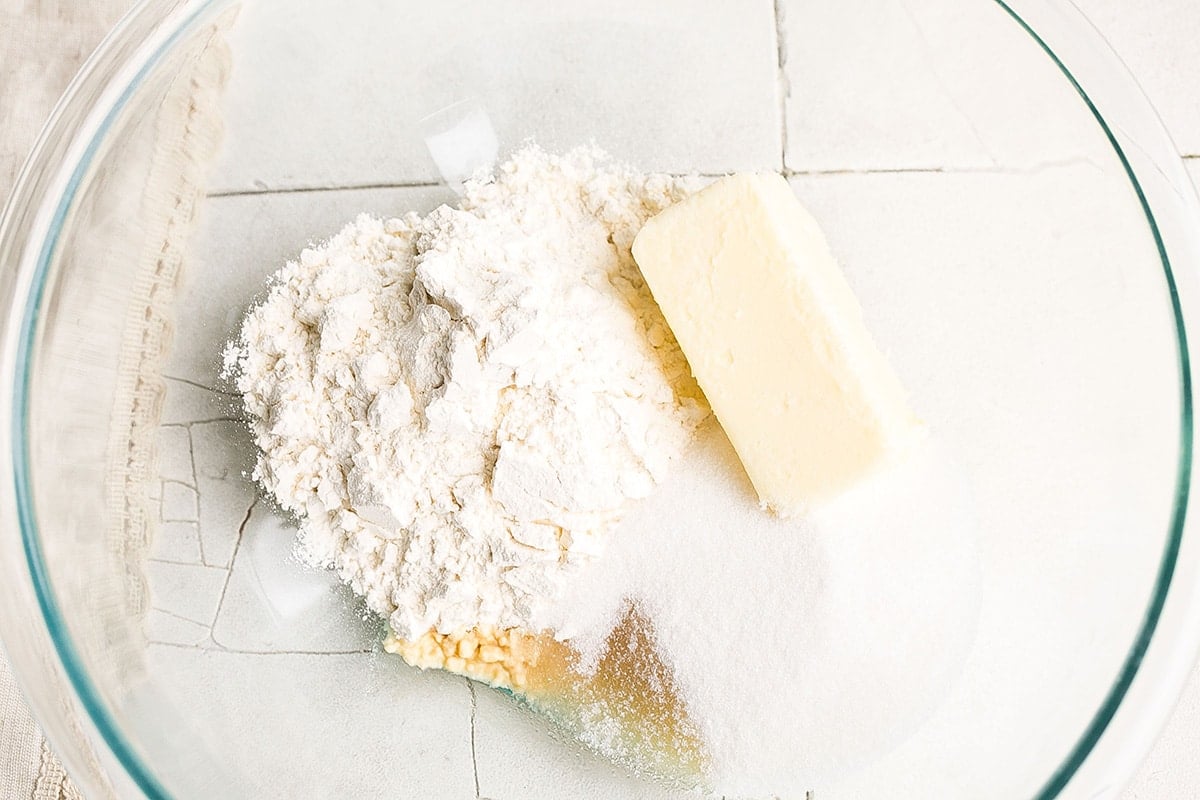 Variations
My favorite part of this recipe is that there are plenty of fun ways to make it your own.
Extracts – We use vanilla extract, but you could swap it out for almond extract, cake batter extract or any other that tickles your fancy for different flavors.
Thin it out – If you feel that your delicious edible sugar cookie dough is too thick, try adding a little bit of regular milk or nut milk.
Cookie dough balls – You can shape your dough into little bites of cookie dough that are great for topping ice cream or any other fun treat.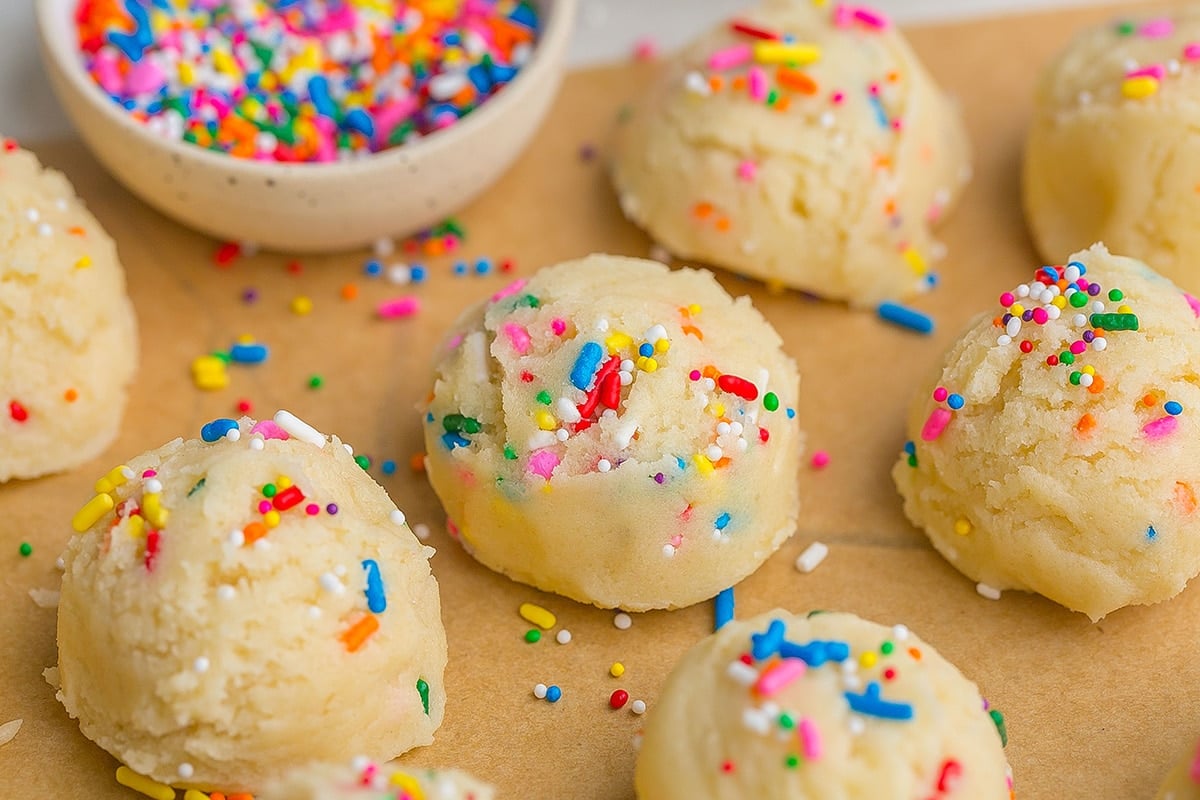 Storage and Freezing
Storage: Refrigerate and store any leftovers in an airtight container or covered tightly with plastic wrap so it doesn't dry out. It should stay good for about 2 days. Keep in mind that this version doesn't have any preservatives or additives.
Freezing: You can freeze this cookie dough for up to 6 months. If you want to make them into little balls or add it to ice cream as a tasty treat, add an additional tablespoon of flour so it holds its shape.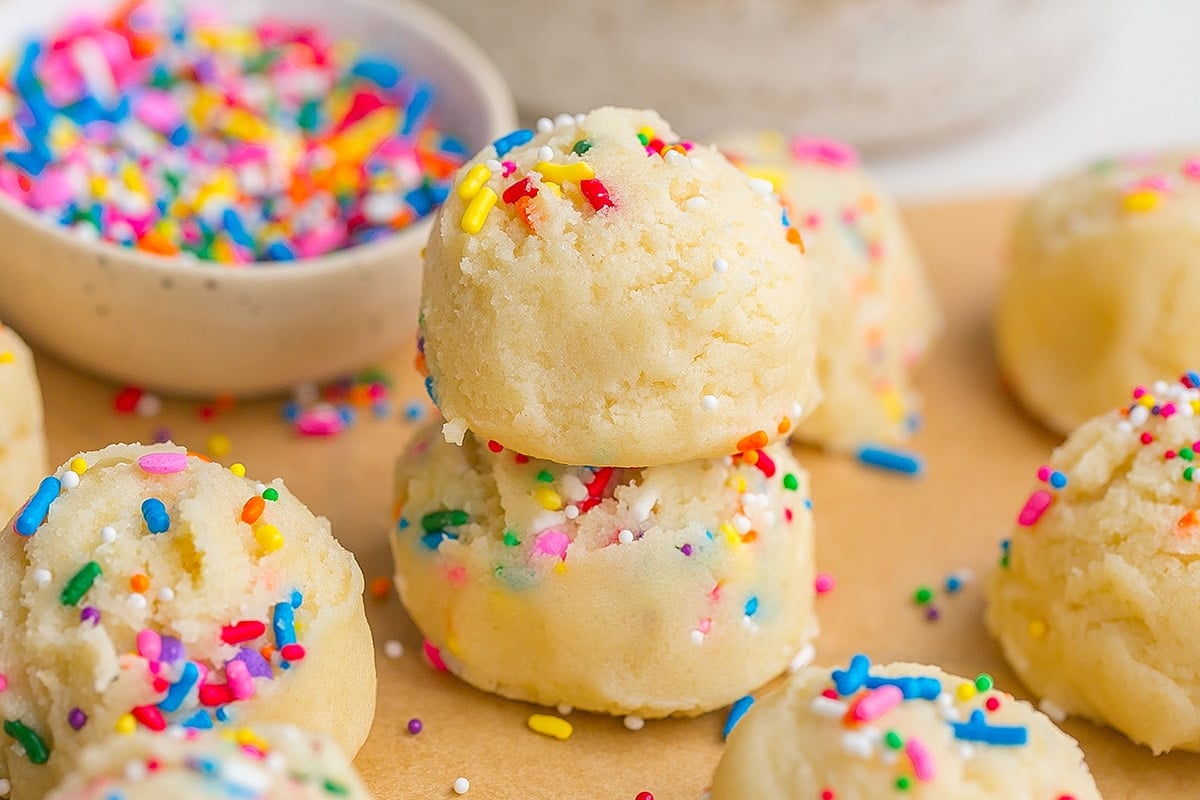 Frequently Asked Questions
Is raw cookie dough safe during pregnancy?
I am not a medical physician, so this is not medical advice, however since this is cookie dough is egg free and if you treat the flour, it should be okay to eat. I ate it while pregnant if that helps you out at all.
Is edible cookie dough vegan?
Some recipes for edible cookie dough may be, but since mine contains butter, it is not.
Can edible cookie dough be baked?
You can bake it all you want, but since there aren't eggs or leavening agent, it won't amount to much.
Is no-bake cookie dough healthy?
I am going out on a limb here and telling you no, edible cookie dough is not healthy by any standard, however I believe that you are fine eating anything in moderation.
Can I use this eggless cookie dough for ice cream?
You can totally use this cookie dough recipe for ice cream. Simply freeze little nuggets of the prepare cookie dough and fold them into your ice cream after they are set.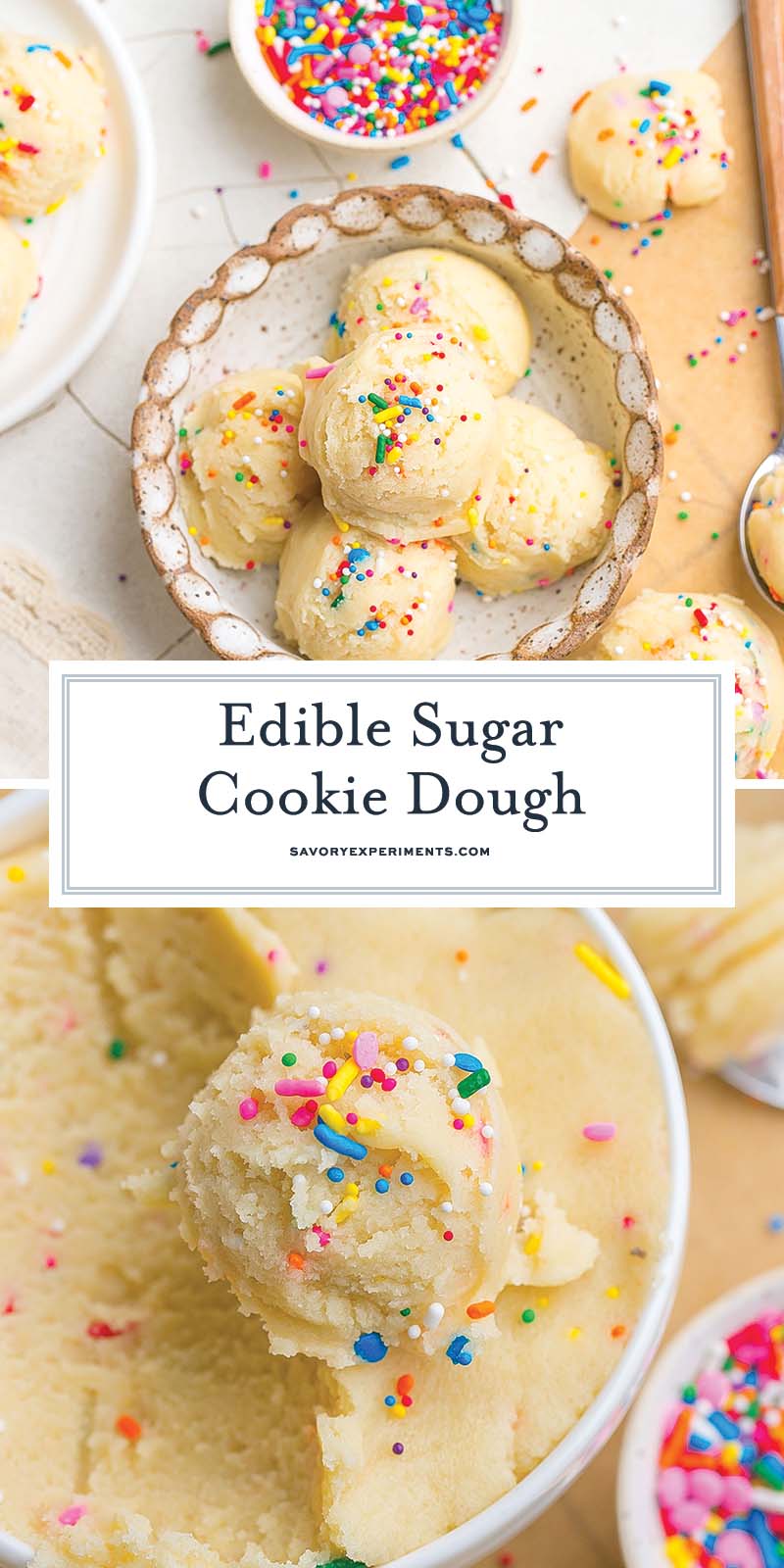 More Easy Cookie Dough Recipes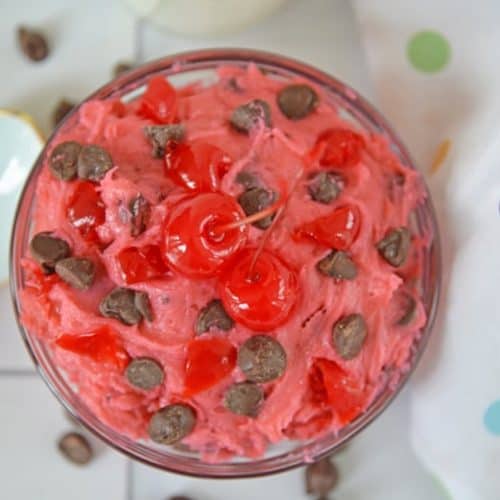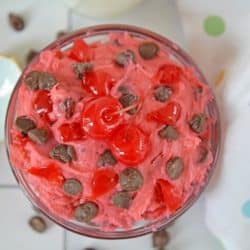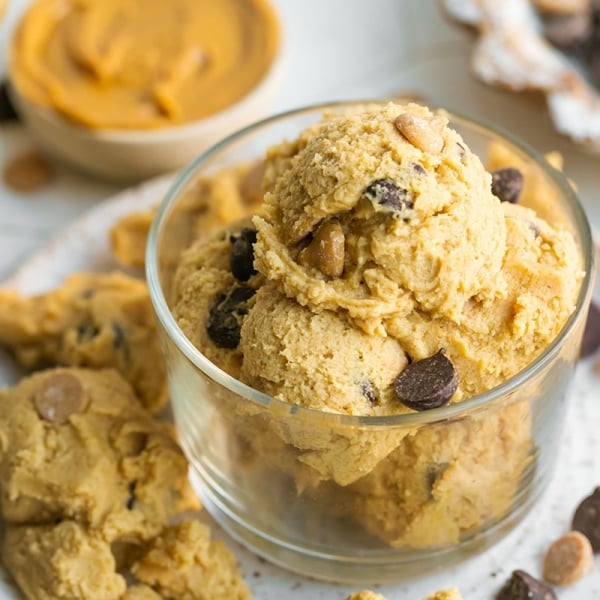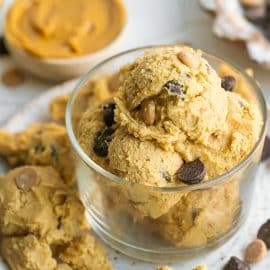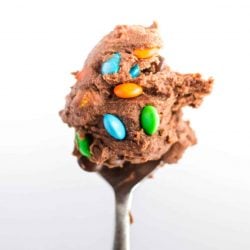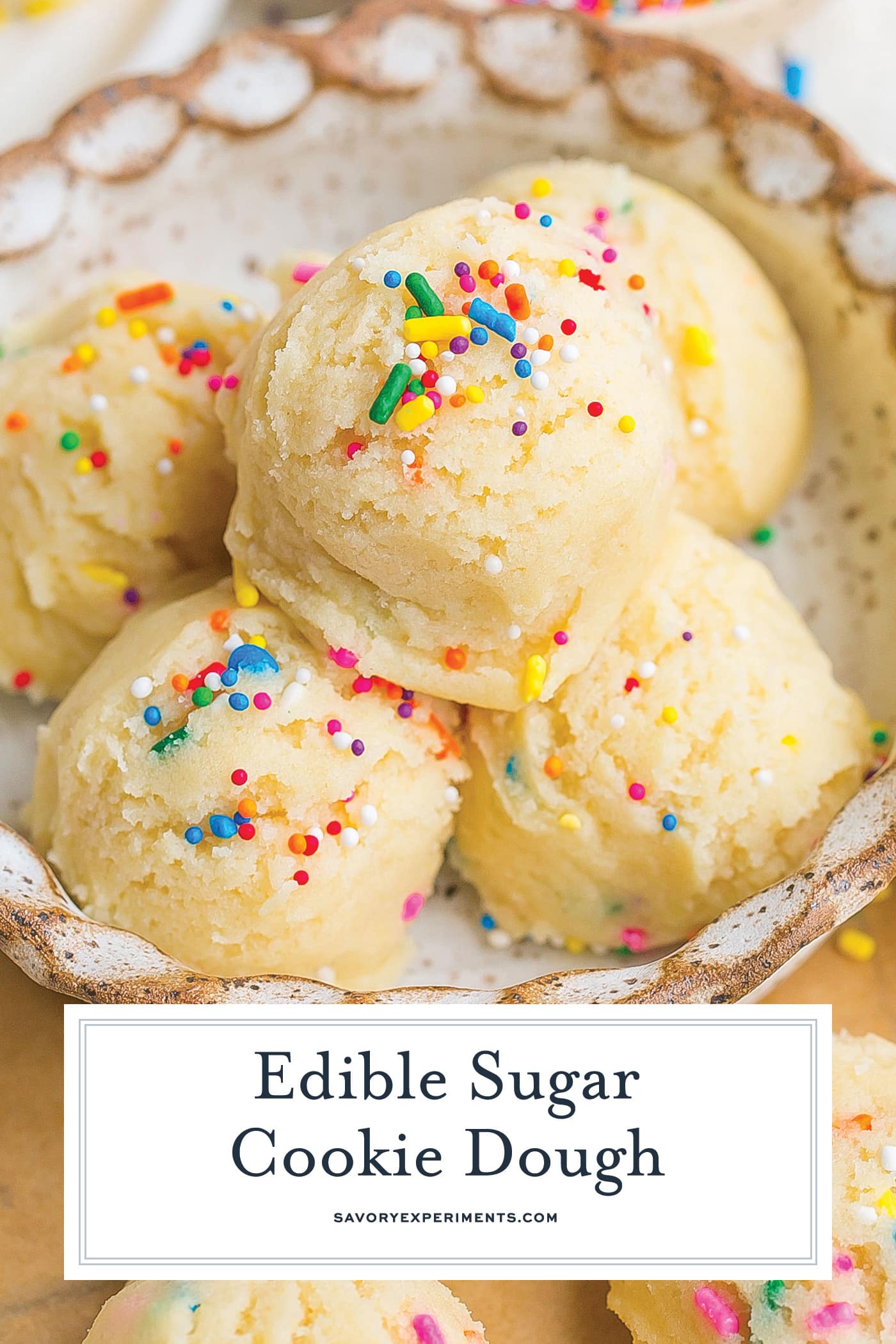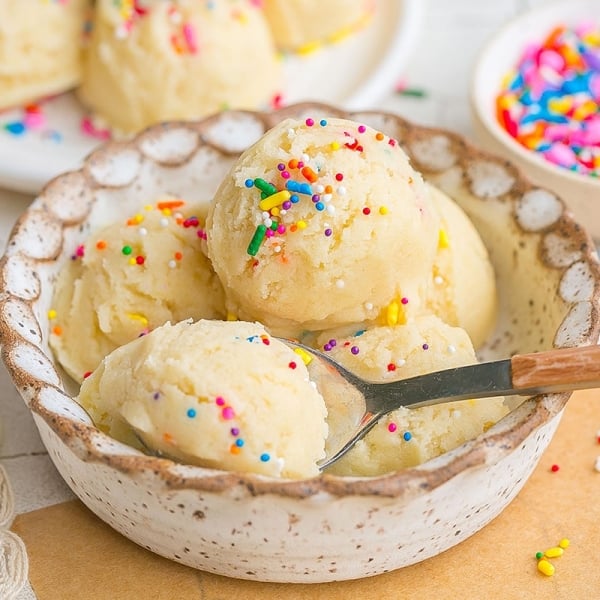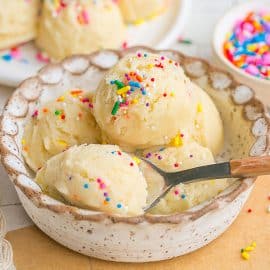 Single Serve Sugar Cookie Dough
Desserts for one don't get easier than this edible sugar cookie dough. With only a few ingredients, it's an easy dessert when you need a little pick me up!
Instructions
Combine unsalted butter, sugar, vanilla, flour, salt and what ever other add-ins you desired. Mix well.

If you've tried this recipe, make sure to come back and let us know how it was!
Notes
Raw flour can contain E. Coli, to prevent this, pasteurize it at home. Microwaving is the quickest way. Place raw flour into the microwave (flour alone, not the dough) and heat on high for 30-40 seconds. Microwaves are different and this is a small amount of flour. Watch carefully to make sure it doesn't burn.
You can also place in the oven on 350 for 5 minutes, but keep a watchful eye.
Nutrition
Calories:
410
kcal
,
Carbohydrates:
48
g
,
Protein:
3
g
,
Fat:
23
g
,
Saturated Fat:
14
g
,
Cholesterol:
60
mg
,
Sodium:
4
mg
,
Sugar:
24
g
,
Vitamin A:
700
IU
,
Iron:
1.5
mg