Eggless Sugar Cookie Dough Recipe
This Edible Sugar Cookie Dough recipe is the perfect quick and easy dessert! Cookie dough that you're allowed to eat?
What's not to love!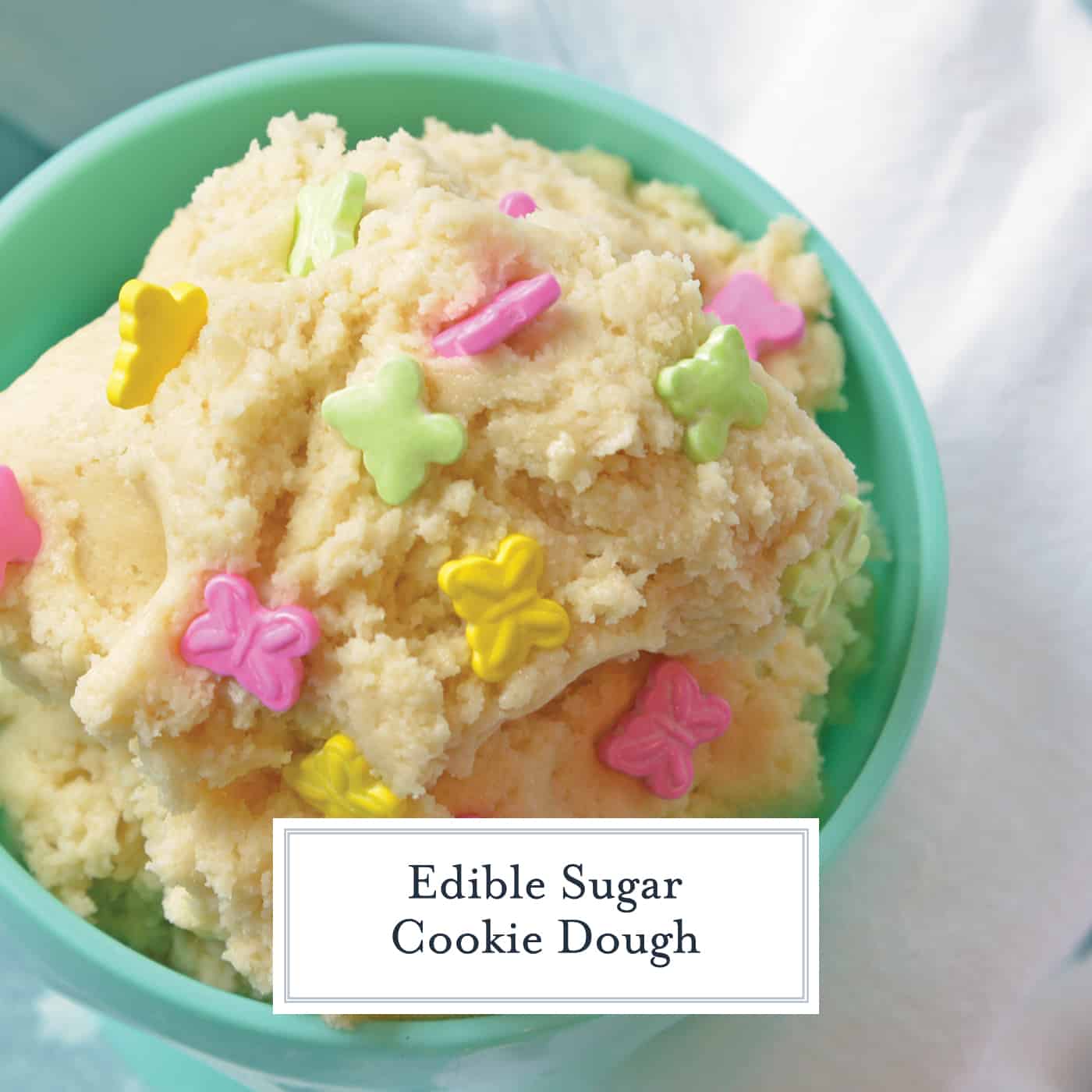 Desserts for one don't get easier than this edible sugar cookie dough. With only a few ingredients, it's a quick and easy dessert when you need a little pick me up!
When I was growing up, making cookies with mom was my favorite. It didn't matter what kind of cookies we made: chocolate chip cookies, peanut butter cookies, cut out cookies.
Not only was it a bonding experience for the two of us, but something about the smell of fresh baked cookies right out of the oven was heartwarming to me.
But do you want to know the best part of making cookies? Sneaking some (or, if I'm being honest, more than some) of the cookie dough!
We're told over and over again how we shouldn't eat raw dough; but it is just OH so good!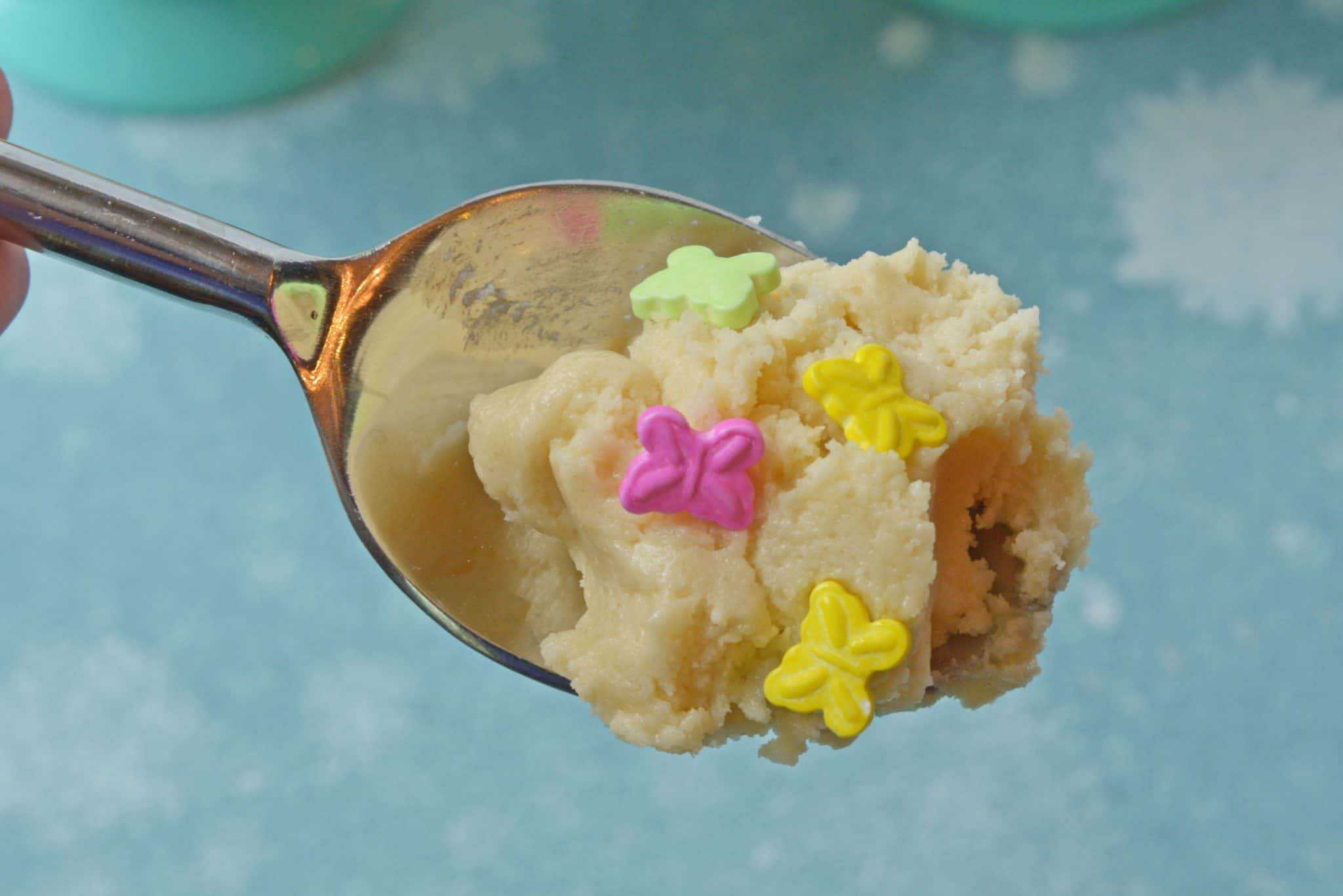 So, in heeding the warning labels on the packages of cookie dough, I decided to come up with my own eggless sugar cookie dough recipe.
It has all the same flavor you love in the packaged dough, just without the eggs, making it safer to eat.
DISCLAIMER: Do not eat raw eggs or raw flour… see notes for heat treated flour.
Of course, you can make a big batch of dough to snack on whenever you'd like. But if you're like me and have no self control when delicious treats are around, this single serve recipe is perfect for you.
You can add different toppings to this sugar cookie dough to make it more fun. Rainbow sprinkles or even chocolate chips would add a nice touch.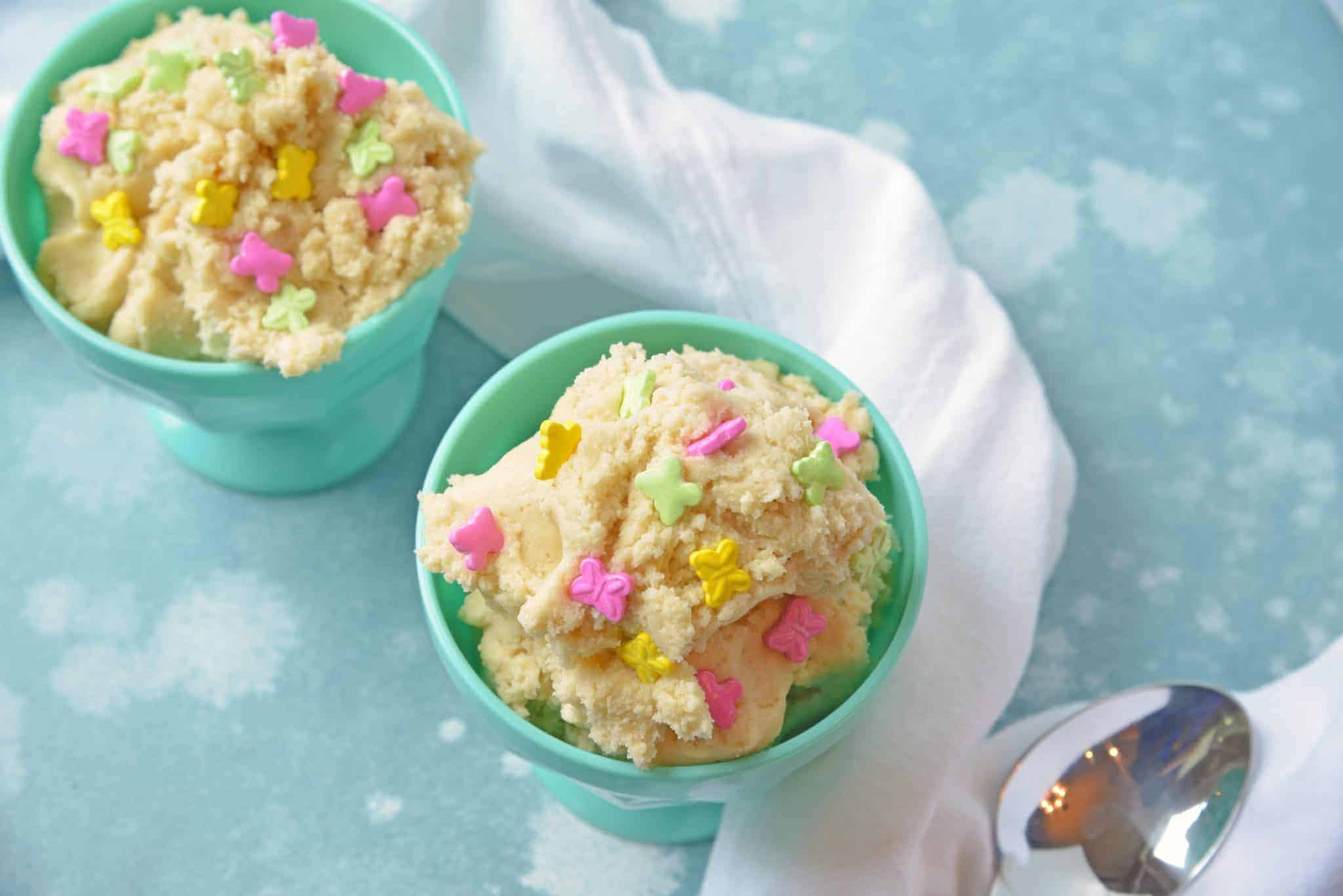 Eating cookie dough by the spoon is my personal favorite, but you could also add chunks of it into your favorite flavor of ice cream for a real treat.
You could even cover very small scoops of dough in melted chocolate and refrigerate for an hour – like those cookie dough bites from the movie theater. There are no limitations to what you can do!
Raw flour can contain E. Coli, to prevent this, pasteurize it at home. Microwaving is the quickest way. Place raw flour into the microwave (flour alone, not the dough) and heat on high for 20- 45 seconds.


Please be mindful that all microwaves are different. Watch the flour closely so it doesn't burn. You can also put it in the oven on 350 for 5ish minutes.
The next time you are craving something sweet, but only want a little something, this single serve sugar cookie dough is for you! Cookie dough that you're allowed to eat? Yes, please!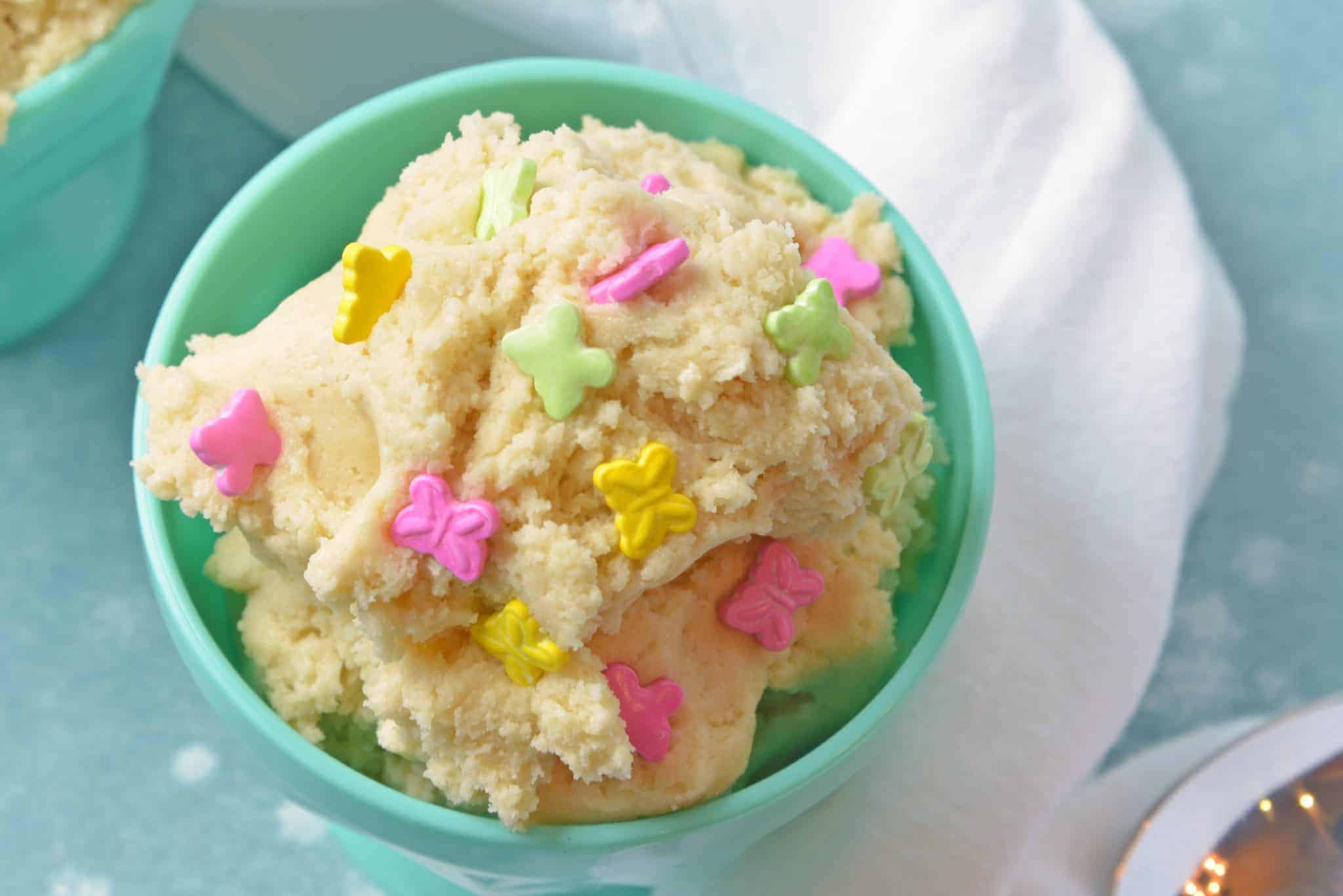 If you liked this eggless sugar cookie dough recipe, you will also love these easy cookie dough recipes:
Tools for making edible sugar cookie dough:
Mixing Bowls– make sure to check out my article on Using the Right Mixing Bowl, you'd be surprised how many people aren't!
Measuring Spoons – Every kitchen needs them, might as well have cut ones!
Spatulas– we all need a variety of spatulas from hard to soft and small to large!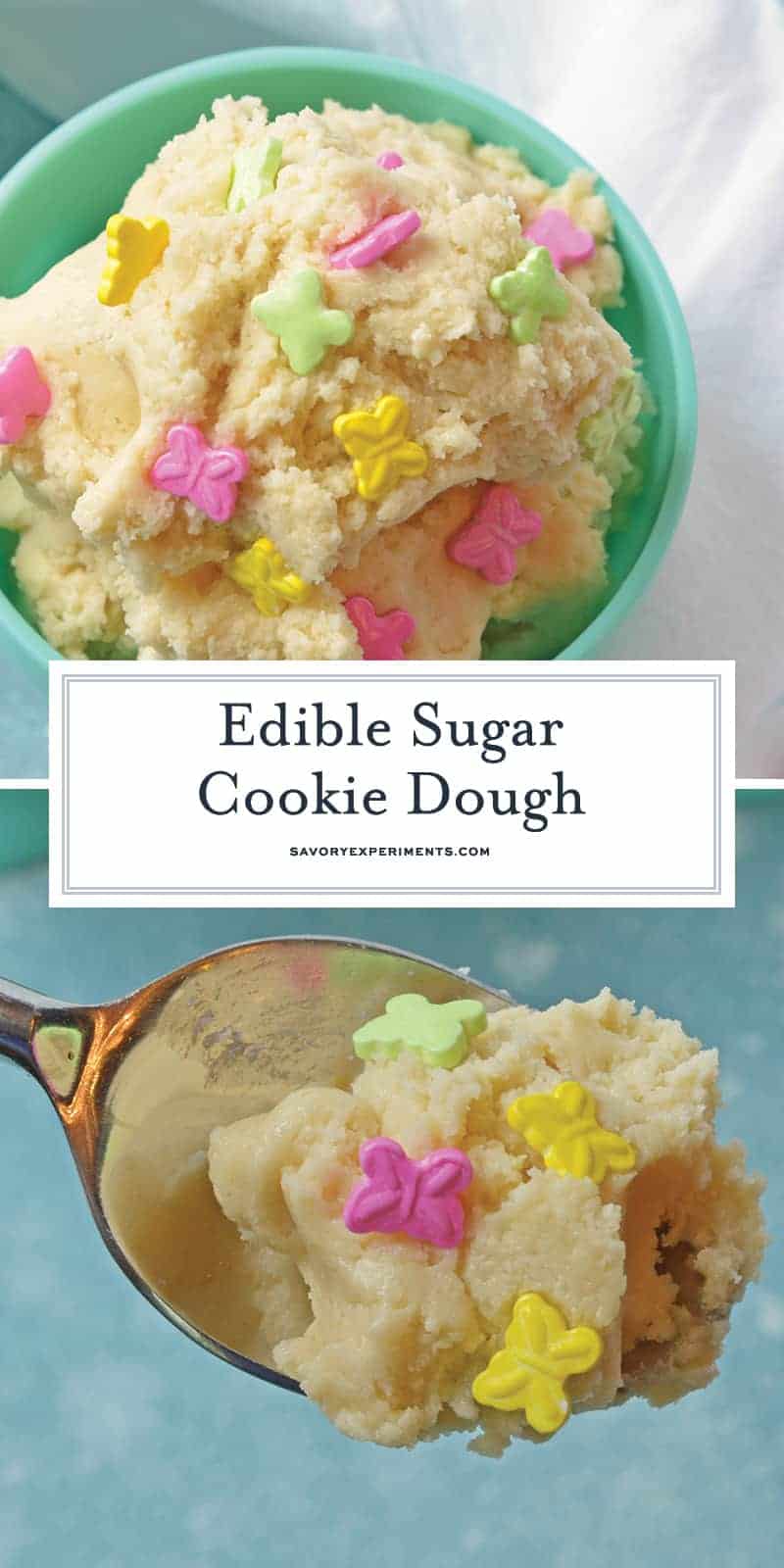 Questions you might have about how to make single serving cookie dough:
Is raw cookie dough safe during pregnancy? I am not a medical physician, so this is not medical advice, however since this is cookie dough is egg free and if you treat the flour, it should be okay to eat. I ate it while pregnant if that helps you out at all.
Is edible cookie dough vegan? Some recipes for edible cookie dough may be, but since mine contains butter, it is not.
Can edible cookie dough be baked? You can bake it all you want, but since there aren't eggs or leviners, it won't amount to much.
Does raw cookie dough need to be refrigerated? Yes, please refrigerate until ready to eat. Keep your cookie dough covered.
How to make edible sugar cookie dough without butter? My single serving cookie dough recipe calls for butter. I suppose you can use a vegan butter, but quite frankly, it is a pinnable of the recipe and I am not sure how good it will be without it.
Can you freeze eggless cookie dough? This is more of a cookie dough truffle and the answer is yes, but you might need to add slightly more flour in order to roll them into balls.
Roll them into balls and then place them in an airtight plastic bag. They should be good for up to 6 months. Check out more information on how to freeze food properly HERE!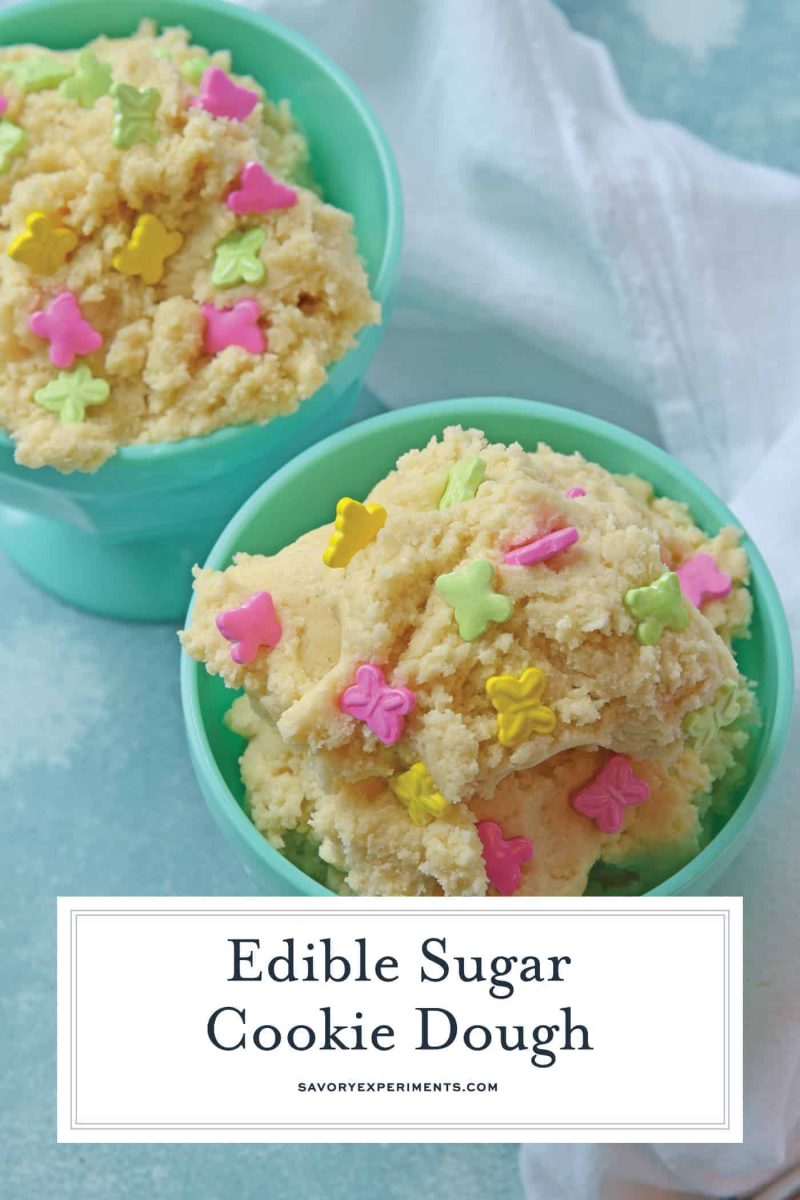 My cookie dough is soupy, why? I'm going out on a limb to say you melted the butter. Melted butter is the number one cause of yucky cookie dough.
It changes the texture and consistency and forces you to add more flour to avoid cookie dough soup, only this makes the texture gritty and well, flour-y.
What is the difference between vanilla extract and vanilla flavoring? Pure vanilla extract comes from pure vanilla beans whereas vanilla flavoring is just flavored water.
Vanilla extract is typically much more expensive because vanilla pods are pricey. You can use either in this recipe. I personally think vanilla extract tastes much better and since it is the basically the only thing giving this recipe flavor, you don't want to skimp.
I don't have brown sugar, what do I do? You can use all white sugar, but it will be more like a sugar cookie dough, not a bad thing, but not chocolate chip.
Can I use this eggless cookie dough for ice cream? You can totally use this cookie dough recipe for ice cream. Simply freeze little nuggets of the prepare cookie dough and fold them into your ice cream after they are set.
How long does edible cookie dough last? Mine cookie dough recipe doesn't contain any preservatives or additives, so it doesn't last long, but since it also doesn't make much, I'm not sure how much will be left over. I'd say about 1-2 days, covered, in the fridge.
Is no-bake cookie dough healthy? I am going out on a limb here and telling you no, edible cookie dough is not healthy by any standard, however I beleive that you are fine eating anything in moderation.
If you are looking for even more dessert recipes, snag a copy of my Easy Dessert Recipes Mini-Cookbook. Available here for only $0.99, these easy dessert recipes are ready with less than 30 minutes hands-on time and are sure to please all your family friends. From no-bake to make-ahead, you are sure to find something you love!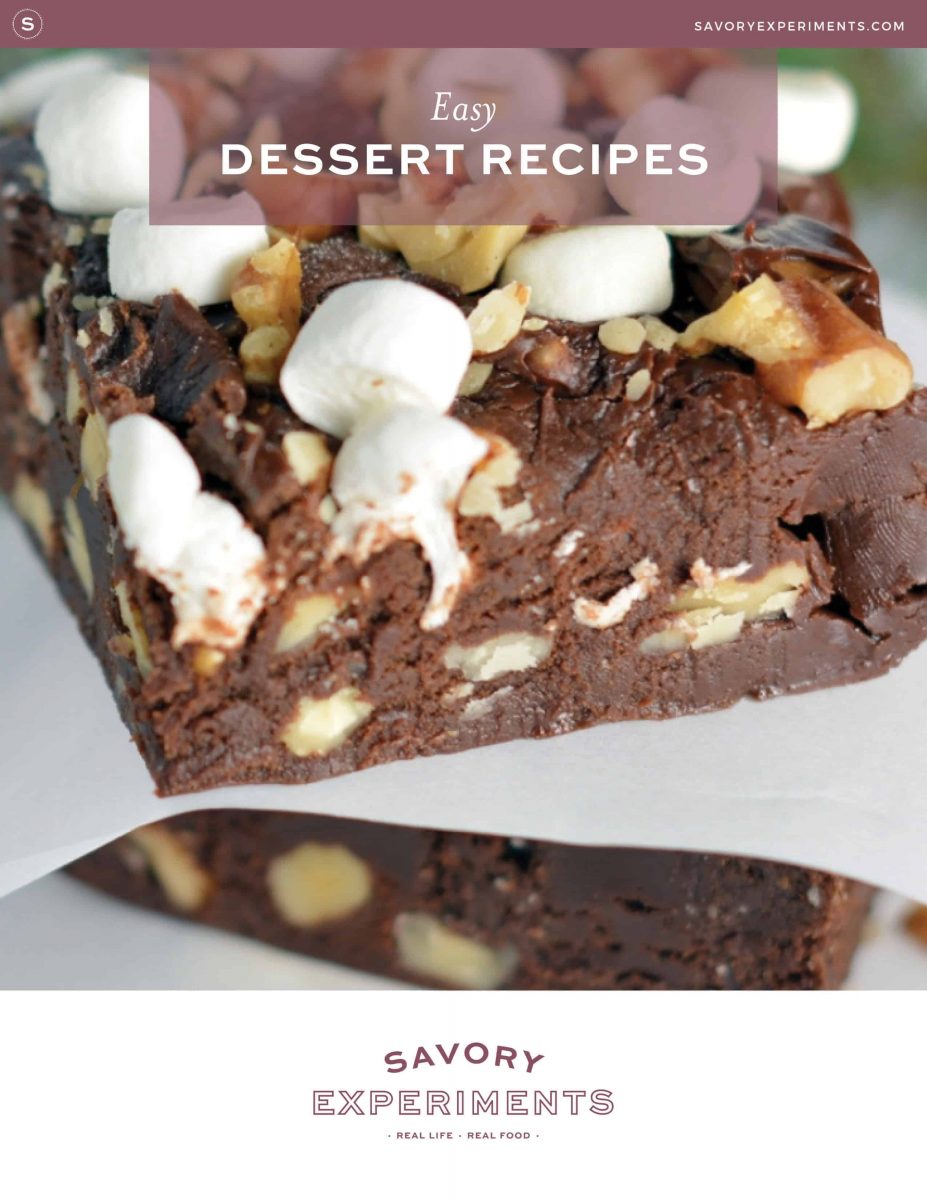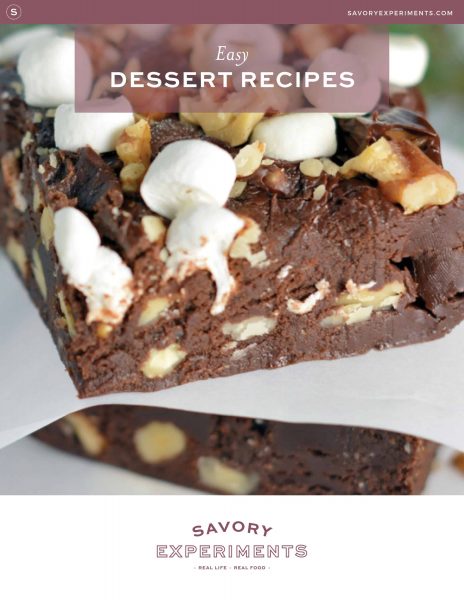 CONNECT WITH SAVORY EXPERIMENTS!

Be sure to follow me on social media, so you never miss a post!

Facebook | Twitter | Youtube
Pinterest | Instagram

Get our FREE 8 Day E-Course on How to Be a Better Home Cook. Sign up HERE!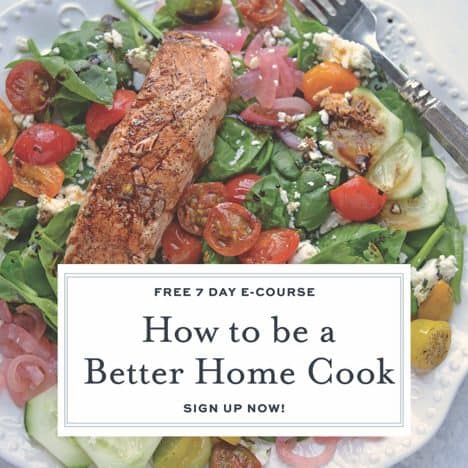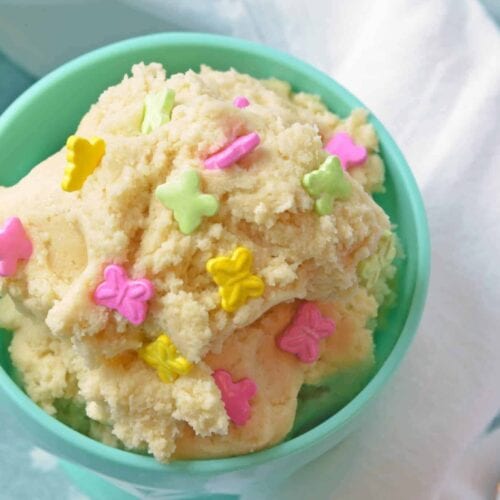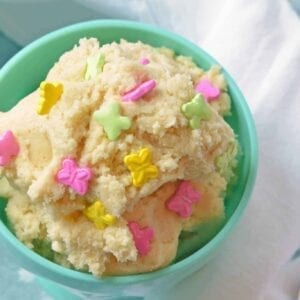 Single Serve Sugar Cookie Dough
Desserts for one don't get easier than this edible sugar cookie dough. With only a few ingredients, it's an easy dessert when you need a little pick me up!
Keyword:
eggless cookie dough, eggless sugar cookie dough, single serving cookie dough
Ingredients
2

tablespoons

unsalted butter

, softened

2

tablespoons

sugar

1/4

teaspoon

vanilla

1/4

cup

flour*

Pinch

salt

Add-ins

, optional (chocolate chips, sprinkles, Jimmies, crushed candy)
Instructions
Combine unsalted butter, sugar, vanilla, flour, salt and what ever other add-ins you desired. Mix well.

If you've tried this recipe, make sure to come back and let us know how it was!
Recipe Notes
Raw flour can contain E. Coli, to prevent this, pasteurize it at home. Microwaving is the quickest way. Place raw flour into the microwave (flour alone, not the dough) and heat on high for 30-40 seconds.  Microwaves are different and this is a small amount of flour. Watch carefully to make sure it doesn't burn. 
You can also place in the oven on 350 for 5 minutes, but keep a watchful eye. 
Nutrition Facts
Single Serve Sugar Cookie Dough
Amount Per Serving
Calories 410
Calories from Fat 207
% Daily Value*
Fat 23g35%
Cholesterol 60mg20%
Sodium 4mg0%
Carbohydrates 48g16%
Protein 3g6%
Vitamin A 700IU14%
Iron 1.5mg8%
* Percent Daily Values are based on a 2000 calorie diet.