Brownie brittle is a favorite snack that is similar to the crisp and crunchy edge of a chocolate brownie. This homemade version is topped with chocolate chips and nuts, but can be easily customized.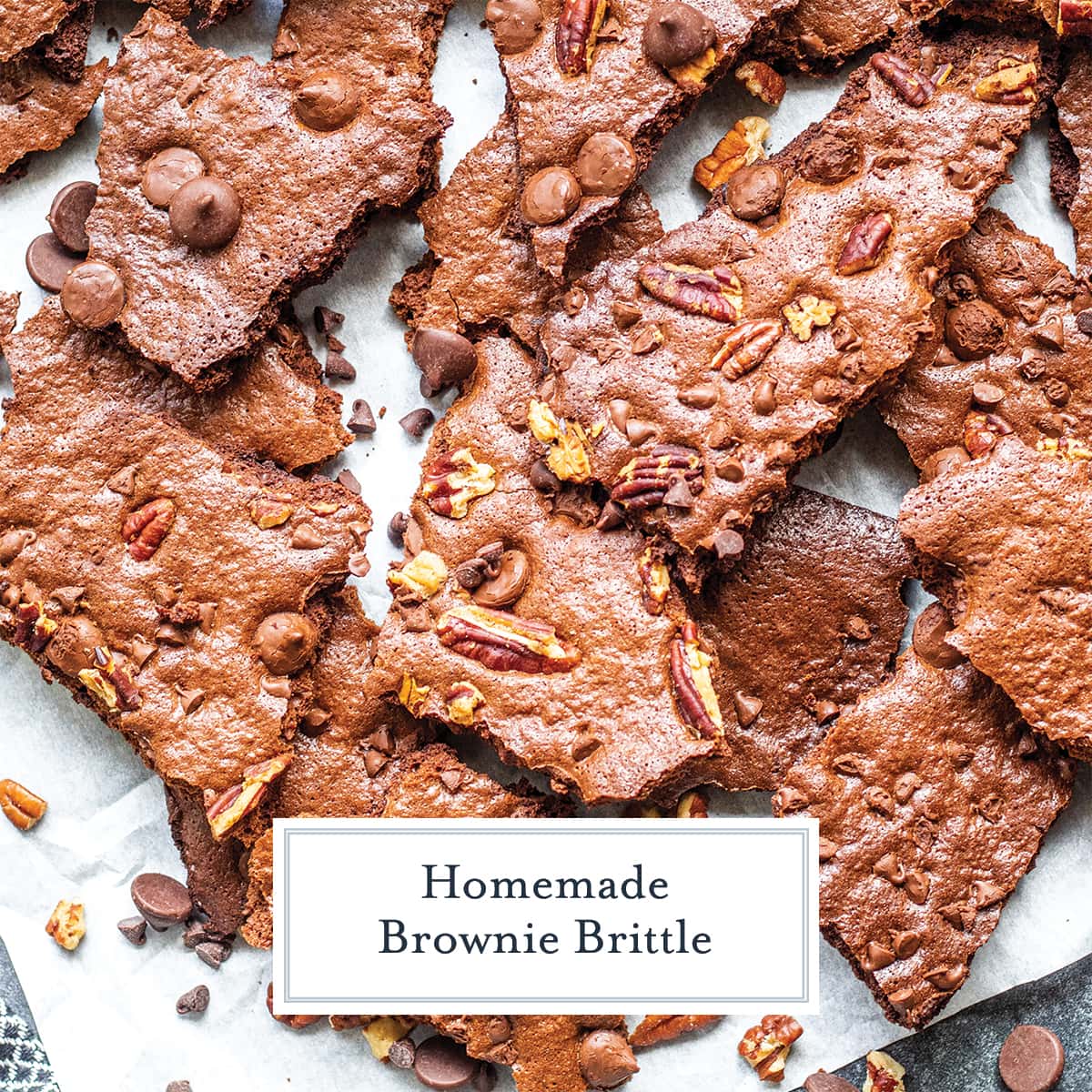 Desserts are some of my favorite recipes to make and eat! My kids love helping out in the kitchen, but especially if desserts are involved. This Homemade Brownie Brittle is always a hit with my family and I love how simple it is to make.
What is Brownie Brittle?
Brownie brittle is a popular store-bought treat that comes in a variety of flavors like chocolate chip, salted caramel and chocolate almond. The most popular brand is Sheila G's and tastes like the crispy edges of a traditional brownie.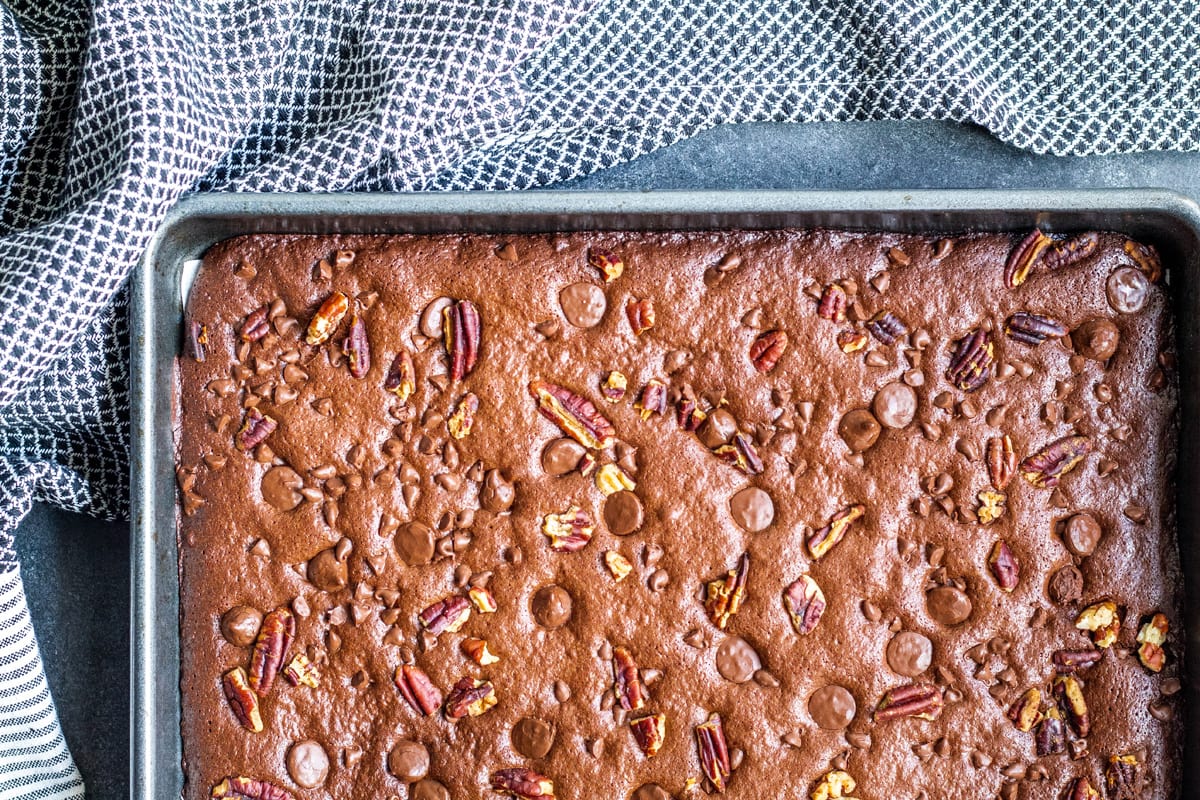 It is very crisp, crunchy and chocolatey. I think the best comparison is the taste and texture of crispy edges on a traditional brownie. In a way it is almost like a brownie chip!
It mimics other types of brittle, like peanut brittle and sunflower seed brittle, as it is sweet, thin and crispy.
How to Make Brownie Brittle
Preheat your oven to 350 degrees and line a large 11×17 inch cookie sheet with parchment paper. This is important to line the cookie sheet so the brownie brittle can be removed easily once baked.
Add brown sugar, white sugar, chocolate of choice , and milk to a large microwavable bowl. Microwave for 1-2 minutes until chocolate is melted and smooth. Stir to combine and set aside to cool.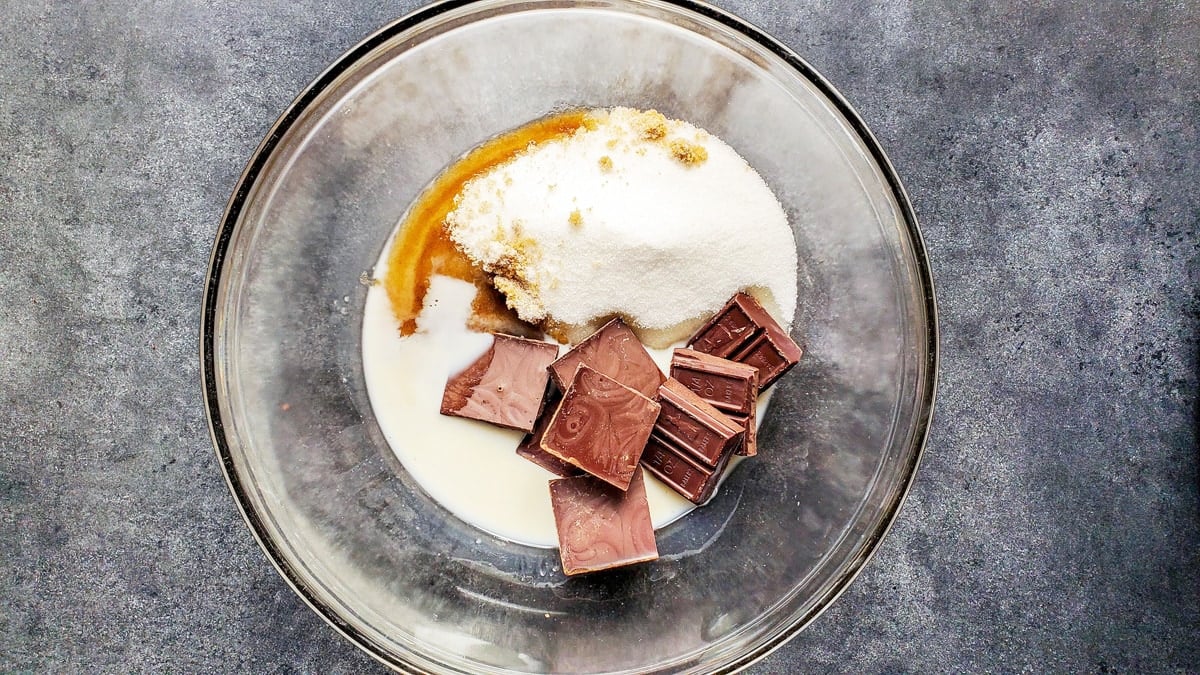 In a separate large prep bowl add flour, unsweetened cocoa powder, baking powder and salt and whisk or sift. Set aside.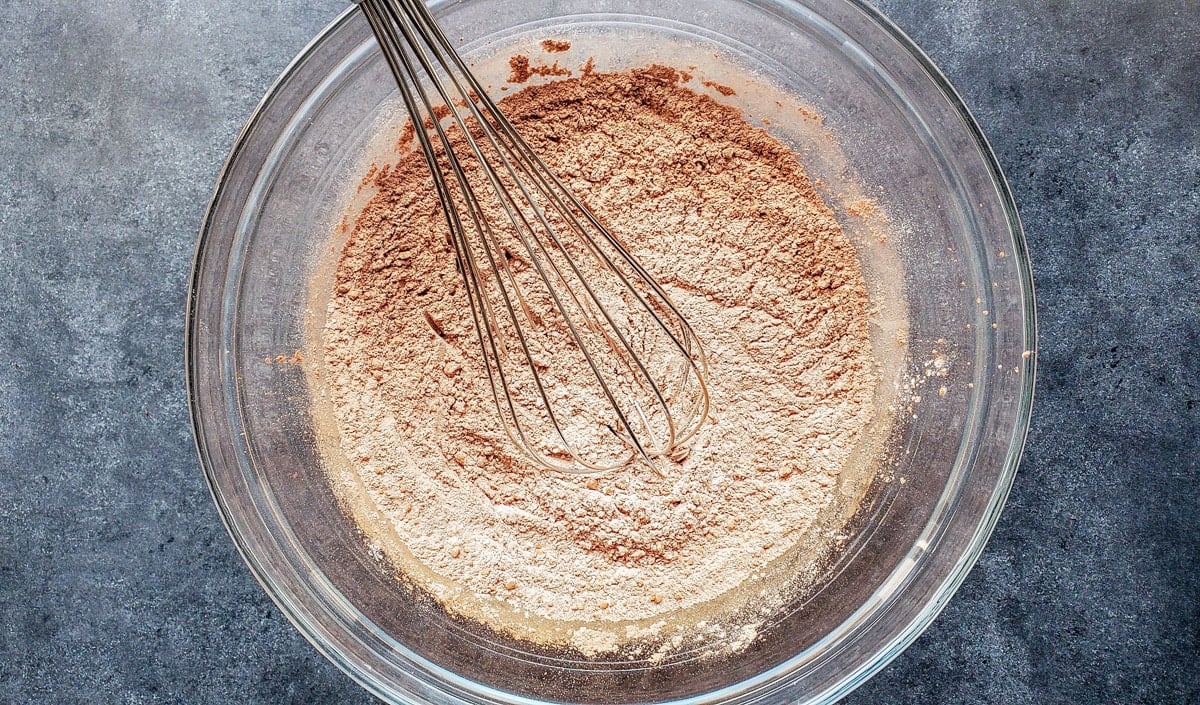 Once cooled, add both eggs, oil, and vanilla extract to the melted sugar and chocolate. Stir until well combined. Make sure to stir for at least 1-2 minutes to ensure the eggs and oil are fully combined.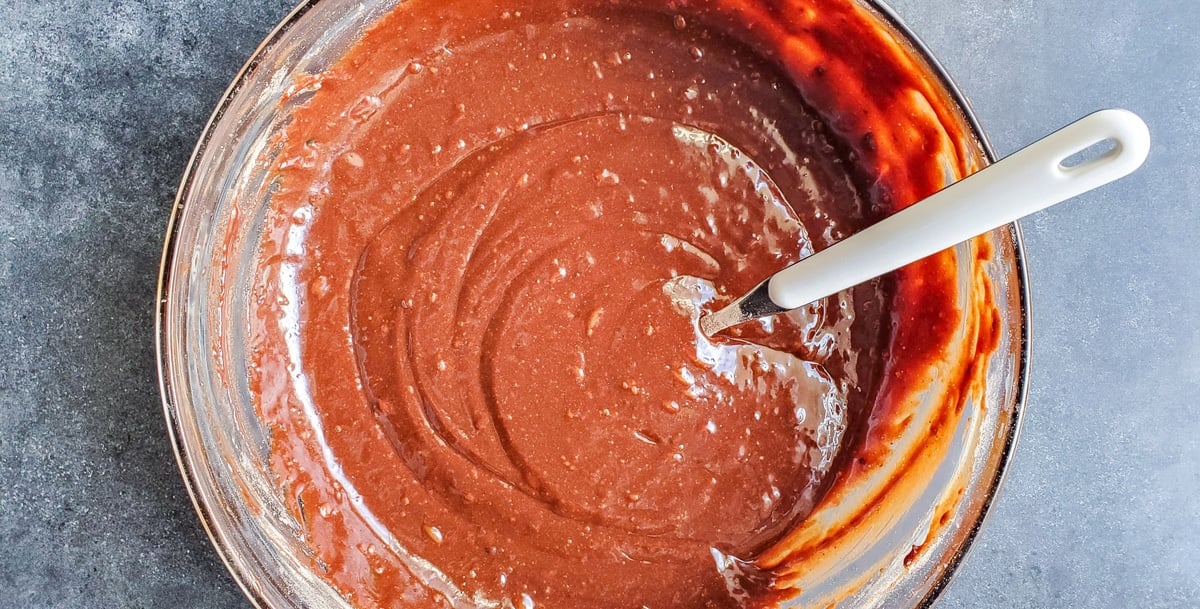 Fold the sifted dry ingredients into the wet ingredients and stir until just combined and no flour remains visible. Do not over stir the batter.
Baking Brownie Brittle
Pour the brownie batter onto the cookie sheet and smooth into an even, thin layer. Top with chocolate chips and nuts if using. If using a smaller cookie sheet you will need to separate the batter into two separate sheets.
Bake on the center rack for 30 to 40 minutes or until the top is firm. Rotate the pan halfway through.
Once baked, remove from over and let cool. Once cooled, break or cut the brownie brittle apart and enjoy.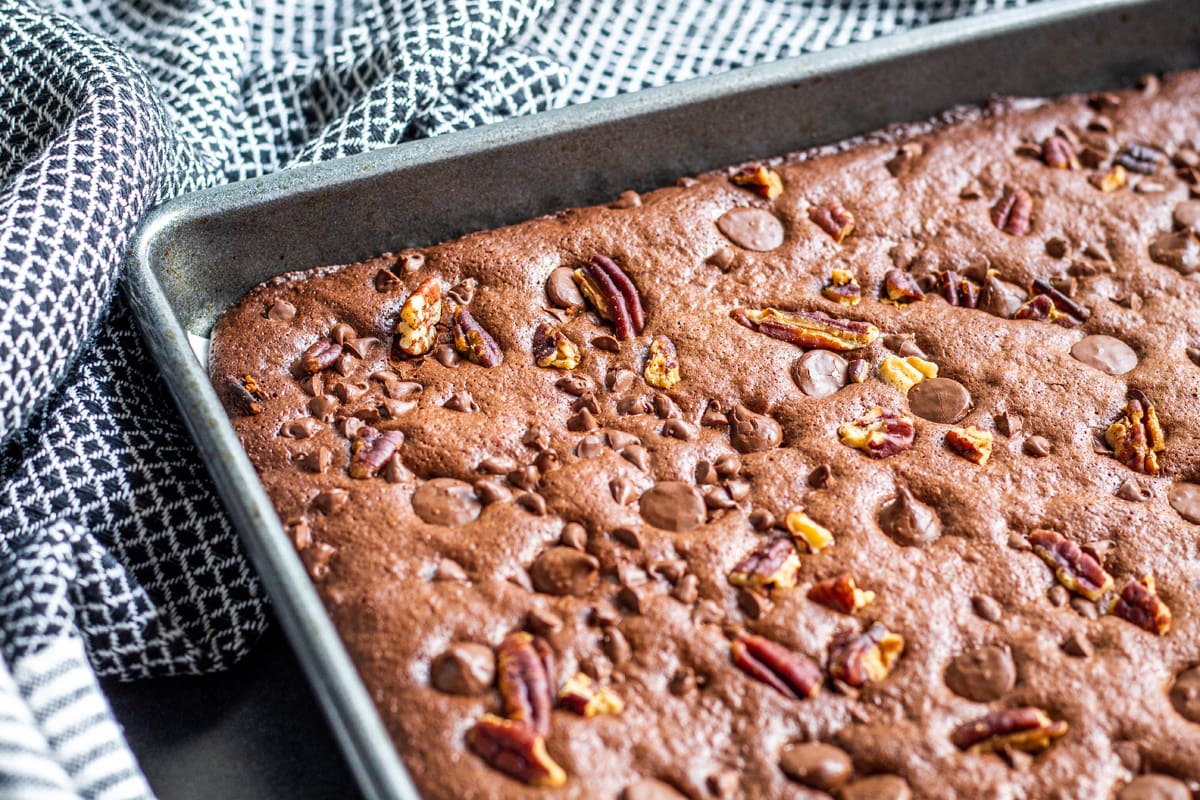 Tips & Suggestions
Cookie Sheet Size: I like to use one large cookie sheet for this recipe and spread the brownie batter over the entire surface from edge to edge.
If using a smaller sheet I recommend spreading the batter between two separate sheets so the brownie brittle is not too thick. You want to aim for about ¼ of an inch thick and no more than ½ an inch thick.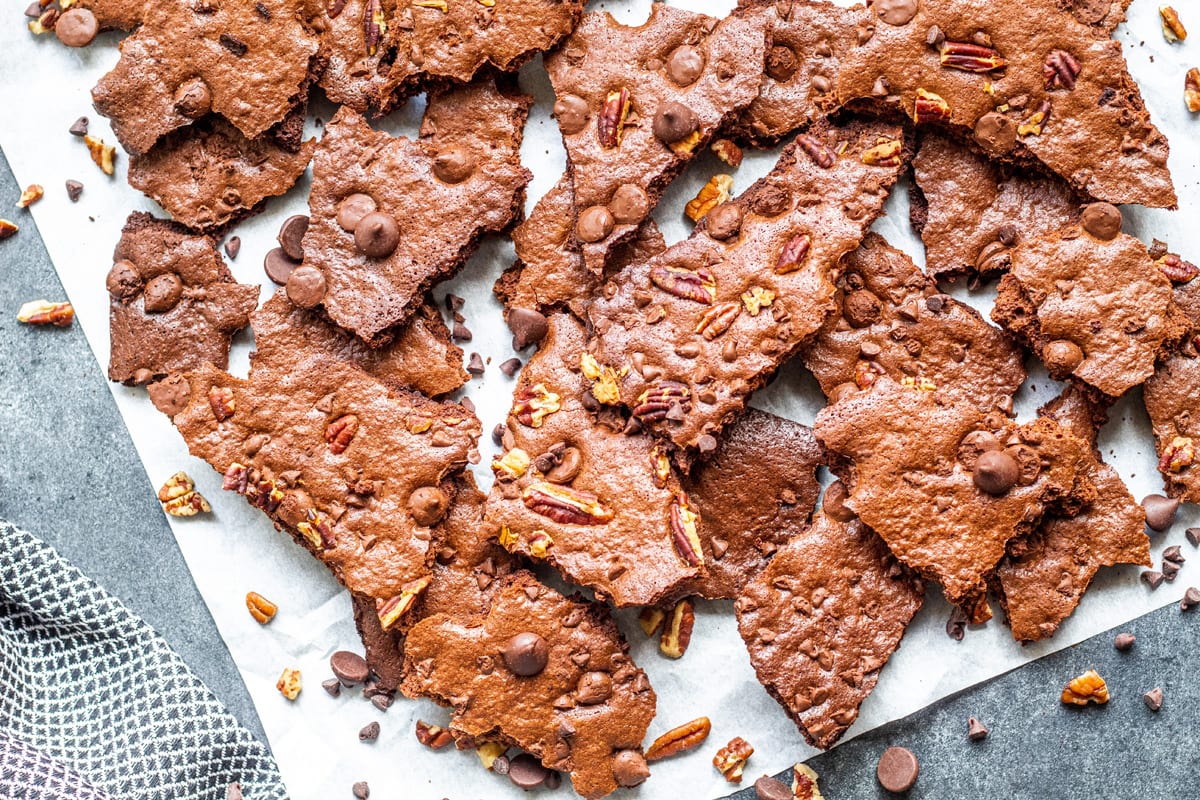 Bake Time: Be sure to watch the brownie brittle in the oven to ensure it does not burn. You want the top to be firm, but the edges should not be burnt. Depending on your oven it should take between 30 and 40 minutes until it reaches the perfect crisp texture.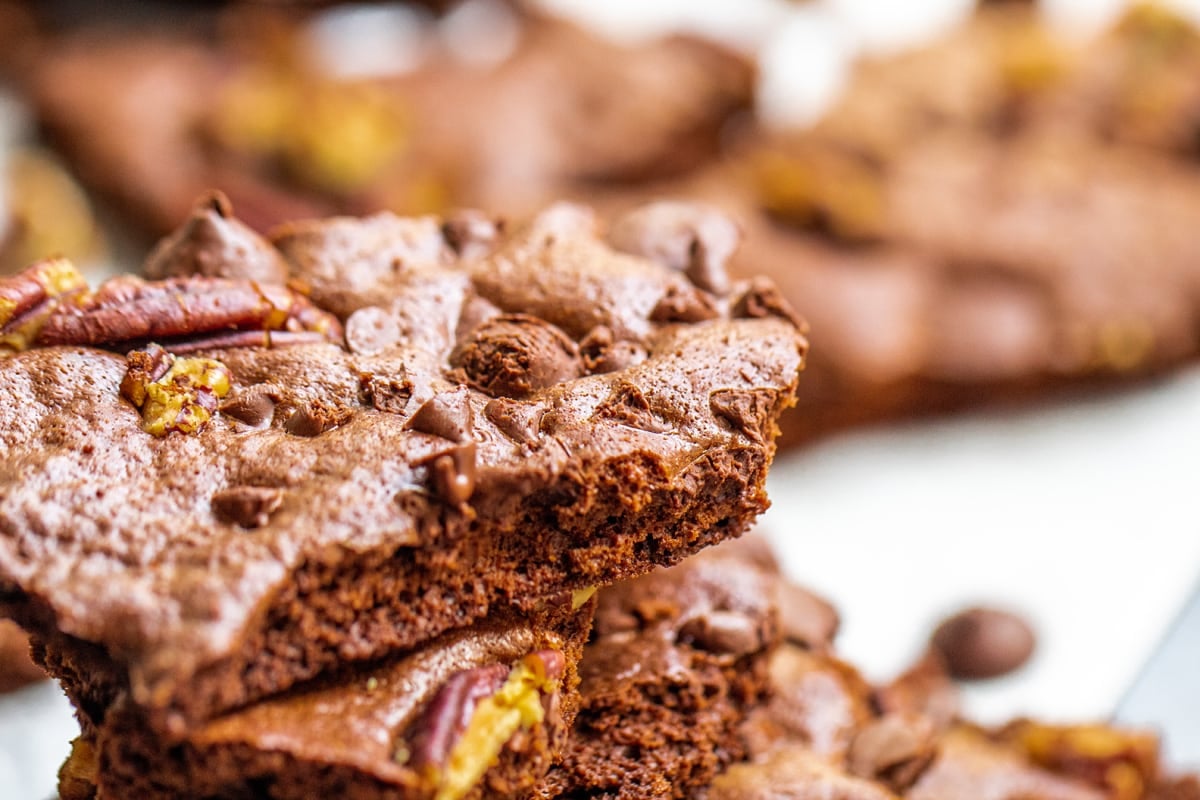 Flavor Variations
Homemade brownie brittle can be customized in a number of ways. I stuck with a pretty basic topper combination of chocolate chips and crushed pecans. You could top yours with a different type of nuts including almonds, pistachios, or walnuts.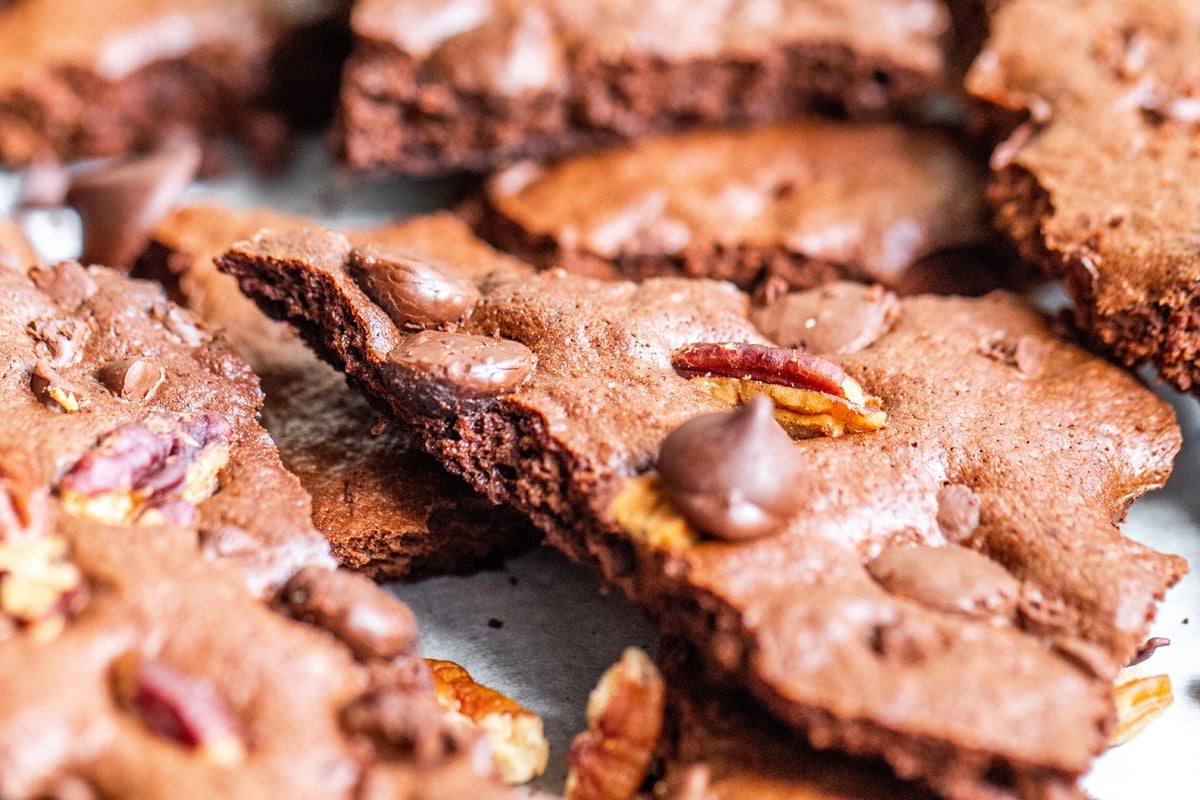 Different types of chocolate chips can be used as well like white chocolate chips, dark chocolate chips or milk chocolate chips
Other fun topping ideas include:
crushed cookies (like Oreos)
M&Ms
coarse sea salt
drizzle over melted chocolate or caramel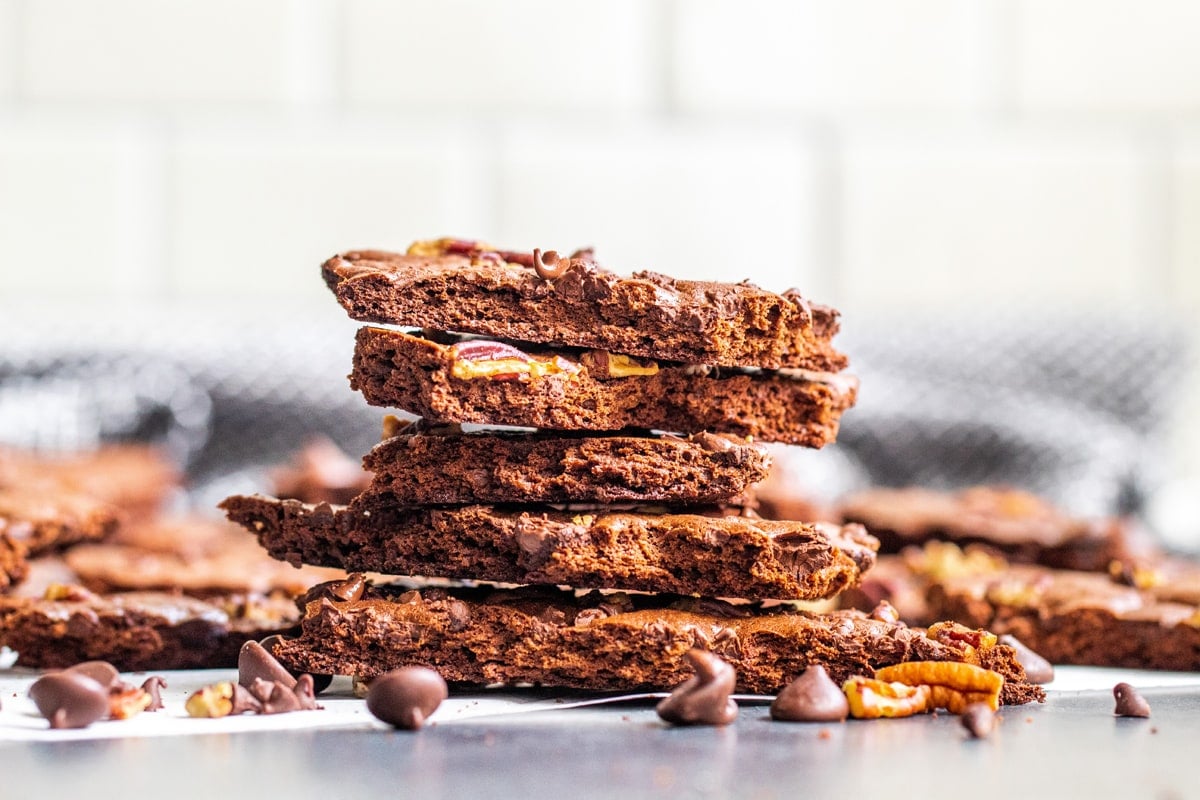 Freezing and Storage
Store leftover brownie brittle at room temperature for up to 1 week in an airtight container. No need to warm it up, just grab a piece and enjoy at room temperature.
The finished brownie brittle can be frozen in an airtight container for up to 3 months. When ready to enjoy let thaw.