Fudgy brownies topped with gooey marshmallows and a layer of graham cracker crumbs, these S'mores Brownies are the ultimate decadent dessert!
These are not your average brownies. S'more Brownies throw a twist on the old favorite by turning a classic campfire treat into a rich, sticky dessert that you can enjoy all year round.
The brownies are baked with chocolate chips, covered with a layer of crunchy graham crackers and then the top of the brownies have sticky, sweet mini marshmallows. Gooey and finger-lickin' good.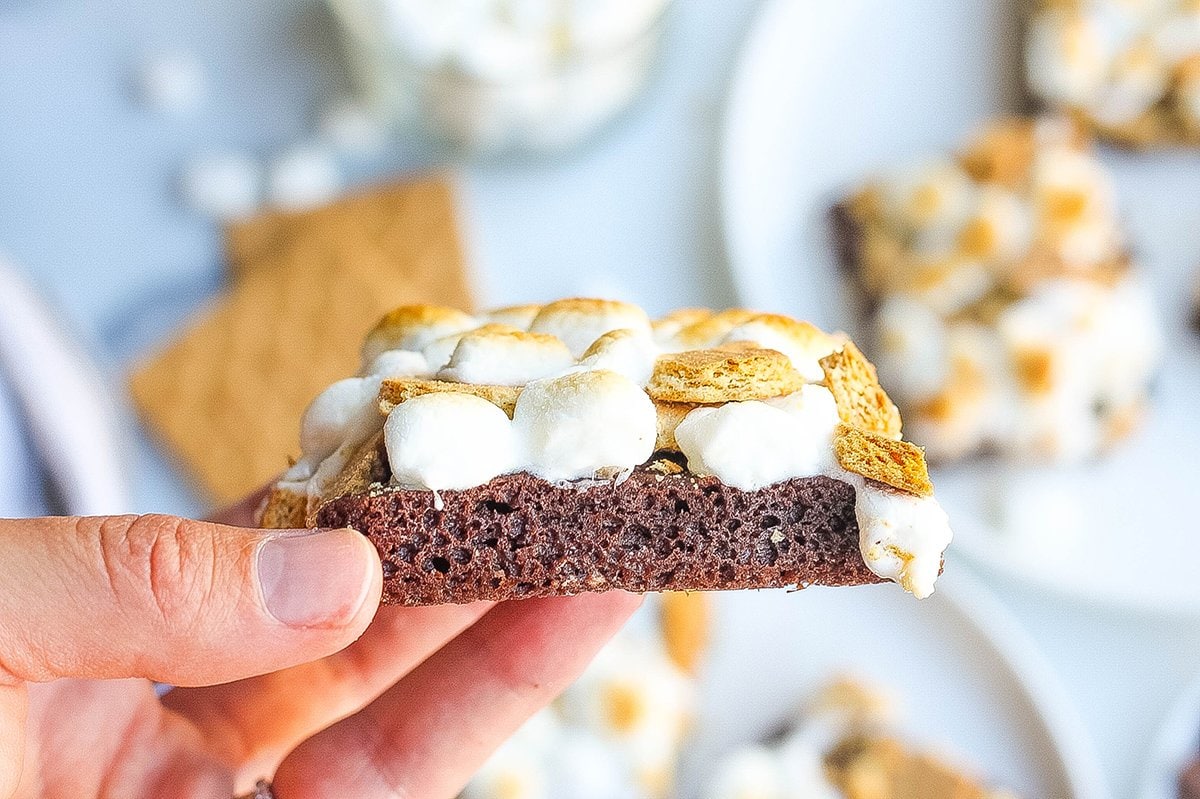 Toasted Marshmallow
Now let's talk about campfire marshmallows. I like to believe there are two types of people in this world, those who char, I'm talking BURN their marshmallows, and those who just like enough heat to make them sticky and gooey. A light golden brown.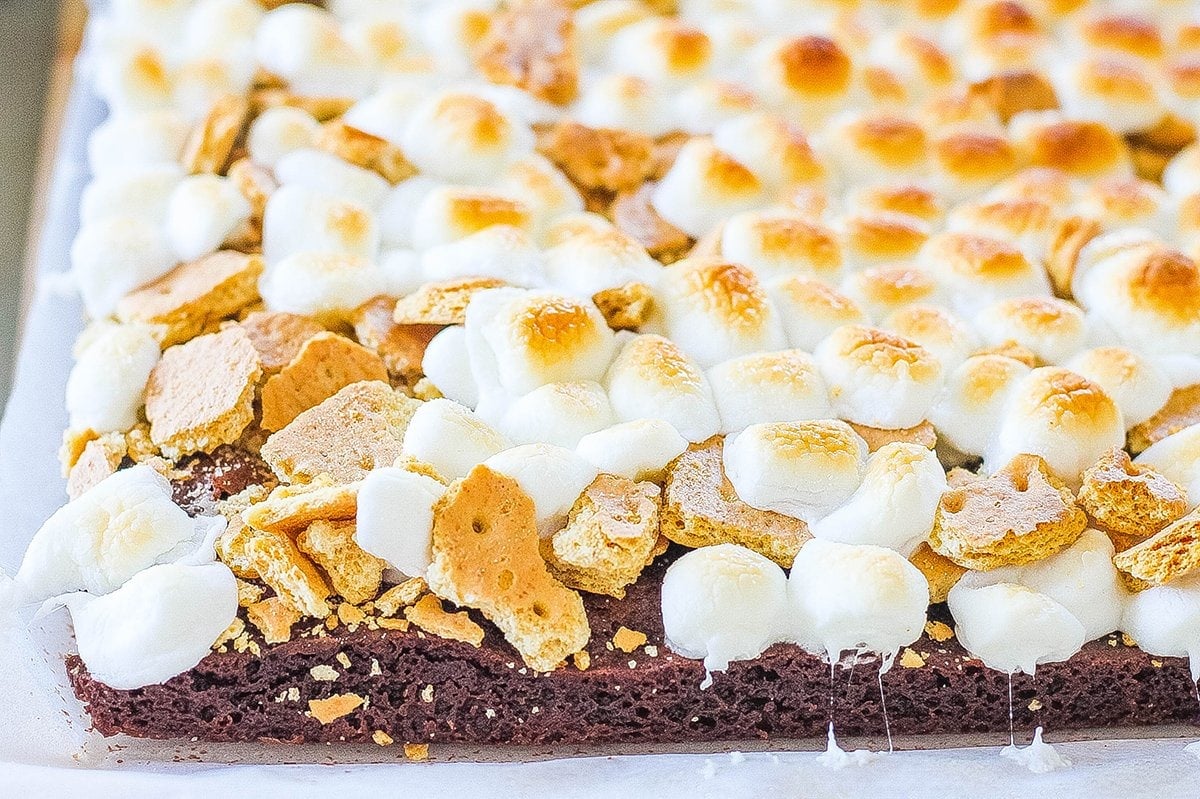 Now, as you can see, I'm not the char type who literally lights my marshmallow on fire, lets it burn and then and only blows it out when it becomes apparent it may melt off my skewer. I like mine to be a little more golden brown. You are free to brown your marshmallows however you see fit.
What are S'mores Brownies?
Have you ever wondered where s'mores originated? I have; I think about silly things like this while driving.
According to the internet (which is always correct), the name originates from "some more" and they were developed by the Girl Scouts of America in the early 1900's, while first being published in their cookbook in 1927. However, let's get real, just because you were the first to publish the recipe, doesn't mean you were the genius behind this melty sandwich of awesomeness.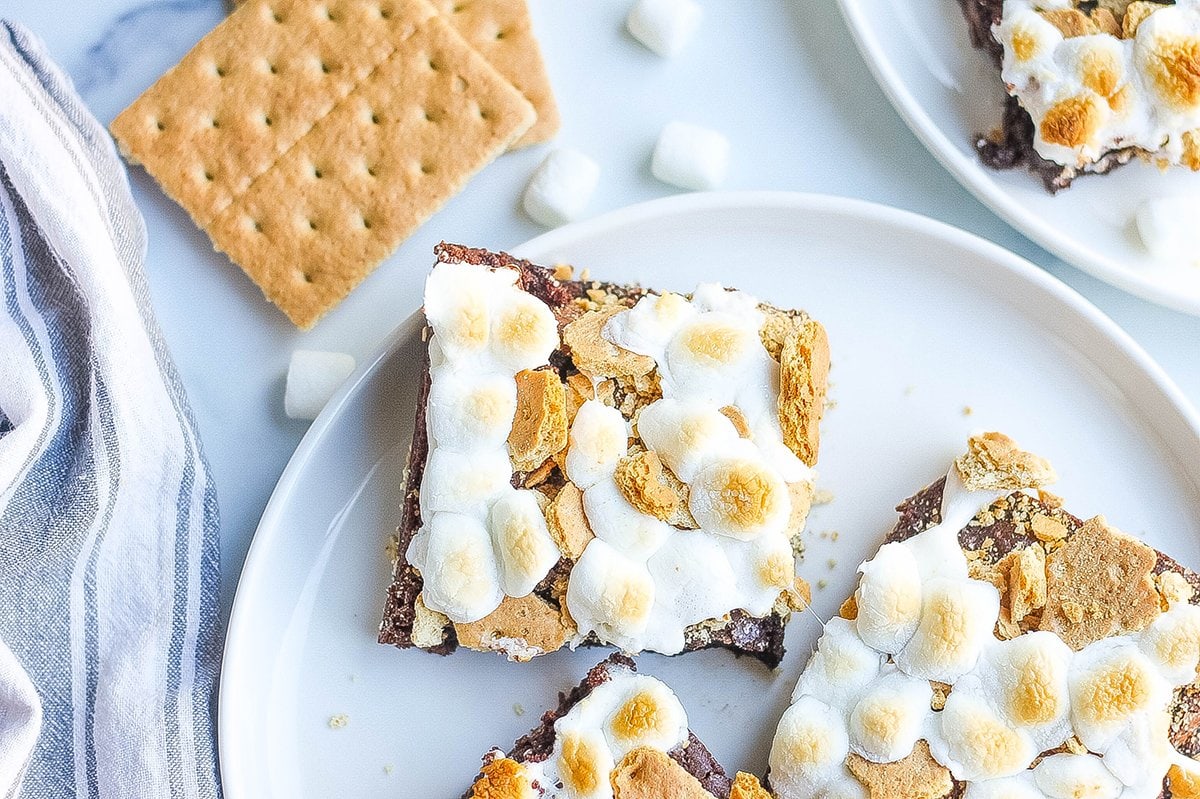 Regardless of who invented the legendary campfire snack, they now have a national day, August 10th. So there you go folks… a little s'more trivia in case you ever make it to Jeopardy… or a Trivial Pursuit board.
Ingredients
This easy brownie recipe only requires four simple ingredients. A pan of brownies is always an enticing treat, but adding just a few more ingredients really steps them up a notch. Perfect for brownie lovers everywhere!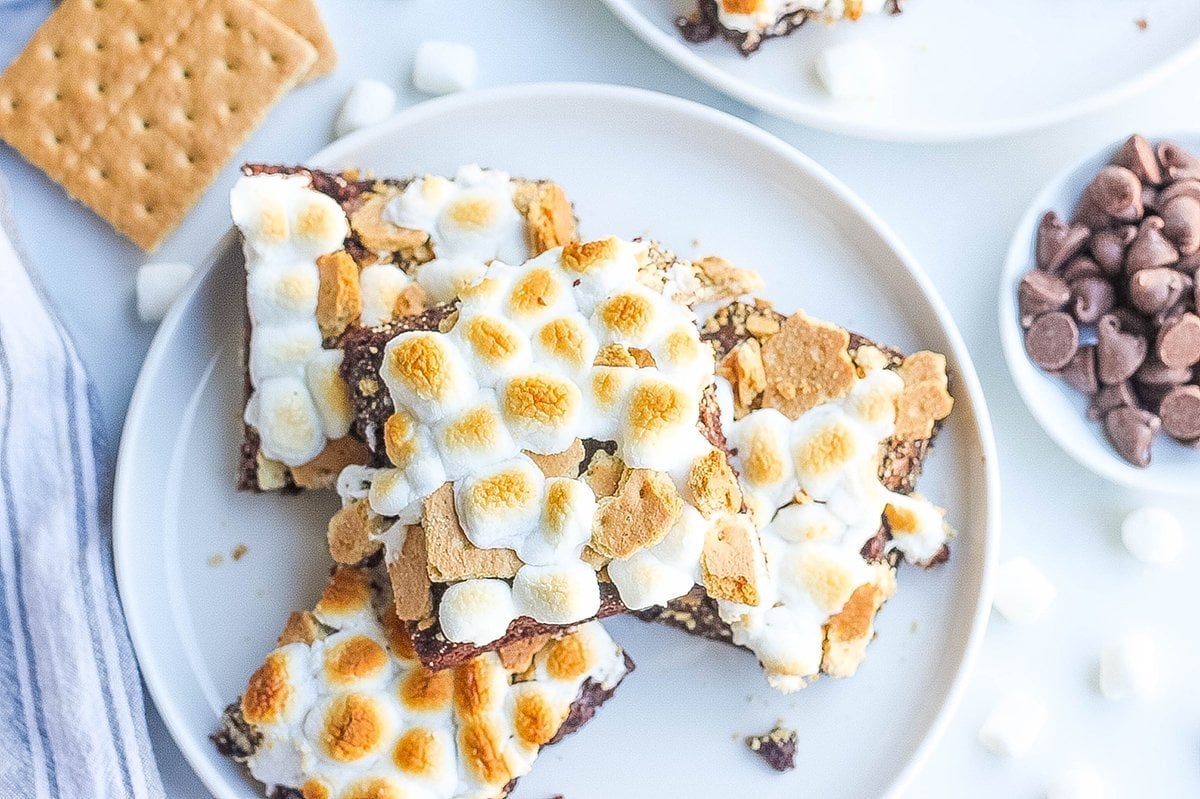 Fudge brownie mix– I like to keep things simple around here, and using a boxed mix is the best way to do that. Feel free to use your favorite homemade brownies recipe is you prefer. If using the box mix like me though, just remember you will also need the ingredients to prepare according to package directions. Usually vegetable oil and eggs.
Semi-sweet chocolate morsels– I always have a bag of these in the pantry. Chocolate chunks give an extra chocolatey touch to the brownies, but also give them a bit of texture. Also feel free to coarsely chop a chocolate bar. Milk chocolate chips are fine too.
Graham crackers– you can't have s'mores without graham crackers right? The graham cracker pieces give both texture and flavor to your brownies. Break graham crackers with your hands for larger rough pieces or grind them finely in a food processor. I like the bigger bits.
Mini marshmallows– and the icing on the cake, so to speak, the toasted marshmallows! Fluffy, gooey and totally mouth watering. I see some recipes that use marshmallow fluff, but I prefer the texture of real marshmallows for my homemade s'mores brownies. They've always given me the best results.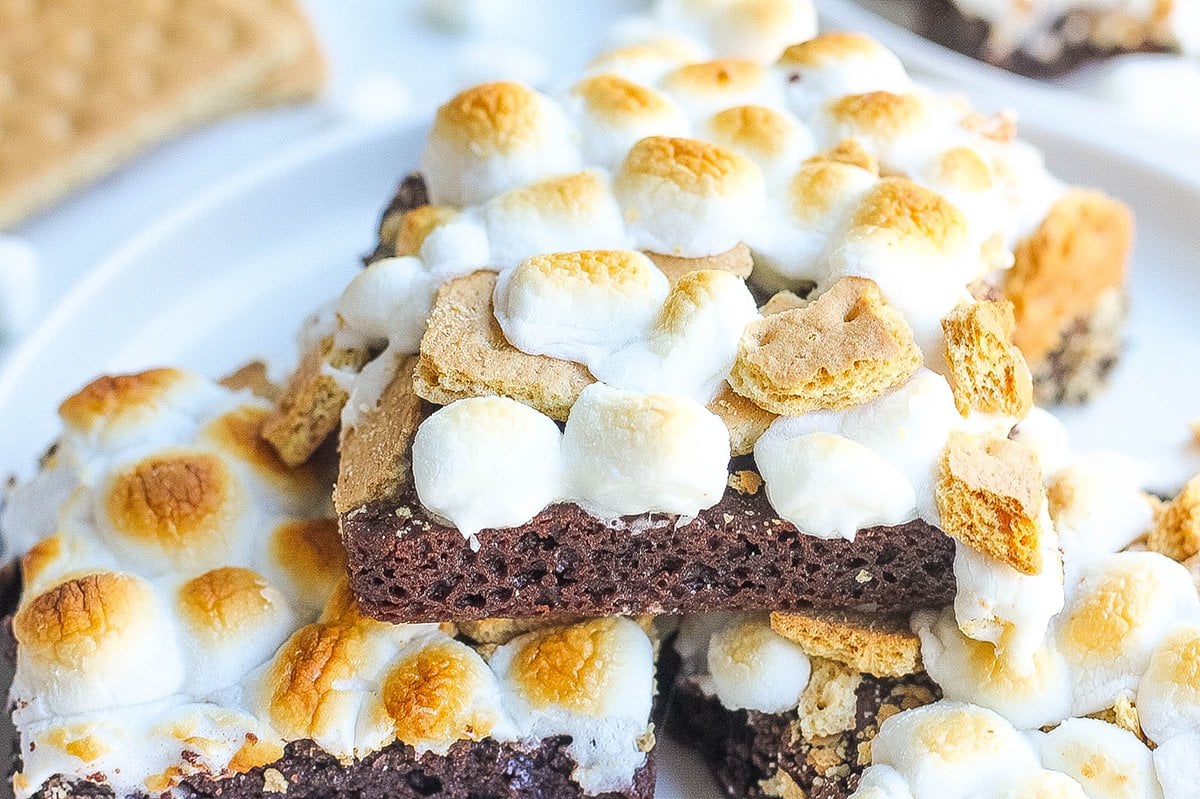 How to Make Easy S'mores Brownies
Start by preparing the brownie batter according to package directions in a medium bowl. (Or if making homemade brownies, follow those directions.)
Next gently fold the semi-sweet chocolate morsels into brownie batter. Then pour batter into a prepared pan lightly coated with nonstick cooking spray. Alternately, line the pan with parchment paper to easily lift out the whole batch.

Bake the brownies according to brownie package directions or until they pass the toothpick test.

Take the brownies out of the oven and change the oven temperature to high broil. Add the marshmallows and graham crackers and return to the center of the oven. Watch very closely until marshmallows begin to blistery, bubble and melt. You don't want them to burn! When they reach your desired level of char you can take them out.
Let them cool slightly before cutting with a sharp knife. Wipe it clean and rinse with hot water between each slice for clean cuts.
Variations
Brownies are one of those things that can have endless variations, which is why I love making them. No two batches are alike. These are a few of my favorite recipes:
Use any of my quick modifications for brownie mix including adding extracts, additional eggs or cocoa powder for extra chocolate-y goodness.
Swap out the semi-sweet chocolate chips for caramel chips or peanut butter chips.
Top your brownies with caramel or fudge sauce. Or even Bourbon Caramel!
Swap out regular graham crackers for chocolate graham crackers.
Use mini pretzels instead of graham crackers for a sweet and salty variation.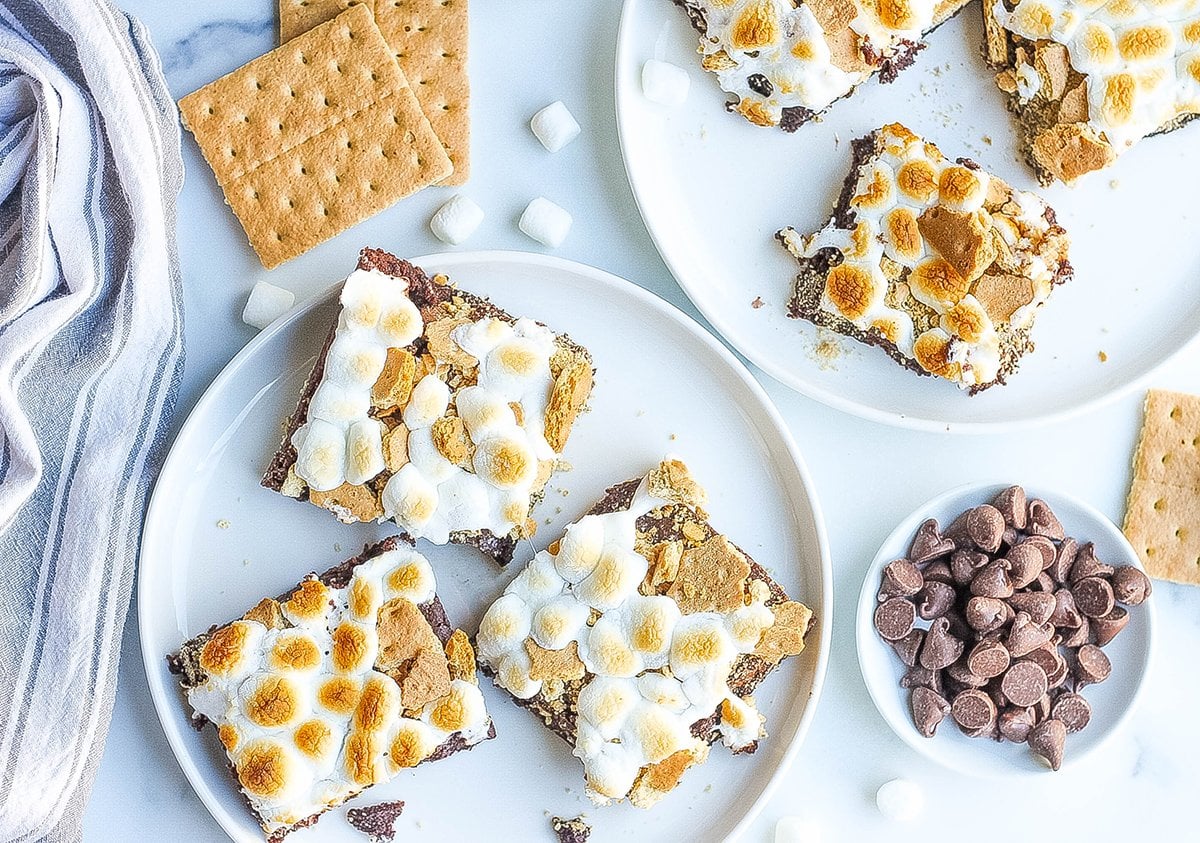 Storage & Freezing
Brownies are best enjoyed within two days of baking, so feel free to make them up to a day ahead of time. Store in an airtight container at room temperature, but away from sunlight. They will stay good for up to 5 days.
One tip to keep them moist is to package them with a slice or two of sandwich bread on top. The moisture from the bread helps keep the brownies soft.
While you can freeze smores brownies, the texture of graham crackers and marshmallows won't be the exact same when thawed. It is best to eat them fresh.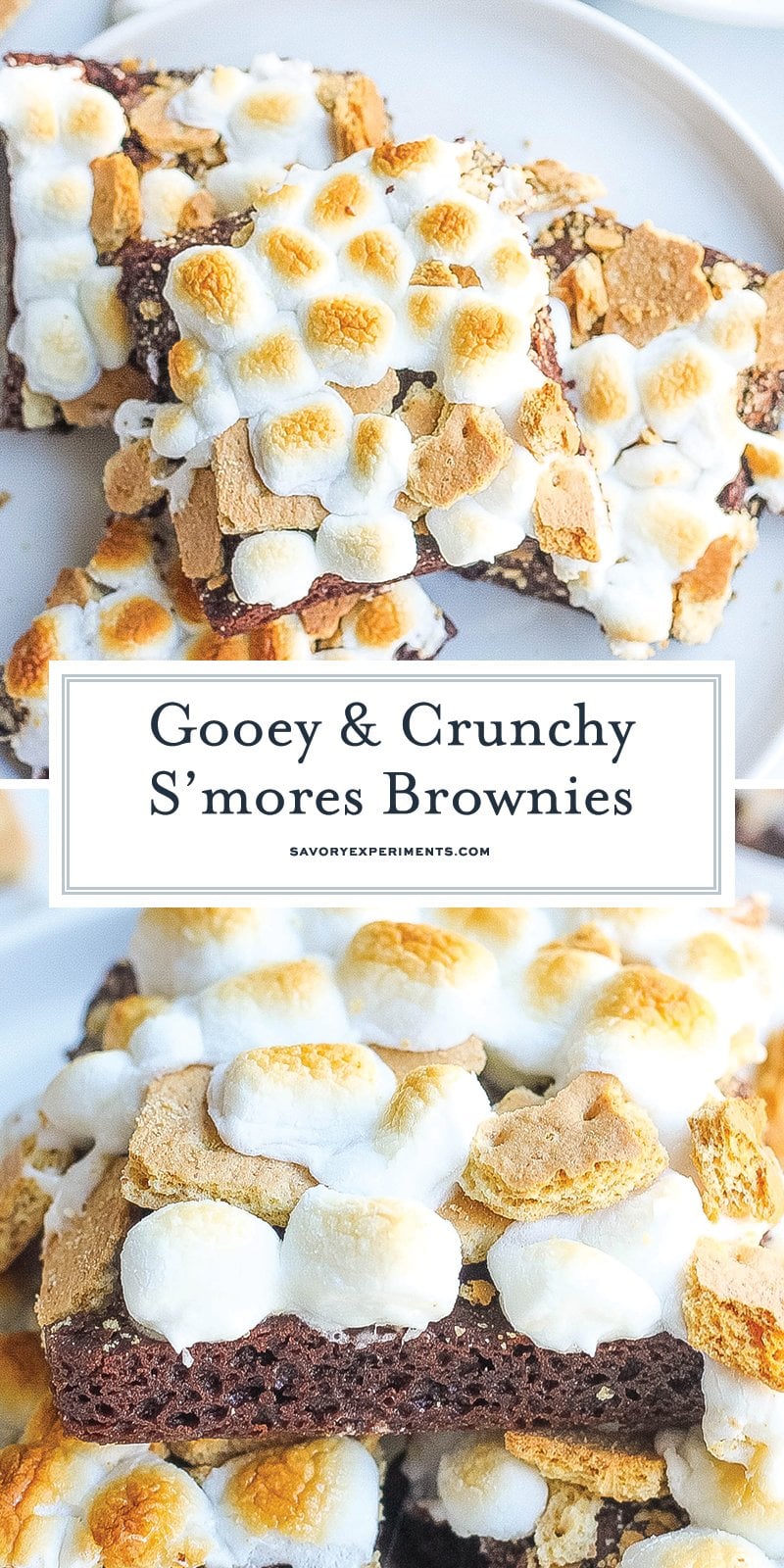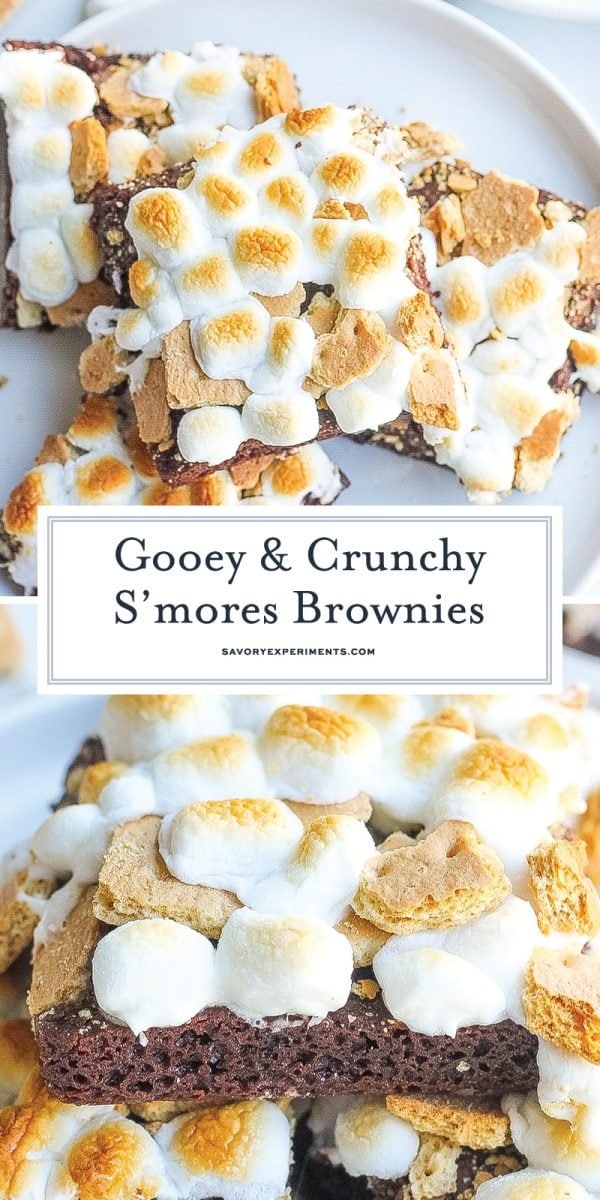 More delicious brownie recipes: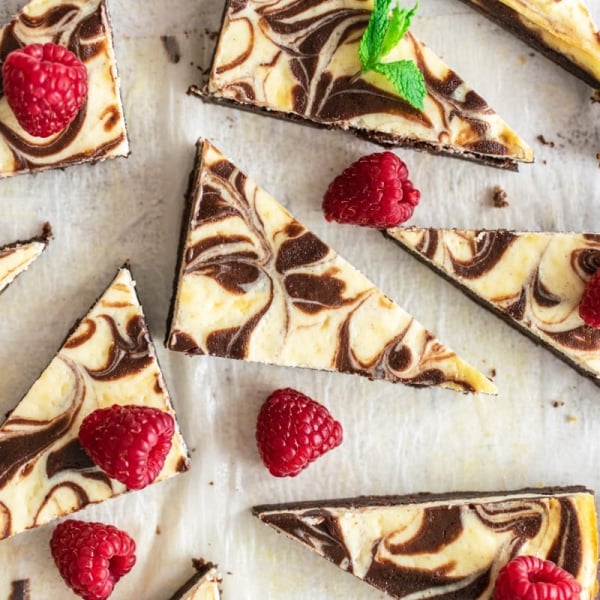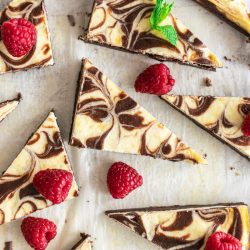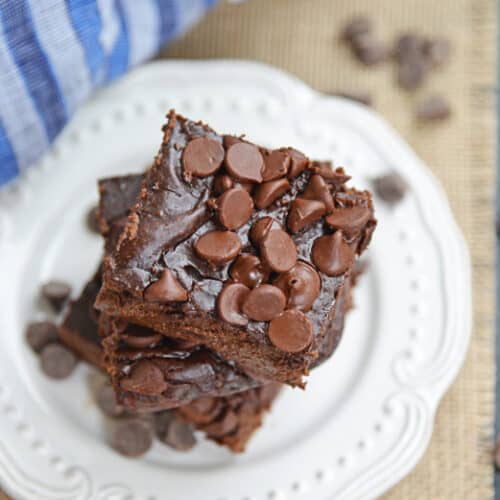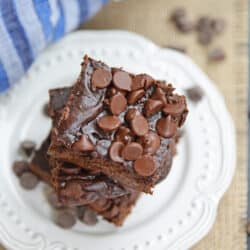 Nutella Brownies
Homemade Nutella brownies are made in one bowl. With 7 simple ingredients and in less than 1 hour you can enjoy a piece of this delicious brownie recipe!
See The Recipe!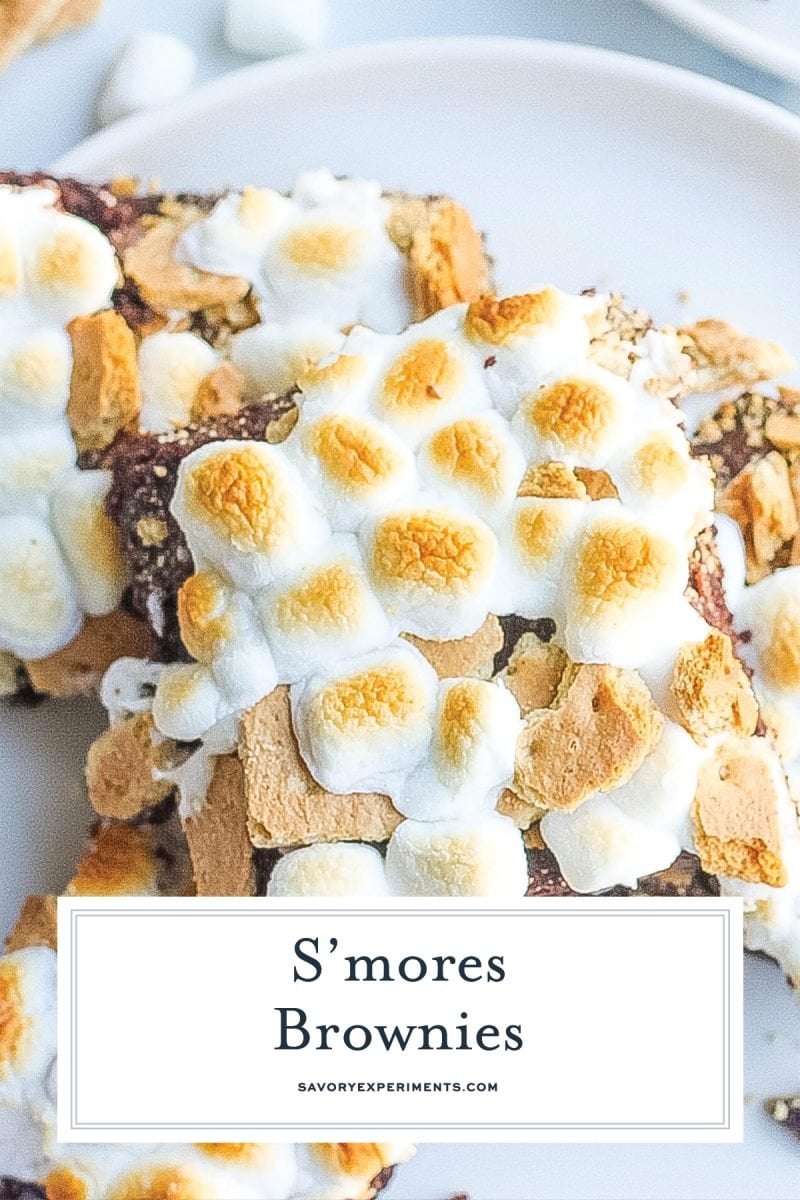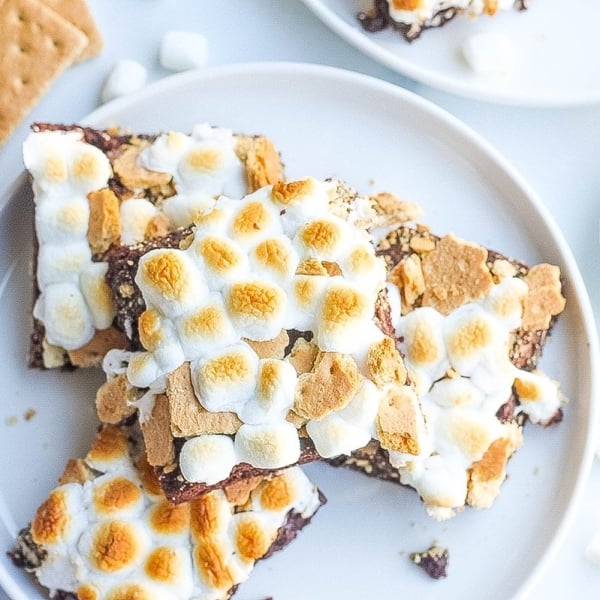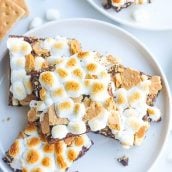 S'More Brownies
S'more Brownies is a delicious homemade brownie recipe made from double chocolate brownies, a layer of crunchy, salty pretzels and gooey melted marshmallows!
Instructions
Heat oven and prepare brownie batter according to package directions. Fold semi-sweet chocolate morsels into brownie batter. Spread in a 9×13 pan lightly coated with cooking spray.

Bake according to brownie package directions for a 9×13 pan. Use the toothpick test to determine if the brownies are fully cooked.

Remove brownies and change oven temperature to high broil. Top the brownies with broken graham crackers and marshmallows and return to the center of the oven. Watch very closely until marshmallows begin to blistery, bubble and melt. When they reach your desired level of char, remove.

Allow them to cool before attempting to cut.

If you've tried this recipe, come back and let us know how it was in the comments or ratings.
Nutrition
Calories:
265
kcal
,
Carbohydrates:
12
g
,
Protein:
1
g
,
Fat:
8
g
,
Saturated Fat:
1
g
,
Sodium:
88
mg
,
Potassium:
51
mg
,
Sugar:
5
g
,
Vitamin A:
5
IU
,
Calcium:
6
mg
,
Iron:
0.8
mg