S'More Brownies!!!! You will be so in love with these homemade brownies after you've had just one bite!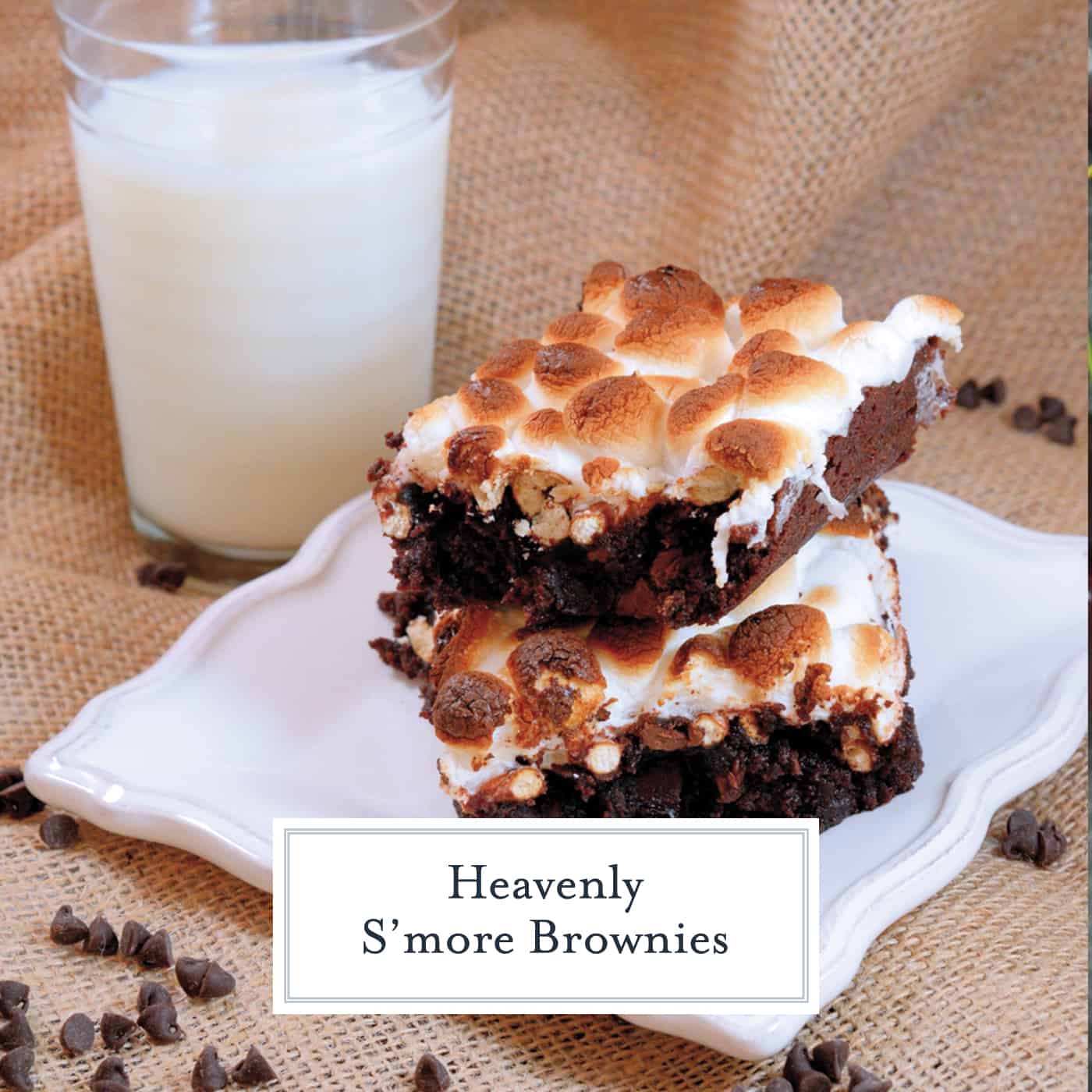 S'more Brownies is a delicious homemade brownie recipe made from double chocolate brownies, a layer of crunchy, salty pretzels and gooey melted marshmallows!
These might look like your average brownies but S'more Brownies throw a twist on the old favorite, substituting pretzels for traditional graham crackers.
Sweet and salty, foodie friends. You know it is my weakness!
The brownies are baked with chocolate chips, covered with a layer of crunchy, salty pretzels and then topped with sticky, sweet marshmallows. Gooey and finger-lickin' good.
Now let's talk about campfire marshmallows. I like to believe there are two types of people in this world, those who char, I'm talking BURN their marshmallows, and those who just like enough heat to make them sticky and gooey.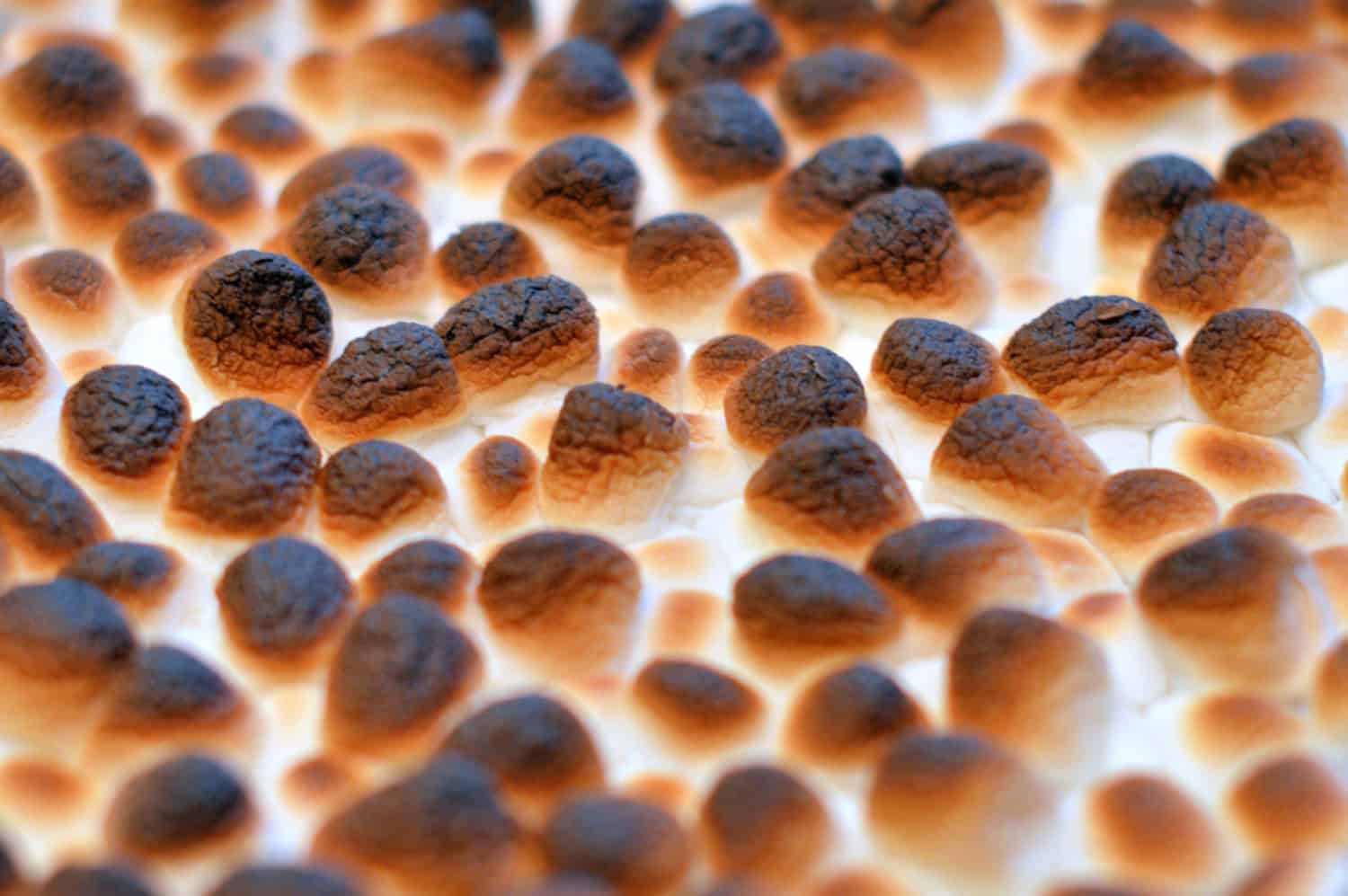 Now, as you can see, I'm the char type who literally lights my marshmallow on fire, lets it burn and then and only blows it out when it becomes apparent it may melt off my skewer. You are free to brown your marshmallows however you see fit.
Have you ever wondered where s'mores originated? I have; I think about silly things like this while driving.
According to the internet (which is always correct), the name originates from "some more" and they were developed by the Girl Scouts of America in the early 1900's, while first being published in their cookbook in 1927.
However, let's get real, just because you were the first to publish the recipe, doesn't mean you were the genius behind this melty sandwich of awesomeness.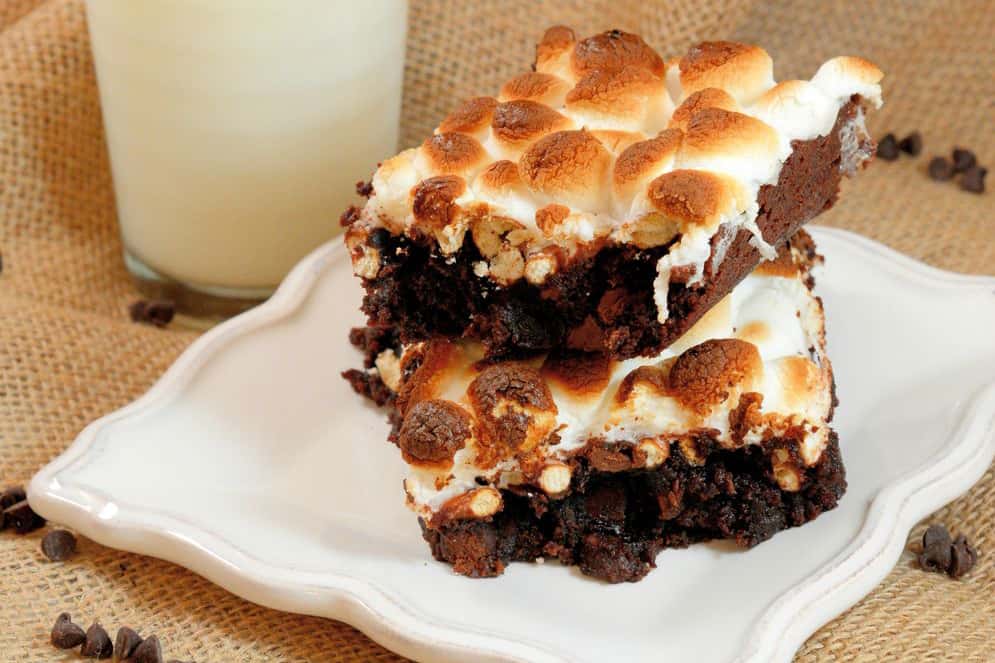 Regardless of who invented the legendary campfire snack, they now have a national day, August 10th. So there you go folks… a little s'more trivia in case you ever make it to Jeopardy… or a Trivial Pursuit board.
If you loved this smore brownies recipe, make sure you check out these other easy recipes: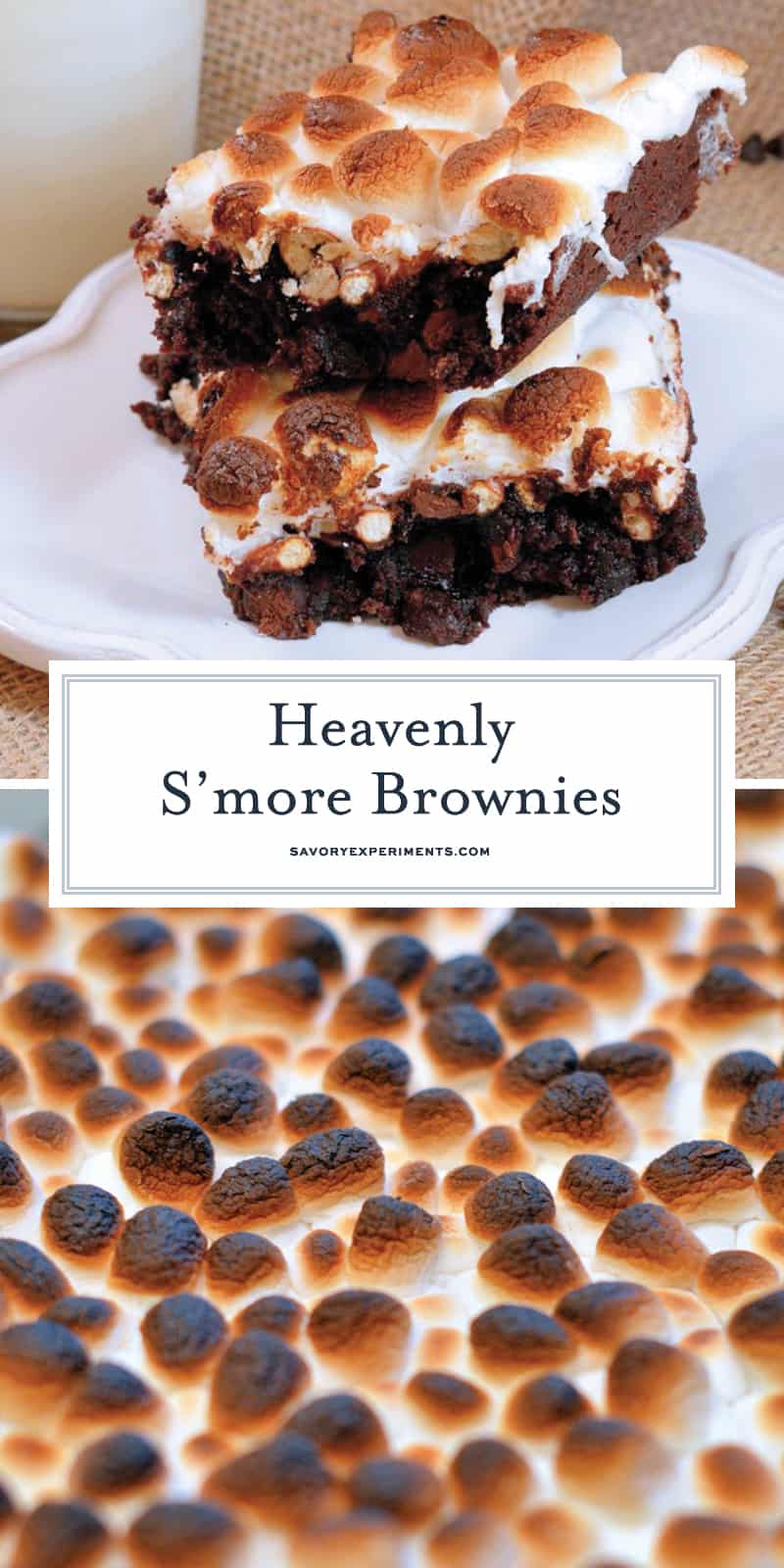 If you are looking for even more dessert recipes, snag a copy of my Easy Dessert Recipes Mini-Cookbook. Available here for only $0.99, these easy dessert recipes are ready with less than 30 minutes hands-on time and are sure to please all your family friends. From no-bake to make-ahead, you are sure to find something you love!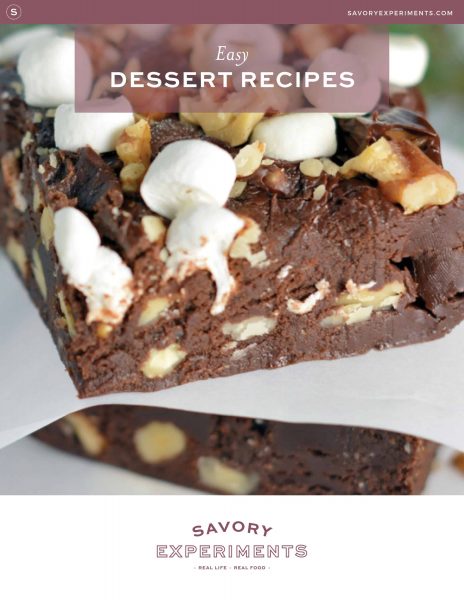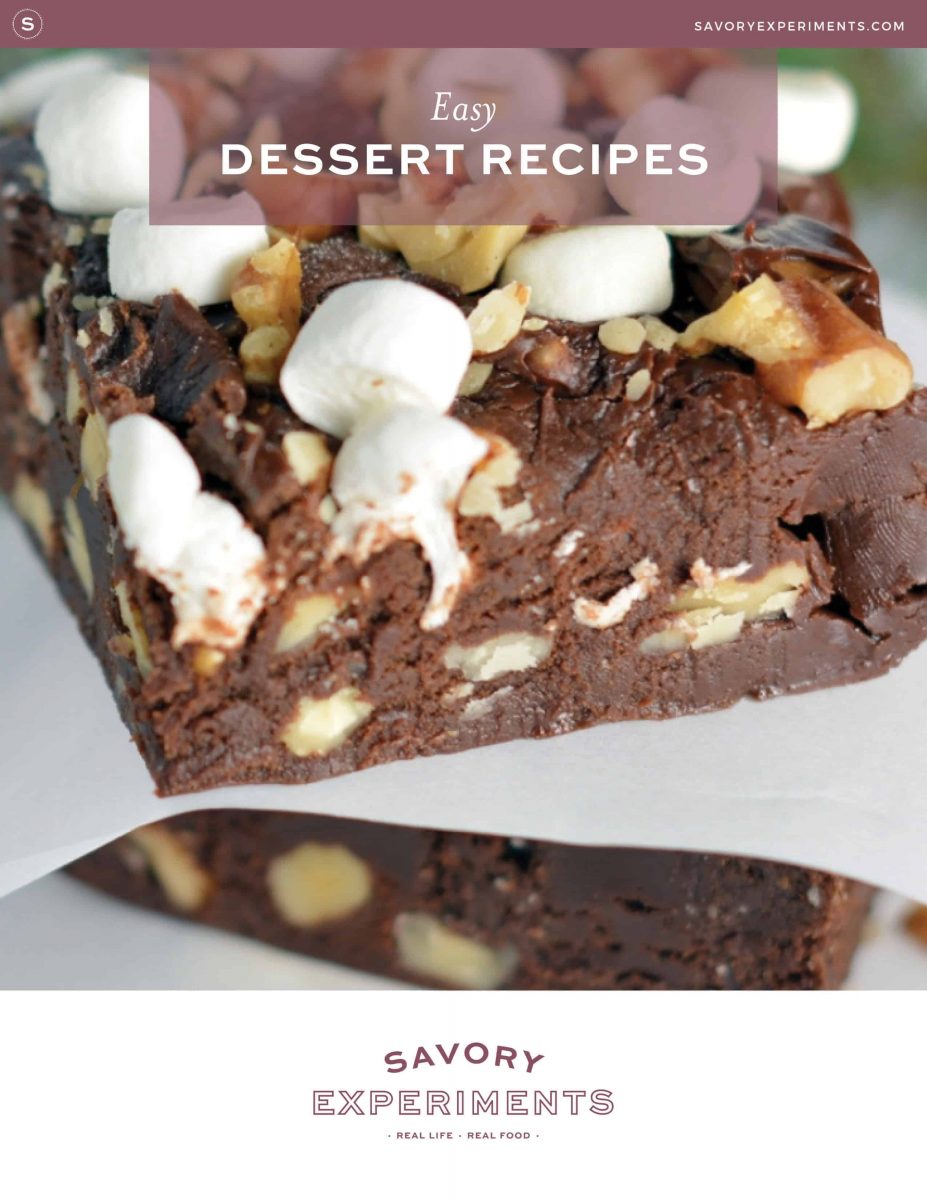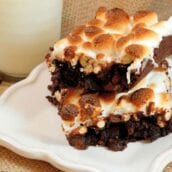 Print Recipe
S'More Brownies
S'more Brownies is a delicious homemade brownie recipe made from double chocolate brownies, a layer of crunchy, salty pretzels and gooey melted marshmallows!
Ingredients
1

box favorite fudge brownie mix

, and the ingredients to prepare according to package directions

1

cup

semi-sweet chocolate morsels

2

cups

mini pretzels

, approximate

2

cups

mini marshmallows

Cooking spray
Instructions
Heat oven and prepare brownie batter according to package directions. Fold semi-sweet chocolate morsels into brownie batter. Spread in a 9x13 pan lightly coated with cooking spray.

On top of brownie batter, lightly lay a single layer of mini pretzels. I had 6 rows, but this may vary depending on the size and brand of your mini pretzels.

Bake according to brownie package directions for a 9x13 pan, plus 2-3 minutes. Use the toothpick test to determine if the brownies are fully cooked.

Remove brownies and change oven temperature to high broil. Top pretzel brownies with marshmallows and return to the center of the oven. Watch very closely until marshmallows begin to blistery, bubble and melt. When they reach your desired level of char, remove. Allow to cool slightly before cutting and serving. Enjoy!

If you've tried this recipe, come back and let us know how it was!
Nutrition
Calories:
265
kcal
|
Carbohydrates:
12
g
|
Protein:
1
g
|
Fat:
8
g
|
Saturated Fat:
1
g
|
Sodium:
88
mg
|
Potassium:
51
mg
|
Sugar:
5
g
|
Vitamin A:
5
IU
|
Calcium:
6
mg
|
Iron:
0.8
mg