I didn't think it was possible to make brownies better until I tried Cream Cheese Brownies! These brownies are decadent and fudgy, with silky smooth cream cheese swirls on top. Not only do these cheesecake brownies taste a treat, but they also look gorgeous.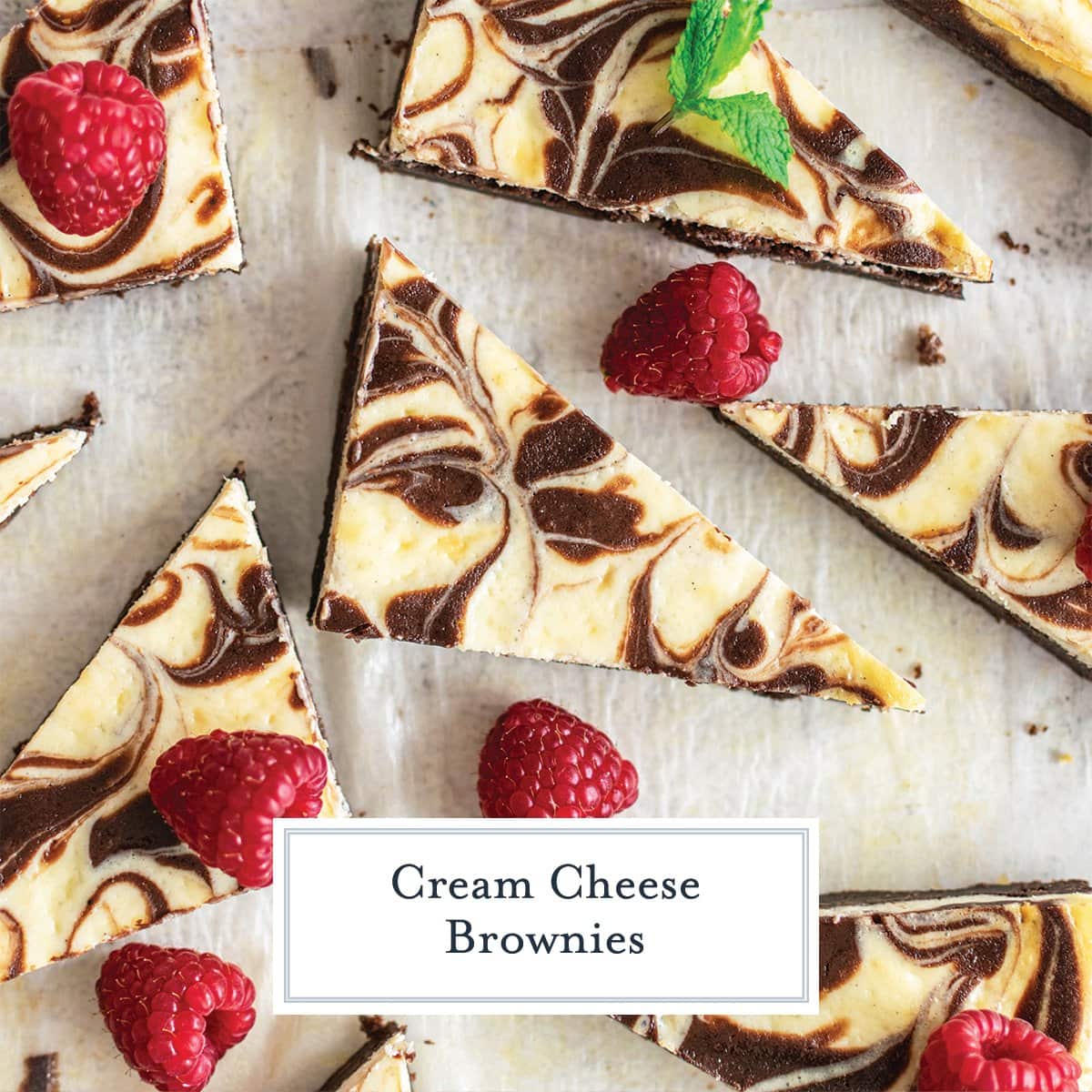 If you thought that brownies are already the best thing ever, wait until you try these cheesecake brownies! If you love rich, decadent chocolate as much as you love silky smooth vanilla cheesecake… then this recipe is for you!
Cream Cheese Brownies Recipe
These brownies are the ultimate 2 in 1 dessert, with a brownie base and a swirl cheesecake layer on top. Don't be fooled by looks though, as these cream cheese brownies are really easy to make. The brownie recipe is adapted from my homemade brownie recipe that makes the fudgiest brownies ever.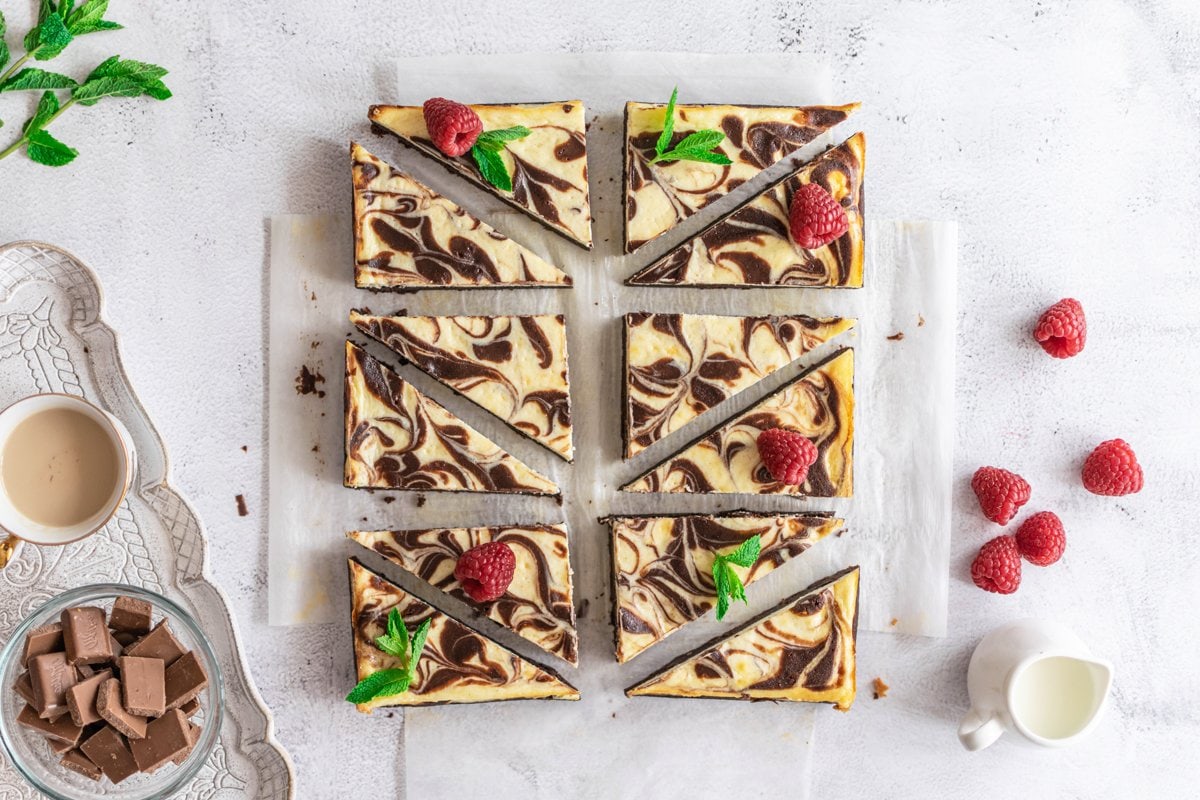 Besides tasting absolutely amazing, there are several reasons why these are the best brownies ever!
It's 2 recipes in 1, brownie and baked cheesecake
The cheesecake makes the chocolate flavor even more intense
Only needs two bowls: one for the brownie batter and the other for the cream cheese
Takes only minutes to prepare
Makes the fudgiest brownies and silkiest cheesecake
It looks like a showstopper with the cream cheese swirls on top
Cream Cheese Brownies Ingredients
The ingredients are pretty standard and straight forward.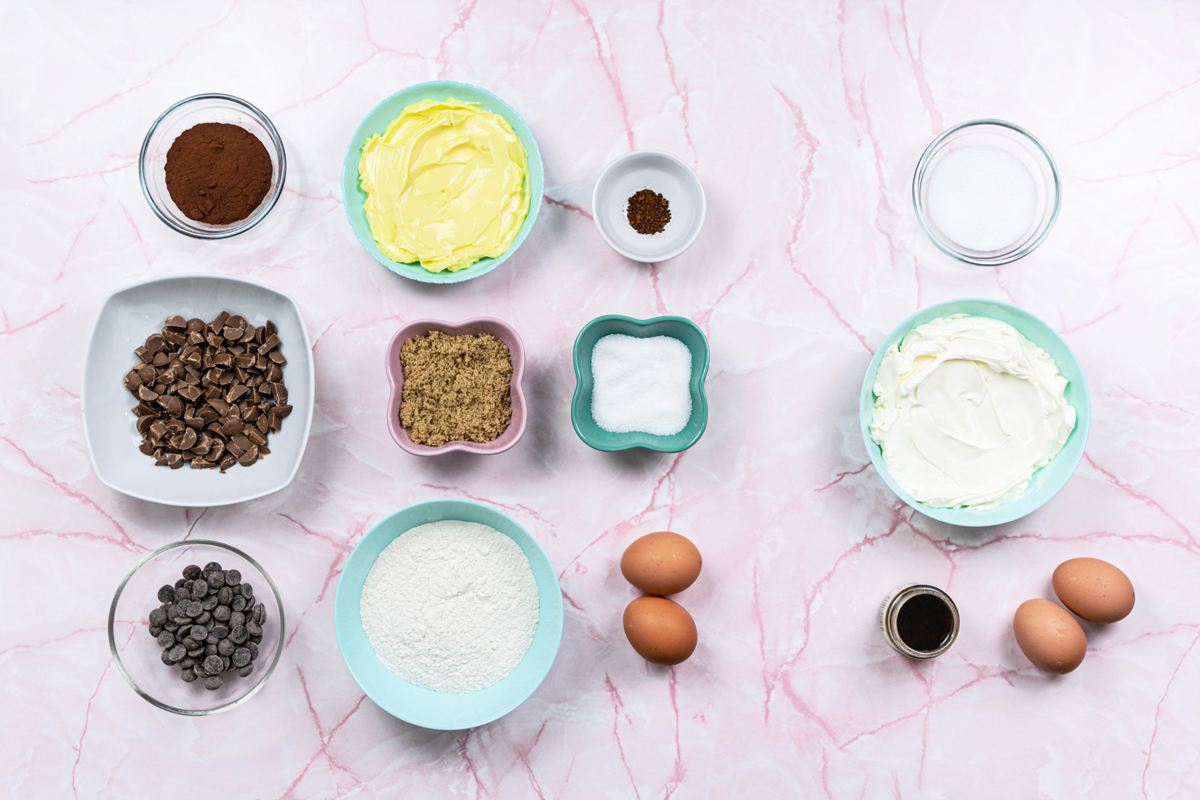 Chocolate – use high quality chocolate, the type you like to eat. Using a combination of milk and dark chocolate will balance the sweetness.
Butter – I recommend using unsalted butter, so you can control the saltiness. Use full fat butter, not spread.
Sugar – I like to use a combination of white and soft brown sugar. Soft brown sugar helps the brownie become fudgy and gooey because of the molasses.
Eggs – use large eggs, preferably organic. Make sure they're at room temperature before adding to the batter.
Flour – all-purpose flour is all you need. Self-rising flour is not recommended as it's tricky to control the rise.
Cocoa powder – Dutch processed cocoa powder is darker in color and has a very intense chocolate flavor.
Instant coffee – I like to add little coffee to boost the flavor of the chocolate. Don't worry, you won't taste the coffee at all in such small quantities. You can substitute instant coffee with 1 tablespoon of strong espresso. Decaf is also an option.
Cream cheese – You can use any type of plain cream cheese you would normally for a baked cheesecake. For best results, I recommend using a cream cheese with fat content of at least 33%. You can check the percentage on the back of the pack under nutritional values.
Low fat cream cheese is too soft for this recipe and will not make a cheesecake as creamy as full fat. No matter what cream cheese you use, remember to leave it at room temperature for 30 minutes. This way it will whip much quicker and become fluffier, perfect for the cheesecake brownies.
Of course you can always use a box mix if you're low on time or ingredients. Just see my recommendations on how to make box brownies better.
Fun fact: Before the invention of Dutch cocoa powder in Europe, cocoa was used mostly just for beverages, not for baking.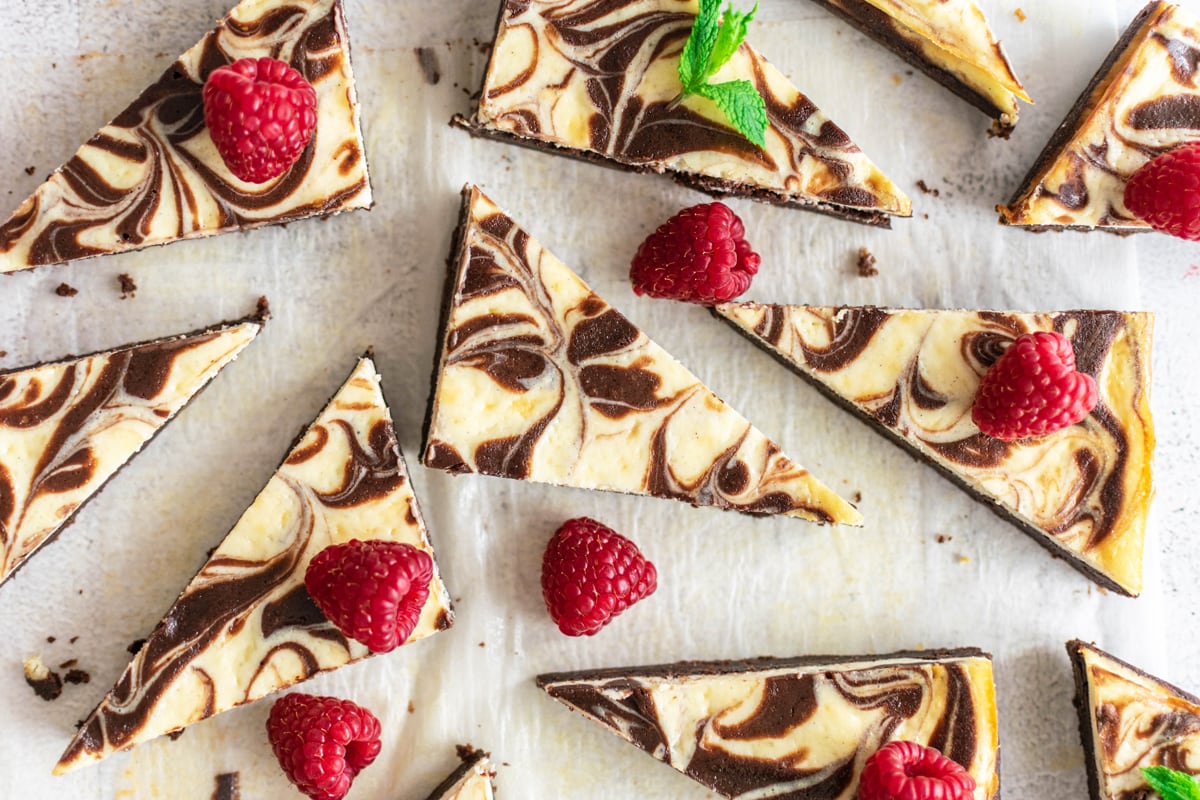 How to Make Cream Cheese Swirl Brownies
Before starting the recipe, make sure all your ingredients are at room temperature – especially the eggs and cream cheese. Melt the butter in the microwave and let it cool down to room temperature (30 seconds are more than enough).
Pro Tip: Lining the tray with parchment paper will make it easier to remove the brownies.
Preheat your oven to 350°F. Prepare a 9×9 baking pan by lining it with parchment paper and greasing it with butter or cake release.
Melt the milk chocolate in the microwave in short intervals of 15-20 seconds. Give the chocolate a quick mix in between to help it melt. Remember to let the chocolate cool down to room temperature before adding it to the batter – we don't want scrambled eggs!
In a large bowl, place the melted butter (cooled), sugar and cocoa powder. Give it a mix with your whisk, then add the eggs and coffee and mix again. At this point the mixture will be quite runny, but sticky.
Sieve (or sift) the flour and salt into the batter, using a spatula to fold it in. To fold, simply run a spatula under the batter and fold it over itself. Repeat until the batter is fully combined. By folding instead of mixing you avoid overworking the flour, which can make brownies tough instead of gooey.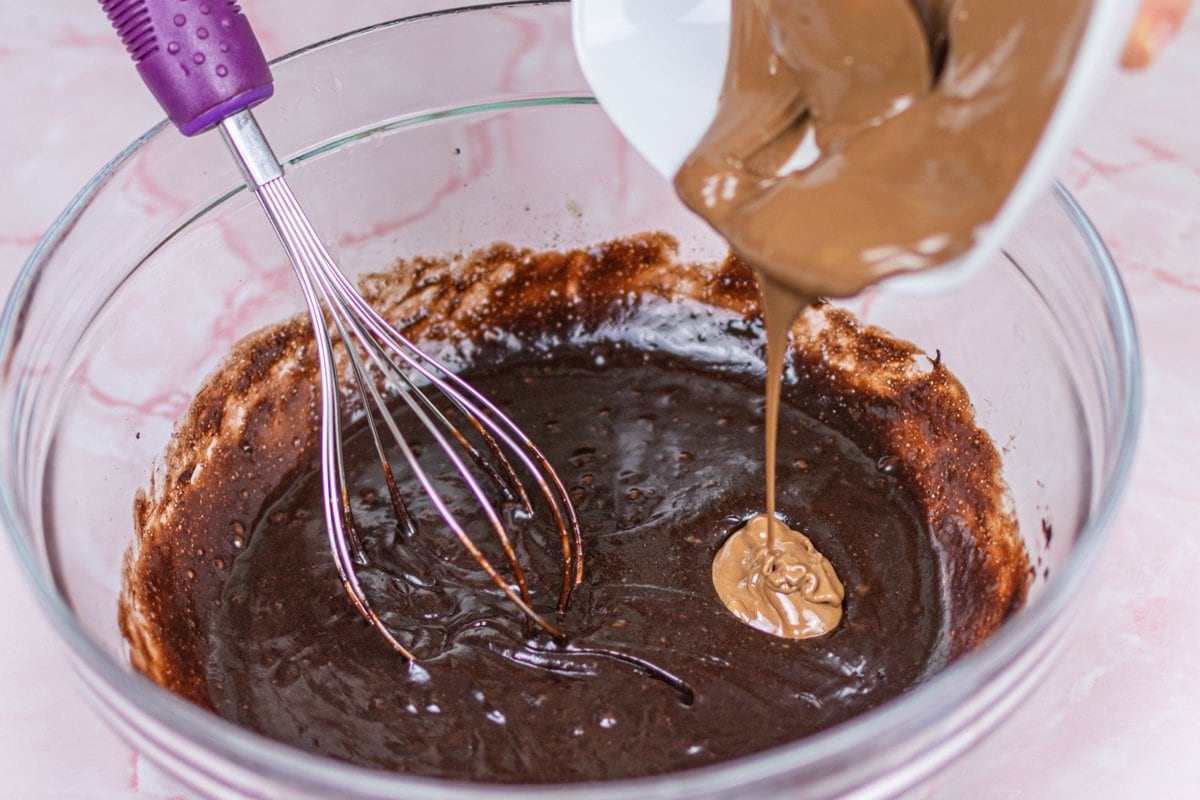 Reserve ½ cup of the batter to use for the swirls on top. Add the dark chocolate into the remaining batter, folding it in. Pour the batter into the pan, smoothing it out with a spatula. Set aside while preparing the cream cheese layer.
Pro Tip: tap the baking pan on the worksurface a few times to level it completely flat.
Now we can begin prepping the cheesecake layer. Whip the cream cheese on medium speed for 2-3 minutes, slowly adding in the sugar and vanilla extract. Once the cream cheese is fluffy, add the eggs in one at a time until each has been fully incorporated.
Pour the cream cheese on top of the brownie batter in the pan. Add 1 tablespoon of hot water over the reserved brownie batter, mixing to thin it out.
Now it's time for the fun part, the swirls! Place small dollops of brownie batter over the cream cheese, in random spots. Make as many or as little as you wish. Use a thin knife, skewer, or spatula to create swirls on the surface. I like the swirls to be more defined, so I only go over the same area once or twice.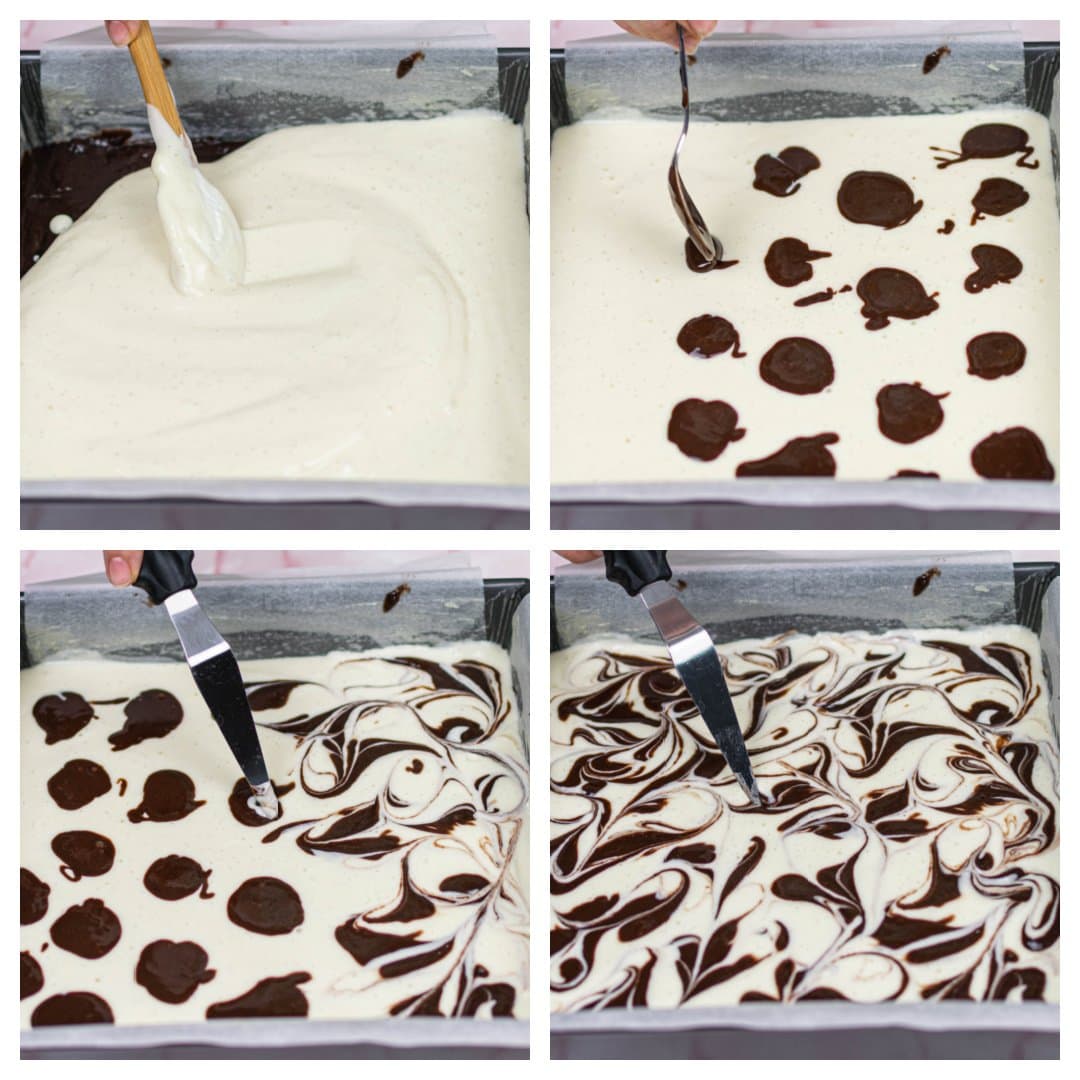 Pro Tip: Less is more! The more you go over the same swirls, the less defined they will look as the colors merge.
Bake for 30-35 minutes. With both brownies and cheesecakes, the skewer test does not work. The cheesecake swirl should have a small wobble on top, but not too jiggly.
Let the cheesecake brownies rest in the pan until cool. Afterwards, place the tray in the fridge for at least 1-2 hours, or preferably overnight. Chilling the cream cheese swirl brownies for longer helps the flavors mature, and the result will be tastier and they will be easier to cut.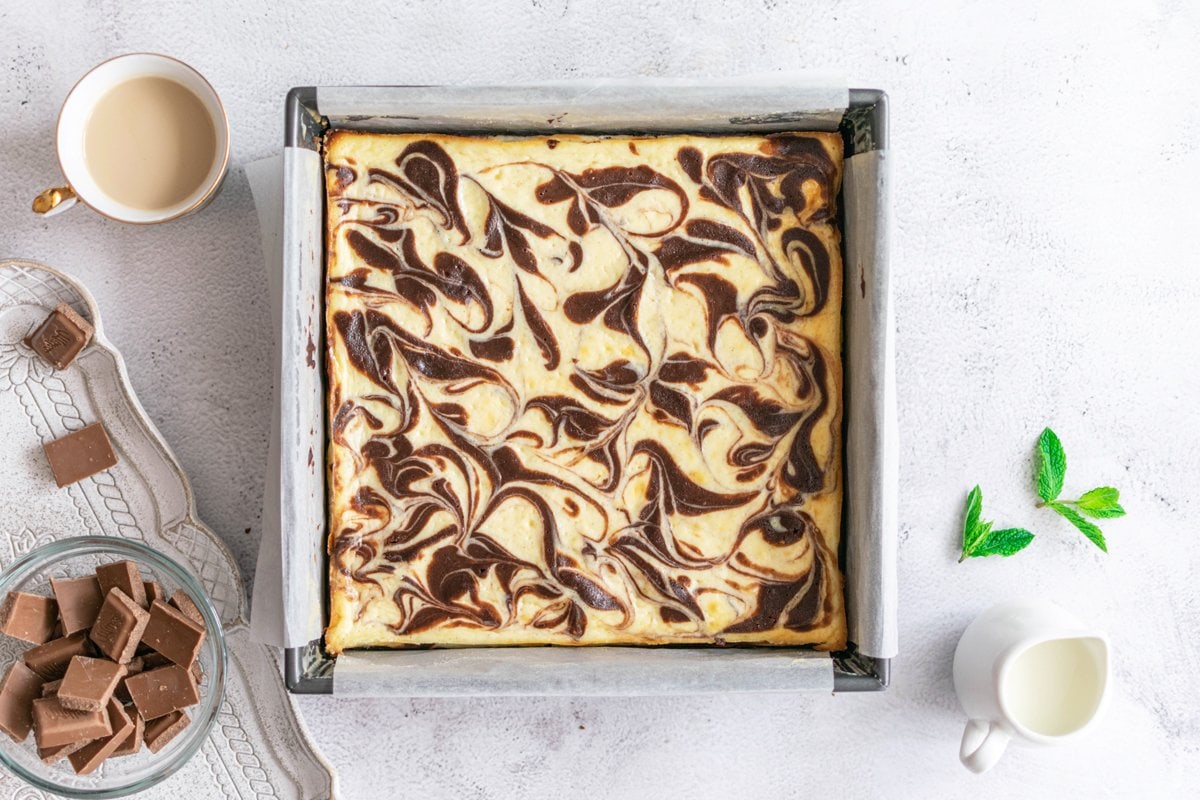 How to Cut Brownies
It's easiest to cut the cheesecake brownies after removing from the tray. This is where that baking paper or parchment is really handy!
The most important thing to remember is to refrigerate the cream cheese brownies for a few hours. This is important for the fudgy brownie, but also the creamy cheesecake swirls. If you try to cut whilst still hot, the cuts can be quite messy.

After refrigerating, dip a sharp knife in hot water, then cut into desired shapes. After each cut, dip the knife into the hot water and wipe it clean.
You can cut the cream cheese swirl brownies into squares, rectangles or my favorite – triangles!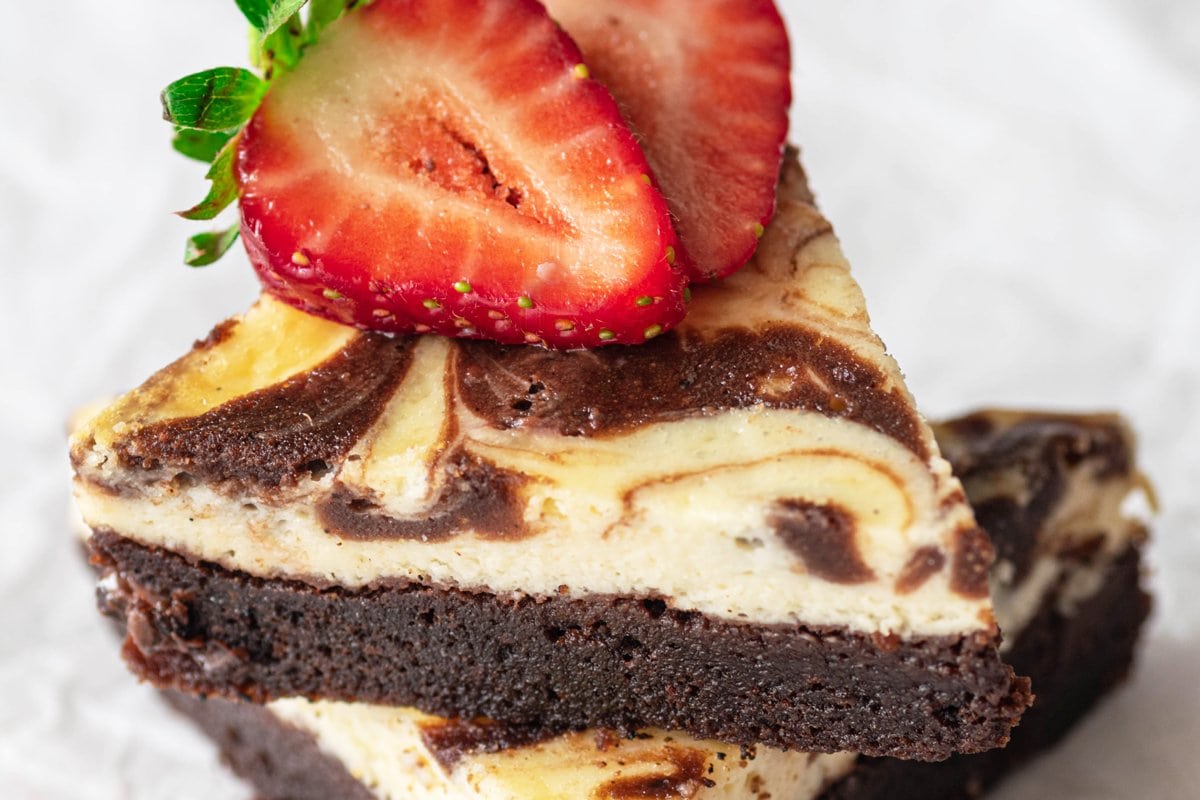 Easy Variations
You know we love being able to customize!
Swap vanilla extract for almond or make use vanilla in the brownie layer and almond in the cheesecake layer!
Top with fresh fruit sauce like our cherry pie filling or fresh raspberry sauce.
Right out of the oven, give them a sprinkle with fleur de sel, doing it while they are hot and tecky ensures it will stick.
Make them into the ultimate brownie sundae with vanilla ice cream and fudge or caramel sauce and a cherry on top.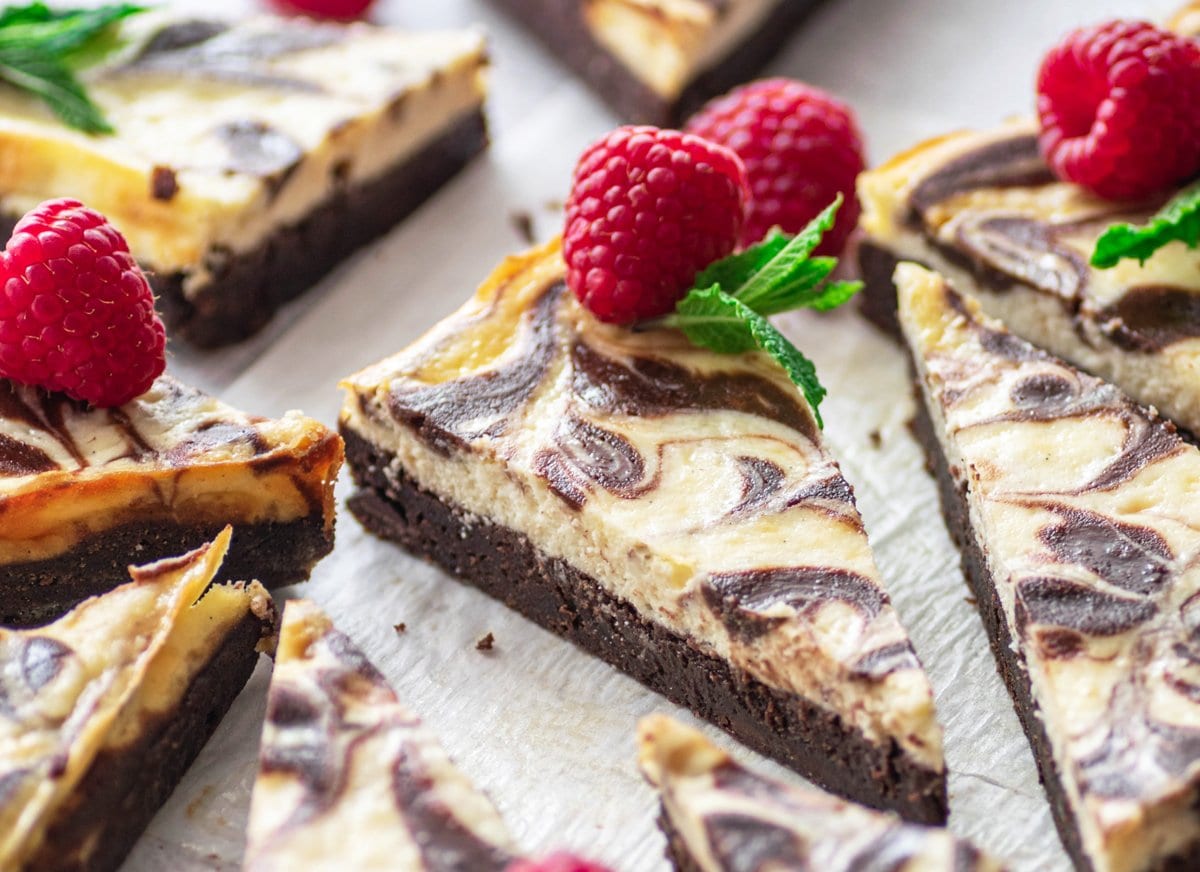 Storage
Although plain brownies can be kept at room temperature, cream cheese brownies need to be refrigerated. The cheesecake brownies can spoil if left outside for too long.
Cream cheese brownies contain dairy, which needs to be refrigerated. Store the cheesecake brownies in an airtight container for up to 3-4 days.
For longer storage, cover the brownies in plastic wrap, then a layer of aluminum foil. Aluminum prevents against freezer burn. You can then also place them in an airtight container for extra protection.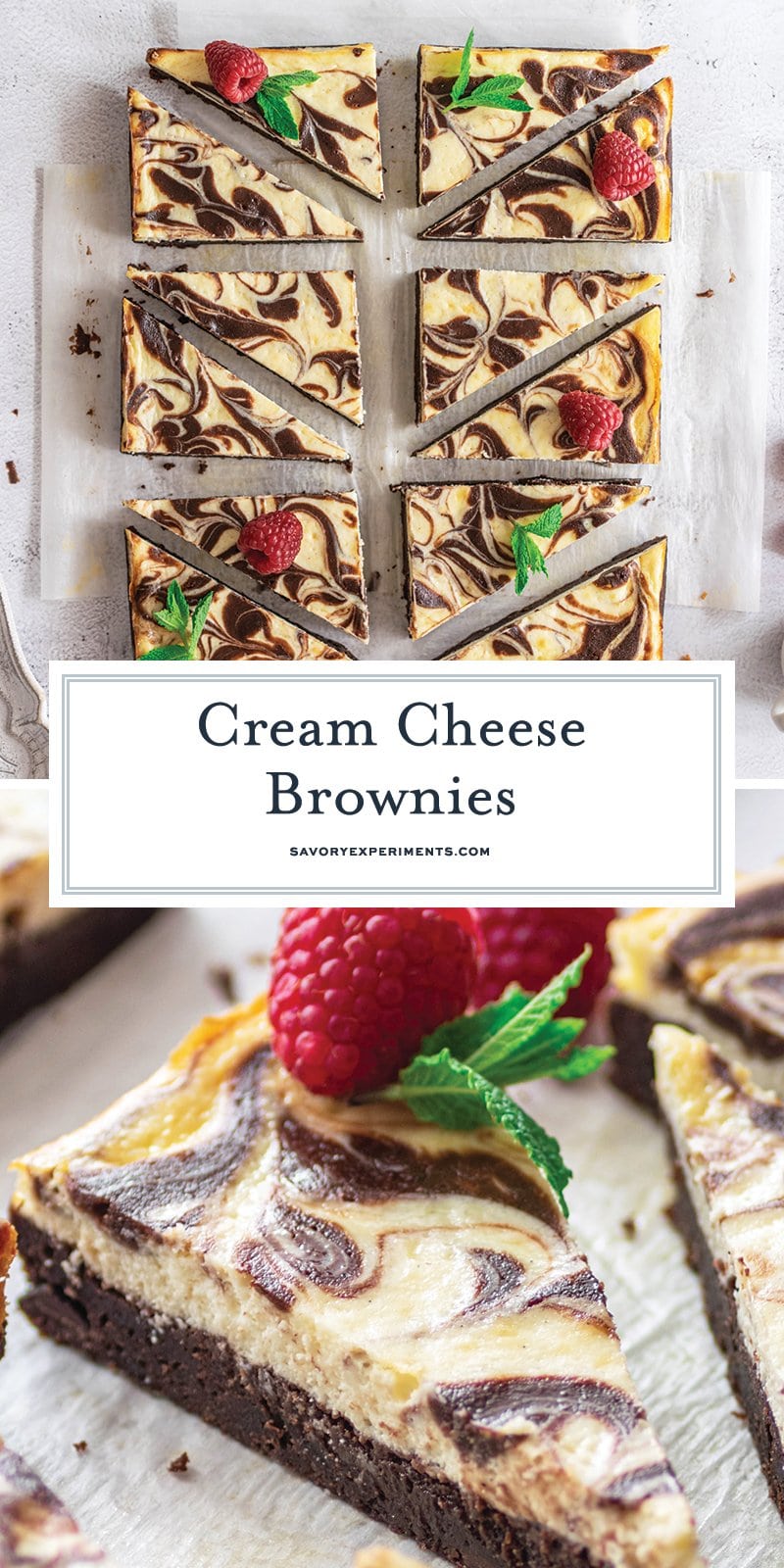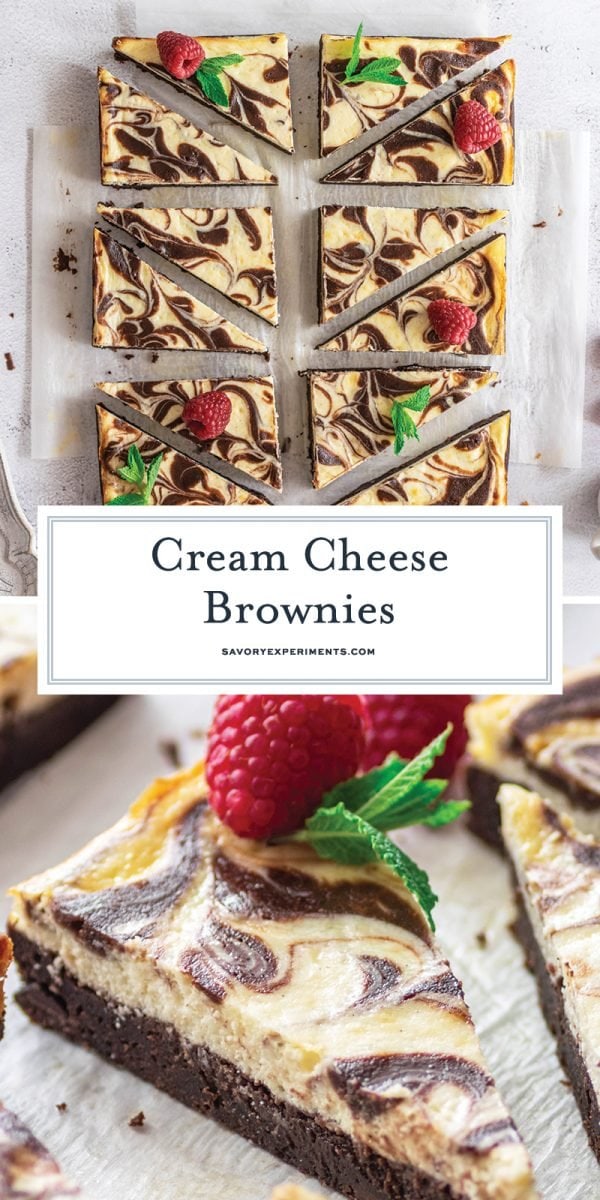 More decadent brownie recipes:
Nutella Brownies
Homemade Nutella brownies are made in one bowl. With 7 simple ingredients and in less than 1 hour you can enjoy a piece of this delicious brownie recipe!
See The Recipe!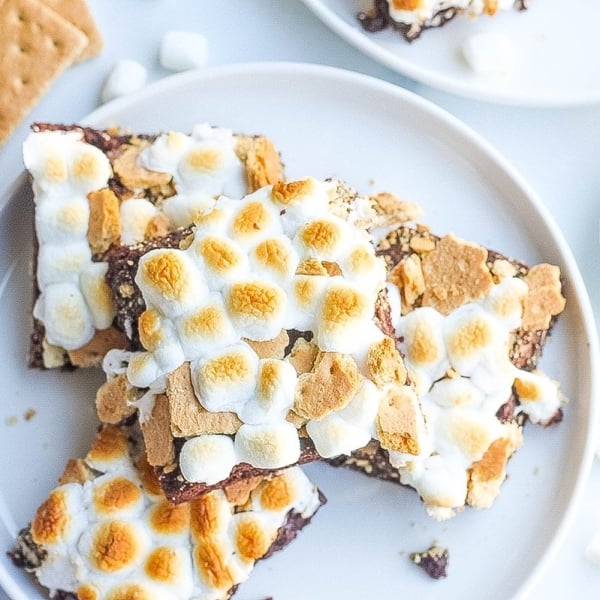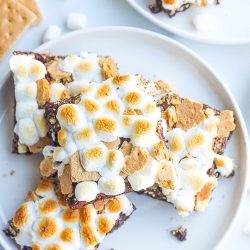 S'More Brownies
S'more Brownies is a delicious homemade brownie recipe made from double chocolate brownies, a layer of crunchy, salty pretzels and gooey melted marshmallows!
See The Recipe!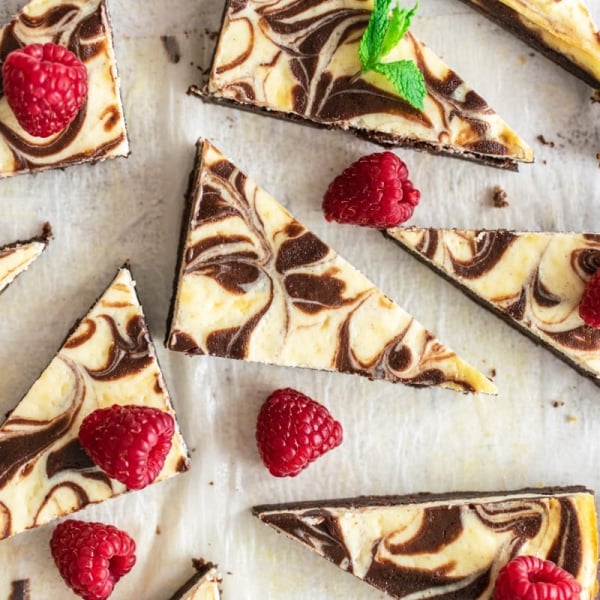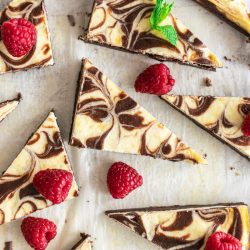 White Chocolate Brownies with Pretzel Crust and Caramel Drizzle
My White Chocolate Brownies are blonde brownies with a pretzel crust, a caramel drizzle, and a pinch of fleur de sel to make them even more addictive.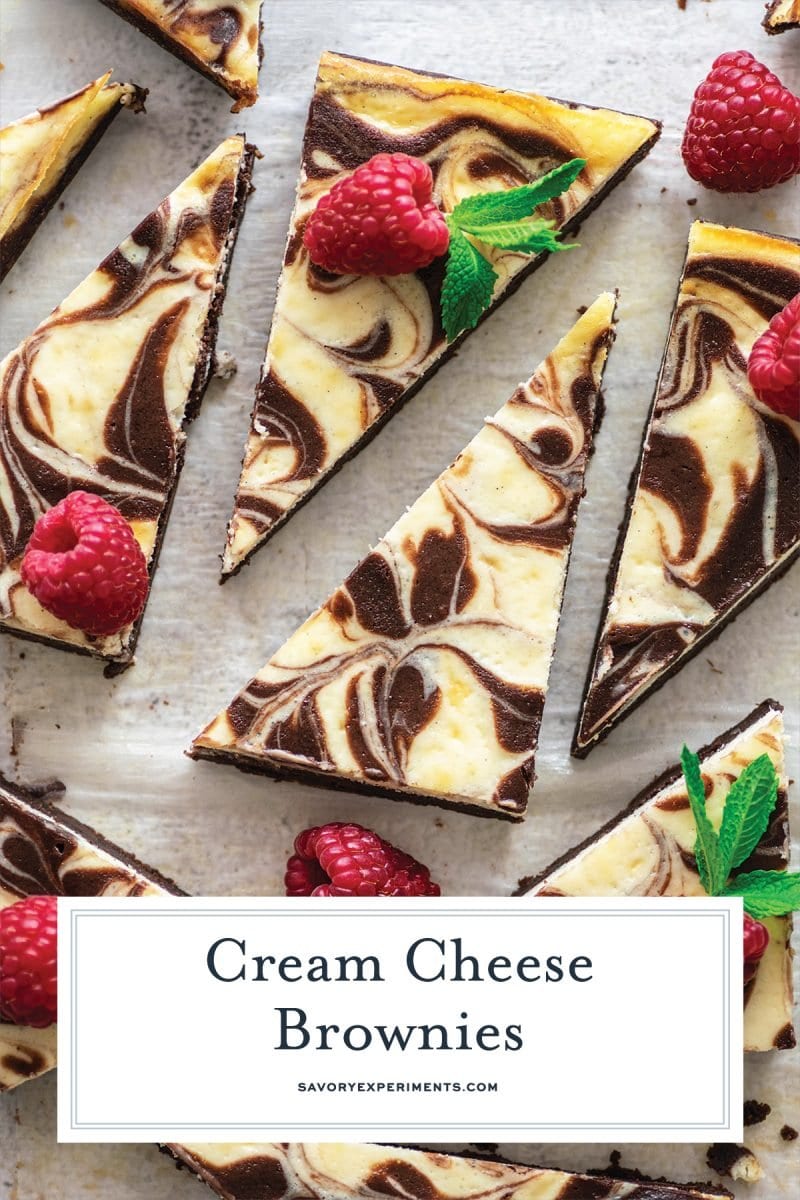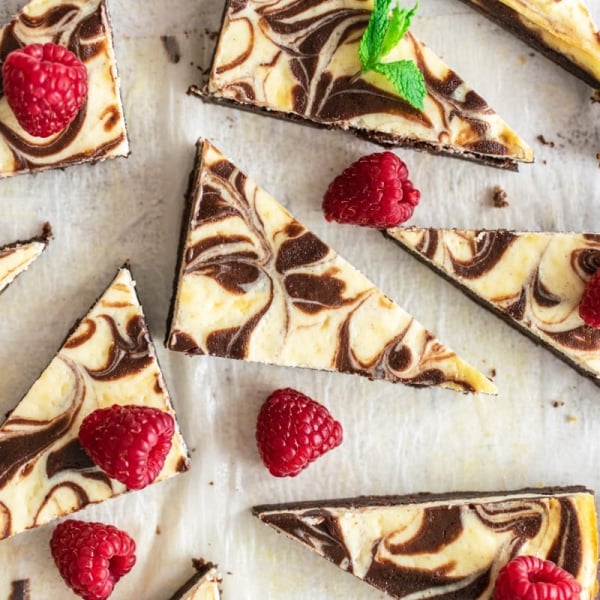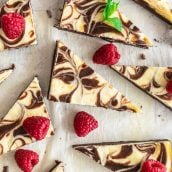 Cream Cheese Brownies
These Cream Cheese Brownies are chocolatey and delicious. Made with a swirl of cream cheese on top, they taste even better than they look!
Equipment
Heat Resistant Rubber Spatula
Ingredients
Brownie Batter:
⅔

cup

milk chocolate

1/3

cup

dark chocolate chips

¾

cup

unsalted butter

, melted

½

cup

granulated sugar

¼

cup

soft brown sugar*

2

eggs

¾

cup

flour

¼

cup

Dutch processed cocoa powder

¼

teaspoon

instant coffee + 1 tablespoon boiling water*
Instructions
Preheat your oven to 350°F. Line a 9×9 inch baking pan with parchment paper and grease it with butter.
Brownie Batter:
Melt the milk chocolate in the microwave in small intervals of 20 seconds until fully melted. Let the melted chocolate cool down before adding.

Place the melted butter, sugar, and cocoa powder in a large bowl, mixing until fully combined. Add in the eggs and whisk well to combine.

Dissolve the instant coffee in 1 tablespoons of boiling (or really hot( water, then add it into the butter mixture. Mix in the melted chocolate.

Sieve or sift in the flour and salt, folding everything with a spatula. Reserve about ½ cup of batter, set aside. Add the dark chocolate chips to the remaining batter, then pour it into the baking pan.
Cream Cheese Layer:
Beat the cream cheese at medium speed for 2-3 minutes or until fluffy. Slowly add in the sugar, salt and vanilla, mixing at low speed to incorporate. Add the eggs one at a time, mixing them in well.

Pour the cream cheese mixture on top of the brownie batter in the tray, levelling it with an offset spatula.
Swirl Together:
Add 1 tablespoon of hot water over the reserved brownie batter, to thin it out.

Randomly place dollops of the thinned brownie batter over the cream cheese. Use a skewer or knife to make swirls on the surface.

Bake the cream cheese brownies for 30-35 minutes. Let the brownies cool down fully, then chill in the refrigerator for 1-2 hours before cutting.

If you've tried this recipe, come back and let us know how it was in the comments or ratings!
Notes
This recipe uses a minimal sugar for a balanced flavor. If you like your brownies sweeter, feel free to add more sugar as desired.
Nutrition
Calories:
401
kcal
,
Carbohydrates:
35
g
,
Protein:
6
g
,
Fat:
28
g
,
Saturated Fat:
17
g
,
Polyunsaturated Fat:
1
g
,
Monounsaturated Fat:
7
g
,
Trans Fat:
1
g
,
Cholesterol:
116
mg
,
Sodium:
171
mg
,
Potassium:
165
mg
,
Fiber:
2
g
,
Sugar:
26
g
,
Vitamin A:
815
IU
,
Vitamin C:
1
mg
,
Calcium:
64
mg
,
Iron:
1
mg