What's not to love about marshmallow fluff? This airy, sweet concoction is literally the stuff of dreams and this is easily the quickest fluff recipe you'll find.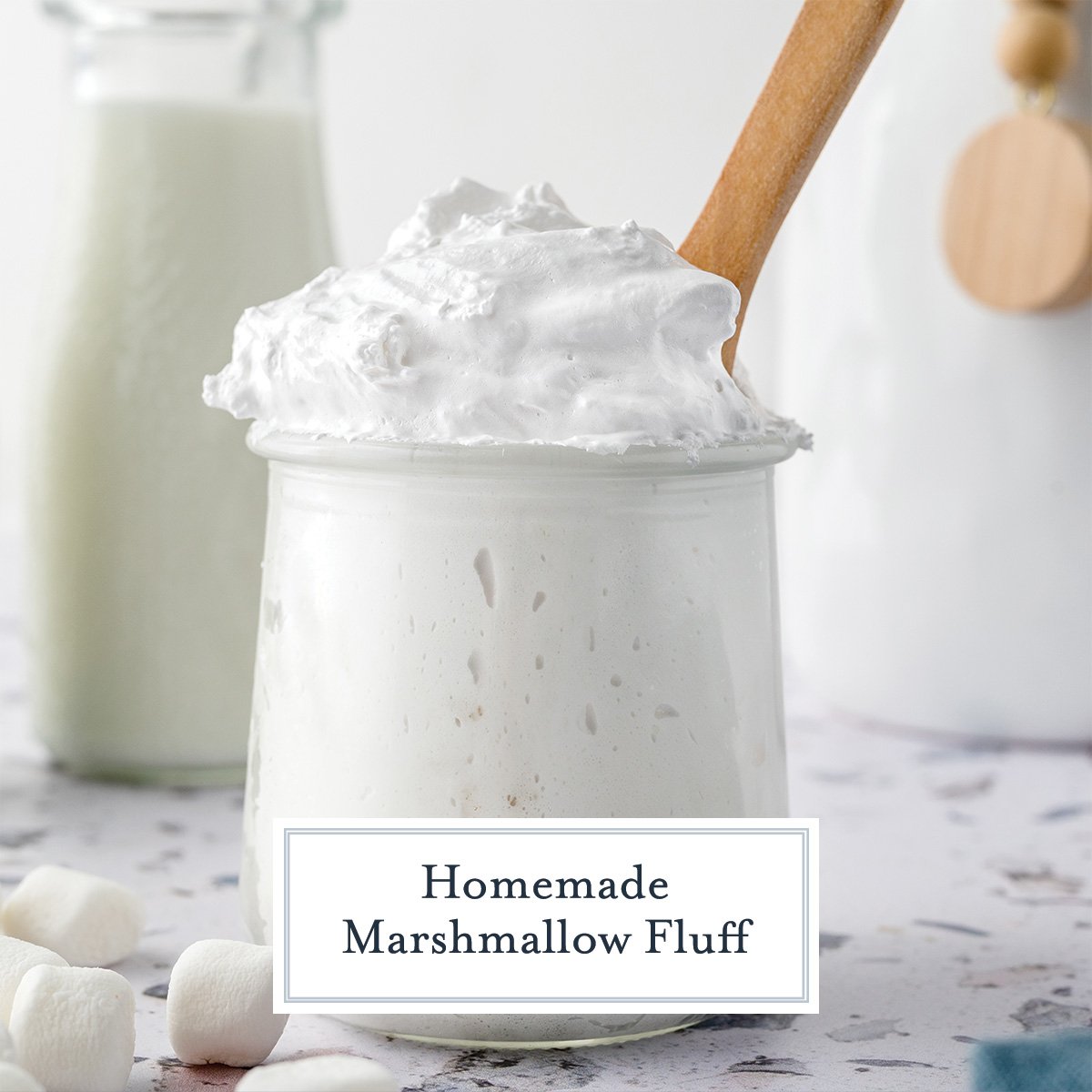 Homemade Marshmallow Fluff
You could buy a jar of marshmallow fluff at the grocery store, but why? Once you learn how to make your own marshmallow fluff at home, you'll realize that it is such an easy recipe.
Homemade marshmallow creme is way better than any jar of marshmallow creme and you can just spread it on anything. You could use it on microwaved s'mores, toss it on some brownies, or you can throw a dollop on your ice cream.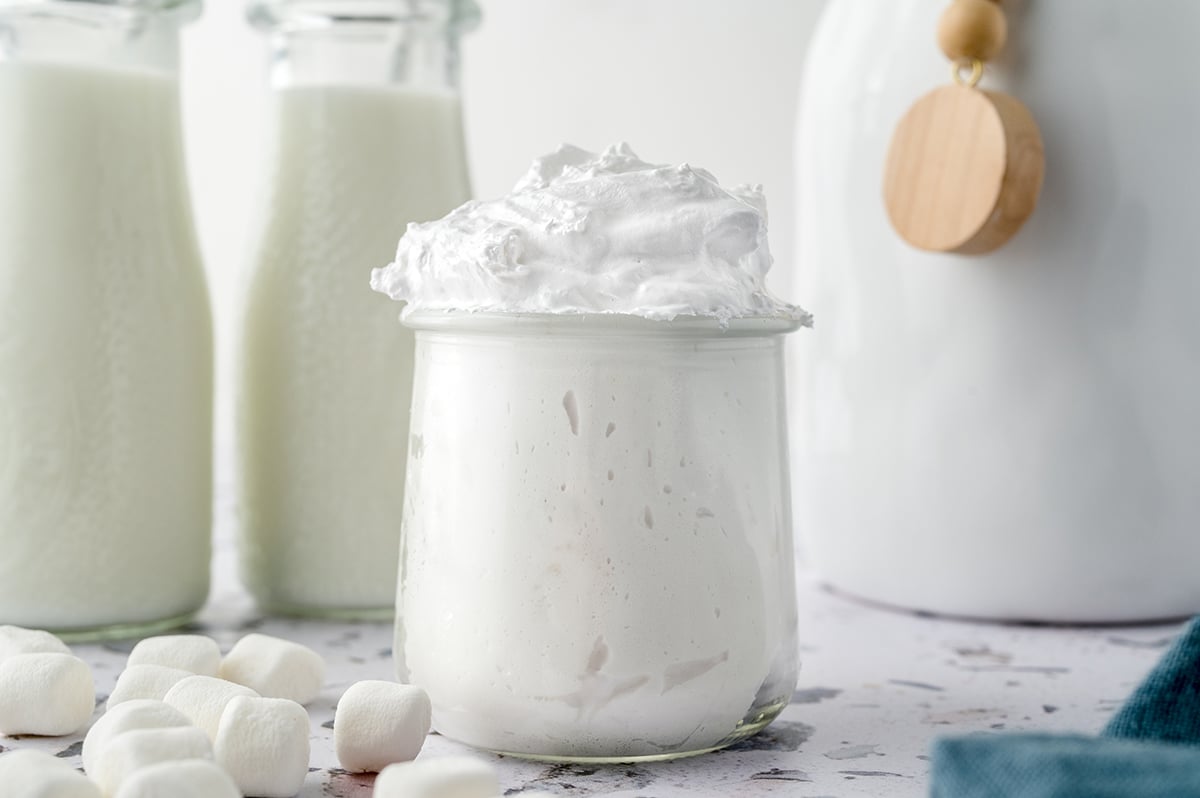 Fluffernutter Sandwich
Honestly, my favorite use for this marshmallow cream it is to make Massachusetts's state sandwich, the fluffernutter– super popular in New England.
Grab two slices of white bread, slather them both with peanut butter, and then spread a generous amount of fluff in between. Smack those two slices together and chow down. You could add the likes of banana, other fresh fruit or honey (or bacon?) but it's most delicious in its pure form.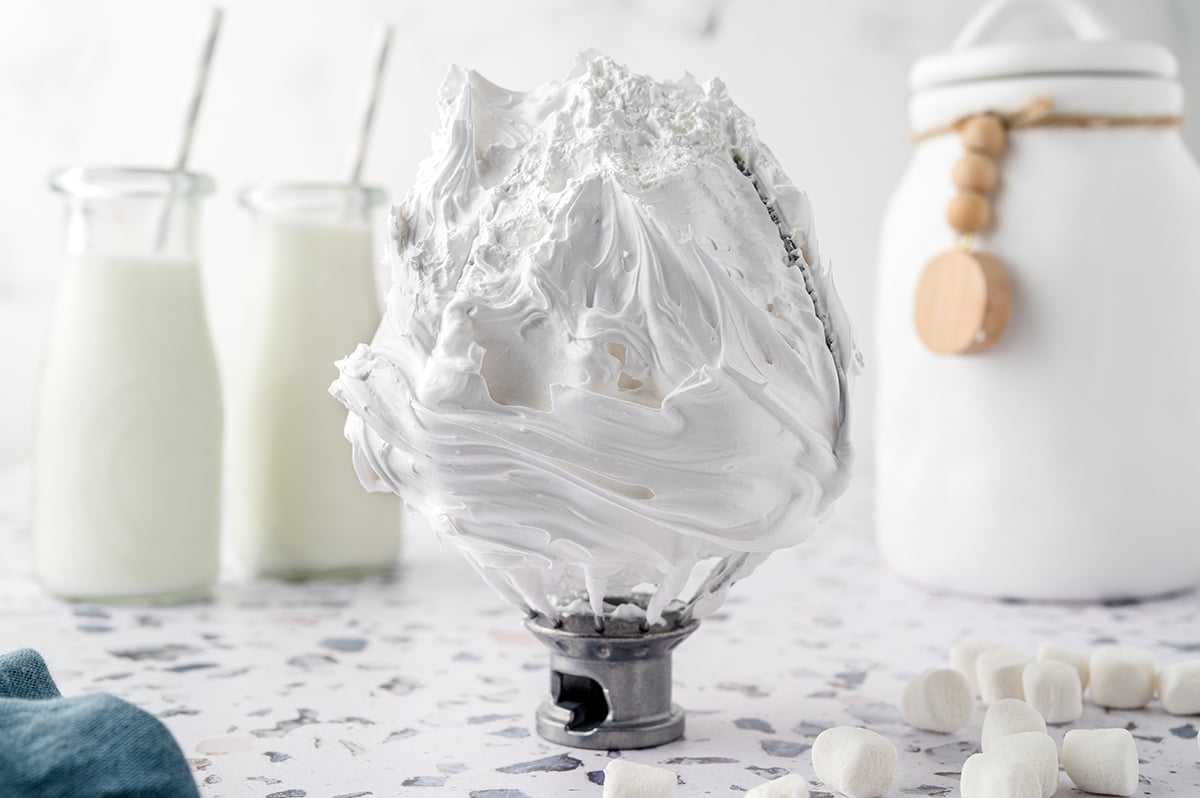 Uses for Fluff
You could also use this recipe to garnish some beverages. It would be perfect plopped atop a whipped hot chocolate, but it would also be amazing with an espresso or white chocolate martini. Serve it with peppermint whipped cream.
While most of the uses for marshmallow fluff are dessert-based, don't sleep on the options for sweetening some savory dishes. Toss this fluff into your Thanksgiving yams, or just top an everyday sweet potato with it.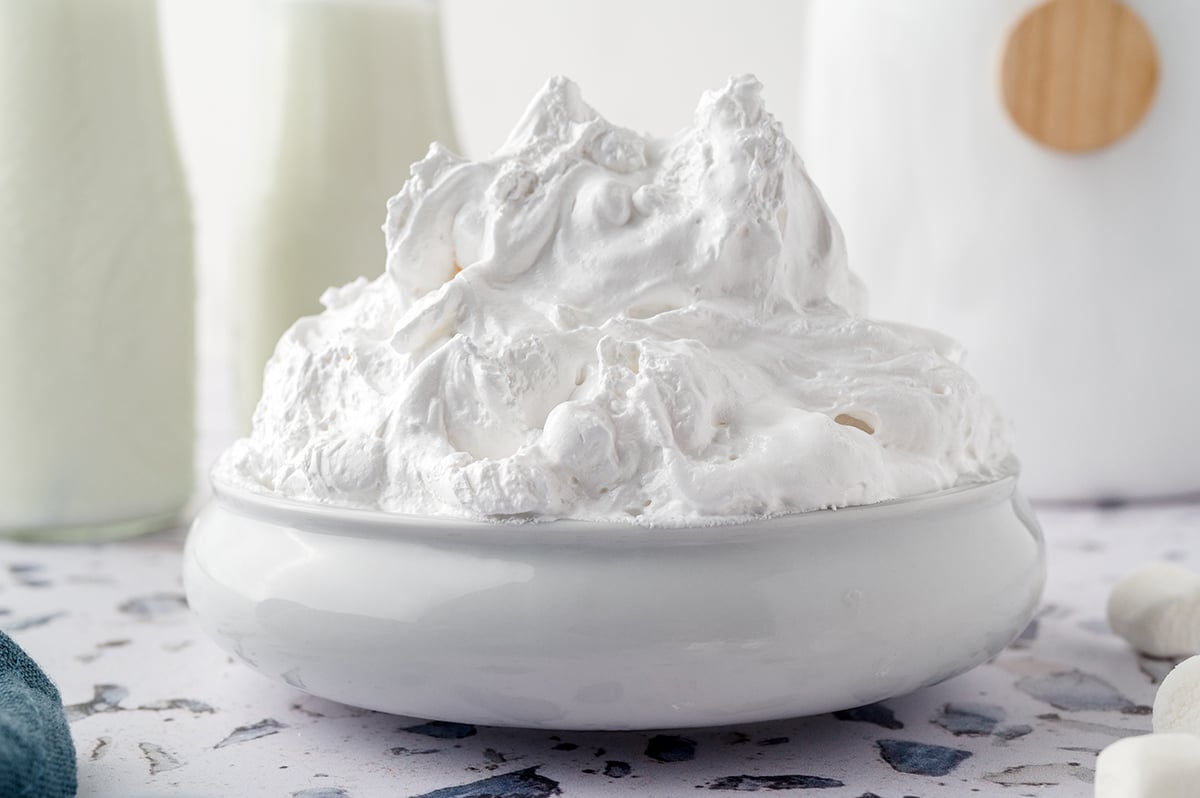 Why You'll Love Marshmallow Fluff
This is the best recipe to make when you're craving something sweet and only have a few ingredients on hand.
Accessible– most of the simple ingredients you already have in your kitchen. Who doesn't love that?
Fast– all of the ingredients come together quickly to make this quick treat that you can store.
Versatile– you can use this marshmallow fluff on anything from sweet to savory dishes. It's great as a fruit dip, for dipping graham crackers or even in whoopie pies. Get creative!
Ingredients
The ingredients are super simple and easily found at the grocery store, unless you already have them in your own kitchen.
Water – use your own tap water or whatever you prefer, just make sure that it's room temperature or warm water so that it mixes well with the other ingredients.
Granulated sugar – granulated sugar dissolves so perfectly in baking recipes and will work well in this recipe, melting in the syrup.
Light corn syrup – using light corn syrup makes sure that when a baked good cools it doesn't have a grainy texture.
Egg whites, room temperature – leave your eggs out for about an hour to make sure that they've lost their chill from the fridge.
Cream of tartar – this handy ingredient help to stabilize egg whites while it also acts as a leavening agent and prevents sugar from crystallizing. It does all the things it needs to for this marshmallow fluff recipe.
Vanilla extract – if you have it in the cabinet, use it. If not, make vanilla extract easily!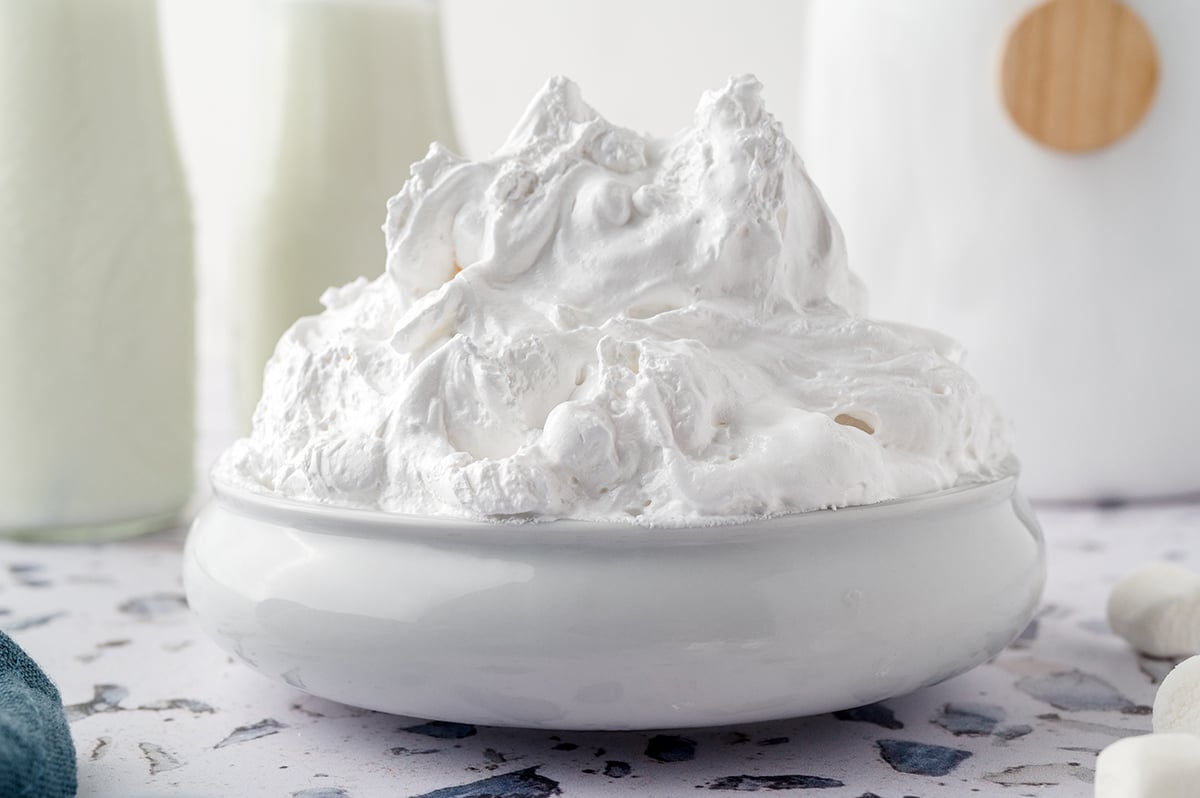 How To Make Marshmallow Fluff
You are going to love how easy this recipe it is. The whole process only takes 30 minutes from start to finish.
Combine water, sugar and corn syrup. In a medium sized saucepan that is fairly heavy, combine the water, sugar, and corn syrup.
Use a candy thermometer. Fit the pan with a candy thermometer and set the stove to medium-high heat. Do not stir – allow the mixture to bubble.
Whisk egg whites. Place egg whites and cream of tartar in the bowl of a stand mixer fitted with the whisk attachment. Alternatively, you can use a large mixing bowl and an electric hand mixer. Whip the egg whites to soft peaks.
Remove sugar mixture from heat. When the sugar syrup reaches 240°F (using a candy thermometer), remove the saucepan from the heat.
Combine. Next, very slowly (and in a steady stream), pour the sugar mixture into the peaked egg whites while mixing on medium speed. When the mixture is fully combined, continue to mix, increasing the speed to medium-high.
Whip. The mixture of the syrup and eggs will first deflate, but then will return to a thickened state. Continue to whip the marshmallow fluff mixture before adding the vanilla.
Cool. Once all ingredients are incorporated, allow the mixture to cool completely on the countertop.
Store. Store in an airtight container at room temperature for up to 2 weeks.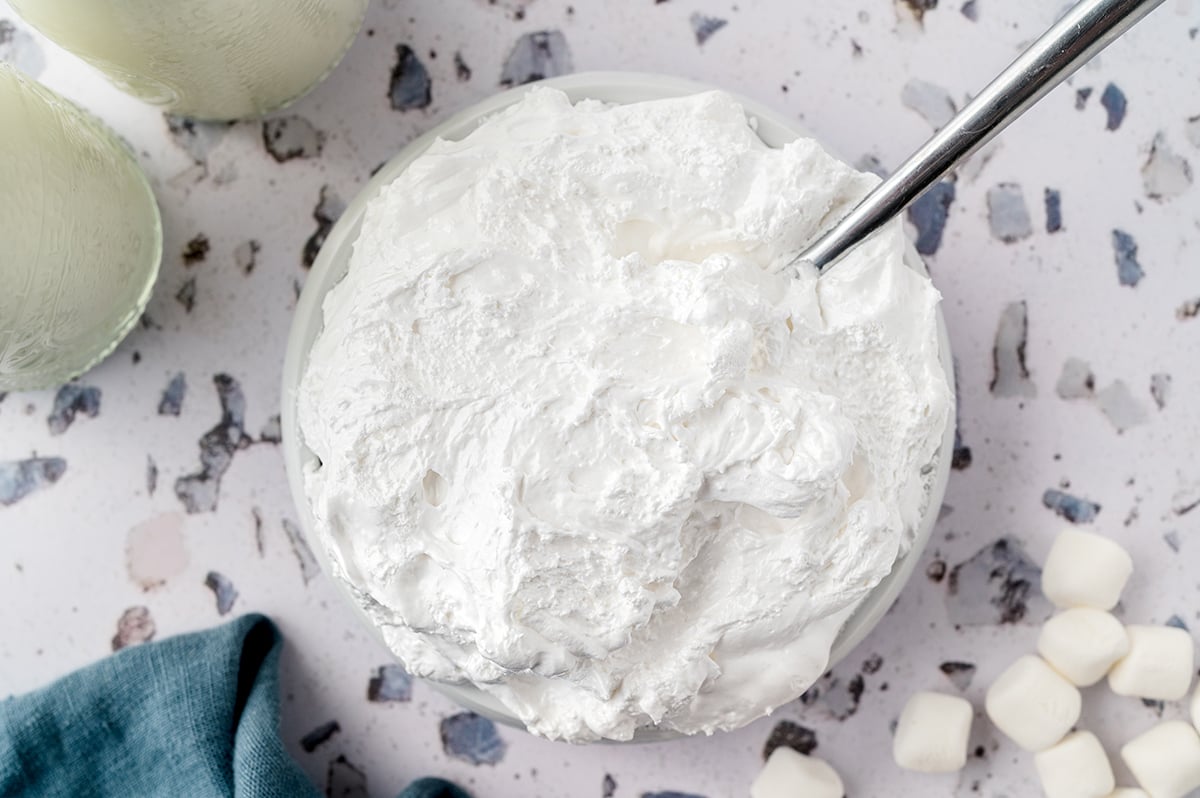 Variations
There are plenty of ways for you to make this marshmallow fluff recipe your own.
Peanuts– either add crushed peanuts, peanut butter chips, or drizzle some melted peanut butter into this marshmallow fluff to add some nutty flavor.
Chocolate– throw in some chocolate chips or chocolate sauce or even cocoa powder to kick this up a notch.
Candy– chop up your favorite candy (think: Butterfingers, chocolate bars, or Reese's peanut butter cups) and stir it into this fluff.
Fruit– grab some fresh or dried fruit (and chop as necessary). Blueberries, cranberries, strawberries or even dried bananas will work well
How to Use Marshmallow Fluff
You can slather this marshmallow mixture on just about anything you'd like to. Ever heard of a fluffernutter sandwich? It's a peanut butter and marshmallow fluff sandwich and it is incredible.
You can also use this marshmallow paste as a filling for your favorite whoopie pie recipe. You can also use it in a fudge recipe. The best part about it is you can use it on just about anything.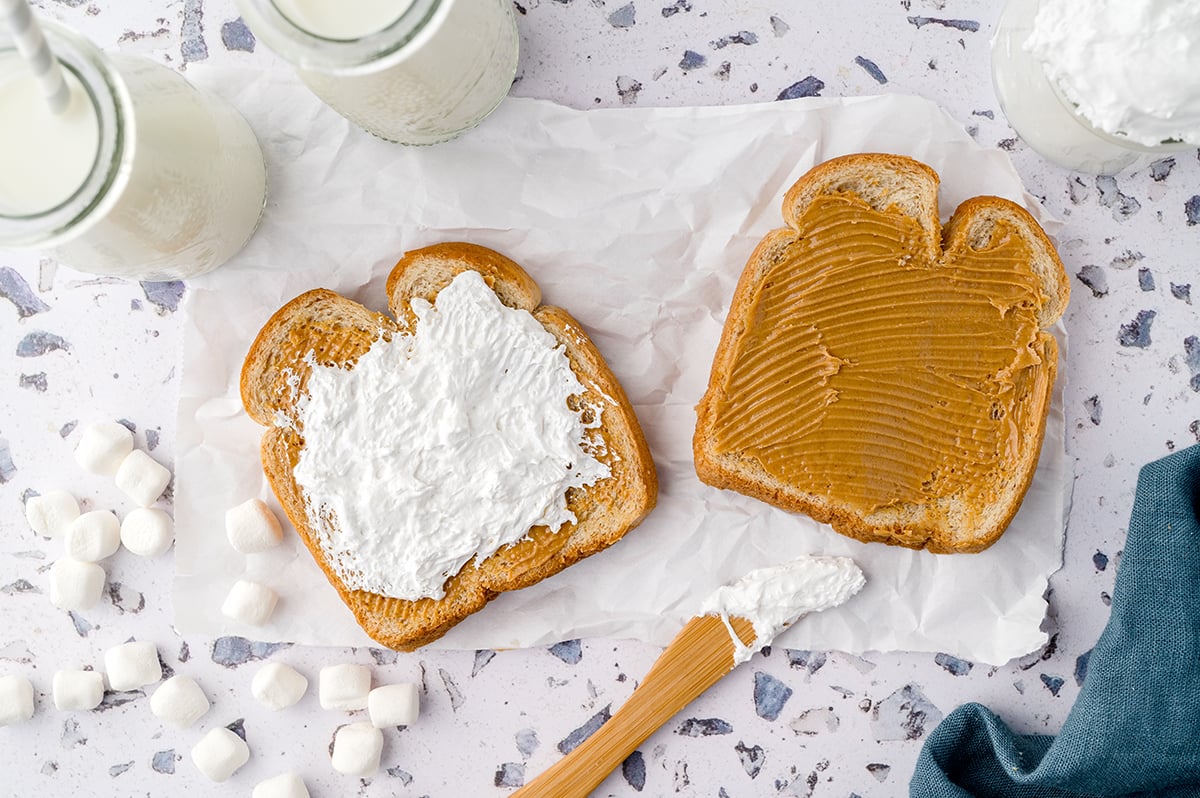 Storage and Freezing
Storage: You can store marshmallow fluff in an airtight container at room temperature for up to two weeks.
Freezing: You can freeze this recipe the same way- in an airtight container. It will last for up to six months.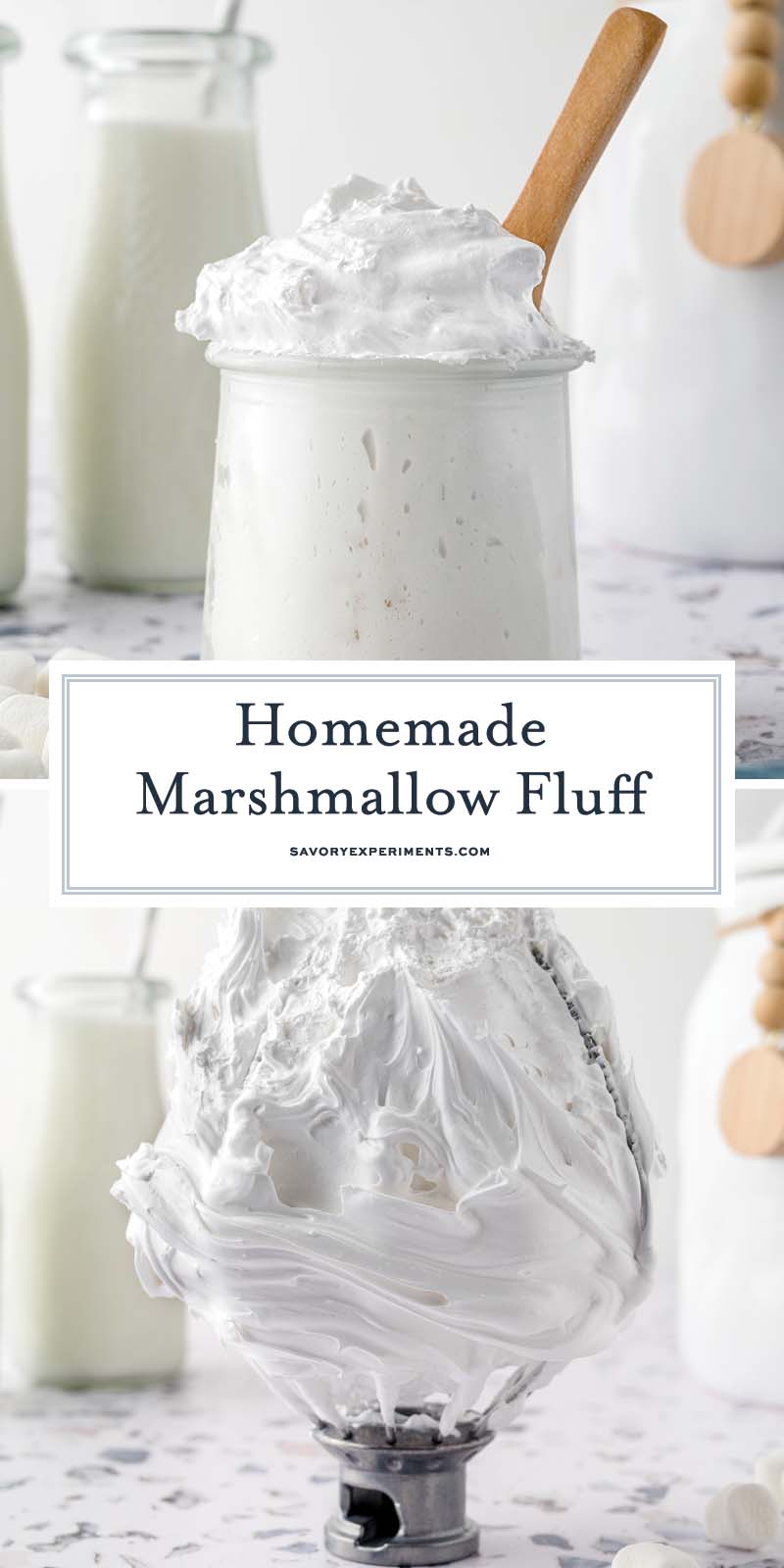 Other Marshmallow Concoctions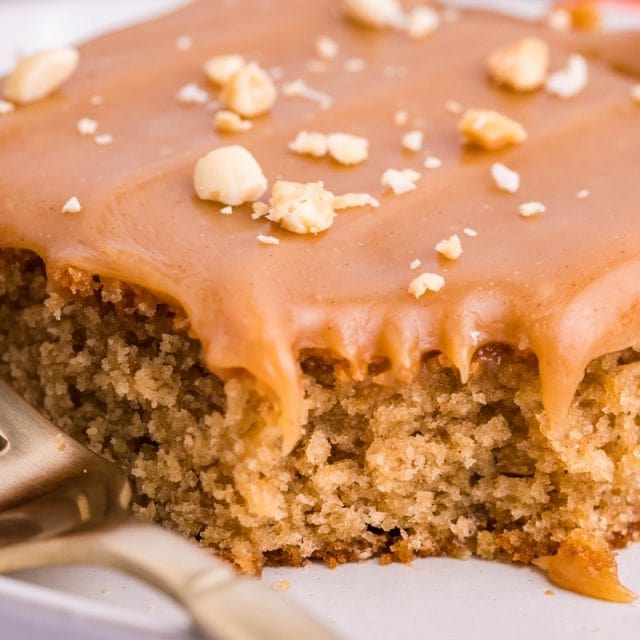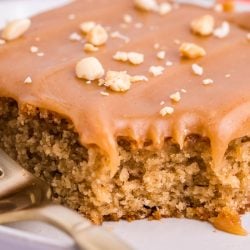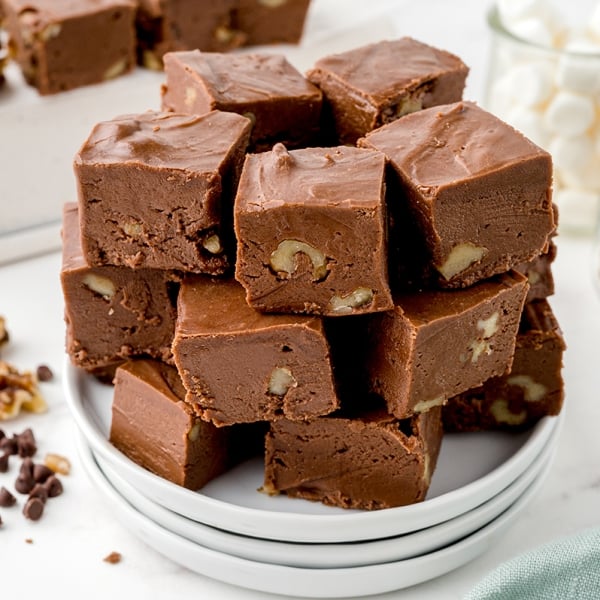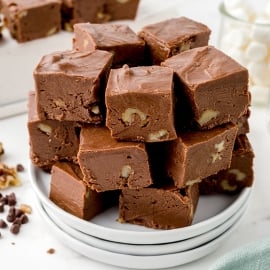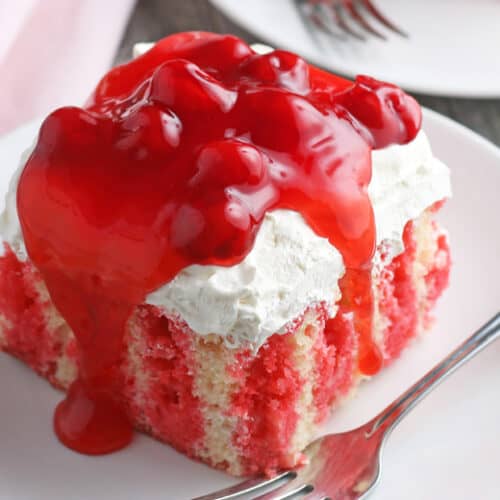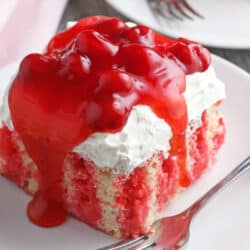 Cherry Poke Cake
Poke cakes are so fun, and this Cherry Poke Cake is no exception. Easier to make than just a white cake with cherry filling, and more delicious too!
See The Recipe!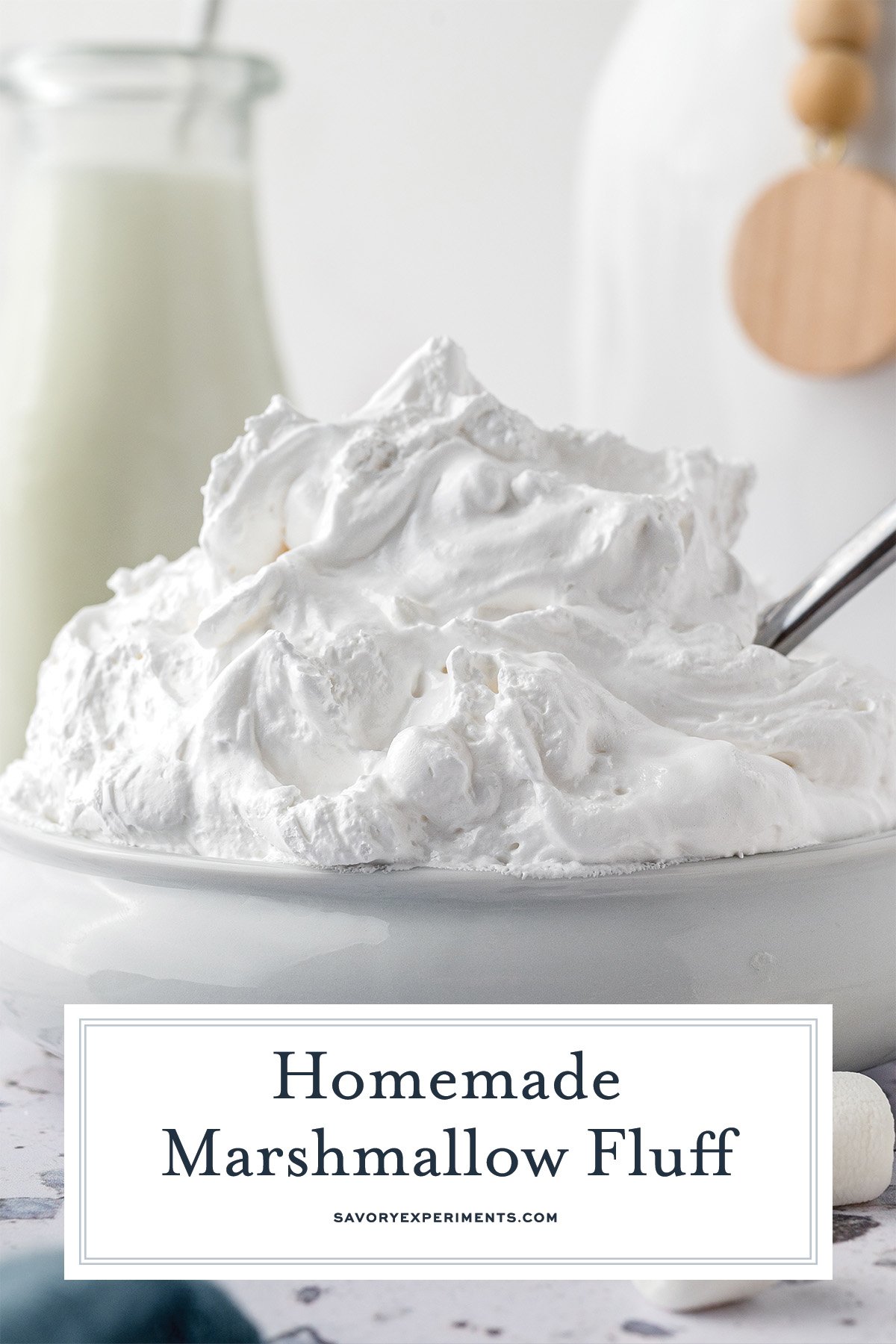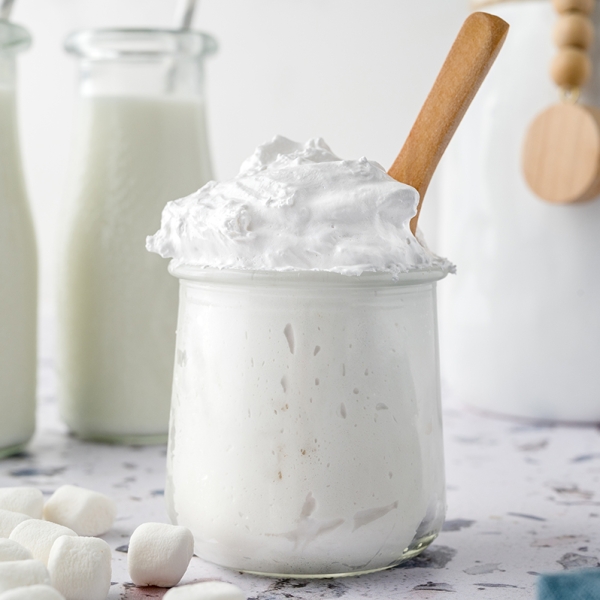 How to Make Marshmallow Fluff
With only 5 simple ingredients, you can have this homemade Marshmallow Fluff recipe ready in under 30 minutes! So light and fluffy!
Instructions
Combine the water, sugar, and corn syrup in a medium heavy bottom saucepan fitted with a candy thermometer. Place over medium-high heat.

Do not stir, the mixture will bubble.

Place the egg whites and cream of tartar in the bowl of a stand mixer fitted with the whisk attachment or a large mixing bowl using an electric hand mixer with whisk attachment. Whip the egg whites to soft peaks, approximately 3-4 minutes.

When the sugar syrup reaches 240·°F, remove the heat and very slowly and in a steady stream, pout the sugar mixture into the egg whites while on medium speed. If you are using a hand mixer, you might need a set of extra hands.

When it is fully combined, continue to whisk, increasing the speed to medium-high. The mixture will first deflate, but will thicken back up. Continue to whip for 7-8 minutes, then whisk in the vanilla.

Allow the mixture to cool completely before using. Store in an airtight container at room temperature for up to 2 weeks.

If you've tried this recipe, come back and let us know how it was in the comments or star ratings!
Notes
Make sure the bowl and whisks are grease and liquid free. You can even wipe them down with pain white vinegar, lemon juice or wiping alcohol if you allow enough time for the liquid to dry.
Nutrition
Calories:
227
kcal
,
Carbohydrates:
58
g
,
Protein:
2
g
,
Fat:
0.2
g
,
Sodium:
52
mg
,
Potassium:
68
mg
,
Sugar:
58
g
,
Calcium:
7
mg
,
Iron:
0.04
mg