Homemade brownies don't get much better than these fudgy Frosted Brownies! With a moist crumb and a light and airy frosting, they can't be beat!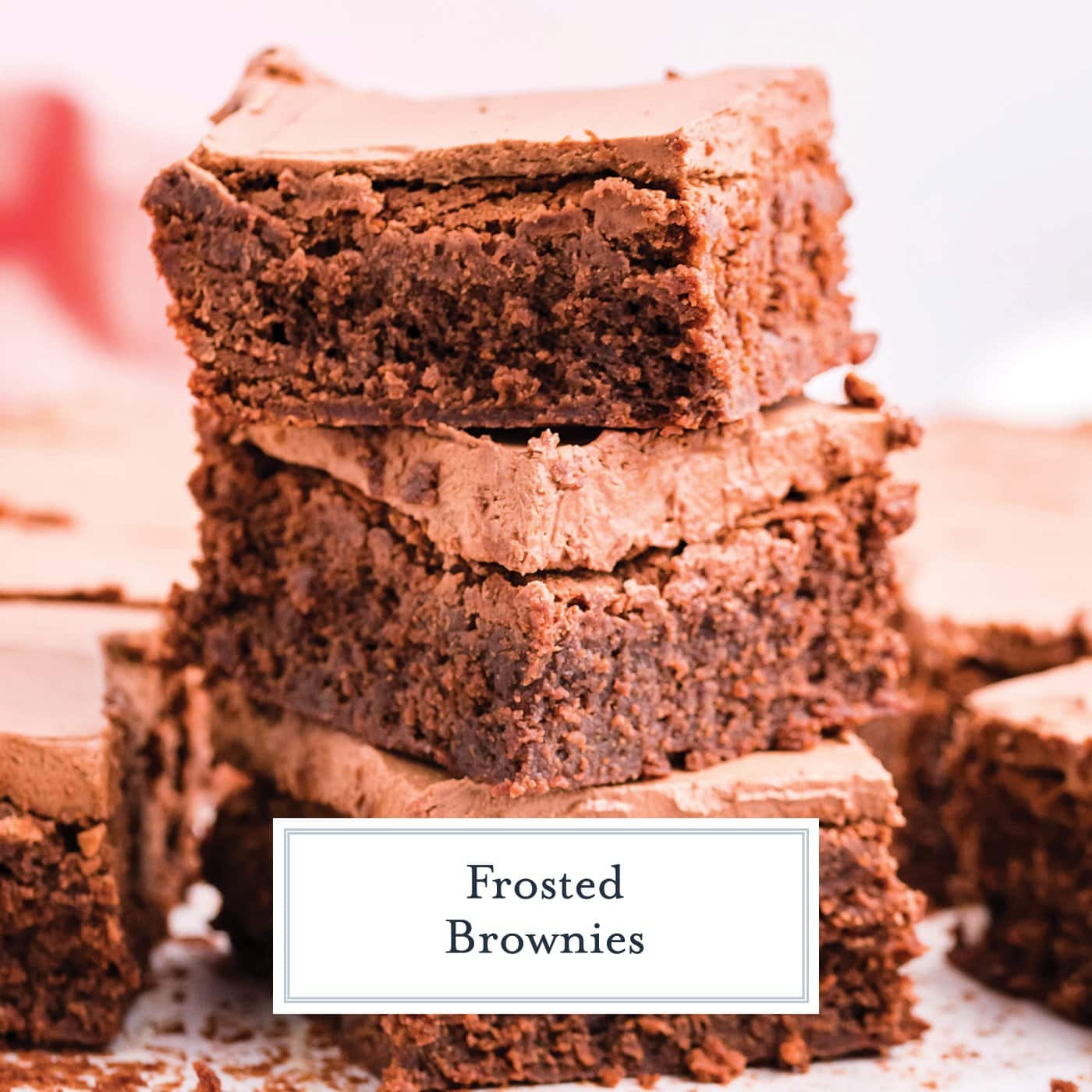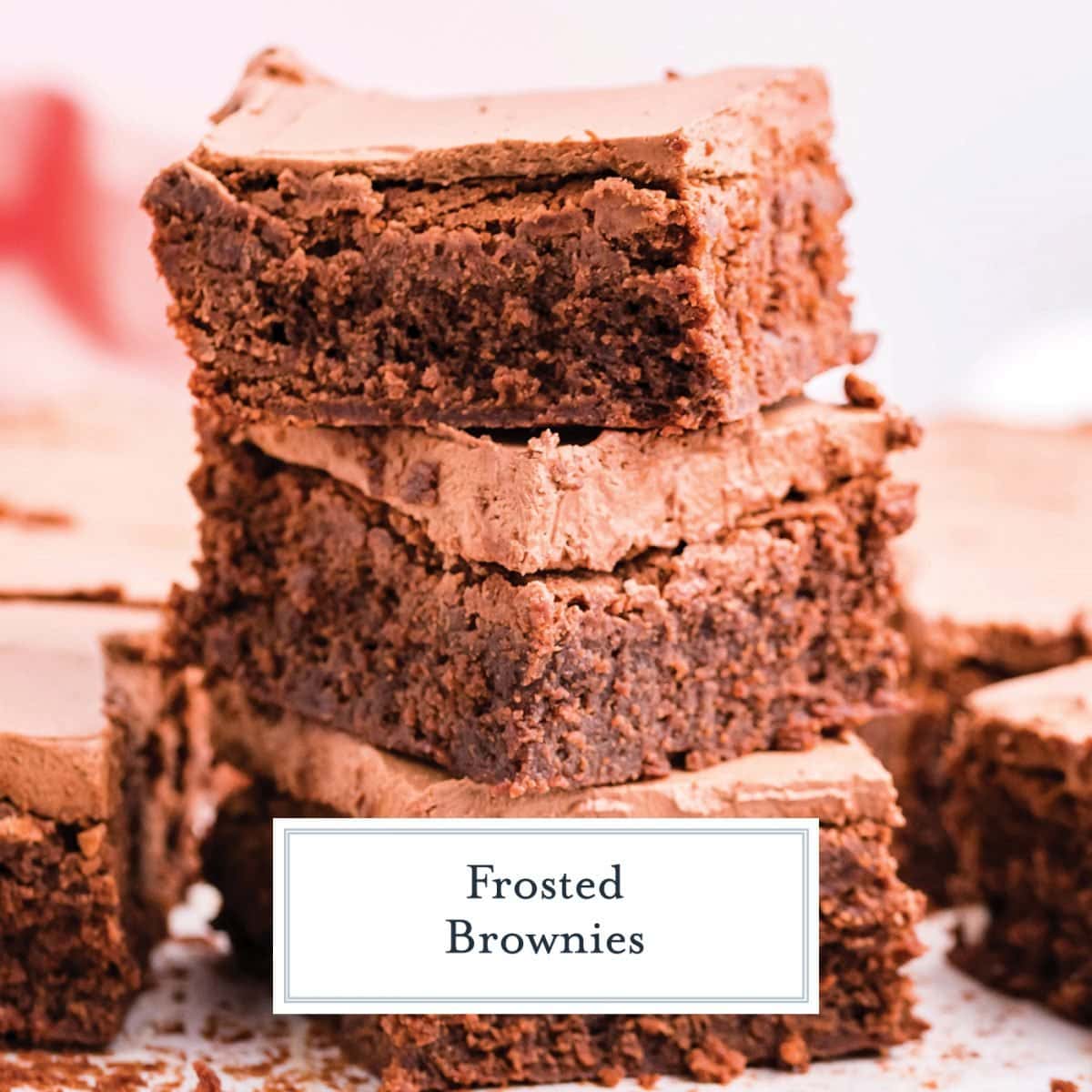 There seems to be a few schools of thoughts when it comes to brownies. And some people feel very passionately about them! Nuts or no nuts, edges or center pieces, and another is frosted or not frosted.
I am a fan of any and all brownies, but today we're talking about frosted brownies- also lovingly called lunch lady brownies. Some of my favorite times to eat a school lunch were when the lunch ladies had those giant pans of fudge brownies topped with that delicious frosting.
Don't get me wrong, there is nothing wrong with a box mix. In fact, I have a whole post about How to Make Box Brownies Better. But sometimes you just get a hankering for a good, homemade brownie.
Frosted Brownie Ingredients
Butter – These fudgy brownies use butter for both the brownies and the frosting. You can choose to use unsalted butter in order to control the salt content, but I had salted on hand so that's what I used. Use a good quality butter for best results. It is the base and the fat, so one made mostly of water and not the good stuff won't give you a rich flavor or produce moist crumbs.
Semi-sweet chocolate chips – There is no such thing as too much chocolate in my book, so in addition to the chocolate frosting, I like to add some chocolate chips to my batter.
Granulated sugar – we need something to balance out the bitter flavor of the cocoa powder, and obviously sugar is the best option.
Vanilla extract – Vanilla seems to be a baking staple, and it really helps to blend all of the flavors together in these homemade brownies. Another ingredient to be mindful of the quality. Avoid using brands that are imitation or clear vanilla.
Eggs – The eggs help to hold everything together, as well as give these brownies an extra rich taste. When baking, I always prefer to use room temperature eggs. Always assume we are using large eggs. Even using an extra large egg in brownies can make them cake like.
All-purpose flour – Flour provides the base for most dessert recipes, including these from scratch brownies.
Baking powder – Baking powder is a leavening agent and it helps baked goods to rise.
Espresso powder – This one is optional, however is can take your frosted brownies to a whole new level flavor wise- really anything with chocolate. It's sharp and strong, setting them apart from a regular box mix for the rich brownies.
Cocoa powder – And now we need something to add that chocolate flavor! Cocoa powder does just that, and we also use it in the chocolate icing too.
Powdered sugar – Also sometimes called confectioners' sugar, we use this in the chocolate buttercream frosting. The fine texture makes the frosting smooth rather than the gritty texture you'd get from regular white sugar.
Heavy whipping cream – Who doesn't love a fluffy frosting? Mixing in heavy cream allows for air to be whipped in for the perfectly fluffy texture.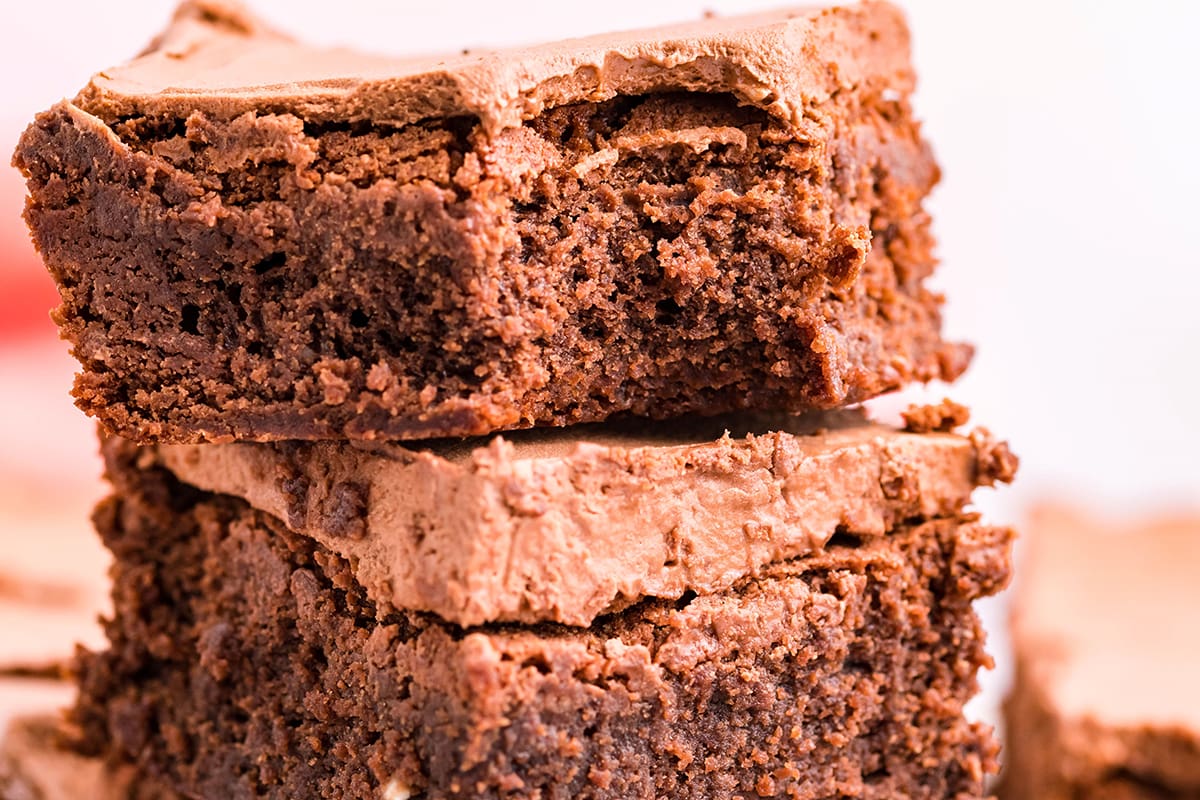 How to Make the Best Frosted Brownies
Prepare the pan. I like to not only spray the pan with cooking spray, but also line it with parchment paper. This ensures that your brownies won't stick to the pan.
Melt the chocolate. There are two ways to do this. You can either use a large microwave-safe bowl and microwave at 30 second intervals, or if you're comfortable doing so, you can use a double boiler. You will want to melt butter and chocolate together. The double boiler can prevent the chocolate from overcooking and becoming cakey. There is no coming back from that, you'll need to start over again.
Mix the wet ingredients. In the bowl of a stand mixer, combine the sugar, eggs and vanilla and cream well. Once the melted chocolate mixture has cooled, add that in as well.
Mix the dry ingredients. Sift together the flour, baking powder, espresso powder, and cocoa powder, and then mix the flour mixture into wet ingredients. Don't skip the sifting!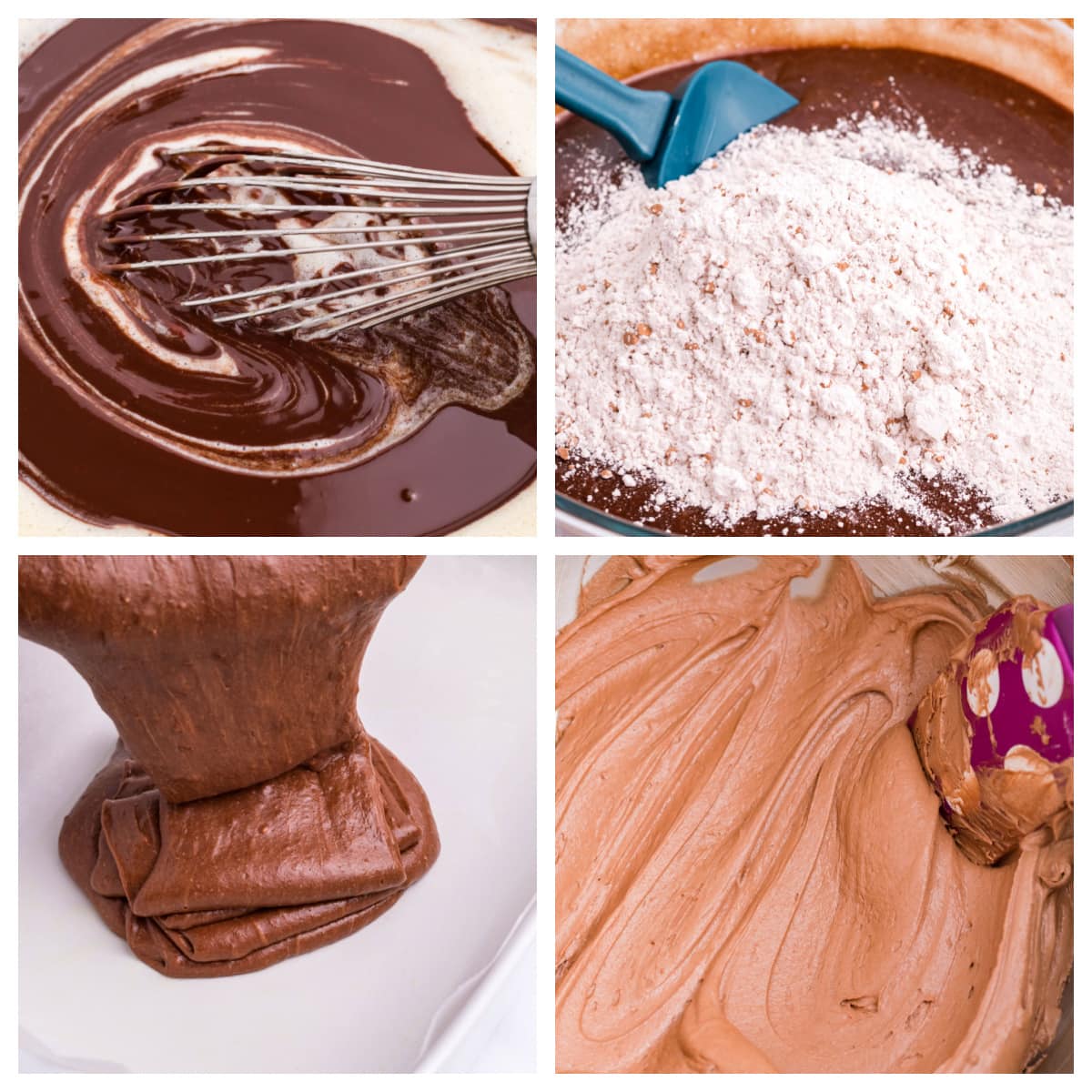 Bake. Pour batter into prepared pan and smooth evenly with a rubber spatula. Bake for 40-45 minutes. You can do the toothpick test to check for doneness. Remove the brownies right before you beleive them to be done, not after. They will continue to cook a bit in the hot pan.
Make the frosting. Once the brownies are baked, allow the pan to cool on a wire rack. Combine the ingredients for the chocolate frosting in a large mixing bowl or stand mixer.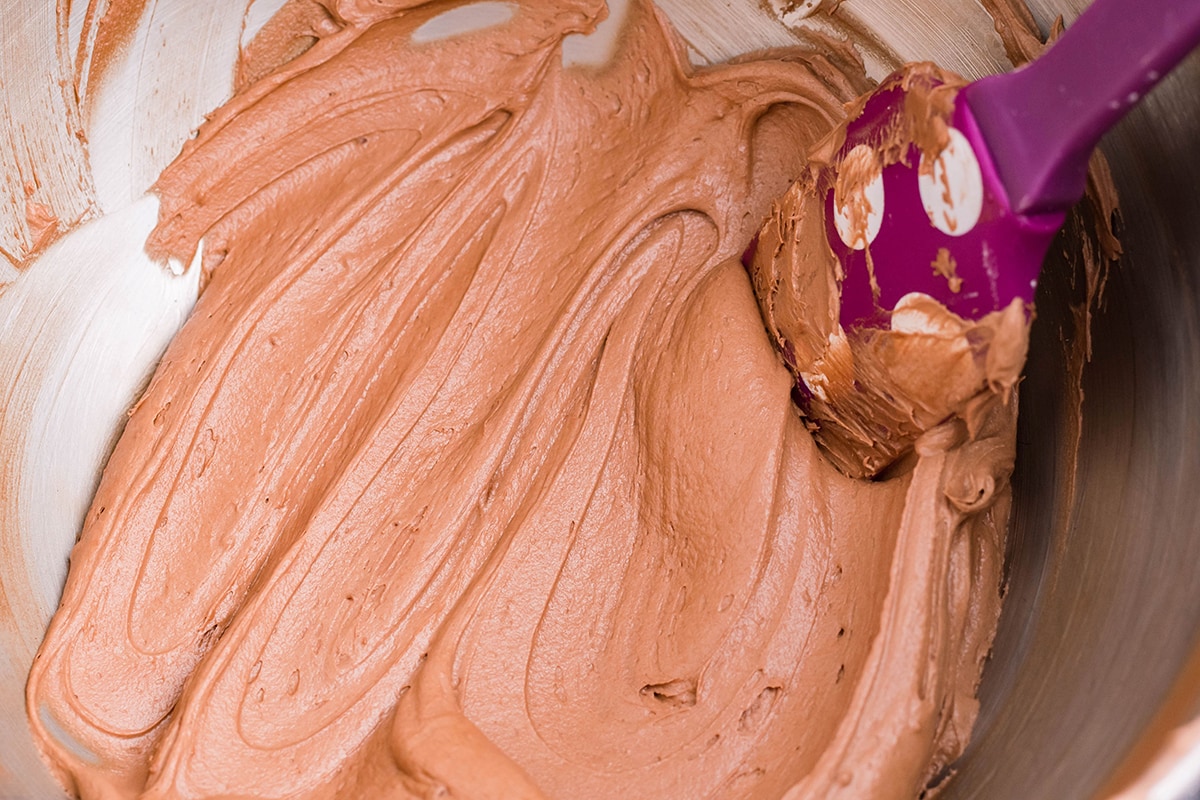 Frost and enjoy! Spread the frosting on top of the brownies, cut, serve and enjoy! Brownies are easily cut using a plastic knife or a sharp knife, but wipe it clean between cuts for clean edges.
Tips for the Best Brownies
Use good quality ingredients. Good food comes from good quality. Don't skimp on the butter, baker's chocolate or vanilla here.
Cream It Well– Most bakers don't actually cream ingredients well. Creaming should take 3-4 minutes and make for a nearly smooth texture. Make sure you take the time to do this with your eggs and sugar.
Sift– Sifting is another step commonly avoided. Sifting allows all of the ingredients (particularly salt and the leaveners) to evenly distribute within the batter so you don't have any weird pockets and they bake evenly.
Don't Over bake– Take the brownies right before you think they are done, not after. You'll get the fudgy center you are looking for.
Variations
With this brownie base, there are lots of options for you to make them your own! Your best brownies.
If you're a fan of peanut butter, try swirling some into the brownie batter! You could even make a peanut butter frosting instead of the chocolate one.
Instead of semi sweet chocolate chips, you could certainly switch them out for milk chocolate or even white chocolate chips or chocolate chunks.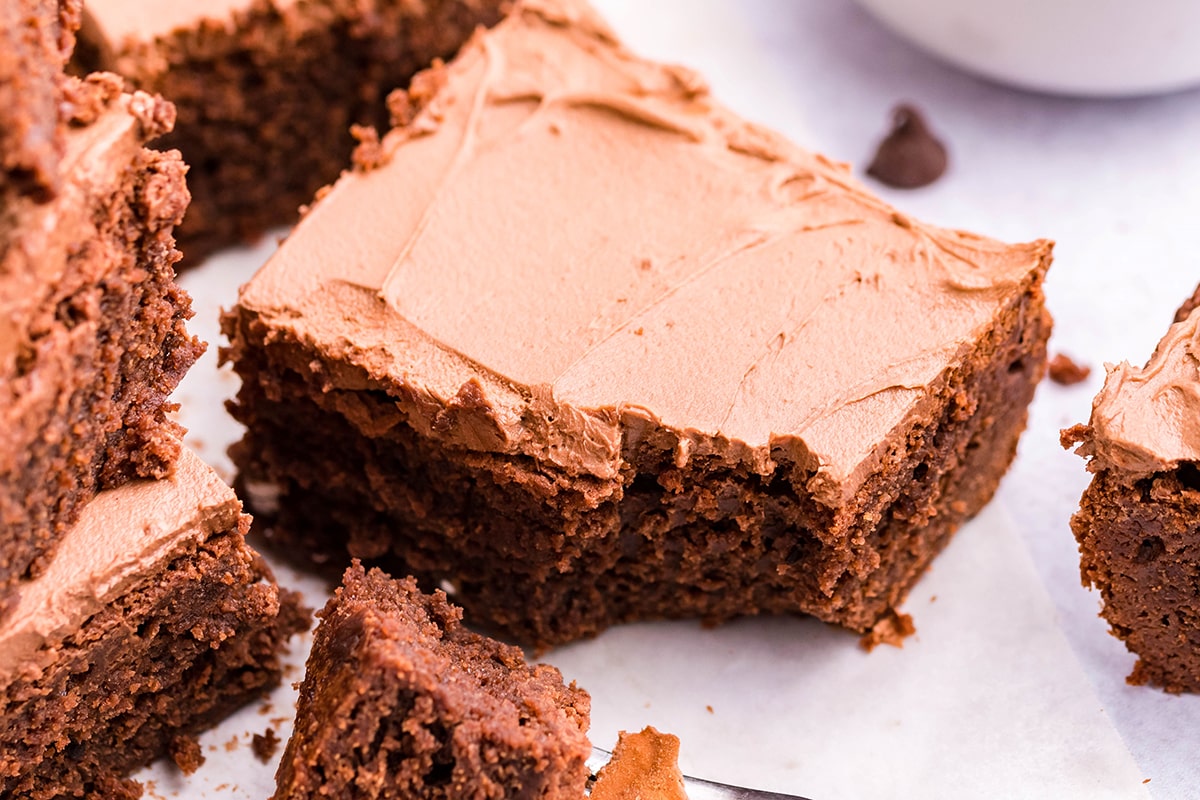 If you really want to take these cakey brownies up a notch, serve them with a scoop of vanilla ice cream while they're still warm.
The holidays are quickly approaching, so you could even throw some crushed candy canes into the batter to add some Christmas flavor.
Don't want these frosted brownies to be too sweet? You could always swap out the chocolate frosting for a cream cheese frosting instead.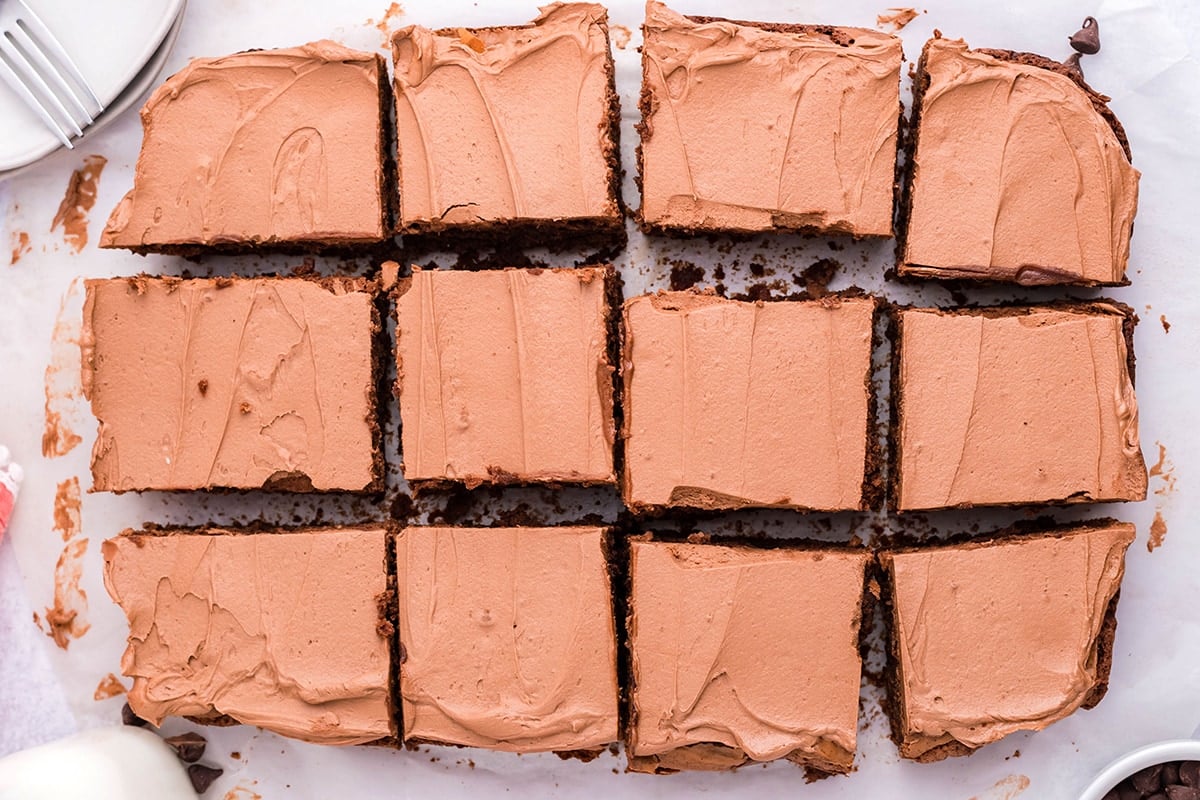 Storage & Freezing
You can store your leftover brownies in an airtight container. If you'd like to make sure they stay moist, you can even wrap them in plastic wrap first. But make sure you wait to do that until after the frosting sets.
These brownies can be frozen either before frosting or after being frosted. Wrap well with freezer paper or aluminum foil and freeze for up to 4 months.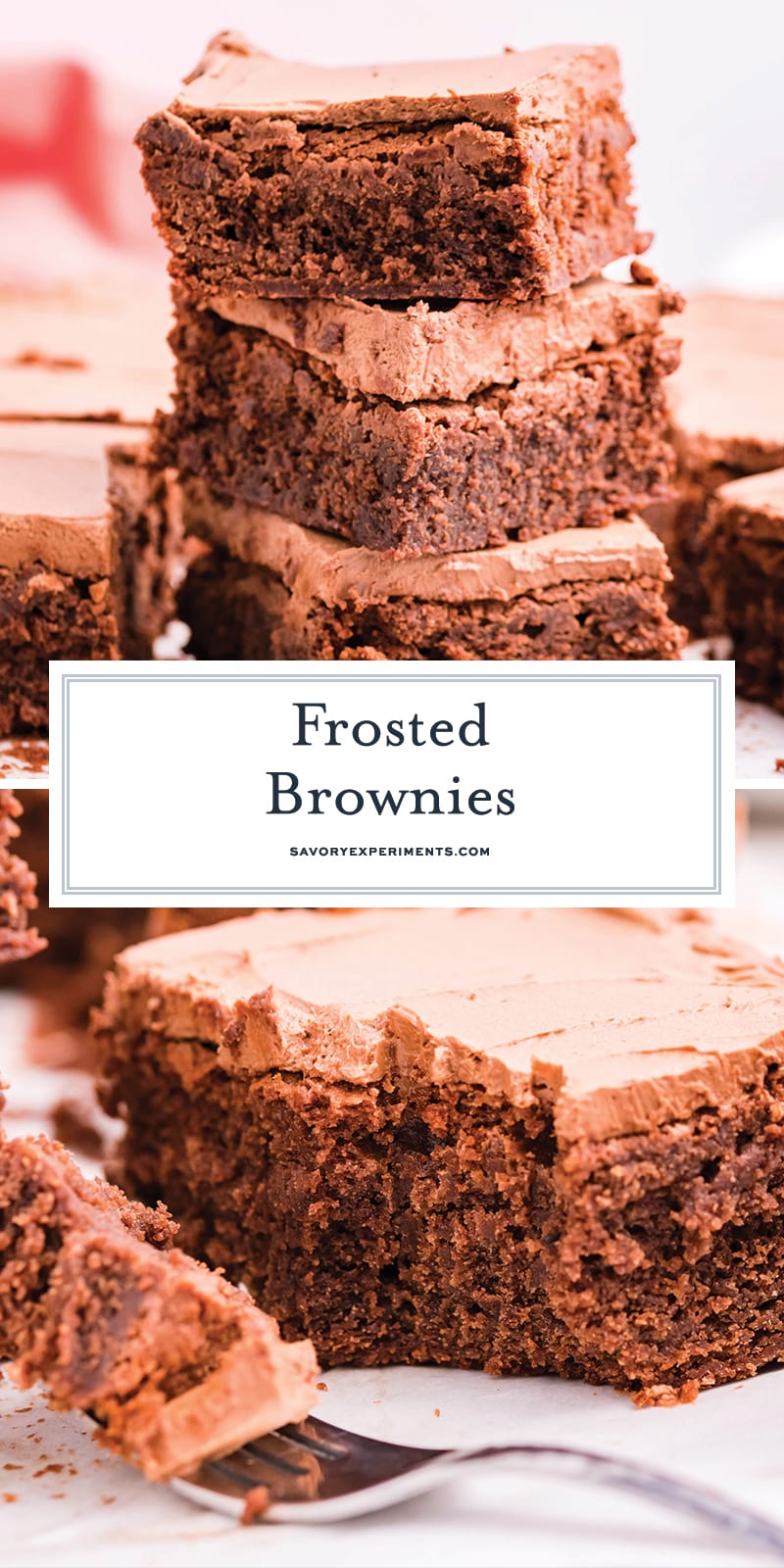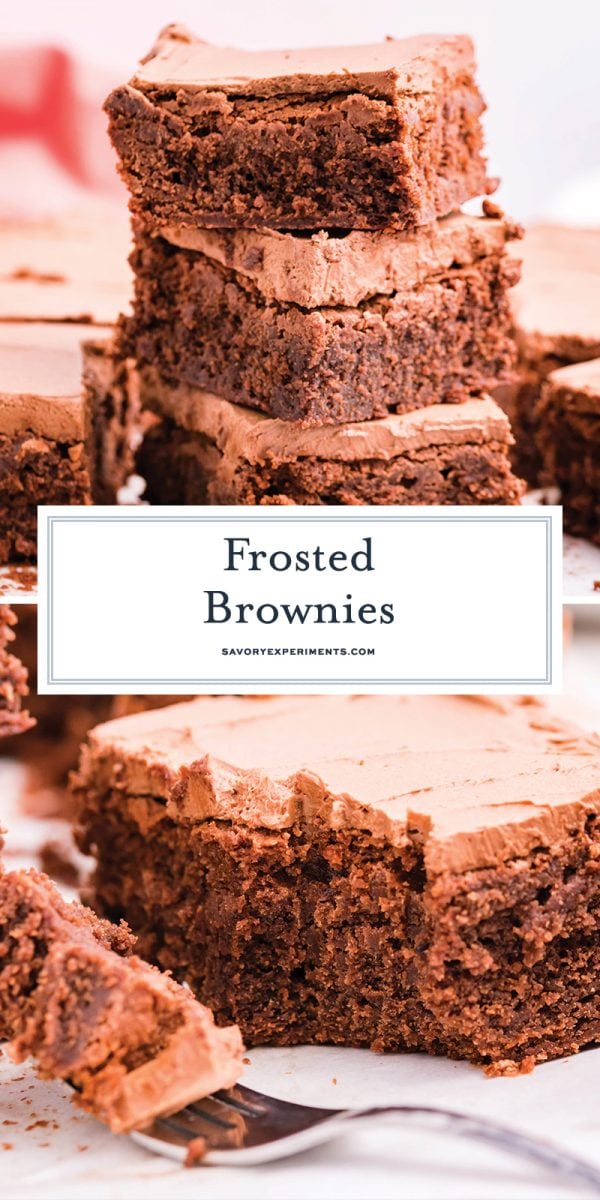 More Brownie Recipes:
Nutella Brownies
Homemade Nutella brownies are made in one bowl. With 7 simple ingredients and in less than 1 hour you can enjoy a piece of this delicious brownie recipe!
See The Recipe!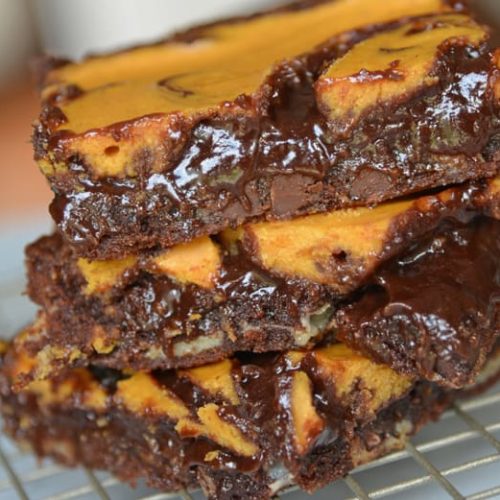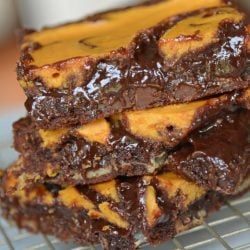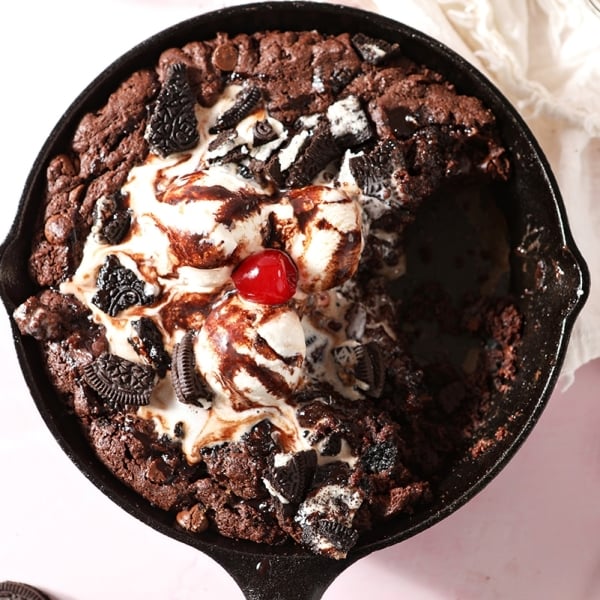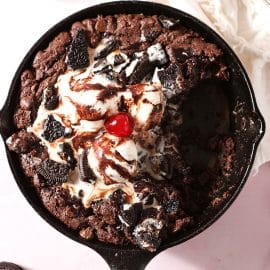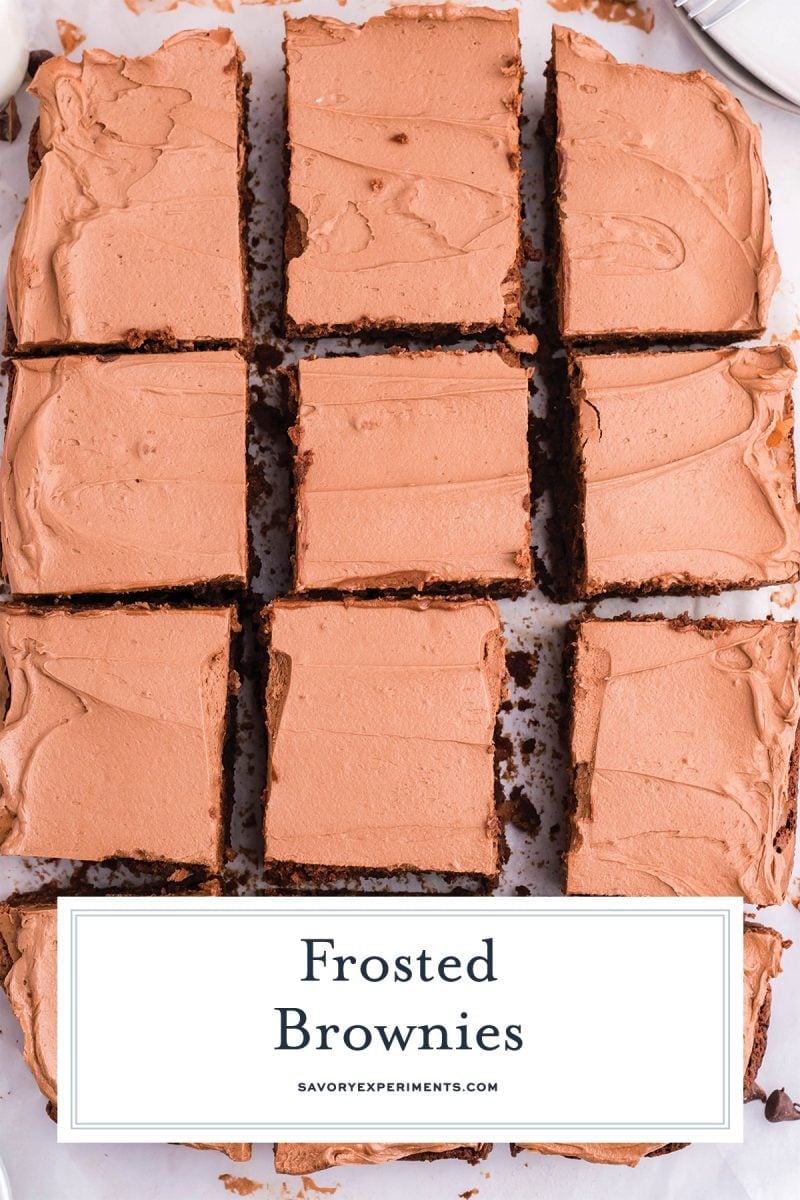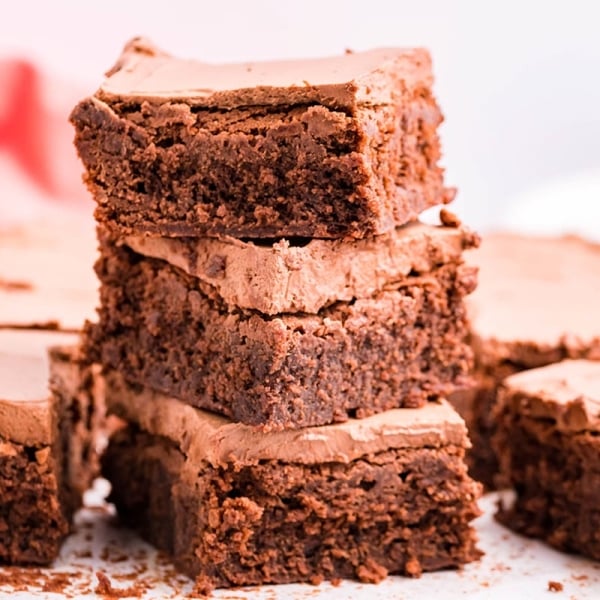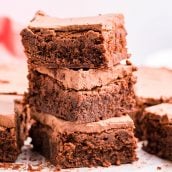 Frosted Brownies
Homemade brownies don't get much better than these fudgy Frosted Brownies! With a moist crumb and a light, airy frosting, they can't be beat!
Instructions
Preheat oven to 350°F and prepare a 9×12 baking pan by spraying generously with non-stick spray and parchment paper and set aside.

In a microwave safe bowl, add the butter and semi-sweet chocolate and heat in the microwave on 30 second increments, stirring in between, until melted and smooth. Set aside to cool.

In the bowl of a stand mixer equipped with a paddle attachment, add the sugar, eggs, and vanilla, and mix until well combined.

Pour in the cooled chocolate mixture and mix until well combined and smooth.

Sift in the flour, baking powder, espresso powder, and cocoa powder. Mix until just combined and there are no dry spots remaining.

Pour batter into the prepared baking pan and smooth evenly. Bake for 40-45 minutes or until a toothpick inserted in the center of the brownies comes out with a few moist crumbs.

Remove from the oven and allow to cool completely on a wire rack.
Frosting:
In the bowl of a stand mixer equipped with a paddle attachment, cream the butter on high speed until smooth.

Add the cocoa powder, vanilla, and powdered sugar and mix on low speed until combined. Increase speed to high for about 1 minutes.

Scrape the sides and bottom of the bowl and mix in the heavy whipping cream until you get desired consistency.

Once the brownies are cool, add the frosting on top and smooth evenly.

Store the brownies in an airtight container at room temperature for up to three days.

If you've tried this recipe, come back and let us know how it was in the comments or ratings!
Nutrition
Calories:
682
kcal
,
Carbohydrates:
82
g
,
Protein:
7
g
,
Fat:
37
g
,
Saturated Fat:
22
g
,
Polyunsaturated Fat:
2
g
,
Monounsaturated Fat:
10
g
,
Trans Fat:
1
g
,
Cholesterol:
148
mg
,
Sodium:
240
mg
,
Potassium:
296
mg
,
Fiber:
4
g
,
Sugar:
64
g
,
Vitamin A:
879
IU
,
Vitamin C:
1
mg
,
Calcium:
59
mg
,
Iron:
3
mg