*I received products in exchange for this post and giveaway. Recipe, photos, and opinions are 100% my own.
You read the title correctly, Candied Bacon Maple Cheesecake. Brownie Brittle ™, Candied Bacon and Maple Cheesecake. Bacon on a cheesecake? YES, yes, yes… I can not tell you how many times- YES!!!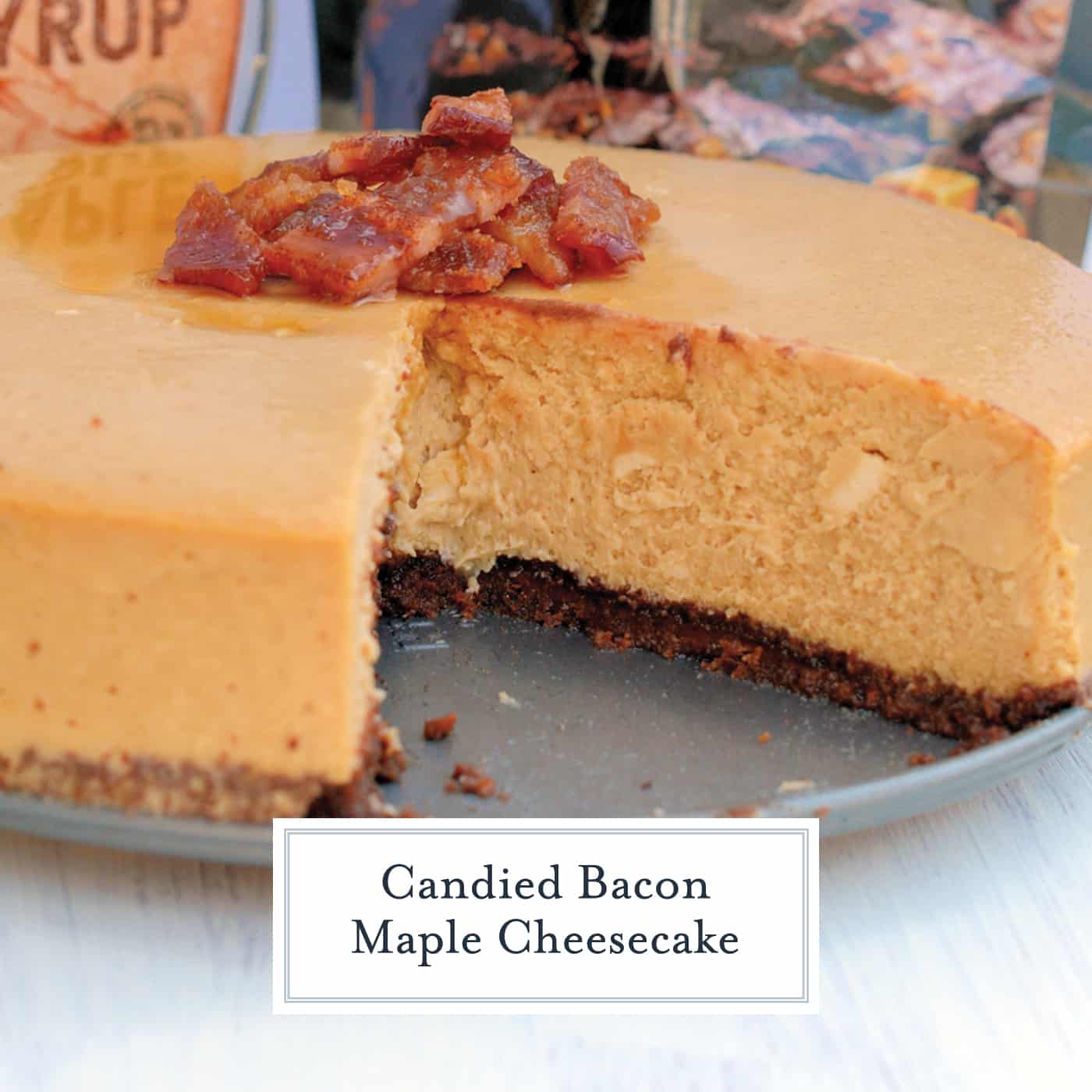 Candied Bacon Maple Cheesecake is made up of a maple cheesecake topped with candied bacon and a Salted Caramel Brownie Brittle ™ Crust! This decadent cheesecake recipe is a dessert no one can resist!
A few months back I had my first experience with Brownie Brittle ™ by Sheila G..
You've seen it at the grocery store, so what exactly is it? You know the crusty corners of your traditional brownie pan? The ones that everyone fights over?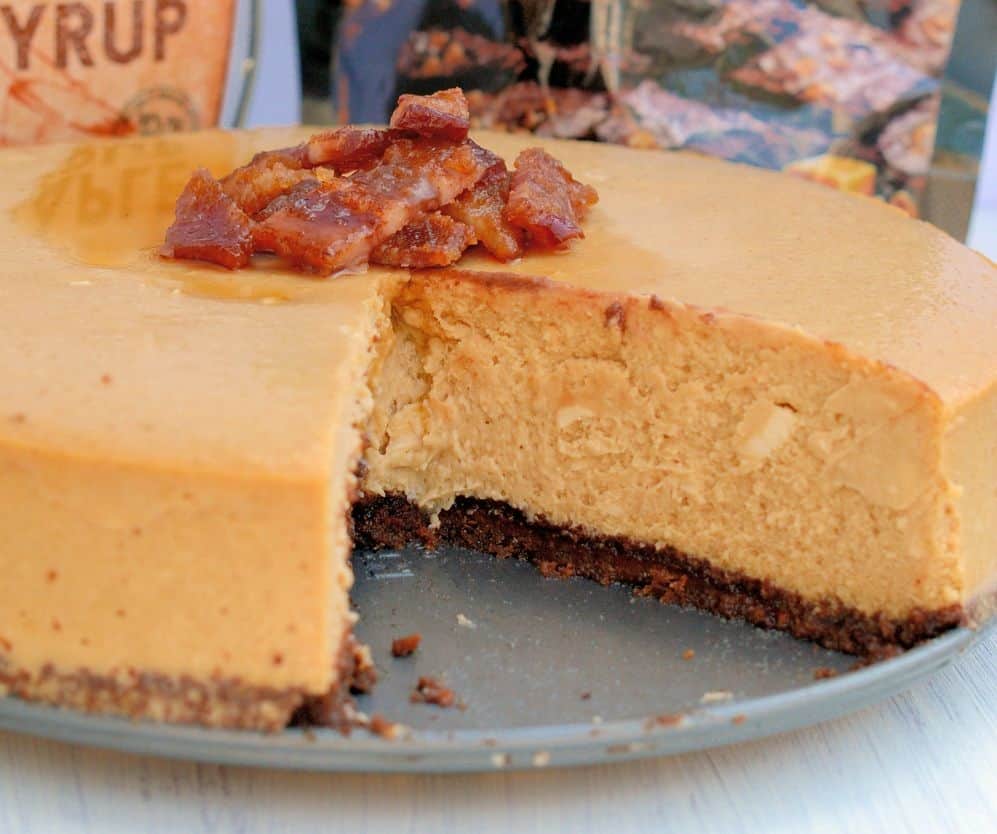 Brownie Brittle ™ is an entire bag of nothing but velvety, crispy brownie batter. *HEAVEN* Ready to try a bag? Scroll down to the bottom of this post to see how YOU can win a Sampler Pack!
Since trying it, I crave it. A handful at night fulfills my chocolate craving without having to bake. I then started to think about what else I could do with Brownie Brittle ™ tasty treats.
I started by crumbling it over my vanilla frozen yogurt, then dipping it into a peanut butter dessert dip and then the magic happened… pie crust!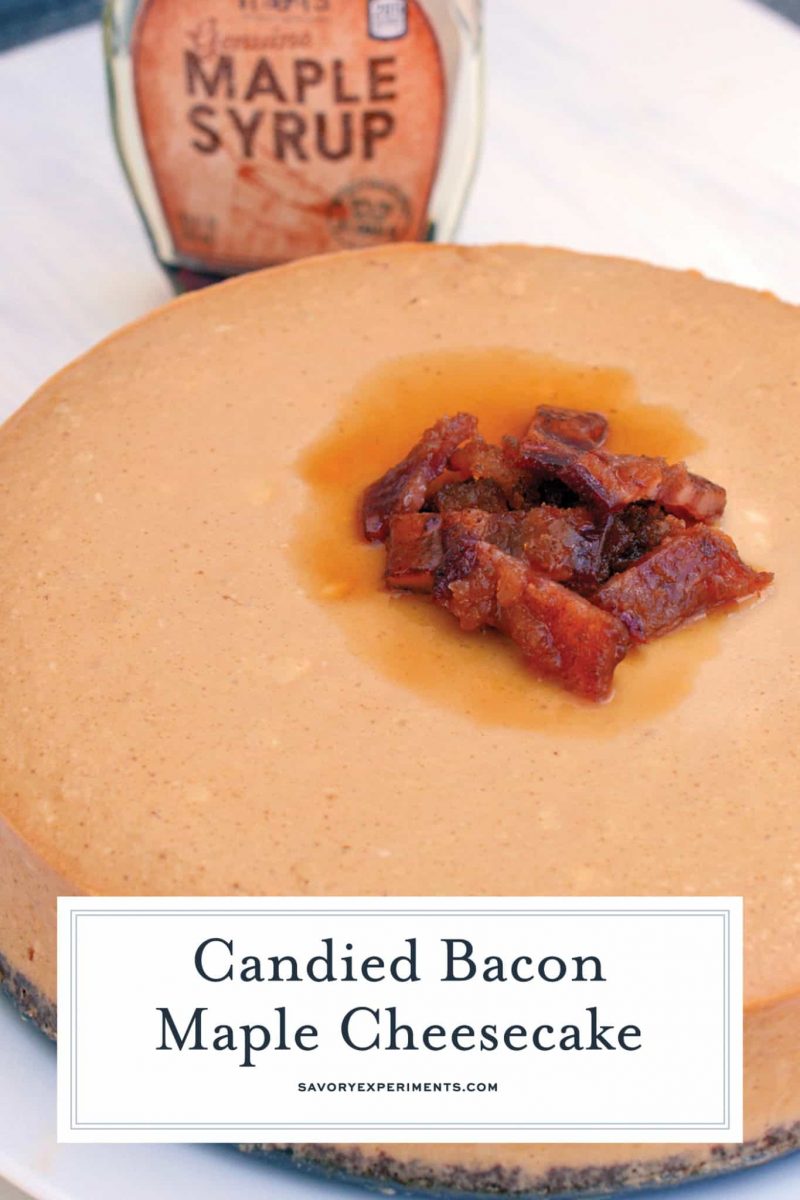 It really built itself from there. My favorite candy is actually Bacon Candy, so I wanted to pair it with a creamy and decadent dessert, cheesecake! Maple cheesecake!
I used Salted Caramel Brownie Brittle ™- which satisfies my intense needs for salty and sweet, but Brownie Brittle ™ comes in a variety of flavors: Chocolate Chip, Salted Caramel, Mint Chocolate Chip and Toffee Crunch.
Need one more reason to try Brownie Brittle ™? They only have 120 calories per serving… so you can snack without the guilt.
Check out these other easy cheesecake recipes:
Raspberry Cheesecake Cookie Cups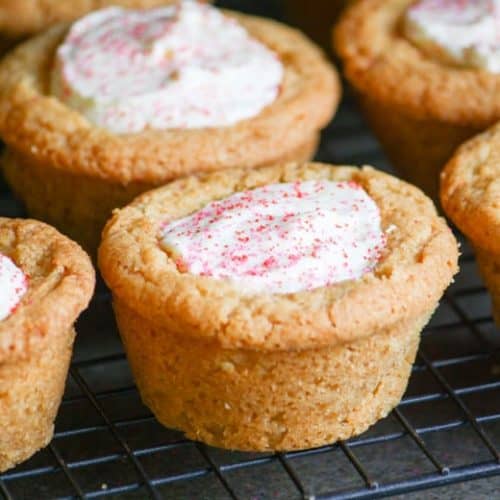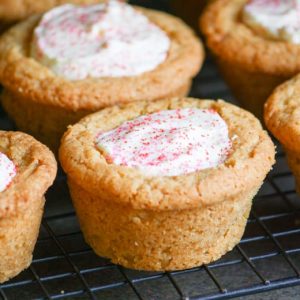 A delicious chewy sugar cookie filled with a dollop of raspberry jam. Topped with a silky no-bake orange flavored cheesecake.
Pecan Pie Cheesecake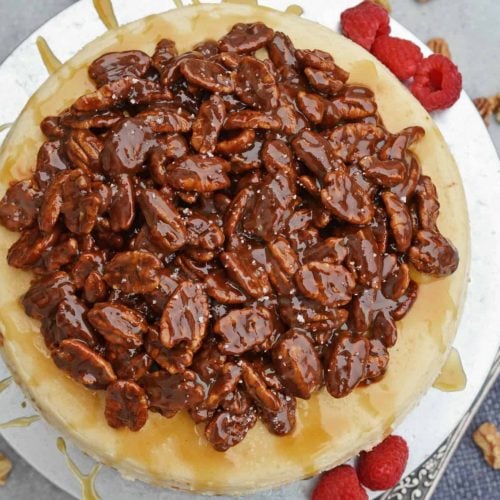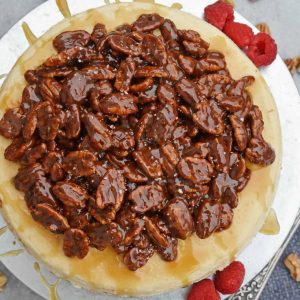 This Pecan Pie Cheesecake is the perfect combination of two delicious desserts – chocolate pecan pie and cheesecake. It's so good it'll quickly replace your best pecan pie recipe.
Marble New York Cheesecake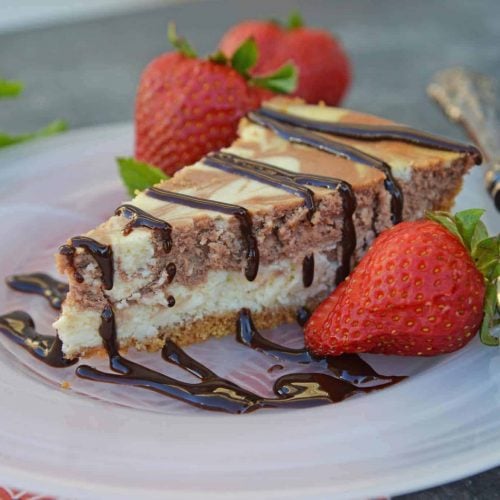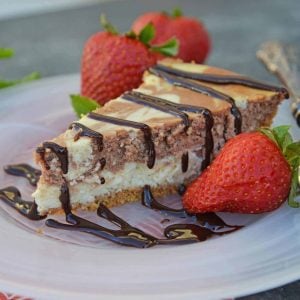 Marble New York Cheesecake is one of the best cheesecake recipes you'll ever come across! This dessert is a thicker but deliciously creamy cheesecake recipe!

---
---
Candied Bacon Maple Cheesecake
Maple Cheesecake topped with candied bacon and Salted Caramel Brownie Brittle ™ Crust. A dessert no one can resist.
Instructions
Heat oven to 375 degrees. In a medium mixing bowl, mix Salted Caramel Brownie Brittle ™ crumbs, 1 tablespoon sugar and melted butter. Mix until all crumbs are moistened. Coat 9-inch springform pan with cooking spray. Press Salted Caramel Brownie Brittle ™ into the bottom of the pan, pressing down hard with the back of a spoon. Bake for 8-10 minutes. Remove and reduce oven temperature to 350 degrees.

Beat cream cheese in large bowl of stand mixer fitted with paddle attachment until smooth, at least 2-3 minutes. Add dark brown sugar, flour, and salt, continue to blend until combined. Add 1 cup maple syrup, sour cream and vanilla, continue to blend. Add eggs and blend until fully combined and smooth, approximately 3-4 minutes, be patient!

Pour cream cheese mixture over Salted Caramel Brownie Brittle ™ crust. Tap on your countertop for at least 1 minute to pull out any tiny air bubbles.

Place springform pan into a high rimmed baking sheet or the bottom of a broiler pan. Fill containing pan 1/2 way with water. Cooking in a water bath will keep your cheesecake smooth, allow to bake flat and prevent cracking.

Bake cheesecake for 80-90 minutes, or until the center has set and edges are a light brown. If edges start to brown before enter is set (not jiggly), loosely cover with a sheet of aluminum foil.

Remove and allow to fully cool. While still in springform pan, refrigerate for a minimum of 12 hours, but preferably overnight.

Carefully remove from springform pan to serving dish. Before serving, drizzle with additional maple syrup and top with chopped Candied Bacon. Enjoy!

If you've tried this recipe, come back and let us know how it was!
Nutrition
Calories:
469
kcal
|
Carbohydrates:
62
g
|
Protein:
7
g
|
Fat:
21
g
|
Saturated Fat:
10
g
|
Cholesterol:
100
mg
|
Sodium:
437
mg
|
Potassium:
199
mg
|
Sugar:
47
g
|
Vitamin A:
585
IU
|
Vitamin C:
0.1
mg
|
Calcium:
114
mg
|
Iron:
1.6
mg