To me, it is Candied Bacon, but this delicious snack, appetizer and sometimes dessert goes by many names. Caramelized Bacon, Millionaire's Bacon, Bacon Candy, Brown Sugar Bacon, Pig Candy, Beggin' Strips and even get this one… Man Candy, are just some of the other names it goes by.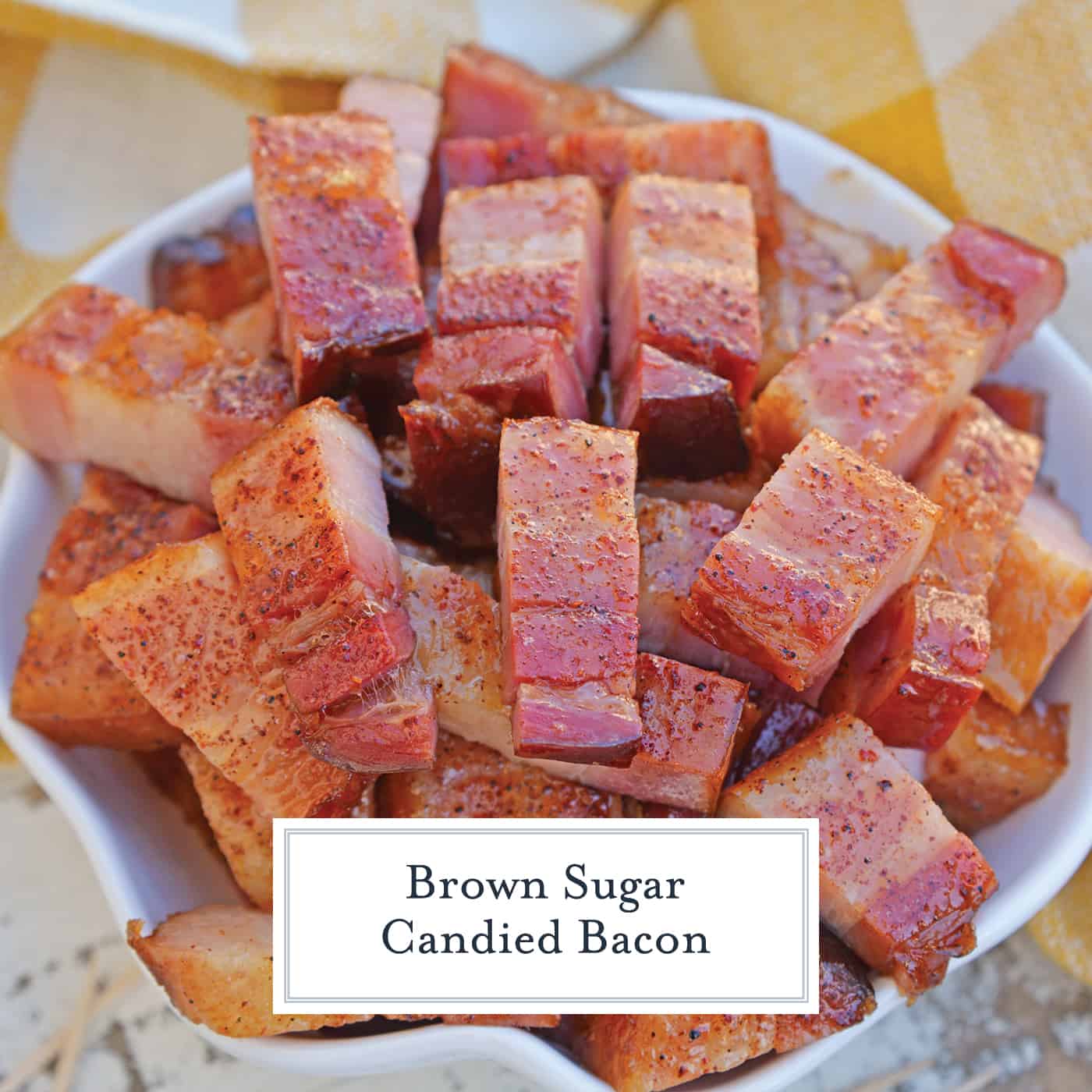 Candied bacon is the best sweet and salty snack with a kick. Serve as strips or bites, bacon is caramelized with brown sugar and and a touch of heat.
Candied Bacon Recipes are made many different ways. Most recipes start with a brown sugar base, but some even dip bacon strips in a hard caramel sauce, like candied apples.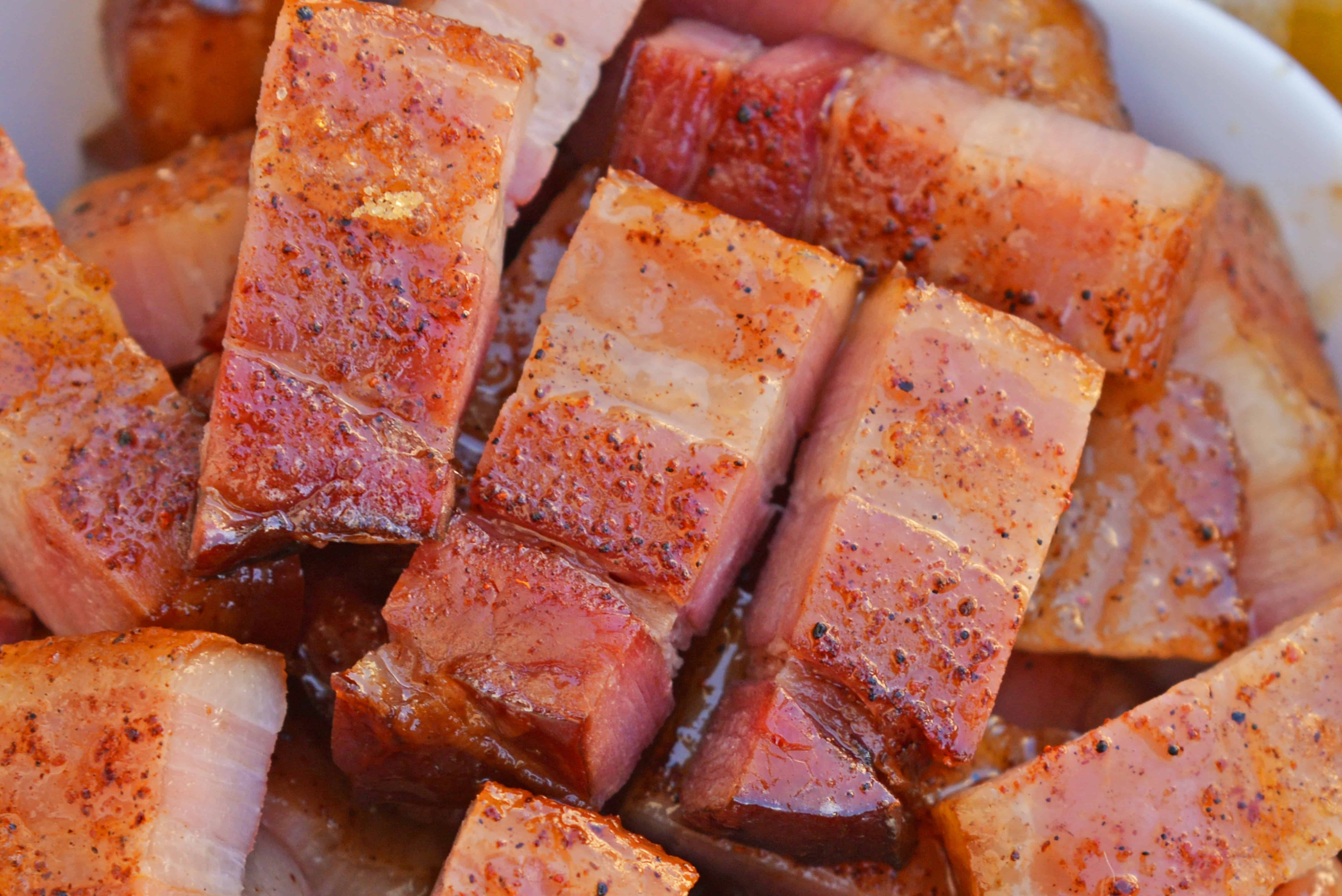 Complementary flavors include bourbon, maple syrup, cayenne, chili powder and more. I like mine to be sweet, salty, spicy… and sticky, so I make mine with chili powder and cayenne. Not overwhelming, but enough that you can taste it.
So you are here to learn how to make candied bacon. It is really quite easy, but the main thing you need to do is select the correct bacon.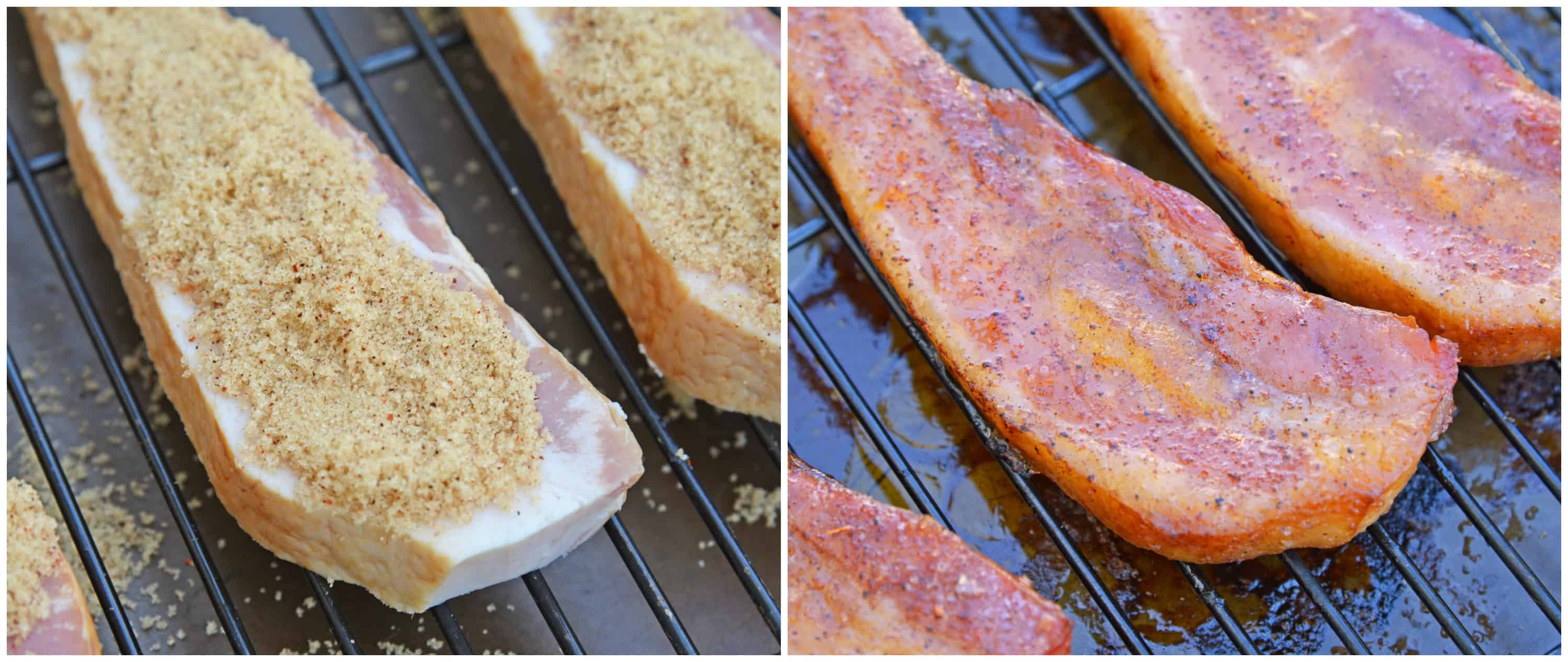 You need a thick cut of bacon to make this work. A paper-thin strip isn't going to hold the caramelized goodness of the brown sugar, instead it will just melt off and be in the pan. What a waste.
On the opposite side of the spectrum, you can use super thick slices of bacon, like I did here, but then you want to refrain from serving it in strips and instead chop it into bite-size pieces. I actually find this preferable, especially for parties.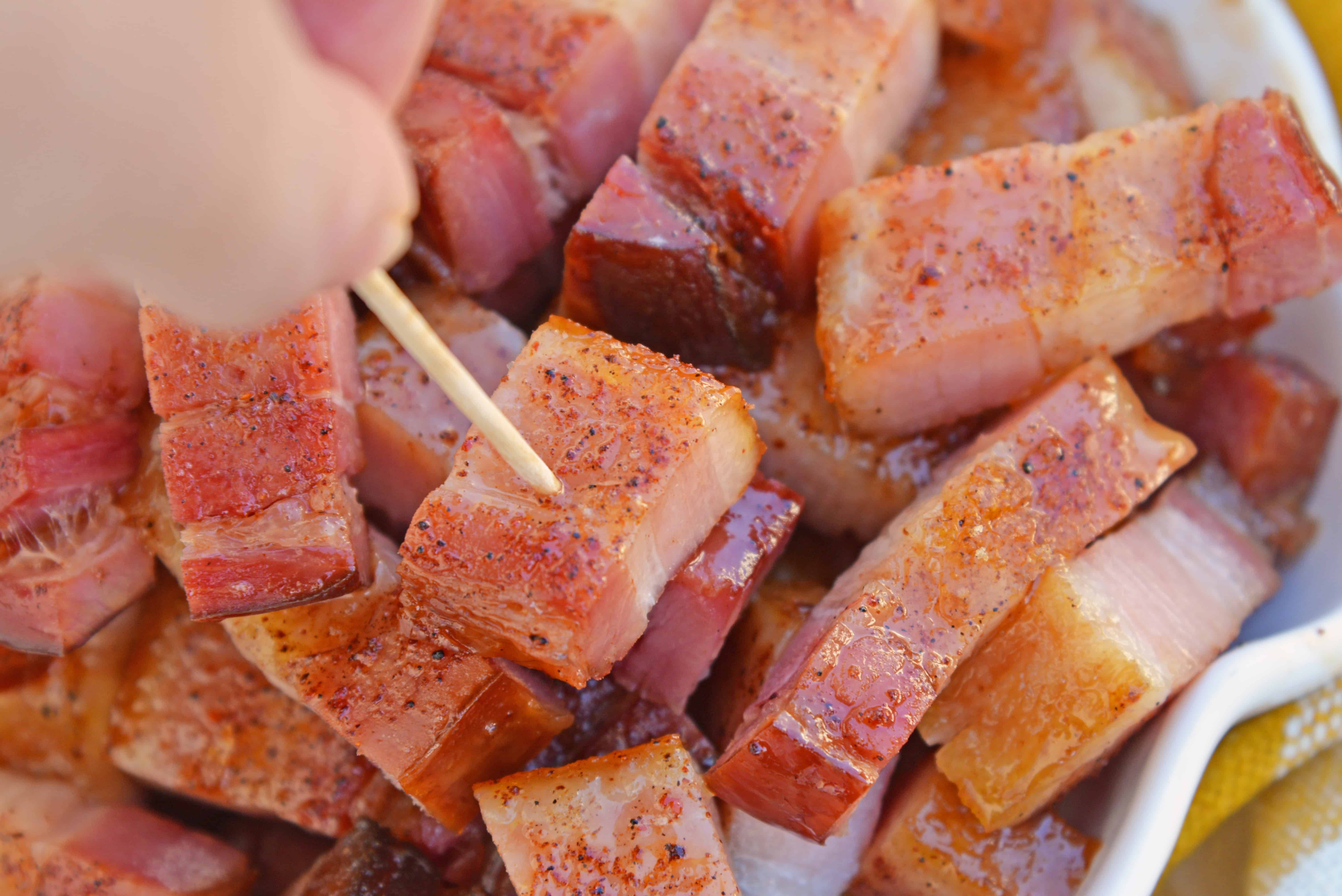 The only thing to beware of when using slab bacon, like mine, is that the bacon has to cook for longer, so you actually want to cover in the brown sugar mixture halfway through cooking. Otherwise, it just melts right on off by the time the bacon is cooked.
While it is delicious, Candied Bacon is also very rich and an entire strip of brown sugar coated bacon might be a little too much for some folks. Others, like me, could eat the whole pan and feel no guilt.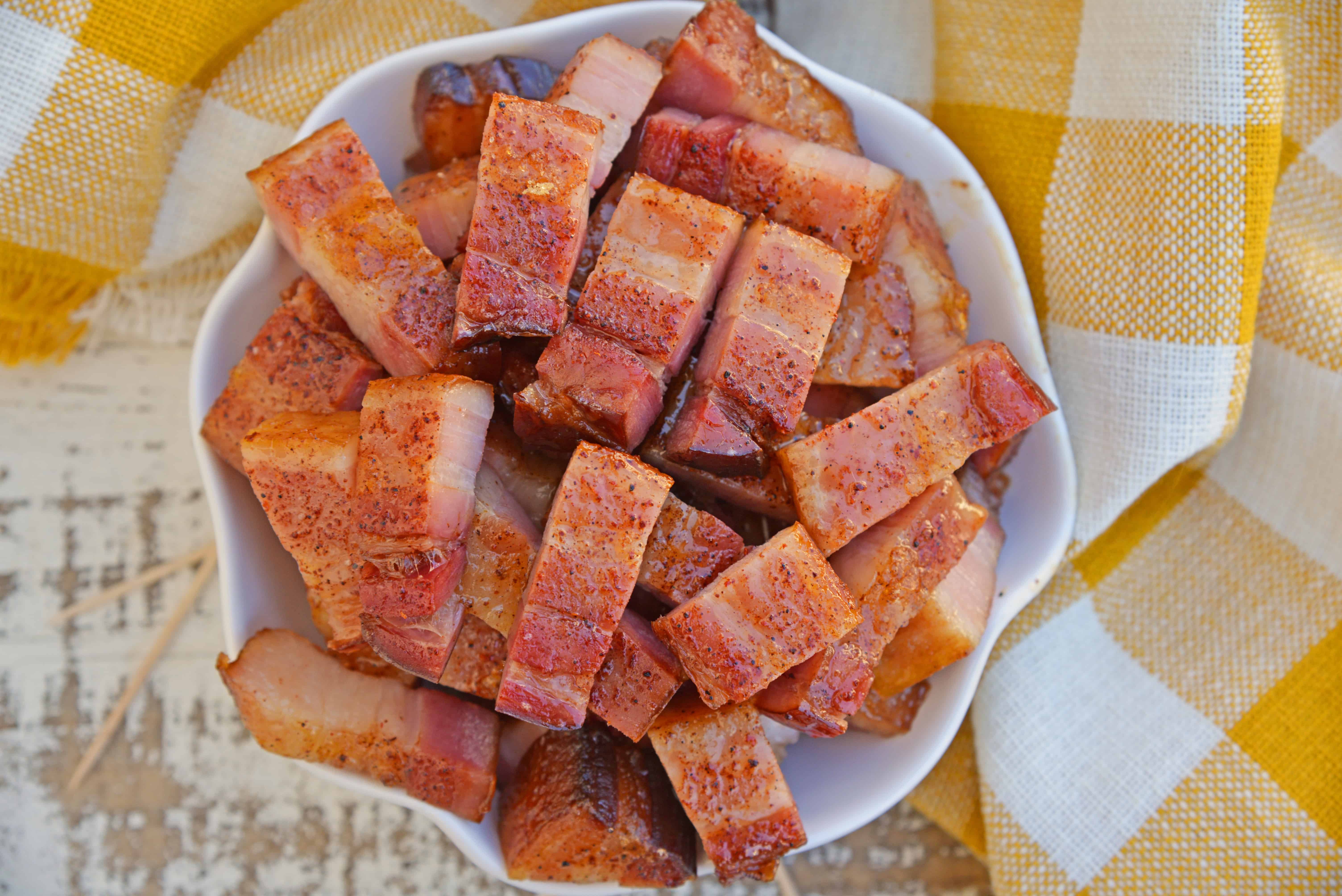 So here you go foodie friends, an amazing munchie for parties, topper of ice cream or pie, salad addition or anytime snack, the ultimate salty and sweet treat: Candied Bacon!
If you liked this
candied bacon recipe, make sure you check out these other easy candied recipes: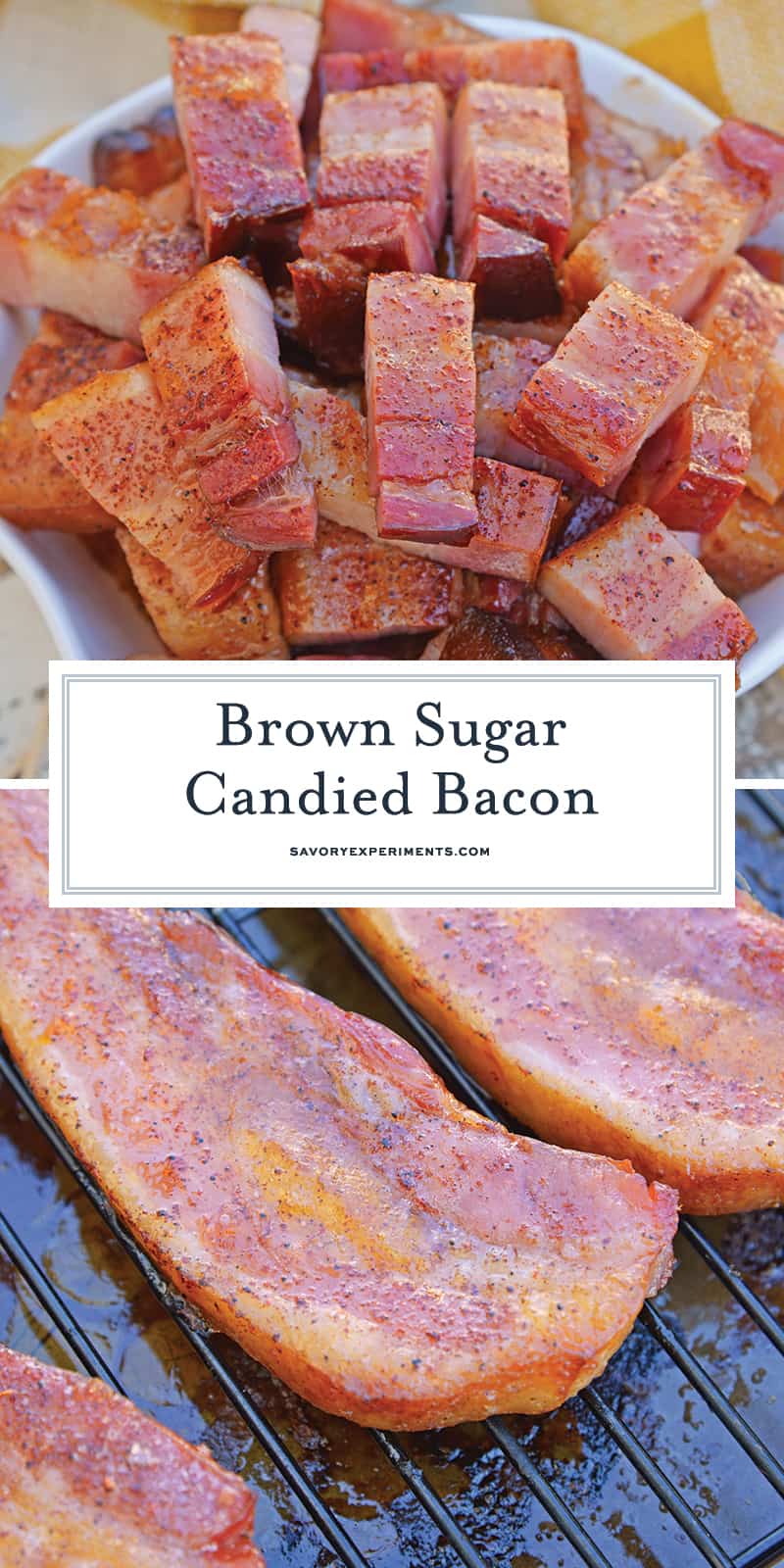 If you are looking for even more fabulous appetizers, snag a copy of my Easy Appetizers Beyond Dips Mini-Cookbook. Available here for only $0.99, one of these fun and festive appetizers sure to be the hit of any gathering!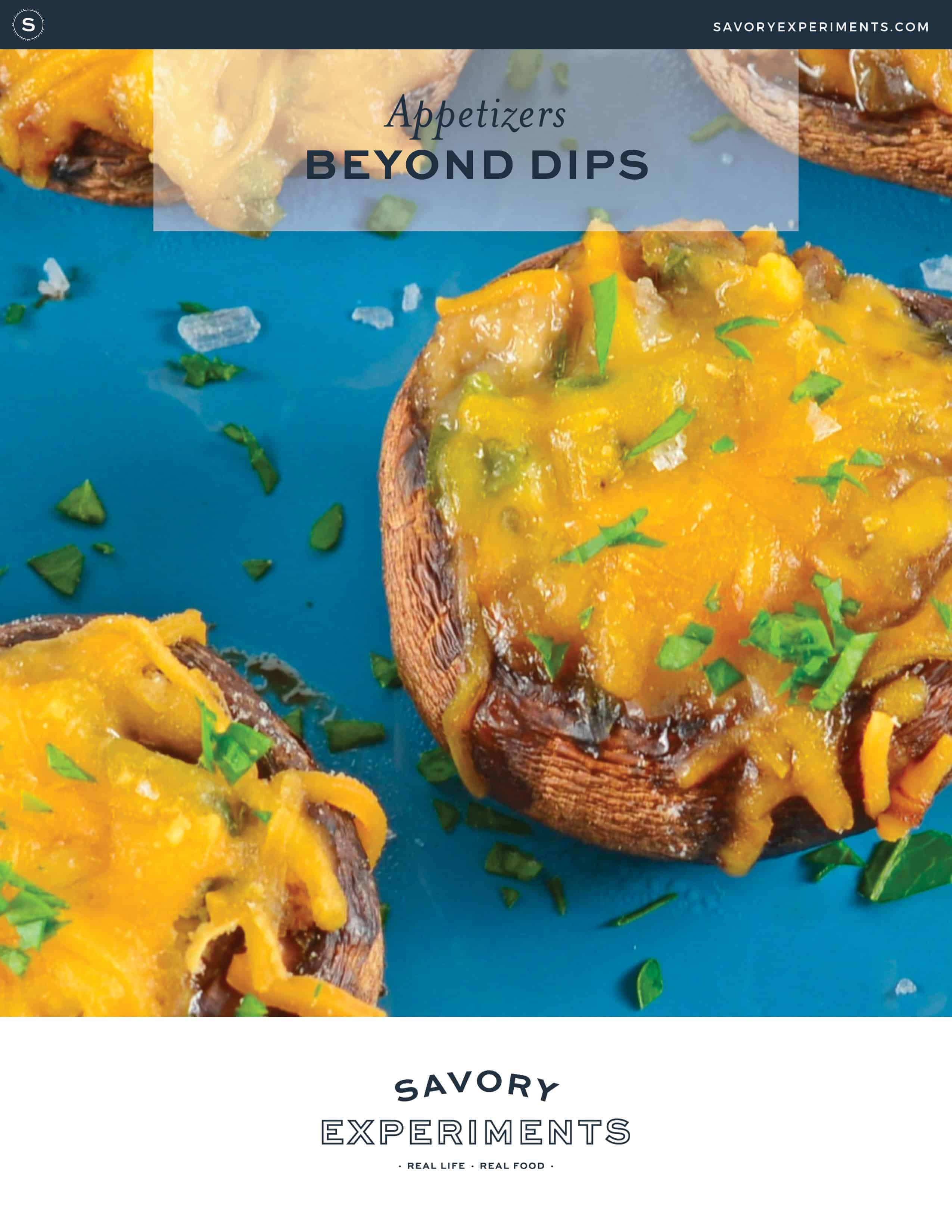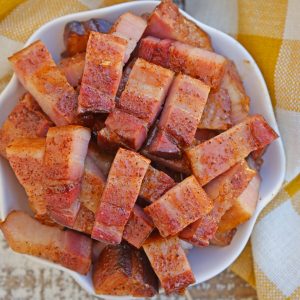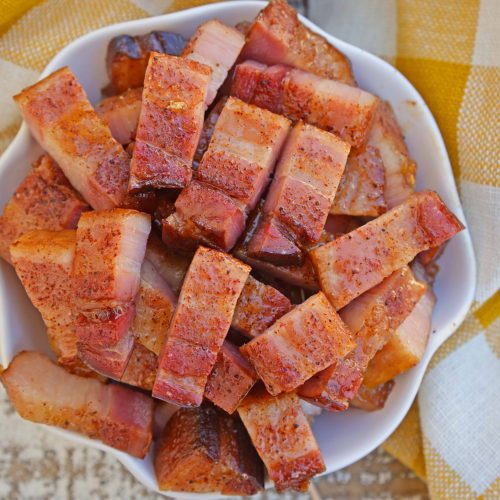 Candied Bacon
Candied bacon is the best sweet and salty snack with a kick. Serve as strips or bites, bacon is caramelized with brown sugar and and a touch of heat.
Course:
Appetizer, Dessert, Snack
Keyword:
brown sugar bacon recipe, candied bacon recipe
Ingredients
30

strips extra thick cut bacon

(about 2 lbs)

1

cup

dark brown sugar

2 1/2

teaspoons

chili powder

Dash of cayenne
Instructions
Preheat oven to 400 degrees. Line two large rimmed baking sheets with heavy aluminum foil. If you have a broiler pan or cooling racks you can use to elevate the bacon, do this.

Mix together dark brown sugar, chili powder and cayenne in a medium bowl.

Arrange thick cut bacon strips in a single layer on baking sheets. Evenly spoon brown sugar mixture over bacon strips. You might need to do this in batches, depending on your oven.

Bake on middle rack for 20 minutes. Keep an eye on bacon, sugar can burn easily. The goal is for bacon strips to be almost crispy, but still a little chewy. The natural fats will be sizzling and bubbling around them.

Remove bacon strips and allow to sit for 5 minutes. Lay out parchment paper or aluminum foil and top with cooling racks. Transfer strips from baking sheet to cooling racks to drain excess fat and allow them to come to room temperature.

When fully cooled, serve or store in an airtight container at room temperature. Enjoy!

If you've tried this recipe, come back and let us know how it was!
Nutrition Facts
Candied Bacon
Amount Per Serving
Calories 178
Calories from Fat 126
% Daily Value*
Total Fat 14g 22%
Cholesterol 23mg 8%
Sodium 243mg 10%
Potassium 84mg 2%
Total Carbohydrates 7g 2%
Protein 4g 8%
* Percent Daily Values are based on a 2000 calorie diet.