To me, it is Candied Bacon, but this delicious snack, appetizer and sometimes dessert goes by many names.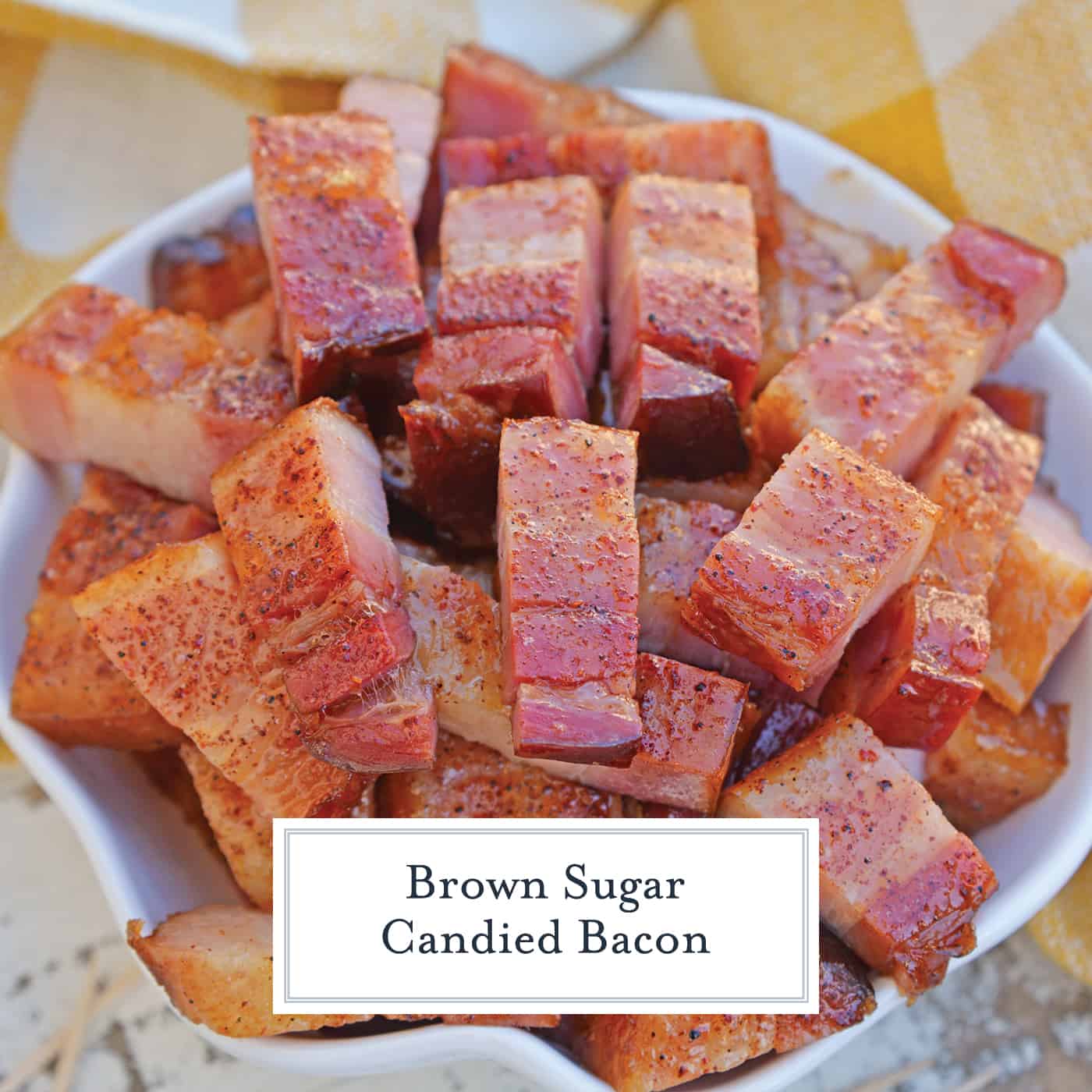 Caramelized Bacon, Millionaire's Bacon, Bacon Candy, Brown Sugar Bacon, Pig Candy, Beggin' Strips, Cowboy Candy and even get this one… Man Candy, are just some of the other names it goes by.
Candied bacon (also known as Cowboy Candy) is the best sweet and salty snack with a kick. Serve as strips or bites, bacon is caramelized with brown sugar and and a touch of heat!
Candied Bacon recipes are made many different ways. Most recipes start with a brown sugar base, but some even dip bacon strips in a hard caramel sauce, like candied apples.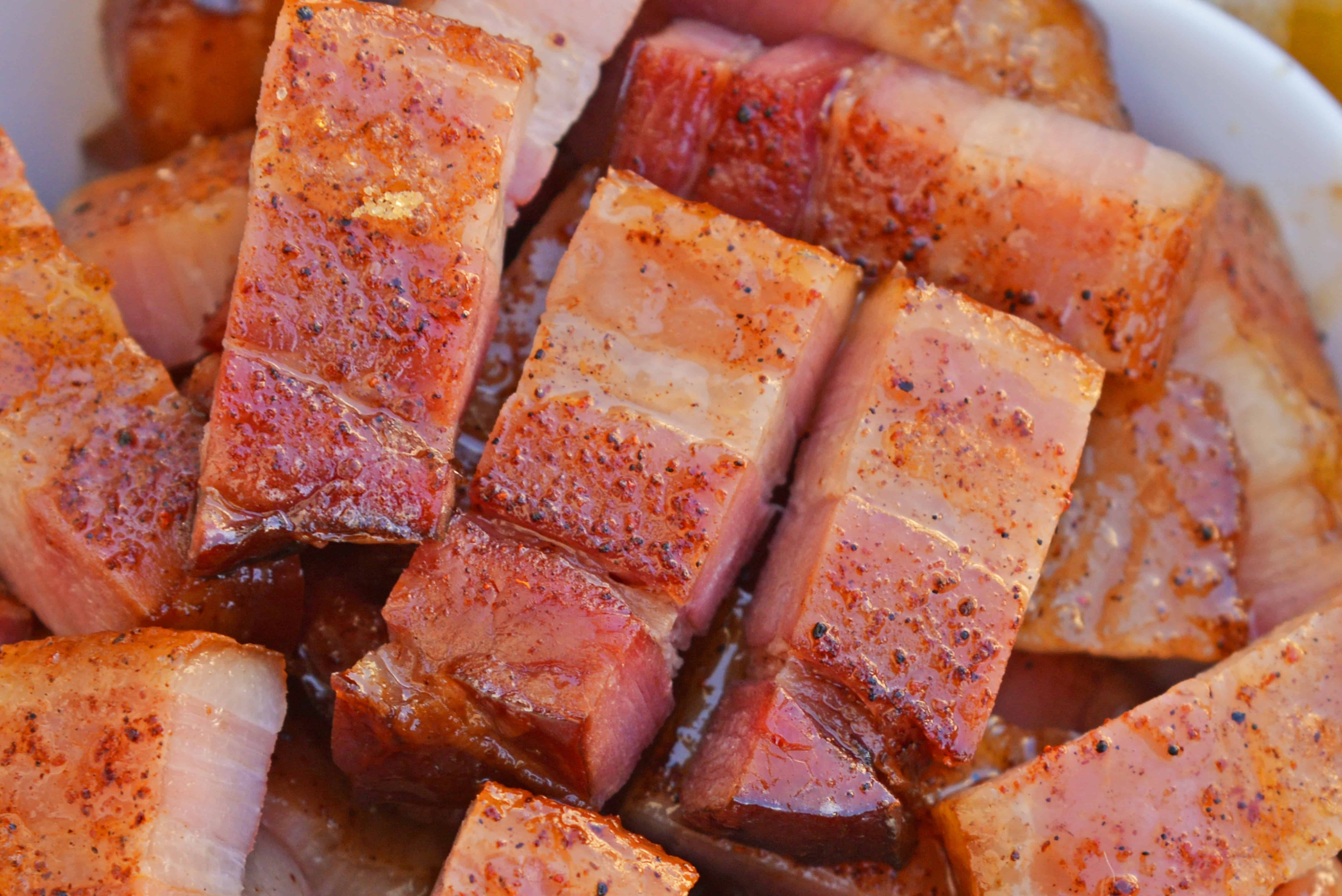 Complementary flavors include bourbon, maple syrup, cayenne, chili powder and more. I like mine to be sweet, salty, spicy… and sticky, so I make mine with chili powder and cayenne.
Not overwhelming, but enough that you can taste it.
How to make bacon candy
It is really quite easy, but the main thing you need to do is select the correct bacon.
It is all about the bacon….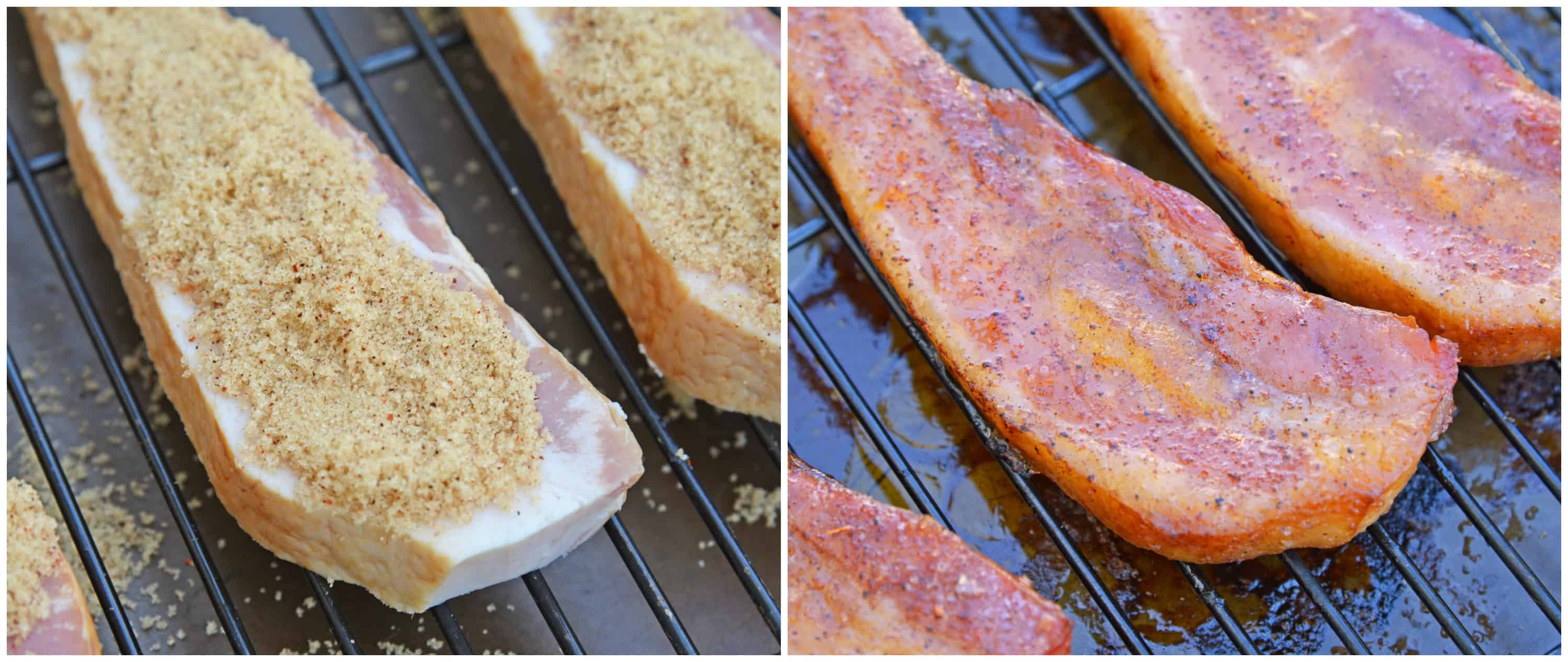 A thick cut of bacon is what makes this work. A paper-thin strip isn't going to hold the caramelized goodness of the brown sugar, instead it will just melt off and be in the pan. What a waste.
On the opposite side of the spectrum, you can use super thick slices of bacon, like I did here, but then you want to refrain from serving it in strips and instead chop it into bite-size pieces.
I actually find this preferable, especially for parties. However, medium size strips are best for serving plated meals.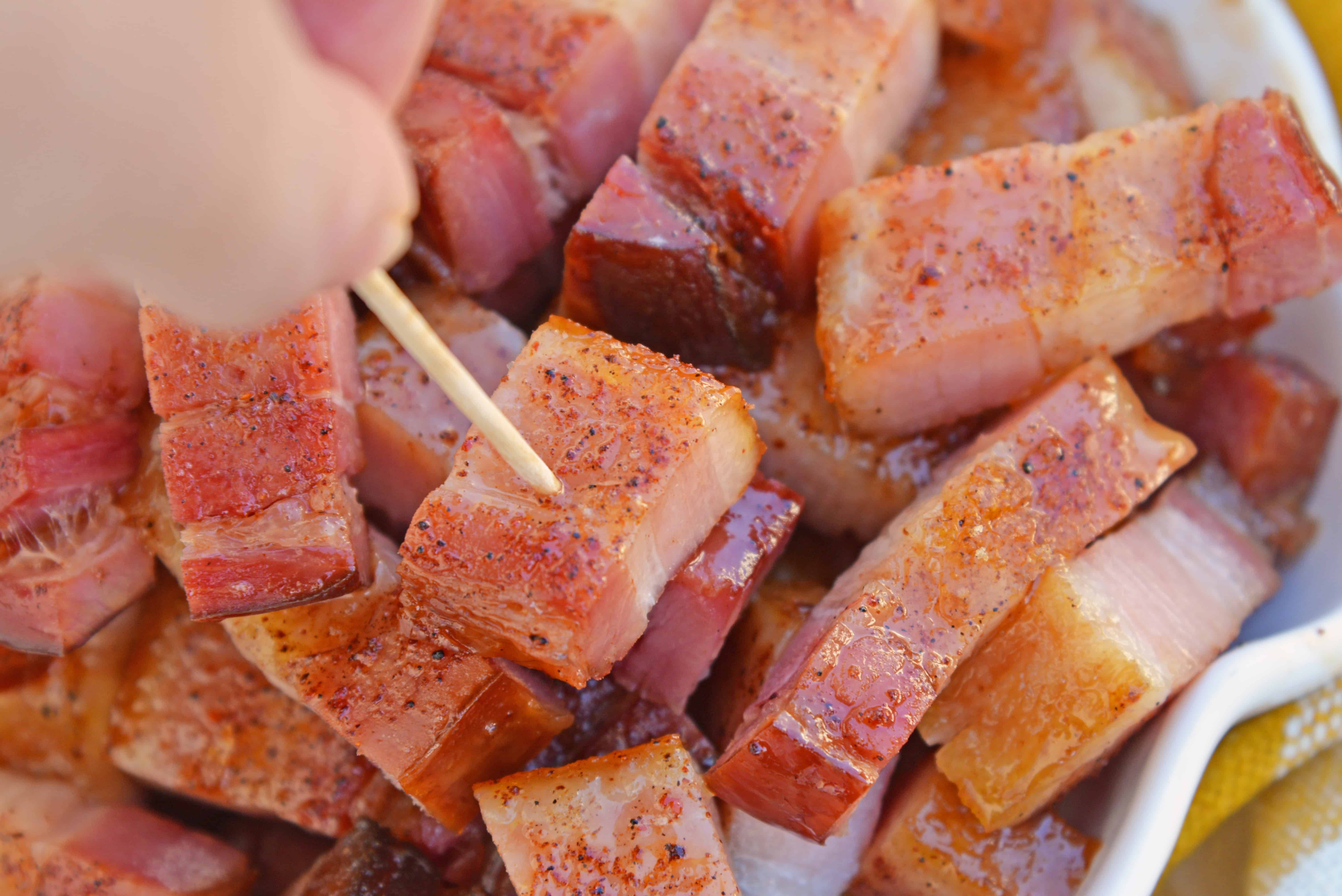 The only thing to beware of when using slab bacon, like mine, is that the bacon has to cook for longer, so you actually want to cover in the brown sugar mixture halfway through cooking. Otherwise, it just melts right on off by the time the bacon is cooked.
PRO TIP: Candied Bacon can also be chopped and put into salads or served alongside BBQ Chicken or a nice steak. Any place you serve bacon, you can make it super special candied bacon!
While it is delicious, Candied Bacon is also very rich and an entire strip of brown sugar coated bacon might be a little too much for some folks. Others, like me, could eat the whole pan and feel no guilt.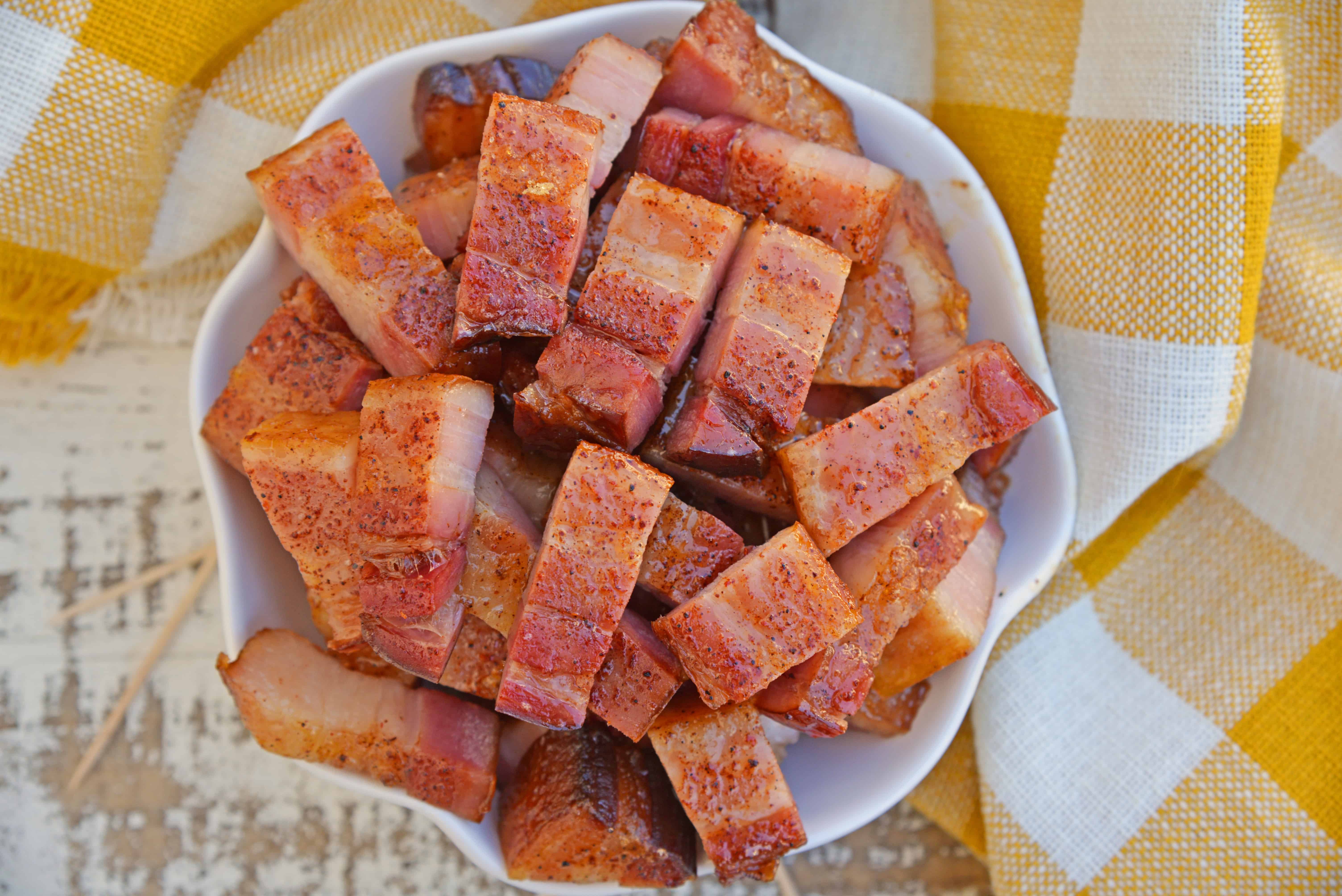 So here you go foodie friends, an amazing munchie for parties, topper of ice cream, pie or even cheesecake, salad addition or anytime snack, the ultimate salty and sweet treat: Spicy Candied Bacon!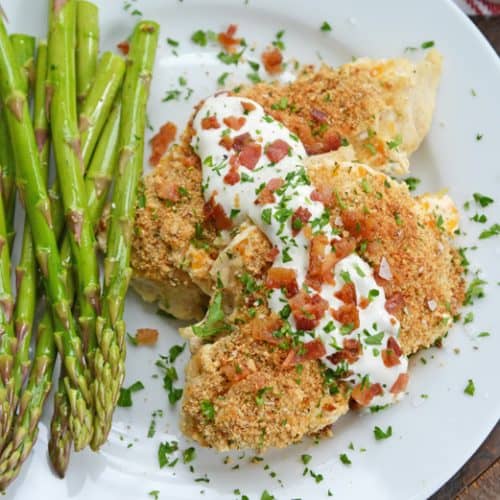 If you like sweet and salty:
Tools for making Pig Candy:
Mixing Bowls– make sure to check out my article on Using the Right Mixing Bowl, you'd be surprised how many people aren't!
Broiler Pan– These are great because the excess bacon fat just drips down into the pan. The bacon will also cook faster because hot air circulates around the bacon, evenly cooking it underneath.
Rimmed Baking Sheets– If don't use a broiler pan, use a rimmed baking sheet. You will have some run off of rendered bacon grease and you don't want it to spill in your oven or cause burning.
You can place cooling racks or something similar to create a broiler pan. Any wire rack will do.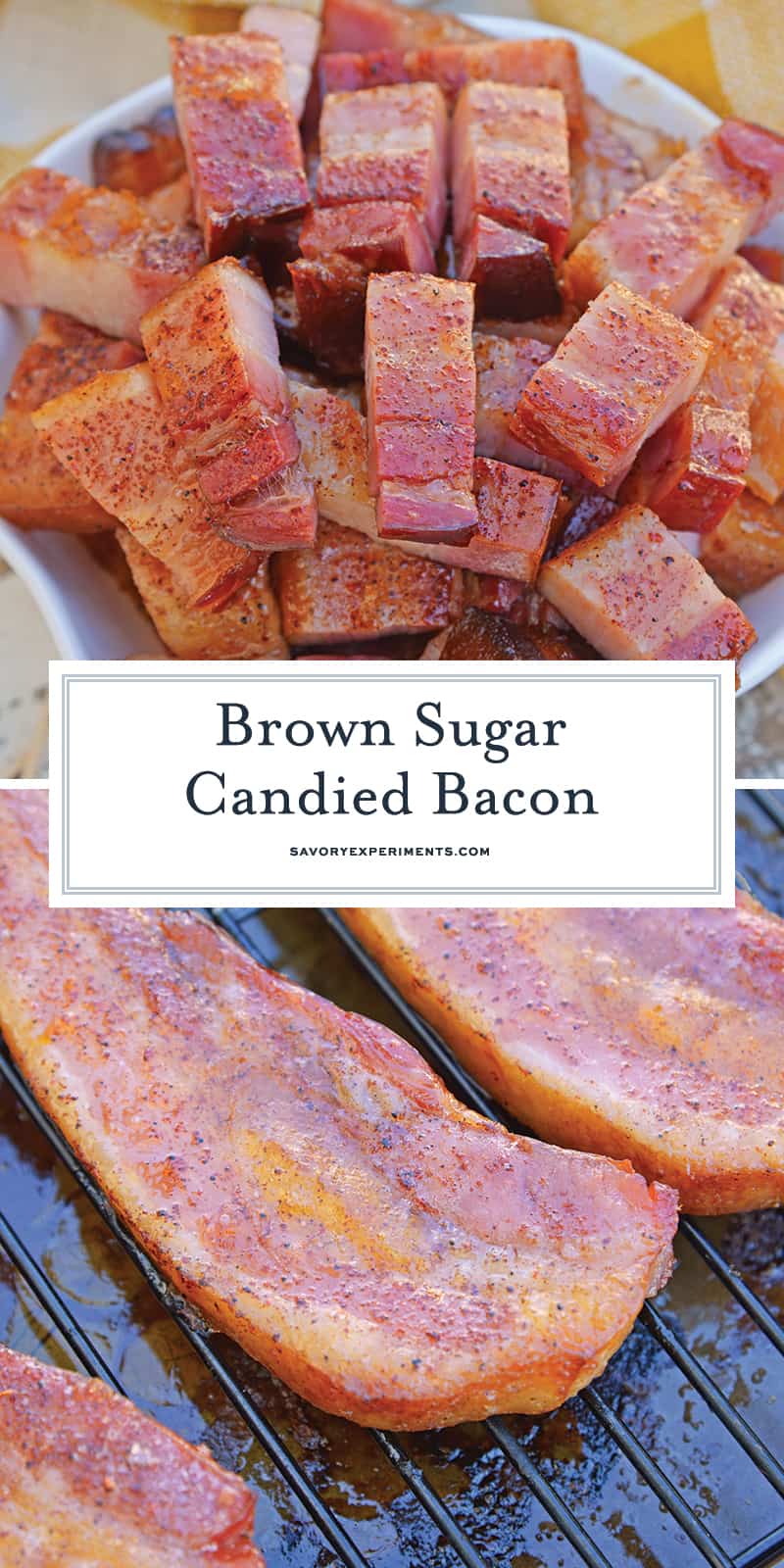 Questions you might have about how to make candied bacon:
Can I make candied bacon ahead of time?
You can make it in advance, just make sure it is fully cooked. You can keep it out at room temperature for about 2 hours before serving. If you put it in the fridge, the brown sugar topping will get sticky and lose its texture.
Can you freeze bacon candy?
This is one of the few recipes that I do not recommend for freezing.
Is candied bacon gluten free?
Yes! It is gluten free.
Can you use white sugar?
The molasses in brown sugar is what makes the flavors work so well. White sugar won't taste the same. You can use light brown sugar or dark brown sugar.
Can you add honey or maple syrup?
You sure can! Add a tablespoon of either or to the brown sugar mixture. Don't use both.
Can you smoke bacon candy?
I am sure you can, however I am no expert at smoking so I am not even going to try to give you directions on how to do so.
Can I use maple bacon?
You sure can! It will just enhance the flavor!
Can you omit the cayenne pepper?
If you don't want any heat at all, omit cayenne and chile powder.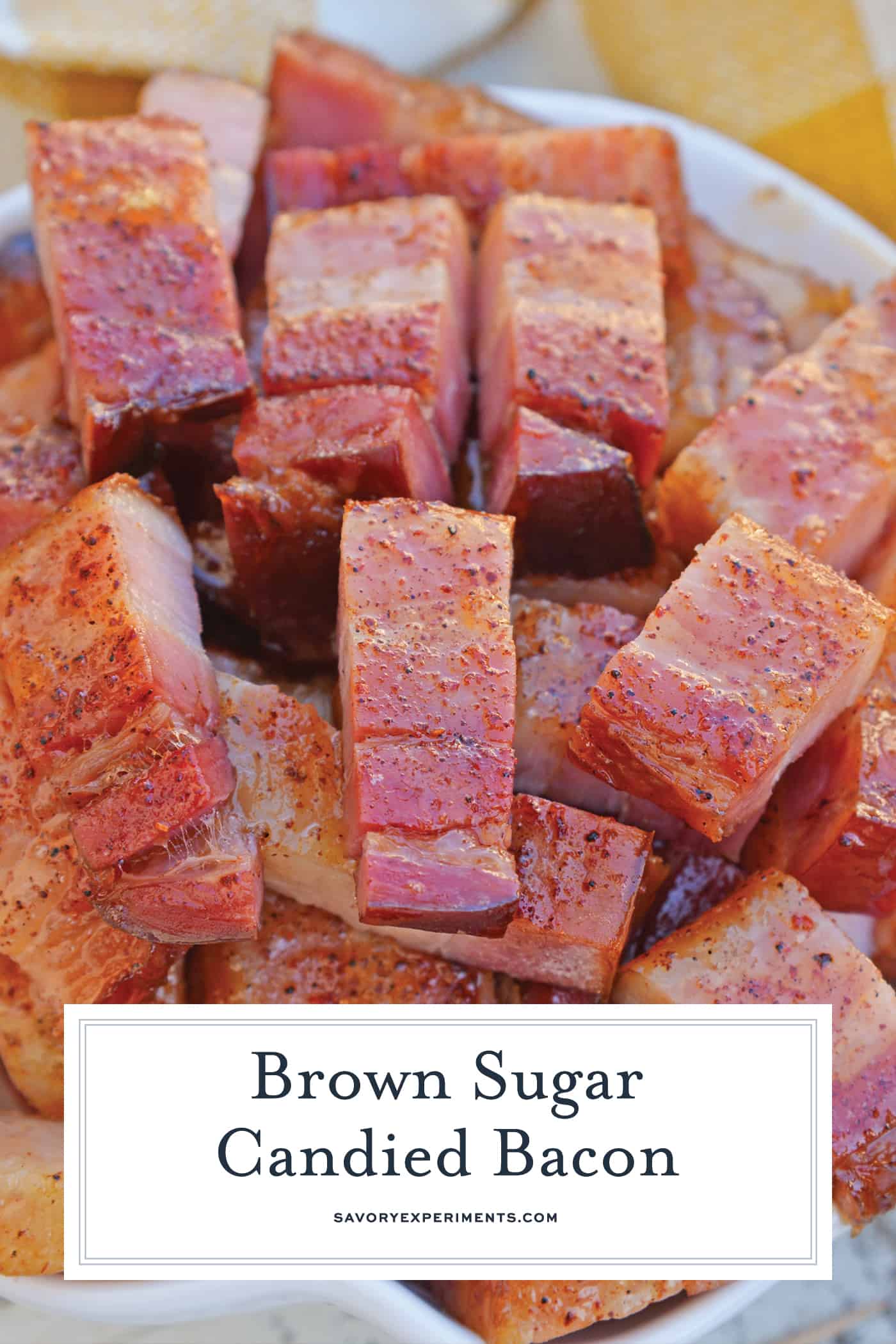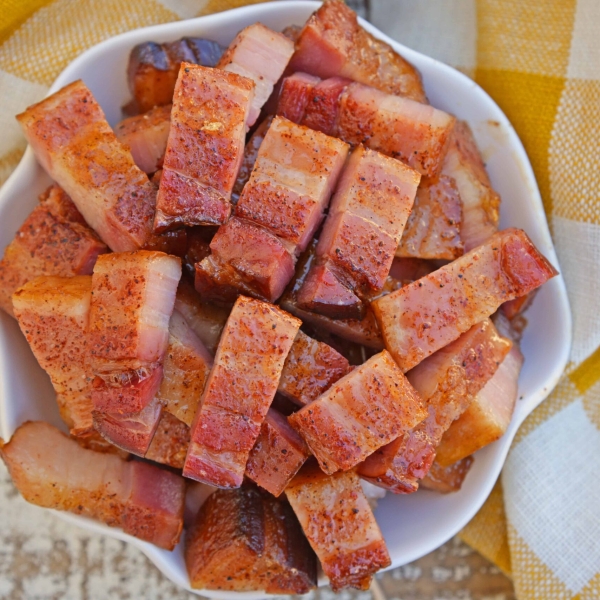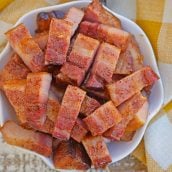 Candied Bacon Recipe
Candied bacon is the best sweet and salty snack with a kick. Serve as strips or bites, bacon is caramelized with brown sugar and and a touch of heat.
Instructions
Preheat the oven to 375°F. Place wire racks on rimmed baking sheets. Set aside.

Mix together dark brown sugar, salt and other add-ins like chili powder and cayenne in a medium bowl.

Arrange the bacon strips in a single layer on the wire racks. Evenly spoon brown sugar mixture over bacon strips. You might need to do this in batches, depending on your oven.

Bake on middle rack for 20-25 minutes. Keep an eye on bacon, sugar can burn easily. The goal is for bacon strips to be almost crispy, but still a little chewy. The natural fats will be sizzling and bubbling around them.

Remove bacon strips and allow to sit for 5-10 minutes. Transfer the bacon strips from the wire racks to parchment paper until they come to room temperature.

When fully cooled, serve or store in an airtight container at room temperature.

If you've tried this recipe, come back and let us know how it was in the comments or star ratings.
Notes
Possible add-ins- 1 tablespoon of chili powder or a dash of cayenne pepper.
Nutrition
Calories:
178
kcal
,
Carbohydrates:
7
g
,
Protein:
4
g
,
Fat:
14
g
,
Saturated Fat:
4
g
,
Cholesterol:
23
mg
,
Sodium:
243
mg
,
Potassium:
84
mg
,
Sugar:
7
g
,
Vitamin A:
65
IU
,
Calcium:
8
mg
,
Iron:
0.2
mg