No-Bake and No-Cook desserts are always on demand during the summer months. This easy Chocolate Cheesecake will be your new best friend for bringing to parties and BBQs! Sure to please the chocolate lover(s) in your life.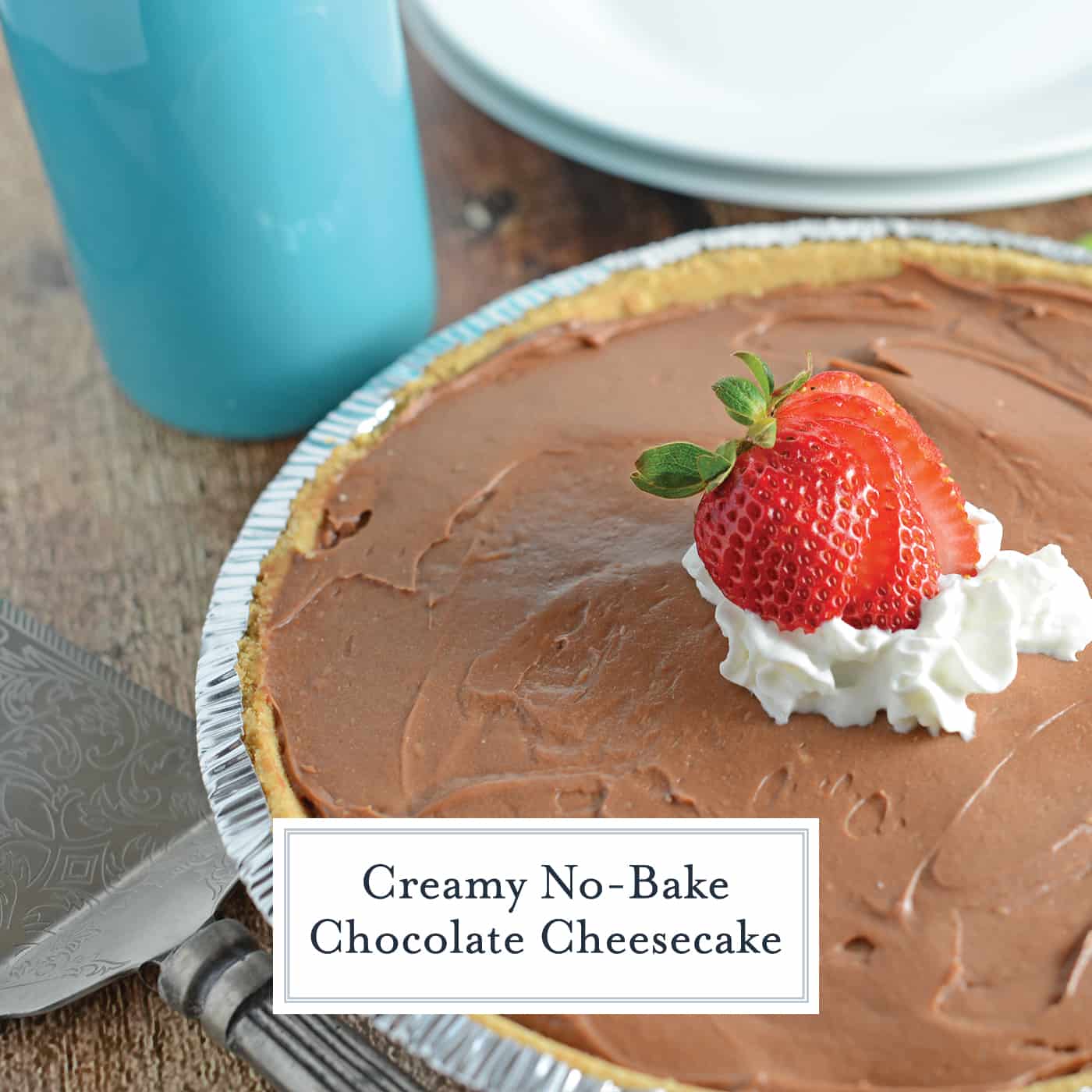 Using a premade crust, the ultra creamy No-Bake Chocolate Cheesecake uses just 5 ingredients and takes minutes to prepare. Easy Chocolate Cheesecake to make ahead and take to your next party!
A few months back strawberries were on sale at the store. I bought pounds, literally, at least 10 pounds to experiment with new recipes.
No-Bake Strawberry Pie was on the list, but I massively messed up the first crust, so I sent hubby to the grocery store to pick up a few more ingredients. He came back, but with double the amount that I needed, so I made a quick Creamy No-Bake Chocolate Cheesecake with the extra.
Quick cream cheese desserts are always a winner. Which is funny, because cream cheese it typically thought of as a savory ingredient instead of sweet.
Can you freeze cream cheese?
You can, but it changes the texture. It will be a little dry and crumbly. It really depends what recipe you plan to use it in as to whether you can use frozen cream cheese.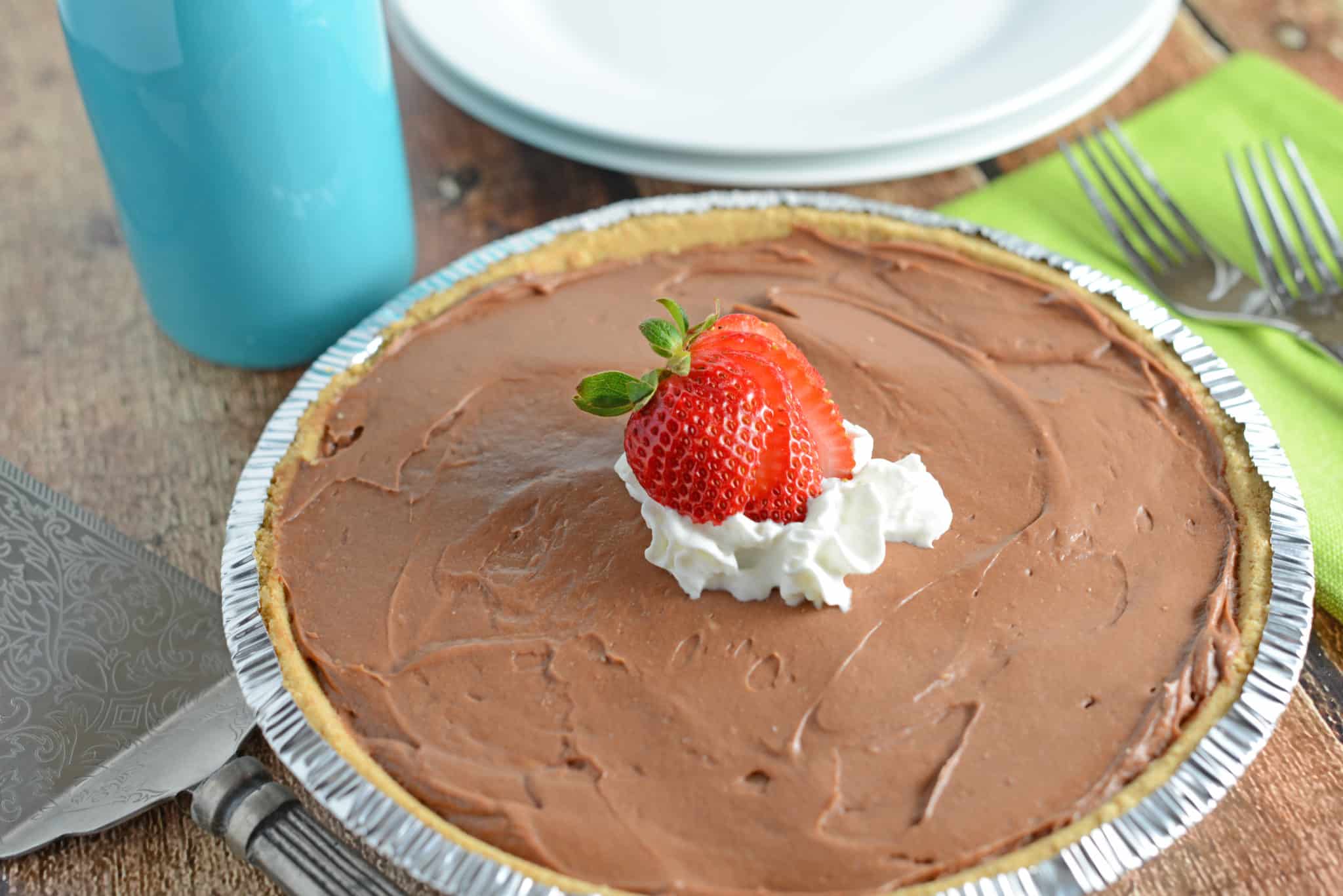 Lucky for me, my Recipe Challenge Blogging Group decided this month's topic would be no-bake desserts and I already had Creamy No-Bake Chocolate Cheesecake lined up!
A quick whipped cream cheese base blended with semi-sweet chocolate and spread in a premade graham cracker crust makes for a super simple and super tasty no-bake treat.
PRO TIP: Always beat cream cheese well before adding other ingredients. This ensures it is nice and smooth instead of lumpy.
I won't sit here and tell you it tastes just like a rich New York style cheesecake. It doesn't and there is no way it possible could. But I might like this version better, at least for the summer months.
It isn't as dense as traditional cheesecake. Light and whipped, it is the perfect dessert on a hot day. It does need to stay chilled, so keep that in mind when toting it around.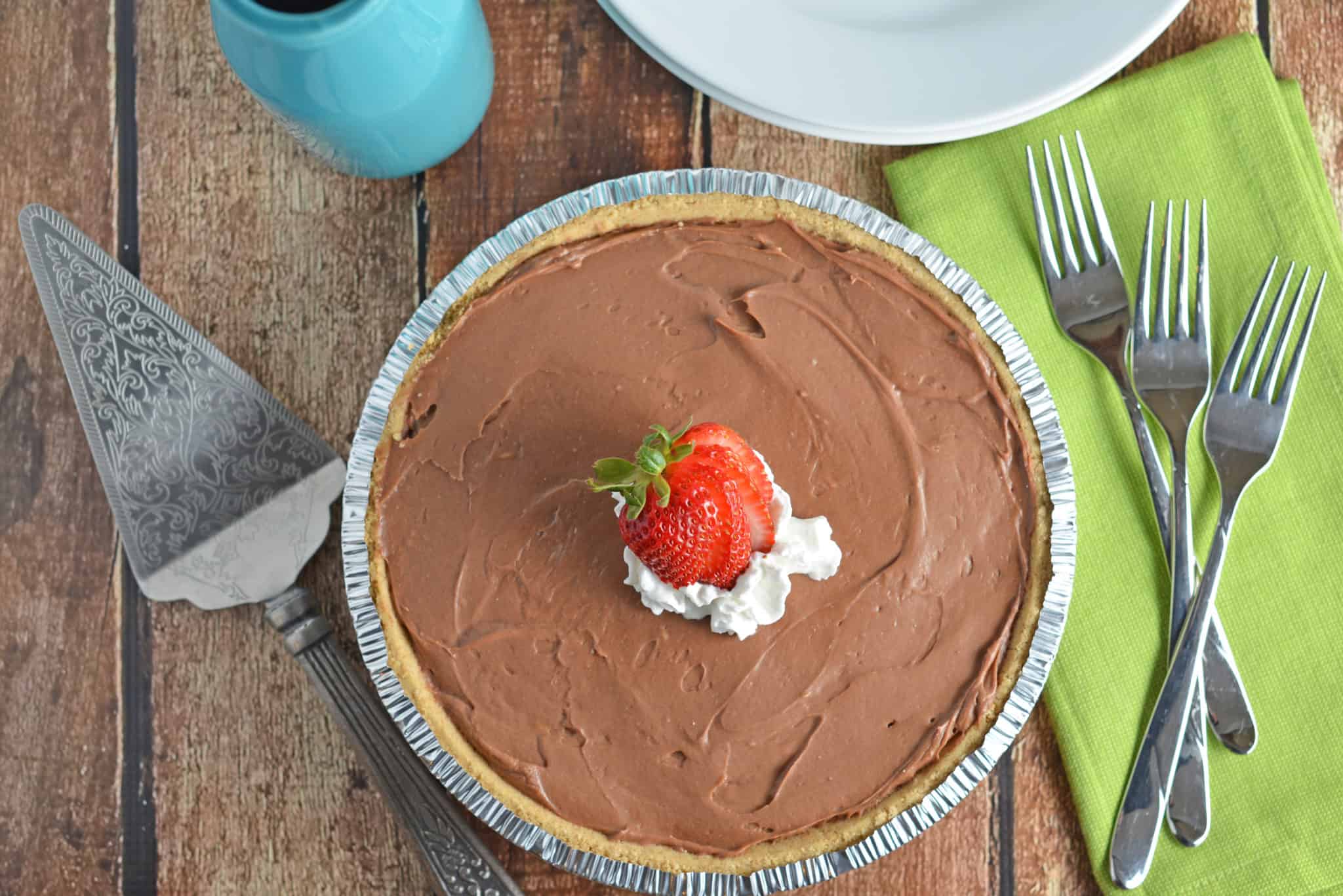 In addition to whipped cream and vanilla bean ice cream, I like to top my chocolate cheesecake with fresh fruit, which is abundant during the summer months. Fresh strawberries or a Raspberry Sauce take this no-bake dessert recipe over the top!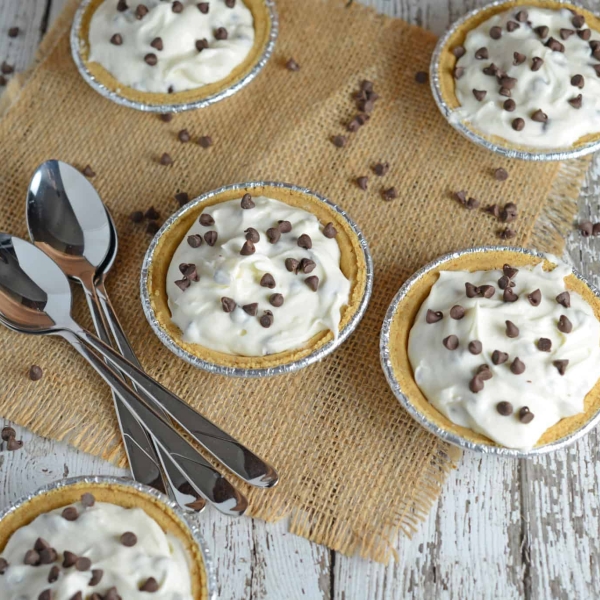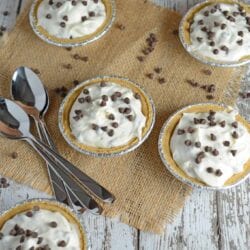 No-Bake Mini Chocolate Chip Cheesecake recipe
No-Cake Mini Chocolate Chip Cheesecake – an easy and refreshing summer time no cook dessert recipe. Add mini chocolate chips or any crushed candy you enjoy.
View this recipe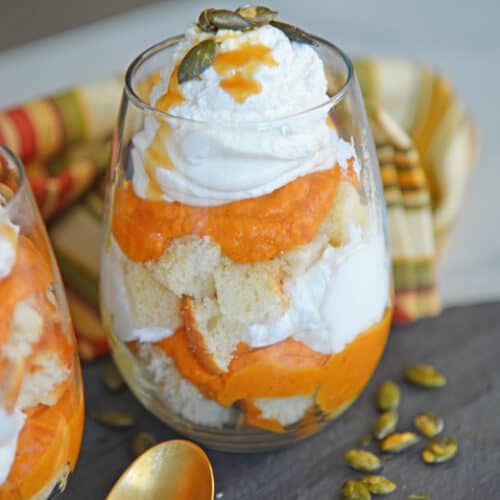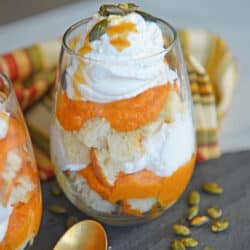 No Bake Pumpkin Pie Parfaits
Pumpkin Pie Parfaits are an easy, no bake and make ahead dessert that everyone will love and you won't beleive what we use for the "crust"!
View this recipe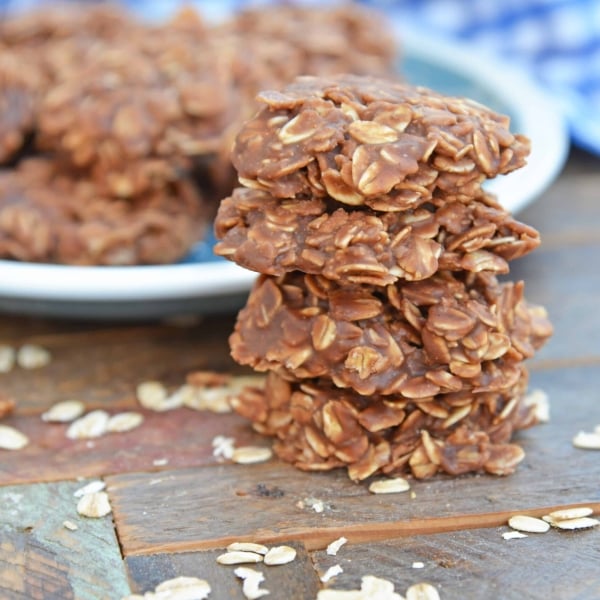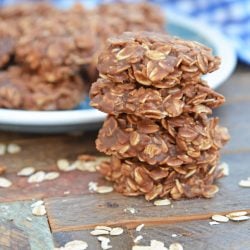 Classic No Bake Cookies
If you've always thought oatmeal no bake cookies were difficult, this classic no bake cookie recipe will change your mind. With these tips, you'll end up with the perfect peanut butter no bake cookies every time!
View this recipe
Tools for making this quick cream cheese dessert:
Stand Mixer– I lived for a long time without one. My life was changed when I finally bit the bullet and bought one. Just do it and thank yourself later.
Pie Crust Saver
– A must have when baking any sweet or savory pie.
Measuring Utensils
– I'm pretty good at eyeballing amounts, but baking is chemistry and chemistry must be precise, so I do break down and use them when baking.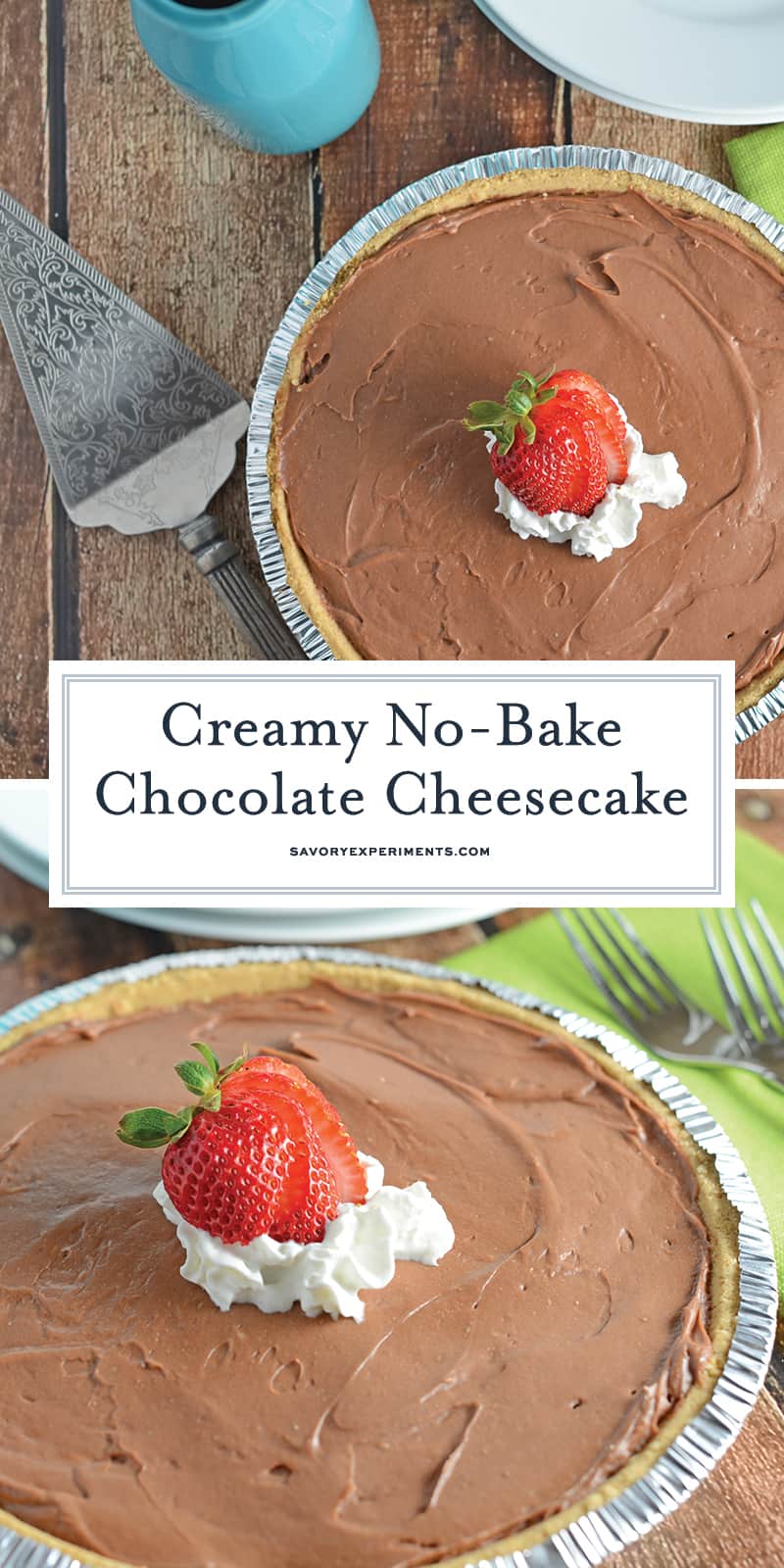 Questions you might have about how to make no bake chocolate cheesecake:
Can I use a traditional pie crust? Sure! If you read me regularly, you'll know there are two things I don't make from scratch purely because I hate them. Pie crust and puff pastry.
You can buy a store bought traditional crust, use your own or even make a homemade graham cracker crust. Even an OREO crust tastes phenomenal. Your choice!
Can I make this cheesecake recipe in advance? Yep, in fact, you should be making it at least a few hours ahead of time so it has time to chill. Since this is a no-bake cheesecake recipe, it doesn't require cooking or cooling time, but chilling is necessary to get the right texture.
How long can cheesecake be left out? Regardless of whether it is a traditionally baked cheesecake or a no-bake cheesecake, you shouldn't leave it out for more than 2 hours.
Honestly, I wouldn't even leave it out that long. Not because of potential food poisoning, but the consistency changes.
How long is cheesecake good? If kept covered with plastic wrap and chilled, it should be good for up to 5 days. I doubt it will last that long because it is SO delicious!
Can I add chocolate chips? You can add dark chocolate chips, white chocolate chips, peanut butter chips or even cherry chips! Only about 1/2 cup should do the trick, but you can also sprinkle more on the top.
Is no-bake cheesecake gluten free? The cheesecake filling is gluten free, but the crust is not. If you want to use a gluten free crust, then it will be! Always check your individual ingredients for gluten, as brands may vary.
Why won't my no-bake cheesecake set? Don't be surprised if it doesn't have the texture of a traditional cheesecake. It won't. It will be more like a velvety cream cheese, but light and fluffy. If you made it correctly, it is set.
Can I freeze this cheesecake? Technically you can, but since it isn't the same as a baked cheesecake, it will thaw to a slightly different consistency and it isn't my favorite so I recommend not freezing. It only takes a few minutes to make a fresh one!
Can I make a no-bake white chocolate cheesecake? Of course you can! Just substitute white chocolate for regular chocolate, but keep in mind that white chocolate isn't the same texture as regular chocolate. It is actually a derivative of cocoa butter. It is still tasty though and makes for a very stunning pie.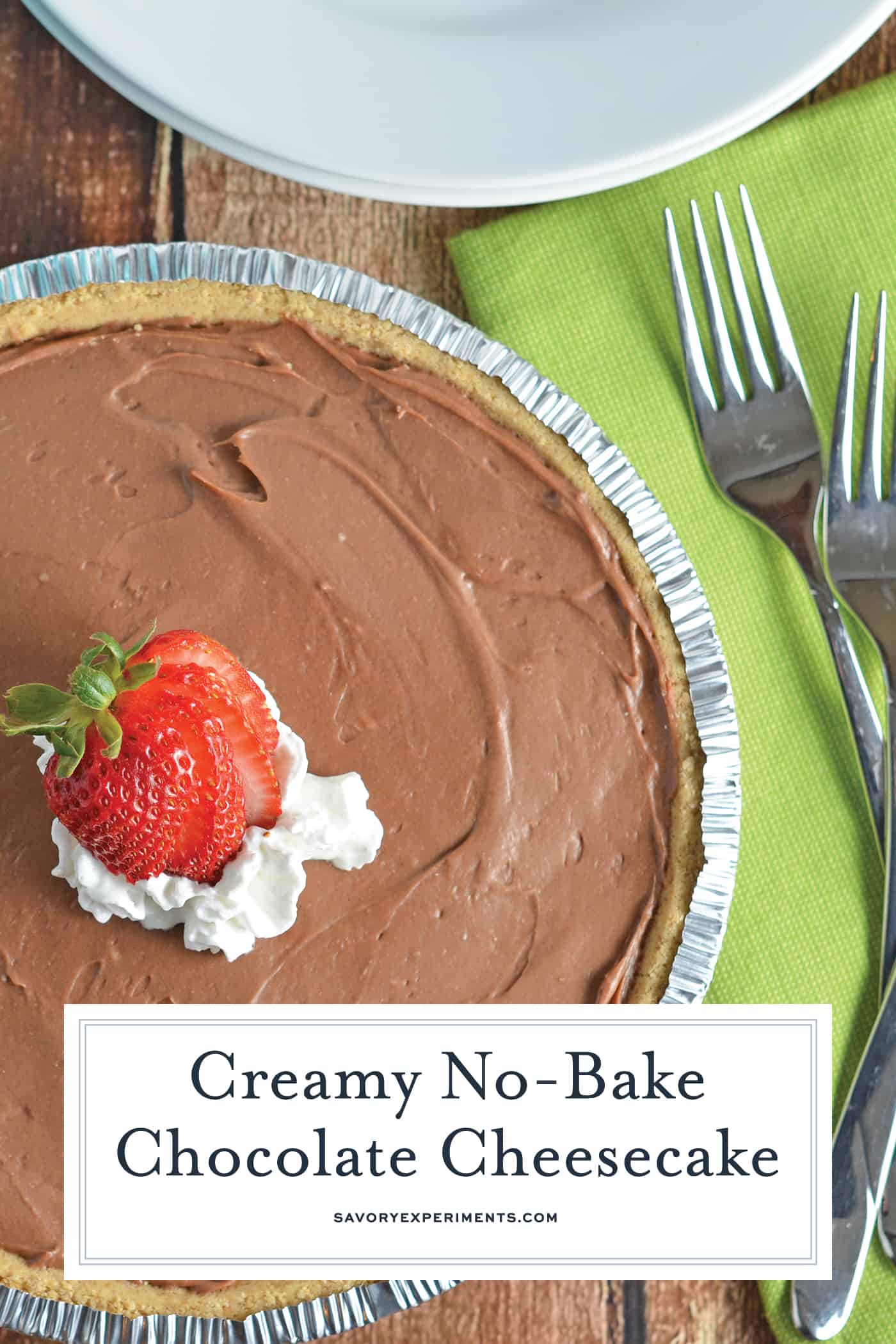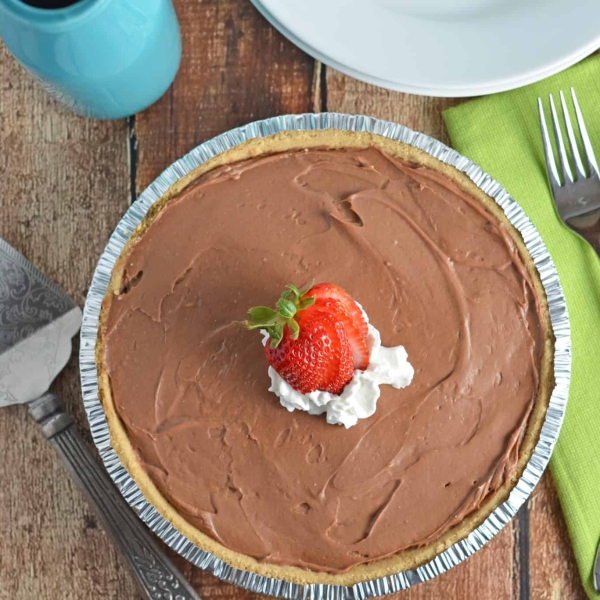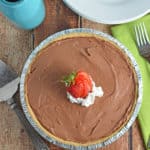 No-Bake Chocolate Cheesecake
Using a premade crust, the ultra creamy No-Bake Chocolate Cheesecake uses just 5 ingredients and takes minutes to prepare. Make ahead and take to your next party!
Instructions
In the bowl of a stand mixer fitted with the whisk attachment or in a medium mixing bowl with an electric hand mixer, beat cream cheese until light and fluffy, approximately 3-4 minutes. Add vanilla, continue mixing.

Place unsalted butter and semi-sweet chocolate in a microwave safe dish. Heat on high for 30 seconds, stir. If it is not fully melted, heat at additional 15 second increments, stirring between each.

When fully melted and smooth, immediately combine with cream cheese mixture, mixing well.

Add powdered sugar, fully incorporating.

Evenly spread into the bottom of the graham cracker crust. Cover and refrigerate until ready to serve.

Serve with whipped cream and vanilla bean ice cream.

If you've tried this recipe, come back and let us know how it was!
Nutrition
Calories:
770
kcal
,
Carbohydrates:
93
g
,
Protein:
7
g
,
Fat:
40
g
,
Saturated Fat:
12
g
,
Cholesterol:
29
mg
,
Sodium:
611
mg
,
Potassium:
214
mg
,
Fiber:
2
g
,
Sugar:
39
g
,
Vitamin A:
350
IU
,
Calcium:
62
mg
,
Iron:
3.6
mg
Check out all the other lovely NO BAKE recipes below from bloggers who took part in our 30 Day No Bake Dessert Challenge.