The days of having to go out for a slice of cheesecake are behind you, with this Marble New York Cheesecake. Homemade cheesecake is easier than think.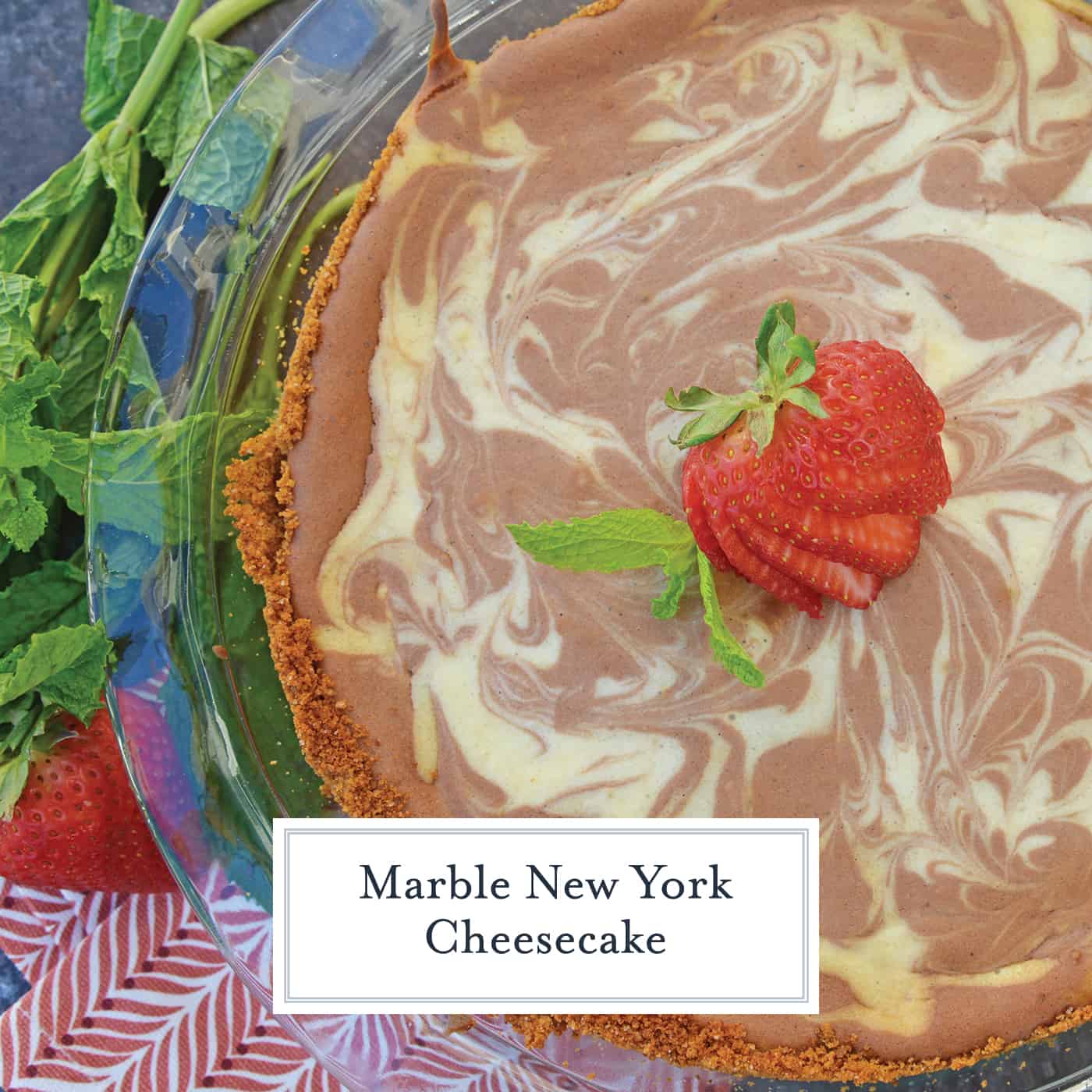 Marble New York Cheesecake is one of the best cheesecake recipes you'll ever come across. How to make cheesecake made easy!
Hubby isn't a huge cake fan…not even a big sweets fan. I know, crazy! However, I can usually get him to indulge in a nice slice of New York Style Cheesecake. This was made in honor of his birthday.
After making this particular variation on my usual cheesecake recipe I declared myself the "CHEESECAKE MASTER!!!!" Which in my world means "damn good". Sorry if I offend you with my language.
The first question I usually get is about the different types of cheesecake. Most commonly they are: original cheesecake, New York Cheesecake , Pennsylvania-Dutch Cheesecake, ricotta cheesecake and cream cheese cheesecake.
The first lesson is that no one is superior, however most folks tend to lean towards a favorite. They range in tang, denseness, ease to prepare and of course, creaminess.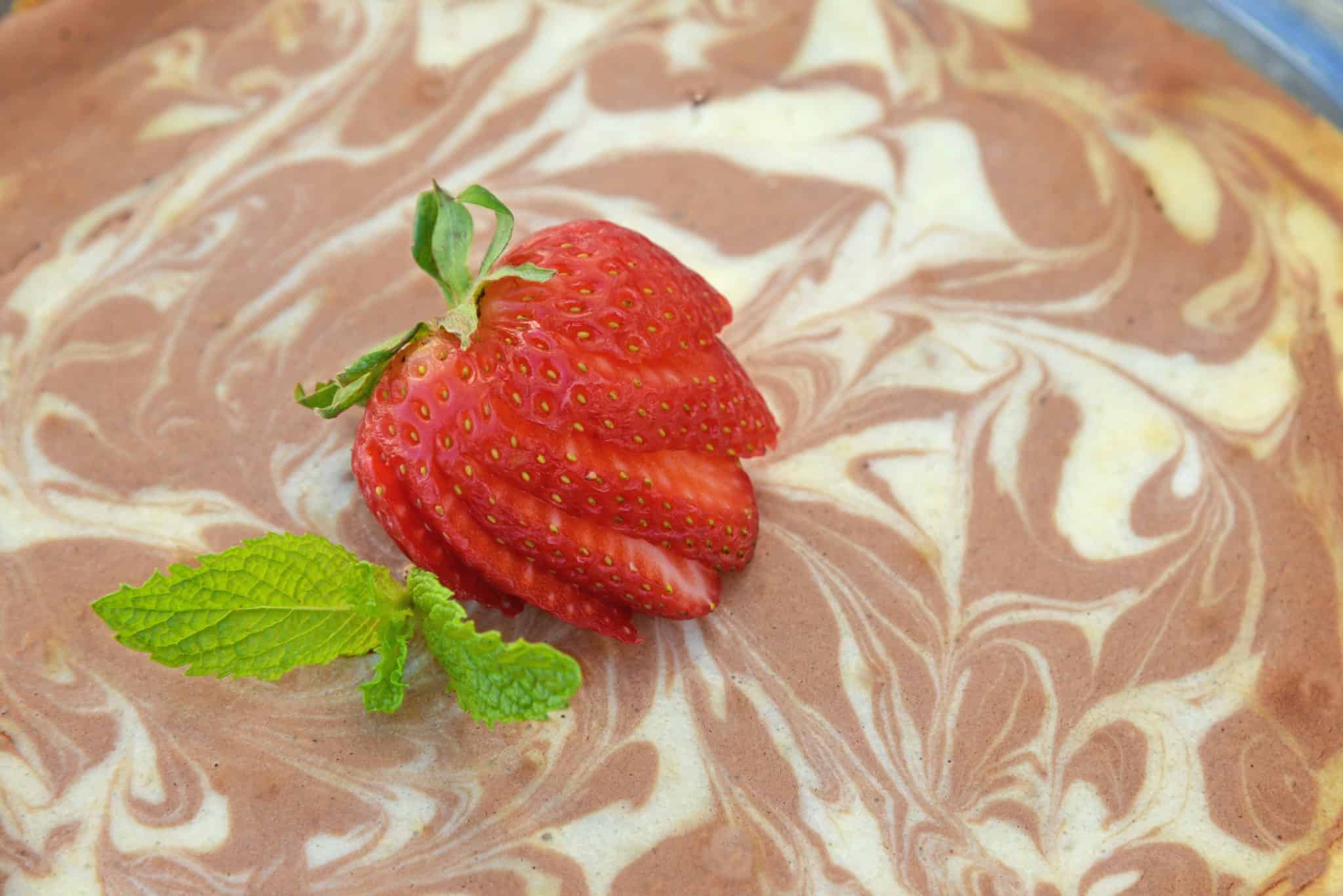 A true cheesecake lover will be able to distinguish and appreciate their differences. The base ingredient for any cheesecake is well, cheese. The type of cheese varies from country to country and region to region based on availability and taste.
Pennsylvania-Dutch Cheesecakes use a farmers cheese, Italians use ricotta and most Americans use cream cheese blended with sour cream or cottage cheese. The type of cheese will dictate the density and texture of the cake.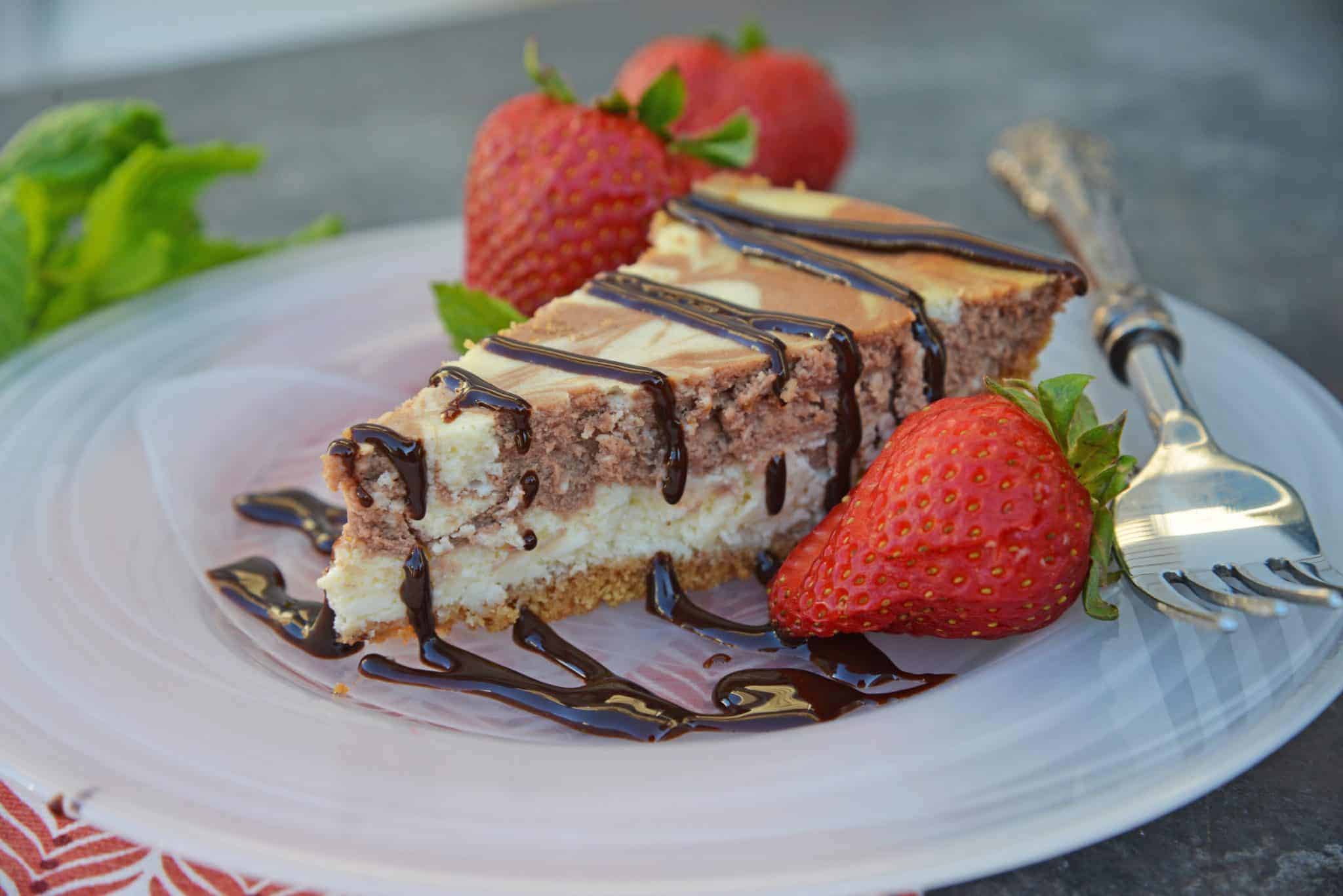 New York is known for thicker cheesecake made with cream cheese, less sugar and added flavors, whereas Pennsylvania-Dutch uses a farm cheese that is wiggly and falls in the center while baking, creating a pothole for fruits.
While cracks and a falling center would be the sign a failed cheesecake recipe in some eyes, it is the goal. Fruity filling is what makes their cake different.
Original cheesecake usually has more fillers (cottage cheese, sour cream or sugar) resulting in a less dense version of the New York style.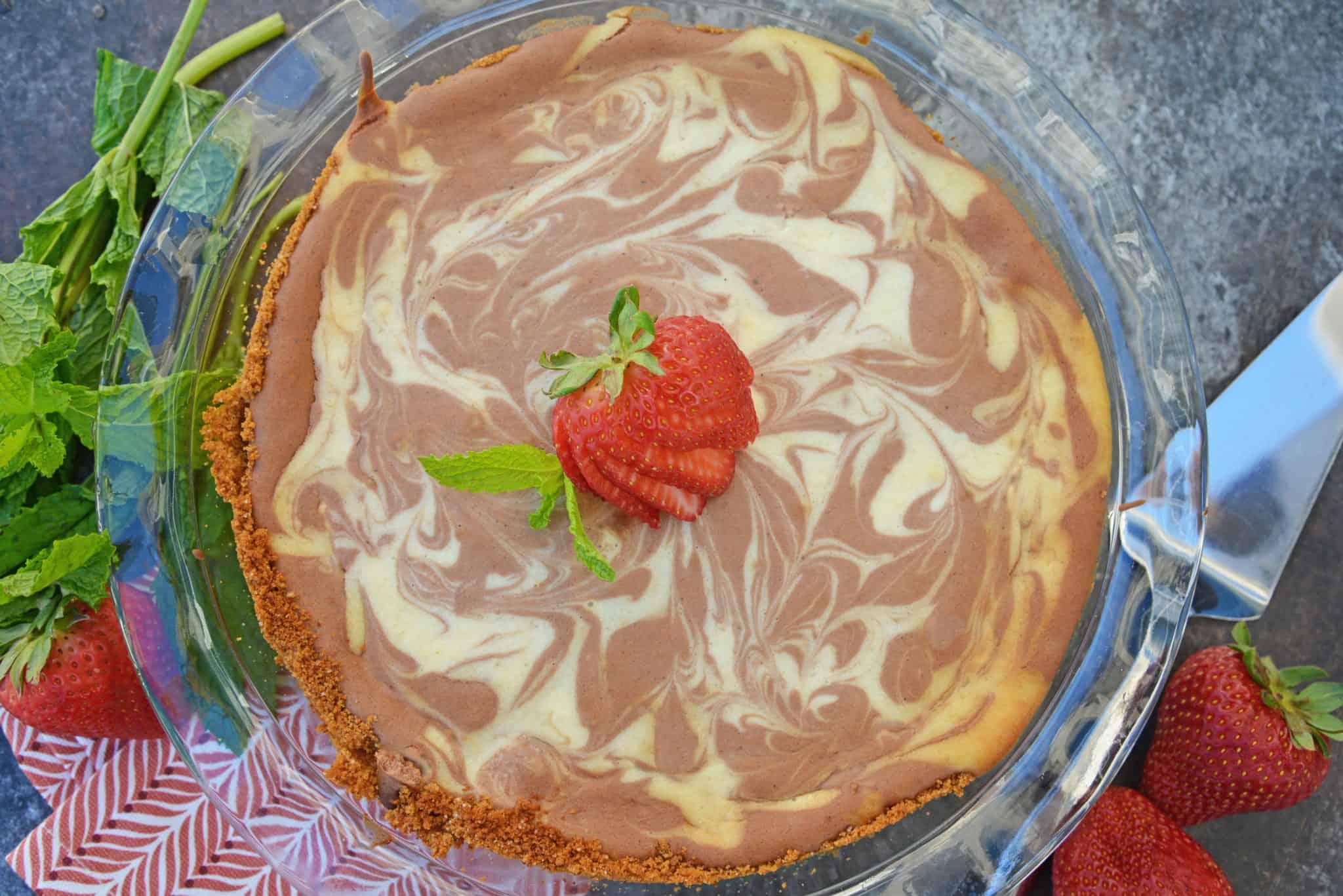 Some prefer a biscuit crust, others a graham cracker, others a sponge cake and some want no crust at all. Different flavors can be blended into the cake or dolloped on top.
This leaves us with approximately 45,978 variations of cheesecake.
This great recipe is just one. A Marble New York Cheesecake combing both chocolate cheesecake and vanilla cheesecake. A delicious marriage of flavors that I encourage you to try!
Tips for making cheesecake:
Use room temperature cream cheese, ricotta or whatever type of cheese you are using.
Beat the cheese(s) well before adding other ingredients. If you add all the ingredients together, it is even harder to get lumps out. No one wants a lumpy cheesecake!
Use room temperture eggs and add them last, mixing the least. Eggs hold air inside the batter, which could rise up and cause cracks and bubbles.
I prefer using a springform pan

lined with parchment paper for easy release and serving.

Use the water bath technique to prevent cracks and make sure your cheesecake stays moist and creamy.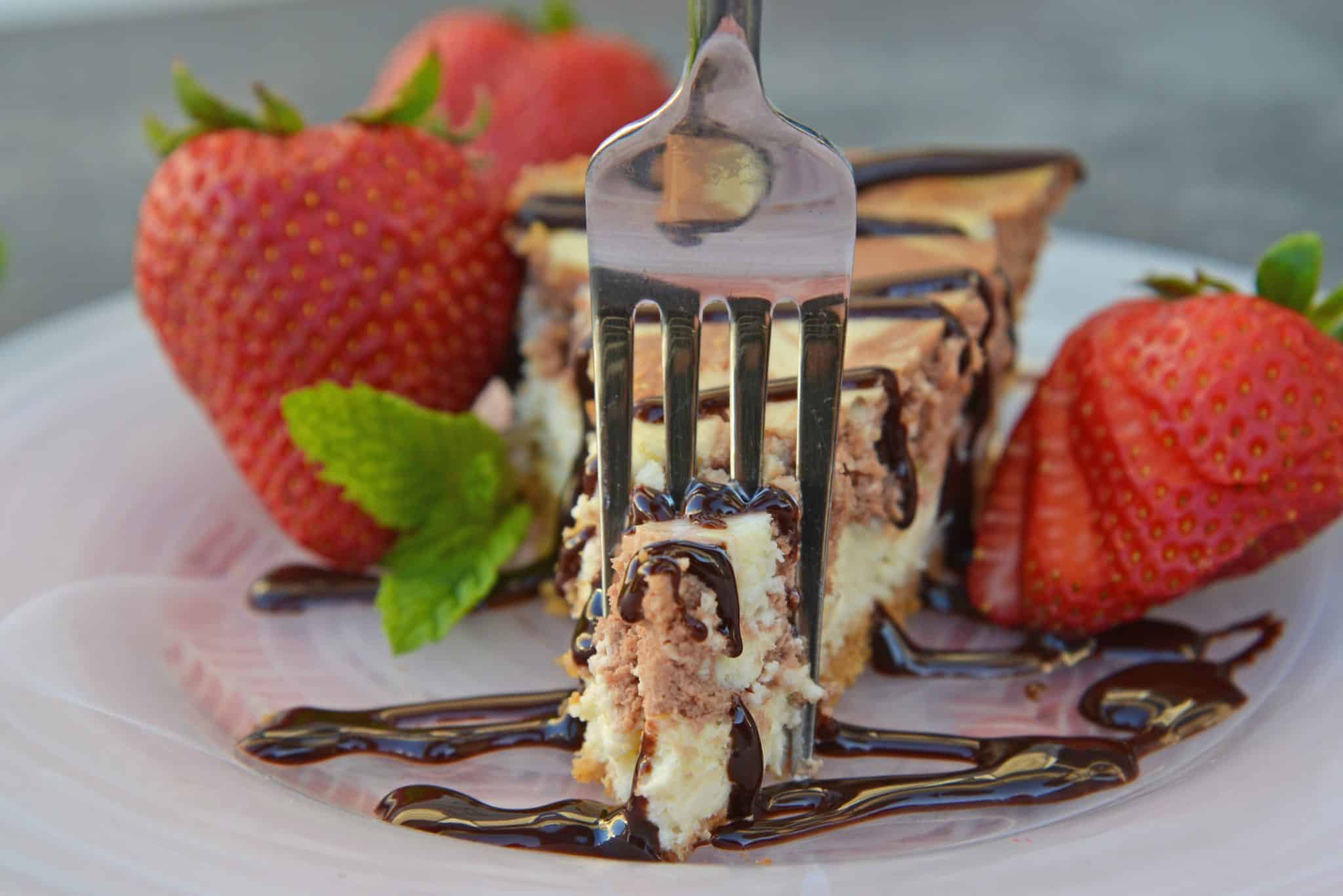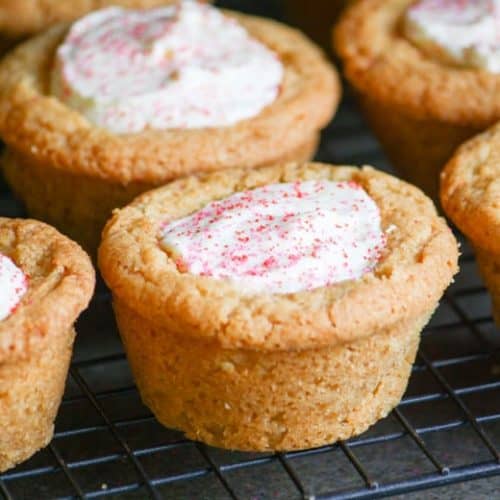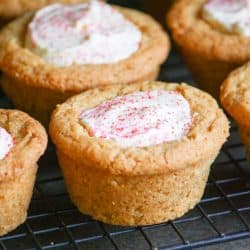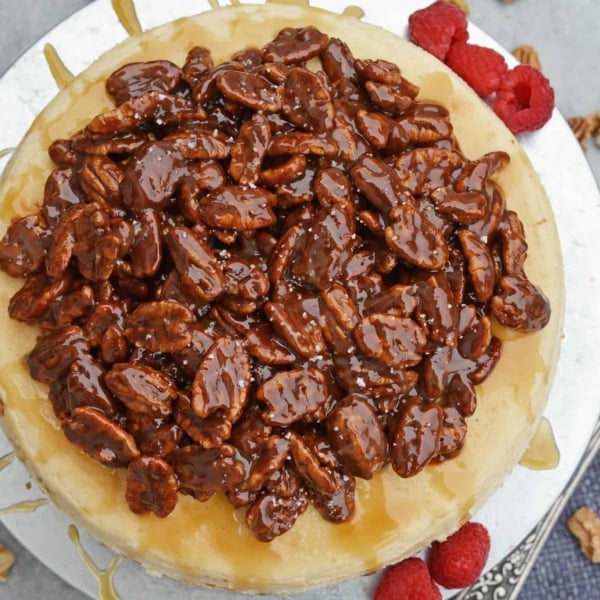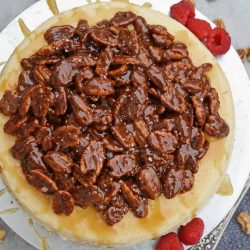 Pecan Pie Cheesecake Recipe
This Pecan Pie Cheesecake is the perfect combination of two delicious desserts – chocolate pecan pie and cheesecake. It's so good it'll quickly replace your best pecan pie recipe.
See The Recipe!
Tools for making New York Cheesecake:
Stand Mixer– I lived for years without one and I can tell you with 100% confidence that life with one is easier and it is worth the investment.
9-Inch Springform Pan
– this is a very useful cake pan to have on hand.
Pie Plates
– I use pie plates for more than baking pies. I use them for breading items, marinating and more! I used a pie plate for the pictured cheesecake.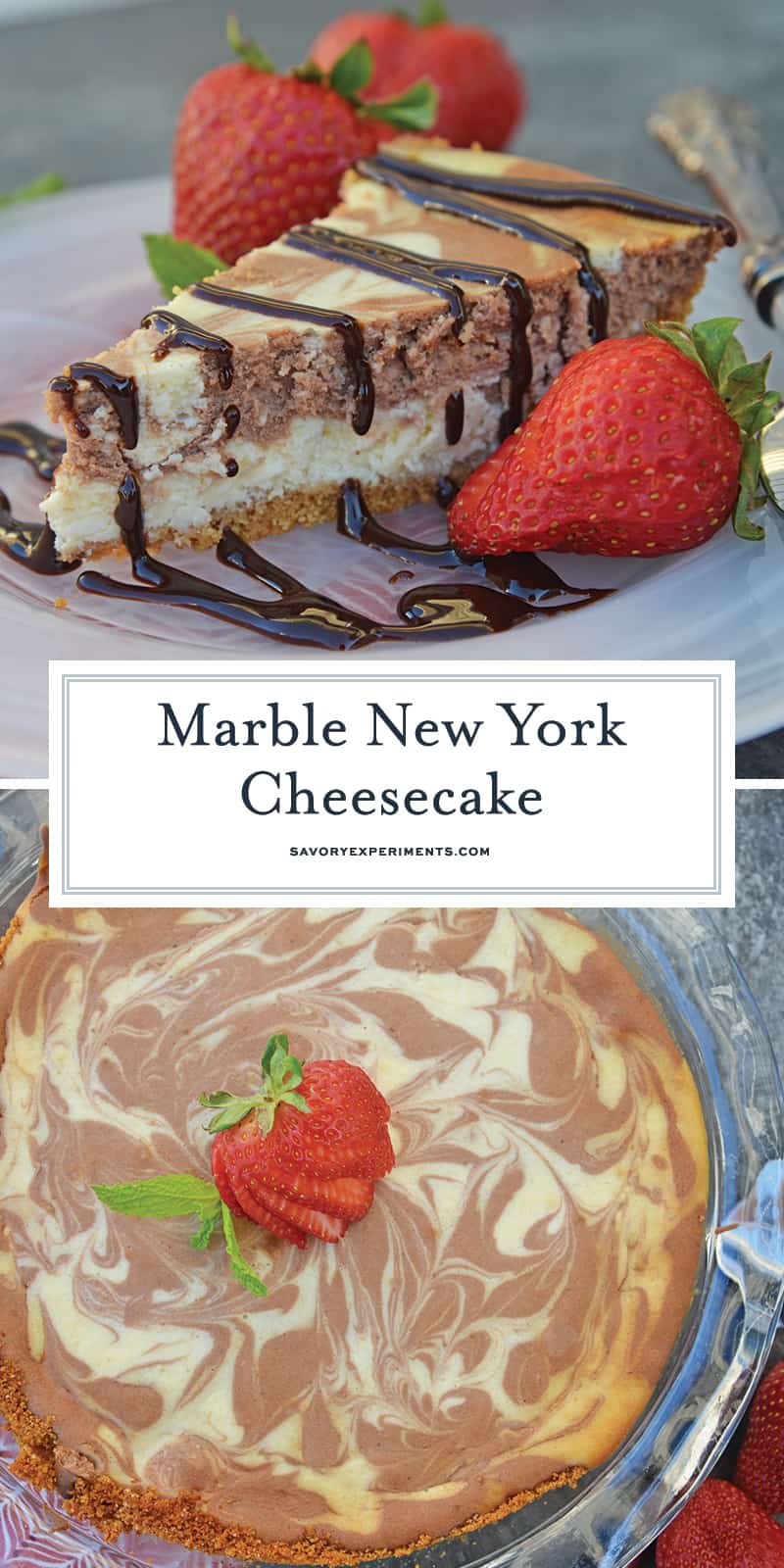 How to Make Cheesecake
Can you freeze cheesecake? Yes! In fact, I guarantee you that many of your favorite restaurants get that delicious slice of cheesecake from the freezer. As long as it is wrapped well, it freezes well for 3-4 months.
Can you make cheesecake without a crust? You can, just make sure you spray your pans really well with a nonstick spray or butter. I highly recommend using a 9-inch springform
pan lined with parchment paper for the easiest release. But honestly, I used a 9-inch pie plate for the cake in the picture and it turned out fine.
When and where was New York Cheesecake invented? This is purely based on a Google search, I have zero personal knowledge or claim this to be a fact.
It was reportedly invented in 1929 by a New York restaurateur who made a cheesecake with cream cheese instead of ricotta and served it at his home, where he also served traditional cheese pie, which was a southern dish not commonly seen in New York.
How do you prevent cheesecake from cracking? Personally, I use the water bath technique to prevent cracking. It also creates moisture in the oven and helps maintain a stable temperture. This is why cooking cheesecake in the Instant Pot works so well.
Some other ways to prevent cracking are to not open the oven door while cooking. Extreme changes in temperature often causes the crack. Oven temperature can reduce up to 100 degrees per minute it is open. And don't over bake it. Dry cheesecake cracks!
My cheesecake is lumpy, why? Typically lumpy cheesecake is caused by the cheese, mainly cream cheese, not being warm enough or creamed well enough before adding the rest of the ingredients.
Using a stand mixer
or electric hand mixer
sure does help. I typically cream my cream cheese for 2-3 minute, or until there are zero lumps. You can do it by hand and you will have massively fabulous biceps!
Can cheesecake sit out? It can for short periods of time, but is best served chilled.
What sauces can you put on cheesecake? Some of my favorites are Raspberry Sauce, Salted Caramel and a basic chocolate sauce. Fresh fruit, especially strawberries, are always a safe choice as well.
Do I have to use graham crackers for the crust? Nope! You can use any type of crumb for the crust to make your own unique cheesecake. I like using gingersnaps in a plain cheesecake, but you can also use Nilla wafers and Oreos. Get creative!
Can I make cheesecake without eggs? It is possible, but for this New York Cheesecake recipe, I highly recommend using eggs.
How long does cheesecake last in the refrigerator? I would say no longer than 1 week if it is properly packaged and kept at the right temperature. If you have a lot and don't want to waste it, freeze some!
How do I cut cheesecake best? Use a sharp knife and run it under hot water between each slice. This will result in nice, clean slices.
How do I know when my cheesecake is done? Typically the center will stop being all wiggly and giggly, but be careful to not open the oven a lot to check this.
Can I omit the flour? You can omit the flour, but your cheesecake might fall in the center, see below.
Why did my cheesecake sink? There are several reason for the center of your cheesecake sinking. The first is over mixing or whipping. You want to mix well and beat the cheese, but adding the other ingredients, make sure to not over beat, which introduces air that release during baking and can cause the center to fall.
You can omit the flour in this recipe, but that also takes out some of the structure that helps keep it level.
I hope you enjoy your homemade cheesecake! I'm honestly jealous.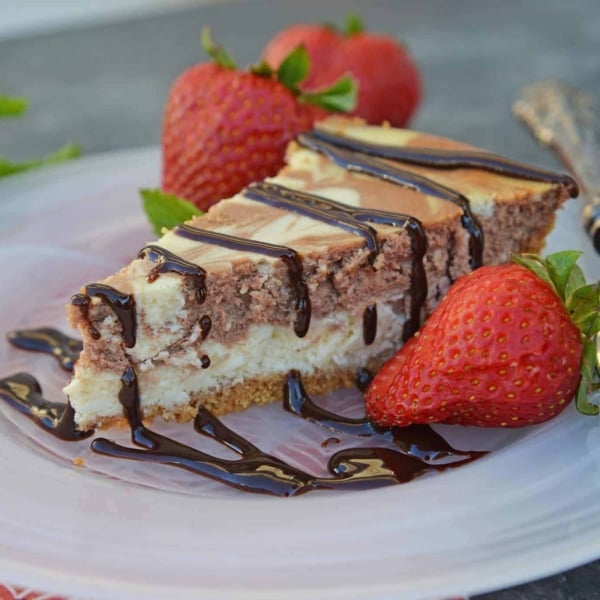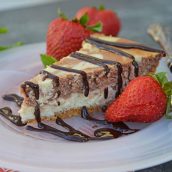 Marble New York Cheesecake Recipe
Marble New York Cheesecake is one of the best cheesecake recipes you'll ever come across! This dessert is a thicker but deliciously creamy cheesecake recipe!
Instructions
For graham cracker crust:
Preheat oven to 375 degrees.

In a medium bowl, combine graham cracker crumbs, sugar and melted butter. Toss to coat all. Transfer to a deep 9-inch pie plate or spring form pan. Press into the bottom and sides with the back of a fork or spoon.

Bake for 5-7 minutes, or until it starts to brown. Remove and set aside. Keep oven on.
For cheesecake:
Using a a stand mixer with paddle attachment or electric hand mixer in a large mixing bowl, cream together cream cheeses. Add sour cream and continue to beat until smooth.

In a small mixing bowl, beat together sugar, flour, vanilla and eggs.

Add sugar mixture to cream cheese mixture in 2-3 increments, blending fully between each addition.

Pour 1/3 of cheesecake into into the pie crust. Reserve an additional 1/3, set aside.

Heat chocolate in microwave bowl in 30 second increments, stirring in between, until creamy. Blend into remaining 1/3 cheesecake batter to make the chocolate swirl.

Add large dollops of chocolate cheesecake on top of the vanilla cheesecake. Add additional dollops of remaining vanilla cheesecake batter on top of chocolate until pie crust is full.

Using a toothpick, make small and large swirls to create the marbleized effect. Over swirling will just mix them into a milky, light chocolate, so take it easy.

Create a water bath by finding a cooking vessel you can set the cheesecake in. Fill it with enough water to cover the bottom. Set cheesecake in water bath, being careful to not overflow the water into your cheesecake.

Carefully place oven and bake for 40 minutes. If the edges of the crust or top starts to brown too much, lightly place a leaf of aluminum foil over the top of the cheesecake.

Remove from the oven and allow to cool for 20-30 minutes. Cover and refrigerate for 3-4 hours before serving.

Garnish with chocolate sauce, whipped cream or maraschino cherries.

If you've tried this recipe, come back and let us know how it was!
Notes
*Or 1/3 cup chocolate morsels.
Nutrition
Calories:
351
kcal
,
Carbohydrates:
30
g
,
Protein:
5
g
,
Fat:
23
g
,
Saturated Fat:
12
g
,
Cholesterol:
97
mg
,
Sodium:
243
mg
,
Potassium:
194
mg
,
Sugar:
24
g
,
Vitamin A:
715
IU
,
Vitamin C:
0.3
mg
,
Calcium:
105
mg
,
Iron:
1.1
mg