Warm crunchy outside with pops of corn kernels inside along with seasonings and scallions. This easy Corn Fritters recipe can be an appetizer, snack, side dish and sometimes even a dessert!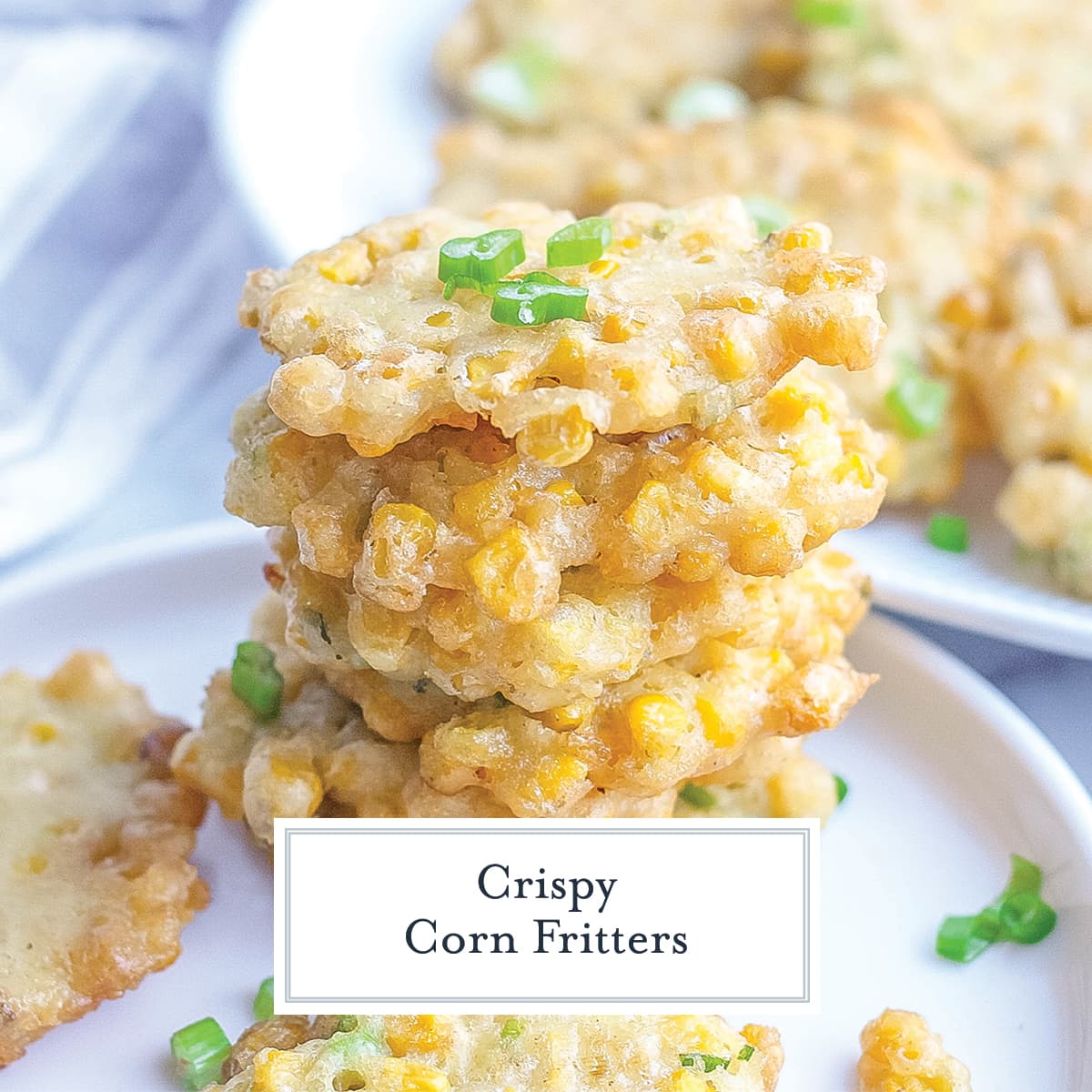 What are Fritters?
Fritters, despite their slightly funny name, are a glorious category of food. Technically, they are a fried pastry of sorts that uses a bit of batter or breading and folds in either sweet or savory fillings. Sort of like hush puppies.
I think of fritters as being quintessential Southern food, but they very much universal and can be found in most cultures. The ingredients and techniques might vary slightly, but the basic idea remains the same.
Sometimes fruit, like apples or peaches are folded in, fried, and then coated in a glaze to make something akin to a doughnut. When it comes to the savory, everything is fair game. Different cheese, meats, vegetables, cheese and sometimes seafood are used to flavor fritters.
Fried Corn Fritters are most frequently served with chili in my household, but they can also be a great side dish or appetizer for just about any meal. The batter can be prepared ahead of time, with a quick fry right before serving.
They are a great way to use up leftover corn, and there are so many ways you can customize these corn cakes to make them your own.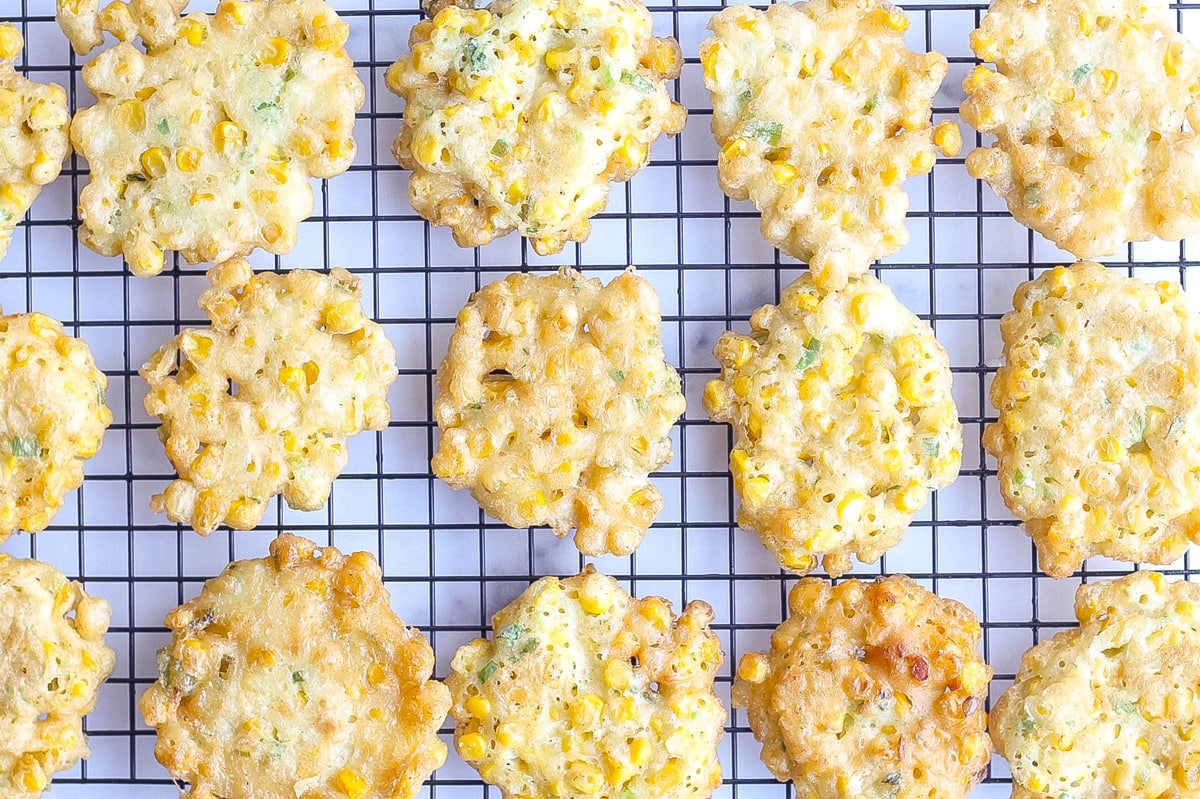 Ingredients
The ingredient list is pretty straightforward of kitchen staples. There are also several fun variations below, so keep reading!
Dry ingredients– flour, salt, baking powder to make them fluffy and light and sugar to balance it all.
Wet ingredients- Egg as a binder, whole milk (I strongly advise using whole opposed to a low fat option), melted unsalted butter (omit additional salt if you use salted butter)
Corn & Scallions– These are the base and flavor. You can use fresh corn, defrosted frozen corn or canned corn. Scallions (green onions) add a light onion flavor, but chives are another option. Sweet corn is preferred
Seasoning– The seasoning is what sets this recipe apart from others. Cumin and white pepper are the secret ingredients.
Oil For Frying– Vegetable, canola, safflower and peanut oil are the best bets.
Lastly, the toppings and sauce. I like to dunk mine in chili, fry sauce or even a nice garlic aioli, but most folks like good old sour cream. Also feel free to top with additional scallions, bacon, honey or agave nectar and Maldon sea salt.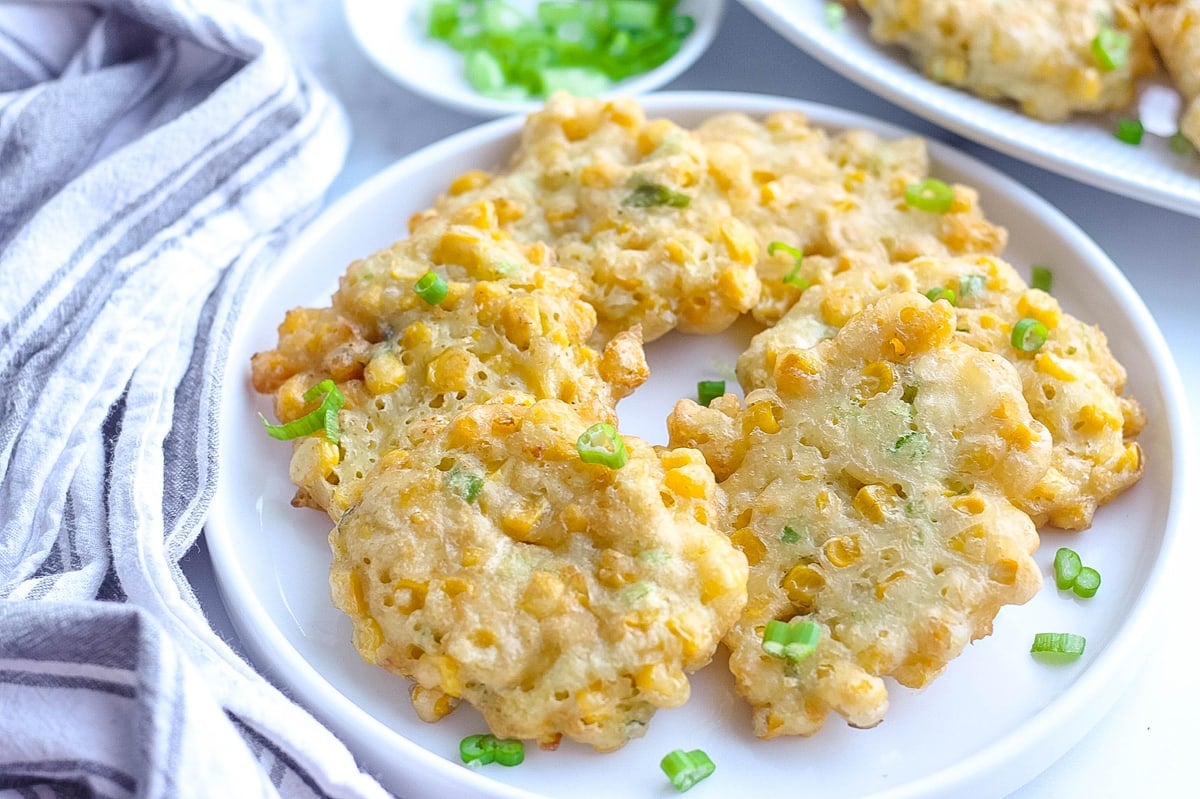 How to Make Corn Fritters
The trick to a delicious fritter is to not overwork the batter. To prevent this we whisk together wet and dry ingredients separately and then combine until just blend.
The next step is letting the batter rest. I even put mine in the fridge for a few minutes to let it chill. This helps hold the batter together in a nice little bundle while frying.
Next, you fry! Fritters generally don't have the prettiest of shapes, but they are perfect in their imperfection, so don't put a lot of pressure on yourself. Just plop them in hot oil and let it do its thing.
Drain on a wire rack over a paper towel lined plate or baking sheet. This allows the excess oil to drain rather than pool and make your crispy fritters soggy.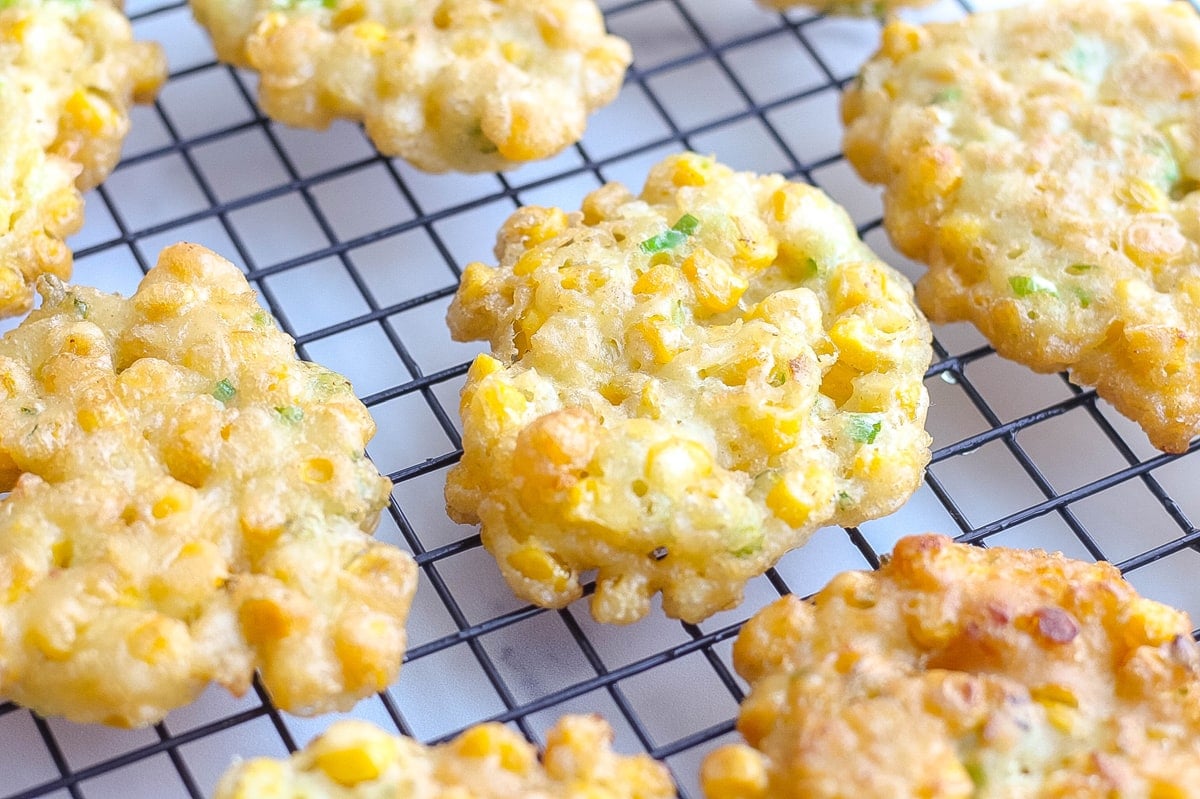 How to Fry Corn Fritters
Now I know that frying at home can be intimidating and sometimes tedious, but I promise you won't feel that way with this recipe. There are two simple things to keep in mind.
First off, you will need a wide, heavy bottom frying pan. The heavy bottom will ensure even heat and cooking while the wide diameter will allow you to cook more fritters more quickly without crowding them.
Be cautious with how much is going into the pan at once. Crowding the pan or cooking too many fritters at a time will lower the temperature of the oil. Without the right temp, you won't get that heavenly golden brown.
If there are too many in the pan, this can also allow things to steam when you really want them to fry. Again, this will affect that crunchy crispy exterior you are trying to achieve.
You also want to use a neutral oil with high smoke point, meaning it won't flavor the fritters, nor will it burn them. By all means, use a deep fry thermometer to monitor the temperature of the oil.
Place corn fitters on a plate lined with paper towels to drain off the excess oil. This is a great way to help prevent them from becoming soggy.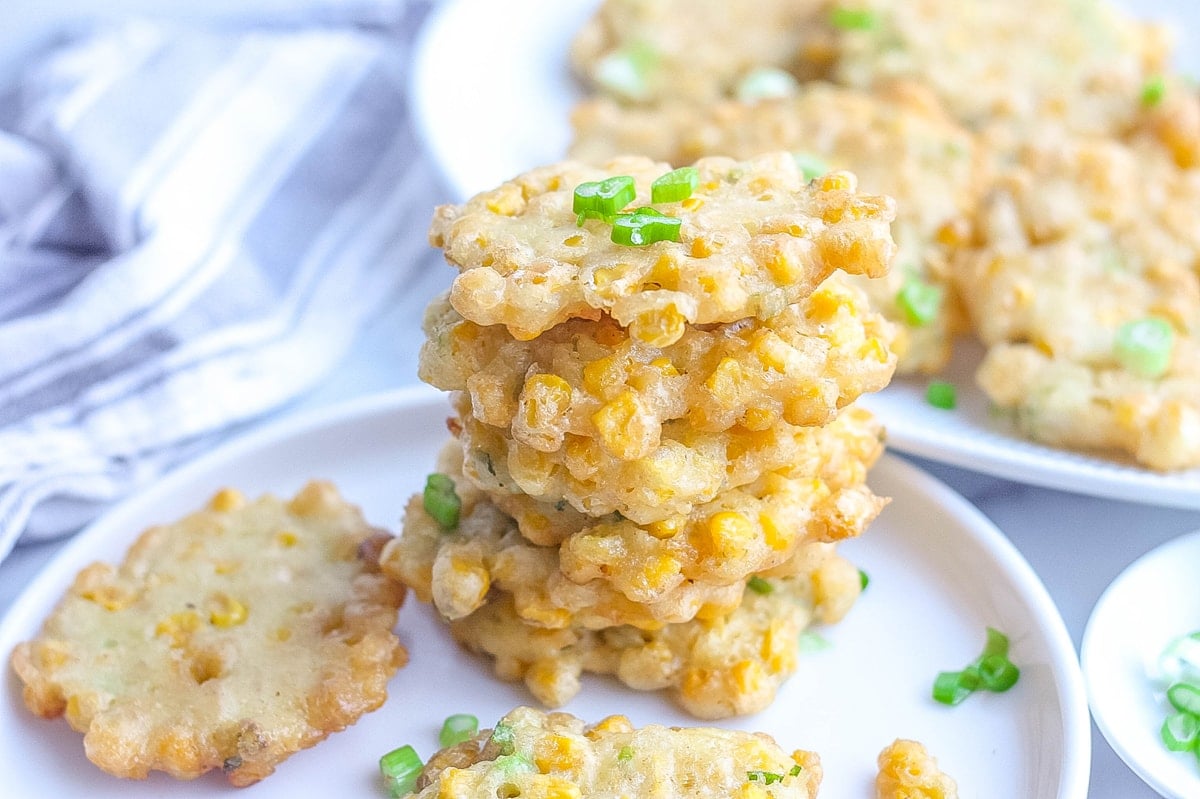 Variations
The sky is the limit on flavor variations for these classic munchies. Here are some of our favorites.
Diced jalapeno
Cooked & crumbled bacon
Chopped cilantro
Diced ham
Diced pimentos
Cayenne pepper
Sharp cheddar cheese
Diced green bell pepper
Shredded carrot
Shredded zucchini
Shredded cheese
Crushed red pepper flakes
Parmesan cheese
White onion or red onion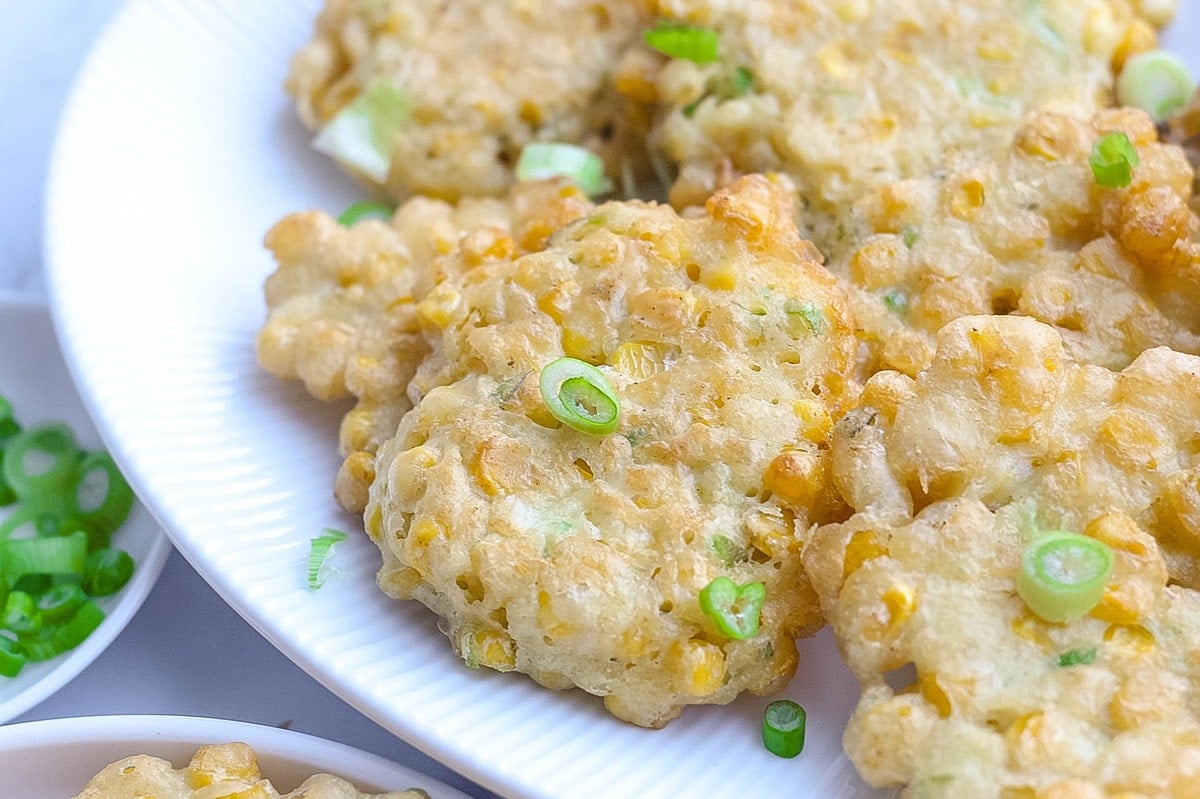 Storage, Make Ahead & Freezing
Storage: If you do have leftovers of this corn fritters recipe, allow them to cool completely and store in an airtight container or plastic bag for up to five days. Reheat in a the oven at 300 for 10 minutes or in a little bit of oil in a frying pan. Microwaving will make them chewy.
Make Ahead: Any fried food is best enjoyed fresh and hot, so I don't recommend this as a make ahead dish, although you can make the batter and place it in the fridge until you are ready to fry. Just give it a quick stir to evenly distribute the corn and scallions.
Freezing: Crispy corn fritters do freeze well and for up to 3 months. Go ahead and re-fry them while frozen instead of waiting to defrost. You can also place them in the Air Fryer at this stage. I've found that 6 minutes at 350°F does the trick, but this will vary based on your machine and size of the fritter itself.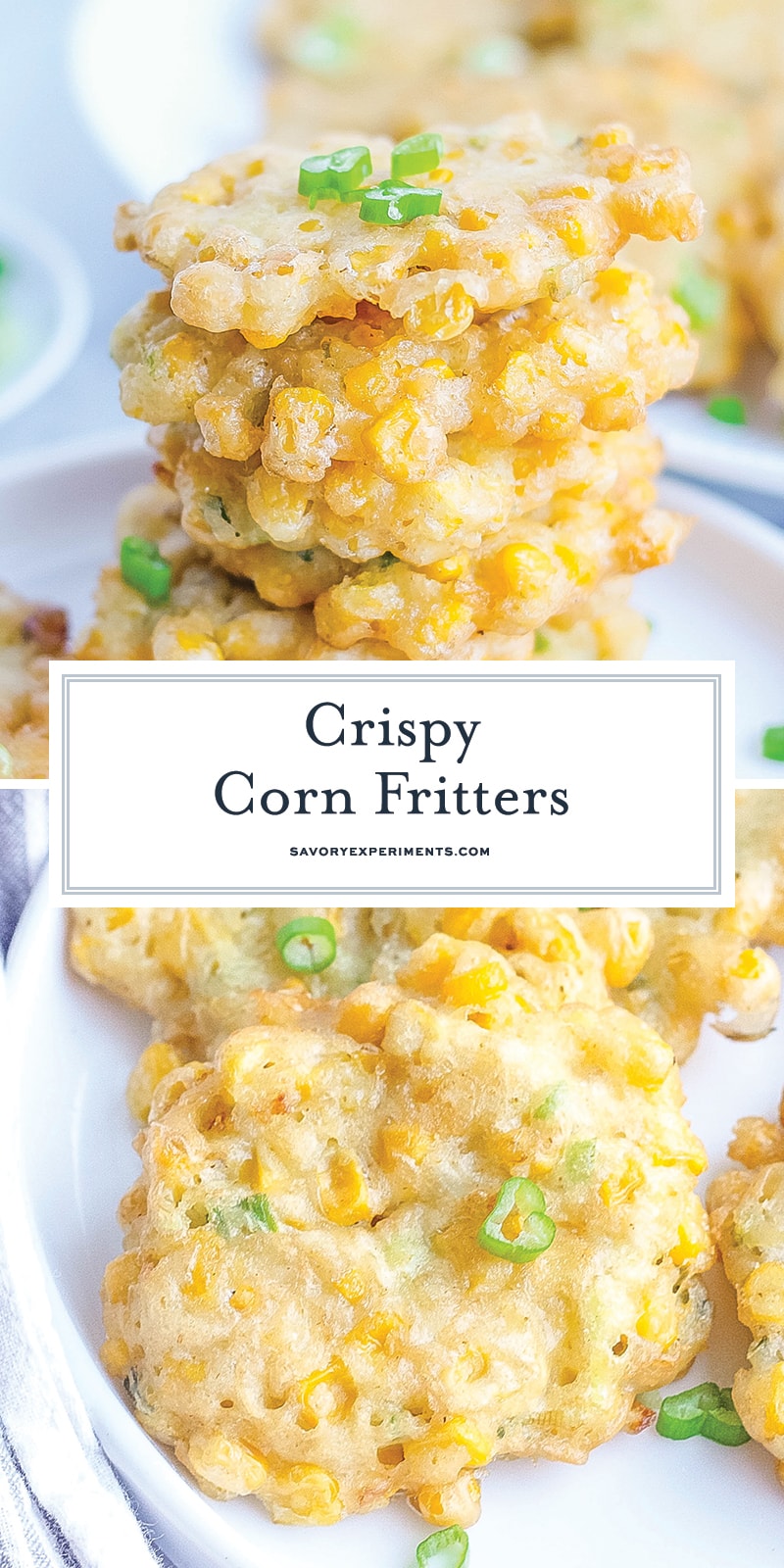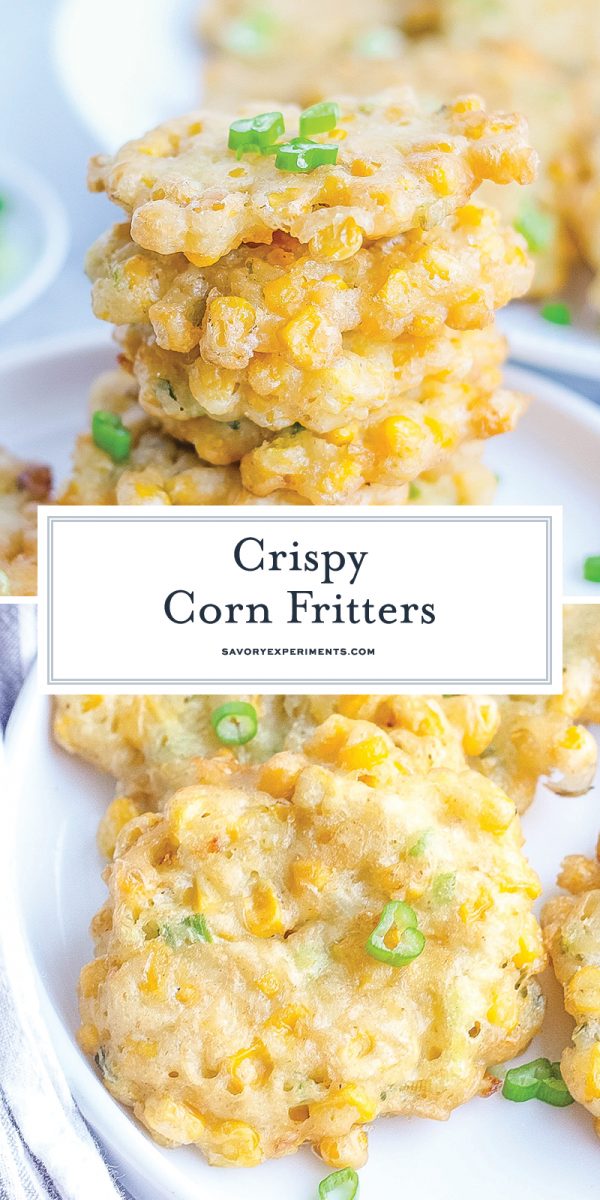 More corn recipes: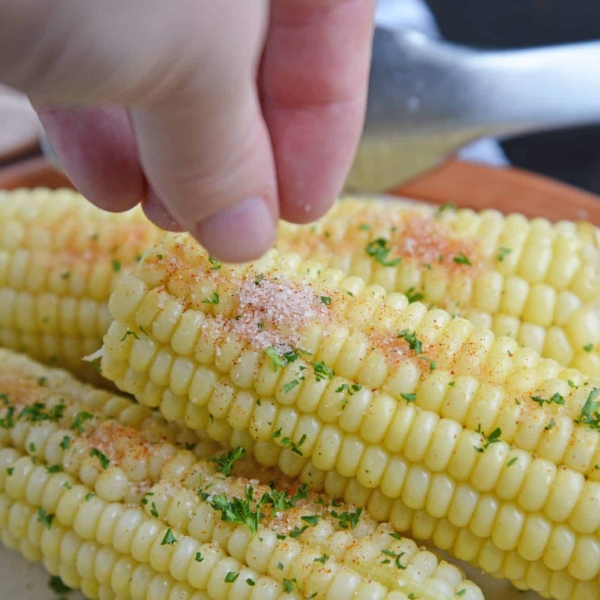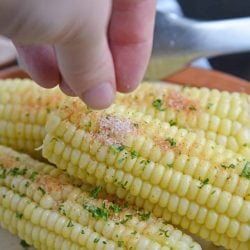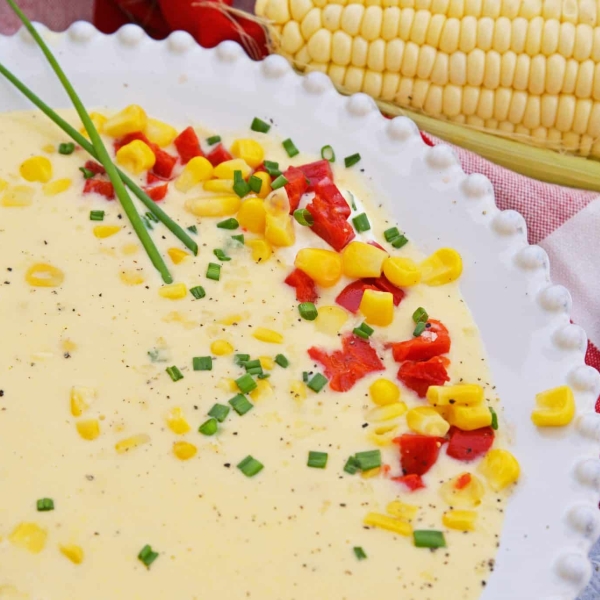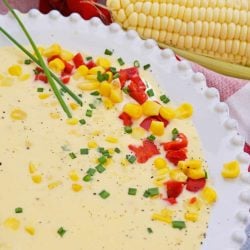 Instant Pot Corn Chowder
This Instant Pot Corn Chowder is a potato corn chowder that's packed with flavor! Using an instant pot makes this already easy soup even easier! You'll never want to make another corn chowder recipe again.
See The Recipe!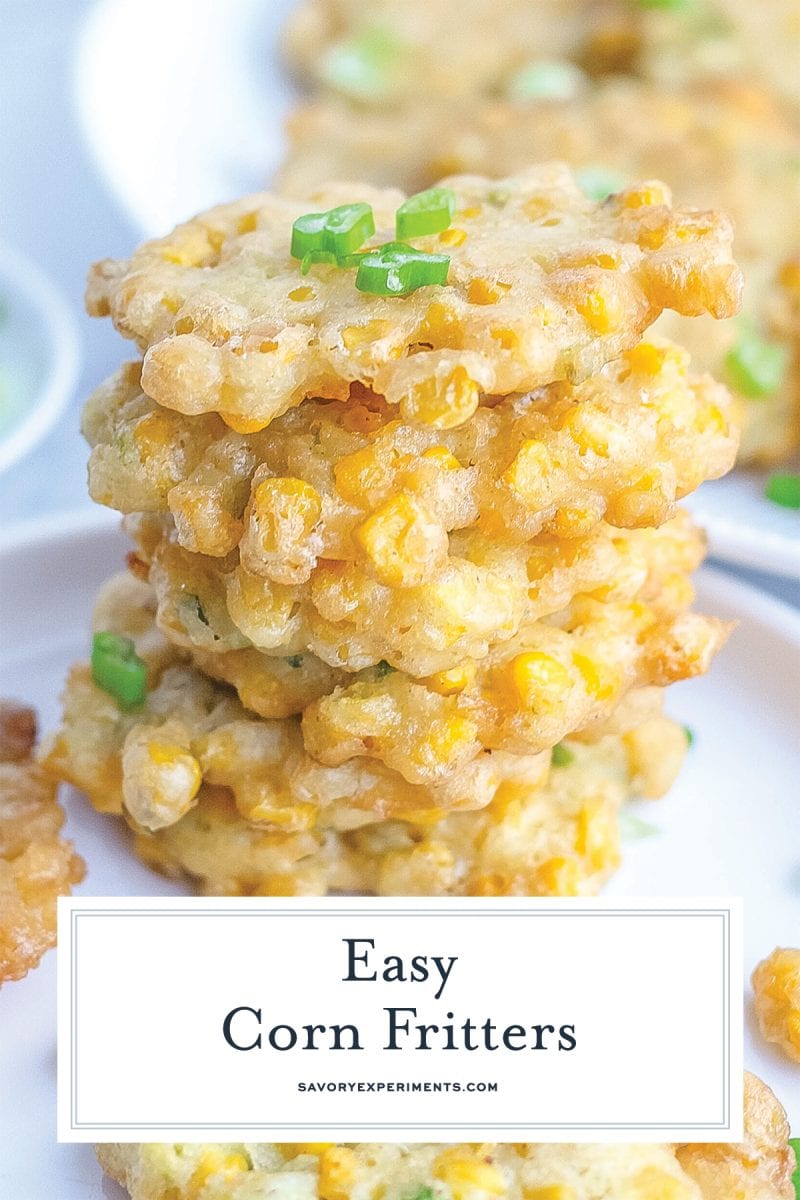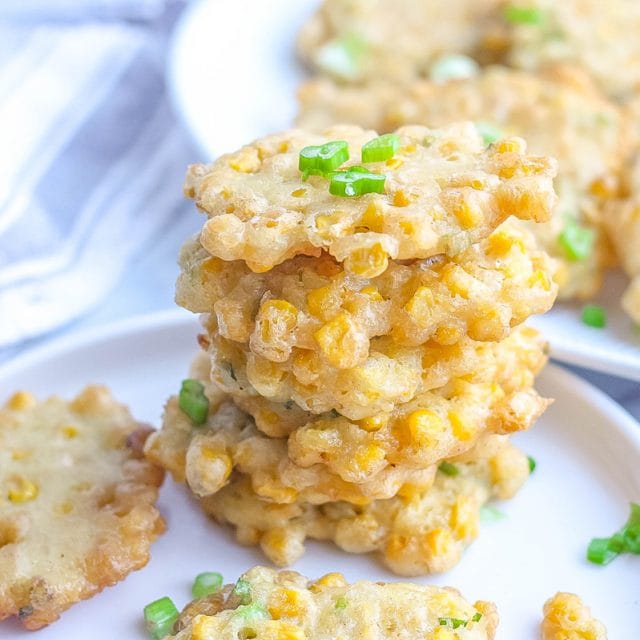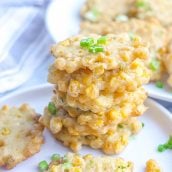 Crispy Corn Fritter Recipe
Crispy fritter batter with pops of corn and a hint of scallion. Perfect as a side dish, serving w/ chili or even as a dessert with honey!
Instructions
In a large bowl whisk together flour, salt, baking powder, cumin, sugar and ground white pepper.

In a second mixing bowl bowl, combine wet ingredients including egg, milk and butter.

Mix dry ingredients with wet ingredients until just combined. Much like pancakes, you do not want to over beat.

Heat 1/4 inch of vegetable oil in skillet over medium-high heat to 325°F-350°F.

Spoon approximately 1 heaping tablespoon of batter into hot oil. Fry for about 2-3 minutes, turning halfway. Fritters will be a golden brown.

Remove to a wire rack suspended over a paper towel lined baking sheet to drain. If you are making a large batch I recommend keeping them warm in the oven while frying.

If you've tried this recipe, make sure to come back and let us know how it was in the comments or ratings.
Nutrition
Calories:
116
kcal
,
Carbohydrates:
18
g
,
Protein:
3
g
,
Fat:
3
g
,
Saturated Fat:
1
g
,
Cholesterol:
33
mg
,
Sodium:
505
mg
,
Potassium:
160
mg
,
Fiber:
1
g
,
Sugar:
2
g
,
Vitamin A:
140
IU
,
Vitamin C:
0.9
mg
,
Calcium:
39
mg
,
Iron:
1.1
mg