This recipe will show you how to make corn fritters the easy way! They only take 25 minutes to make and they're the perfect snack. Get ready to have some flavorful and crispy corn fritters!
Easy Corn Fritters are lightly fried with scallions, cumin, and white pepper. They're deliciously crispy! They can be served as an appetizer, a snack, or with your favorite chili recipe.
Fritters, despite their slightly funny name, are a glorious category of food. Technically, they are a fried pastry of sorts that uses a bit of batter or breading and folds in either sweet or savory fillings.
I think of fritters as being quintessential Southern food, but they very much universal and can be found in most cultures. The ingredients and techniques might vary slightly, but the basic idea remains the same.
Sometimes fruit, like apples or peaches are folded in, fried, and then coated in a glaze to make something akin to a doughnut. When it comes to the savory, everything is fair game. Different cheese, meats, vegetables, and sometimes seafood are used to flavor fritters.
Easy Corn Fritters are most frequently served with chili in my household, but they can also be a side dish or appetizer for just about any meal. The batter can be prepared ahead of time, with a quick fry right before serving. Corn fritters are best served fresh and hot.
Now I know that frying at home can be intimidating and sometimes tedious, but I promise you won't feel that way with this recipe. There are two simple things to keep in mind.
First off, you will need a wide, heavy bottom frying pan. The heavy bottom will ensure even heat and cooking while the wide diameter will allow you to cook more fritters more quickly without crowding them.
Be cautious with how much is going into the pan at once. Crowding the pan or cooking too many fritters at a time will lower the temperature of the oil. Without the right temp, you won't get that heavenly golden brown.
If there are too many in the pan, this can also allow things to steam when you really want them to fry. Again, this will affect that crunchy crispy exterior you are trying to acheive.
I also like using Maldon Sea Salt for finishing these off. It gives a nice texture when you bite into them without being overly salty. Really, I put Maldon Sea Salt on everything. I even have a travel pouch for it. Seriously. I'm a salt nut.
While I like my Crispy Corn Fritters with chili, you can also serve them with a dipping sauce like Bacon Jalapeno Fry Sauce or Bloomin' Onion Sauce! Heck if you have some salsa in the fridge, they are great with that too.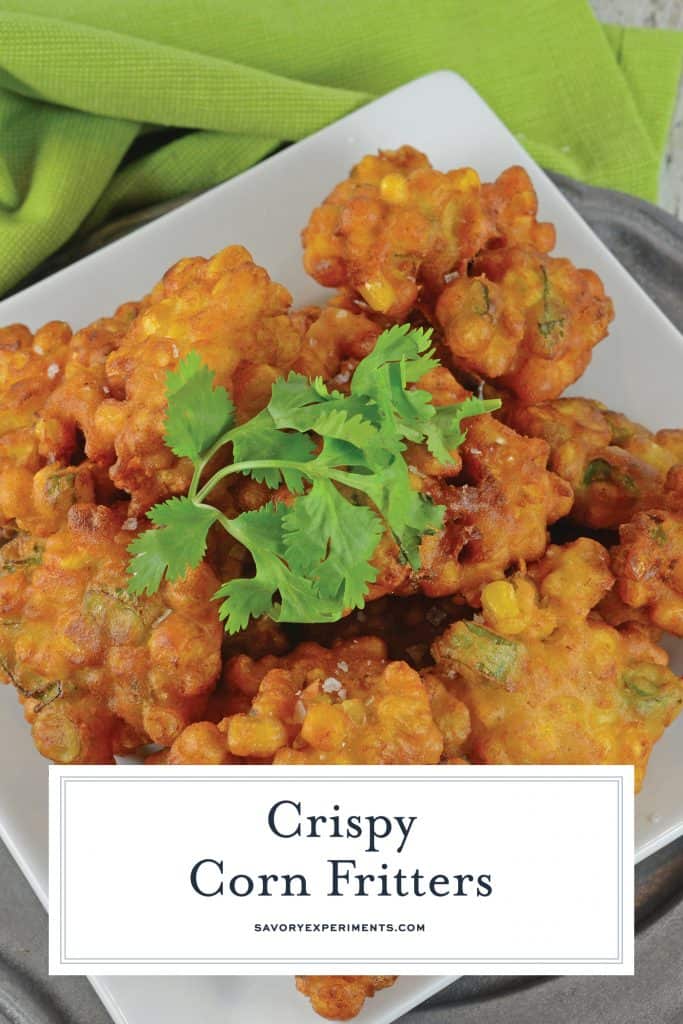 If you liked this corn fritters recipe, be sure to check out these other amazing corn recipes:
Best Corn on the Cob Seasoning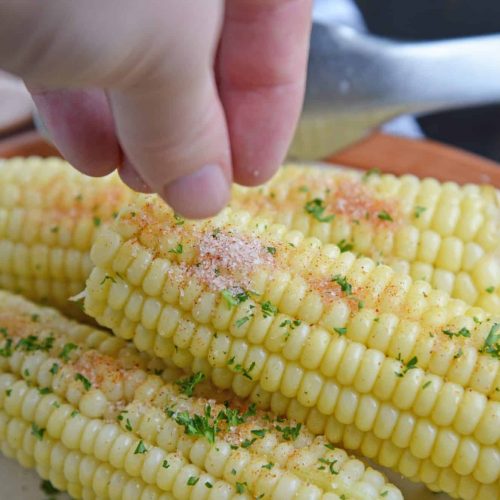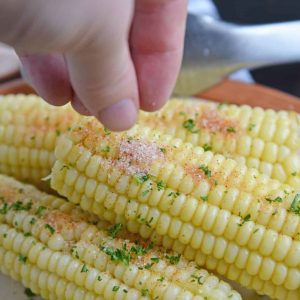 Corn recipes have never been more delicious than with this simple Corn on the Cob Seasoning! It's the best way to upgrade your summer corn.
Instant Pot Corn Chowder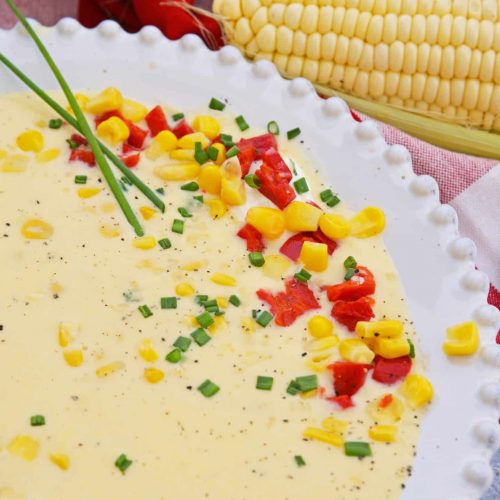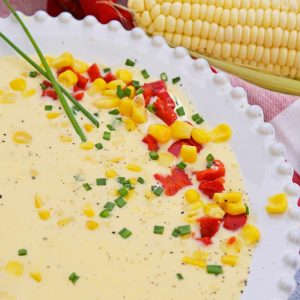 This Instant Pot Corn Chowder is a potato corn chowder that's packed with flavor! Using an instant pot makes this already easy soup even easier! You'll never want to make another corn chowder recipe again.
CONNECT WITH SAVORY EXPERIMENTS!

Be sure to follow me on social media, so you never miss a post!

Facebook | Twitter | Youtube
Pinterest | Instagram

Get our FREE 8 Day E-Course on How to Be a Better Home Cook. Sign up HERE!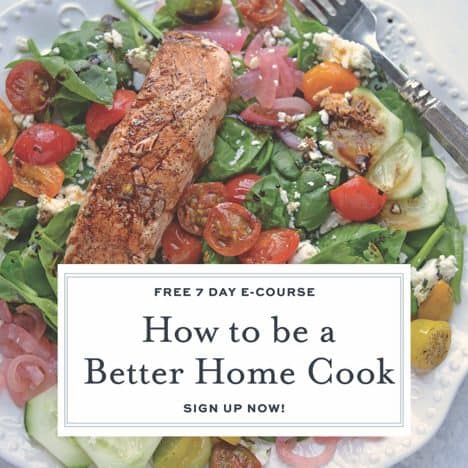 Crispy Corn Fritters
Crispy Corn Fritters are lightly fried with scallions, cumin and white pepper. Can be served as an appetizer, snack or with your favorite chili recipe.
Instructions
In a large mixing bowl combine dry ingredients: flour through white pepper. Mix well.

In a second, medium bowl, combine wet ingredients: egg through melted butter, whisk to combine.

Mix dry ingredients with wet ingredients until just combined. Much like pancakes, you do not want to over beat. Fold in corn and scallions.

Heat 1/4 inch of vegetable oil in skillet or frying pan over medium- high heat. To test oil, flick a bit of batter into oil. If it browns and sizzles, oil is ready.

Spoon approximately 1 heaping tablespoon of batter into hot oil. Fry for about 2-3 minutes, turning halfway. Fritters will be a golden brown.

Remove to a paper towel lined baking sheet. If you are making a large batch I recommend keeping them warm in the oven while frying.

If you've tried this recipe, make sure to come back and let us know how it was!
Nutrition
Calories:
116
kcal
|
Carbohydrates:
18
g
|
Protein:
3
g
|
Fat:
3
g
|
Saturated Fat:
1
g
|
Cholesterol:
33
mg
|
Sodium:
505
mg
|
Potassium:
160
mg
|
Fiber:
1
g
|
Sugar:
2
g
|
Vitamin A:
140
IU
|
Vitamin C:
0.9
mg
|
Calcium:
39
mg
|
Iron:
1.1
mg