Spinach Crescent Ring has become one of those dishes that my friends request me to make for potlucks, BBQs and brunches. It is simple, but looks impressive, feeds a large crowd easily and cheaply and is also vegetarian.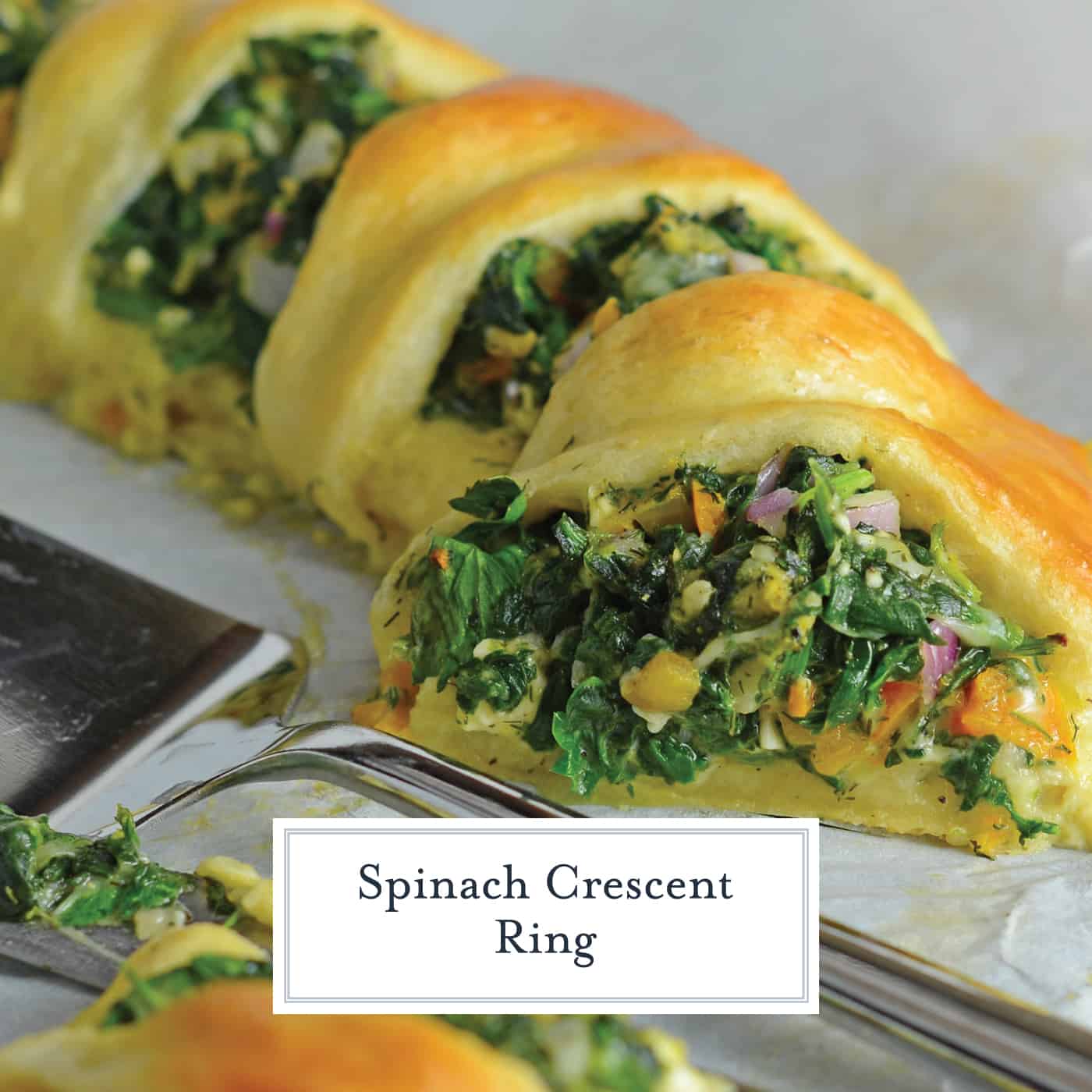 Spinach Crescent Ring is an easy brunch idea or appetizer recipe using spinach, bell pepper, onion, herbs and cheese. It is a hit at all of my parties!
It can serve as an appetizer, side dish or even entree. Spinach Crescent Ring can also be served for breakfast, brunch, lunch or dinner. It is truly a verstile dish.
I've seen Spinach Crescent Rings prepared many different ways with many different fillings. For me, this version is the hands-down winner. Everytime I make it, I get rave reviews.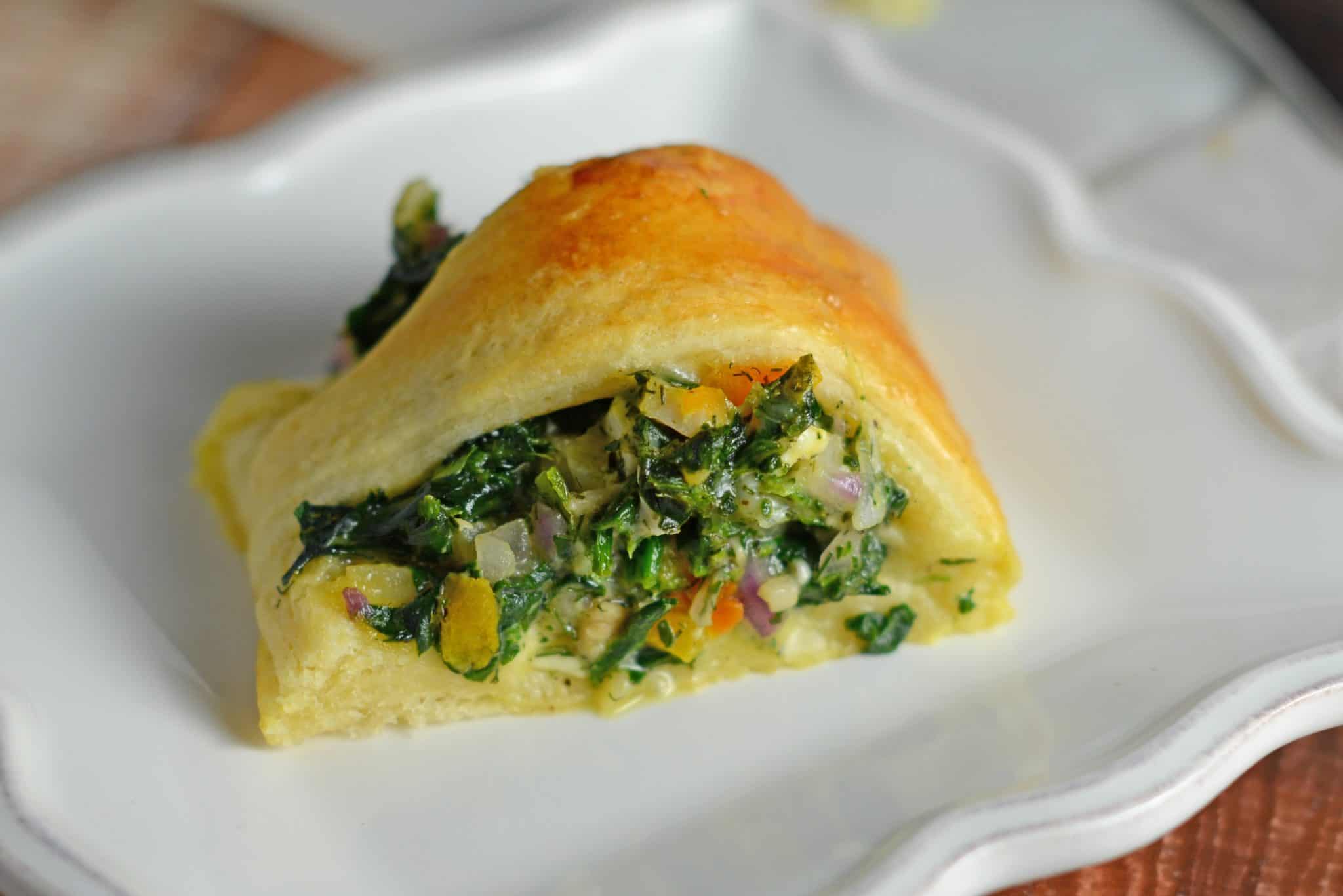 I really think the secret is using fresh dill. Not freeze dried or dehydrated, actual fresh dill. You can also add other fresh herbs, if you have them. Some ideas include rosemary, thyme and basil.
PRO TIP: If you do use dried herbs, the general conversion is 1 teaspoon of dried herbs for 1 tablespoon of freshly chopped herbs.
The stuffing of your Spinach Crescent Ring can also vary, but shy away from veggies or cheeses that are watery. Or at least sweat them down a bit before adding. Ideas include:
Mushrooms
Zucchini
Scallions
Pine nuts
Goat cheese
Artichokes
Asparagus
Leeks
Broccoli
Cauliflower
If you do use a different cheese, look for something that is part skim or low moisture. I also highly recommend shredding your own cheese off the block. Pre shredded cheese is tossed in a lightly powder starch and can impact the meltability and texture of your finished dish.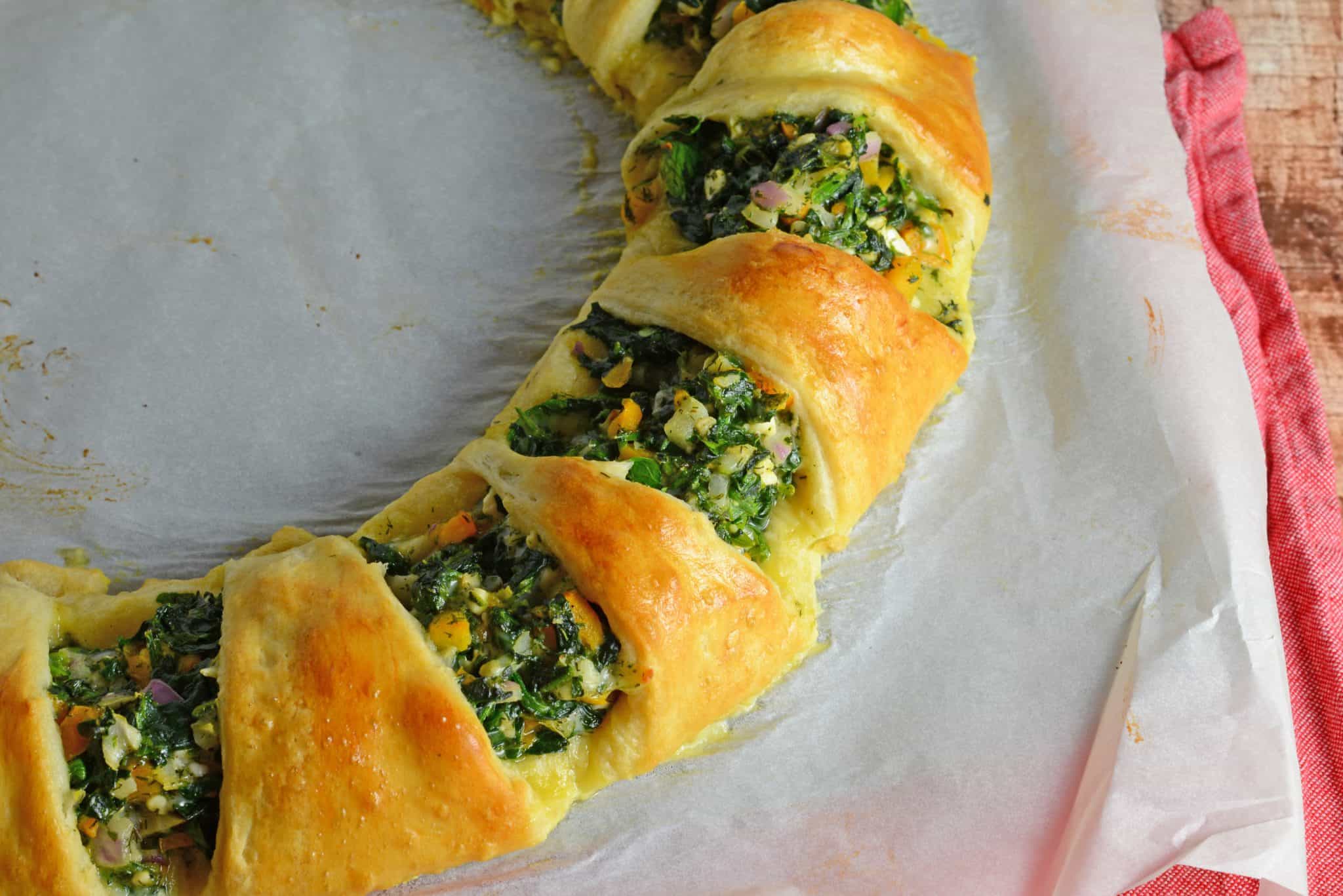 It is an excellent way to use up all those odds and ends in your vegetable drawer or to cater to any specific food allergies or preferences. You can even just go with spinach and cheese, if you'd like.
The only ingredient I would suggest not omitting or substituting would be the spinach. It kind of defeats the purpose of being a Spinach Crescent Ring without it, hehe.
PRO TIP: Wilt spinach to get out moisture, but also squeeze it well in paper towels or tea towels to get remaining moisture out. You can also prepare the spinach ahead of time and leave it, uncovered, in the refrigerator to dry.
When taking to a function, you can serve your Spinach Crescent Ring at room temperture or heated. I prefer heated and usually cook it at home and then just reheat it at my destination on 350 degrees for about 10 minutes, covered. I promise this will be your new "go-to" award winning dish!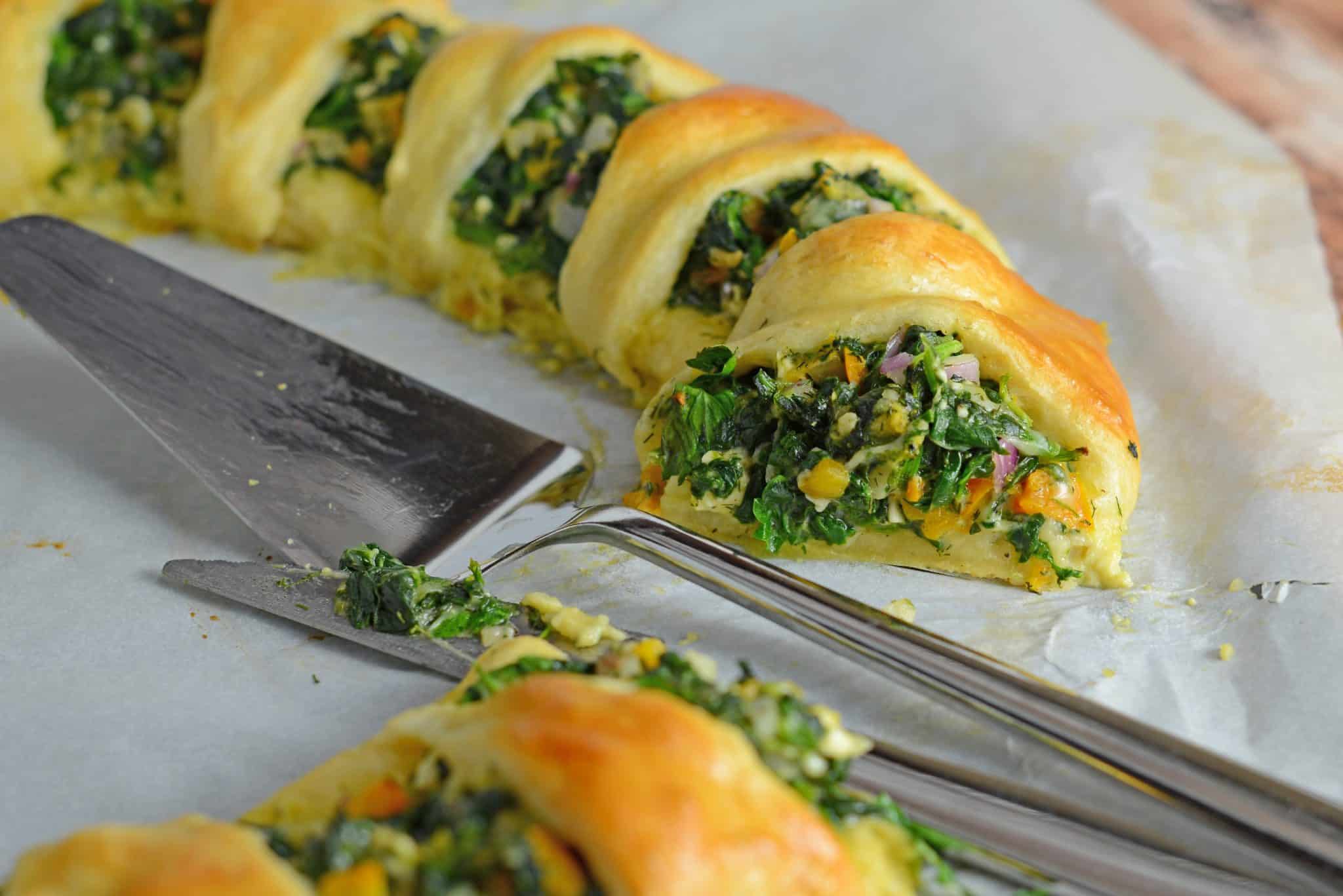 I keep it on the original baking sheet lined with parchment paper or aluminum foil. And yes, I am aware of the all the recent media coverage on aluminum, but this isn't a long cooking period and the chances of getting any real aluminum poisoning are slim.
If you really want to be safe, use the parchment.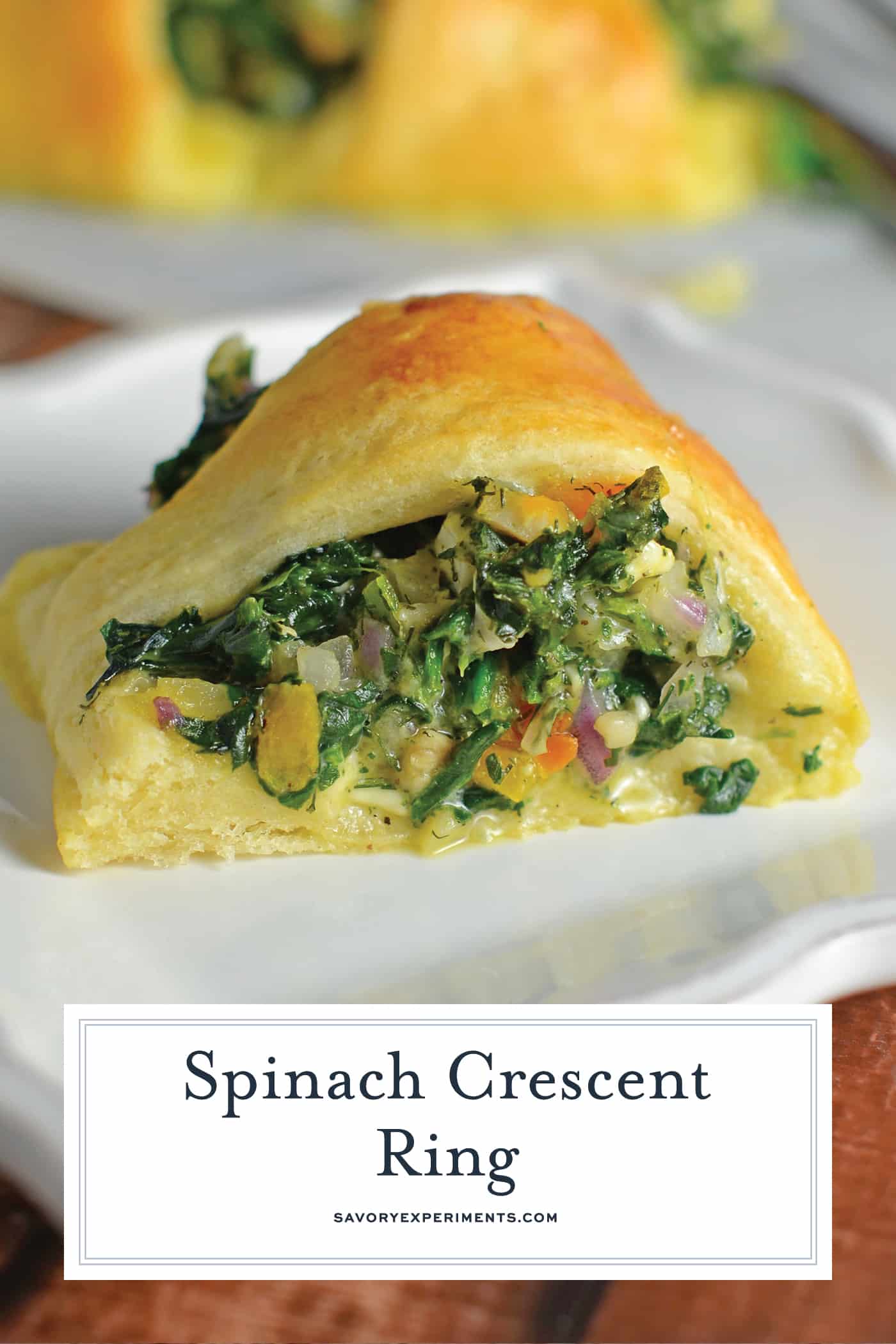 Tools for making Spinach Crescent Ring:
Baking Sheet
– Unrimmed baking sheets with proper ventilation work best.
Parchment Paper
– Significantly reduces the chances that you will burn the bottom of your Spinach Crescent Ring and also makes serving straight from the baking sheet a snap!
Wood cutting board
– wood won't dull your knives like plastic and if treated properly, has natural antimicrobial properties.
Good knife
– Global is my favorite! They are worth the price, I promise. I am kind of obsessed with them and store them tucked away so no one else can use them. Including hubby. Hands off my good stuff!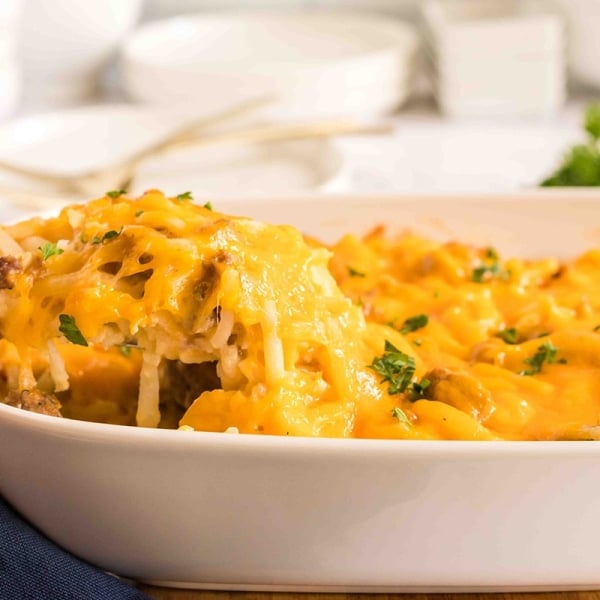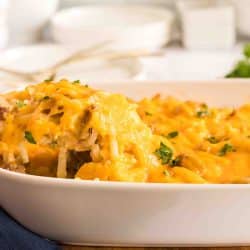 Hashbrown and Sausage Casserole
This Sausage Hash Brown Breakfast Casserole is loaded with delicious breakfast sausage, hash browns, and lots of cheese. One of the best breakfast casserole recipes for holiday breakfasts, Sunday brunch, or any other occasion.
See The Recipe!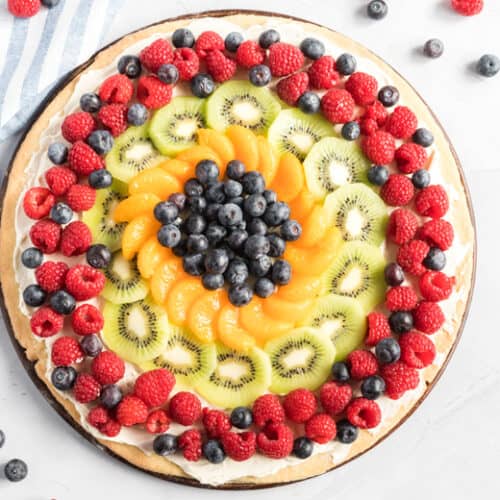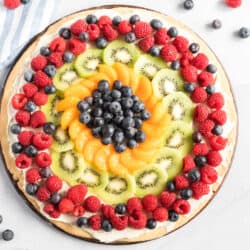 EASY Fruit Pizza
This Dessert Pizza with fresh fruit, cream cheese frosting and a crispy cookie base is a fun and tasty treat the whole family will go crazy for!
See The Recipe!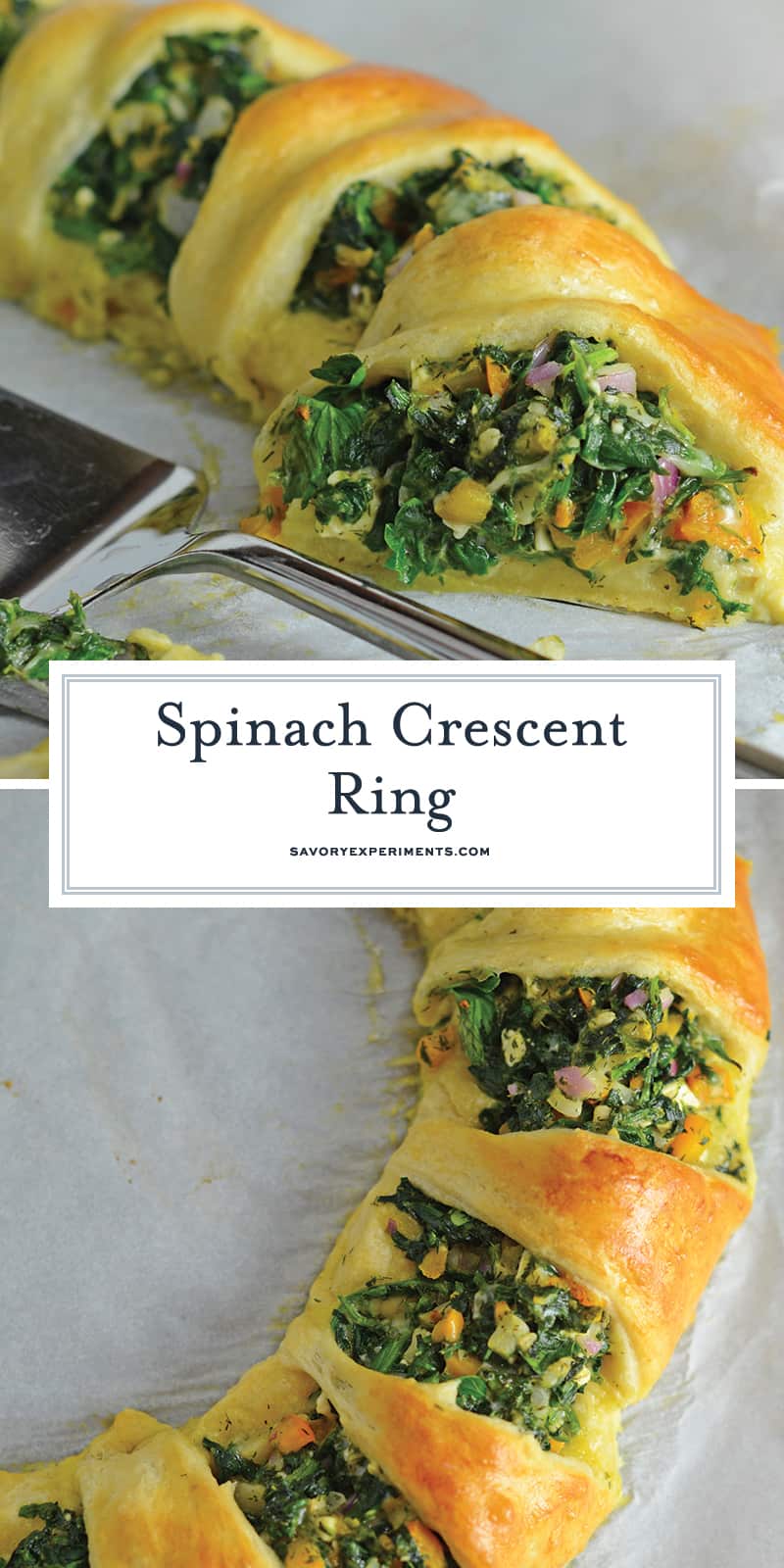 Questions you might have about how to make a crescent ring:
Can I freeze my crescent ring? You sure can! I would recommend cutting it into smaller portions and then following my instructions on properly freezing food.
Is spinach crescent ring healthy? I loathe this question! Everyone's definition of healthy is different these days. For me, knowing this buttery goodness is packed with veggies is enough if enjoyed in moderation.
However, this recipe is not gluten free, nor keto friendly.
Can I make this crescent ring ahead of time? Yes! Make it up to a day ahead of time and simply reheat at your destination, loosely covered for about 10 minutes at 350. If can also be served at room temperture.
Can I serve this recipe cold or at room temperture? You can serve your Spinach Crescent Ring at room temperture or heated. I don't recommend cold though, the dough tastes a little funky.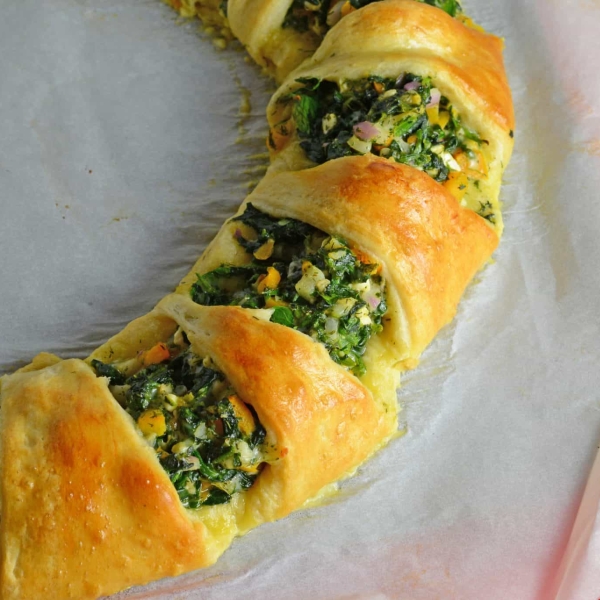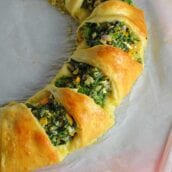 Spinach Crescent Ring
Spinach Crescent Ring is an easy brunch idea or appetizer recipe using spinach, bell pepper, onion, herbs and cheese. It is a hit at all of my parties!
Instructions
Preheat oven to 375 degrees.

The spinach needs to be super dry for this one, so working in batches, wring out excess water using paper towels or a tea towel. Place dry spinach in a medium mixing bowl.

Add bell pepper, onion, water chestnuts, dill, lemon zest, feta and parmesan cheese, mayonnaise and 2 eggs, lightly beaten, to spinach mixture. Mix until evenly combined. Set aside.

Line a flat cookie sheet with aluminum foil or parchment paper. Arrange crescent dough in a circle, large sides on the inside, slightly overlapping.

Evenly spread the spinach mixture in the center of crescent dough. Carefully fold pointed edges of dough over the spinach mixture, tucking into the bottom.

Brush the tops of crescent dough with remaining beaten egg.

Bake for 20 minutes. Tops should be a golden brown. Allow to cool slightly and then slice and serve. Enjoy!

If you've tried this recipe, come back and let us know how it was!
Nutrition
Calories:
266
kcal
,
Carbohydrates:
20
g
,
Protein:
6
g
,
Fat:
18
g
,
Saturated Fat:
6
g
,
Cholesterol:
54
mg
,
Sodium:
528
mg
,
Potassium:
158
mg
,
Fiber:
1
g
,
Sugar:
5
g
,
Vitamin A:
2925
IU
,
Vitamin C:
18.4
mg
,
Calcium:
109
mg
,
Iron:
1.4
mg