There is a new condiment in town and it goes by the name of Hot Honey. Not heated honey- spicy honey- and it is divine. I'm obsessed. The best flavor combination of hot and sweet.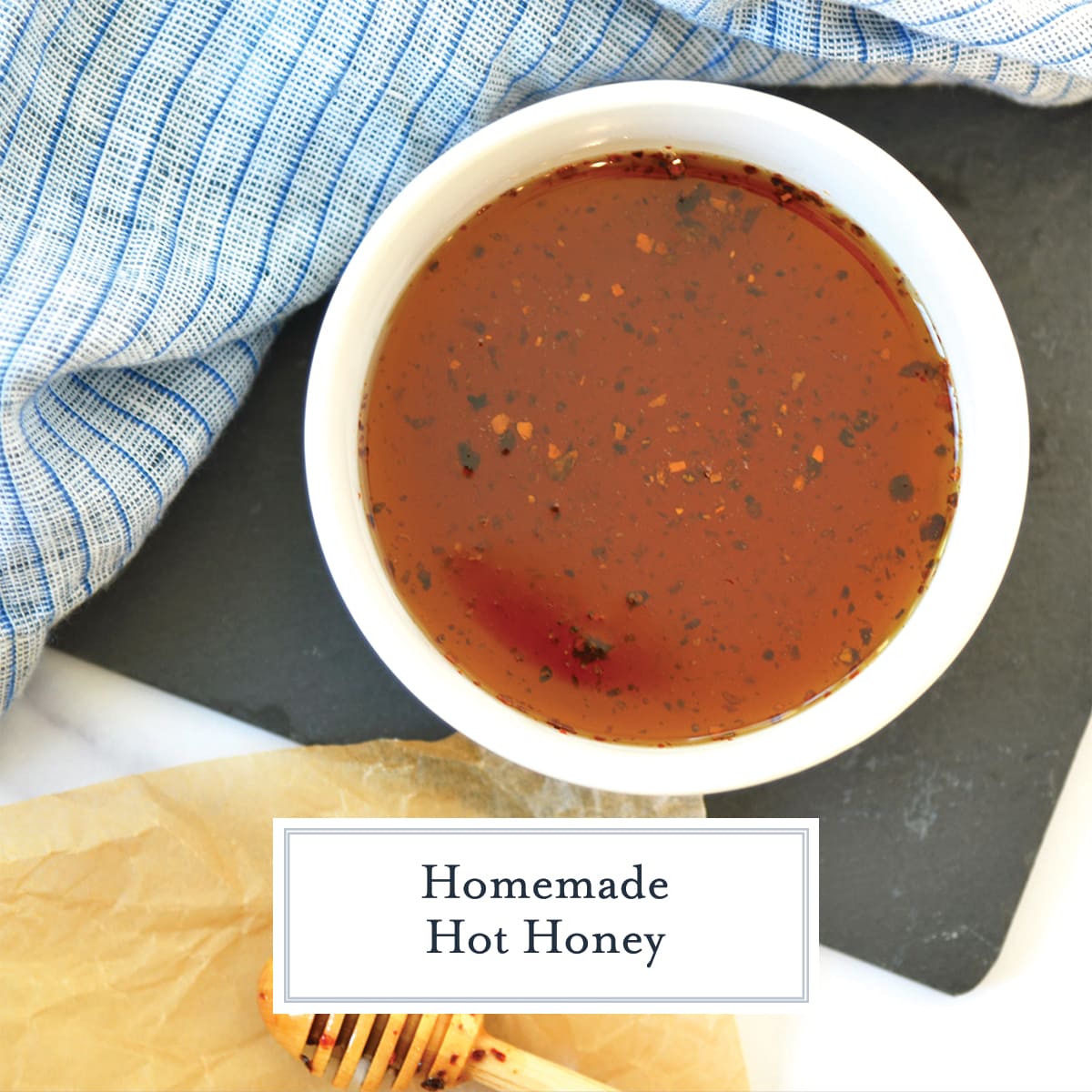 I'm not a mind reader, but I predict your next question being: "but what do you use hot honey on?"
What is Hot Honey?
Hot honey has actually been around for quite some time. It has historically been used on fried chicken down south (not to be confused with Nashville Hot Sauce) and also in some boutique pizzarias as a crust dipping sauce in lieu of garlic butter. It is honey infused with chili peppers, either fresh or dried.
But this tasty sauce was just made famous from a brand called Mike's Hot Honey and all the sudden it showed up in a variety of other ways and purposes. It isn't really new, it is just reimagined. And I want you to enjoy it as much as I do… but for less.
A bottle of Mike's Hot Honey can run you $10-$13! It sounds crazy, but it actually isn't. Good honey is pretty expensive, so it isn't surprising. But you can make smaller, or larger, batches for a little less than this by doing it at home. And in my opinion, my version is actually a little zingier (I made that word up).
Sweet honey with hot peppers, but homemade.
What is Hot Honey Made of? Spicy Honey Ingredients:
It can be made in a variety of ways. Many are made with just honey infused with fresh chile peppers, while other use whole dried chiles. Of course the heat can vary depending on the type of pepper; ghost peppers, habanero peppers, carolina reapers.
And of course you need honey, raw honey or pure honey will do. I try not to use the ones that have a floral undertone.
My homemade hot honey uses honey, crushed red pepper flakes, a touch of salt and …. apple cider vinegar. I find acidic vinegar balances out the sweet and spicy perfectly. Feel free to use a different type of vinegar, like white or champagne, but I would advise against using a balsamic or red wine. Something mild and clearish does best.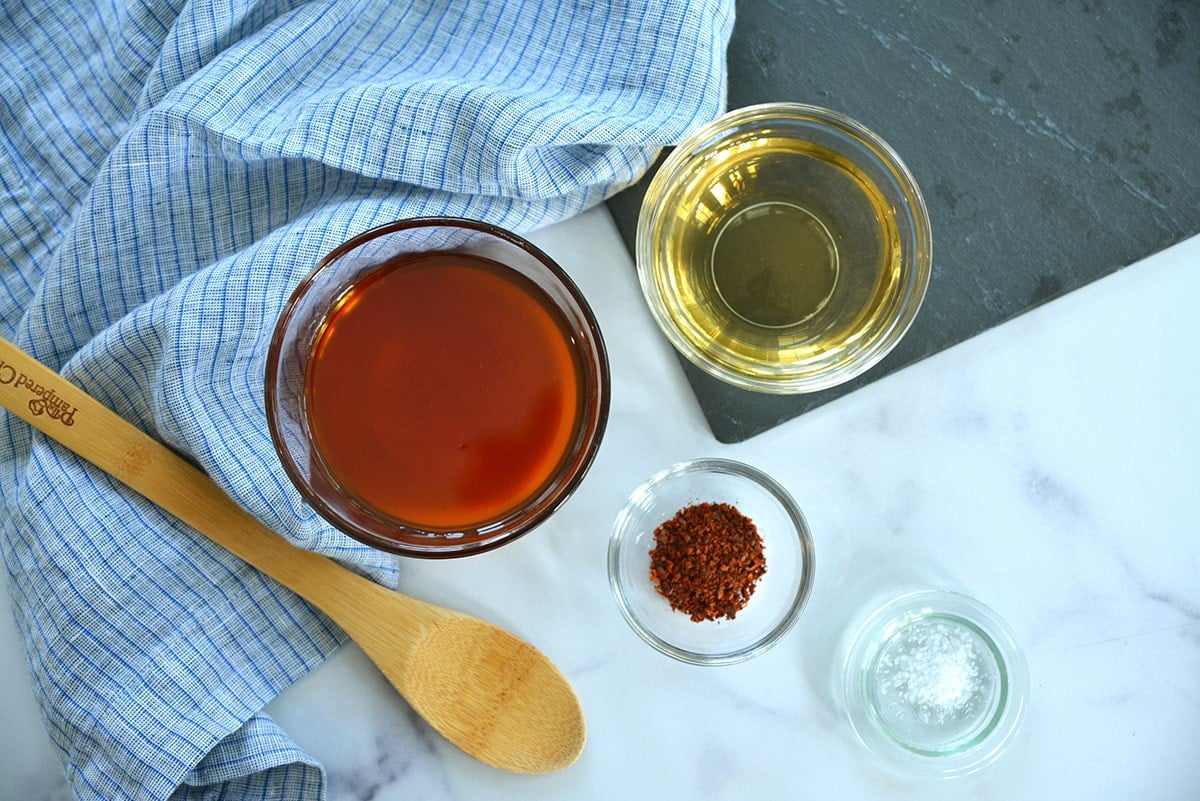 How to Make Hot Honey Sauce
Heat. That is all, the honey needs to infuse and you do that by adding heat. Technically you can just put chiles in honey and wait, but you'll be waiting a long time. Heat speeds up the process so you can enjoy your honey right away!
But honey is a sugar and therefore it can easily boil up and over or burn, so a very low heat is necessary until the liquid from the vinegar reduces a little just leaving behind the flavors. Very LOW heat. Lower than you think you need. I've accidentally burned mine before, don't make my mistakes.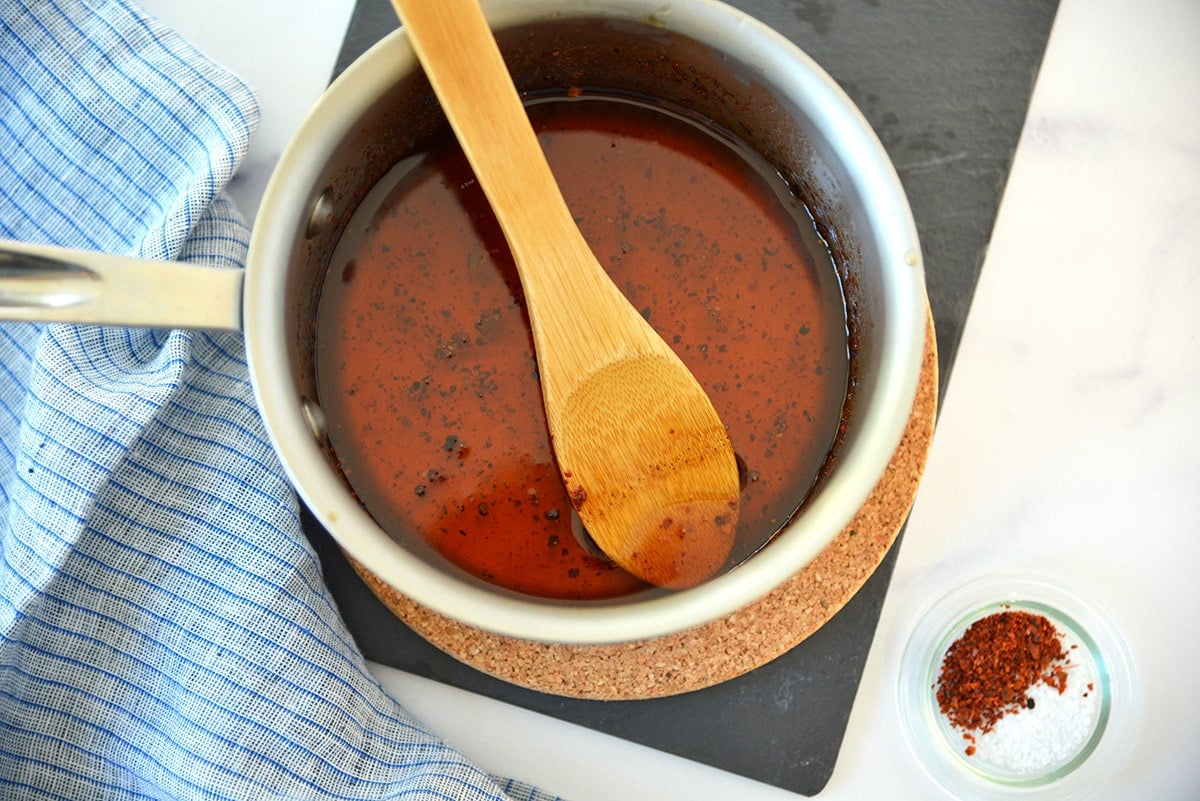 The honey mixture will still have dots of crushed red chile flakes and also be a little thin, this is normal. It will thicken as it cools. You have the choice of straining it (which I advise doing while it is hot and thinner) or leaving the little red flecks in the mixture.
If you do choose to leave the chiles in, the honey will only infuse further and get hotter. To some, this is excellent, to others, they want to control the heat. In my family, it doesn't last long enough to have a chance to heat up any more.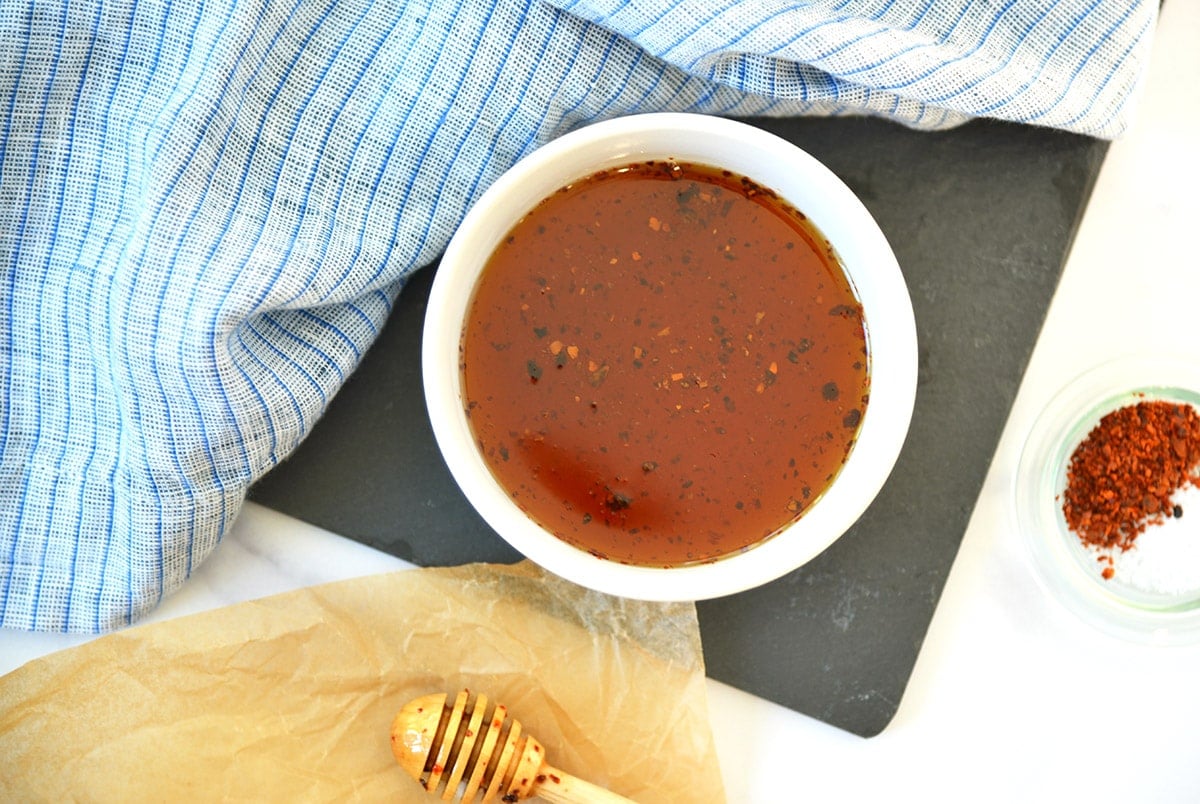 What to Put Hot Honey On
You can use hot honey in literally anything you would use regular honey for, only this is honey with a kick. Here are some of our favorite ways to use hot honey.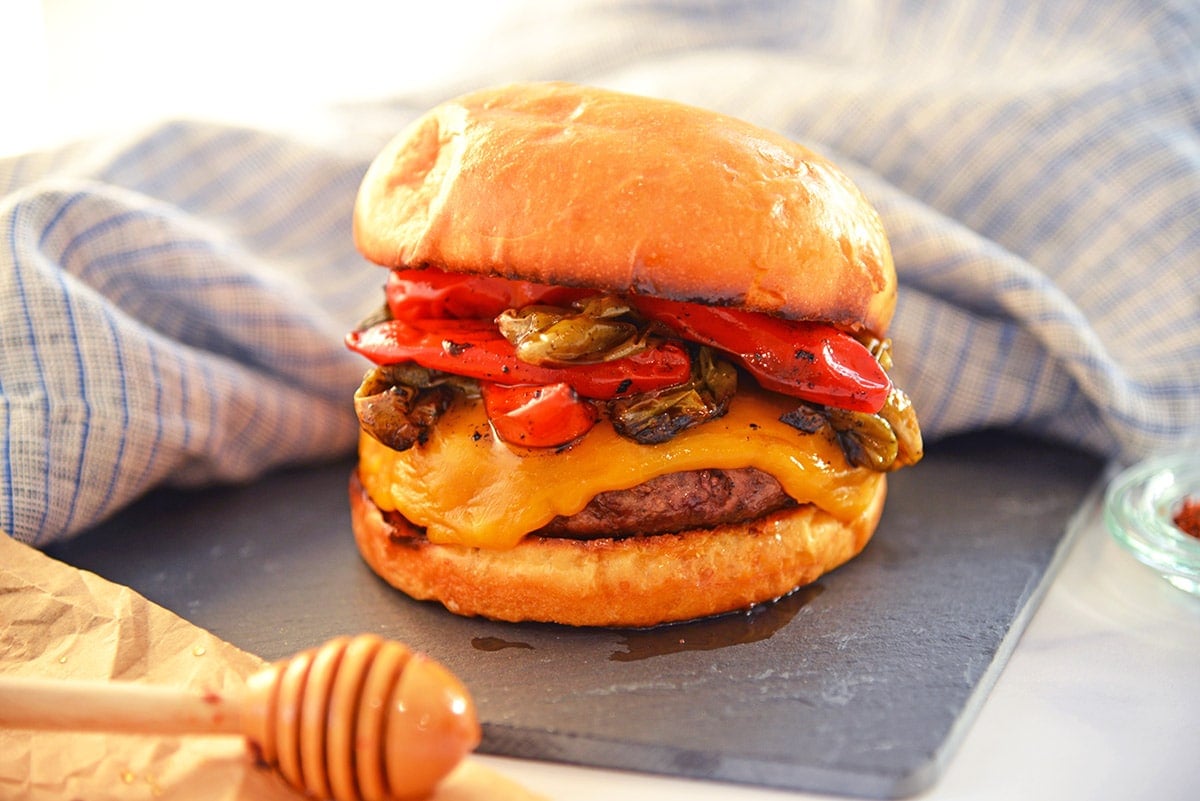 Spicy Honey Sauce Storage & Freezing
Hot honey only gets stronger while sitting and is shelf table. Store it in an airtight container or jar in a cool, dry place for up to 6 months- just like you would regular honey.
Storage: Crystallization is a natural occurrence in all honey and thus, hot honey too, although less likely because we've added a small amount liquid (vinegar). If yours develops crystals, simply heat it up for a few seconds in the microwave and stir until crystals dissolve.
Freezing: Honey doesn't freeze well. It does, however, make a great gift. Package it in a small glass jar, give it a pretty little bow and give it to your friends. Everyone loves a little hot honey drizzle.
Hot Honey Recipe FAQs
Is hot honey really spicy?
Hot honey should be sweet and spicy. How spicy is dependent on the type of red chili flakes, how much you add, how long it sits and if you choose to keep them in the mixture or strain them out.
What cheese is good with hot honey?
I like it on nearly any cheese! A white cheddar, brie, goat cheese or Jarlsburg are my favorites.
Does hot honey taste like honey?
Yes, because the base of hot honey is actual honey.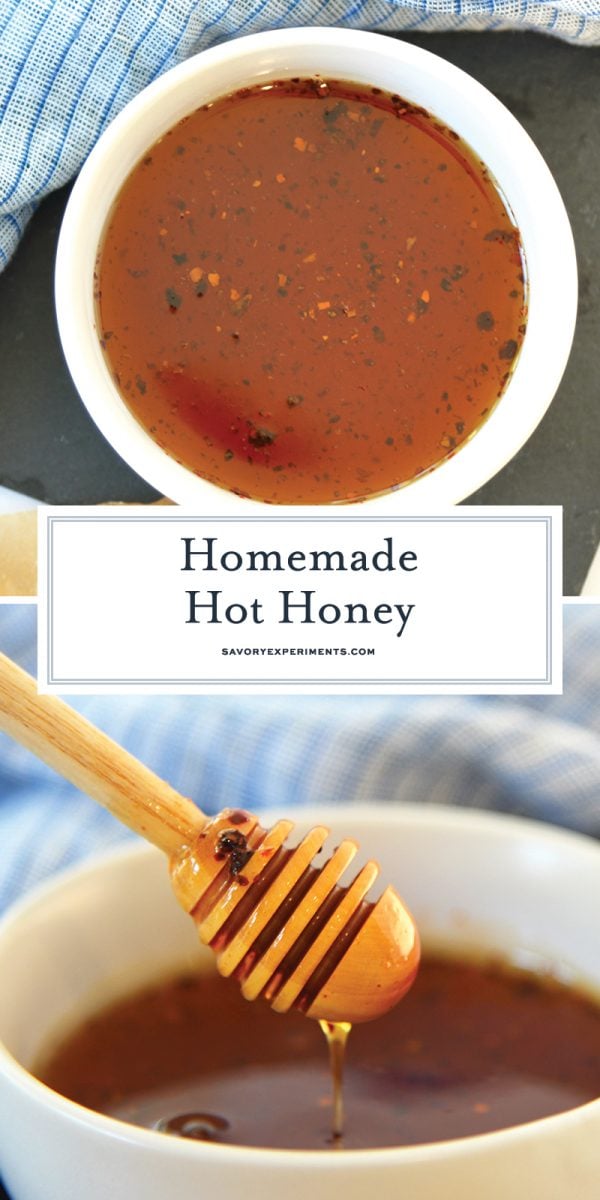 More Sauce Recipes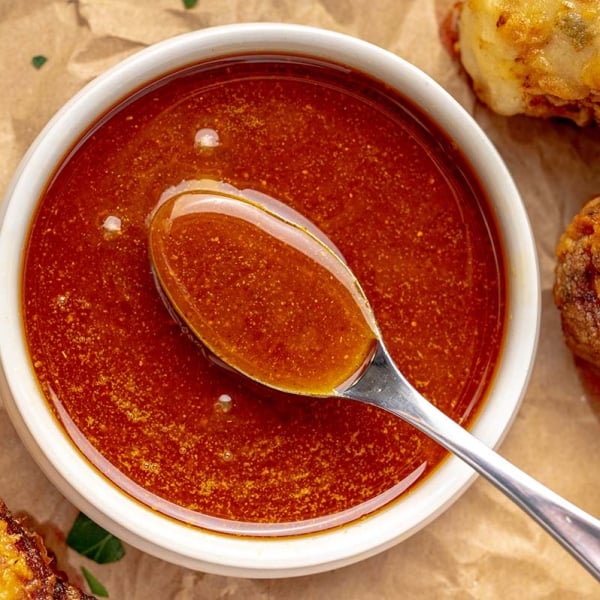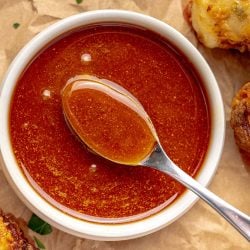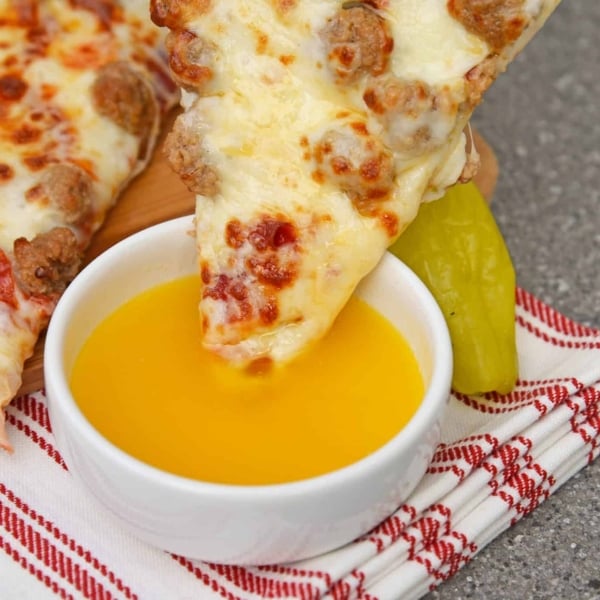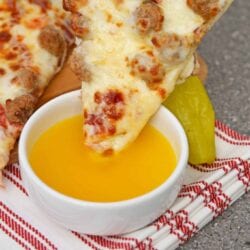 Garlic Sauce for Pizza
If you've ever wondered how to make garlic butter sauce for pizza, wonder no more. This recipe is just like the Papa John's dipping sauce for pizza or breadsticks!
See The Recipe!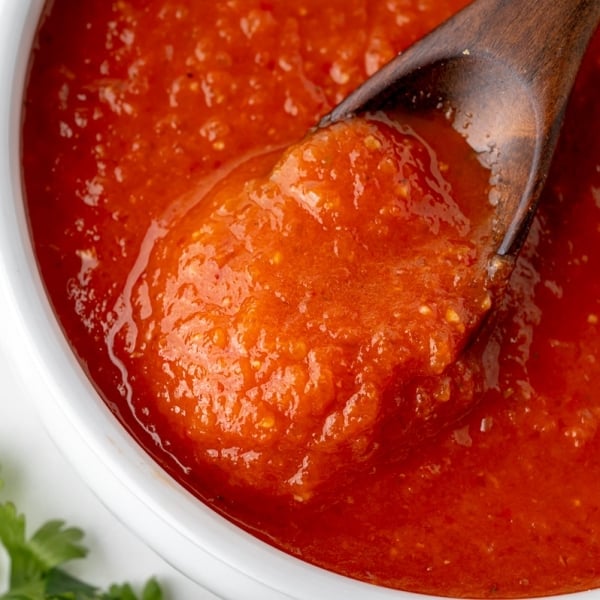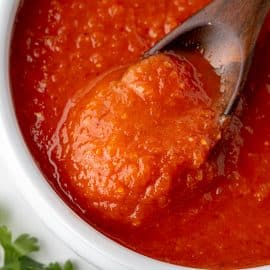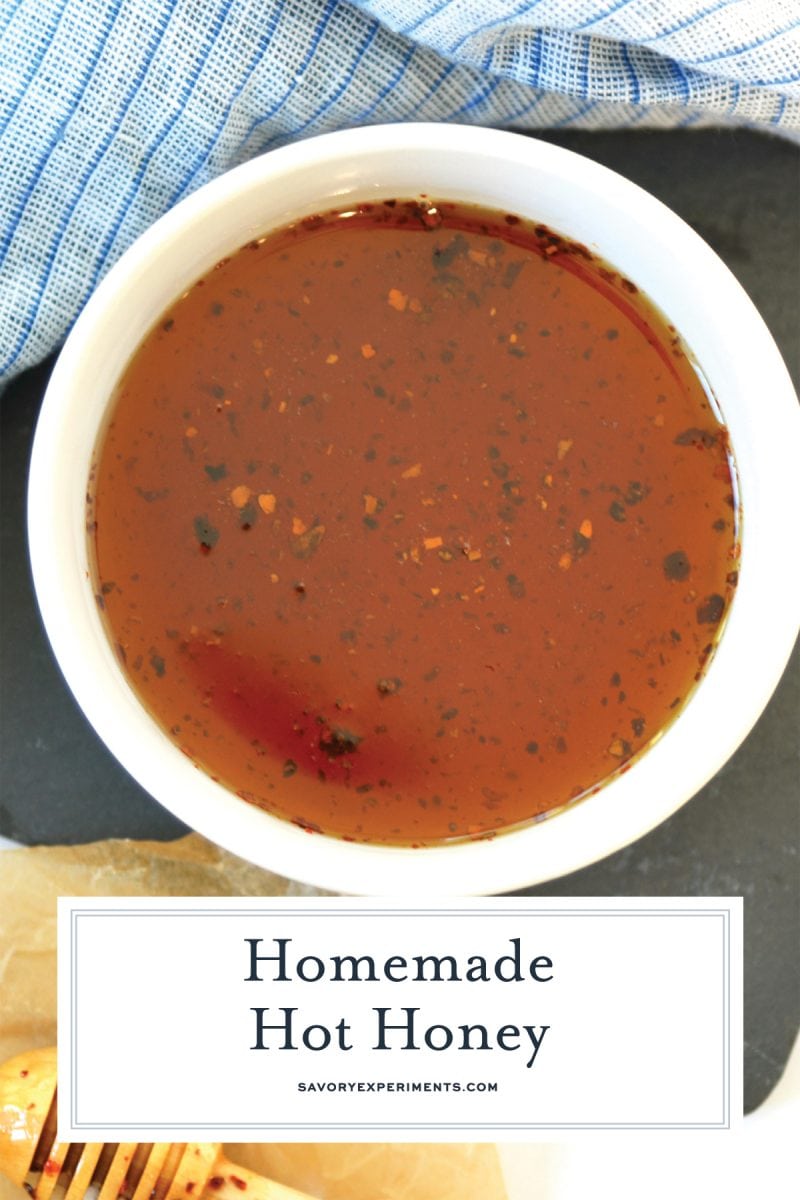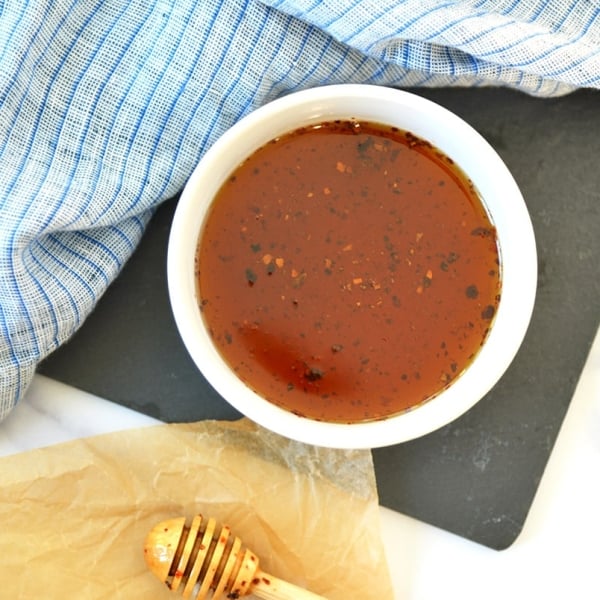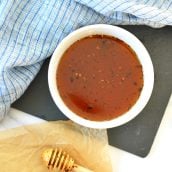 Spicy Honey
Made with only 3 ingredients, this EASY Hot Honey recipe is the hottest new condiment in town! Tastes great on chicken, biscuits and more!
Instructions
Place the honey, pepper flakes, vinegar and salt in a small saucepan and heat on low for 15-20 minutes, stirring occasionally. Sauce shouldn't even come to a simmer.

Remove from heat and allow to cool fully before serving.

If desired, strain the mixture to take out the chile pepper flakes.

If you've tried this recipe, come back and let us know how it was in the comments or ratings!
Nutrition
Calories:
1034
kcal
,
Carbohydrates:
279
g
,
Protein:
1
g
,
Sodium:
305
mg
,
Potassium:
187
mg
,
Fiber:
1
g
,
Sugar:
278
g
,
Vitamin C:
2
mg
,
Calcium:
22
mg
,
Iron:
1
mg