This post first appeared over at Real Housemoms where I'm a contributor.
Sausage Stuffed Cherry Peppers are one of my favorite appetizer recipes for entertaining. They are small, bite-sized, tasty and super easy to prepare.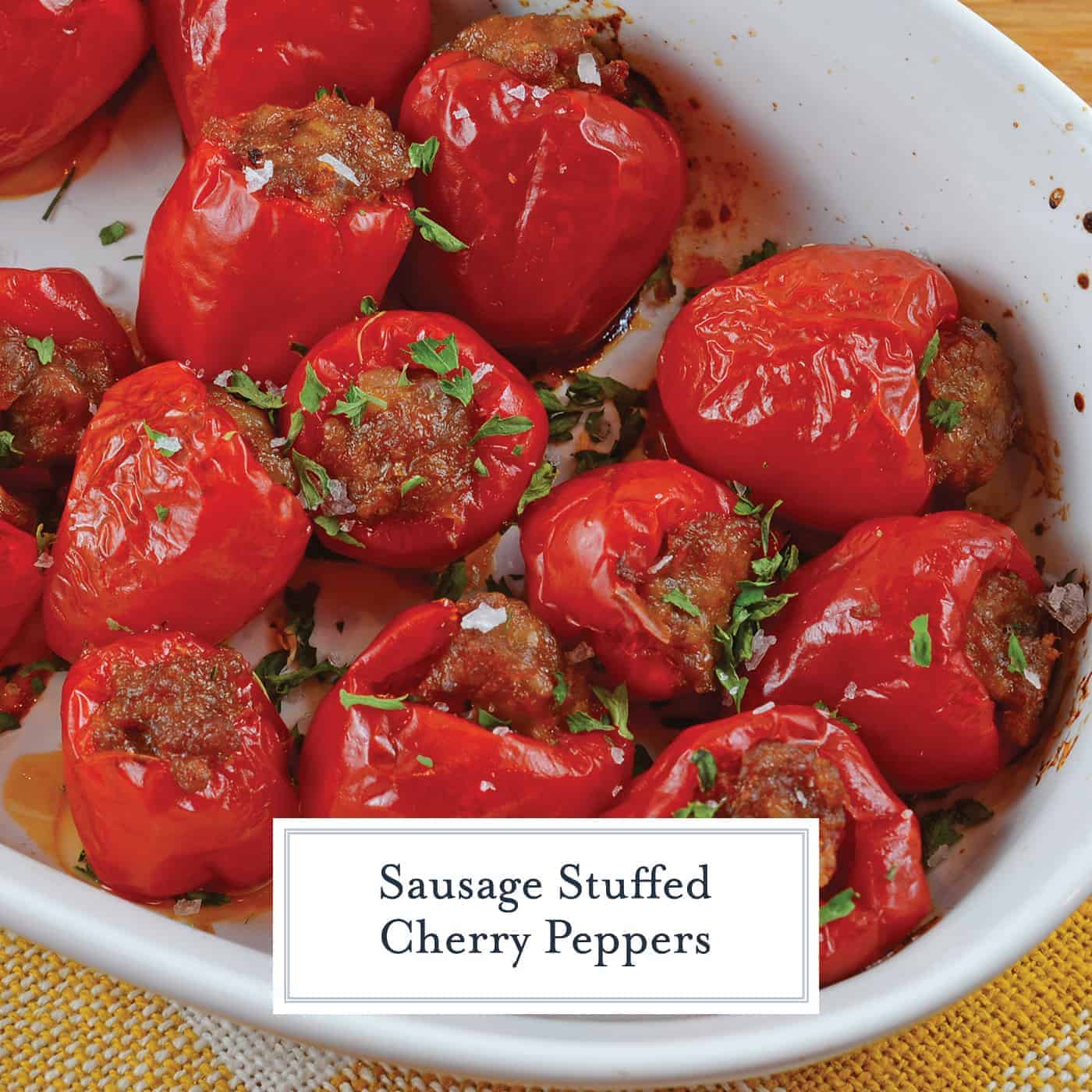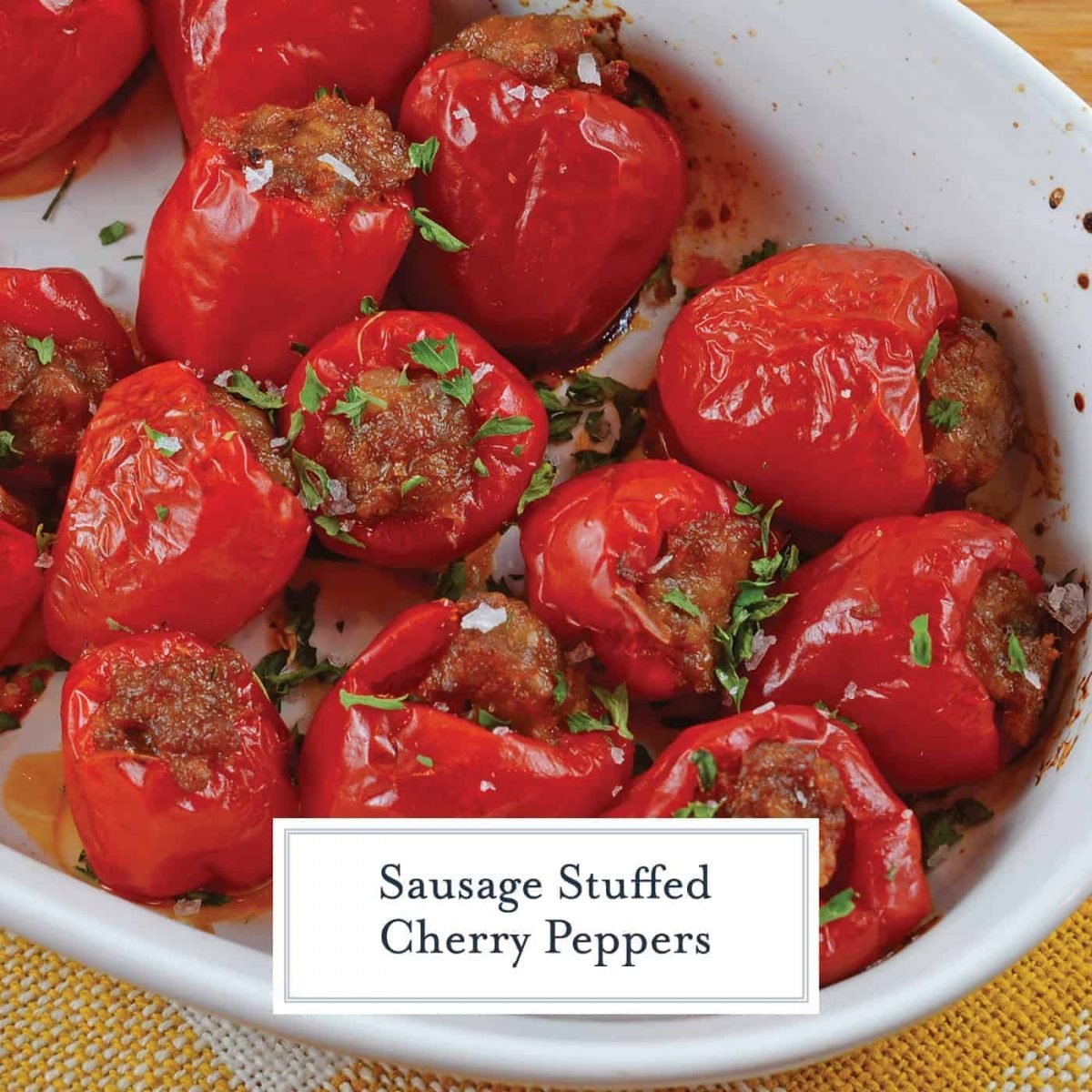 Sausage Stuffed Cherry Peppers are a tasty and easy appetizer recipe using only 5 ingredients. The perfect party food for any occasion!
You can modify the flavors by simply using different sauce varieties, like mild or hot Italian sausage, chicken with sage, creole seasoned, pineapple chicken and more.
Just make sure the sausage you buy is raw. Meaning it was precooked or smoked, so you can easily use the ground meat to stuff your cherry peppers. You can even make them into a breakfast or brunch entree or appetizer by using a breakfast sausage blend!
You can also plain ground pork and make you own unique mix with a proprietary blend of spices and other add-ins. A truly custom built stuffed pepper.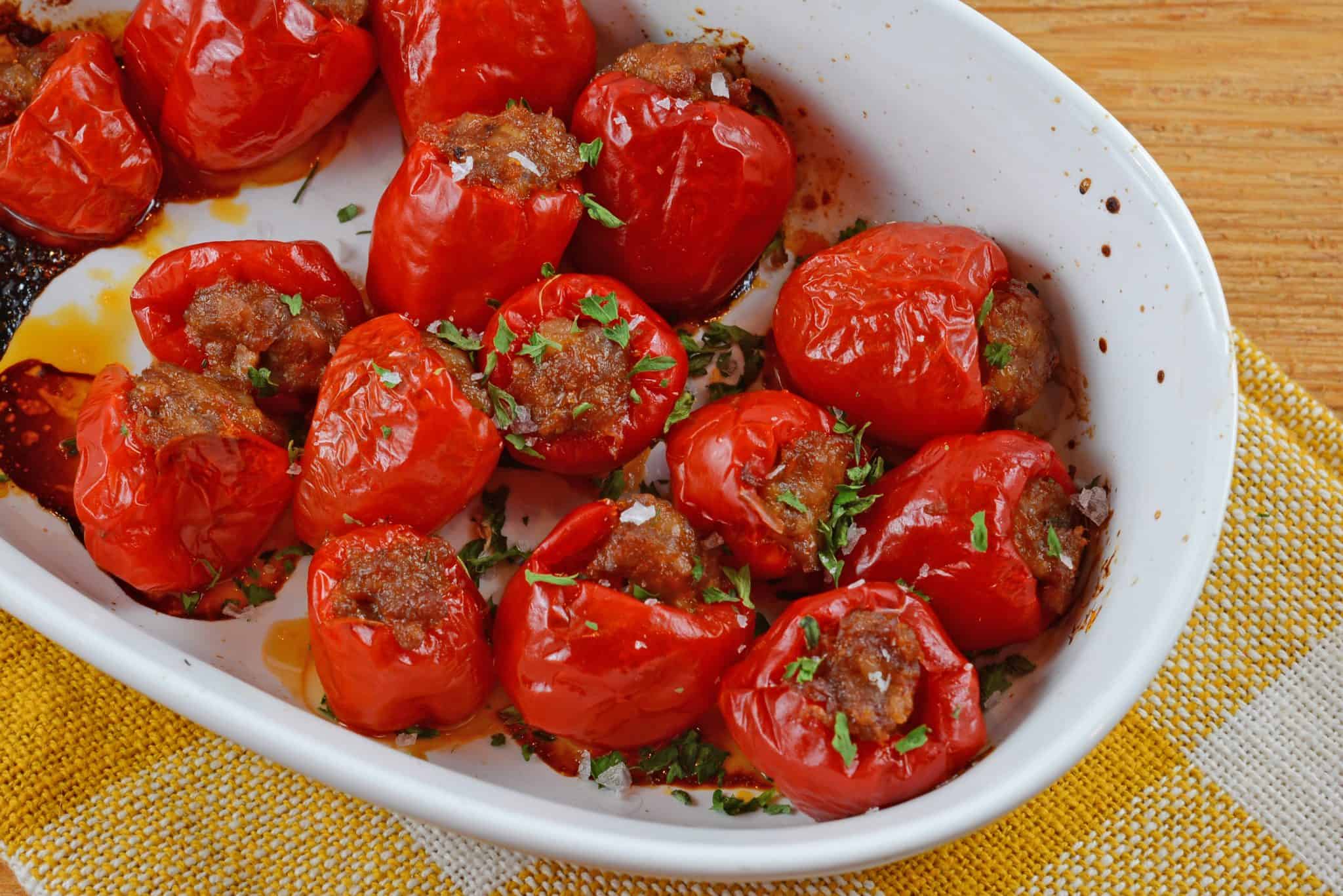 Sausage Stuffed Cherry Peppers are a great idea no matter what time of year it is, there is always some party, holiday event, BBQ or other function to attend. Clearly the food blogger can't show up without a dish, right? These are one of my secret weapons.
Sausage Stuffed Cherry Peppers are mild peppers hollowed out and filled with a zesty sausage mixture. Such a simple recipe, so many options and variations. Another bonus?
I can make them ahead of time. I prep and stuff the peppers up to a day in advance and then cook them right before leaving or at the actual party. So easy!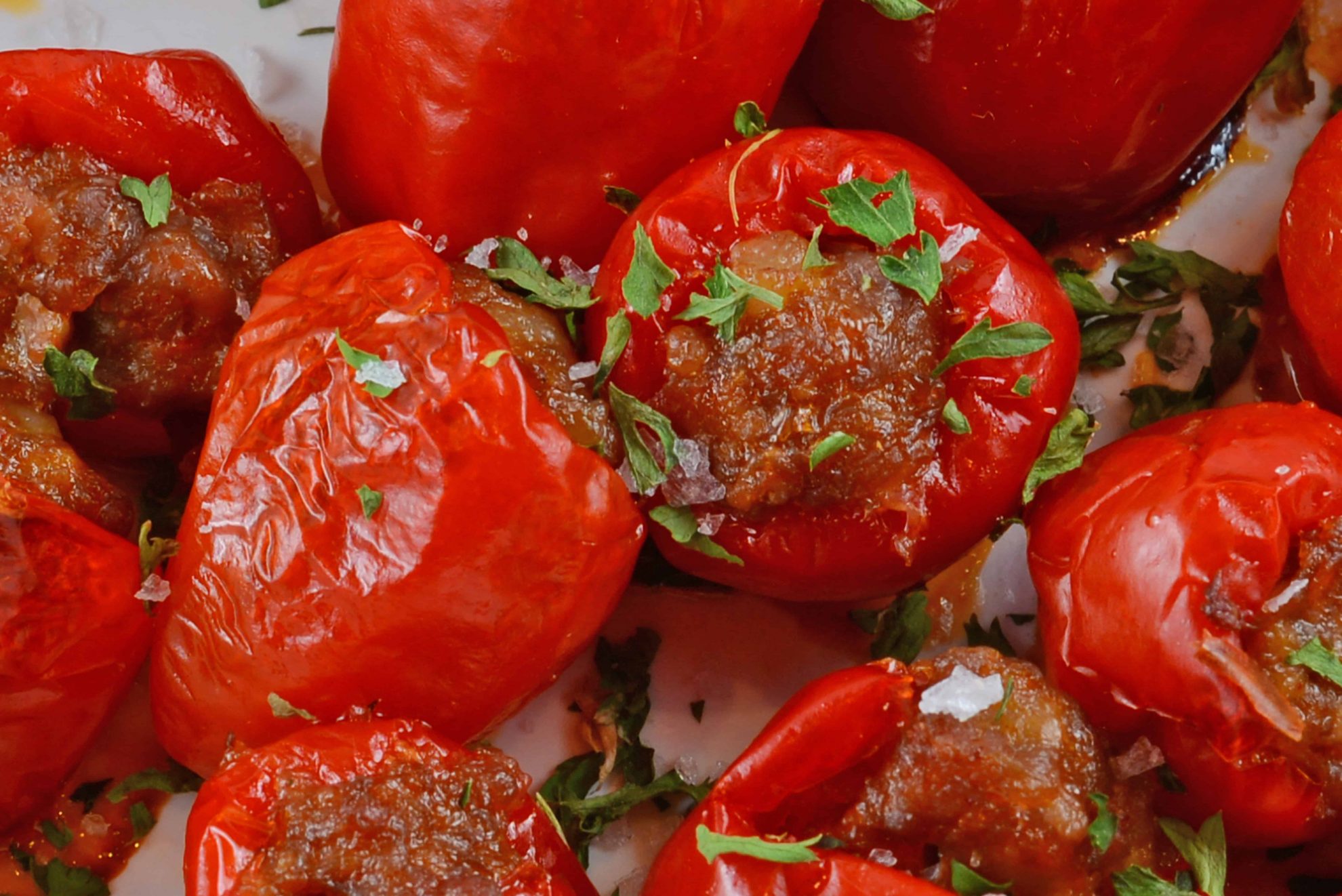 Cherry peppers are also known as peppadews. I personally like to call them peppadews instead, it is just such a fun word and it sounds more exotic!
They are commonly found in the "olive bar" or antipasto section of your grocery store. They also come jarred and pickled in the Italian food section near artichokes, olives and roasted red pepper.
A 14-ounce jar is the approximate amount needed for this recipe, but sizes and quantities do vary and a few will inevitably be ripped, so plan for a few extra and buy two jars.
Any leftovers are perfect in salads or you can make my Peppadew Poppers for an additional appetizer or even a side dish!

Tools for making Sausage Stuffed Cherry Peppers:
Peppadews – these little cherry peppers are good for appetizers, salads, serving on the side of a pizza or tossed into a pasta recipe.
Wood cutting board – wood won't dull your knives like plastic and if treated properly, has natural antimicrobial properties.
Good knife – Global is my favorite! They are worth the price, I promise. I am kind of obsessed with them and store them tucked away so no one else can use them. Including hubby. Hands off my good stuff!
9 x 13 Glass Baking Dish – another kitchen must have item, you will use this item for marinating, prepping, baking cakes and more! I like the ones with fitted lids.
If you liked this recipe, here are even more easy appetizer ideas perfect for entertaining!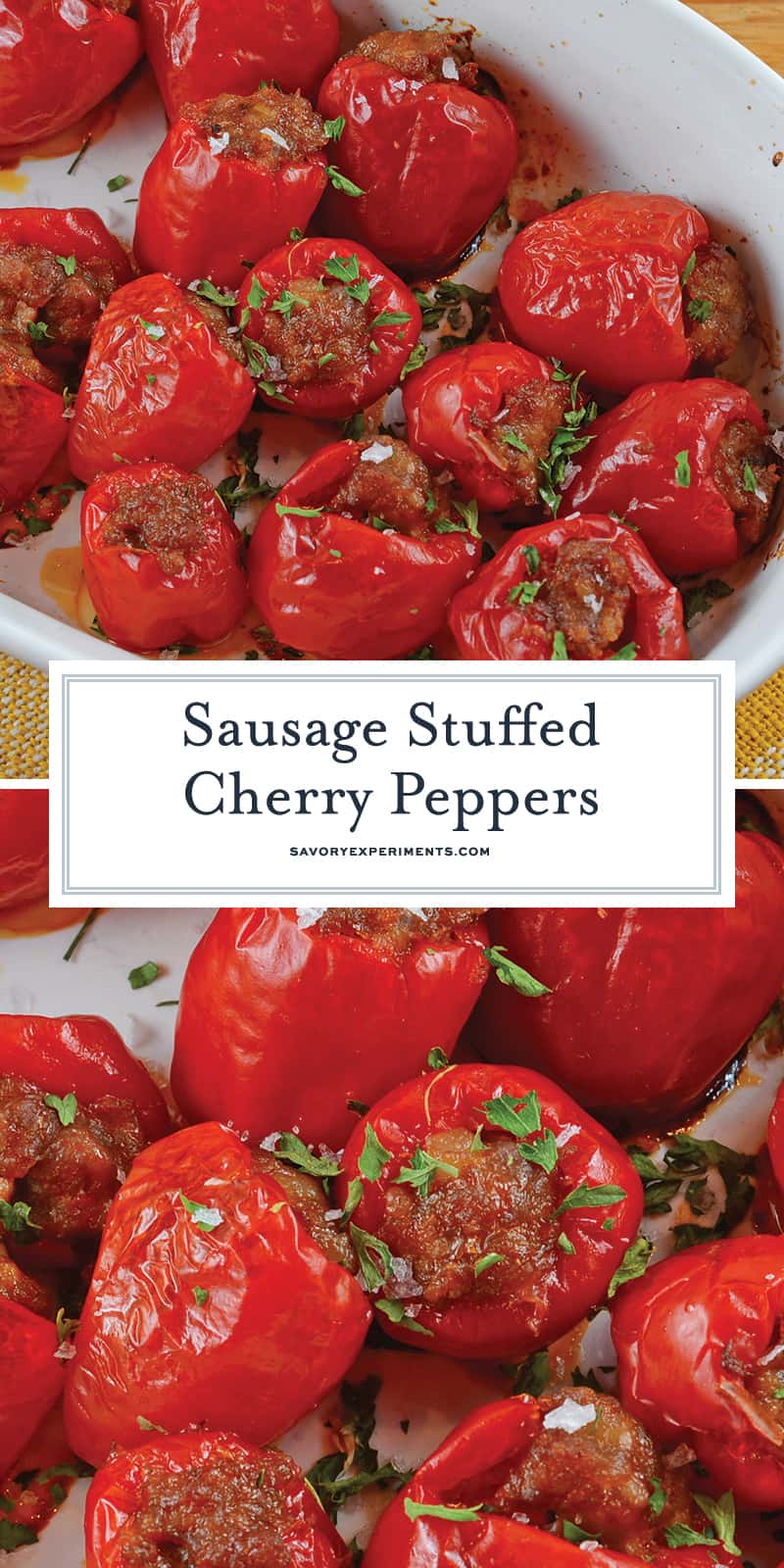 Questions you might have about how to make sausage stuffed cherry peppers:
Can I freeze stuffed peppers? You can freeze them with raw meat (if not previously frozen) or cooked. Check out my tips on freezing before you do!
Can I make sausage stuffed cherry peppers in advance? You can assemble them ahead of time and if you like, go ahead and cook them, just needing to reheat before serving.
How long can I leave stuffed cherry peppers out? The CDC recommends no longer than 2 hours.
Are sausage stuffed cherry peppers gluten free? My recipe does include bread crumbs, so no. However, if you use a gluten free bread substitute, they are gluten free.
Are sausage stuffed cherry peppers ket0? I am not an expert on keto, but it is my understanding that if you swap out the bread crumbs with ground pork rinds, it will act as a binder and this recipe with become keto friendly.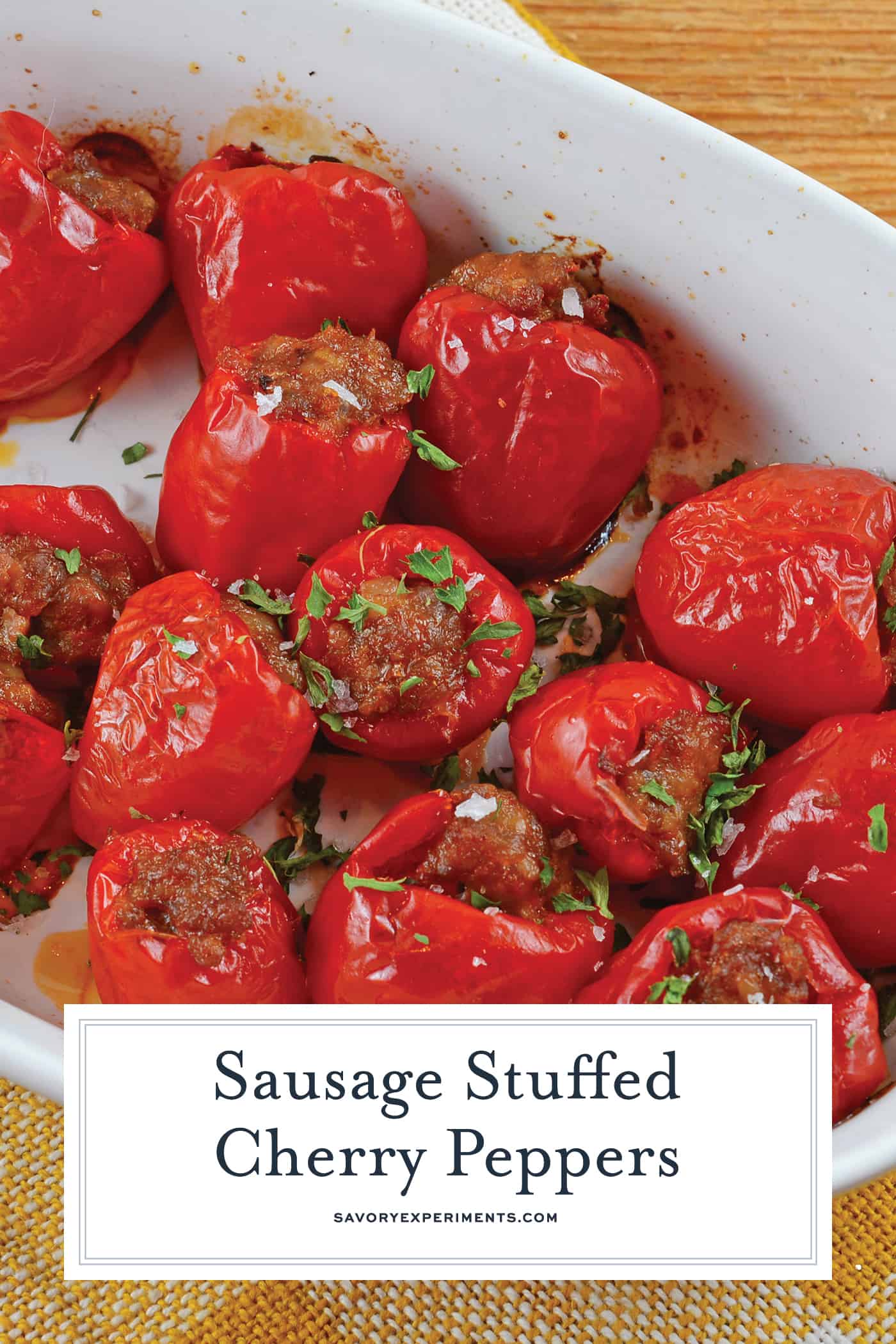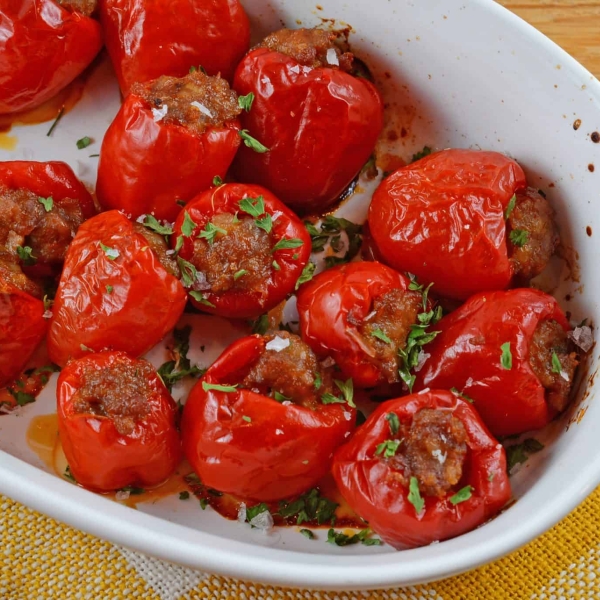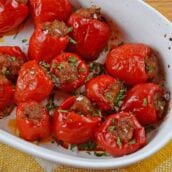 Sausage Stuffed Cherry Peppers
Sausage Stuffed Cherry Peppers are a tasty and easy appetizer recipe using only 5 ingredients. The perfect party food for any occasion!
Instructions
Preheat oven to 375 degrees and coat a 9×13 baking dish with cooking spray.

Using your hands, mix sausage meat and breadcrumbs in a medium bowl.

Stuff each pepper with sausage mixture, allowing a little to pop out of the top. Place in prepared baking dish.

Roast peppers for 20 minutes or until sausage is cooked through and the pepper skins start to dry out a little.

Garnish if chopped fresh parsley, if desired.
Nutrition
Calories:
114
kcal
,
Carbohydrates:
7
g
,
Protein:
3
g
,
Fat:
7
g
,
Saturated Fat:
2
g
,
Cholesterol:
17
mg
,
Sodium:
391
mg
,
Potassium:
67
mg
,
Sugar:
2
g
,
Vitamin A:
815
IU
,
Vitamin C:
48.7
mg
,
Calcium:
17
mg
,
Iron:
2
mg