Chances are that if you've never been to Western New York, you've never had, or even heard of, a pizza log. I hadn't until I visited my in-laws in Rochester.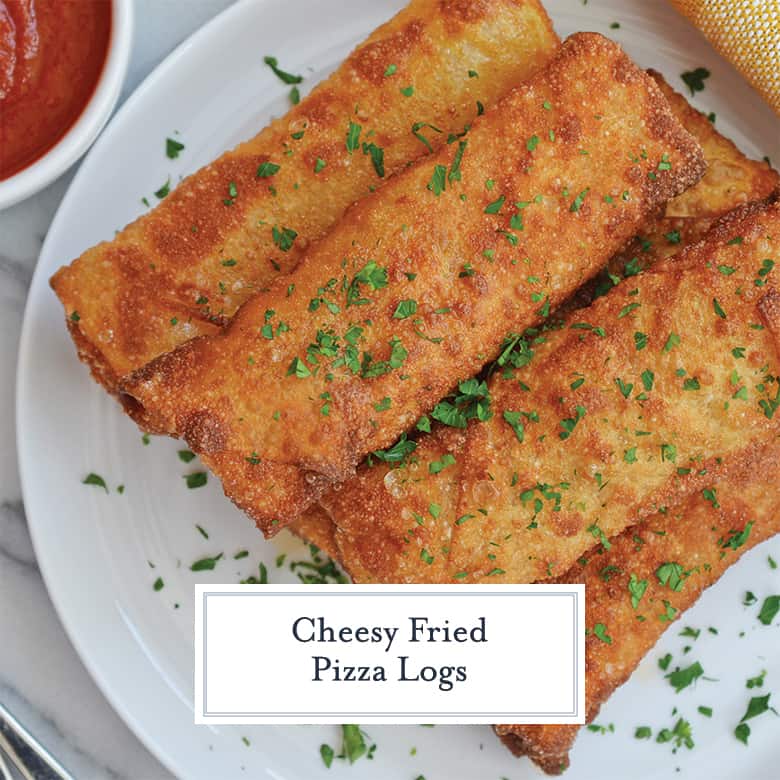 We went out one night for a garbage plate (another Rochester classic) and since those didn't appeal to me (they take a while to grow on ya), I opted for another dish I had never tried: the pizza log.
Not very appetizing in name and so simplistic in preparation, it is a wonder these little crunchy bad boys haven't caught on like wildfire through the whole US.
Homemade Pizza Logs
What is a pizza log?
To be put simply, it is nothing but pepperoni and mozzarella cheese wrapped in an egg roll wrapper and deep fried. They are dipped in marinara or pizza sauce. It's like the best of a French bread pizza, thin crust and Chicago deep dish in handheld food.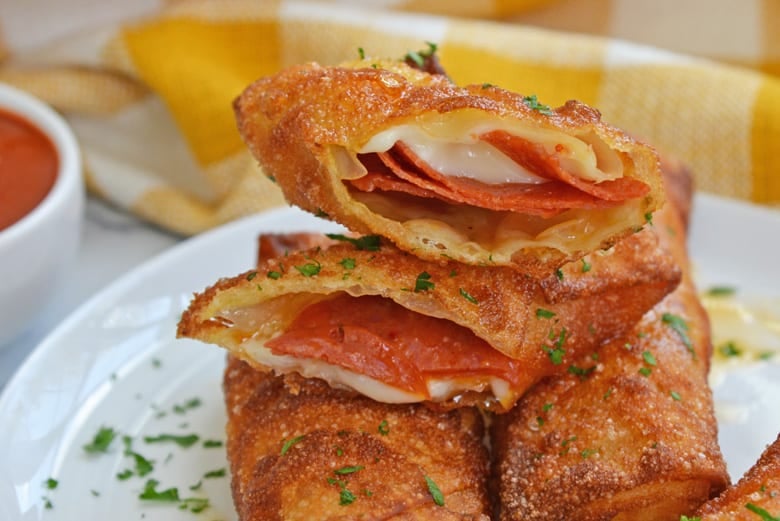 Some claim the original pizza logs have a little sauce on the inside, but to be honest, I'm pretty sure it was just pepperoni grease mixed with gooey cheese.
Pizza Log Ingredients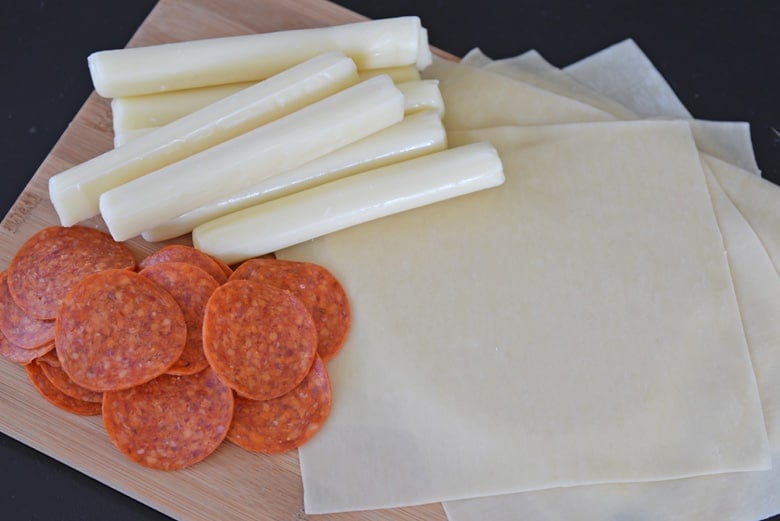 Pepperoni – I used regular pre-sliced pepperoni, about 5-6 slices per roll, but you can also use turkey pepperoni or even thinly sliced salami.
Mozzarella Cheese- I will tell you that the best cheese to use in pizza rolls are reduced fat mozzarella string cheese sticks. You don't have to prep anything by cutting, they are kinda dry and rubbery by nature which makes them low moisture and perfect for frying without excess water.
Egg Rolls Wrappers– These can usually be found somewhere in the produce section. They'll be be kept refrigerated and come in two sizes. The first are small and about 3 1/2 inches and the large are closer to 6 inches. To be authentic, I use the large which is the perfect size for one stick of string cheese. You can cut these down for bite-size pizza logs too.
Marinara Sauce- There is much debate over whether or not there is tomato sauce in the actual egg roll or just for dipping. What I know is that it tends to leak out while frying, so I prefer to just dip mine.
How to Make
The easiest part of making pizza logs is the assembling.
Get all your ingredients ready and then set up a work space for rolling.
Layer several pieces of pepperoni on the center of your egg roll wrapper. I used 5 slices. Then top it with a piece of string cheese.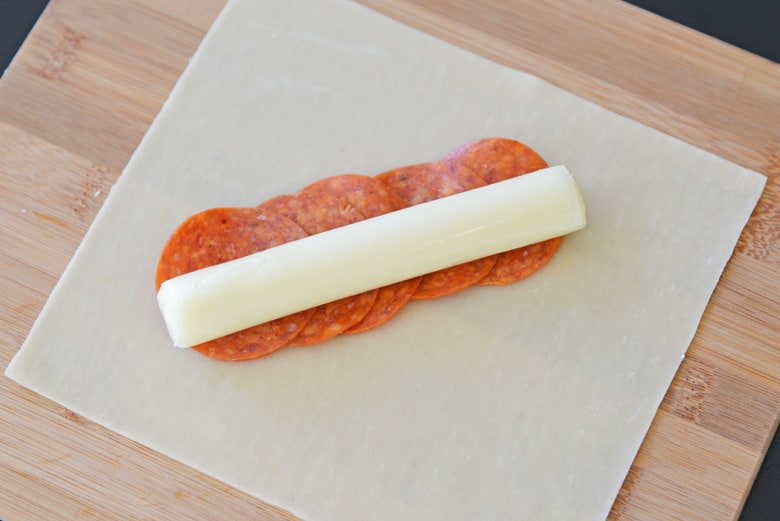 Baste the edges with egg wash and then fold over one corner to cover the stuffing ingredients.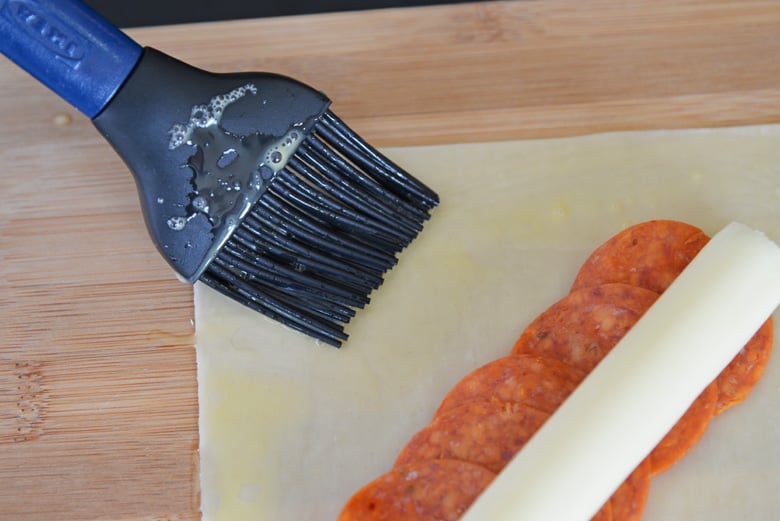 Tuck in both corners and secure with a dab of egg wash. It will look like an open envelope.


Continue to roll until it looks like an egg roll.
Place all rolls on a piece of parchment paper on a baking sheet or in a plastic container or bag that will fit into the freezer.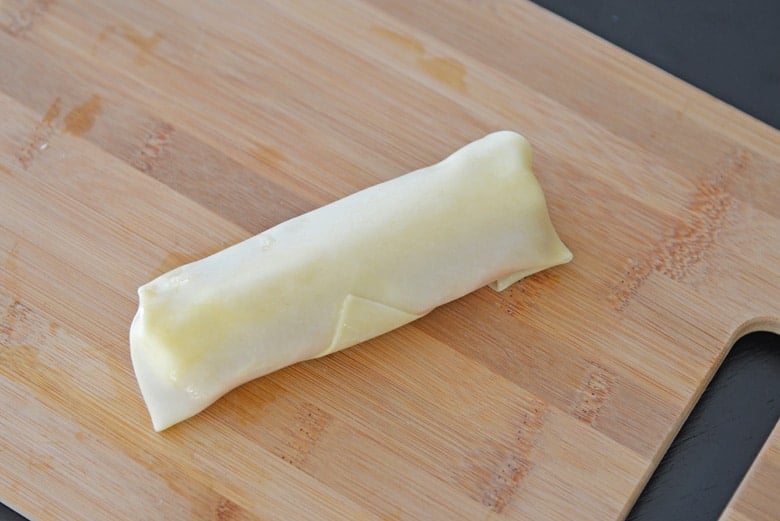 The next step is to freeze the egg rolls. Do not skip this. Freezing well is imperative so the cheese won't immediately melt and start oozing out into the oil. If it is frozen, there will be enough time for the egg roll wrapper to brown and crisp up before the cheese starts to escape.
Frying
Next, you'll fry your pizza logs. I use peanut oil because the smoke point is high and I don't have to worry about it burning.
Vegetable oil and refined peanut oil are both 400 degrees and won't run the risk of burning as long as you keep the oil around 325 degrees.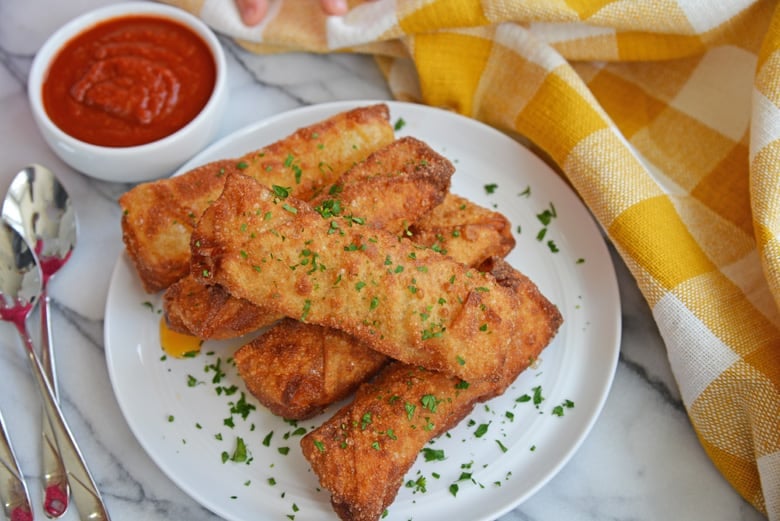 I highly suggest using deep fat frying thermometer or an actual deep fat frying machine to control oil temp. You'll be amazed at how this changes your at-home frying game.
If the oil is too low, it will take longer to cook and the cheese will have longer to melt and escape. If the oil is too hot, they will brown (or burn) immediately and the cheese won't have enough time to thaw. You are like the Goldilocks of fry temps to get it "just right".
I also like to use a high sided Dutch oven or enamel pot so the spitting oil is less likely to burn me. You can use a fry screen, but since these fry up so fast, you'll barely have it on before you need to flip them.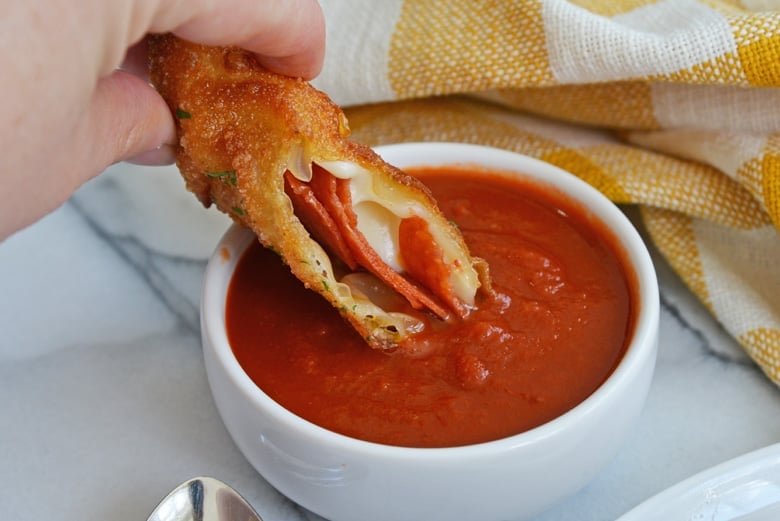 Working in Batches
Next, fry the pizza logs in batches so you don't crowd the pan. Adding too many at once will reduce the oil temp too fast and not allow them to cook. You are essentially adding ice cubes to hot oil.
Pizza logs will float freely and you'll easily be able to flip them without risking injury to yourself from oil spats.
Remove logs from oil and place them on a paper towel lined baking sheet to drain. If you are making a lot, place them in the oven on a low or "keep warm" setting.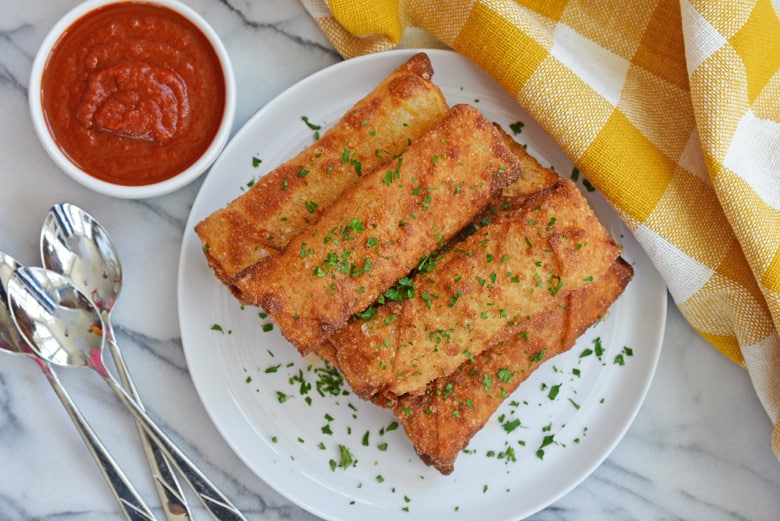 Pizza Log Dipping Sauce
The most traditional of dipping sauces is of course a plain marinara or pizza sauce.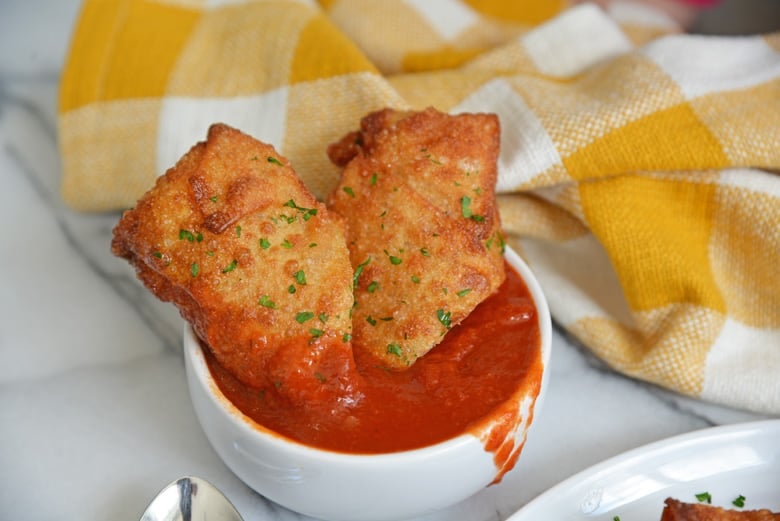 However, I've been known to use my Garlic Butter sauce for pizza or even Ranch Dressing. I suppose Blue Cheese or Creamy Italian would also be a good choice.
Freezing & Making Ahead
Like most fried foods, they are best eaten freshly fried. You can, however, assemble and freeze all the pieces so they are all ready to go when you want to serve.
You can also freeze them indefinitely after rolled. I might have a batch in my freezer right now just waiting for a rainy day lunch.
After they are fried, you can reheat them in the oven for about 5 minutes at 350. Again, you run the risk of the cheese escaping, so don't let them stay in there too long.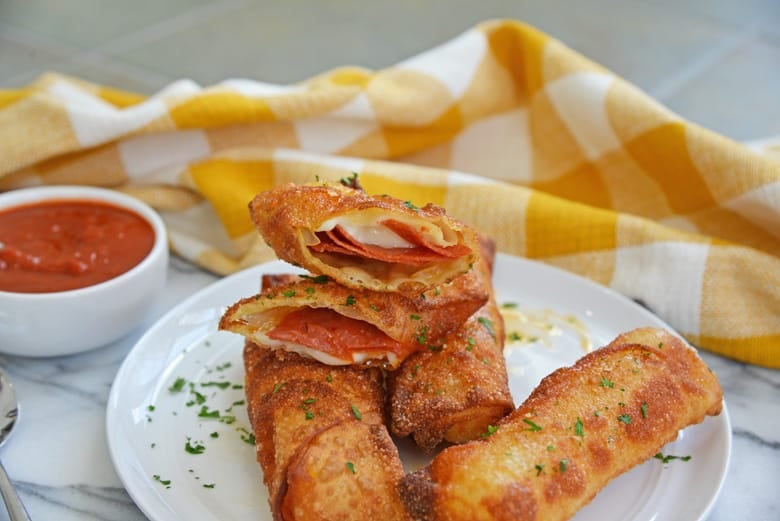 Refrying is also an option, just heat up oil like you did the first time and plop them in for just 20-30 seconds on each side. Enough to warm them up, but not cook further.
I do not recommend baking pizza logs. While in theory you can do it, it takes too long for the egg roll wrapper to crisp up and the cheese will all melt out. I am planning to play around with making them in the AirFryer, but still need to do the testing.
Another day of testing pizza logs. It is a hard life, I tell ya!
Mini Pizza Logs
You can also make mini-bite size pizza logs with the smaller egg roll wrappers. These measure about 2.5 inches square.
Cut each cheese stick into 3 pieces and use 2-3 slices of pepperoni per roll. Follow the same instructions for rolling, freezing and frying.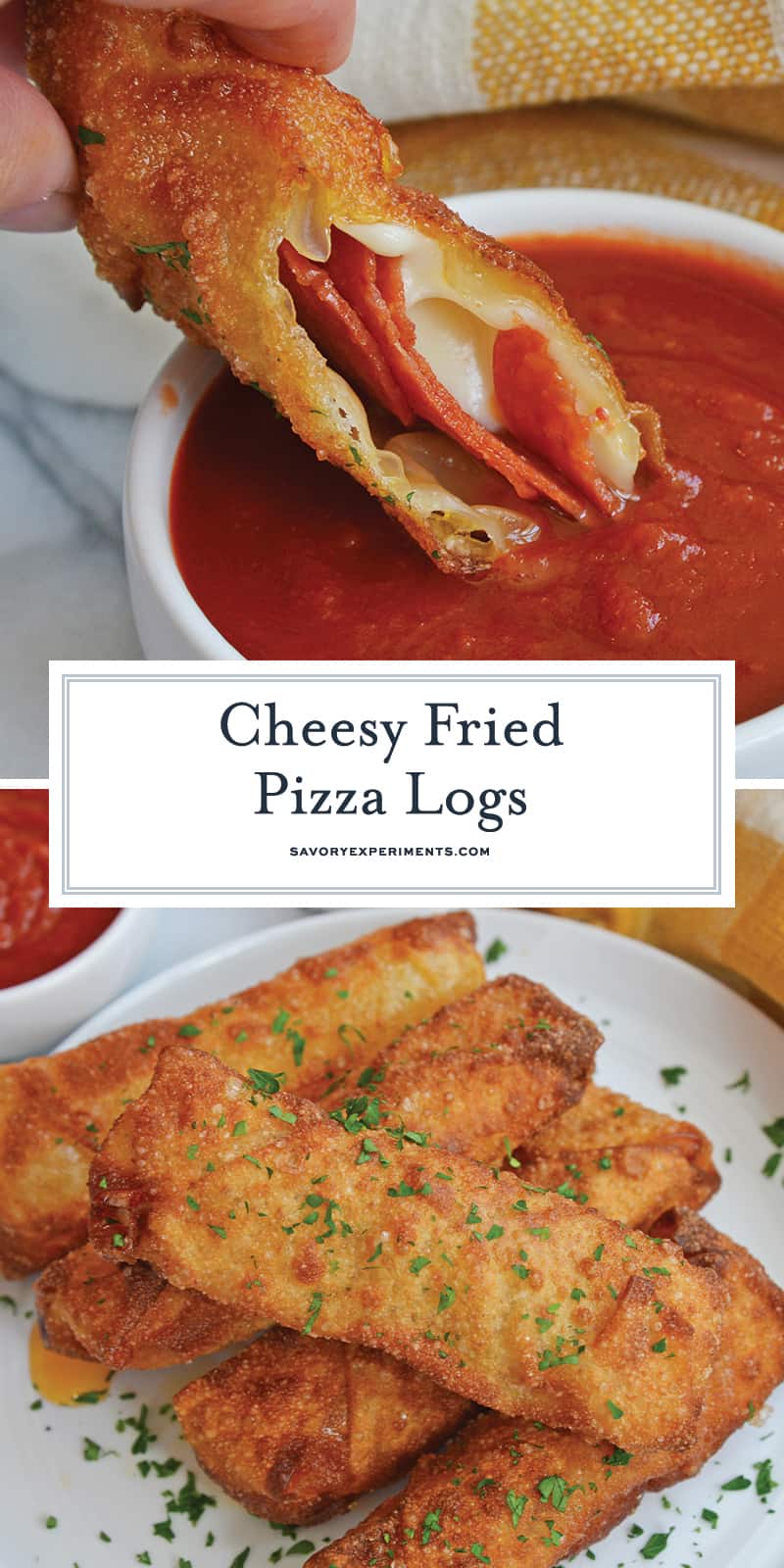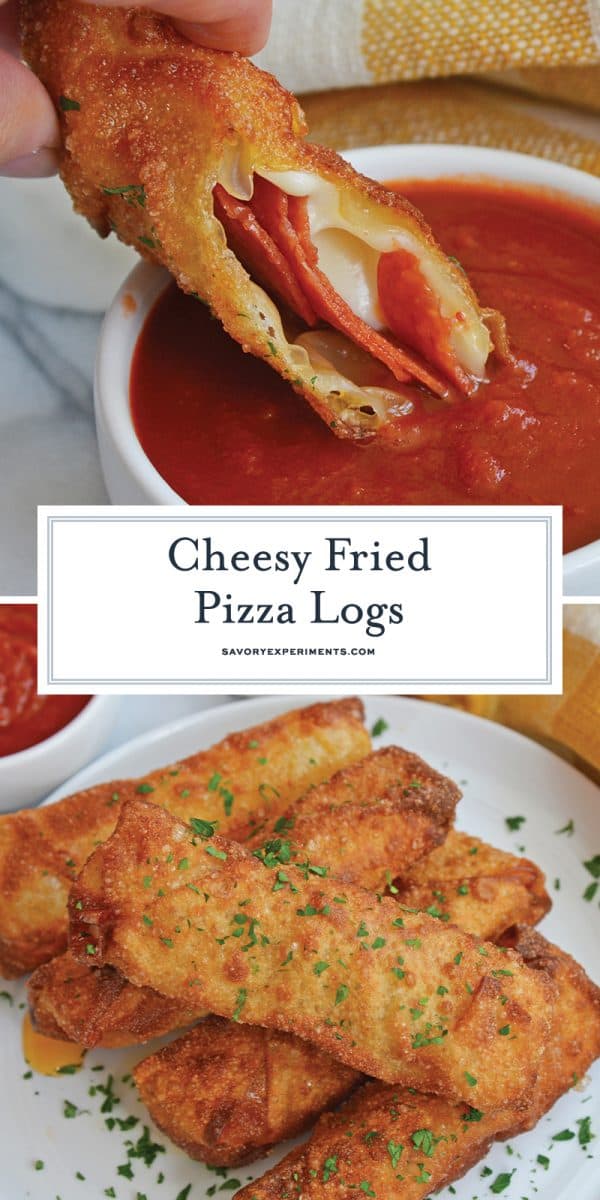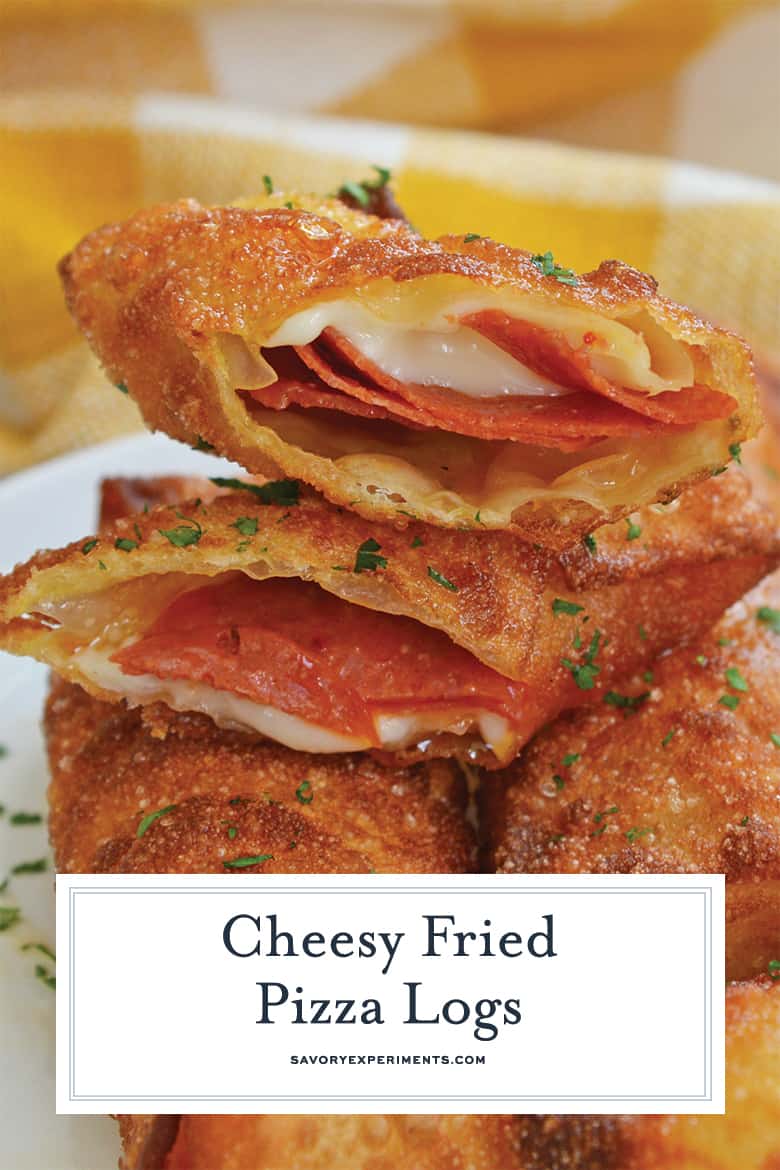 CONNECT WITH SAVORY EXPERIMENTS!

Be sure to follow me on social media, so you never miss a post!

Facebook | Twitter | Youtube
Pinterest | Instagram

Get our FREE 8 Day E-Course on How to Be a Better Home Cook. Sign up HERE!