A popular southern dish, this EASY Pimento Cheese recipe is made with only 6 ingredients and tastes great spread onto crackers or in a grilled cheese!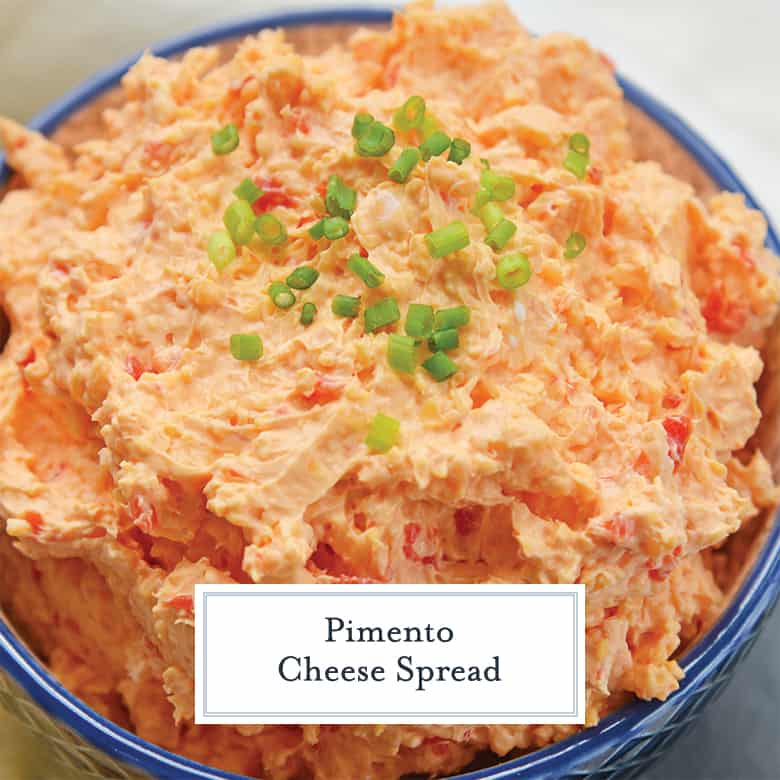 Whether you're looking for a new party appetizer or just a way to step up your grilled cheese game, this Pimento Cheese Dip is the answer! Simple ingredients and only 5 minutes to make!
Chances are you've heard of it- or at least seen it on menus across the country. On Food Network touted by Paula Deen or Southern Living?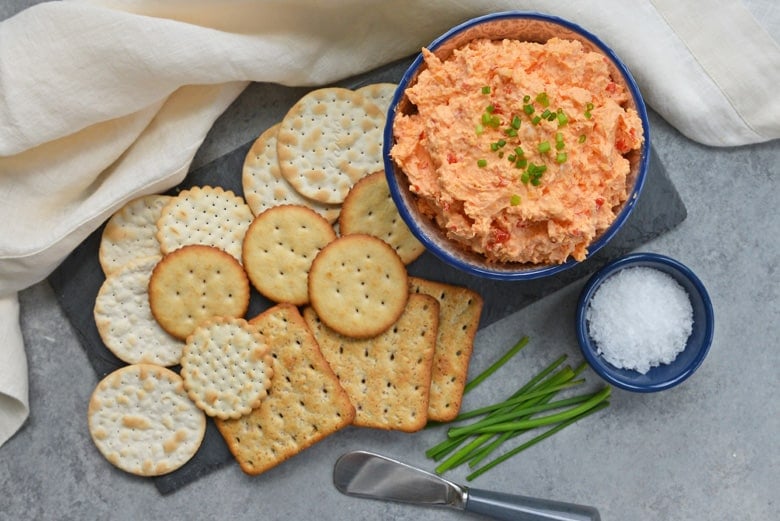 Maybe even overpriced in the cheese case at your grocery store. Now you can make Pimento Cheese Spread at home!
Homemade Pimento Cheese
Pimento cheese is a cheddar cheese and pimento pepper dip. It originated and is still most popular in the South and sometimes listed as "pâté du Sud," or Southern pâté or the caviar of the south.


If you happen to find it in the midwest, primarily made with Wisconsin cheese, it might be palmetto pimento cheese or simply palemetto.
Southerners are very particular to how their pimento cheese is prepared and like many regional cheeses there are several "right ways". There are also many fun variations.
One thing is for sure, it is a chunky mix. It is best made in a food processor with a few pulses (do not just let the machine run, this is not a smooth mix). You can hand mix it in the mixing bowl too, but the cream cheese is hard to blend super smooth.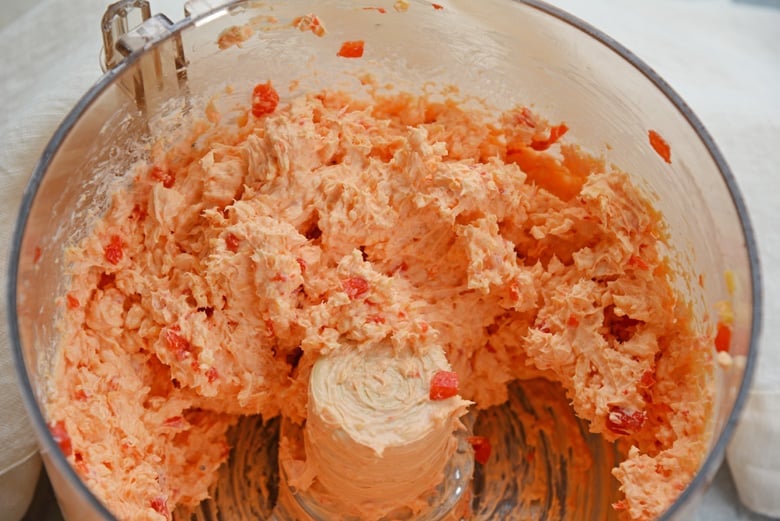 What Are Pimentos?
Pimentos are a small red pepper, like a cherry pepper, but mild and sweet. If you can usually find them jarred near the sandwich condiments aisle.
Many recipes use roasted red peppers instead.
Pimento Cheese Ingredients
This pimento cheese dip recipe is basic, from there you can customize to your liking. Depending on how you are using it, you might need to adjust the mayonnaise and/or cream cheese.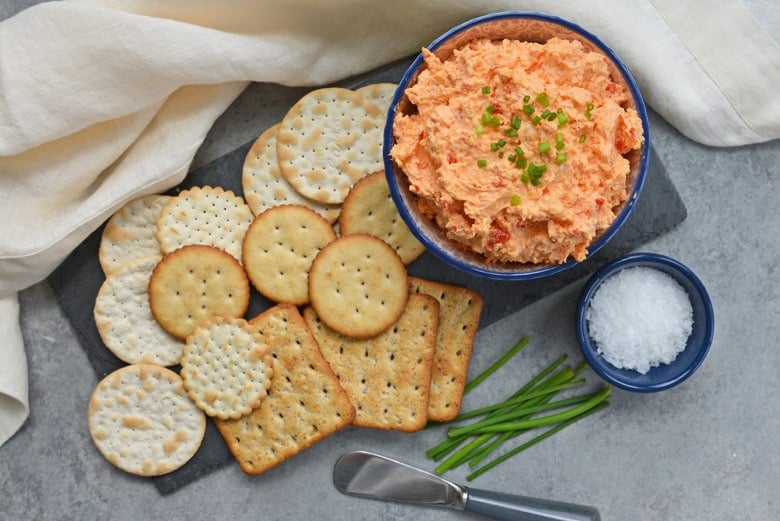 Cheddar Cheese– we like to use a sharp cheddar cheese for flavor and texture. You can switch it up and use a combination of sharp and regular cheddar or even white cheddar. We do strongly recommend shredding your own right off the block. Pre shredded cheese has a light coating of starch to prevent sticking which can impact the texture of your dip.
Cream Cheese– adding more cream cheese makes a thicker dip perfect for cheese balls and grilled cheese sandwiches, while less makes it easier to spread on crackers.
Pimento Peppers– What is a pimento? Pimento is just a fancy word for roasted red peppers. You can roast them yourself or save some time and buy them in a bottle, most commonly found in the International food aisle near Italian foods or by sandwich condiments and pickles.
Mayonnaise– Southerners typically have very strong feelings over what brand of mayo to use. Duke's seems to be the most preferred brand, but whatever you do, use a good quality brand since it is the base of the dip.
Add-Ins– from here you can customize for flavor. Garlic powder, onion powder, crushed red pepper flakes, chopped parsley or chives and salt and pepper are the most common.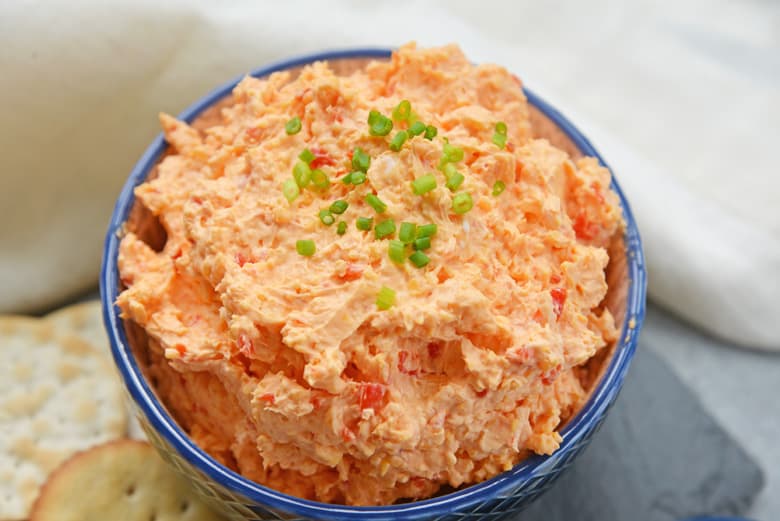 Spicy Pimento Dip
If you want to make your pimento cheese dip spicy, add 1-2 teaspoons of seeded and diced jalapenos. If you don't want to mess around with chopping peppers, add 1 teaspoon of crushed red pepper flakes.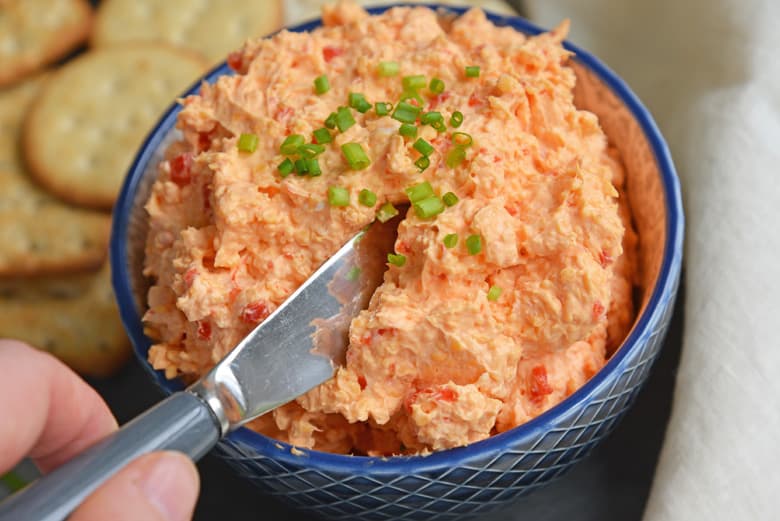 For best results, allow your dip to sit and the spicy flavors to marry and sink into the cream cheese and mayonnaise.
Light Pimento Cheese
It is hard to make a super light version of the dip due to the main ingredient being cheese, however, you can use reduced fat cheese.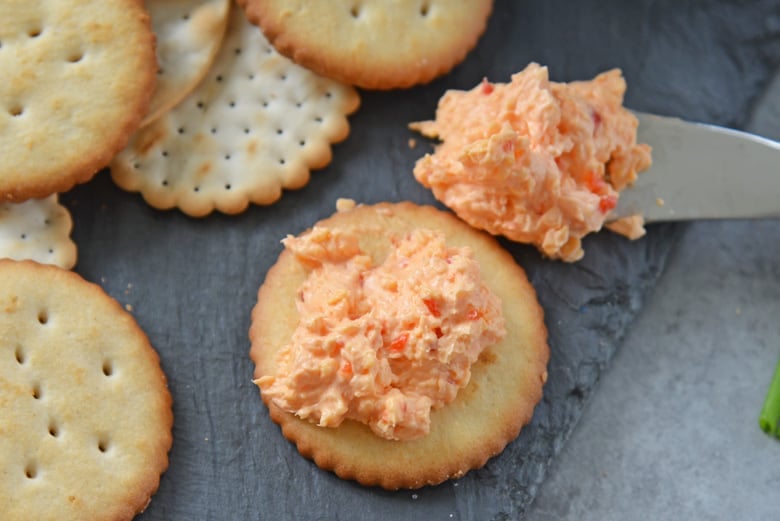 You can also substitute light mayo or plain Greek yogurt for full fat mayonnaise and use light or reduced fat cream cheese.
Cheeses
Traditional dip uses a sharp cheddar cheese, but you can use a combination of any mildly soft cheese. Some use a medium sharp cheddar with sharp.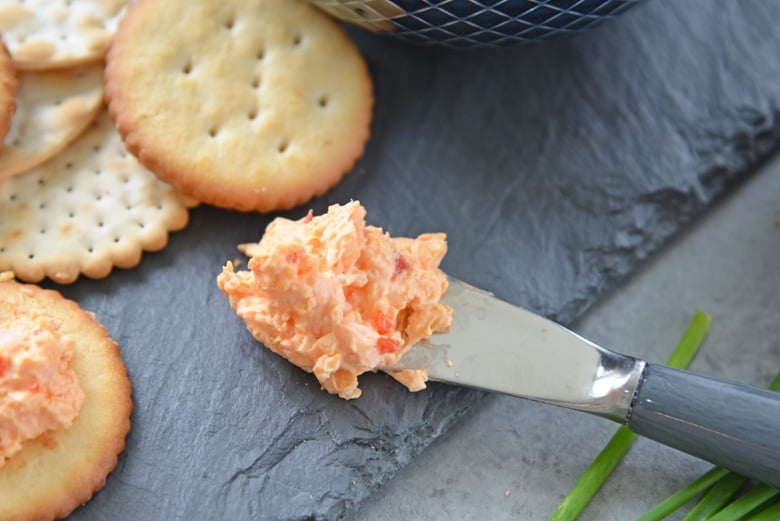 Others prefer smoked gouda or white American cheese. I've even used pepper jack. Totally your call!
Pimento Cheese Appetizers
Pimento cheese it most commonly served as a spread with crackers or crudites. I also like to spread it on celery sticks like Ants on a Log or even use it on my famous Pimento Cheese Deviled Eggs, Stuffed Celery or Pimento Cheese Sausage Balls.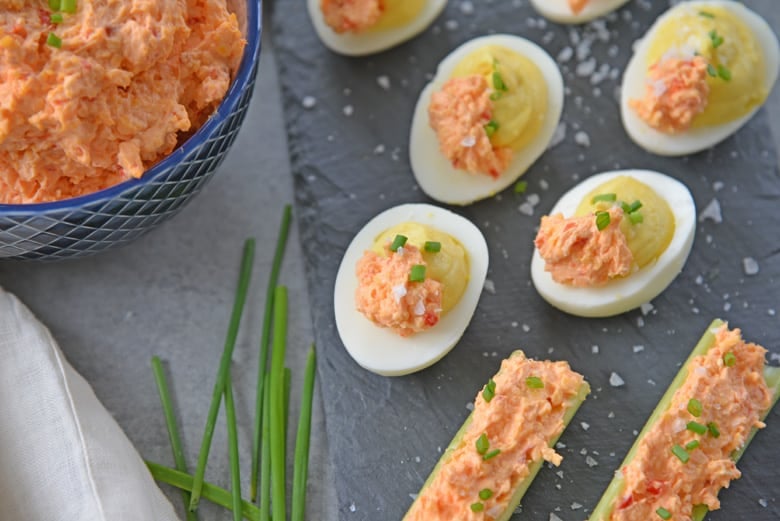 You can also make a Pimento Cheese Sandwich, which is just spread thick onto sandwich bread or on a crustier loaf as a grilled cheese or just a pimento sandwich.
Get fancy and make it into cheesy bread or even mac and cheese!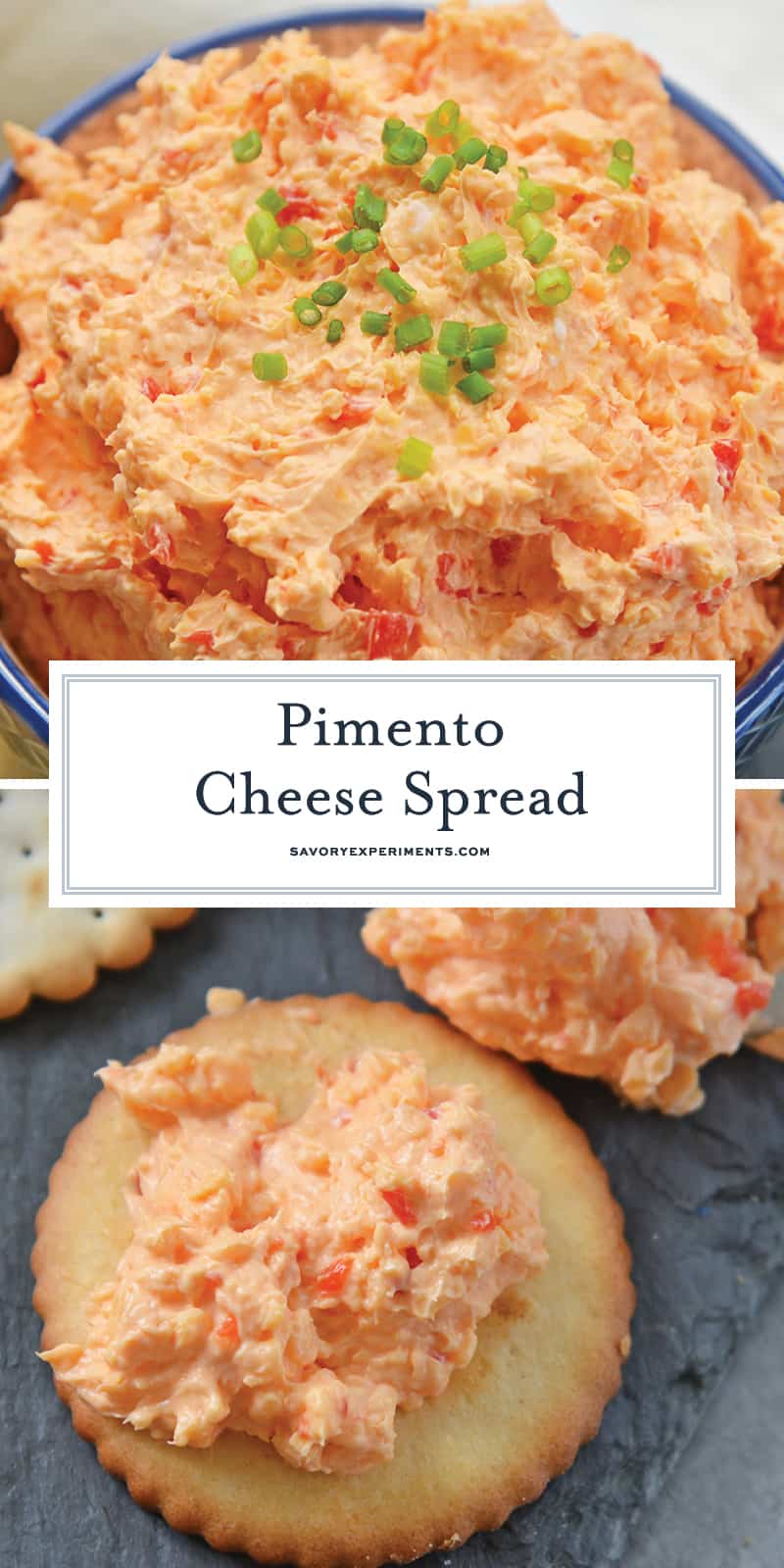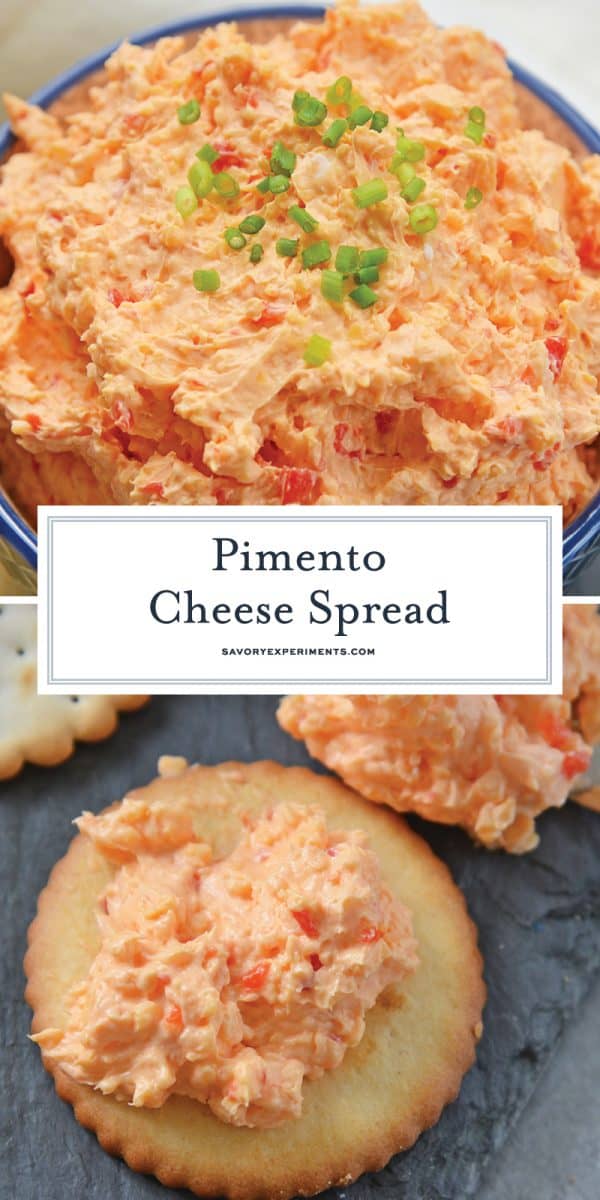 More fun party dips: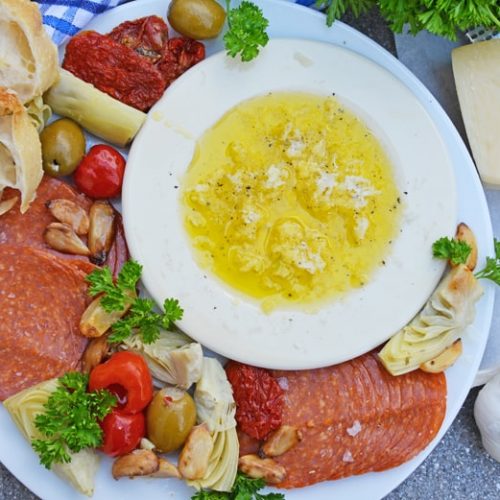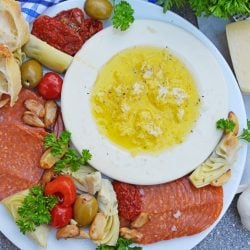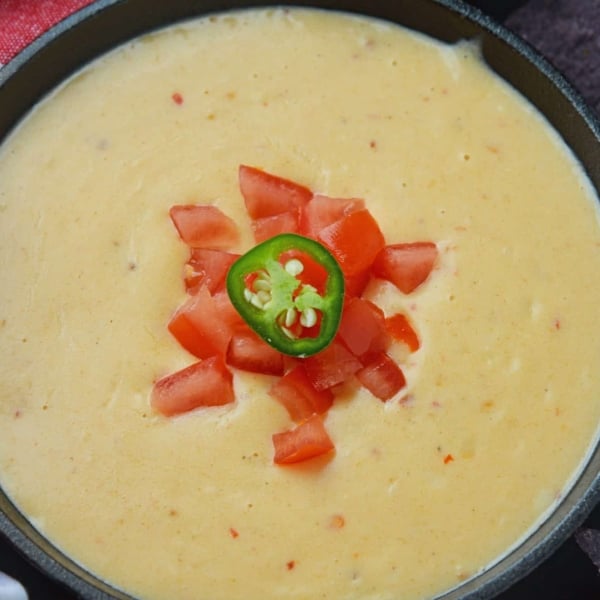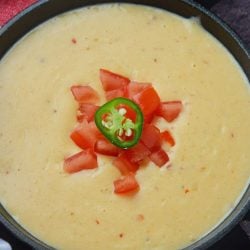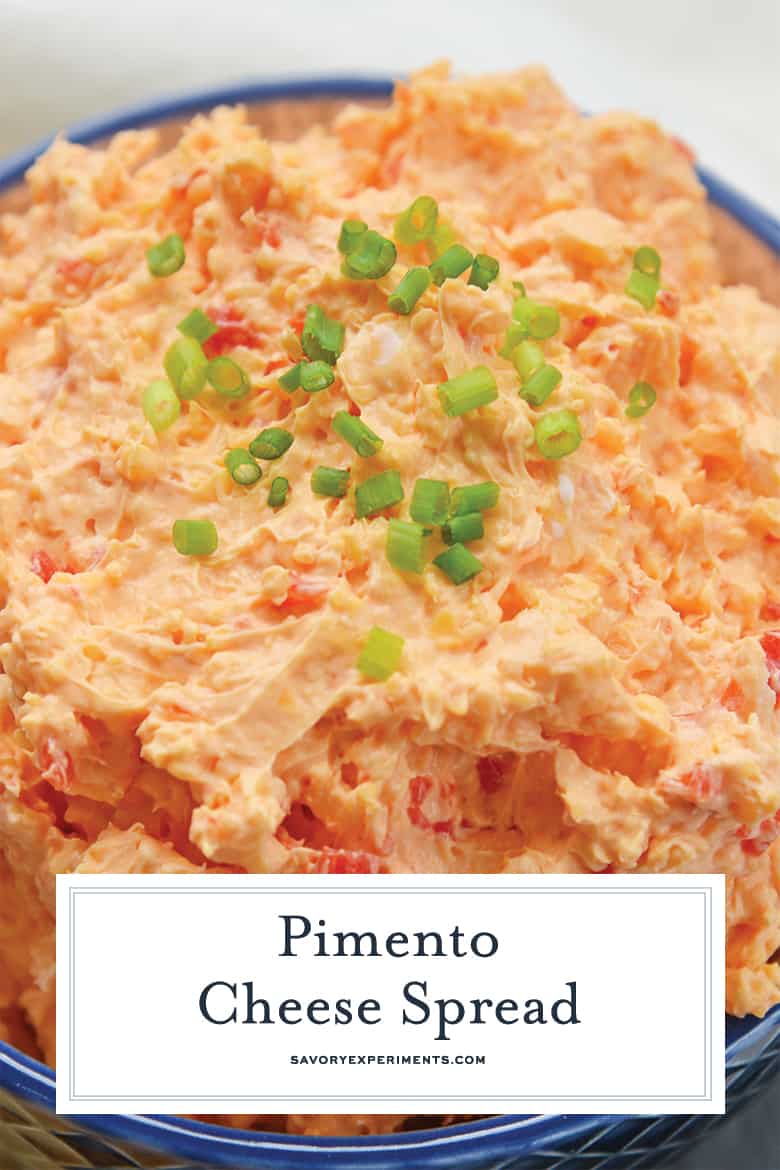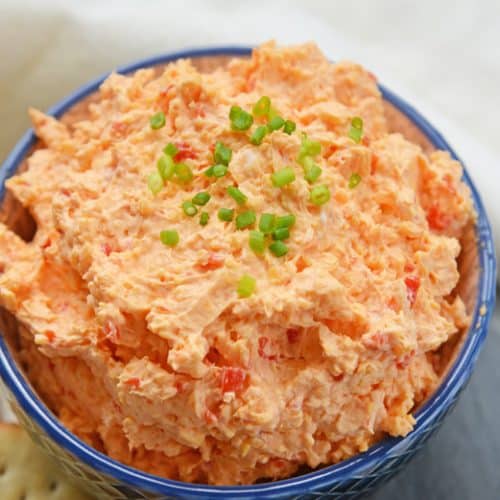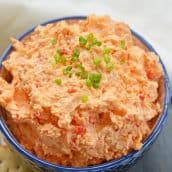 Pimento Cheese Spread
A popular southern dish, this EASY Pimento Cheese recipe is made with only 6 ingredients and tastes great spread onto crackers or in a grilled cheese!
Instructions
Combine all ingredients in a food processor and pulse it several times until a pale pink and fully combined but still chunky.

Refrigerate until ready to serve.

If you've tried this recipe, come back and let us know how it was!
Notes
Do I need to use a food processor? You don't have to, but it is the best way to achieve the correct texture.
Nutrition
Calories:
205
kcal
,
Carbohydrates:
1
g
,
Protein:
6
g
,
Fat:
20
g
,
Saturated Fat:
9
g
,
Cholesterol:
44
mg
,
Sodium:
374
mg
,
Potassium:
49
mg
,
Fiber:
1
g
,
Sugar:
1
g
,
Vitamin A:
464
IU
,
Vitamin C:
1
mg
,
Calcium:
156
mg
,
Iron:
1
mg