Are you looking to add more veggies to your diet? These easy Zucchini Fritters are so yummy, you'll forget you're even snacking on vegetables!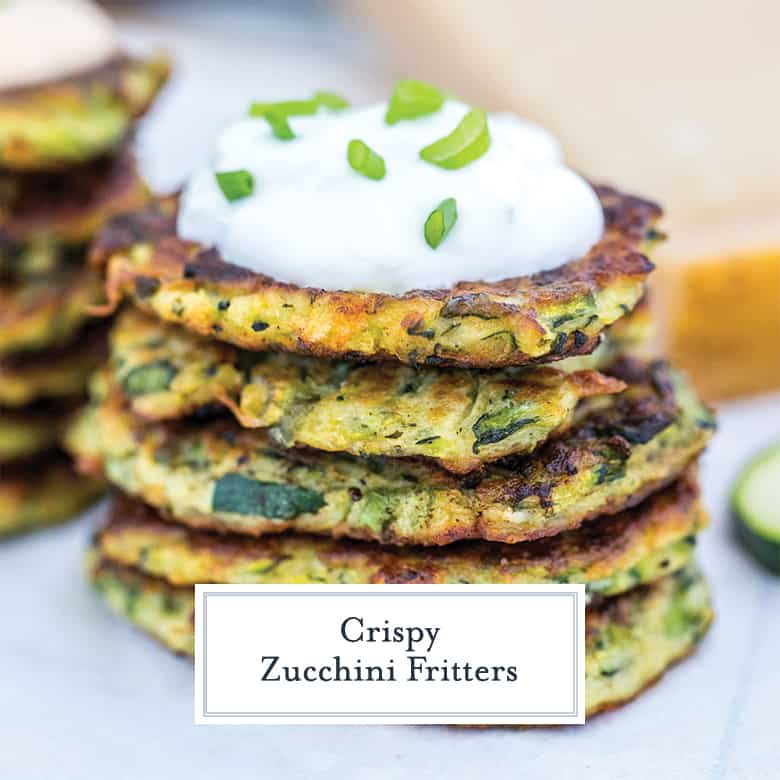 Zucchini Fritters, also known as zucchini pancakes, are the best way to use shredded zucchini to make a delicious summer snack!
Summer is nearing, and I know that soon everyone's gardens will be abundant with zucchini. I also know that inevitably, you will have so much that you don't know what to do with it!
Of course, zucchini bread is always a safe bet. It's the perfect sweet snack, and you can even enjoy a slice for breakfast.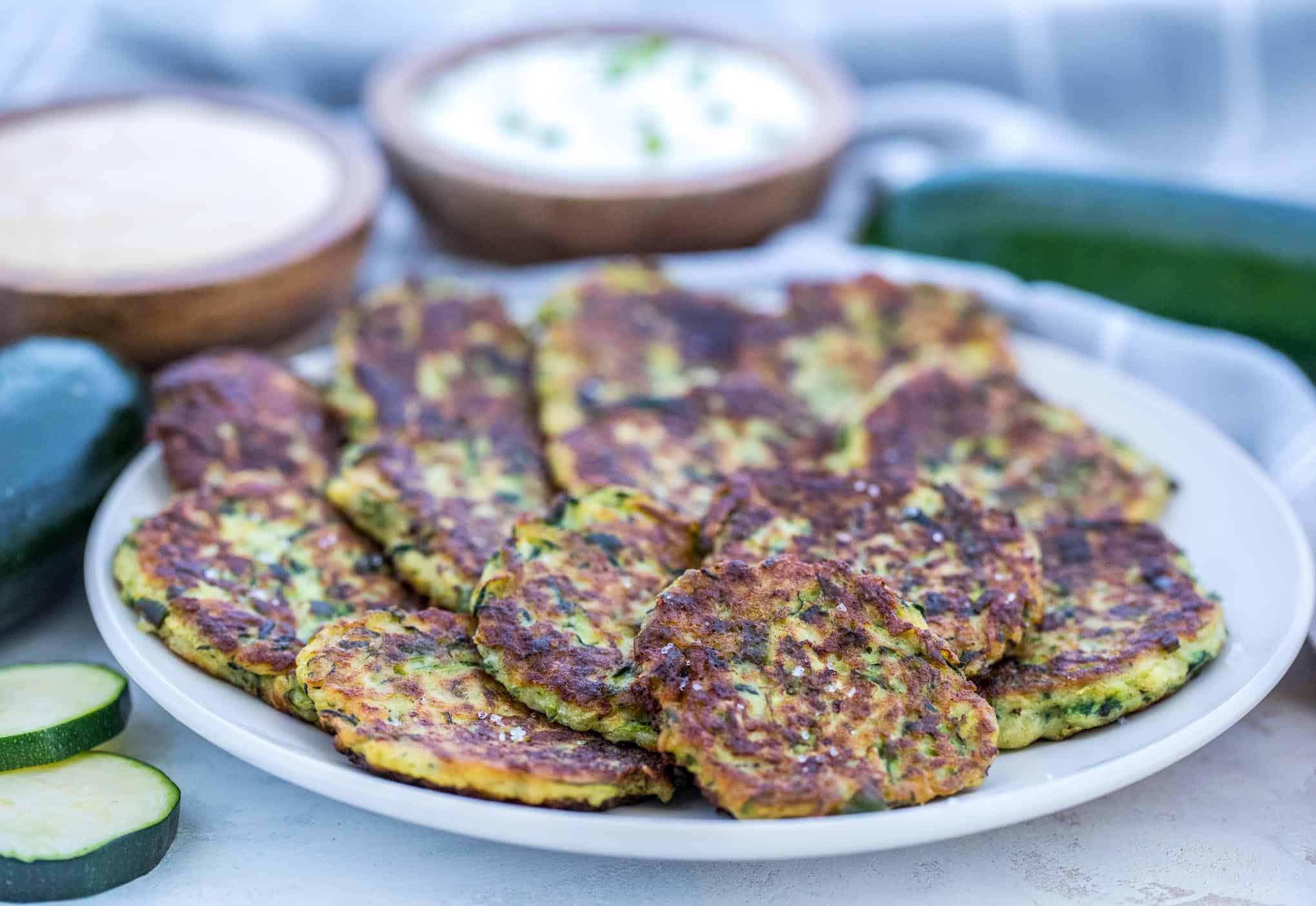 Zucchini recipes range the whole spectrum. Turning zucchini into "zoodles" for pasta, fries or even turning them into zucchini boats like in this Grilled Turkey Zucchini Boat recipe are also options. A healthy, carb-free way to still enjoy a comfort food favorite.
I thoroughly enjoy ALL ways of using up zucchini, but my new favorite are these zucchini fritters. You won't believe how delicious they are!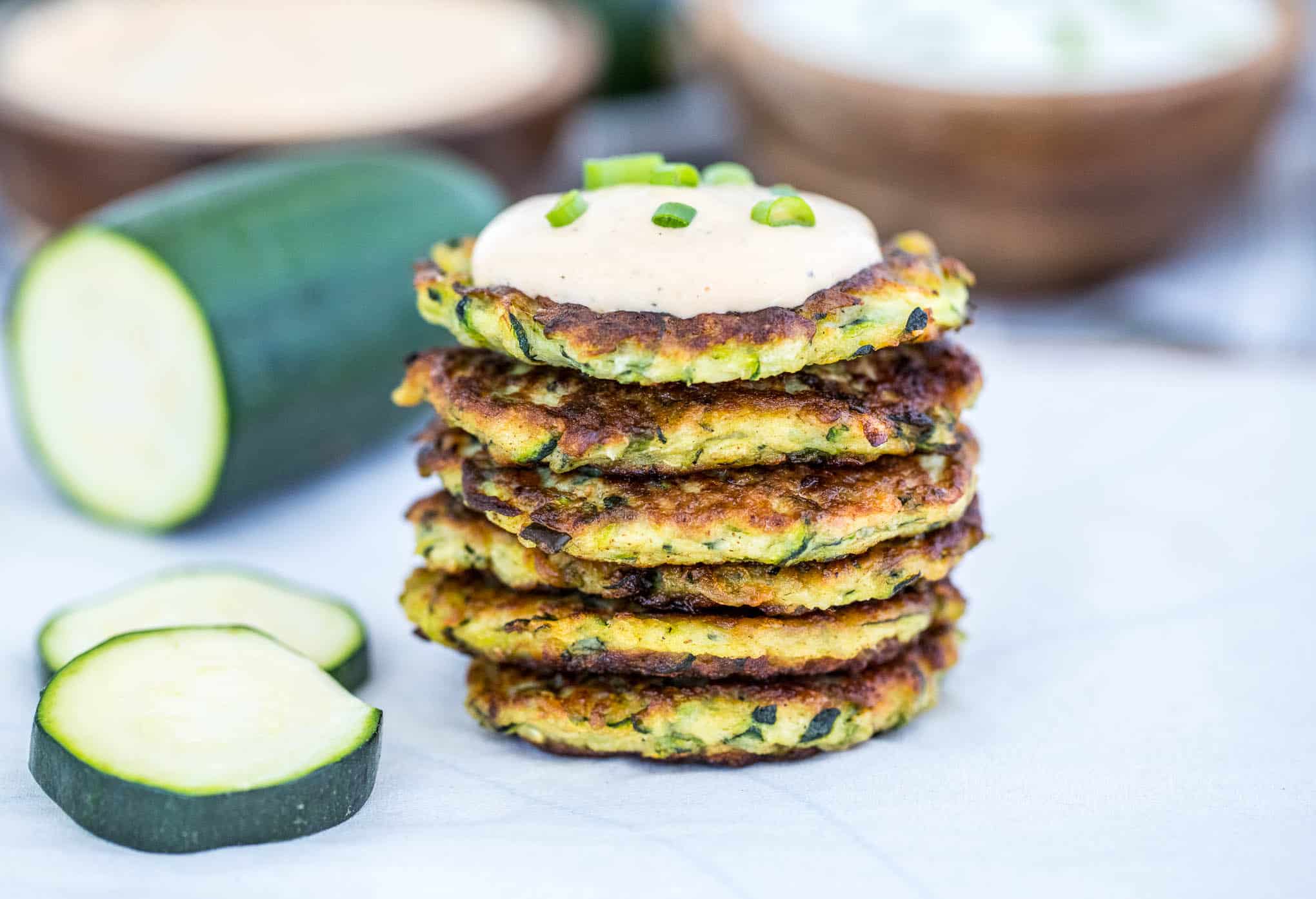 I've been slightly obsessed with fritters lately. Some of my favorites are apple fritters, corn fritters and even lemon ricotta fritters. They're relatively easy to make and they make such a great snack or appetizer for any occasion.
Zucchini Fritters are sometimes also known as zucchini pancakes or even zucchini patties. They are flatter than your average fritter that has a puffy exterior.
The puffy exterior of other fritter recipes is formed by a batter that this recipe doesn't really have. The whole zucchini mixture makes up the fritter, without an outer layer of batter.
You can make zucchini fritters with shredded or grated zucchini. I find that shredded zucchini is best and has the most body, texture and flavor. When you grate it to a pulp you almost can't tell it is even in there.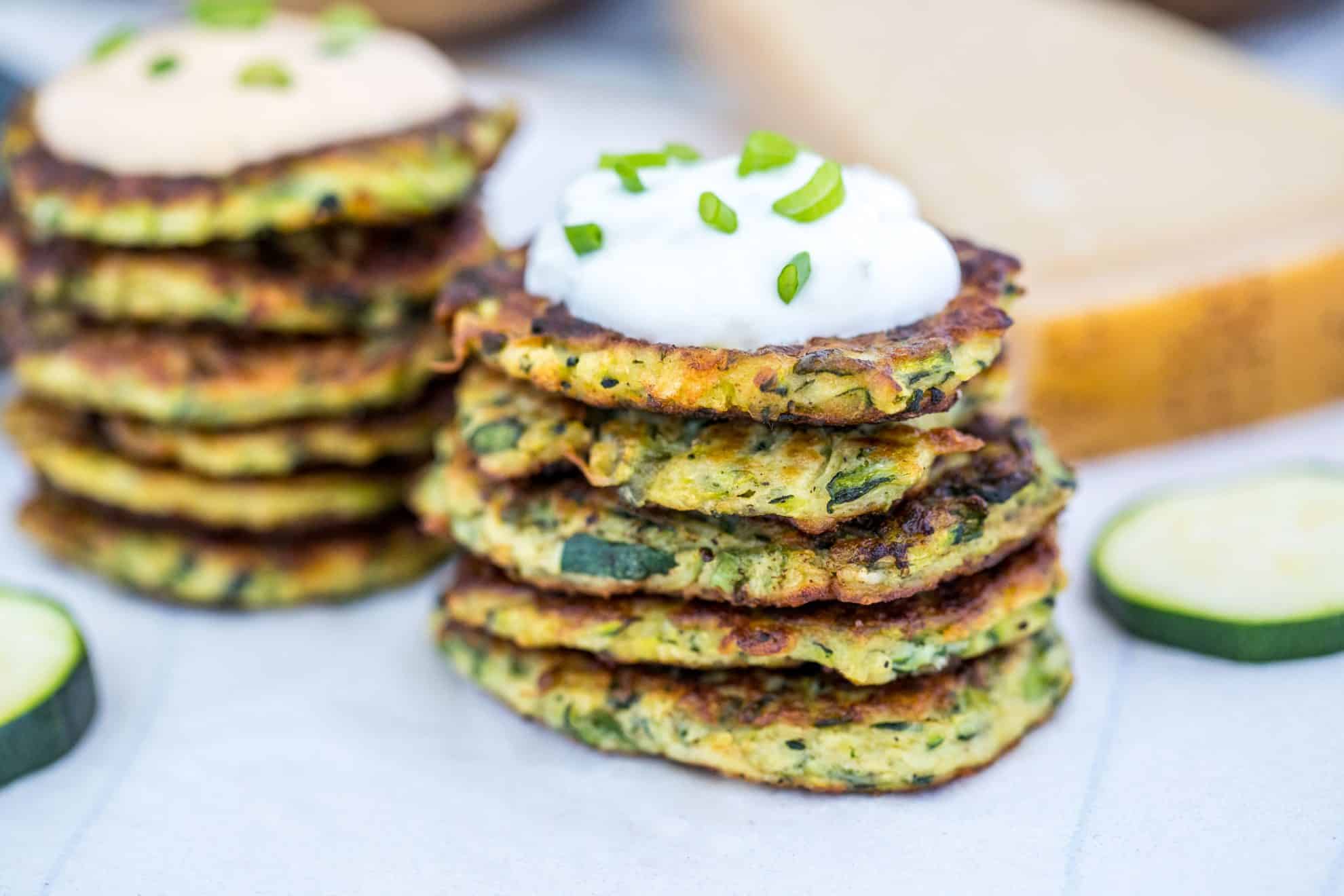 The key to the best zucchini fritters is making sure the zucchini is dry with the least amount of water. There are several ways to do this:
The kitchen towel method: Put your shredded zucchini in the center of a clean, dry kitchen towel or cheesecloth

. Gather the edges of the towel together to completely enclose the zucchini. Squeeze the towel until water stops draining out. I find that

tea towels

work best.

The oven method. You can also dry your zucchini out in the oven. Instructions for how to do this can be found here.
The French press method. If you have a French press

, you can place the zucchini in the bottom, replace the top, press down and drain. Easy and genius!
Making these zucchini fritters could not be easier. The recipe calls for simple ingredients that you probably already have on hand, including: flour, Parmesan cheese, an egg, garlic and onion powder, black pepper, shredded zucchini, scallions and olive oil. That's it!
In a large bowl, combine the flour, Parmesan cheese, egg, garlic and onion powder, and black pepper, and mix until combined. Next, add in the zucchini and scallions, folding in by hand.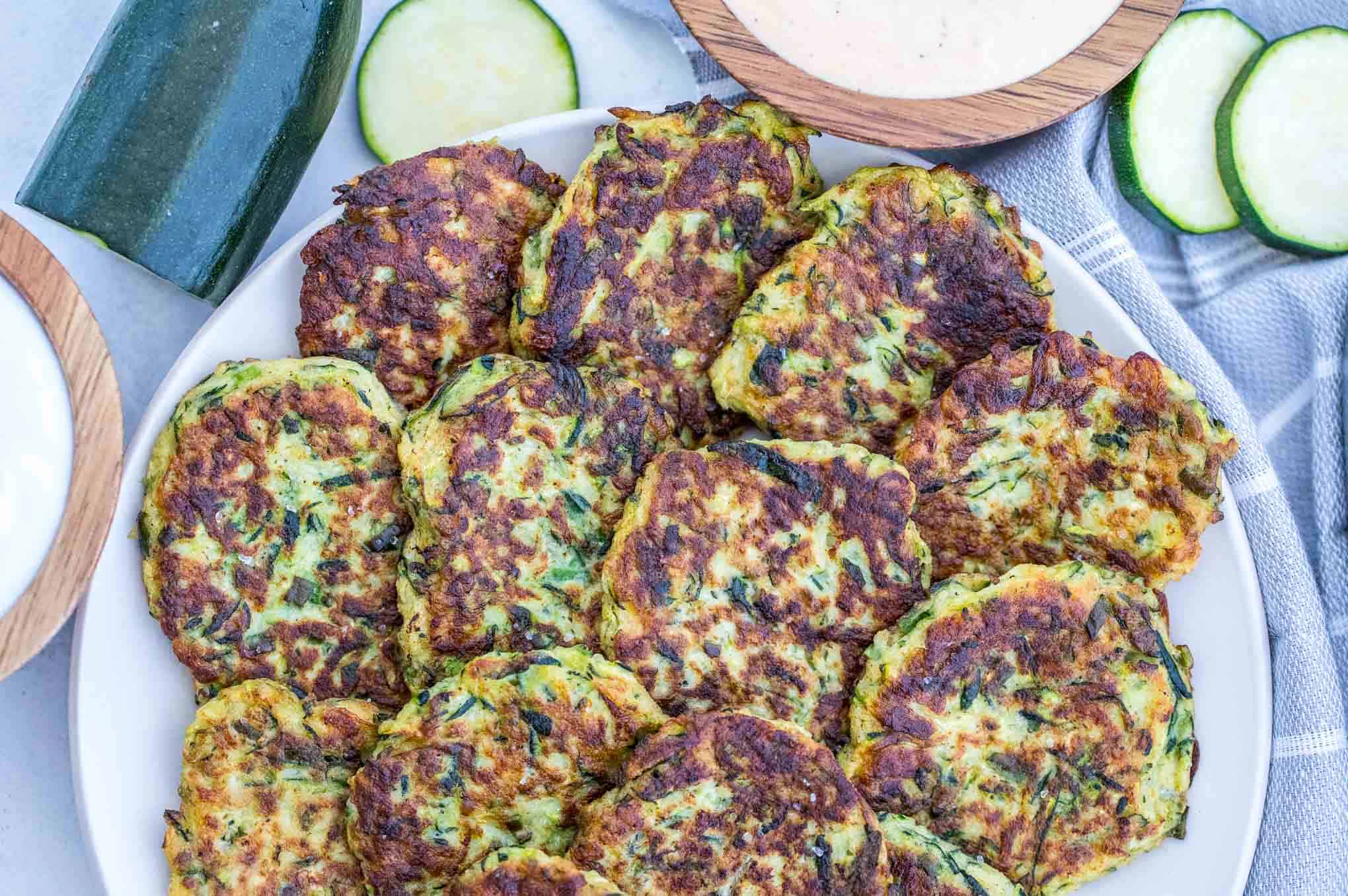 Drop spoonfuls of the zucchini mixture into a skillet with olive oil heated to medium high heat. The batter will flatten and spread on its own. Fry each side to a nice golden brown (about one to two minutes per side.)
Then remove the fritters from the oil, and set them on a paper towel lined plate in order to remove excess oil. Sprinkle them with salt and pepper and serve with a nice dipping sauce or sour cream and you're done!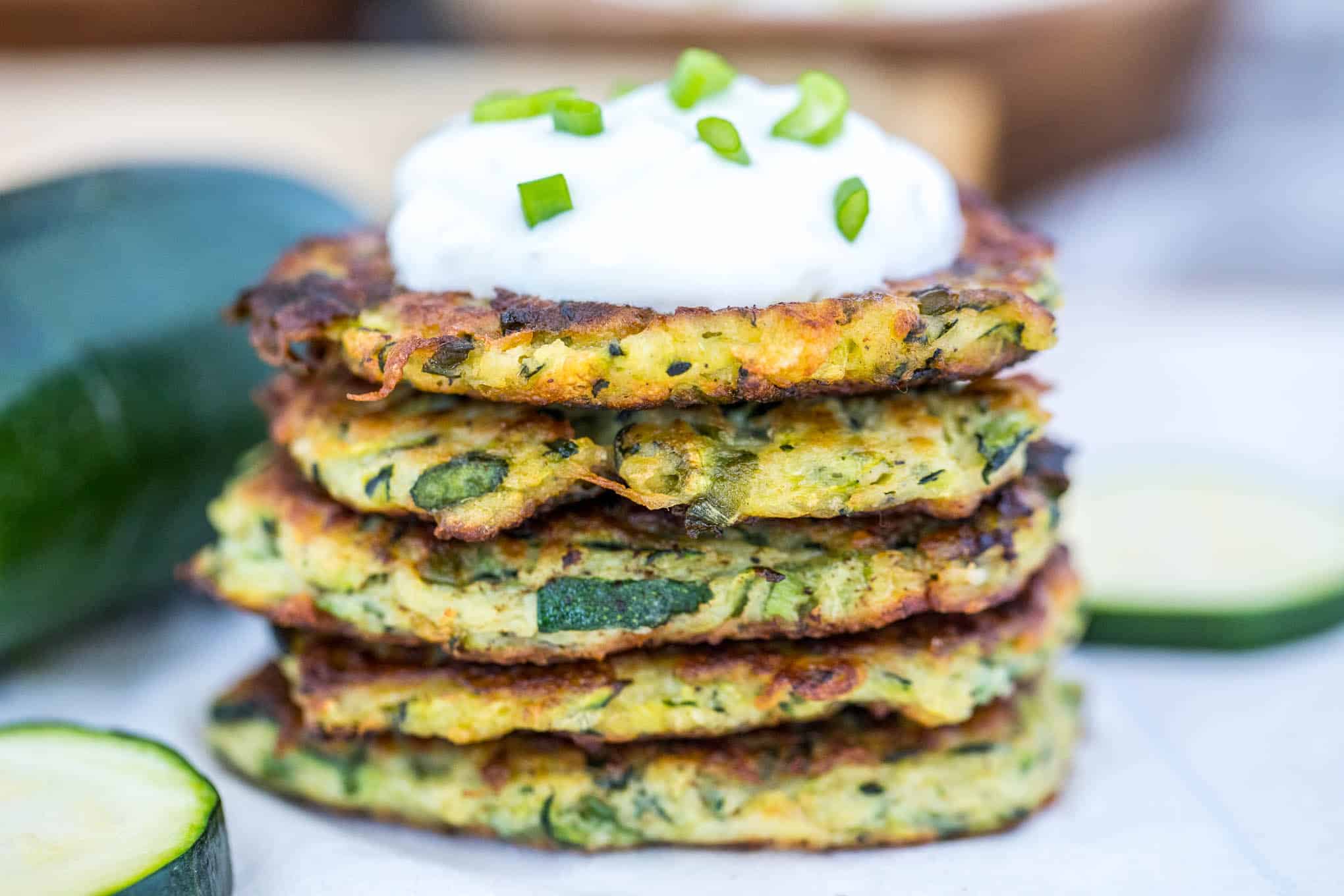 Serve zucchini fritters with a side of sour cream or plain Greek yogurt. You can even amp up the flavors using a Lemon Garlic Aioli or Chipotle Aioli!
PRO TIP: Make sure your zucchini is as dry as possible!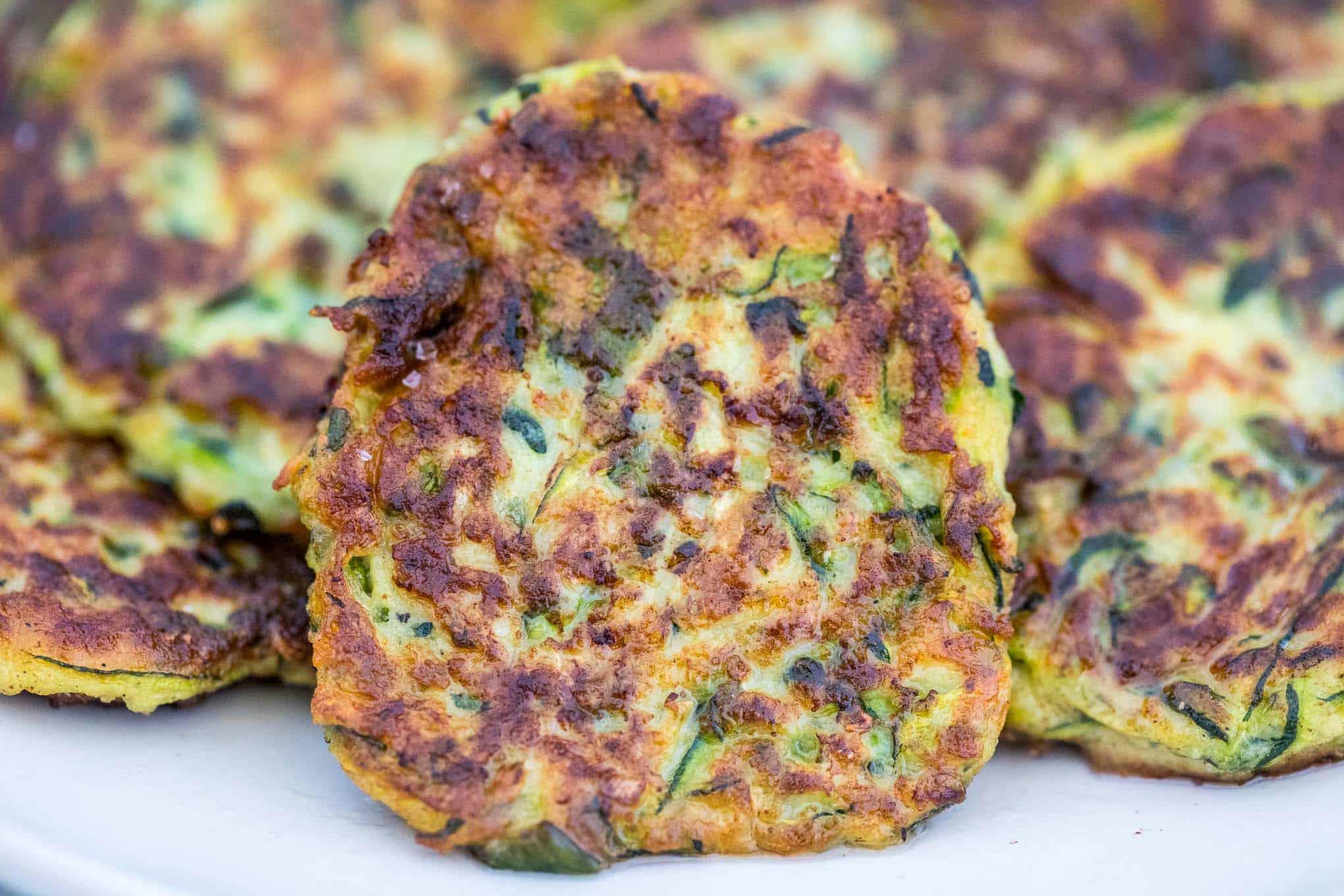 Questions you may have about how to make zucchini fritters:
Can I make zucchini fritters with a waffle iron? Yes! You can. Simply use the same recipe, heat up your waffle iron and sear them until crispy and lightly browned.
Can I bake zucchini fritters? This recipe really isn't for baking. You'll need the intense heat of pan frying or a waffle iron to really get the most out of it.
Can I freeze zucchini fritters? Yes! Freeze cooked zucchini fritters in an airtight plastic bag, removing as much air as possible. They will be good for up to 4 months. The best way to revive them is to give them another light fry or heat them under the broiler.
Why are my zucchini fritters soggy? Chances are you either didn't dry out the zucchini enough before frying. Also, you might need to fry them a bit longer next time.
What sauce goes with zucchini fritters? My favorite sauces to serve zucchini fritters with are aiolis. You can go with something a little spicy like my Chipotle Aioli, or something tangy like my Lemon Herb Aioli. If you're a fan of the Bloomin' Onion from Outback, a Bloomin' Onion Sauce would also pair really nicely.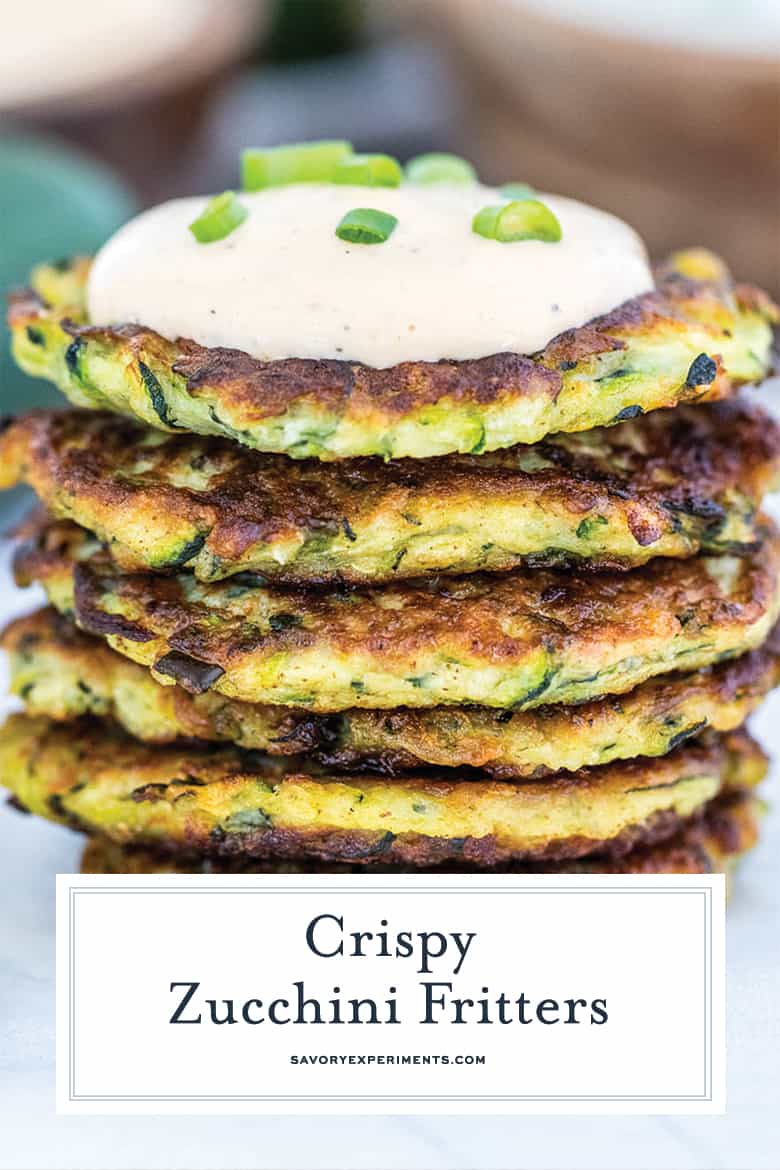 If you liked this zucchini fritters recipe, check out these other easy fritter recipes:
Tools for making zucchini pancakes:
Good Extra Virgin Olive Oil– A good olive oil will taste like, well, olives, while a poorly made one will taste like vegetable oil. Gross. While people tend to favor Italian and Greek olive oils, I prefer to buy mine domestically.
There are some great ones out there from all over the world, but the reporting of ingredients isn't always the same and you could find that your super expensive olive oil was actually cut with vegetable oil.
Heavy Bottom Frying Pan– this will be one of your most used kitchen tools. Having something that is heavy bottom will distribute heat better and prevent burning whether you are using an electric or gas range.
Box Grater
– If you are grating or shredding by hand, versus with a food processor
or stand mixer attachment, you will need a box grater.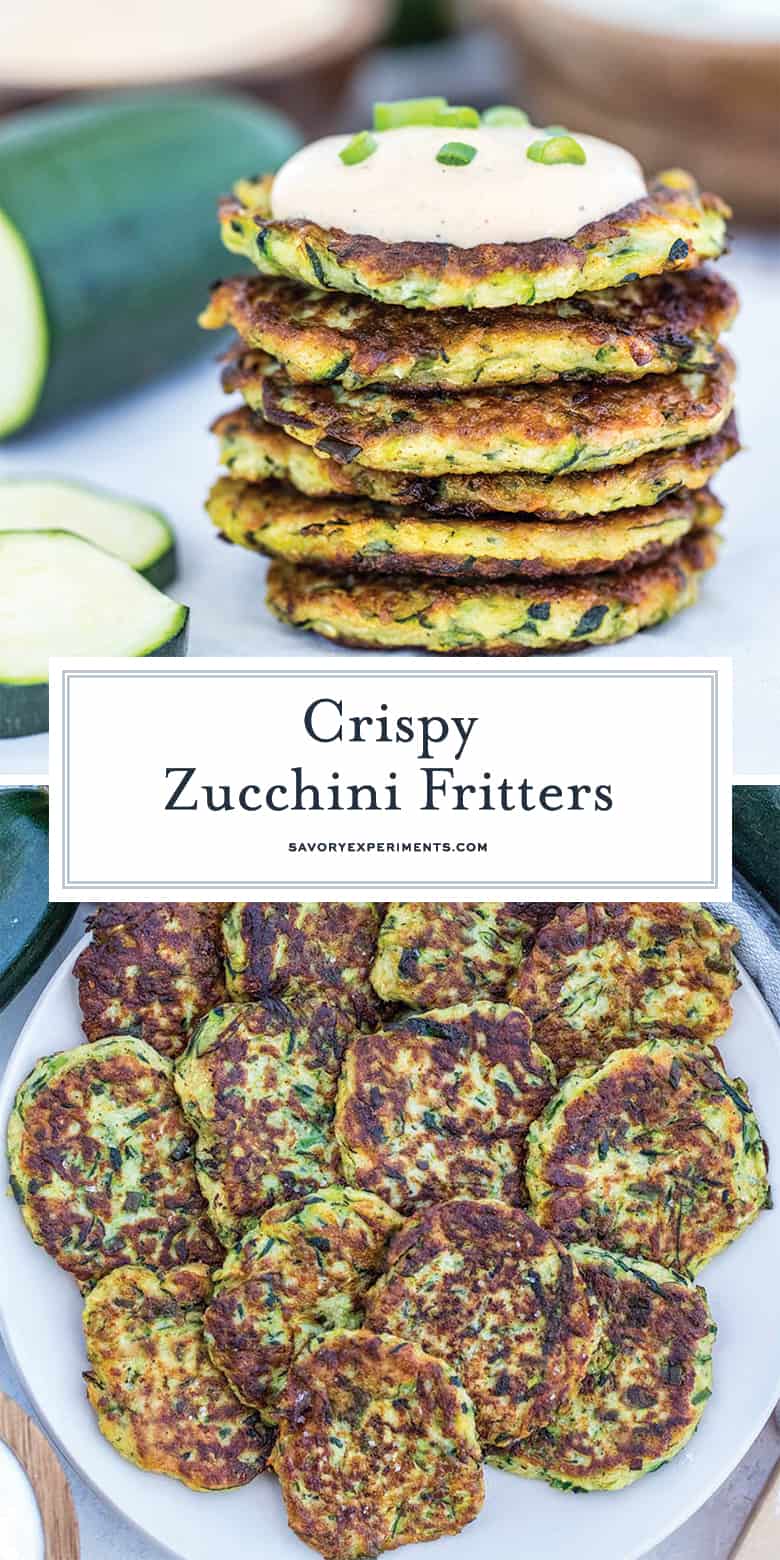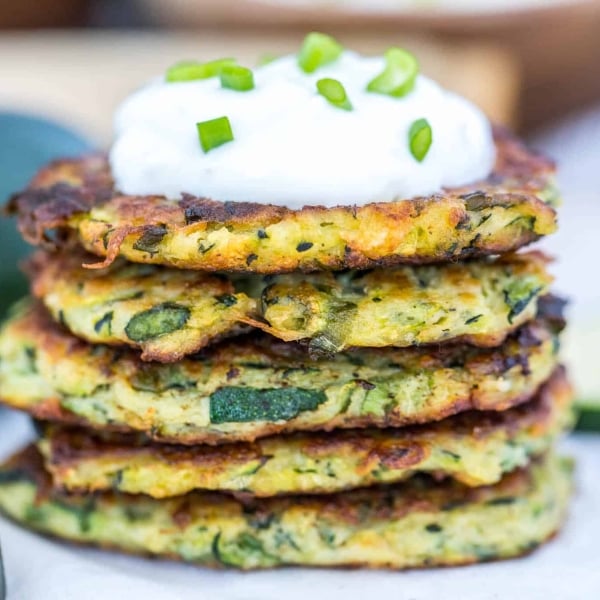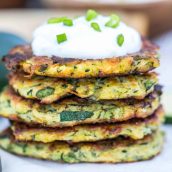 Zucchini Fritters
Zucchini Fritters, also known as zucchini pancakes, are the best way to use shredded zucchini to make a delicious summer snack!
Instructions
In a large mixing bowl or stand mixer fitted with a paddle attachment, combine flour, Parmesan cheese, egg, garlic powder, onion powder and black pepper.

Mix until just combined.

Add zucchini and scallions, fold in by hand until just combined.

Do not overmix.Heat olive oil in a large skillet over medium-high heat.

Using a tablespoon, place batter into frying pan and allow to spread and flatten. Brown on each side, approximately 1-2 minutes each.

Remove and drain on a paper towel lined plate.

Sprinkle with Maldon sea salt and serve with Bloomin' onion dipping sauce.

If you've tried this recipe, come back and let us know how it was!
Notes
See notes above regarding how to best dry out your zucchini.
Nutrition
Calories:
56
kcal
,
Carbohydrates:
4
g
,
Protein:
2
g
,
Fat:
3
g
,
Saturated Fat:
1
g
,
Cholesterol:
15
mg
,
Sodium:
42
mg
,
Potassium:
160
mg
,
Fiber:
1
g
,
Sugar:
2
g
,
Vitamin A:
165
IU
,
Vitamin C:
10.4
mg
,
Calcium:
35
mg
,
Iron:
0.4
mg