This Spinach Sausage Pasta is one of my go-to easy pasta recipes for a quick dinner. It's simple to make but with incredible flavor, the perfect easy weeknight meal for busy summer or school nights and sneaks in those pesky veggies.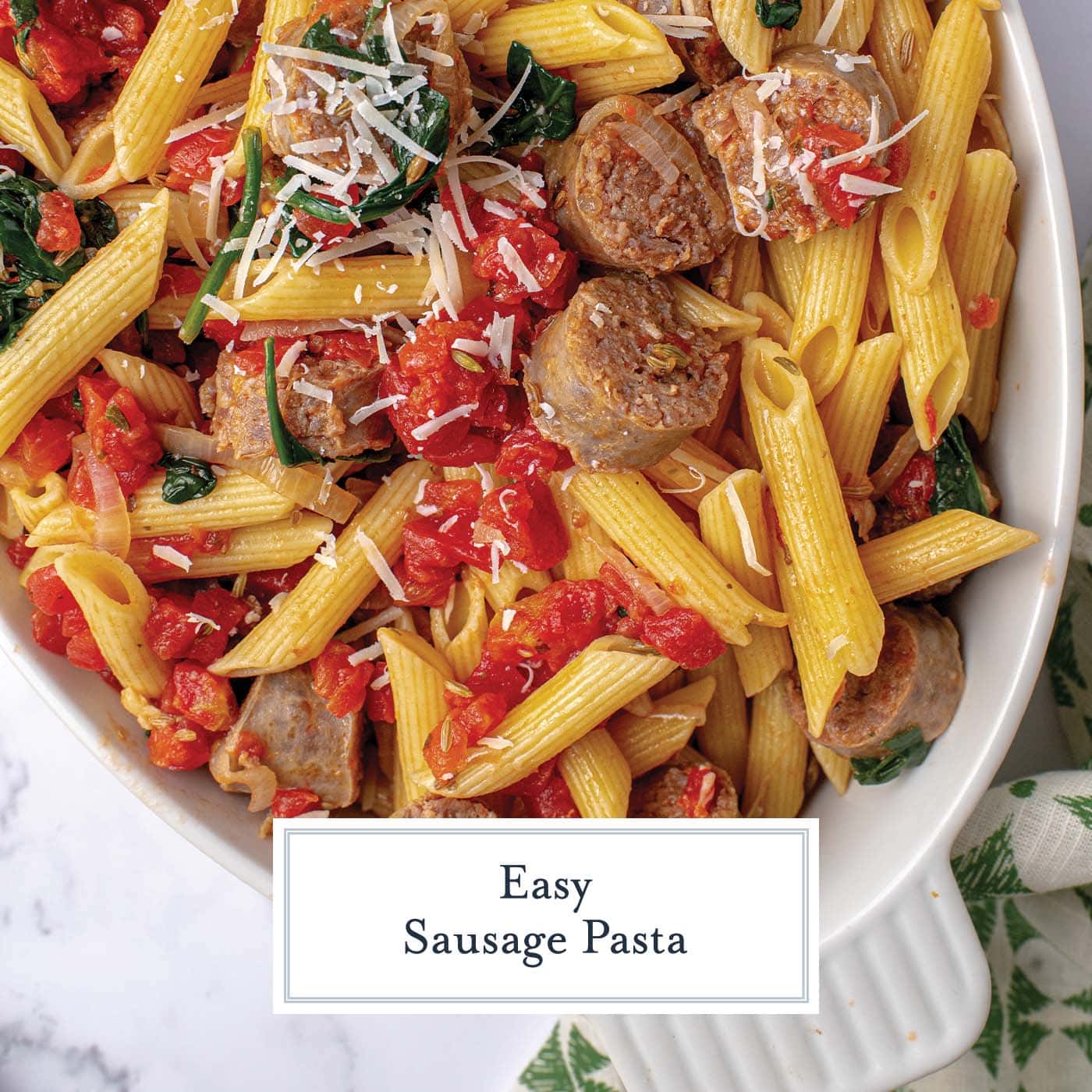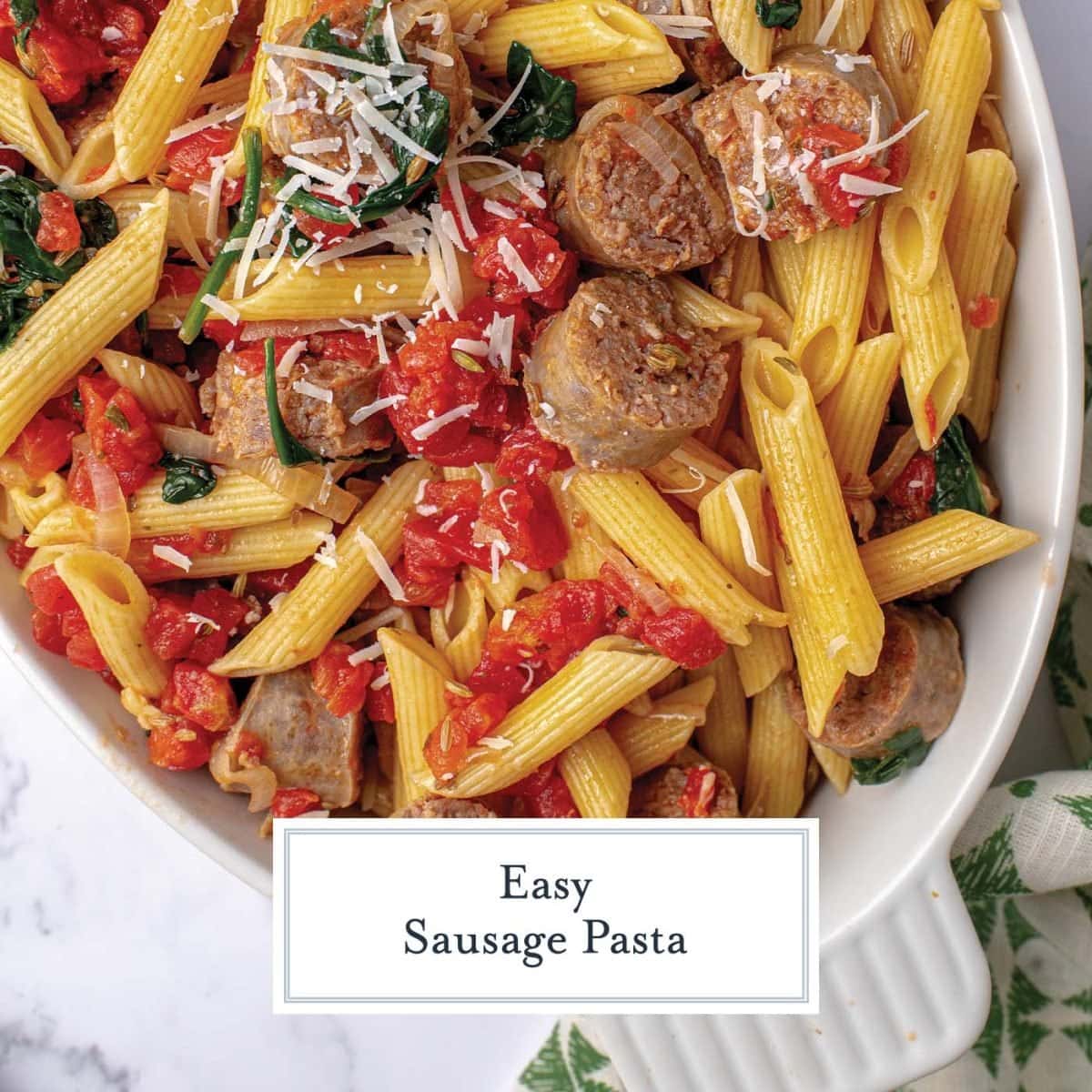 For busy or lazy nights, is there really anything better than an easy pasta recipe for dinner? Pasta is comforting, filling and by adding plenty of veggies, is well-rounded.
There's no need to worry about side dishes or appetizers if you add in a protein and some veggies. If you really need more, just pair with a leafy green salad.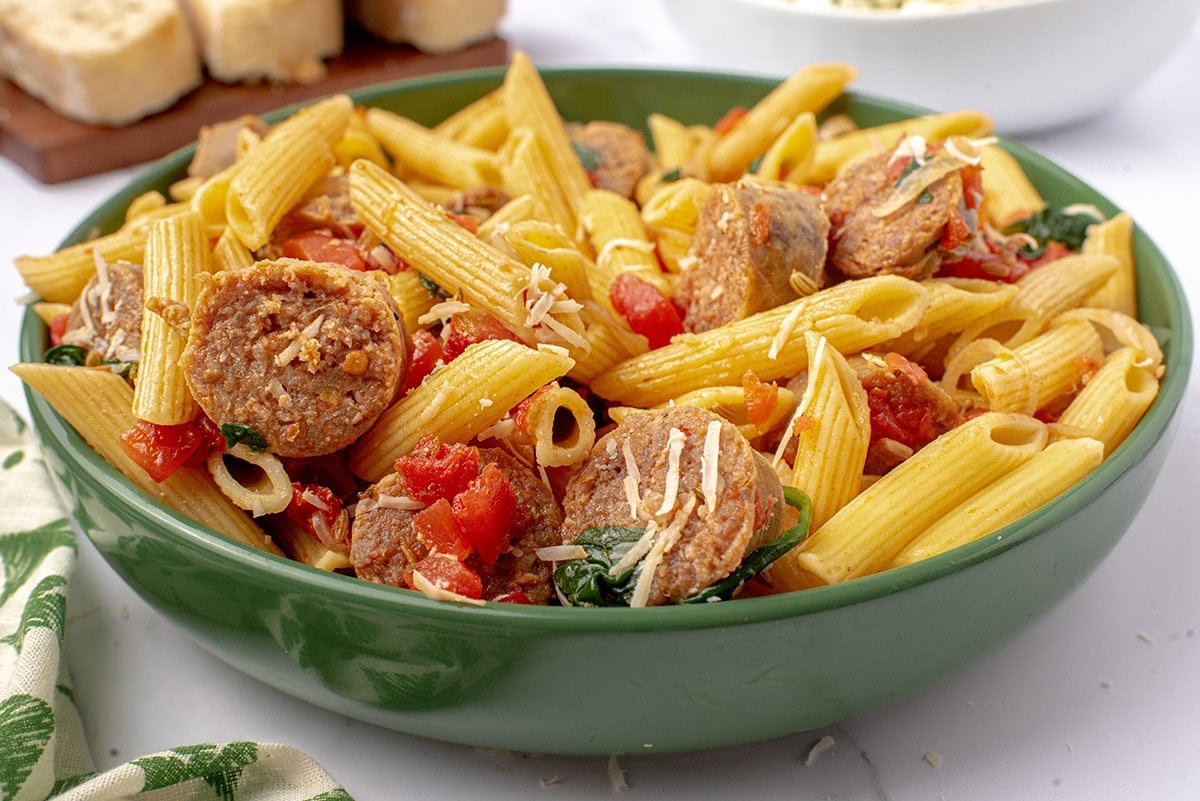 What You'll Need
Simple ingredients can create a simply delicious meal!
Pasta- Use your favorite pasta, but I highly recommend some sort of cylindrical shape. Chunky sauces and large pieces of sausage lend best to short, cut noodles over long, thin pasta. Cook al dente according to package directions. Penne pasta is my first pick, I like the hollow shape and ridged exterior.
Olive Oil- for a quick saute of the veggies and spices. Any neutral oil will work
Yellow Onion- Or white onion for full onion-y flavor.
Whole Fennel Seeds– This is what what makes our sausage pasta recipe different from the rest. They provide a crunchy texture, but also a warm, earthy and sweet fragrance and taste. Toasting it helps to enhance the flavors.
Spinach– Yes, 2 cups sounds like a lot, but I'm sure you'll agree that it cooks down to nearly nothing. Add more if you are looking for a veggie packed meal.
Garlic- Fresh garlic always gives the most garlicky flavor, the jarred stuff is just sweet. If you are a garlic lover like me, double (even triple) the amount.
Pork Sausage (Italian Sausage)- I like spicy, but sweet is acceptable, as is a chicken sausage.
Stewed tomatoes with Italian seasoning- Drain the cans so you just have plump, flavorful tomatoes. This is our time saving hack- it not only cuts down on prep and cook time, but also incorporate classic Italian flavors.
Coarse Kosher Salt– Salt enhances flavors, kosher salt provides a clean aftertaste without being too salty.
Black Pepper- Use based on personal preference, freshly cracked packs the most punch.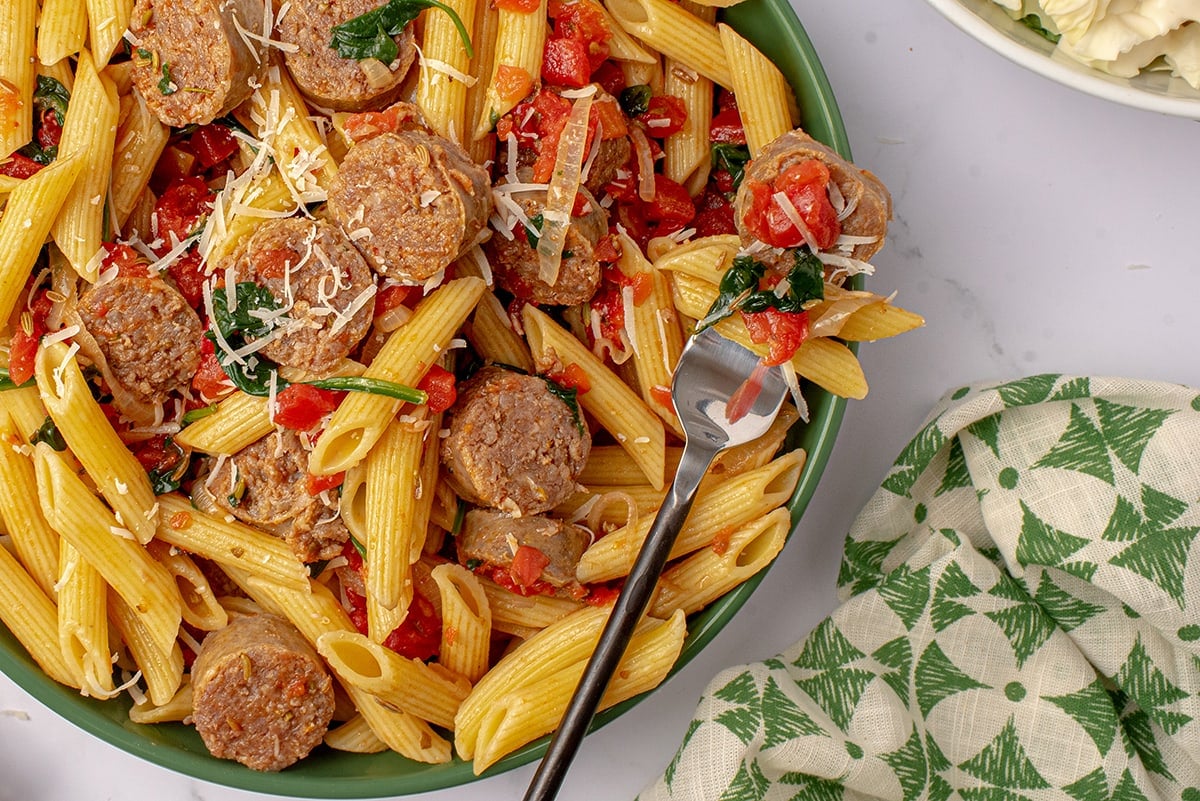 Other variations include spicing it up with a hefty dash of crushed red pepper flakes, adding slices of green or red peppers or a dash of heavy cream at the end for a rose sauce or white wine for a brightened sauce similar to vodka sauce.
This is sausage pasta, so most people are likely searching for a sausage recipe, but if you'd like to swap our proteins, chicken breast or shrimp are great flavors too.
Make It!
Cook the pasta according to package directions for al dente. Drain and set aside. If you aren't making the sausage right away, go ahead and toss the pasta with a small amount of oil to prevent sticking.
Heat the olive oil in a large skillet, one large enough to accomodate the sausage and cooked pasta. If you don't have a skillet large enough, opt for a Dutch oven or very large pot. Add the onion, saute for 2 minutes or until it starts to soften, but still has a little snap.
Add the fennel seed, sauteing until you can smell it and then add the spinach and garlic until just wilted.
Finally combine with the tomatoes, sausage, cooked pasta, salt and pepper, tossing to make the chunky tomato sauce and then heating, which takes only about 5 minutes.
Serve with freshly grated parmesan cheese or garlic bread.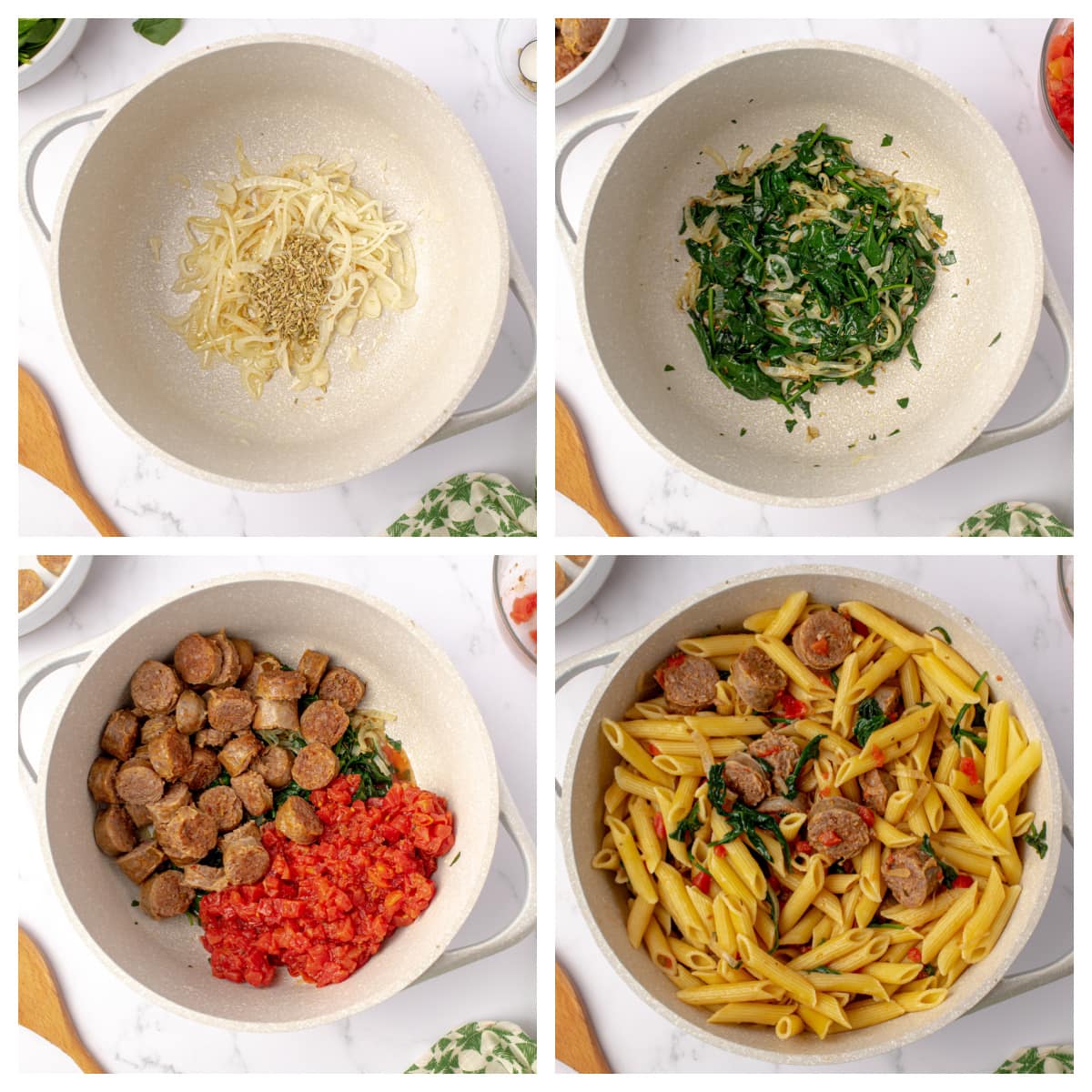 How to Cook Sausage
The sausage can be leftover from another meal, purchased pre-cooked or choose to cook it yourself.
Grill- The grill will certianly give a nice smokey char to the pasta, but also requires the most hands-on time. Preheat the grill to medium heat and oil the grates. Cook on indirect heat for 10-12 minutes, rotating 2-3 times. Transfer to direct heat to get a nice char at the very end.
Oven– Cooking sausage in the oven is the most hands-off method so it is easy, but it also provides the least amount of additional flavor. The sauce does have enough flavor to counterbalance this.
Skillet– Cooking sausage on the stove is probably the best happy medium. Get the pan nice and hot to get a good sear, also known as the maillard reaction. Cook for 10-12 minutes, rotating until fully cooked.
Regardless of how you prepare the sausage, allow it to rest for at least 10 minutes before slicing. Resting allows the juices to incorporate back into the fibers leaving it flavorful and juicy.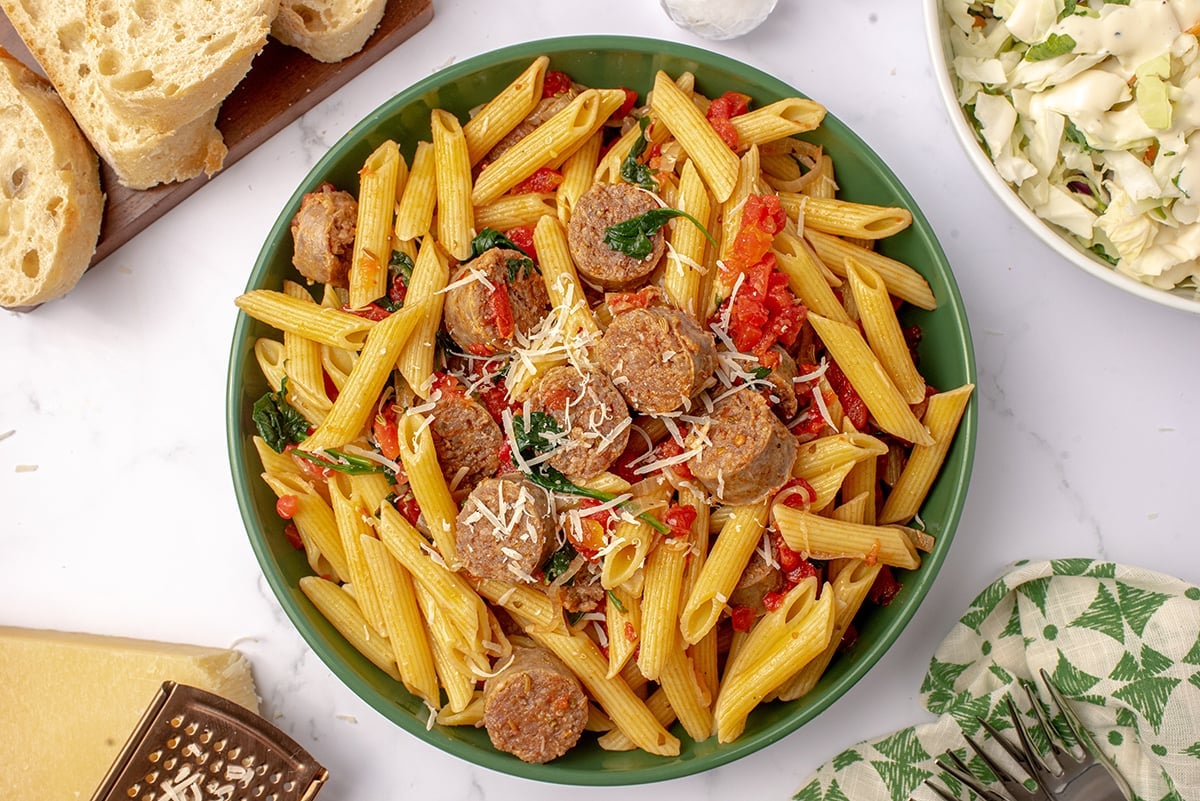 Storage & Reheating
This is a fantastic meal prep recipe and even though it takes minutes to prepare (minus cooking the sausage), it can be made ahead if need be.
Store in an airtight container in the refrigerator for up to 5 days. Reheat in the microwave or on the stovetop. If it gets dry, add a small amount of chicken broth to liven it up.
This recipe can be frozen, but since the tomatoes hold so much moisture, it commonly thaws a little soupy.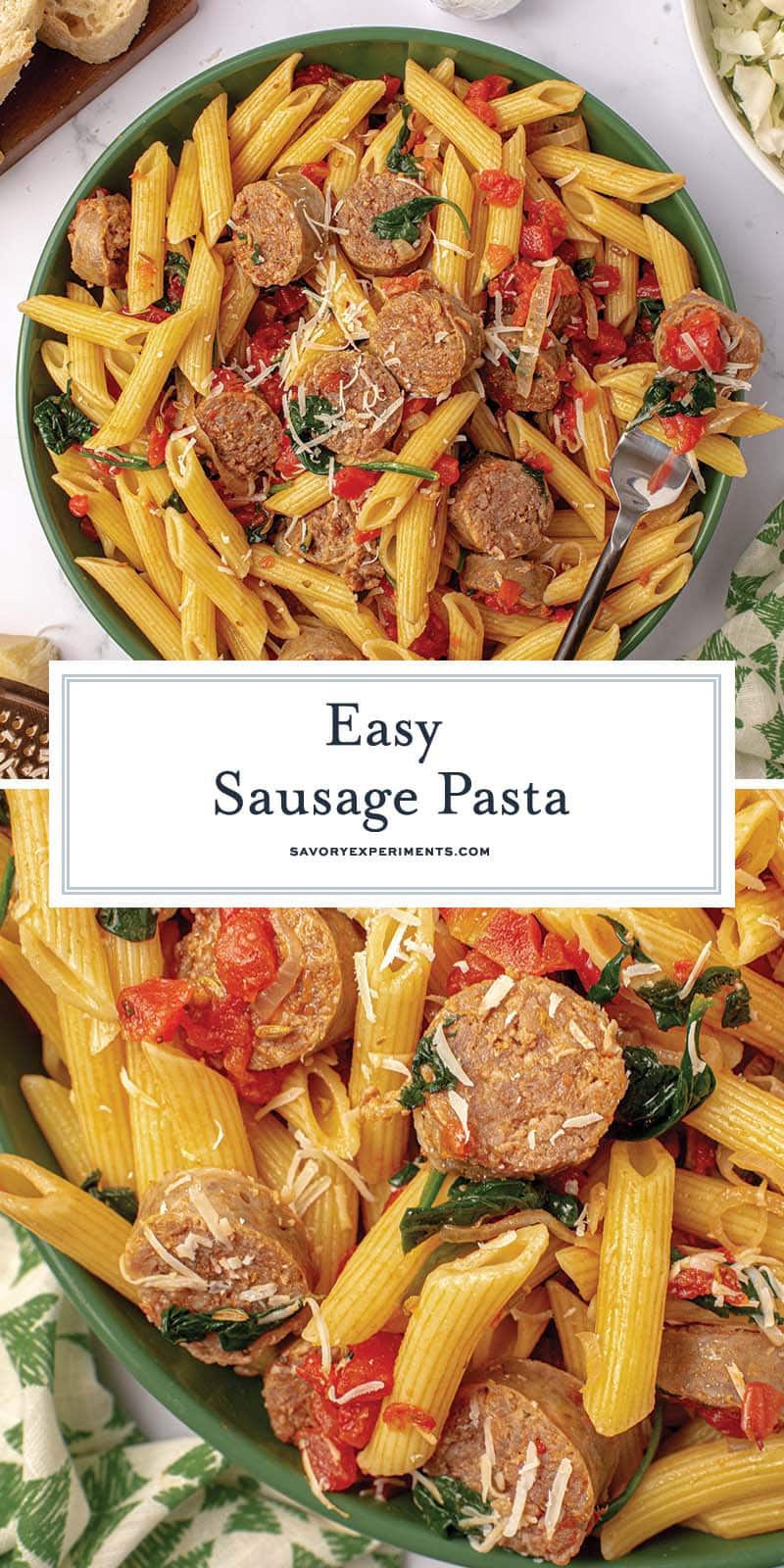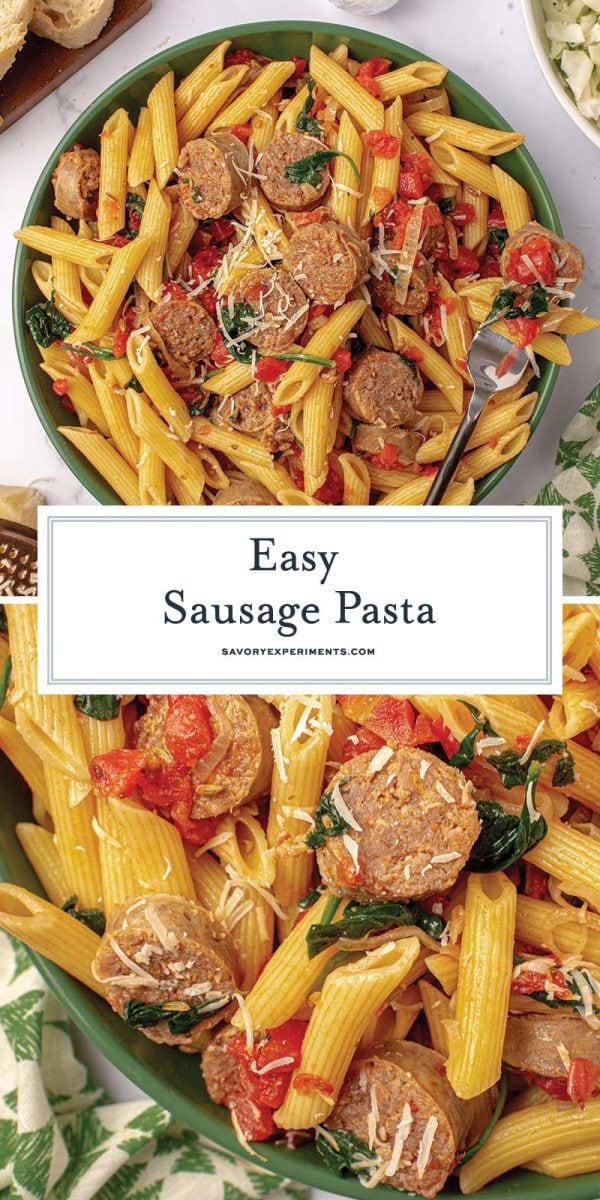 More Pasta Recipe
We love a good, easy pasta recipe. Some of our favorites are lemon caper pasta, and creamy cajun pasta. Give them a try too!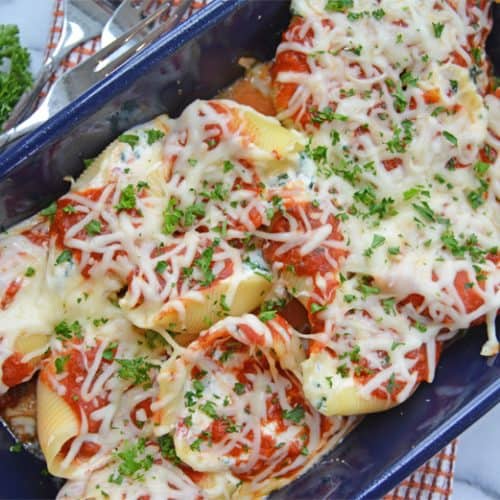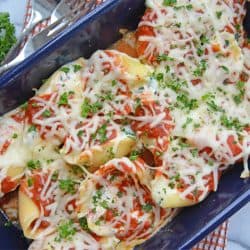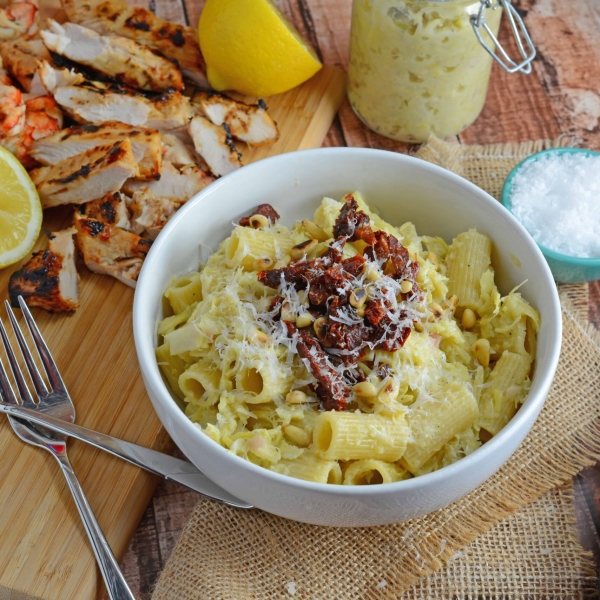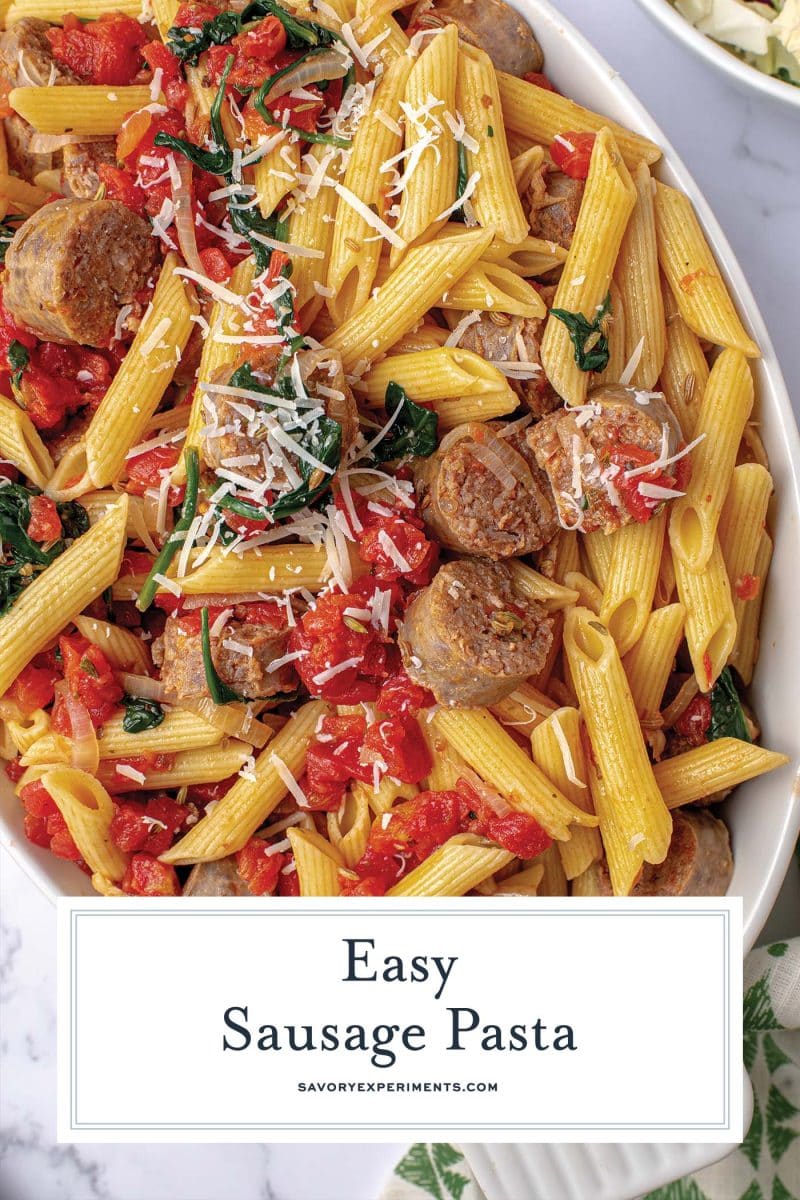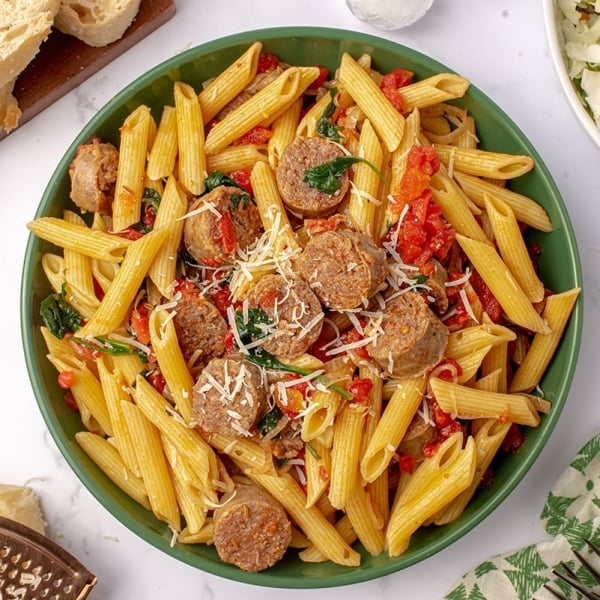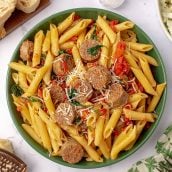 Spinach Sausage Pasta
Spinach Sausage Pasta is an easy pasta recipe packed with spinach, fennel seeds, sausage, garlic and onion.
Instructions
Cook the pasta according to package directions for al dente. Drain and set aside. Toss with small amount of additional olive oil to prevent sticking.

Heat the olive oil over medium heat in a large skillet. Add the onion, saute for 2 minutes or until starting to soften.

Add the fennel seed, sauteing for an additional 2 minutes.

Add the spinach and garlic, allow to wilt, approximately 2 minutes.

Add the tomatoes, sausage, cooked pasta, salt and pepper.

Heat thoroughly, approximately 5 minutes. Serve hot.

If you've tried this recipe, make sure to come back and let us know how it was in the comments or ratings.
Notes
Cook sausage on the grill, in the oven at 350°F for 25 minutes or pan fry for 12 minutes, turning on each side.
Nutrition
Calories:
616
kcal
,
Carbohydrates:
68
g
,
Protein:
23
g
,
Fat:
27
g
,
Saturated Fat:
9
g
,
Cholesterol:
57
mg
,
Sodium:
1140
mg
,
Potassium:
855
mg
,
Fiber:
5
g
,
Sugar:
8
g
,
Vitamin A:
1240
IU
,
Vitamin C:
18.2
mg
,
Calcium:
98
mg
,
Iron:
4.1
mg