Spaghetti Squash with Chunky Roasted Marinara and Shrimp is a healthy way to eat pasta and tomato sauce.
Spaghetti Squash with Chunky Marinara and Shrimp is a healthier version of the pasta dishes I love so much. If I could eat pasta and potatoes every day, I would. Seriously. Spaghetti squash is the answer to those of us who crave those carbs! The only problem is convincing hubby of the same.
Hubby: What's for dinner?
Me: Spaghetti Squash with marinara and shrimp.
Hubby: I don't get it, so what is the main meal?
Me: The squash.
Hubby: Squash is a side.
Me: Explains how a spaghetti squash is used…..
Hubby: No way! Seriously? And it looks and tastes just like pasta? I don't believe you.
*Later that afternoon while hubby is out watching football with his friends, all via text message*
Hubby: Do you mind if 4 more people come over for dinner? They don't believe what you said about this whole squash/pasta thing either.
And here it began and I proved to a table of six men that spaghetti squash does indeed taste like real pasta. The same lovely neighbors that gave hubby an acorn squash to bring home to me also provided us with two spaghetti squash. The sizes of spaghetti squash vary greatly, so it is hard to judge how many you will need to serve your guests. Generally one medium size will be enough for 2 people. A larger spaghetti squash can feed 3-4.
In the end, all guests were impressed with the texture and taste of spaghetti squash. Fairly tasteless on its own, the squash absorbs flavor from whatever it is paired with. The possibilities are endless! When in season it is a great low-carb option to pasta!
To save time you can always use jarred sauce, but this marinara is a quick and easy sauce made from real ingredients. If you want to omit the anchovies, you can, but they do add a little tang to the sauce. The same as they add to a good
Caesar dressing
. You can also make my
30-minute marinara
for an anchovy free version.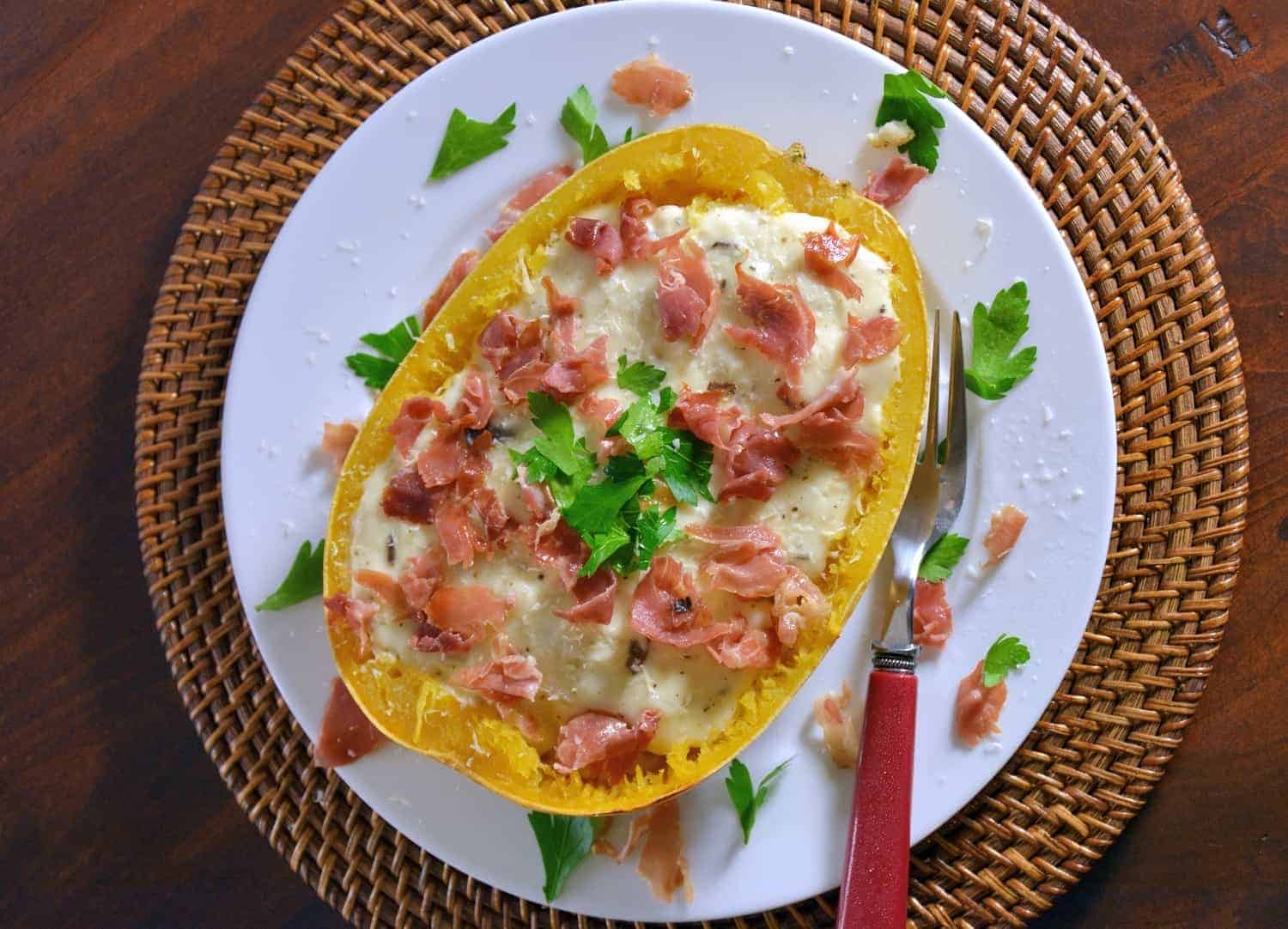 Make sure to PIN Spaghetti Squash with Chunky Roasted Marinara and Shrimp!
Print Recipe
Spaghetti Squash with Chunky Roasted Marinara and Shrimp
Yum
Spaghetti Squash with Chunky Roasted Marinara and Shrimp is a healthy way to eat pasta and tomato sauce.
| | |
| --- | --- |
| | |
Preheat oven to 400 degrees. Cut spaghetti squash in half, remove seeds and membranes, baste with 1 tablespoon extra virgin olive oil each. Roast, cut side up, on a large rimmed baking sheet toss tomatoes with 3 tablespoons extra virgin olive oil. Season with sea salt and pepper. Roast for 45- 60 minutes, or until spaghetti squash is is fork tender.

In a large sauce pan heat 3 tablespoons olive oil over medium-high heat. Add anchovy filets. They will literally melt into the olive oil. Add garlic, onions and serrano chile. Lower heat to medium and saute until onions are soft and opaque.

Halve plum tomatoes, adding to mixture along with any liquid in the can and red wine, stir and heat for 2-3 minutes. Simmer for 15 minutes so liquid can reduce. Add parsley, basil and sugar, continue to heat over low. Add shrimp, spooning sauce over them to heat and keep moist.

Spaghetti squash should be about done. Crispy skins should separate from meaty interior easily. From the oven you can knock the exterior and it should sound hollow. Remove from oven.

Set up a cooling rack over baking sheet. Using a fork, rake out interior pulp of spaghetti squash. It should resemble pasta strands. Put raked pulp onto cooling rack to allow excess liquid to drain off.

Fork a pile of spaghetti squash onto a plate, followed by roasted marinara and top with shrimp. Garnish with freshly grated Parmesan if desired.
Chiles can have oils that will burn your finger tips. Unfortunately you won't be able to tell if the oils are hot until you start working with the pepper. To avoid tender finger tips or *gasp* accidentally touching your eye, coat hands in olive oil, fashion plastic sandwich baggies into gloves or use powder-free latex gloves. If you do end up with sore fingers, soak them in milk or cream, the higher the fat content the better.
Comments are THE BEST! Please leave us one! 
If you like this recipe, make sure to follow me on Pinterest for even more!