Baked chicken recipes are great, but they are even better when stuffed with cheese! Arugula Prosciutto Stuffed Chicken is stuffed with cheese only takes about a hour to make.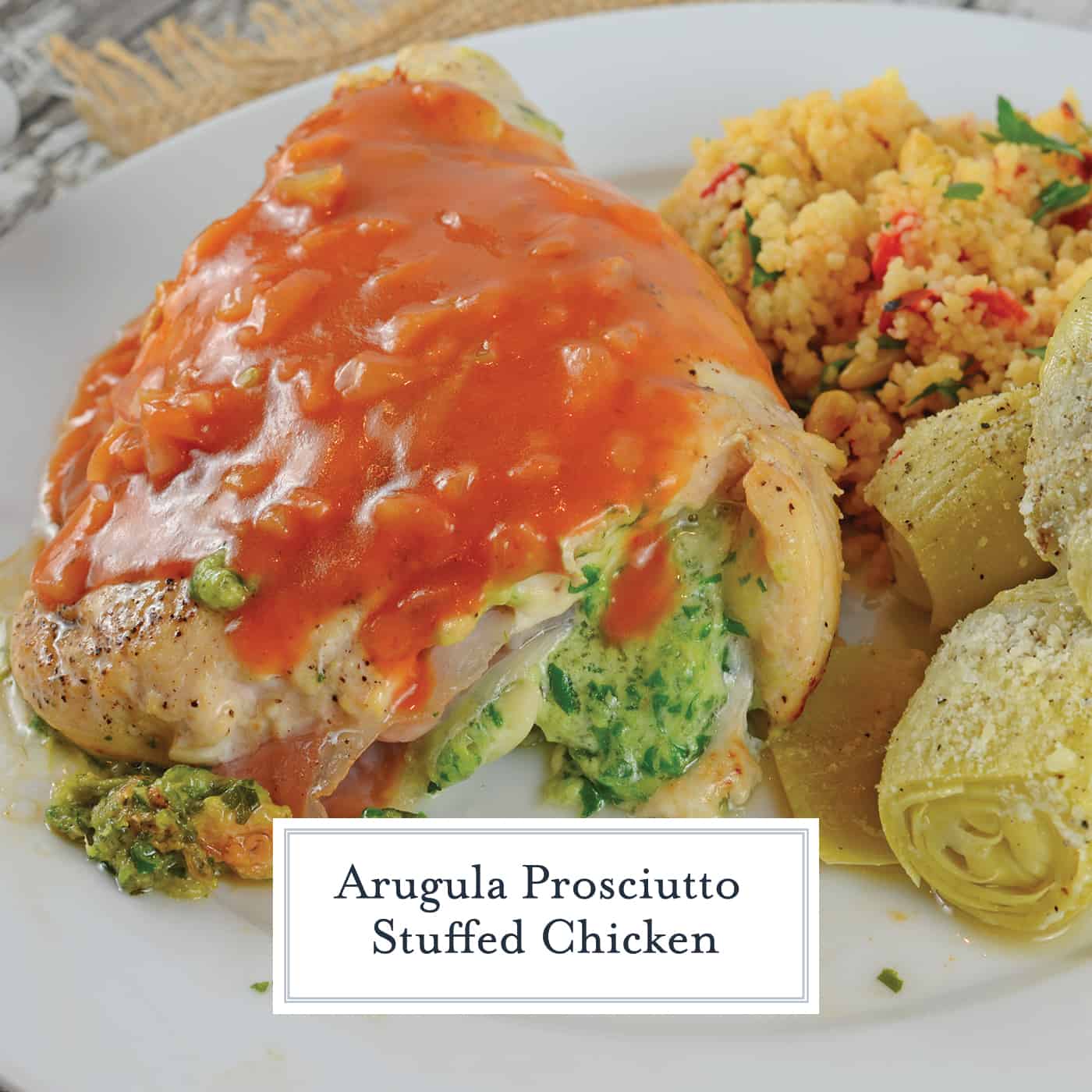 Arugula Prosciutto Stuffed Chicken is topped off with a silky tomato shallot sauce. Baked chicken recipes are great, but cheese stuffed chicken breasts are even better!
Bubbly gruyere cheese tinted green from pesto-ed (yes, I made that word up) arugula, spilling from the lightly breaded cracks of a perfectly browned chicken breast.
Mild shallots in a savory tomato sauce drip down the side and start to intermingle with cheese. I'm making myself hungry. I'm about to send hubby to the store just so I can make this cheese stuffed chicken breast recipe again!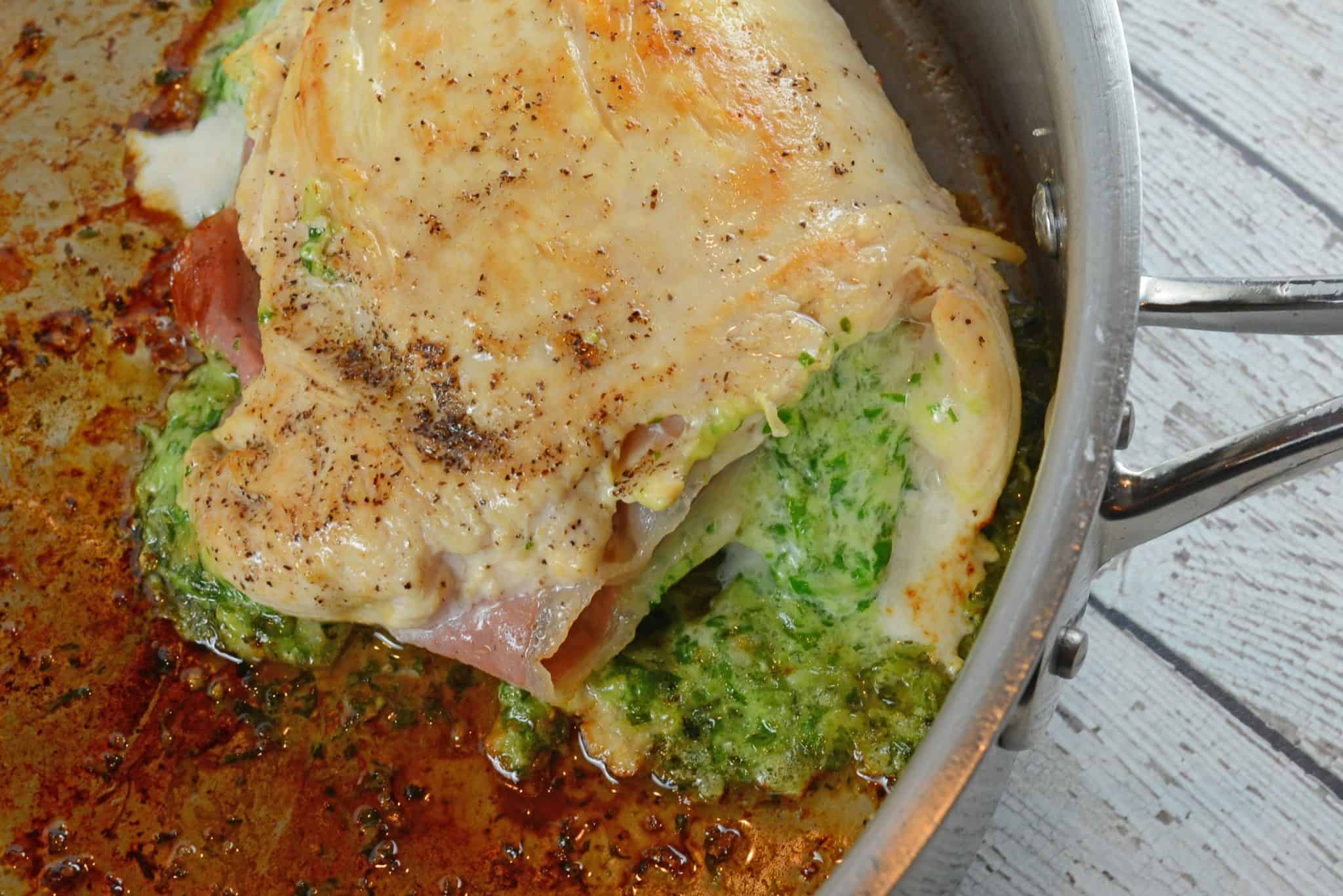 Stuffed chicken is always a winner in my house! Although my Apple Stuffed Chicken with Apple Gravy is literally a winner, my most popular stuffed chicken recipes use cheese. Everyone loves cheese!
Gruyere seemed like the obvious choice for this dish of Italian influence. Mozzarella was a little too watery and a hard cheese like Parmesan or Asiago wouldn't give me the bubbly, string texture I was looking for.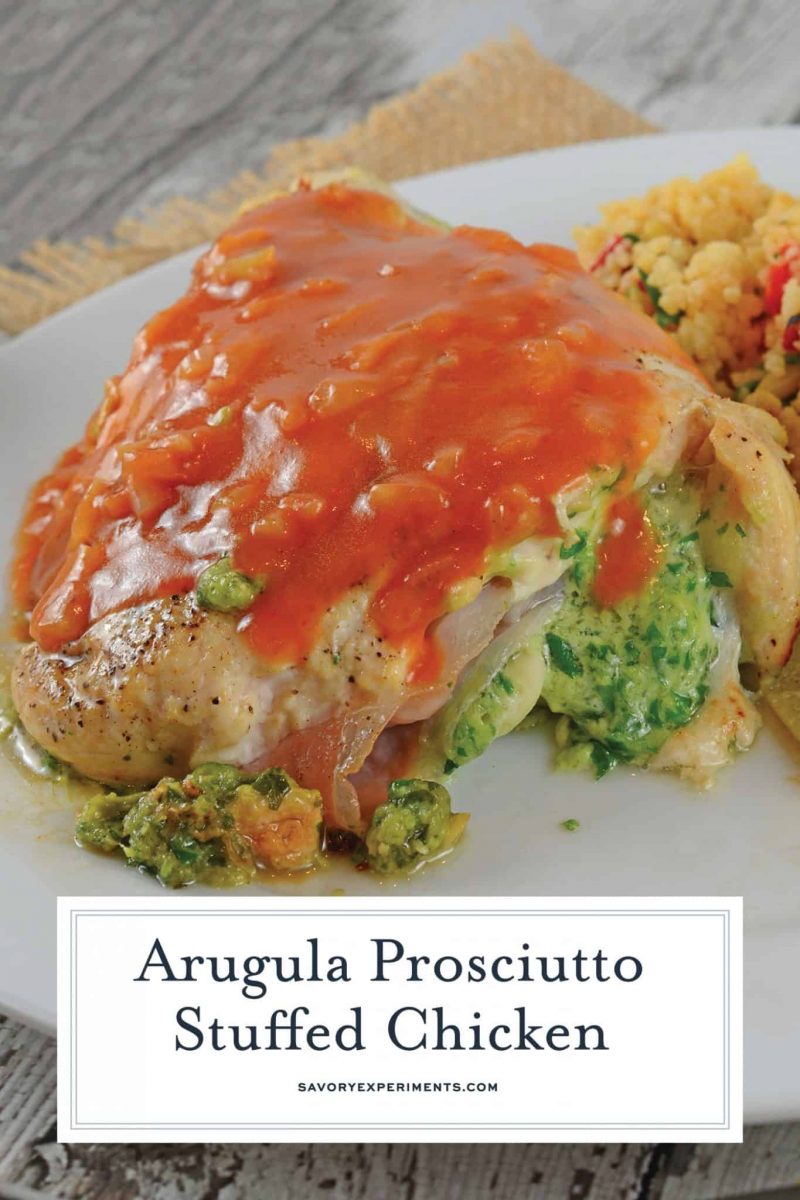 One kitchen appliance you will find to be very helpful when making Arugula Prosciutto Stuffed Chicken is a small food processor. In fact, I would say this is my most used kitchen utensil of all.
I use them so much, the motor dies, so I end up buying a new one every two years or so, but they are so worth the small price.
If you don't have one, mince up all the ingredients very fine and blend them together by hand. It will all mix, just won't be the same consistency. Still delicious though!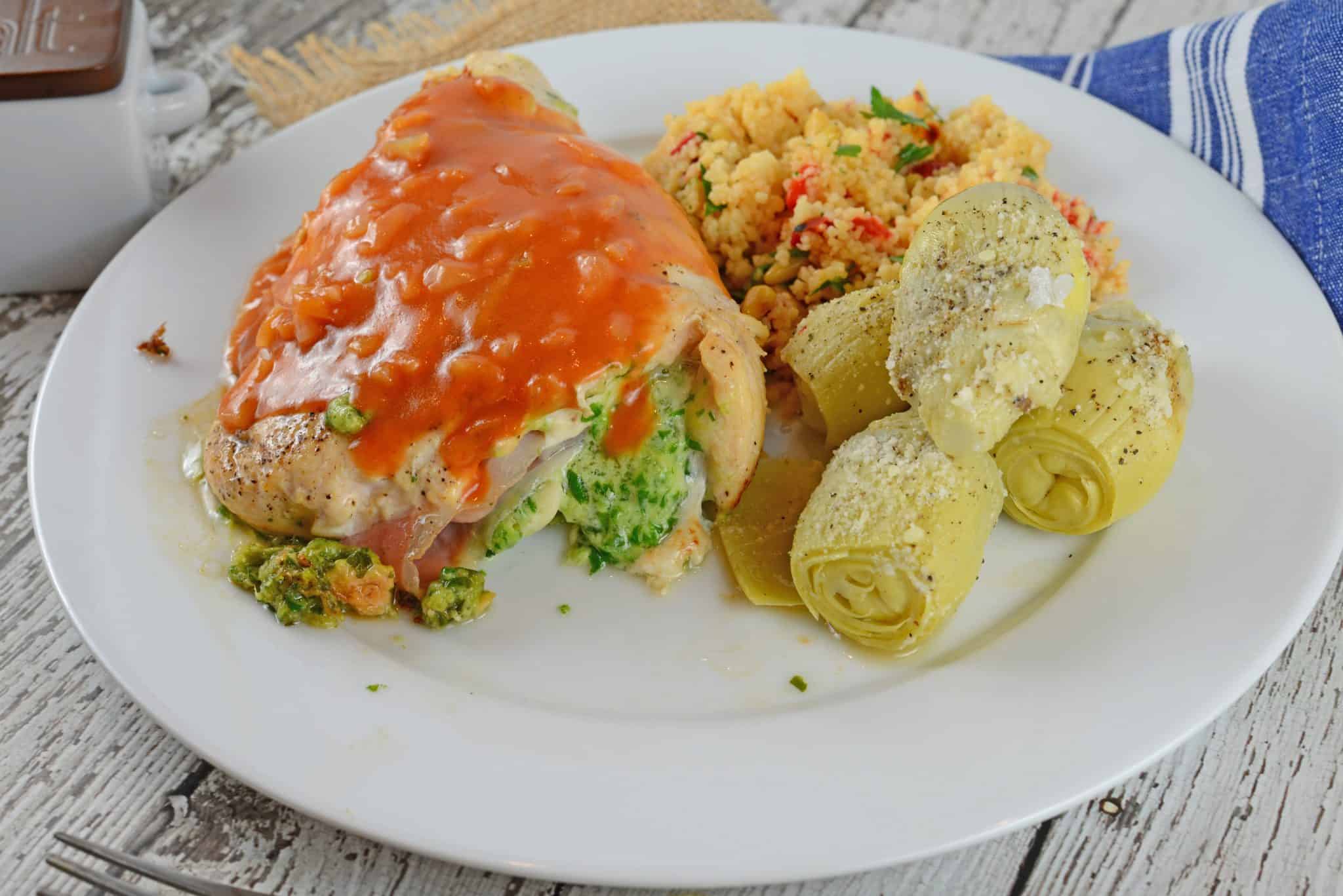 Many stuffed chicken breast recipes will have you cut a pocket in the side of a plump chicken breast, which works perfectly fine for recipes like my Jalapeno Popper Chicken, but when you are trying to stuff SO many ingredients in, a fold tends to work better.
I fold in the arugula cheese mixture, a thin slice of prosciutto and then dredge it lightly in flour. It first gets browned in a skillet and then transferred to the oven to be finished off.
Making sure the chicken gets tenderized to a uniform thickness is imperative to making sure it cooks all the way through without pieces getting dry, so don't skip that step!
It is also much more challenging to fold thick chicken versus thin chicken.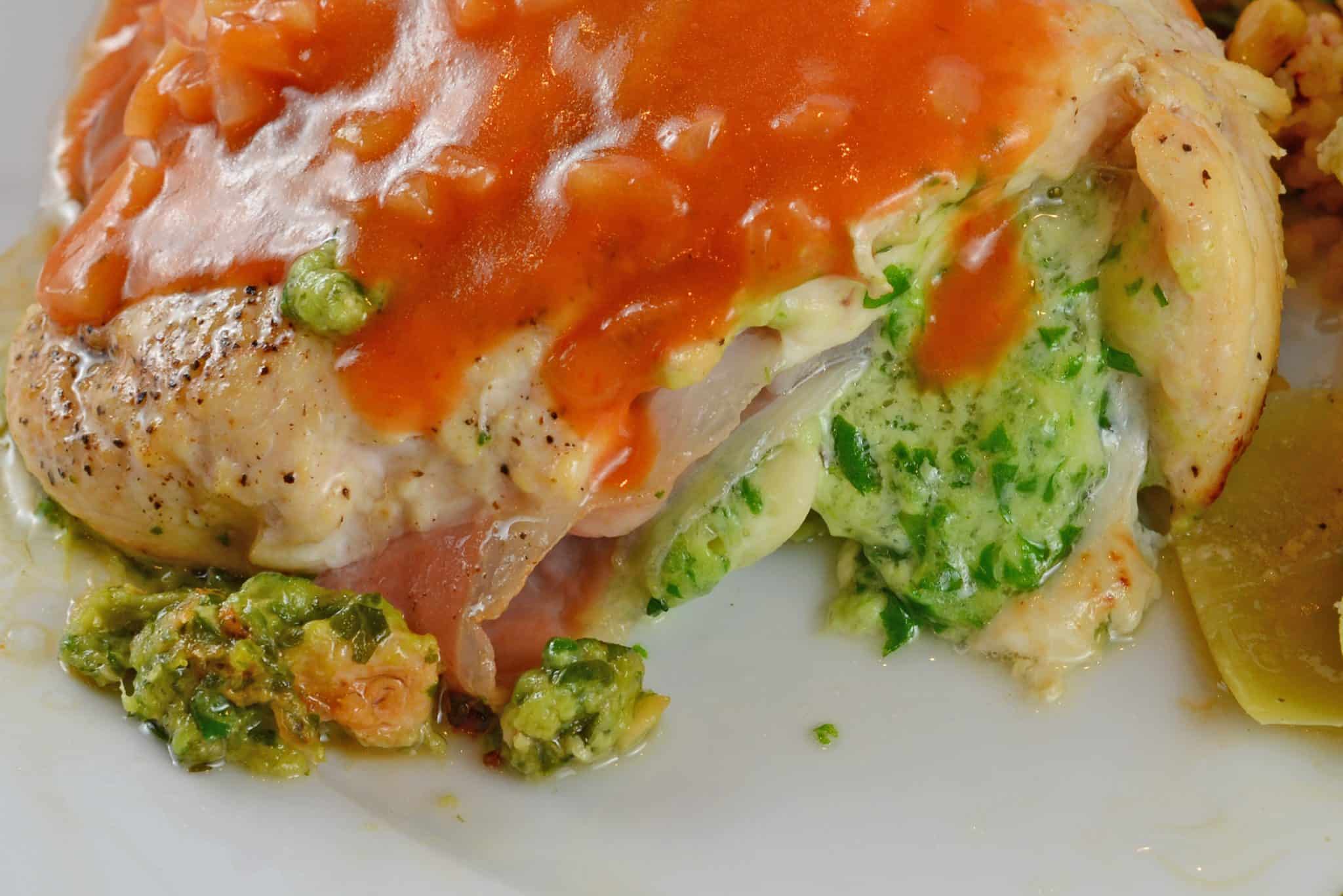 Cheese stuffed chicken breast is worthy of a special dinner or dinner party and can be made ahead up to cooking the chicken, but is also simple enough for a weeknight meal. I served mine with Parmesan Artichoke Hearts and Tomato Basil Couscous Salad.
If you enjoyed this stuffed chicken breast recipe, you might also enjoy these other easy chicken recipes: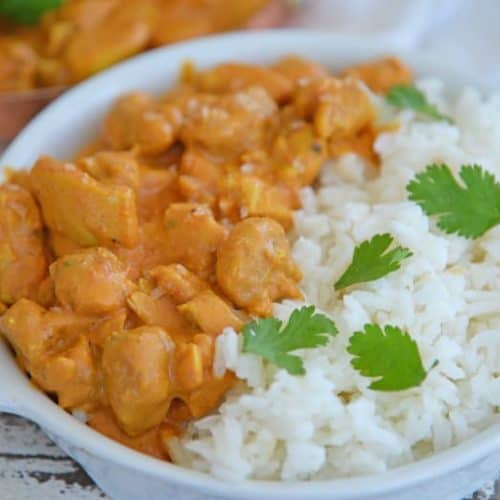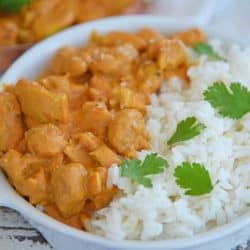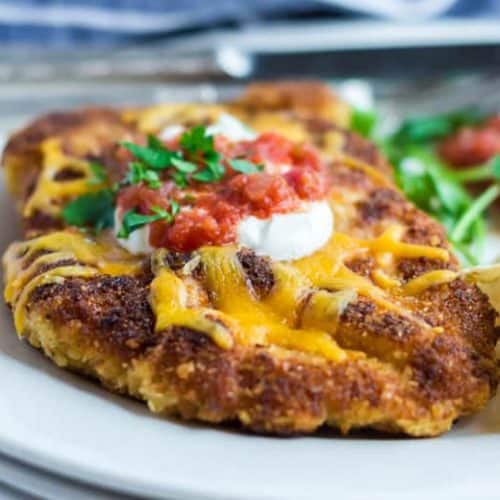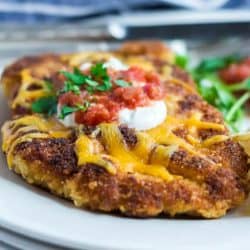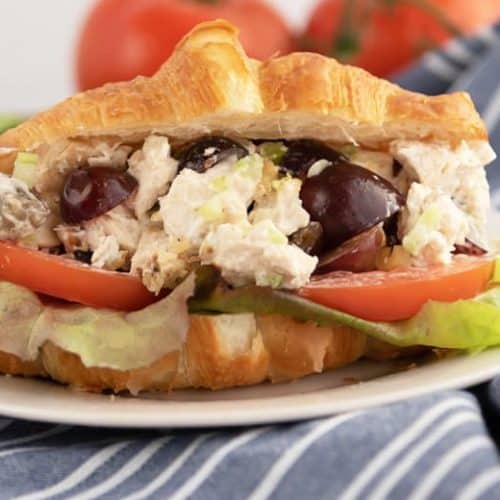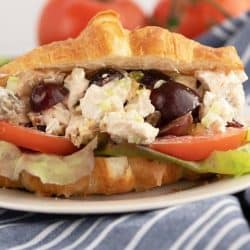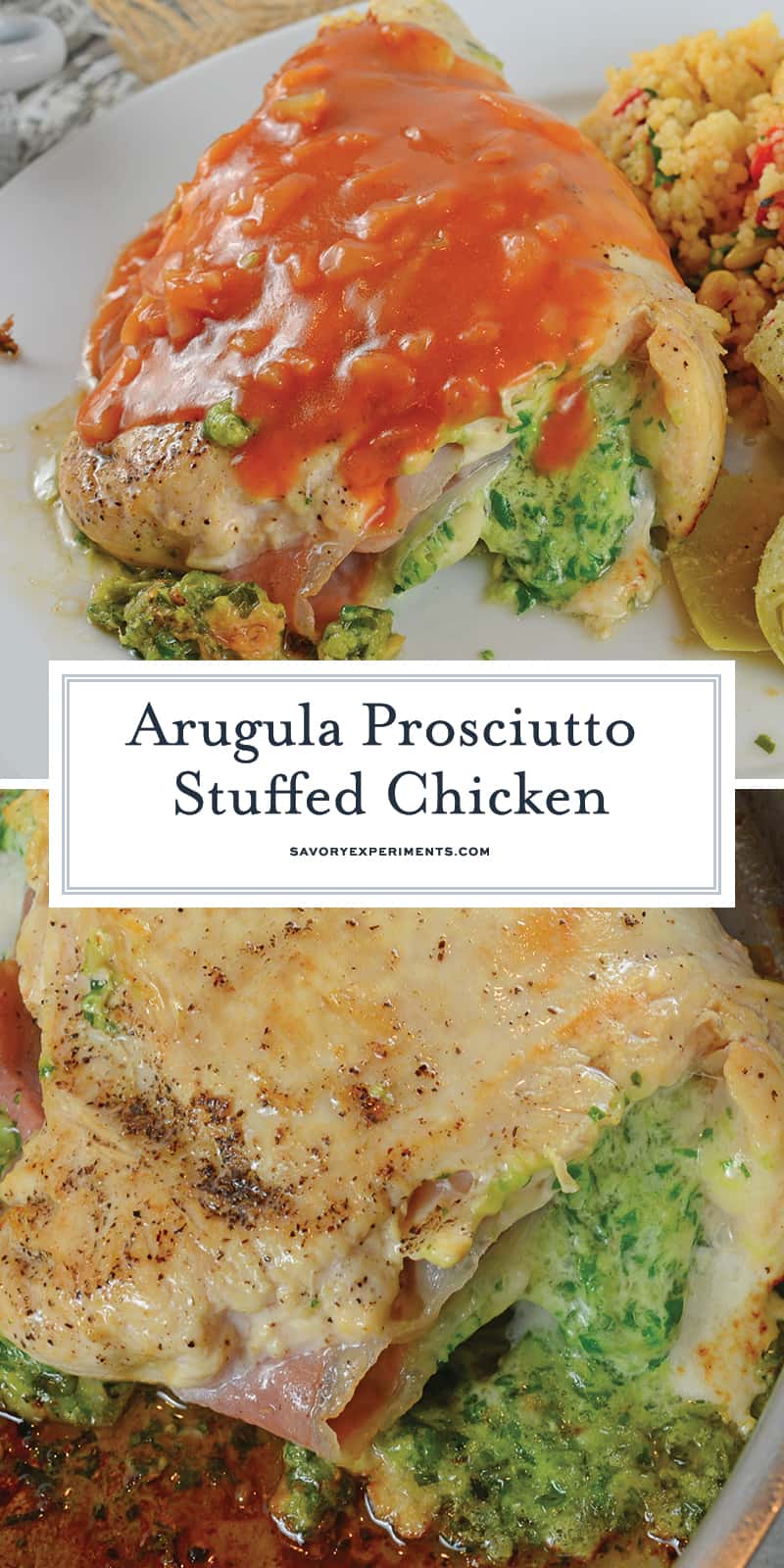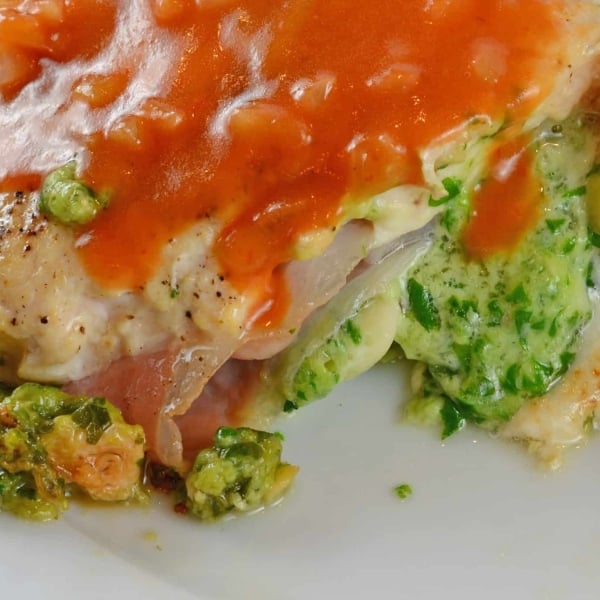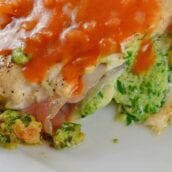 Arugula Prosciutto Stuffed Chicken Recipe
Arugula Prosciutto Stuffed Chicken is topped off with a silky tomato shallot sauce. Baked chicken recipes are great, but cheese stuffed chicken breasts are even better!
Instructions
Preheat oven to 350 degrees.

Place trimmed chicken breasts between 2 sheets of wax paper or plastic wrap, pound chicken to 1/2 inch thickness with a mallet or flat side of a tenderizer.

Place arugula, Gruyere cheese and 1 teaspoon extra olive oil in a small food processor. Pulse until it forms a pesto paste. If you do not have a food processor you can finely chop the arugula and finely grate the cheese, blending both with 1 teaspoon olive oil.

Evenly spread the paste in the middle of each chicken breast. Top with a slice of prosciutto.

Fold over and pinch together edges. Season with salt and pepper and dredge in 1/2 cup flour, discarding any remaining flour. Place in the refrigerator.

Melt butter in a medium saucepan over medium heat. Saute shallots for 3-4 minutes or until soft. Stir in tomato paste through chicken broth until smooth.

In a separate bowl, mix cornstarch with 2 tablespoons warm water until smooth. While stirring shallot sauce, pour in cornstarch. Bring to a boil, then reduce heat to low to keep warm until serving.

In a large frying pan heat 2 tablespoons extra virgin olive oil. When oil is hot, add folded chicken breasts. Cook on each side for 5 minutes over medium heat. Chicken should be lightly browned. If your frying pan is oven safe, transfer entire pan into the oven. Otherwise spray an oven safe dish with cooking spray, transfer chicken and then place in oven.

Bake for 8 minutes or until juices run clear and chicken reaches an internal temperture of

Remove, plate and top with shallot-tomato sauce. Enjoy!

If you've tried this recipe, come back to let us know how it was!
Nutrition
Calories:
445
kcal
,
Carbohydrates:
19
g
,
Protein:
31
g
,
Fat:
21
g
,
Saturated Fat:
8
g
,
Cholesterol:
106
mg
,
Sodium:
833
mg
,
Potassium:
657
mg
,
Fiber:
1
g
,
Sugar:
3
g
,
Vitamin A:
635
IU
,
Vitamin C:
8.4
mg
,
Calcium:
193
mg
,
Iron:
1.8
mg