Looking for the best spinach stuffed chicken recipe? This IS it. And it's not just me who thinks it is one of the best things, it literally took the blue ribbon for a cooking contest with Gourmandize.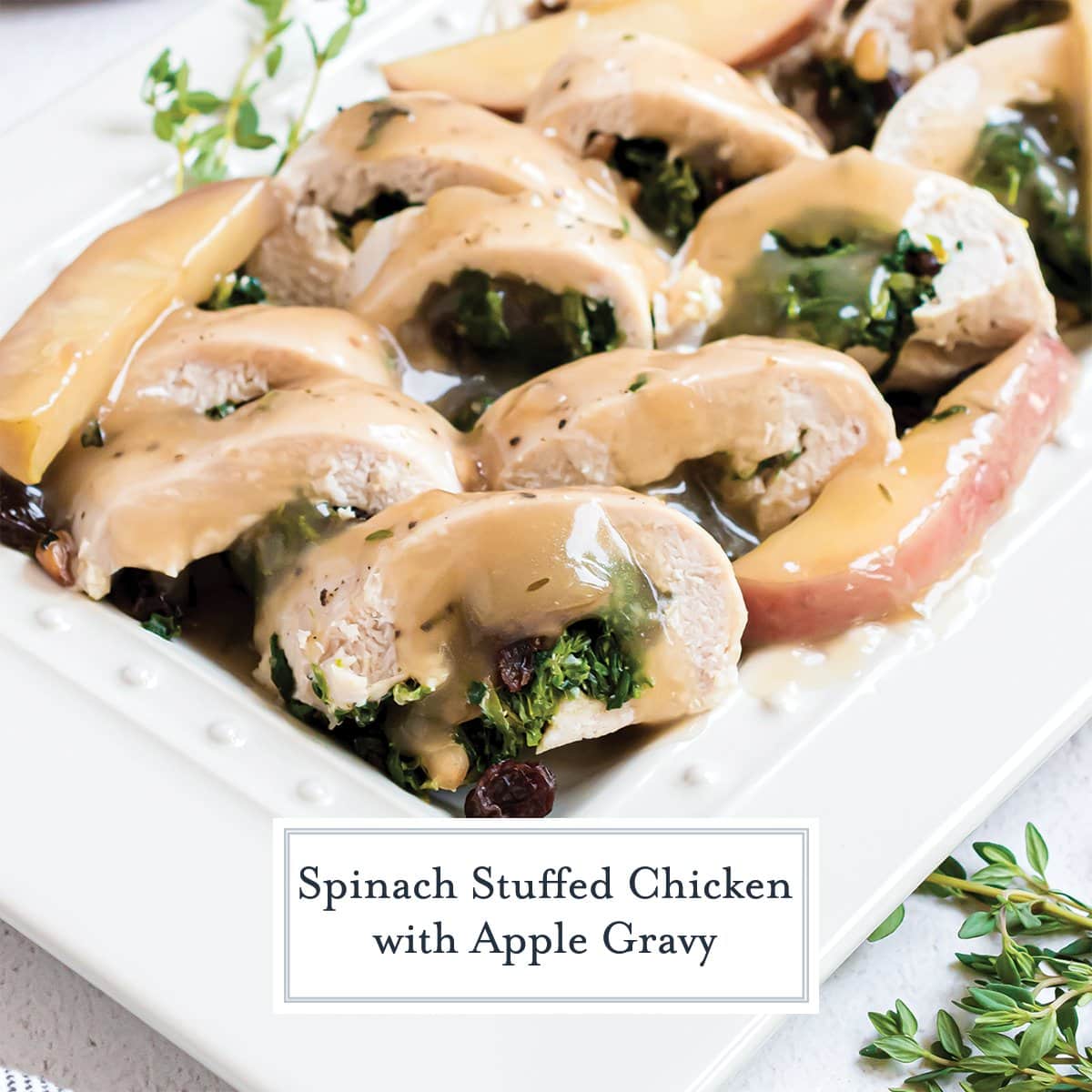 Spinach Stuffed Chicken Breasts
What makes it different? Well, we don't just stuff chicken breasts with spinach. Garlic, pine nuts and currants provide texture and flavor to the spinach stuffing.
Many times people stuff chicken with only veggies and a lot of cheese, maybe even some meats like my Prosciutto Stuffed Chicken, but very rarely do they stuff it with fruit. Some are a creamy spinach mixture, others with a ton of onion powder (not even real onion) and some with parmesan cheese.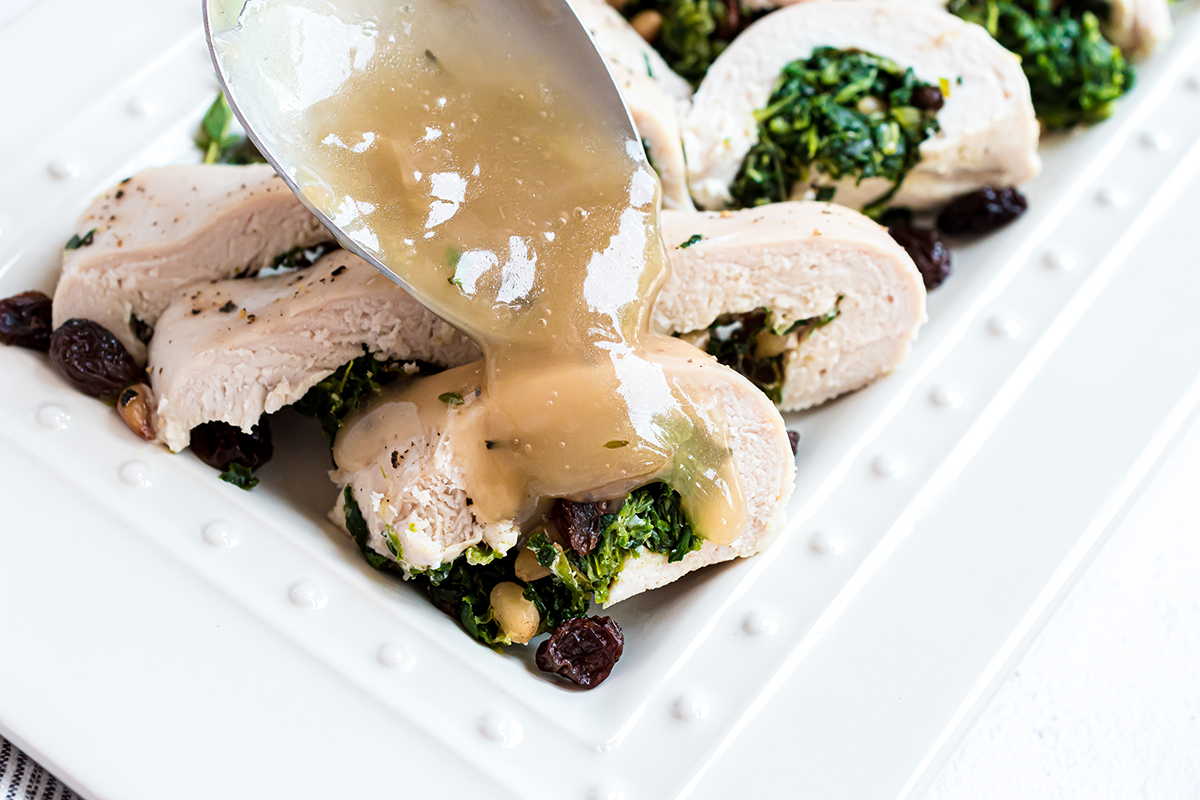 But it doesn't end there… we topped it with savory apple gravy dotted with fresh thyme. While it sounds fancy, it will only take you an hour. It tastes great and added bonus, is even low carb! It will surely be added to your list of easy dinners.
What are Currants?
I'm actually a huge fan of fruit with protein, my Dried Fruit Pork Chops are one of my top easy, quick and healthy recipes and I love anything meat with a slice of grilled pineapple. But there are a few that are underused, like currants. We see them in jams and jellies, but why not in savory dishes?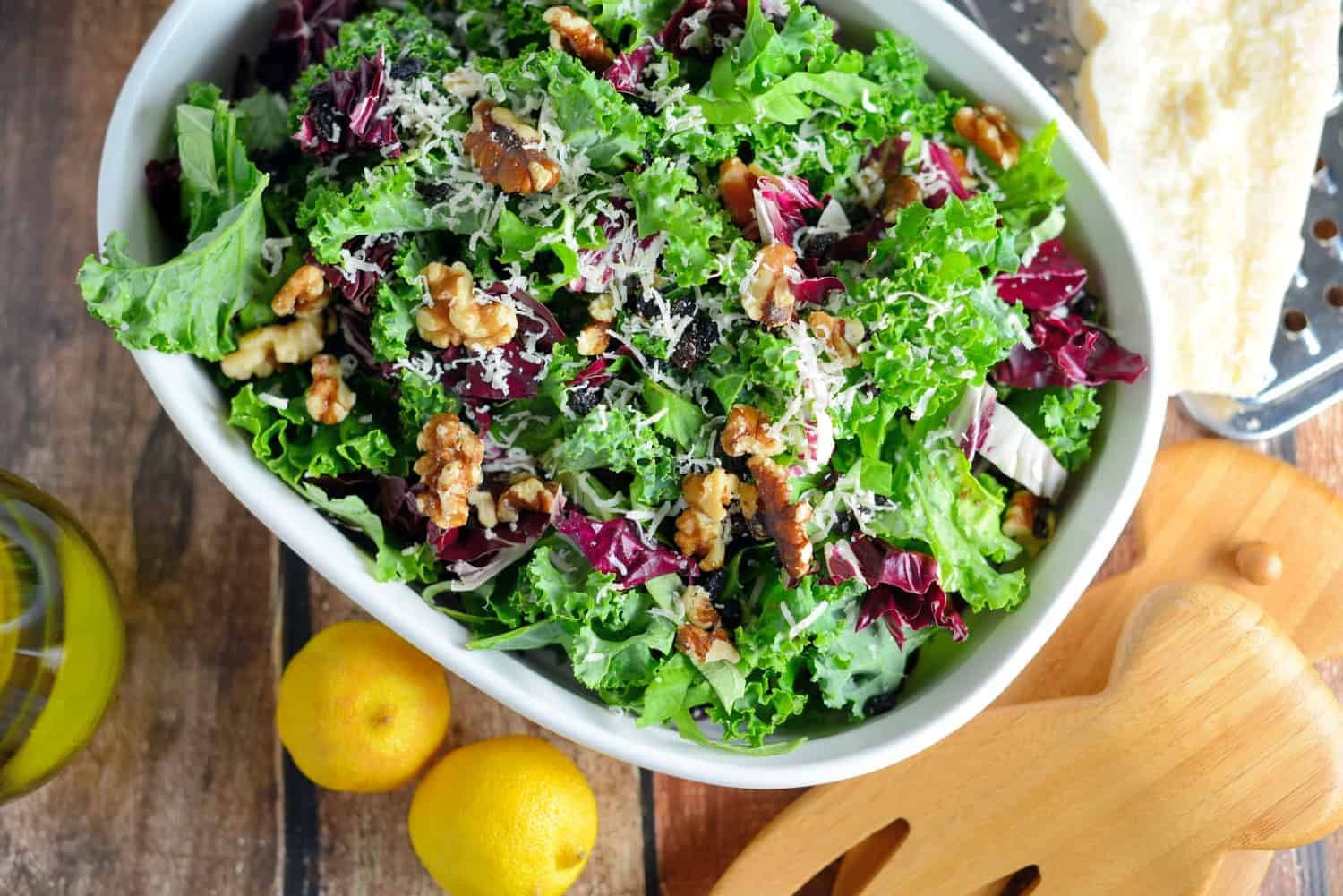 I had some currants leftover from my Kale, Radicchio and Currant Salad, a bitter greens salad that needed a sweeter complement to make it well rounded. So I decided to use them in this recipe too.
Currants are just raisins, but they come from Black Corinth grapes, small and seedless. If you don't want to buy currants, just swap them out for regular or golden raisins.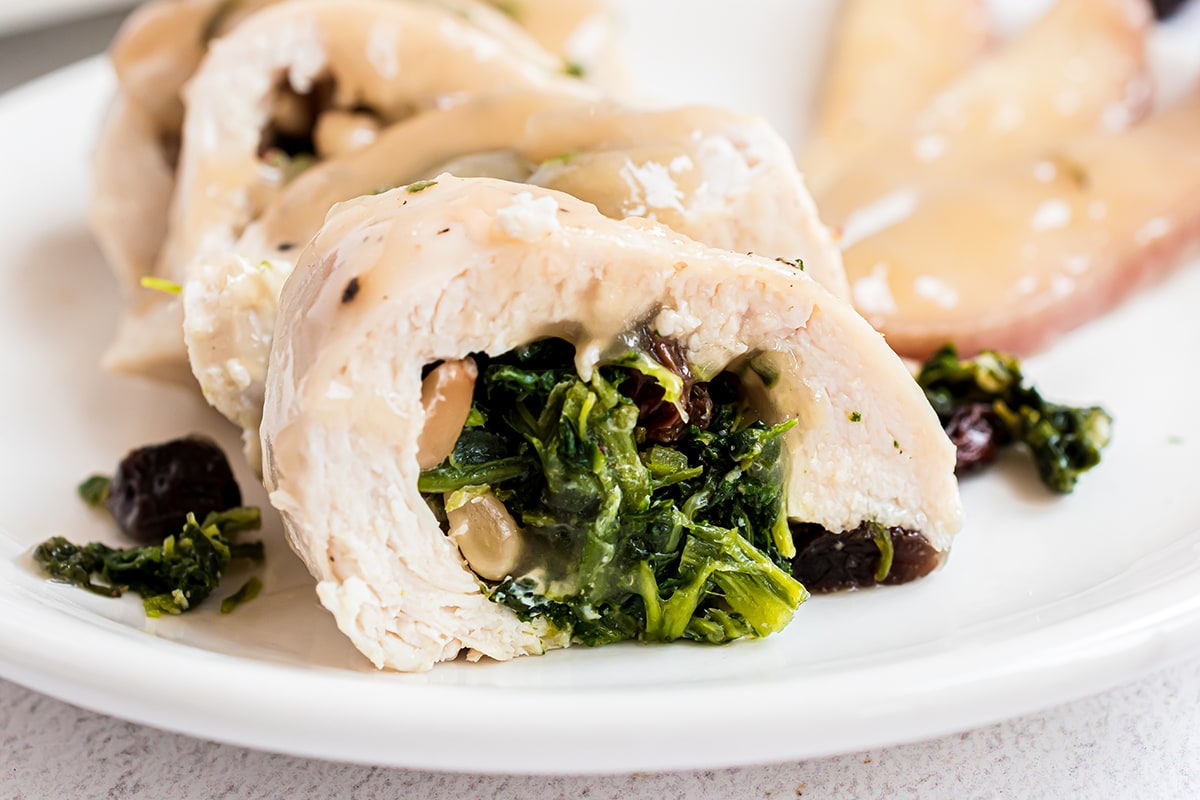 Ingredients
We've already covered the currants, but what else will you need?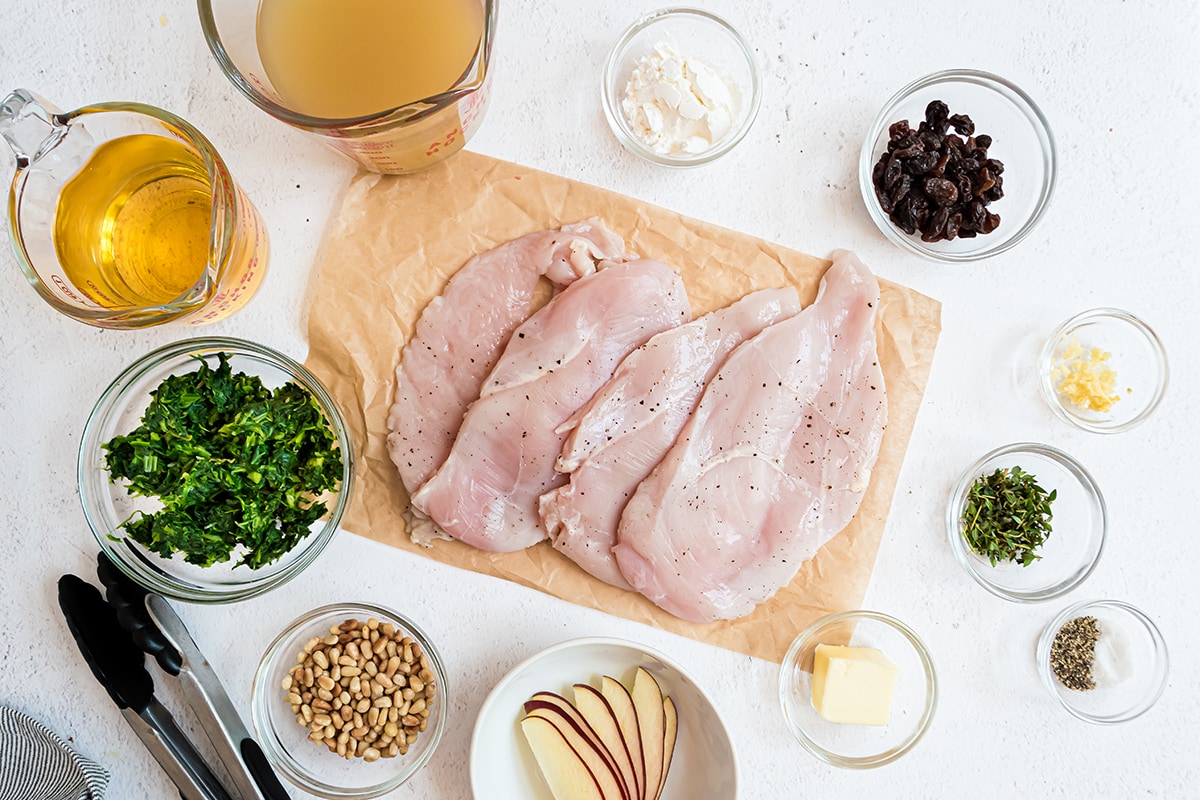 Boneless Skinless Chicken Breasts– filet them and tenderize them to ensure fork-tender chicken.
Coarse salt & black pepper– if you use fine salt, use sparingly.
Garlic Cloves- use fresh garlic and not the jarred stuff. Jarred garlic is sweet, not really garlicky. Use garlic powder in a pinch.
Frozen Chopped Spinach– this saves a step of wilting and chopping fresh spinach, which is an option too. Make sure to thaw and drain the spinach before using.
Currants– or raisins, as discussed above.
Pine nuts– make sure to toast them first to get maximum flavor.
Chicken broth– use low sodium so you can control the salt.
Apple juice– adds so much flavor- or you can use white wine or more chicken broth.
Fresh apples– I used red delicious, but any variety will work. Try not to use a soft or mealy apple for this, you want a nice, snappy apple for this purpose.
Cornstarch– to thicken the gravy. Arrowroot is another option.
Fresh thyme- dried is an option, but fresh is so much better. If you use dried, 1 teaspoon.
Unsalted butter- use unsalted to control the salt levels.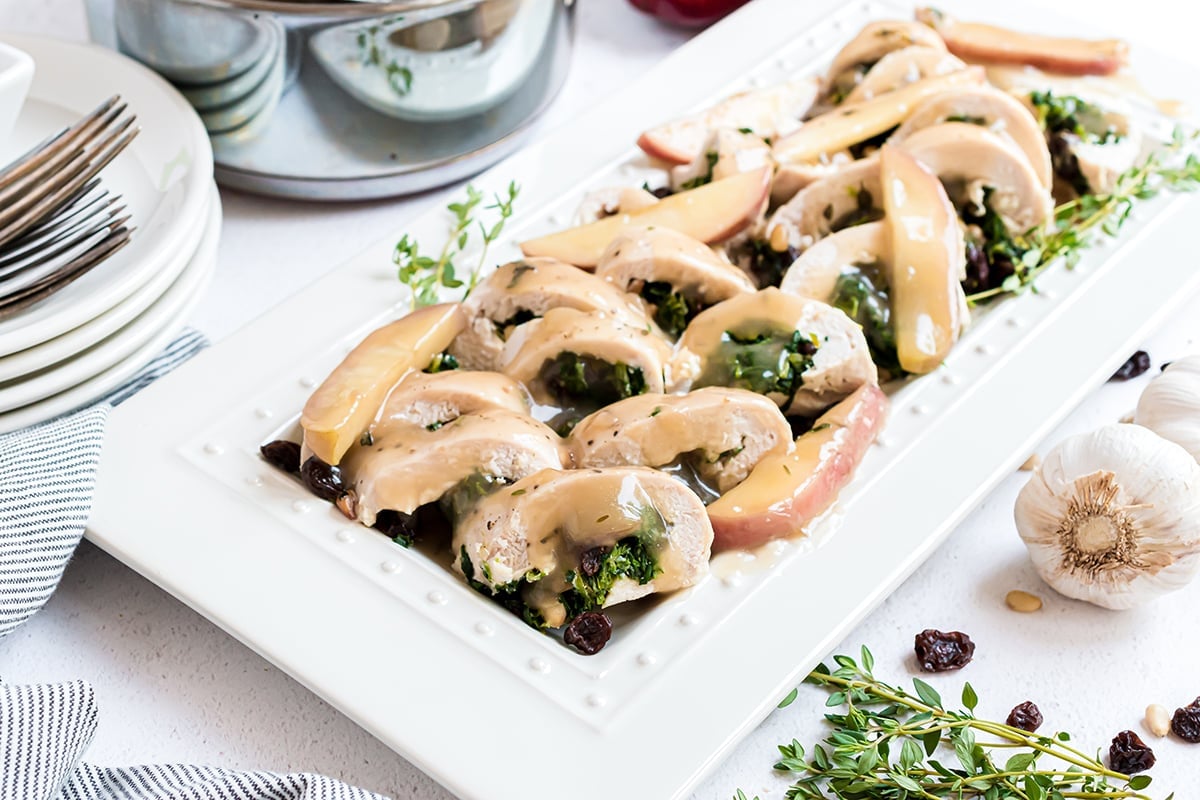 How to Make Stuffed Chicken
Prep your baking dish (or sheet pan) and the oven. Large oven safe skillets or cast iron skillets will also work. I have tried to brown the chicken ahead of time, but I didn't feel it made enough of a difference with all of the other flavors so this was a great way to save time.
Tenderize the chicken breast by pounding it out with a meat mallet until it's about 1/4 inch thick, thin enough to stuff and roll. The alternative is to filet the breast with a sharp knife, but you do get some benefit from manually tenderizing so the fibers are broken before cooking. Season with the salt and pepper.
Thaw and drain the spinach well. This is commonly missed, but spinach holds a ton of moisture and will leak out if you don't get it dry enough. Thaw, then drain in a colander and even press between paper towels or wring in a tea towel.
Toss the spinach with garlic, chopped spinach, garlic and currants in a small bowl. Stuff into chicken breasts and roll them up, place seam side down in the prepped baking dish.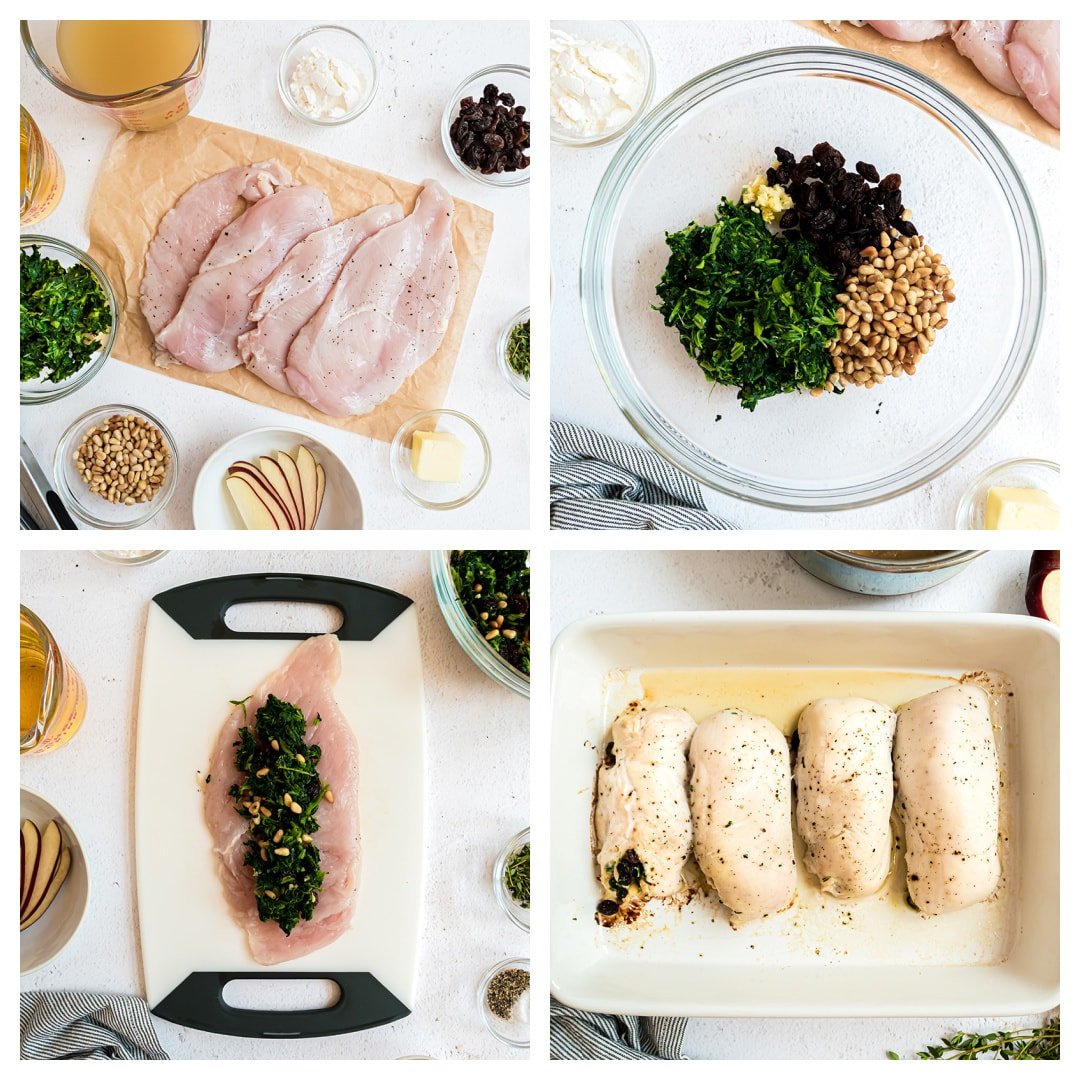 Place one chicken breast onto a cutting board or other clean work surface. Divide spinach mixture evenly among chicken breasts. Roll up lengthwise, folding in edges, and place seam side down into a casserole dish lightly coated with cooking spray.
Bake until chicken registrars at an internal temperature of 165°F using a meat thermometer in the thickest part, remove and allow to rest. Meanwhile, be making apple gravy.
The gravy will come together quick over medium heat, but can also be set on the backburner to stay warm while the chicken finishes. Just simmer together the chicken broth, apple juice cornstarch, thyme and apples. Add the butter when the mixture has thickened and apples are softened, but still a little toothy. My husband likes to add a dash of crushed red pepper flakes for a spicy and sweet gravy.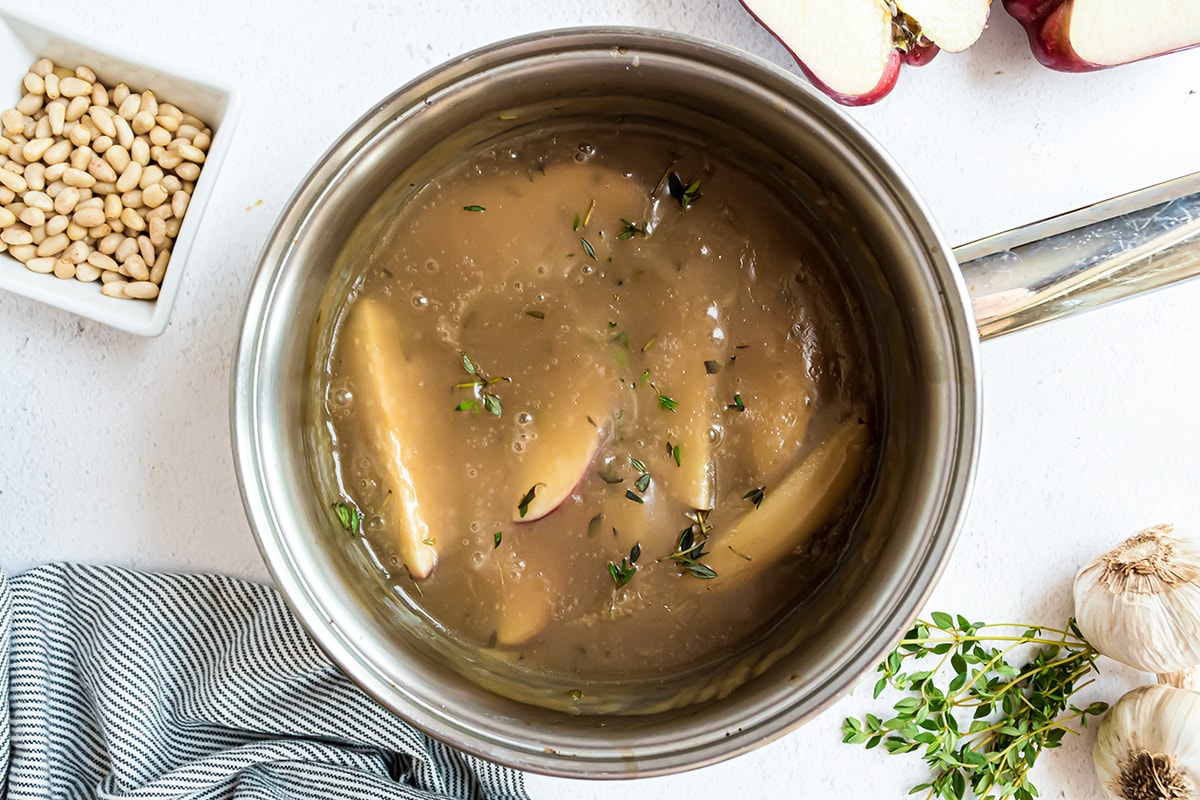 Slice stuffed chicken and smother with sweet apple gravy. Enjoy the best stuffed chicken breast recipes ever!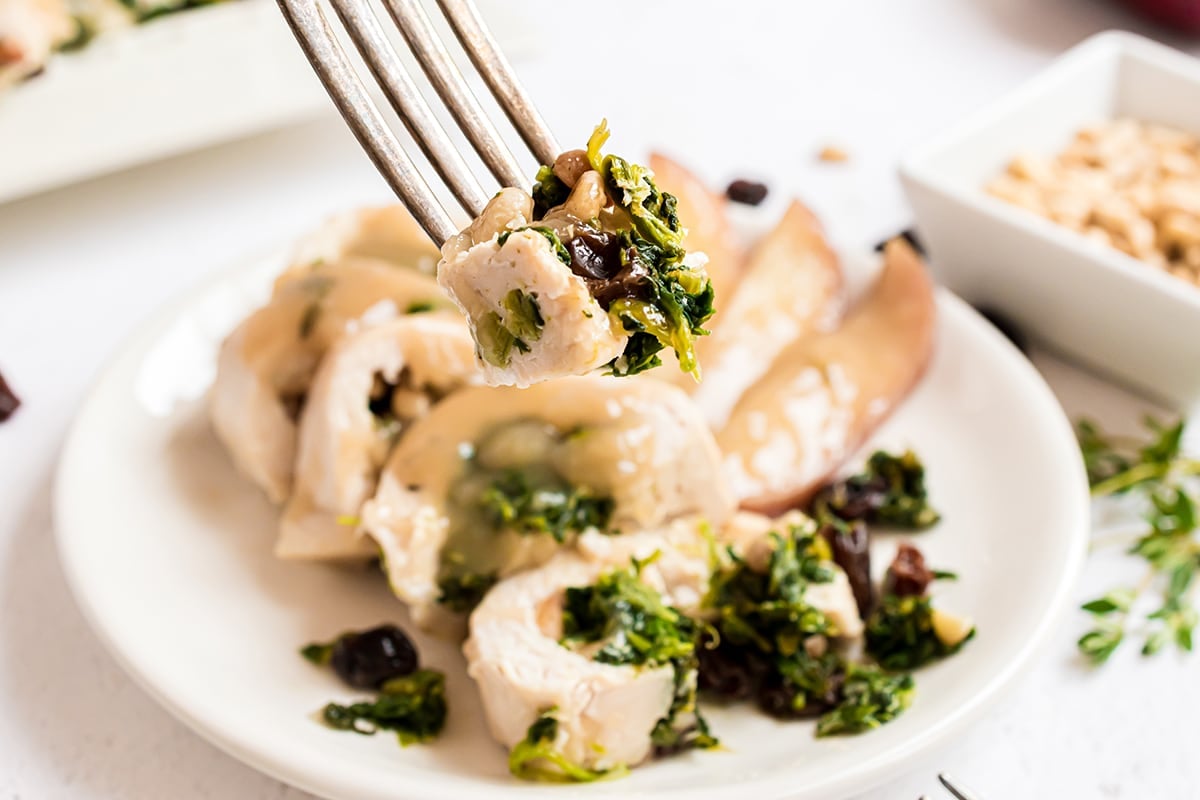 What to Serve it With
Just about anything! I happen to like it with brussels sprouts, broccolini or kale gratin.
If you are looking for a carb, garlic parmesan linguine, rice pilaf or mashed potatoes are all solid choices.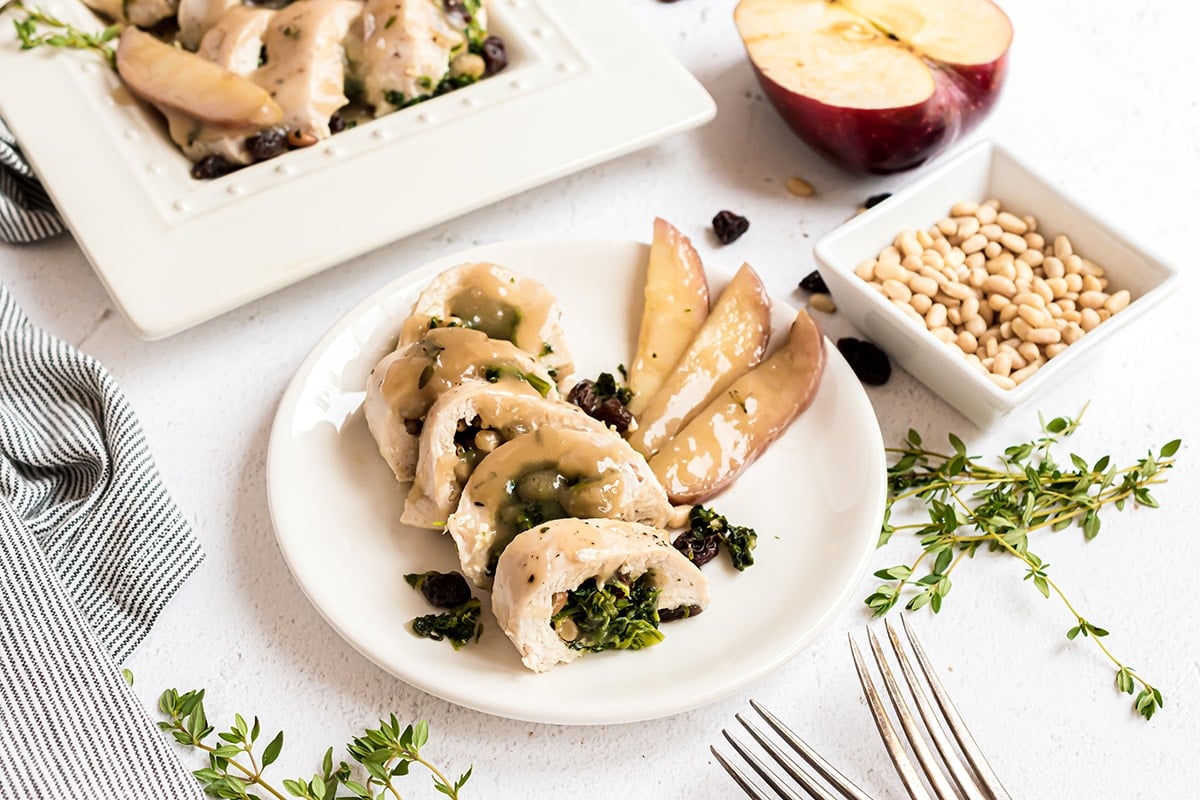 Storage & Make Ahead
Feel free to make both the chicken and the gravy ahead of time and then reheat and combine before serving. This is ideal for a dinner party or leftover meal planning and meal prep. I do like to baste the chicken with olive oil before storing to make sure it doesn't dry out.
Stuffed chicken breasts are also freezer friendly, just freeze the chicken wrapped well in aluminum foil and gravy in an airtight container separately.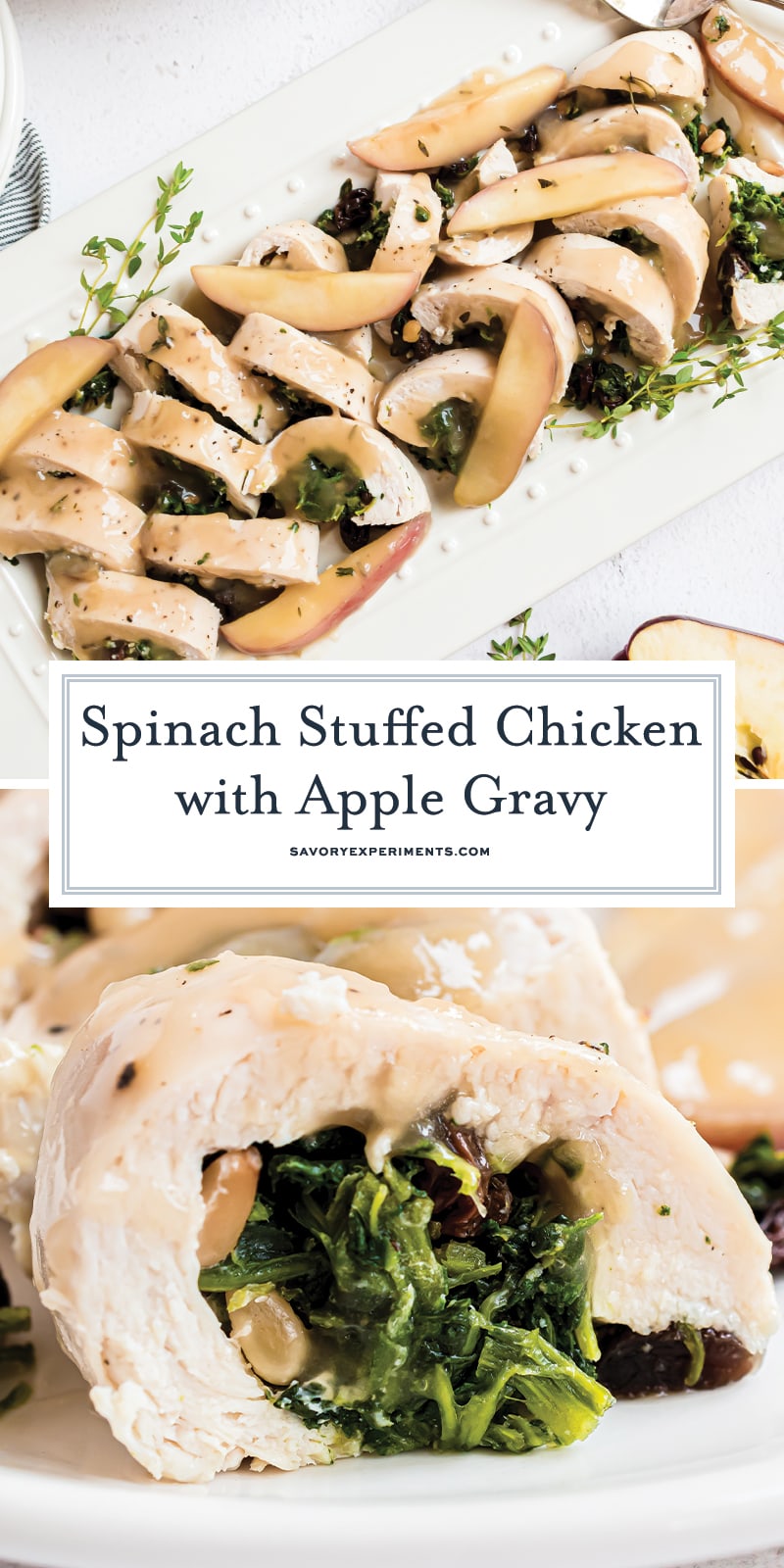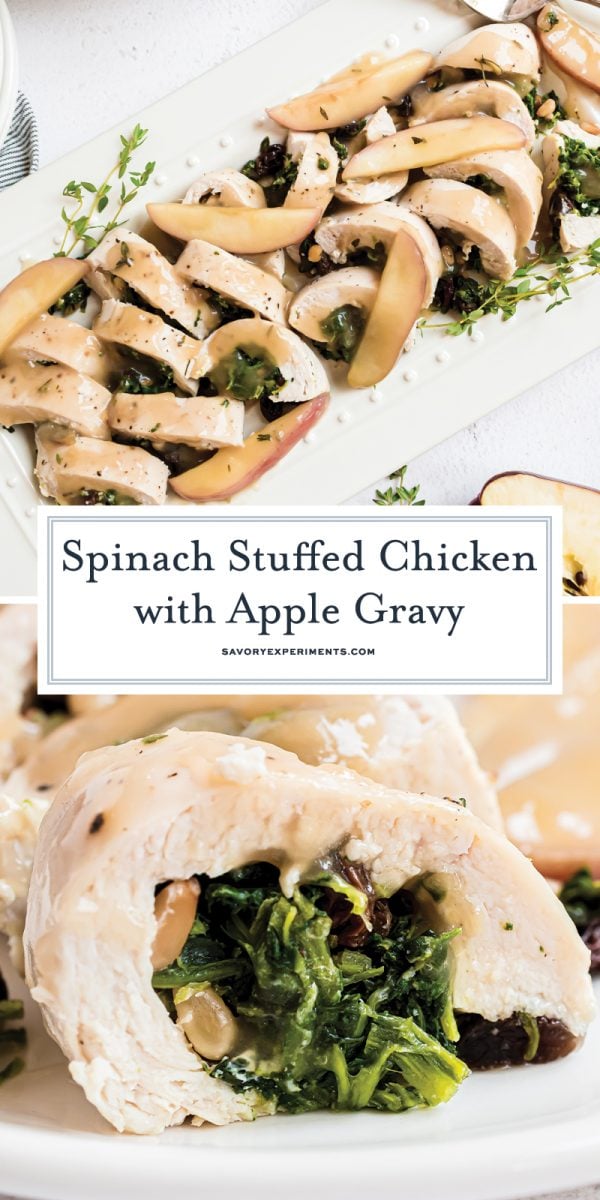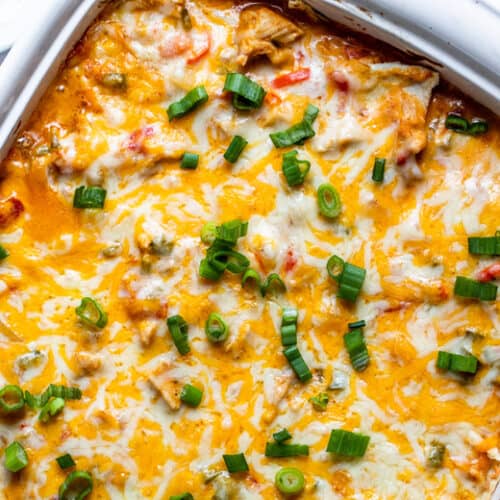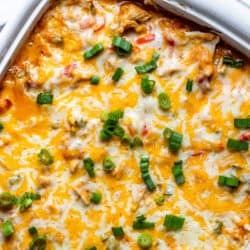 Easy King Ranch Recipe
This King Ranch Chicken Casserole is packed with incredible Tex-Mex flavors and of course loads of cheesy goodness. This simple recipe is perfect for a family dinner and can be made ahead of time.
See The Recipe!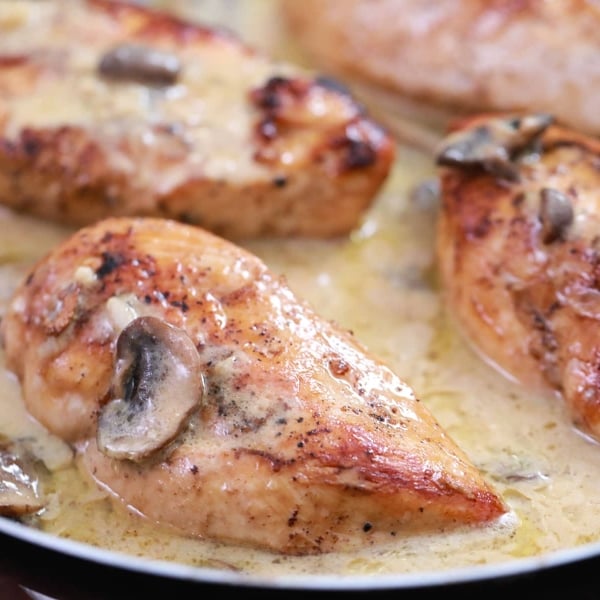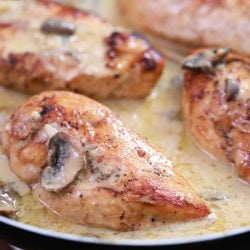 Chicken Marsala Recipe
This Chicken Marsala recipe is made in 1 pan in less than 30 minutes! Whip up this EASY dish with a rich creamy mushroom sauce on top of juicy chicken.
See The Recipe!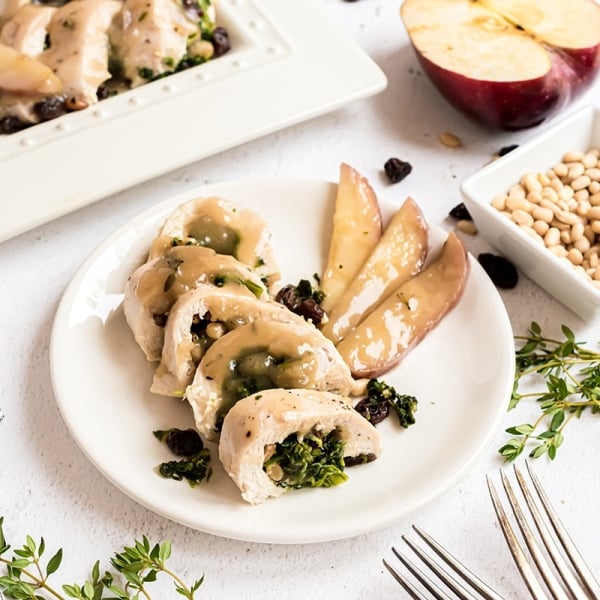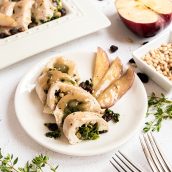 Stuffed Chicken with Apple Gravy
Award winning Stuffed Chicken with Apple Gravy uses pine nuts, spinach, currants and garlic to flavor the chicken. A savory apple gravy finishes off this easy dinner recipe!
Ingredients
Chicken:
Coarse sea salt and ground black pepper

1

cup

frozen chopped spinach

, thawed and well drained **see note

1/4

cup

pine nuts

toasted

3

cloves

garlic

, finely minced

3

tablespoons

dried currants
Instructions
Preheat oven to 400°F degrees and coat a medium baking dish with cooking spray. Set aside.

Place each chicken breast between two sheets of plastic wrap or wax paper. Using a meat mallet, tenderize until the chicken breast is approximately 1/4 inch thick. Season with the salt and pepper.

In a small bowl, combine the spinach, pine nuts, garlic and currants. Toss well.

Place one chicken breast onto a cutting board or other clean work surface. Divide the spinach mixture evenly among chicken breasts. Roll up lengthwise, folding in edges, and place seam side down into a casserole dish lightly coated with cooking spray.

Bake, uncovered, for 25-30 minutes, or until chicken registrars to 165°F. Remove and allow to rest for 5 minutes before slicing horizontally.

While the chicken cooks, prepare the apple gravy. In a medium saucepan, combine the chicken broth, apple juice, cornstarch slurry, thyme and apples. Bring to a low simmer until mixture thickens and apples are slightly soft. Remove from heat and stir in the butter.

Slice stuffed chicken and smother with sweet apple gravy.

If you've tried this recipe, come back and let us know how it was in the comments or ratings.
Notes
**Note: To remove as much liquid as possible from spinach, squeeze thawed spinach in paper towels until little to no moisture remains. The volume will decrease significantly, this is normal.
Nutrition
Calories:
454
kcal
,
Carbohydrates:
24
g
,
Protein:
52
g
,
Fat:
15
g
,
Saturated Fat:
3
g
,
Cholesterol:
154
mg
,
Sodium:
426
mg
,
Potassium:
1205
mg
,
Fiber:
1
g
,
Sugar:
15
g
,
Vitamin A:
940
IU
,
Vitamin C:
9.4
mg
,
Calcium:
47
mg
,
Iron:
2.4
mg