Indian Butter Chicken is one of the most popular of Indian recipes in the United States, United Kingdom and in South Africa. Oddly enough, it isn't one of the most popular dishes of India.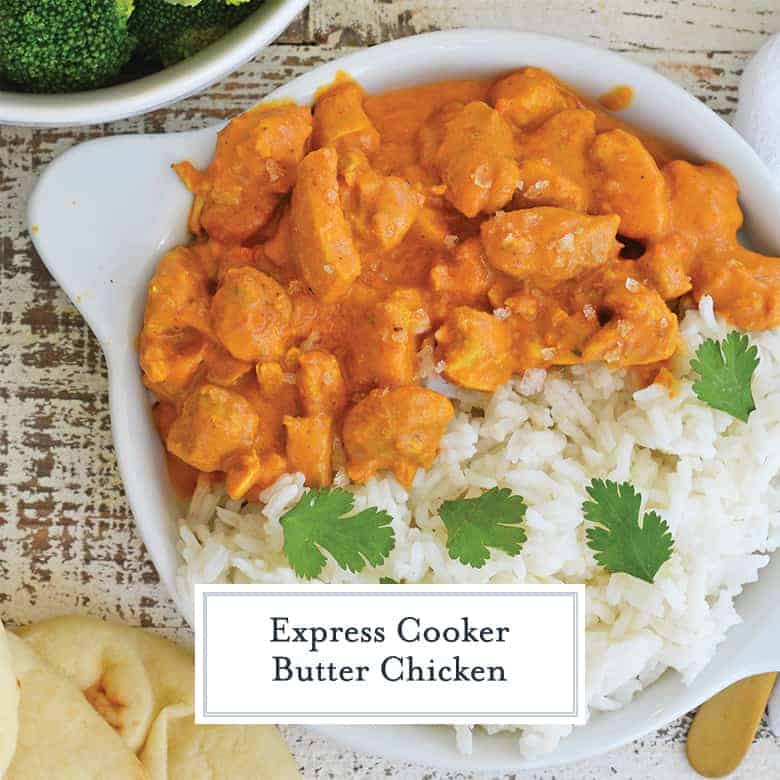 Indian Butter Chicken Recipe
Tender chicken mixed in a golden creamy curry sauce, how can it not be in high demand? Now making it in the Express Cooker by Crock-Pot you'll have this mild curry dish ready in a fraction of the time with even more of the delicious buttery flavor… with a twist (keep reading…)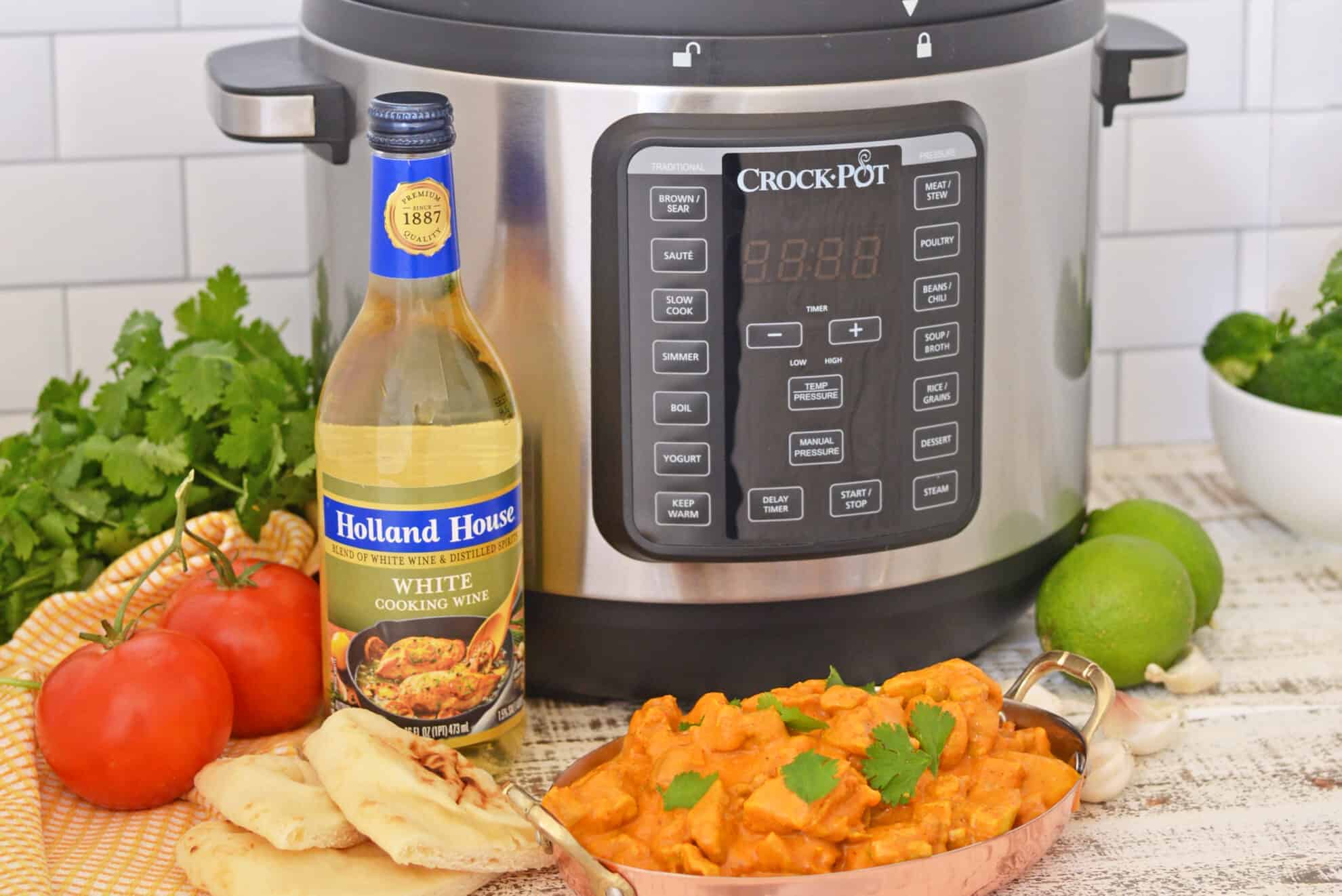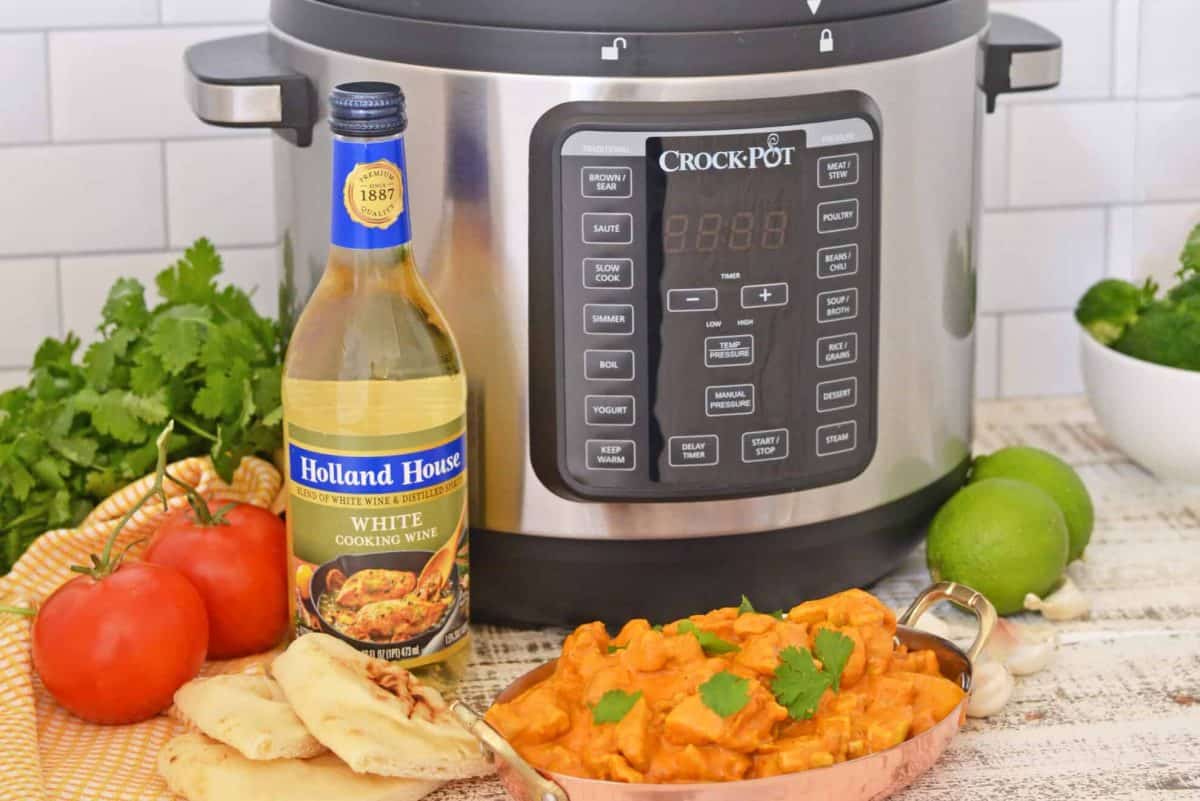 An authentic Northern Indian dish, Butter Chicken Curry is sometimes known as murgh makhana or chicken makhana and is most similar to chicken tikka masala or chicken korma.
Traditionally butter chicken is marinated not once, but twice, in a yogurt base before simmering for a long period in tomato, onion and curry spices. It isn't until the dish is nearly completed that the sauce is blended with cream and butter to make a silky butter gravy.
By using an Express Cooker by Crock-Pot those steps are unnecessary. Your chicken will cook to fork tender in a matter of minutes and the flavor will be infused into every morsel. An Express Cooker is an electric pressure cooker, perfect for these types of meals!
There is also a secret ingredient. One that will make your butter chicken shine from the rest and fill life with flavor. White Cooking Wine.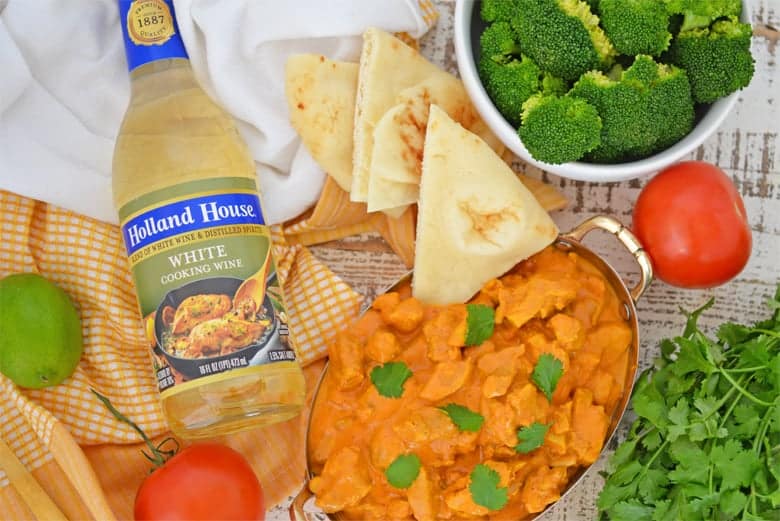 Wine isn't used frequently in Indian cuisine, but it is one of my favorite ingredients to elevate any dish, so why not in butter chicken sauce too?
Holland House Cooking Wines are my go-to brand for quality cooking wines. Hand selected grapes are transformed into wine, blended with seasonings that offer a bold zing of flavor and then aged to perfection. They are shelf stable after opening and don't require refrigeration.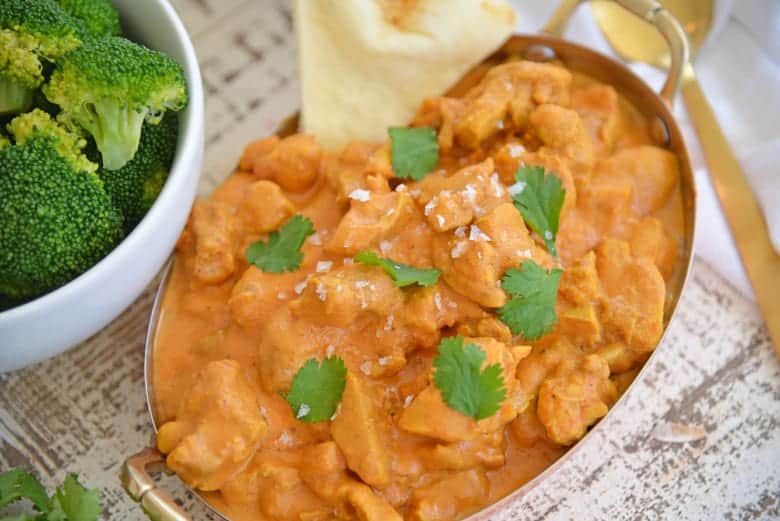 Heavy cream and butter are used for the sauce to make it smooth and dreamy, but for my version, I lightened it up with coconut milk. I did use butter because it is, after all, butter chicken.
PRO TIP: Butter chicken sauce isn't particularly thick, but you can allow it to cool slightly to thicken more.
It still has all of the body of cream, but with flavor that pairs perfectly with white cooking wine and Indian spices. Turmeric is also used, which is widely believed to reduce inflammation.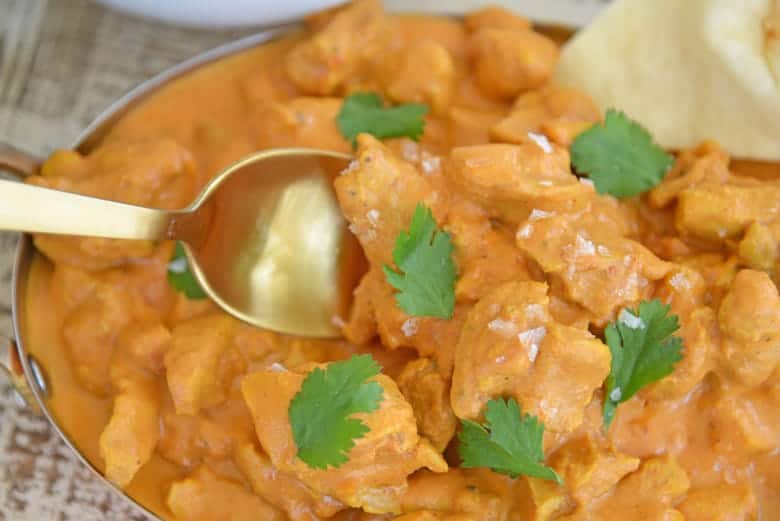 Using the Express Cooker also means we can limit any additional fats or oils by not needing to pan fry the chicken ahead of time.
PRO TIP: Wait for your sauce to cool slightly before blending, this reduces the potential for sauce separation.
Indian Butter Chicken can be served with rice or any type of no yeast flatbread. Most locals would tell you it needs both to make sure there is no sauce left.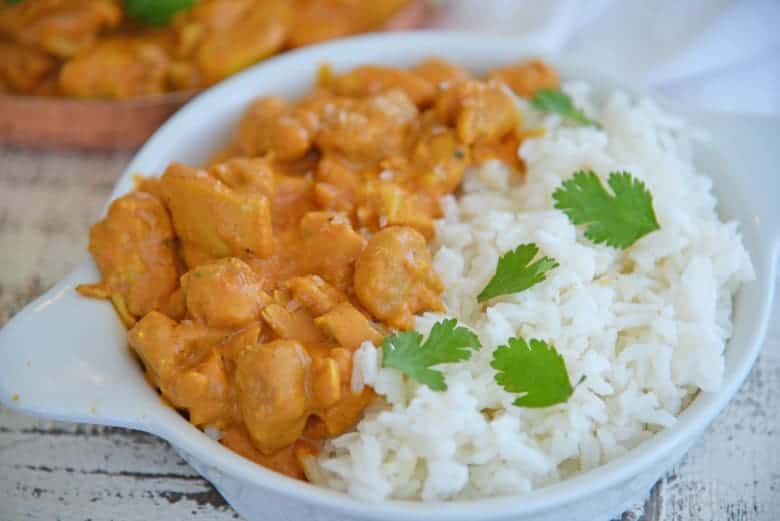 It isn't uncommon to see someone drinking butter chicken sauce from a bowl like soup and then mopping up the rest with a piece of naan.
Broccoli is my side dish of choice. Simply steamed, it can also be tossed in the butter curry sauce. Any vegetable stir fry will do.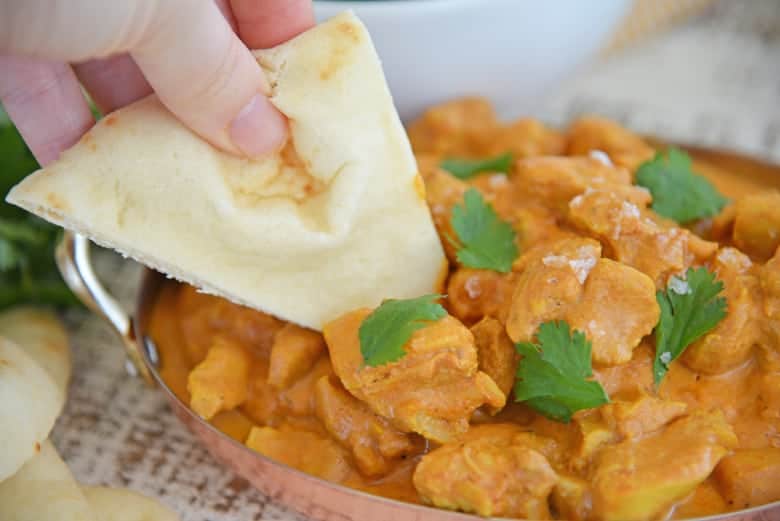 Questions you might have about how to make my Easy Butter Chicken:
Can this dish be made ahead? Some would argue is must be made ahead for the flavors to develop, but since you are using an Express Cooker and Holland House Cooking Wines, making it a day in advance is unnecessary.
However, if you are making it ahead for ease and time saving reasons, be my guest.
How do I reheat butter chicken? After adding coconut milk and butter to sauce, do not re-pressurize. The sauce will separate.
Reheat over low heat in a saucepan. Do not bring to a low simmer or bowl.
Can I use chicken breasts? You can use any cut of chicken you'd like. I prefer thighs, but boneless skinless chicken breasts are also acceptable.
What is garam masala? Garam masala translates to "hot spices". The hot doesn't mean they are spicy, but that in their whole form, they were toasted to bring out natural flavors.
Garam masala is made from a combination of cumin, coriander, cardamom, cinnamon, nutmeg, cloves, bay leaves, peppercorns, fennel, mace and dried chilies. As you can imagine, this mixture is aromatic.
What gives butter chicken sauce the orange color? Butter chicken gets its distinctive hue from turmeric, tomatoes and paprika.
Can I use salted butter? Salted butter may be used, but you might need to omit the kosher salt added at the end or Maldon Sea salt at the end. The reason I use unsalted butter is so I can closely monitor and change the saltiness. Salt can vary greatly from brand to brand.
Does using coconut milk make the dish taste like coconuts? Not in the slightest. Coconut milk is an excellent substitute for dairy products without an overwhelming flavor.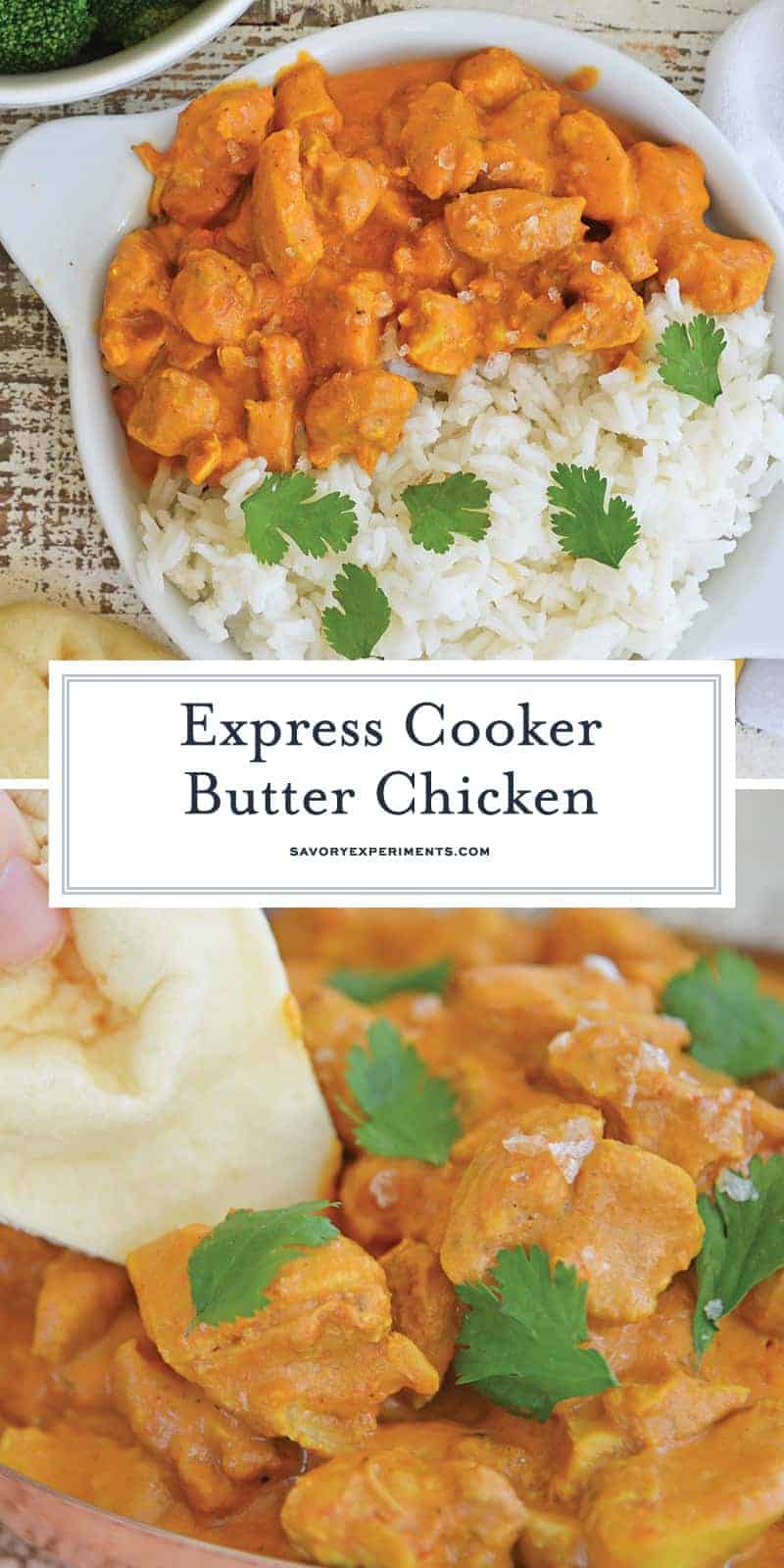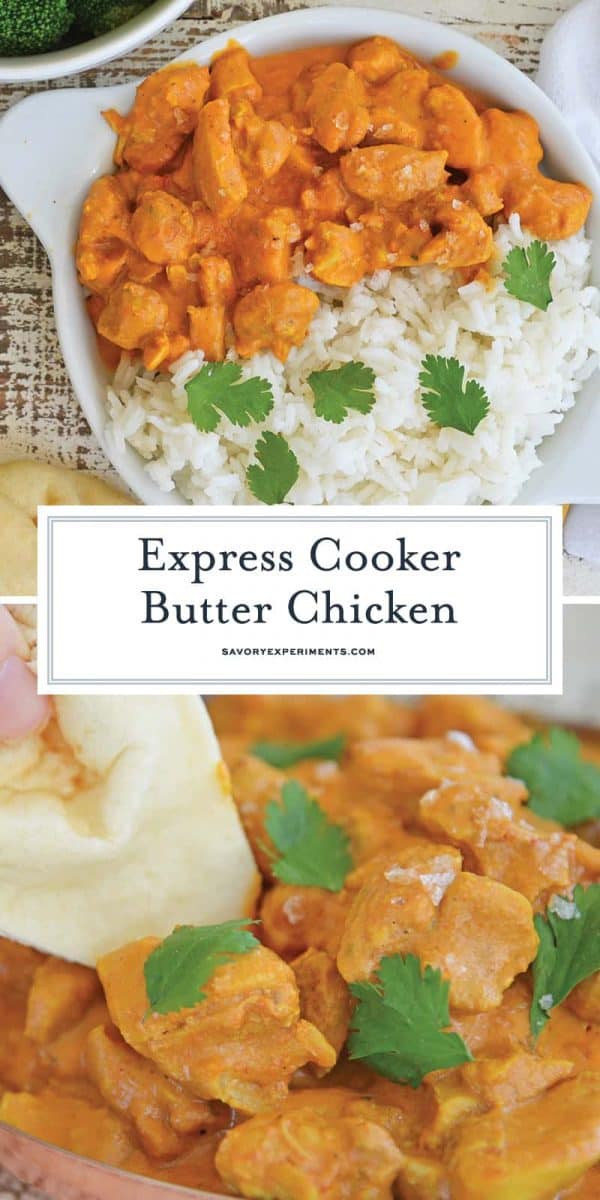 Check out even more delicious pressure cooker chicken recipes!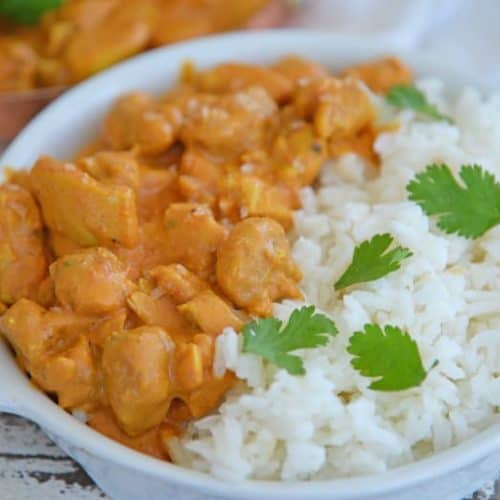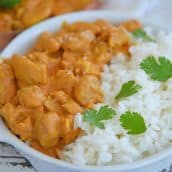 Pressure Cooker Indian Butter Chicken
Express Cooker Indian Butter Chicken is a delicious and healthy weeknight meal ready in just 30 minutes from prep to plate and this one using a special secret ingredient!
Ingredients
For serving: lime wedges, flakey sea salt, fresh cilantro, plain yogurt, flatbreads, rice
Instructions
In the inner pot of your Express Cooker, combine chicken thighs with diced tomatoes (with liquid), tomato paste, water, chopped garlic and ginger, turmeric, smoked paprika, 2 teaspoons garam masala, cumin and cinnamon stick. Stir to combine.

Lock lid and place valve to "seal". Set to manual pressure high for 10 minutes.

Allow to naturally release for 5 minutes before releasing pressure.

Take out cinnamon stick and discard.

Use a slotted spoon to remove chicken thighs to a plate, leaving sauce in the inner pot. Cut into bite-size pieces.

Using an immersion blender, blend the sauce (still in the inner pot) until smooth. Add white cooking wine and blend again.

Add coconut milk and butter, blending again until smooth.

Add Kosher salt and remaining 1 teaspoon garam masala, blending one more time.

Return chicken to the butter sauce mixture and toss to coat.

Serve over rice or with naan. Top with fresh cilantro, Maldon sea salt and fresh lime spritz.

If you've tried this recipe, come back and let us know how it was!
Notes
Use full fat coconut milk and shake the can well to combine it before adding to sauce. If the mixture has totally separated, you might need to transfer it to a microwave safe dish and heat just long enough to stir it back together.
Instead of an immersion blender, you can transfer the sauce to a blender or mixing to make smooth.
Wait for sauce to cool slightly before blending. There is less likelihood it will separate. Do not heat sauce to hot or it will seperate.
Nutrition
Calories:
402
kcal
,
Carbohydrates:
5
g
,
Protein:
20
g
,
Fat:
34
g
,
Saturated Fat:
15
g
,
Cholesterol:
142
mg
,
Sodium:
245
mg
,
Potassium:
385
mg
,
Fiber:
1
g
,
Sugar:
1
g
,
Vitamin A:
624
IU
,
Vitamin C:
5
mg
,
Calcium:
40
mg
,
Iron:
2
mg
Holland House Cooking Wines are available in five flavor-boosting varieties, so I can always find one to help amplify my dishes.
Marsala
White Wine
Red Wine
White with Lemon
Visit the Holland House Website for even more recipes to fill your life with flavor!