If you love stuffed chicken breast recipes then this will be sure to catch your attention because a stuffed chicken breasts is even better!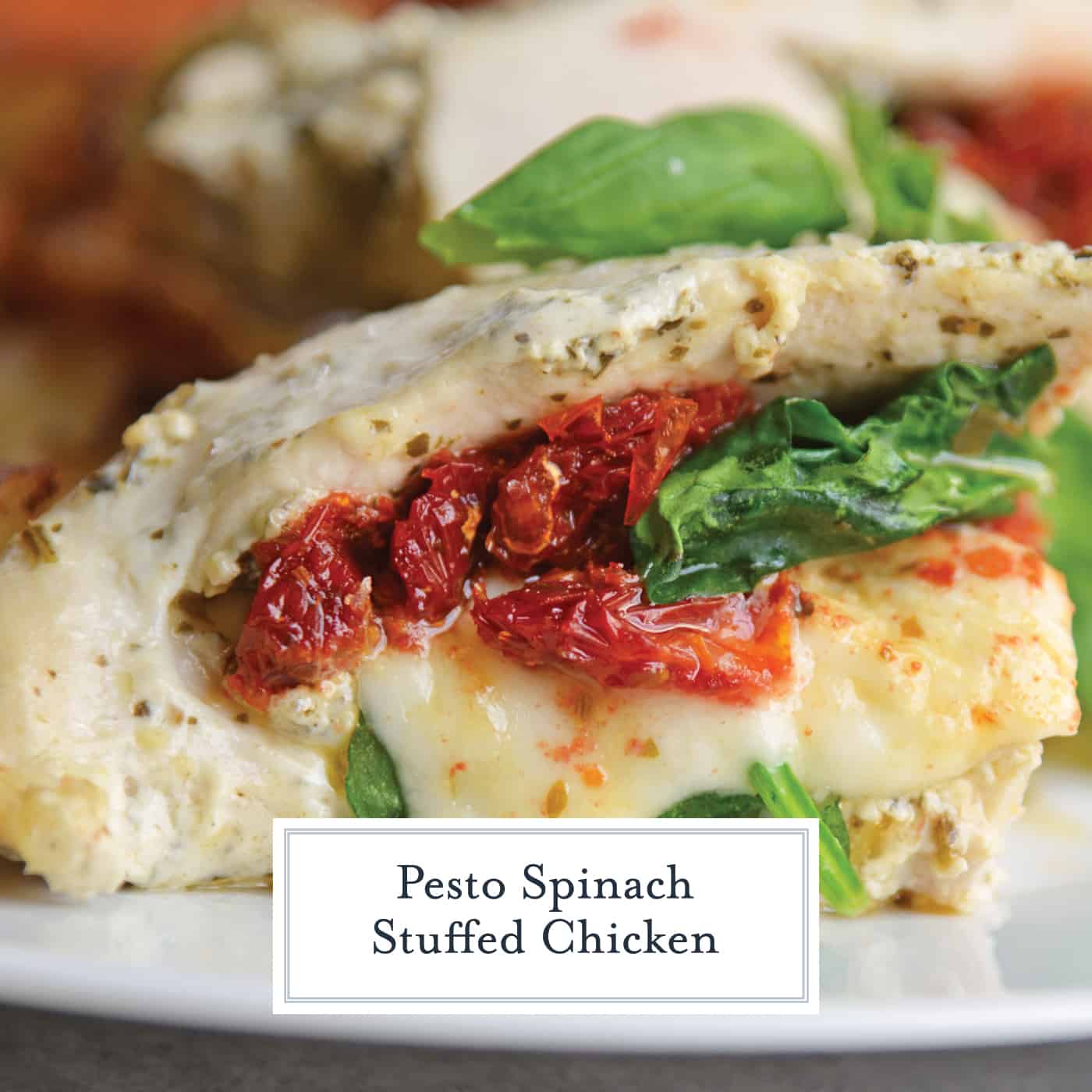 Pesto Spinach Stuffed Chicken are chicken breasts stuffed with gooey mozzarella cheese, sun dried tomatoes and spinach. Marinated in a yogurt and basil pesto sauce, they are moist and flavorful.
One of my new staple ingredients is Greek yogurt and one of its primary uses is for excellent marinades. Yep, Greek yogurt is an excellent base for marinades.
It keeps meats and fish nice and moist, while gently flavoring vegetables. Plain yogurt is like a blank canvas waiting to be spiced and flavored with whatever your heart desires, in this case, garlicky basil pesto.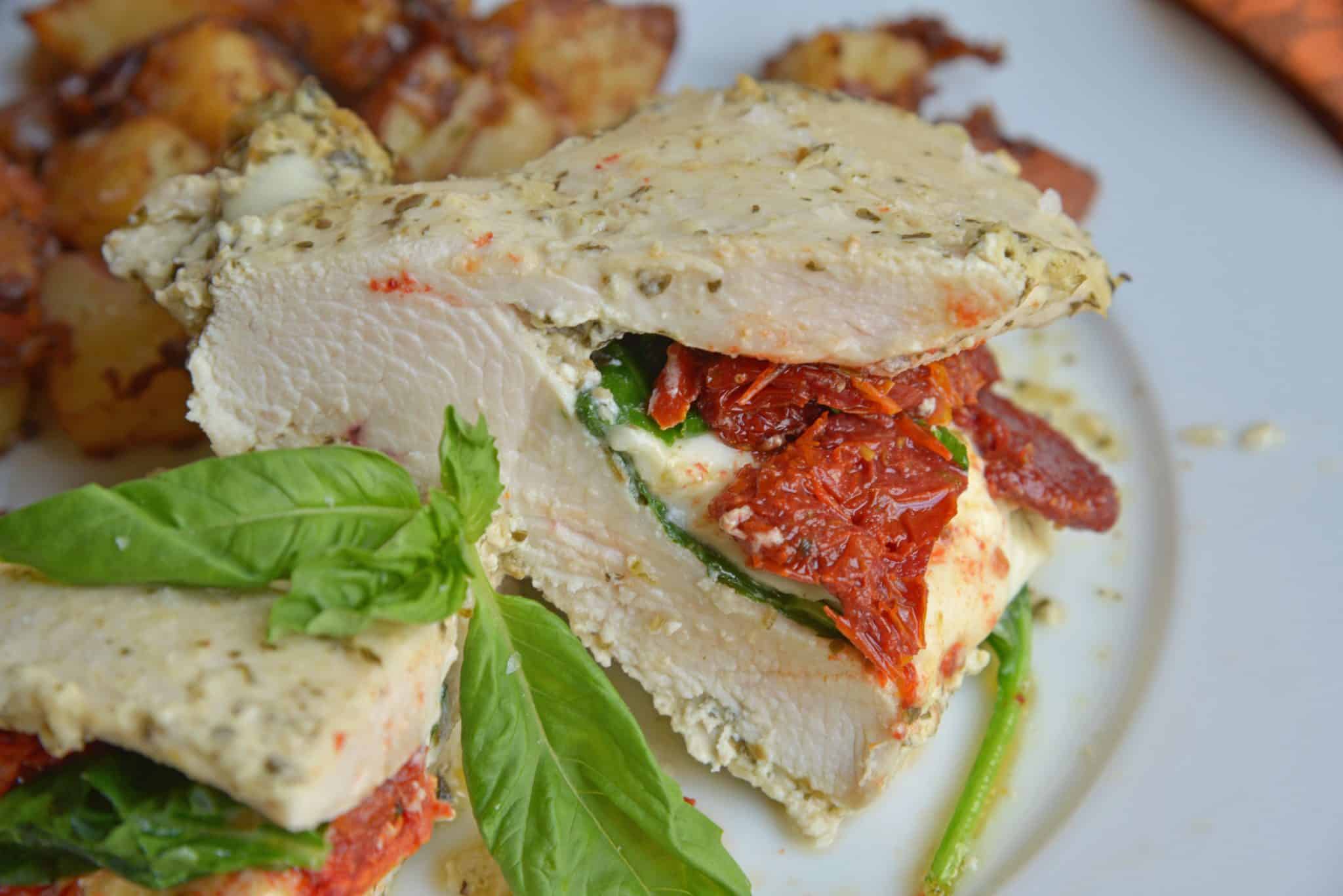 This stuffed chicken breast recipe isn't your typical one. Why? Two reasons.
The first is that the chicken is marinated before being cooked. Italian dressing is a little tangy but will also help tenderize the chicken making it tender.
Since we don't actually tenderize the chicken flat and roll it, you need the marinade to break down those fibers. Some recipe pound it out and then roll it, but then you risk losing all the yummy stuffing ingredients.
Secondly, I don't initially stuff it and cook. I cook, then stuff, then cook more. Backwards from most.
Why? Because I hate when my baked stuffed chicken has dry stuffing. Or worse, all the cheese melts out! Oh, the humanity of lost cheese!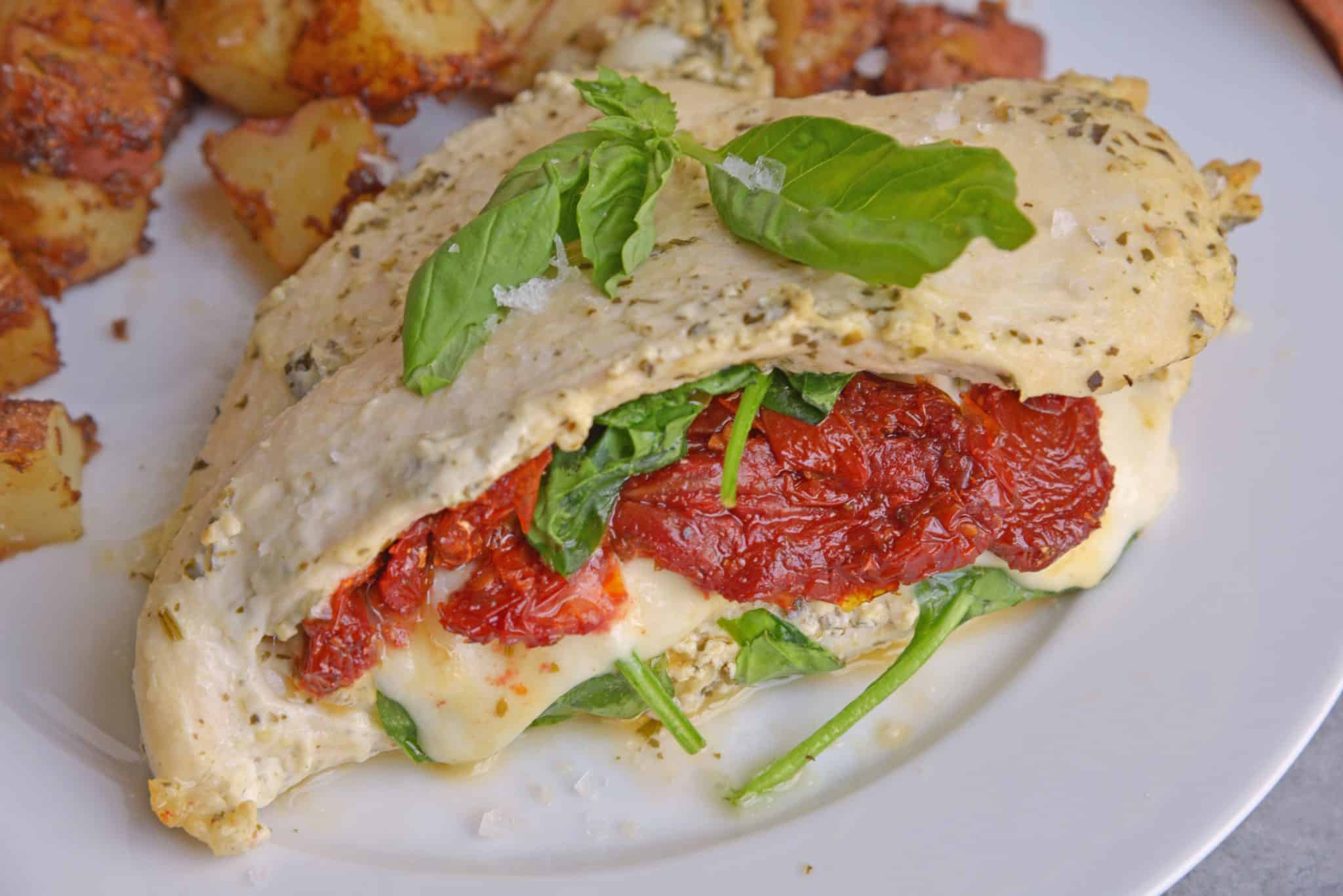 Making the incision before cooking and then stuffing a little over halfway through prevents the issue. It is fairly easy to stuff even though it is hot. Simply use two forks and jam it all in there.
PRO TIP: Shred your own cheese. Pre shredded cheese is tossed in a starch to prevent clumping and sticking.
Using a low moisture cheese for any stuffed chicken breast recipe is also important. We've all had our chicken sitting in a pool of liquid or a pool of cheese.
Some can't be helped, but starting with low moisture cheese gives you a better chance.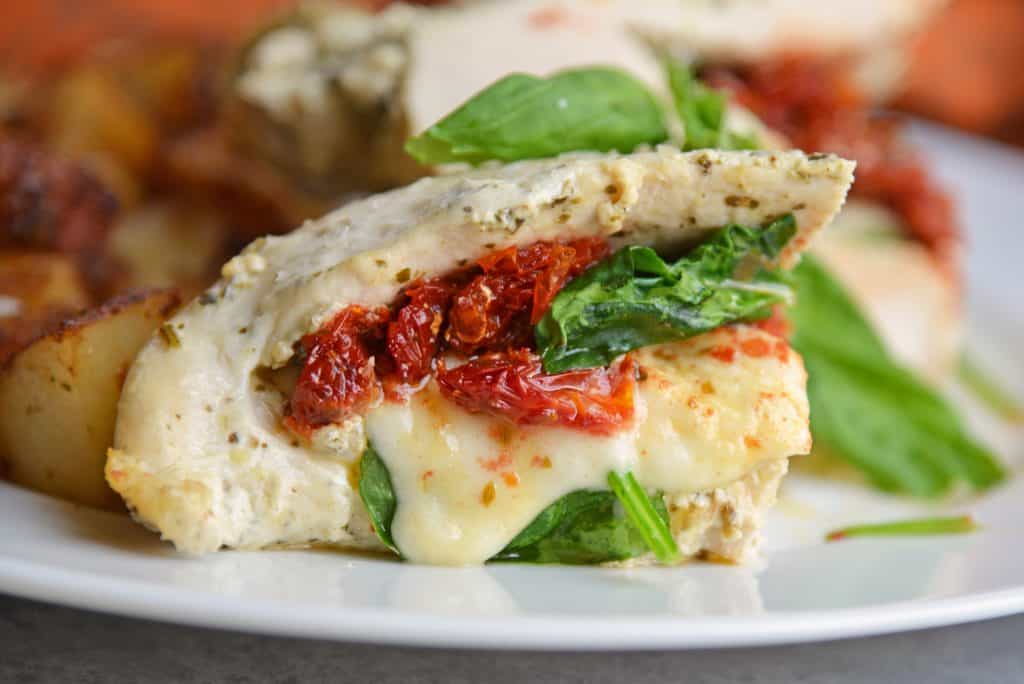 My husband is a sauce guy. The first thing he said when I served this dish, before even trying it was "where is the sauce?" Well, there isn't any.
I guess the pesto inside can be the sauce or you can add more pesto to the outside for serving, but the flavors are so intense, it really doesn't need much more. Trust me.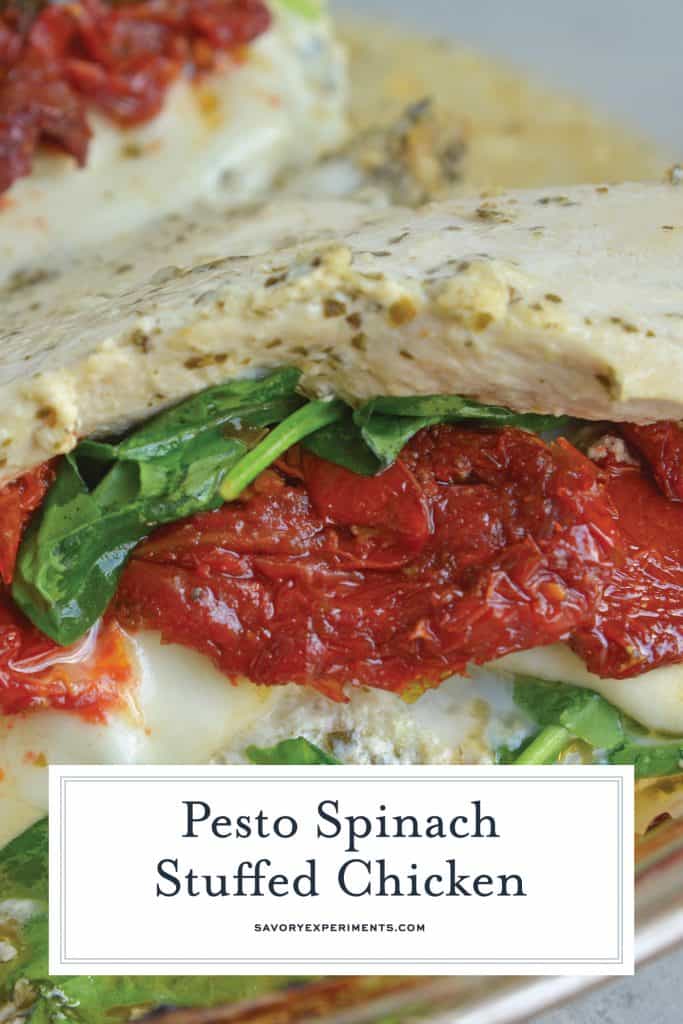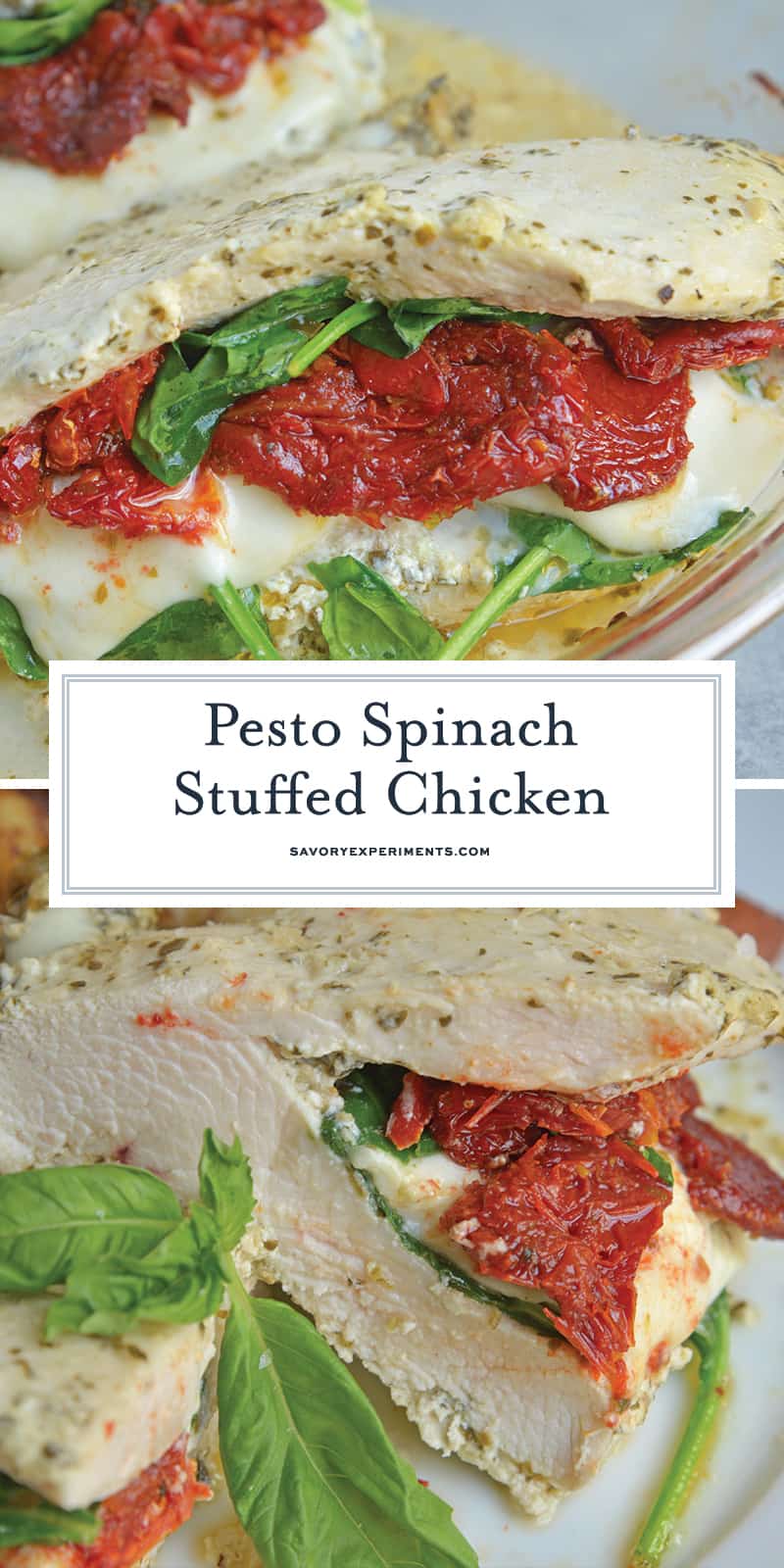 CONNECT WITH SAVORY EXPERIMENTS!

Be sure to follow me on social media, so you never miss a post!

Facebook | Twitter | Youtube
Pinterest | Instagram

Get our FREE 8 Day E-Course on How to Be a Better Home Cook. Sign up HERE!