This recipe is delicious, easy, and simple to make. Tomato Basil Couscous Salad comes together in 15 minutes or less!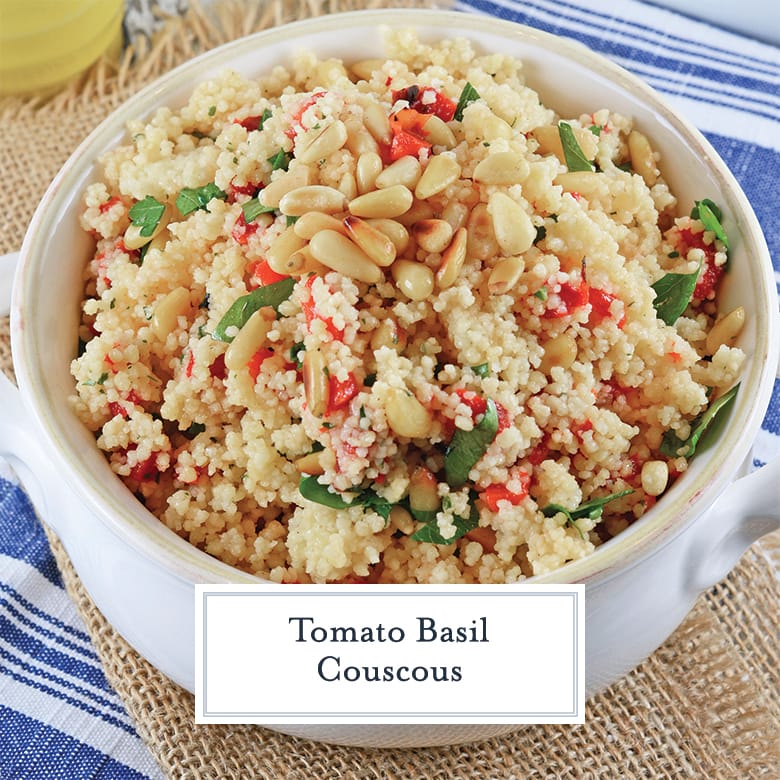 My Tomato Basil Couscous Salad is a great way to liven up any meal. Simple to make and full of flavor, your family will love it!
Let's get right into it. What is couscous? Is it rice? A pasta? A grain? I get this question a lot from novice cooks. Long story short: it is a pasta of sorts.
Couscous is tiny granules of semolina made from durum wheat rolled in flour. When you bite into it, you get a very distinct texture from all those little pieces of al dente pasta. Pretty neat, isn't it?
As it is cooking, it absorbs the water and plumps up. Some simply soak it in hot water, some steam it, and some have their own methods of getting it to the table.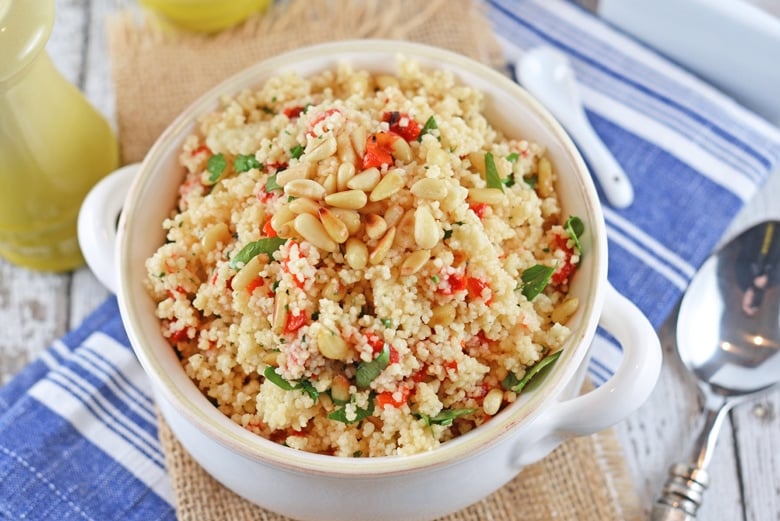 One of the cons of couscous is that it is pretty bland. Some might say, flavorless. The good news is, I think of it more like a blank canvas waiting to be painted by you, the cook. Tomato Basil Couscous Salad is a perfect example.
Ditch the water altogether. I prefer to use chicken stock or a broth of some sort as my base. It adds a good base layer of flavor to the couscous and then allows you to add an infinite number of add-ins once it is fully cooked.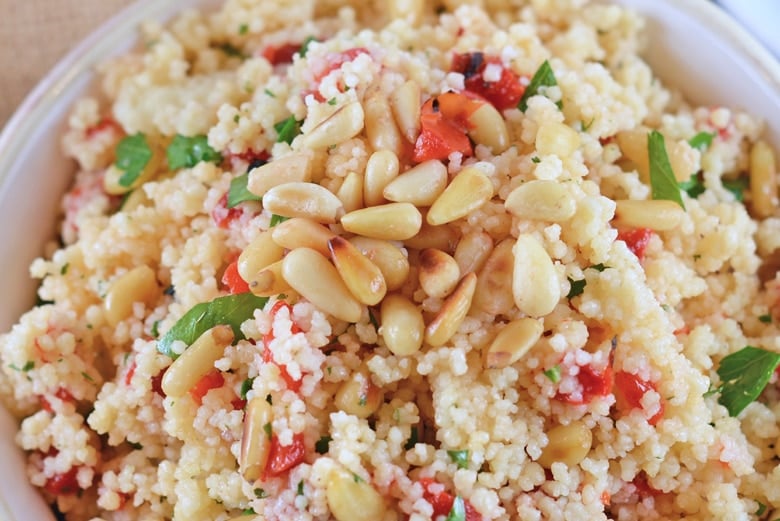 I make mine by bringing my stock or broth to a boil. Add a bit of olive oil and butter to for richness. Take the pot off the heat, add in your couscous, cover and let it sit for 5 minutes or so.
When you uncover the pot, simply fluff it with a fork and then gently fold in your extras. If you don't want to follow this recipe, grab any leftover veggies or meats with complimenting flavors and fold them in.
My Tomato Basil Couscous Salad came to me while I was making my Parmesan Chicken. I wanted a side dish that had a bit of heft but didn't want a heavy pasta.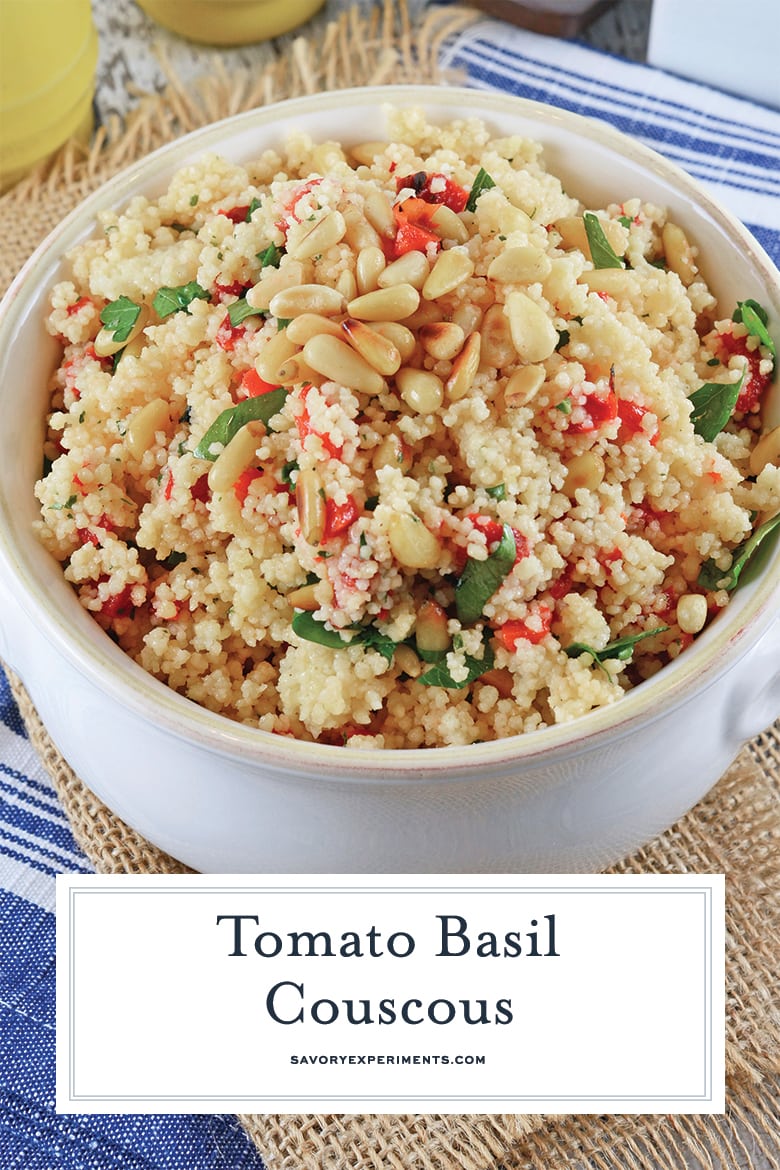 Next came the raid through the fridge and pantry for things that would be tasty together. I had couscous, basil, some garlic, pine nuts, and sun-dried tomatoes. Easy enough!
And for those of you who have not cooked with couscous before, fear not. You do not need to rinse it as you would rice before cooking it and it is a very, very forgiving dish. Plus, it is fast and easy and we all love a good time saver.
While it is a short extra step, I highly recommend taking the time to toast your pine nuts before adding to the mixture. The natural oils and flavors are so much more robust and delicious with a light toasting.
If you loved this Tomato Basil Couscous Salad recipe, check out these other easy side dish ideas: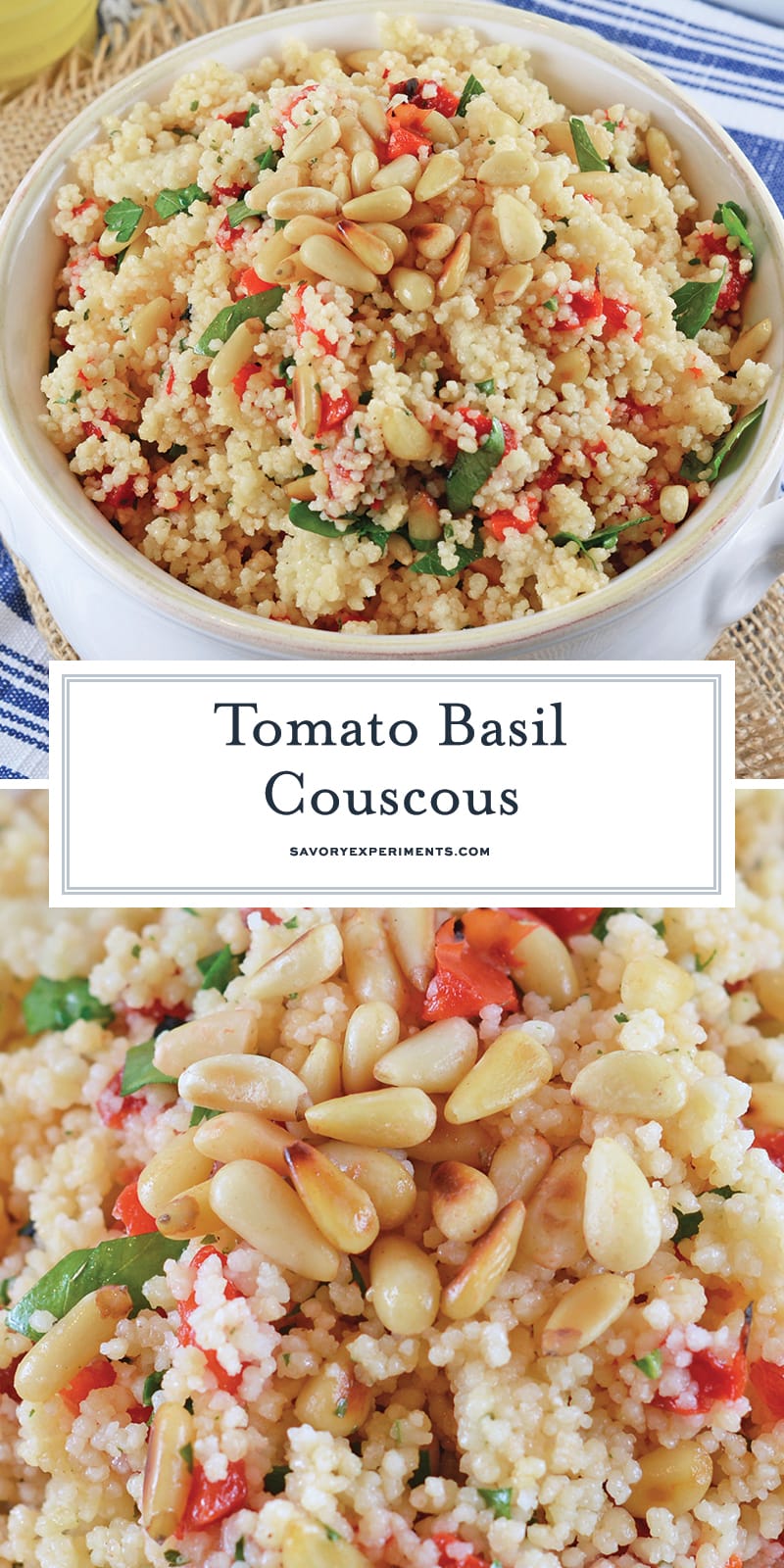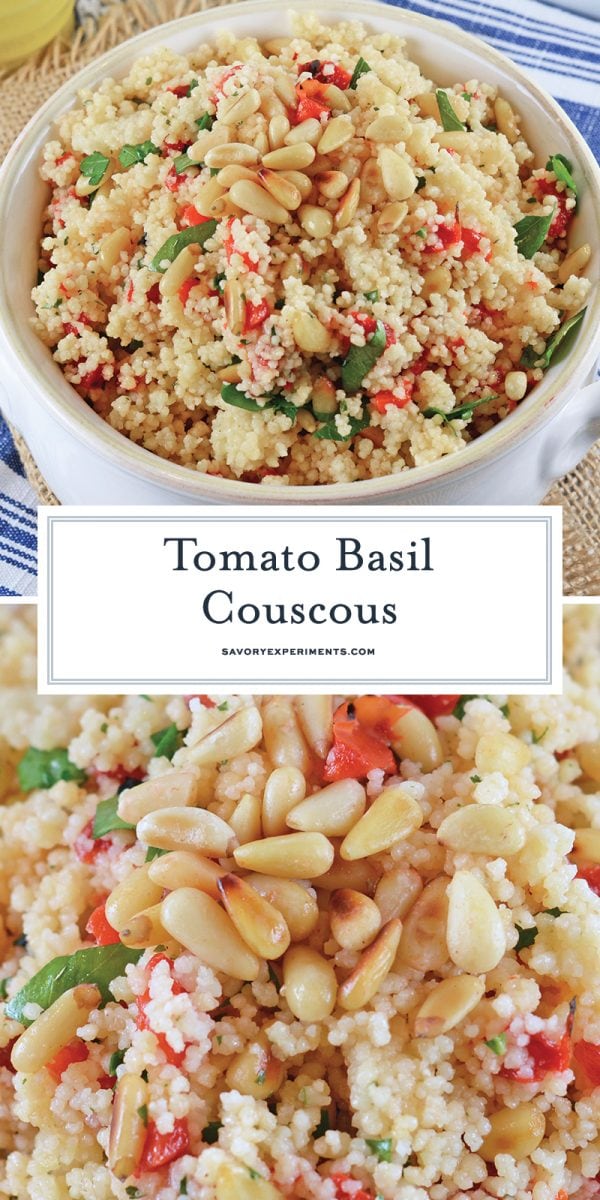 CONNECT WITH SAVORY EXPERIMENTS!

Be sure to follow me on social media, so you never miss a post!

Facebook | Twitter | Youtube
Pinterest | Instagram

Get our FREE 8 Day E-Course on How to Be a Better Home Cook. Sign up HERE!