If you have been looking for an easy dip recipe, look no further. This Buffalo Chicken Dip is so tasty, it will be the perfect appetizer to serve with your family and friends.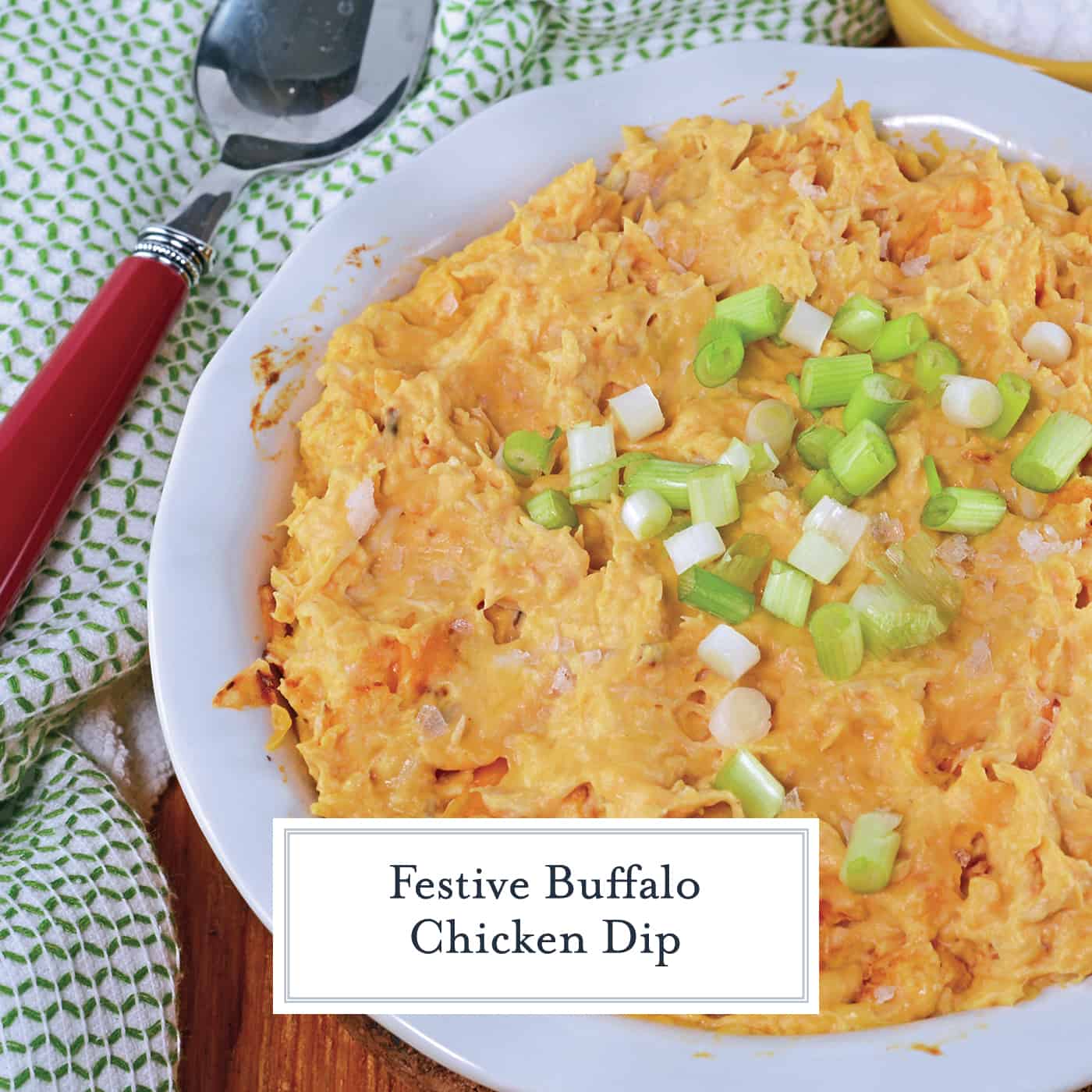 Buffalo Chicken Dip is a quick and easy appetizer that will work for any party taking only 30 minutes and using pre-shredded chicken!
I love the taste of a well done, crispy buffalo wing soaked with flaming sauce, but not the mess. It drys my lips, gets underneath my nails and then God forbid you touch your eye- oh the humanity!
So let's do this a little differently: The Best Buffalo Chicken Dip. Buffalo chicken wings without all the mess.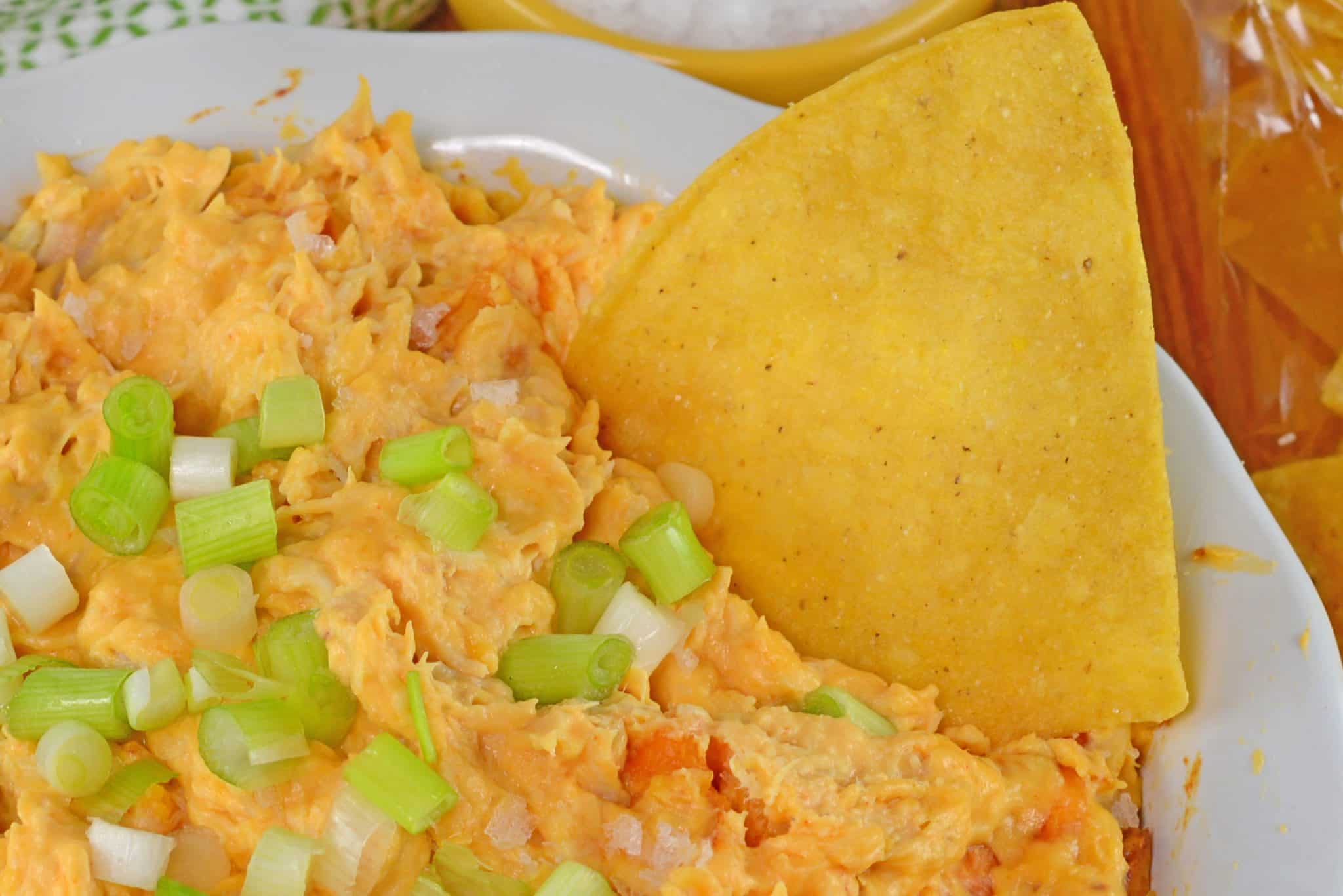 Fiery hot sauce swirls with silky cream cheese and bakes with bubbly cheddar. Crunchy tortilla chips are serve as the well done exterior and vehicle to get this flavorful dip from the dish to your mouth.
Do I need to say more?
PRO TIP: Freshly shred your cheddar cheese! Pre shredded cheese is great, but can be dry and is toss with a powdery starch to keep it from clumping. This can greatly impact the texture of your dip… or other recipes!
I feel like this dip recipe has only gained popularity in the last two decades. Before that, buffalo chicken wings were only buffalo chicken wings.
You can buy buffalo sauce or easily make your own with my Homemade Buffalo Sauce Recipe... and also read about my "date" with John Stamos!
Some people use canned chicken, like canned tuna fish, but I have a phobia of any meats found in cans. So I get a pre cooked rotisserie chicken at the grocery store and then shred it up. I think it is weird when meat doesn't need to be refrigerated, but that is a debate for another day.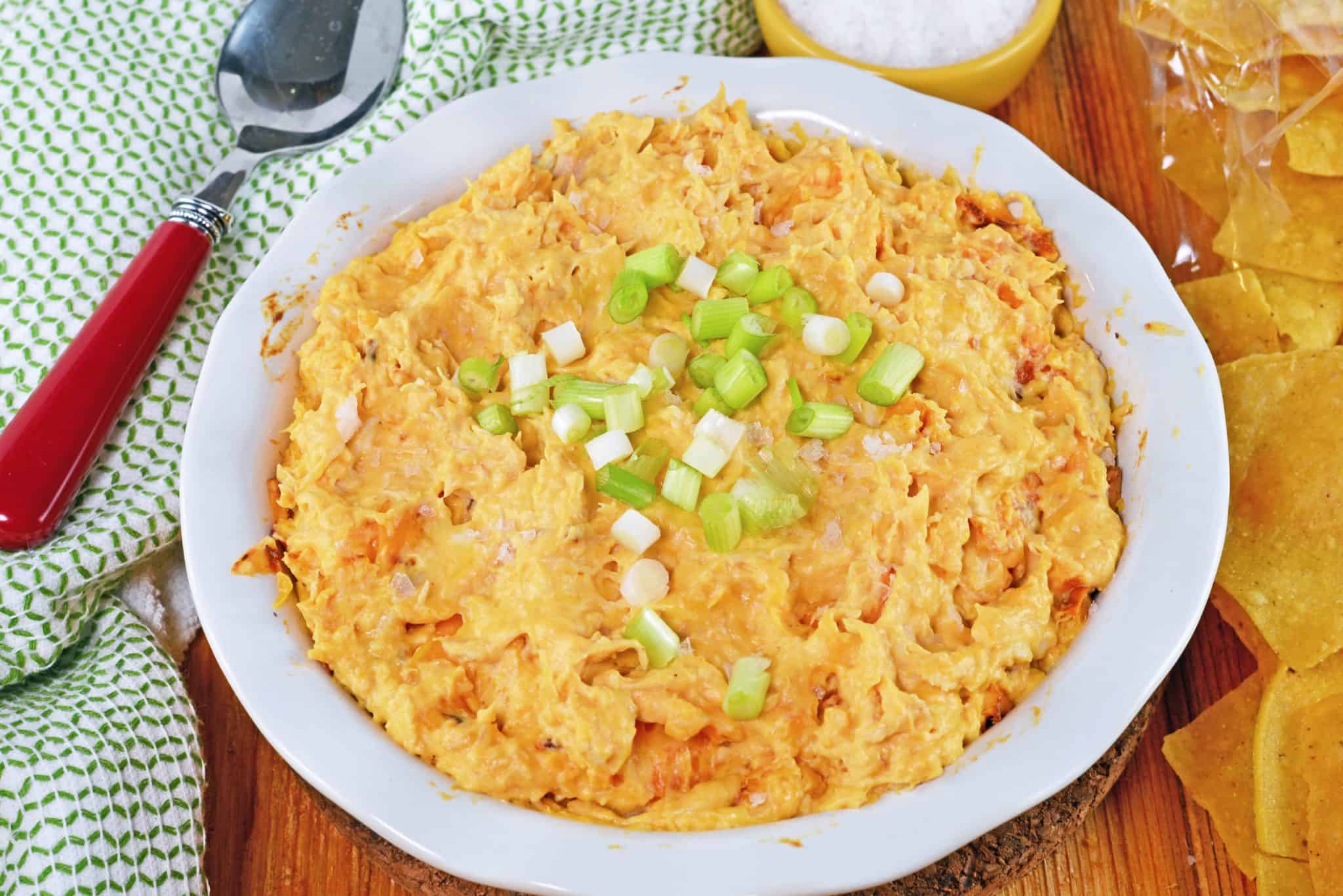 You won't need the whole chicken, but you can also make a Avocado Pesto Chicken Salad, Artichoke and Chicken Turnovers or French Onion Chicken Casserole.
Shredded rotisserie chicken also freezes well. Simply put it in an airtight plastic bag, removing as much air as possible, and then freeze for up to 4 months. 
Really you can use any time of cooked chicken. You can even bake boneless skinless chicken breasts and then use two forks to shredded them.
PRO TIP: Always beat softened cream cheese by itself until light and fluffy. Failing to do this could result in the buffalo chicken mixture being lumpy and not evenly mixed.
Buffalo Dip can be prepared up to a day ahead of time and refrigerated until you are ready to bake it. Leftovers (if there are any) taste great as a spread on sandwiches or burgers (lightbulb moment!).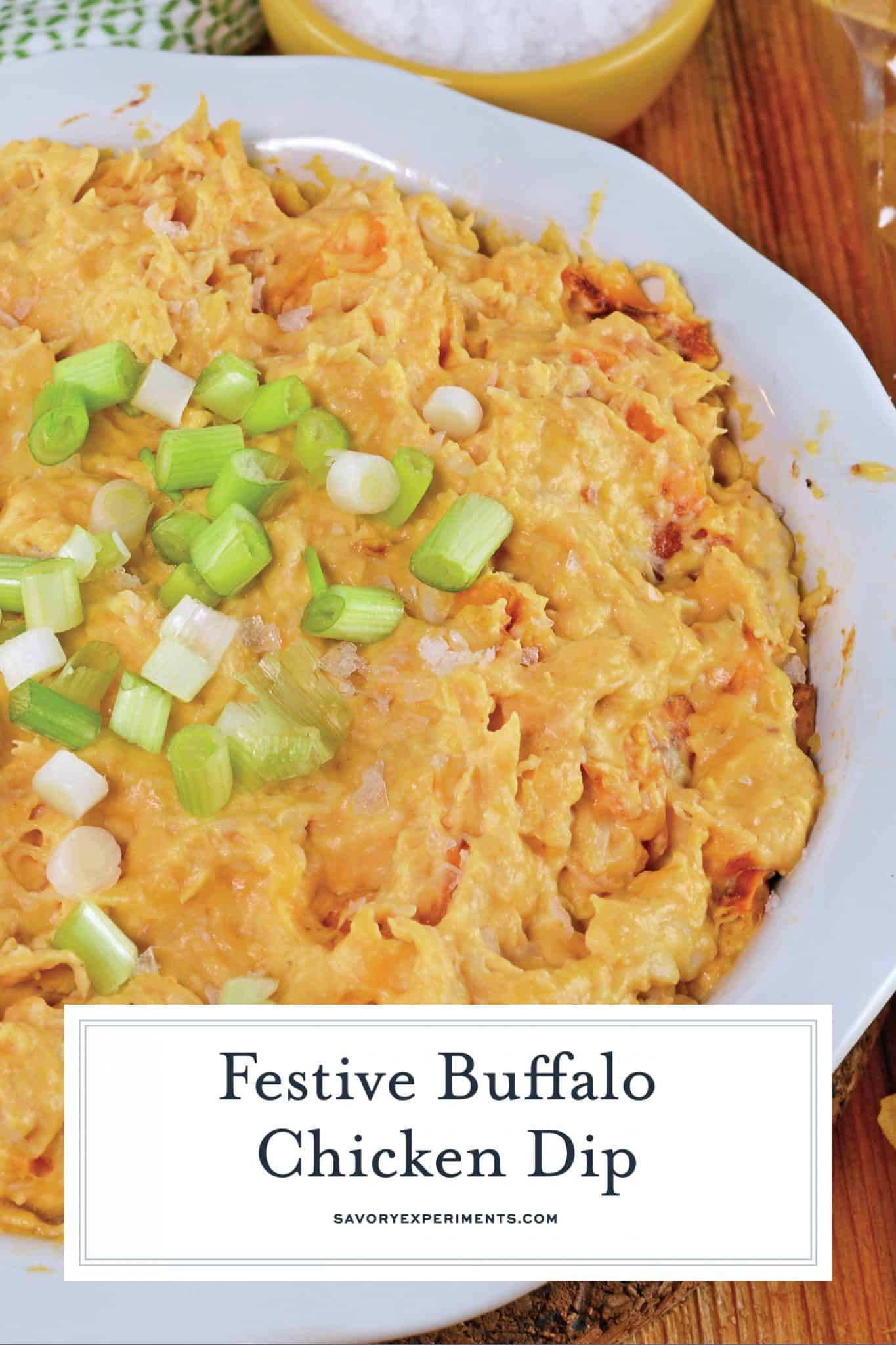 Check out these other buffalo chicken inspired recipes:
Tools for making this dip:
Mixing Bowls– make sure to check out my article on Using the Right Mixing Bowl, you'd be surprised how many people aren't!
Stand Mixer– I lived for a long time without one. My life was changed when I finally bit the bullet and bought one. Just do it and thank yourself later. You can certianly mix it by hand, but I like using the stand mixer to make it more uniform and further break up the chicken.
Pie Plates – I think every kitchen should have at least three shallow dishes or pie plates for the process of breading and frying. You can also bake pies in them! Hehe. They are perfect for dips, like this!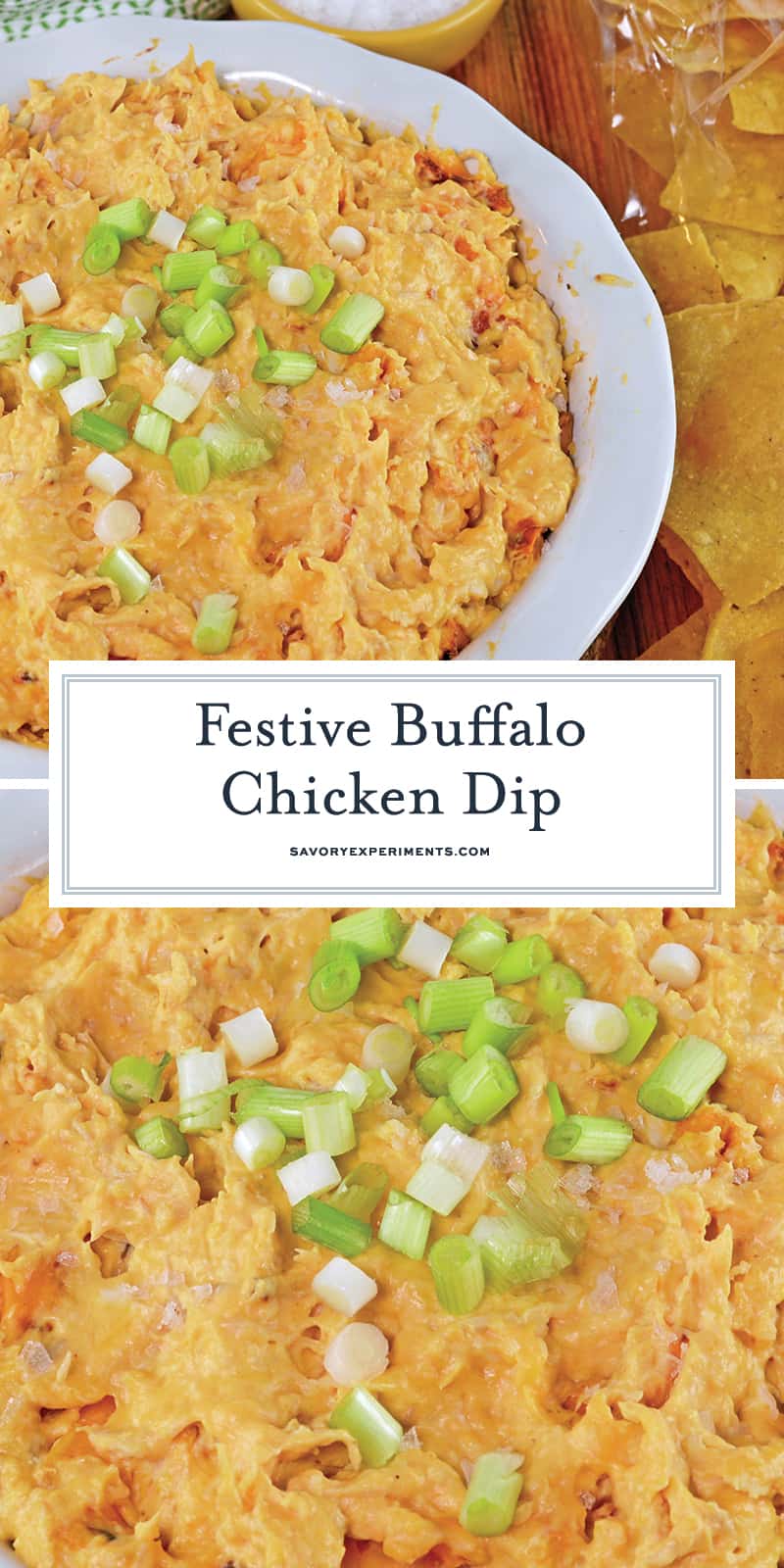 Questions about how to make buffalo chicken dip:
Can I make buffalo chicken dip ahead of time? Yes! In fact I usually do. I would hold off on heating it until you are ready to serve.
Can I freeze buffalo chicken dip? Hypothetically, yes, but I don't like to freeze things with a cream cheese base in large containers. it is up to you.
Can I use canned chicken for my buffalo chicken dip? Canned chicken is a perfectly good substitute for fresh rotisserie chicken.
What is I want my buffalo chicken dip to be really hot and spicy? Chop and add jalapeno or habanero peppers to the buffalo mixture. be mindful to wear protective gloves to avoid getting the pepper oils on your fingers, which can burn like the dickens.
Can I make this a mild buffalo chicken dip? Cut the wing sauce in half, only adding 1/4 to a half a cup. You can start by adding just a little, taste testing and then adding more. The chicken is cooked, so you don't need to worry about food poisoning.
Can I serve buffalo chicken dip cold? You sure can! Buffalo chicken dip ingredients are fully cooked, so if you desire to serve it cold, be my guest. I prefer the cheese to be gooey and melty, so I like to cook mine.
What can I do with my leftovers? Leftover buffalo chicken dip is perfect for putting on a sandwich or grilled cheese, topping nachos or tater tots or just eating as a snack with carrots and celery.
How long does buffalo chicken dip last? This dip, like many other cream cheese dip recipes, will last chilled in the refrigerator and covered for up to 5 days.
Can I make this in the crock pot or slow cooker? Sure! I shy away from making crock pot buffalo chicken dip only because it isn't necessary and tends to burn around the edges. Using a shallow dish allows it to heat evenly and faster than being layered like it would in a slow cooker.
However, you can make the same recipe into a slow cooker buffalo chicken dip and just cook it on low or keep warm until hot and bubbly. Times will vary by slow cooker.
Can I add blue cheese dressing or ranch dressing? Sure! Top your dip with crumbled blue cheese or even mix a few tablespoons of ranch dressing or blue cheese in before baking. I don't care for either, so I omit it. You can even blend in a packet of dry ranch seasoning. 
Can I omit the green onions? Sure! I like the fresh crunch of scallions or chives, but they aren't neceasrry to the recipe.
Buffalo Chicken Dip is a quick and easy appetizer that will work for any party! This an amazing buffalo chicken recipe that will only take 30 minutes to make!
CONNECT WITH SAVORY EXPERIMENTS!

Be sure to follow me on social media, so you never miss a post!

Facebook | Twitter | Youtube
Pinterest | Instagram

Get our FREE 8 Day E-Course on How to Be a Better Home Cook. Sign up HERE!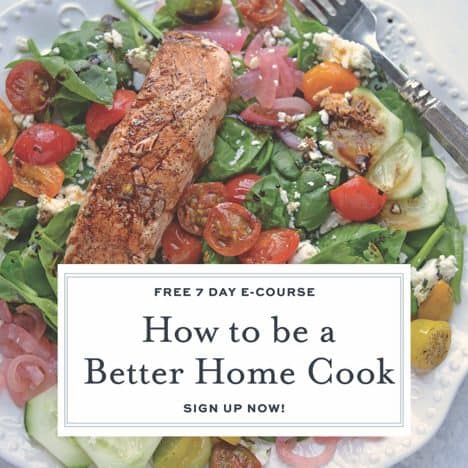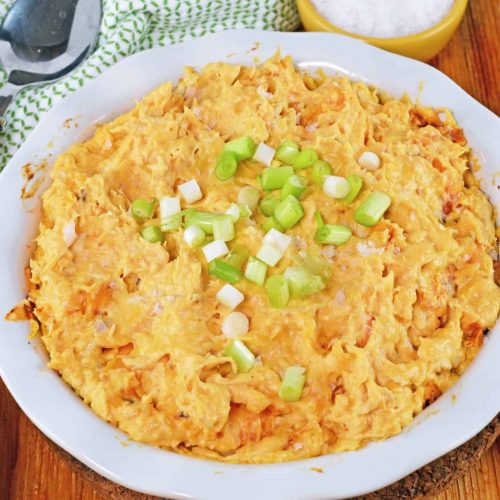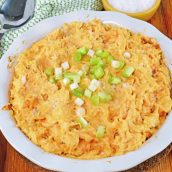 Print Recipe
Buffalo Chicken Dip
Buffalo Chicken Dip is a quick and easy appetizer for any party! Use pre-shredded chicken to save time for your spicy dip.
Instructions
Preheat the oven to 350 degrees.

Beat cream cheese alone for 1-2 minutes or until light and fluffy.

Cream together cream cheese, sour cream and mayonnaise until smooth.

Add hot sauce, garlic powder, salt and pepper; blend until combined. Hot sauce can vary from 1/2 cup to 1 cup depending on your desired spice levels. Add slowly, tasting along the way. If you want a little extra kick, add 1/2 teaspoon cayenne pepper.

Add shredded chicken, mix. Add scallions and 1 cup cheddar cheese, mix.

Prepare a casserole dish or pie plate with cooking spray. Spread mixture into dish and top with remaining shredded cheddar cheese.

Bake for 10-15 minutes or until cheese is melted, bubbly and browned. Top with chopped scallions.

Serve your Buffalo Chicken Dip with tortilla chips!

If you tried this recipe, come back and let us know!
Nutrition
Calories:
613
kcal
|
Carbohydrates:
4
g
|
Protein:
17
g
|
Fat:
58
g
|
Saturated Fat:
24
g
|
Cholesterol:
138
mg
|
Sodium:
472
mg
|
Potassium:
216
mg
|
Sugar:
3
g
|
Vitamin A:
1315
IU
|
Vitamin C:
0.2
mg
|
Calcium:
296
mg
|
Iron:
0.9
mg