Looking for your nose to run and sweat beads on your forehead? Jalapeno Buffalo Chicken Dip is the dip that will clear your sinuses while have you craving more.
Buffalo Wing Dip
I love the taste of a well done, crispy buffalo wing soaked with flaming sauce, but not the mess. It drys my lips, gets underneath my nails and then God forbid you touch your eye- oh the humanity!
So let's do this a little differently: The Best Buffalo Chicken Dip. Buffalo chicken wings without all the mess.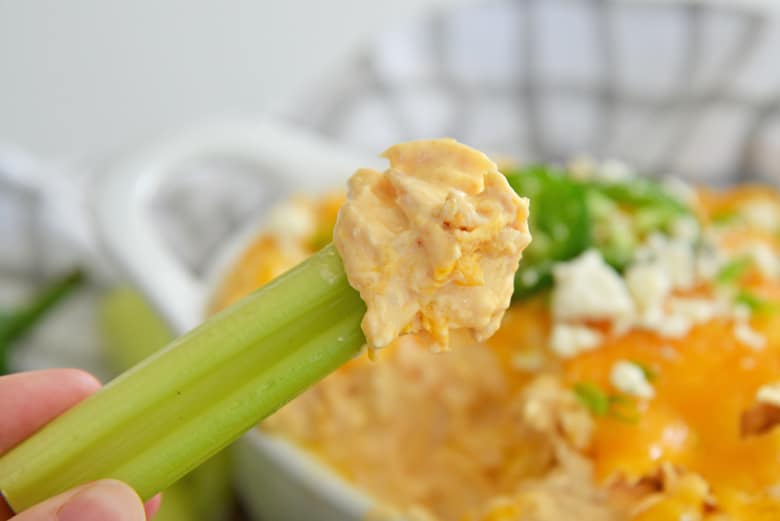 Fiery buffalo sauce swirls with silky cream cheese and bakes with bubbly cheddar. But mine is a little different. I take it up a notch with jalapenos. Yep, I add fire to the already hot dip and it is magnificent.
Buffalo Chicken Dip Ingredients
My buffalo chicken dip is a little different than most. I use sour cream and mayo to add body, creaminess and flavor.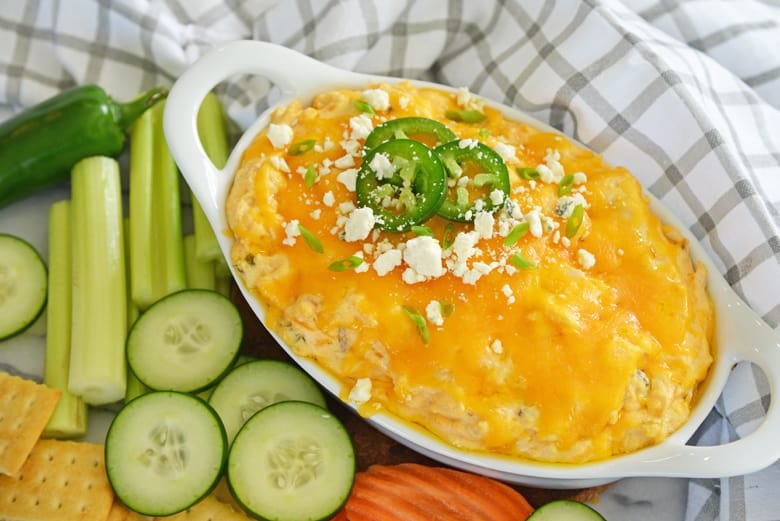 I also don't add ranch or blue cheese to the actual dip and I'll tell you why. People tend to really gravitate towards one or the other and I, don't like either. Feel free to stir in 1/2 cup of your desired sauce, but I'll continue to leave it out of mine.
cream cheese
sour cream
mayonnaise
garlic powder
kosher salt
1/2 cups buffalo sauce
1/4 cup jarred jalapenos, minced
cheddar cheese
chicken
chives or scallions
blue cheese crumbles
Chicken
You have three options when choosing your chicken.
Buffalo Dip Using Canned Chicken– By far the easiest, canned chicken is fully cooked and already chopped so all you have to do is drain it.
Buffalo Dip Using Rotisserie Chicken– The second easiest option and usually my go to. This chicken is freshly cooked and already seasoned. It easily pulls and is super moist and flavorful, adding to an already fabulous dip recipe.
You won't need all of the chicken, so you can use the rest to make Chicken Salad with Grapes, Chicken Tortilla Soup Or Loaded Chicken Nachos.
Buffalo Dip Using Fresh Chicken– Not that rotisserie isn't fresh, but you know what I mean. You are going to cook and shred the chicken yourself. Do so by baking, boiling or even throwing it in the Instant Pot or Slow Cooker with chicken broth, cook and then shred.
No Chicken Vegetarian Buffalo Dip– It is totally possible to omit the chicken altogether and making a vegetarian buffalo dip. You will need to double the cream cheese.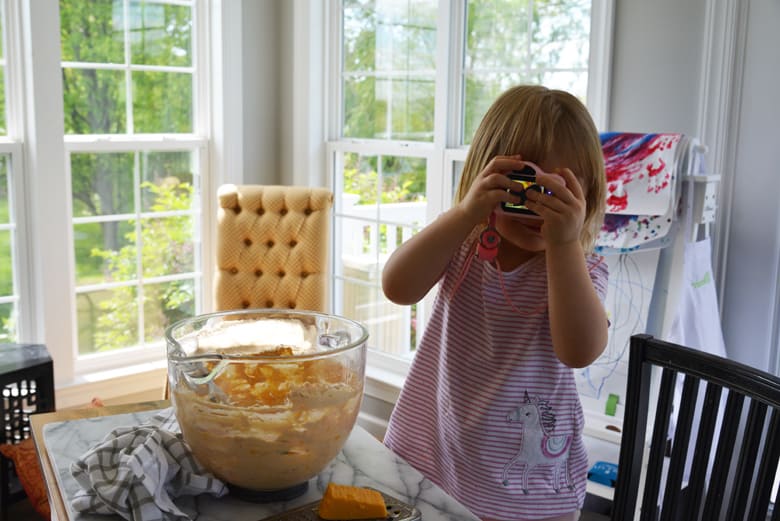 Buffalo Sauce
Buffalo Sauce and hot sauce are both spicy, but are different things. Either can be used, but please understand the difference.
Hot Sauce– Hot sauces are typically vinegar based and then simmered with chile peppers until they are some level of HOT. They are thin and watery. Think of Texas Pete or Frank's.
Buffalo Sauce– Buffalo sauce is usually just equals amounts of hot sauce with butter. Yep, butter. Skip buying a bottle for $6 and get cheap hot sauce to make buffalo sauce yourself.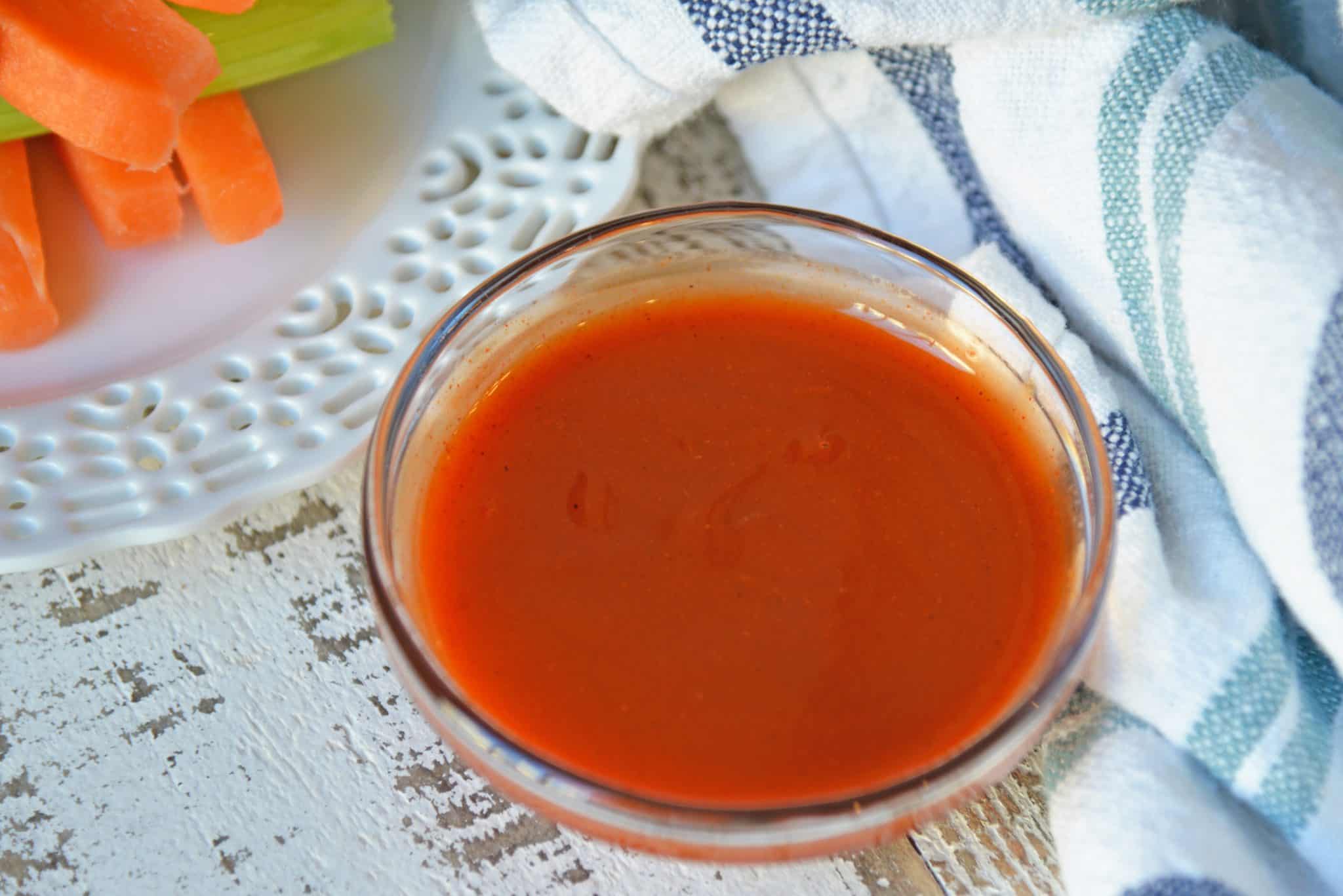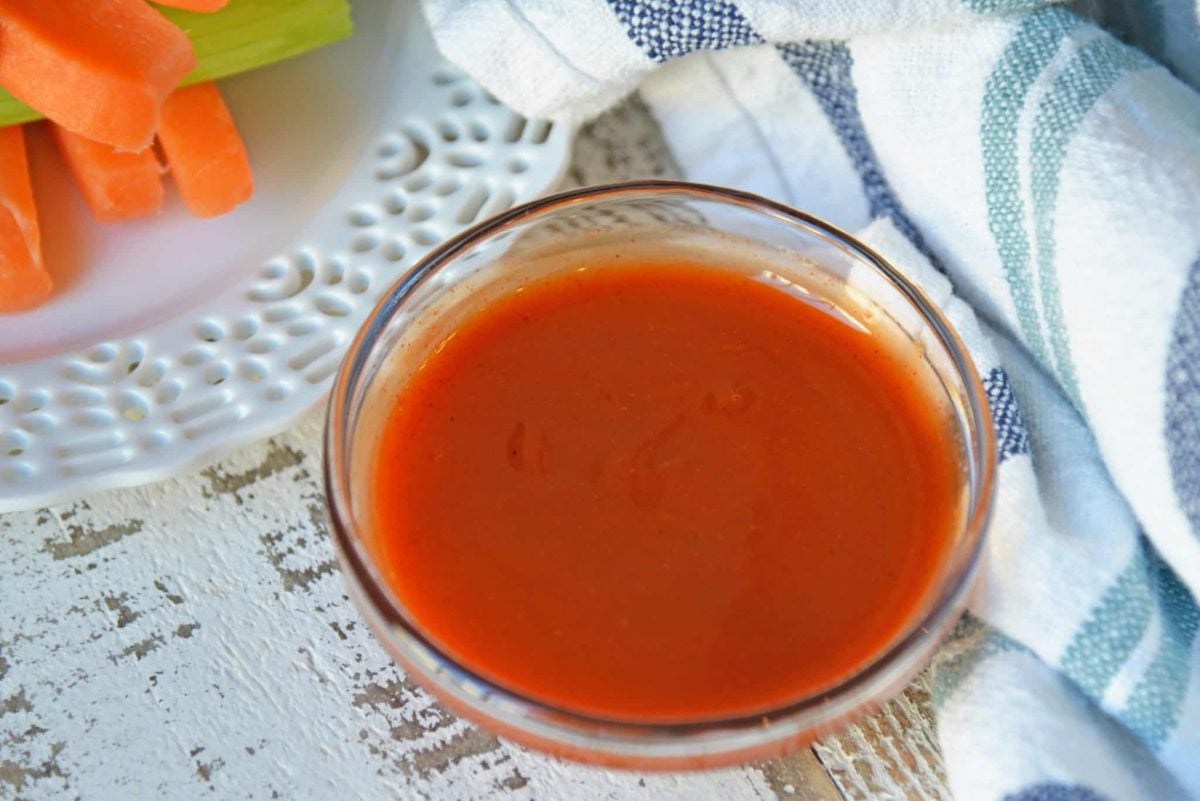 Other Types- There are other types of "hot sauce" out there too, please don't use those. These would include Nashville Hot, Rochester Hot or something like Harissa. Chili sauce like Sriracha or chile garlic sauce is also popular, but not optimal for this type of recipe.
How to Make Buffalo Chicken Dip
It is actually very easy! Many include having to mix all your ingredients on the stove before baking. I skip that step and find it unnecessary as long your cream cheese it softened.
PRO TIP: Always beat softened cream cheese by itself until light and fluffy. Failing to do this could result in the buffalo chicken mixture being lumpy and not evenly mixed.
Mix softened cream cheese with sour cream, mayo, seasonings and hot sauce.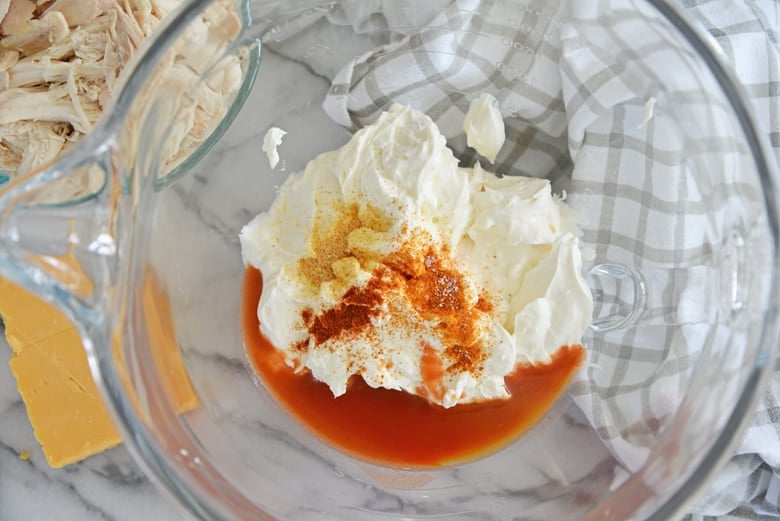 Blend well, then blend with chicken. Chicken will fall apart even further, but that is expected.
Transfer into a baking dish and then bake a low temperture for 20-ish minutes until hot. I don't like to make mine super hot or else the ingredients have the tendency to separate.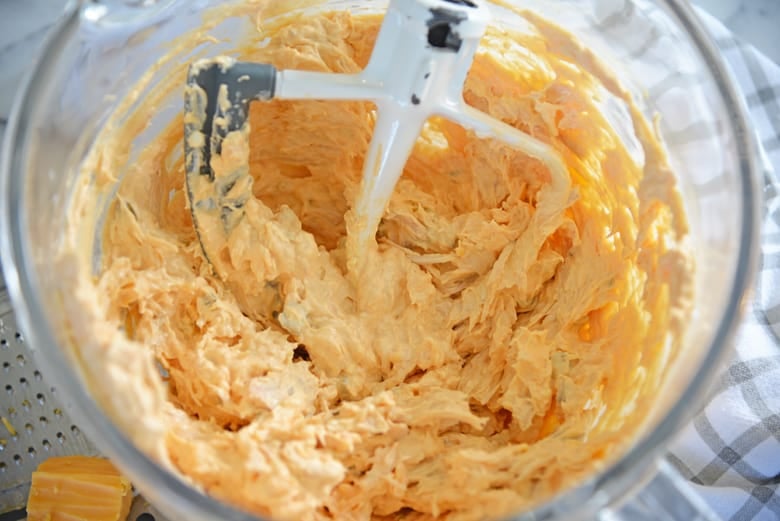 What to Dip
What can't you dip? I wouldn't fault you for eating it with a spoon!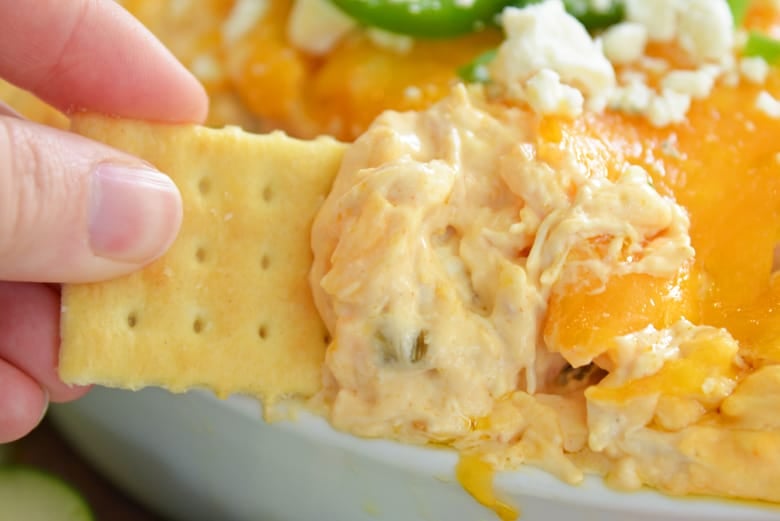 But here are the socially acceptable things to include with your buffalo chicken dip at parties and such.
Crackers
Cucumber Slices
Radish Slices
Pretzels
Potato Chips
Celery Sticks
Carrot Sticks
CrockPot or Slow Cooker
Nope, this recipe is for good. old baked buffalo dip. While some versions are made for the crockpot so you can skip the stove and baking, this one isn't.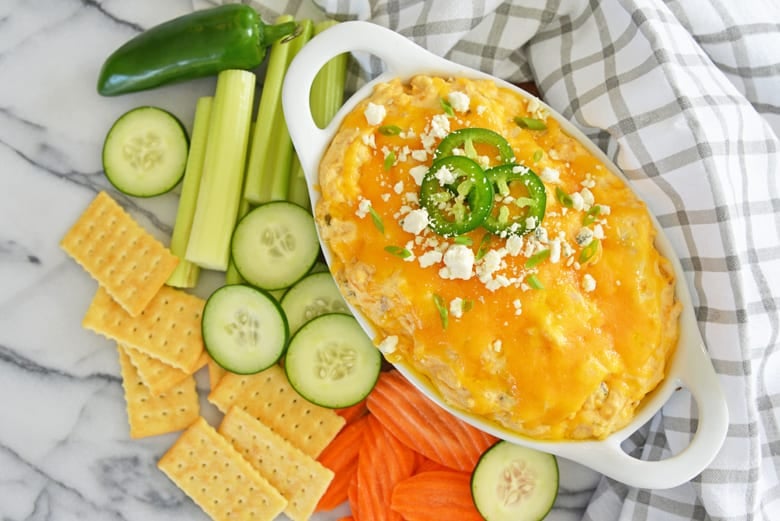 You don't need to use the crockpot unless you want to use it on the "keep warm" function at a party or event. Or just because you are grazing on on it while it sits on your counter all afternoon. I don't judge.
Cold Buffalo Chicken Dip
Because of how I make mine, without the stove, and the ingredients are all cooked, it can actually be served cold or room temperature kind of like pimento cheese.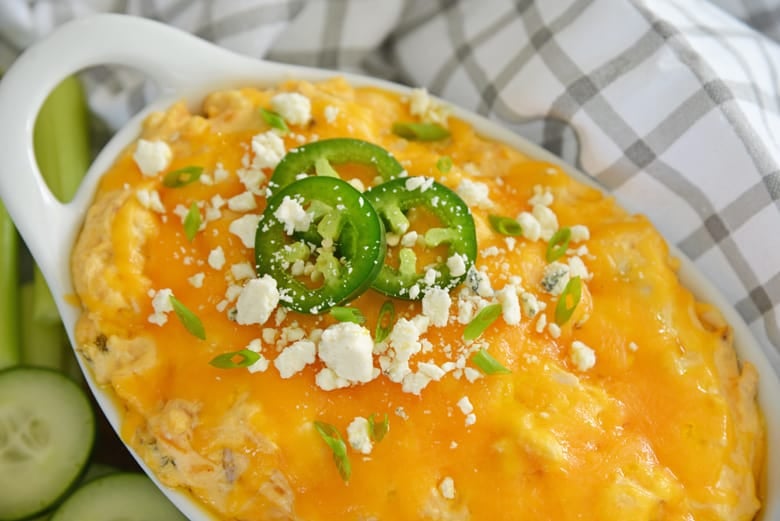 In fact, you can use it in any of my recipes that use pimento cheese for a fun twist!
Storage and Freezing
Buffalo chicken dip can be made ahead of time, but I would make the dip and then bake it right before serving.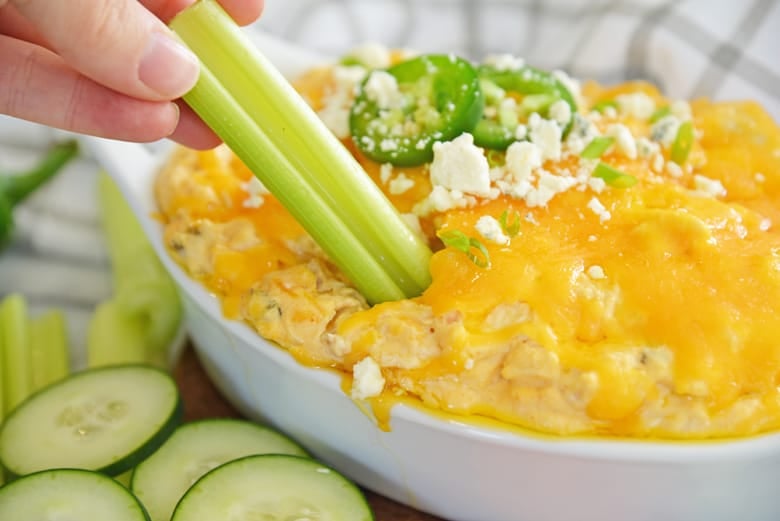 Leftovers are stored covered, in the fridge for up to 5 days. You can eat them cold, make them into a grilled cheese sandwich or top a burger or reheat them quick in the microwave. Use 50% power and stir often to prevent separation.
You can totally freeze this dip, but let it thaw at room temperature or in the fridge, don't use the microwave defrost function.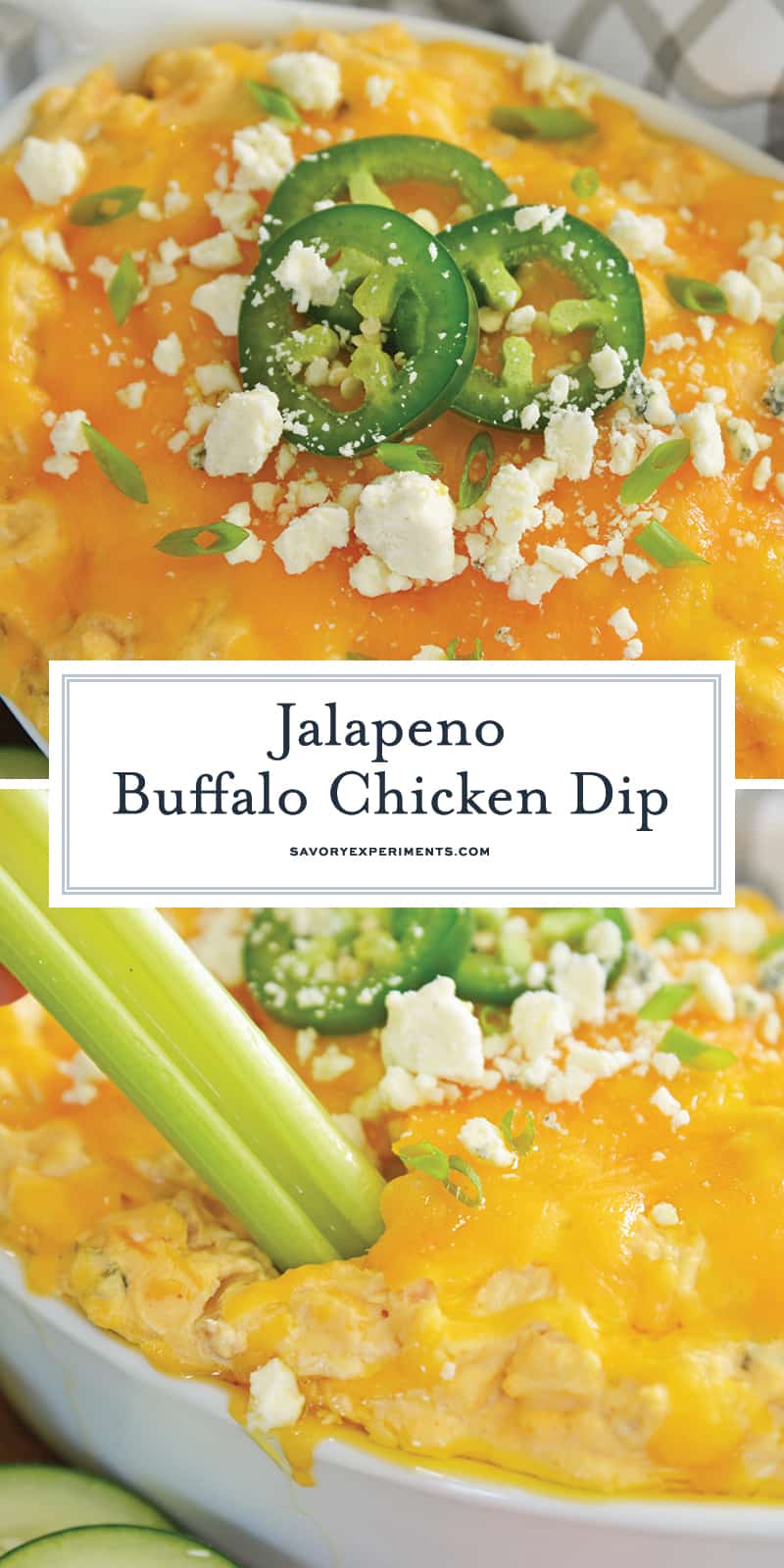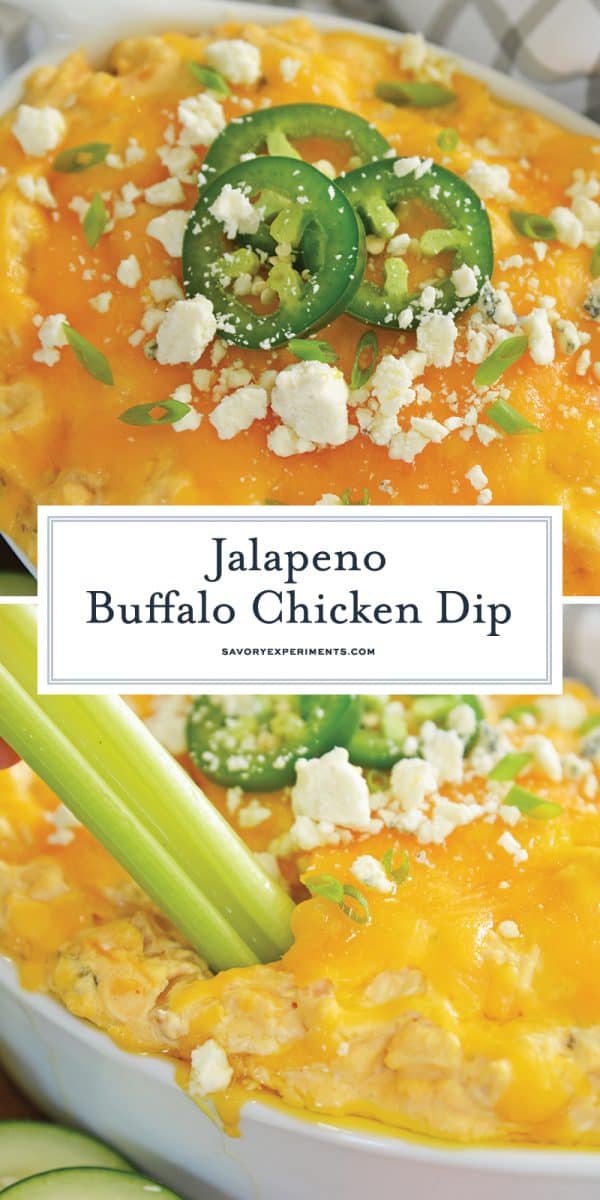 Check out these other buffalo chicken inspired recipes:
Tools for making this dip:
Mixing Bowls– make sure to check out my article on Using the Right Mixing Bowl, you'd be surprised how many people aren't!
Stand Mixer– I lived for a long time without one. My life was changed when I finally bit the bullet and bought one. Just do it and thank yourself later. You can certianly mix it by hand, but I like using the stand mixer to make it more uniform and further break up the chicken.
Pie Plates – I think every kitchen should have at least three shallow dishes or pie plates for the process of breading and frying. You can also bake pies in them! Hehe. They are perfect for dips, like this!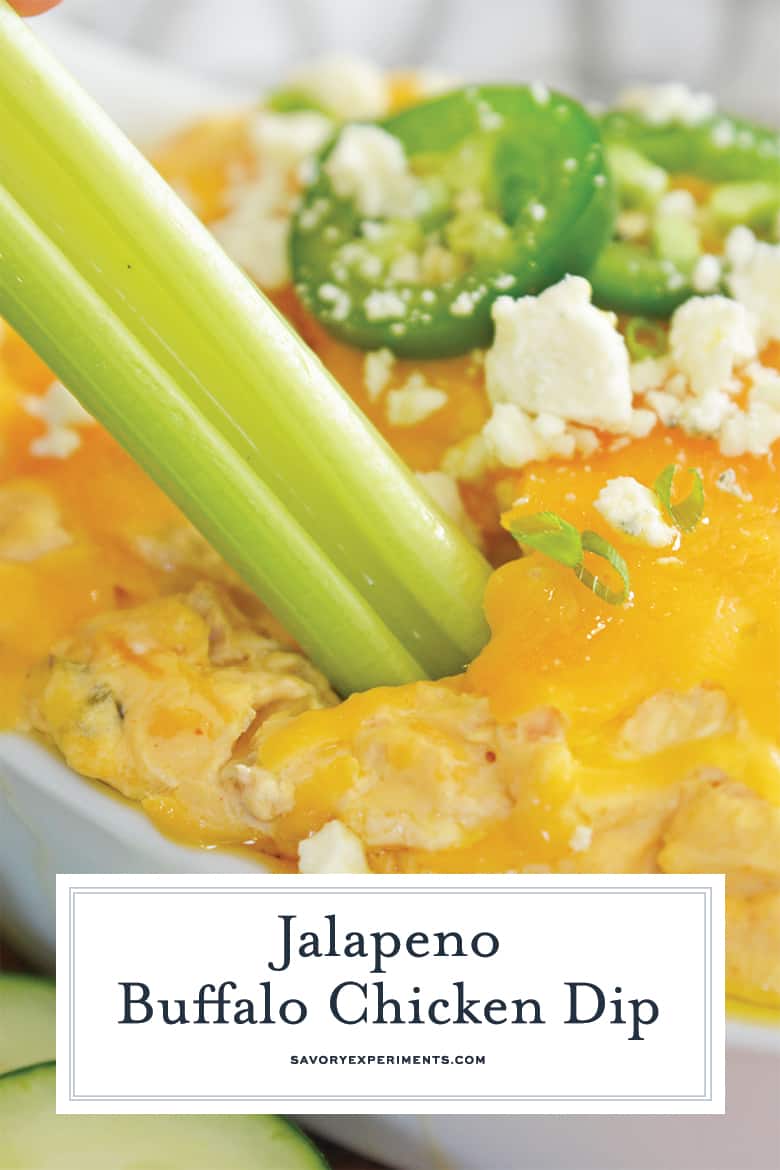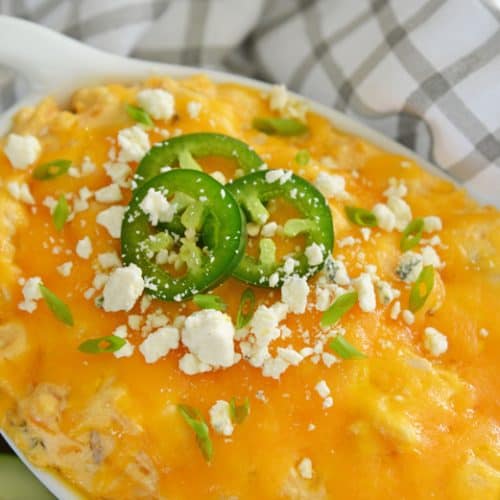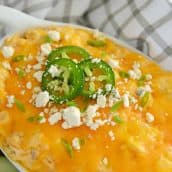 Buffalo Chicken Dip Recipe
Buffalo Chicken Dip is a quick and easy appetizer for any party! Use pre-shredded chicken to save time for your spicy dip.
Instructions
Preheat the oven to 350 degrees.

Beat cream cheese alone for 1-2 minutes or until light and fluffy.

Cream together cream cheese, sour cream and mayonnaise until smooth.

Add hot sauce, garlic powder, salt and pepper; blend until combined. Hot sauce can vary from 1/2 cup to 1 cup depending on your desired spice levels. Add slowly, tasting along the way. If you want a little extra kick, add 1/2 teaspoon cayenne pepper.

Add shredded chicken, shredded cheddar and jalapenos, mix.

Prepare a casserole dish or pie plate with cooking spray. Spread mixture into dish and top with remaining shredded cheddar cheese.

Bake for 10-15 minutes or until cheese is melted, bubbly and browned. Top with chopped scallions or chives and blue cheese crumbles.

Serve your Buffalo Chicken Dip!

If you tried this recipe, come back and let us know!
Nutrition
Calories:
613
kcal
,
Carbohydrates:
4
g
,
Protein:
17
g
,
Fat:
58
g
,
Saturated Fat:
24
g
,
Cholesterol:
138
mg
,
Sodium:
472
mg
,
Potassium:
216
mg
,
Sugar:
3
g
,
Vitamin A:
1315
IU
,
Vitamin C:
0.2
mg
,
Calcium:
296
mg
,
Iron:
0.9
mg