Irish Colcannon Potato Recipe is a true Irish comfort food. With a potato base and salty bacon, with a hefty dose of vegetables, how can you go wrong?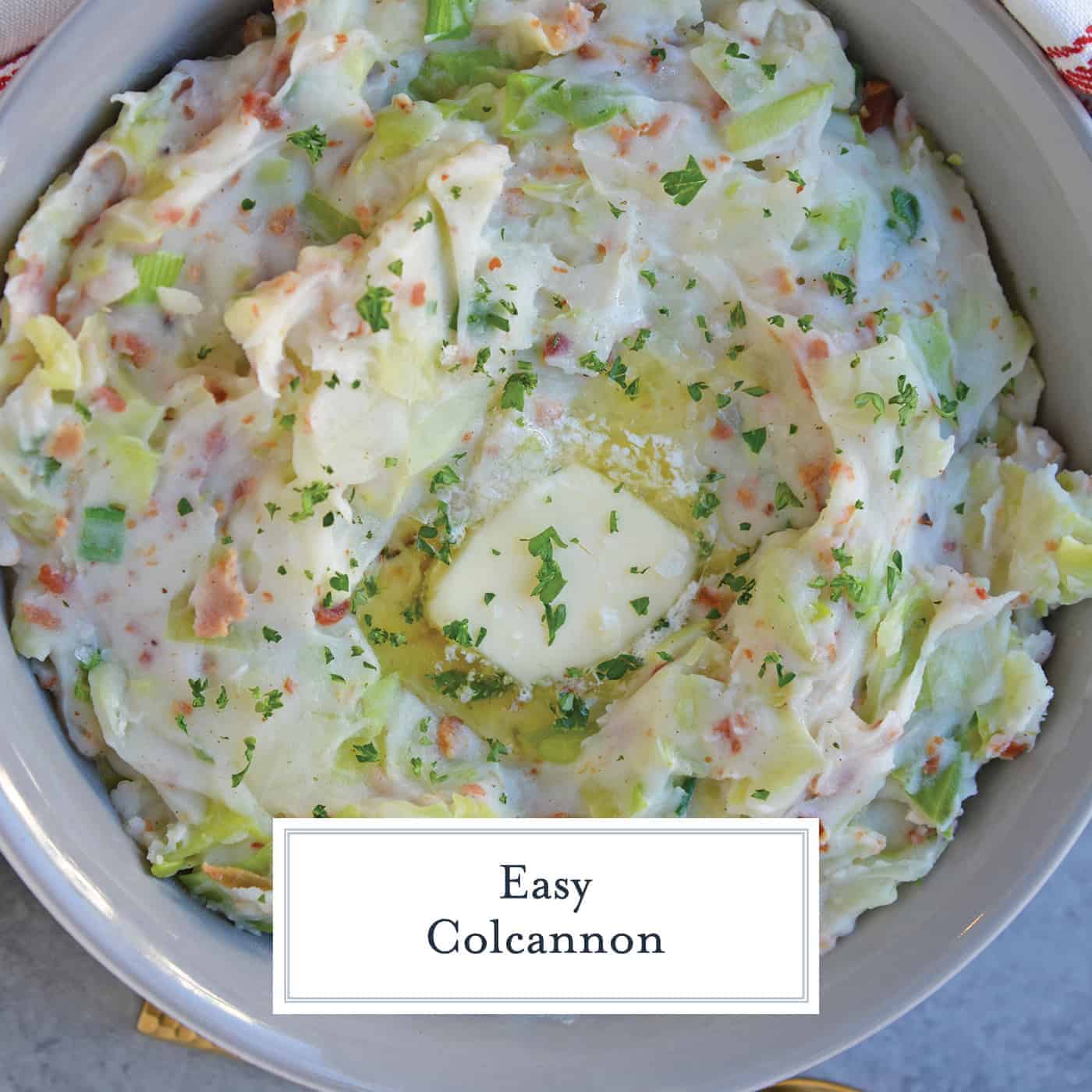 This Irish Colcannon recipe is an easy recipe using your favorite mashed potato recipe, a special trick for super silky cabbage, bacon and lots of creamy butter.
The dish is made of creamy homemade mashed potatoes, butter and cooked kale or cabbage and something from the onion family, commonly leeks and more recently, bacon.
It can be served after being mashed together or put into a baking dish and baked as a mashed potato casserole dish.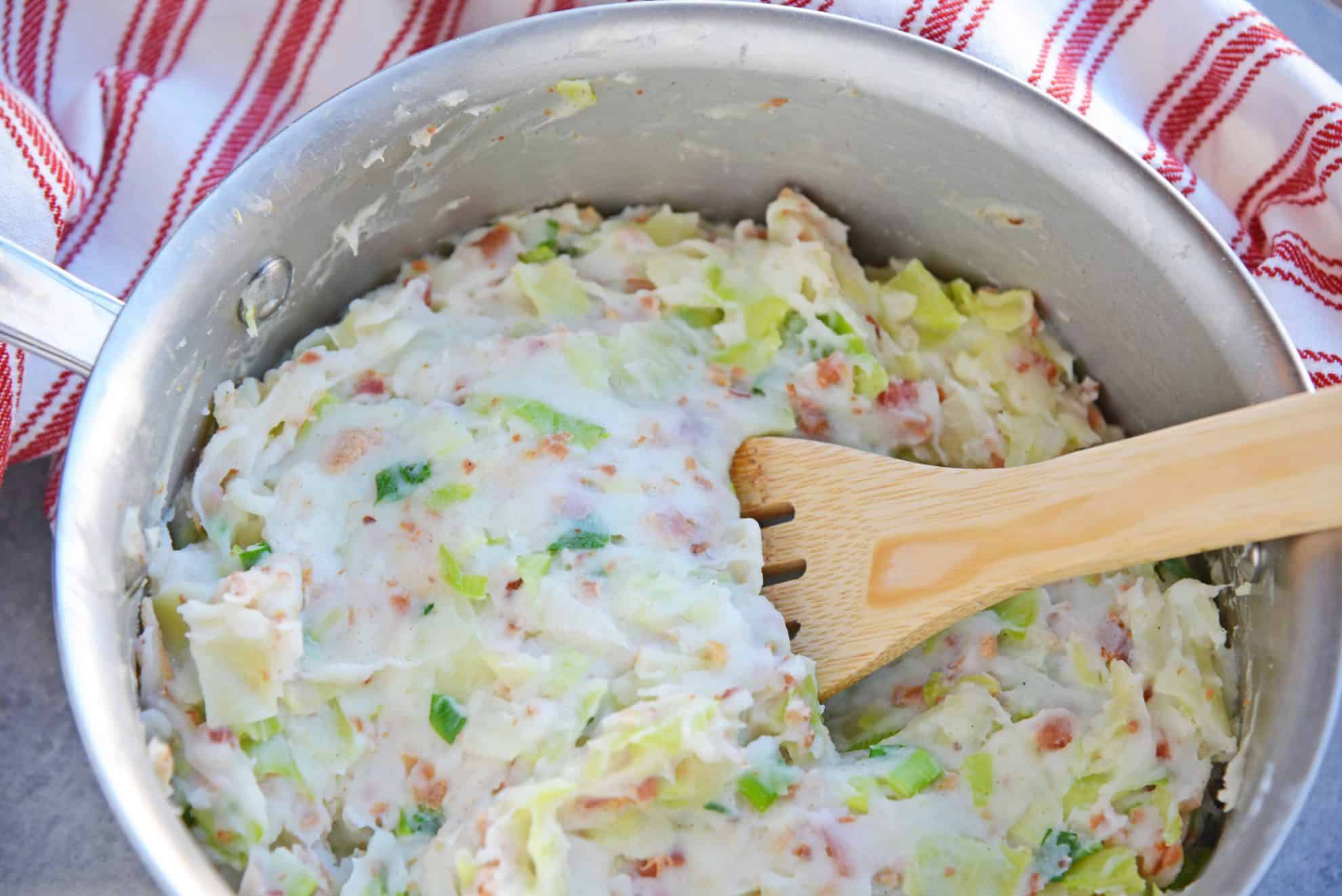 The history of Colcannon is best described by What's Cooking America here:
"During the 1600 and 1700's in Europe and Ireland, potatoes, cabbages, and leeks were considered the food of the common man so it was inevitable that a dish would evolve that combines all the ingredients. The word colcannon is from the Gaelic term "cal ceannann" which means white-headed cabbage. It is also believed to be a derivative of the old Irish "cainnenin" translated as garlic, onion, or leek.

In Ireland, colcannon is served as a special treat with ham or Irish bacon. The Irish tradition is to serve colcannon as the main dish for Halloween festivities and refer to the evening as "Colcannon Night". Colcannon is used for the foretelling of marriages. Just as Americans have the fun superstition of the single young lady who catches the wedding bouquet will be the next to marry. Young single Irish women hope to find the ring hidden in their plate of colcannon."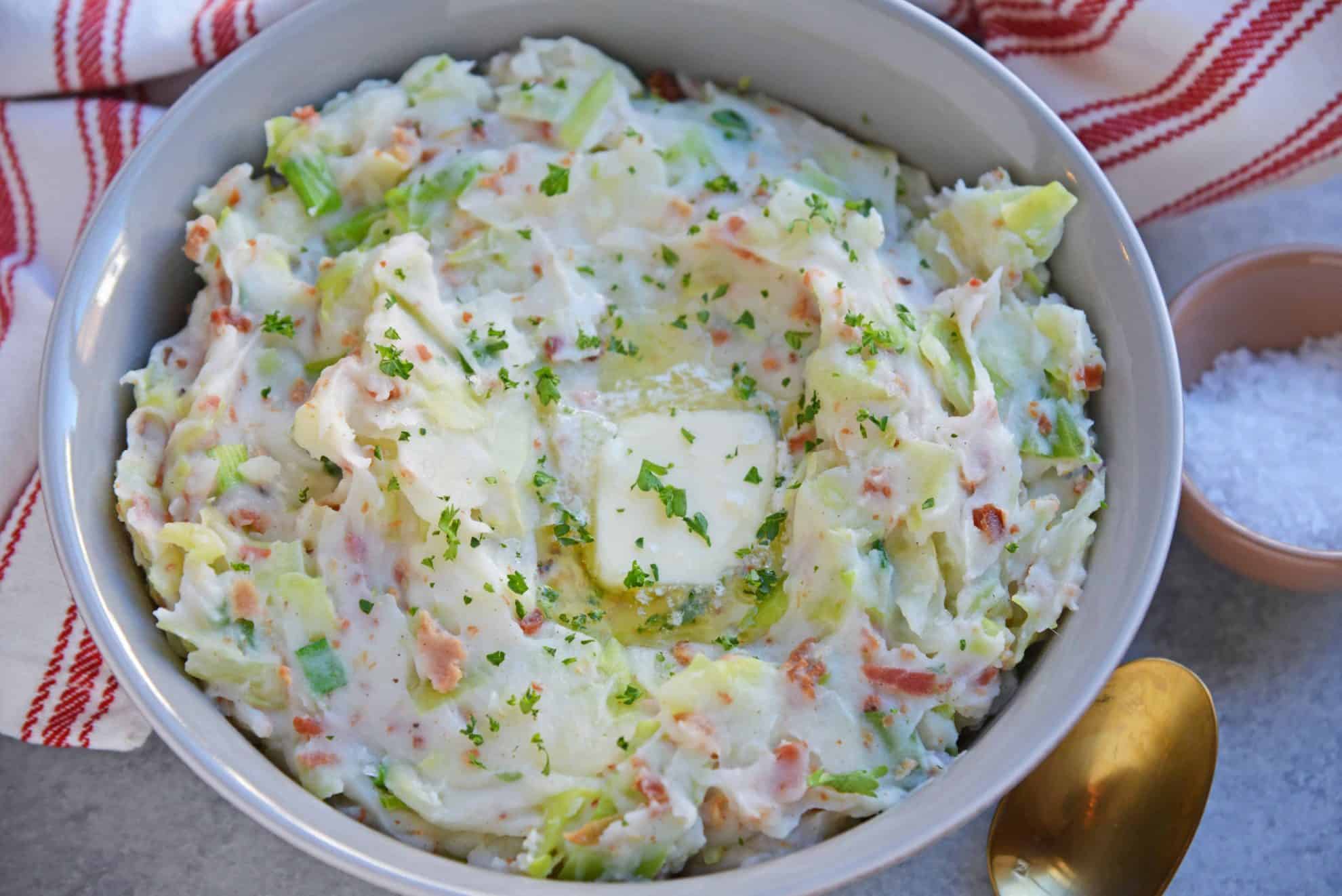 Today colcannon is still such a popular Irish recipe that it is printed as the standard recipe on the back of potato bags. It served as both an entree and a side dish. In the states, Colcannon is served primarily on St. Patrick's Day, but in Ireland it is a staple year round.
For my colcannon recipe I used cabbage instead of kale. It just felt more Irish even though kale is a super trendy food at the moment. The trick is to boil the cabbage and then add butter to soften and take bitterness out.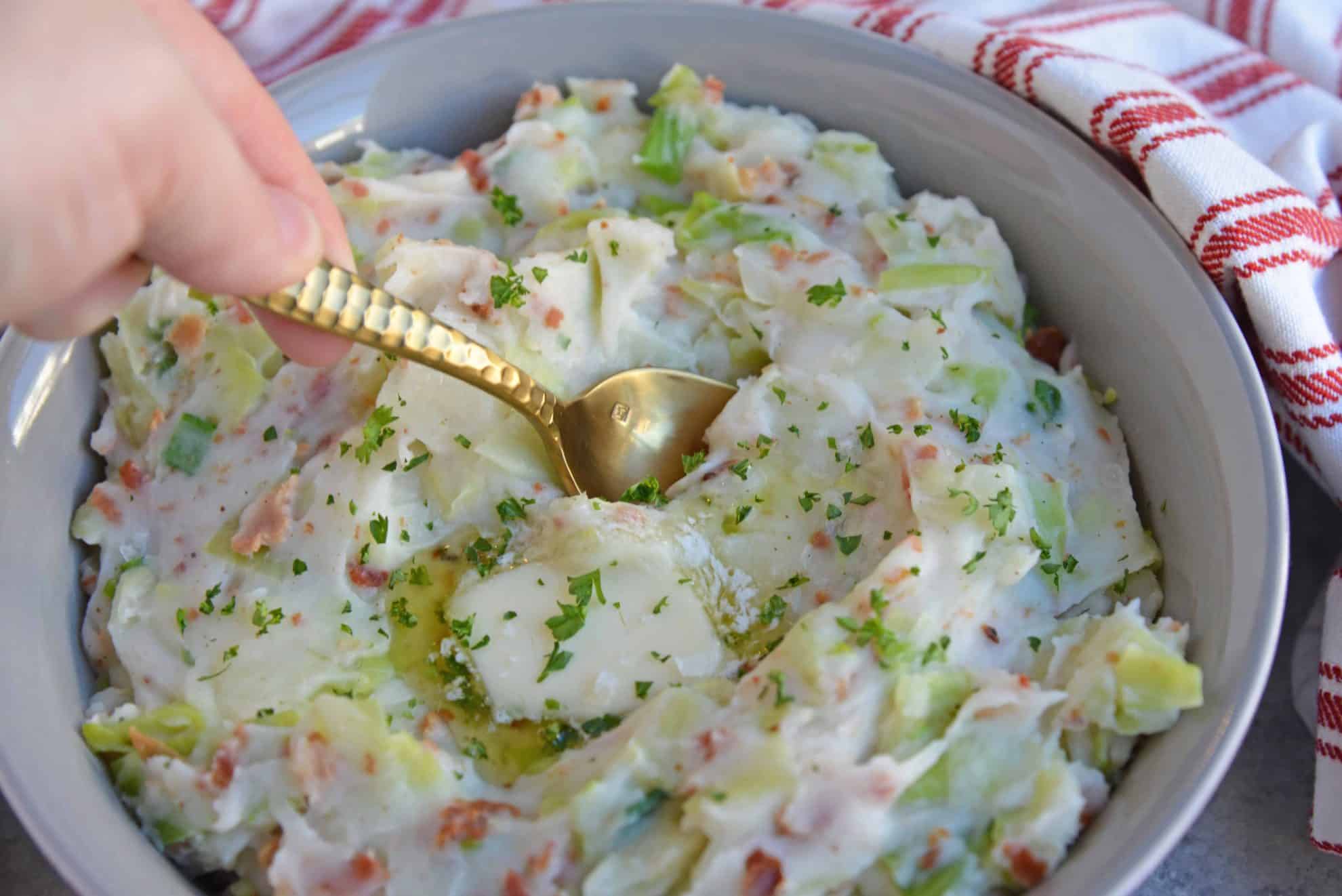 In Ireland, you'll most likely see boiled ham. I prefer bacon. Very American, I know, but I like it better that way. You can also use a pancetta or prosciutto for an Italian fusion.
You can use your favorite mashed potato recipe, seasoned or even plain or instant. My Mascarpone Mashed Potatoes and Garlic Dill Mashed Potatoes offer some unexpected herbs and flavors to traditional colcannon.
Leftovers can easily be made into Mashed Potato Cups!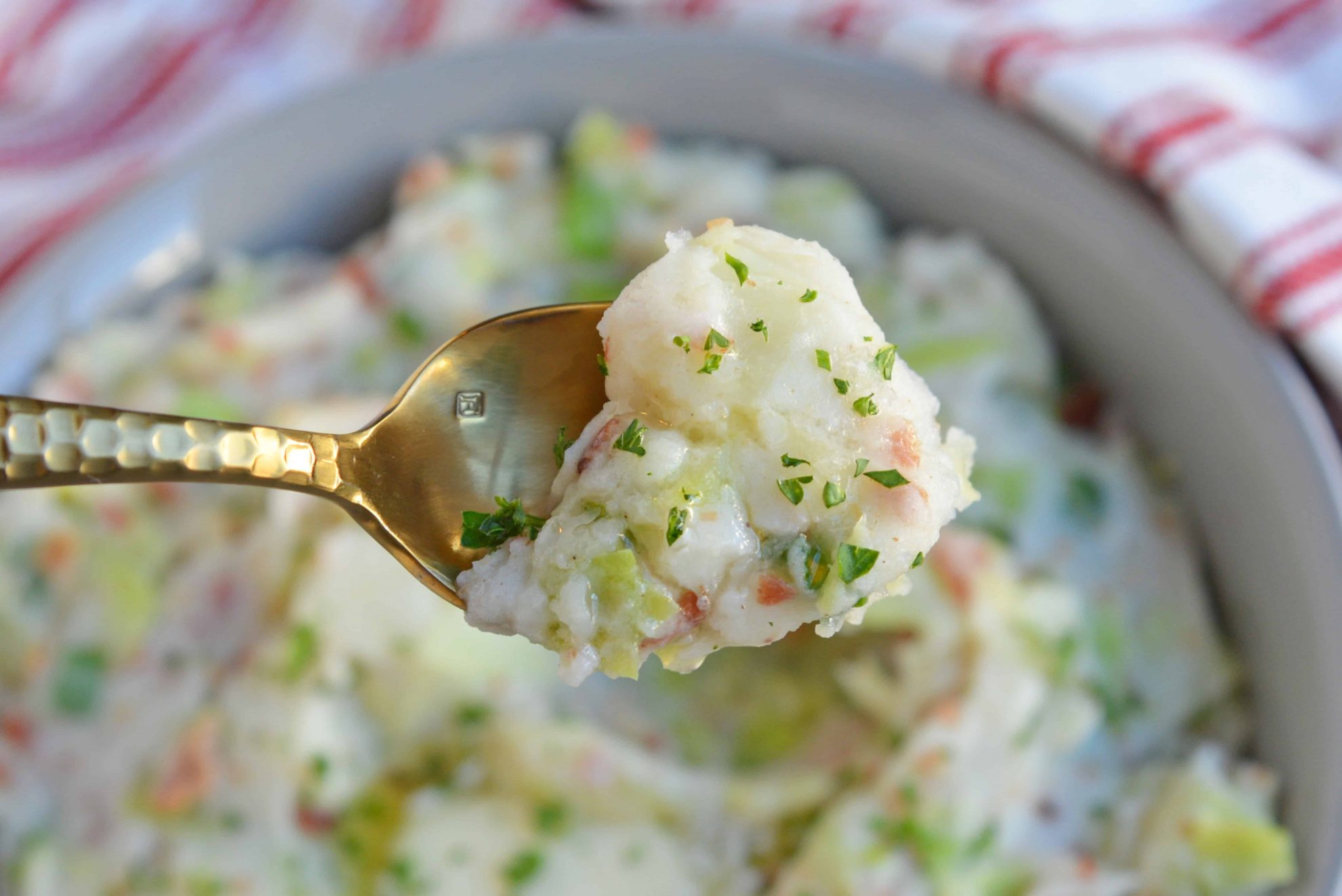 If you are looking for even more Irish recipes, here are a few!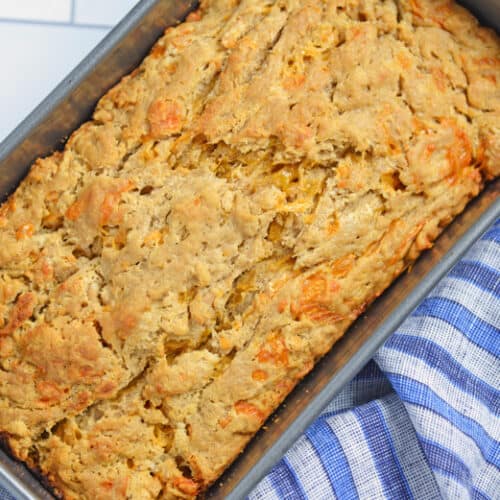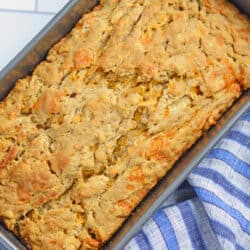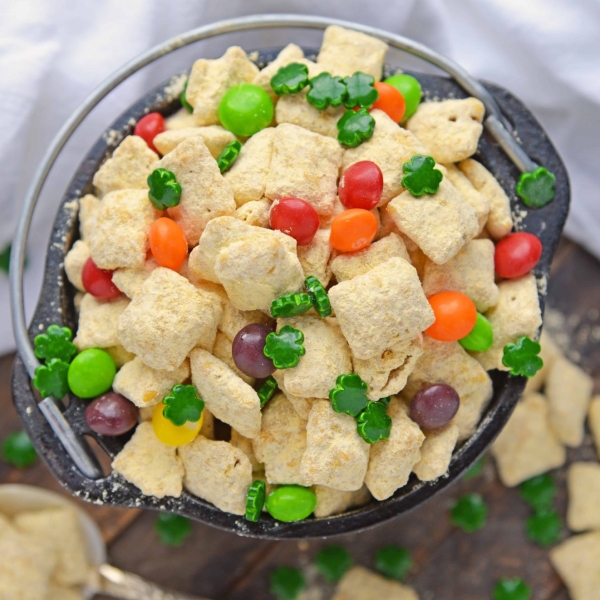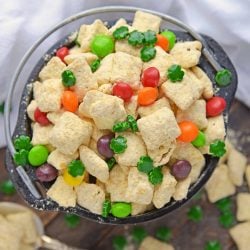 Pot of Gold Puppy Chow
Pot of Gold PUppy Chow is the perfect gold St. Patrick's Day dessert or snack. Easy to make, make-ahead and delicious to eat, it will be the hit of your St. Patrick's Day bash!
See The Recipe!
Tools for making Colcannon:
Heavy Bottom Sauce Pan– Heavy bottom saucepans distribute heat better and keep the food further from the heating element.
Wood cutting board – wood won't dull your knives like plastic and if treated properly, has natural antimicrobial properties.
Good knife – Global is my favorite! They are worth the price, I promise. I am kind of obsessed with them and store them tucked away so no one else can use them. Including hubby. Hands off my good stuff!

Questions you might have about how to make colcannon:
Can I freeze colcannon? You can freeze colcannon or any mashed potato, but it has a high water content, so it might need some sprucing when you thaw. Try whipping it with sour cream, additional butter or more milk to get it back to it's post freezing glory.
Packaging in an airtight container or plastic bag, colcannon will stay good for 3-4 months in the freezing.
How do I substitute kale for cabbage? If you want to substitute kale for cabbage in colcannon, simply follow the same recipe, but instead of boiling the kale, you just want to wilt it in a skillet, still with butter. Kale will wilt more and not have the same toothiness as cabbage.
Is colcannon gluten free? By definition, potatoes are gluten free and so is colcannon, this recipe specifically. That doesn't mean that all colcannon recipes are gluten free.
Can I make this into colcannon cakes? You sure can! Make sure your colcannon is cold, then mix with 3-4 whisked eggs. Form into patties. You can coat the patties with bread crumbs or fry them without.
Heat vegetable oil in a large skillet, fry each colcannon cake until golden brown. The are delicate, so be mindful of that.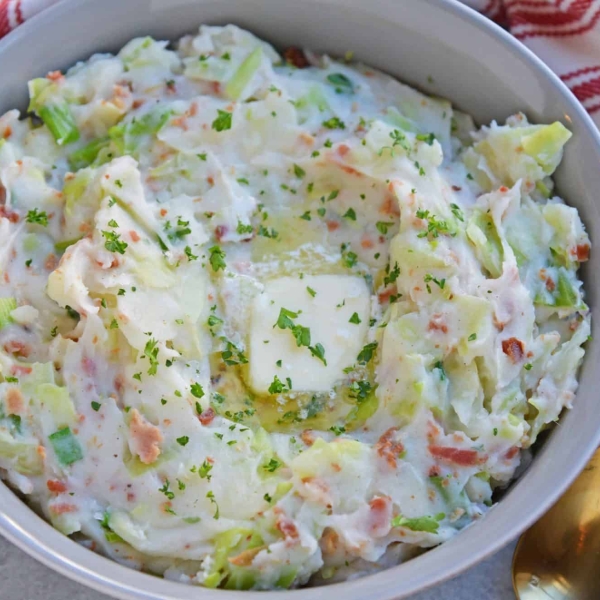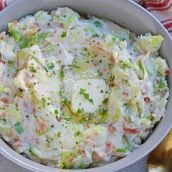 Colcannon
This Irish Colcannon recipe is an easy recipe using your favorite mashed potato recipe, a special trick for super silky cabbage, bacon and lots of creamy butter.
Ingredients
3

cups

mashed potatoes

, prepared

1

small head green cabbage

, cored and chopped

3

tablespoons

butter

, divided

4

scallions

, cut greens and whites

1

cup

bacon

, cooked and crumbled

butter

, for topping

Maldon sea salt for topping

parsley for topping

, minced
Instructions
Fill a large saucepan or Dutch oven about 3/4 with water, bring to a boil.

Add chopped cabbage and 2 tablespoons butter.

Boil for 3-4 minutes or until cabbage turns a bright green hue and has softened, but still has some texture and holds its shape.

Drain cabbage in a colander.

Heat mashed potatoes (if cold) in a large saucepan. Add 1 tablespoon butter, cooked cabbage, scallions and bacon. Mix well, but don't overmix so the ingredient start to fall apart.

When plating, crate a well and place another pat of butter in the center. Top with Maldon sea salt and chopped parsley.

Come back and let us know how it was!
Nutrition
Calories:
216
kcal
,
Carbohydrates:
33
g
,
Protein:
5
g
,
Fat:
7
g
,
Saturated Fat:
4
g
,
Cholesterol:
18
mg
,
Sodium:
140
mg
,
Potassium:
617
mg
,
Fiber:
5
g
,
Sugar:
6
g
,
Vitamin A:
405
IU
,
Vitamin C:
81.2
mg
,
Calcium:
76
mg
,
Iron:
1.2
mg