This post originally appeared on Real Housemoms, where I am a contributor.
Crabby Totchos take crispy fried tater tots and smother them in a delicious Old Bay Hot Crab Dip. Top it with melty cheese and you've got yourself a beautiful plate of smothered potatoes.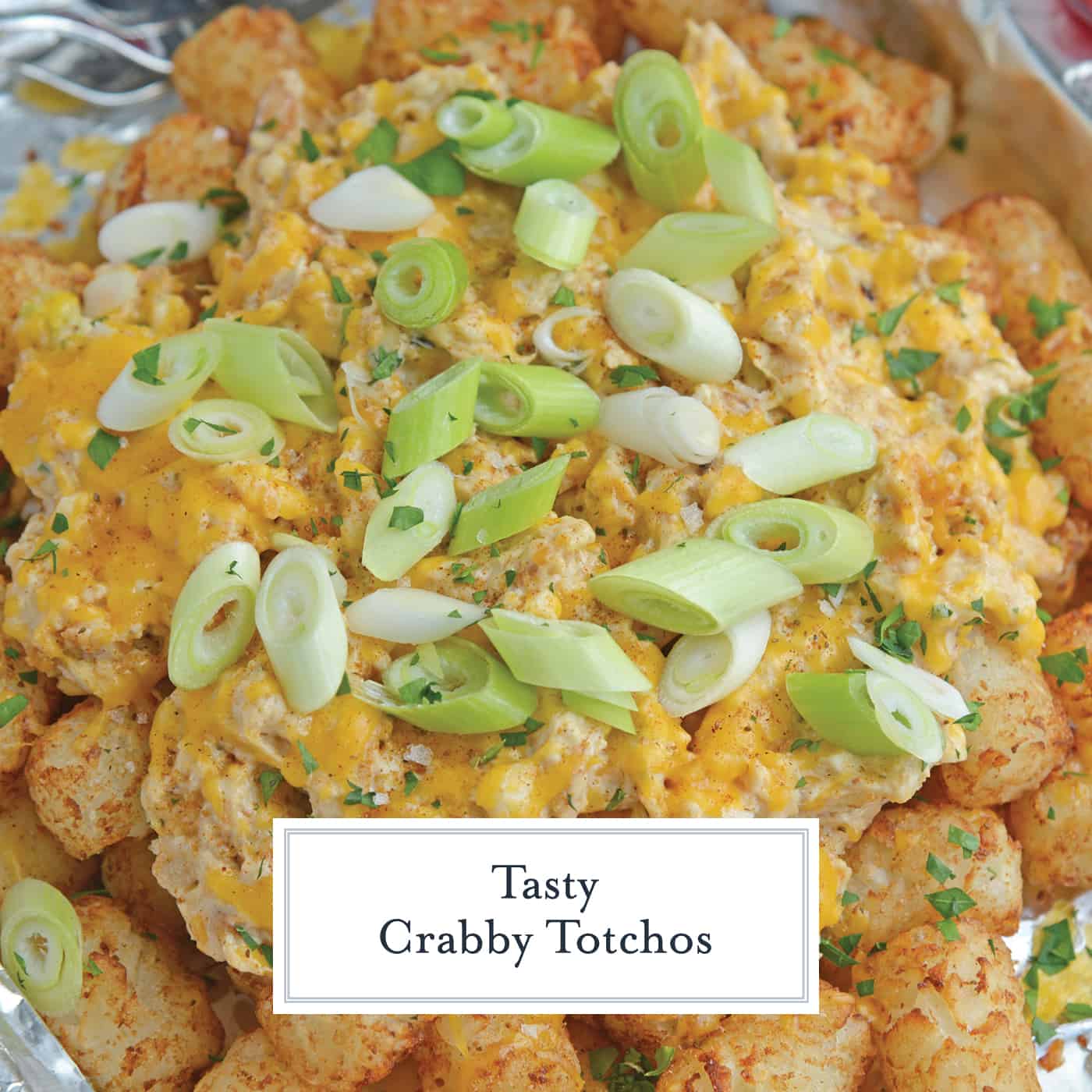 Crabby Totchos are crispy fried tater tots smothered in hot crab dip and topped with melty cheddar cheese. The perfect party appetizer!
What is a totcho? Many people have never heard of them and the term is relatively new, only hitting the proverbial urban dictionary in the last few years. When you look it up is should say "snack food heaven".
A totcho is a fusion of tater tots and nachos. Tater tot nachos, like traditional nachos include nacho toppings like cheddar cheese, shredded chicken, ground beef, taco seasoning, sour cream, chili and more.
The concept of totchos has been around for at least two decades here in Maryland and probably at other trailblazing spots across the United States. Today, I'm sharing my favorite totchos ever, Crabby Totchos. Not your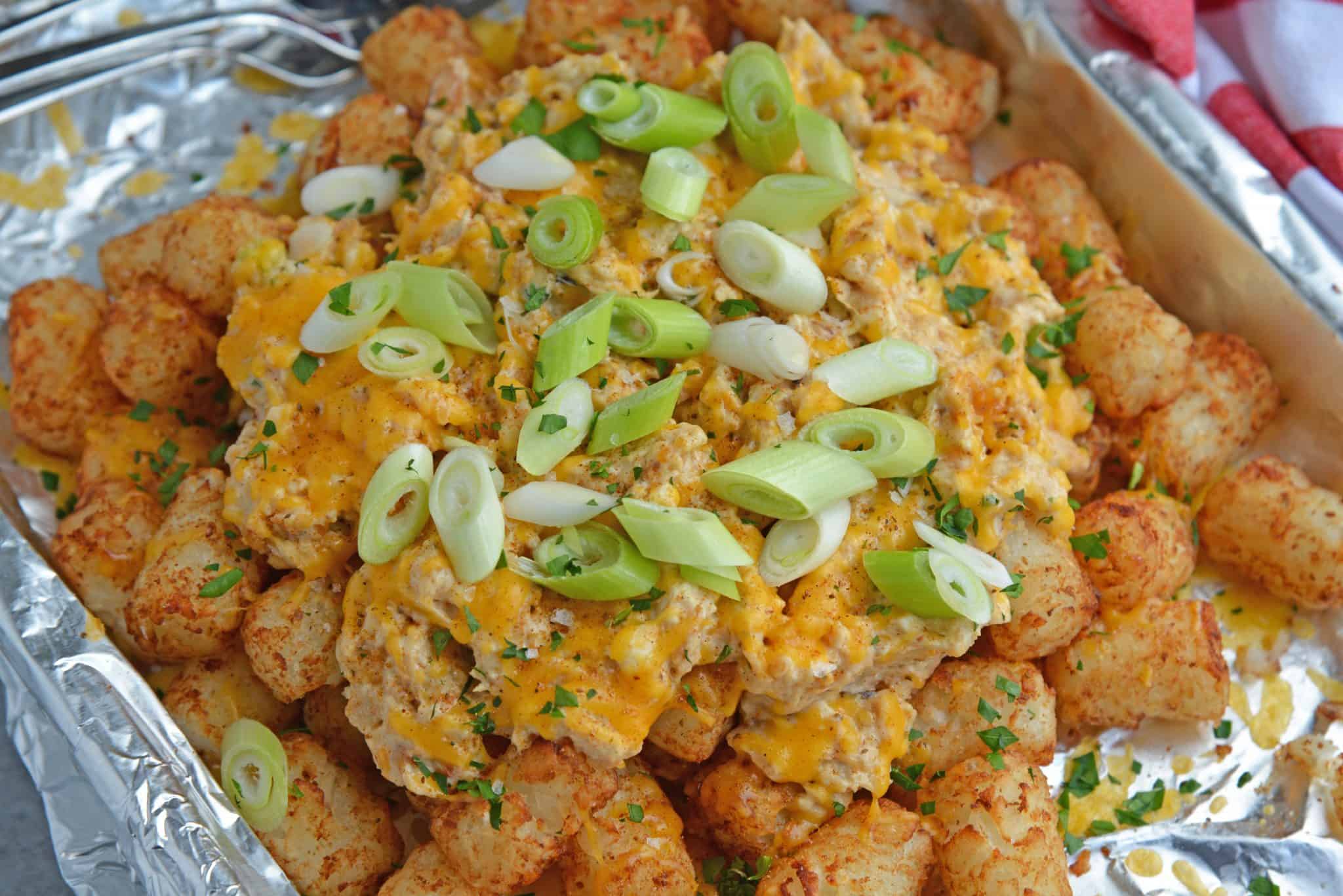 nacho totcho, although crabby nachos are quite popular here on the Chesapeake.
There are endless variations for totchos, as there are with nachos. The traditional nachos topping being the most popular: shredded chicken, pico de gallo, nacho cheese sauce, sour cream, and guacamole, but then we break out into the gourmet totcho, if you will.
Gourmet tater tots, such as Crabby Totchos, are tater tots topped with other familiar dips.
The most popular are Buffalo Chicken, Spinach and Artichoke and of course, Crabby Totcho, which is hot crab dip with oodles of extra cheese.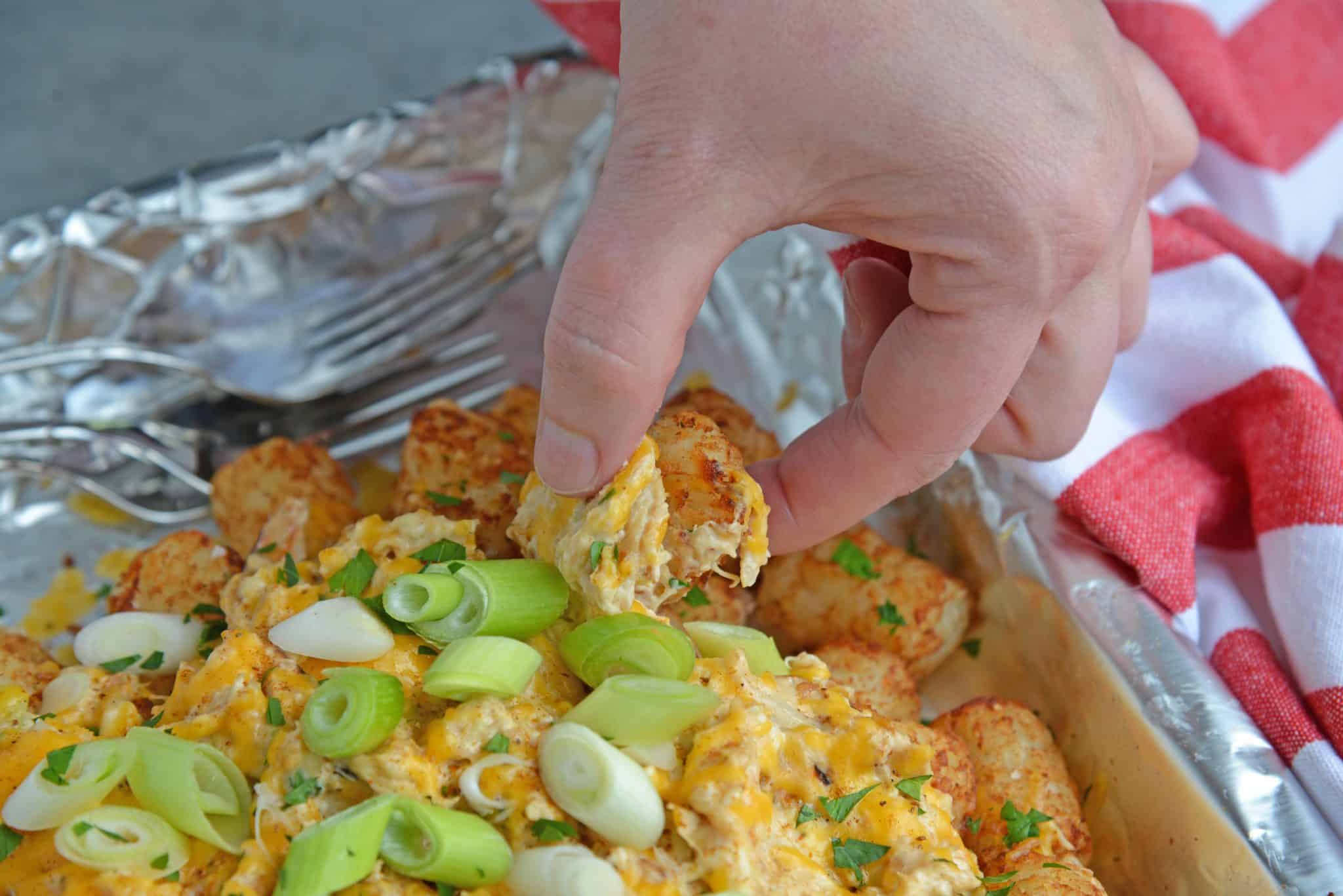 Totchos come out best when the tater tots are fried. I know this extra step is a lot more than most people want to take considering when I make totchos, the whole point is to be speedy.
PRO TIP: Don't crowd the pan! If tater tots are too close together, they end up steaming themselves instead of letting hot air circulate around them.

If you are making a large batch, you are better off using two pans than crowding one.
So instead, I bake mine on a rimmed baking sheet and then let them crisp up under the broiler to give a quasi-fried crispness. The crisp factor is key because if you start with soggy tater tots, then the cheesy crab dip will only make them soggier.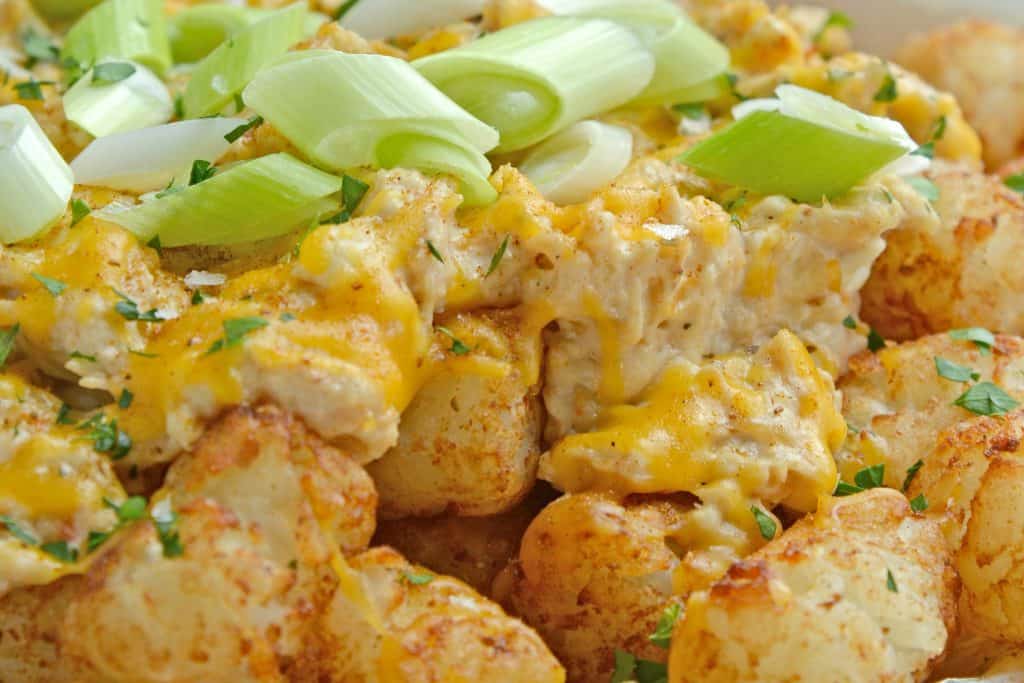 Start with semi crisp tots and the texture will be just right. Call me the Goldilocks of totchos.
You can also make tater tots in the Air Fryer!
Preheat to 350 degrees. Spray the basket with a nonstick spray. Add tater tots, but no more than 2 layers deep. Anything more and they won't get crispy.
Cook for 7-8 minutes. Toss gently and cook for an additional 7-8 minutes.
Remove and continue with the recipe for loaded totchos.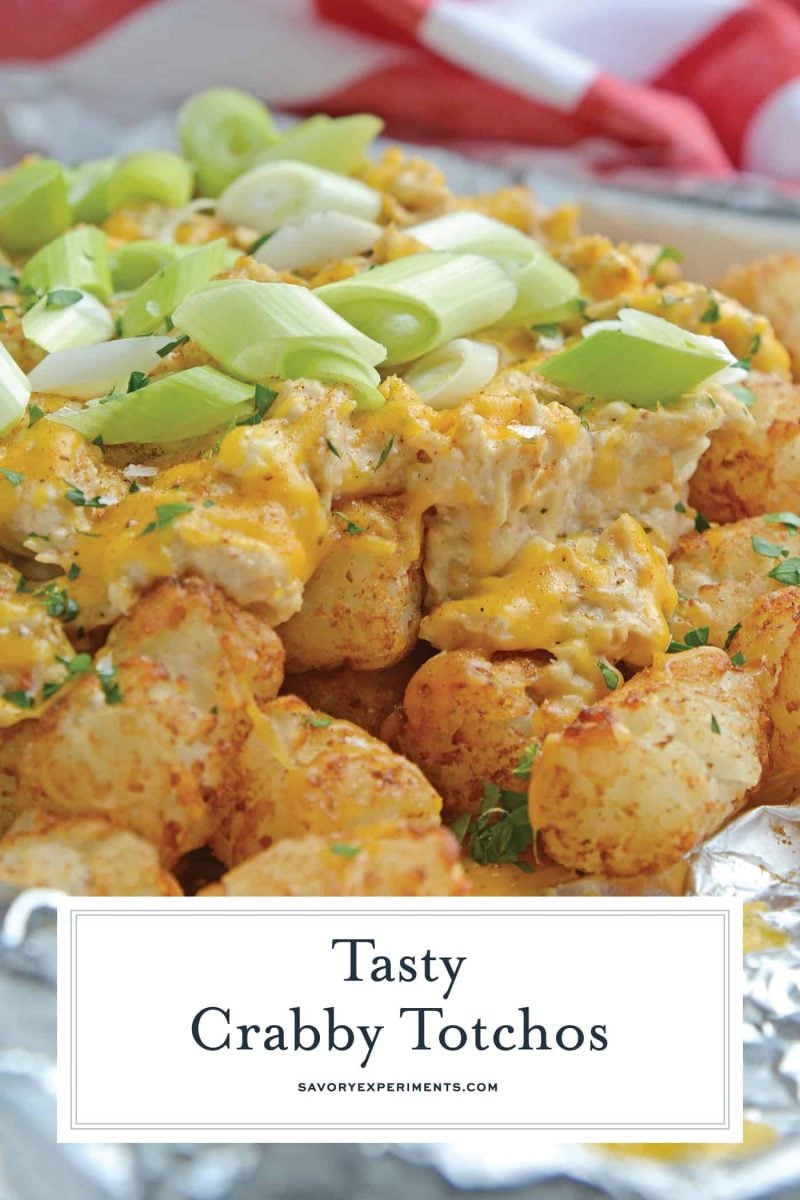 If you are looking for even more recipes that use crab, check these out!
Tools for making Crabby Totchos (aff):
Rimmed Baking Sheets- another kitchen staple! You'll use this for prep work, roasting and much more. I have 7 at my house.
Fry Daddy– If you decide you want to fry your tater tots, one of these Fry Daddys is easy to use and clean.
Air Fryer– I just got one and I understand all the hype now. This one has served us well with a large basket, holds air well, crisps nicely and is easy to clean!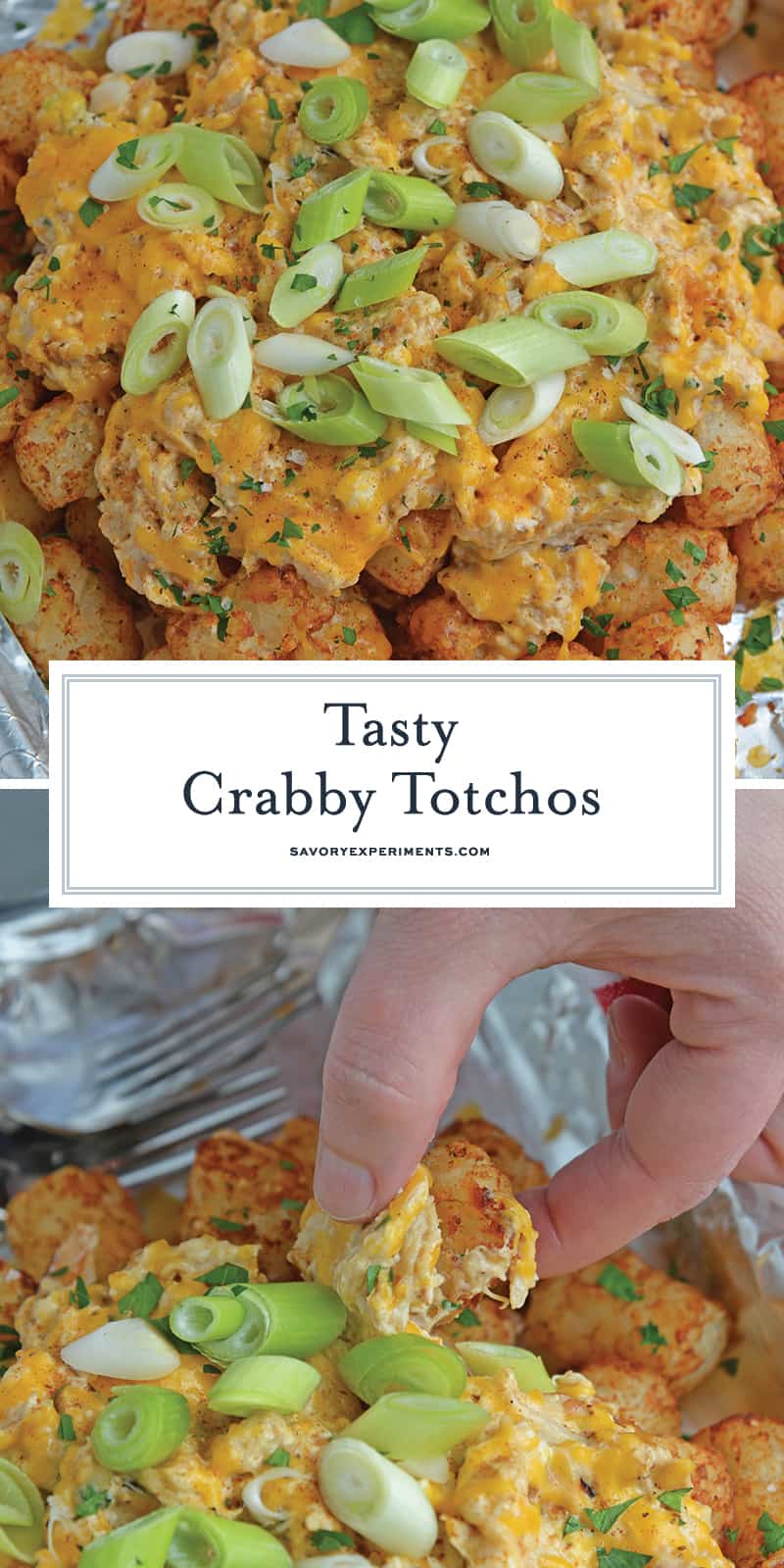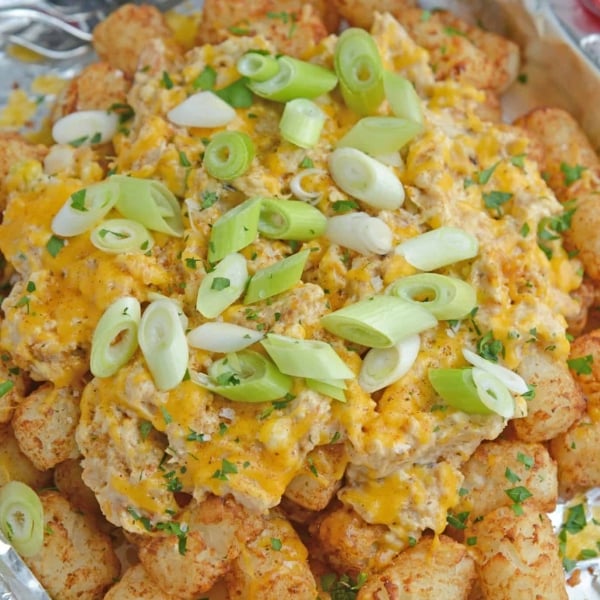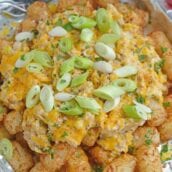 Crabby Totchos
Crabby Totchos are crispy fried tater tots smothered in hot crab dip and topped with melty cheddar cheese. The perfect party appetizer!
Instructions
Prepare frozen tater tots according to package directions, either bake or fry. If you bake, put them under the broiler for a bit to crisp them up.

Remove from oven and arrange in a pile in the center of your baking sheet or whichever serving dish your totchos will be in. Top generously with creamy crab dip, then cheddar cheese.

Broil totchos for 3-4 minutes or until cheese is melted and bubbly.

Remove and top with scallions and Maldon salt. Serve immediately, Totchos are best served hot!

If you've tried this recipe, come back and let us know!
Nutrition
Calories:
493
kcal
,
Carbohydrates:
43
g
,
Protein:
10
g
,
Fat:
32
g
,
Saturated Fat:
14
g
,
Cholesterol:
56
mg
,
Sodium:
1057
mg
,
Potassium:
409
mg
,
Fiber:
2
g
,
Sugar:
2
g
,
Vitamin A:
835
IU
,
Vitamin C:
11.7
mg
,
Calcium:
178
mg
,
Iron:
0.9
mg