This Bacon Fried Cabbage recipe is a tasty cabbage side dish that is both Irish and Southern in heritage. Simple to make and delicious to eat!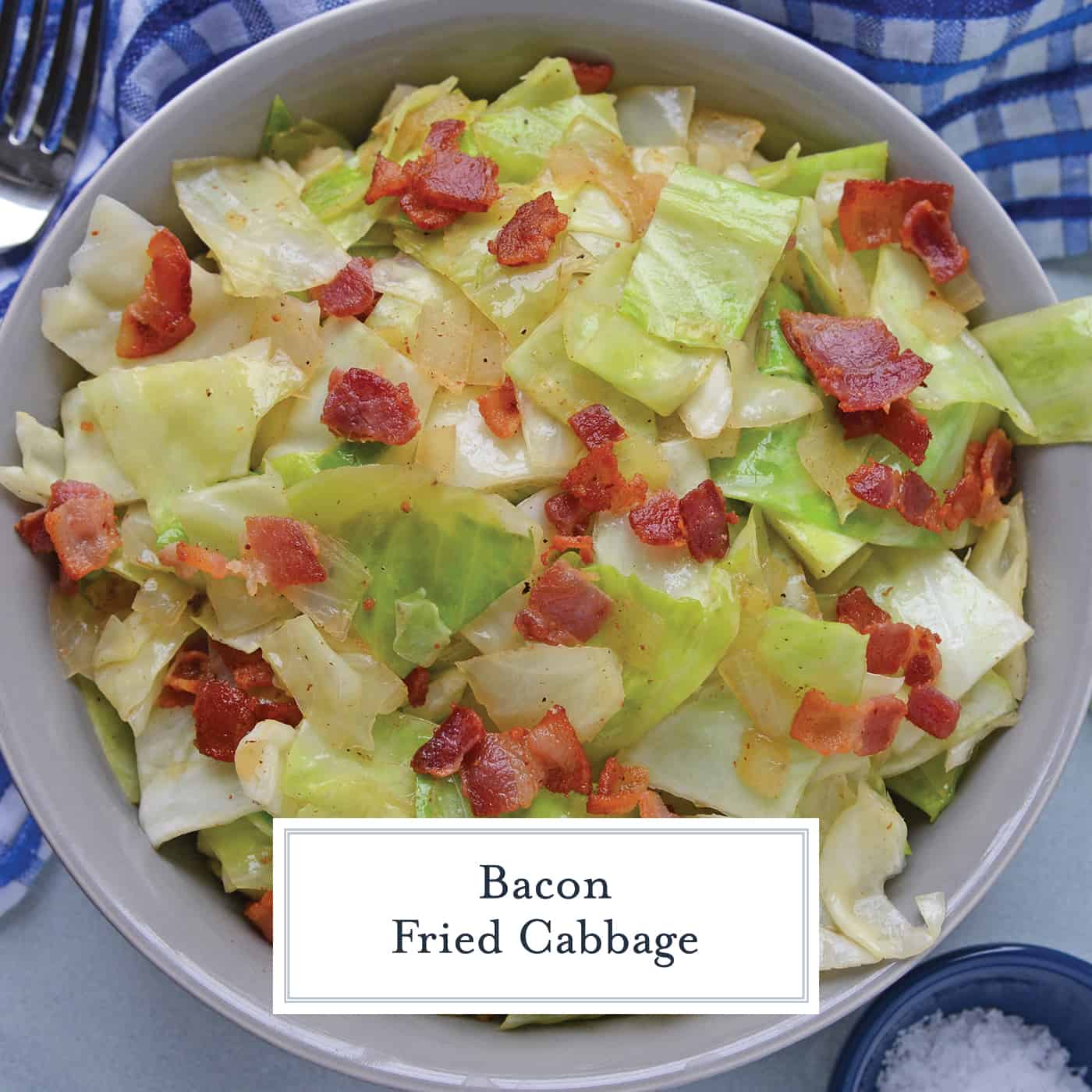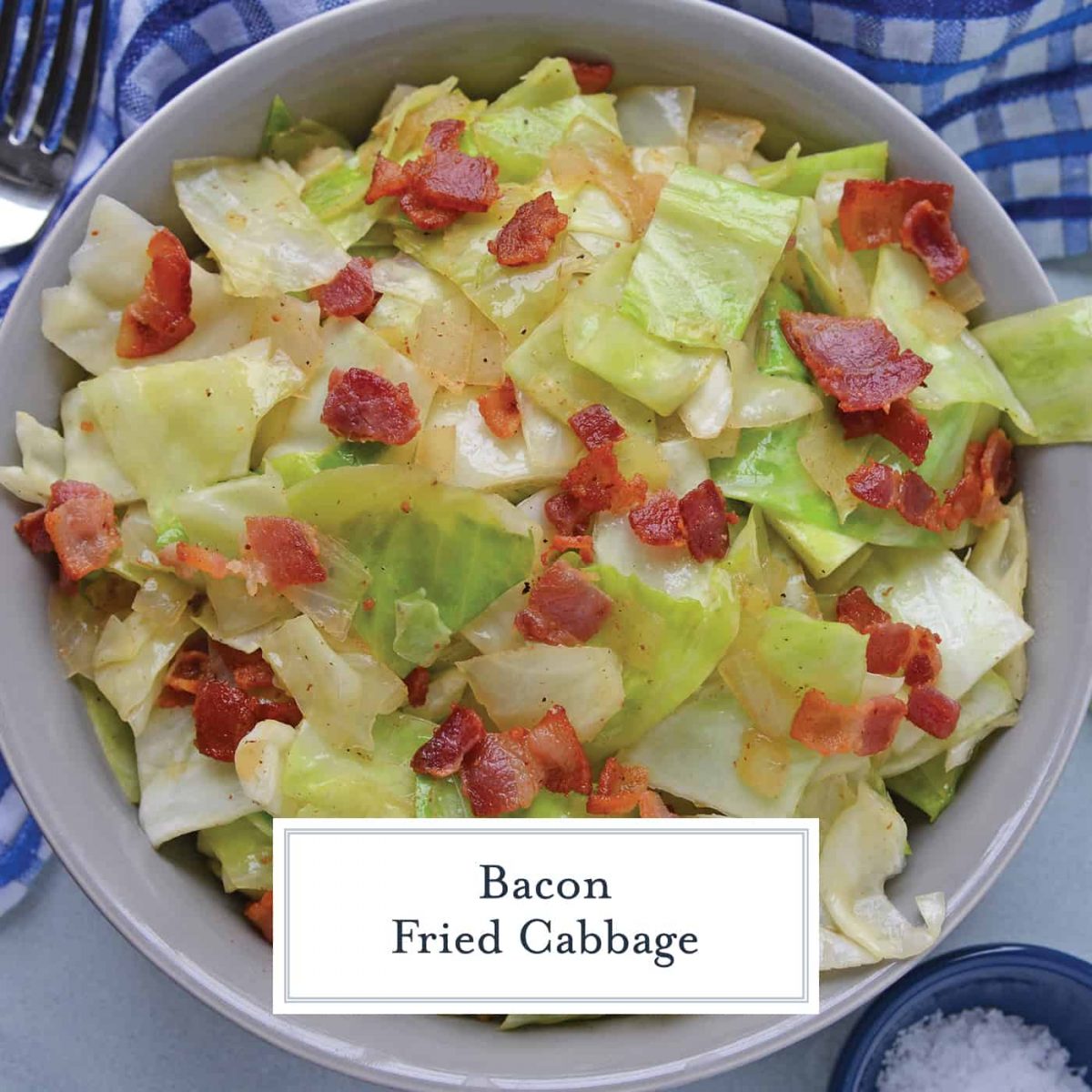 Bacon Fried Cabbage is a great recipe using cabbage fried in bacon grease and lightly seasoned leaving it with lots of flavor and a little bit of crunch.
Most fried cabbage recipes use butter, vegetable or olive oil. Why in the world you do that when you have this wonderfully flavorful bacon grease? Let's called it rendered bacon. I feel more responsible saying rendered bacon than bacon grease.
Ridiculous, but just indulge me.
I fry my cabbage up in this deliciousness leaving it tender but still with a little crunchy. No one wants soggy cabbage!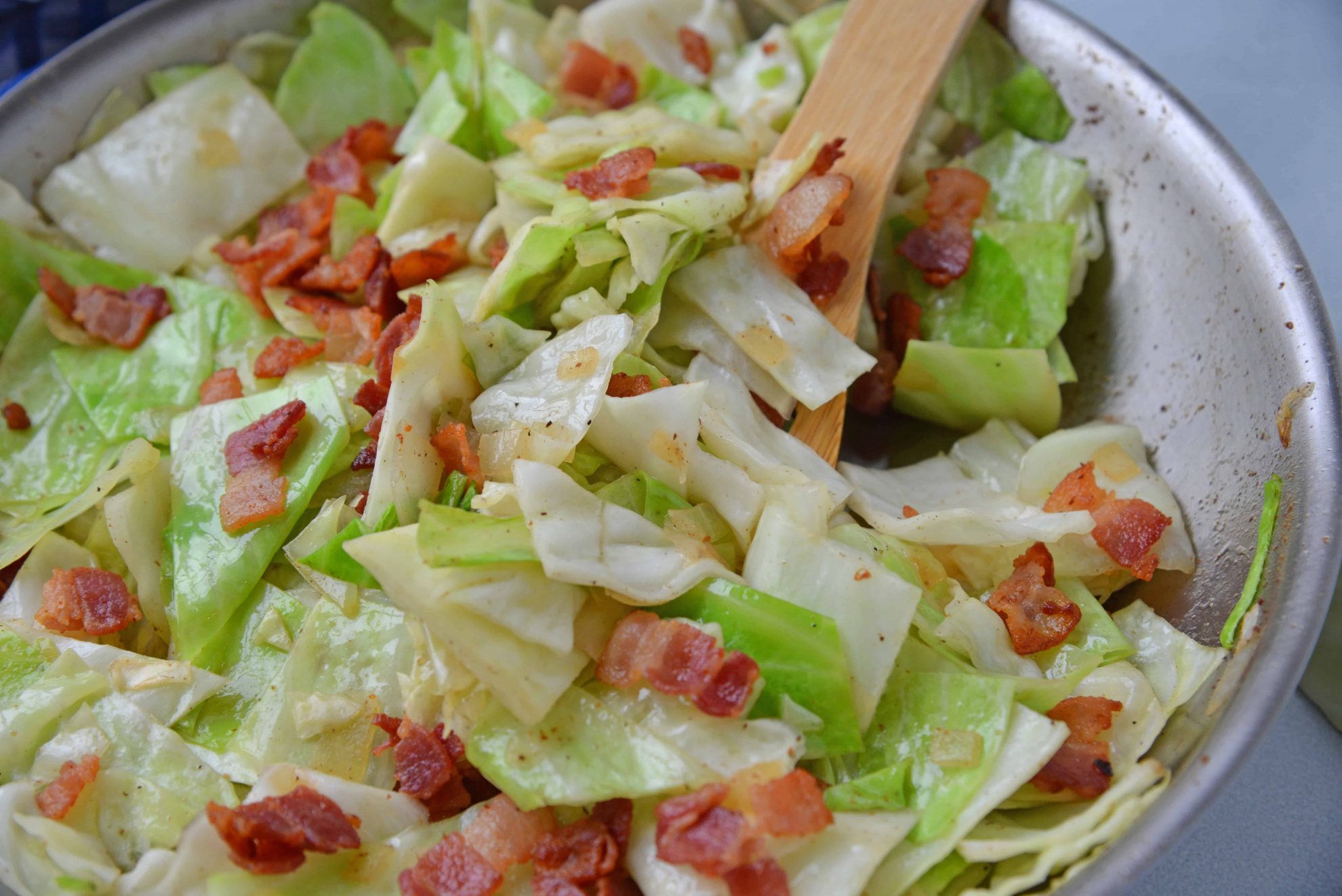 The simplest of fried cabbage recipes is nothing but bacon, cabbage, salt and pepper. Mine takes it up a notch, but not the point of losing its originality by using onion and a pinch of sugar.
If you do want to add a variation to your fried cabbage you can use shallot instead of white onion, add smoked paprika, two minced garlic cloves, add red cabbage in addition to green cabbage or even crumbed sausage instead of bacon.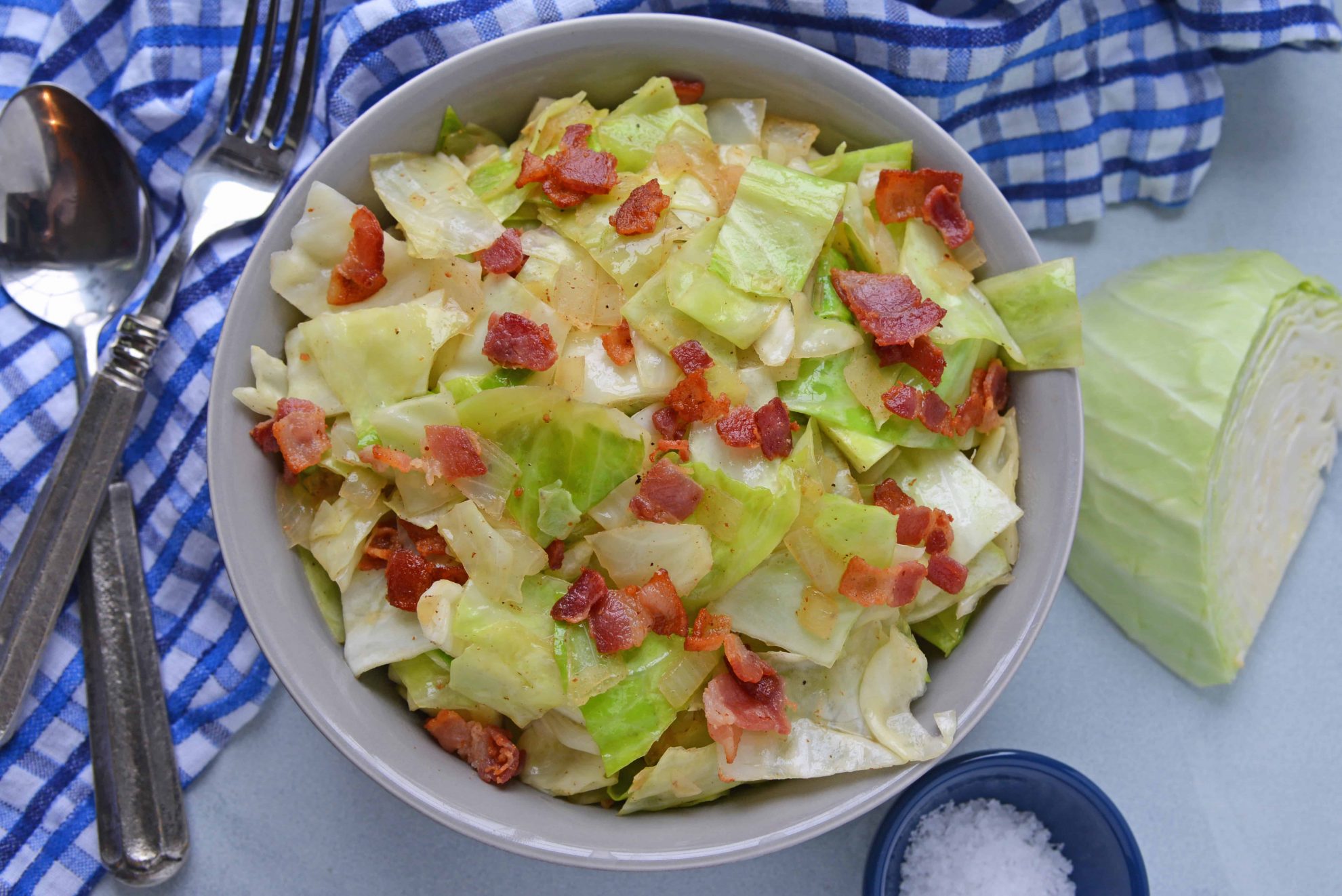 Brown sugar adds a hint of molasses, garlic or onion powder can replace or enhance the already present onions and red pepper flakes give it a little heat.
Some recipes even like the acidity of apple cider vinegar. If you want this cariatin, only add about 1 tablespoon while simmering.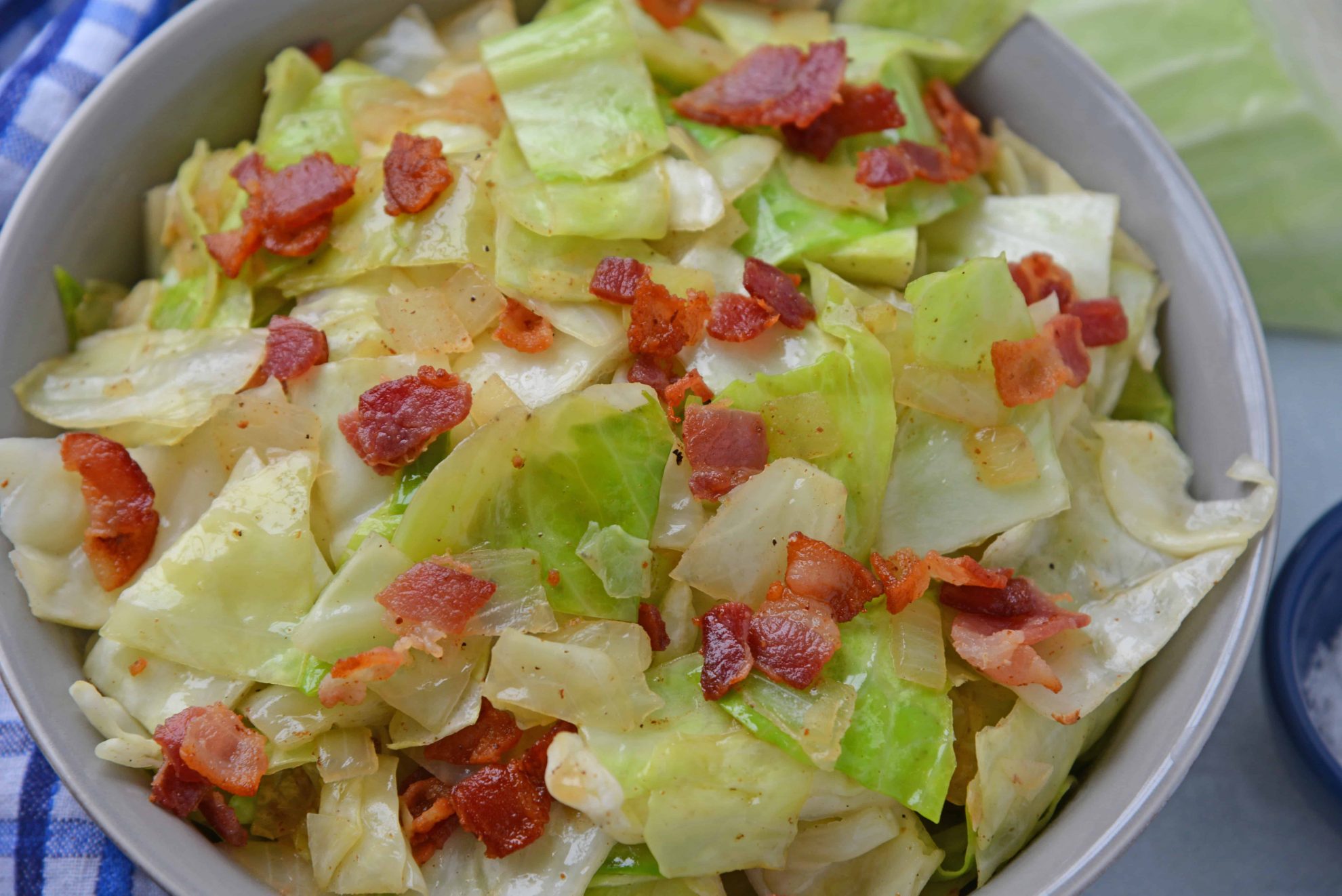 Fried cabbage and onions is not only a St. Patrick's Day favorite, it is also a commonly served dish year round down south. One of the biggest difference is the addition of sugar.
Fried cabbage with bacon is the southern style piece of this recipe. Plain old fried cabbage is the Irish, making this an Irish- Southern fusion recipe.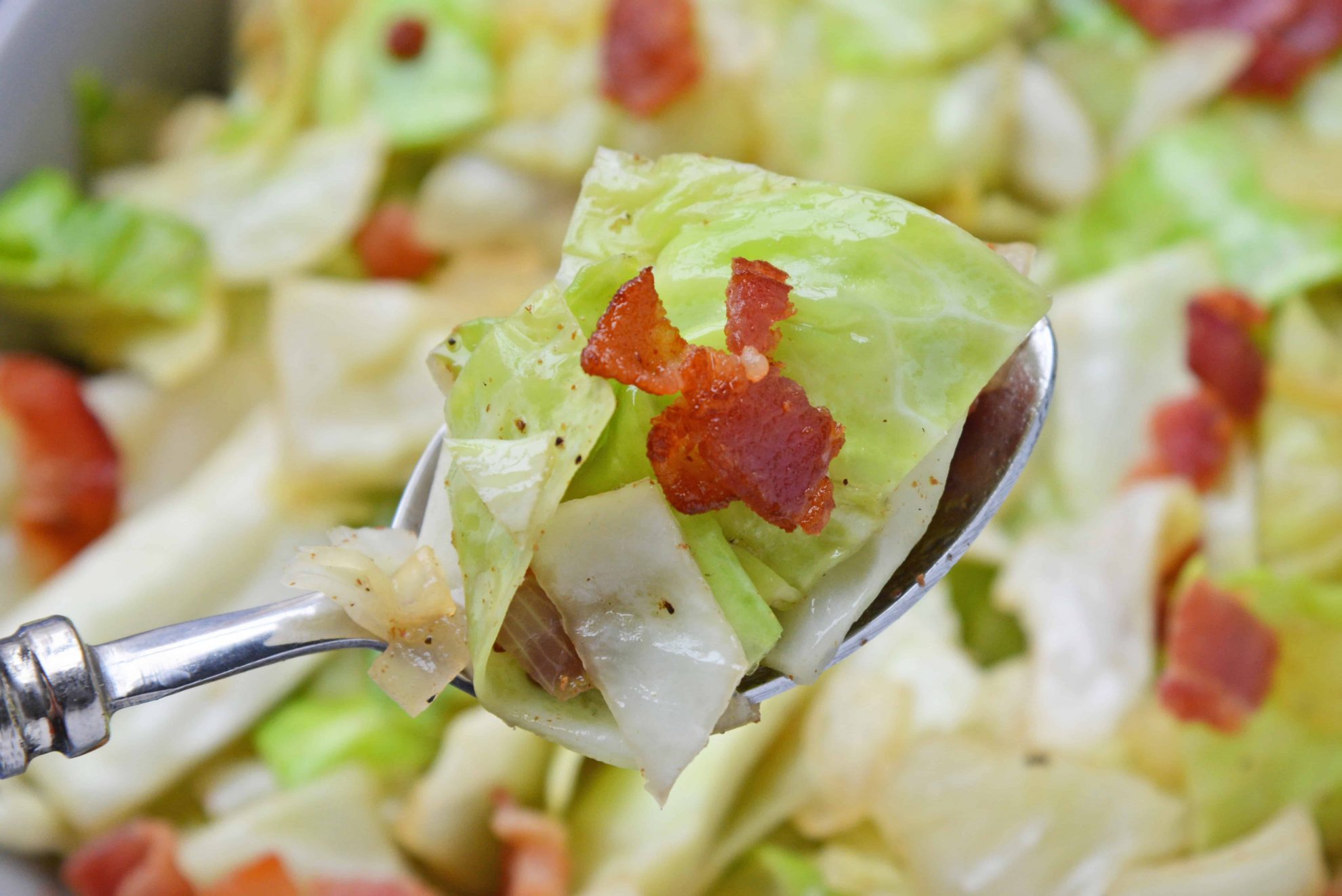 Sugar added to sauteed onions gives the essence of caramelized onions without actually having to go to the trouble of caramelizing for an hour. It also helps to cut through potential bitterness of cabbage.
A few notes on working with cabbage:
Select a head of cabbage that is vibrant green with no wilting or browning.

Cabbage season is late fall through winter, but readily available throughout the year from hot houses.

Cabbage can be prepared raw, steamed, boiled, fried or even in a crockpot. It is a hearty leafy green making it super verstile yet widely underused.

Cut cabbage by turning the cabbage so the stem end is flat against the cutting board. Cut the cabbage in half from top to bottom. Slice to create quarters, remove the stem and core from each wedge by cutting diagonally across to remove the solid parts. From there, shred or dice the cabbage as required for the recipe.

Keep your cabbage refrigerated until ready to use. Refrigerated cabbage will last up to 2 weeks when chilled.
If you liked this cabbage recipe, here are a few more!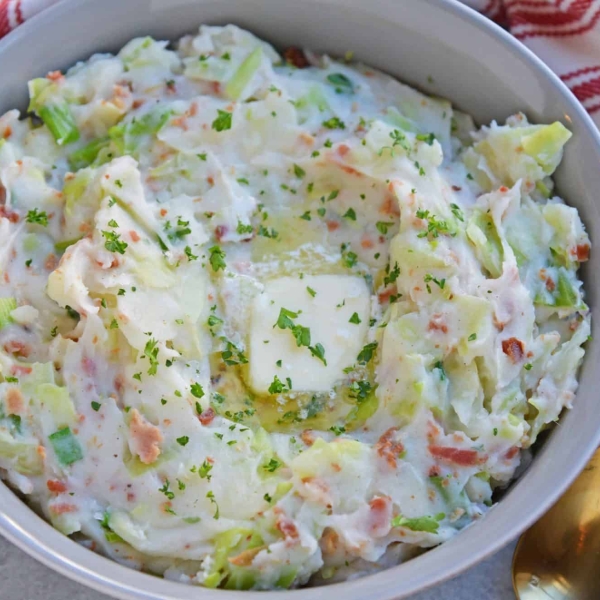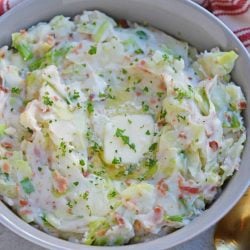 Colcannon
This Irish Colcannon recipe is an easy recipe using your favorite mashed potato recipe, a special trick for super silky cabbage, bacon and lots of creamy butter.
See The Recipe!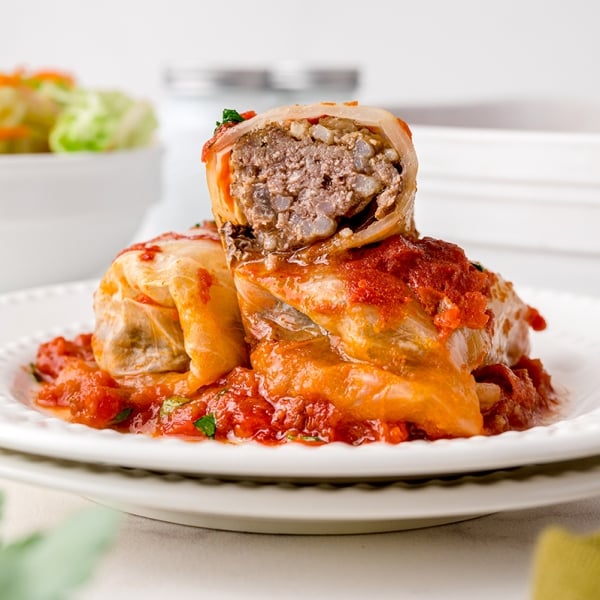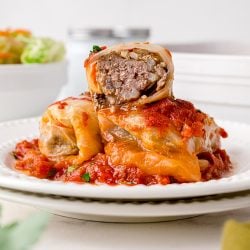 Tools for making Bacon Fried Cabbage:
Heavy Bottom Frying Pan– this will be one of your most used kitchen tools. Having something that is heavy bottom will distribute heat better and prevent burning whether you are using an electric or gas range.
Wood cutting board – wood won't dull your knives like plastic and if treated properly, has natural antimicrobial properties.
Good knife – Global is my favorite! They are worth the price, I promise. I am kind of obsessed with them and store them tucked away so no one else can use them. Including hubby. Hands off my good stuff!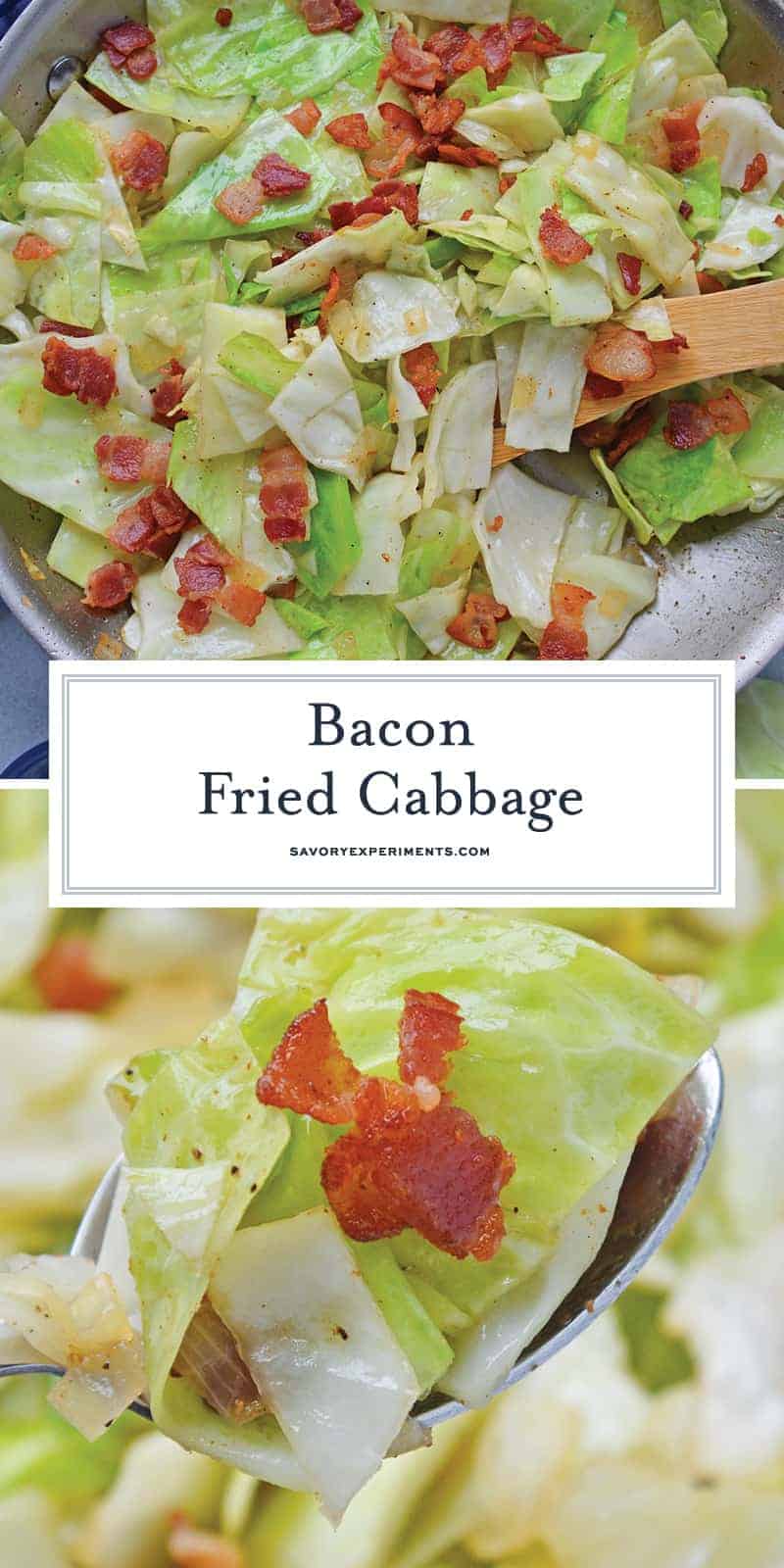 Questions you might have about how to fry cabbage:
Can I freeze Bacon Fried Cabbage? In general, leafy greens do no freeze all that well. Think about what you see in the freezer section. Spinach, yes, but it is already wilted with most of the water sweat out.
Other types of lettuce like iceberg or even cabbage, would need to be sweat out, but then just get limp, slimy and gross when frozen and thawed, so I don't recommend it.
Is fried cabbage keto friendly? I suppose it is if you omit the sugar. I am not a keto expert, so if you have any input, please let is in the comments!
Is fried cabbage gluten-free? Yes! Bacon fried cabbage is gluten-free.
Can I make fried cabbage ahead of time? Kind of… I would make the bacon ahead of time, leaving the rendered bacon grease in the frying pan. Reheat the bacon grease when you are ready to serve and finish off the cabbage.
Is fried cabbage healthy? I am not a health expert or certified nutritionist and although the main ingredient is a health beneficial leafy green, the addition of bacon pretty much makes this a hard no.
What does fried cabbage taste like? My version is savory with a little bit of sweet. My 1 year old ate it and loved… so if that gives you any indication, there ya go!
Can I use red cabbage instead of green cabbage? I'm sure you could, but I haven't personally tried it. If you do, come back and let us know how it was in the comments!
What do you serve fried cabbage with? Anything you want! It is actually a versatile side dish recipe. Here are some of my favorites:
Check out more St. Patrick's Day Games and crafts.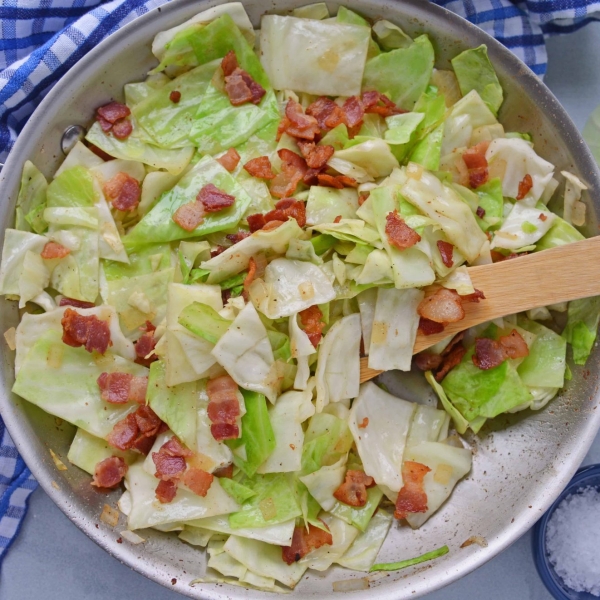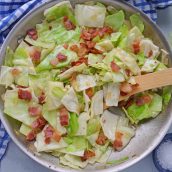 Bacon Fried Cabbage
Bacon Fried Cabbage is a great recipe using cabbage fried in bacon grease and lightly seasoned leaving it with lots of flavor and a little bit of crunch.
Instructions
In a

large skillet

over medium heat, cooked cut bacon until just crispy. Drain and set aside, reserving 1 tablespoon rendered bacon grease.

Add onion to the still hot bacon grease, saute over medium heat until it starts to soften, approximately 4-5 minutes.

Stir in sugar, Kosher salt and ground pepper, cooking for an additional minute.

Add

cut

cabbage. I find it easier to toss using tongs instead of as spoon. Toss over medium heat until leaves start to wilt, but still have some snap.

Add bacon back into the mixture and serve.

If you've tried this recipe, come back and let us know how it was!
Nutrition
Calories:
303
kcal
,
Carbohydrates:
16
g
,
Protein:
10
g
,
Fat:
22
g
,
Saturated Fat:
7
g
,
Cholesterol:
37
mg
,
Sodium:
998
mg
,
Potassium:
518
mg
,
Fiber:
5
g
,
Sugar:
8
g
,
Vitamin A:
245
IU
,
Vitamin C:
84.1
mg
,
Calcium:
97
mg
,
Iron:
1.3
mg