It seems I've slowly started to become the queen experimenter of all things puppy chow. This round was all about St. Patrick's Day Puppy Chow, also known as a Pot of Gold or Leprechaun Munch!

Pot of Gold PUppy Chow is the perfect gold St. Patrick's Day dessert or snack. Easy to make, make-ahead and delicious to eat, it will be the hit of your St. Patrick's Day bash!
I decided to officially call my St. Patrick's Day dessert Pot of Gold Puppy Chow because, quite frankly, the word leprechaun is kind of challenging to spell and I figured people could Google "pot of gold" a lot easier.
It might be hard to tell from the photos, but this puppy chow recipe is a shimmering gold hue, completed with sparkles.
This all started with a masterful idea for Christmas Puppy Chow, but my method of tinting powdered sugar failed miserable. I was able to rally and save the batch with festive sanding sugar.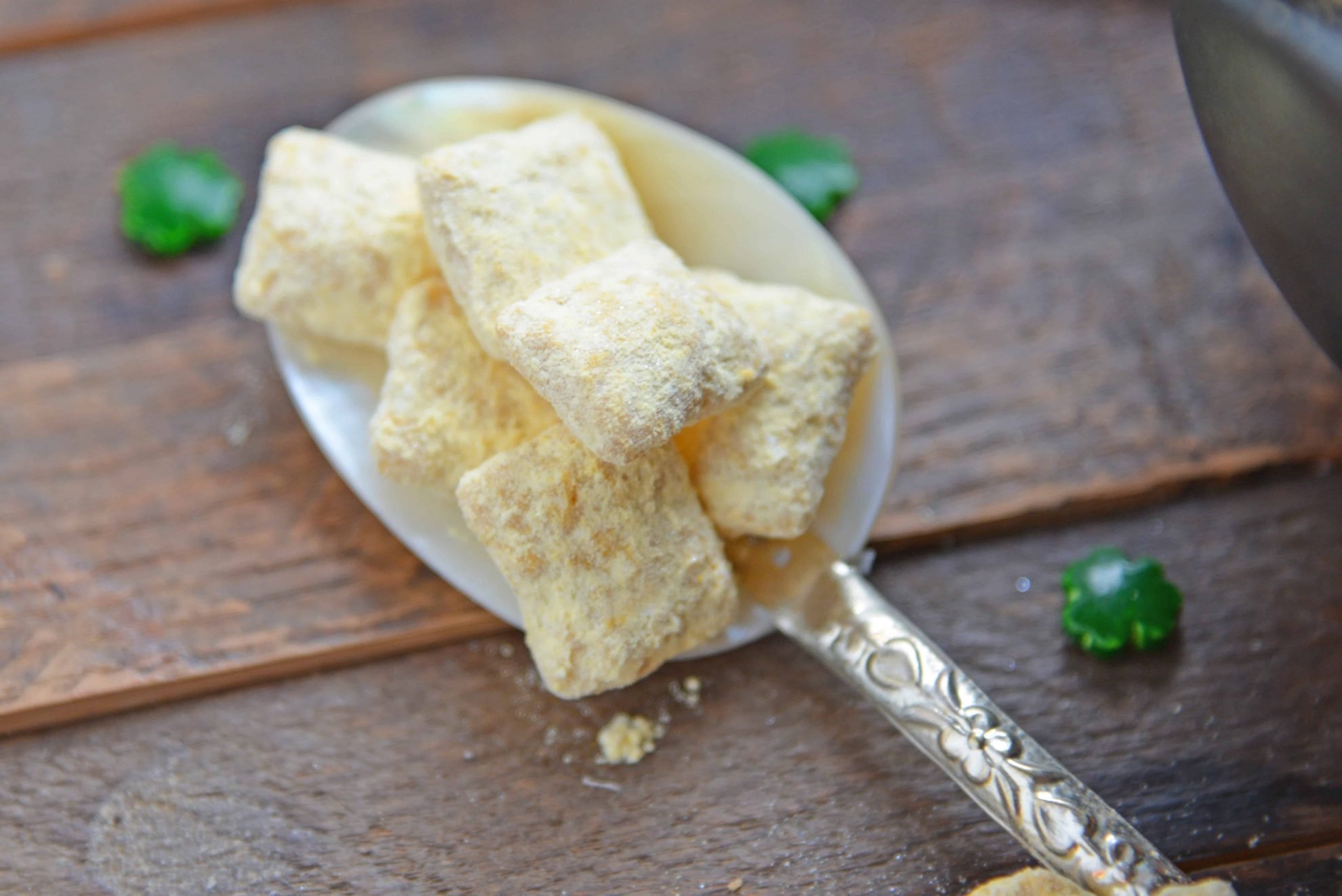 Next came my redeeming recipe for Valentine's Day Puppy Chow, where I successfully tinted the powdered sugar to an ombre effect, making the perfect treat for cupid.
Obviously the next question was: can you make puppy chow with white chocolate? So I dedicated this question to my Pot of Gold Puppy Chow and the answer is: YES!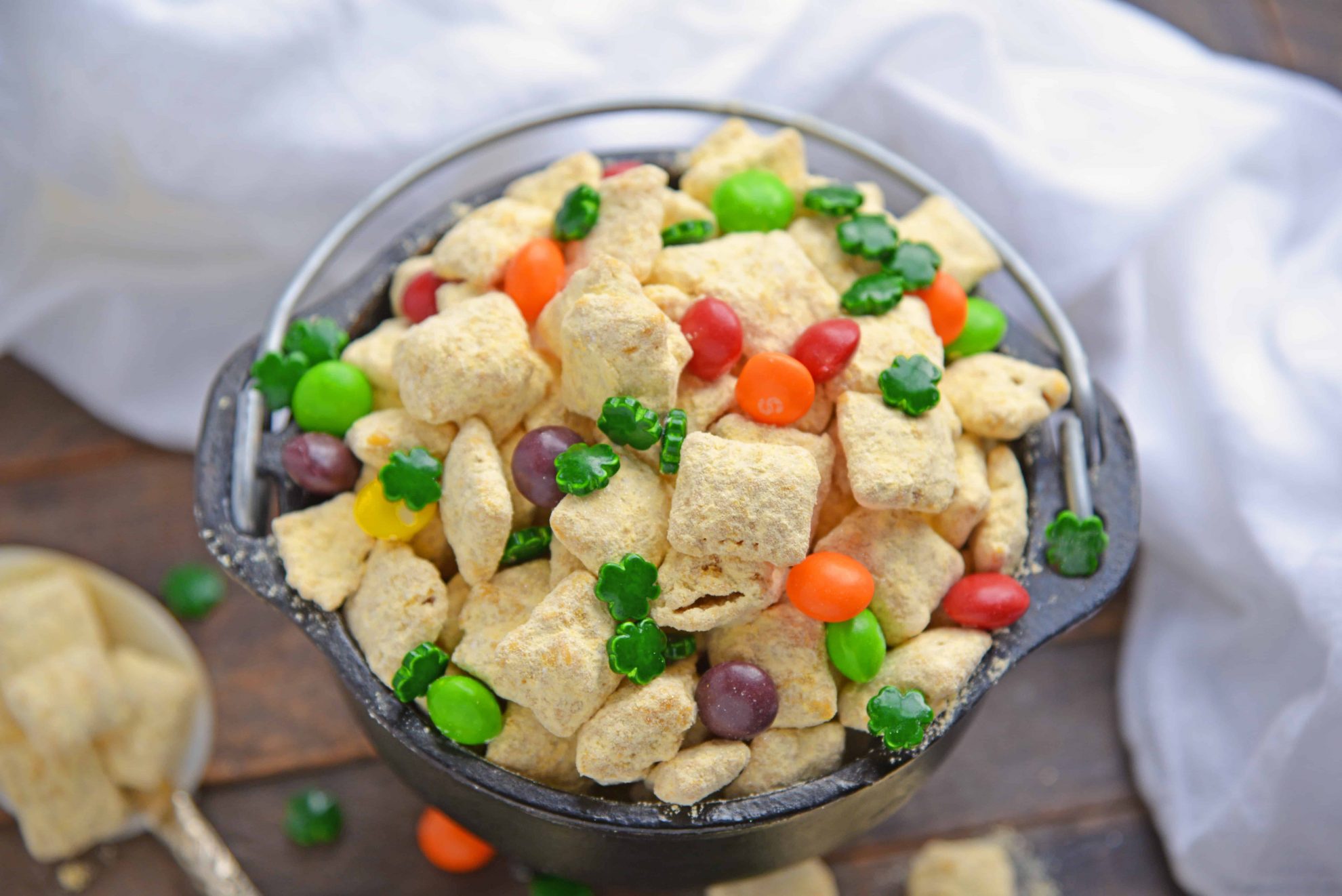 Because white chocolate isn't actually chocolate at all, it melts different and has a slightly different texture. I found it more challenging to evenly divide it on the Chex mix, but the final result turned out great.
The trick is just to add it slowly and do a lot of gentle mixing so the cereal pieces don't crumble to bits.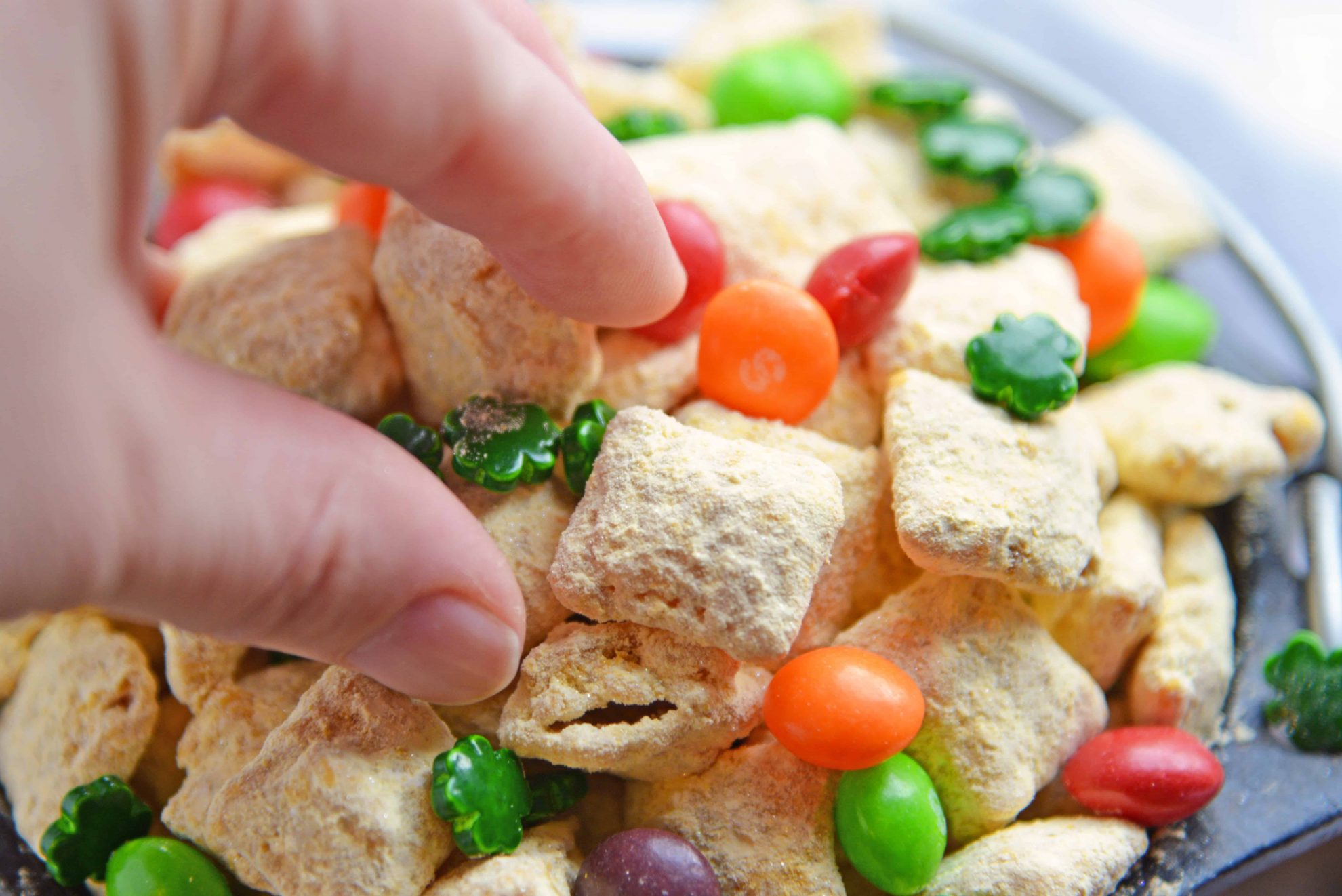 In fact, having a golden base that not only matched the hue of my rice Chex, but also the golden powdered sugar, helped to get it fully coated with no base coat peeking through.
Because I was in a festive mood, I also used Skittles rainbow candy and clover shaped sweet tarts candy. As previously mentioned, the glistening gold is hard to shine through in photos, but even without the candy, it is purely a festive pot of gold!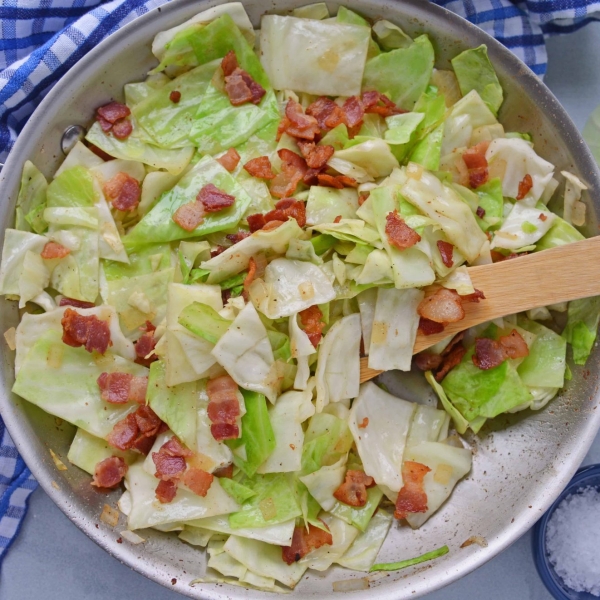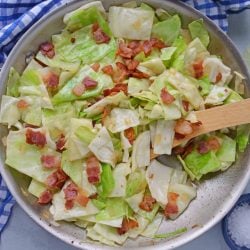 Bacon Fried Cabbage
Bacon Fried Cabbage is a great recipe using cabbage fried in bacon grease and lightly seasoned leaving it with lots of flavor and a little bit of crunch.
View this recipe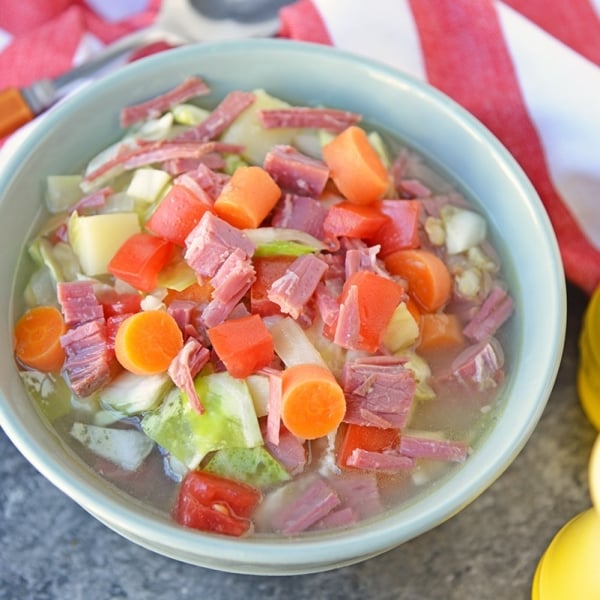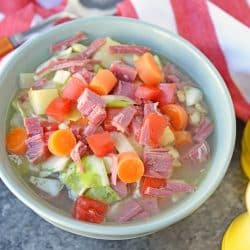 Leftover Corned Beef and Cabbage Soup
Leftover Corned Beef and Cabbage Soup is the best way to make another full meal from your Irish feast. Tender brisket and loaded of vibrant veggies make this a winner all year round, not just St. Patrick's Day.
View this recipe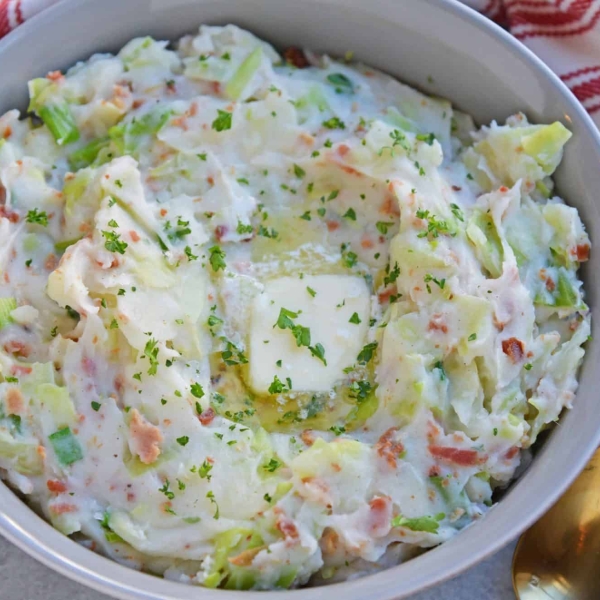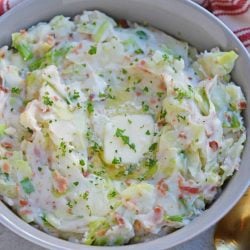 Colcannon
This Irish Colcannon recipe is an easy recipe using your favorite mashed potato recipe, a special trick for super silky cabbage, bacon and lots of creamy butter.
View this recipe
Tools for making Pot of Gold Puppy Chow:
Mini Food Processor
– my most used kitchen appliance and certainly the most inexpensive, you can just shake the powdered sugar and powdered food coloring together or you can blend it in the food processor. I feel like blending it gives it a more uniform color throughout.
Rimmed Baking Sheet– another kitchen staple! You'll use this for prep work, roasting and much more. I have 7 at my house.
Mixing Bowls– make sure to check out my article on Using the Right Mixing Bowl, you'd be surprised how many people aren't!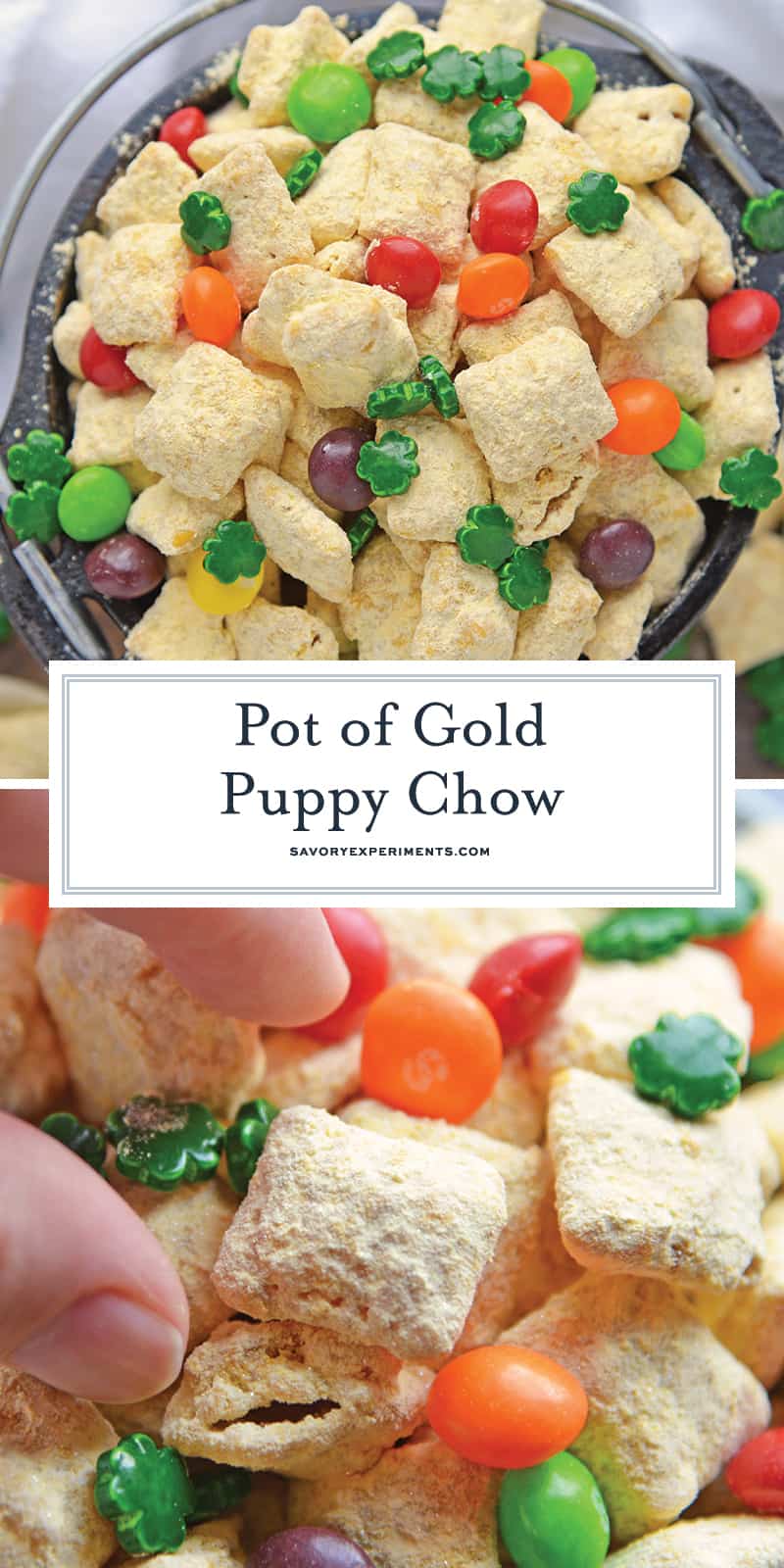 Some questions you might have about my Pot of Gold Puppy Chow:
Do you have to use Rice Chex? You can use any type of Chex cereal you'd like, but I prefer rice flavor. It also makes this a gluten-free Puppy Chow recipe! You can also use whatever generic store brand there is.
Why do you use butter and vanilla? Most chex muddy buddy recipes use only chocolate and peanut butter, but I find that incorporating butter and vanilla makes it easier to mix evenly onto the chex cereal. It also makes an even richer flavor and gives slightly more volume.
Can you make Puppy Chow in the microwave? Technically you can melt the mix in the microwave, but I find that melting chocolate in the microwave can be super temperamental, so I opt to mess the extra pan and take the time to do it on the stovetop.
Can I cut this recipe in half? Nine cups seems like a lot of Chex cereal and technically it is, but this stuff is delicious and it will go fast. If you don't make the whole batch, you'll regret it. You might regret not doubling the recipe, actually!
If you are wondering how many boxes of cereal to buy, one 12 ounce box will give you this much and at least one heaping bowl of morning cereal.
How do you mix it so well? Use a way larger mixing bowl than you think you need. Most puppy chow recipes will call for you to mix the Chex cereal right into the saucepan. I disagree.
Place your Chex cereal into a very large mixing bowl and pour the melted chocolate over the cereal in 3 stages, lightly tossing each time. It helps to evenly cover the cereal without too much mixing, which results in broken puppy chow.
Why do you use so much powdered sugar? Many recipes only use 1 1/2 cups powdered sugar, I like to use more and just discard the rest. I find that using only 1 1/2 cups doesn't adequately cover the cereal, making a blotchy monkey munch. No go. I want fluffy, fully white pieces!
I also add one more step of laying it in a single layer on a baking sheet and chilling to harden it up before putting it in a storage container. You can store at room temperture, but I like mine chilled, so I keep it in the fridge.
Can you freeze Puppy Chow? You sure can! And in fact, it tastes great frozen. You can even put it on top of ice cream. Yummy, yummy!
Can I substitute peanut butter in Puppy Chow? You sure can, but do it with another nut butter, like almond butter.
What type of powdered food coloring do you use? Wilton Gold Pearl Dust
and Wilton Yellow Pearl Dust
. Both are golden and shimmery, so either will work.
How long does Puppy Chow last? About a week in the fridge if stored properly.
Lastly, why is it called puppy chow? Rumor has it because it resembles dog food, but I don't think it looks like any dog food, especially when it is iridescent and pink. LOL. Maybe, have you seen the new Sparkle Dog food one of the Real Housewives is trying to sell?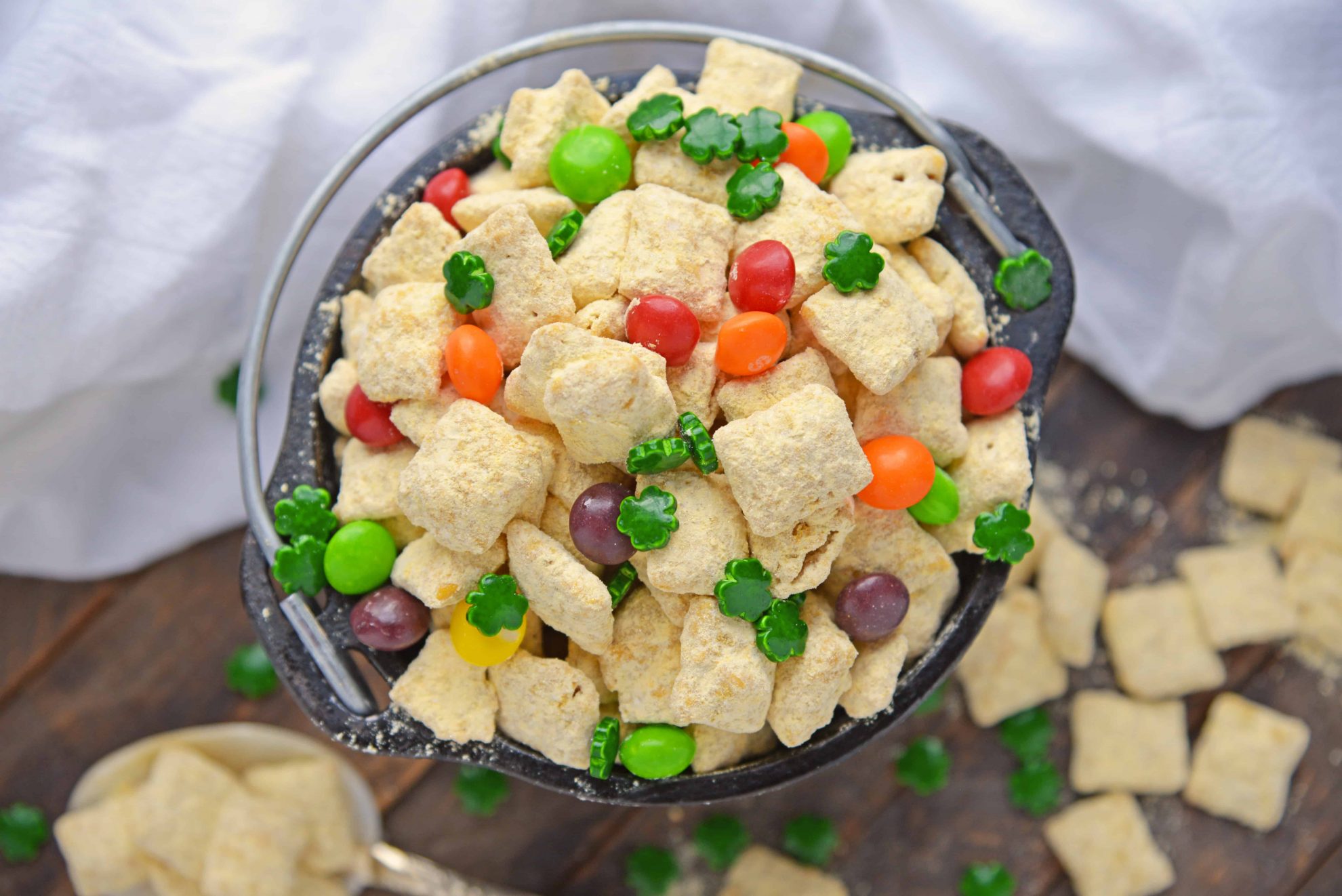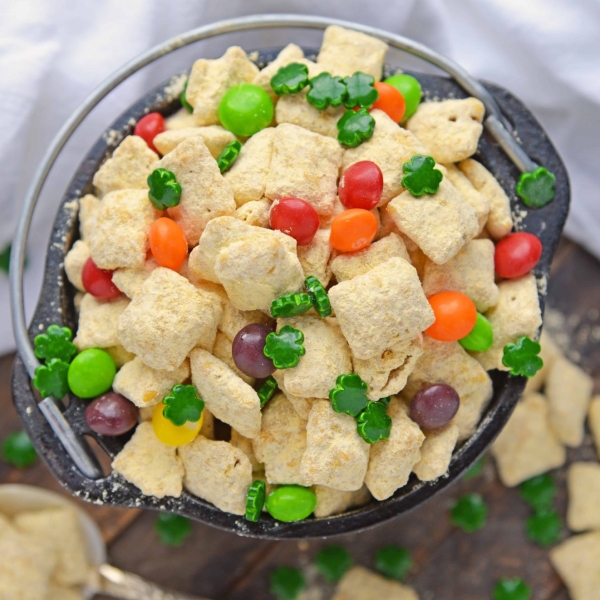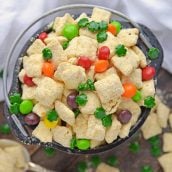 Pot of Gold Puppy Chow
Pot of Gold PUppy Chow is the perfect gold St. Patrick's Day dessert or snack. Easy to make, make-ahead and delicious to eat, it will be the hit of your St. Patrick's Day bash!
Instructions
Measure cereal and place in a very large mixing bowl. Set aside.

Over medium heat, melt and combine butter, white chocolate chips and peanut butter, stirring constantly.

When fully melted, stir in vanilla.

Pour chocolate mixture over Chex cereal in 3 stages, folding as you go.

Toss gently to coat all pieces.

Place powdered sugar and powdered food coloring in a large, airtight plastic bag, shake to combine. You can also use a

food processor

to make sure colors blend seamlessly.

Add Chex cereal in stages, tossing to cover and then removing to a wax paper lined

rimmed baking sheet

.

Spread in a single layer and chill for an hour to set.

Remove. Keep at room temperture or chilled.

If you've tried this recipe, come back and let us know how it was!
Nutrition
Calories:
354
kcal
,
Carbohydrates:
67
g
,
Protein:
5
g
,
Fat:
9
g
,
Saturated Fat:
5
g
,
Cholesterol:
13
mg
,
Sodium:
312
mg
,
Potassium:
214
mg
,
Fiber:
5
g
,
Sugar:
33
g
,
Vitamin A:
615
IU
,
Vitamin C:
6
mg
,
Calcium:
130
mg
,
Iron:
14.3
mg