Have you ever made or eaten a flourless chocolate cake before? While it sounds like it defeats the point of cake without flour, it is actually quite good. Rich and fudgy are the best ways to describe it.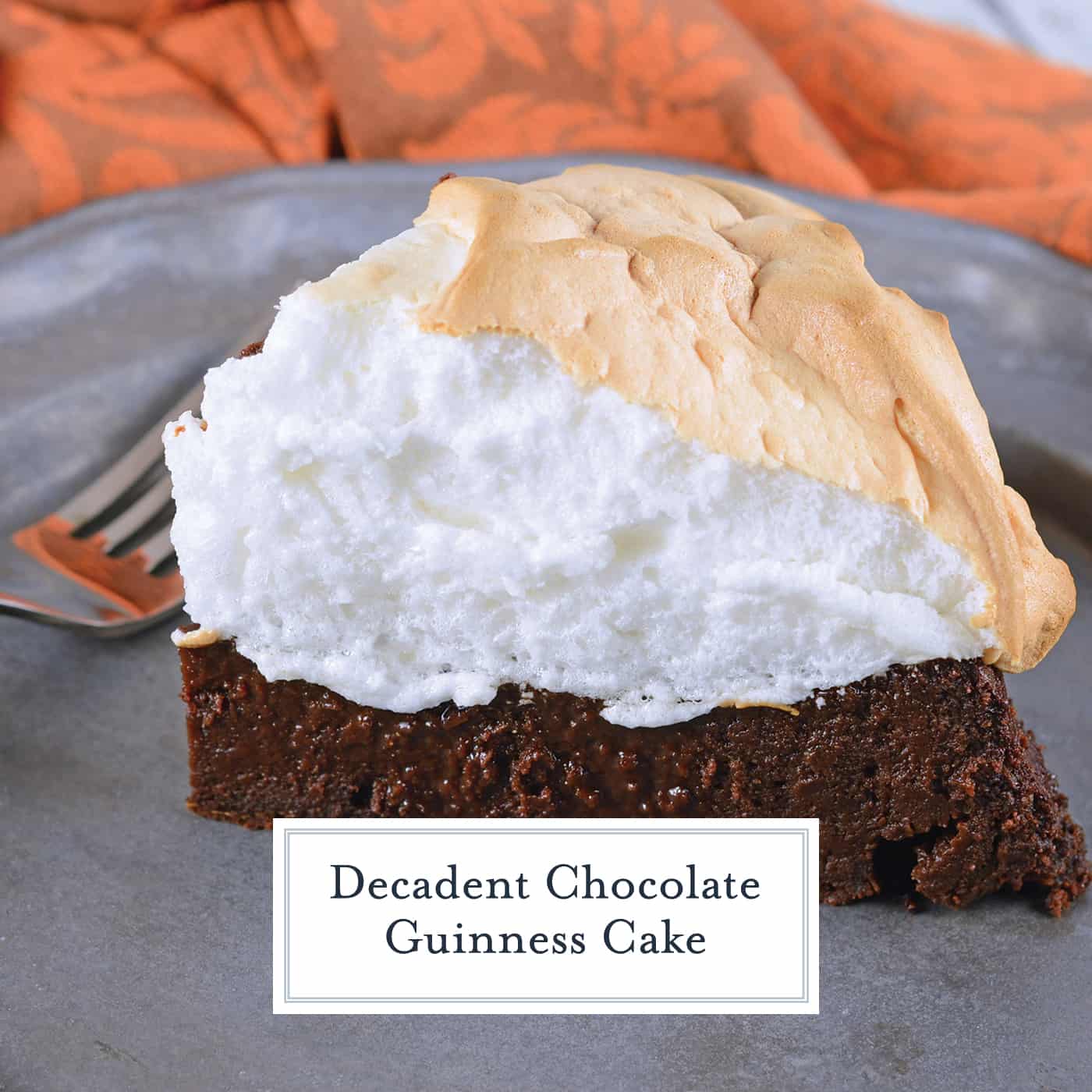 Chocolate Guinness Cake is a super rich and moist cake with fluffy meringue topping. This flourless chocolate cake is perfect for St. Patrick's Day dessert or any other day of the year!
My Chocolate Guinness cake is not only laced with stout beer, it is also flourless and boasts a fluffy, two inch high meringue topping. Stop drooling and run to the kitchen to make one of your own!
Chocolate Guinness Cake is generally more dense and bitter than a regular chocolate cake. It is the flour that gives a cake all that fluff.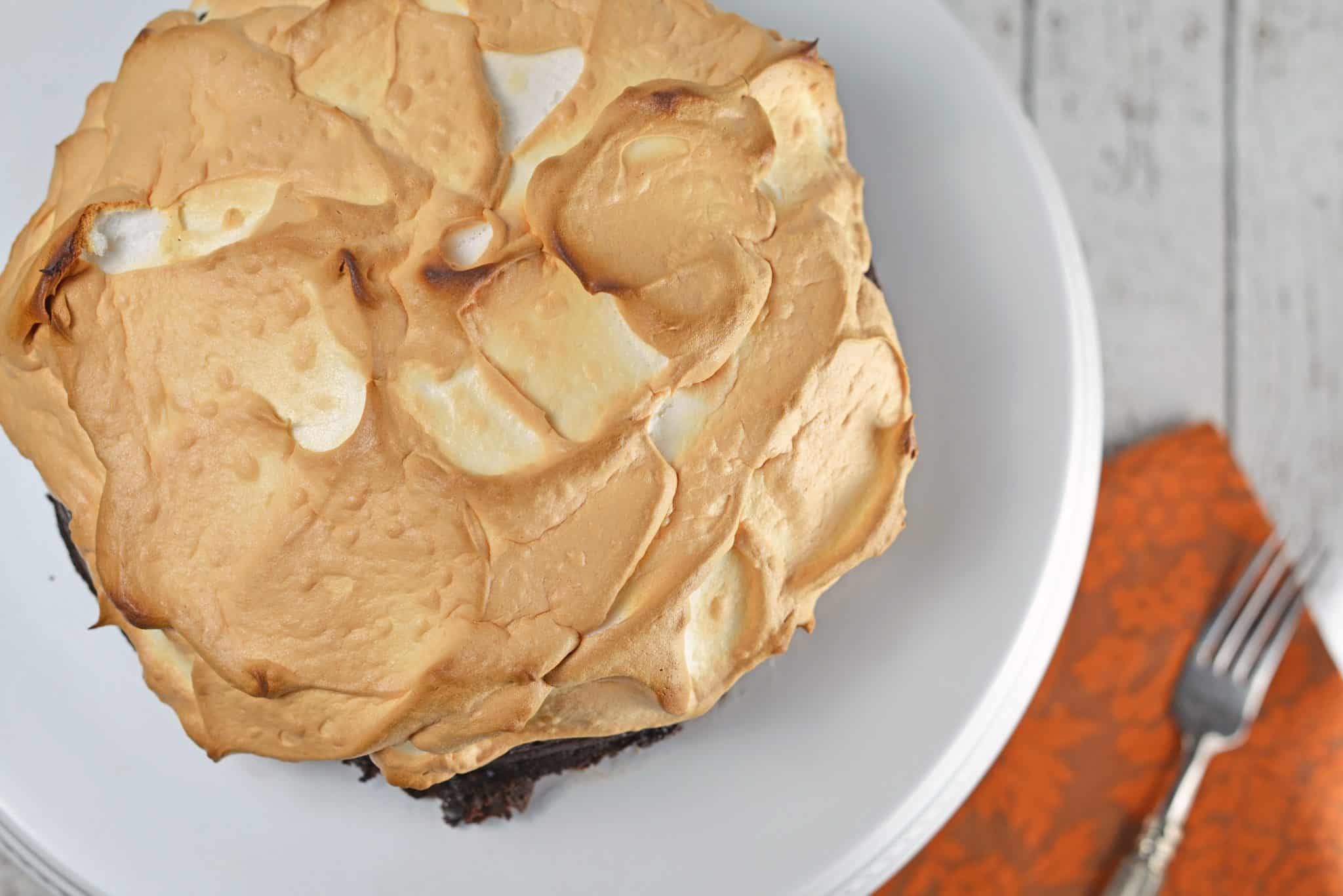 Some also assume that a flourless cake is healthier, generally because they are a great gluten free chocolate cake option.
I like both of these aspects. Slightly fudgy and not terribly sweet. This cake isn't even gluten-free, as it does contain a beer that has wheat.
But this a Chocolate Guinness Cake and neither dense nor healthy, so take those notions out of your head right now! And like most of my recipes, this flourless chocolate cake also comes with a funny story, so here it goes…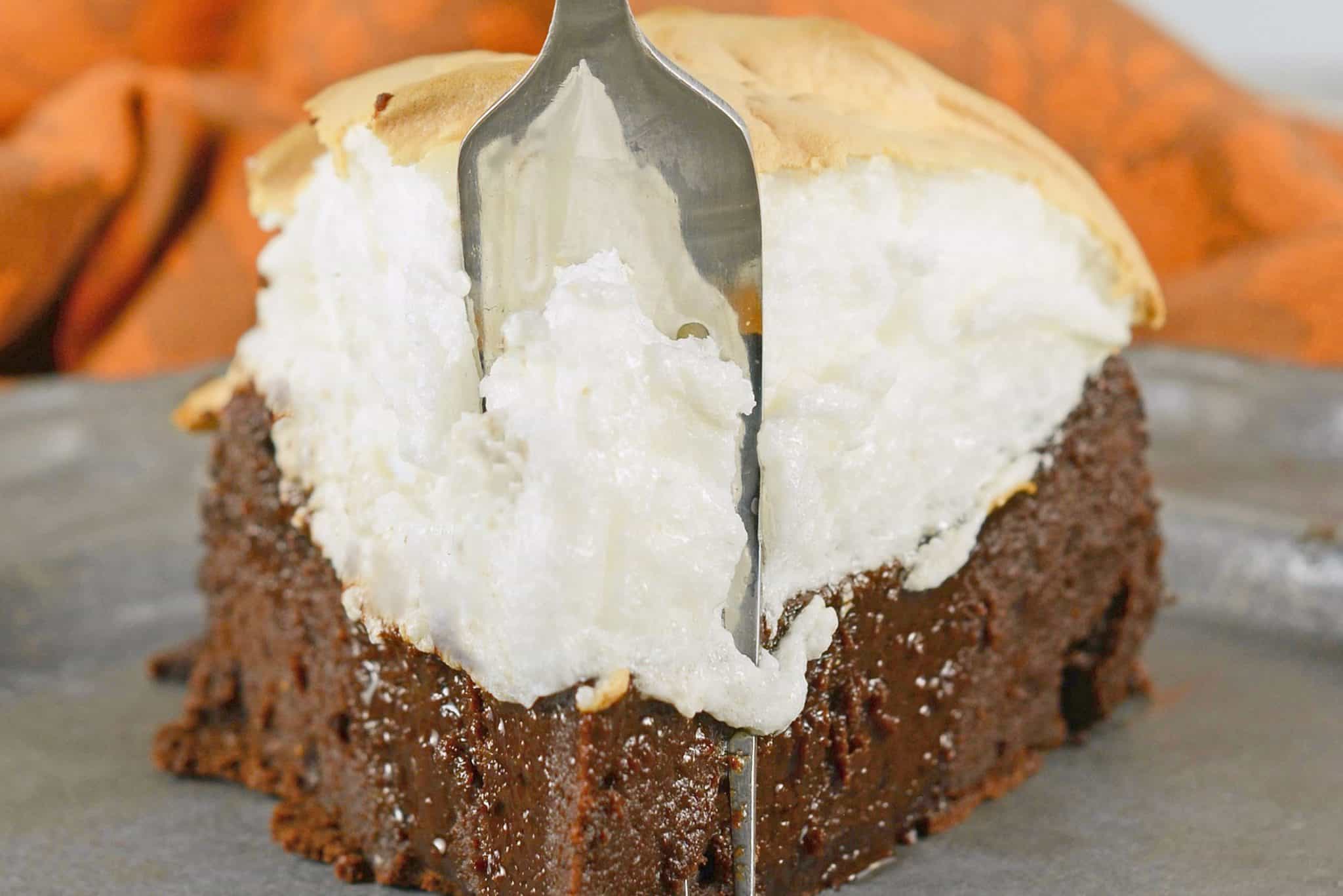 "What ever happened to the dessert tray?" says my good friend Nathalie at lunch. This simple statement started an afternoon baking fest that ended with a Chocolate Guinness Cake. It was right before St. Patrick's Day, so it only make sense!
She does make a good point. People enjoy visual representation. They will be more likely to order dessert if they can see it. Sadly, most eateries have done away with the beloved dessert tray.
We also decided that all dessert menus should offer a basic chocolate cake, period. Basic. Plain. Delicious.
No dessert tray and no chocolate cake landed us at yet another small food joint that had neither. Finally we decided that unless we wanted to spend our entire Sunday wandering around Baltimore we must make our own cake. If you want something done, you gotta do it yourself, right?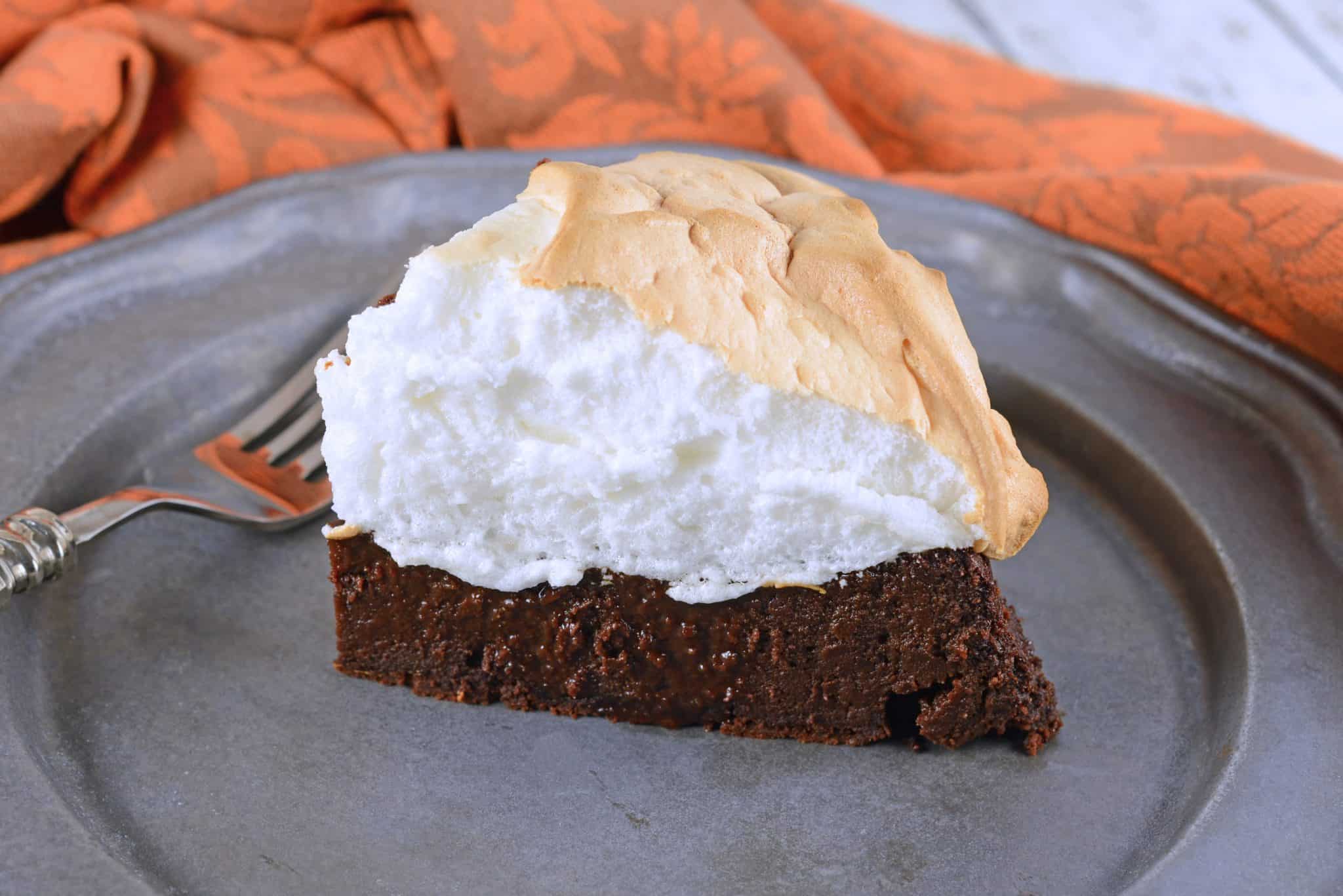 So now we are at the grocery store in the baking aisle Googling "Chocolate Cake". The first page to pull up was a Flourless Chocolate Cake offered by the Food Network. Bingo!
This chocolate cake recipe, however, has been modified considerably because the one posted, quite frankly, just didn't work that well.
Keep in mind that almost all ingredients are heated before being incorporated so you will use a few pans before it even touches the oven.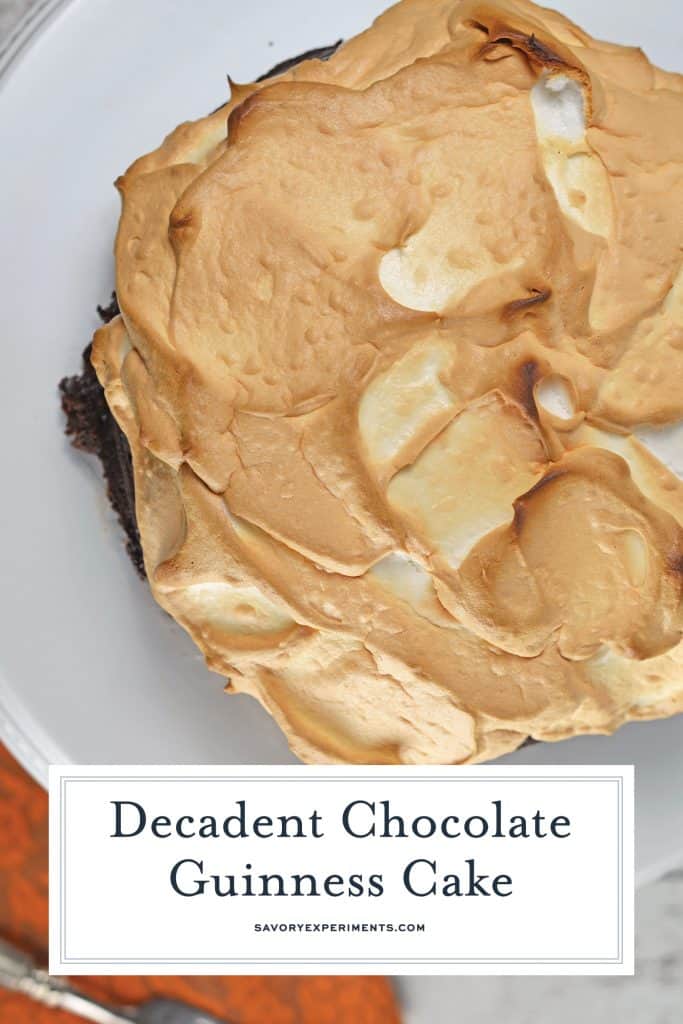 Read the instructions thoroughly before starting. I tried to simplify them as much as possible, but they are still slightly complicated.
Chocolate Guinness Cake only has a small amount of stout, so no one is getting drunk off this cake. It merely adds the flavor of stout and hops. If you choose to leave it out, substitute with water.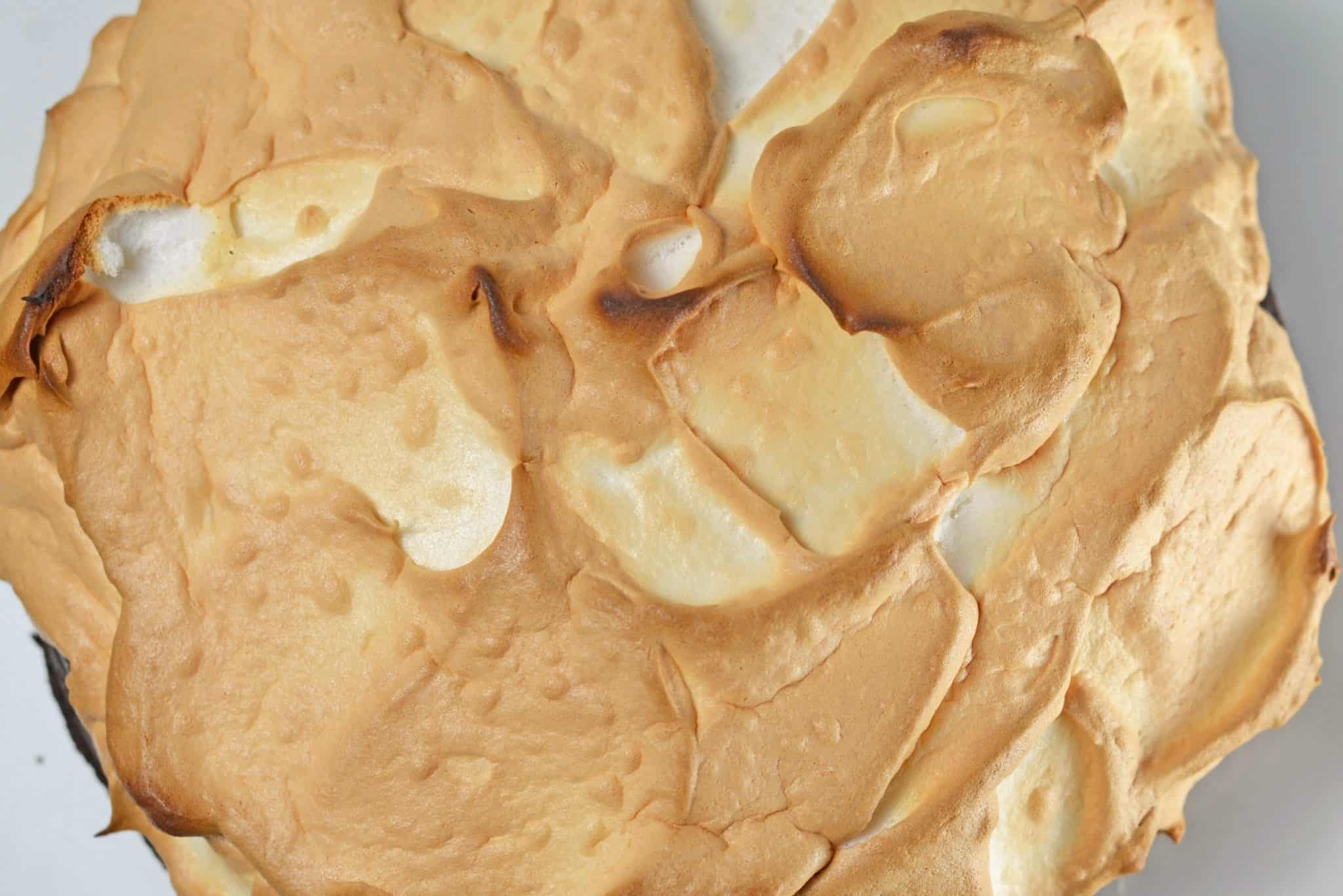 Meringue creates a variety of texture, also adds sweetness to the rich cocoa flavors. There is nothing I love more than pillowy clouds of meringue that literally melt in your mouth.
And if you are still looking for something a little easier, check out our Guinness Cupcakes with Bailey's Frosting!
You'll probably also like these great cake recipes!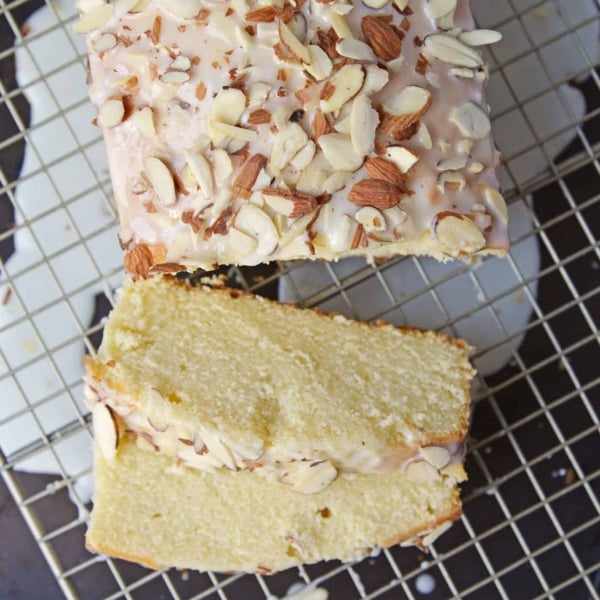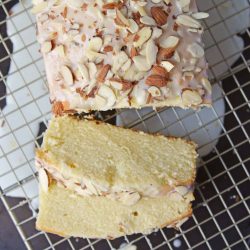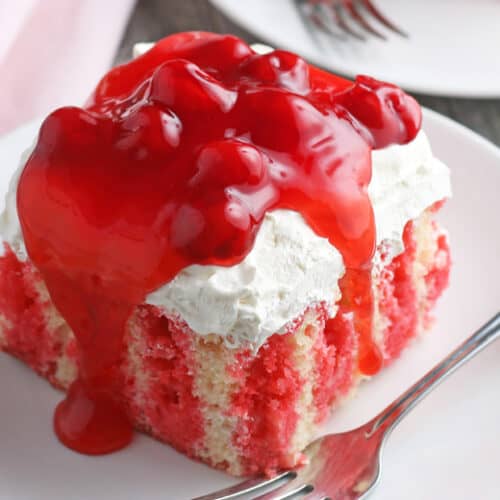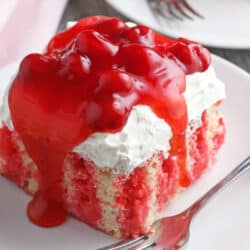 Cherry Poke Cake
Poke cakes are so fun, and this Cherry Poke Cake is no exception. Easier to make than just a white cake with cherry filling, and more delicious too!
See The Recipe!
Tools for making this flourless chocolate cake:
Double Boiler– A kitchen essential, use a double boiler to make velvety melted chocolate, superb sauces and more!
Stand Mixer– I lived for years without one and I can tell you with 100% confidence that life with one is easier and it is worth the investment.
Sifter– Sifting makes all of your baked goods smooth and fluffy. No more lumps! I prefer a hand crank so I can switch directions and get more sifted through faster.
9-Inch Springform Pan – while this isn't an everyday kitchen essential, it is surely something every kitchen should have. I only have one and make cakes separately if they are to be layered.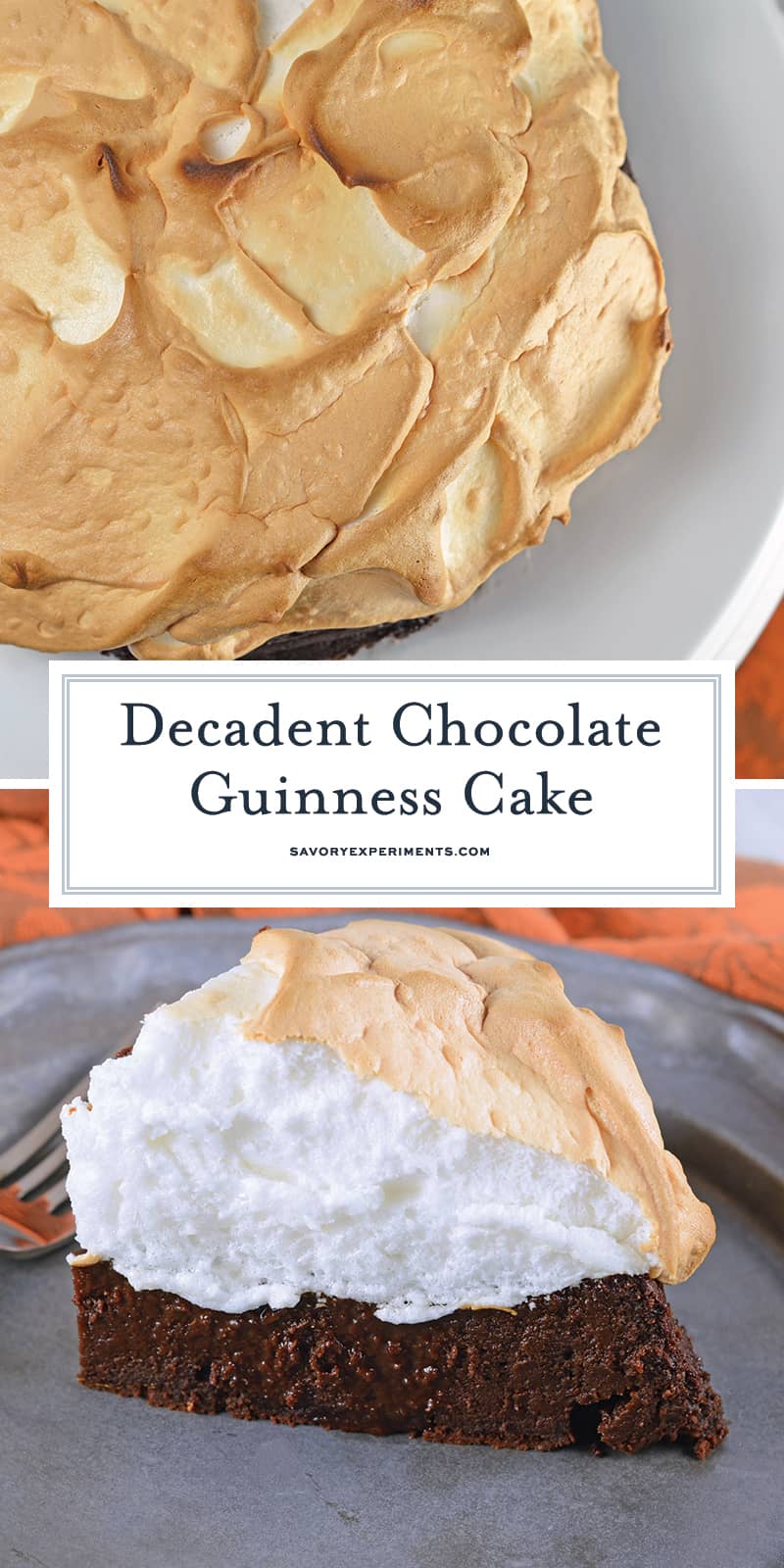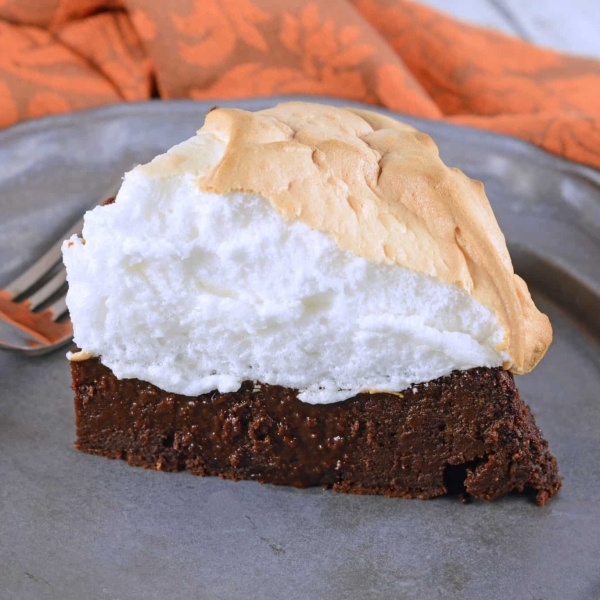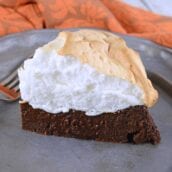 Chocolate Guinness Cake Recipe
Chocolate Guinness Cake is a super rich and moist cake with fluffy meringue topping. This flourless chocolate cake is perfect for St. Patrick's Day dessert or any other day of the year!
Ingredients
Cake:
6

eggs

room temperature

3/4

cup

turbinado sugar

Pinch of Kosher salt

12

ounces

bittersweet chocolate

1/2

cup

Guinness beer

1

teaspoon

vanilla

1 1/4

cups

unsalted butter

room temperature, cut into cubes
Instructions
Preheat oven to 325 degrees. Line the bottom of a 9-inch springform pan with parchment paper and then coat with cooking spray.

Combine eggs, turbinado sugar and salt in the top of a double boiler, set aside until water boils. Fill the bottom of your double boiler 1/4 full with water and bring to simmer. Set over boiling water, whisking until smooth and all sugar has dissolved.

Remove and place into the bowl of a stand mixer fitted with a whisk attachment or in a large mixing bowl. Whisk at a medium speed until mixture has doubled in size. If you have a stand mixer, set it for 5 minutes.

Meanwhile combine 12 ounces bittersweet chocolate in the double boiler over low heat. Stir until melted.

Add beer and vanilla to egg and sugar batter, followed by melted chocolate. Continue to whisk at medium speed.

Lastly, add room temperature butter until fully incorporated and smooth.

Pour into prepared springform pan. Bake for 30-35 minutes or until the cake passes the toothpick test.

Allow cake to cool while still in springform pan for approximately 15 minutes while you make the meringue. Raise oven temperture to 400 degrees.

In medium bowl, beat egg whites and cream of tartar with electric mixer on high speed until foamy. Beat in sugar, 1 tablespoon at a time; continue beating until stiff and glossy. Do not underbeat. Beat in vanilla.

Using a large spoon, frost cake making big "wisps". Bake for an additional 10-12 minutes or until peaks start to crisp and brown.

Remove from oven and carefully release from springform pan to your serving platter. Cake might weep, but this is normal. It is best consumed the same day.
Nutrition
Calories:
670
kcal
,
Carbohydrates:
50
g
,
Protein:
8
g
,
Fat:
48
g
,
Saturated Fat:
28
g
,
Cholesterol:
201
mg
,
Sodium:
74
mg
,
Potassium:
334
mg
,
Fiber:
3
g
,
Sugar:
43
g
,
Vitamin A:
1085
IU
,
Calcium:
56
mg
,
Iron:
3.3
mg