My guess is that you are looking for St. Patrick's Day recipes other than corned beef and cabbage. Well, let me introduce you to Guinness and Cheddar Meatloaf.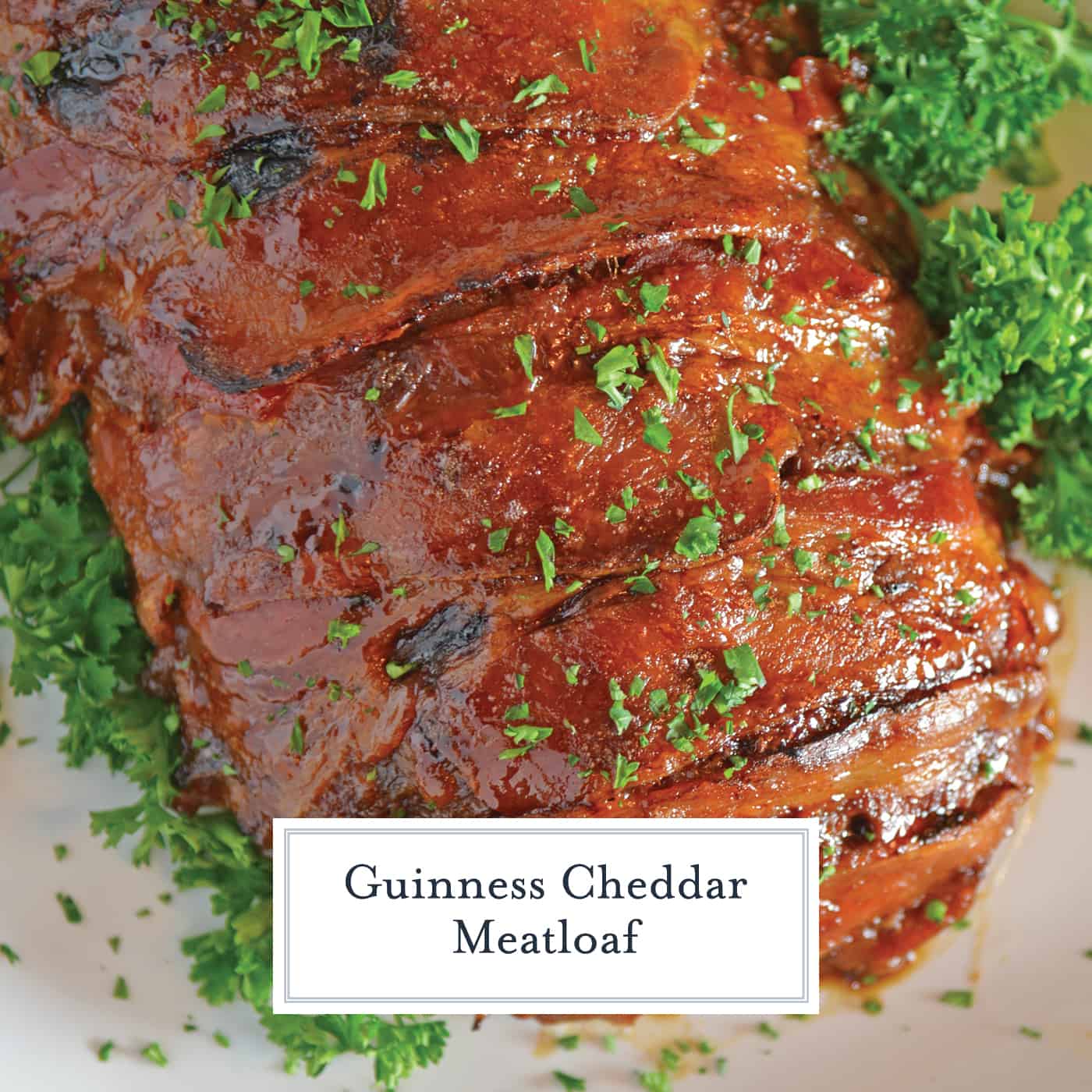 Guinness and Cheddar Meatloaf is packed with vegetables simmered in stout beer and fresh sage topped with crispy bacon and a sweet molasses glaze.
I ran across this recipe when when I was looking for new and fun meatloaf recipes. I've been obsessed with these oversized gourmet meatballs! This recipe caught my eye, as did the other variations on the original from Fine Cooking Magazine.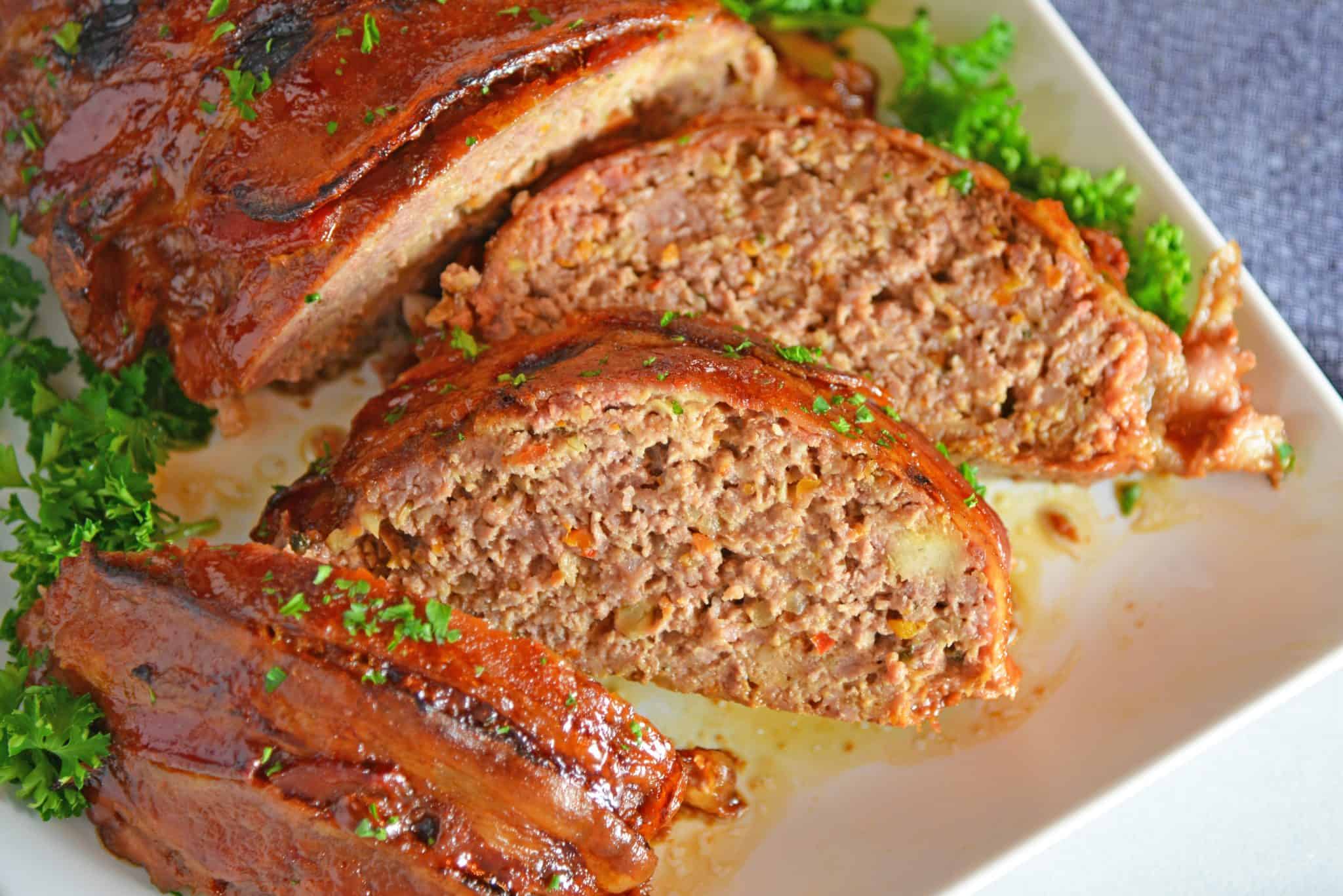 The genius here is in the veggies. Sweat the vegetables of liquid and then reconstituted with Guinness beer, or any other stout you prefer. They turn into little moisture and flavor bombs embedded in the meat mix.
Originally seen in Fine Cooking, I took out the mushrooms, celery and parsley and added parsnip and sage. Parsnips are so underutilized, which is a shame. Their sweet flavor is delicious and they can be used in nearly any recipe that calls for carrots.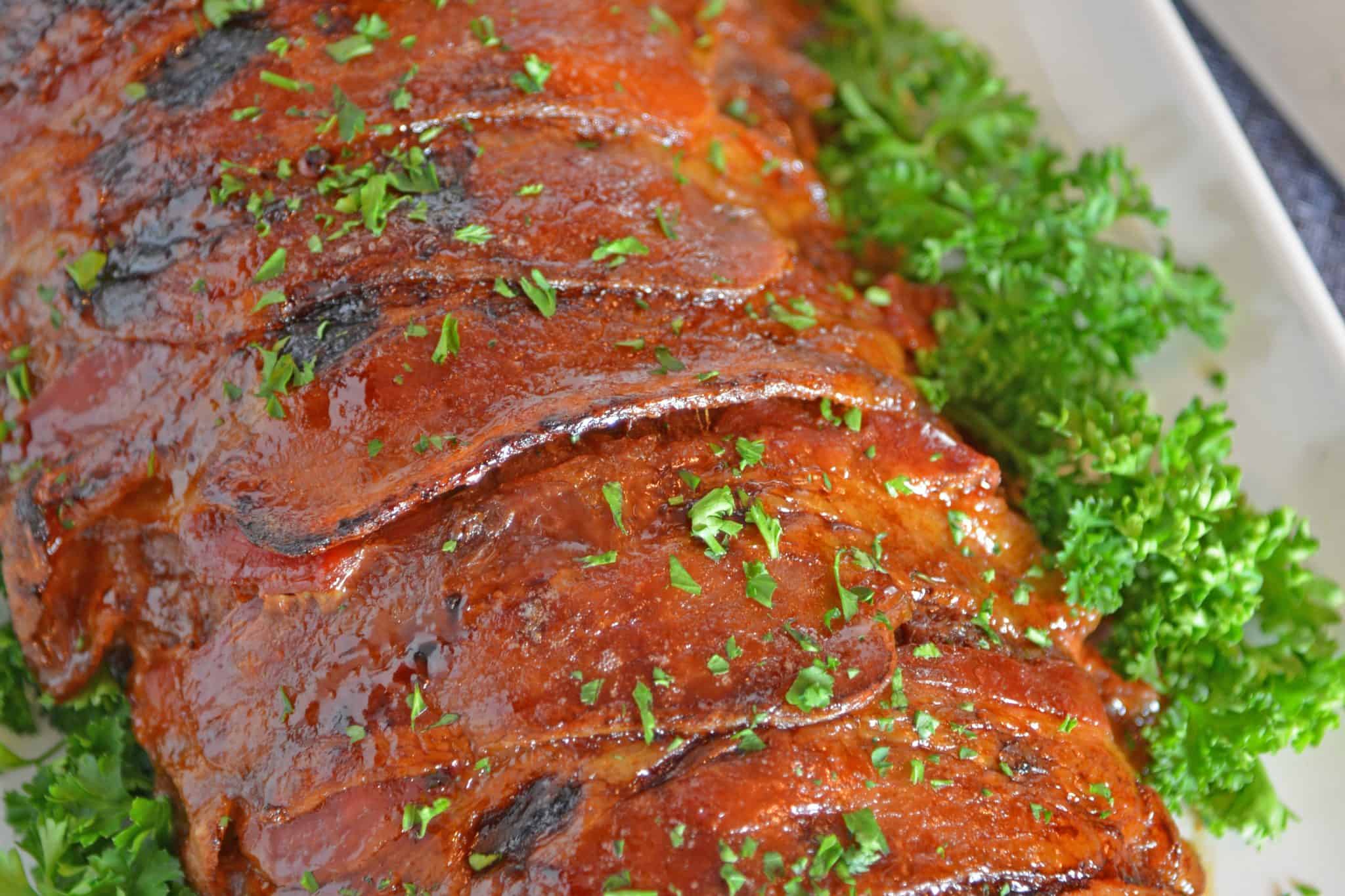 I find kids prefer parsnips to other vegetables. Meatloaf is the perfect way to hide veggies from your kids and with nearly cups, this meatloaf is jam packed.
You can use 2 pounds of any ground meat, veal, beef or pork. If you choose to use chicken or turkey, make sure you have at least some with a little fat to help hold your meatloaf together. I used a half lean ground beef and mild Italian pork.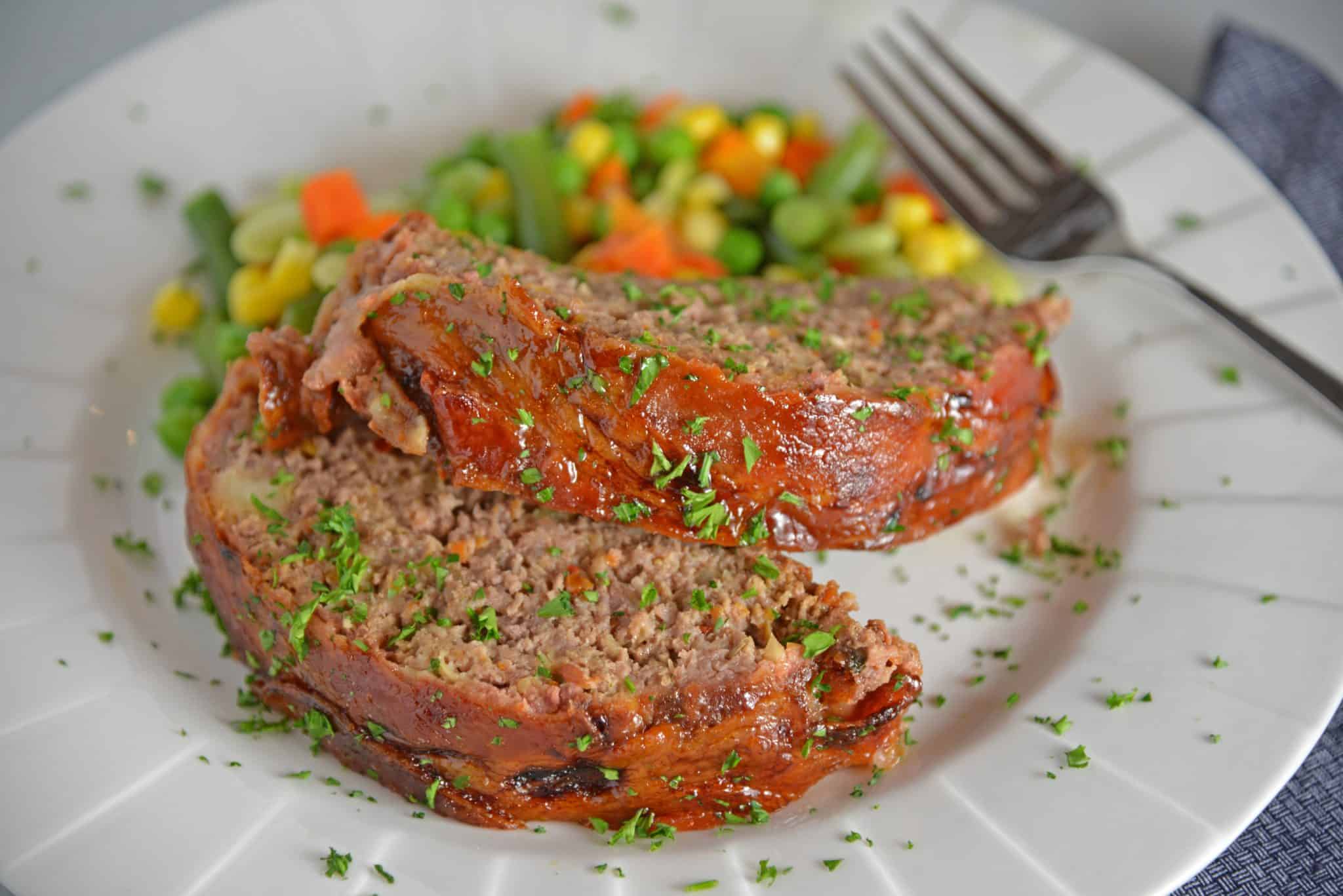 While I typically prefer to use a meatloaf pan to drip all the fat out and form a great loaf, this recipe wouldn't fit and it made it challenging to drape with bacon.
If you decided to omit the bacon and cut the recipe in half, you could use a meatloaf pan. But I don't recommend forfeiting the bacon. Who doesn't love bacon wrapped meatloaf?

The Galley Gourmet added a glaze and I have to agree, it was a great idea. I can't imagine a meatloaf without a sweet topping, but traditional meatloaf glaze of ketchup didn't seem warranted for this hearty concoction.
She used honey and brown sugar, but I felt like molasses would pair perfectly and add the right amount of sweet and bitter to complement the flavors.
Tools used to make Guinness and Cheddar Meatloaf:
Heavy Bottom Frying Pan– this will be one of your most used kitchen tools. Having something that is heavy bottom will distribute heat better and prevent burning whether you are using an electric or gas range.
Wood cutting board – wood won't dull your knives like plastic and if treated properly, has natural antimicrobial properties.
Good knife – Global is my favorite! They are worth the price, I promise. I am kind of obsessed with them and store them tucked away so no one else can use them. Including hubby. Hands off my good stuff!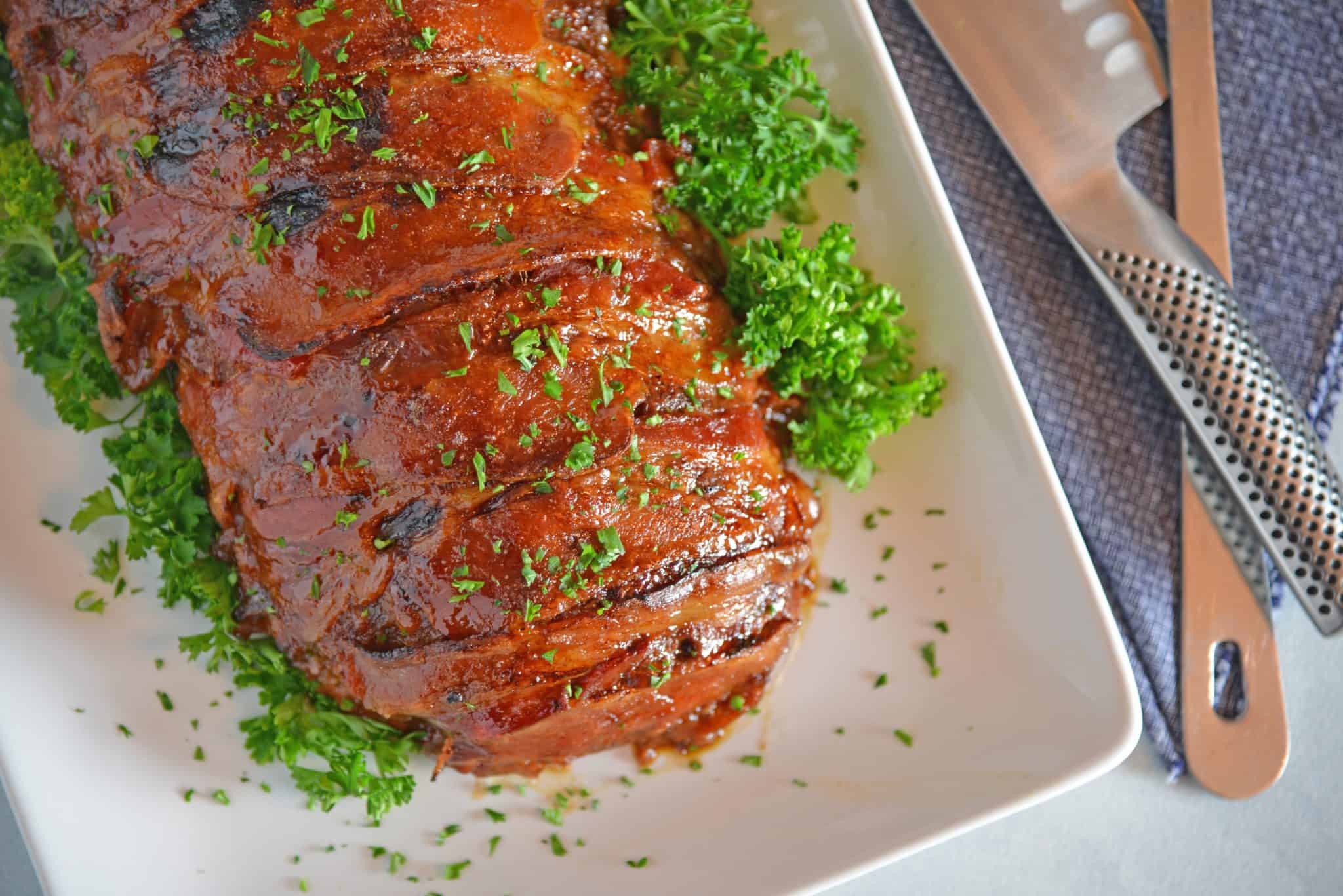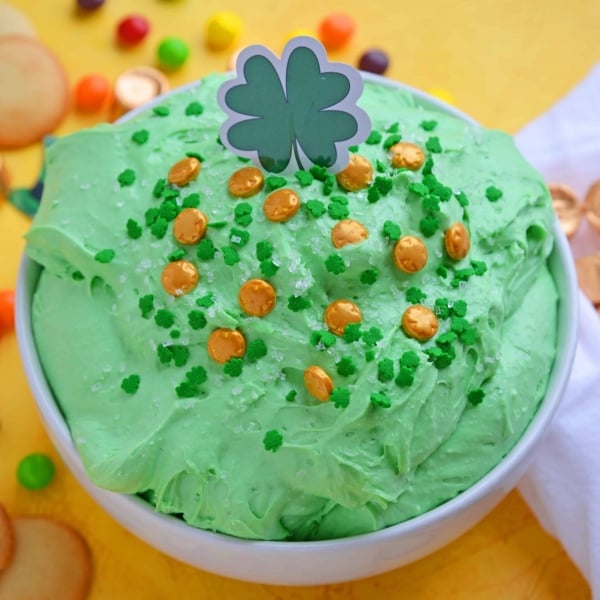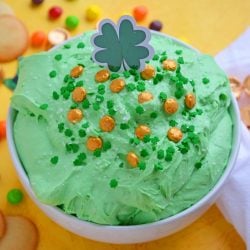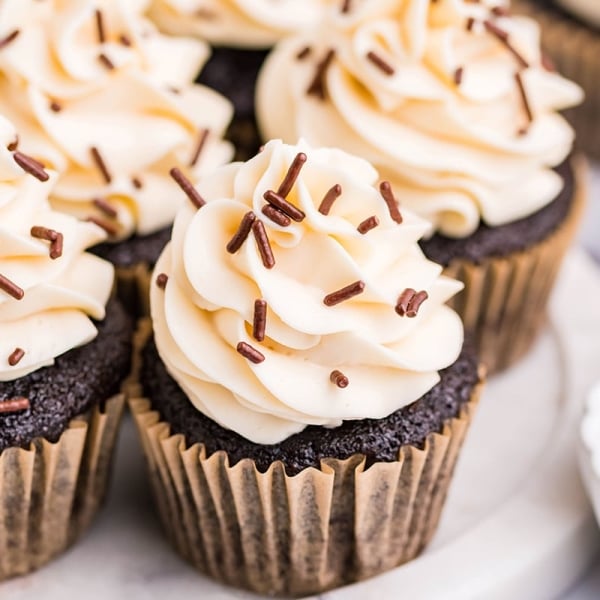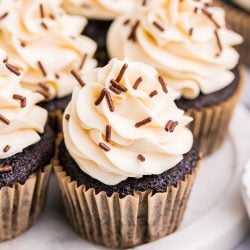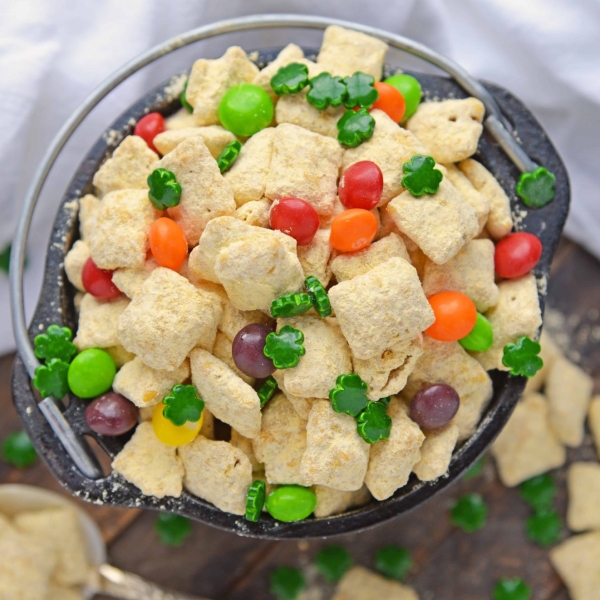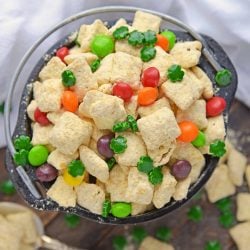 Pot of Gold Puppy Chow
Pot of Gold PUppy Chow is the perfect gold St. Patrick's Day dessert or snack. Easy to make, make-ahead and delicious to eat, it will be the hit of your St. Patrick's Day bash!
See The Recipe!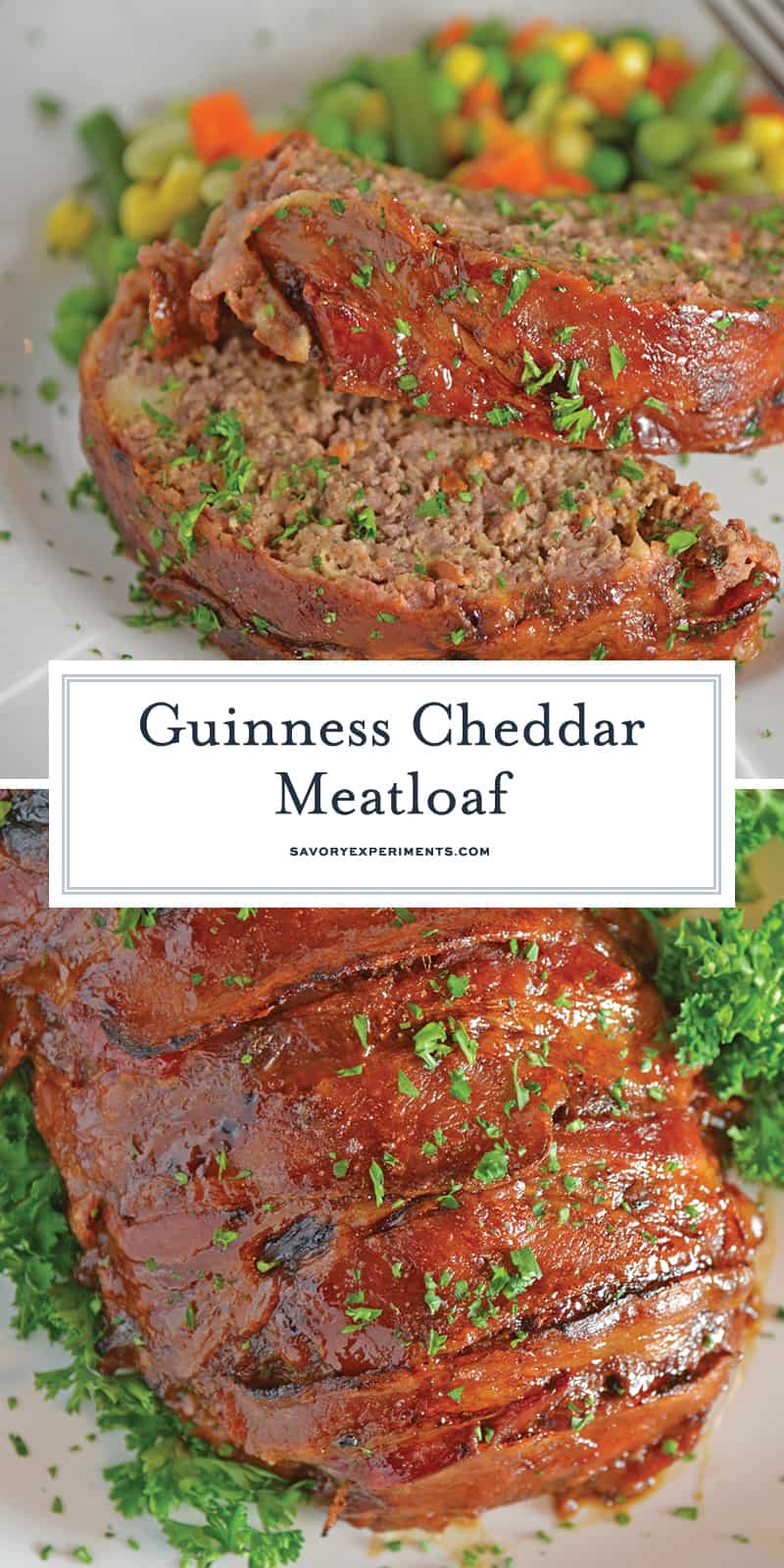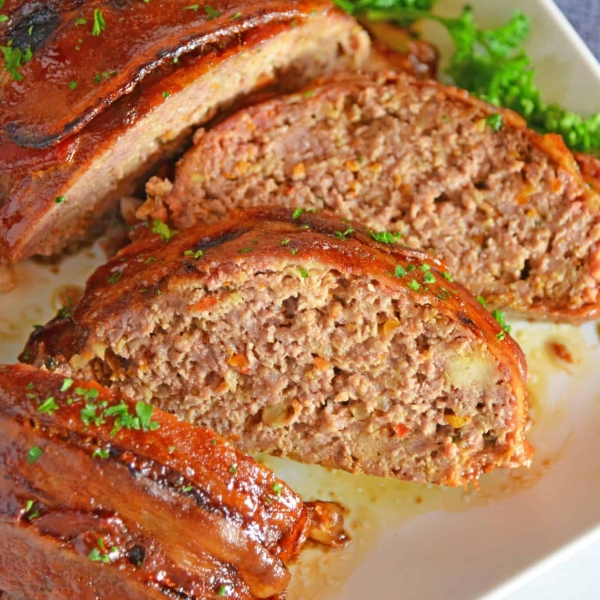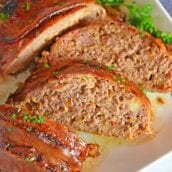 Guinness and Cheddar Meatloaf
Guinness and Cheddar Meatloaf is packed with vegetables simmered in stout beer and fresh sage topped with crispy bacon and a sweet molasses glaze.
Equipment
Heat Resistant Rubber Spatula
Ingredients
Meatloaf:
1/2

red onion

, roughly chopped

1

medium carrot

, roughly chopped

1

medium parsnip

, roughly chopped

2

large garlic cloves

, roughly chopped

2

tablespoons

extra virgin olive oil

3/4

cup

stout beer

, such as Guinness

1

tablespoon

fresh sage

, minced

2 1/2

cups

medium-coarse white bread

, such as Italian or French, cut into 1-inch pieces

1

cup

whole milk

1

pound

ground beef

1

pound

ground pork (or mild Italian sausage)

, casings removed and crumbled)

2

large eggs

, beaten

1/2

cup

aged white cheddar

, finely grated

1

tablespoon

Worcestershire sauce

1/2

teaspoon

fine sea salt

1/2

teaspoon

white ground pepper

9-11

bacon strips
Instructions
Combine roughly chopped red onion, garlic, carrot and parsnip in food processor. Pulse until finely minced.

Heat olive oil in a large skillet over medium heat. Cook vegetable mixture until softened and just beginning to brown, approximately 6 to 8 minutes.

Pour in stout, simmering until no more liquid remains, approximately 5 minutes. Add minced sage.

Remove from heat and allow to cool until cool enough to touch. If you are short on time, transfer to another bowl and place in the refrigerator.

Meanwhile, in a shallow dish, arrange cubed bread in a single layer. Pour in milk. After 5 minutes, flip and allow to continue soaking for an additional 5 minutes. Gently press with a spatula, removing excess milk and making sure all of the bread is moistened and breaking into a pulp.

Preheat oven to 375 degree

s with the rack in the center. Line a rimmed baking sheet with parchment paper.

Crumble ground beef and ground pork into a large mixing bowl. Pour beat eggs, shredded white cheddar and Worcestershire sauce over ground meat mixture, followed by fine sea salt, ground white pepper, vegetable mix and mushy bread.

With (clean) heads gently toss to combine. Do not overmix, this will result in tough meatloaf.

transfer meat mixture to parchment lined baking sheet and form into a loaf, approximately 10×4.

Finish the meatloaf by draping it with slightly overlapping strips of bacon, tucking the ends under the loaf.

For 45 minutes, or until meat thermometer registers at 160 degrees.

Turn broiler on high and crisp the top for 2-3 minutes or until browned.

Meanwhile, whisk together stout beer and molasses.

Baste hot meatloaf with glaze as soon as it comes out of the oven. Allow to rest for 10 minutes before slicing.

If you've tried this recipe, come back and let us know how it was!
Nutrition
Calories:
521
kcal
,
Carbohydrates:
24
g
,
Protein:
24
g
,
Fat:
35
g
,
Saturated Fat:
13
g
,
Cholesterol:
125
mg
,
Sodium:
483
mg
,
Potassium:
706
mg
,
Fiber:
1
g
,
Sugar:
15
g
,
Vitamin A:
1245
IU
,
Vitamin C:
4.1
mg
,
Calcium:
211
mg
,
Iron:
3
mg