Most people think of searing scallops, but they are also great baked! My Bechamel Baked Scallops are a great way to prepare scallops without searing.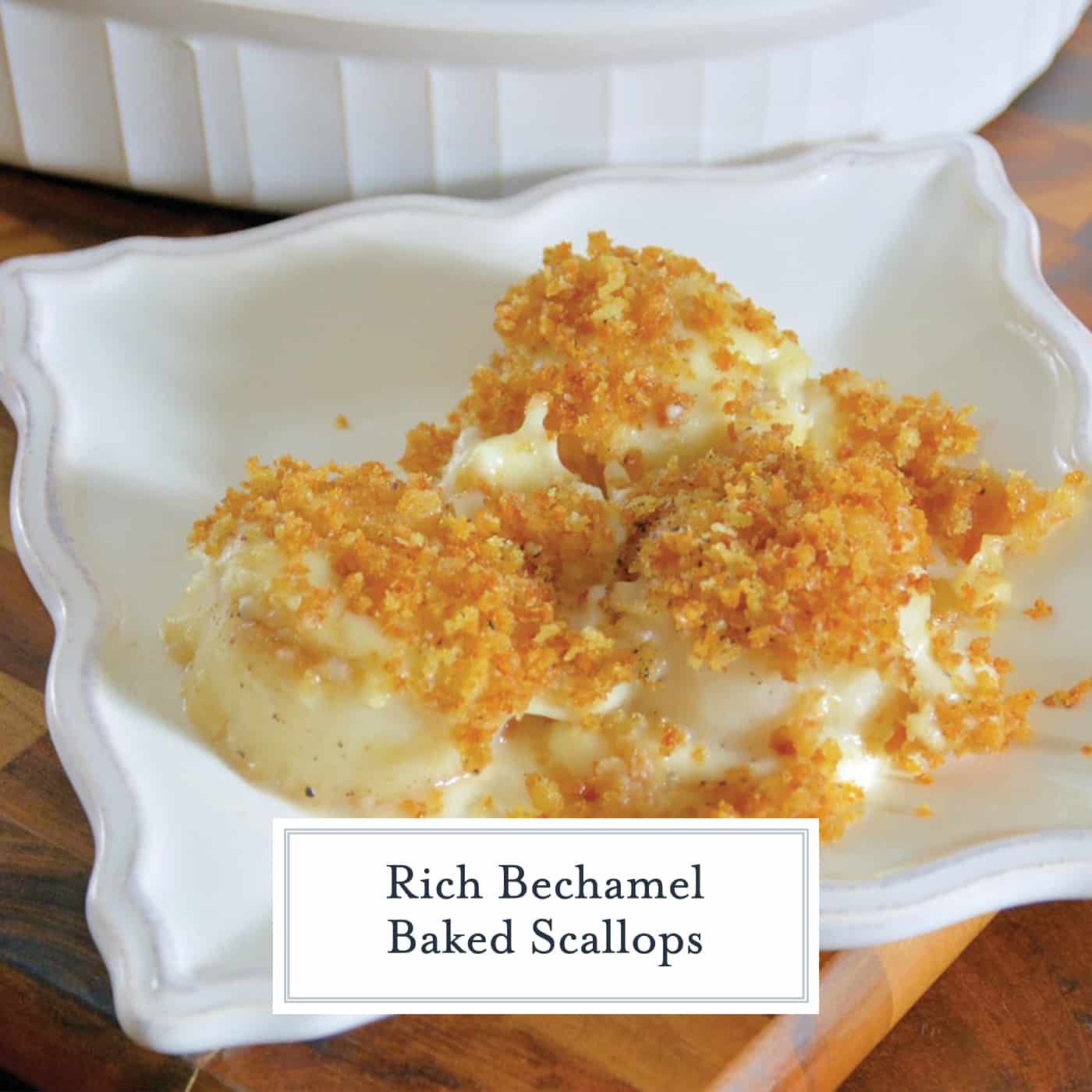 Bechamel Baked Scallops cover scallops in a spiced, creamy bechamel sauce and top with crunchy bread crumbs. The perfect side dish for steak or vegetarian entree!
Mastering a basic bechamel should be in every home cook's repertoire, really it is just a silky sauce that resembles a cheese sauce. Many times cheese is added, in fact bechamel is the base for most mac and cheese.
A white mother sauce in French and Italian cuisine, bechamel is also the base for many other creamy sauces such as con queso and ala king dishes, but just the plain version still have a lot of flavor and versatility.
Rich and creamy, anything smothered in bechamel will come across has elegant and gourmet. Serve Bechamel Baked Scallops as an appetizer or as a main main over pasta or rice.
Here are a few tips for making scallops at home:
ONE. Ask your grocer for "dry scallops", these are not packed in water and essentially inflated. A dry scallop will stay relatively the same size and the usually higher per pound price will be for all scallop instead of absorbed water. Water packed scallops will reduce in size considerably.
TWO. The best pan, at least in my opinion, to cook scallops in is a true cast iron pan, one that will absorb the reduced liquid (even with dry scallops there will be a little bit of liquid), and allow them to sear and brown evenly on each side.
THREE. To really sear a scallop you will need a little bit of fat (butter or oil) and a very hot pan. I'm talking steamy, set off the smoke detector, sizzling HOT.
FOUR. Scallops only take 1-2 minutes per side. No longer. Many folks over cook scallops at home for fear they are undercooked. Ideally you want the opaque white to into a glossy white and the inside to be a "medium rare". With this recipe they will also cook a little bit in the oven, so we are going to cook them even less in the pan.
FIVE. There is a small muscle that some scallops will have on the side. Well, all scallops had them, some may still when you bring them home.
SIX. Scallops suck in water and then spit it out, so you may have some grains of sand inside, don't panic, it is normal.
If you enjoyed my Bechamel Baked Scallops, check these out!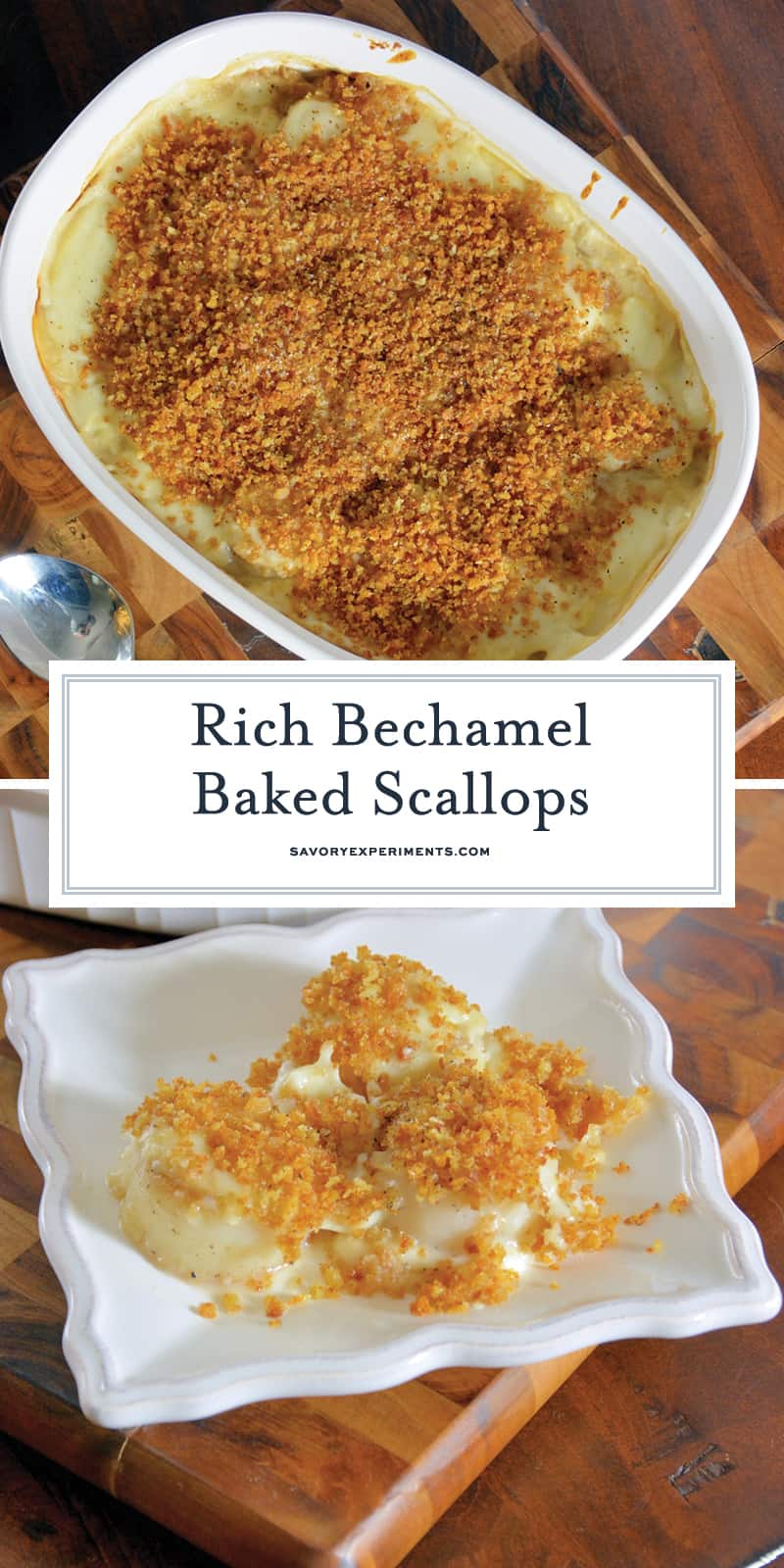 CONNECT WITH SAVORY EXPERIMENTS!

Be sure to follow me on social media, so you never miss a post!

Facebook | Twitter | Youtube
Pinterest | Instagram
Get our FREE 8 Day E-Course on How to Be a Better Home Cook. Sign up HERE!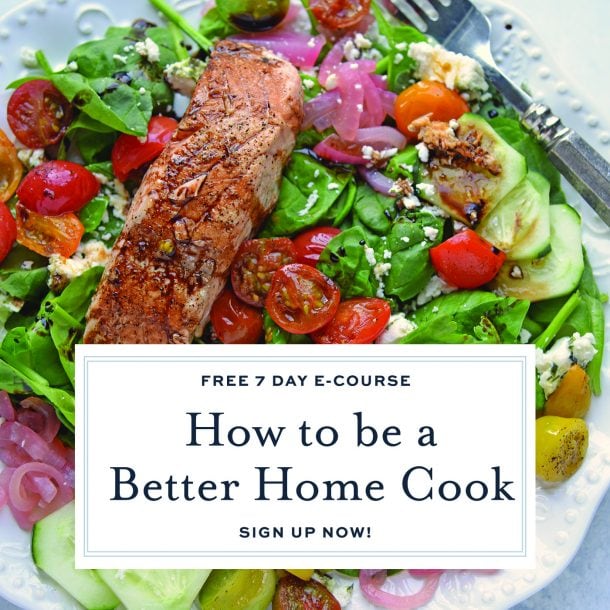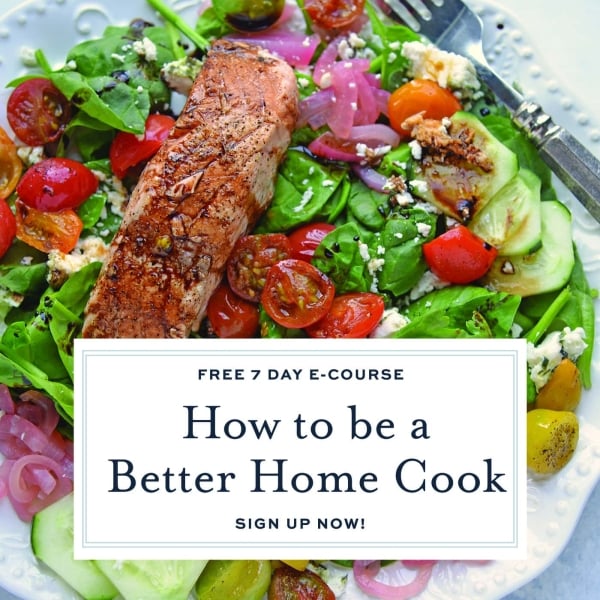 Bechamel Baked Scallops
Bechamel Baked Scallops cover scallops in a spiced, creamy bechamel sauce and then bake them to perfection. The perfect side dish for steak or vegetarian entree!
Ingredients
1

cup

plus 1 tablespoon unsalted butter

divided

3/4

cup

flour

4

cups

whole milk

1

small yellow onion

whole but peeled with ends cut off, pierce several times with a knife

1

whole clove

1

large bay leaf

1

cup

bread crumbs

1

tablespoon

salted butter

1

pound

large scallops

Fine Sea Salt and Freshly Cracked Pepper
Instructions
Start by making a blond roux, combination of unsalted butter and flour. In a medium sauce pan, melt 1 cup unsalted butter. As it melts, the milk solids will rise to the top, a frothy white. Skim this off and then pour through a fine mesh sieve. Return the now clarified butter back to the sauce pan.

Whisk in flour over medium heat. Continue to whisk until the mixture is a loose paste, darkens slightly in color and starts to smell nutty. Remove before mixture turns tan or smells like popcorn (this would be a golden or dark roux). Remove from heat and set aside.

In a small skillet, melt salted butter, seasoned bread crumbs and season lightly with fine sea salt and freshly ground pepper. Mix until butter has been absorbed and is like wet sand. Remove and set aside.

Preheat oven to 350 degrees and heat a large skillet over high heat with about 1 tablespoon of unsalted butter. If this does not cover the bottom of your skillet, add a small amount more. Heat until very hot.

Dab scallops with a paper towel to dry them as much as possible and season lightly with fine sea salt and freshly cracked pepper. Add to the skillet and do not move, allowing a nice sear to happen. After approximately 1 minute, use tongs to turn to the other side. And cook for an additional 1 minute. Cooking times may vary due to the size of scallop. Remove to a plate and set aside.

In another medium sauce pan, bring milk, whole onion, whole clove and bay leaf to a low simmer.

Add blond roux 2 tablespoons at a time until mixture is smooth and the consistency of a cream sauce. You may not need all of your roux, if it gets too thick, add more milk. Do not bring past a low simmer or else you could risk it separating. When you achieve the desired consistency, remove onion, clove and bay leaf.

Arrange scallops snugly in a baking dish. Cover with bechaemel sauce and top with seasoned bread crumbs. Bake for 12 minutes or until bread crumbs are lightly browned.

Remove and serve immediately.

If you've tried this recipe, come back and let us know how it was!
Nutrition
Calories:
851
kcal
|
Carbohydrates:
52
g
|
Protein:
27
g
|
Fat:
59
g
|
Saturated Fat:
36
g
|
Cholesterol:
181
mg
|
Sodium:
778
mg
|
Potassium:
646
mg
|
Fiber:
1
g
|
Sugar:
14
g
|
Vitamin A:
1900
IU
|
Calcium:
349
mg
|
Iron:
2.9
mg