This recipe will show you how to cook a pork crown roast to perfection!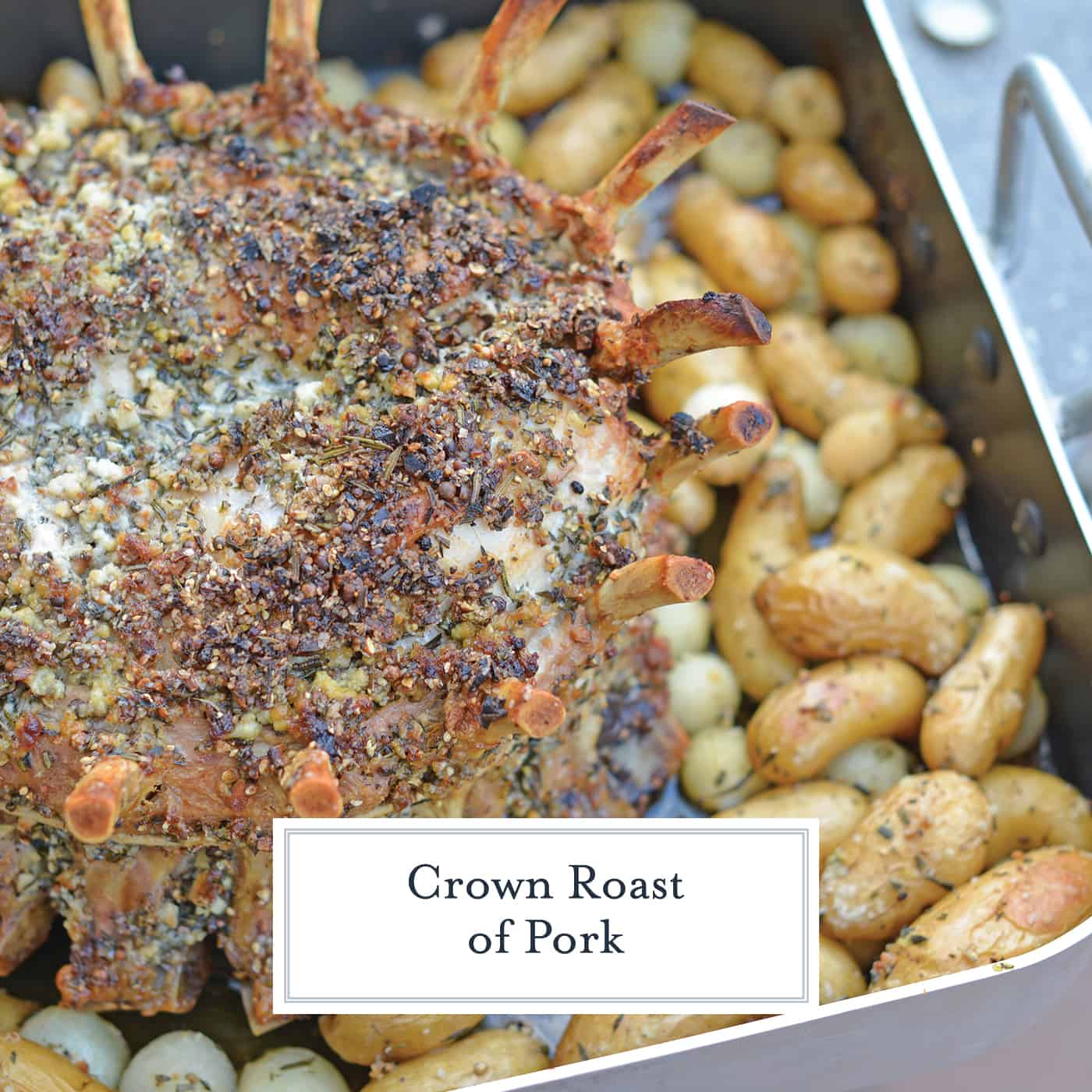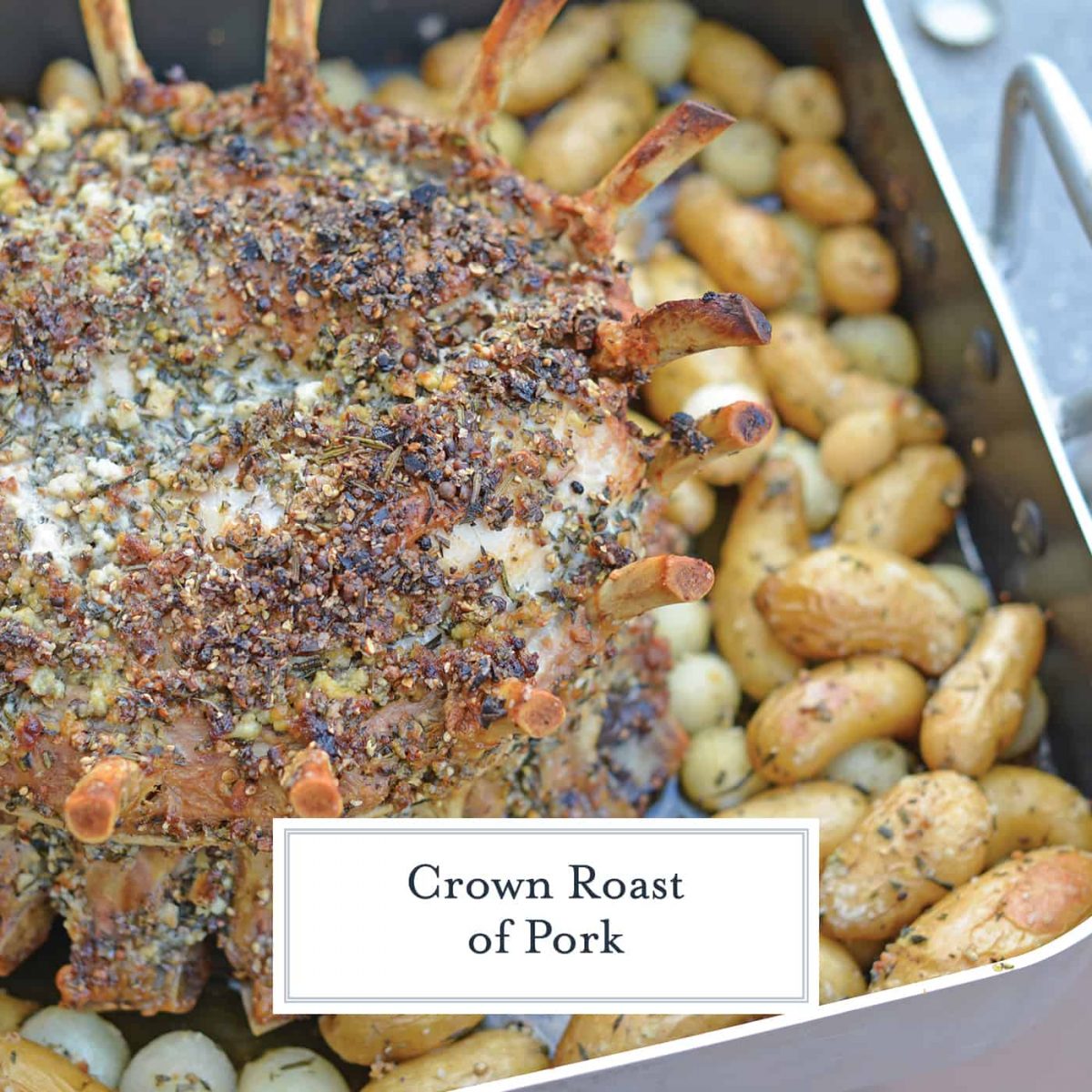 Crown Roast of Pork is the perfect special occasion or holiday meal to serve for a crowd. Tasty and impressive presentation make this a winning pork recipe!
Where do we start with how I made my pork crown roast? Really it goes back to the season premiere of Game of Thrones on HBO. We have a tradition on GoT nights to have all of our friends over for dinner and watch the show together. For this season, we wanted something rustic, raw and Game-of-Thrones(y).
I sent hubby on a hunt for a French cut prime rib, also known as a standing rib roast. I wanted a giant slab of meat we could eat "beefsteak" style.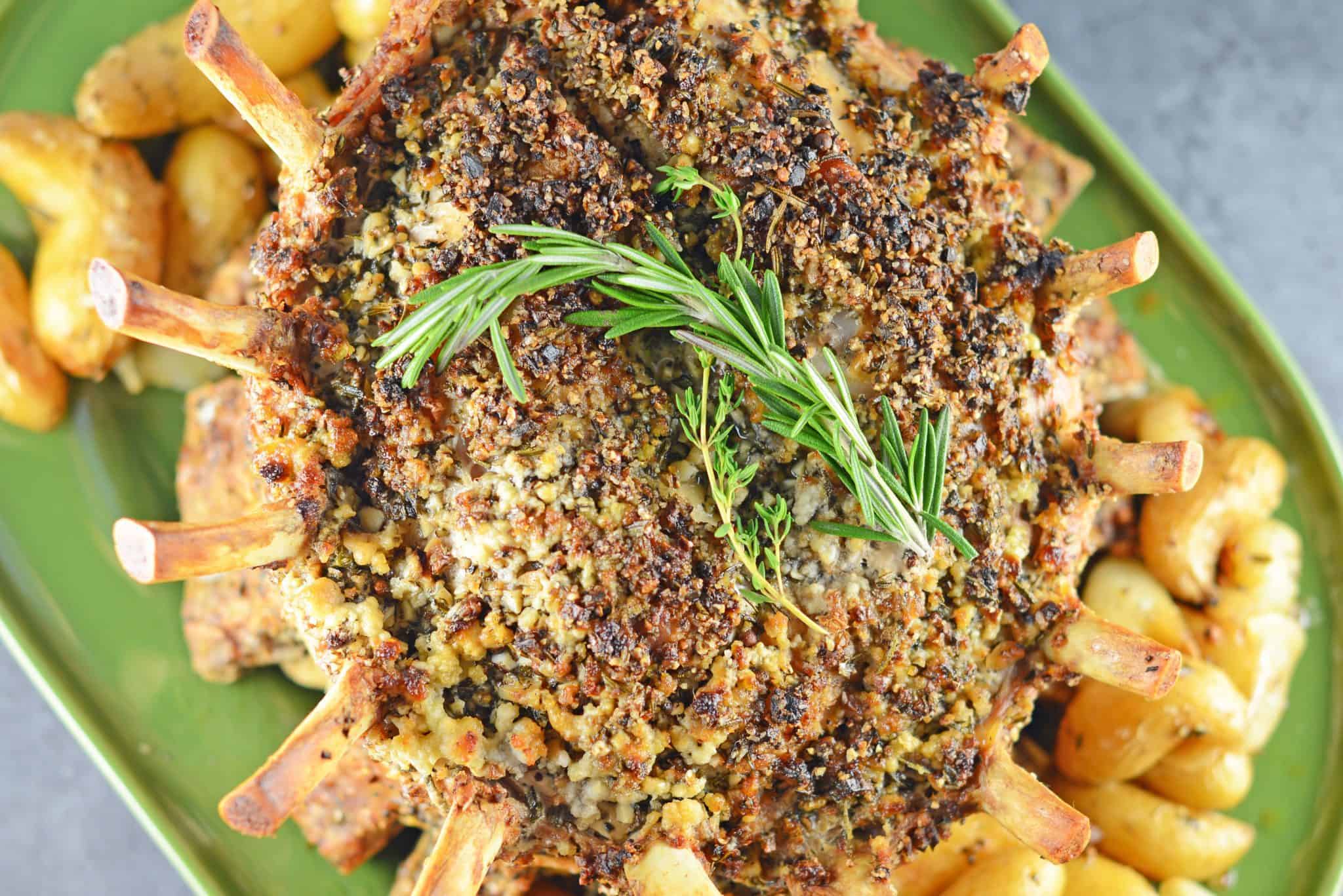 For those of you who have never heard of "beefsteak," they are black tie gatherings that usually cost a pretty penny. After getting all gussied up, one presents at the party and is handed an apron. From there you are served food which you can only eat with your hands.
You got it, no utensils at all! What a mess in such pretty clothes. But for the GoT premiere it seemed perfect. We weren't going to be serving up rabbit pot pie or some of the other delicacies seen on the show, so why not go totally primal?
As it turns out, French cut prime rib is A. hard to find B. Really, really expensive. Like $500 for 8 ribs expensive. I should have known. I set my sights on a less expensive, but equally impressive piece of meat: the Crown Pork Roast.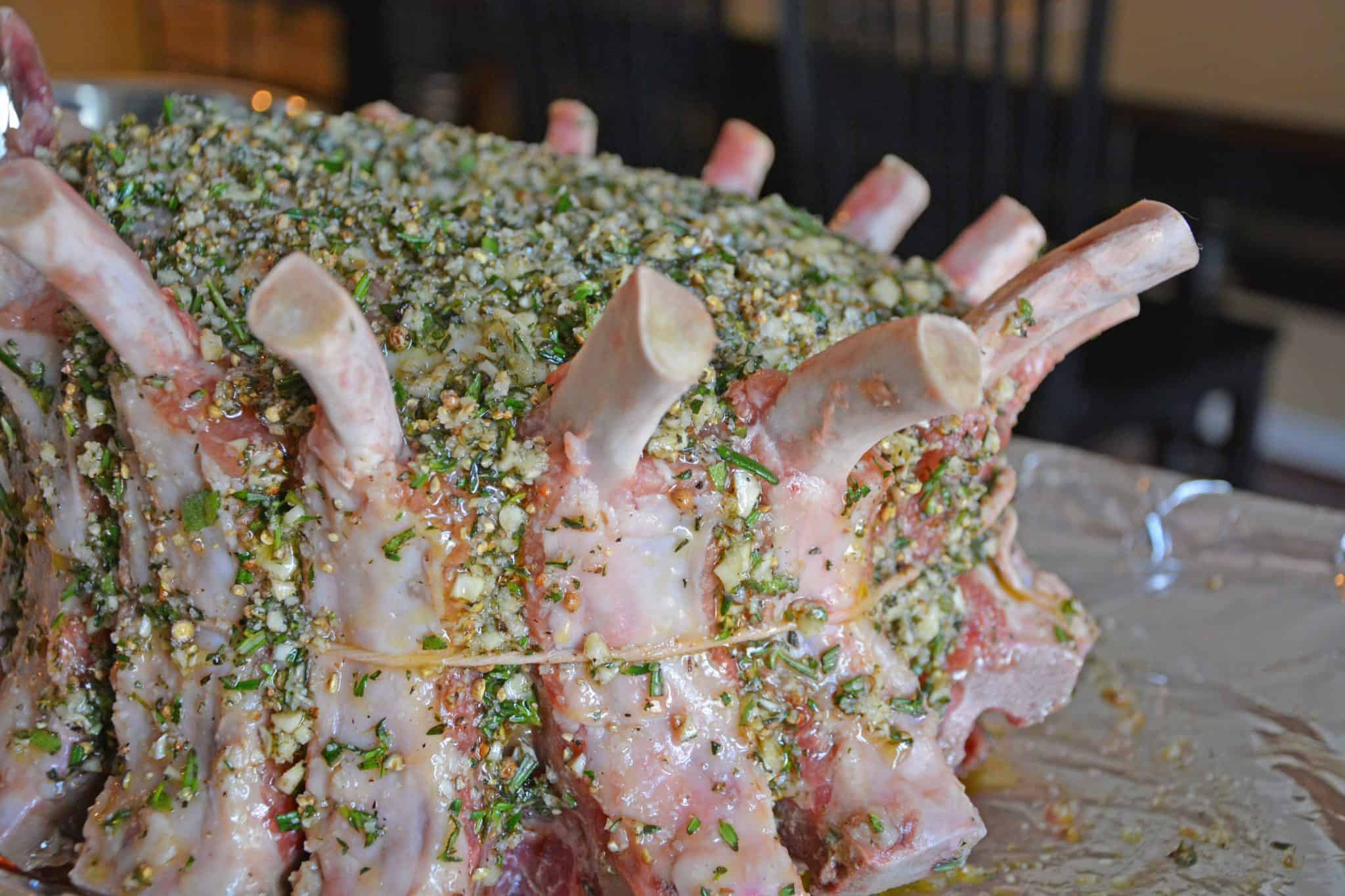 I did say less expensive, but certianly not cheap. A crown roast of pork will still run you into the 3 digits.
This involves taking a pork French cut rib roast and securely tying it together in a circle. Not only do you have bones to use as handles, you will also have a nice pork chop attached on the interior, soaking up the juices and cooking without getting dried out.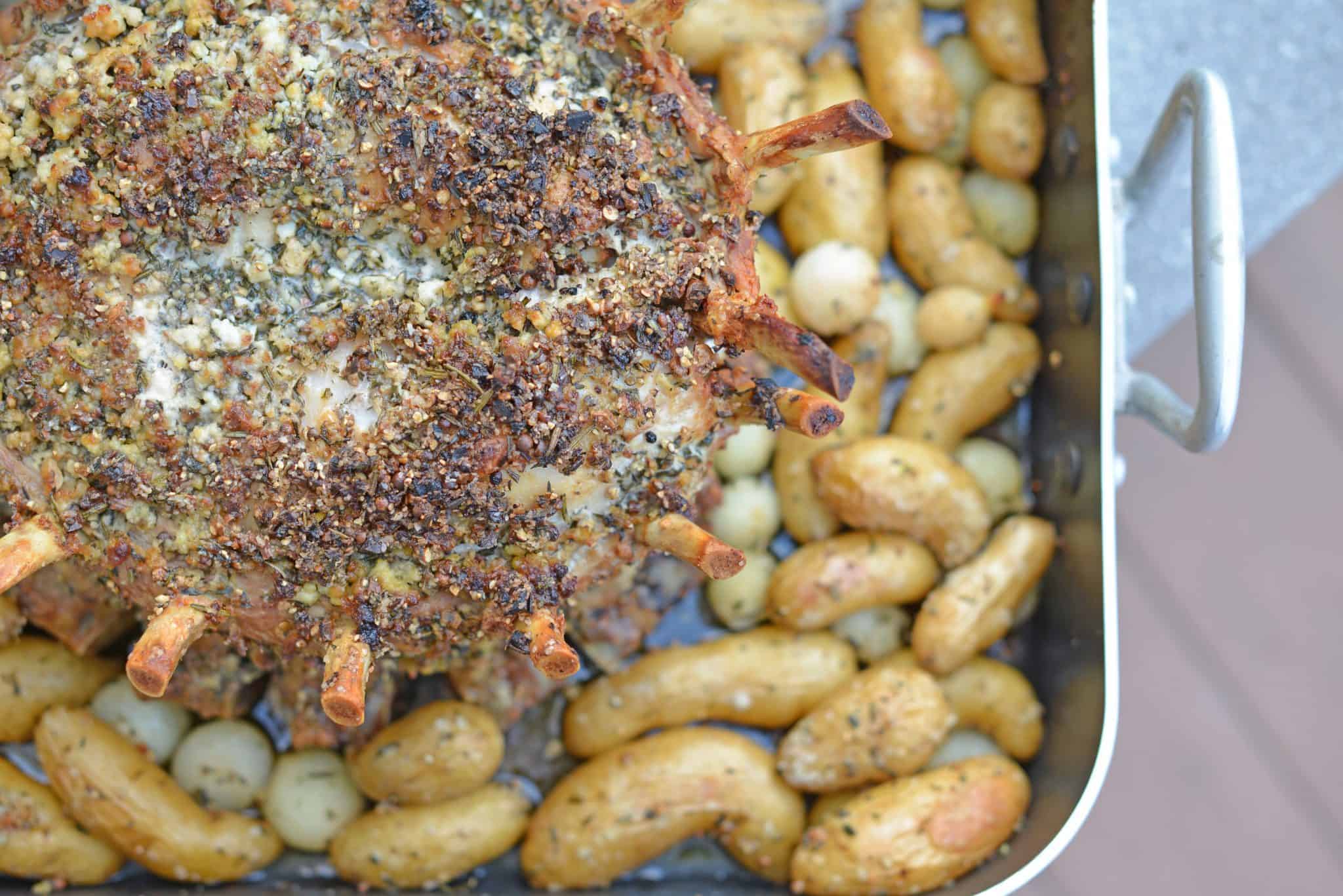 The seasoning and preparation for a crown pork roast are just as simple as a prime rib. Really the cut is juicy enough to need just a little seasoning to produce a good bark (crust) and a large roasting pan.
This recipe is perfect for Christmas dinner or any other special occasion throughout the year. Easter, anniversaries, birthdays or just a family Sunday dinner. And try beefsteak style, the kids will LOVE it!
If you are going "beefsteak" style, try making these side dish recipes: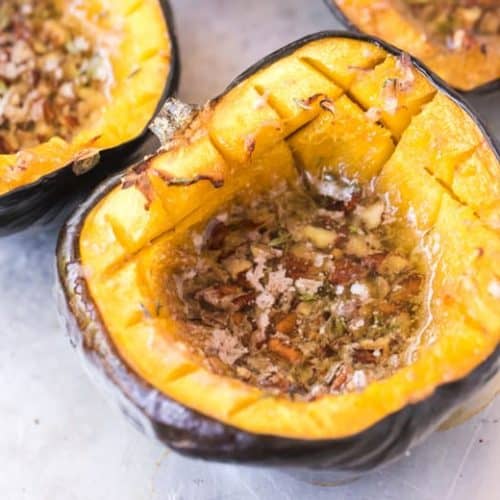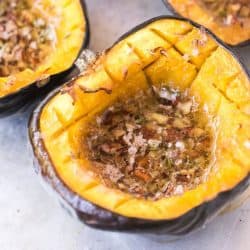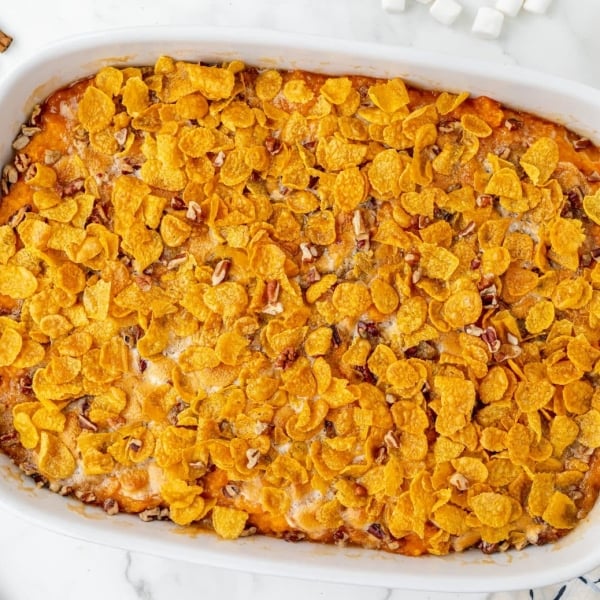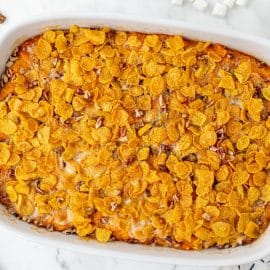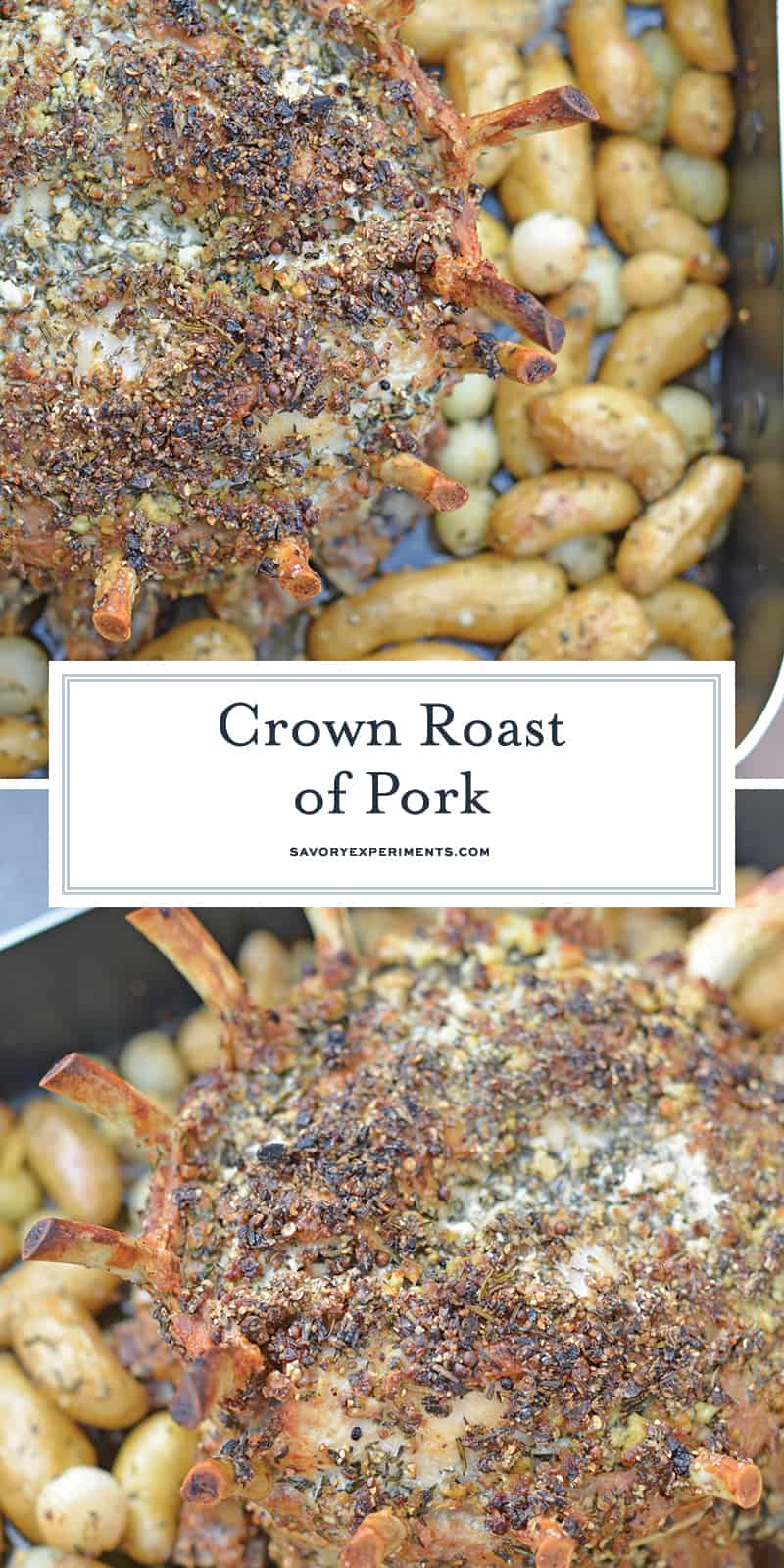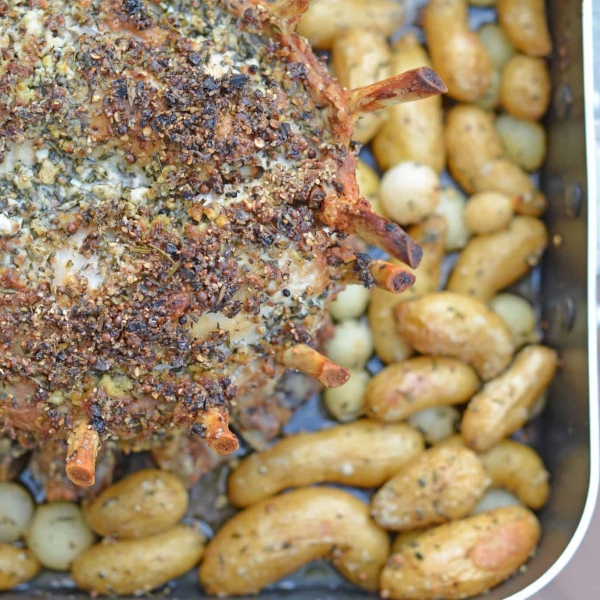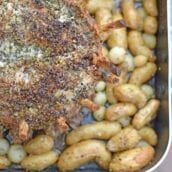 Crown Pork Roast
Crown Pork Roast is the perfect special occasion or holiday meal to serve for a crowd. Tasty and impressive presentation make this a winning pork recipe!
Ingredients
Fingerling Potatoes & Onions
2

pounds

fingerling potatoes

scrubbed

1

pound

pearl onions

peeled
Instructions
Preheat oven to 450 degrees.

Prepare rub for pork crown roast by combining Kosher salt through parsley in a bowl. You can even take it for a few pulses in the food processor to get a really fine mix that will stick well to the roast.

Place roast into a roasting pan and massage well with 1/2 cup extra virgin olive oil. Add rub mixture, making sure all the nooks and crannies are covered.

Place into the oven for 15 minutes before reducing temperture to 350 degrees. Cook for 2 hours.

Remove and add fingerling potatoes and onions, tossing in the natural au jus and spices in the bottom of the roasting pan. Return to the oven for 30-45 minutes or until pork crown roast reaches an internal temperture of 145 degrees. Cooking time will vary based on the size of your roast.

Remove and allow to rest for 20 minutes before removing string and transferring pork crown roast, potatoes and onions to a serving platter.

If you've tried this recipe, come back and let us know how it was!
Nutrition
Calories:
198
kcal
,
Carbohydrates:
23
g
,
Protein:
2
g
,
Fat:
11
g
,
Saturated Fat:
1
g
,
Sodium:
5668
mg
,
Potassium:
503
mg
,
Fiber:
3
g
,
Sugar:
2
g
,
Vitamin A:
235
IU
,
Vitamin C:
27.7
mg
,
Calcium:
58
mg
,
Iron:
1.6
mg