Scallion Pesto Scallop Pasta with Swiss chard is one of those "special night" meals. It originated from Fine Cooking magazine, but I'm told it might be out of print now.
The original Scallion Pesto recipe was lacking in flavor and didn't include a protein.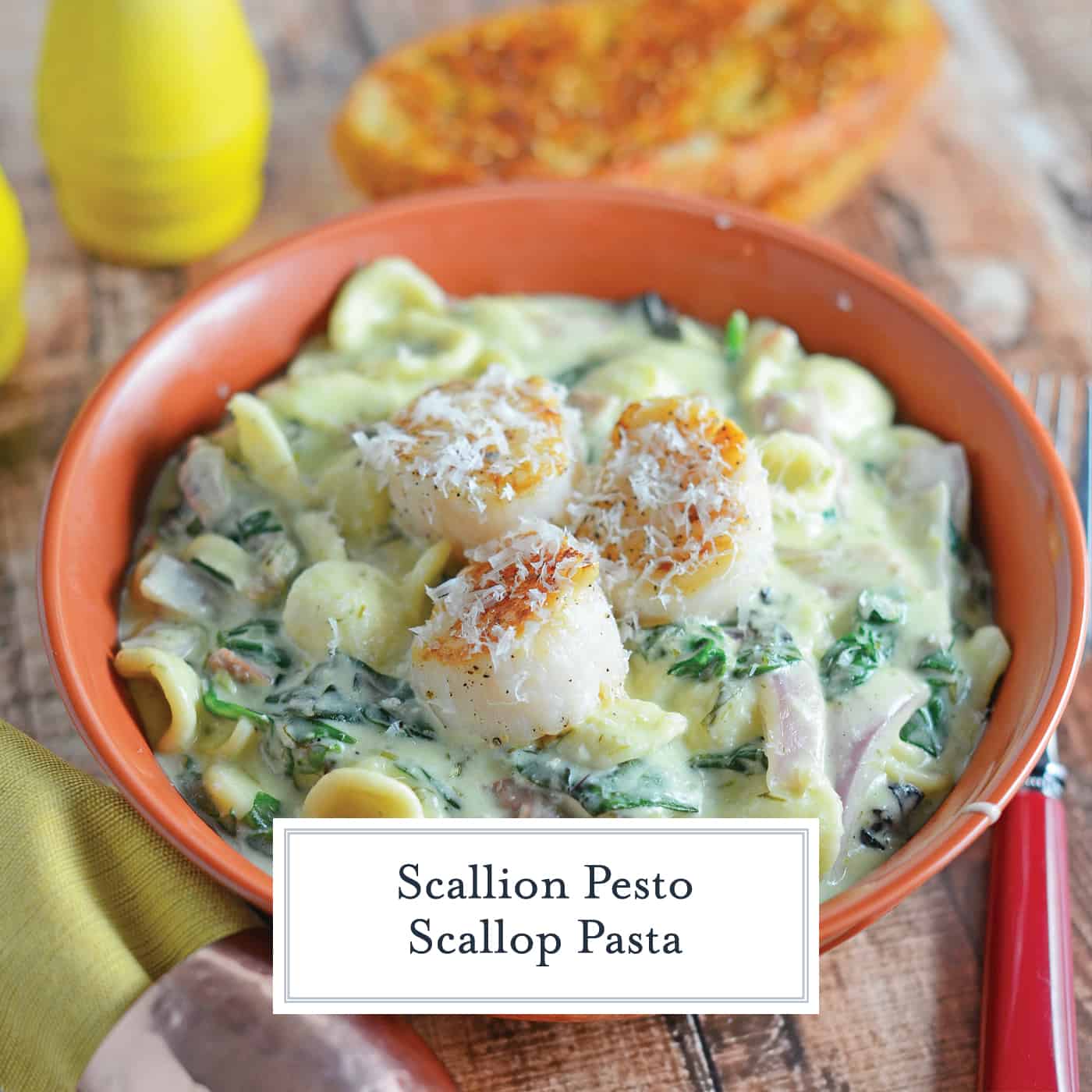 Scallion Pesto Scallop Pasta is a dish you would see on any restaurant menu and features creamy pasta sauce with garlic, Swiss chard, prosciutto, and seared scallops.
After I added additional garlic, red onion, and seared scallops, Scallion Pesto Scallop Pasta quickly became one of my household's favorite easy pasta recipes.
Worthy of gracing a table of a fancy restaurant, it is still easy enough to make at home without breaking a sweat. Set aside just an hour from start to serve and you are all set for your next dinner party.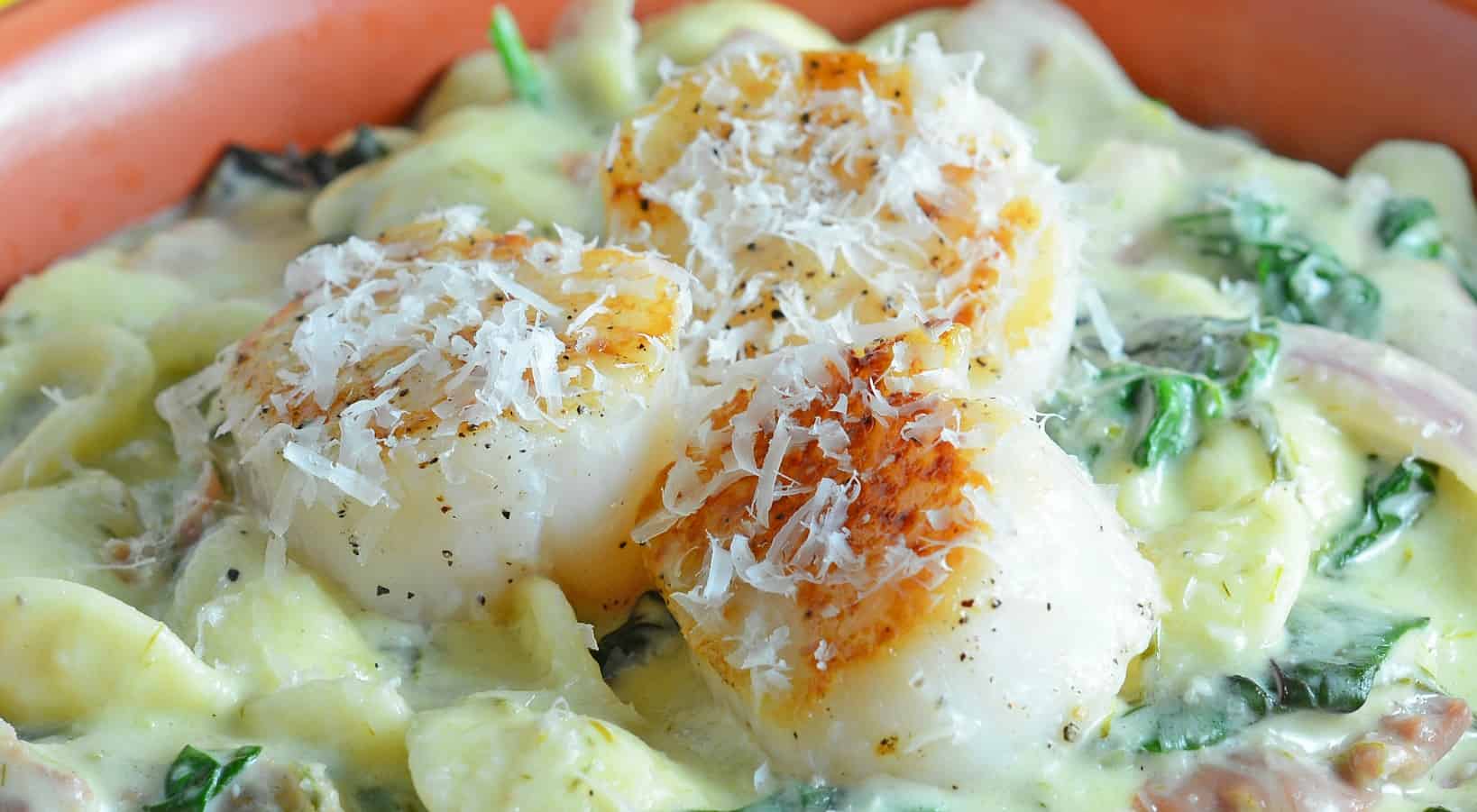 Swiss chard is a leafy green vegetable and a member of the beet family. It's vibrant in color is eye-catching while it's distinct taste leaves you wanting more.
Think spinach with a little more oomph. That said, if you can't find Swiss chard, go ahead and substitute it for spinach.
When it comes to pasta, you have to be strategic. Not every sauce is perfect for every pasta. There is certainly a reason why hundred os pasta shapes exist!
Orecchiette is the perfect pasta shape for this recipe, because it acts like a little bowl bringing all that Scallion Pesto sauce easily to you and your guests.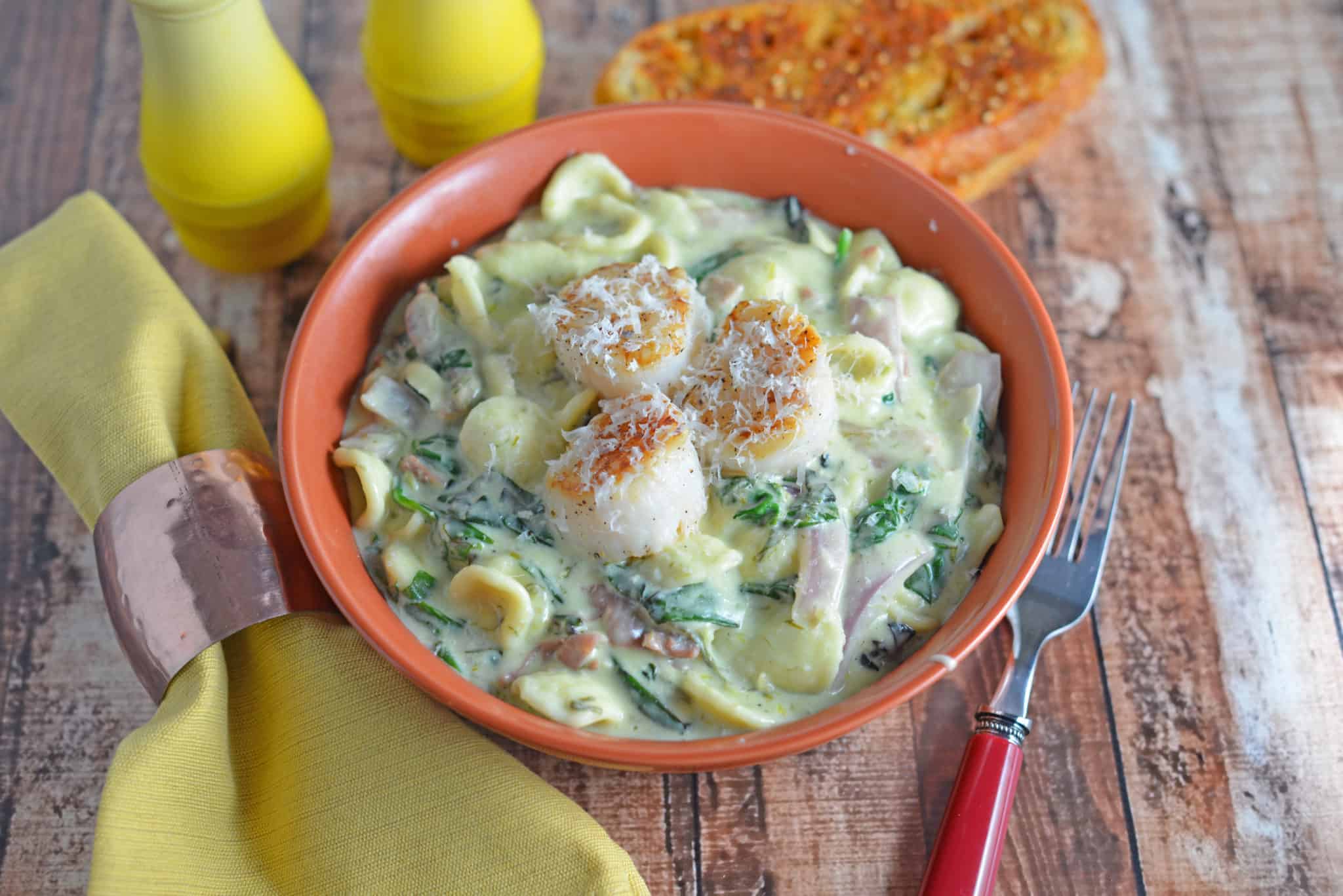 For our protein, I opted to use scallops. Scallops are sweet and mild and won't overpower the flavor of the scallion pesto. Many folks are intimidated by making scallops at home, but cooking scallops could not be more painless or quick!
The key is starting with good quality, dry-packed scallops. What does dry-packed mean? Simply that your scallop wasn't submerged in liquid for its journey from the sea to you.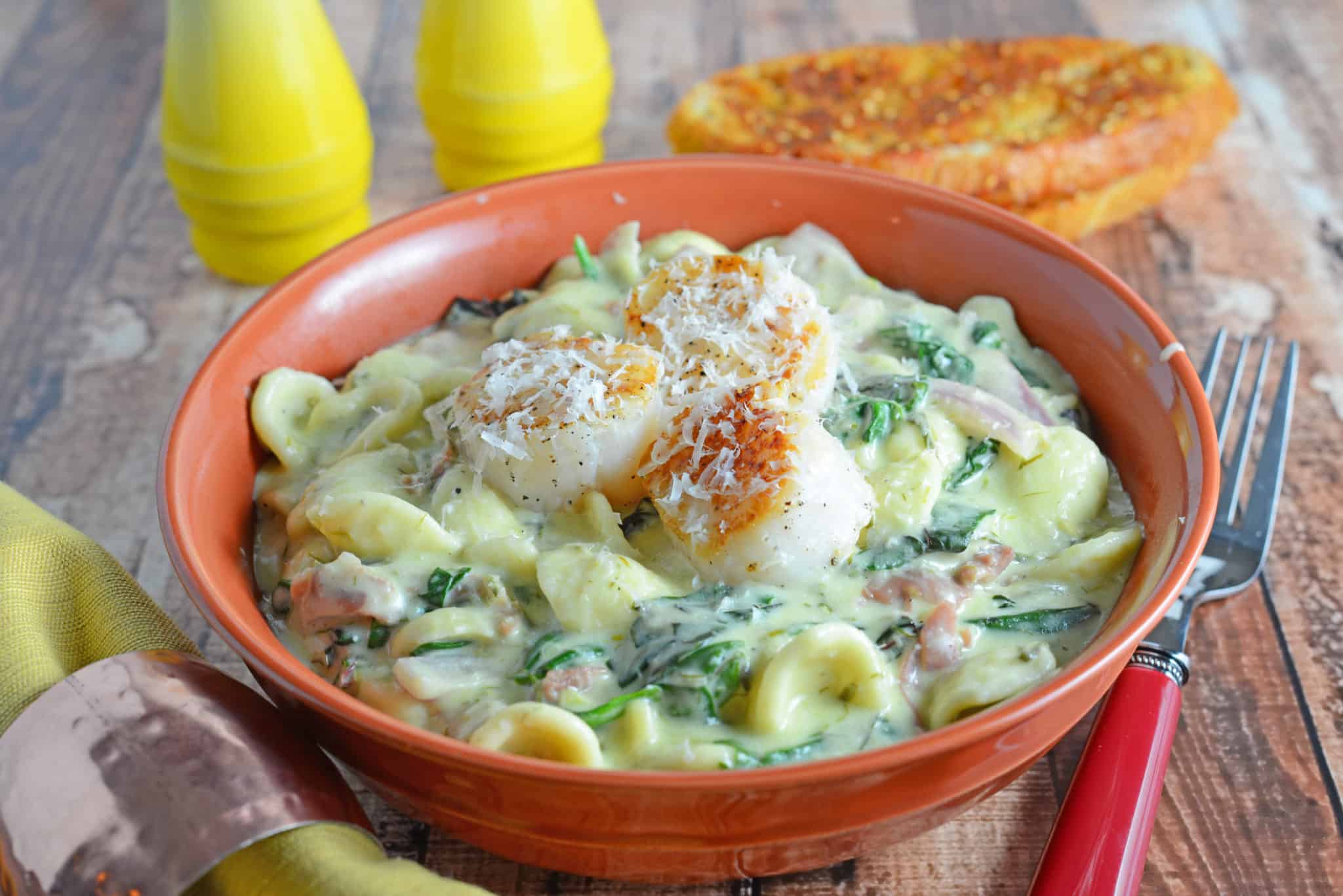 Osmosis takes effect and the scallop with suck up some of the moisture. This may look great to the naked eye, but during cooking, your scallops are shrinking.
There is nothing worse than taking up big, juicy, meaty scallops and ending up with puny little bites. My foodie friend, you've been duped by the water-packed scallop. And you also paid for all that additional water!
If you aren't sure, ask your fishmonger or the person at the seafood counter. They will be able to tell you what you are working with. I can find dry-packed scallops at Whole Foods.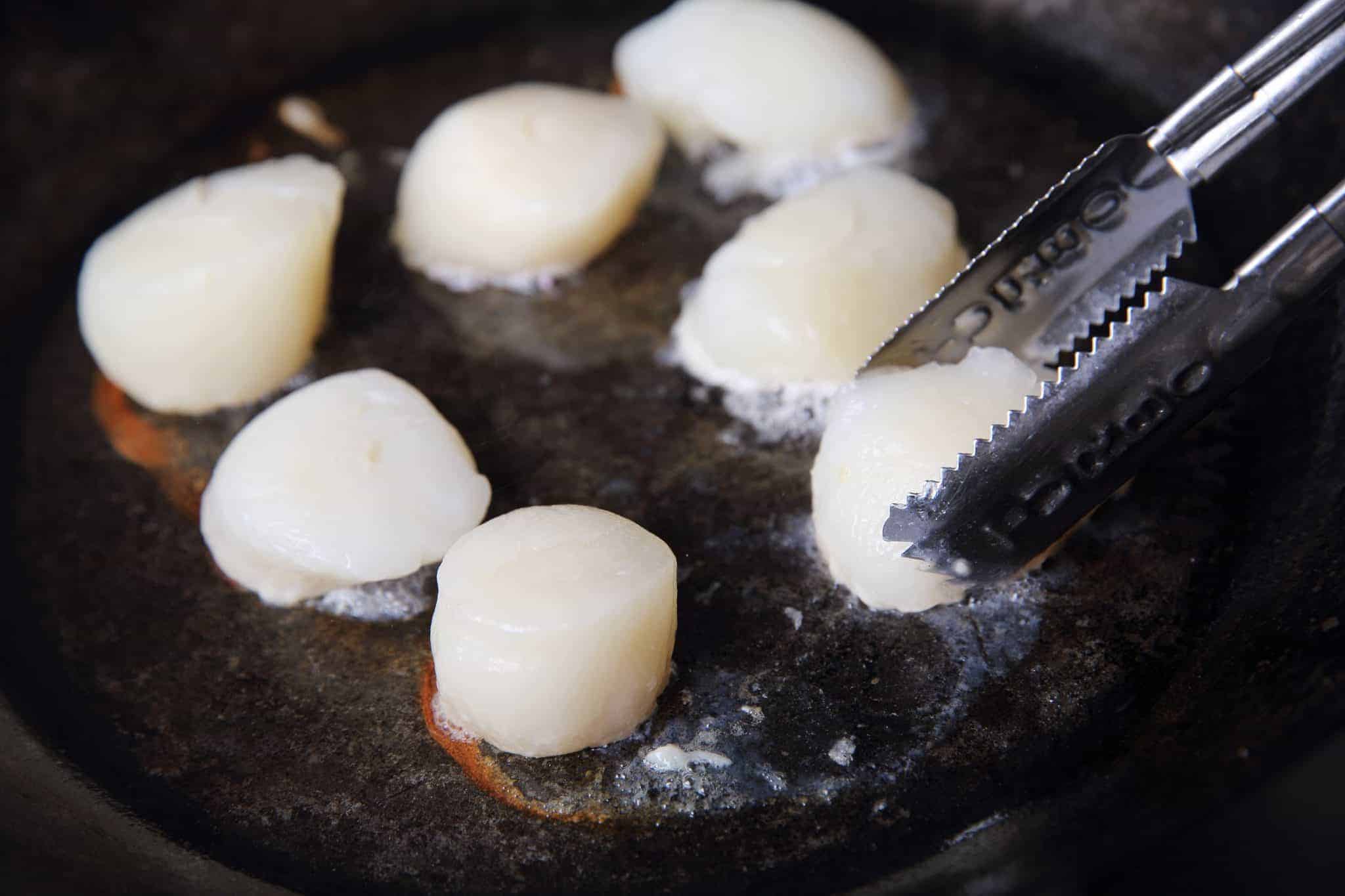 Once you have your scallops home, it's time to think about cooking. It couldn't be easier. Two rules, make sure they are dry and don't overcook them. Searing should be fast and easy.
Remove the scallops from their container. Pat them dry and then heat your oil in a cast-iron pan. Make sure the pan is hot otherwise you will be steaming and not searing. Once it starts smoking a touch, it is go time.
Add the scallops to the pan, spread out from one another, and do not touch! If you fiddle with them, you will lose that golden-brown crust you are aiming for.
In about 1-2 minutes, depending on the size of your scallop, turn them over and let them cook for another 1-2 minutes. The second side typically takes a touch less than the first side.
Remove the scallops from the pan and allow them to rest on a plate for 2-3 minutes before serving.
All that said, if searing scallops intimidates you, try this recipe with simple grilled chicken, shrimp, or your favorite meaty vegetable! Now matter what you pair it with, it will be delicious with Scallion Pesto.
Tools for making Scallion Pesto Scallop Pasta:
Mini Food Processor– I use this thing daily! It is by far my most used kitchen appliance, it is small and I throw all the parts into the dishwasher, well except the base and cord, of course!
Cast Iron Skillet– Yes they are heavy, yes they take a little extra TLC. Are using cast iron pans worth it? YES!!! Just buy one and you'll thank me later! I have both pre-seasoned and unseasoned. I like them both for different reasons.
Cheese Grater– Another item I didn't think I needed, but love. Parmesan cheese lasts longer and tastes better when freshly grated.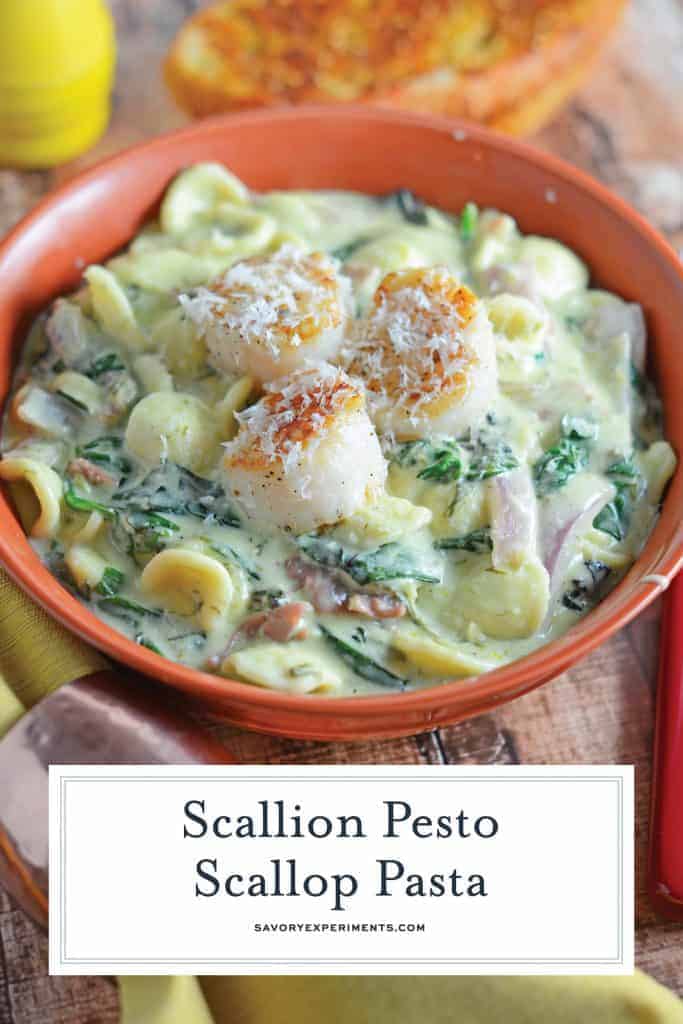 More seafood pasta recipes!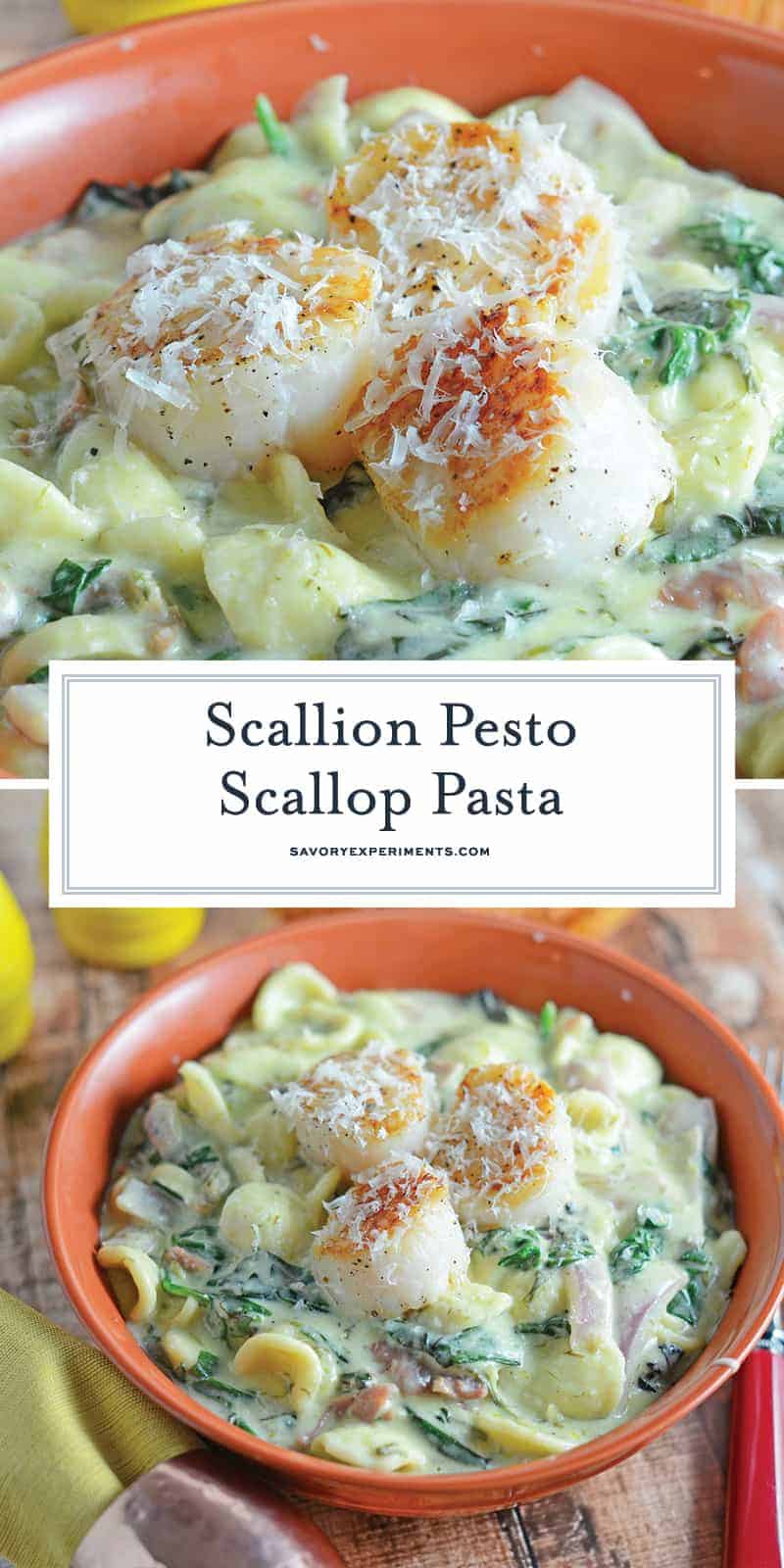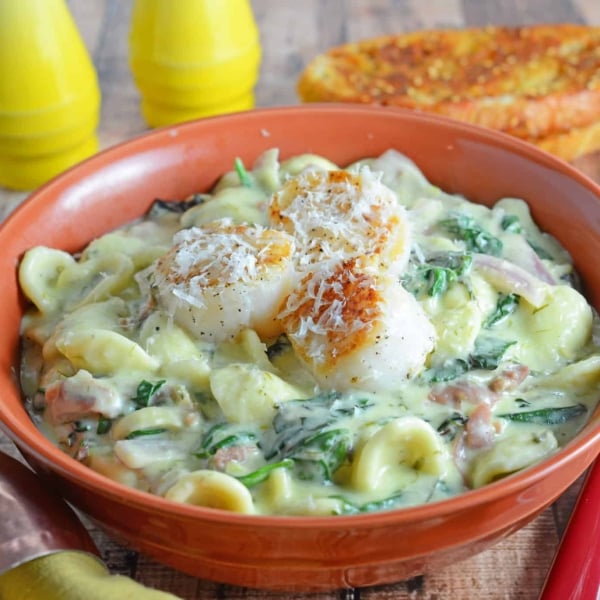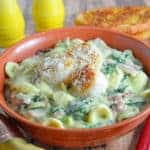 Scallion Pesto Pasta Recipe
Scallion Pesto Scallop Pasta is a restaurant quality dish, creamy pasta sauce with garlic, Swiss chard, prosciutto and seared scallops.
Ingredients
Garnish:
1/4

cup

grated Parmesan cheese
Instructions
Melt butter in a medium sauce pan over medium heat. Add scallions and 5 garlic cloves thinly sliced. Sauté for 5 minutes or until contents start to lightly brown.

Add white wine and simmer over moderate heat until reduced slightly, approximately 1-2 minutes. Let cool slightly before pouring into small food processor. Add 1/3 cup water, salt and pepper. Blend until a pesto consistency. Set aside.

In a large pot boil well salted water and cook orecchiette until al dente, approximately 10-11 minutes (or according to package). Strain and set aside.

In a small bowl, whisk sour cream, heavy cream and cream cheese until fully incorporated. In another small bowl mix corn starch and 1 tablespoon water. Set aside.

Rinse scallops and remove the small muscle on the side. Pat dry. Season well with fine sea salt and freshly ground pepper.

Heat a large frying pan or cast iron pan with olive oil over medium-high heat. When oil is hot place all scallops into the pan. Do not stir. Let them cook in the exact same spot for 2-3 minutes covered or until lightly browned. Using a large spoon or ladle, remove the excess liquid from the pan. Scallops have a lot of liquid and if you don't remove it you will not get the nice brown outside.

After removing liquid, flip scallops and cook for an additional 2-3 minutes covered. Do not over cook. They get rubbery and dry.

In the same large pot you boiled the water in, add red onion, Swiss chard, spinach, cook 2-3 minutes over medium heat, or until leafy greens start to wilt, but are still firm. Stir in pesto mixture and chicken broth. Add cornstarch mixture, stirring well and then cream mixture. Toss in prosciutto. Lastly, toss pasta into the pesto and greens.

Top with Parmesan cheese, Maldon sea salt, freshly ground pepper and scallops. Enjoy!
Nutrition
Calories:
979
kcal
,
Carbohydrates:
97
g
,
Protein:
38
g
,
Fat:
44
g
,
Saturated Fat:
19
g
,
Cholesterol:
123
mg
,
Sodium:
975
mg
,
Potassium:
888
mg
,
Fiber:
4
g
,
Sugar:
4
g
,
Vitamin A:
5100
IU
,
Vitamin C:
15.5
mg
,
Calcium:
191
mg
,
Iron:
3.4
mg