Scallion Pesto Scallop Pasta with Swiss chard is one of those "special night" meals that looks like it should belong on a restaurant table but is easy to make at home!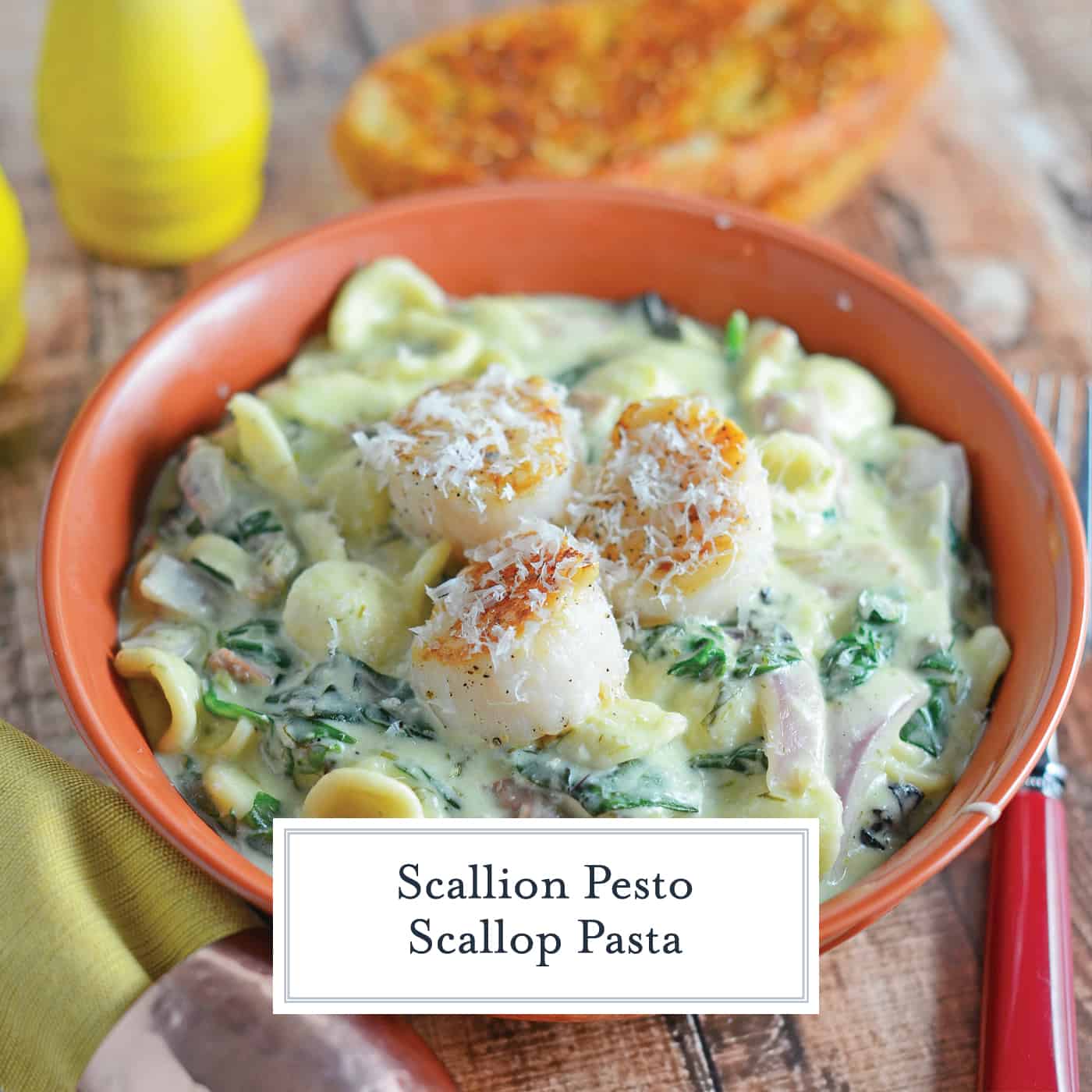 This recipe was something that originated from the magazine Fine Cooking magazine and while the original recipe was delicious, I decided to bump up the flavor and add tender scallops to take it over the top!
Why You Will Love Scallion Pesto Scallop Pasta
Creamy pasta, seared scallops, and tender greens, what's not to love?
Wow-Factor – A little bit of extra time in the kitchen goes a long way for this dish because when it is brought to the table, the jaws tend to drop.
Splurge without the Splurge – You would spend a pretty penny if you ordered this at a restaurant, but with this recipe, you get the splurge without breaking the bank.
Flavor – Sometimes you want something rich, rib-sticking, and comforting. This is that dish and you get tender seafood and some vegetables to boot!
What is Scallion Pesto Scallop Pasta?
Scallion Pesto Scallop Pasta is a dish you would see on any restaurant menu and features creamy pesto pasta sauce with Swiss chard, red onion, prosciutto, and gorgeous seared scallops.
While it might sound complicated, it is easy to make at home without breaking a sweat. All you need to do is set aside an hour from the start to serving, and you are all set for your next amazing dinner!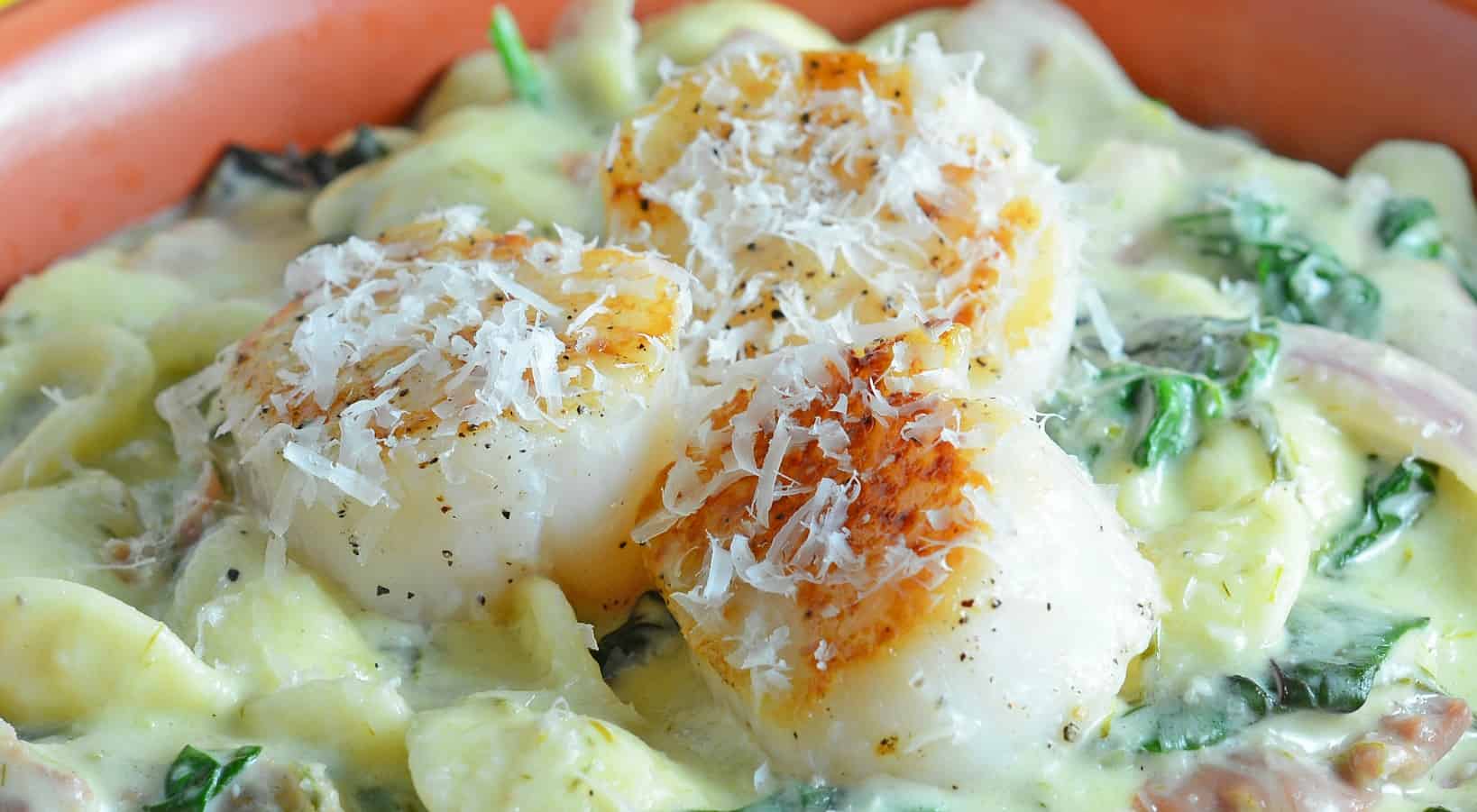 All About Scallops
Scallops are sweet and mild and many folks are intimidated by making scallops at home, but cooking scallops could not be more painless or quick!
The key is starting with good quality, dry-packed scallops. This means the scallops weren't submerged in liquid for their journey from the sea to the store. Essentially, they aren't waterlogged.
If you aren't sure, ask your fishmonger or the person at the seafood counter. They will be able to tell you what you are working with. Whole Foods tends to be a good resource for these.
There are two types of scallops you will run into: diver scallops and bay scallops. Diver scallops tend to be larger and have a more meaty texture. Bay scallops are smaller, more delicate, and milder in taste. Diver scallops are the best choice for this recipe.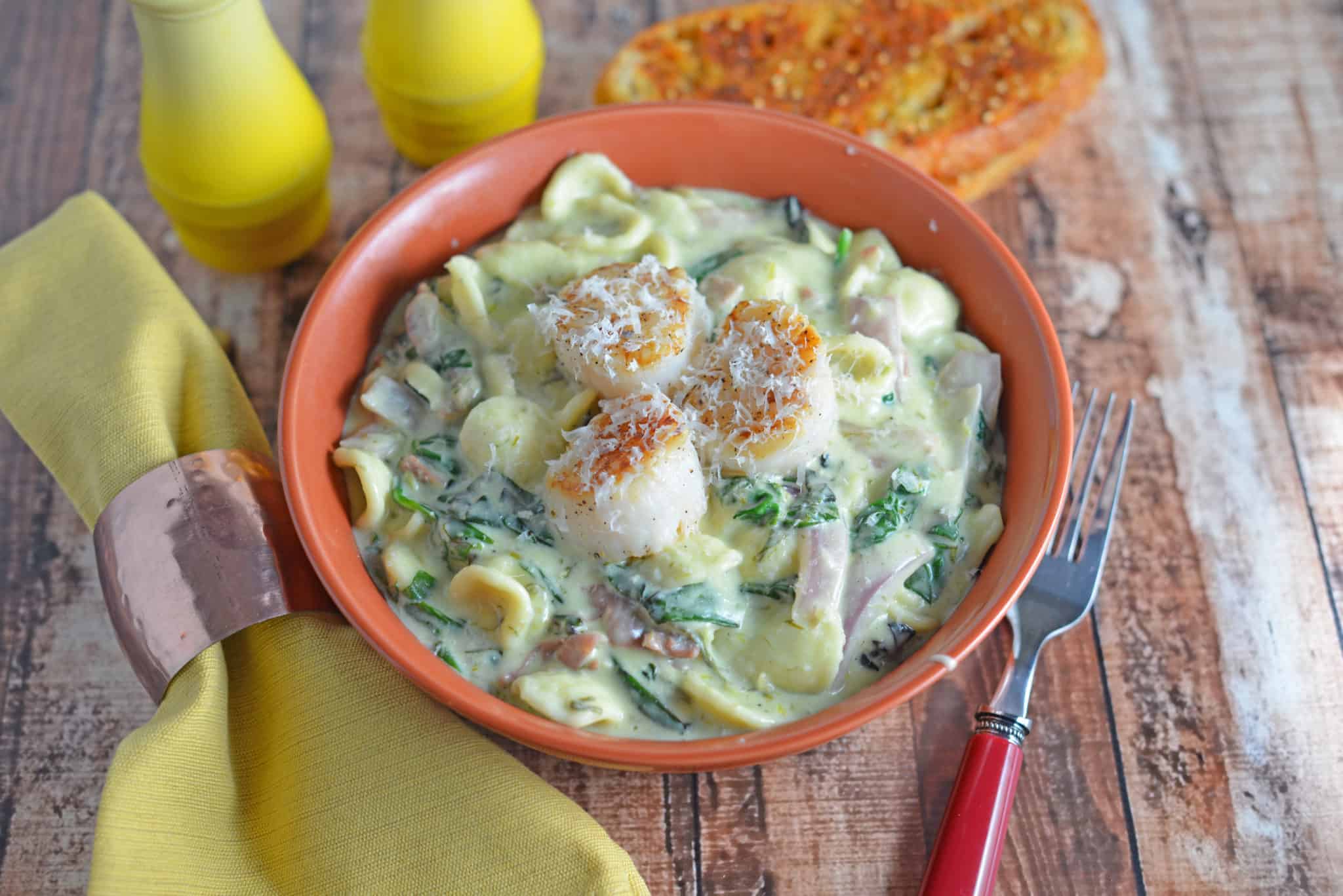 Ingredients
Unsalted Butter – Butter is a great medium to saute and soften veggies and using the unsalted kind makes sure you control every level of salt in the dish.
Scallions – These may be labeled as green onions in your store. Use them tip to tail, white to green in this recipe.
Garlic – Fresh garlic cloves are glorious. Be sure to use a super sharp knife to cut these. Even if you can't get them super thin, trying to get all the slices relatively uniform in size will help to prevent some from cooking faster than others.
White Wine – Dry white wine is the best here and be sure to buy something good enough that you wouldn't mind pouring yourself a glass of it to drink. Generally, 9 times out of 10 the same wine you cook with will pair with your finished dish.
Fine Sea Salt – The smaller crystals of this salt dissolve quickly and give you a better sense of the seasoning level of the dish fast.
Freshly Cracked Pepper – Pre-cracked pepper in a jar or bottle has a tendency to go stale on the shelves of the store. Cracking the peppers fresh when you are cooking ensures you will get that bright peppery flavor you are looking to impart to your dish.
Extra Virgin Olive Oil – Grassier and spicier in flavor than those labeled "olive oil."
Red Onion – The sweetness of the onion plays nicely off the sweetness of the scallops.
Fresh Spinach – Baby spinach or regular spinach will work. If you are working with regular spinach, break it down into baby spinach-sized pieces.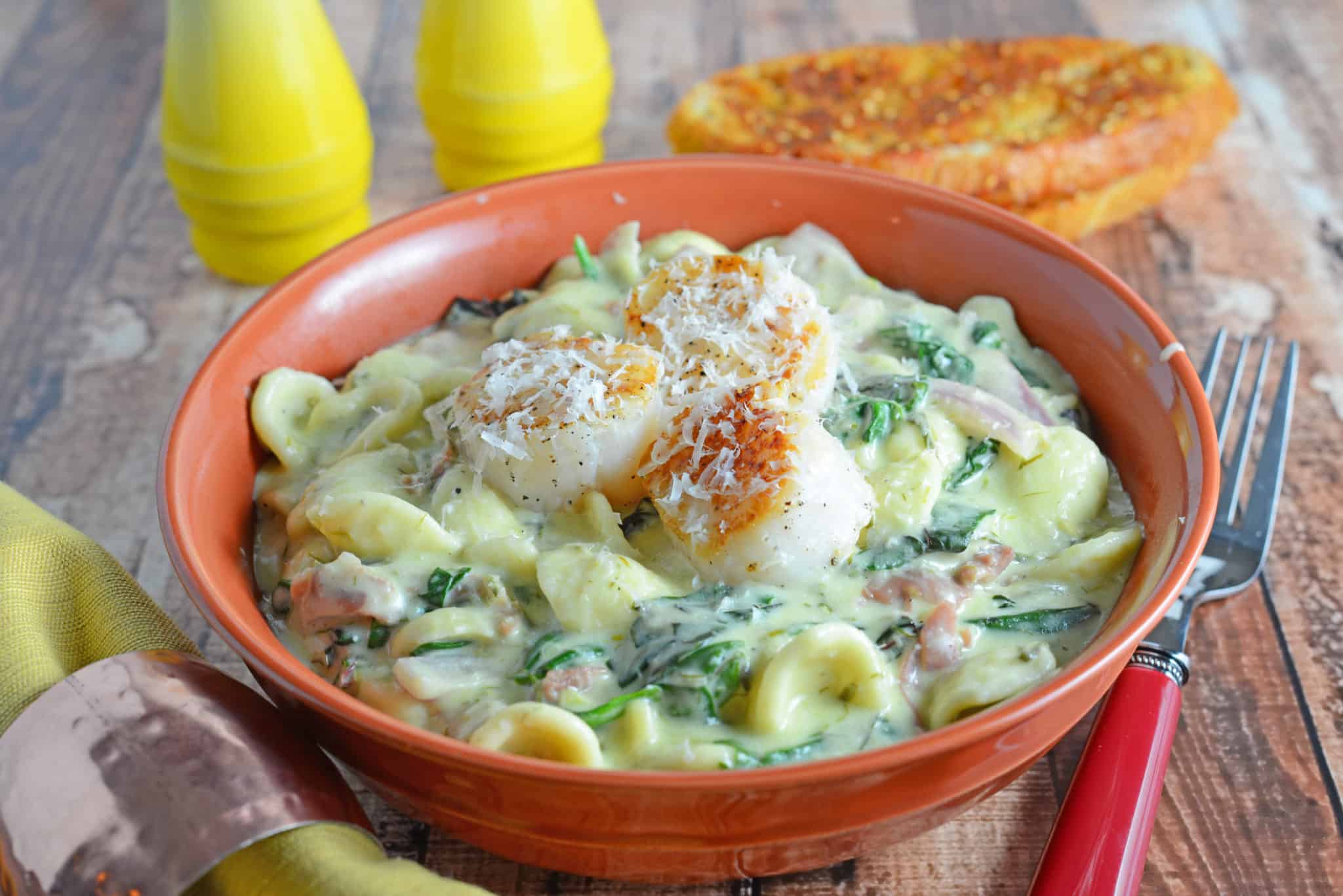 Ingredients continued.
Swiss Chard – A leafy green vegetable in the beet family with an earthy flavor. It comes in green, red, and yellow varieties, any of which will work with this recipe.
Chicken Broth – Water simmered with chicken and vegetables. Chicken bouillon is the dried, concentrated version of this and can be used in the same liquid amount if you don't have broth on hand.
Corn Starch – Powder made from the starches in corn kernels. Quickly thickens sauces when it reacts with heat.
Sour Cream – Cream mixed with lactic acid to create a fermented condiment with a smooth and rich texture and an acidic flavor.
Heavy Cream – The fat that rises to the top of fresh milk. Fat content for this can be anywhere from 36-40%.
Cream Cheese – A soft cheese made from milk and cream with a mild flavor and a spreadable texture.
Prosciutto – Thinly sliced, cured meat product made from the hind leg of the pig. Be sure to buy a little extra to snack on while you cook.
Orecchiette – This shape hails from the Puglia region of Italy (think the heel of the boot) and is said to resemble an ear in shape. Can be found fresh, but will most often be found boxed on the shelves of the grocery store.
Parmesan Cheese – Shredding your own cheese will always improve recipe results as it isn't coated in starches for packaging. Blocks of parm will last a good while in your fridge, perfect for grabbing whenever you need them.
Maldon Sea Salt – A great artisanal product made from the water near the town of Maldon in the UK. It has a pyramid structure that makes it great for finishing dishes and gives the diner an amazing crunch.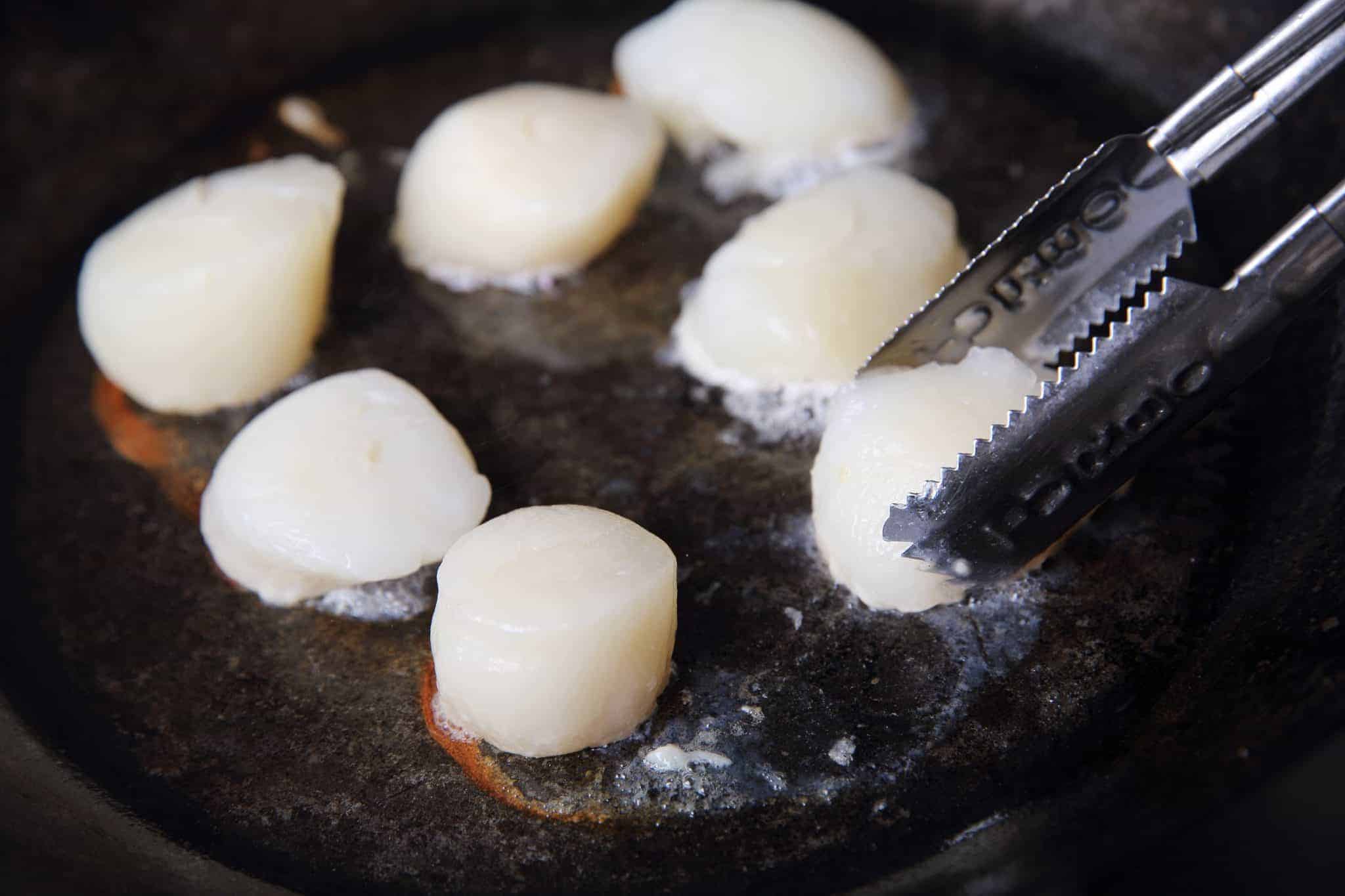 How to Make Scallion Pesto Scallop Pasta
The list of ingredients might be a little longer than what you usually see from me, but you will be blown away by how quickly this recipe comes together!
Saute your aromatics. Onions and herbs are often referred to as aromatics. Once your butter is nice and foamy, add the scallions and garlic. Keep them moving around so nothing browns too quickly and keep an eye on the garlic. Garlic that browns too much or burns can become very bitter.
Add the wine & make the "pesto". Carefully and gently pour the wine into the pan. Allow it to simmer and as it cooks for those 1-2 minutes the alcohol will completely burn off. Transfer the mix to a food processor once it has cool a bit and pulse with the water, pepper, and salt until it is a pesto-like consistency. Not completely smooth but not chunky is ideal.
Cook the pasta. Cook until al dente or as some would call it, toothsome or slightly chewy. Most take 10-11 minutes but double-check the box. If you are using fresh pasta, check the container for cooking instructions. (When it is done, drain and set aside until you are ready to assemble the pasta).
Mix the dairy and make a slurry. While the pasta is cooking, mix the sour cream, heavy cream, and cream cheese together. Mixing the starch with water creates something called a slurry and prevents the corn starch from clumping when you add it to the sauce.
Prep the scallops. Give the scallops a rinse and remove the muscle on the side if there is one. This should tear off easily with a gentle pull. Pat completely dry with a paper towel. Any moisture left on the scallops will create steam and prevent that beautiful sear from happening.
Cook the scallops. Be sure the pan and the oil are nice and hot in the pan and once you add those scallops resist the urge to touch them. When they have a nice sear, they will naturally release from the pan on their own. This generally happens in 2-3 minutes.
Flip the scallops. Flip the scallops to get a nice sear on the other side. Generally, the second side takes a little less time so give the bottoms a check. Be careful not to overcook them or they will get rubbery – no one's favorite. Remove them from the pan as soon as they are done and set them aside until you are ready to plate.
Create the sauce. Using the same pot you cooked the pasta in takes advantage of some of the starches left over in the pan from the pasta for sauce thickening purposes. Cook the onion, spinach, and onion until they are a little wilted, and stir in the rest of the sauce ingredients. Then gently fold in the pasta to coat it.
Plate and enjoy! Single-serve portions are great for this dish. Top each bowl or plate of pasta with the seared scallops, parmesan cheese, Maldon salt, and pepper.
What to Serve with Scallion Pesto Scallop Pasta
No matter what you pair it with, it will be delicious. This pasta tends to be the star of the show, but there are definitely some tasty recipes to serve with it:
Variations
This recipe is easy to change if you are looking for something new or if you need to accommodate your family or guests.
Try a different pasta. Orecchiette is a great pasta shape for this recipe its bowl-like shape holds onto the sauce, and shapes like fusilli, farfalle, or even penne would also work here.
Swap the protein. If scallops aren't your thing, try this recipe with simple grilled chicken, shrimp, or your favorite meaty vegetable!
Skip the prosciutto. Have a pescatarian in the house? You can easily leave the prosciutto out of the recipe.
Double the spinach. Whether you don't care for Swiss chard or simply can't source it at your local grocery store, not to worry! Skip it and simply double the spinach.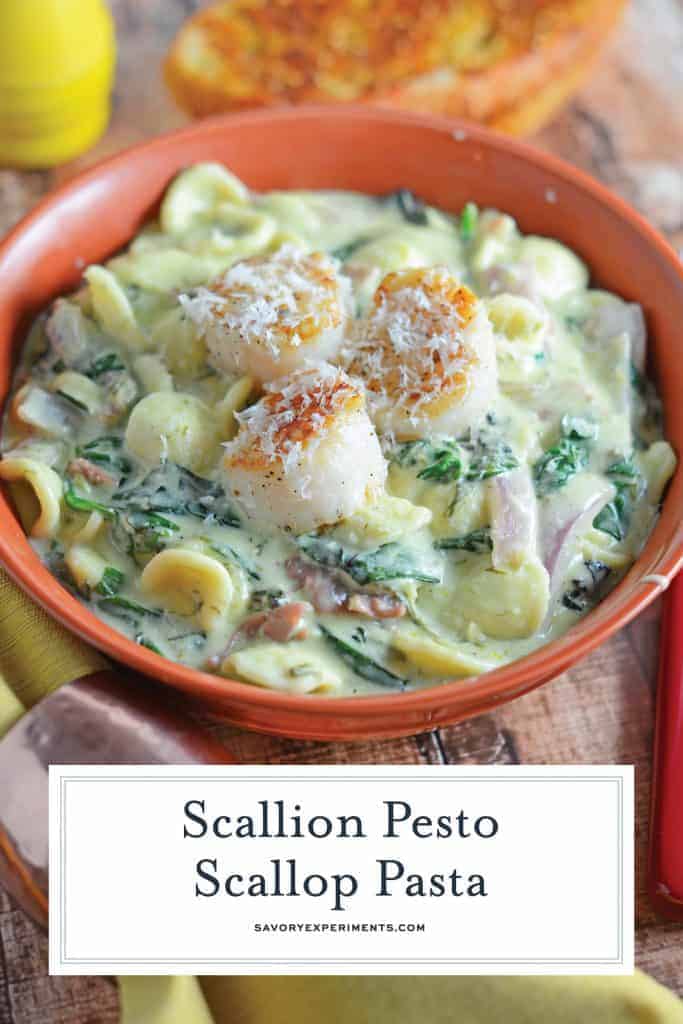 Storage & Freezing
Make ahead: This is one of those dishes that needs to come together in the moment. That said, you can get all of your chopping, mixing, and measuring done ahead of time if it is helpful.
Storing: This can be stored in an airtight container in the fridge for up to 3 days. Storing the scallops and the pasta separately is recommended.
Freezing: I would not recommend freezing this recipe.
Questions About Scallion Pesto Scallop Pasta
What's the difference between a scallion and a green onion?
Nada! They are the same onion sold under two separate names.
Is scallion same as spring onion?
Nope! These two are different from one another but not by too much. Spring onions are another species of allium (the onion family of veg) and they can be distinguished by the larger bulb they grow at the end. Scallions will never grow a bulb and stay relatively straight from tip to tail.
Are leeks and scallions the same?
No, they sure aren't! Scallions are are thinner, sold in bunches, and very tender. They are great raw or cooked and have a sharp, peppery flavor. Leeks are much thicker, sold by the single stalk typically, and require cooking as they are a tougher texture. They have a more sublte onion flavor and that some describe as garlicky once they are cooked.
More seafood pasta recipes!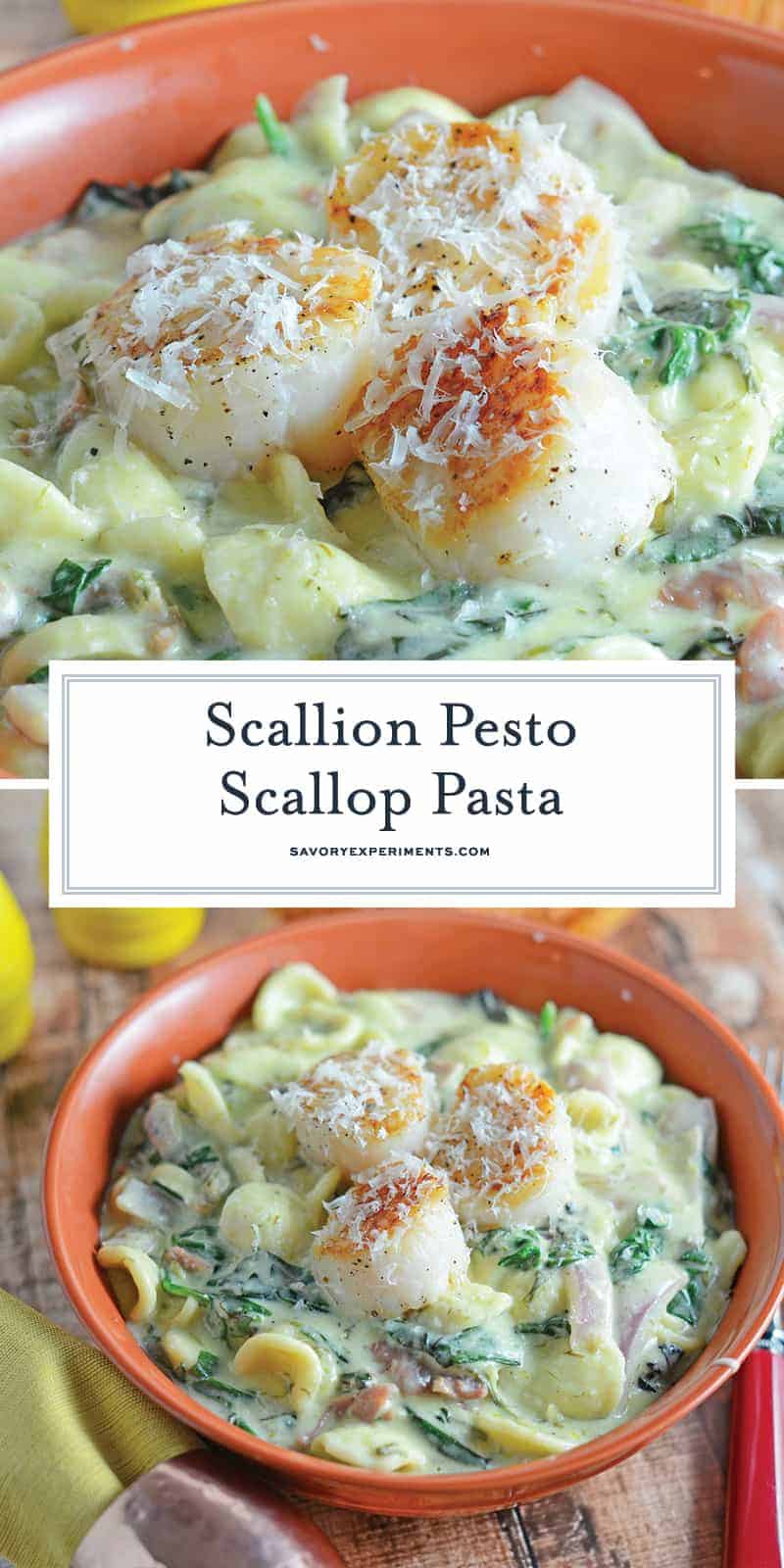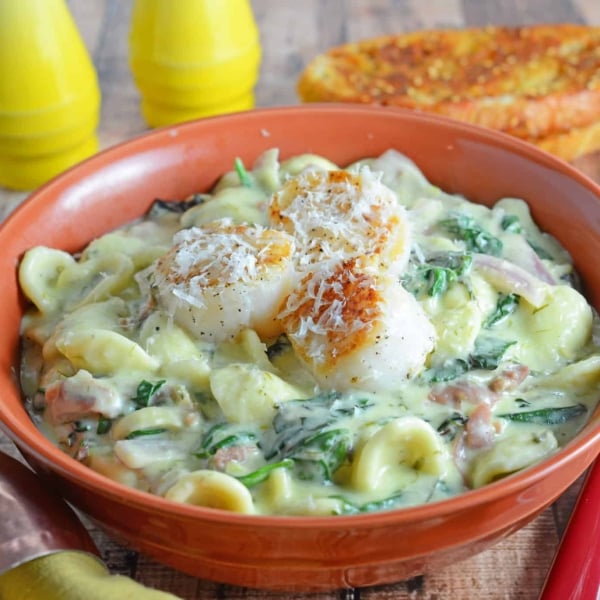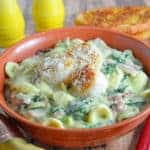 Scallion Pesto Pasta Recipe
Scallion Pesto Scallop Pasta is a restaurant quality dish, creamy pasta sauce with garlic, Swiss chard, prosciutto and seared scallops.
Ingredients
Garnish:
1/4

cup

grated Parmesan cheese
Instructions
Melt butter in a medium sauce pan over medium heat. Add scallions and 5 garlic cloves thinly sliced. Sauté for 5 minutes or until contents start to lightly brown.

Add white wine and simmer over moderate heat until reduced slightly, approximately 1-2 minutes. Let cool slightly before pouring into small food processor. Add 1/3 cup water, salt and pepper. Blend until a pesto consistency. Set aside.

In a large pot boil well salted water and cook orecchiette until al dente, approximately 10-11 minutes (or according to package). Strain and set aside.

In a small bowl, whisk sour cream, heavy cream and cream cheese until fully incorporated. In another small bowl mix corn starch and 1 tablespoon water. Set aside.

Rinse scallops and remove the small muscle on the side. Pat dry. Season well with fine sea salt and freshly ground pepper.

Heat a large frying pan or cast iron pan with olive oil over medium-high heat. When oil is hot place all scallops into the pan. Do not stir. Let them cook in the exact same spot for 2-3 minutes covered or until lightly browned. Using a large spoon or ladle, remove the excess liquid from the pan. Scallops have a lot of liquid and if you don't remove it you will not get the nice brown outside.

After removing liquid, flip scallops and cook for an additional 2-3 minutes covered. Do not over cook. They get rubbery and dry.

In the same large pot you boiled the water in, add red onion, Swiss chard, spinach, cook 2-3 minutes over medium heat, or until leafy greens start to wilt, but are still firm. Stir in pesto mixture and chicken broth. Add cornstarch mixture, stirring well and then cream mixture. Toss in prosciutto. Lastly, toss pasta into the pesto and greens.

Top with Parmesan cheese, Maldon sea salt, freshly ground pepper and scallops. Enjoy!
Nutrition
Calories:
979
kcal
,
Carbohydrates:
97
g
,
Protein:
38
g
,
Fat:
44
g
,
Saturated Fat:
19
g
,
Cholesterol:
123
mg
,
Sodium:
975
mg
,
Potassium:
888
mg
,
Fiber:
4
g
,
Sugar:
4
g
,
Vitamin A:
5100
IU
,
Vitamin C:
15.5
mg
,
Calcium:
191
mg
,
Iron:
3.4
mg