I'm a huge fan of simple, easy dinner recipes and this Chili Lime Air Fryer Salmon checks all the boxes! It's cooked in the air fryer for easy clean up and ready in only 15 minutes- a quick and easy cooking method for perfect air fryer salmon.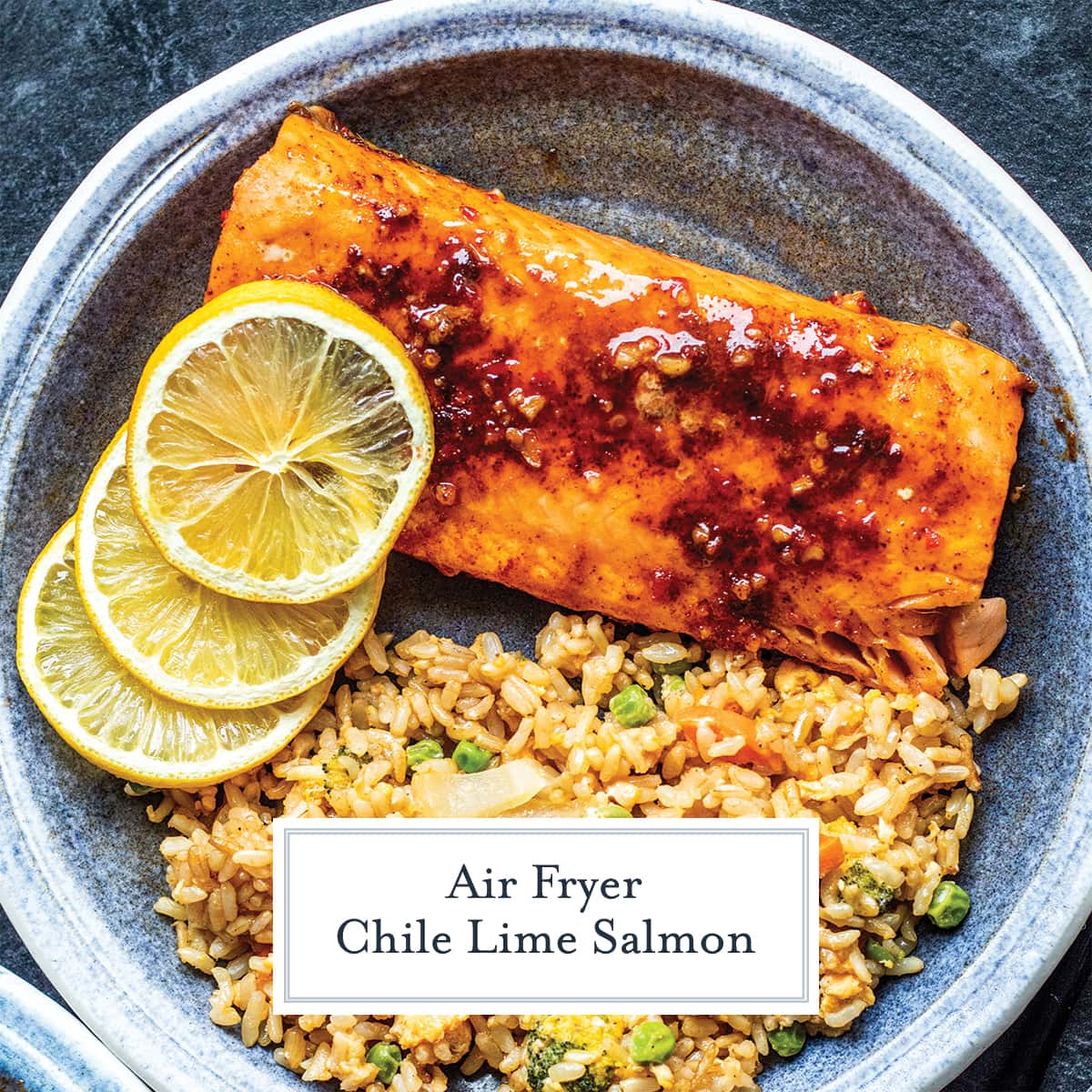 Salmon is such a versatile fish, and can be seasoned and cooked in a variety of different ways. This air fryer salmon has the perfect zesty chili lime flavor that is very flavorful and not too spicy.
Since the salmon is made in an air fryer, clean up is a breeze; the filets are cooked quickly for the perfect weeknight dinner.
How to Make Salmon in the Air Fryer
Sauce Prep
Combine all chili lime sauce ingredients in a small bowl and whisk to combine. Set aside until ready to use or refrigerate overnight.
Salmon Prep
Remove the skin from the salmon filets using a sharp knife if you wish. This is not required and the salmon will cook well with, or without it on. You can also buy salmon with the skin already removed and most local grocery stores.
Sprinkle the top of each air fryer salmon filet with spice blend and gently pat into an even layer.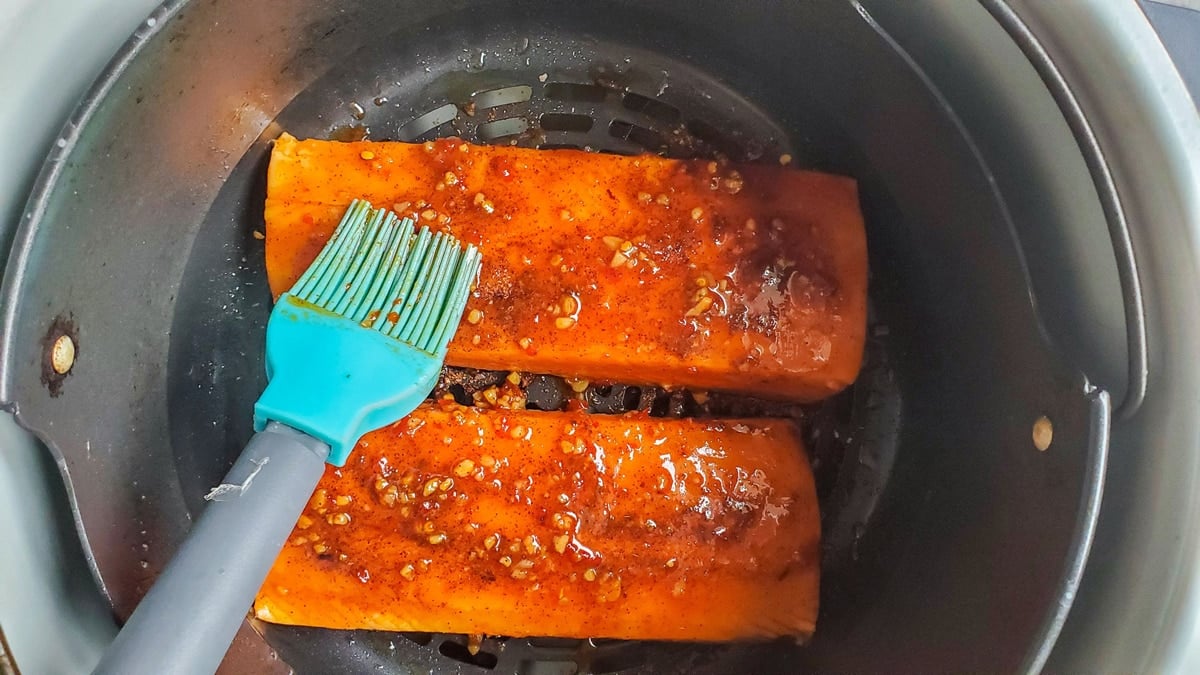 Air Frying Salmon
Mist the basket of the air fryer with olive oil, then preheat your air fryer for about 5 minutes until it reaches 390 degrees F. Add the seasoning salmon filets to the basket then brush each filet with half the sauce, making sure to get the tops and sides. Reserve some sauce to drizzle over at the end.
Add lemon slices (optional) over top then, close the lid and air fry for 6-10 minutes at 390 degrees F.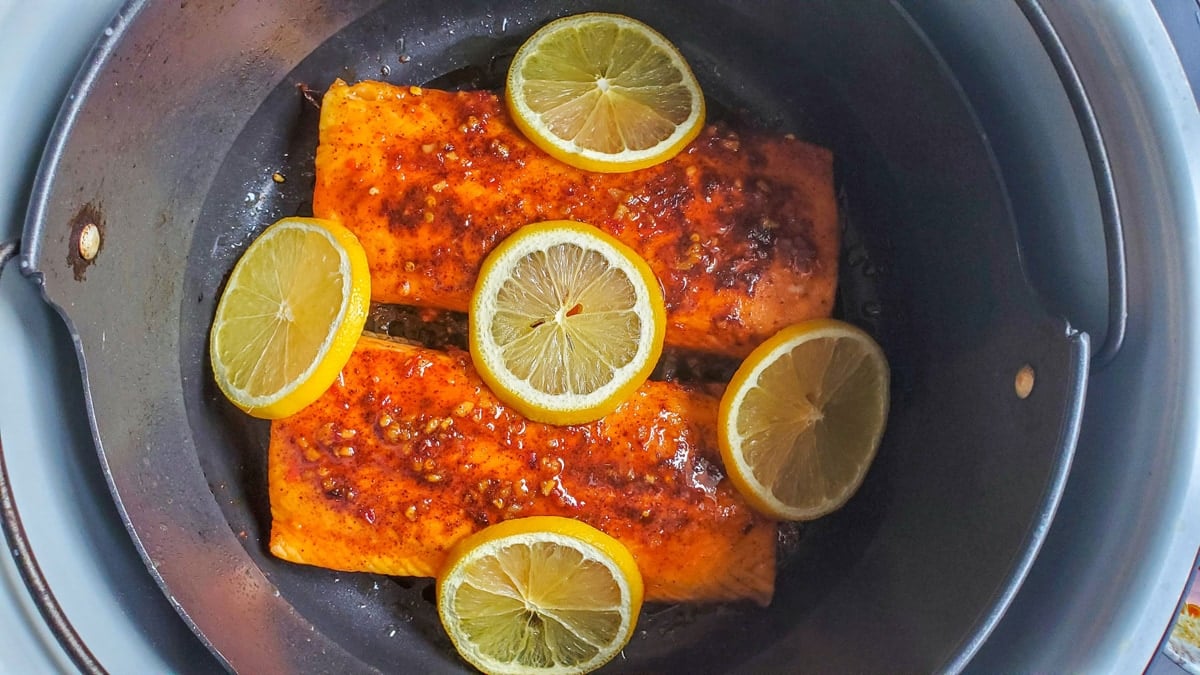 Once cooked through, remove carefully from your air fryer, drizzle with additional chili lime sauce and serve with side of choice. Some of our favorites are classic fried rice, cauliflower fried rice or pineapple fried rice– we love spicy with sweet. Garlic soy asparagus is fantastic as are Air Fryer Brussels Sprouts.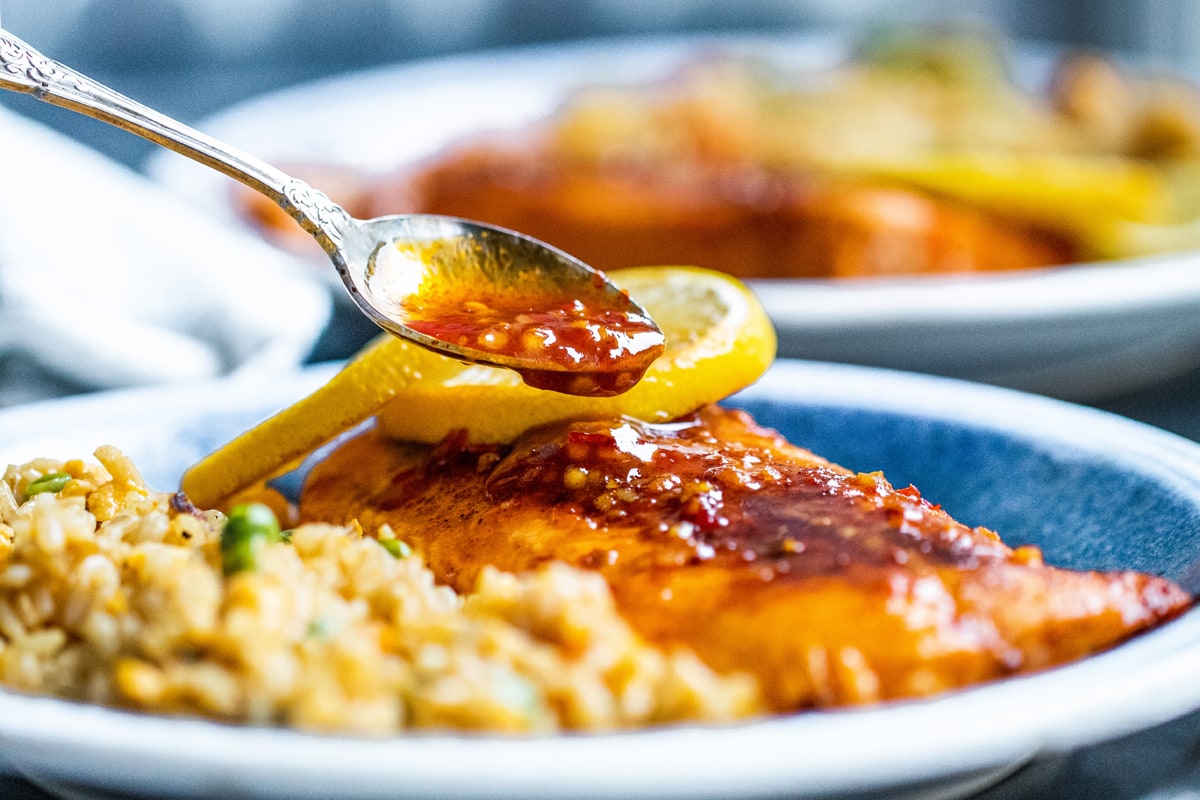 Air Fryer Salmon Tips & Suggestions
Don't Overcook the Salmon: Salmon, like most fish, does not take very long to cook. Different air fryers all cook a little differently, so it is important to lift the lid and check the salmon's internal temperature halfway through. This will help you accurately cook your air fryer salmon and avoid overcooking it.
Skin Tips: The skin is totally a personal choice and I find the cook to be very similar with or without it on. You can buy salmon with or without skin at your local store, or remove the skin yourself with a sharp knife. If removing yourself be careful not to cut too deep or you will shred the salmon and it will fall apart.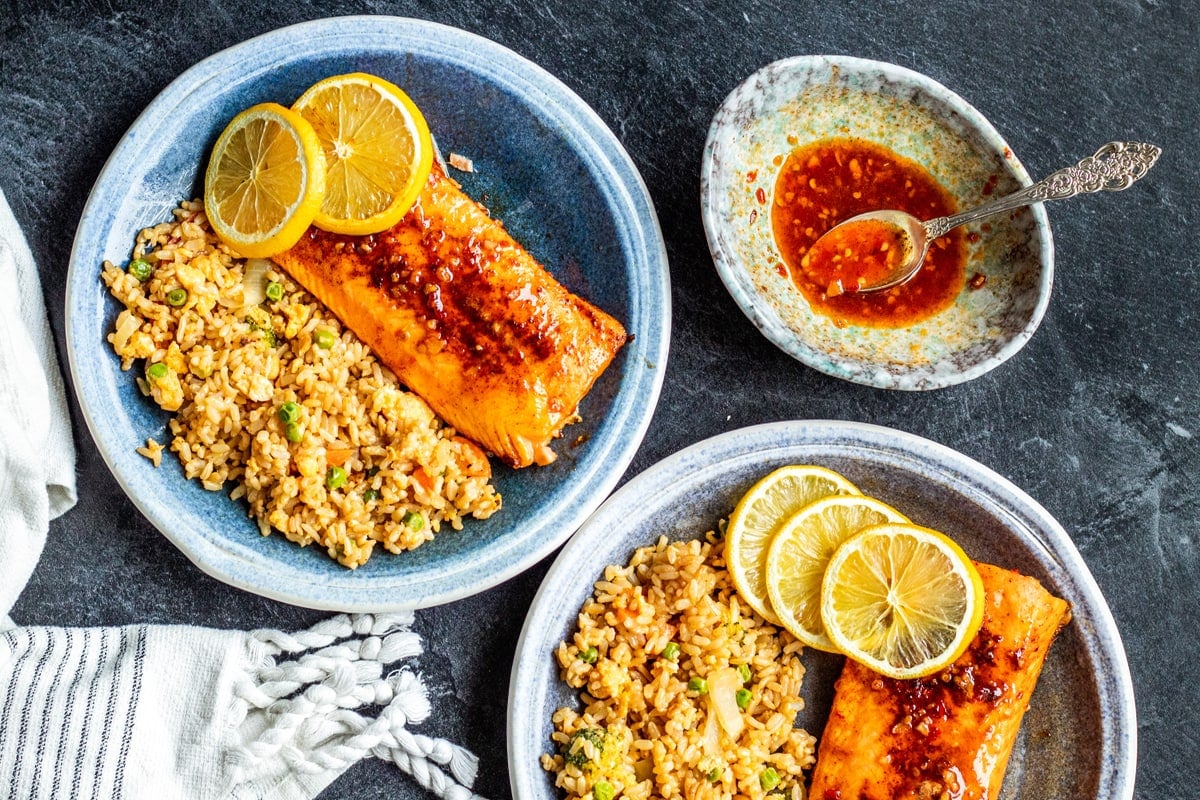 Air Fryer Suggestions: I like to use my Ninja Foodi 6.5 quart for this salmon recipe (and with all things really). The size fits two ½ lb salmon filets perfectly. If yours is small you may need to cook the salmon in two batches because you do not want to crowd the fish in the air fryer.
Preheating: I recommend always preheating your air fryer, because it helps the salmon cook faster and more evenly. To preheat some air fryers have a preheat option, or you can just set the temperature you desire, close the lid and let it run for about 5 minutes. This is not required, but you will need to add an additional 2-4 minutes on to the overall cook time if you skip the preheating step.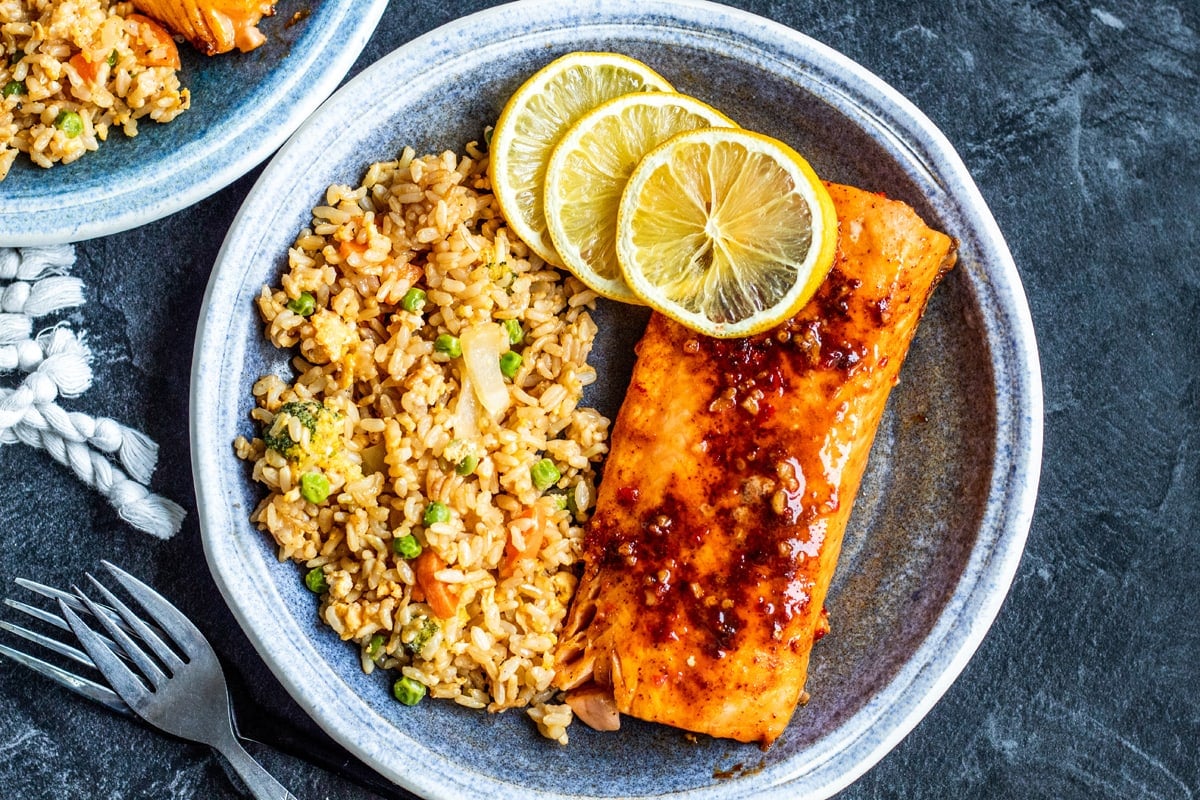 Using Frozen Salmon
This air fryer salmon recipe can easily be made with frozen salmon by just making a few small tweaks. Preheat, and mist air fryer like the instructions state, then add the frozen salmon into the basket (do not add the spices or sauce yet) and air fry for 4 minutes at 390 degrees F.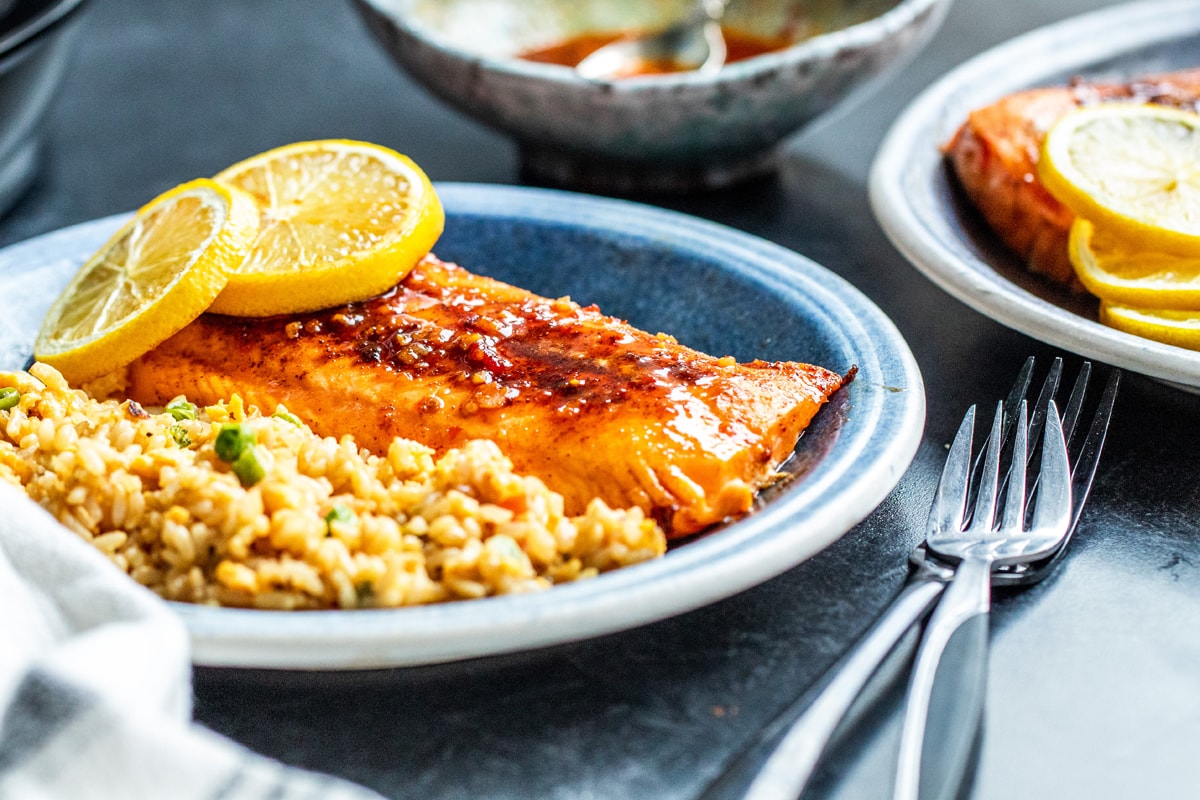 After 4 minutes, the salmon should be thawed and you can sprinkle on the spices; then brush on the sauce and add lemon slices. Close the lid and continue to cook the salmon for 6-10 minutes, or until salmon is cooked through.
Baking Salmon
If you do not have an air fryer handy this salmon can be baked in the oven. Follow all the recipe prep instructions for the salmon, spices and sauce; then add the salmon to a large baking sheet with lemon slices.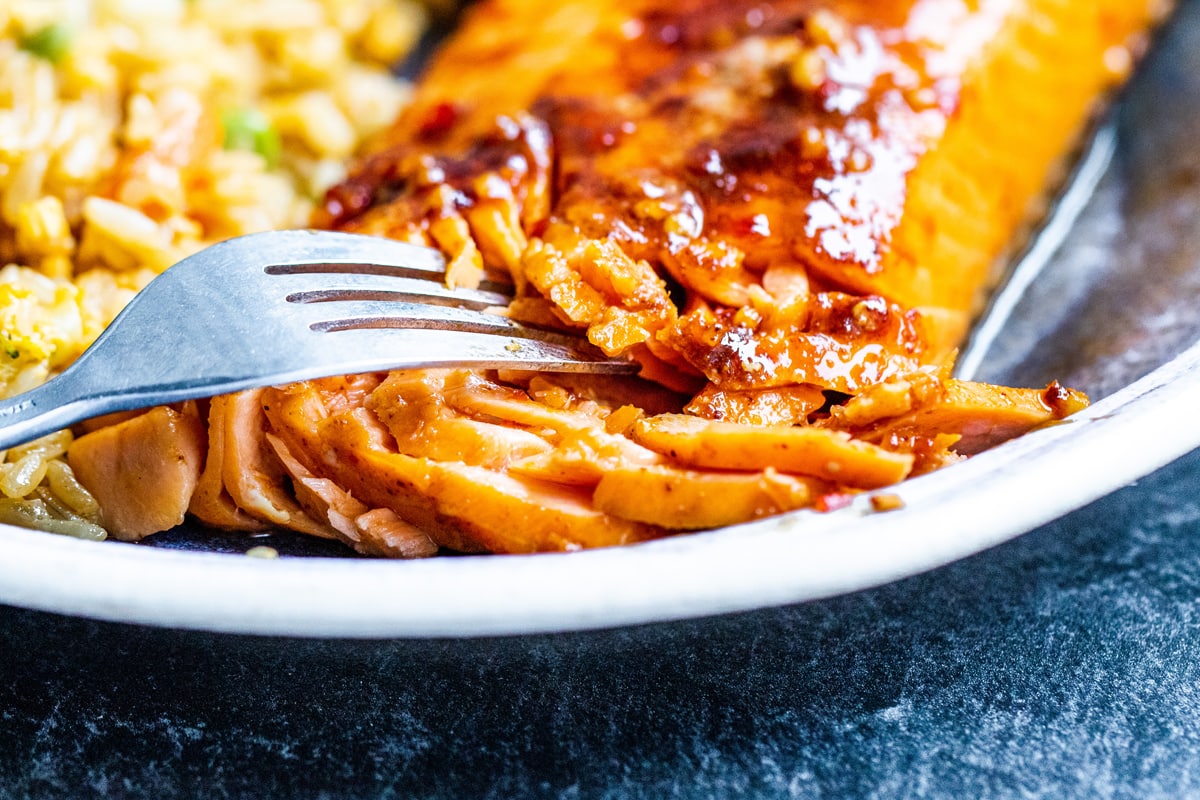 Set your oven to broil mode on high, and set your oven rack a little above the middle. Broil for 10 minutes or until salmon is cooked through internally.
No matter which way you cook it, salmon should be cooked to an internal temperature of 145 degrees F. Measure the internal temperature by inserting a meat thermometer at the thickest part of the filet.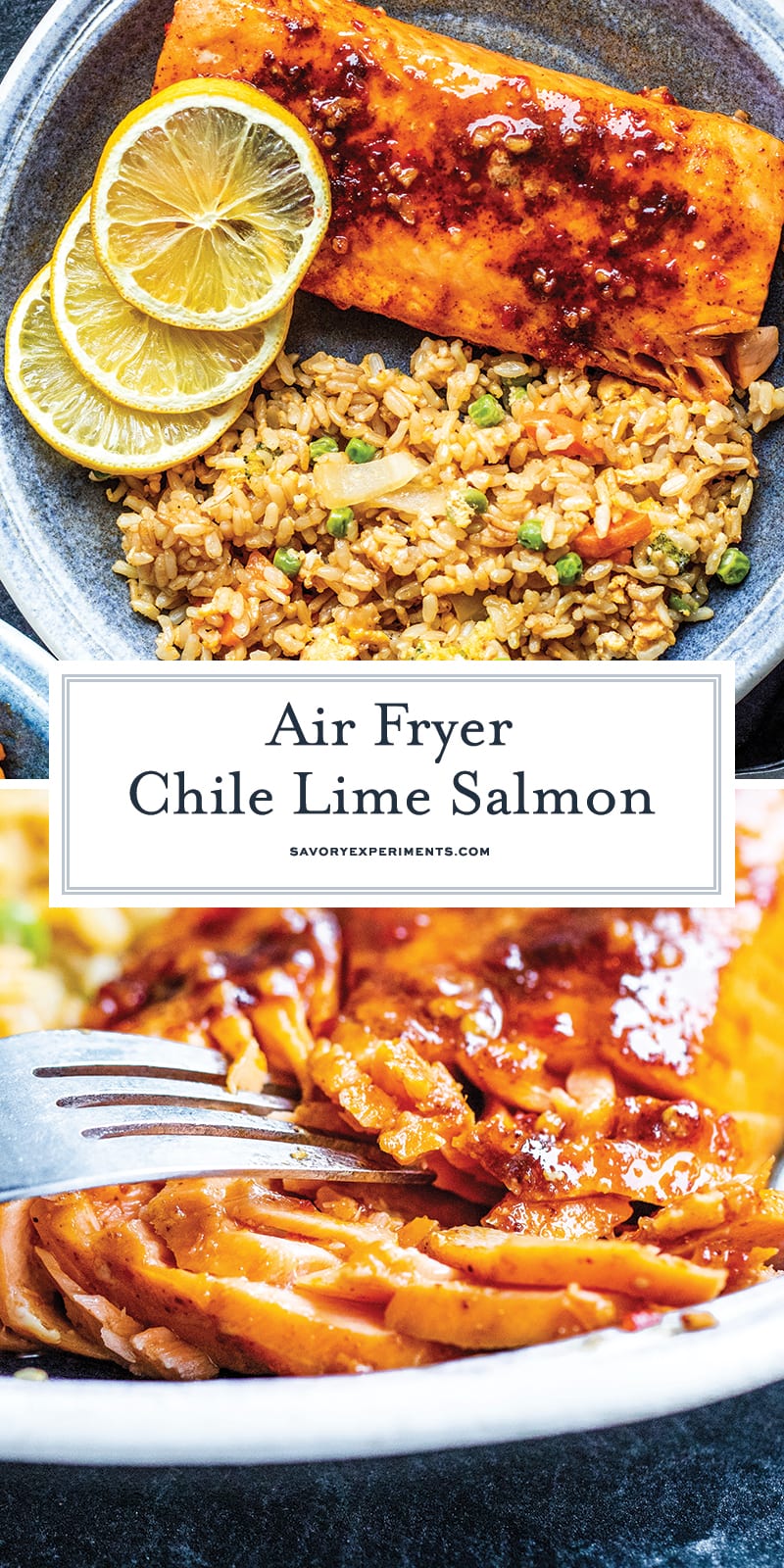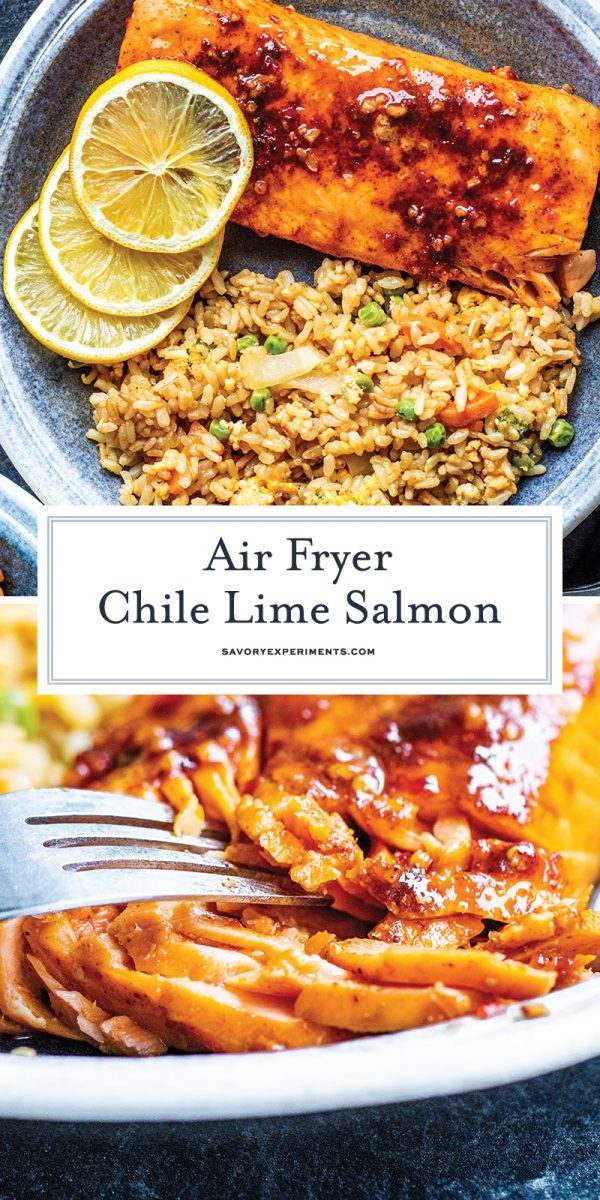 More salmon recipes: