Oh happy day! It is chile relleno bite day! As a child I would look forward to football Sunday for one reason and one reason only. It meant there was a chance my mother would make chile rellenos or nachos. YUMMY!!!!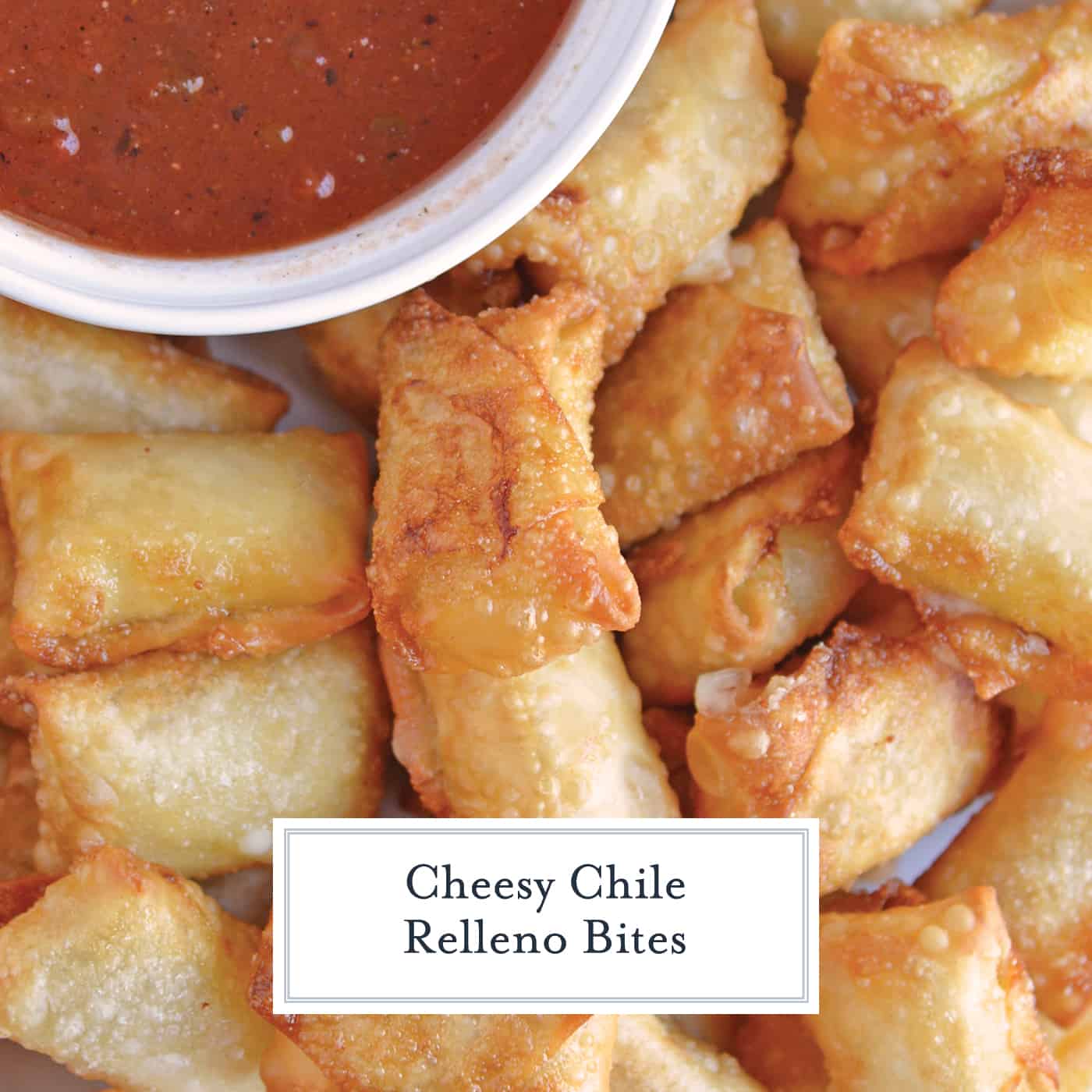 Over the years I started to appreciate pigskin Sunday for the actual football being played (Go Broncos!) and more than just the association with Mexican appetizers.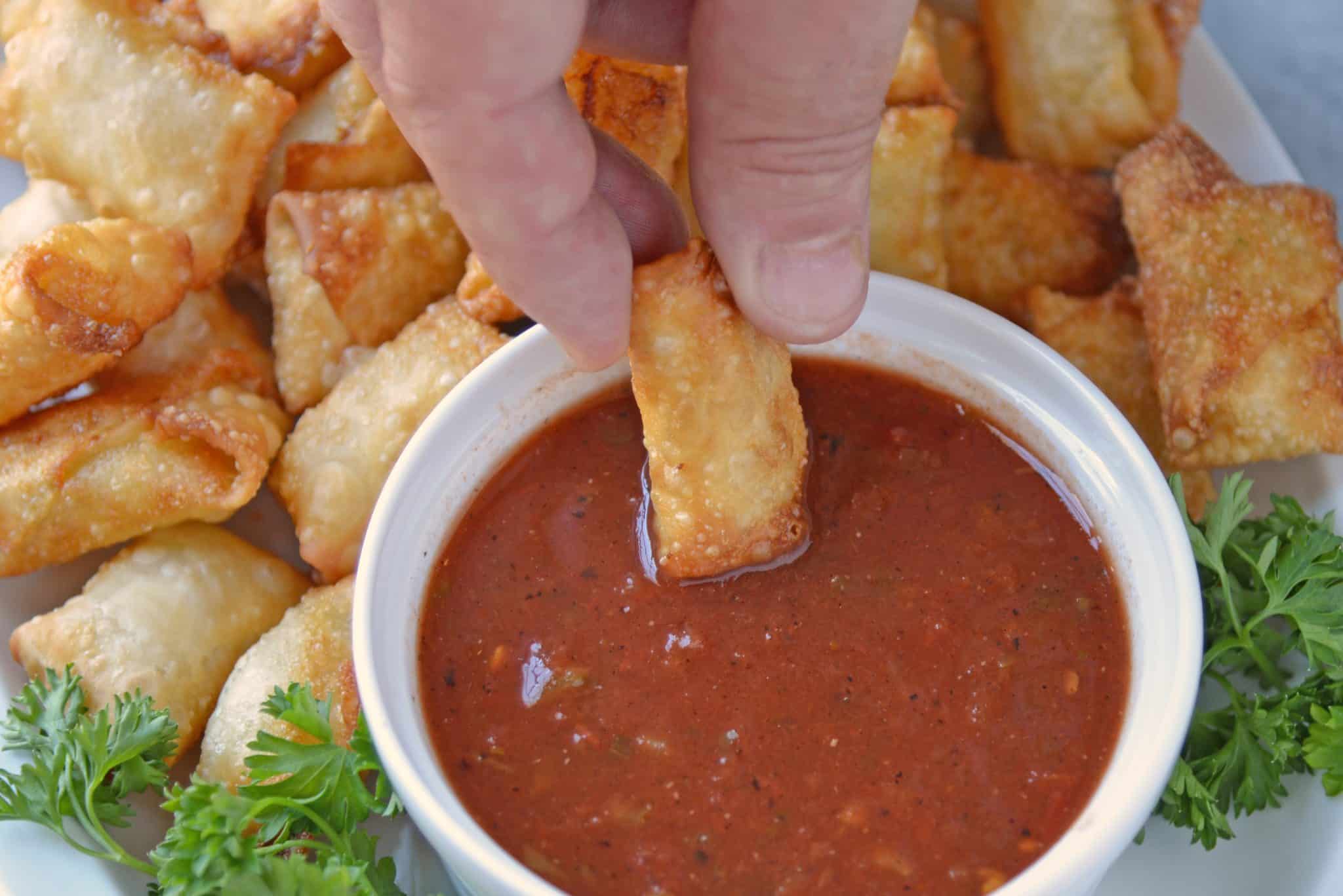 Chile Relleno Bites… Reimagined
The first thing to explain is that these chile relleno bites aren't traditional cheese stuffed chiles one would order as an entree at your favorite Mexican food hang out.
And the purists out there, I'm apologizing now and saying that I realize these are not actual chile rellenos.
They are kind of… well… cheating. And my mother called them chile rellenos, so I never knew anything different. Now it is kind of a nostalgia thing. Instead of using a fresh chile, this recipe capitalizes on the chiles already diced into pepper jack cheese.
Is it chile or chili? I often go back and forth and seems chile and chili are used interchangeably. However, I once a boss that was one hell of a writer and used to be a book editor and she claimed that anything that was a soup or stew was chilI and anything with the fruit was a chilE.
Back in Colorado there were two types of chile rellenos: soft or crispy. Crispy were made with a wonton wrapper and soft with an egg batter. Both were fried to a golden brown and both were delicious.
Since my family always made the crispy kind, I prefer them that way. Don't get me wrong… I'll never turn down a soft chile relleno either!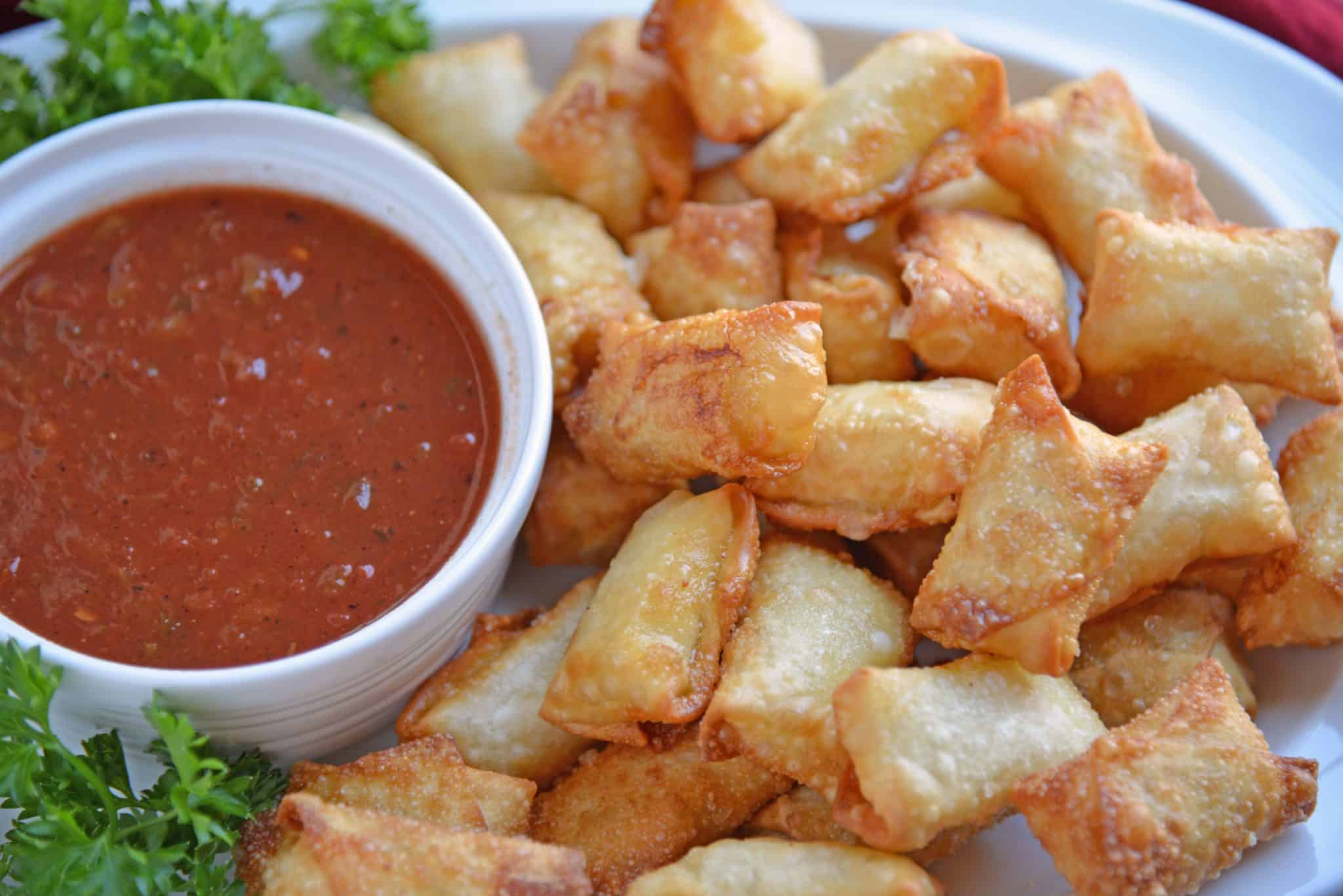 It is because of this that I like the crunchy exterior for my chile relleno appetizer recipe. Together they make my finger food fantasy come true. Add a little bit of salsa, crema Mexicana or guacamole and you have yourself a cheesy, spicy fiesta!
One that I can guarantee everyone will love, no matter what you decide to call this fabulous fried cheese concoction.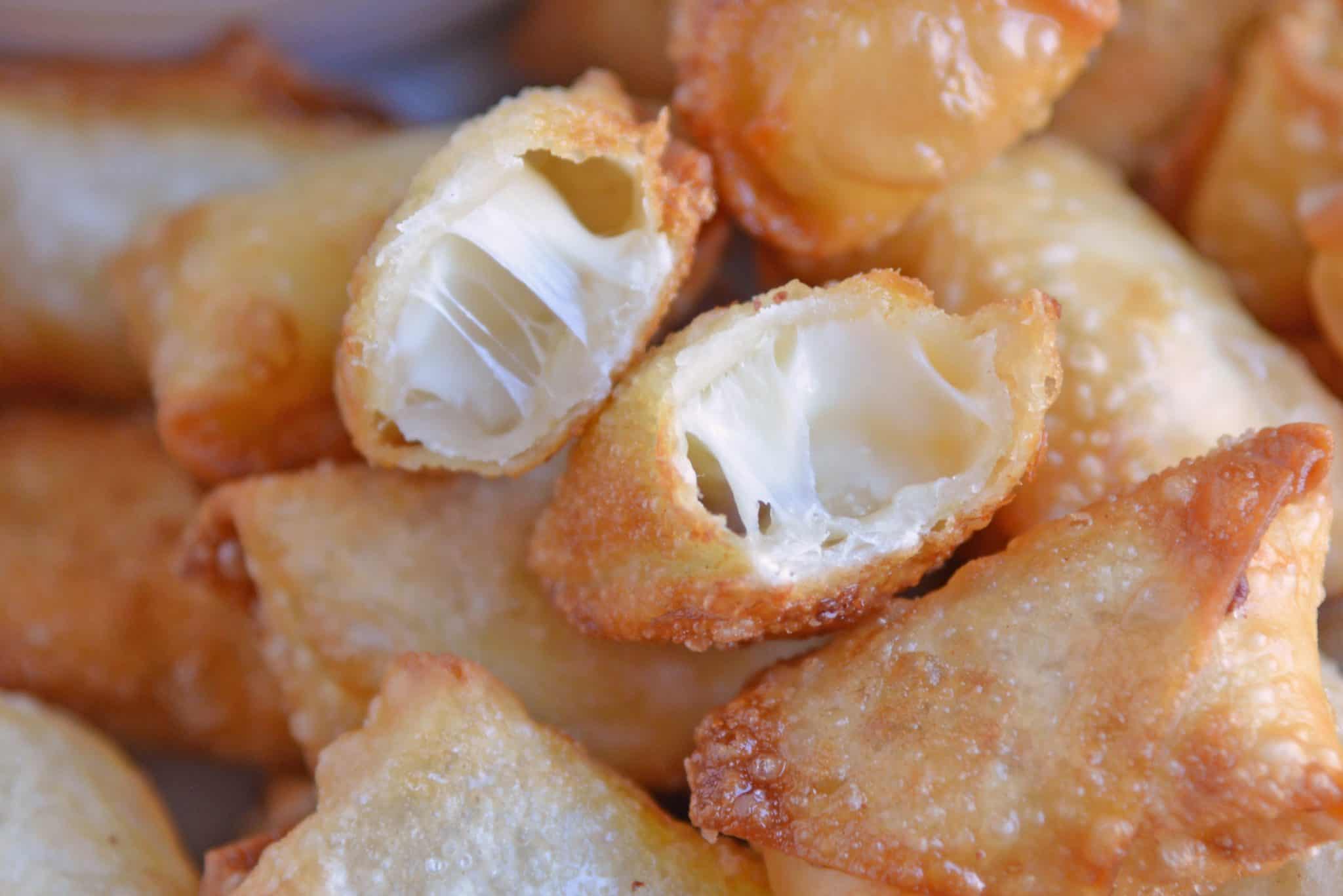 One more benefit of Chile Relleno Bites- these are great to make ahead or in bulk and keep frozen for unexpected visitors or another football Sunday.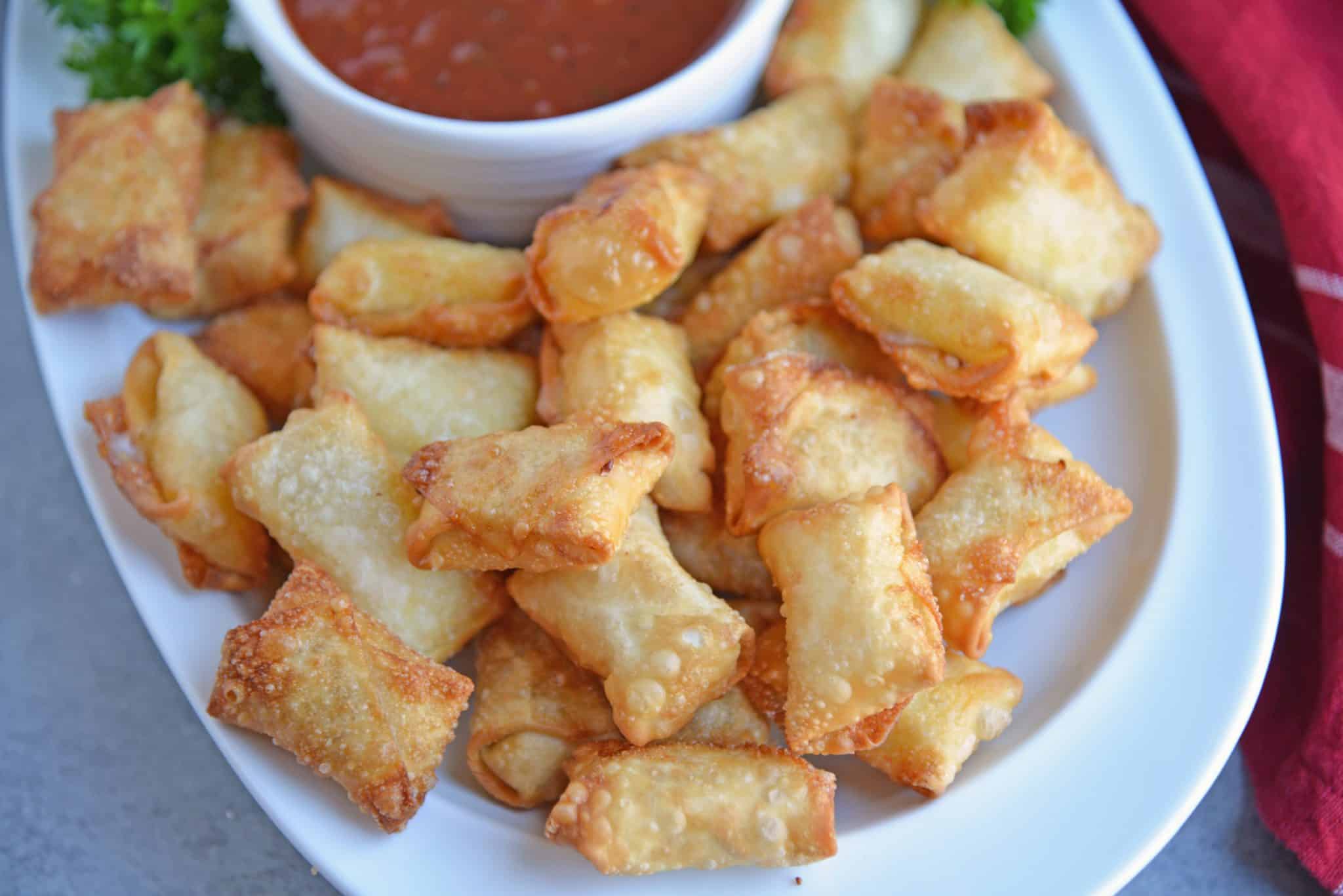 I'm off to make myself a batch of this spicy fried cheese. Catch ya on the flip side!
Here is a quick guide on how to roll your chile relleno bites (sorry for the poor photo, I need to take new ones). Also, here are my favorite utensils for making Chile Relleno Bites: wire skimmer and large, heavy saucepan.
Find more info on frying on my Pizza Logs post!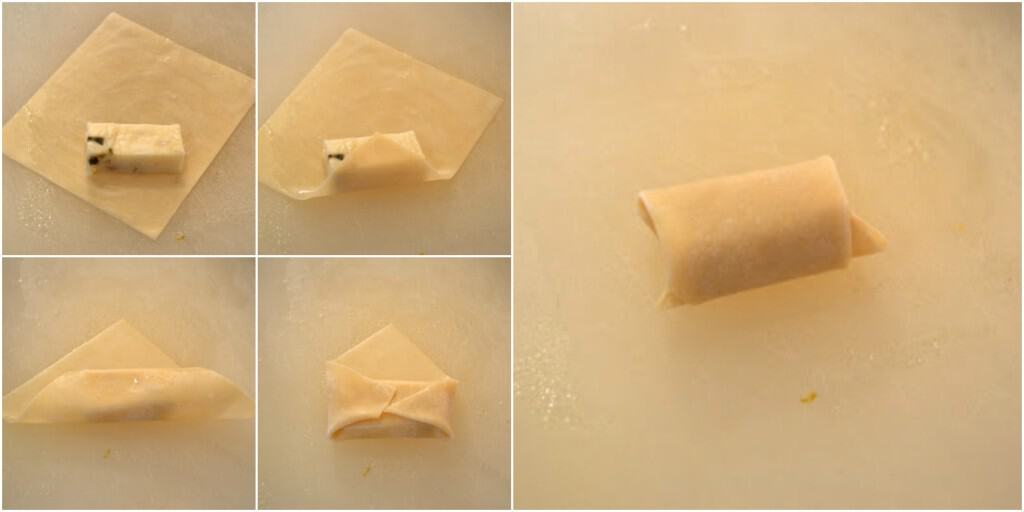 And if you are looking for even more Mexican inspired recipes, check these out!
Chili Cheese Dip
If you are a fan of dips you need to make this 3 ingredient Chili Cheese Dip, whips up in under 10 minutes and is fool-proof!
See The Recipe!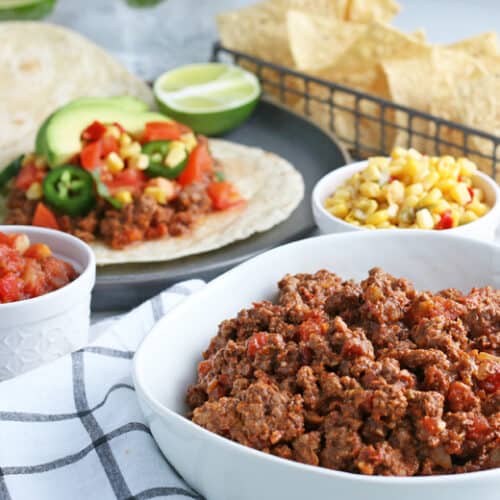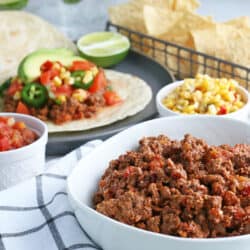 Crockpot Taco Meat
Making taco meat for a crowd has never been easier than this Crock Pot Taco Meat recipe! Only 3 ingredients, set it and forget it!
See The Recipe!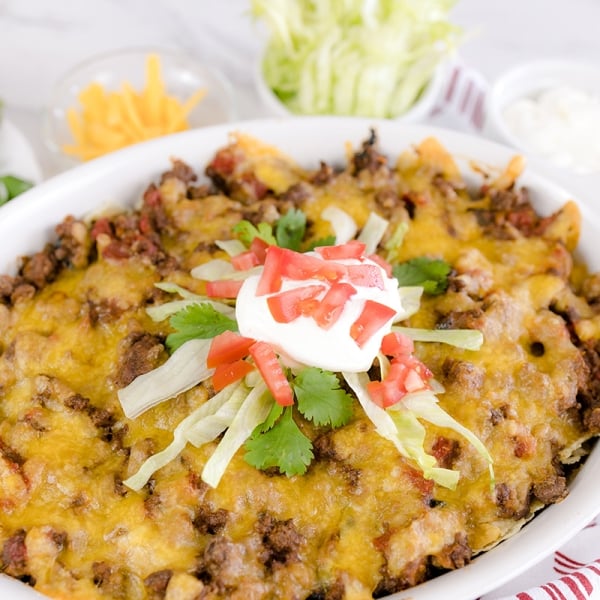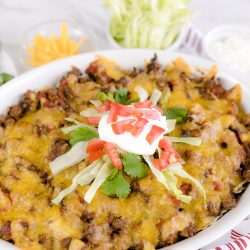 Tools for making this chile relleno appetizer:
Wood cutting board – wood won't dull your knives like plastic and if treated properly, has natural antimicrobial properties.
Good knife – Global is my favorite! They are worth the price, I promise. I am kind of obsessed with them and store them tucked away so no one else can use them. Including hubby. Hands off my good stuff!
Heavy Bottom Sauce Pan- Using a tri-ply saucepan will help keep your pot hot and distribute heat evenly.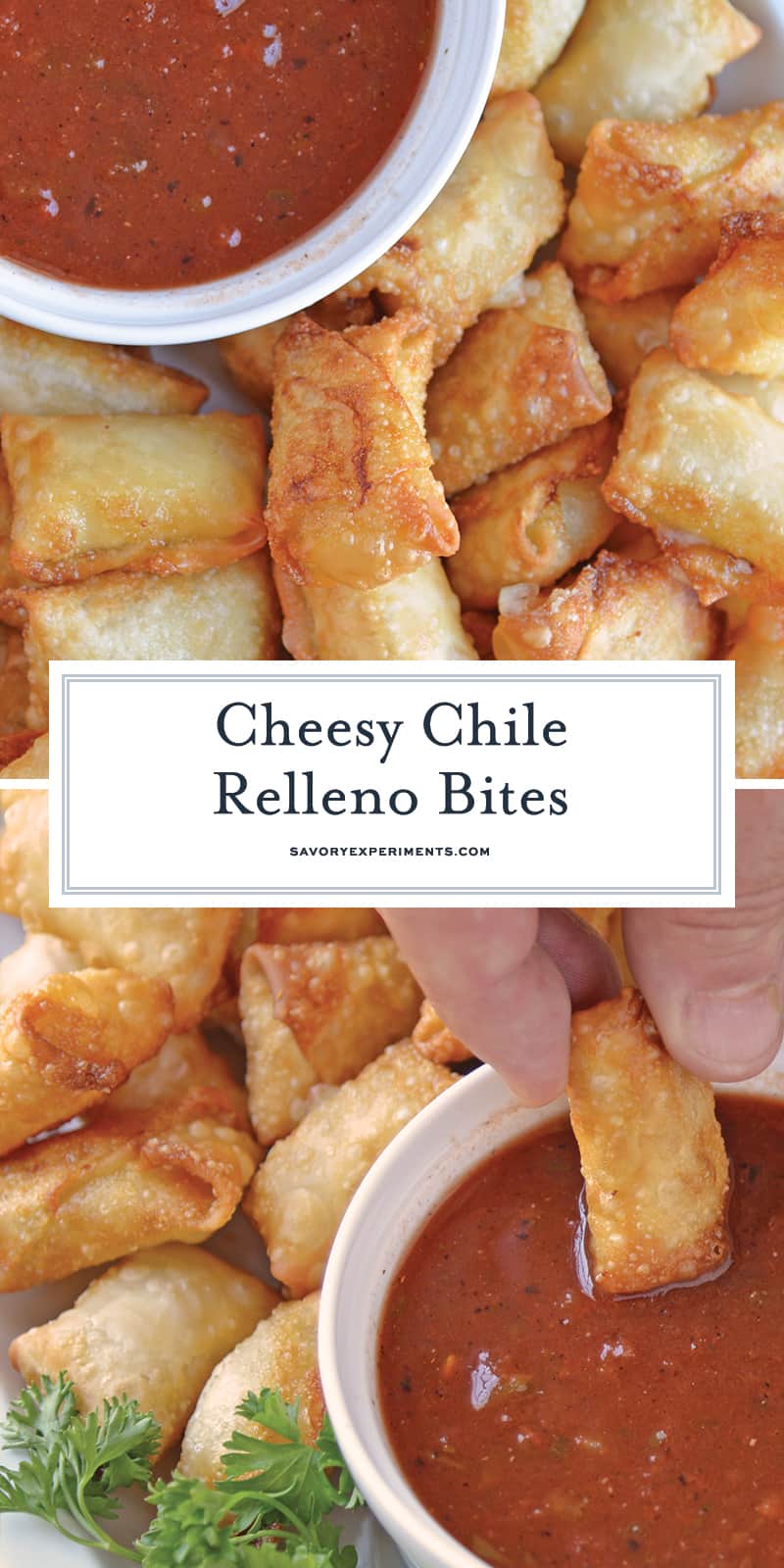 Questions about making chile relleno bites:
Can I use a different type of cheese? You can use any cheese you please, but since this is a Mexican inspired recipe, I would suggest using a spicy or Latin cheese.
Can chile relleno bites be made ahead of time? You can assemble them ahead of time, but they are best served freshly fried.
Can I bake chile rellenos? This recipe works best if fried. The wonton wrapper won't have time to get nice and crispy before the cheese melts and tries to escape. Then you'll just have a hollow wonton wrapper and that's no fun.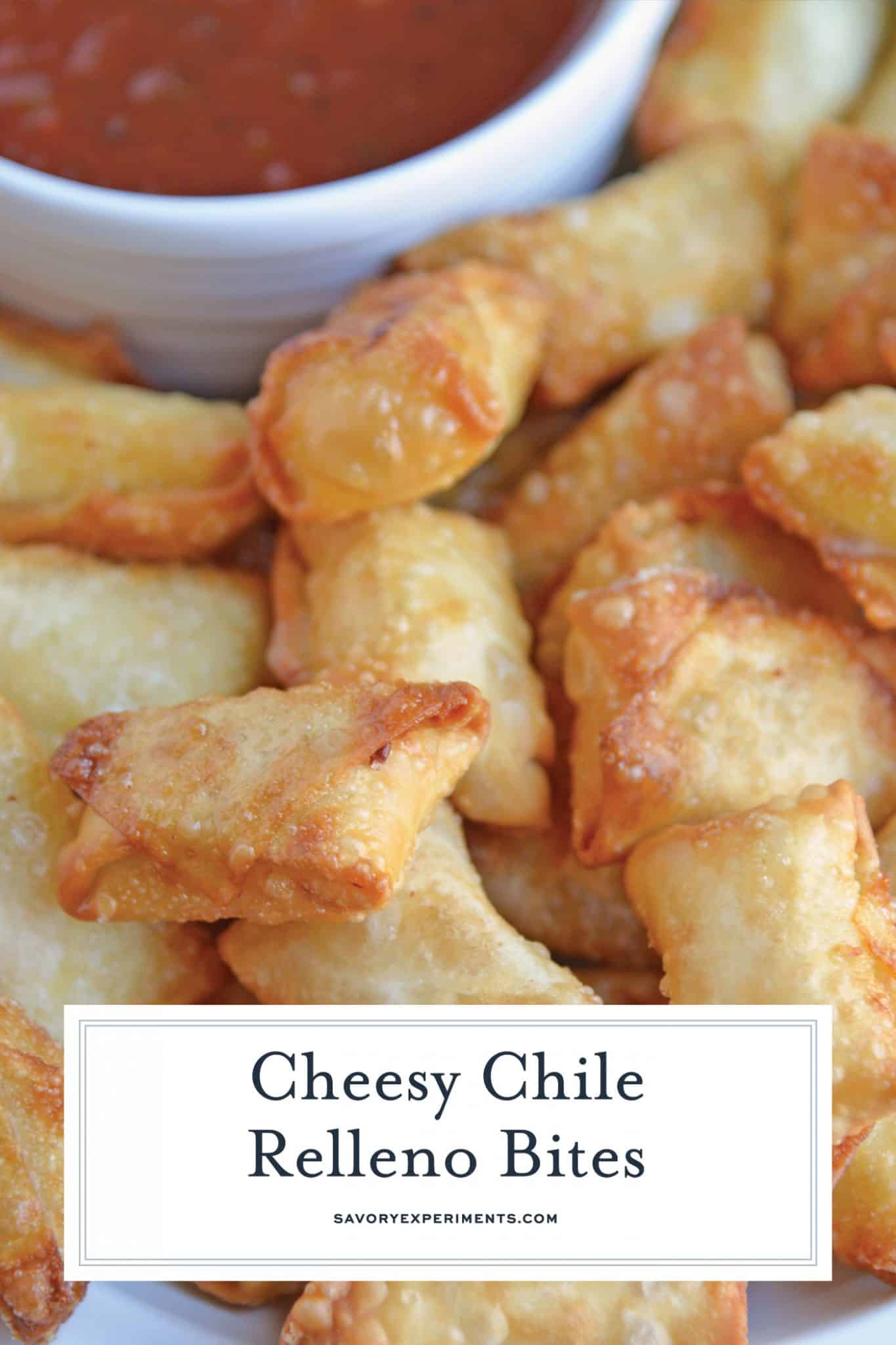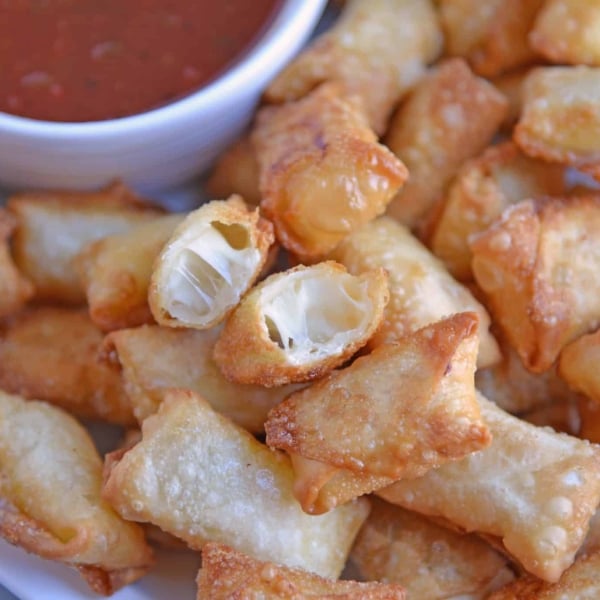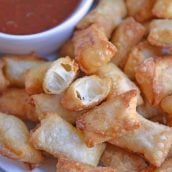 Chile Relleno Bites
Chile Relleno Bites are a quick hack for making bite sized chile rellenos as an appetizer. Make ahead until you are ready to serve!
Instructions
Start by prepping your ingredients. See note for wonton wrappers. Cut brick of cheese into four long strips and then again into one inch bricks. Whisk egg whites and water in a small bowl. Use a cutting board or plate for your work space. Use two medium or one large airtight plastic container for freezing/storing. Cut pieces of wax paper to fit in between layers of chile rellenos to prevent sticking. Your fingers will be all gross, so it is best to prepare these items ahead of time.

You are now ready to start the rolling! I suggest you find something interesting on the tube or radio prior to getting your fingers all mucky. Start by placing one wrapper on your work surface to look like a diamond. Using your fingers, lightly baste egg white mixture over the entire surface. Place one cheese brick in the bottom center. Fold up bottom edge and roll once. Fold in sides to look like an open envelope. Fold over the rest of the way to make a nice, neat little package. Place in your container.

Continue with remaining cheese and wonton wrappers. Avoid having any of the rellenos touch, as they will freeze together and make it difficult to fry later. You might end up with an uneven number. Save the cheese for use in another dish and/or fry the wonton wrappers to make crispy noodles (the ones they give you as an appetizer in Chinese food restaurants).

Cover your container and place in the freezer for a minimum of one hour. I've kept these in the freezer in an airtight container for two months or more.

When you are ready to prepare your rellenos, heat 1 inch of vegetable oil in a heavy medium sauce pan over medium-high heat. Different ranges take varying amounts of time to heat. If you sprinkle a dab of water into the hot oil and it sizzles and spits- it is ready. (Be careful doing this…)

Using a fry spoon (see picture), add 5-8 (depending on pan size) chile rellenos to hot oil. Flipping once or twice, cook rellenos until they are golden brown and crispy. The way I know they are cooked is when the first relleno starts to leak cheese. The sound of the oil will change dramatically when this happens. Then I know it is time to remove them all before they are void of any cheese. This takes approximately 3-4 minutes and will decrease in time as you fry because your oil will get progressively hotter.

Remove rellenos with your fry spoon to a paper towel lined plate or baking sheet. If you are making a large batch, heat your oven to the lowest possible temperature to keep warm while frying, but not too hot to have a cheese explosion. Again, the goal is to keep the cheese inside the wrapper!

Serve immediately with salsa, sour cream or guacamole. Enjoy your Chile Relleno Bites!

If you've tried this recipe, come back and let us know how it was!
Notes
Wonton wrappers come in large squares (approximately 5×5) and small squares (approximately 2×2), you can use either. If you get the large you will be cutting them into smaller fourths.
Nutrition
Calories:
807
kcal
,
Carbohydrates:
66
g
,
Protein:
40
g
,
Fat:
41
g
,
Saturated Fat:
26
g
,
Cholesterol:
111
mg
,
Sodium:
1281
mg
,
Potassium:
209
mg
,
Fiber:
2
g
,
Vitamin A:
890
IU
,
Calcium:
899
mg
,
Iron:
4.6
mg