If you love the pillowy clouds of gnocchi and the savory sauce of a homemade carbonara, you are going to love my gnocchi carbonara recipe.
This recipe takes fluffy gnocchi and coats it with a creamy sauce of butter and parmesan cheese dotted with crispy pancetta. It's buttery comfort in a bowl.
You only need a handful of simple ingredients and less than a half hour to whip up this dish. You'll want to keep this handy the next time you're looking for easy dinner recipes.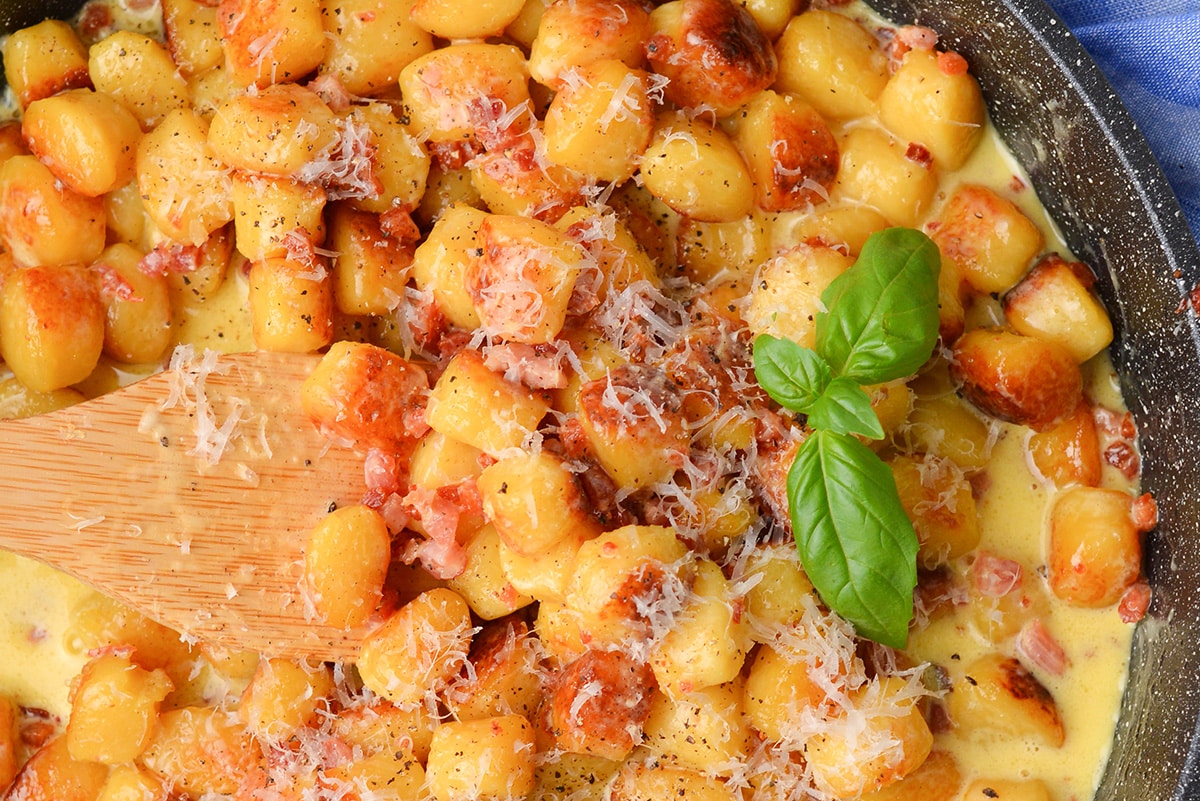 Why This Recipe Works
Crispy fried gnocchi coated in a creamy sauce with bacon- what's not to love!
Pan Fried Gnocchi – Unless you are making these Italian dumplings from scratch (fun to do, not practical for a quick meal), then you'll likely be buying a grocery store version, which has a much different texture. Instead of boiling them, we like to pan-fry them, offering a crunchy exterior with a smooth center.
Testing – Because of this, we had no pan water and the gnocchi has a distinctly different surface space and temperature hold than the traditional carbonara pasta like spaghetti or bucatini, so we had to adjust to make the sauce. Don't worry, we did all the testing for you!
Easy Ingredients – Authentic carbonara uses guanciale, which is a product made with pork jowl or cheeks. It is very hard to find and can be expensive. The next best option is pancetta, which is another pork product with smoky, salty flavors and enough fat to coat. In a pinch, bacon can be used, but opt for nitrate-free bacon without other flavors. One of the biggest criticisms is that this brings a smoky element.
Fast – Although a technical and fast-paced recipe, this authentic carbonara sauce is a super easy recipe with few ingredients and it comes together in a snap. It is one of our favorite weeknight meals.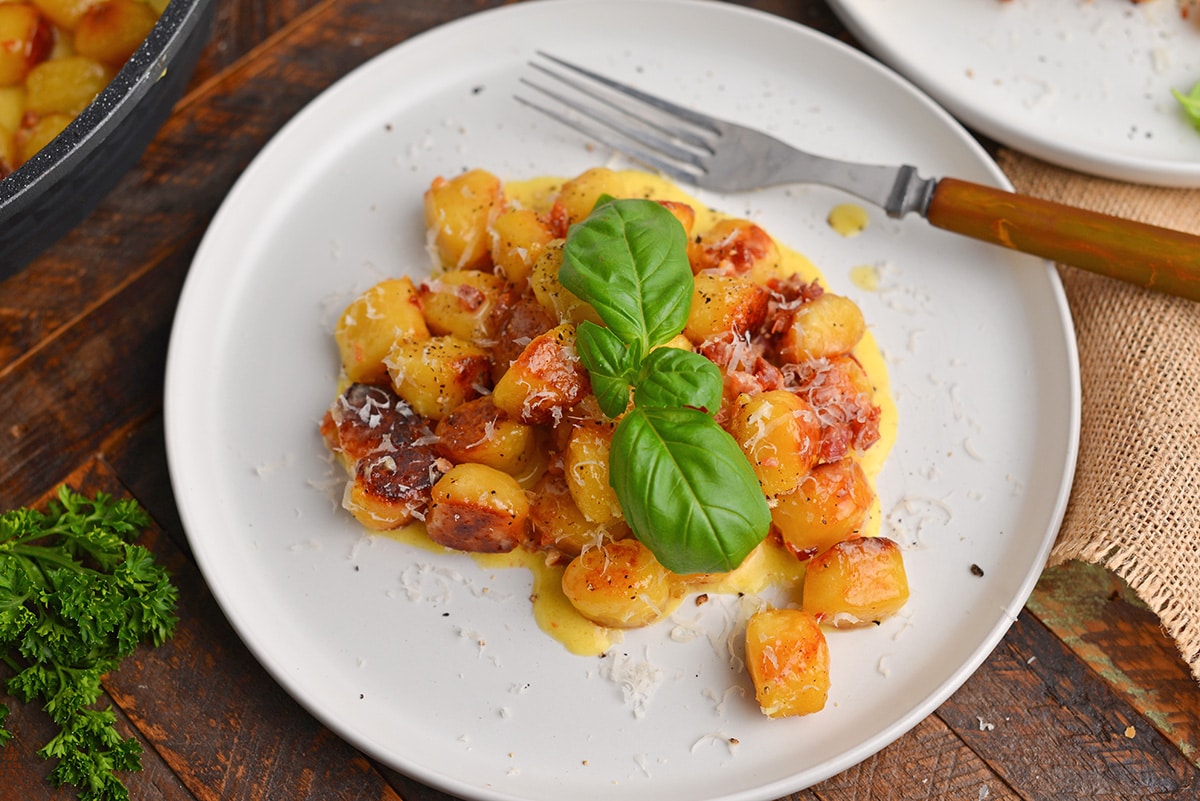 Gnocchi Carbonara Ingredients
This ingredient list is super short which makes it a great recipe for busy weeknights.
Egg yolks: The yolks lend a luxurious, creamy texture and contribute to the binding of the sauce.
Heavy cream: Adding a touch of decadence, the heavy cream enhances the richness of the dish.
Pecorino Romano cheese: This slightly salty and tangy cheese adds depth and helps to thicken the sauce.
Extra virgin olive oil: While olive oil is traditional, you can use any neutral flavored oil, like avocado oil, for sauteing.
Gnocchi dumplings: The star of the show, these tender potato-based dumplings perfectly absorb the flavors of the sauce.
Pancetta: Similar to bacon, this Italian cured meat imparts savory flavor and crispy texture that complements the creaminess of the sauce.
Black pepper — freshly ground: The black pepper adds a touch of spice that balances the richness of the Carbonara sauce.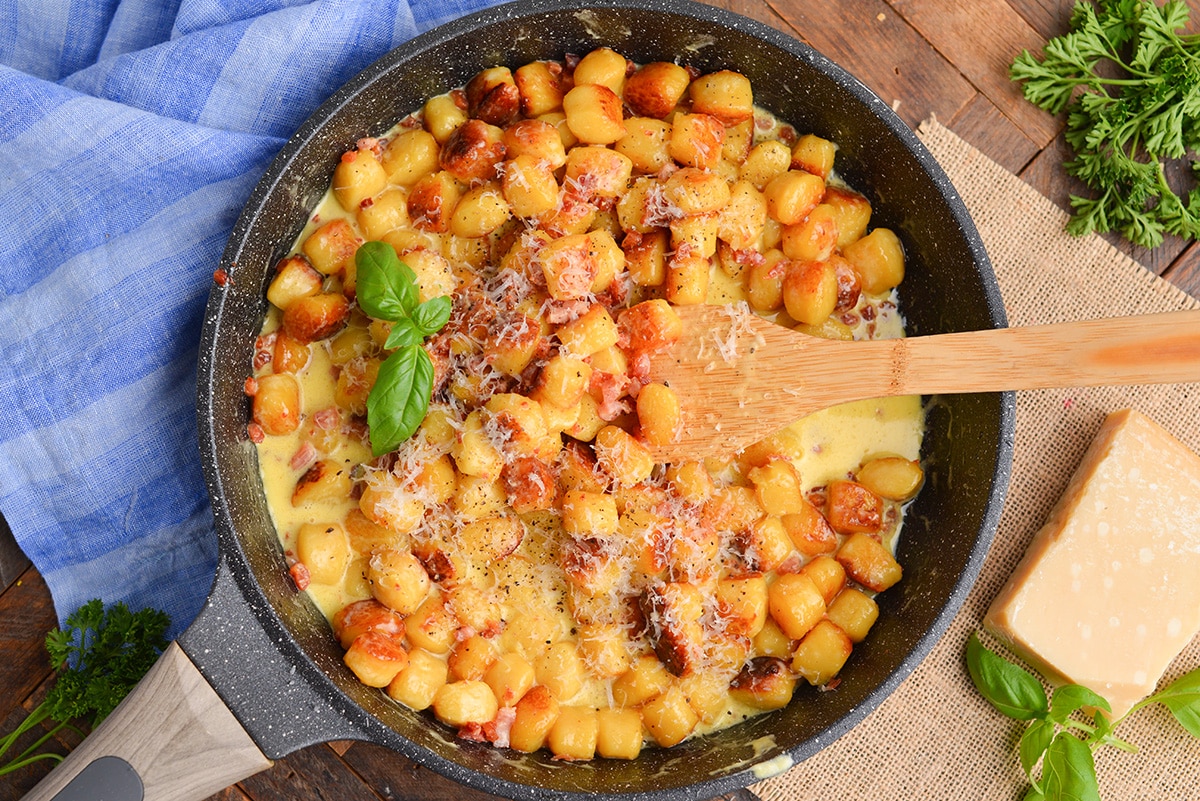 How to Make Creamy Gnocchi Carbonara
Once you make this silky gnocchi carbonara once, it just might become one of your regular weeknight meals.
Make sauce. Add the egg yolks, heavy cream, and pecorino romano cheese to a large bowl or measuring cup and whisk together until completely combined.
Brown gnocchi. Add the gnocchi to a preheated large skillet drizzled with olive oil. Brown the gnocchi on all sides.
Set aside. Once all sides are golden brown, use a slotted spoon to transfer the cooked gnocchi from the frying pan to a plate or sheet pan.
Brown pancetta. In the same pan, brown the pancetta. Once browned, transfer the pancetta to a small bowl.
Toss gnocchi in fat. Add the gnocchi back into the skillet and toss it with the fat that was rendered while cooking the pancetta. Once the gnocchi is coated, turn off the heat and add the tempered egg mixture.
Toss gnocchi in sauce. Toss the gnocchi with the egg mixture until the sauce is warmed and the cheese is melted. Top with fresh ground black pepper.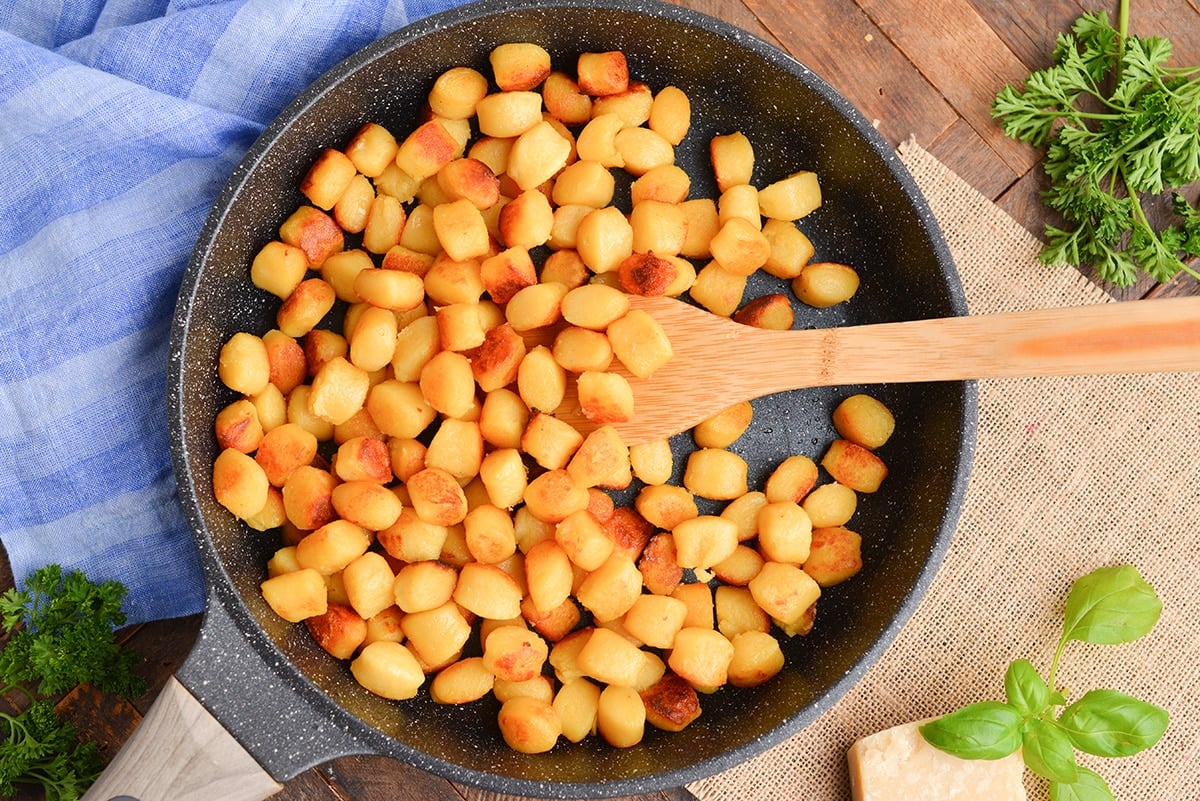 What to Serve with Gnocchi Carbonara
We love to serve this delicious gnocchi carbonara with garlic breadsticks, garlic bread with a buttery and cheesy garlic bread spread, or a nice, thick rosemary focaccia bread. But you can also just grab your favorite crusty bread and serve it with olive oil for dipping sauce.
For a balanced meal, you can also serve a veggie-based side. A simple salad works well, but you can also serve roasted vegetables or steamed veggies like green beans.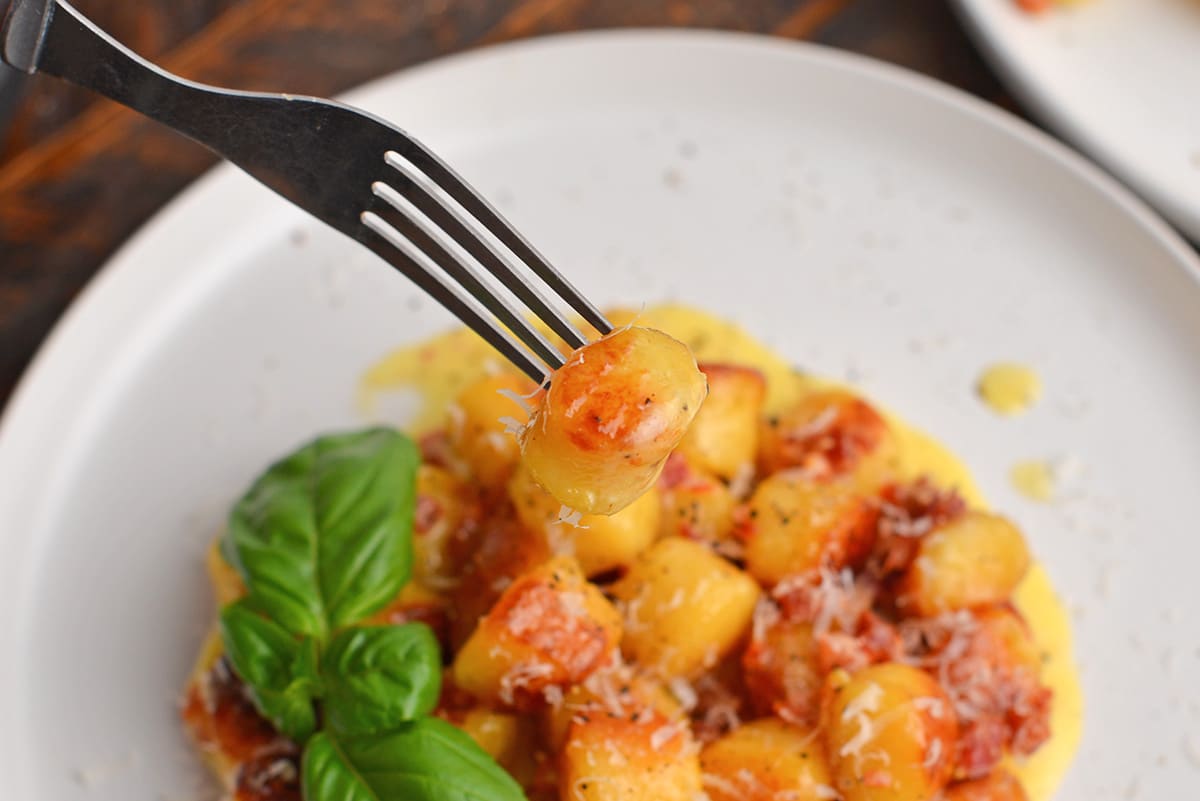 Variations
While we love this simple, classic gnocchi carbonara version you can add some other ingredients to make it your own.
Heat: Toss in some crushed red pepper flakes to add a little bit of spiciness.
Herbs: Use fresh herbs to impart more flavor into the dish.
Pasta: Instead of gnocchi, make a pasta dish instead. Use spaghetti noodles to make spaghetti alla carbonara.
Cheese: Switch out some or all of the pecorino romano for parmesan cheese or another hard cheese.
Garlic: Mince garlic cloves and saute them briefly in the pancetta fat before adding the gnocchi.
Sauce: Instead of the creamy carbonara sauce, experiment with other pasta sauces. You can try alfredo sauce or your own favorite sauce.
Meat: If you do not have pancetta on hand, try using smoky bacon or diced pork belly.
Gnocchi: If you choose to make your own gnocchi, try making ricotta gnocchi, which can be a little easier than potato gnocchi.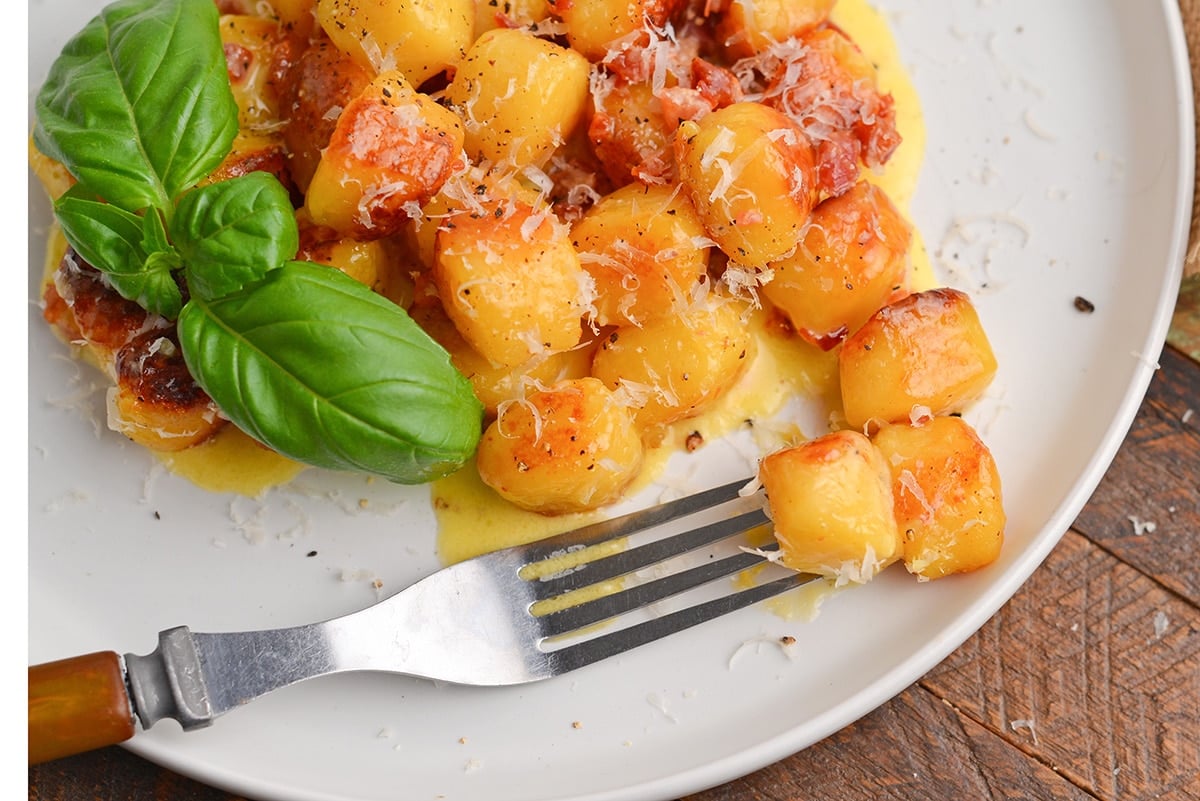 Storage and Freezing
This gnocchi carbonara dish is best eaten freshly prepared, but you can store leftovers if needed.
Refrigerator: After the gnocchi has reached room temperature, store leftover gnocchi in an airtight container for up to 2 days in the fridge.
Freezer: Freeze gnocchi in a resealable bag for up to 3 months. Remember, air it the enemy, so try to get as much out as possible. To reheat, thaw and heat in a skillet over medium heat. You might need to add a touch of cream or more cheese to revive the sauce.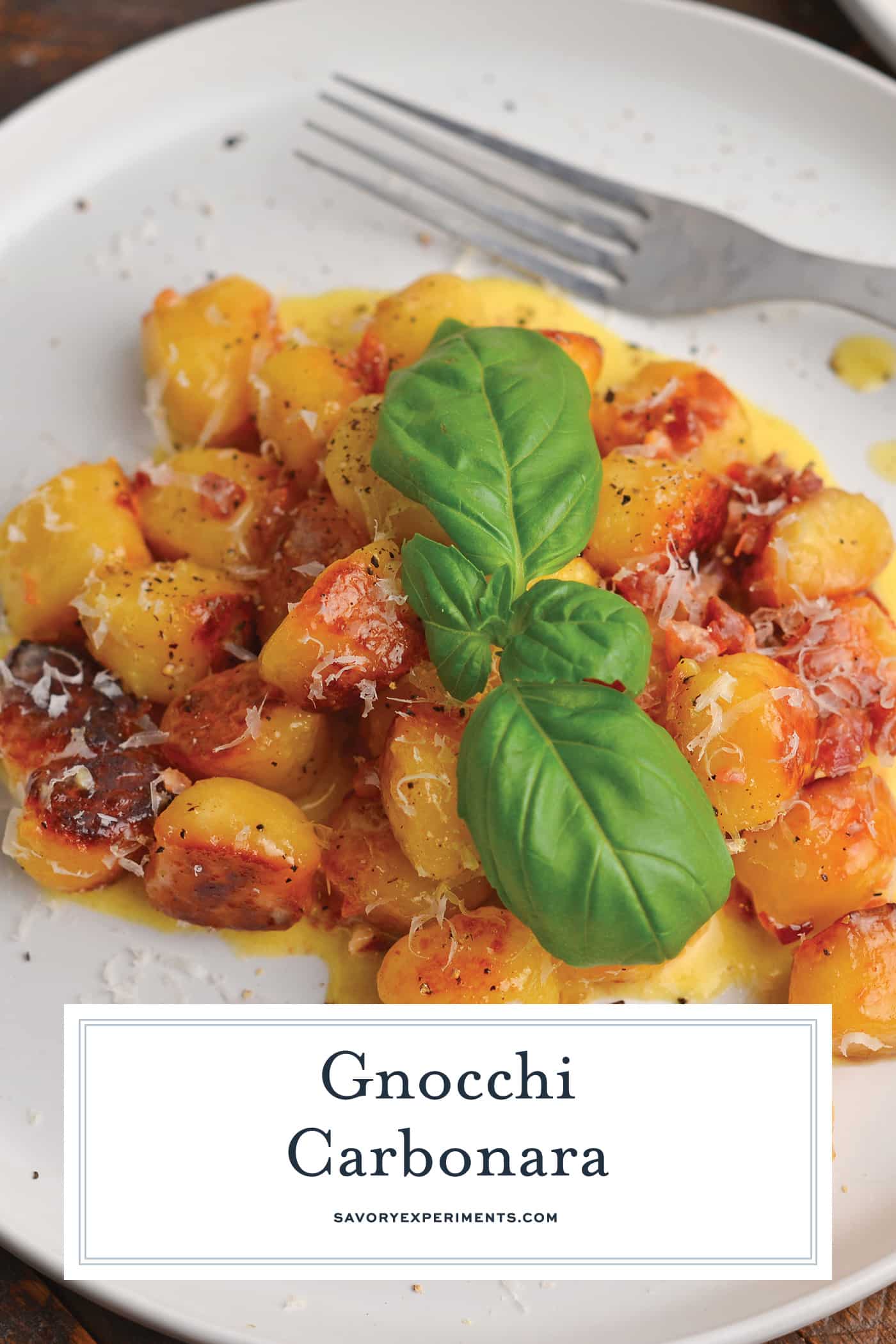 Gnocchi Carbonara FAQ
Does carbonara have cream?
Authentic carbonara does not use any heavy cream, but for this recipe since we don't have pasta water to temper the eggs and thin the sauce. You can use hot water or even hot chicken stock, but this helps the sauce thicken since we aren't tossing it in as much heat. Yes, it is a lot like alfredo, but I assure you that the yolky goodness is not overwhelmed and shines through.
Does carbonara use pecorino romano or parmesan cheese?
Real carbonara uses pecorino romano, but parmesan can be used in a pinch.
Are the eggs in carbonara raw?
Store bought eggs and fresh egg yolks are either pasteurized or safe to eat raw. This sauce is gently cooked using residual heat from the dumplings and pan. If it is cooked too hot or on a heating element, you could end up with lumpy sauce and chunks of scrambled eggs. Egg are also used "raw" in hollandaise sauce and mayonnaise. You'll be fine, just ask Rocky.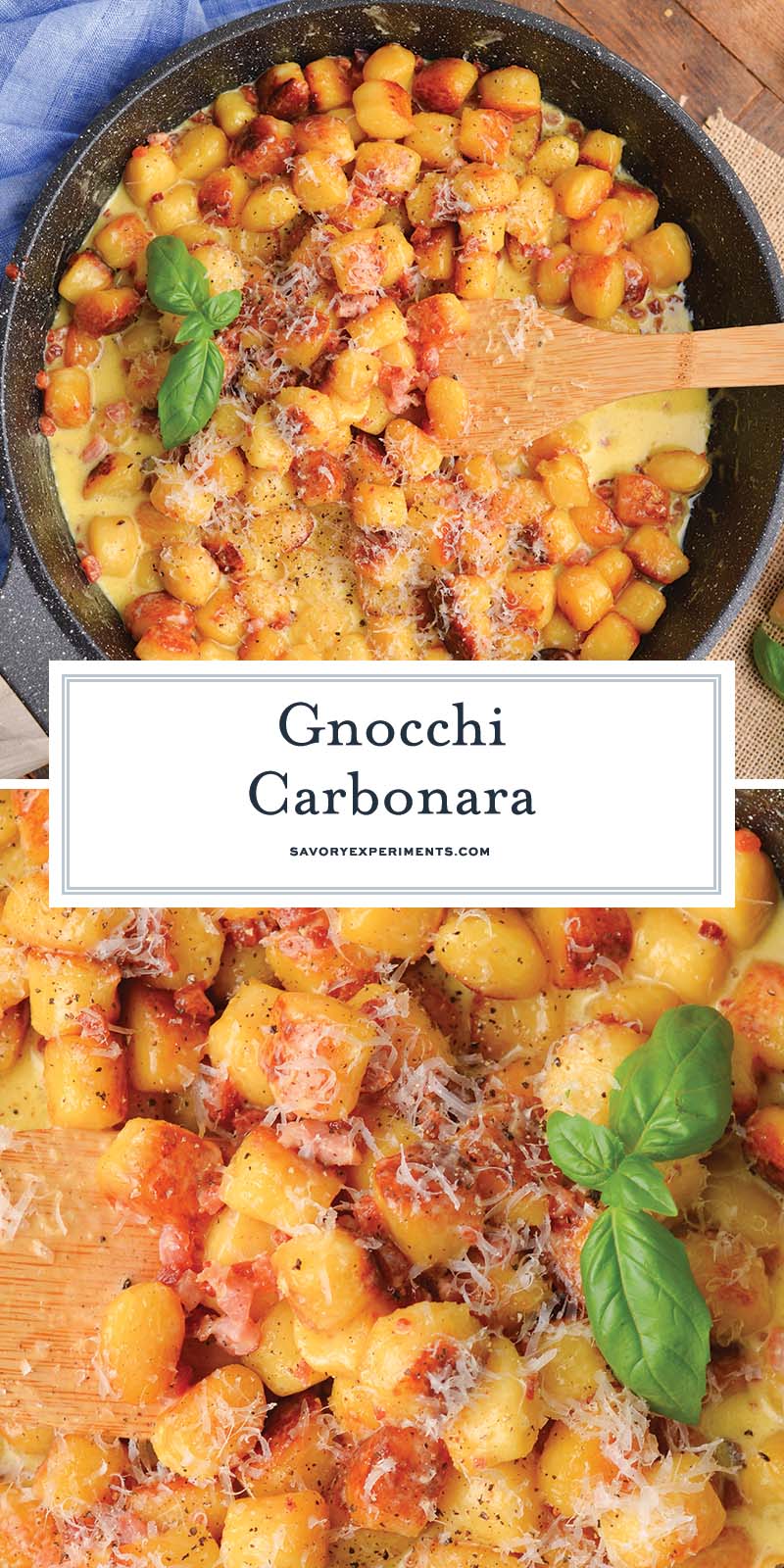 Other Italian-Inspired Recipes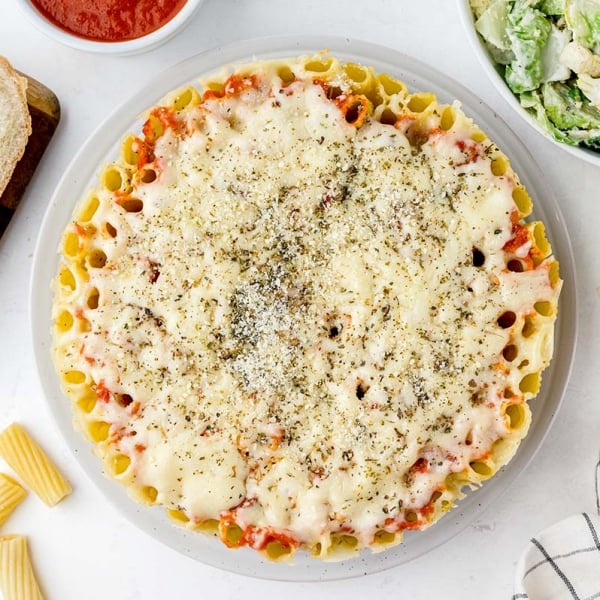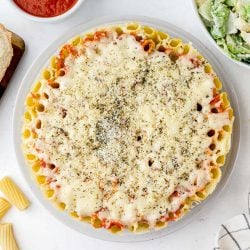 Honeycomb Pasta Recipe
Honeycomb Pasta is a new twist on an old classic. Ziti smothered in marinara and cheese, but in cake form! Serve with a side of Italian sausage or meatballs.
See The Recipe!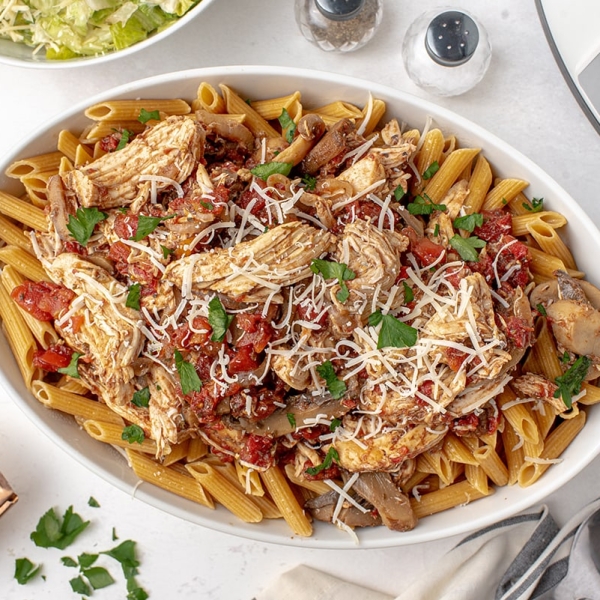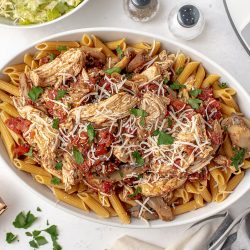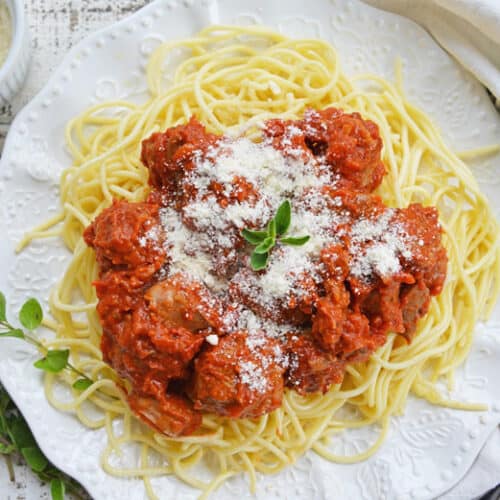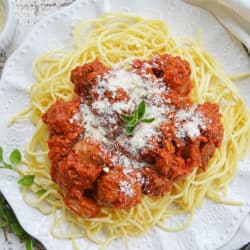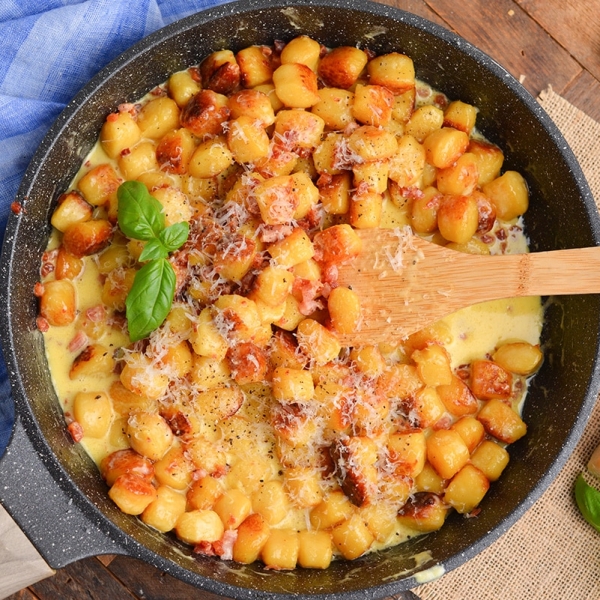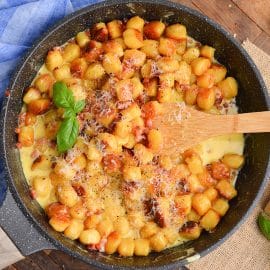 Gnocchi Carbonara
This Gnocchi Carbonara recipe takes fluffy gnocchi and coats it with a creamy sauce of butter and parmesan, dotted with crispy pancetta!
Ingredients
3

large egg yolks

3/4

heavy cream

3/4

cup

pecorino romano cheese

, plus more for topping 2 tablespoons extra virgin olive oil

1

pound

gnocchi dumplings

4-8

ounces

pancetta*

, chopped
Instructions
In a mixing bowl or measuring cup, whisk together the egg yolks, heavy cream and pecorino romano cheese. Set aside.

In a large frying pan, heat the olive oil over medium heat. When hot, add the gnocchi in as much of single layer as you can. Turn to brown all sides, approximately 5-6 minutes.

Using a slotted spoon, remove the gnocchi to a plate.

Add the pancetta to the pan, browning well. Using a slotted spoon, remove the panetta to a plate or bowl, leaving behind the rendered fats.

Return the gnocchi to the pan and toss in hot pancetta fat.

Turn off the heat and quickly pour in the tempered egg mixture, tossing and using residual heat to cook the sauce and melt the cheese. Top with several grinds of fresh black pepper.

Serve immediately.

If you've tried this recipe, come back and let us know how it was in the comments or star ratings.
Nutrition
Calories:
279
kcal
,
Carbohydrates:
28
g
,
Protein:
11
g
,
Fat:
14
g
,
Saturated Fat:
6
g
,
Polyunsaturated Fat:
2
g
,
Monounsaturated Fat:
5
g
,
Trans Fat:
0.02
g
,
Cholesterol:
123
mg
,
Sodium:
536
mg
,
Potassium:
58
mg
,
Fiber:
2
g
,
Sugar:
0.1
g
,
Vitamin A:
190
IU
,
Calcium:
161
mg
,
Iron:
3
mg