What if I told you that you could make homemade Egg Drop Soup just as easy as ordering it from your favorite Chinese take out restaurant? It's true! Keep reading to find out how easy it is.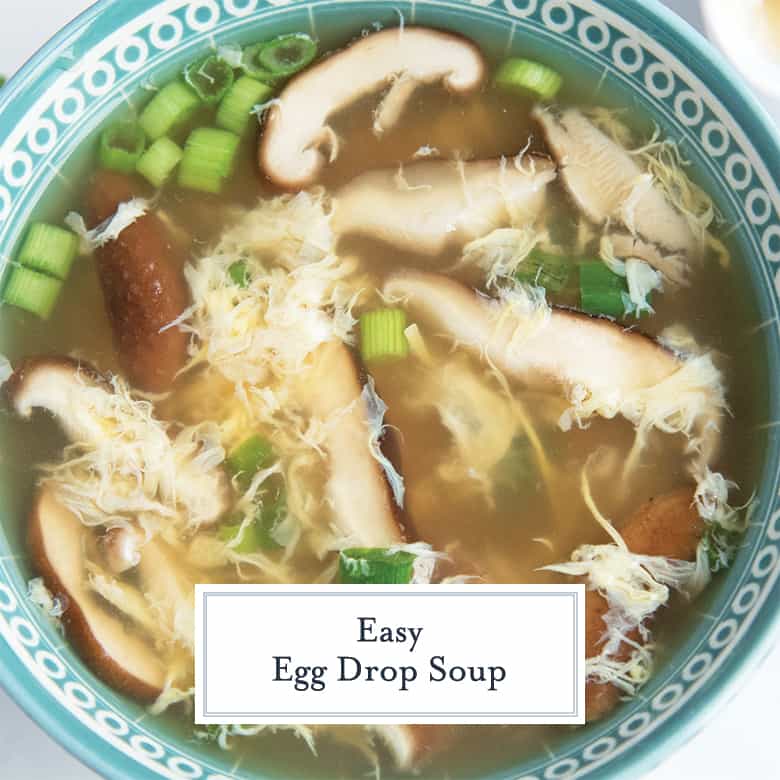 This Chinese Egg Drop Soup is the BEST! It's quick and easy to make, making it perfect for a quick lunch or starter for dinner. Its made in only 15 minutes!
It is one of many folks favorite items to order at a Chinese food restaurant, whether they are grabbing take-out or dining in. Egg Drop Soup.
While I love Chinese Dumplings and I'm always in the mood for fried rice, I can't order take out without getting a cup of my favorite soup! But I can't be ordering takeout every day, so I figured it was high time to create my own recipe!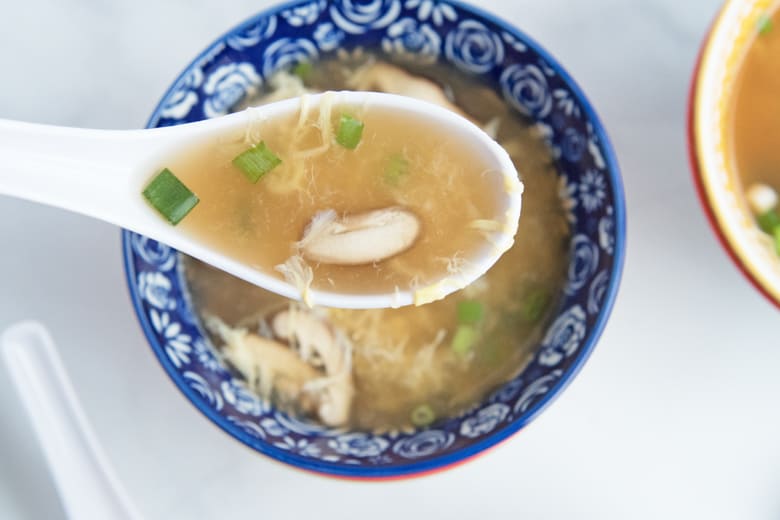 What is egg drop soup?
The mysteries surrounding it are vast, but ultimately, it is one of the most simple and straightforward recipes you can get. Broth. Seasonings. Egg.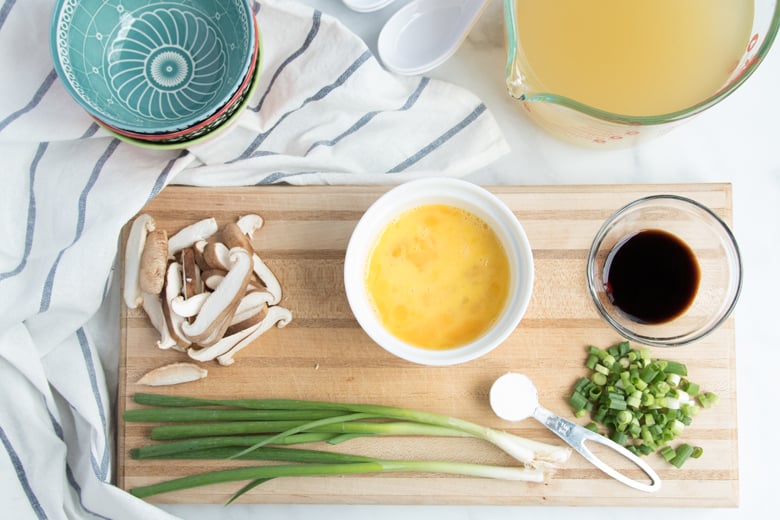 So how do they get that beautifully wispy egg in a simple egg drop soup? Whisking! The trick is to whisk the egg before adding so you don't have separated whites and yolks and to whisk while you add it to the broth to create tony little strands as opposed to one large poached egg.
Some recipes are nothing but broth and egg with a touch of soy sauce, but I like to add a little more to mine. I also happen to love a good miso soup, which commonly has thinly sliced mushrooms, so I opted to include these in my Egg Drop Soup recipe.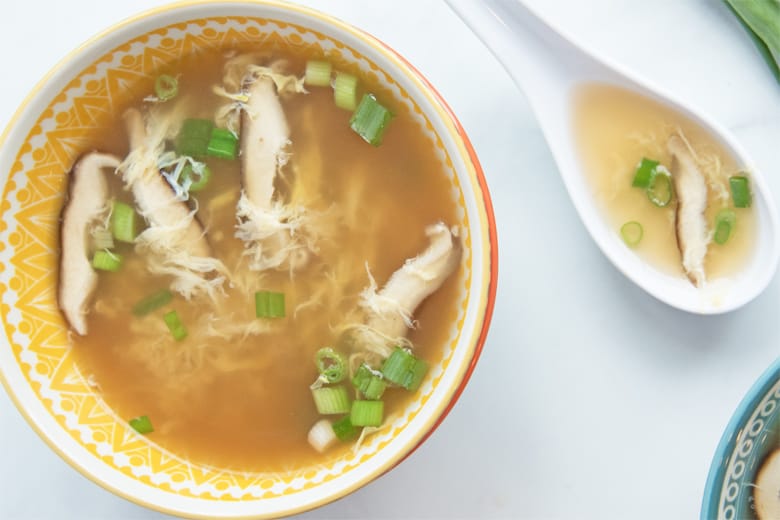 How to Make Egg Drop Soup
First, you need to heat the chicken broth and soy sauce in a large saucepan.
Once the broth is hot, ladle a small amount of it into a small bowl. Whisk with one teaspoon of cornstarch, then pour the entire mixture back in the saucepan.
If you'd like to, add sliced mushrooms and scallions to the chicken stock, and allow to simmer long enough for the vegetables to soften.
While continually stirring, slowly pour in the beaten eggs.
Paired with mild scallions and white pepper to not speckle the broth, this is a winning homemade egg drop soup!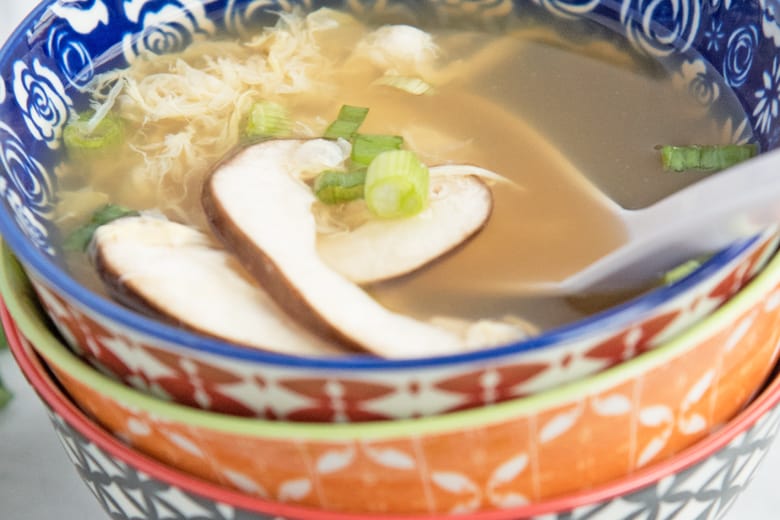 Can egg drop soup be frozen?
I don't recommend freezing this particular recipe. The mushrooms and scallions won't reheat properly, and you'll end up with a wonky soup. The eggs might also get slimy when thawing.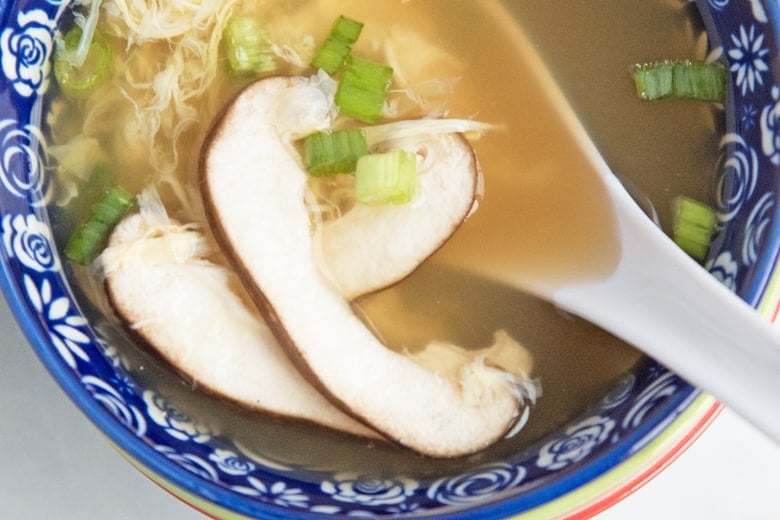 Can this soup be reheated?
Sure it can! You can either throw it in the microwave, or heat it up in a saucepan on the stove.
It is easy and perfect for meal prep or bringing to the office for lunch.
Why is my soup so yellow?
This might be because you didn't whisk your eggs. Make sure to whisk them well before adding to the hot broth, or else the white and yolk will be separated.
This soup should be a pale yellow color, so a little yellow is just fine!
If you want a super yellow hue for a stunning soup, whisk in a pinch of tumeric.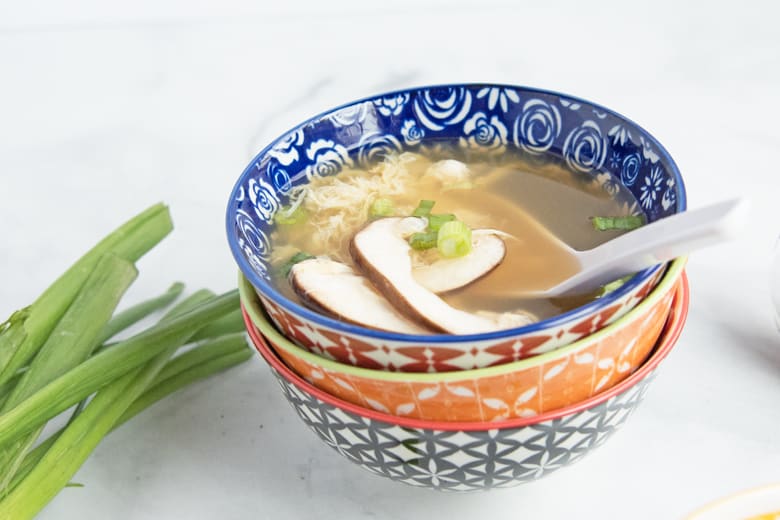 Why is my soup so thick?
You might have used too much cornstarch. Make sure that you only used 1 teaspoon and not 1 tablespoon. You can always add more broth or water to thin it out a little.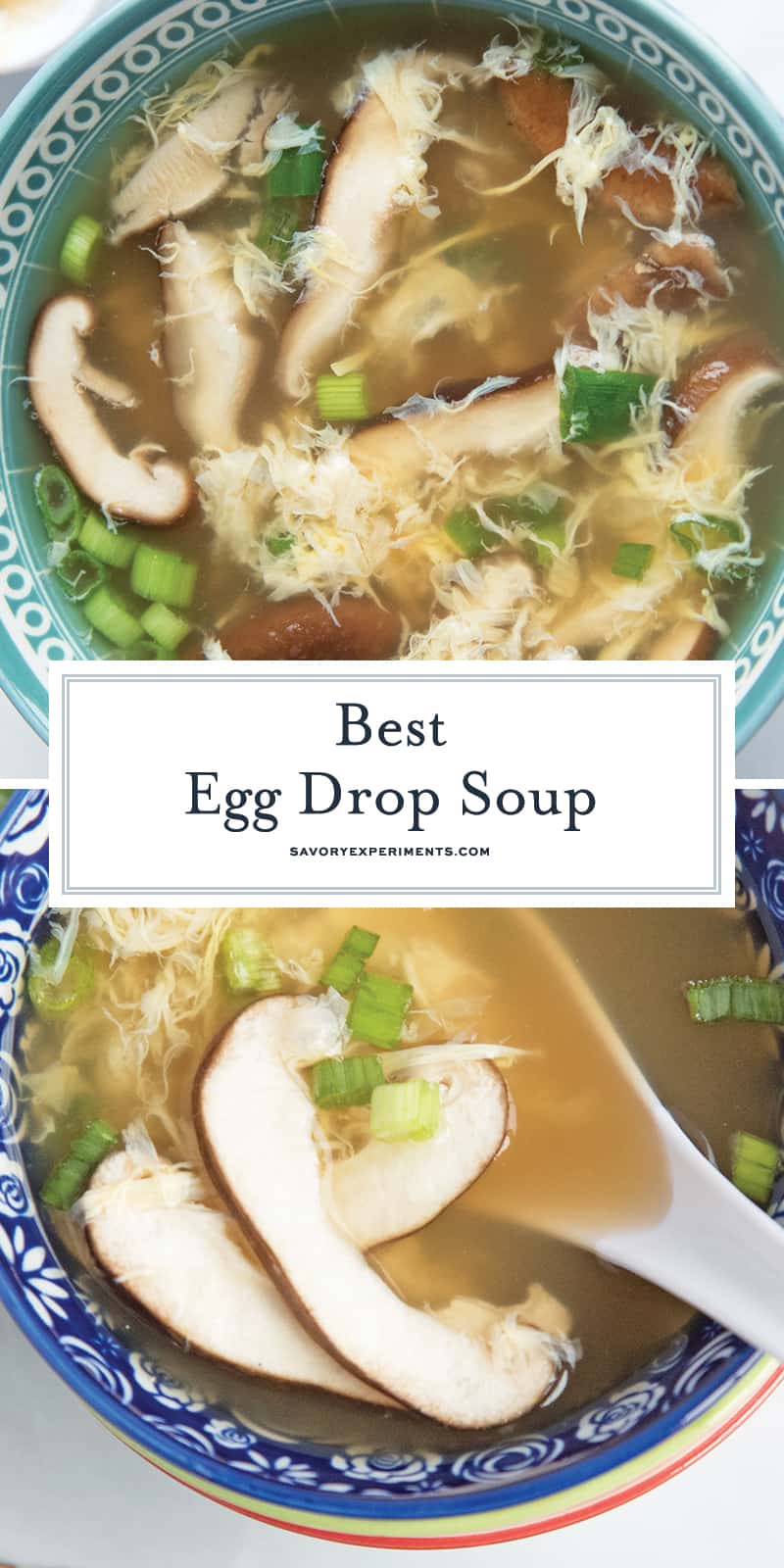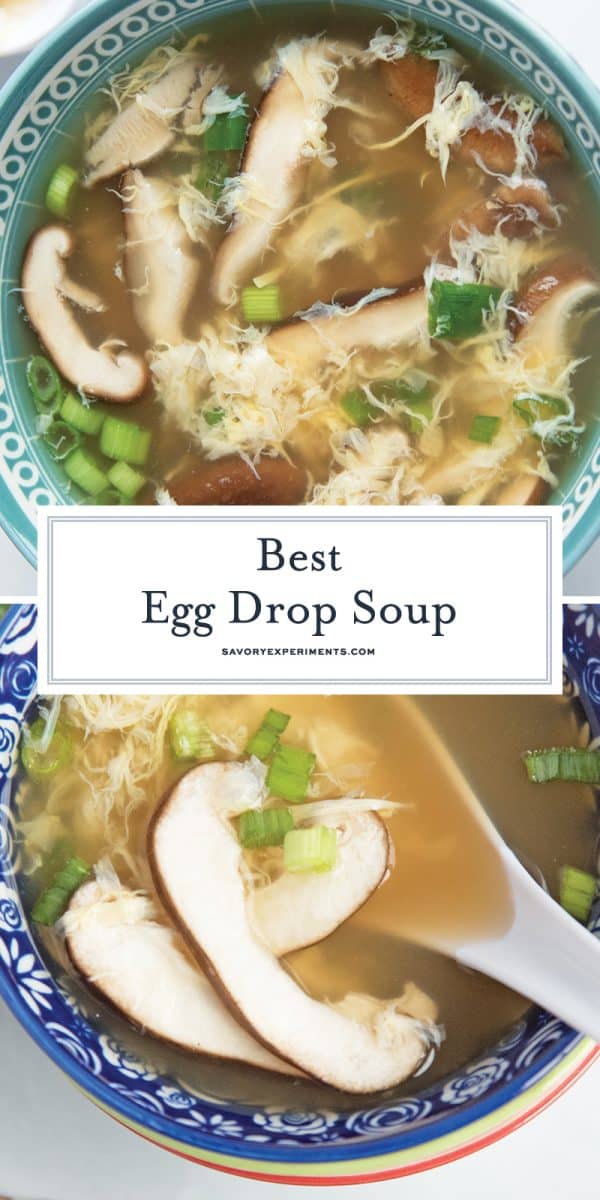 If you liked this simple Egg Drop Soup, you might also like these soup recipes:
Here are some of my other favorite Chinese recipes that would go well with this soup: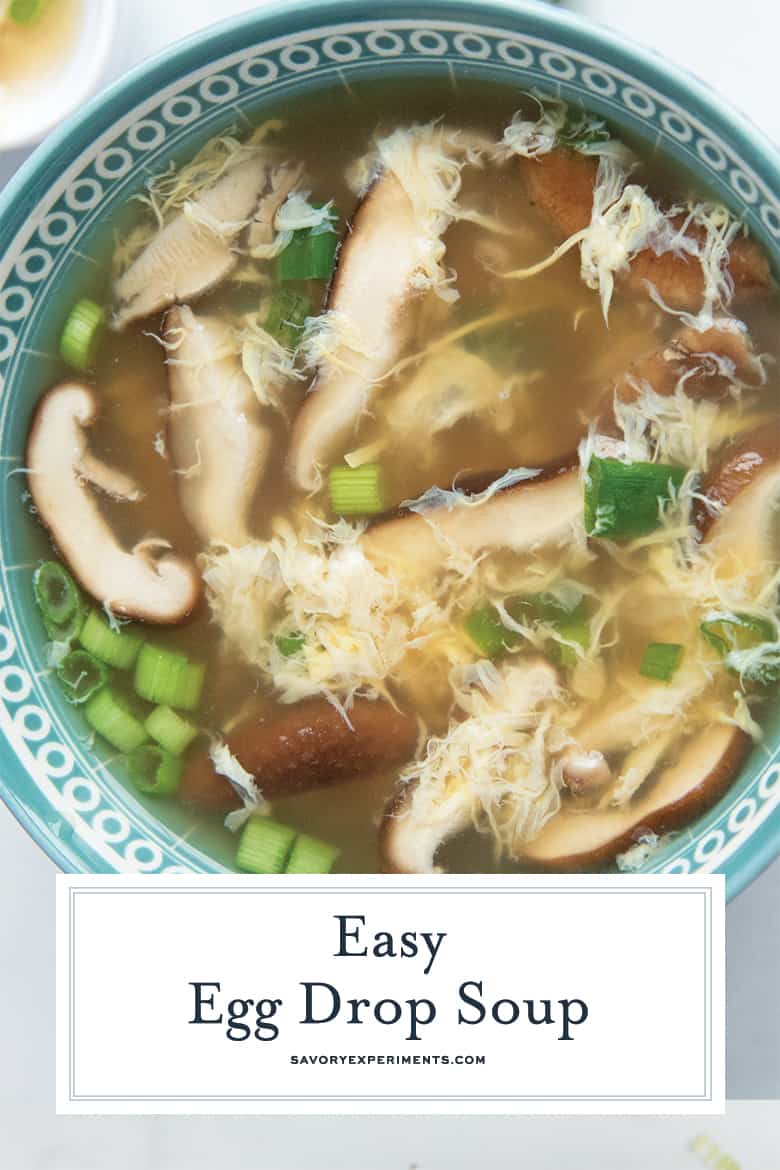 ---
---
Egg Drop Soup
This Chinese Egg Drop Soup is the BEST! It's quick and easy to make, making it perfect for a quick lunch or starter for dinner. It's made in only 15 minutes!
Instructions
In a large saucepan, heat chicken broth and soy sauce.

When hot, ladle out a small amount, about ¼ cup or less, and whisk with 1 teaspoon cornstarch. Whisk cornstarch mixture back into soup.

Add sliced mushrooms and scallions, allow to low simmer for 2 minutes, so they soften slightly.

While stirring, slowly pour in eggs. Since the mixture is hot, they should cook as soon as they hit the liquid creating wispy eggs.

Add a dash of white pepper and serve immediately.

Garnish with additional scallions, if desired.

If you've tried this recipe, come back and let us know how it was!
Nutrition
Calories:
57
kcal
|
Carbohydrates:
4
g
|
Protein:
5
g
|
Fat:
3
g
|
Saturated Fat:
1
g
|
Cholesterol:
82
mg
|
Sodium:
1146
mg
|
Potassium:
305
mg
|
Fiber:
1
g
|
Sugar:
1
g
|
Vitamin A:
243
IU
|
Vitamin C:
19
mg
|
Calcium:
35
mg
|
Iron:
1
mg