I've got to admit it, recipes that use rotisserie chicken are one of my favorite secret kitchen hacks for making delicious food fast! This 20-Minute Chicken Wild Rice Soup is one of my all time favorite recipes to make with rotisserie chicken.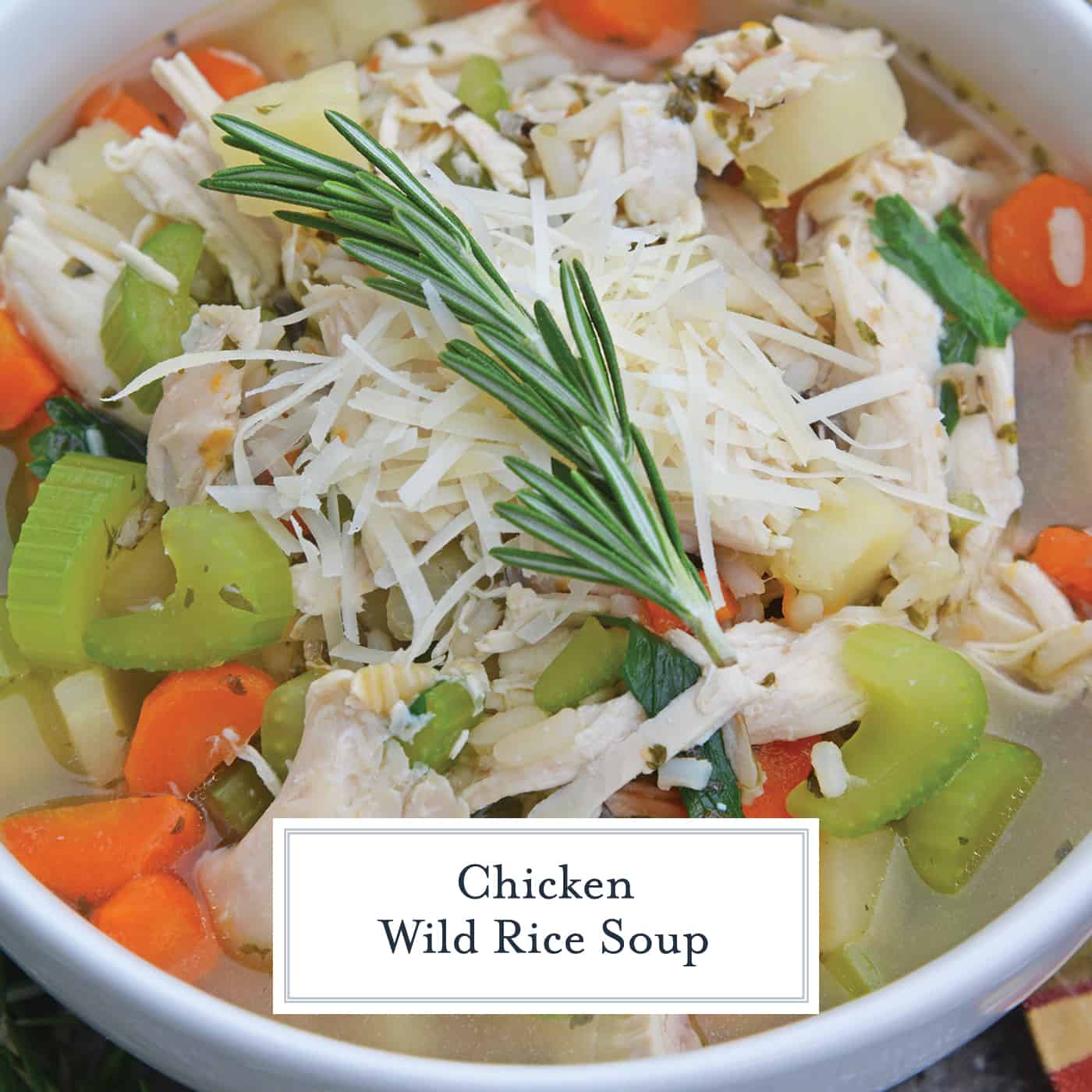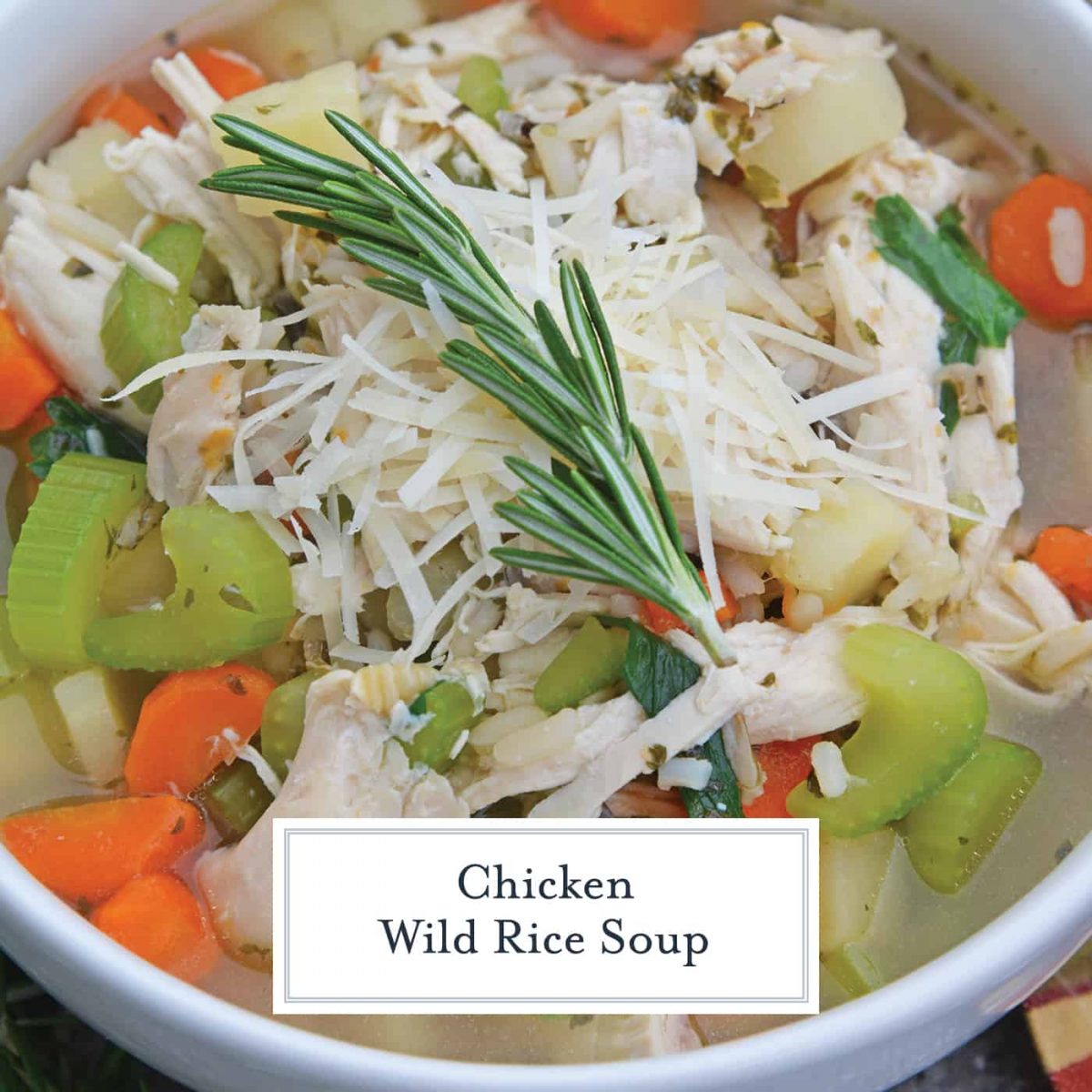 This 20-Minute Wild Rice Chicken Soup is an incredibly flavorful 20 minute meal made with two kitchen hacks that will make your life so much easier!
Savory, full-bodied soup in just 20 minutes? Surely I can't be serious. And don't call me Shirley. Ha! (I will blame my father and the movie Airplane for the joke.) Moving on!
But I am 100% being serious! I love finding ways to make getting dinner on the table a touch easier and these hacks are just the ticket to doing that. Flavorful soup in 20 minutes is possible people!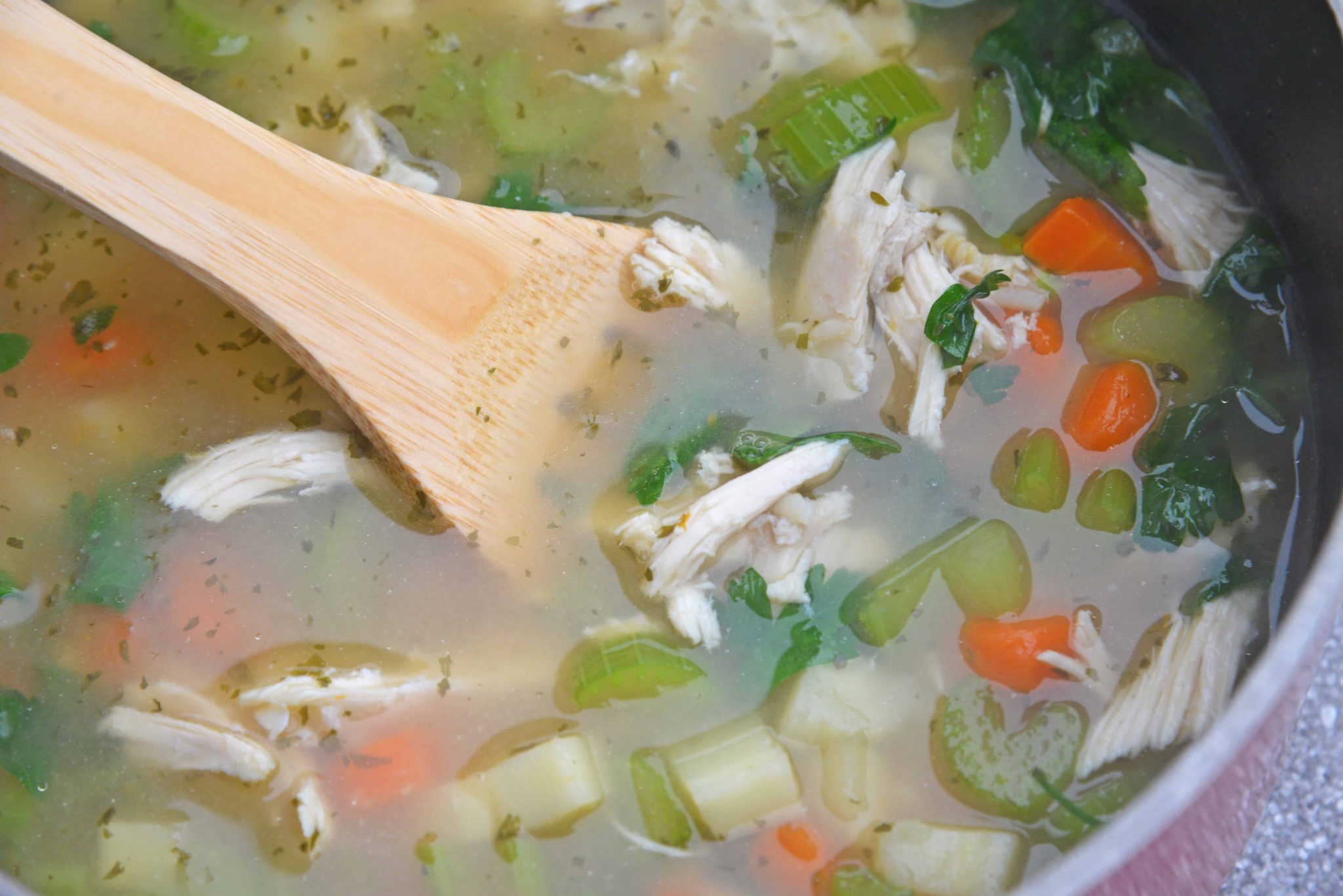 The first hack involves heading to the prepared food section of your grocery store. You are looking for those delicious smelling rotisserie chickens.
You know, I've never actually bought one to take home and eat for a meal, but I buy them almost every week to incorporate into other dishes.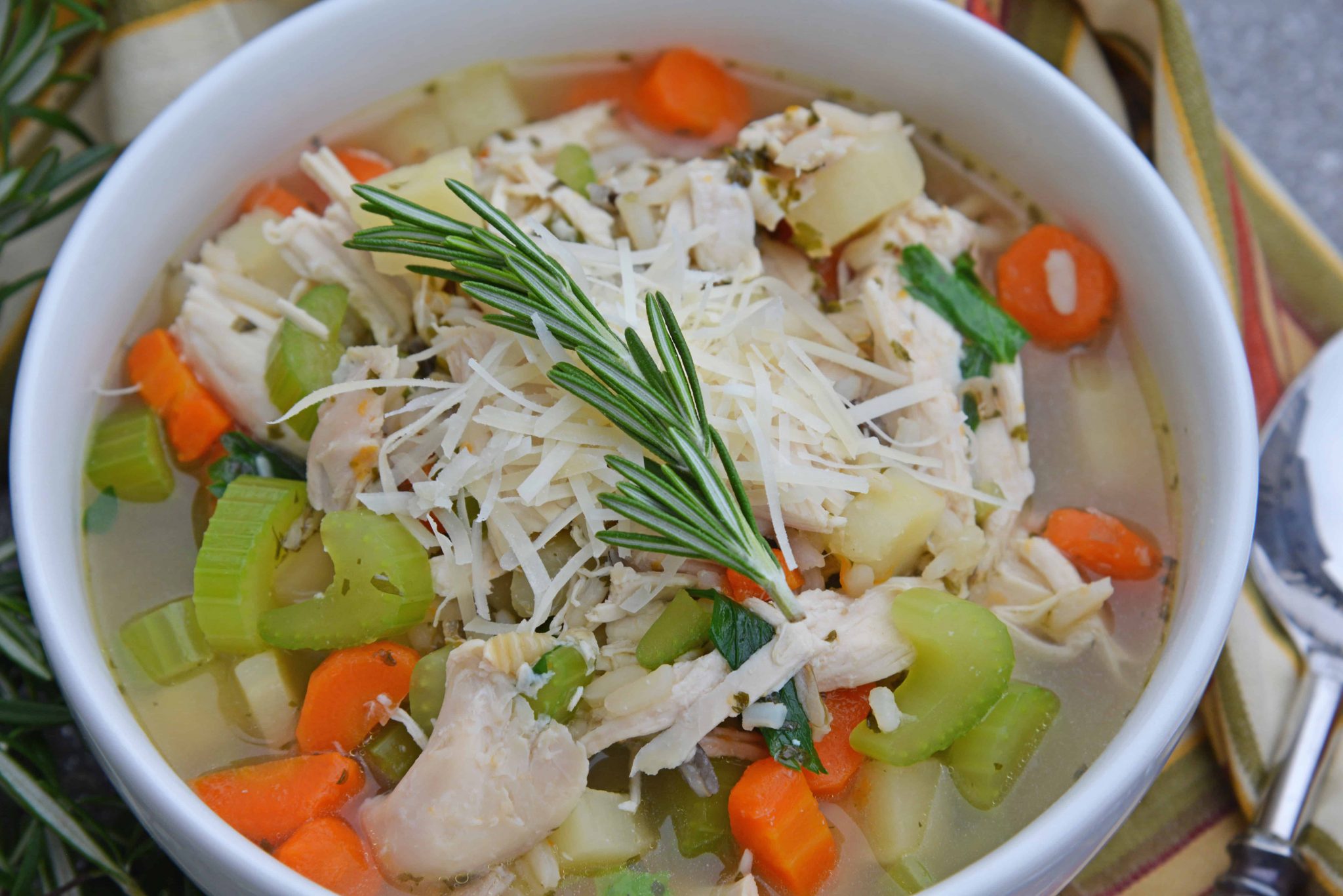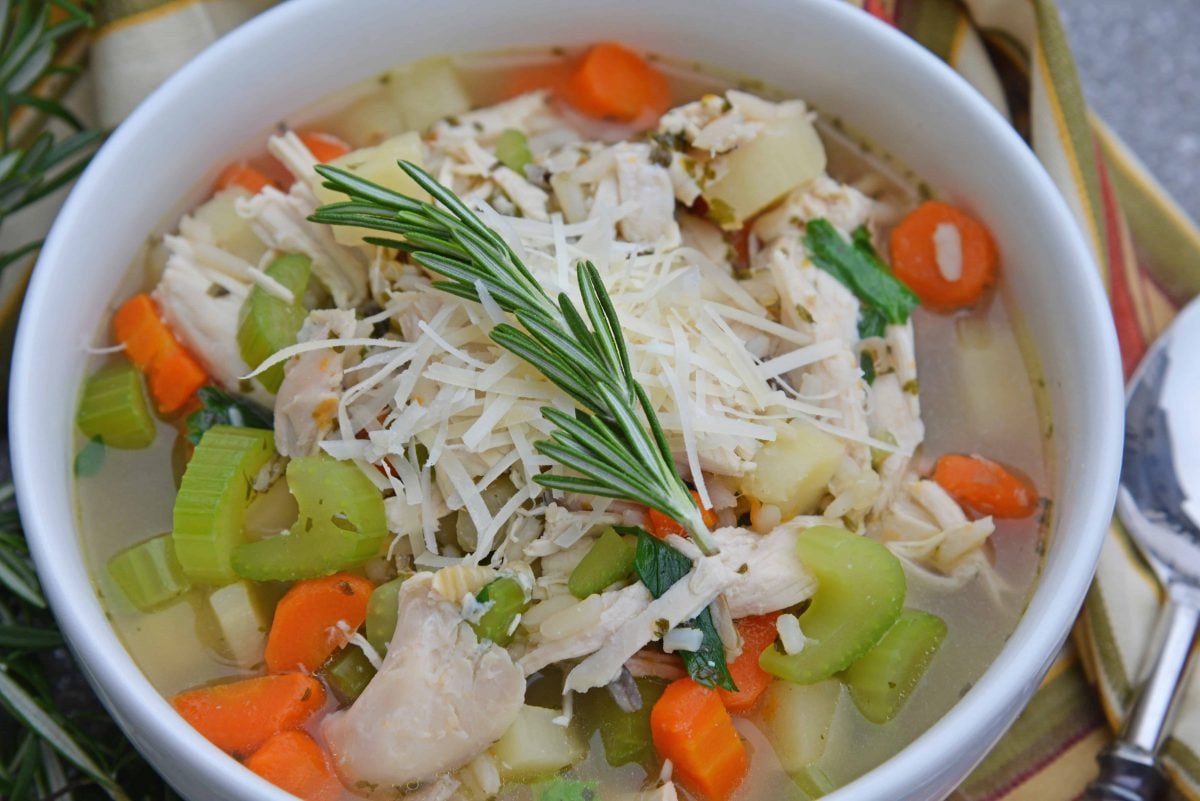 Recipes using rotisserie chicken end up not only being quicker but typically more flavorful than cooking the chicken at home. Plain is fine, but if your store sells a garlic herb flavor, or something similar, that one will totally rock your soup world!
This recipe calls for you to remove the skin as it would get a bit rubbery if mixed into the soup.
My recommendation is to eat it as a flavorful snack then and there or to fry it in a bit of canola oil in a skillet and crisp it up. Drain it on some paper towels and serve it alongside your soup.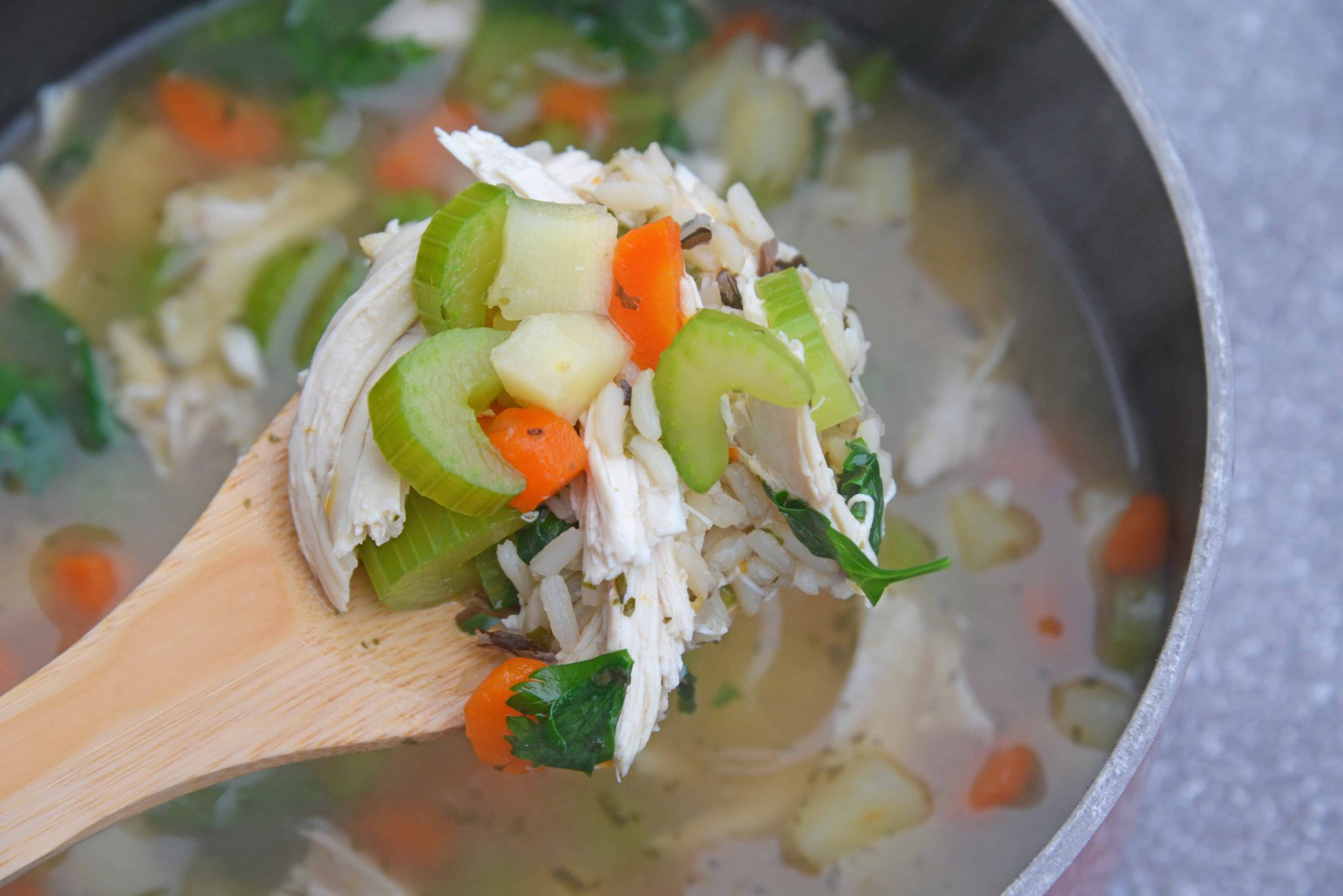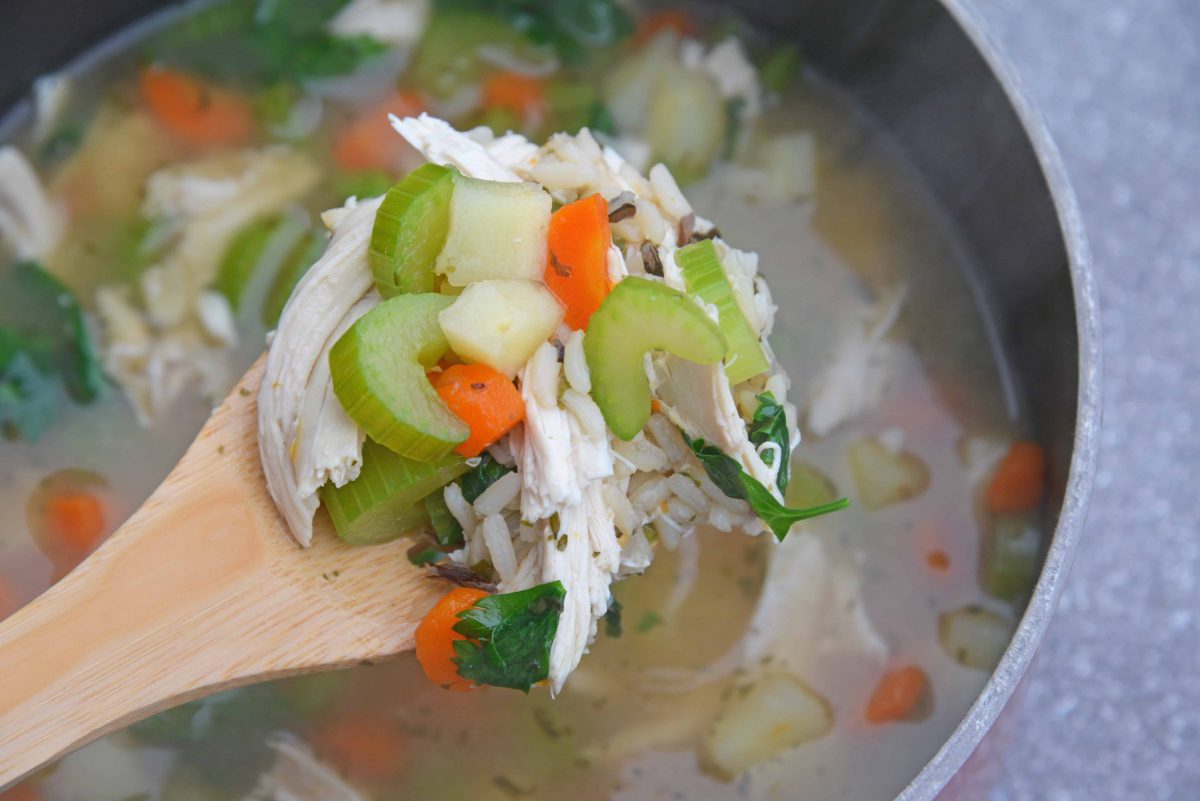 The second hack is using a wild rice mix with herbs and seasoning already in the mix. This leaves no need for poring through your spices at home and then measuring everything out to put the soup together.
The last thing that makes my chicken wild rice soup really stand out against the rest is not really a hack, but a secret that I am now sharing with you. I add parsnips. They're delicious.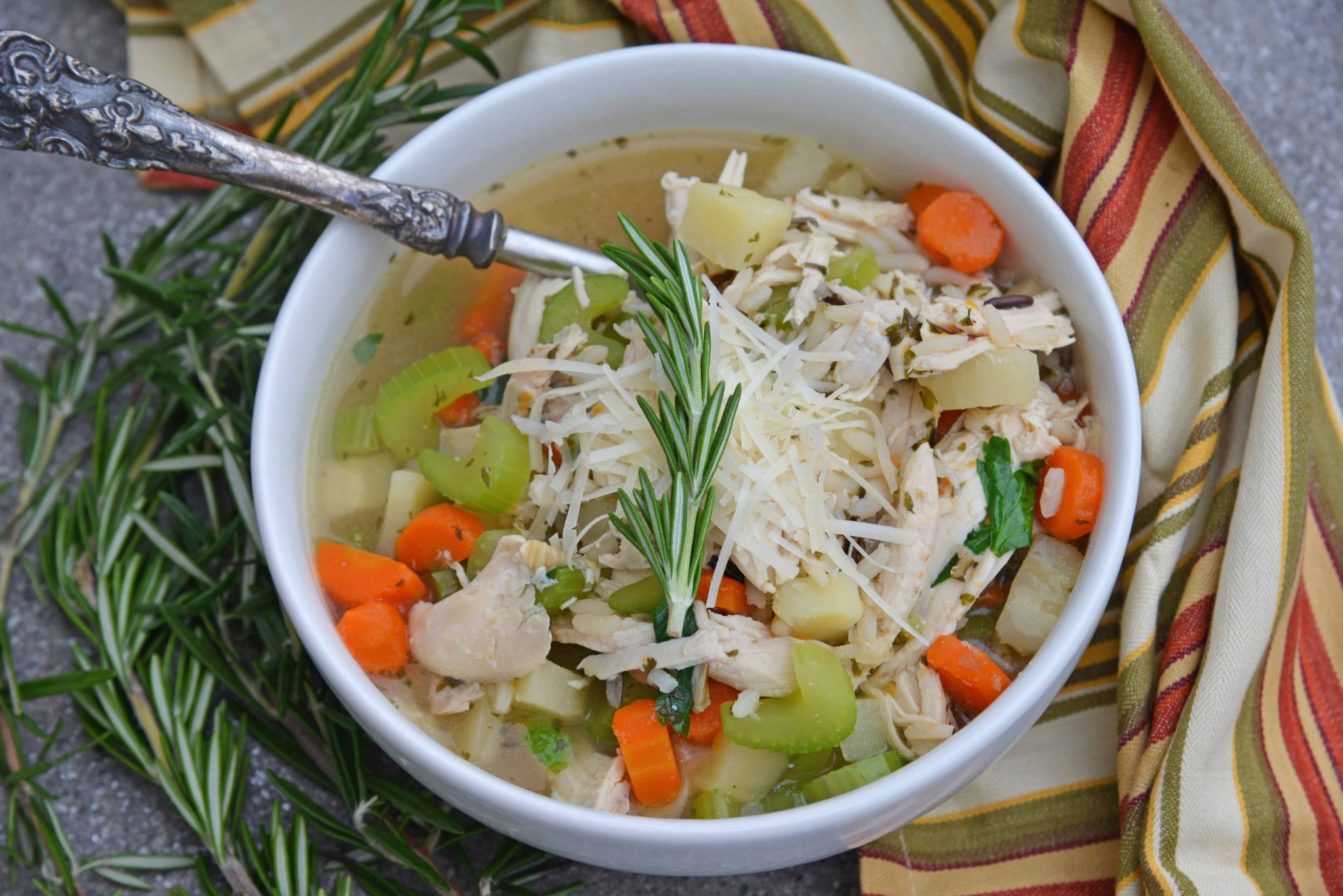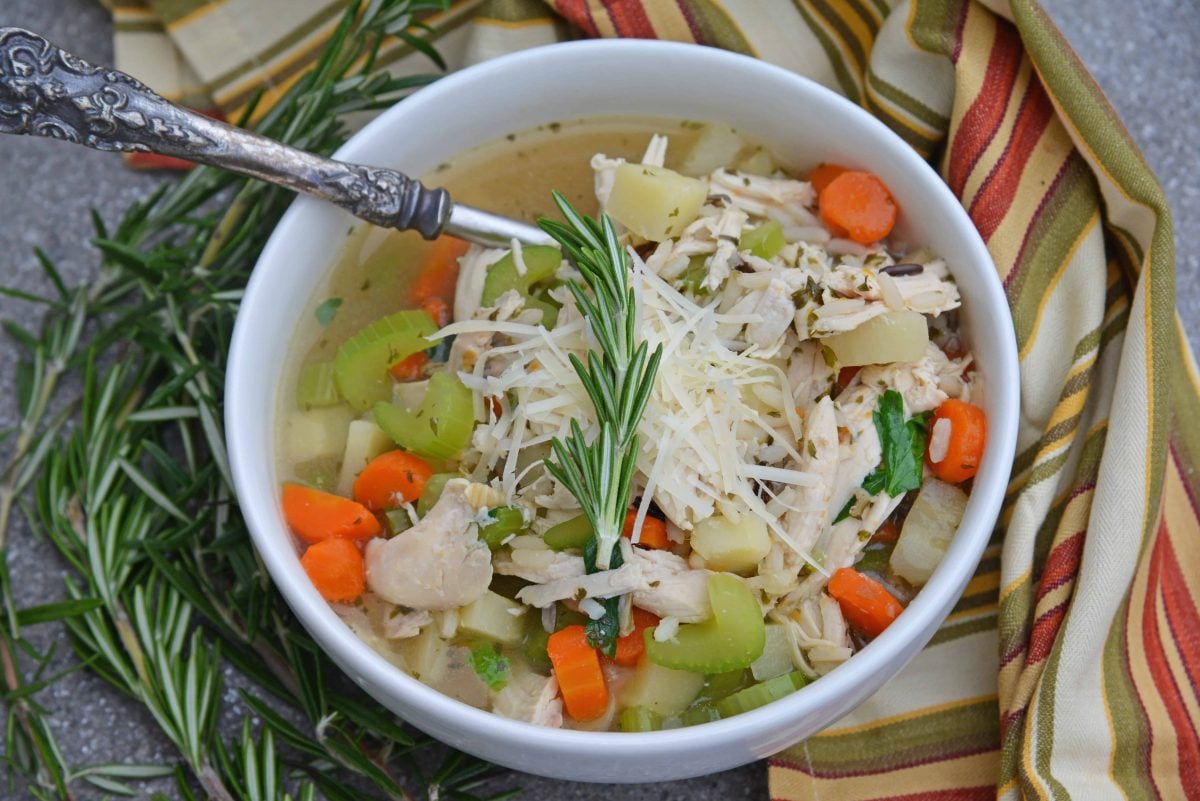 Why more people don't cook with parsnips is beyond me. I'm always amazed at how many folks have never even eaten a parsnip or know what they look like.
They are a delicious root vegetable related to carrots (in this recipe) and parsley (also in this recipe!) In fact, they kind of look like a white carrot.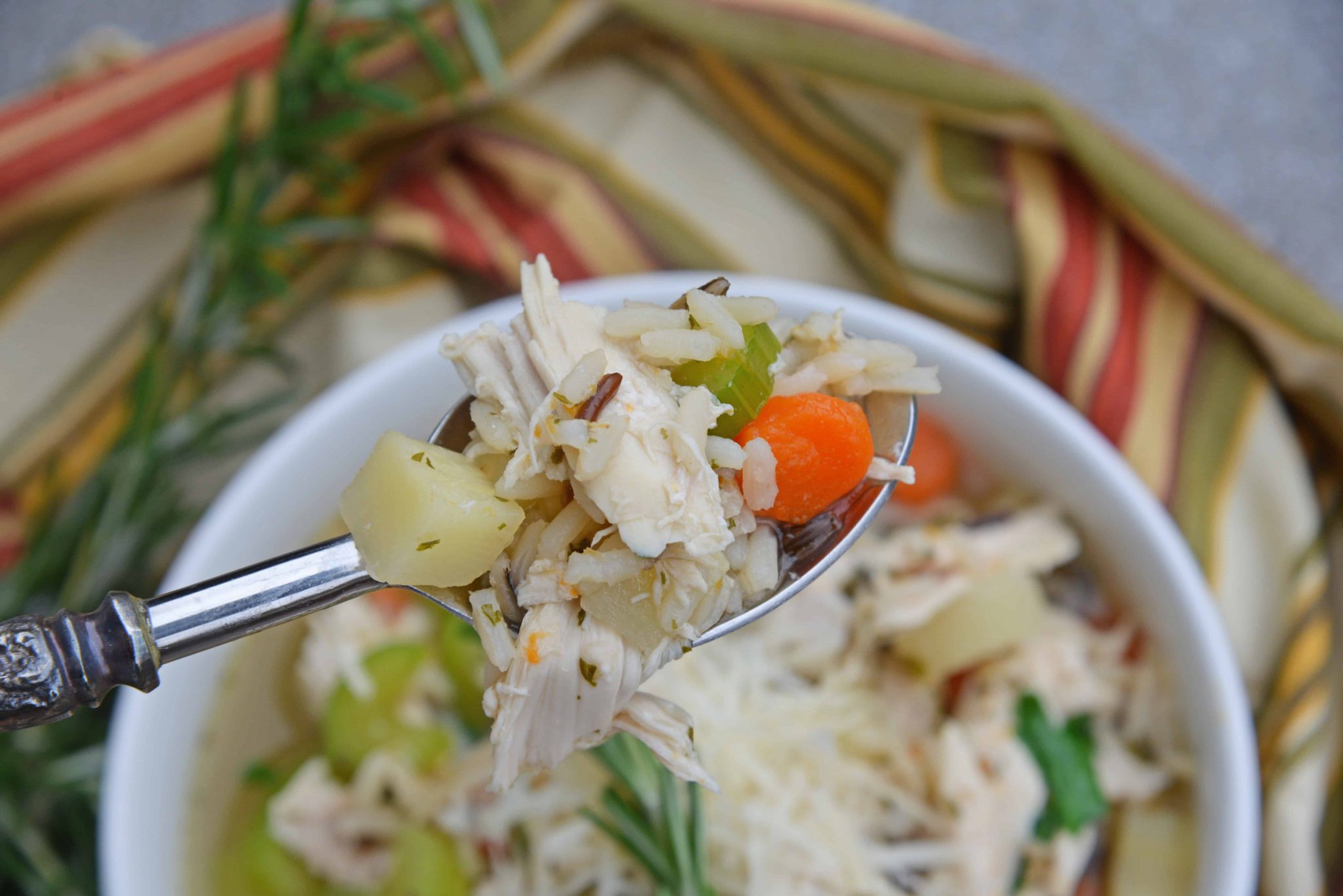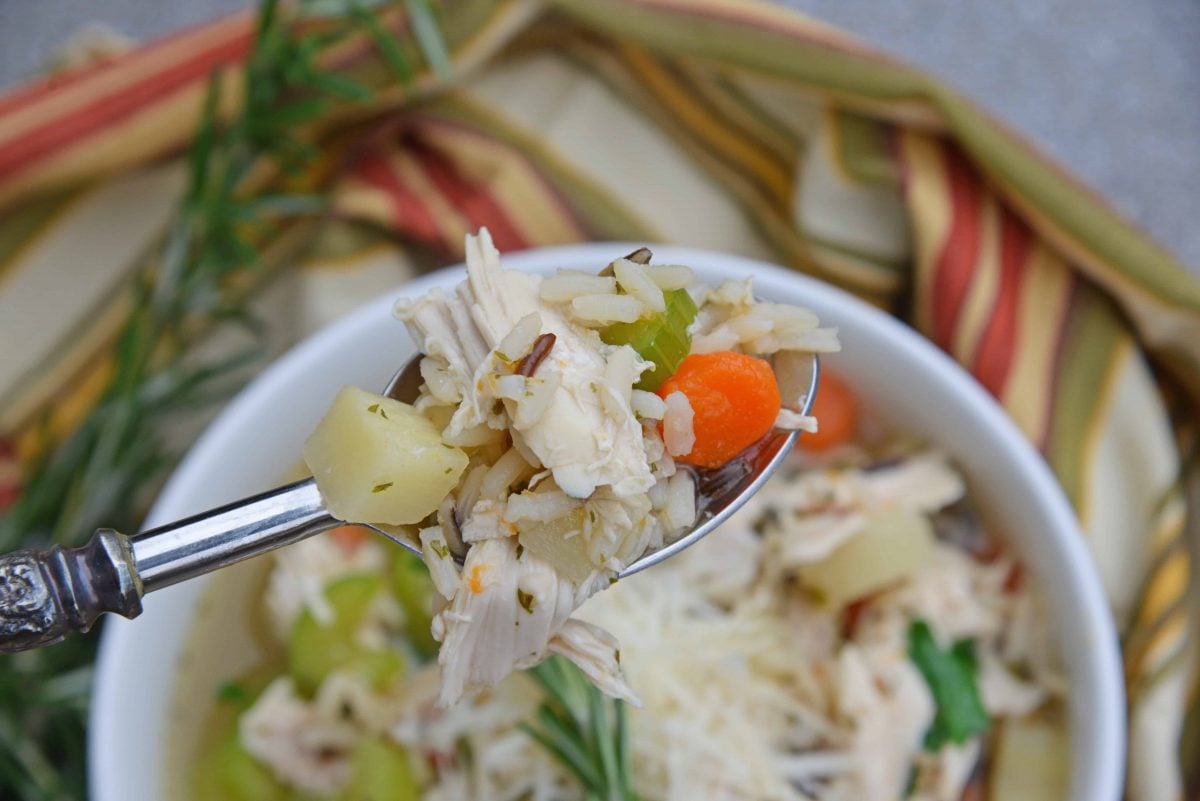 Parsnips have a creamy flesh and a sweet flavor which will make this soup stand out from the run of the mill chicken and rice soups you may have had the past.
Between the ease of preparation by using the rotisserie chicken and wild rice mix plus the simple addition of parsnips, I promise this 20-minute Chicken Wild Rice Soup will become your favorite chicken and rice soup!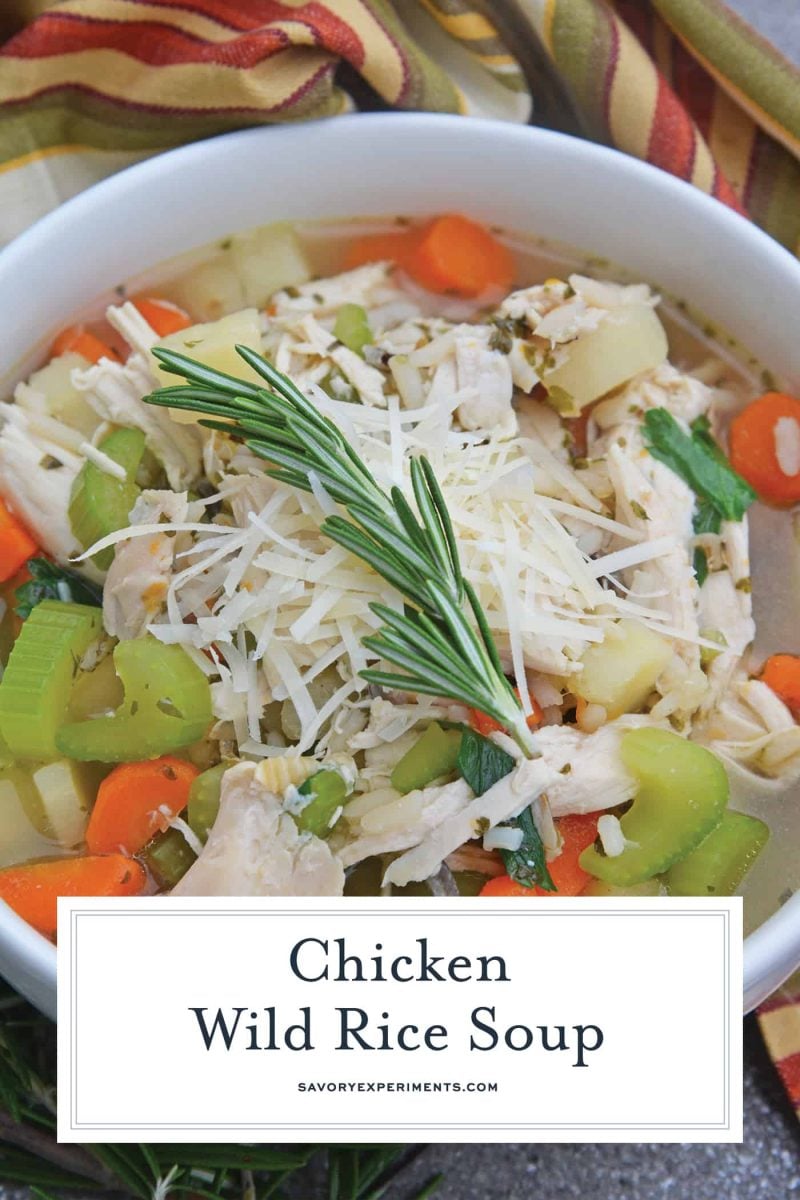 You may like these other soups: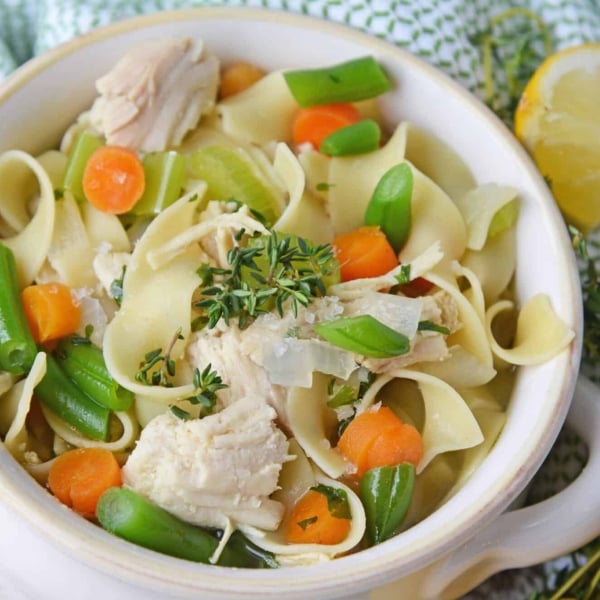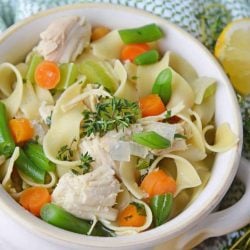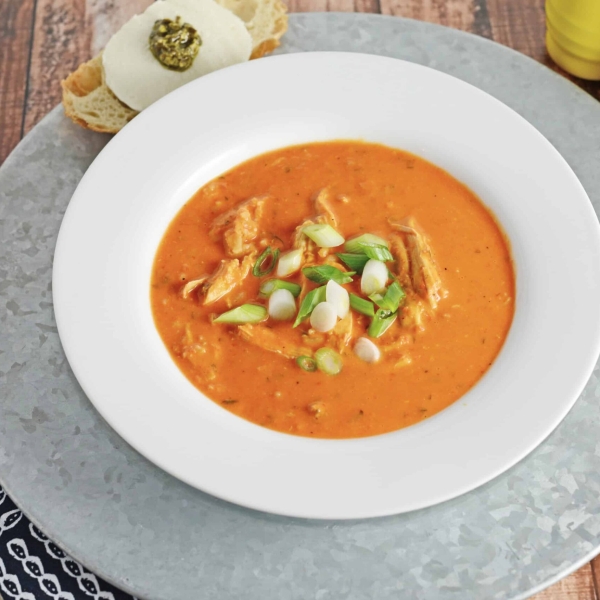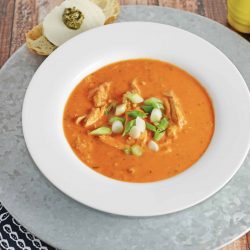 10-Minute Roasted Red Pepper and Hummus Soup
Gluten and dairy free soup made from pre-cooked items, only takes 10 minutes. Sub tofu for vegan version.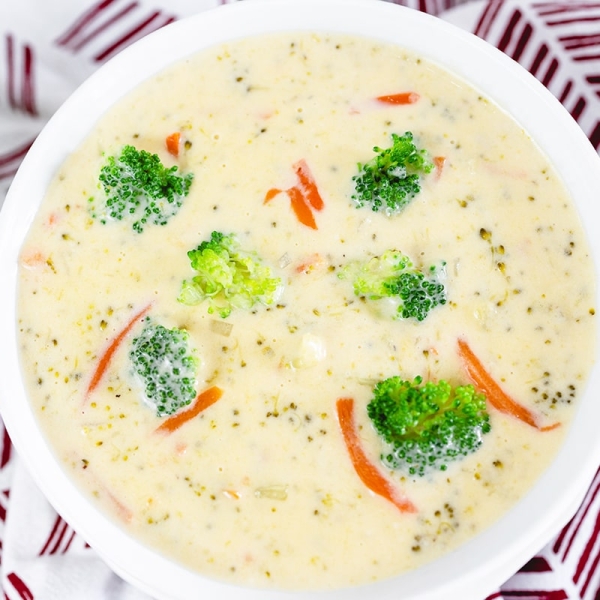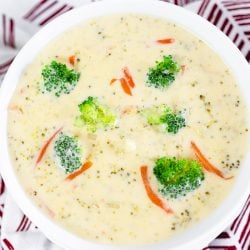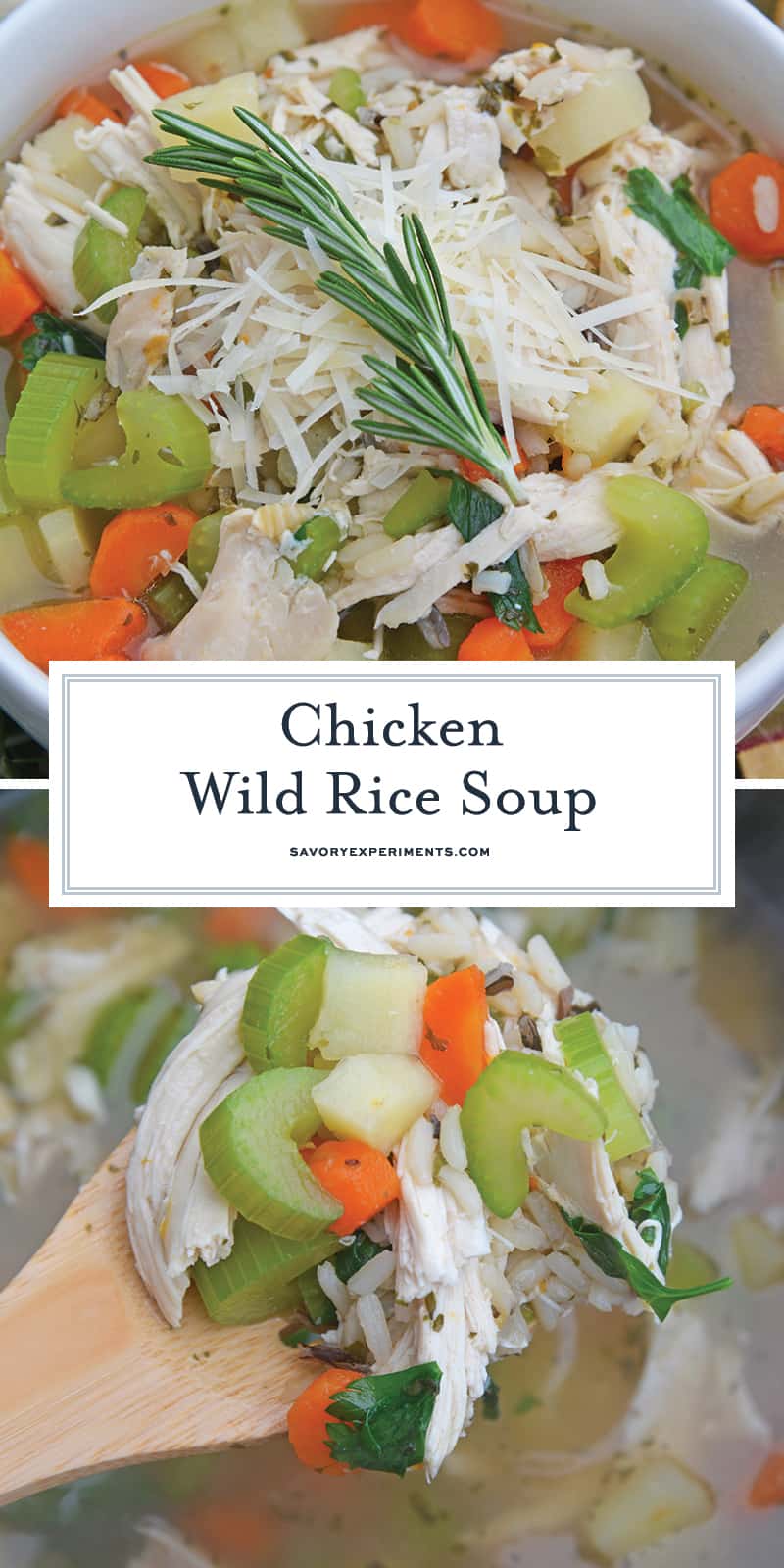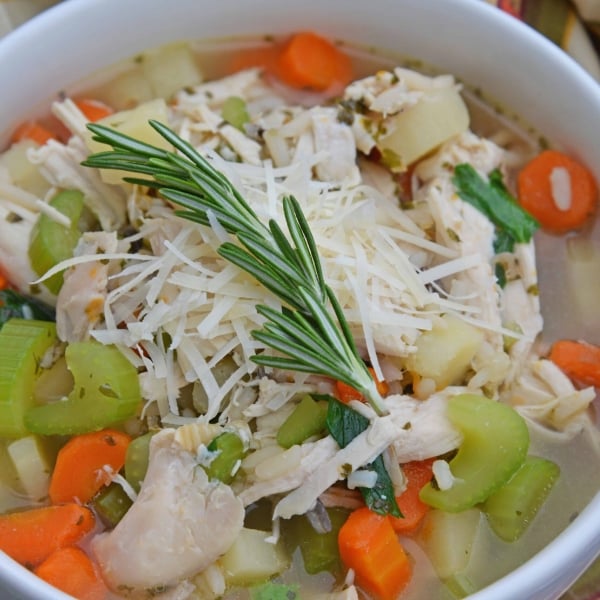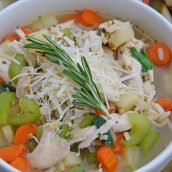 20-Minute Chicken Wild Rice Soup
This 20-Minute Wild Rice Chicken Soup is an incredibly easy but flavorful 20 minute meal made with two kitchen hacks that will make your life so much easier! It'll become a winter soup staple in your home!
Instructions
In a large pot or Dutch oven, heat chicken broth.

Add chopped carrots and parsnips. Bring to a low simmer for 5 minutes. Add celery and simmer for 3 minutes longer.

Finally, add chicken, long grain wild rice, Kosher salt, lemon juice and flat leaf parsley. Simmer for 5 more minutes.

Serve with a topping of parmesan cheese.

If you've tried this recipe, come back and let us now how it was!
Nutrition
Calories:
508
kcal
,
Carbohydrates:
80
g
,
Protein:
25
g
,
Fat:
10
g
,
Saturated Fat:
2
g
,
Cholesterol:
42
mg
,
Sodium:
2408
mg
,
Potassium:
1316
mg
,
Fiber:
10
g
,
Sugar:
8
g
,
Vitamin A:
5455
IU
,
Vitamin C:
52.8
mg
,
Calcium:
105
mg
,
Iron:
3.7
mg