If you need a delicious dessert that is easy to make, this EASY Cherry Poke Cake recipe is it! Simply poke holes in a cake, fill with cherry jello and top with frosting!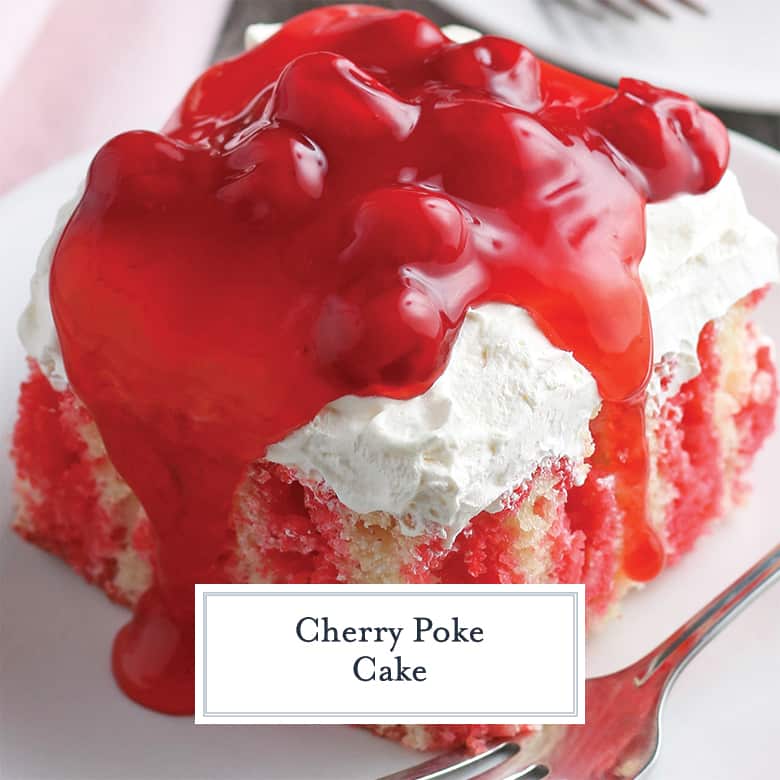 Poke cakes are so fun, and this Cherry Poke Cake is no exception. Easier to make than just a white cake with cherry filling, and more delicious too!
As I've mentioned before, I am not much of a cake or decorator. Although my Bunny Butt Cupcakes and No Bake Horse Cookies did turn out pretty cute if I do say so myself!
While those desserts turned out great, I tend to stick to recipes that are easy to put together, and take little creativity. That's where poke cakes come in, specifically this Cherry Poke Cake.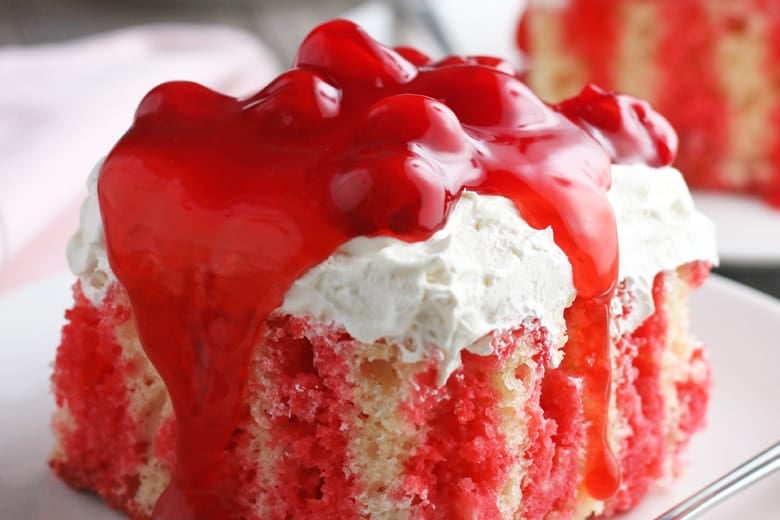 What is a poke cake?
Basically a poke cake is just a sheet cake with holes "poked" into it. Those holes are then filled with either jello or pudding and then chilled until it sets up. Top the cake with your favorite frosting and there you have it!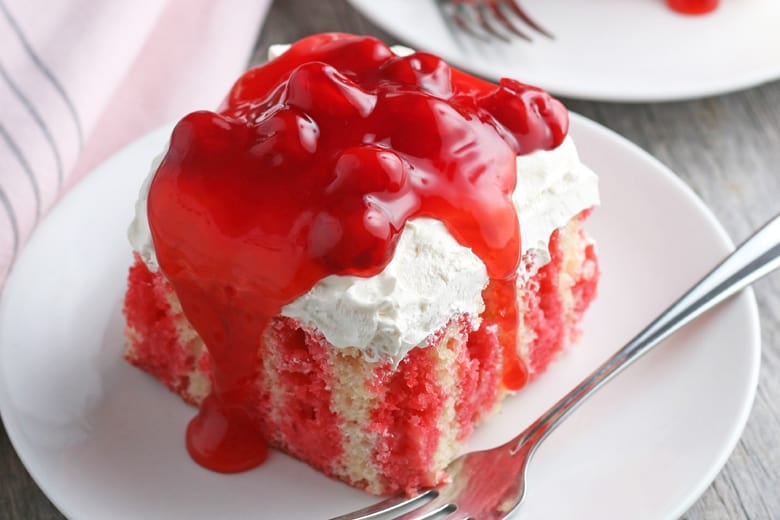 There are so many fun flavor combinations you can come up with. Just think about all of the different cake mix and JELLO flavors there are- the options are really endless.
And if you use a box cake mix and a box of JELLO or instant pudding, they are super easy to make too! It's a dessert recipe that the kids will have fun helping you make (especially the poking part!)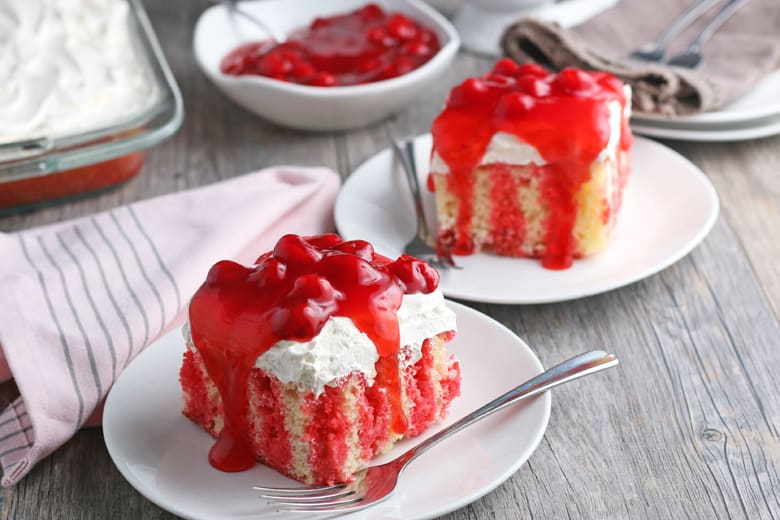 How to Make Cherry Poke Cake
I always like to start my poke cakes with a box cake mix. It's simple, I almost always have a box in the pantry and let's be honest, they are just plain GOOD! And also easy… let's not forget the easy part.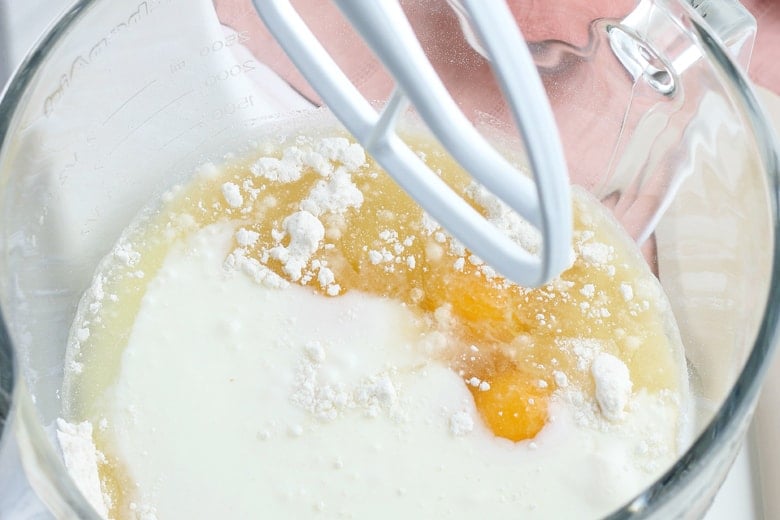 Our recipe takes boxed cake mix to another level by using buttermilk, vanilla extra and almond extract.
PRO TIP: Sift dry cake mix before mixing to prevent clumps and do not overmix cake batter. Overworked batter results in tough cake!
Next, prepare the cake in a 9×13 pan. Bake it and then while it is still hot, poke holes. Holes are where the JELLO mixture will go to the create the signature look and flavor of a poke cake, so the more, the better.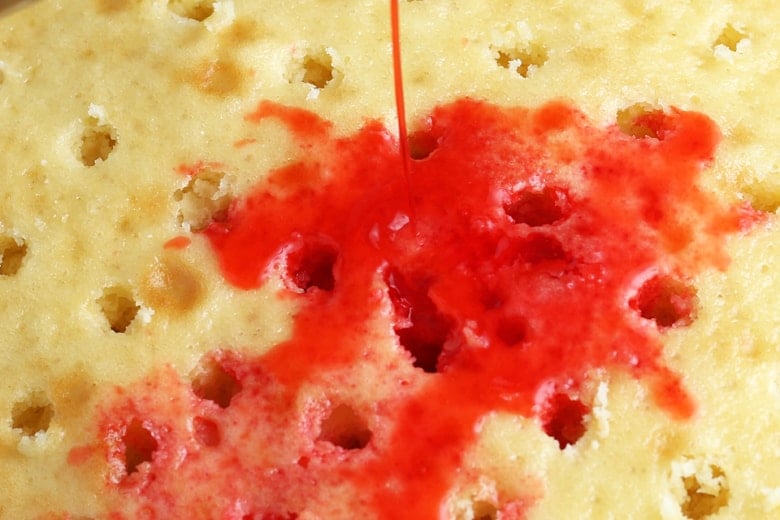 Hold off on making the JELLO mix until the cake comes out of the oven, you want it warm so it pours well, but not too cold so it start to set.
Refrigerate the cake for at least 3 hours or overnight. Without this step the JELLO won't adequately stick to the cake and it will be so hot it will melt the frosting.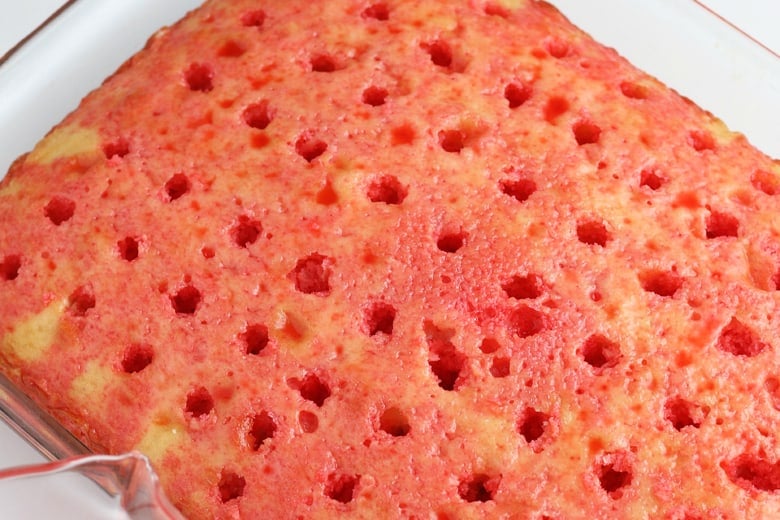 When ready, prepare the frosting and slather it on. This fluffy frosting uses whipped cream and marshmallow fluff and is super easy to make, but you can also use a canister of store bought frosting if you wish.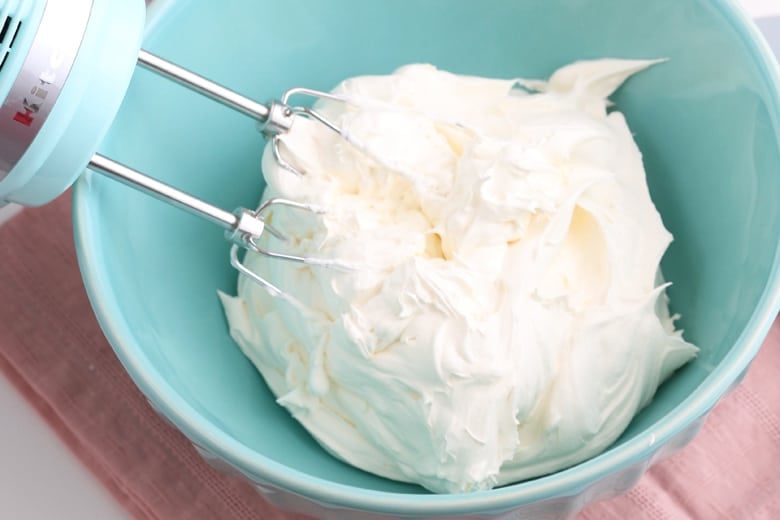 Lastly, we topped our cherry cake with canned cherry pie filling. Alternately, you can use fresh cherries, more whipped cream or sliced almonds.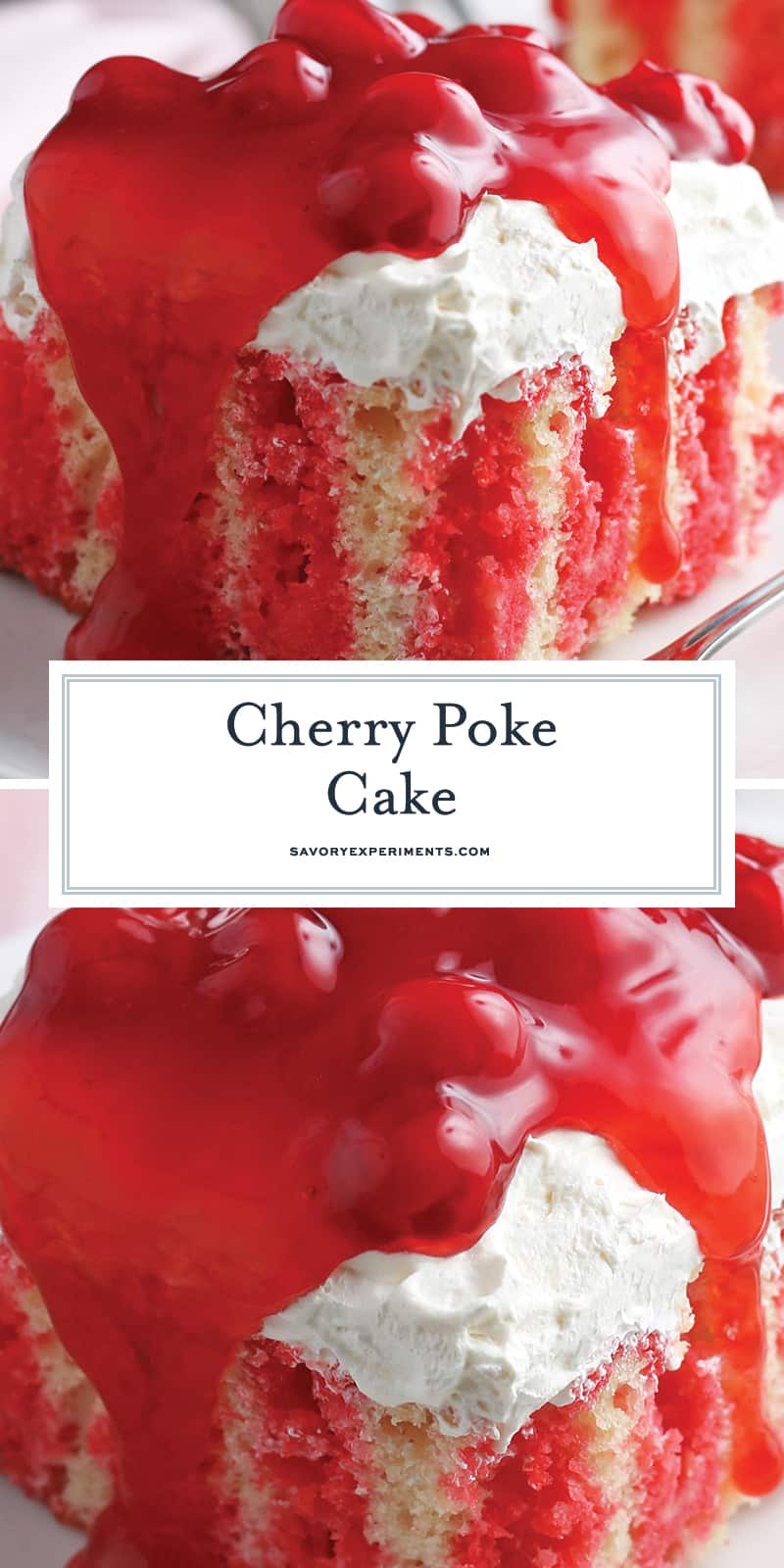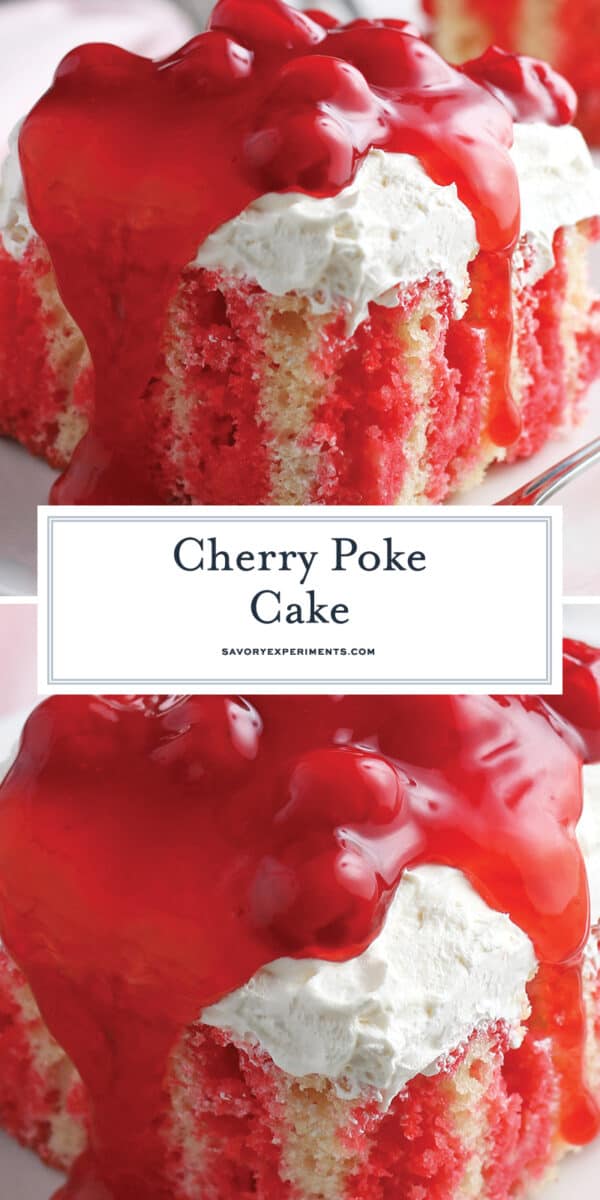 Here are even more poke cake ideas: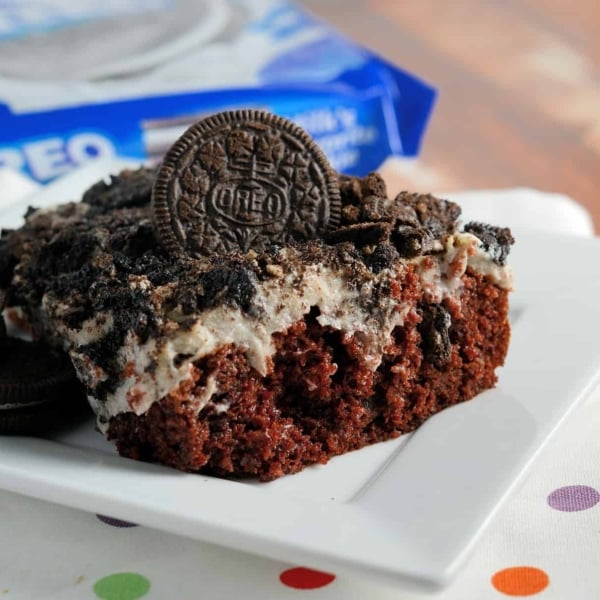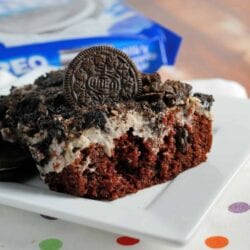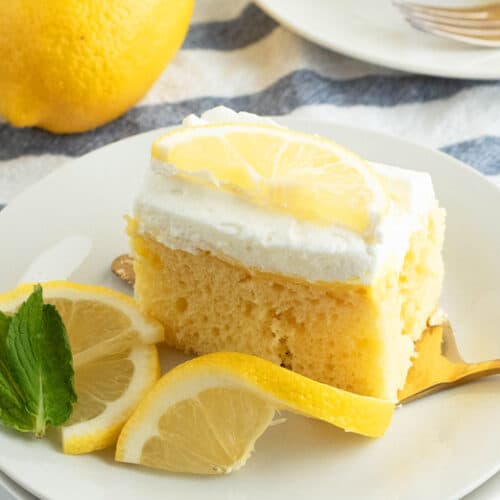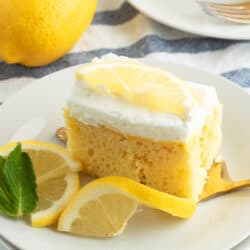 Lemon Poke Cake
This deliciously moist BEST Lemon Poke Cake recipe is perfect for any occasion! It's made easy thanks to a boxed cake mix and instant pudding!
See The Recipe!
Check out all of our cake mix hacks!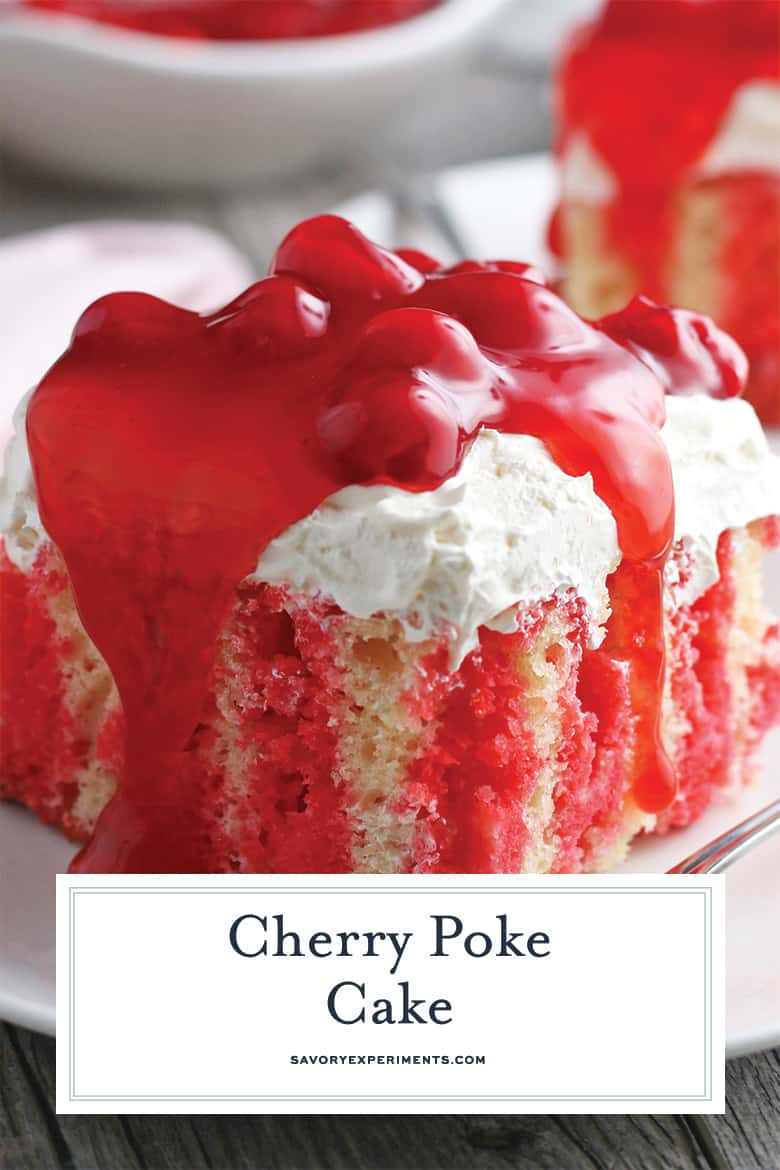 Cherry Poke Cake is the ultimate dessert for potlucks, church events and BBQs. Cool, creamy and make-ahead, it just can't be beat!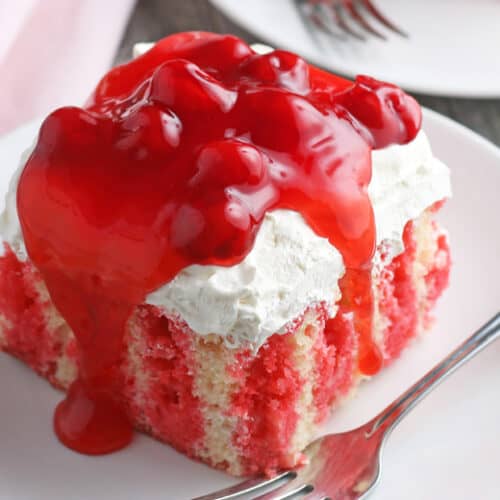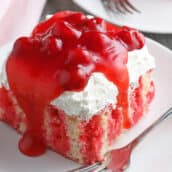 Cherry Poke Cake
Poke cakes are so fun, and this Cherry Poke Cake is no exception. Easier to make than just a white cake with cherry filling, and more delicious too!
Ingredients
Toppings
Additional whipped topping

Fresh Cherries
Instructions
Poke Cake:
Preheat oven to 350 degrees and coat a 13×9 baking dish with cooking spray

In a large mixing bowl or bowl of a stand mixer, combine cake mix, eggs, buttermilk, vegetable oil, vanilla and almond extract until smooth.

Spread evenly into baking dish, bake for about 25 minutes or until a toothpick inserted in the center comes out clean.

Remove from oven and let cool for 15 minutes.

Combine cherry gelatin and boiling water and stir about 2 minutes until dissolved, add cold water.

Using a wooden skewer or large fork, poke holes into cake about every 1/2 inch.

Carefully pour gelatin over the cake making sure it can get into all the holes.

Cover and place in refrigerator at least 3 hours or overnight.
Frosting:
In a mixing bowl, combine all ingredients, starting with ¼ cup powdered sugar and mix until fluffy. You may need to add more powdered sugar depending on how thick you want the frosting.

Cover and store in refrigerator until ready to serve.

Serve with fresh cherries, canned cherries or sliced almonds and of course, additional whipped cream.

If you've tried this recipe, come back and let us know how it was!
Nutrition
Calories:
285
kcal
,
Carbohydrates:
40
g
,
Protein:
4
g
,
Fat:
13
g
,
Saturated Fat:
9
g
,
Cholesterol:
53
mg
,
Sodium:
285
mg
,
Potassium:
76
mg
,
Fiber:
1
g
,
Sugar:
25
g
,
Vitamin A:
181
IU
,
Calcium:
108
mg
,
Iron:
1
mg