Boston Cream Poke Cake Recipe
Looking for an easy poke cake recipe? Boston Cream Poke Cake has your name written all over it!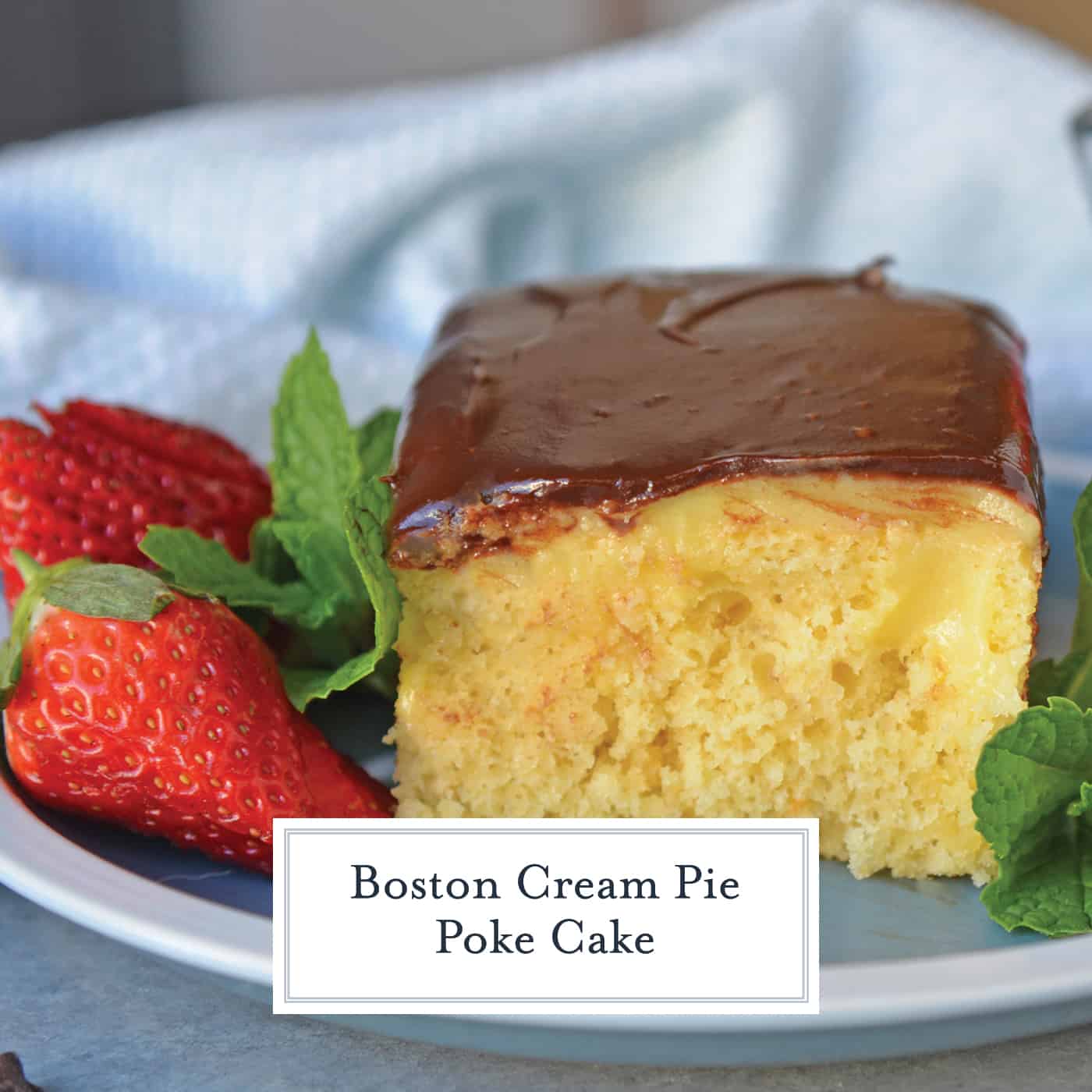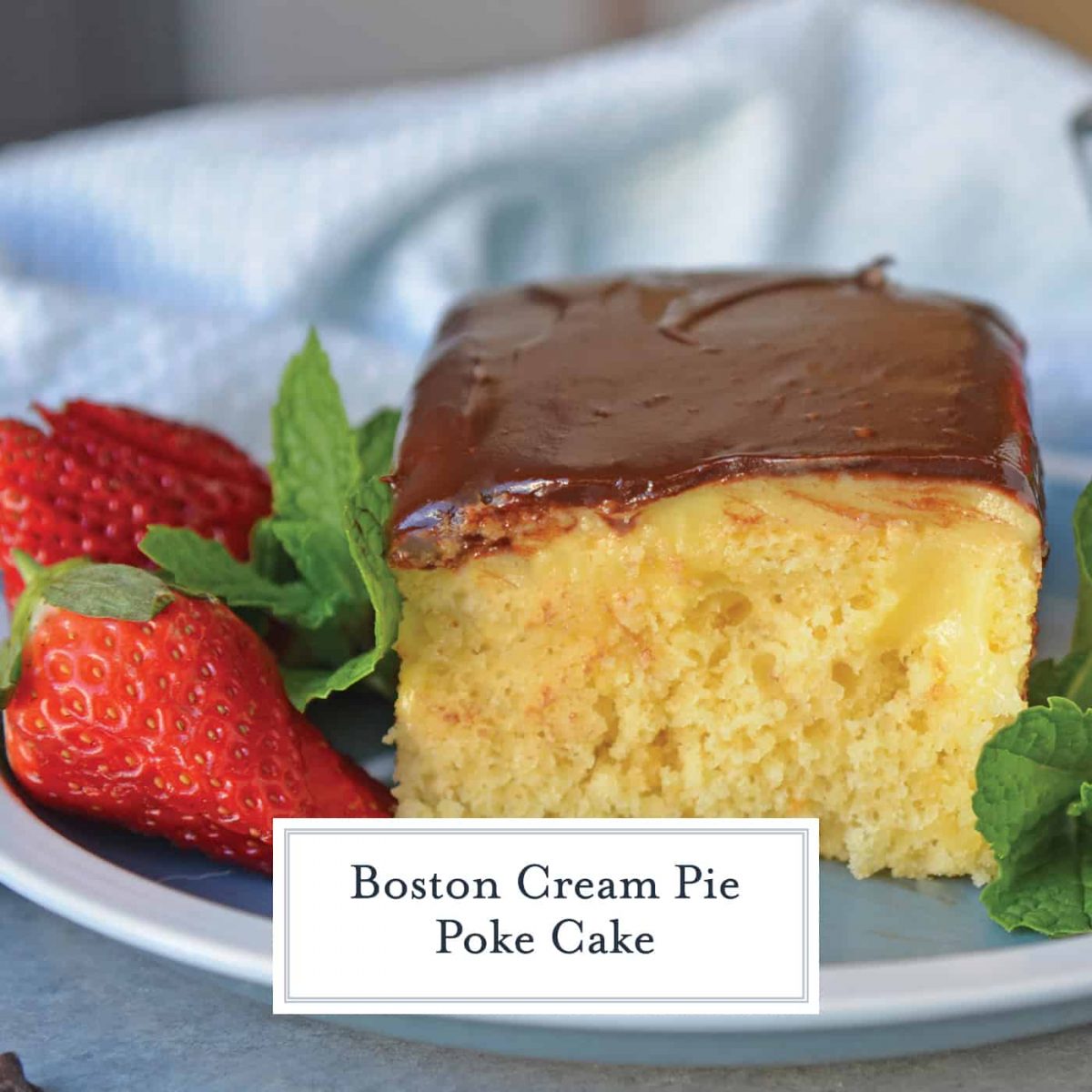 Boston Cream Poke Cake takes the same delicious flavors of a Boston Cream Pie and puts them in an easy pudding poke cake.
Have you ever had a Boston Cream Pie? It actually isn't a pie at all, it is a cake. The original Boston Cream Pie was created by a French chef for the opening of the Omni Hotel, then known as the Parker House Hotel in 1856.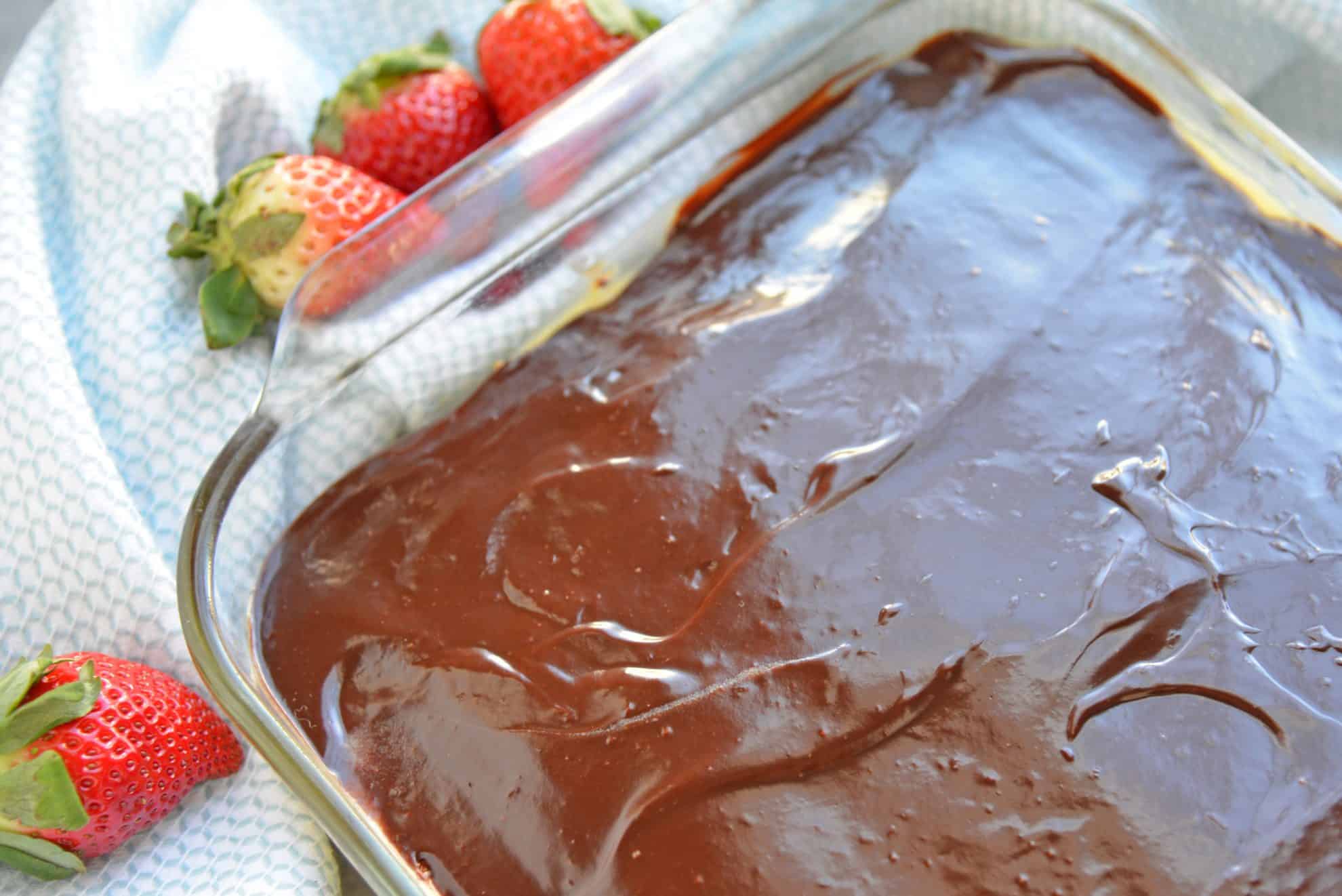 It was two layers of yellow sponge cake with a French pastry cream and a velvety ganache topping. It also had a sprinkle of powdered sugar, although this commonly melted into the ganache so many folks didn't realize it was even there.
It has since become a standard dessert in New England and was proclaimed the official dessert of Massachusetts in 1996. You can find wedges of Boston Cream Pie all over the Unitied States with varying recipes, but always with the same same three elements: yellow cake, vanilla custard and chocolate ganache.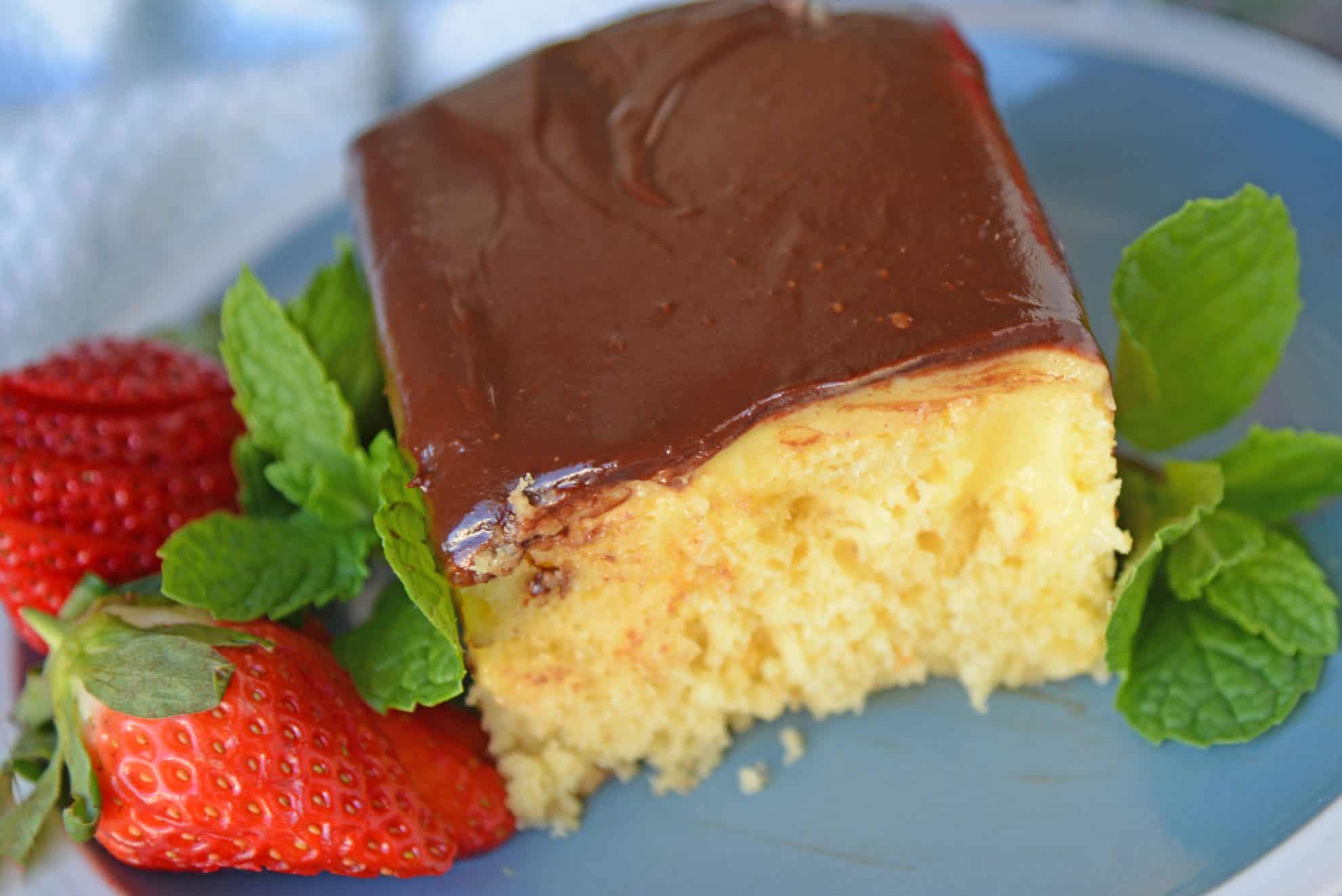 The three master elements can all be made from scratch, but that defeats the purpose of a pudding poke cake, which is generally defined by ease. Yellow boxed cake mix is the base.
PRO TIP: Don't dis boxed cake mixes! In taste tests, similar homemade cake recipes failed miserably in the areas of taste, moistness and richness in comparison to boxed mix. If you do use a homemade cake recipe, opt for one with oil rather than butter, they are more moist.
Even though you are using a boxed cake mix, you can still use a hand electric mixer or stand mixer. You can also get your arm workout in and do it by hand. Just don't overmix the cake mix, it results in a dry cake.
Vanilla custard can be made from scratch using decadent egg yolks and a tempering method, but instant vanilla pudding is just as good. And beleive me, I like making homemade custard. While this recipe isn't a traditional French custard recipe, it is close enough and gets the job done.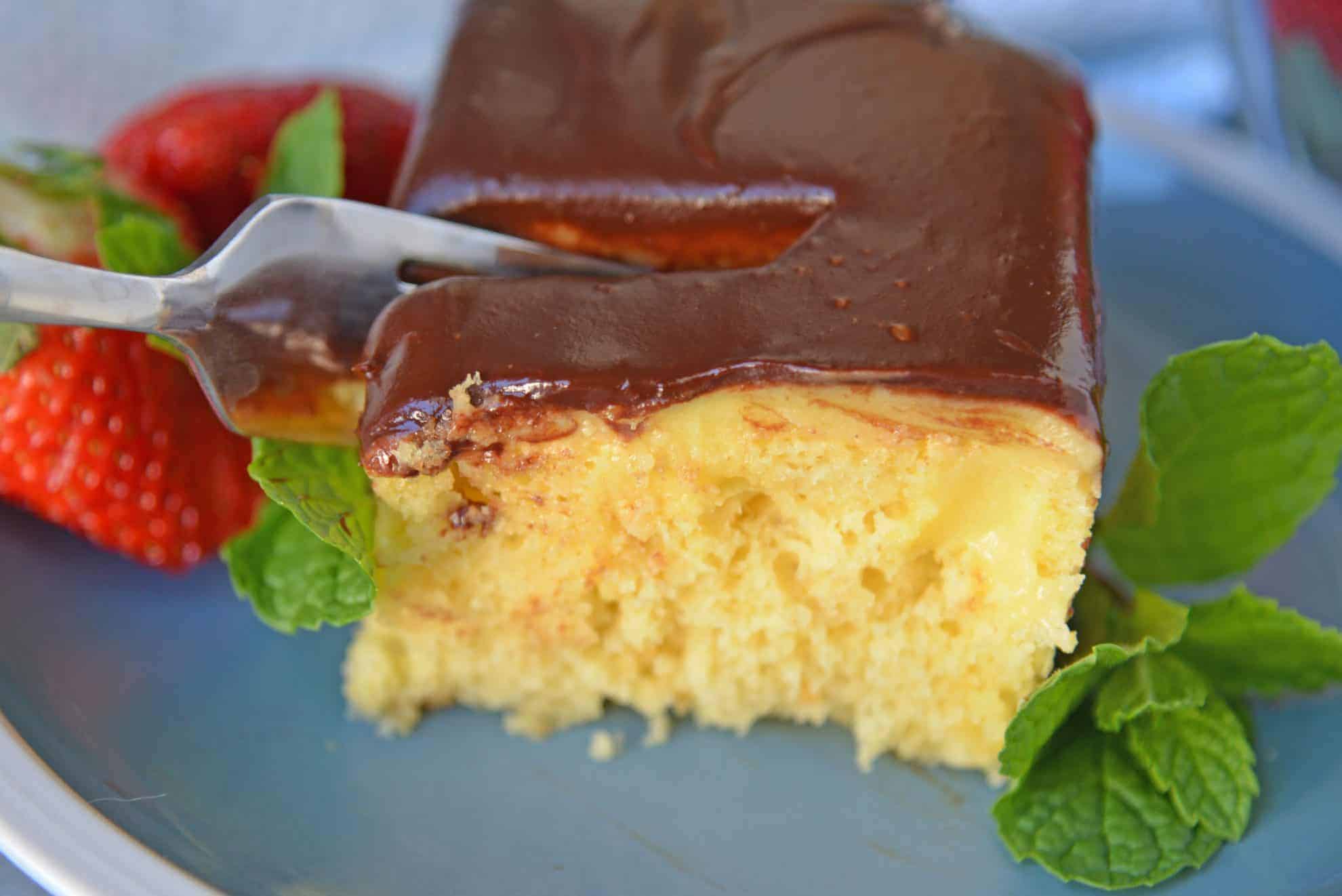 Chocolate ganache is the only shortcut I don't like to take. Some folks use a rich, chocolate frosting, but buttercream can't compare to thick and fudgy ganache.
It is also easier to spread. I don't know if you ever tried to spread chocolate frosting over a layer of pudding, but it is very challenging to do. This is why many poke cakes use a whipped topping instead of actual frosting.
Chocolate ganache is poured over the pudding layer making it super easy!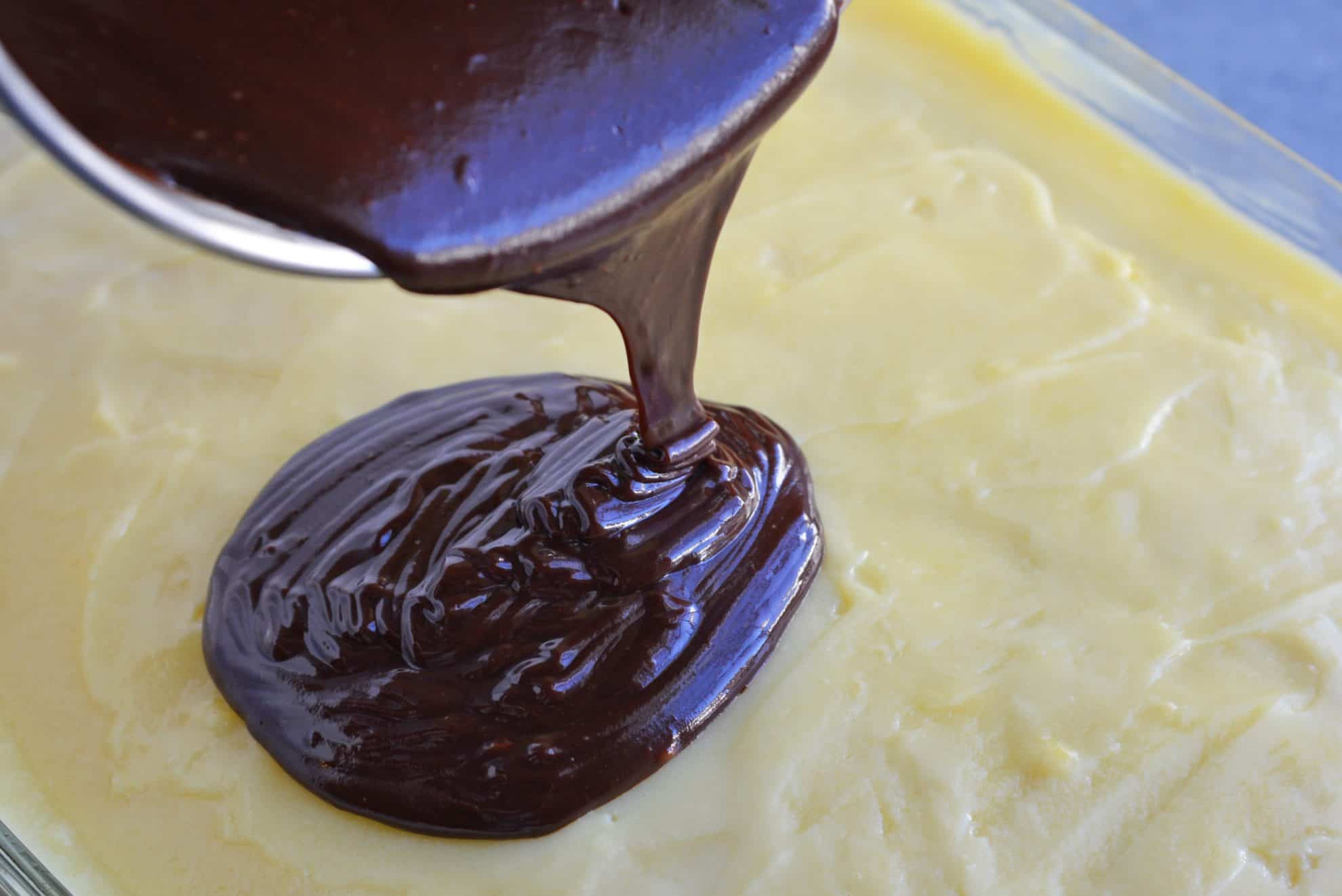 What is chocolate ganache? Chocolate ganache can be classified as a sauce, frosting or chocolate glaze that is made from chocolate and cream.
It is shiny and rich, but not overly sweet. The amount of chocolate and cream will determine the final consistency.
PRO TIP: I used mini semi-sweet chocolate chips because smaller pieces of chocolate melt easier and smoother than larger pieces. You can use a brick of chocolate, but chop it finely to make the whisking easier.
Some ganaches are made with sweetened condensed milk, but I find this to be too sweet.
Boston Cream Poke Cake is positively delicious, but lacks the color I like to have in my dishes, so I garnish with colorful berries like raspberries and strawberries and few mint sprigs.
Feel free to omit those if you are just serving a bunch of hungry kids. LOL.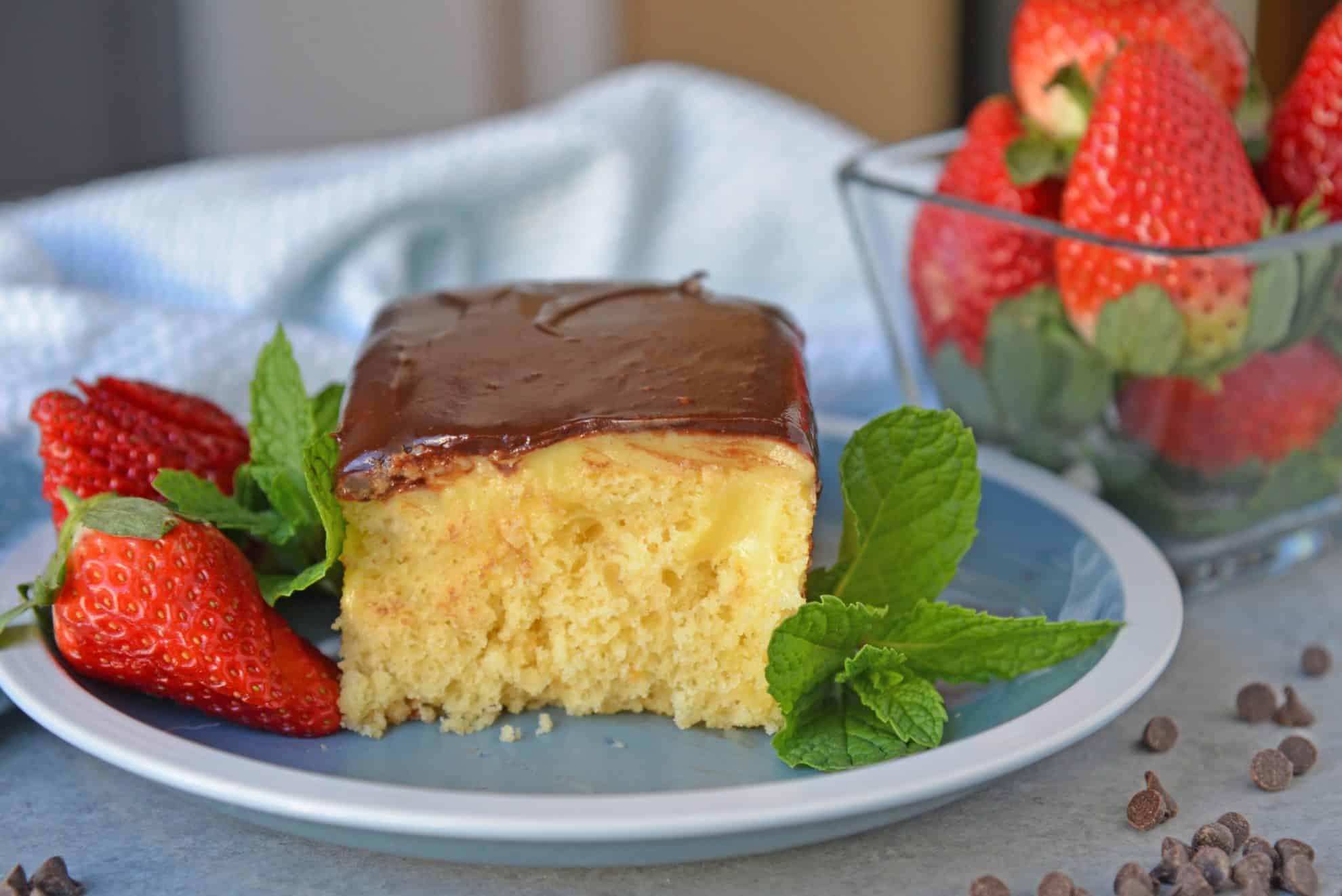 Tools for making this easy poke cake:
9 x 13 Glass Baking Dish– an absolute essential for any kitchen! Use it for baking, marinating or storing. Get one with a lid, you'll thank me later.
Whisks– I buy whisks in multiple sizes. You never know which one you will need.
Mixing Bowls– make sure to check out my article on Using the Right Mixing Bowl, you'd be surprised how many people aren't!
Sifter– Even though this is a boxed cake mix recipe, sifting is still a trick worth using. Sifting the cake mix will break up any lumpy cake mix resulting in you having to do less mixing, which equates to a more moist cake. Over mixing = dry cake. I like the ones with a crank handle.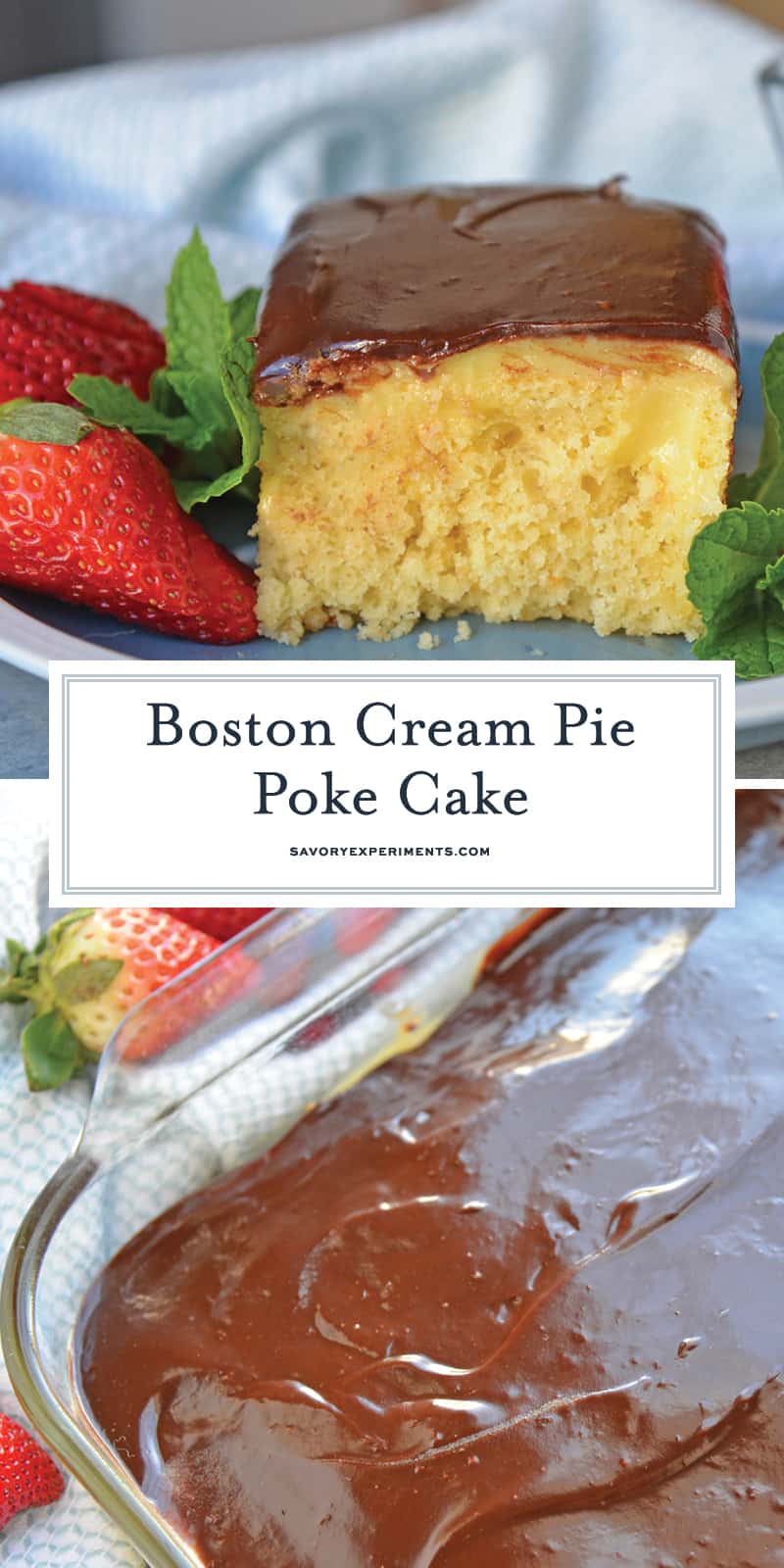 Questions you might have about how to make a poke cake:
Can I use a 9×9 pan? You can use a 9×9 baking pan for making a poke cake, however you might have more pudding than you need for a 9×13. Just set it aside in a little bowl and eat it by itself.
Do I need to refrigerate a Boston Cream Poke Cake? This cake stores best covered in the refrigerator. Keep chilled until ready to serve.
Can I use other cake pan shapes? I wouldn't necessarily recommend it. Part of the beauty of this cake is holes and getting pudding in them. Specialty shapes, charter shapes and even bundt pans might prohibit this from happening evenly.
How long can I keep my Boston Cream Poke Cake out? It won't go bad, necessarily, but pastry cream (pudding in this case) just tastes better chilled.
Can I make this a nut free poke cake? Simply omit the walnuts, it is that easy!
Can you freeze poke cake? You can! I would recommend freezing without the caramel drizzle or whipped cream. Store in the best airtight container you can find for 3-4 months.
Can I make poke cake the day before? Sure you can! In fact, the pudding will just have more time to sink in and make the cake get all delicious.
Can you make poke cake cupcakes? You sure can! They get a little messy if you don't eat them with a fork, but make them the same way, following directions for cupcakes on the boxed cake mix. You might use less pudding, too. Just set it aside and it is by itself.
Can I just regular frosting on a poke cake? Technically, yes, you can frosting a poke cake, however I will tell you from experience that it is challenging because traditional frosting doesn't stick or spread well over the pudding.
If you don't want to use chocolate ganache, use a whipped topping or chocolate whipped cream.
How long is Boston Cream Poke Cake good for? I'd say it is best served within 24 hours of baking, but you can keep it in the fridge and nibble on it for up to a week.
Can I use chocolate pudding instead of vanilla pudding? You sure can and it sounds like you have a chocolate lover in your house.
While it isn't the traditional method of making a Boston Cream Pie, feel free to put your stamp on the recipe and using whatever flavor of pudding floats your boat. It would probably taste delicious with banana too!
Boston Cream Poke Cake takes the same delicious flavors of a Boston Cream Pie and puts them in an easy pudding poke cake.
Check how all of our ways to make cake mix better!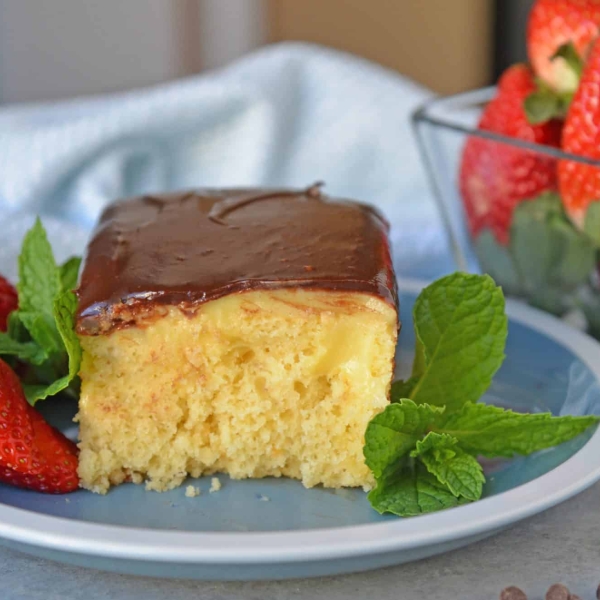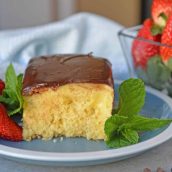 Boston Cream Poke Cake
Boston Cream Poke Cake takes the same delicious flavors of a Boston Cream Pie and puts them in an easy pudding poke cake.
Ingredients
Instructions
Preheat oven to 350 degrees. Coat a 9×13 baking dish with cooking spray.

In a large mixing bowl, combine yellow cake mix, water, vegetable oil and eggs. Mix until just combined.Pour into prepared baking dish. Bake for 25 minutes, or until cake passes the toothpick test.

Remove cake from the oven and poke with the end of a wooden spoon or a straw while still hot. Make many holes. The more holes, the more space for the delicious pudding to hide.

Allow the cake to cool slightly.

Meanwhile whisk together French Vanilla pudding mix with milk. It will be liquidy, but will start to thicken as you whisk. It will take about 2 minutes. When you start to feel resistance allow to stand for 2 minutes.

Pour pudding mix over cake, patting down into the holes. Use a toothpick and prick more holes into the cake and pudding. Tap the whole dish several times to allow the pudding to settle into the cake.

Chill for a minimum of 30 minutes.

When ready to frost, prepare chocolate ganache by heating heavy cream in a double boiler over high heat.

When hot and about to boil, remove from heat and whisk in semi-sweet chocolate chips and light corn syrup. Whisk until smooth.

Allow to cool for 5 minutes. While still warm, pour over cake.

Cover and chill fro 30 minutes before serving.

If you've tried this recipe, come back and let us know how it was!
Nutrition
Calories:
248
kcal
,
Carbohydrates:
35
g
,
Protein:
3
g
,
Fat:
10
g
,
Saturated Fat:
7
g
,
Cholesterol:
44
mg
,
Sodium:
287
mg
,
Potassium:
79
mg
,
Sugar:
23
g
,
Vitamin A:
205
IU
,
Calcium:
102
mg
,
Iron:
0.8
mg