Oreo Pudding Cake is the easiest cake recipe out there. An Oreo Pudding Cake is the same thing as a poke cake. They are all over Pinterest!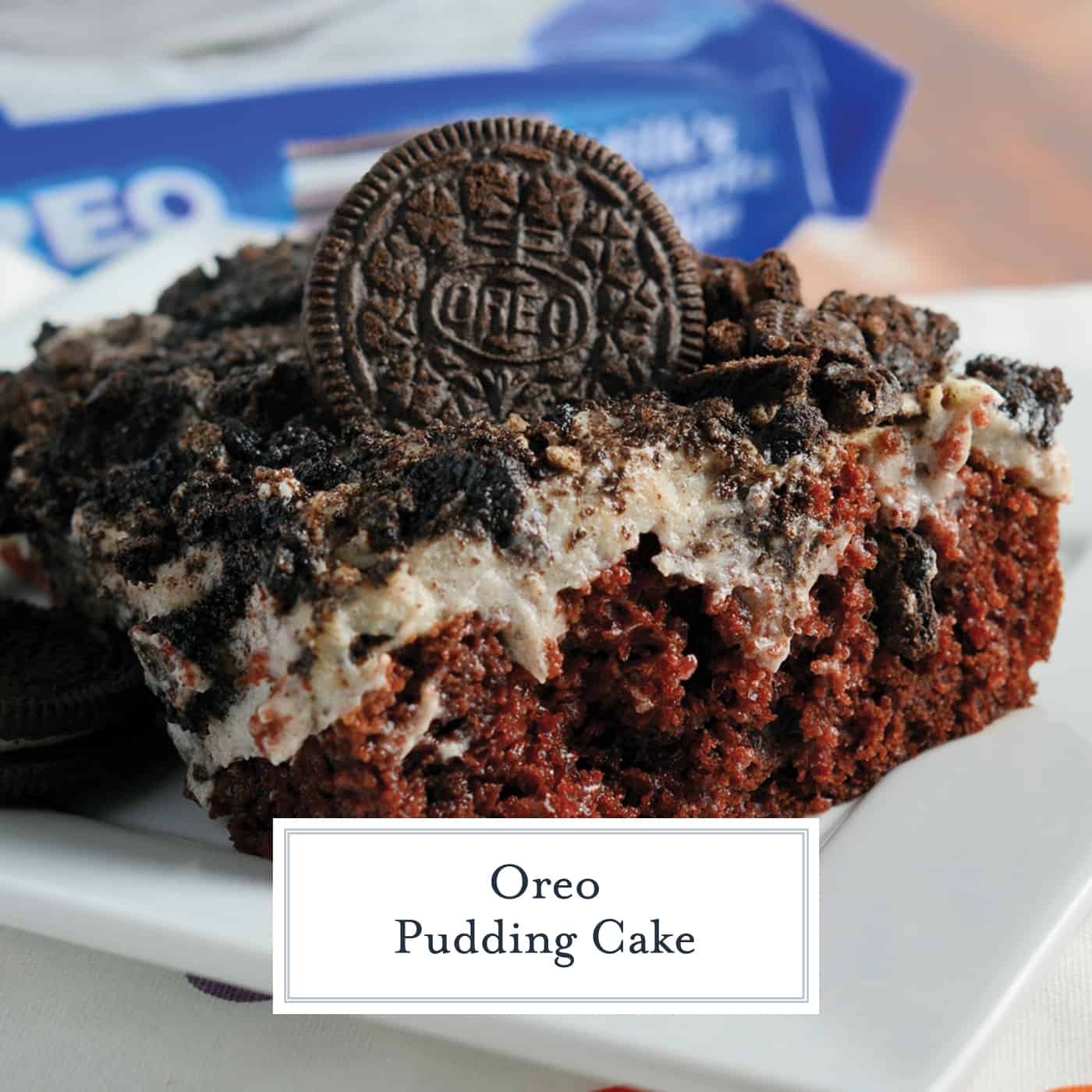 Oreo Pudding Cake is a poke recipe perfect for an easy party dessert. If you like Oreo balls, you'll love this easy cake recipe!
So versatile, they can be made a variety of different ways using any unique combinations of pudding, cake mix and cookies. Oreo Pudding Cake is by far my favorite.
Although I have a feeling I'll be trying out some other flavor combinations that will rival these flavors.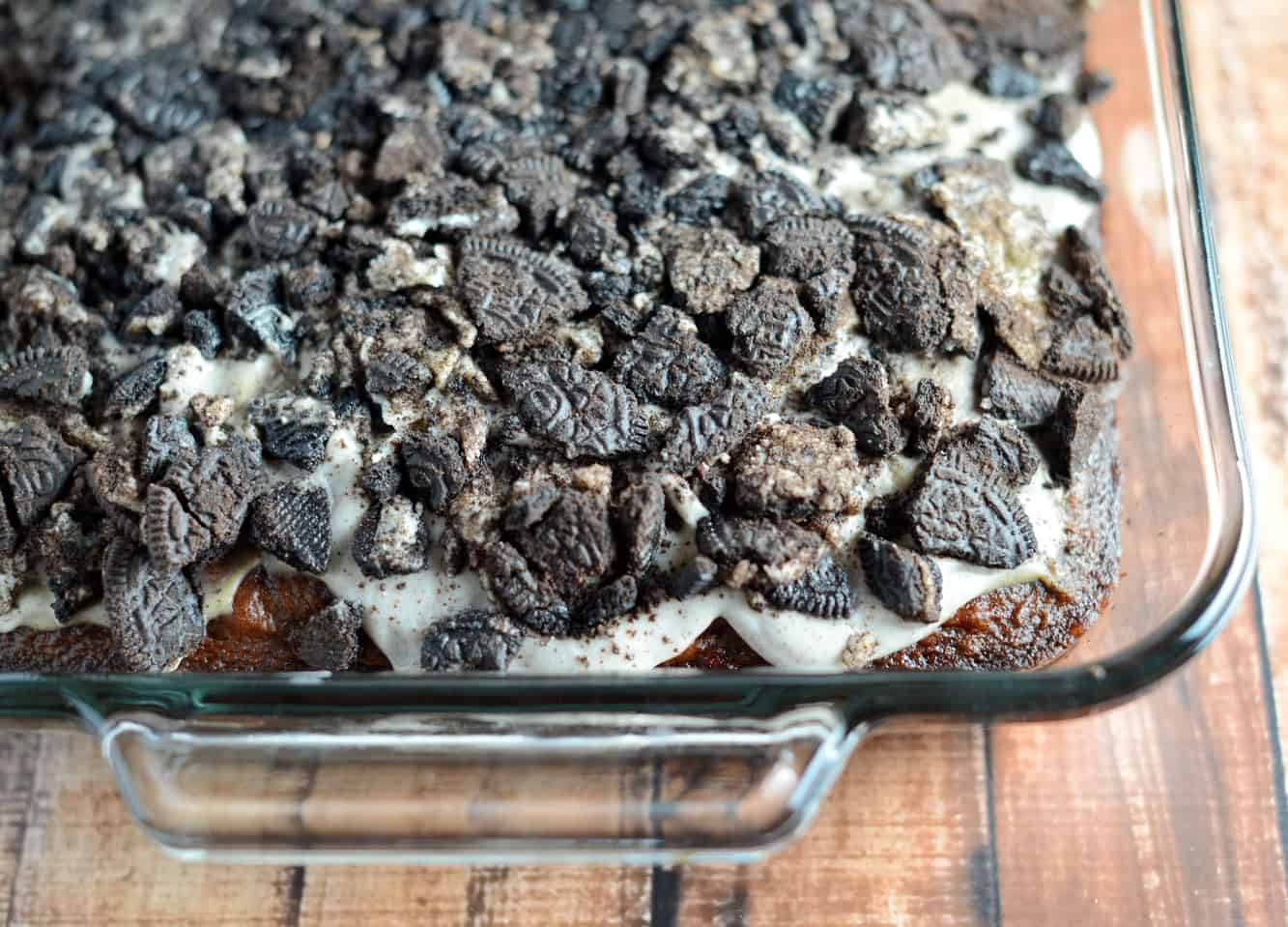 If you like moist cake, Oreo Pudding Cake is for you. Pudding seeps in and around all of the crevices and holes of the cake resulting in a cake so delicate, it nearly falls apart when cut into while still holding a cake texture.
Oreo crumbles on top add texture and the filling adds richness. Oreo Pudding Cake is best served chilled, but can also be room temperature, which makes it ideal for summer parties, but also holiday potlucks.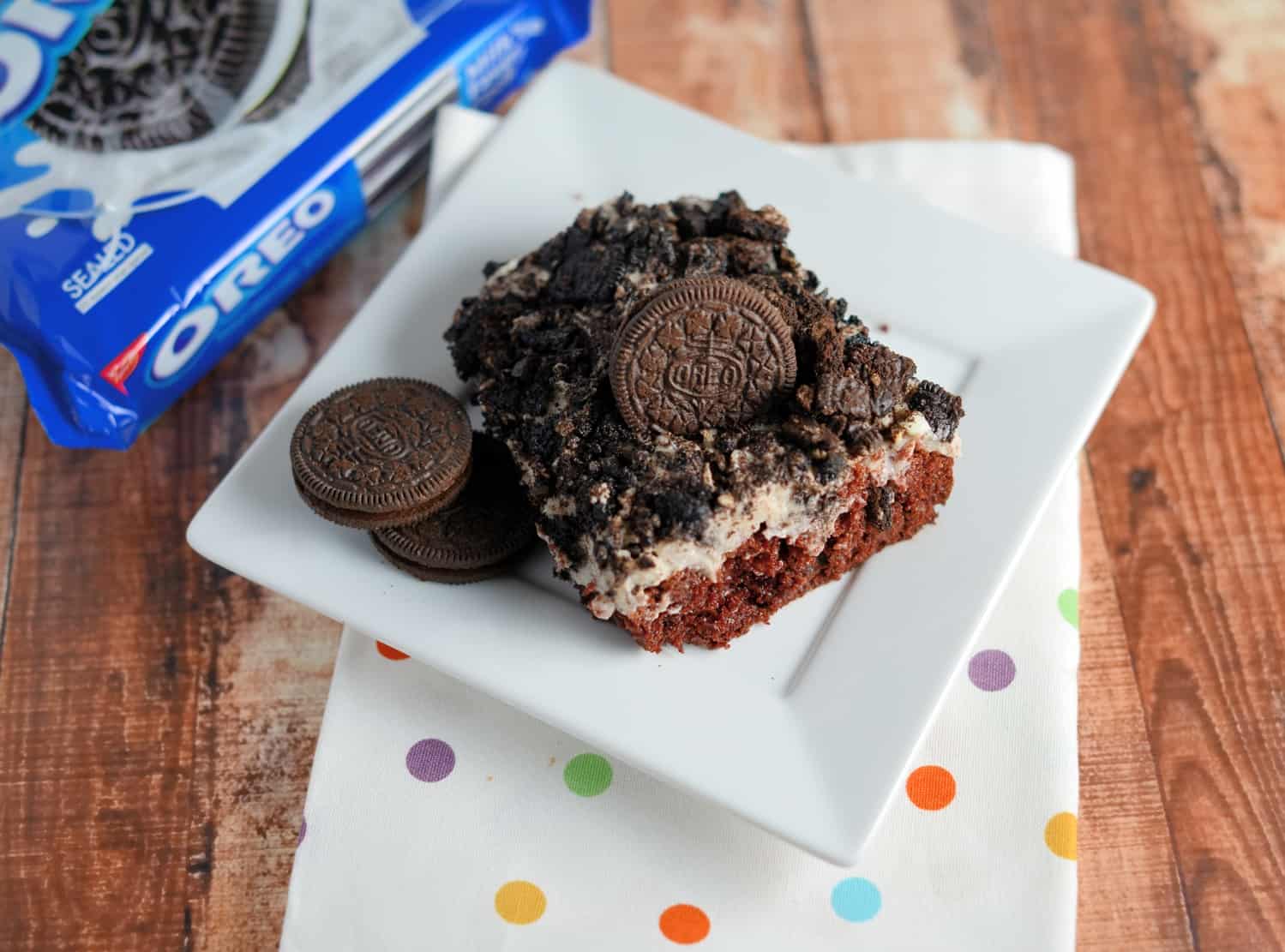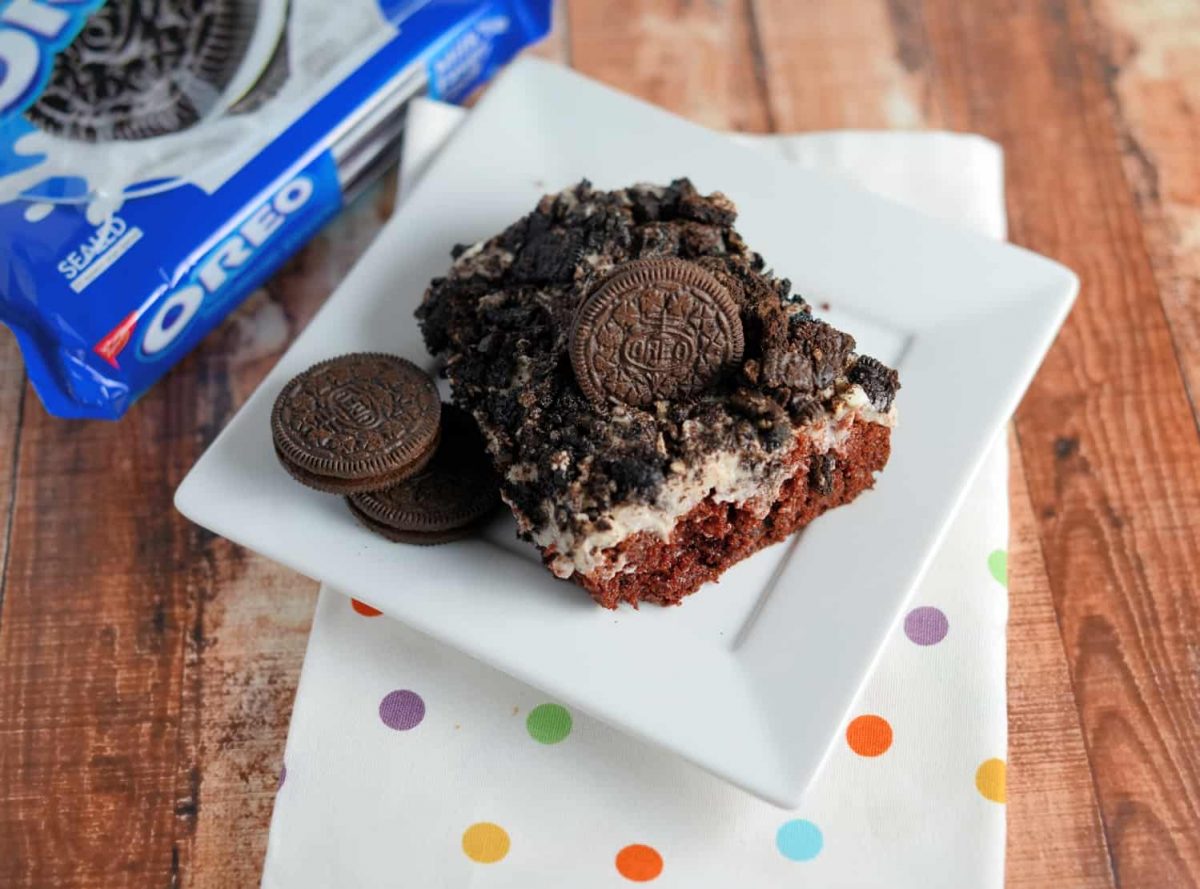 Another bonus, it comes together in a snap! A few simple steps until you have a fantastic cake! My friends beg for my to bring it and I never complain because it is just so darn easy!

Tools for making Oreo Pudding Cake:
9 x 13 Glass Baking Dish– an absolute essential for any kitchen! Use it for baking, marinating or storing. Get one with a lid, you'll thank me later.
Stand Mixer- While this is an investment, I can guarantee you will use it more than you realize and will never regret the decision.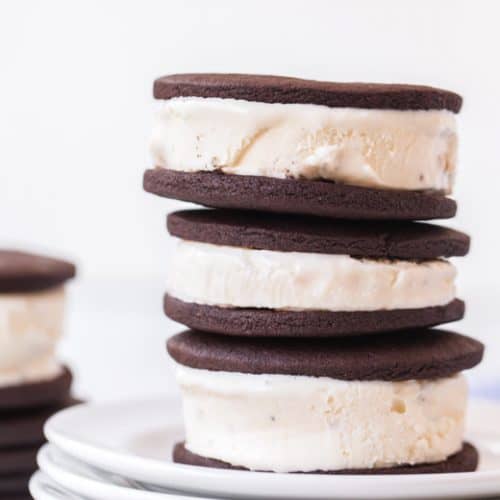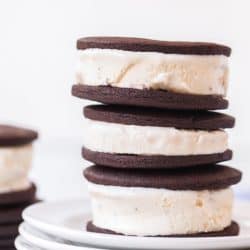 Ice Cream Sandwiches
Ice Cream Sandwiches are a frozen delight everyone in the family will love. Make them for your next cookout or have them on standby in the freezer for when you want a delicious dessert.
See The Recipe!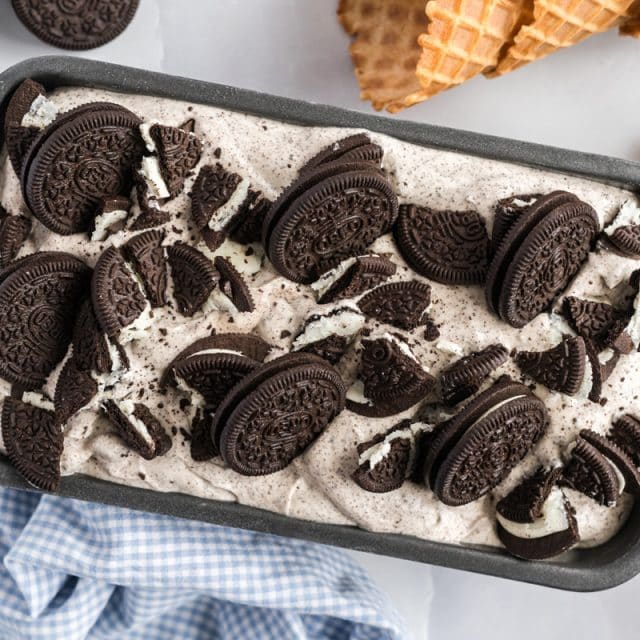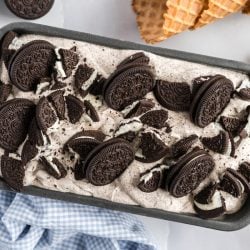 No Churn Oreo Ice Cream
Creamy vanilla ice cream filled with Oreo cookie crumbs and chunks of crunchy cookies. No-churn Oreo Ice Cream requires only 4 easy ingredients and no ice cream maker!
See The Recipe!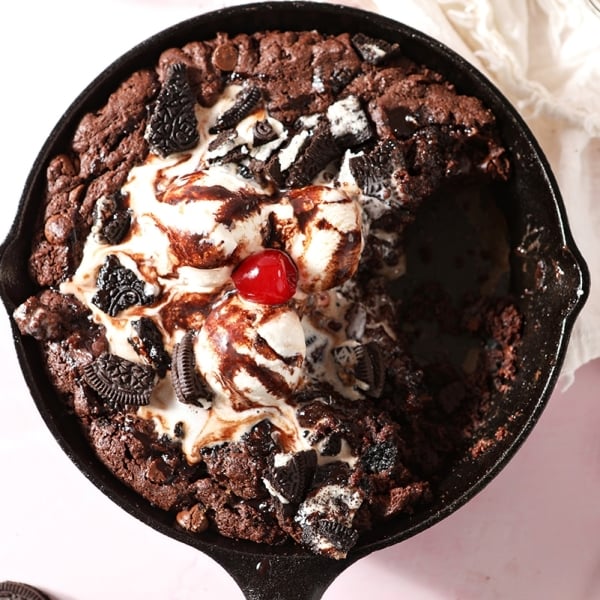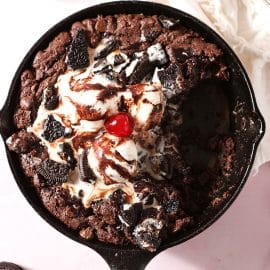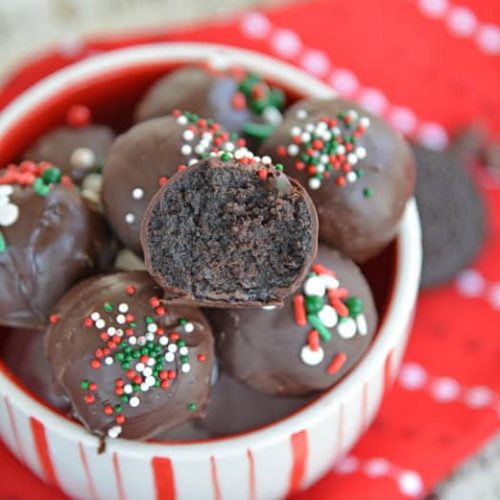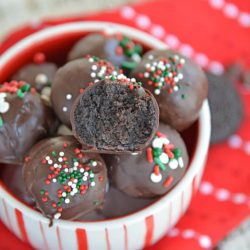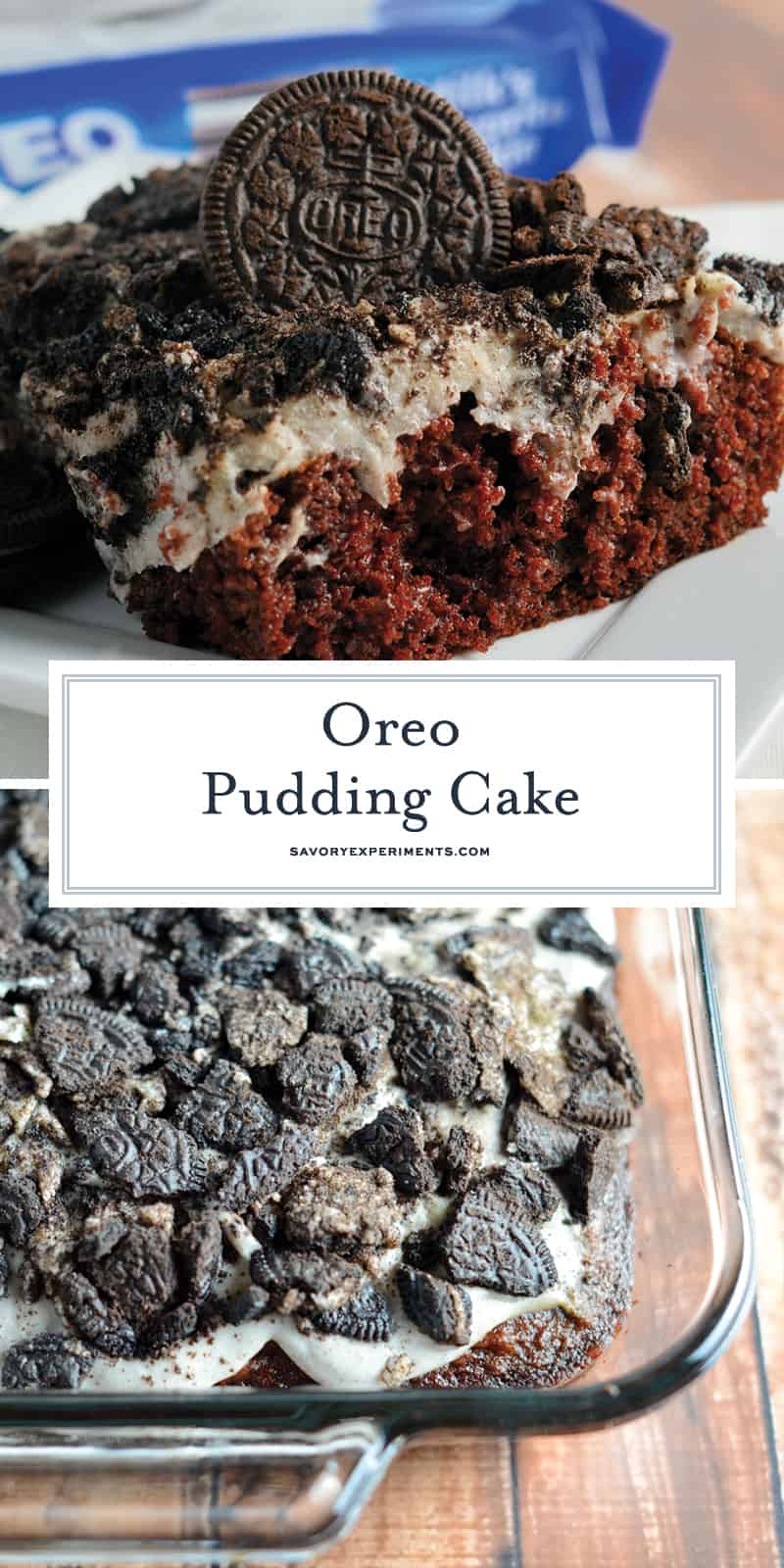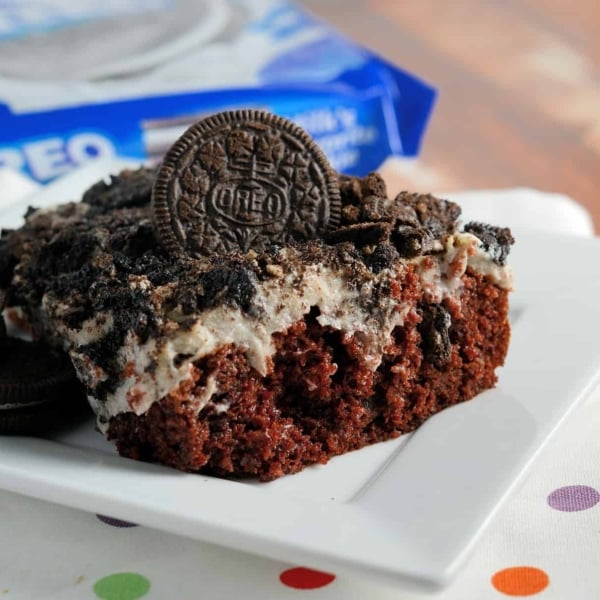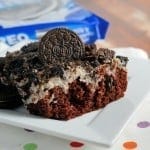 Oreo Poke Cake Recipe
Oreo Pudding Cake is a poke recipe perfect for an easy party dessert. If you like Oreo balls, you'll love this easy cake recipe!
Instructions
Prepare and bake Devil's food cake according to package directions for a 9×13 pan.

Remove cake from the oven and poke with the end of a wooden spoon or a straw while still hot. Make many holes. The more holes, the more space for the delicious pudding to hide.

Allow the cake to cool slightly. Meanwhile whisk together Oreo pudding mix with milk. It will be liquidy, but will start to thicken as you whisk. It will take about 2 minutes. When you start to feel resistance allow to stand for 2 minutes.

Pour pudding mix over cake, patting down into the holes. Use a toothpick and prick more holes into the cake and pudding. Tap the whole dish several times to allow the pudding to settle into the cake.

Put Oreo cookies into a large freezer bag and crush with a rolling pin. Or place cookies into a food processor and pulse until cookies are crumbled.

Spread Oreo crumbles over pudding layer and pat down. Cover with aluminum foil and allow to set in the refrigerator for at least one hour. Store refrigerated.

If you've tried this recipe, come back and let us know how it was!
Nutrition
Calories:
211
kcal
,
Carbohydrates:
35
g
,
Protein:
3
g
,
Fat:
7
g
,
Saturated Fat:
2
g
,
Cholesterol:
3
mg
,
Sodium:
331
mg
,
Potassium:
151
mg
,
Sugar:
22
g
,
Vitamin A:
50
IU
,
Calcium:
77
mg
,
Iron:
2.1
mg