A horse walks into a bar… the bartender asks "why the long face?"
Why Horse Cookies? Because thy can be used for all types of fun equine events. While my mind tends to think of the Triple Crown Races, The Kentucky Derby, Preakness Stakes and Belmont Stakes, these adorable no bake horse cookies are perfect for any horse themed party. Or just horsing around…. (I crack myself up).
A few simple ingredients and a little bit of time will yield you a plate of smiling, little long faces.
Print Recipe
No Bake Horse Cookies
Yum
No bake, smiling long faced horse cookies that are perfect for Triple Crown races or horse themed parties.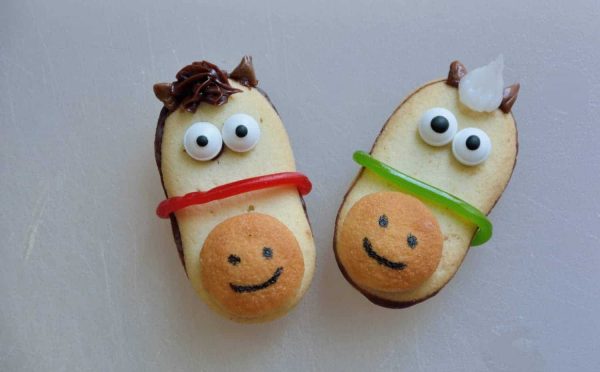 Establish a work space and pipe out a tablespoon or two of brown/white frosting the upper corner along with a toothpick to use of application.

Draw a smiley face using the food coloring pen onto all 12 mini Nilla Wafers. Using a small dab of frosting, attach mini Nilla wafer to the bottom, following the curve, of your Milano cookie.

Cut licorice ropes into 3-4 inch pieces, carefully wrap around your cookie midway, attaching on the back witha dab of frosting and trim the ends.

Using kitchen shears, cut your Tootsie Roll into thin pieces and then again until your get a piece small enough to form a triangular ear. Roll between your fingers should do the trick. Attach to the other end of your Milano cookie using a small dab of frosting.

In the center, pipe out a tuft of hiar using the star tip.

Lastly, add candy eyes. Allow frosting to set and serve!
If you like this recipe, make sure to follow me on Pinterest for even more!